Stephania Bell:

Brad Penny
July, 7, 2010
7/07/10
3:22
PM ET
This week brought more thumb-wringing for fantasy owners, and not just because of the headfirst slides that sent two potential NL All-Stars --
Jason Heyward
and
Chase Utley
-- to the DL recently. The head-first dive (in an attempt to catch a fly ball) made by
Cleveland Indians
outfielder
Shin-Soo Choo
stung quite a few teams as well.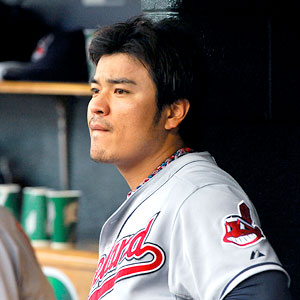 Steven King/Icon SMIShin-Soo Choo is going to be watching baseball, not playing it, over the next few weeks.
The good news: It appears Choo will not need surgery on his injured thumb. The bad news: He has a sprain, and the Indians could be without him for several weeks. Any sprain of the thumb requires a period of immobilization to allow the involved ligament(s) to heal. The no-surgery decision suggests that the bone was intact and that there was little to no instability, but in order to prevent the injury from worsening, it must be rested adequately. Choo owners can breathe a sigh of relief but still should prepare to be without him for a while.
It seems as if the run-up to the All-Star Gamehas been filled with as much injury news as at any other point this season, and the timing of the three-day break in the midst of DL assignments makes interpreting these injuries a bit more difficult. Teams benefit from the three-day break since the days do count toward the 15-day minimum of a disabled list stint. In other words, a player is able to sit out three days but not miss any games during that time. Without that break, the DL might be less attractive, especially if a team could return a player after 10-12 days for an important series.
Put a different way, if there is any question right now as to the severity of an injury and whether there would be a risk in returning the player too soon, the team is likely to move that player to the DL and benefit from a roster replacement. Additionally, if that player is an All-Star candidate, the move to the DL immediately removes him as an option (which also removes the temptation for him to participate in the event and risk a setback) and allows another player the opportunity to take part.
Take these two examples:
Manny Ramirez
suffered what the team referred to as a minor hamstring strain last week. By the time he had an MRI two days later, he was showing signs of improvement. While the MRI confirmed the injury, the real question became whether to place Ramirez on the DL or not. If he improved enough within the week, he could be useful in the important pre-All-Star series between Manny's Dodgers and the Cubs. But if he aggravated the hamstring by returning too soon, the Dodgers could be dealing with a longer-term problem. The Dodgers ultimately decided to place him on the DL, and while Ramirez will miss the Cubs series, if he indeed returns when eligible, he won't miss any games beyond that.
Meanwhile, Brewers ace
Yovani Gallardo
hit the DL this week because of an oblique strain, giving the All-Star Gameyet another injured player. While it already appeared Gallardo would not be able to pitch next week, the official transfer to the DL confirmed it. The Brewers have indicated that Gallardo's strain is minor, but if that is the case, they surely do not want to risk exacerbation by having him throw in the All-Star Game, even if he's feeling better. Opposite-side oblique strains in pitchers (which is the case with Gallardo, a righty with a left oblique injury) average four to six weeks, depending on the degree of injury. If the Brewers believe he can return in a somewhat shorter time frame, then caution is definitely warranted, which explains the DL move.
In addition to the injury scenarios involving these key players, there have been a string of setbacks for a few players who were seemingly on the road to recovery. In turn, there has also been some encouraging news. Let's get to the injury updates:
Erik Bedard, SP, Seattle Mariners (60-day DL, 3/26):
It was just too good to be true. All signs pointed to Bedard returning on July 6 from his long absence following shoulder surgery, and right up until the witching hour it appeared he would. But Bedard was scratched from that start because of inflammation in his throwing (left) shoulder. Manager Don Wakamatsu told the Seattle Post-Intelligencer that Bedard is scheduled to throw a bullpen this weekend, and even went on to suggest that if the bullpen goes well, Bedard could potentially be penciled in for a start right after the All-Star break.
Hmm. Color me skeptical. I still
maintain my concern about Bedard
, and it'll take more than a few bullpen sessions and probably even more than one or two healthy starts for me to believe in him again.
Brad Penny, SP, St. Louis Cardinals (15-day DL, 5/22):
Penny has been on the DL so long that fantasy owners might not remember that he ended up there because of a batting episode. Penny hit a grand slam back in May and felt the consequences in the form of a strained latissimus muscle in his upper back. At the time, the diagnosis was positive -- many thought it was an injury to his rotator cuff -- and the early projection was him missing just a few weeks. Obviously that was optimistic. In fact, when it became clear in mid-June that Penny's absence would be protracted, Cardinals general manager John Mozeliak told the St. Louis Post-Dispatch, "The injury was probably underestimated."
But Penny appeared to be making progress recently, and he threw off a mound Monday. As I've often said, though, throwing from a mound is a distinct progression that results in a ramped-up delivery. It is a key testing phase, as setbacks are likely to happen around this transition. And this seems to be what happened with Penny, who could not complete the outing because of soreness in his throwing shoulder. The St. Louis Post-Dispatch reports that partway through the session, Penny complained of stiffness in his triceps, near the location of his original injury. Penny is scheduled for additional evaluation Wednesday, including an MRI, but the team remains hopeful that this is not a significant setback. Given that Penny had just begun throwing from a mound, fantasy owners should presume at least a few weeks (rest, return to throw, throw from mound, rehab starts) before he returns.
Etc.
Meanwhile, yet another member of the Red Sox left a game (Tuesday) because of an extremity injury.
Kevin Youkilis
left Tuesday's game in the fourth inning because of a right ankle injury, but before anyone gets too upset, please note that Youkilis has already hinted that he could play Wednesday. According to Associated Press reports, Youkilis' ankle acted up in a bizarre fashion. Youkilis described it as feeling "like I had a cramp in my ankle." Assuming this turns out to be nothing significant, Youkilis might still make the All-Star roster. If so, he'd be one of the few Red Sox candidates healthy enough to play. For instance, teammate and starting pitcher
Clay Buchholz
was not so fortunate; even though his left hamstring strain is considered minor, he could not avoid the DL, and his placement on the list forfeited his spot on the All-Star roster.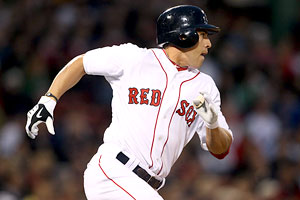 Elsa/Getty ImagesJacoby Ellsbury (ribs) is finally making progress.
On the good-news front, Red Sox outfielder
Jacoby Ellsbury
might be back with his team this weekend. Last we heard, Ellsbury was still recuperating in Arizona while working out at Athletes' Performance. The Boston Globe is reporting Wednesday that Ellsbury could rejoin the team in Toronto if he is ready to resume baseball activities. Fantasy owners need to bear in mind that this would not mean he is ready to return to play, just that he is making progress. A return to actual major league play is still likely weeks away.
Braves outfielder Jason Heyward just might pop up in Anaheim after all. According to the Braves' official website, Heyward's thumb has responded well to the forced rest it received while splinted, and if he continues to progress well, he might take batting practice Friday. Naturally, the primary goal is for Heyward to be ready for competition after the All-Star break, but if he is able to swing freely without pain, it's possible that in addition to making the trip to Anaheim, he might actually participate in Tuesday's game.
The
Cincinnati Reds
will have pitcher
Edinson Volquez
back in the rotation soon; it just won't be on July 7, as was originally projected. Volquez, who is coming off Tommy John surgery, had been throwing well in rehab outings, but in his latest appearance he exhibited one of the classic hallmarks of a pitcher returning from this procedure: lack of command. It's no secret that pitchers coming back from Tommy John surgeries often have ups and downs in their first few months back, most markedly in the area of control. According to the Cincinnati Enquirer, that almost assuredly means another rehab outing, which translates to a delayed return. Volquez is not far off and this is certainly not alarming news, but it does serve as a reminder to fantasy owners that this is what you can expect in the near future.
May, 26, 2010
5/26/10
2:54
PM ET
Welcome back! Here's to being back from an extended stay away from the team, settling into the regular routine and finishing out the season on an upswing. No, the salutation is not self-directed, although I did manage to tear myself away from the beaches of Cabo San Lucas in Mexico to get back to the business of discussing injuries. This welcome is directed to
Los Angeles Dodgers
shortstop
Rafael Furcal
, who rejoined the lineup Tuesday in Chicago after missing time with a hamstring strain.
After originally looking as if he'd be back when eligible May 14, there was enough concern about some lingering symptoms to postpone the return date until now. It wasn't exactly Furcal's most notable performance (0-for-4 and a couple of errors), but he got through the game just fine. As reported by Tony Jackson of ESPNLosAngeles.com, Furcal said after the game, "I am very disappointed with the way I played. The best thing is that I'm healthy and I didn't feel anything." Very true. Rust can be overcome quicker than reinjury. The biggest test, however, will come during the next couple of weeks as we see just how Furcal and his hamstring tolerate the grind of daily play.
Also returning from injury were
Boston Red Sox
outfielder
Mike Cameron
, returning from an abdominal strain, and
Minnesota Twins
shortstop
J.J. Hardy
, coming off a bone bruise in his left wrist. Cameron is going to be eased back into play, according to The Boston Globe. He will not be used daily, at least not initially, plus he will spend some time playing left field. The 37-year-old Cameron, whose superb fitness may be a reason he's even been able to return from this injury, may yet require surgery down the line. Hardy's return Tuesday was abbreviated because the Yankees-Twins game was suspended in the fifth inning by rain. That said, Hardy's first at-bat was a double to deep right, so it looks as if his wrist is not a limiting factor.
Earlier it appeared that we would be welcoming back another star in this week's blog,
Philadelphia Phillies
shortstop
Jimmy Rollins
, but he was back on the DL before we ever got the chance. On that unfortunate note, we turn to some of the key injuries in the world of baseball this week ...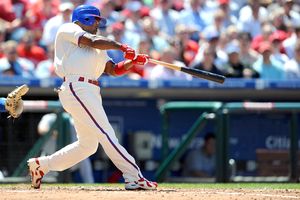 Miles Kennedy/Getty ImagesJimmy Rollins hit a homer in his brief stint off the disabled list earlier this month.
Jimmy Rollins, SS, Philadelphia Phillies (15-day DL, May 22):
Rollins' situation exemplifies the challenge for a medical staff when dealing with an athlete returning to play following a significant muscle strain. No matter how many sprints, drills or running workouts an athlete goes through to test the injured part, there is no guarantee that he is out of the woods when he returns to play. It is impossible to simulate every game situation and perhaps even more challenging to simulate the environment -- such as the intensity, the adrenaline of playing in a major league game -- and those things can factor into how the body responds. The Phillies brought Rollins along at a conservative pace, even holding him back at times as a measure of precaution. Sometimes even the best-laid plans don't unfold as anticipated.
In Rollins' case, his right calf gave him a signal that it was not going to fully cooperate with his agenda. Rollins returned to the lineup on May 17 after missing 30 games with the original injury. Just four days later, the calf bothered him while he ran to first on a single. He was forced to leave the game early and returned to the DL the next day. No fooling around here.
As Phillies general manager Ruben Amaro told The Philadelphia Inquirer, "It might not take [the entire 15-day DL stint], but we can't afford to put ourselves in a position where it gets reinjured and turns into something serious." Hmmm. It looks as though the first part (reinjury) already happened, but the hope is that this does not represent a serious setback. The fortunate aspect is that this strain is reportedly not as severe as the initial injury. The team is referring to it as a Grade I, or mild, strain (the original injury was a Grade II, or moderate, strain) and the team hopes he will not require much, if any, additional time off.
Fantasy owners are understandably frustrated (just think how Rollins feels!), but this is not time to panic.
Andre Ethier, Los Angeles Dodgers (15-day DL, retroactive to May 15):
What a difference a day -- or a splint -- makes! Ethier, who landed on the DL after suffering a fracture in his right pinkie finger while taking batting practice,
could
have missed up to six weeks with the injury. As it turns out, thanks to the aid of a particular splint, Ethier may be able to return when eligible on Sunday.
The emphasis is on the word "may," however, as Ethier will have to show that he can perform without limitation and that the fracture is indeed healing before he can definitively play. But so far, things are looking good. If he performs well in a simulated game Saturday, he could be activated Sunday.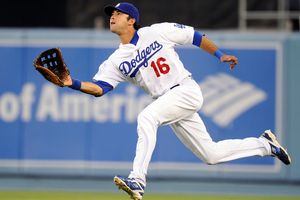 Harry How/Getty ImagesAndre Ethier could be back from the disabled list as soon as he's eligible.
The fracture that Ethier suffered was bit odd, or at least the mechanism of injury was unique. Ethier sustained an avulsion fracture -- when a small chip of bone is avulsed or pulled away where the tendon attaches to the bone -- at the tip of his fifth finger. Typically this type of injury, also called mallet finger, results from hyperflexion (exaggerated bending) of the digit, most often when the finger gets jammed by a ball or by contact with another athlete. In Ethier's case, it occurred while batting, when a slight slip of his pinkie finger caused it to get jammed between the bat and his hand.
As the medical staff discussed what route to take for treatment, the Dodgers' director of medical services, Stan Conte (himself a physical therapist and athletic trainer), made a call to colleague Gary Vitti, longtime athletic trainer for the Los Angeles Lakers. Anyone who has followed the Lakers lately knows they have had their share of finger issues, as is common in basketball. Conte said that Vitti recommended use of the "Pro-Ferred" splint, a splint that uniquely maintains the joint of the tip of the finger in extension (keeps it straight) to allow it to heal while allowing the joint just below some ability to flex or bend. This ability to flex the proximal or near part of the finger is what allows Ethier to be able to handle a bat.
Conte said that the use of the splint, along with some modifications of padding at the knob of the bat to make for easier grip, have enabled Ethier to already begin taking batting practice. While Conte stresses that the Dodgers are not yet sure whether Ethier will be ready to return when eligible, he does acknowledge that they are very pleased with the progress he has been able to make. Ethier would continue to wear the splint even if he does return because the tissue will still be healing.
From a medical standpoint, the more normal motion that can be encouraged while still protecting the injured area, the better the outcome typically is. We often see hitters who struggle when returning from wrist and hand injuries, particularly as they work to regain their motion and strength even if the injury has technically healed. In this scenario, it's quite possible that many of those challenges could be avoided as a result of Ethier's being able to continue to swing the bat relatively uninterrupted.
A little interleague cooperation could prove to go a long way to make fantasy owners really, really happy here. Stay tuned.
Grady Sizemore, OF, Cleveland Indians (15-day DL, May 19):
An awkward landing while diving back to first base sent Sizemore to the DL, aggravating a knee injury first sustained near the end of spring training. Sizemore's next step will not be known until he gathers several opinions on his injured knee. The team has termed Sizemore's injury a bone bruise, but based on the locales of the specialists he's reported to be visiting -- Vail, Colo., and New York -- it raises the specter of cartilage damage. Vail is home to Dr. Richard Steadman, a pioneer of microfracture surgery (he performed January surgery on the
New York Mets
'
Carlos Beltran
), and there are surgeons in New York with similar expertise in cartilage defects.
The question that every fantasy owner wants answered is whether Sizemore will require surgery. Although the bone bruise likely will have him sidelined for multiple weeks, surgery could keep him out even longer, perhaps even threatening his return this season. Until the team releases more information, a timetable remains speculative, but at the very least, fantasy owners should make alternate plans for the next month.
Josh Beckett, SP, Boston Red Sox (15-day DL, May 19):
Beckett and back problems are nothing new. In fact, he has dealt with lower back and upper back issues at different points in recent years. It seems that this year will be no different.
Beckett began having back spasms in early May after taking batting practice, and he missed a scheduled start. Days later, while pitching in rainy conditions, Beckett left his start early with tightness in his back. A DL move was natural and precautionary in trying to prevent this from being a lingering and lengthy situation. Although Beckett is eligible to return on June 3, there is certainly no guarantee that he will. So far he has thrown a few side sessions, and next up comes the bullpen. The Red Sox will want to see how he tolerates the progression to the mound before deciding on a return date.
Jorge Posada, C, New York Yankees (15-day DL, May 20):
Posada has been placed on the DL with a hairline fracture in his right foot, the result of absorbing a foul tip off that foot in mid-May. Posada was hoping for just a bone bruise, but imaging tests showed the crack.
Initial projections from the team after the fracture was revealed had Posada out for three to four weeks, but he has taken a bit of a defiant position against that notion. According to the Newark Star-Ledger, Posada believes he will return earlier. "They can say whatever they're going to say. I'll be here before that," Posada said. It's worth noting that he followed up by saying he had never had a problem with his feet before, pointing out that "You've got to be able to put your weight on and all that stuff. You've got to be able to transfer your weight from one side or the other." Right. And he was immobilized in a walking boot when he made the remarks.
Given his position as a catcher where he is in a crouch, placing significant load through his feet while intermittently, explosively moving to full stance, the demands on the foot are high. Not only is he not likely to be back before three weeks, he'd be lucky to be back by then.
A hairline fracture can show evidence of healing more quickly than a complete fracture, but beyond the bone repairing itself, the foot needs to be able to tolerate loading, pivoting and twisting, without causing any symptoms before an athlete is able to return to baseball activities. Then, of course, he has to get back up to the level of playing in games. Until Posada is cleared for impact activities, it's probably too soon to even think of a return date. Fantasy owners should be planning on being without his services for the better part of a month.
Brad Penny, SP, St. Louis Cardinals: (15-day DL, May 22):
Penny escaped with a relatively mild injury but was still relegated to a DL stint just to be safe. Penny, who was diagnosed with a strained lat (short for latissimus dorsi, one of the broad muscles of the back), left his Friday start early because of discomfort. Despite delivering a grand slam, Penny was not feeling good and came out of the game as a result.
According to the St. Louis Post-Dispatch, the decision to move Penny to the DL was easy for the Cardinals when considering the big picture. General manager John Mozeliak said, "It just makes sense to DL him, rather than put him out there for the next start and he makes a pitch and goes backward. It's a precaution." The team does not expect him to miss time beyond the minimum DL requirement.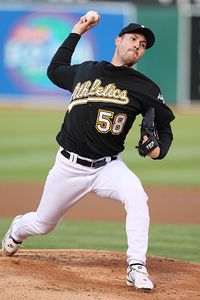 Tony Medina/SMIJustin Duchscherer currently has a 2-1 record with a 2.89 ERA in five starts this season.
Justin Duchscherer, SP, Oakland Athletics (15-day DL, May 16):
After working so hard to get back this season, Duchscherer has to be disappointed in the cards he's been dealt so far this year. He knew that keeping his lead hip healthy was the key to keeping his lower back pain-free and avoiding overload on his throwing arm, which was surgically repaired in 2008. In fact, he told me that very thing in spring training after making his first start of the year coming off pain-alleviating sacroiliac joint (where the low back joins the pelvis) injections. That's why he dedicated extra time to stretching his hips and keeping them loose.
But his anatomy is just not cooperating. Duchscherer, who already endured surgery on his right hip, is now being plagued by similar symptoms on the left side. His prior experience with the right hip is no doubt what led him to tell the San Francisco Chronicle that he anticipates needing surgery on the left hip. That statement came just after Duchscherer returned to the DL in mid-May because of continued hip discomfort one mere day after coming off it.
For the time being, Duchscherer is trying the conservative route to see whether he can delay surgery until the season ends. The Chronicle reports that he has undergone a Synvisc injection, a joint lubricant that may alleviate some of his current symptoms.
Fantasy owners who were holding out hope should probably look elsewhere, however. Synvisc was not ultimately able to stave off surgery when Duchscherer's right hip was bothering him; it's hard to be overly optimistic that this will turn out differently.
Other names to watch
Huston Street, RP, Colorado Rockies (15-day DL retroactive to March 26):
Street began experiencing shoulder stiffness in mid-March. After steady progress, Street was throwing in a rehab assignment mid-May and was feeling good. So good, in fact, that he told the Rockies' official website, "I'm close -- dangerously close. I'm close enough to start getting my hopes up, and that's something I'm trying to keep together." Then, as if foreshadowing what was to come, Street added, "I got real excited last time [in spring training], and we had the setback. That set us back six more weeks."
Uh-oh. It happened again. Street suffered a setback just when it appeared he was on the verge of returning. It's important to distinguish, however, that this setback was not to his shoulder; instead, Street suffered a groin injury. Fortunately, it appears that the injury was not as serious as first thought, and Street's return may not be extensively delayed. In fact, Street threw a bullpen session Tuesday, which suggests he could be back in a rehab assignment in the not-too-distant future. Fantasy owners should keep an eye on early June if all continues well.
Brett Anderson, SP, Oakland Athletics (15-day DL, April 27):
Anderson has been out since late April with a flexor tendon strain in his throwing (left) forearm. ESPN's Buster Olney originally reported that Anderson was expected to miss a month, and it appears that time frame could be right on the money.
Anderson has been progressing well since his injury and threw three innings in a rehab start in Sacramento on Monday. Although it seems like a relatively short rehab stint, the A's must be pleased with what they have seen so far, because Anderson is expected to rejoin the team Wednesday according to Contra Costa Times reporter Joe Stiglich. The plan is for Anderson to throw off the mound and, if there are no setbacks, pitch Saturday. Despite the short rehab assignment, Anderson has been throwing his repertoire of pitches without incident during flat ground sessions since mid-May, according to the San Francisco Chronicle. Although this is certainly a strong sign, the demands of throwing off the mound are always greater. It will be interesting to see how deep he goes into his first game out after the layoff.
And yes, there are always more injuries than there is room to discuss here. We might even hit on some of them in tomorrow's Fantasy Focus podcast. Next week, we will take a look at some of those "forgotten" players nearing the end of their terms on the 60-day DL. Will they be ready? Check back and see what we're hearing.