Stephania Bell:

Brandon Marshall
November, 26, 2014
Nov 26
9:43
PM ET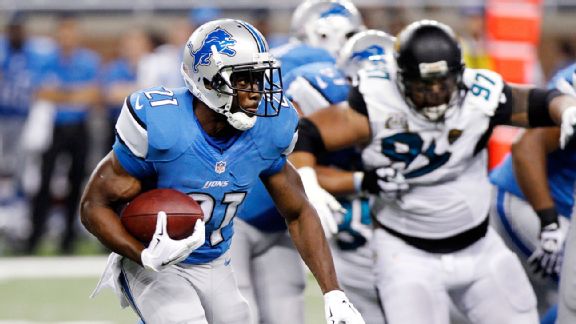 AP Photo/Duane BurlesonReggie Bush has struggled with an ankle injury most of the season.
Happy Thanksgiving! There are three games on the docket spread throughout the day and evening: The
Chicago Bears
visit the
Detroit Lions
to kick things off. The
Dallas Cowboys
play host to the
Philadelphia Eagles
to follow. The final game of the evening belongs to the NFC West as the
Seattle Seahawks
visit the
San Francisco 49ers
. For many fantasy owners on the bubble, this is the week that can make or break a playoff opportunity. Injuries are always a concern, as is remembering to set your lineup in advance of the three Thursday games this week. Here are the injury outlooks for key fantasy players heading into the Thanksgiving Day matchups.
Chicago Bears-Detroit Lions
Brandon Marshall, Chicago Bears, WR, ankle (P): Marshall has been dealing with an ankle injury for several weeks now and it hasn't kept him from playing. The Bears might have their share of challenges, but being without Marshall won't be one of them this week. After participating in limited practices earlier this week, he comes in listed as probable and will play.
Reggie Bush, Detroit Lions, RB, ankle, (Q): The only real consistency when it comes to talking about Bush's ankle is that it has caused him to appear on the injury report since Week 5. Although he returned to play in two games since suffering the original injury, he has struggled in those outings, especially late.
A desire to return to play at an improved level might be the reason his absence has been more protracted since he last aggravated the ankle in Week 10. After limited practice sessions throughout the week, the expectation is that Bush will return to the field, but until he can get through an entire game without a setback, he remains a risky play.
Calvin Johnson, Detroit Lions, WR, ankle, (P): Johnson also had an ankle injury that hampered his performance in the early stages of the season until he gave it the necessary recovery time. He returned with a bang in Week 10, and while his numbers haven't been consistent since then, there are more factors in play than just his health. Listed at probable, Johnson is expected to play.
Philadelphia Eagles-Dallas Cowboys
Jordan Matthews, Philadelphia Eagles, WR, knee, (P): Matthews was on the injury report last week with the knee issue and played through it, remaining productive in terms of receptions and yardage despite not seeing the end zone for the first time in a month. After practicing fully each day in this short week, Matthews, at probable, is expected to play.
Tony Romo, Dallas Cowboys, QB, back, (P): It's almost hard to remember the images of the stiff and sore Romo after he suffered two transverse process fractures in his back, which was just over a month ago. Since that time he has played some very solid football, made that much more impressive knowing his bones were still healing. In fact, the fractures still are in the process of healing, but the pain diminishes with each passing week. If Romo could be effective just two weeks after the injury, he should theoretically only improve in that regard. And he has, performing at a top level in the two outings since his return from injury. He maintains his usual routine of taking one day off to rest, then returns to practice. Listed as probable, Romo is fully expected to play.
Terrance Williams, Dallas Cowboys, WR, finger, (P): Williams has been one of Romo's key targets, making some amazing receptions that call to mind the talents of his teammate, Dez Bryant. The question this week is whether Williams' ability to make those types of catches will be hindered at all by the broken fingertip he suffered last week. The good news is that the small fracture of his left index finger was not an injury that required surgery, and he was able to practice both Tuesday (limited) and Wednesday (full). Don't expect Williams to let the finger be an excuse of any type, even if it's uncomfortable. He will be on the field Thursday.
Seattle Seahawks-San Francisco 49ers
Marshawn Lynch, Seattle Seahawks, RB, back, (P): Lynch's back has had him on the injury report intermittently throughout the season. Last week, he was listed as questionable after a flare-up in the previous week's game but still managed to play. There is little doubt that Lynch will take the field in this critical divisional matchup. The larger question is whether the back will be a factor as he faces a tough run defense in San Francisco. Not that Lynch will be vocal about it; he'll show up for work as he always does, and, if history repeats itself, he'll have success against the Niners.

Frank Gore, San Francisco 49ers, RB, knee, (P): Gore has had some struggles, including uncharacteristic fumbles in back-to-back weeks, but he is not one to miss time. He appears on the injury report again this week with a knee ailment, but he was a full participant in Tuesday and Wednesday practices after being limited Monday. At probable, he is fully expected to play.
Brandon Lloyd, San Francisco 49ers, WR, quadriceps, (P): Lloyd has played through the injury once and should do so again this week. More limiting for fantasy owners, however, are the few targets he sees. Expect him to play, but don't count on significant productivity.
September, 9, 2014
Sep 9
5:56
PM ET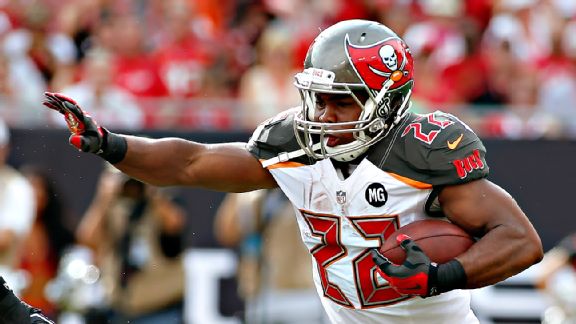 AP Photo/Brian BlancoDoug Martin had just nine carries for nine yards while being hampered by a leg injury in Week 1.
Coming out of Week 1, here are some of the most notable injury situations for which we have some pertinent information.
Cam Newton, QB, Carolina Panthers (rib): He missed Week 1 with a rib injury. For more information on his Week 2 status, check out my video report.
Doug Martin, RB, Tampa Bay Buccaneers (leg): Martin entered the season healthy, fully recovered from the shoulder injury he sustained in Week 7 of the 2013 season that ultimately led to surgery to repair a torn labrum. The clean bill of health didn't last long, however, as Martin suffered a left-leg injury in Week 1 that kept him out of the game late. Martin told the Tampa Bay Times that someone rolled on his leg, and he was sporting a wrap after the game. Coach Lovie Smith did not deliver an update on Martin's status Monday.
Toby Gerhart, RB, Jacksonville Jaguars (ankle): Gerhart sprained his ankle in the second quarter of Sunday's game and it looked as if it might be the end of the day for him if not longer. To his credit, Gerhart was able to return although he acknowledged being "really sore" after the game. According to ESPN's Michael DiRocco, Gerhart is expected to play Sunday against Washington. Expect Gerhart's practice activity to be limited leading up to the game but, as of now, it appears he will try to press through it. The question will be how effective of a runner he can be and there is the risk of an in-game setback. The bigger question may be just how Gerhart will hold up across a season. He has never held a feature role and he missed time last year with the Vikings as a result of a hamstring injury sustained after he replaced an injured Adrian Peterson. He already dealt with a hip flexor injury during training camp; now there's the ankle injury. Time will tell.
Alshon Jeffery (hamstring) and Brandon Marshall (ankle), WR, Chicago Bears: The Bears' two top wide receivers each dealt with injury in the season opener; the next question is whether those will factor into games beyond that first outing. Marshall appeared to injure an ankle and left the game twice to get taping reinforcement but was able to return and finish out the game. There seems to be little concern about his availability for Week 2. His teammate Jeffery was not able to finish the game however after straining a hamstring, although coach Marc Trestman suggested he could have returned if necessary. As of Monday, Trestman had no additional updates leaving Jeffery's practice status in question.
Shaun Hill, QB, St. Louis Rams (quadriceps): A strained left quadriceps, not a poor performance, sidelined Hill for the second half of Sunday's game. Head coach Jeff Fisher said Hill was experiencing discomfort late in the first half and the decision was made at halftime to hold him out for the remainder of the game. His status will be day-to-day throughout the week, but if Hill is healthy enough to play, Fisher says he will indeed start. If Hill represented a significant running threat, the quad strain might be more of a concern, but that is not the case. Although pain associated with tightness in the thigh resulting from any bleeding or edema was enough to sideline Hill last Sunday, with treatment over the next few days, there's a decent chance he'll be ready to go this week.
Jordan Reed, TE, Washington Redskins (hamstring): Reed came into Week 1 with concerns about a sprained thumb suffered in the preseason. He exited the game early with concerns about a hamstring strain and how long it might linger. Reed, projected to be a top-10 fantasy tight end this season, had just one reception for 4 yards before departing due to injury. In fact, following the tackle after he made that reception, when Reed tried to get up and walk, the injury made itself apparent. Reed hopped on his right leg, unwilling to initially put his weight on the left leg. As he limped toward the bench, Reed instinctively reached around to the back of his upper left thigh, one of the universal hallmarks of a hamstring injury.
On Monday coach Jay Gruden labeled Reed's hamstring strain as mild yet noted he "could miss some time." According to ESPN's John Keim, the team is still awaiting Reed's MRI results. The greatest concern with even mild hamstring injuries is that they will turn into something more significant if a player attempts to do too much too soon. It certainly appears that backup plans are warranted for Reed, whether that ends up being for one week or longer.
Tyler Eifert, TE, Cincinnati Bengals (elbow): The Bengals have yet to confirm the nature of the injury to Eifert's right elbow or indicate how much time he might miss. Eifert was seen wearing a sling while standing on the sidelines Sunday after the injury occurred, and the NFL Network's Albert Breer reported it was a dislocated elbow. A dislocated elbow with no complications could result in approximately a four- to six-week absence; an associated fracture or extensive soft tissue trauma could require a longer recovery. Fantasy owners should seek other options.
Addendum: On Thursday, ESPN's Adam Schefter reported the Bengals have placed Eifert on IR/designated to return. Under this designation, Eifert will be eligible to return to practice after six weeks and eligible to return to the active list after eight weeks. This means Eifert could potentially return to play in the Bengals' Thursday night game against the Browns on Nov. 6.
October, 3, 2013
10/03/13
8:03
PM ET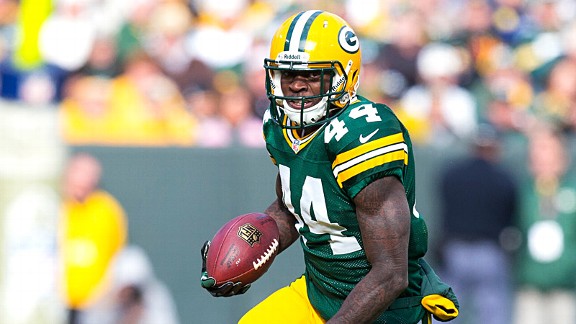 Jeff Hanisch/US PresswireJames Starks will miss more time in Week 5.
Four teams -- the
Minnesota Vikings
,
Pittsburgh Steelers
,
Tampa Bay Buccaneers
and
Washington Redskins
-- have a bye this week and are hopefully using the time to get healthy, or at least healthier. Meanwhile, the
Carolina Panthers
and
Green Bay Packers
are returning from their bye week with a healthier
Eddie Lacy
for the Pack. One other injured RB hasn't quite healed up, however.
Already ruled out for Week 5
Packers running back
James Starks
needed more than the bye week to nurse his knee injury back to health. He has already been ruled out for this Sunday's game against the Lions. Detroit will be without wide receiver
Nate Burleson
again this week and for several more to come. The Titans lost quarterback
Jake Locker
to a hip injury for several weeks, but fortunately for them it was not as severe as it could have been. Even within the last day the news has improved. Locker was initially projected to miss six to eight weeks, but ESPN's Ed Werder reported Thursday that he is now expected to miss four to six weeks.
In the case of Chargers' receiver
Malcom Floyd
, he has not only been ruled out for Week 5 but he is now done for the 2013 season. Floyd suffered a frightening neck injury in Week 2 and was carried off the field on a spine board. Although Floyd was released from the hospital after the game, traveled home with his teammates and has reportedly been making progress, the decision for his long-term health was made to spend the
rest of this season
recovering.
Big names off the injury report
Ravens running back
Ray Rice
was a question mark leading up to last Sunday's game because of a strained hip flexor, which kept him out of action in Week 3. Rice played but only saw five carries for 17 yards, perhaps a function of how the Ravens simply didn't run the ball more. At least he came out no worse for wear, despite being on the field for over 40 snaps. Rice does not appear on this week's injury report and should be in good shape heading into Week 5. His teammate,
Bernard Pierce
, didn't run much last week either and was reportedly dealing with a calf issue, per the Baltimore Sun. He does not however appear on the team's injury report.
Lions running back
Reggie Bush
ran last Sunday like there were no issues with his knee whatsoever, rushing for 139 yards and a touchdown with a few receptions to boot. Now the Lions can only hope it stays that way. The week is starting off well with Bush not appearing anywhere on the team's injury report. A healthy Bush will face the off-the-bye-week Packers this Sunday.
Cardinals wide receiver
Larry Fitzgerald
has a healthy hamstring once again and is free of the injury report designation. It would appear that his teammate, running back
Rashard Mendenhall
, is also off the report (at least as of Wednesday; Thursday's report is not yet complete). Mendenhall has been plagued by various ailments, including a knee injury from the preseason and a toe injury in recent weeks. A healthy Mendenhall would be a nice change of pace.
Rams running back
Daryl Richardson
does not appear on this week's injury report after spending several weeks there with a foot injury. Just how much his foot ailment was to blame for his lackluster running is unclear (he is averaging only 2.7 yards per carry), but the question is whether a healthier Richardson will even be the starter. There seems to be some mystery as to how this situation will play out, but ESPN.com's Nick Wagoner indicates
Zac Stacy
could
now be in the mix
.
Atlanta Falcons
Steven Jackson, RB, (hamstring):
ESPN.com's Vaughn McClure reported last week that Jackson likely would be out through the Falcons' Week 6 bye, and there has been nothing about this week's practice that would suggest anything different. Jackson was present but without a helmet during the portion of practice open to the media Thursday and was officially listed as a nonparticipant. The Falcons play Monday night, so fantasy owners who haven't already accounted for his absence should plan on doing so now.
Roddy White (ankle) and Julio Jones (knee), WR:
Both receivers have been on the injury report since the first week of the season (White started the season on the injury report) yet both have played every game. Not surprisingly, both are expected to play again on Monday night when the Falcons host the
New York Jets
, but will things look any different than they have the last few weeks, particularly when it comes to White's struggles with his ankle? Going back to Week 4, White actually played more and looked a little sharper than he had in the three previous outings. Perhaps time is, in fact, helping. White admitted last week to being limited offensively due to an inability to cut hard on his injured ankle, but he insisted he would continue to play until the bye in Week 6. Judging from the look of things, he should be in a better position to represent the other half of the Falcons' dual wide receiver threat by Week 7, a threat which becomes all the more dangerous if opponents also need to account for Jackson in the backfield.
Jones has been on the injury report with a knee ailment but added a new injury to his left thigh in Week 4. While Jones doesn't make it out to be serious, he told McClure it was "
just like a little stinger
." It might not have been anything "drastic" according to Jones, but he acknowledged the medical staff tried to prevent him from returning to the game late in the fourth quarter after absorbing the blow. He returned anyway, producing more catches for the Falcons and more points for fantasy owners. Jones is a physical receiver who has shown multiple times he will routinely shrug off bumps and bruises. The hope is that White's improving health will help ease the load on Jones before he encounters an injury he can't force his way through on the field. Both receivers were listed as limited participants in Thursday's practice, as expected.
Chicago Bears
Brandon Marshall, WR (foot) and Martellus Bennett, TE (shoulder):
Marshall was a nonparticipant in practice both Wednesday and Thursday due to a foot injury. On Wednesday, coach Marc Trestman expressed confidence that those who weren't practicing, including Marshall, would be on the field Sunday, according to ESPN.com's Jeff Dickerson. Despite appearing with some regularity on the injury reports and a slate of surgical procedures in his past, Marshall rarely misses games (only five absences in his career) and has played in all 16 games the last two seasons. Still, with little in the way of detail and nothing in the way of visible activity, it warrants paying close attention to what Marshall does on Friday.
Meanwhile, Bennett let everyone know when he injured his shoulder in Week 2. He managed to score the game winner that week -- after the injury -- suggesting it would not threaten his playing time. So far, it hasn't. Bennett has been given a lighter workload during the week but has consistently played on game day. This week appears no different, as he was limited Wednesday yet returned to full practice Thursday. Expect him to be ready when the Bears host the Saints.
New Orleans Saints
Mark Ingram, RB, (toe) and Lance Moore, WR, (hand):
No news is not good news here. Neither player has participated in practice this week after missing the team's Monday night game. Toe injuries can be slow to heal and problematic for a player at any position, but especially so for a running back. If Ingram isn't working by now, it's hard to imagine him doing anything at a game level in three days. Moore won't reveal any specifics about his hand injury, but by telling ESPN.com's Mike Triplett that he needed to wait for the "hand to heal properly" or he would "be in trouble," he hinted at a minimum of
another week off
. Hands are fairly integral to the job demands of a receiver so it makes sense, but at this point it's hard to predict when he might return.
September, 20, 2013
9/20/13
9:09
AM ET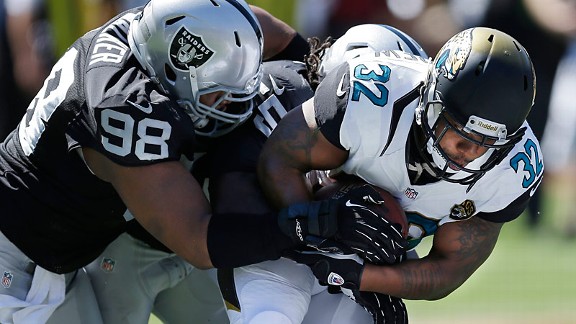 AP Photo/Ben MargotIt's been tough sledding for Maurice Jones-Drew thus far, and now he's battling an injury.
There are some very fantasy-relevant players facing injury issues heading into Week 3. Let's dive in.
Maurice Jones-Drew, RB, Jacksonville Jaguars (ankle):
Jones-Drew left Sunday's game early with a left ankle injury, the result of his ankle rolling inward with his foot planted as he was tackled around the shoulders. Watching the replay multiple times, he's fortunate he didn't end up with a knee injury, as well. Originally referred to in various reports as an ankle sprain, Jones-Drew's injury was later qualified as a tendon strain.
There has been no additional information offered by the team as to which tendon is involved, but it is worth noting that this injury is on the same side as his recent foot surgery. The two are not related, but it is still less than desirable to suffer another injury in such proximity to a recent surgically repaired area. It made sense that Jones-Drew was kept out of practice Wednesday, although he told The Florida Times-Union he expected to play in Seattle on Sunday. On Thursday, Jones-Drew was still not practicing and, according to the Jaguars' official website, coach Gus Bradley described his status as "up in the air," noting that Jones-Drew was still bothered by swelling in the ankle.
There's still another day for practice reports, and Jones-Drew, like the rest of the Jaguars, is still out on the West Coast (the team remained in California to practice between the two games against Oakland and Seattle). Friday should yield more clues.
Vernon Davis, TE, San Francisco 49ers, (hamstring):
Sunday night's game ended with Davis on the sideline with an ice bag wrapped around the back of his left thigh, visual evidence of his strained hamstring. Davis took to Twitter this week to reassure fans of his health: "No need to worry y'all. My leg is feeling great just need a little rest til kickoff according to the docs." Still, he has not practiced at all this week. Although resting is perhaps in his best interest for recovery, it is hard to gauge just how much (or how little) of an issue the hamstring is. All eyes will be on the Friday report.
Brandon Marshall, WR, Chicago Bears (back):
Marshall left Thursday's practice early because of "tightness" in his back. Coach Marc Trestman said the team would be cautious and have Marshall "limited" Friday. According to ESPNChicago.com, the Bears are
not concerned about his availability
for Sunday.
Le'Veon Bell, RB, (foot) and Heath Miller, TE, (knee), Pittsburgh Steelers:
Here's some quietly good news for the Steelers: Two players they could really use on offense bumped up their practice activity this week.
Bell, who suffered a foot sprain in the preseason, returned to practice for the first time Wednesday. He was listed as limited that day but was upgraded to full practice Thursday. Despite the full practice, Bell does not sound as if he plans to be on the field Sunday night. According to the Pittsburgh Tribune-Review, Bell said of his return to practice, "I don't want to rush it. ... I'm still in the healing process." According to ESPN.com's Scott Brown,
Felix Jones
is likely to start Sunday night, but Bell could be in the mix if his foot responds well to the increased work across the week.
As for Miller -- who is coming off multiple-ligament knee reconstruction -- he has been steadily increasing his practice activity the past few weeks. This week, he turned in back-to-back full practices for the first time, and, as Brown notes, this increases his chances of being available Sunday night.
December, 23, 2011
12/23/11
8:24
PM ET
With the majority of NFL matchups taking place on Saturday, there is one fewer day for teams, coaches and, most importantly, fantasy owners to prepare! Never fear, championship contenders. We won't let something as small as a schedule change get in the way of bringing you all the latest information. With the NFL injury reports hot off the presses, here are the players whose status may have you concerned heading into this week's games.
Good luck in Week 16, everyone! May your players stay healthy and win for you.
Quarterbacks
Ben Roethlisberger, QB, Pittsburgh Steelers, ankle (Q):
The Steelers have been preparing
Charlie Batch
all week to face the
St. Louis Rams
, with Roethlisberger active only in an emergency scenario. This is not a huge surprise, as Roethlisberger is coming off a short week following the Monday night game in which he was clearly limited. With the playoffs forthcoming, the extended rest can only help. It's too soon to say whether the Steelers plan to have him active or not in the final week of the regular season.
Michael Vick, Philadelphia Eagles, ribs, (P):
Vick will probably be on this list through the end of the regular season as his rib injury continues to heal. There's no question, however, that Vick will be the quarterback for the Eagles against the
Dallas Cowboys
.
Josh Freeman, Tampa Bay Buccaneers, right shoulder, (P):
Freeman is now at the point where he can play despite the shoulder soreness. He practiced fully this week and will start against the
Carolina Panthers
.
Kevin Kolb, Arizona Cardinals, head, (Q):
Kolb suffered a concussion in Week 14 and has still only returned to limited practice. It's expected that
John Skelton
will start again.
Sam Bradford, St. Louis Rams, ankle, (D):
Bradford has been struggling with his ankle, saying it feels as if it's "going backwards." Not good. Neither is a doubtful tag. With backup
A.J. Feeley
already ruled out, it appears recently signed
Kellen Clemens
will get the start.
Running Backs
Chris Johnson, Tennessee Titans, ankle, (Q):
Johnson sprained his ankle Sunday and has been gradually increasing his activity throughout the week in an effort to return. While Johnson escaped major structural injury, the ankle has still been sore and could affect his overall performance, particularly with lateral movement and cutting. Johnson returned to limited practice Thursday and Friday and is expected to play, but likely will not be at top form.
Ahmad Bradshaw, New York Giants, foot, (P):
Bradshaw is following the same pattern of limited work during the week and playing on Sunday. Expect him to play again this week.
Felix Jones, Dallas Cowboys, hamstring, (Q):
Jones hasn't done much ... and that's the worry. Although he has been doing some running on the side, he has not fully tested the hamstring. While the Cowboys hold out hope he'll be available, it's
Sammy Morris
who has taken all the first-team reps in practice. As another signal the Cowboys want insurance, they promoted running back
Chauncey Washington
from the practice squad, according to ESPNDallas.com. To complicate matters, this is a late game and the decision will not likely be announced until inactives are due. Even if Jones plays, there has to be some concern about what exactly one can expect in live game conditions.
Michael Bush, Oakland Raiders, shoulder, (Q):
Bush has been on the injury report but it seems only logical he would be. After all, there are many other Raiders there to keep him company but, most importantly, he has been the workhorse of the backfield, enduring a physical toll. After he has been limited in practice each day, the questionable tag does raise some eyebrows. The signals out of Oakland all week have been that the Raiders expect to have Bush play, but it will be important to check pregame inactives.
Willis McGahee, Denver Broncos, hamstring, (P):
McGahee has been bothered intermittently by the hamstring since hyperextending his knee but the probable tag tells us the Broncos plan to have him on the field. McGahee practiced in full every day, which should also help put fantasy owners' collective minds at ease.
Kevin Smith, Detroit Lions, ankle, (P):
Smith's status is an upgrade over last week, indicating the team is feeling far more confident about his ankle. Smith's activity this week was a positive sign, as he was able to practice in full each day. While there's no way to be certain he can get through the game unscathed, this is certainly a better situation than last week.
Roy Helu, Washington Redskins, toe/knee, (Q):
Helu downplayed his injuries, but according to The Washington Post, he felt much better after practice Thursday than he did earlier in the week. Despite the questionable tag, it appears Helu will play.
Maurice Jones-Drew, Jacksonville Jaguars, ankle, (P):
His ankle got tangled up during the Week 15 game, but Jones-Drew, one of the most durable and productive running backs this season, was never really in danger of missing the game. He was given fewer reps in practice but participated on a limited basis every day. Jones-Drew is expected to start against Tennessee.
Beanie Wells, Arizona Cardinals, knee, (Q):
After he was listed as probable the past couple of weeks, it's a little concerning that Wells has been downgraded this week to questionable. He did practice daily, but on a limited basis; however, that has been the pattern for some time as the team has been attempting to manage his knee condition. The Arizona Republic reports that Wells is expected to play Saturday, despite the questionable tag.
James Starks, knee/ankle and Brandon Saine, concussion, Green Bay Packers, (P):
Starks sat out last week's game to give his ankle some additional rest. It only made sense after Starks struggled for several weeks in a row. This week has gone much better for Starks, who was able to participate fully in practice each day. Saine missed Week 15 with a concussion but returned to limited practice Wednesday, then full practice Thursday and Friday. Both backs are expected to be available along with
Ryan Grant
. Unfortunately for fantasy owners, there is likely to be a shared workload in place.
Shonn Greene, New York Jets, rib/shoulder, (P):
Greene has been on the injury report for a few weeks now and his latest injury (torn tendon in finger) isn't even listed. The probable tag indicates the Jets expect him to play.
Marion Barber, Chicago Bears, calf, (D):
Barber is listed as doubtful, meaning there is little doubt that
Kahlil Bell
will be carrying the load for the Bears on Saturday.
Mark Ingram, New Orleans Saints, toe, no designation yet:
Ingram is still not practicing, and with the game on Monday night, fantasy owners should avoid him in their lineups.
Wide Receivers
A.J. Green, Cincinnati Bengals, shoulder, (P):
Knowing that Green comes into this game fresh off a Grade 3 shoulder separation, the probable tag is very encouraging. Green has maintained all along that he would be able to play this weekend, and now it appears all but certain that he will. He was catching passes as early as Tuesday, practiced on a limited basis Wednesday and Thursday, and returned to a full practice Friday. If Green lands hard on the recently injured shoulder, it certainly won't feel terrific and he may be challenged to reach directly overhead, but he managed to finish the game last week after suffering the injury. It's hard to imagine it being much worse Saturday.
Steve Johnson, Buffalo Bills, groin, (P):
Last Sunday Johnson appeared to aggravate the groin injury that has plagued him throughout the season and was removed from the game as a result. Johnson said he could have re-entered the game and expressed little doubt that he would be back in Week 16. He practiced on a limited basis daily and appears on track to play as usual. It's worth noting that Johnson has performed well this season despite the presence of injury.
Laurent Robinson, Dallas Cowboys, shoulder (Q):
Robinson was listed this way last week but we all know he played. Expect him to do the same again after practicing daily.
Jeremy Maclin, Philadelphia Eagles, hamstring/shoulder (P):
Maclin looked better last week than he did the week before and the probable tag tells us the Eagles are confident he'll be out there again. Maclin practiced fully each day and looks to be overcoming the injury.
Mario Manningham, New York Giants, knee, (D):
Manningham has managed to play through his knee issue for the last two weeks but it appears he will miss this one. Swelling in the knee has returned, and he did not practice at all this week. Fantasy owners should make other plans.
Nate Washington, Tennessee Titans, ankle, (P):
Washington has already shown he can play through the ankle injury, even coming in at far more questionable status. After practicing in full daily, Washington appears good to go against Jacksonville.
Brandon Marshall, Miami Dolphins, knee, (P):
Marshall apparently had been dealing with some knee soreness but nothing so serious that he might have to miss this matchup against the
New England Patriots
. Marshall didn't practice Wednesday but returned to light work Thursday and full practice Friday. Expect him to play.
Vincent Jackson, San Diego Chargers, groin, (Q):
Jackson did not practice at all this week because of the groin issue, making his Saturday status far less certain. Jackson has played through injuries before, but this time may be different. It seemed like a foregone conclusion earlier in the week that Jackson would go, but Kevin Acee of the San Diego Union-Tribune reported that Jackson's groin has not responded as hoped to treatment during the week. Late game alert.
Wes Welker, knee and Deion Branch, groin, New England Patriots, (Q):
Once again the Patriots have roughly half their roster at questionable after limited practice all week. Welker has been at this status for several weeks and has played without incident. Branch, however, missed last week and there is legitimate question as to whether he is ready to return. Branch says he's improving, but the team will make the final decision, just before game time.
Santonio Holmes, New York Jets, hip, (P):
Holmes was an addition to the Thursday injury report after being limited in practice, but coach Rex Ryan said the Jets expected him to be ready by Saturday. The probable tag supports that, and fantasy owners can put him in their lineups.
Denarius Moore, Oakland Raiders, foot, (P):
Moore was able to make it back last week but didn't do too much. Another week of practice (full practices daily) should have him on track for more action.
OUT
This space is intended for a list of key fantasy players, not including those who have been moved to injured reserve status, who are officially listed as "out" for the upcoming game.
Anquan Boldin, WR, Baltimore Ravens, knee:
Boldin underwent knee surgery this week and will miss the remainder of the regular season.
Greg Jennings, WR, Green Bay Packers, knee:
Jennings suffered a sprained MCL in Week 14 and is likely out for the remainder of the regular season.
Matt Forte, RB, Chicago Bears, knee:
Forte suffered a Grade 2 MCL sprain, and the Bears still hope he will be able to return before the regular season is complete, but it is far from certain.
Jay Cutler, QB, Chicago Bears, thumb:
The Bears' starting quarterback remains out alongside their starting running back. Cutler is recovering from surgery to repair his broken right thumb.
Darren McFadden, RB, Oakland Raiders, foot:
McFadden is still removed from practice but the team still holds out hope he can return at some point. It won't be this week.
Jacoby Ford, WR, Oakland Raiders, foot:
Ford has still not been able to practice this week as he recovers from a foot injury.
Jake Ballard, TE, New York Giants, knee:
Ballard injured his PCL and, as expected, will miss this week.
Anthony Fasano, TE, Miami Dolphins, head:
Fasano was diagnosed with a concussion Thursday, at which point it appeared obvious he would sit out this week. The team made it official Friday.
Be sure to check out Fantasy Football Now on Saturday this week, on ESPN2 at 11:30 a.m. ET and Fantasy Surround on ESPN.com starting at 10 a.m. ET on Saturday for last-minute inactives, rankings, injury impact and more!
December, 9, 2010
12/09/10
5:16
PM ET
This week's Thursday night matchup has the
Tennessee Titans
hosting the
Indianapolis Colts
.
For the Titans, wide receiver
Kenny Britt
is off the injury report and is expected to see his first game action since tearing his hamstring six weeks ago. While his recent practice activity and this "noninjury" status are good news, he is still not out of the woods. Hamstring strains, as we've seen many times this season, are very susceptible to aggravation. For that reason, especially given the severity of Britt's injury, it would not be surprising for Britt to see a light workload in his first game back. Fantasy owners who have better options may want to hold him for this week, but if he comes through unscathed, he could be very valuable the rest of the way.
For the Colts, the injury list remains as lengthy as ever. Already ruled out are
Austin Collie
,
Joseph Addai
and
Mike Hart
. None of those three being out is particularly surprising, but it does make those with a questionable status more critical.
Donald Brown
was on the injury report because of his ankle, but the injury appears to be minor. He practiced fully Tuesday and Wednesday and is expected to start. Tight end
Jacob Tamme
is listed as questionable with a knee ailment (note that early in the week it was called a hamstring). Tamme returned to limited practice Wednesday after sitting out early in the week. My sources seem to think he will play and that he may have been given additional rest because of the short week. Nonetheless, be sure to check game-time inactive reports. Wide receiver
Reggie Wayne
, also listed as questionable, practiced fully Tuesday and Wednesday and is expected to play, as he always does.
Here's who else you might be concerned about heading toward the Week 14 playoff rounds:
Quarterbacks
[+] Enlarge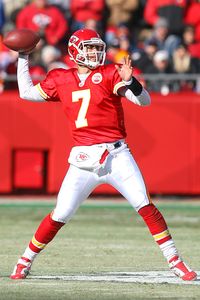 Tim Umphrey/Getty ImagesIt's very possible Matt Cassel could play just days after an appendectomy, but it would be very risky for fantasy owners.
Matt Cassel, Kansas City Chiefs:
Cassel might be the most discussed injury concern in the past 24 hours as it was discovered that Cassel underwent a laparoscopic appendectomy on Wednesday morning. Essentially, he had his appendix removed using a more modern, less invasive approach that includes a scope or camera, as opposed to the old-fashioned "open" procedure which is a bigger cut and longer recovery.
The big question for fantasy owners, since the Chiefs have indicated Cassel's status is questionable and that there is really a 50 percent chance he plays, is will he indeed suit up against division rival the
San Diego Chargers
?
The answer: Maybe, but fantasy owners need to have insurance and probably should look elsewhere for a playoff-round quarterback.
To better outline the variables involved in determining whether Cassel could play this weekend, I spoke with Dr. Efren Rosas, Chief of Surgery at Kaiser Permanente in San Jose, Calif. Rosas has performed thousands of laparoscopic procedures and is an advocate of the less invasive approach, in part, because of the more rapid recovery for the patient. He was quick to say that not all laparoscopic procedures are identical, nor are all presentations of appendicitis, and several factors could influence whether Cassel could be available Sunday. It should be noted that Rosas has no specific knowledge regarding Cassel's care.
First comes the question of whether Cassel had a three-incision or single-incision surgery (in other words, how many surgical cuts are there on the abdomen). Three incisions are more standard, although one incision is gaining popularity in some places (such as Los Angeles), because there is only one surgical scar. With three cuts, each incision can be smaller, whereas with one cut, all of the surgical instruments have to pass through the same entry so the cut is larger. Following surgery, smaller incisions (typically one-quarter to one-half inch in size) mean less likelihood of developing a hernia (where abdominal contents push outward -- not pretty). That translates to less activity restriction after surgery with three incisions versus one.
Rosas, who treats patients of all ages, including competitive athletes, said, "I release all my patients, no matter what type of job or sport they have, to return at two weeks and if they're doing really well, they're clear within one." When asked if four days would be possible for an NFL quarterback, Rosas said that while it may not be likely, "If he's not too sore and can function effectively, I wouldn't completely rule it out." Rosas pointed out that from a medical standpoint, the tissue should heal within a few days, and that the biggest limitation, presuming no setbacks (such as infection) along the way, would be pain from where the surgical cuts were made. That pain may be amplified by the fact that a throwing athlete uses his oblique abdominal muscles, especially for distance and velocity, meaning long downfield throws might be tougher to make.
Another variable would be the condition of the appendix at the time of surgery. A severely inflamed or ruptured appendix would result in significant abdominal inflammation, complicating the recovery. A minor case of appendicitis in a healthy younger male may mean less inflammation in the surrounding tissue and quicker healing time. Only the surgeon who was involved in Cassel's case has an appreciation for all of the factors in play and ultimately will make the decision as to Cassel's status when appropriate.
Pittsburgh Steelers
quarterback
Ben Roethlisberger
underwent a laparoscopic appendectomy in 2006 and did not play in the first game of the season, a Thursday night game just days after surgery. Roethlisberger did start 10 days later in Week 2. It is worth noting, however, that Roethlisberger also was coming off a summer filled with injuries, having suffered facial fractures, a jaw fracture and a concussion in a motorcycle accident about three months earlier.
It would not be surprising if Cassel were to travel to San Diego with the team and ultimately be held back from starting. And although it appears unlikely, it's not completely inconceivable that he could play. Nonetheless, this is a fantasy situation to avoid for many reasons. This is a late game, so Cassel would likely be listed as questionable at best and even if he starts, may prove not quite up to finishing. It's best to wait a week and see how he's faring. The Chiefs may ultimately opt to do the same.
Ben Roethlisberger, Pittsburgh Steelers:
Roethlisberger has a recently surgically repaired nose to go with his ailing right foot this week. Actually, the rest for his nose may have given his foot a little extra time off. Roethlisberger has been fitted with a protective shield that he will wear Sunday. Most importantly, there has been really no doubt about the fact he is expected to play.
Brett Favre, Minnesota Vikings:
As of this writing, Favre has not yet tested his throwing. Thursday was to be the test date. Favre rested the arm early in the week to allow his sprained sternoclavicular (SC) joint some healing time. Tick tock ...
Running Backs
Ryan Torain, Washington Redskins:
Torain was listed as a limited participant in Wednesday's practice although, according to The Washington Post, coach Mike Shanahan indicated that Torain did full work. Torain told the Post that he "feels great" and is eager to get back into the lineup. It looks as though he is on pace to rejoin his team on the field this week. Torain has essentially been out since Halloween after injuring his hamstring that day. He tried to return a couple of weeks later but aggravated the injury in warm-ups. Naturally, there will be some concern as to how Torain's hamstring will fare in his first game in over a month, and more concern over how the workload will be divided. Torain is likely to resume a lead role, but whether fantasy owners can count on that in his first outing is questionable.
Wide Receivers
[+] Enlarge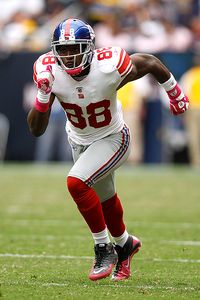 Chris Graythen/Getty ImagesHakeem Nicks has missed the past two games with a leg injury, so if he returned this week, it would be a week ahead of schedule.
Hakeem Nicks and Steve Smith, New York Giants:
This tandem affects many fantasy rosters and everyone is eager to see what its status is for this week. Nicks was able to do about 60 percent of team drills Wednesday, according to Ralph Vacchiano of the New York Daily News. Nicks seemed confident that he would be playing; the medical staff gave him the official clearance Thursday, according to Mike Garafolo of the Newark Star-Ledger. Nicks practiced on a limited basis again Thursday, and if Friday goes well, looks as if he'll play. Teammate Smith has been practicing on a limited basis as well but also appears as if he'll return to game action this week. Smith has been nursing a partially torn pectoral muscle.
Vincent Jackson, Malcom Floyd and Legedu Naanee, San Diego Chargers:
The Chargers face a critical game without some critical personnel. Then again, that won't be a new scenario for them as they've played musical chairs at the wide receiver position all season. Jackson is still recovering from his calf strain and while it still seems likely that he will not play this weekend, the San Diego Union-Tribune reported Jackson did practice on Thursday. Naanee, who had come back from a hamstring strain two weeks ago but suffered a setback, is unlikely to play. That leaves Floyd, who so far is doing well. Or at least well enough to not be on the injury radar right now. It appears that Floyd will play this week and likely have more opportunities.
Mike Williams and Ben Obomanu, Seattle Seahawks:
Williams has an ankle sprain superimposed on his foot injury and it's not looking good for him as of now. Although the Tacoma News-Tribune reports Williams is out of his walking boot, he has not practiced and likely won't all week. While the Seahawks hold out some hope that Williams could feel well enough to play Sunday, even they don't sound overwhelmingly convinced. Obomanu suffered a deep laceration on his right hand that could make it difficult to catch balls. As a receiver, that does comprise a significant portion of the job description, meaning this injury may prevent him from being able to play. Obomanu will also have until Sunday to see how his hand is healing, but they could both be late-afternoon game-time decisions.
Tight Ends
Antonio Gates, San Diego Chargers:
Gates' condition hasn't changed much, but his status midweek has. Gates told the San Diego Union-Tribune "Antonio Gates will play," acknowledging the third-person reference. Maybe it's easier to deal with the pain by taking oneself out of one's body. He admits the pain is still excruciating but knows this is a must-win situation. Barring some unforeseen dramatic setback, Gates will gut it out again.
Todd Heap, Baltimore Ravens:
Heap's own words belied his concern about his injured hamstring. Heap told the Baltimore Sun that he has rushed back in the past from a hamstring injury, "and that pretty much cost me the rest of the season." The Ravens play on Monday night and Heap has not practiced this week, both of which signal to fantasy owners that they should seek a replacement.
Other
• Minnesota Vikings wide receiver
Percy Harvin
did not practice Wednesday or Thursday as he continues to battle his latest migraine episode. Fantasy owners need to at least start being a bit concerned, as Harvin sat out Week 13 and has not returned to practice.
• Vikings running backs
Adrian Peterson
and
Toby Gerhart
were limited early in the week but, at this point, seem in no danger of sitting out. Proactive rest seems to be the rationale here.
• In addition to their wide receiver concerns, the New York Giants saw running back
Ahmad Bradshaw
on the injury report this week because of his wrist. Bradshaw did not practice Wednesday but returned to full practice Thursday and is expected to play Sunday.
[+] Enlarge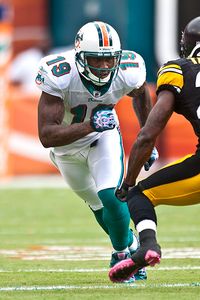 Ronald C. Modra/Sports Imagery/Getty ImagesBrandon Marshall has missed the past two games with a hamstring injury and he's scored just one touchdown all season.
•
Miami Dolphins
wide receivers
Brandon Marshall
and
Brian Hartline
are both on the injury report this week. Marshall has resumed limited practice after sitting out another game in Week 13 and appears on track to play this Sunday. Hartline had surgery on his finger and was not in practice Wednesday. There has been some concern as to whether he would return at all this season. The Dolphins have not formally ruled him out but it appears he will miss Week 14, maybe longer. This might mean a lot of
Davone Bess
.
•
New Orleans Saints
running back
Pierre Thomas
continues to practice fully this week and is expected to return to the playing field Sunday.
Chris Ivory
is probably in no danger of losing significant touches, but Thomas owners who have patiently held on to him may want to keep an eye on how he performs. He could have value in the home stretch.
•
Detroit Lions
running back
Jahvid Best
(toes), and wide receivers
Calvin Johnson
(groin) and
Nate Burleson
(hamstring) all appear on the injury report this week but all are expected to play Sunday.
•
Jacksonville Jaguars
wide receiver
Mike Sims-Walker
returned to limited practice Wednesday after missing Week 13 with his high ankle sprain. This is somewhat encouraging, but given that Sims-Walker reported his injury as a high ankle sprain, we need to see him successfully complete the week before getting too excited.
• The
Tampa Bay Buccaneers
version of
Mike Williams
is nursing a sore knee which could present a problem for Sunday. According to the St. Petersburg Times, coach Raheem Morris says Williams has been working through this "for a couple of weeks." The Buccaneers are hopeful that some rest during the week will allow him to play Sunday but he could be a game-time call.
•
Oakland Raiders
tight end
Zach Miller
continues to be limited by his foot, which seriously impacted his pass-catching productivity. It's hard to hope for much based on the past few weeks and fantasy owners should be securing another option at least for early playoff rounds. The bad news for tight ends moves over to the Pittsburgh Steelers, where
Heath Miller
was on the receiving end of a scary hit last Sunday night that left him with a concussion. Miller did not practice Wednesday and is not expected to play this week. Fortunately in Atlanta,
Tony Gonzalez
's sprained ankle does not appear to be affecting his chances of playing Sunday. He told the Atlanta Journal-Constitution he would be fine, adding, "Especially at my age, I have to enjoy this." Gonzalez sees the playoffs coming and he's not going to miss out.
See you at Friday's injury chat (3-4:00 p.m.) and we'll have the latest injury updates affecting Week 14 in the Saturday morning blog!
December, 2, 2010
12/02/10
6:00
PM ET
This week's Thursday night matchup has the
Philadelphia Eagles
hosting the
Houston Texans
.
Tight end
Owen Daniels
already has been ruled out for the Texans, meaning
Joel Dreessen
should get another start. Despite being listed on the injury report with a knee issue, Dreessen participated fully in practice Tuesday and Wednesday and is listed as probable. Quarterback
Matt Schaub
also is listed as probable because of his knee. He practiced fully each day and will start.
For the Eagles, one of the biggest health concerns is on the defensive side of the ball. Cornerback
Asante Samuel
has a sprained left medial collateral ligament that kept him out of Week 12, and he was limited in practice throughout this week. Signs are pointing toward him playing Thursday night despite being listed as questionable, although he might not be 100 percent. Samuel will be a game-time decision. Running back
LeSean McCoy
has been playing through a shoulder injury and, listed as probable, likely will do so again.
Here's who you might be concerned about heading toward the Week 13 showdowns:
Quarterbacks
[+] Enlarge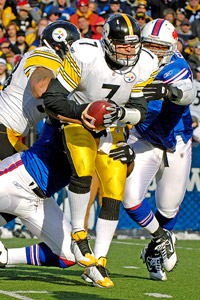 AP Photo/Don HeupelNo matter the extent of the foot injury, it looks like Ben Roethlisberger will play this week.
Ben Roethlisberger, Pittsburgh Steelers:
Roethlisberger remains in a boot to protect his injured right foot. He has been limping around the Steelers' facilities since this past Sunday's game with what was originally called a sprained foot. According to the Pittsburgh Post-Gazette, Roethlisberger's injury was actually a broken fifth metatarsal. The fifth metatarsal is the long bone in the outer forefoot that connects the fifth toe to the midfoot. The Pittsburgh Tribune-Review reports, however, that the Steelers are refuting accounts of a new fracture. Via a statement from team spokesman Dave Lockett, the Steelers maintain Roethlisberger aggravated scar tissue at the site of an old injury. Either way, Roethlisberger has pain in his right foot, but the absence of a new fracture could be significant in that it might affect the course of treatment.
In the immediate sense, Roethlisberger has taken steps toward playing in Week 13. He shed the boot only long enough to participate in a limited practice session Wednesday, but the term "limited" might be a bit misleading. According to the Pittsburgh Post-Gazette, Roethlisberger said, "I only missed probably 10-15 snaps," adding, "It hurts because it's my plant foot, my right foot." While Roethlisberger acknowledges the discomfort, he remains confident in his ability to be able to play Sunday night, especially after putting in another practice Thursday. The Post-Gazette notes that Roethlisberger also is wearing a reinforced shoe to accommodate the foot when on the field. The shoe provides support but also limits flexibility, which can help decrease the pain associated with excess motion. Adapting to how the foot feels along with the modified shoe is perhaps the biggest key, so seeing Roethlisberger on the field early in the week is a very encouraging sign.
Kerry Collins, Tennessee Titans:
Collins has been recovering from a calf strain, and with
Vince Young
on injured reserve, that has forced
Rusty Smith
into action. But this might be the week Collins returns to lead the offense. He was able to put in limited practice Wednesday followed by a full practice Thursday. In the absence of a setback, expect Collins to take the field Sunday.
Brett Favre, Minnesota Vikings:
Add another ailment for Favre. Now his neck has been added to the already-listed ankle and shoulder. Favre sat out Wednesday but returned to limited practice Thursday, and I think we all know by now that he is planning on playing Sunday.
Running Backs
Adrian Peterson, Minnesota Vikings:
Not surprisingly, Peterson did not practice Wednesday as he rested his sprained ankle. On Thursday, Judd Zulgad of the Minneapolis Star-Tribune reported that Peterson continues to rest the ankle and receive treatment but plans to test the ankle Friday. According to Zulgad, Peterson indicates the swelling has subsided some and he does note improvement. "I know my body better than anyone else," Peterson said, adding, "If I can go, I'll definitely be going." That's a sight fantasy owners would like to see. It certainly sounds as if there's reason to be optimistic, but Friday practice will yield better clues.
Ryan Mathews and Mike Tolbert, San Diego Chargers:
Mathews' return to the practice field is an encouraging signal he is nearing a return. He has missed the past two weeks while recovering from the setback to his high ankle sprain, originally suffered in Week 2.
Tolbert has filled in ably with Mathews down, but he suffered a hand injury of his own in Week 12. He did not practice Wednesday but, according to the San Diego Union-Tribune, that was a precautionary measure. If both backs are available this week, there is going to be a sharing of the workload. Fantasy owners would like to have an idea in advance as to just how that workload will be divided, but unfortunately, that's not likely to happen.
If we go by recent past events, when Mathews was working his way back after the initial ankle injury, his time on the field was significantly limited. It's hard to imagine, particularly with the way Tolbert has performed, that Mathews would see the bulk of the carries right out of the gate, but there are new variables to consider. Tolbert has a hand injury, and although the specifics have not been revealed, there are always concerns about ballhandling when the hand, fingers or thumb are involved. Mathews, who had some rookie issues of his own along with the high ankle sprain, was guarded in terms of playing time after the injury. This might just be a scenario that plays out during the game, assuming both backs are available.
[+] Enlarge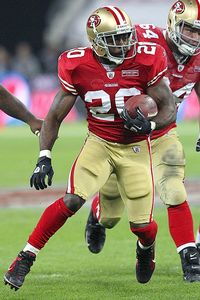 AP Photo/ Bill NicholsIt didn't take long for Brian Westbrook to land back on the injury list.
Brian Westbrook, San Francisco 49ers:
On Tuesday, we noted Westbrook's strong performance when
Frank Gore
was
lost to injury
. We also noted Westbrook's well-chronicled injury history. Imagine the concern of many a Westbrook waiver-wire acquiring fantasy owner when he was held out of Wednesday practice because of an ankle. Not to worry ... much. Westbrook's ankle is one of the joints that needs to be protected from excessive pounding, so a day of rest following a Monday night game, especially knowing that his workload will remain elevated, is not a huge surprise. The 49ers have indicated they will control the amount of work Westbrook sees, as they don't want to risk running him into the ground too quickly. Fantasy owners hoping for another 23-touch game might be reaching a little high;
Anthony Dixon
probably will be balancing Westbrook more. Nonetheless, Westbrook has proved he is part of the 49ers' game plan for the remainder of the season, as long as he stays healthy.
Ryan Torain, Washington Redskins:
Torain is still out with a hamstring strain and has not returned to practice as of yet. He has made some progress in that he is doing some running on the side, but he doesn't appear far enough along to return this week. Last week,
Keiland Williams
saw his playing time cut into by
James Davis
. The bottom line for fantasy owners is that it's hard to know whom to count on in Washington for the running game.
Reggie Bush and Pierre Thomas, New Orleans Saints:
Bush returned from his fibula fracture for the Saints' Thanksgiving Day game but was used in a limited role. A fumble during a punt return exposed the potential problems associated with extended downtime, but at least Bush's leg held up. Bush says he is feeling "great," according to the New Orleans Times-Picayune, and should see more work going forward. Teammate Thomas has returned to practice on a limited basis, the most encouraging progress in weeks, but still is likely another week or two away from returning.
Wide Receivers
Brandon Marshall, Miami Dolphins:
Marshall has returned to limited practice for the Dolphins this week. He sat out Week 12 with a hamstring injury suffered during the previous game but has been able to do some work on back-to-back days. Hamstring injuries can be delicate for receivers and running backs, however, so until game time comes and Marshall is in the mix, there remains some uncertainty. Even if Marshall is on the field, the question first is whether he will be able to go full speed and then how his body is able to respond to that higher gear. Still a bit risky from a health perspective.
Malcom Floyd, San Diego Chargers:
The above noted concern for Marshall is exactly what Floyd experienced when he first returned from a hamstring injury. Floyd tweaked his hamstring in his first game back from injury (Week 11), and while it did not appear to be a major setback, his role was limited in last week's game as a result. Floyd did not practice Wednesday but returned Thursday and is still considered in the mix for the matchup against the
Oakland Raiders
.
Tight Ends
[+] Enlarge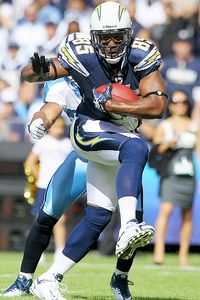 Jeff Gross/Getty ImagesAntonio Gates likely will be a regular on the injury report the rest of the season.
Antonio Gates, San Diego Chargers:
It was great to see Gates back on the playing field but, as we noted Tuesday, he did not look fully recovered. Nor should we expect him to be at this point. The pain from the torn plantar fascia is not the type of thing to disappear suddenly. Apparently it was more painful for Gates to play than initially suspected.
Gates did not practice Wednesday in an effort to rest his foot and might not practice the entire week. At this point, he is no lock to play Sunday, but knowing Gates, he will give himself every opportunity to at least give it a shot. This might come down to another game-time decision.
Zach Miller, Oakland Raiders:
Miller recently revealed that he, like his division counterpart Gates, tore his plantar fascia. This would explain why it has been so difficult for Miller to play effectively since the injury. His playing time has been limited by arch pain that increases as the game goes on. Last week, he added a contusion to his lower leg to his injury report.
A few days ago, it seemed as if Miller might be in danger of missing time again, but Wednesday he was spotted in practice, albeit on a limited basis. Interestingly, the Chargers host the Raiders this Sunday, and one of the top fantasy questions this week surrounds the two star tight ends who are dealing with similar injury concerns. Will they or won't they take the field? As both Gates and Miller know, their status at kickoff is only a part of the issue. Whether or not they can make it through the game is a far more challenging prospect and something Miller has not been able to do of late.
Other
• Minnesota Vikings wide receiver
Sidney Rice
sat out Thursday, but this is likely precautionary to rest his surgical hip (Rice did not practice last Thursday, either).
Percy Harvin
was out with an illness, a term the team has used in the past when Harvin has had migraine episodes. It sounds like the headaches have surfaced again in what has become a routine of wait-and-see.
• Tennessee Titans wide receiver
Kenny Britt
has returned to limited practice, but fantasy owners need not get overexcited just yet. Britt began some light running last week and had progressed enough to return to a very small amount of practice. But given the seriousness of his hamstring injury (remember, the Titans were relieved to discover his season was not over when he first was injured in Week 7), there is no reason to believe the Titans will rush him back into action, especially given the high likelihood of a setback. Fantasy owners should not expect him before Week 14.
•
Seattle Seahawks
wide receiver
Mike Williams
, who has an injured foot, did some running Wednesday but still has not returned to practice. This will be a situation to watch through the end of the week, as he could be another game-time decision.
•
Jacksonville Jaguars
wide receiver
Mike Sims-Walker
returned to practice Thursday on a limited basis after sitting out Wednesday to rest his ankle. Sims-Walker was a surprise active in Week 12 after reporting his injury as a high ankle sprain. Although he appeared limited in that game, it's hard to imagine he sits this one out.
•
Dallas Cowboys
wide receiver
Dez Bryant
was a late addition to the injury report Thursday, listed as limited because of his back. While there is no indication yet that he will miss Sunday's game, what he does Friday will be telling.
• The
Detroit Lions
are placing kicker
Jason Hanson
(sprained knee) on injured reserve, which means
Dave Rayner
has the job going forward. The Lions also will have another quarterback this week.
Drew Stanton
has been practicing with the first team to get ready for Week 13 -- and probably longer -- as
Shaun Hill
is out with a broken finger on his throwing hand. That's two broken bones this season for Hill. Hope he's drinking some milk.
See you at Friday's injury chat at 3 p.m. ET. We'll have the latest injury updates affecting Week 13 in the Saturday morning blog.
December, 31, 2009
12/31/09
1:57
PM ET
Here's a tip for fantasy owners in the final championship week: Don't put
New York Giants
running back
Brandon Jacobs
in your lineup. He'll be undergoing arthroscopic surgery on his right knee next week for what the Newark Star-Ledger is reporting will be a "clean up" procedure. His knee has reportedly been sore and swollen of late and the hope is that he will be ready to go well in advance of training camp. Jacobs has been placed on injured reserve, and the primary running back duties will go to
Ahmad Bradshaw
, who has been working through foot and ankle injuries of his own this year.
Speaking of players named Brandon that fantasy owners should be concerned about,
Brandon Marshall
's appearance on the injury practice report this week induced a mild panic in the fantasy world. Marshall apparently suffered a hamstring injury in Wednesday's practice and there was immediate concern as to whether this would impact his availability for Week 17. According to ESPN news reports, Marshall was "seen grabbing the back of his right leg during the portion of practice open to the media." The hallmark of a hamstring strain is the instinctive grab of the back of the thigh by the athlete, as if to prevent the muscle from rolling up into a ball. Once the player has identified the hamstring as the culprit in this manner, the question then becomes how serious the injury truly is.
Did the athlete experience tightness or cramping, which would suggest a strain of the minor variety? Or was it a pulling or tearing sensation, which would hint at a more severe type of strain? While we don't know the specifics of what Marshall experienced, we do have a hint that the injury was relatively minor. ESPN's Adam Schefter is reporting that a team source has indicated that Marshall is expected to play against the
Kansas City Chiefs
this Sunday in what is a must-win scenario for the
Denver Broncos
. Expecting to play and playing at 100 percent are not necessarily the same, however, as many fantasy owners are acutely aware.
This situation bears watching over the next couple of days to see what Marshall is able to do in practice. At this point, it sounds as though fantasy owners can expect him to be on the field, but how much he will be able to contribute is still unclear. The good news is that this is not the same hamstring Marshall strained in the preseason nor is it on the same side as his surgically-repaired hip.
Be sure to check back on Saturday for post-Friday NFL injury report updates on all your fantasy players heading into this final championship weekend.
See you at the final episode of "Fantasy Football Now" this Sunday on ESPN2 and ESPN.com from 11:30 a.m. ET to kickoff for last minute inactives, rankings and more! Happy new year everyone! Be safe and be healthy.