Stephania Bell:

Brandon Morrow
June, 19, 2012
6/19/12
5:46
PM ET
They say things happen in threes. If that's the case, then the Toronto Blue Jays should at least be granted a reprieve in the injury department after losing three members of their pitching staff in succession. The latest unfortunate news: Right-hander
Kyle Drabek
will undergo what will be his second Tommy John surgery in five years. Drabek, who had his first surgery while still a teenager (an unfortunate trend), recently experienced pain and a popping sensation in his elbow while throwing. Ultimately, the determination was that he was in need of a second surgery, and he will be operated on by Dr. James Andrews.
[+] Enlarge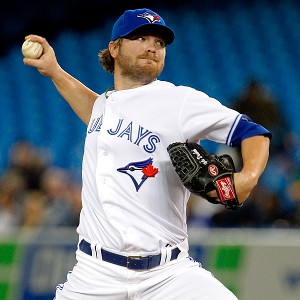 Getty ImagesYoung Blue Jays starter Kyle Drabek is headed for Tommy John surgery No. 2.
It's not hard to sympathize with Drabek as he received the bad news for the second time in his young career. "I was down, because they said they saw a little tear, and right when they said that, I flashed back to when I had it previously," Drabek told the National Post. "[I] hated going through it. You miss a year of baseball, you miss a year of hanging out with the guys."
As hard as it is to go through the process of Tommy John surgery and the subsequent lengthy recovery, imagine going through it twice. This year there have been a few notable pitchers who have undergone a second such procedure, including closers
Joakim Soria
and
Brian Wilson
. The outcome on second procedures is not nearly as encouraging as the outcome following an initial surgery, and
starters seem to not fare as well as closers
. On the bright side, Drabek is still just 24 years old, and youth is always a bonus when it comes to a long, intensive rehab. He also has a teammate,
Jason Frasor
, who has undergone Tommy John surgery twice and successfully returned to pitching. Frasor's second surgery was 10 years ago and he has done well since then, but -- and it's a significant "but," given the recent statistics -- Frasor has the advantage of being a relief pitcher. Maybe Drabek should chat with Dodgers pitcher
Chris Capuano
, one of the few starting pitchers who has successfully returned to the same workload following a second Tommy John surgery.
Meanwhile,
Brandon Morrow
, who we
discussed last week
when he went on the DL for an oblique strain, is still in the early phase of his rehabilitation efforts (typically about a month for pitchers).
Drew Hutchison
is out with an elbow strain, but it does not appear to be on par with Drabek's. Still, Hutchison is scheduled to consult with Dr. Tim Kremchek in Cincinnati for further evaluation.
The Jays have to be holding out hope that this sudden injury streak has truly come to an end.
Beachy's bad elbow
Atlanta Braves pitcher Brandon Beachy has a partial tear of his ulnar collateral ligament; this much we know. What is not yet known is what the next step is as far as treatment. Beachy, who currently leads the league with a 2.00 ERA, is scheduled to consult with both the Braves' team physician and Dr. James Andrews, after which those steps should be outlined.

The choices would seem to be either an attempted rehab course to see if Beachy can return to throwing, or reconstructive surgery. A partial tear does not automatically dictate surgery; the location and the degree of the tear can influence the ability of the tissue to heal. If a pitcher is anything less than convinced that he absolutely requires surgery, a course of rehab may be in order. If that rehab course is unsuccessful, the timetable for recovery has been pushed back only 6-8 weeks, not necessarily significant in the context of an approximate one-year recovery from surgery. That said, the timing within the season can play a role. A year from June allows for a likely return the following year. A year from August makes a return in the subsequent season a little less certain. These variables will undoubtedly be considered as Beachy proceeds through the evaluation process. Beachy is already on the DL, but an update to his status should be forthcoming this week.


Weaver returns
Last Tuesday, I noted
the big step
Jered Weaver
had taken in his recovery as he began throwing from a mound. Only a week later, Weaver is set to return to competition. After progressing from throwing halfway up the mound to throwing from the rubber, Weaver had no complications, and he went on to throw a simulated game and a follow-up bullpen session.
Considering how serious his injury appeared to be when it happened less than a month ago, Weaver's return has been impressive. There are no guarantees that the issue is completely behind him, though, and Weaver appears wise to that fact. According to the Orange County Register, Weaver said, "I'm 6-foot-7 and lanky, and I have a lot of torque going on. I'm sure it's not the last time there's going to be some back issues going on." Apparently Weaver has now made some of his rehab exercises part of his regular routine. Both his recognition of the potential for symptom recurrence and his efforts to protect his back with a maintenance exercise program work in Weaver's favor from a prevention standpoint going forward.
Quick hits
[+] Enlarge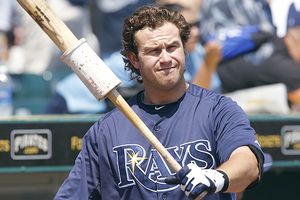 AP Photo/Gene J. PuskarEvan Longoria is not quite ready to return from his hamstring injury.
• Just last week, Tampa Bay Rays third baseman
Evan Longoria
was expressing confidence about being able to rejoin his teammates this week. He is indeed rejoining them, but not in the capacity he had hoped. Longoria has been pulled from his rehab assignment after feeling soreness in his hamstring while running Monday and remains out indefinitely.
Before Longoria began his assignment, Rays manager Joe Maddon had hinted at a lengthier rehab stint to allow him to get his legs in game shape (and undoubtedly to provide multiple opportunities for him to really test the health of his hamstring). It took only two days for Longoria's hamstring to let him know it wasn't ready. According to the Tampa Bay Times, Longoria felt soreness running to first base and did not want to push the issue. He was removed from the game in the third inning, a wise move that might have protected him from truly aggravating the injury. He is set to rejoin the team Tuesday in Washington, D.C., where he will resume a rehabilitation program. As of now, there is no renewed timetable for his return. It has been said many times in this blog space, but it's worth saying again: Until an athlete returns to competition, there is no way to truly test the readiness of a healing hamstring. Consider this episode a gentle warning for Longoria issued by his hamstring, one that told him not to rush back. It might not be so kind to him the next time.
•
Colorado Rockies
shortstop
Troy Tulowitzki
paid a visit to Dr. William Meyers in Philadelphia for further evaluation of his left-sided groin injury. Like Longoria, Tulowitzki had initiated a rehab assignment when he felt pain in the injured area, which prevented him from continuing. Meyers is considered a leading expert in the area of athletic pubalgia, or athletic injuries in the groin and abdominal region which result in pain and loss of function. These injuries are often grouped in the category of sports hernias, which are not true hernias, but rather defects in the abdominal wall that typically require surgery to repair. There are multiple potential causes of chronic groin pain (Tulowitzki's injury dates back to the start of the season), and a full evaluation by Meyers is aimed at getting to the root of the problem. Unfortunately, it sounds as though there are no definitive answers just yet. According to the Denver Post, Tulowitzki summed it up this way: "We're not sure what's wrong." For now, Tulowitzki remains sidelined, and there is no timeline to discuss until more information emerges.
• Minnesota Twins catcher
Joe Mauer
is day-to-day with a bruised quadriceps, the result of a
Rickie Weeks
knee to Mauer's thigh in a collision at home plate. Mauer was already dealing with soreness in the hamstring of the same leg, which he was playing through despite not being able to run at full speed. After injuries limited Mauer to just 82 games last year, his 2012 campaign was off to an impressive start. Before injuring his thumb in an at-bat, Mauer had played in 52 of 53 games. The thumb did not require a DL stint, but it did force him to sit four games. Then the sore hamstring came along. He didn't miss a game but served only as a pinch hitter this past Saturday. On Sunday, Mauer returned to his normal spot behind the plate, where he sustained the bruised quad. Mauer looks as though he will again avoid the DL, despite some lingering stiffness and soreness in the thigh. So far, so good.
• The
Chicago Cubs
have placed pitcher
Ryan Dempster
on the DL with tightness in the latissimus dorsi muscle on his right (throwing) side. He had been throwing well despite the presence of soreness in his past couple starts. "It's just gotten harder and harder to get loose and maintain," Dempster told reporters. This doesn't sound like a serious strain, such as the one sidelining Phillies ace
Roy Halladay
, but anything affecting a pitcher's throwing arm raises eyebrows. In Dempster's case, given the potential trade interest surrounding him, the topic becomes even more relevant. The best way to avoid a significant injury is to proactively address a minor ailment, and that seems to be what the Cubs are doing with Dempster. If a brief break from throwing allows the issue to resolve itself, there should not be any significant concern going forward.
[+] Enlarge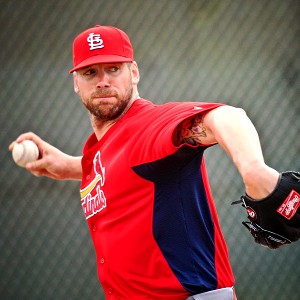 Ronald C. Modra/Sports Imagery/Getty ImagesChris Carpenter is still a ways from returning, but at least he's making progress.
• The
St. Louis Cardinals
continue to have mixed news when it comes to injuries. Pitching ace
Chris Carpenter
is quietly making progress and could face live hitters as soon as this weekend, according to the St. Louis Post-Dispatch. Carpenter, who has been working his way back from a pinched nerve that was affecting his throwing arm, was able to throw some breaking pitches in his most recent side session. If he has another successful outing Wednesday, he could be cleared to throw batting practice a few days later. He still has a ways to go before he returns to competition -- multiple weeks, it would seem -- but even Carpenter acknowledged that progress is indeed being made. Nerve tissue has its own slow timetable for recovery, which makes it difficult for players and management to issue any sort of recovery projections. Functional progress is the best indicator that the tide is turning, and Carpenter's return to the mound certainly provides encouragement.
Meanwhile, teammate
Matt Holliday
has a sore hip flexor, per Joe Strauss of the St. Louis Post-Dispatch. Holliday left Sunday's game because of the injury, but this reportedly has been bothering him intermittently for several months, with this being the latest flare-up. While it doesn't appear as though he's headed to the DL just yet, this could affect his availability at least this week. Hip flexor strains can be difficult to completely resolve in-season so this is something that could continue to impact him on an intermittent basis. On a positive note, second baseman/centerfielder
Skip Schumaker
has been activated from the DL after missing time since late May because of a hamstring injury. The Cardinals' official Twitter site has announced that Schumaker is "uniformed" for Tuesday night's game in Detroit.
• One player who won't be active Tuesday night is Milwaukee Brewers ace
Shaun Marcum
. He has been scratched from his scheduled Tuesday start due to tightness in his throwing elbow. The Milwaukee Journal-Sentinel reports Marcum is going to be evaluated by Brewers team physician William Raasch, after which next steps will be determined. It is worth noting that Marcum underwent Tommy John surgery on this elbow in 2008.
• And finally, keep an eye on Arizona Diamondbacks shortstop
Stephen Drew
, who crossed a huge hurdle this past weekend in playing three consecutive rehab games. Drew, who suffered a severe ankle fracture last season, has been battling lingering soreness and stiffness in his surgically repaired ankle, which has prevented him, until now, from playing in back-to-back games. Diamondbacks manager Kirk Gibson has indicated Drew is gradually nearing a return, but as the Diamondbacks' official website reports, it might be in a part-time role. Although he is showing improvement functionally, he has not completely overcome some of the challenges associated with this type of injury, specifically the joint-related soreness that follows activity. "I don't think [when Drew returns] it will be as an everyday guy," Gibson said. "He'll have to be worked in and out of the lineup. We'll watch the whole thing with his recovery. There are going to be limitations if he comes back in the near future." Those limitations may well be the ingredient to getting -- and keeping -- Drew back with the team.
June, 14, 2012
6/14/12
1:58
PM ET
June, 12, 2012
6/12/12
8:41
PM ET
Brandon Morrow
was not through even one inning of work Monday night before he was through for the night. The culprit? Morrow's left side, specifically an oblique abdominal muscle, which sounds as if it is injured enough to send him to the DL. Further tests for Morrow were planned for Tuesday but
Toronto Blue Jays
manager John Farrell sounded resigned to a lengthy absence for his pitcher. "I think at this point, it's safe to say it's probably substantial in terms of what he's dealing with right now," Farrell told reporters after the game. Farrell went on to call the loss of Morrow for any period of time "unfortunate," given his significance to the team.
Morrow
Based on what we know about the average length of time for a pitcher to be absent when diagnosed with an abdominal strain, Morrow could be looking at more than a month, depending on the
severity of the injury
. So far this season, the
Detroit Tigers
'
Doug Fister
, the
Philadelphia Phillies
'
Cliff Lee
and the
New York Yankees
'
David Robertson
have all hit the DL with abdominal injuries. Robertson has been out for a month and is hoping to return late this week, Lee returned after a three-week absence, and Fister is looking to return Wednesday from his second DL stint after aggravating the injury that kept him out for nearly a month in April. This is not one of those things a guy can just play through; perhaps that is why the Jays seem to be prepared to be without him for a while. In fact, the team announced Tuesday that it will place him on the disabled list Wednesday.
Utley on the clock
Utley
The Phillies have announced
Chase Utley
will begin a rehab assignment Tuesday, which means the countdown clock toward his return to the majors starts ticking. Position players have 20 days after being placed on a rehab assignment before they must be activated in the majors. Should Utley suffer a setback at any point during that time frame, the clock will stop. He would then have to refrain from participating in any minor league games for seven days. After that, a new 20-day clock could begin. Based on the current clock, Utley will need to be activated by July 2. This would allow for several games prior to the All-Star break, which would then give Utley another few days' reprieve.
Utley is set to begin his rehab assignment as a designated hitter. He has not yet played the field, and this is likely to be the biggest test for his ailing knees. The defensive stance places the most load on the undersurface of his patella (kneecap), the area affected by chondromalacia (softening of the cartilage surface). There's a reason this is the last element to be integrated into his game. So far, hitting and running the bases have not caused him any difficulties in his extended spring training appearances, and the hope is that adding in the fielding will also go smoothly. Still, it remains a test. And it's not just how he feels after a single outing, but how he responds when he starts stringing together consecutive games that will determine whether he is ready to return to the majors. This remains an issue of ongoing management, so even though his return would appear imminent, there are hurdles to cross before the Phillies can feel confident in his availability.
Storen throwing from a mound
Storen
In what represents the next phase when it comes to vigor of throwing,
Washington Nationals
closer
Drew Storen
has begun throwing from a mound. He made his first outing Friday, which went well, leading to a second mound session Monday.
Storen has been out since undergoing surgery to remove a bone chip in April. After an extended period of rest, he has gradually progressed through a throwing program to the point where he is now throwing downhill. But as noted by the Washington Times, Storen still is not throwing at 100 percent effort, as dictated by the process in order to ease a pitcher back following injury. Storen acknowledged the challenge in holding back, saying, "It's definitely an adjustment to not let it go 100 percent from the start. But I like I said before, I'm seeing improvement." If that improvement continues as his throwing program progresses, Storen hopes to return around the All-Star break.
Weaver on the mend
Weaver
Los Angeles Angels
ace
Jered Weaver
took a big step in his recovery when he threw 30 pitches from a mound Monday, about halfway up the mound, according to ESPN Los Angeles. In other words, he tested his body at about half the slope. Weaver is scheduled to throw from the rubber Tuesday to test the full downhill angle. He has been on the DL with a lower back strain, specifically reported as inflammation around a disc in his back. The tall hurler with the hard delivery is next scheduled to test his body with a simulated game if the mound session goes well. The team is hopeful he could return by the middle of next week if he continues to progress without incident. Given that his injury looked so disabling when it happened in late May, his swift recovery thus far has been encouraging.
April, 19, 2011
4/19/11
4:49
PM ET
How about some good news for a change? There are a handful of players who are expected to rejoin their teams' lineups this week, giving fantasy owners some options to consider.
[+] Enlarge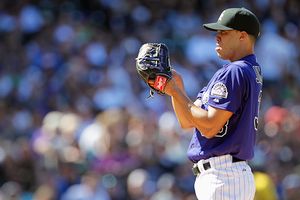 Doug Pensinger/Getty ImagesUbaldo Jimenez was roughed up for five runs and seven hits over six innings on Opening Day before hitting the disabled list.
•
Colorado Rockies
ace
Ubaldo Jimenez
will return Tuesday to face the
San Francisco Giants
. Jimenez, who went on the disabled list with a cracked cuticle following his first start, threw with his usual velocity in his latest rehab outings. Now that the cuticle has healed, the issue should be behind him. Consequently, as Troy Renck of the Denver Post reports, Jimenez will not be on a pitch count (fantasy owners rejoice ... Giants fans, not so much).
•
Cincinnati Reds
second baseman
Brandon Phillips
is returning to play Tuesday after resting a few days because of a mild right groin strain. Phillips sustained the injury last Wednesday and, although he has hinted that he could have played by now, the team has not wanted to take any chances. Groin injuries can be particularly problematic for second basemen, who have to make explosive lateral defensive maneuvers on a regular basis. The last thing the Reds need is to see Phillips' injury turn into a more severe strain and an extended absence. According to the Cincinnati Enquirer, manager Dusty Baker also factored the elements into the equation as far as holding off Phillips' return, saying, "This [cold] weather isn't helping." It appears those concerns are no longer an issue, as Phillips is in the lineup for Tuesday night's game against the
Arizona Diamondbacks
.
•
New York Mets
outfielder
Jason Bay
's return to the starting lineup has been a long time coming. Bay suffered a scary concussion last July when he crashed into the outfield wall at Dodger Stadium, ending his 2010 season prematurely. Bay's concussion-related symptoms finally subsided in September and he appeared to be headed for a fresh start in spring training. That optimism didn't last long, as Bay strained a left intercostal muscle in late March. Originally, Bay denied the injury was serious but he was forced to start the season on the DL to let it heal. Bay began hitting off a tee less than two weeks ago and has steadily increased the vigor of his swing to playing in rehab games. ESPNNewYork.com reports that, in the absence of any setback, Bay is expected to be activated Thursday.
• In Toronto, there could be a switch at the closer position soon with
Frank Francisco
's return from the DL. Francisco, out since the start of the season with a strained pectoral muscle, was activated by the
Blue Jays
on Tuesday but is not expected to close right away. His 2010 season (with the
Texas Rangers
) ended with an injury to his right latissimus muscle, and he was unable to participate in the playoffs. The 31-year-old reliever's health was not enough of a concern to keep the Blue Jays from acquiring him, but they may be relieved to have
Jon Rauch
as insurance. Rauch has performed admirably at the closer position to start the season with Francisco out.
Francisco's latest injury involved not only his pectoral muscle but also inflammation of his biceps, a key structure in a thrower's shoulder in part because of its physical attachment to the labrum. Given his age (translation: wear and tear on the shoulder over time), there is reason to maintain at least some level of concern, even if minor. MRIs taken of Francisco's shoulder this spring revealed no structural damage, according to the Blue Jays' official website, which is encouraging, but only time will tell how well he holds up. The Blue Jays are expected to work Francisco back into relief duties but aren't likely to pass the closing baton to him automatically.
• The Blue Jays will also be getting
Brandon Morrow
back in the mix. Morrow started the season on the DL with right elbow inflammation after experiencing forearm tightness following a spring outing. Morrow initially expected to miss only one start, but the team kept him on a slower pace of building his pitch count, a wise move considering the length of the season. According to the Blue Jays' website, Morrow is expected to start Friday or Saturday.
• There may be some shuffling in San Francisco as the Giants prepare for the return of
Cody Ross
. Ross started the season on the DL with a calf strain and has progressed pretty much on pace with the Giants' initial projection of a three-week absence. Calf strains can be slow to heal and easily aggravated, but Ross showed no limitations in his spring outings as his innings gradually were extended. If Ross returns to the team Tuesday, which was the plan if there were no setbacks after his Monday outing, then
Aubrey Huff
would (no doubt thankfully) return to first base, according to the Giants' official website. Manager Bruce Bochy may then opt to send rookie
Brandon Belt
back to the minors for the time being. Fantasy owners should double-check pregame lineups because Bochy hinted that the weather in Colorado could be a factor in determining when Ross is activated.
April, 8, 2011
4/08/11
3:07
PM ET
I posed a question right here in this blog Wednesday, a challenge if you will, to see if we could get through a day of baseball without any additions to the disabled list. It seems like the answer was no, thanks in part to a dramatic injury in the Bronx.
[+] Enlarge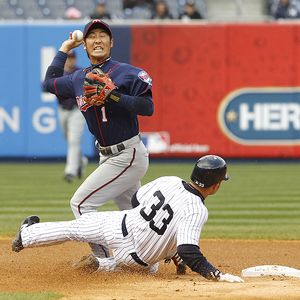 William Perlman/THE STAR-LEDGER/US PresswireTsuyoshi Nishioka is likely to miss a month after taking the brunt of this Nick Swisher takeout slide.
On Thursday,
Minnesota Twins
new second baseman
Tsuyoshi Nishioka
was literally taken out on a takeout slide by
New York Yankees
outfielder
Nick Swisher
. Nishioka, new to the more physical version of baserunning played in the states, absorbed the impact of Swisher's slide with his left leg, resulting in a fractured fibula (the skinny bone on the outer aspect of the lower leg which runs from just below the knee to the ankle).
Nishioka has been placed on the DL and is expected to miss at least a month, but more should be known after his visit with Dr. John Steubs, team physician for the Twins. There are several variables that can influence the plan of care and the recovery time from this type of injury, including the location of the fracture (high on the fibula near the knee or low near the ankle), whether the fracture is displaced or not (whether the bony ends have moved apart or remain in alignment) and whether surgery is required (more likely with a significantly displaced fracture).
The Minneapolis Star-Tribune reports Nishioka's fracture to be high on the fibula, just below the knee, an important distinction in that he may not require ankle immobilization. One of the compounding issues for a low fibula fracture is the ankle joint; when immobilized for a period of time to allow the bone to heal, the ankle then becomes stiff. Regaining ankle range of motion can be a lengthy process, making returning to running and agility maneuvers more difficult. The best-case scenario for Nishioka would be a non-displaced proximal (high) fibula fracture that could heal with rest. He would be able to resume ankle range of motion and weight-bearing activities sooner. In the meantime he could participate in cardiovascular conditioning and upper-body workouts. His timetable should become clearer after his medical evaluation Friday.
• The other big injury news Thursday was the official diagnosis of a concussion for
Toronto Blue Jays
shortstop
Yunel Escobar
. Why so big? Because Escobar is the first player to suffer a concussion since the implementation of Major League Baseball's
new concussion policy
.
[+] Enlarge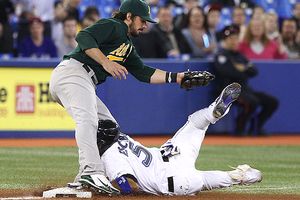 Tom Szczerbowski/US PresswireYunel Escobar suffered a concussion on this slide into third base on Wednesday.
The injury occurred when Escobar's head met the knee of
Oakland Athletics
third baseman
Andy LaRoche
as Escobar slid into third on a triple Wednesday. The mechanism of injury was eerily similar to the one that sidelined Twins first baseman
Justin Morneau
for months with post-concussion symptoms. According to the National Post, Escobar was examined on the field by Jays' athletic trainer Hap Hudson and was cleared to remain in the game. But in the next inning, Escobar developed dizziness (it is not uncommon for symptoms to emerge over time following a concussion) and the decision was made to remove him from the game.
Escobar underwent subsequent tests, including hospital-administered CT scans of the head and neck and neurological evaluation. The imaging tests were negative (they usually are with isolated concussion) and the early news on Escobar is encouraging. According to general manager Alex Anthopoulos, Escobar felt "great" Thursday morning, adding, "If you asked him he'd tell you that he could play today." Of course, Escobar did not play Thursday but he did show enough improvement for the Blue Jays to elect not to make use of the new optional seven-day disabled list stint for concussed players. As per the new protocols, however, Escobar will require clearance not only from the Blue Jays but also from Major Leagues Baseball's medical director, Dr. Gary Green, before he can return. The Blue Jays hope to have Escobar back next week, but as is the case following any concussion Escobar will be evaluated daily.
• The Blue Jays have some more encouraging news regarding
Octavio Dotel
. The veteran relief pitcher, who started his season on the DL with a hamstring strain that cropped up in early March, is now ready to return. Dotel is probably most likely to be used in a setup role for
Jon Rauch
. Closer
Frank Francisco
, on the DL with a right pectoral muscle strain, was cleared to begin a rehab assignment Monday. According to the Blue Jays' website, Francisco likely will need a minimum of three rehab outings before he can rejoin the team. As with any muscle strain, the key will be to see how Francisco responds to a progressively increasing workload. Finally, starter
Brandon Morrow
(forearm strain) made his rehab debut Thursday, allowing five runs in three innings. His performance may have been less than ideal, but the more important element will be how his forearm held up. If all continues well, Morrow is expected to make another rehab start and could rejoin the team within the next two weeks.
• The
Chicago White Sox
have to be feeling encouraged when it comes to
Jake Peavy
's progress following his latissimus dorsi tendon repair. Peavy, who had a very minor speed bump in his rehab road when he developed some rotator cuff tendinitis in March, is now on track to start throwing in minor league games. The Chicago Sun-Times reports Peavy is expected to throw 75 pitches Friday for Class AA Birmingham. Assuming there are no issues, he will be on a structured progression to increase his pitch count and arm strength over the next few weeks. While no one wants to commit to a formal timetable, there is reason to believe Peavy could rejoin the White Sox by the end of April.
• The White Sox could see
Adam Dunn
this weekend if Dunn has his way. Dunn is still having pain, though, and he will most certainly not be permitted to suit up if there are any concerns about his healing. Given that Dunn is an athlete and not a physician, his goals, while admirable, will not drive the decision. It would not be surprising if Dunn was out until next week, but fantasy owners with daily lineups may want to check before games.
• Meanwhile, Dunn's counterpart in abdominal surgery,
St. Louis Cardinals
outfielder
Matt Holliday
, could make an appearance this weekend in a pinch-hitting role, although according to Fox Sports Midwest on Twitter, manager Tony La Russa says the chances of that are "slim." Stay tuned. MLB.com says Holliday is expected to undergo a full workout and batting practice Friday, after which a decision on the next step will be made.
That's the buzz for Friday. Here's to a happy and healthy weekend, everyone! Something tells me, though, we'll still have plenty to discuss as next week rolls around.
April, 1, 2011
4/01/11
2:16
PM ET
In this edition of Fantasy Focus, Stephania Bell has the latest updates on starting pitchers who opened the season on the disabled list, including
Mat Latos
,
Zack Greinke
,
Brandon Morrow
and
Johnny Cueto
, and when they might return to action.