Stephania Bell:

Brian McCann
May, 6, 2013
5/06/13
2:06
PM ET
Every Monday in this space, we'll provide updates on a variety of players to help you make your weekly lineup decisions. We'll specifically try to hit the players who are day-to-day, have just gone on the DL or are ready to return, so that you can better decide whether you can count on them or not.
All projected return timelines should be considered fluid.
Hitters
Brian McCann, C, Atlanta Braves (opened season on DL, expected to return May 6):
McCann has been on the radar of many fantasy owners looking forward to his season debut. It appears that day has arrived. According to news reports, manager Fredi Gonzalez says McCann will be active and with the team Monday when the Braves open a series in Cincinnati. McCann underwent surgery to repair the labrum in his right (throwing) shoulder in October and has been working his way back since. Although he has been hitting throughout the spring, the slower component of his return was throwing. McCann says he is now making the necessary throws, telling reporters this week, "The way I'm throwing now is basically the way I was throwing before I got hurt." While that is all good news as far as performance expectations, the Braves have indicated that McCann would not return to an everyday role immediately. Fantasy owners should keep tabs on the Braves' daily lineups for the next few weeks to check McCann's status.
Hanley Ramirez, SS, Los Angeles Dodgers (placed on DL May 4, timetable uncertain):
No sooner did Ramirez rejoin his team than he departed again, this time with a strained left hamstring that required him to be helped off the field. After wasting no time proving his surgically repaired thumb was a nonissue, as evidenced by him going yard in his season debut, Ramirez injured his lower half running the bases Friday night. Difficulty putting weight on it reflected the severity of the injury. Manager Don Mattingly did not shy away from the likelihood Ramirez would miss more than the minimum stay, telling reporters, "It's going to be a while." In fact, Mattingly referenced Dodgers outfielder
Matt Kemp
's injury of last year. Kemp, who was injured at virtually this same time of year, returned after a minimal DL stint only to reinjure his hamstring two days later. He then went back on the DL for more than a month.
Interestingly, Ramirez had not been sidelined for extended time with a left hamstring strain previously; however, he did have a 2011 DL stint for sciatica and numbness in his left leg associated with a lower back problem. It is not unusual clinically to see hamstring strains on the same side as previous sciatic episodes; whether they are directly or indirectly related -- or completely unrelated -- is often difficult to determine. The bottom line is that Ramirez will not be rushed, but as is always the case with hamstring injuries, until he returns successfully without a flare-up, there will be reason for concern about the potential for recurrence.
Michael Bourn, OF, Cleveland Indians (placed on DL April 15; expected to return late this week):
It seems as if the "spike to the hand" is the injury du jour in baseball this season. And the injuries are proving to be a bit more challenging to return from than one might think. (Last week in this space, we discussed Pirates second baseman
Neil Walker
, who has a similar injury and was placed on the DL after having difficulty swinging a bat.) Bourn sustained a laceration to his right index finger when he dove into first base and his hand met the foot of pitcher
Matt Thornton
. It required five stitches to close the wound, and the DL move was not a surprise; the time allowed the finger time to heal.
What may come as more of a surprise to many was how difficult the injury can be to hit with. Bourn must close his fingers around the grip, which can be a challenge following a laceration. Bourn was finally able to take live batting practice Friday, and he's expected to begin a rehab assignment Monday. Manager Terry Francona told Jordan Bastian of MLB.com that Bourn likely will need three games before he can rejoin the team. The organization likely want him to get enough at-bats to test how his grip is holding up against live pitching and for him to feel comfortable with his timing.
Angel Pagan, OF, San Francisco Giants (day-to-day):
Pagan got an early warning sign that his right hamstring was not feeling quite right Saturday night, and he sat out Sunday's game as a result. The good news for Pagan and the Giants is that it was not as severe an injury as that of Dodgers shortstop
Hanley Ramirez
or Marlins outfielder
Giancarlo Stanton
. As the San Francisco Chronicle noted, by coming out of the game shortly after feeling a "twinge" Saturday, the hope is that Pagan did not suffer significant tissue damage. Although he told reporters he hopes to play Monday night, manager Bruce Bochy said, "He's not going to be out there if this thing bothers him at all." Given the relative ease with which these injuries become more serious and the time off becomes more protracted, it would not be surprising if Pagan is held out for at least day or two to allow the hamstring to settle.
Jayson Werth, OF, Washington Nationals (day-to-day):
Werth is trying to press through not one but two ailments. He suffered pain and swelling in his left ankle and foot area when he fouled a ball off it Tuesday. Fortunately, X-rays showed no fracture, and he has been able to play, despite some discomfort. His hamstring, however, is another story.
Werth began experiencing cramping in the back of his thigh earlier in the same game he fouled the ball off his foot, making his slightly early exit fortuitous. It appears that wasn't enough, though, to keep the hammy from pestering him some more. It tightened up further on Thursday, and Werth has not played since exiting that game early.
One of the most challenging decisions for a medical staff is how long to hold out an athlete who is experiencing discomfort in the hamstring. While the player may feel nothing at rest or during warmups, it is virtually impossible to simulate the maximum effort of in-game play, which is most likely to aggravate it. The obvious concern is potentially losing an athlete for an extended time to a more serious injury. That said, it's difficult to force the athlete to sit when he can pass all the pregame tests and has no symptom complaints. At this point, there is no indication Werth is headed for the DL, and he might even be able to return to the lineup Tuesday after sitting out the weekend series. This doesn't have a great feel about it, as the lingering concern for fantasy owners will be just how well -- and how long -- his hamstring will hold up.
Pitchers
Roy Halladay, SP, Philadelphia Phillies (DTD):
Halladay has admitted to experiencing shoulder discomfort and will be traveling to Los Angeles for a consultation with Dr. Lewis Yocum. According to ESPN's Jayson Stark, Halladay began feeling discomfort in the shoulder the morning after his April 24 start. Halladay said the soreness "just kind of progressed over the last two weeks or so." Now they will try to get to the bottom of what exactly is causing this soreness. When speaking with reporters Sunday, Halladay also indicated this was the first time he had experienced this particular ailment, suggesting it was not the same sensation he had last year when he was diagnosed with a latissimus dorsi strain. The team has not yet confirmed a move to the DL, but it seems inevitable. At age 35, with the accumulated pitching mileage on his throwing shoulder, there was reason to be concerned heading into this season that Halladay's body would start showing signs it was unable to keep up with the physical demands of another baseball year. It is likely he will be shut down from throwing for a period of time; hopefully after his visit to the West Coast, we will learn more.
May 6 addendum: The Phillies have officially placed Halladay on the DL, recalling left-hander Joe Savery from Triple-A Lehigh Valley to take his place on the roster.
March, 29, 2013
3/29/13
11:38
AM ET
With the regular season just about to start, here's a list of notable injury situations and their timetable for a return. Fantasy owners can and should adjust their lineups or draft strategies accordingly.
Notes:
1. All projections reflect expectations as of March 29 and should be considered fluid after that date.2. Opening Day ready = Expected to be "active" on Opening Day, not necessarily in lineup on Opening Day. For pitchers, first game depends on where slotted in rotation.
Hitters
[+] Enlarge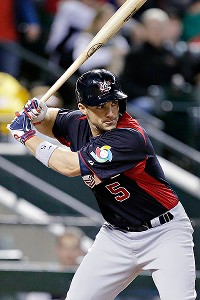 AP Photo/Charlie RiedelDavid Wright was playing well at the WBC before getting hurt, but he appears to be on track for Opening Day.
David Wright, 3B, New York Mets (Opening Day ready):
Wright strained an intercostal (rib cage) muscle during the World Baseball Classic, but rest and rehab seem to have done the trick. Potential for setback in the first few weeks exists, but this guy rarely misses time.
Brett Lawrie, 3B, Toronto Blue Jays (due back April):
Intercostal strain will sideline him into the first week or two of the season, but a cautious return should help prevent a setback. Bigger concern is tendency to play with reckless abandon. Fun to watch, but may increase risk.
Pablo Sandoval, 3B, San Francisco Giants (Opening Day ready):
An irritated ulnar nerve forced Panda to rest for several days in March, but he claims he's ready to return. I admire his enthusiasm but can't say definitively that this is behind him.
Chase Headley, 3B, San Diego Padres (due back late April):
Left thumb fracture will delay Headley's regular-season debut by about a month. The good news is that it shouldn't hinder him after he returns.
Curtis Granderson, OF, New York Yankees (due back mid-May):
No surgery needed for Granderson's small fracture. No reason to worry about his ability to produce once he returns to the lineup.
Hanley Ramirez, SS/3B, Los Angeles Dodgers (due back mid- to late-May):
Ramirez will miss a couple months of playing time following surgery to repair his torn thumb ligament. The concern is that his performance at the plate could suffer a bit longer.
David Freese, 3B, St. Louis Cardinals (due back April):
His back injury doesn't appear serious, but the Cardinals want Freese to see more at-bats before his regular-season debut. Recurrence is possible, but the minor nature of this episode keeps the worry factor low.
[+] Enlarge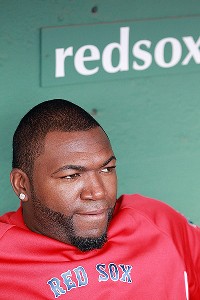 Jim Rogash/Getty ImagesIt's still uncertain when David Ortiz will be ready for this season.
David Ortiz, DH, Boston Red Sox (no timetable):
Ortiz continues to have trouble with his Achilles, despite trying to address it in the offseason. Although he's now swinging the bat, it's hard to imagine him being fully healthy for any long stretches.
Derek Jeter, SS, New York Yankees (due back April):
Jeter's post-surgery soreness is not unusual. In fact, it will likely take a few months for his ankle to feel normal again. He may return in April but he may not
really
return until June.
Mark Teixeira, 1B, New York Yankees (due back May/June):
A partially torn tendon sheath is what
Jose Bautista
had ... and then he had surgery. Teixeira's wrist may heal with rest, but if it doesn't, the power on the left side of the plate won't be there and he may not last long, either.
Corey Hart, 1B/OF, Milwaukee Brewers (due back May):
The key to Hart's post-surgical knee staying healthy is not returning too soon. The team has been good about controlling his activity thus far, so don't expect them to rush him now. Late May is the most likely scenario.
Brian McCann, C, Atlanta Braves (due back April/May):
He's recently returned to hitting, but restrictions on McCann's post-labral repaired throwing shoulder remain in place. Once he returns, it may take a bit to ramp up, but look for a strong second half.
Alex Rodriguez, 3B, New York Yankees (due back around All-Star Break):
If he's rehabbing as diligently as he says, Rodriguez should be poised for an uneventful return. The hip may be healthy, but he's still an aging player with mounting injury concerns.
Starting Pitchers
For a more thorough progress report of pitchers returning from injury or surgery,
see this blog entry
.
[+] Enlarge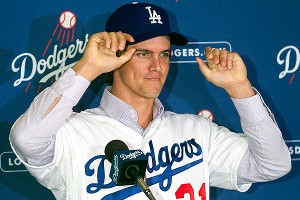 AP Photo/Damian DovarganesZack Greinke has caused much concern this spring with his elbow issues and overall poor numbers.
Zack Greinke, Los Angeles Dodgers (Opening Day ready):
Right elbow inflammation in the spring should scare a team that spent $147 million and fantasy owners alike. Greinke says the elbow feels OK, but his performance is shaky. It's not exactly confidence-inspiring.
Jaime Garcia, St. Louis Cardinals (Opening Day ready):
He opted for rehab instead of surgery for a small (left) rotator cuff tear and has been fine through a handful of spring outings. Starting season strong, but will he last?
Roy Halladay, Philadelphia Phillies (Opening Day ready):
Halladay insists there's no injury, but his performance this spring is a concern. Last year he said there was no injury, either. Then he went on the DL and missed nearly two months. This could be the start of the talented veteran's decline.
C.J. Wilson, Los Angeles Angels (Opening Day ready):
Underwent arthroscopic surgery in October to address a bone spur and has had no issues with the elbow this spring. Consider this: He's had only two DL stints in his big league career. Aging but durable. Low level of concern.
Phil Hughes, New York Yankees (due back early April):
A bulging disc in his back derailed Hughes' spring. He has bounced back quickly, but let's face it, injuries are always going to be a concern with Hughes.
Matt Garza, Chicago Cubs (due back May):
Ended last season with stress fracture in right elbow, started this spring with strained lat. Sum total of injuries raises concern.
Shaun Marcum, New York Mets (Opening Day uncertain):
Elbow issues last year, now shoulder and neck this spring. Don't like where this is headed. Even if he avoids the DL now, it may only be a matter of time.
Brandon Beachy, Atlanta Braves (due back June/July):
On track post-Tommy John surgery. No major concerns, just temper expectations to the typical ups and downs of the first year back.
Relief Pitchers
Jason Motte, St. Louis Cardinals (no timetable, expected to start season on DL):
Diagnosed with a "small" tear in his flexor tendon, Motte is reportedly feeling better. He will have to prove he can throw without pain before returning, then hope the injury doesn't worsen across the season.
Ryan Madson, Los Angeles Angels (due back April):
After Tommy John surgery last April, Madson is closing in on a return. But the normal inconsistencies that a pitcher first displays after this operation -- and a guy named
Ernesto Frieri
-- suggest Madson isn't a lock to close.
Casey Janssen, Toronto Blue Jays (Opening Day ready):
After November surgery on his AC joint, a slow spring initially threatened Janssen's Opening Day status. He's recently turned a corner but there's still a bit of concern about how an uptick in work (think:
frequency
) will affect him.
August, 9, 2011
8/09/11
3:41
PM ET
Oh my, what a busy few days in the injury world. New injuries (including one not previously recorded in major league baseball from what anyone can recall) and setbacks of existing injuries were the theme of the past weekend. It seems as if teams are struggling with their rosters to get through the end of the regular season and hopefully jockey for playoff position. Sound familiar, fantasy owners?
[+] Enlarge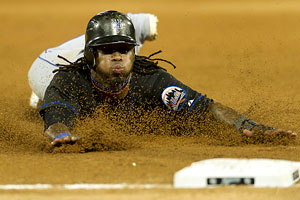 Steve Mitchell/US PresswireJose Reyes won't be stealing any bases soon after hurting his hamstring again.
• The
New York Mets
had tough news on two players this weekend. Speedy shortstop
Jose Reyes
, who was on the DL earlier this year with a left hamstring strain, felt "stiffness" in the same hamstring. Reyes underwent an MRI this weekend but early reports hinted at the setback being minor. Nonetheless, the Mets opted to place him on the DL again. Even if the injury is minor, the discomfort is a red flag and pushing through it could result in something more serious, especially given Reyes' long, er, relationship with hamstring injuries. Now entering the second week of August, the team is no doubt unwilling to take the chance of losing Reyes for the rest of the season, especially after just losing Reyes' teammate,
Daniel Murphy
.
• Murphy will not return in 2011 after suffering a Grade II MCL sprain when his knee got clipped by the
Atlanta Braves
'
Jose Constanza
during a slide into second base. Murphy's knee was positioned perfectly so that a force to the outer side of it, which came unintentionally via Costanza's foot during the slide, bent it inward, stressing the ligament on the inner side of the knee. Although it is not a surgical situation, the ligament takes time to scar down and heal, followed by lengthy rehab, for an athlete to return unimpeded to baseball activities. Murphy should be fine for the start of spring training.
• The
Texas Rangers
were looking forward to getting the power of
Adrian Beltre
back in their lineup soon, but they're going to have to wait a while longer. Beltre had a setback with his hamstring and is expected to miss another three weeks, according to the Fort Worth Star-Telegram. For those keeping score at home, that's as long as Beltre's initial timetable was projected to be when he was diagnosed with a Grade 1 strain. There was a lot of fanfare when Beltre began taking batting practice and doing some running in the outfield, as if he might beat out the three-week timetable, but there's a reason athletes go through a progression of activity. When Beltre's workout was ramped up to include baserunning, he did fine on the first go-around, but the day afterward he felt his leg grab again during the drill and that, as they say, was that. Now it's back to the hamstring drawing board.
• If anything, Beltre's case should teach us not to get too excited about players making an early return. Yet there are rumblings out there that another key power bat could do just that. Atlanta Braves catcher
Brian McCann
, out with an oblique injury since late July, took batting practice Monday, marking another step in his rehab routine. McCann was also initially projected to miss longer than the 15-day minimum, but he was feeling well enough late last week to resume simple baseball activities such as hitting off a tee and playing catch. The real test for the oblique comes with the hard swings and the vigorous throws (McCann initially injured himself throwing to second base in an attempt to disrupt a basestealing effort). While batting practice is a good sign, it will not place the same demand on his trunk in terms of timing and power as facing live pitching. He will also need to make simulated defensive throws. Still, the Braves sound as if he could rejoin the team this weekend, presuming a prompt rehab assignment. It would be a quick turnaround given how it appeared when the injury happened, but again, this could be enthusiasm speaking as he has yet to test it fully.
[+] Enlarge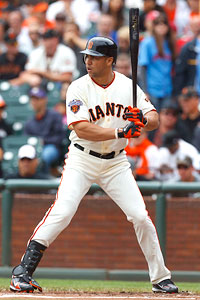 Jason O. Watson/US PresswireWhen healthy, veteran Carlos Beltran is still considered one of baseball's most feared hitters.
• Mets-turned-Giants outfielder
Carlos Beltran
has a sore right wrist. An MRI confirmed a strain, according to the Giants' website, and the team is still considering him day-to-day. Apparently there are two involved areas, one in the wrist and one in the hand, but there is no significant damage. Beltran was brought in for power and we have seen how big swings can aggravate the tiny, yet critical, wrist joint in hitters. It was not long ago that
Colorado Rockies
outfielder
Carlos Gonzalez
was forced to the DL after a big swing aggravated his already ailing wrist. (Incidentally, Gonzalez has been back with the team for three days and so far has not been beset by any setbacks, although it's hard to declare him entirely out of the woods just yet.)
• The
San Diego Padres
are figuring out how to deal with the loss of
Chase Headley
for over a month. Headley fractured his pinkie finger and everyone knows that hand and finger injuries are not insignificant when it comes to being able to grip the bat. The San Diego Union-Tribune reports he is expected to be out 4-6 weeks. We'll see once he's cleared for baseball activities (likely a few weeks away) if it looks like he'll return in time for fantasy owners.
• Colorado Rockies pitcher
Juan Nicasio
suffered not only one of the scariest injuries possible, but as it turns out, one of the most unique in this sport. Nicasio was hit in the head by a comebacker and dropped to the mound, a frightening sight. The medical staff ran to his side, evaluated him on the mound, immobilized his neck in a rigid collar and he was taken off on a stretcher. Tests at the hospital revealed a fracture of his first cervical (neck) vertebra, on which the skull rests. C1, also called the atlas (as in, if you remember your Greek mythology, he who carried the weight of the world on his shoulders), is an unusual ring-shaped vertebra with a very wide cavity in the middle to accommodate the widest portion of the spinal cord as it exits the skull. It is easy to see then why a fracture here, if the bone displaces, can be fatal. Fortunately for Nicasio, the spinal cord was undamaged (apparently not even bruised) and the bone, now surgically repaired, can begin to heal. Nicasio also suffered bleeding on the right side of his head where the ball made impact.
The focus now is on Nicasio's healing and returning to normal, everyday activity. But can he return to pitch? This is really uncharted territory, as no one can recall ever seeing this injury before in baseball. It is not a common sports injury; more typically, it is the result of a motor vehicle accident or recreational diving injury. Time will dictate how well his recovery is progressing and whether a return is even to be considered. The good news right now? Nicasio walked in the hospital Tuesday. As manager Jim Tracy told the Denver Post, "It put a lot of smiles on faces around here." And everywhere.
July, 28, 2011
7/28/11
2:24
PM ET
July, 27, 2011
7/27/11
4:04
PM ET
If you were up late watching the
Pittsburgh Pirates
and
Atlanta Braves
battle for 19 innings, chances are you were disappointed either as a fan or a fantasy owner ... or both. There has been plenty of chatter over the questionable call at home plate which ultimately decided the outcome of the game. But for our purposes there has also been plenty of chatter about the big injury of the game, much of it coming my way via Twitter.
Here's a sampling of your questions about Braves catcher
Brian McCann
, who exited in the 10th inning with what the team later called a left oblique strain (McCann was expected to be placed on the 15-day DL Wednesday.):
@myown4nw:
Any word on how long McCann will be injured?
@SloshballGM:
What's the recovery time for non-pitcher oblique strain? When can we expect McCann back?
@Bwill02:
Do you expect the minimum stay for McCann or worse? Our trade deadline is Friday
[+] Enlarge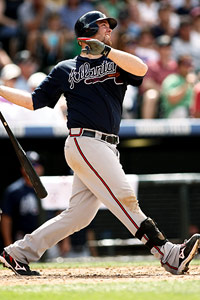 Russell Lansford/Icon SMIThe injury to Brian McCann is a big blow to Braves fans and his fantasy owners.
Naturally, there is great concern regarding the health of one of the top catchers in fantasy baseball (and baseball, period), but at this point it's hard to predict exactly how long McCann will be sidelined. As Sloshball notes, this is a "non-pitcher" oblique injury, but most often those injuries have happened during the swing of the bat. It is less common for a non-pitcher to suffer a throwing oblique strain, but at the same time, it is understandable that a catcher would do so given the maximum effort required on certain defensive throws. It was just such a throw in the 10th inning of Tuesday's game that resulted in McCann grabbing at his left lower side and back when he felt the strain. McCann was throwing hard toward second base on a stolen base attempt (the ball went high). Who knows if fatigue was a factor or if McCann may have felt something when swinging the bat earlier? From the appearance of the injury, it certainly caused a sharp pain, one that would not allow him to continue when he tried to subsequently test himself on a single throw to the pitcher.
While moderate oblique strains commonly sideline hitters and pitchers for at least a month, less severe strains often allow players, even those with big, powerful swings, to return within a few weeks. It all depends on the severity of the injury -- something the team has not yet declared -- and how long it takes for McCann to function without pain. Knowing that they will need him in the lineup come September, though, it's hard to imagine him being rushed back and risking a setback during routine play. As manager Fredi Gonzalez told the Atlanta Journal-Constitution, "Hopefully it is not a bad oblique. There are different grades of it and hopefully we can get him back in 15-20 days." At this point it appears McCann is likely to exceed the minimum 15-day stay simply based on the pattern of recovery for these injuries, even the minor variety, but as to when he will realistically return, an optimistic projection would hover around three weeks, presuming no setbacks.
Quick Hits
•
St. Louis Cardinals
outfielder
Lance Berkman
was expected to undergo an MRI on his ailing right shoulder Wednesday, according to the team's website. It's too soon to speculate what the imaging test and evaluation by the medical staff might lead to, but given that this has lingered since Sunday, affecting his ability to swing the bat, expect Berkman to potentially be out of the lineup for a few days minimum.
•
Toronto Blue Jays
heavy hitter
Jose Bautista
gave everyone a scare when he absorbed a pitch on the left side of his batting helmet Tuesday. Bautista went to the ground immediately but was able to walk off on his own, escorted by the medical staff. After the game, Bautista told reporters, "My head doesn't hurt, I'm not dizzy. I feel perfectly fine." He says he expects to be in Wednesday's lineup but fantasy owners may want to check in advance of game time.
May, 5, 2009
5/05/09
7:25
PM ET
By
Stephania Bell, ESPN.com
| ESPN.com
Spring is a time for fresh starts and the Angels have to hope that their time for starting anew has arrived. Instead of subtracting from their starting rotation, the Angels look to be adding a couple of aces back into the mix quite soon. The Los Angeles Times reports that
Ervin Santana
and
John Lackey
could both rejoin the team next week after starting the season on the DL with injuries to their throwing arms. Although no firm commitment to a date has been made, if both pitchers tolerate a couple of minor league starts well, and can work their pitch count up toward the 80s without fading, that would be a signal that they could handle a major league start. Both pitchers have some risk attached to them based on their injuries -- Santana with a sprained ulnar collateral ligament and Lackey with a forearm strain -- but both have also been progressing very smoothly through their rehab programs, which has to have the Angels (and fantasy owners everywhere) smiling.
On that note, here's who we're talking about this week in the world of baseball injuries ...
Rick Ankiel, OF, Cardinals:
It was a scary moment for the Cardinals when Ankiel hit the outfield wall Monday night, with the left side of his face and neck absorbing most of the impact. Ankiel had to be removed from the field with his neck immobilized and on a spine board. The St. Louis Post-Dispatch reported that Ankiel was taken to Missouri Baptist Hospital for X-rays and a CT scan to rule out any structural injury (spinal or skull fracture, in particular). Despite checking out "neurologically intact" at the hospital according to the Post-Dispatch, Ankiel was kept overnight for observation, which is never a bad move in the case of head injury to insure that the patient's status does not decline over time. This is one of those occasions when it is important to mention just how critical the on-field response of the medical staff is in terms of both managing the injury at hand in an efficient manner and ensuring that no further damage to the patient is incurred during transport. Well done Cardinals.
As of Tuesday morning the Cardinals received some good news when Ankiel was officially released from the hospital. Originally the injury was described as having all the signs of whiplash, which we usually associate with motor vehicle accidents, but which can occur with any rapid movement of the head and neck through space. The resultant trauma is primarily to the soft tissues (muscles, tendons and ligaments) and although not as dramatic as a fracture (broken bone) in the spine, can be equally debilitating in terms of pain, weakness and other associated symptoms. Early reports from the Cardinals Tuesday indicate that everything is "positive" for Ankiel, and he even returned to the ballpark for Tuesday night's game. Ankiel will not play Tuesday and it is unclear at this point just how soon he will return to the lineup. Fantasy owners should keep an eye on his status as it could vary greatly depending upon how much pain and swelling Ankiel is experiencing.
[+] Enlarge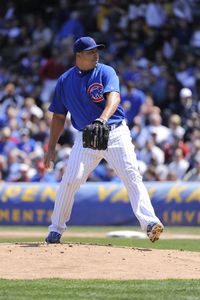 Ron Vesely/MLB Photos/Getty ImagesZambrano has already started to rehab his hamstring injury.
Carlos Zambrano, P, Cubs:
Zambrano has been placed on the DL due to a left hamstring strain suffered while trying to run out a bunt. He is certainly not the first pitcher to get hurt while running, but Zambrano's injury and the need to place him on the DL reflect the role of the hamstring in a pitcher's delivery. Since he is a right-handed pitcher, his injured hamstring is on his landing leg. That leg must support his body weight coming over the top while the knee is extended, placing significant load on the hamstring. During follow-through, this position is actually where many pitchers injure their hamstring.
The good news is that the Chicago Tribune is reporting that the Cubs believe Zambrano will be able to return from the DL when eligible. Although manager Lou Piniella revealed that Zambrano has a Grade 2 (moderate) strain which can require significant healing time, he also told the Tribune that his tear is "in the belly of the muscle." Because of the strong blood supply to the muscle belly, it tends to heal faster than a tear in the more fibrous, tendinous attachment of the muscle. As long as Zambrano does not force his activity too soon, there is reason to be encouraged here.
Jorge Posada, C, Yankees:
Posada has been placed on the DL as a result of a Grade 2 right-sided hamstring injury according to the New York Daily News. Posada missed a couple starts earlier this year due to a strained left hamstring sustained while stretching. On Monday night, after waiting around due to a lengthy rain delay (which is never kind to muscles, especially in cold weather), Posada felt his hamstring "grab" during a slide according to the Yankees' official Web site. After he underwent further tests Tuesday, the decision was made to place Posada on the DL in an effort to allow the muscle to heal properly. It is worth keeping in mind that these Grade 2 (moderate) injuries are highly variable in their healing time; Posada is 37, not 27, so healing is a little slower; and this is not his first hamstring injury. Expect Posada's return to take longer than the 15 days.
Cole Hamels, P, Phillies:
If it's not one thing, it's another. Literally. Hamels began the season with inflammation in his throwing elbow and although it did not keep him down long, he got off to a rocky start. Only four weeks into the season Hamels suffered another injury, this time to the lower extremity, spraining his left ankle as he tried to field a bunt Tuesday against the Nationals.
Although the injury does not appear too serious, Hamels' start for this week was pushed back and, as recently as Saturday, general manager Ruben Amaro left open the possibility of a trip to the DL. For those wondering why Hamels can't just tough it out, it probably has more to do with the functional impact of a sprain on a pitcher's ankle than a toughness issue. A pitcher has to be in a single-leg stance -- on each leg -- through the larger part of his windup, delivery and follow-through. Which joint has to bear a majority of the load through that lower limb? The ankle naturally. Since Hamels is a lefty, his left ankle has to control his balance through the windup while he is rotating his body position. Additionally, as he delivers the ball, the majority of his weight transfers to his right leg, but his left foot drags briefly on the ground behind him, which also serves to help with balance and control.
In fact, Amaro told the Philadelphia Inquirer that it was during this foot drag that Hamels continued to feel some soreness in his ankle while throwing a bullpen Saturday. Nonetheless, Hamels is making progress overall. Barring any setbacks, he is expected to throw another bullpen Tuesday and then rejoin the rotation Friday.
On the Mend
Rangers outfielder and inspirational story
Josh Hamilton
is improving from the bruised rib cage that forced him onto the DL last week. The Fort Worth Star-Telegram reported that Hamilton was able to play catch Monday, and while throwing was a nonissue, reaching to make a catch caused some soreness in the healing area. Hamilton described his status as about 85 percent recovered, but was clear that he did not want to return too soon if there was any risk of reinjury. He could swing a bat Wednesday, and if that goes well, his overall activity may be further increased. This is a soft tissue injury and as such, it really comes down to how the player feels during activity that dictates return to play. So far he appears on track to return when eligible next Monday, but fantasy owners should keep an eye out for updates on his activity as this will be a day-to-day assessment.
[+] Enlarge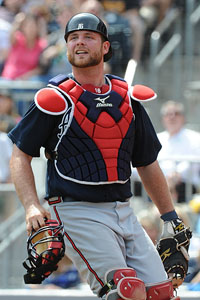 George Gojkovich/Getty ImagesNot being able to see might explain McCann's .195 batting average.
Braves catcher
Brian McCann
is expected to come off the DL and rejoin his team Friday in Philadelphia according to the Atlanta Journal-Constitution. He has been plagued by dryness and blurred vision in his left eye and has been searching for a solution. The good news is that there appears to be one. The Journal-Constitution reports that McCann will be wearing prescription sports glasses for the first time in his career. Whether this is a temporary fix or a permanent one remains to be seen, but McCann, who underwent Lasik surgery following the 2007 season, will use the glasses for now. He has been consulting with specialists since his symptoms began and when new contacts didn't solve the problem, prescription glasses were the next choice. Obviously clear vision is critical to performance behind the plate, not to mention at the plate when swinging the bat. It looks as if he will be able to avoid surgery, at least temporarily, and should be able to pick up where he left off. The plan is for him to get a couple of minor league games in, playing in one as catcher, before he rejoins his team Friday.
Phillies closer
Brad Lidge
had a good outing on Saturday in his first performance in a week. Lidge, who had been sidelined for a few days with inflammation in his right knee, was able to throw a scoreless ninth inning without pain. In fact, he told the Philadelphia Inquirer that he had "some real solid mechanics," a welcome relief after his knee-related struggles of just a few days ago. If he can maintain his mechanics and manage his knee well, he should be able to handle the brunt of the workload across the season.
Red Sox ace
Daisuke Matsuzaka
is expected to make his first of at least three minor league starts Tuesday according to general manager Theo Epstein, who gave the update while speaking to NESN. The good news here is that Matsuzaka really has had no pain in the shoulder and it is just a matter of building up his pitching endurance.
And finally ...
Some folks have had Orioles catcher Matt Wieters stashed away on their fantasy bench hoping for a call-up sometime this season. Those who have been following him know that he suffered a hamstring injury while running to first in mid-April. The good news is that his hamstring strain was considered mild and it did not keep him down long. He has already proved that he can run the bases and play behind the plate, so it is just a matter of when the Orioles decide that they need him in the mix. The injury will not be the decision-maker here as it appears to be behind him.
July, 28, 2008
7/28/08
3:57
PM ET
Despite a few days' reprieve with the All-Star break, the second half of the season is not lacking for injury content. Several players have come back from injury since the second half of the season started (
David Ortiz
,
Alfonso Soriano
), a few are still on the mend (
Kerry Wood
) and new injuries continue to crop up. We take a look at some of the key fantasy players dealing with injury below, and welcome back another Tommy John graduate this week.
[+] Enlarge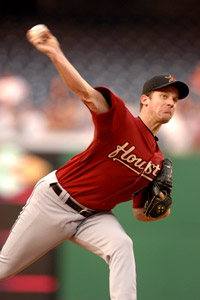 Mitchell Layton/Getty ImagesOswalt will try to make a strong finishing kick now that he's well rested.
Roy Oswalt, P, Houston Astros:
Oswalt is scheduled to return to the mound Monday against the
Cincinnati Reds
after two uneventful bullpen sessions last week. Oswalt has been sidelined with what the team has been calling a hip abductor strain, although a recent MRI also confirmed a disk problem in his lower back. The two problems certainly appear to be connected, since Oswalt told the Houston Chronicle several weeks ago that a spinal injection left him feeling "great." In fact, it is difficult to completely dissociate the two problems since disk injury in the lower back often contributes, either directly or indirectly, to hip problems. The abductor muscles help to move the hip laterally, and perhaps more importantly in Oswalt's case since the involved leg is his landing leg, contribute to stability of the pelvis. I said in a prior blog that I would not be surprised to see Oswalt end up on the disabled list due to the complex nature of his injury. He has no doubt benefited from the rest and rehab afforded him during his stint on the disabled list, and the good news is that he has been able to throw off a mound recently without pain. His first bullpen session was Wednesday, at which point the Astros' official site reported that Oswalt threw at approximately 75-80 percent of full strength. On Friday he upped his intensity but capped the pitches at about 25-30 according to the Houston Chronicle. He also faced a pair of teammates in an effort to prepare for Monday's outing. Manager Cecil Cooper told the Chronicle that he expects Oswalt to throw about 90 pitches, which may be optimistic for his first outing. The concern with the type of problem that Oswalt has is recurrence. This is not a ligament sprain waiting to heal with a fairly definitive timetable. This is a more complex interplay of disk dysfunction, which tends to be chronic, and a related muscle group (hip abductors) involved in a very repetitive motion (pitching). If all goes well, it may still take Oswalt some time to build up the endurance to go deep into a game. Fantasy owners should be cautious.
Aaron Harang, P, Cincinnati Reds:
As Oswalt prepares to face the Reds, the Reds are hoping for the return of one of their aces in the not too distant future. Harang, who has been on the disabled list with forearm stiffness, was able to throw from a distance of 70 feet Tuesday and surprised himself with how good he felt. On the Reds' official Web site, Harang acknowledged feeling tentative at the start of the session as he wanted to make sure that there "wasn't something there," but as the arm continued to respond, Harang said he was able to let go a little. He is scheduled to throw off a mound Monday, which will further test the forearm as he will be forced to throw harder. If the session goes well, the Reds should be able to lay out a better timetable for Harang's return, but at this point it would appear that it could happen within a couple of weeks. The fact that Harang's issues appear to have been primarily muscular, as opposed to ligamentous or a joint injury in the elbow, bodes well for his successful return.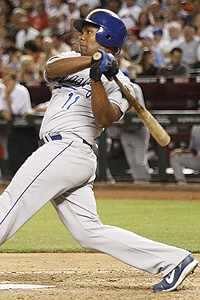 Rick Scuteri/US PresswireAfter a mostly healthy 2007, the nagging injuries are back for Guillen.
Jose Guillen, OF, Kansas City Royals:
Guillen made a decision to remain in Saturday's game after reportedly feeling his groin "snap" in the fifth inning, and came to regret it, according to the Kansas City Star. Guillen acknowledged that he couldn't even walk right after the incident and seemed to be questioning aloud why he didn't put an end to his misery sooner. Guillen was not active for Sunday's game and although he is slated to play Monday, it would not be a surprise if his status changes since Guillen himself told the Star that he pulled the groin "worse than the first time this season." Keep in mind that Guillen has also missed games in July due to back spasms and in June due to a sore hip. The musculoskeletal issues seem to be catching up with Guillen and if he cannot play effectively, it would not be a surprise if the team grants him some additional rest, despite the fact that the Royals could use his services early this week as they face the Oakland A's. While it appears that the latest setback is not particularly serious, these things can have a cumulative impact. Keep a close eye on Guillen's status this week.
Brian McCann, C, Atlanta Braves:
The Braves have certainly faced their share of injury woes this season and it does not appear to be letting up. McCann took on a tough collision at the plate Sunday with Phillies outfielder
Shane Victorino
and the end result was a concussion. He was able to walk off the field under his own power and X-rays were negative, but it is impossible to determine with any certainty how much time he will miss. Given the long absence of the Toronto Blue Jays'
Aaron Hill
, out since late May after a concussion, and the persistent and recurrent symptoms that the New York Mets'
Ryan Church
has faced this season, one thing is certain: It is impossible to truly determine the severity of a concussion at the time of injury. Loss of consciousness, while serious, is not necessarily an indicator of concussion severity. The main thing for McCann at this point is to rest until all symptoms clear. He will then be allowed to progressively resume activity and he will be monitored to see if any symptoms, such as dizziness, nausea or headache, return with that activity. McCann will not be in the Monday lineup.
And in the good news department
We always like to end on a high note, so this week's good news is that
Chris Carpenter
returns to the lineup for the
St. Louis Cardinals
. Carpenter, who has been out since 2007 following Tommy John surgery, is expected to start Wednesday for the Cardinals. This would be his first start since Opening Day last year. His recent rehab starts are encouraging in that he has showed progressively reasonable command, something pitchers often struggle with early in their return from this procedure. Although he will no doubt continue to improve during his first few outings, there is reason to believe that Carpenter can contribute immediately. For fantasy owners, don't set unreasonable expectations, but he may be a good value pitcher, especially by late August when he will likely go deeper into games.