Stephania Bell:

Brian Roberts
April, 15, 2013
4/15/13
3:25
PM ET
Every Monday in this space, we'll provide updates on a variety of players to help you make your lineup decisions. We'll specifically try to hit the players who are day-to-day, have just gone on the DL or are ready to return, so that you can better decide whether you can count on them or not.
All projected return timelines should be considered fluid.
Hitters
David Ortiz, DH, Red Sox
(opened season on DL, due back April): It's no secret that Ortiz has been battling inflammation in his heels this spring and chronic Achilles soreness since last year. Slowly and steadily, however, he has been increasing his activity and appears to be not far from rejoining his team. Ortiz began a rehab assignment Thursday with the Pawtucket Red Sox and managed to incorporate some baserunning -- including a slide -- over the weekend. He told ESPN Boston that he had "no hesitation" when running the bases -- a good sign, since that is what had triggered his Achilles issues last season. Red Sox manager John Farrell has indicated he will leave it to Ortiz to say when he's ready to return but estimated it would take approximately 25 to 30 at-bats. Ortiz did not play Sunday because of an illness, but presuming it is short-lived, he could get enough work to rejoin the team late this week. No guarantee this is behind him for the rest of the season but it sounds like Ortiz is reaching a point where he is able to play comfortably.
[+] Enlarge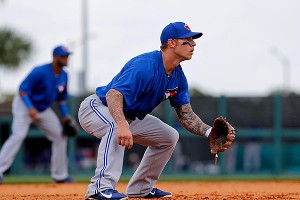 Derick E. Hingle/USA TODAY SportsBrett Lawrie will be playing second base for Dunedin as part of his rehab.
Brett Lawrie, 3B, Blue Jays
(injured March 6, opened season on DL, due back April): Lawrie has been steadily working his way back from a left-sided intercostal strain over the past few weeks. He began a rehab assignment with the Dunedin Blue Jays over the weekend suggesting he is nearing a return, perhaps late this week. With the loss of shortstop
Jose Reyes
for several months to a severe ankle sprain, the Blue Jays are experimenting with Lawrie at second base during his rehab assignment. It is not clear yet whether that experiment will carry over to his major league return. The priority for Lawrie, beyond regaining the rhythm of playing in games, is proving that he can play on back-to-back days without discomfort and can swing the bat without hesitation. Lawrie and his all-out style of play may always present some injury risk but the Jays at least want him to be fully recovered from the spring ailment before activating him.
Chase Headley, 3B, Padres
(injured March 17, opened season on DL, due back April): Headley looks as if he could return this week, although which day that would be is unclear. Headley fractured the tip of his left thumb in March and was originally projected to be out until late April. When X-rays taken last week indicated the fracture was healing well, however, Headley was given the green light to do as much as he was comfortable doing, according to the San Diego Union-Tribune. That activity has progressed from drills -- including taking batting practice from both sides of the plate -- to a rehab assignment which began Friday. So far Headley seems to be comfortable with everything he's tested. Once he demonstrates he can perform offensively and defensively consistently without limitation, Headley could be back in the mix and that could happen any day.
Erick Aybar, SS, Angels
(placed on DL April 13): Aybar bruised his left heel Tuesday when it hit the bag at first base hard as he ran out an infield single and it forced him to leave the game. Now it will force him to miss more extensive time. Although imaging tests appeared to have ruled out a significant injury, the pain associated with heel contusions makes it virtually impossible to put full weight through the foot for some time. According to Alden Gonzalez of MLB.com, Aybar, despite feeling improvement overall, was still having trouble hitting from the right side during batting practice Friday. The rest he will be able to give the heel during a DL stint should allow him to get past this. If all goes well, his absence should not exceed the two weeks.
Yoenis Cespedes, OF, A's
(placed on DL April 13): Cespedes injured his left hand during a slide into second base Friday and was placed on the DL the next day. Imaging tests showed no fracture and the team is calling this a muscle strain, but given that this the injury is to his bottom batting hand, the A's perhaps wanted to take no chances on having him try to press and end up compensating elsewhere. At this point it appears he could return after the minimum 15-day stay.
Coco Crisp, OF, A's
(DTD): Cespedes wasn't the only A's outfielder to injure himself Friday; Crisp exited the same game early after suffering a left groin strain. According to Susan Slusser of the San Francisco Chronicle, Crisp was removed from the game as a precautionary measure after the injury to Cespedes. At this point, Crisp's injury is considered minor and the team considers him day-to-day. Although he didn't play Sunday, he did take batting practice and did some running. It sounds as if he could return as soon as Monday, although the A's have not tipped their hand just yet.
Gordon Beckham, 2B, White Sox
(placed on DL April 10, due back late May/early June): Beckham fractured the hamate bone in his left wrist and will undergo surgery at the Cleveland Clinic on Tuesday. This is the same surgery Giants third baseman
Pablo Sandoval
has undergone on both hands and is not uncommon among hitters. While lingering soreness from scar tissue can make swinging the bat uncomfortable initially, most hitters recover their power within the first few weeks back.
Michael Saunders, OF, Mariners
(placed on DL April 11): Saunders suffered what the team is calling a sprain of his right shoulder when he crashed into the outfield wall last Wednesday. He managed to hang onto the fly ball that sent him to the wall, delivering an out for his team, but the wall took him out for an indefinite period of time. The team has not issued a timetable but fantasy owners should plan on at least a few weeks.
Mike Morse, OF, Mariners
(DTD): On Friday I explained why
Morse's broken finger isn't as serious an injury as it could have been
. In fact, the team expressed hope he could return within three to seven days. Although a Sunday return seemed a little optimistic (and did not end up happening), the Seattle Times reports that manager Eric Wedge hopes to have him available Tuesday (following a team off day on Monday). The key is having him comfortable enough to swing the bat normally, but given the location of the injury, it shouldn't take long.
Franklin Gutierrez, OF, Mariners
(DTD): Seriously, it appears to be hazardous to your health to be a Mariners outfielder. Add Gutierrez to the list of walking wounded with tightness in his groin, which caused him to sit out the weekend games. The Seattle Times reports manager Eric Wedge hopes to have Gutierrez back on Tuesday along with Morse. The concern in the case of Gutierrez is not exacerbating a minor ailment and turning it into a DL-worthy injury. Don't be surprised if Gutierrez sits a bit longer, especially if he is still experiencing discomfort Tuesday.
Jason Kubel, OF, Diamondbacks
(placed on DL April 13): Lingering soreness in his left quadriceps led Kubel to be placed on the DL on Saturday. He hasn't appeared to truly be at full health since the spring, and after undergoing an MRI Saturday for his latest ailment, the decision was made to move him to the DL. It is not clear just yet whether the team expects him to miss more than the minimum time.
Michael Bourn, OF, Indians
(DTD): Expect Bourn to miss several days after requiring five stitches in his right index finger. Bourn was stepped on by White Sox pitcher
Matt Thornton
while sliding headfirst Sunday. The main thing for Bourn is that the cut heals well so that this does not turn into something bigger which would force more time off.
Brian Roberts, 2B, Orioles
(placed on DL April 4): After battling to return following lengthy injury absences the last two seasons, Roberts again finds himself sidelined after getting hurt. Roberts reportedly tore a hamstring tendon when he felt something "pop" in the back of his knee while stealing a base. While the prospects for returning from this injury are good, it most certainly will extend beyond the minimum DL time. He has yet to begin any baseball activities. It would be a surprise if he were to return before early May.
Wilson Ramos, C, Nationals
(placed on DL April 14): The good news is that this injury is not to the same leg which recently underwent ACL reconstruction. The bad news is that the hamstring strain Ramos suffered was enough to send him to the DL. After such a difficult year in 2012, the hope was that Ramos could have a nicer start to the 2013 season. Unfortunately, getting into the groove of the season will be delayed by this setback, which will likely cost him more than the minimum two weeks.
Jason Kipnis, 2B, Indians
(DTD): Kipnis has been battling a sore left elbow for several days, and he was out of the lineup both Saturday and Sunday. This spring, Kipnis reportedly dealt with soreness in his right elbow, which he attributed to the increased throwing that accompanies that time of year. So far, there's been no explanation as to what may be the source of this episode making it hard to evaluate just how worrisome his latest elbow issue is. As of now the Indians are calling Kipnis day-to-day and sound hopeful that he will return after Monday's off day but the vagueness surrounding the injury raises a bit of a concern.
Pitchers
[+] Enlarge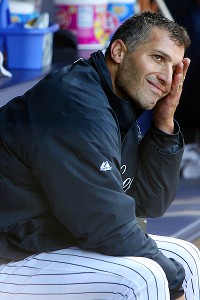 AP Photo/Seth WenigAndy Pettitte will turn 41 on June 15th of this season.
Andy Pettitte, SP, Yankees
(missed last start, expected to start Friday): Back spasms. They happen when you're 40 years old. There's no reason to panic about Pettitte, as he has already indicated that he's feeling better than he did last week. The Yankees still thought it wise to give him a little extra time. According to ESPN New York, Pettitte will throw a bullpen session Tuesday, then start against the Blue Jays on Friday.
Johnny Cueto, SP, Reds
(Placed on DL April 15): Cueto left his Saturday start in the fifth inning with what was initially described as a triceps injury. On Sunday, Ken Rosenthal of Fox Sports reported Cueto is going to be placed on the DL with a lat strain. "Lat" of course refers to the latissimus dorsi muscle, the same muscle Phillies ace
Roy Halladay
strained last year which sent him to the DL for over a month, and the same ailment which has prevented Cubs pitcher
Matt Garza
from pitching yet this year. As with any muscle strain there are varying degrees of injury and the team has not offered much more in the way of specifics. But the lat is integral to a pitcher's throwing motion, and it is likely Cueto will not be permitted to throw for a period of time while allowing the tissue to recover. The time it takes for the soreness to resolve (which will impact the length of time until Cueto is permitted to resume throwing) will determine how long the total recovery will be. It would not be surprising, even if the strain is minor, for Cueto's absence to exceed two weeks.
Matt Harrison, SP, Rangers
(placed on DL April 6): Harrison essentially left his Opening Day start with lower back soreness and has been out ever since. According to the Rangers' official website, Harrison experienced weakness in his left leg, a serious enough sign (suggesting nerve involvement) to send him to the DL. He has undergone epidural injections in his back to help with pain and inflammation but is still in recovery mode. He has yet to throw. Although Harrison is scheduled to be evaluated again this week, it does not appear he will be ready to come off the DL at the end of 15 days. Until he resumes throwing, there is really no timetable to project.
Wandy Rodriguez, SP, Pirates
(DTD): Rodriguez left in the third inning of his April 8 start with a strained left hamstring. He told reporters Saturday that the only thing he can't do is "push off of it" when he tries to pitch, and he is hopeful he will miss only one start. The fact he has not been moved to the DL thus far is a good sign as are his own reports of his progress. As a left-handed thrower, Rodriguez needs power from that left leg, and he is in the best position to know by feel whether it is fully cooperating or not. If all goes well, he could make a start later this week.
July, 31, 2012
7/31/12
4:23
PM ET
It may be the trade deadline in baseball, but there is certainly no cutoff for injuries. Another week in baseball yields another set of ailments.
• After losing third baseman
Alex Rodriguez
for more than a month to a broken bone in his hand, it would have been a huge blow for the
New York Yankees
to lose their other corner infielder for an extended time. Thankfully for them, it appears that will not be the case.
First baseman
Mark Teixeira
gave the Yankees quite the scare when he developed pain in his left wrist, first on a swing and a miss Sunday night before further aggravating it during a diving play Monday, according to ESPN New York's Andrew Marchand. Initial X-rays were negative, and an MRI on Tuesday revealed no specific structural damage, just inflammation, according to the team. Teixeira received a cortisone injection and will be re-evaluated in three days.
In the absence of a specific structural issue, which is more likely to be soft tissue (tendon, ligament, cartilage) than bone given the mechanism of injury, the primary concern is the presence of any fluid in the joint that takes up space in an already compact area. The fluid can block normal motion of the joint, causing pain. It's worth noting the injury is to Teixeira's left wrist and that he first felt the pain when batting right-handed -- similar to the
Toronto Blue Jays
'
Jose Bautista
, although not as dramatic. The wrist joint in the bottom hand is subject to far greater movement toward the pinkie or fifth finger side during a bat swing than the top hand. (The motion is known as ulnar deviation because the hand is deviating toward the medial forearm bone, the ulna.) Any decrease in available motion in this direction, whether due to inflammation or tissue damage, can cause sharp pain when swinging the bat, particularly near full extension.
In Teixeira's case, the hope is that the cortisone and a few days of rest will resolve the wrist inflammation and that he will be able to resume swinging a bat soon. It appears there will be no potential move to the disabled list until Teixeira has a follow-up evaluation.
• The display of flexibility by
Pablo Sandoval
last Tuesday as he performed a full split to complete a double play at first base was an awesome sight, until he stood up. Sandoval was clearly uncomfortable as he gingerly walked off the field. An MRI confirmed a left hamstring strain, and the team was initially hopeful that a few days of rest would do the trick. But as is often the case with these injuries, a DL stint was determined to be the best course of action to prevent this from lingering into potential pennant race time in the National League West.
The good news is he has already been spotted playing catch, and it doesn't appear as if this injury will keep him out for an extended time. Sandoval already missed more than a month this season after surgery for a broken hamate bone in his left hand. Still, hamstring injuries being what they are, the only way Sandoval will know it's behind him is once he has returned to play successfully without a setback (see
Matt Kemp
of the NL West rival
Los Angeles Dodgers
). His first eligible date of return is Aug. 10, so expect to see him resume running in the days prior.
•
Miami Marlins
outfielder
Logan Morrison
is on the DL with inflammation in his right knee, but the big question seems to be whether he'll return this season. At least that's a question Morrison has raised, according to the Palm Beach Post.
Morrison has had chronic troubles with his knee since last year. Tendinitis in the knee led to a platelet-rich plasma injection, but persistent symptoms resulted in December surgery. Arthroscopic surgery, an option in cases where chronic changes in the patellar tendon, which anchors the quadriceps muscle to the shinbone, result in ongoing discomfort, was performed with the expectation that Morrison would be ready to participate in spring training. He did participate intermittently but was never quite 100 percent healthy throughout the spring. In fact, he has never truly appeared to have overcome the issue this season, receiving regular rest to manage the pain and balance his struggles at the plate. As for what awaits him next when it comes to treatment, it is a bit unclear. Morrison has hinted at surgery, but that is not a foregone conclusion.
No matter what the course of treatment, given that he has not been able to get past the issues with his right knee over the past six months, it would stand to reason that he will not suddenly improve in the next two. While he may improve sufficiently after some extended rest to return on a limited basis, don't be surprised if this is the last we see of Morrison in 2012.
• One guy we know won't be coming back this season is
Baltimore Orioles
second baseman
Brian Roberts
. Roberts, who has missed the better part of three seasons due to injury (2010: back, concussion; 2011: concussion; 2012: concussion, hip), will undergo surgery to address a torn labrum in his right hip. Roberts made his 2012 debut June 12 after a lengthy recovery and rehabilitation process post-concussion. Less than a month later, he sustained the injury to his hip.
Roberts attempted a rehab effort in the hopes he could return to finish out the season, but his first minor league rehab outing changed his mind. Depending on the extent of the procedure, the rehab process could take the bulk of the offseason and into the spring. There has been no suggestion that Roberts intends to end his career, but the cumulative injuries could force his hand.
June, 14, 2012
6/14/12
1:58
PM ET
May, 31, 2012
5/31/12
11:17
AM ET
April, 11, 2011
4/11/11
3:41
PM ET
Look who's back.
St. Louis Cardinals
outfielder
Matt Holliday
rejoined the lineup for Sunday's win over the
San Francisco Giants
. And Holliday wasn't just a placeholder. He scored the go-ahead run (after being walked by
Barry Zito
) and added a single in the seventh to drive in another run. Perhaps most importantly, Holliday's return to hitting the ball and playing the field -- just nine days after surgery to remove his appendix -- came and went without incident, relieving Cardinals fans and fantasy owners alike.
[+] Enlarge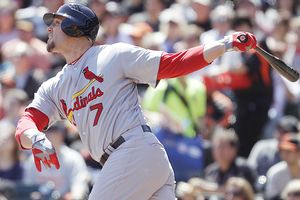 AP Photo/Eric RisbergMatt Holliday missed just slightly over a week of action after undergoing an appendectomy.
This has to be an encouraging sight for
Chicago White Sox
slugger
Adam Dunn
, who underwent an appendectomy of his own in the wee hours of Wednesday morning and has been pressing to return. Luckily, there are others who make the ultimate decision as to when he can come back, but Dunn has shown definite progress, taking batting practice over the weekend. While it's not clear yet exactly when Dunn will rejoin the lineup, it is expected to be sometime this week. It remains a daily evaluation process, however, and the team will not rush Dunn back, no matter how eager he is to return. The takeaway here is uncomplicated laparoscopic appendectomies are no longer an automatic DL assignment; recovery from these procedures is improving.
• In the "ailment" category,
Baltimore Orioles
second baseman
Brian Roberts
looked as if he could be the next in line for a procedure when he made a hospital visit for stomach pain Friday. Luckily, he was cleared, was released and was back in the lineup Saturday. No appendectomy there. ...
New York Yankees
third baseman
Alex Rodriguez
wasn't in the hospital, but he was ill enough to be scratched from the lineup Sunday night. With the Yankees getting Monday off, manager Joe Girardi is hopeful Rodriguez will be back Tuesday, according to the New York Post. ... Illness also kept
Colorado Rockies
outfielder
Carlos Gonzalez
out of the lineup Sunday, but he was able to pinch hit, so it appears he is in good shape to start the week.
• There were some more typical baseball-related injuries this weekend.
Florida Marlins
shortstop
Hanley Ramirez
sustained a left shin contusion in a scary takeout slide by
Bill Hall
. Not only did it look serious at the time (Ramirez needed assistance off the field), but the memory of
Minnesota Twins
second baseman Tsuyoshi Nishioka's broken leg, sustained in an eerily similar fashion, was barely 24 hours old. Fortunately for Ramirez, there were no fractures, just a deep bruise on his lower left leg just above the ankle, according to the Palm Beach Post.
[+] Enlarge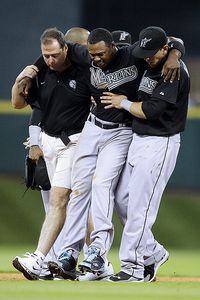 Bob Levey/Getty ImagesHanley Ramirez could return later this week after suffering a scary leg injury on a takeout slide by Bill Hall.
Even in the absence of a broken bone, the injury could have been worse. Formation of a hematoma or collection of blood in the lower leg can occasionally result in acute compartment syndrome. While the condition usually is preceded by significant trauma (like a crush injury), if there is enough swelling and pressure in an area like the shin, it can develop. Pressure can quickly compromise blood flow to muscles in the area and can inhibit nerve function, making it an urgent situation. Football fans might recall New York Giants wide receiver Hakeem Nicks undergoing a surgical procedure (fasciotomy) this past fall after he developed an acute compartment syndrome.
The location of the injury to Ramirez had the potential to affect muscles to the foot and ankle along with a major nerve. In fact, as the Post reports, the nerve in Ramirez's lower leg was impacted temporarily by the blow. Ramirez described the sensation after the impact: "It kind of fell asleep right away so I didn't feel anything. Then there was a lot of pain." That falling asleep or pins and needles sensation typifies the feeling associated with direct blow to a nerve (ever bang your "funny bone" -- really your ulnar nerve -- on the corner of the desk and your fingers go tingly?). By the next day, Ramirez was describing it more as "stiff and tight," typical symptoms associated with a contusion. The main issue is controlling the swelling and pain in the area, then seeing how well Ramirez can function (run, push off, change direction). He hopes to return Tuesday, and manager Edwin Rodriguez is "very optimistic" that he will be able to do so. Fantasy owners with daily lineups should check ahead of time to be sure, but at least it appears Ramirez dodged what could have been a serious situation.
• A player who will not be dodging a trip to the DL is Orioles shortstop
J.J. Hardy
. The suspicion of an oblique injury was confirmed by MRI on Monday, and he will be out for at least a couple of weeks, probably longer. There have been hints of anywhere from two to six weeks absence, and there is really no way to predict exactly how long Hardy's recovery will take. Hardy was a late scratch from Thursday's game with what was termed a sore left rib cage. Two days later, Hardy was removed after just one at-bat because of soreness in the same area, which led to the follow-up tests.
Oblique injuries seem to be running rampant throughout the league for both hitters and pitchers. While the timetable to return is variable depending on the severity of the injury, among other things, one hitter has already exceeded a month-long absence.
Milwaukee Brewers
outfielder
Corey Hart
injured himself in late February and has yet to make his 2011 debut. Hart has turned a corner with his oblique injury, no longer experiencing soreness in his left side. According to MLB.com, Hart is close to a rehab assignment, which could signal a return in the near future. If Hart returns next week, it would be just short of two months since the initial injury, a reminder that these oblique strains cannot be taken lightly.
[+] Enlarge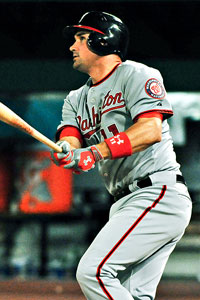 Ronald C. Modra/Getty ImagesRyan Zimmerman joins Evan Longoria as top-flight third basemen landing on the DL in the first month of the season.
• Other players with abdominal muscle strains include
Los Angeles Angels
shortstop
Erick Aybar
, who has finally landed on the DL with what the Los Angeles Times called a strained left rib-cage muscle. It seemed as if Aybar, who has not played in a week but whose MRI revealed only a "slight strain," might avoid the DL, but the Times reports the Angels made the move to help bolster their bullpen by recalling reliever
Francisco Rodriguez
from the minors. Aybar already has been doing some drills and can be activated as soon as April 18, if ready. ...
Washington Nationals
third baseman
Ryan Zimmerman
aggravated an abdominal injury he originally sustained during spring training, and the team is going to place him on the DL on Tuesday, according to MLB.com's William Ladson. The Washington Post reports Zimmerman is not sure how severe the injury is but he did acknowledge, "It's worse than it was," adding, "It's not terrible. I just hope it doesn't get worse."
• Meanwhile,
Arizona Diamondbacks
shortstop
Stephen Drew
somewhat surprisingly rejoined his team's lineup over the weekend. Drew, who has been working to recover from an abdominal strain since mid-March, had an impressive outing Sunday, going 4-for-4. Drew is not out of the woods yet, however. He openly acknowledges he is not 100 percent past the injury. As Drew told the Arizona Republic, "It's [discomfort] still there a little bit, but it's manageable." He went on to say that he considers himself "day-by-day" and wants to ensure that he doesn't go backwards. In other words, fantasy owners need to keep a close eye on him and hope he can heal the rest of the way while playing.
• The San Francisco Giants have lost outfielder
Andres Torres
for a period of time, although how long remains uncertain. Torres sustained a left Achilles strain Saturday and was forced to leave the game early. He was seen sporting a walking boot later, although according to the San Jose Mercury News, the MRI for Torres revealed only a "mild" strain. The concern with these injuries is the risk of something far more serious (worst case clearly being a season-ending Achilles rupture) if one returns too soon. While manager Bruce Bochy told the Mercury News he will likely not know how long he expects Torre to be out until Wednesday, it would not be surprising if he ends up on the DL. Meanwhile fellow Giants outfielder
Cody Ross
is still recovering from a calf strain and is likely another couple of weeks (at least) from returning.
• It's Monday, so all the more reason to end on a positive note. How about the return of
Mat Latos
(bursitis) who is going to make his season debut Monday night at Petco Park when the
San Diego Padres
host the
Cincinnati Reds
? Latos insists his shoulder feels better than it has all spring. The key might not be in how he looks Monday night, or even five days from now, but how his shoulder holds up as the season progresses.
March, 10, 2011
3/10/11
10:07
AM ET
I didn't get to see first baseman
Derrek Lee
and second baseman
Brian Roberts
on the field Wednesday, the two players I was hoping would play in the
Baltimore Orioles
' contest versus the
Minnesota Twins
when I planned my journey. But I did get to see O's manager and former ESPN analyst Buck Showalter (who says he prefers his work attire these days to the suit and tie he donned in the studio), and he provided status updates on his two infielders before the game.
Showalter did not seem particularly concerned about either Lee or Roberts. Lee, whom the Orioles acquired this offseason, has not yet played a spring game with his new team. He underwent right thumb surgery last fall and has progressed to the point of taking batting practice, but soreness in his wrist and forearm has delayed his spring training debut. Showalter indicated Wednesday that an X-Ray on Lee's wrist was negative, and although the veteran first baseman was scheduled for an MRI, there was no real cause for concern. Showalter pointed to an area on the top of the forearm, just above the wrist, where Lee was sore, and then reminded us that Lee didn't use some of those muscles regularly for 2-3 months while in a splint following surgery.
[+] Enlarge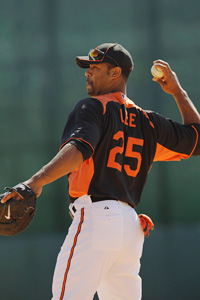 AP Photo/Eric GayDerrek Lee has been working out with the O's, but he hasn't gotten into any spring games.
It's worth pointing out that Lee is 35 years old and also has a history of low back issues. Taking it slowly and cautiously is not the worst thing and the fact that Lee is a veteran gives Showalter reassurance in his ability to get up to speed quickly. That said, if it gets to be another week into March and there's still no sign of Lee, everyone will start to be more concerned. It's not out of the question that he could start the season on the disabled list if he is not 100 percent ready to return. The Orioles want Lee to be pain-free to start the season.
As for Roberts, his ongoing back issues essentially derailed his 2010 season, so hearing that he was scratched from Tuesday's game because of back spasms was disconcerting. According to Showalter, this latest setback is a minor one and not related to the low back problems Roberts faced last year. Apparently Roberts had some upper back spasms ("a knot in there," per Showalter) and even after resting Tuesday, he was still a little stiff Wednesday, so they opted to rest him another day. Showalter was also quick to point out that Roberts has already played in far more spring training games this year than he did last season. True. While there's still reason to be cautious about Roberts' ability to stay healthy throughout the season, there is no major cause for alarm either. At least not yet.
Finally, pitcher
Justin Duchscherer
was reportedly feeling well a day after pitching two scoreless innings against the
Philadelphia Phillies
in his spring debut. Duchscherer, most recently with the
Oakland A's
, is coming off left hip surgery to repair the labrum and resurface the joint, a procedure he underwent previously on his right hip. The increased mobility in both hips might actually alleviate some strain on his low back, which has been intermittently problematic for years. It's too early to say whether Duke will be able to stay healthy, but the outlook is promising. Next up for him is to throw three innings in an intrasquad scrimmage this weekend.
July, 21, 2010
7/21/10
4:35
PM ET
Hey, look who's coming back! Isn't it nice to have an injury update lead with guys
returning
to your fantasy roster instead of the ones you'll need to replace?
That isn't to say it's all sunshine and roses this week.
Manny Ramirez
owners have to be a bit frustrated as he heads to the disabled list for the third time this season because of a right lower extremity injury (this time it's his calf). And
Justin Morneau
owners have every reason to be concerned; he's on the DL indefinitely while he deals with the aftereffects of a concussion (and not his first concussion).
That's enough of that. Didn't I say we were leading off with positive news? Here are updates on four key fantasy options all set to return: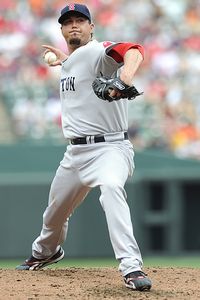 Mark Goldman/Icon SMIJosh Beckett had struggled before going on the DL, sporting a 7.29 ERA.
Josh Beckett, SP, Boston Red Sox:
Beckett has not been available to fantasy owners since May because of a back strain, but that is about to change, as he will return Friday to face the
Seattle Mariners
on the road.
Fantasy owners may be wondering what to expect from Beckett after an extended absence. While no one knows for sure, there are some promising signs from an injury perspective. The primary positive sign is that Beckett has not complained of pain or discomfort in his back since mid-June. The timetable represents his steady progression from catch to long toss to bullpen sessions and finally rehab outings. The fact that for more than a month he seems to be past the point of symptoms and more focused on building endurance and fine tuning his pitches is encouraging.
While back problems are always at risk for recurrence, the longer an athlete goes without an episode, the more confidence one can have in his return. Although Beckett told the Boston Globe that he doesn't feel "sharp every pitch" as he still works on location, the downtime has allowed him to focus on mechanics in a way that may ultimately prove beneficial.
The Red Sox likely will limit the number of throws in his early outings as he continues to build endurance through competitive play, but fantasy owners have reason to be optimistic that a rejuvenated Beckett could provide a second-half spark.
Shin-Soo Choo, OF, Cleveland Indians:
When Choo sprained his right thumb in early July, the best news that he and fantasy owners got was that
he would not need surgery
(unlike the
Philadelphia Phillies
'
Chase Utley
, who is just out of his post-surgical cast.) Translation: Choo's healing time would be quicker. But by how much?
It was estimated that he could miss several weeks, depending on how quickly the ligament tissue repaired itself. Apparently, it has done quite well, because it appears Choo will be able to rejoin his team Friday after a brief rehab assignment, according to MLB.com. Choo had already been swinging a bat and doing outfield drills, both good indicators that the thumb is not presenting much of an issue for him. The injury was to Choo's glove hand, so throwing the ball was never a concern. As is often the case with thumb injuries, though, his ability to control the bat could be. His quick progression to a brief rehab assignment suggests that he is doing quite well and this is just a pre-major league action tuneup.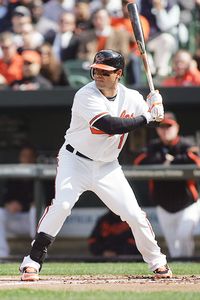 Brian Schneider/US PresswireBrian Roberts has been limited to just four games this season because of back problems.
Brian Roberts, 2B, Baltimore Orioles:
Wow! Two weeks in a row with positive news for Roberts in this column!
Last week we celebrated Roberts going
3-for-3 in a rookie league game
after being out since April with back pain. Roberts continues on his positive path and has now moved to Double-A ball. It appears, if all continues well, that he could rejoin his team next week, making his own recent target of August 1 a reality.
Fantasy owners are right to remain cautious when it comes to Roberts. He has already proven that there is a likelihood of recurrence when it comes to low back problems, although his ability to increase his activity of late is certainly encouraging. Given that fact, it is also likely that the Orioles will limit his appearances and ease him back into play gradually.
Troy Tulowitzki, SS, Colorado Rockies:
When Tulowitzki suffered a left wrist fracture in mid-June, we
outlined all of the factors
that could affect how long he would be out of action. In early July, the Rockies' website reported that Tulowitzki received a good report from the doctor and that his wrist was healing "as well as expected." When Tulowitzki revealed that he had already picked up a bat and begun swinging it by early July, it was a clue that he was indeed on a good pace to return on the early side of projections.
As Tulowitzki heads to a rehab assignment Wednesday, the possibility exists that he could return to the majors next week, potentially edging out a six-week absence if all goes well. The key will be how well Tulowitzki does at the plate. The injury is to his non-throwing hand, so fielding should not present a challenge. At the plate, however, not only does he need to demonstrate a return of power with his grip, Tulowitzki has to show that the impact of the ball against the bat does not cause discomfort -- vibration is one of the sensations that bone is most sensitive to. There's also the matter of getting over any lingering apprehension since the wrist that absorbed the blow from the pitch is the one closest to the mound when Tulowitzki, a right-hander, stands at the plate.
Fantasy owners may have caught a break in Tulowitzki's case, no pun intended, but they should recognize that even if he's able to return, it may take a little extra time for him to regain his form.
And finally ...
The
Milwaukee Brewers
get
Yovani Gallardo
back in their rotation Thursday for a road start against the Pittsburgh Pirates. Gallardo, who suffered a left oblique strain before the All-Star break, was lucky to have only a minor strain. On average, an oblique injury will sideline a pitcher for six weeks. That said, the Brewers have already indicated that they plan to give Gallardo extra rest whenever there is an opportunity in an effort to protect his health going forward. Fantasy owners will want to keep an eye on the Brewers' schedule for that reason.
July, 15, 2010
7/15/10
2:18
PM ET
There are some big questions going into the second half of the baseball season and a number of them have to do with players coming off injury.
Whether they have yet to play this season or had their first half cut short by a significant injury, the following players are guys that fantasy owners might have their collective eyes on for the second half. How confident can you be that they can provide a spark for your team?
You're going to have to take some risk with any of the players on this list, but that risk might just be worth the potential reward.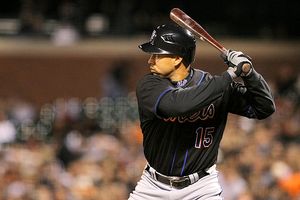 Dave Stephenson/Icon SMICarlos Beltran's hitting should be fine, but don't expect as many stolen bases right away.
Carlos Beltran, OF, New York Mets:
At long last, the return of Beltran has arrived. Beltran, who has not played in a game since last season, is scheduled to make his 2010 debut Thursday when the Mets face the
San Francisco Giants
. Beltran is expected to bat cleanup and play in the outfield.
As to what fantasy owners can expect, there haven't been any major revelations that would alter my expectations outlined
here
nearly a month ago. Beltran should definitely provide some power at the plate, but his knee is not perfect, which may impact his utilization on a daily basis. Fantasy owners will want to monitor how he responds to his return to big league play over the first couple weeks, both in terms of productivity and playing time.
Brian Roberts, 2B, Baltimore Orioles:
He has been the subject of many a blog since aggravating a herniated disc in the first week of the season. Roberts, who had been dealing with back pain even before the season started, has endured various trials and tribulations along his rehab course. At one point the outlook was so gloomy that his availability for the entire season appeared in question.
But Roberts seems to have turned a corner. He recently played in a rookie league game and went 3-for-3. While it is too soon to be celebrating his return, the fact that he is back in a competitive environment where he is both swinging a bat (pretty well!) and playing defense is certainly encouraging. By now, everyone -- especially Roberts -- is familiar with the potential for symptom recurrence when it comes to low back pain. Consequently, the key to evaluating Roberts' potential for the second half will be to see how he fares after multiple games at the minor league level. Game situations provide the unique challenge of quick, directional movements necessary to make defensive plays, along with steals and slides on offense (remember that Roberts' condition was aggravated on a collision during a slide).
If he is able to demonstrate over the next several weeks that he can indeed do everything physically necessary to perform at his position without aggravating his symptoms, Roberts just might be able to rejoin his team. Fantasy owners should not expect that to happen before August, but it's worth monitoring his performance in upcoming rehab games for clues.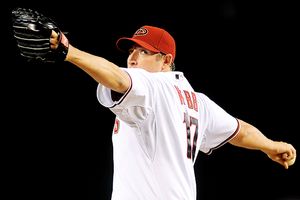 Mark J. Rebilas/US PresswireBrandon Webb's return seemingly gets pushed back every month.
Brandon Webb, SP, Arizona Diamondbacks:
Concerns about Webb have been well documented in
this blog since before the season even started
. Webb, who last pitched competitively on Opening Day in 2009, has been through more rounds of rehab than you can count on one hand, with a surgery in between.
After so many disappointments for Webb and fantasy owners, is there any reason for hope this year? Webb would certainly say so. While there's no doubt that his progress is slow and that any enthusiasm about his comeback should be tempered until it actually occurs, Webb does believe he will return to help his team this year, potentially for six to eight starts. He recently told the Arizona Republic that he is "encouraged by everything [he's] done."
What Webb has done includes bullpen sessions, definitely an improvement over last year when he could not throw from a mound without discomfort. The next challenge will be facing hitters, which should come soon now that the All-Star break has passed. Ultimately, he will require several rehab starts given his time away from the game, but if all goes smoothly from here, that could lead to a mid-to-late August return, just enough time to yield ... six to eight starts. It's still a target fraught with the potential for setbacks, but this is the furthest Webb has come in two years. It would be nice to see him cross the finish line.
Mike Gonzalez, RP, Baltimore Orioles:
Gonzalez is perhaps the biggest mystery when it comes to creating second-half expectations. After missing the bulk of the first half with issues in his throwing (left) shoulder, his return is imminent but his impact remains uncertain.
Now, after multiple rehab appearances to give him time to regain his arm strength and velocity, it appears he will rejoin the Orioles soon. He may not resume a closer role immediately as the team likely will take a wait-and-see approach to ease him back into big league competition.
It's no secret that throwers have wear and tear issues in their arms, but Gonzalez has had his share of problems recently. It was Tommy John surgery in 2007, now it's rotator cuff and labral damage, not enough to warrant surgery (at least for now), but further confirmation that the health of his arm may not be what it once was. Gonzalez's rehab was not entirely smooth this year as he struggled at times to regain his velocity. His ability to throw strikes has improved recently, which is a good sign, but it remains to be seen how effective he will be in the majors.
Josh Beckett, SP, Boston Red Sox: Beckett has done enough in his rehab starts to convince the team that he's ready to return. Out since May with back spasms, Beckett seems to have been over the pain for a while, focusing more on regaining his form.

The Boston Globe reports that Beckett will make another rehab start Saturday, which could be his last before rejoining the rotation. Either way, fantasy owners can start planning to pencil him back into lineups by late July.



Edinson Volquez, SP, Cincinnati Reds:

Just last week we outlined here what the challenges would be for Volquez returning from Tommy John surgery. It looks as if he will be taking those challenges on very shortly as Volquez is expected back Saturday to face the Los Angeles Dodgers. He could provide a spark for your fantasy team, but expect some inconsistency along the way.


June, 1, 2010
6/01/10
2:28
PM ET
With the season approaching 60 days old, it seemed like a good time to take a look at a few key players relegated to the 60-day DL, either before or since Opening Day. Many fantasy owners are re-evaluating their rosters, wondering whether it's time to fish or cut bait. Naturally there's still uncertainty involved, but there has also been some activity to report, although it tends to be in such small increments that it goes unnoticed.
In many cases, it will depend on just how deep a roster you have, or how badly that roster has been bitten by the injury bug. If your team has been lucky enough to avoid serious injury, you may want to hang on to one of these guys in the hopes that he can give you a spark late in the season. If you need help NOW, then it's time to consider purging your DL sheet to make room for an up-and-comer.
Either way, here are the rumblings floating around regarding four noteworthy fantasy players along with my two cents as to how optimistic teams should be about their returns.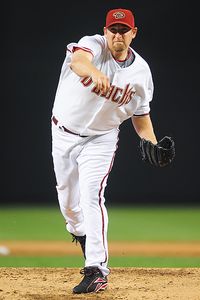 Mark J. Rebilas/US PresswireAfter pitching just four innings last season, Brandon Webb is no lock to appear for the Diamondbacks this year.
Brandon Webb, SP, Arizona Diamondbacks (60-day DL, April 4):
Ever since Webb suffered a setback post-operatively, there has been little reason for optimism. He has not been able to progress successfully to throwing off a mound, the key hurdle for Webb, since his original injury in April 2009.
In the latest effort to get Webb on a trajectory that would return him to the playing field, he recently spent time in Birmingham, Ala., with physical therapist Kevin Wilk, according to the Diamondbacks' website. Wilk, who works closely with Dr. James Andrews, is known for working with high-level athletes, and throwers in particular. Webb also has a history with Wilk, having spent some time with him last year. Plus, the Diamondbacks' head athletic trainer, Ken Crenshaw, is highly regarded among many medical personnel who treat baseball players. This type of collaboration between practitioners is not unusual -- and is, in fact, praiseworthy -- especially when a team is faced with a challenging case.
During the biomechanical evaluative process in Birmingham, Webb reportedly received confirmation of what he had suspected regarding his arm angle; he has been throwing with a much higher arm angle than he had pre-surgery. Sometimes after an injury or surgery, the involved limb loses some of its proprioceptive ability or understanding of where it is in space. No matter how complete the range of motion or how strong the body part, regaining this sense of body awareness is critical to peak performance. The question ultimately is how significant of a factor this is in Webb's overall progression, but given the impact on how the body delivers the ball, Webb has to make the adjustment. So Webb will return to Arizona no doubt with a few tweaks to his rehab program and some attention to his mechanics in the hope that he will be able to regain his form.
It's still impossible to predict just what sort of timetable this sets up for Webb at this point in the season but fantasy owners can assume that the word "soon" is not in the picture.
Erik Bedard, SP, Seattle Mariners (60-day DL, retroactive to March 26):
In news that's not necessarily news to longtime Bedard followers, Bedard suffered a setback during his rehab from shoulder surgery. To be fair, Bedard had been making terrific progress and was, in fact, ahead of schedule following his labral repair up until mid-May when he began feeling discomfort in his shoulder. That said, in the
inaugural blog of the season
, Bedard's long-standing history of soft tissue injuries was noted, making getting excited in April about a possible June return seem a little premature.
Bedard did travel with the team to Anaheim this weekend and threw a side session Friday. It went well enough that he was throwing again Monday (long toss, according to the Tacoma News-Tribune). If all continues uneventfully, Bedard will next progress to throwing bullpens. Prior to his setback, Bedard had thrown several bullpens and a simulated game. It was after his April simulated game that he began feeling discomfort and was transferred to the 60-day DL. Given the marks he still has to meet and the endurance he needs to build in his pitching arm, it's tough to imagine a pre-All-Star break return for Bedard.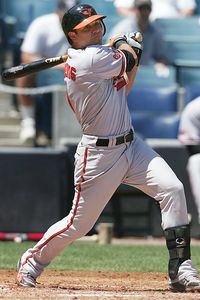 Cliff Welch/Icon SMI A variety of ailments has limited Brian Roberts to just 14 at-bats this season.
Brian Roberts, 2B, Baltimore Orioles (60-day DL, April 10):
Roberts must have walked under a ladder, stepped on cracks or double-crossed a black cat. Something has to explain the horrible string of bad luck he has dealt with since, truth be told, before the season started.
Roberts' back was problematic during spring training, but then it appeared he was out of the woods ... for a few days. Then on an awkward slide he suffered an abdominal strain and
aggravated the back injury
. Since then we have detailed his slow progress and setbacks (stomach pain that led to an endoscopy, and most recently a bout of pneumonia) on multiple occasions.
This week I am thrilled to report some positive news for Roberts! After just being cleared last week to resume baseball activities post-pneumonia, Roberts, working out at the team's complex in Florida, was able to take live batting practice and field ground balls from second according to the Orioles' website. Manager Dave Trembley went so far as to say "It's a good sign." Wow. That's going out on a limb.
Given the time Roberts has had, it's not surprising that no one -- from Roberts to Trembley -- wants to read too much into a good workout. Roberts is eligible to come off the DL on June 9, but as the Orioles' site indicates, the team anticipates that he will need some more time. After all, he has been away from the game for two months already, has been hospitalized, received spinal epidural injections and without a doubt has lost significant conditioning. If there's anything that's going to help protect his back from another major episode, it's strong core muscles and physical endurance. In fact, it would not be surprising if his return does not come until closer to the All-Star break. Every day will be a test so there are no guarantees at this stage. But at least we're talking about what Roberts is
doing
, instead of what he's not.
Carlos Beltran, OF, New York Mets: (60-day DL, retroactive to March 26):
Beltran has been ever so slowly working his way back from
January knee surgery
to address cartilage damage in his knee.
We have maintained all along that the big tests for Beltran would come when he began running, and so far he has passed the preliminaries. He recently acknowledged that he has been able to run without pain, something he had not been able to do for months. But he is moving slowly, perhaps more slowly than even Beltran anticipated, although it is not without good reason. David Lennon of Newsday recently reported that Beltran acknowledged that he was given the choice of undergoing microfracture surgery in January -- which would certainly have pre-empted any chance at playing in 2010 -- or undergoing a less complex procedure to smooth the cartilage surface and give him an opportunity to return. He chose the latter but it underscores the point we've been making since before the season started; his knee is not pristine and thus must be treated carefully.
So far, Beltran has done light running but as of late last week, as the Newark Star-Ledger reported, he had not yet been cleared for baseball activities. General manager Omar Minaya reiterated what he had said a month ago: Beltran will need approximately four to six weeks
after
he is cleared for such activities before he will be able to return to the team.
Fantasy owners should automatically assume that this will take him beyond the All-Star break, but we will look for hints that he is actually increasing his activity and making progress toward a return.
In brief:
Grady Sizemore, OF, Cleveland Indians:
He will undergo arthroscopic surgery on his knee. After
consulting with several specialists
, the plan is for Sizemore to undergo a scope, at which point it will be determined how extensive a procedure is ultimately required. The minimum time he is expected to miss is six weeks, but as we have seen before (like Carlos Beltran above), these situations can be tough to predict. If Sizemore does end up having microfracture surgery, his season will be over.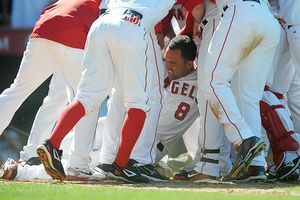 Kirby Lee/Image of Sport/US PresswireIt's possible that Kendry Morales won't play another game this season after his freak injury Saturday.
Kendry Morales, 1B, Los Angeles Angels:
Morales, who went from ecstasy to agony in the blink of an eye when he broke his ankle during celebration for a walk-off grand slam Saturday, still has not been able to undergo surgery. According to the Associated Press, Morales' injured ankle remains too swollen for doctors to operate. The Los Angeles Times reported that the Angels' medical staff has suggested the possibility of a return for Morales this season, but the rehab clock has yet to begin ticking because of the delay.
Once the fracture has healed, Morales will need to regain his range of motion and strength, which is often more difficult than the healing of the bone itself when it comes to the ankle. Progressive weight bearing and increasingly demanding drills precede a return to baseball activities and then rehab games will follow. Depending on the precise location of the break, whether it is a clean fracture or whether there are multiple fragments, and the associated surgical procedure, the timetable can be quite variable, but this is more than a 15-day DL stint, with the descriptor more likely to be "months" than "weeks." Stay tuned.
Jorge Posada, C, New York Yankees:
He may yet prove all of us medical folks wrong. (We actually don't mind when that happens in the positive direction because it means someone is doing better than expected!) Posada appears to indeed be ahead of schedule in a return from a
hairline fracture he suffered in his right foot
as a result of a foul tip. The Newark Star-Ledger reports that he ran on the field Monday, and manager Joe Girardi says there's not much more he needs to do, other than prove that he still feels fine the day afterward. Posada may avoid a rehab assignment so he could return to the team within days, not weeks. While running is certainly impressive, there are different stresses on the foot associated with playing the position of catcher so the team may want to see him catch a few innings behind the plate before clearing him. Nonetheless, Posada owners want to keep an eye on him as he is eligible to come off the DL late this week.
Andre Ethier, OF, Los Angeles Dodgers:
And why not end on a high note? Ethier was back in the lineup Monday, coming off the DL as soon as eligible despite a still-healing finger fracture. As noted in
last week's blog
, it's a credit to some creative thinking on the part of the Dodgers' medical staff (and their collaboration with the Lakers' medical staff) that the timetable for Ethier's absence was shortened by as much as a month. Don't be too concerned by his lack of productivity the first night back. The fact he has barely missed a beat swinging the bat since his injury occurred will undoubtedly help him return to form sooner rather than later. He will wear the splint for the foreseeable future as the finger continues to heal.
May, 5, 2010
5/05/10
12:52
PM ET
Another week, another slew of injuries. This week, though, in addition to adding names to the injury roster, we learned that several players are going to be spending some additional time on the disabled list. Never music to a fantasy owner's ears but it's always better to be prepared.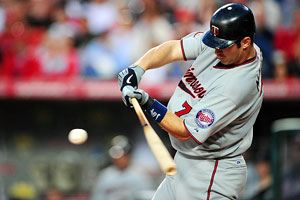 Gary A. Vasquez/US PresswireJoe Mauer may miss a few more games, but he probably isn't "week-to-week" as Twins manager Ron Gardenhire mentioned earlier.
Joe Mauer, C, Minnesota Twins (day-to-day):
Mauer has been dealing with a deep bruise in his left heel since Friday night when a sharp lunge to first base left him in pain. It sounded dire by Sunday when manager Ron Gardenhire described Mauer's condition as "week-to-week" instead of day-to-day. Gardenhire also made it clear the Twins would not be rushing Mauer back, telling the Minneapolis Star-Tribune, this injury is "something you don't screw around with."
It now sounds like it's not as bad as it could have been. According to the Twins' website, an MRI confirmed a soft tissue injury (as in, there is no fracture) and the healing will be assessed on a daily basis. Mauer is reportedly feeling better and is running in a pool to maintain conditioning while eliminating impact that could aggravate the situation. It appears that the Twins have avoided a move to the DL for Mauer ... at least so far.
Rafael Furcal, SS, Los Angeles Dodgers (15-day DL, retroactive to April 28):
Furcal has been pestered by a hamstring injury for the last week. On Tuesday, the Dodgers determined that more time was needed and the decision was made to place Furcal on the DL. The issue now is how concerned fantasy owners should be. Does the DL just buy Furcal another week of healing time or is this injury enough to keep him out significantly longer?
Before panic sets in, it appears that the answer is the former. Furcal has been progressing well with his hamstring injury but is not quite ready to resume full speed activity. As a shortstop, he needs to make explosive defensive movements. As a leadoff hitter, he is likely to be exposed to more sprinting situations. Consequently, Furcal is at far greater risk of a setback if he returns at less than full strength. Since it's May and not September, there is no reason for the Dodgers to take that chance. The move to the DL appears to have been largely precautionary. Expect Furcal to return when eligible, barring, of course, a setback.
Manny Ramirez, OF, Los Angeles Dodgers (15-day DL, April 23):
Speaking of Dodgers placed on the DL for precautionary reasons, Ramirez began a rehab assignment Tuesday and the news is so far, so good. Ramirez, who suffered a Grade I calf strain, has been running without incident for several days. He is eligible to return May 9 and appears on track to meet that target.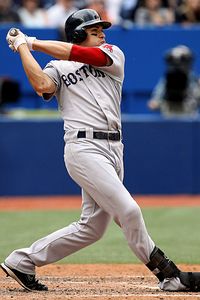 Tom Szczerbowski/US PresswireJacoby Ellsbury would like to be comfortable swinging the bat before he returns from four broken ribs.
Jacoby Ellsbury, OF, Boston Red Sox (15-day DL, retroactive to April 12):
Ellsbury continues to recover from the pain that comes with having four broken ribs.
From last week's injury blog:
Although it can take four to six weeks for a rib fracture to heal, from the standpoint of activity this is a symptom-based condition meaning whatever he can tolerate, he can do. The fact that four bones were broken, however, tells us that it will take longer to tolerate just about everything.
That statement still holds true. The Boston Globe reported that when pressed for a timetable earlier in the week, Ellsbury declined to provide one, reminding everyone that he does indeed have broken bones "and they need to heal." It may feel like forever to fantasy owners, but it's only been three weeks, very reasonable when you consider his injury.
Ellsbury did take a positive step Tuesday when, according to the Red Sox's website, he took batting practice before the team's game against the
Los Angeles Angels
. Let's see how Ellsbury feels the day after this new activity before we get too excited. And keep in mind, he likely will require a rehab assignment to get his body back in the groove of playing both offense and defense. He may very well be more than just a few days away from returning. The road back may continue to feel slow, but at least we are seeing some tangible progress.
Jimmy Rollins, SS, Philadelphia Phillies (15-day DL, April 13):
A week ago, we pointed out that Rollins had not done any explosive movement that would really test his calf; now we know why. According to the Phillies' website, Rollins still feels discomfort in his right calf when he has to move to his left while fielding ground balls. This makes perfect sense from an injury standpoint. As he makes that initial lateral movement to make a play on a ground ball traveling to his left, he is forced to push his full body weight through that calf muscle. While it might not be bothersome in straight-ahead running, making a quick directional movement from a stationary position requires significantly more power. The discomfort Rollins feels is his calf's way of telling him that it's not healed.
Consequently, the Phillies have expanded the time frame for his return from four weeks to six. This is hardly shocking; we have said from the outset that these injuries are unpredictable and easily aggravated. The Phillies don't want him to come back only to be forced out again. The idea is to have him back for the remainder of the season. Fantasy owners should set their sights on the latter part of May.
Kerry Wood, RP, Cleveland Indians (15-day DL, retroactive to March 26):
Last week we said that Wood was scheduled to begin a rehab assignment soon. He did. We also said that when pitchers face live hitters, the adrenaline goes up and the body can react. It's also a time for pitchers to work on their velocity and location. Wood had a chance to get some work in and found out what he still needed to work on before rejoining his team.
Wood may have given up six runs in less than an inning in a rehab outing, but on the positive side, he reported feeling good afterward. Wood told the Akron Beacon Journal, "that's the most important thing for me." Certainly given his injury history that couldn't be more true. Wood may require another couple rehab appearances before he retakes the closer role with the Indians but his return date appears close.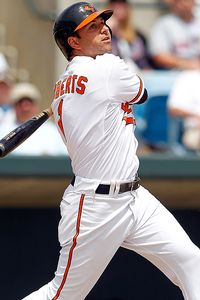 J. Meric/Getty ImagesBrian Roberts' seemingly uncertain return frustrates many owners.
Brian Roberts, 2B, Baltimore Orioles (15-day DL, April 10):
The quote heard 'round the fantasy world: "It could be three weeks, it could be three months" was Roberts' assessment of his situation, according to the Orioles' website. For fantasy owners wondering whether they should still hold out any hope, it's worth noting that Roberts was quick to add that he did not really think it would be three months.
Nonetheless, we have outlined here in past weeks that Roberts' back condition has the potential not only to linger, but to continue to be problematic across the season. Disc problems are notoriously difficult and this is behaving no differently. Roberts is still very limited in his activity as the team brings him along slowly. Because there are many hurdles to overcome, it is hard to establish a clear timeline. That brings frustration for players and fantasy owners. At this point, it's anyone's guess, including Roberts', as to when he'll be able to return.
Curtis Granderson, OF, New York Yankees (15-day DL, May 2):
When Granderson pulled up sharply while rounding the bases Saturday and hobbled toward third base. it was obvious he had pulled something, it just wasn't clear exactly what it was. We have learned that he suffered a Grade II groin strain, and according to ESPN's Buster Olney, Granderson is expected to miss a month.
This is not dissimilar to the Grade II muscle strain that the Phillies' Rollins is dealing with, other than the exact location of the injury. Grade II, also called a moderate strain, represents the widest range of injury somewhere between a minor strain with no visible tissue damage (Grade I) and a complete muscle tear (Grade III). As we have seen with Rollins, it takes time for the tissue to heal, and the most challenging aspect of recovery is regaining explosiveness and speed, a critical component of Granderson's game. Fantasy owners should hope for four weeks, be prepared for six and know that his timetable could still fall outside of those parameters depending how his rehab goes.
Jorge Posada, C, New York Yankees (day-to-day):
Posada's calf strain is being called mild following an MRI this week. According to the New York Daily News, Posada is not expected back before Friday. Let's face it, at age 38, these types of injuries are more apt to occur. The most fortunate thing for the Yankees is that the strain was not more serious, like Rollins' was. It looks like this will not land Posada on the DL, but if it doesn't progress as expected, he won't be an automatic start for the weekend series, even if it is the Red Sox. Fantasy owners need to be sure to check pregame lineups.
Etc.
Cliff Lee, SP, Seattle Mariners:
If there were any lingering doubts as to how Lee would fare coming off the DL following his abdominal strain, he seems to have put those to rest. Lee pitched seven scoreless innings in his first start of the season while dishing up eight strikeouts.
Mike Cameron, OF, Boston Red Sox:
Cameron seems to be progressing nicely with an abdominal strain that initially appeared as if it might require surgery. In fact, he could be headed for a rehab assignment within a week.
Erik Bedard, SP, Seattle Mariners:
Bedard continues to move forward in his throwing progression, slightly ahead of schedule as he recovers from shoulder surgery. After a bullpen session Friday, Bedard was projected to move up to a simulated game this week. According to manager Don Wakamatsu, Bedard has adjusted his mechanics to place less stress on his throwing shoulder. The key will be whether he can maintain these mechanics as he begins to face hitters. The best case has him returning the end of May, but don't be surprised if it stretches a bit longer.
Mariano Rivera, RP, New York Yankees:
Rivera shrugged off the stiffness in his left side as no big deal, much as one would expect. Pain on the opposite side of the trunk from the throwing arm always raises the specter of an oblique issue, but Rivera's confidence is convincing. So is the fact he threw a bullpen session before Tuesday's game. This does not appear to be something that will limit him beyond a few days.
Huston Street, RP, Colorado Rockies:
As a pitcher returns in his throwing progression, one big hurdle comes when he moves from throwing on flat ground to throwing off a mound. Street overcame that hurdle Tuesday when he threw a bullpen session and experienced no discomfort in his shoulder afterward, according to the Examiner. The plan is for Street to throw in an extended spring training game next followed by a rehab assignment. If all goes well, he should be back with the team within a few weeks.
Jeff Weaver, SP, Los Angeles Dodgers:
Weaver has been doing well in his simulated games and is expected to be activated Friday. Apparently the back issue he was dealing with was minor as these things go and he has recovered quickly, as expected.
From my mailbag
Cameron (Atlanta):
Are any injuries really freak injuries? I mean, I realize that if a player slips on water in his kitchen and falls on his wrist and breaks it, then that is a freak injury. But, you often hear that somebody pulled their hamstring in a "freak injury." I would have to argue that it is never really a freak injury. I think these types of injuries happen for various reasons, especially in a non-contact sport such as baseball. For example, someone is carrying around extra weight and didn't put in the work in the offseason, they didn't warm up and stretch properly, they have tight quads or hamstrings that cause one or the other to overcompensate that eventually leads to a pull or strain. Or one part of the body has been severely overworked and leads to another part of the body being vulnerable. If any of those situations happen, then technically the injury could have been prevented if the athlete worked harder and took better care of their body. What say you?
Stephania Bell:
What a great question! This is one of those philosophical questions where I'm not sure we really ever have a definitive answer. As you point out, the true "accident" such as slipping on the wet floor, or stepping in a lawn divot that is hidden from view, even a car accident in which there is no fault on the part of the injured party ... these could all be described as freak injuries.
At the same time, there are certainly "unusual" (as in uncommon) injuries that occur in sports that may be more likely to happen, as you point out, because of inadequate warm-up, less than ideal fitness or some other contributing factor. In medicine, we always feel that individuals with better fitness tend to recover better and faster from injury. In some cases, the more skilled individual may even be able to avoid an injury that would have felled the average person. To that end, we spend a lot of time encouraging proper fitness and, when possible, tailoring that fitness to the individual's activity. Someone who lifts repeatedly at work needs to be "fit" for that job, just as a baseball pitcher needs to tailor his exercise program to support his occupation.
Great food for thought, though. And if it encourages anyone to spend a little extra time on core strengthening or flexibility to help prevent injury, then we've accomplished something!
If you have any injury questions you want answered in the blog, drop a note in
my mailbag
, or stop by my Tuesday chats.
April, 29, 2010
4/29/10
2:42
PM ET
Wow! It's hard to believe that May is almost here. Seems like we were just ringing in the New Year and trying to figure out whether to refer to it as "Two Thousand Ten" in the pattern of years past or "Twenty-Ten" like the hip kids we want to be. I don't know about everyone else, but I'm struggling to get used to the sound of either one.
Here's what else is hard to get used to: We're only in the fourth week of the season and the disabled list is deep enough to field a new baseball division. Fantasy owners are well aware of this fact as they try to scour the waiver wire to complete their rosters. I'm struggling to find someone whose team has not been affected by injury.
In this merry-go-round of lineup adjustments, it's important to consider who might be on the verge of returning and who might need a little extra time in the rehab department. There's no time to waste, so we bring you the quick hits version of the injury blog.
Here are 10 players whose injury status may impact your lineup in the next week, or at least your waiver wire activity.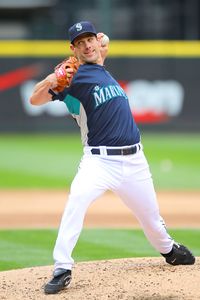 Otto Greule Jr/Getty ImagesCliff Lee's regular-season debut with the Mariners will be slightly earlier than expected, and he appears to be in good health leading up to it.
Cliff Lee, SP, Seattle Mariners (15-day DL, April 4):
The best part about Lee's rehab is that it has been relatively uneventful. Once he was able to move past the pain of his abdominal strain, Lee has progressed steadily. From his bullpen sessions to his simulated games to his recent rehab start, Lee has looked solid. He is scheduled to make his 2010 (that's Twenty-Ten) season debut Friday, beating the projected first-week-of-May return by a day. And he doesn't even have to worry about that five-game suspension he received during spring training; that's been dropped. Given his consistent recovery, fantasy owners should feel comfortable plugging him in right away.
Jacoby Ellsbury, OF, Boston Red Sox (15-day DL, retroactive to April 12):
Initially it appeared that Ellsbury had escaped major injury when he collided with teammate
Adrian Beltre
's knee in mid-April. Apparently, that was not at all the case. Despite negative X-ray results immediately after the injury, a later CT scan (which was undertaken when Ellsbury failed to show any significant progress) revealed four hairline fractures. While the CT results really don't do much to alter Ellsbury's treatment, they sure do validate his pain!
Although it can take four to six weeks for a rib fracture to heal, from the standpoint of activity, this is a symptom-based condition, meaning whatever he can tolerate, he can do. The fact that four bones were broken, however, tells us that it will take longer to tolerate just about everything. Ellsbury hit off a tee Tuesday, but that's a far cry from the speed and torque required for a true swing. As manager Terry Francona stated on the Red Sox's website, "We're just trying to increase the intensity every day." Don't be surprised if it takes Ellsbury another couple weeks to get his groove back.
Kerry Wood, RP, Cleveland Indians (15-day DL, retroactive to March 26):
Get ready to move over,
Chris Perez
, Wood is knocking on the door. Wood, who missed the start of the season because of a strained latissimus dorsi muscle suffered during spring training, is nearing a return. Wood had a bullpen session Tuesday, is scheduled for another Friday, and according to the Indians' website will then have a simulated game followed by a brief rehab assignment. That would bring Wood back to the team within two weeks, assuming all goes well, which is right around what we projected three weeks ago. The Indians have indicated that Wood will assume the closer role upon rejoining the team.
It's worth remembering that when pitchers face live hitters, the environment changes. A little adrenaline translates to a little more effort on the delivery and the body sometimes reacts. Maybe the command is a bit off, maybe there's a little more post-throwing soreness than usual, any of which could potentially influence the timetable. That said, the Indians appear to have kept Wood on track (remember when their medical staff said this would keep him out for a minimum of six weeks?). Expect to see his season debut around mid-May.
Brian Roberts, 2B, Baltimore Orioles (15-day DL, April 10):
If you were wondering whether you should continue to hang on to your second base fill-in knowing that Roberts has already exceeded the 15-day minimum requirement of the DL assignment, the answer is a definitive yes. However, the news for Roberts just got a little worse. As if his herniated disc-related symptoms weren't enough, the Orioles reported on their website that Roberts was scheduled to undergo an endoscopy Thursday after recently experiencing stomach pain along with flu-like symptoms.
Although he was cleared for light exercise recently, he was not anywhere near ready to perform baseball activities. This latest setback certainly won't expedite things. Let's hope for Roberts' sake that there is nothing more serious going on. In the meantime, fantasy owners need to plan on an indefinite substitution in their middle infield.
Jimmy Rollins, SS, Philadelphia Phillies (15-day DL, April 13):
By now everyone knows that Rollins suffered a calf strain before the Phillies' home opener this month. The question is, how long will that calf strain keep him sidelined? The strain appeared serious enough from the outset to suggest that he would need more than the 15 day minimum to recover. Our initial projection here of approximately four weeks still appears to be reasonable.
Although Rollins is doing some light running and taking batting practice, he certainly has not done any explosive movement that would really test the calf. He will continue to be progressed gradually, and according to the Philadelphia Daily News, the Phillies will refrain from announcing a specific timetable. This is a wise move as these injuries are very unpredictable and easily aggravated. Once he is able to run full speed, we should have a better clue as to when he might be nearing a return.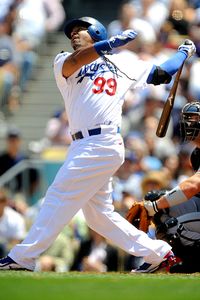 Kirby Lee/US PresswireManny Ramirez's stint on the disabled list apparently will be a short one.
Manny Ramirez, OF, Los Angeles Dodgers (15-day DL, April 23):
Hey, while we're talking calf strains, we might as well include Manny. Not to worry. His injury is not as serious as the one Rollins suffered. Ramirez has a Grade I calf strain, meaning the injury is minor enough that there is no significant tissue damage visible on MRI. Inflammation in the area still indicates a problem and it is certainly a condition that can easily worsen. In other words, pushing through it could result in more extensive injury to the muscle, which would translate into more missed time. There's no need to chance that outcome this early in the season, so Ramirez is proactively resting. The good news is that fantasy owners can expect Ramirez to return when eligible.
Brad Lidge, RP, Philadelphia Phillies (15-day DL, March 26):
Return alert! It looks as if Lidge will be back in the Phillies' bullpen this weekend after another successful rehab outing Tuesday. Lidge believes he is ready to return on all fronts. He has no pain, his command is solid and his elbow and knee issues appear to be behind him. According to the Philadelphia Inquirer, Lidge is expected to rejoin the team Friday when it hosts the
New York Mets
.
Jorge De La Rosa, SP, Colorado Rockies (15-day DL, April 28):
The Denver Post reported that De La Rosa was placed on the DL with a torn flexor band but will not need surgery. De La Rosa injured the middle finger of his throwing (left) hand during his last outing and initially it was thought to be just a bone bruise. An MRI revealed the extent of the damage. It sounds as if De La Rosa tore a pulley in his finger, one of the ligamentous bands that help to anchor the flexor tendon (a tendon, which as the name implies, helps to flex the finger, obviously a critical function for grip and control). The pulleys are essential to proper function of the hand. It appears that De La Rosa's hand will be rested in an effort to let the tissue heal; if he were to try to press through, this he could end up being a season-ending injury that would require surgery. Stepping away now is a better option, but expect it to take on the order of many weeks, as in more than a month, for him to return.
Nelson Cruz, OF, Texas Rangers (15-day DL, April 27):
As soon as his hamstring "cramp" turned into something that forced an early exit from Monday's game, it seemed as if Cruz was headed for the DL. Indeed, that was the decision. There was no need to turn this into a significant season-long injury, as the hamstring issue was just not going away. The hope will be that with forced rest, Cruz will be able to return when eligible.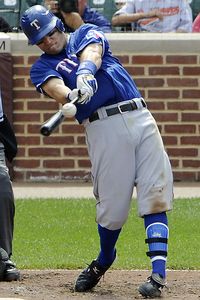 Mark Goldman/Icon SMI Ian Kinsler is set to return Friday, but how long before he makes another trip to the DL?
Ian Kinsler, 2B, Texas Rangers (15-day DL, retroactive to March 26):
When your projection as to how healthy you'll be upon return is less than ideal, as Kinsler's was, fantasy owners have to be a little nervous. Kinsler told the Fort Worth Star-Telegram, "When I return to play, I don't think I'll be 100 percent. But I want to get on the field." To be fair, that comment was made a week ago, but the questions about just how well his ankle will support him remain.
Kinsler suffered a right high ankle sprain in early March and these injuries are always more difficult to recover from than anticipated. Kinsler did steal a base in his last rehab outing, which is encouraging, and he is expected to be activated Friday. Fantasy owners should temper expectations as it may take him a while to return to form. It will also be worth keeping an eye on how his ankle responds to the stress of daily play.
From my mailbag
Arthur (Long Beach, N.Y.):
I am in a 10-team mixed league with one DL and four bench spots. I am comfortably in first place (thank you, Mr. Halladay), but sense imminent danger based on a shallow bench. I am carrying both
Carlos Beltran
and
Brandon Webb
on my roster. Based on projected value and severity of injury, which player would you recommend keeping? I recognize this is partially based on my roster mix, but if you were drafting today, which player would you choose? Thanks for the fantastic columns.
Stephania Bell:
Arthur, thanks so much for writing. Let's get right to the point: You are in that location they call somewhere between a rock and a hard place. While I'm still holding out hope that Beltran is able to return this season, there has been some speculation that he won't. Beltran traveled to Colorado last week to visit his surgeon and was not cleared to run. According to the New York Daily News, he was fitted with a custom brace for his ailing right knee while in Colorado, which in and of itself is not a bad thing and may help his progression. I thought all along that a May return would be premature in light of both the nature of Beltran's injury and the date of his surgery. We have to remember that even post-surgery, he does not have a "perfect" knee and his best chance of being successful is returning in a slow, deliberate manner. No one is saying with any certainty when he will return because this is a day-to-day evaluation, but June appears to be the soonest possible target.
Webb, on the other hand, is still playing catch with no clear-cut targeted return date. It's worth noting that there is no clear explanation as to why he's had so many setbacks, which is most problematic for me. Before we can even begin to consider a return time, we have to see Webb successfully throw off a mound. His prognosis is more questionable in my mind, simply for the fact his problem is ill-defined.
I'd stick with Beltran and then cross my fingers.
If you have any other injury questions you want answered in the blog, drop a note in
my mailbag
, or stop by my Tuesday chats.
April, 15, 2010
4/15/10
1:01
PM ET
The term "15-day DL" can be so misleading. Sure, we know once a player has been placed on this disabled list we won't see him in the lineup for
at least
15 days. But it really gives us no idea as to the true severity of the injury. Some injuries simply require time beyond the allotted 15 days for sufficient healing. For many athletes, returning to play requires restoration of strength, conditioning and timing in addition to recovery from the injury itself, so that can translate to extended time.
To further complicate matters, the date the decision is made to place an athlete on the DL may not be the day the countdown clock starts ticking. A team can make a DL designation retroactive to the day following the last game in which the player appeared. Sometimes this happens when an injury that initially seemed would limit a player for just a few days turns out to be a little more problematic. It may also be used when a team wants to give a player who is progressing well a little extra time before returning to competition. In other words, a move to the DL does not necessarily indicate that an athlete's injury is worrisome.
How to make sense of it all then? Except for obvious injuries (such as broken bones or knee ligament tears) that immediately force a player to the DL, there are often clues that emerge before a team decides to place an athlete on that list. There are also hints throughout the course of an athlete's rehab that signal whether he will require additional time beyond those 15 days before returning to the lineup. We look for those clues and share them with you right here, week in and week out. After all, your fantasy roster is only as good as the guys who are actually playing.
We start this week by looking at the injuries that have befallen middle infielders around the league and ask the question, "Just how concerned should you be?"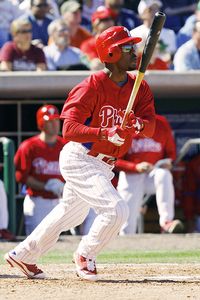 Kim Klement/US PresswireExpect Jimmy Rollins to miss about four weeks with a calf injury.
Jimmy Rollins, SS, Philadelphia Phillies (15-day DL, April 13):
When he pulled up with calf pain during pregame sprints in the outfield Monday, Rollins had to be thinking to himself, "I was out there warming up just so this type of thing WOULDN'T happen ..."
But, alas, it did. Rollins strained his right calf muscle and subsequently underwent an MRI on Tuesday which, according to the Philadelphia Inquirer, confirmed the severity of the injury. He has been placed on the 15-day DL, but the Phillies are acknowledging up front that they expect this injury may require more time, indicating that Rollins is likely to be sidelined for two to four weeks.
Rollins is sporting a protective boot that controls ankle movement and allows the calf to rest. Since rest is a critical element of recovery, it would not be surprising to see this injury keep Rollins out closer to the four-week end of the timetable.
The calf muscle is necessary for any hitter to push off when running, particularly when driving out of the batter's box or when getting a jump on a steal. The explosive defensive maneuvers Rollins has to make at his position also place high demand on the calf. Once the initial inflammatory phase has passed, many athletes feel as if they are ready to return to competition, only to discover that explosive movements still lack power or cause discomfort. The risk at that point is that it is easy to overdo those movements and suffer a setback, turning a few weeks of recovery into potentially months. Fantasy owners and Phillies fans will need to be patient with Rollins' return in the hopes that once he's back, the injury is truly behind him.
Brian Roberts, 2B, Baltimore Orioles (15-day DL, April 10):
There was concern this spring that Roberts' ailing back might prevent him from being able to start the season. That turned out to not be the case.
Less than a week into the season, Roberts suffered a different injury, an abdominal strain. He hurt himself while stealing second against the
Toronto Blue Jays
on Friday, and he also managed to aggravate his lower back in the process. As a result, Roberts received an epidural injection Monday, according to The Baltimore Sun, his second this year to help calm symptoms associated with the herniated disk in his back. Roberts has been advised to rest for several days to allow the symptoms to calm down. He will then gradually be reintroduced to exercise with an eventual progression toward baseball activities.
Manager Dave Trembley has already warned that Roberts is expected to be out longer than the 15 days, not surprising given the nature of his injuries. The bigger concern is just how reliable Roberts' health will be once he does return. Disk problems are notoriously chronic in nature and Roberts has really not been 100 percent healthy this year. He entered spring training with back pain and, despite making significant improvements as Opening Day neared, he clearly was not completely out of the woods. His will likely be a tenuous situation and even when he does return, fantasy owners should keep a backup stashed on their bench.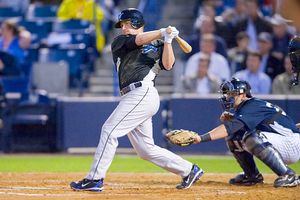 Jeff Griffith/US PresswireAaron Hill's attempt to match his 36 homers from 2009 has taken a short break.
Aaron Hill, 2B, Toronto Blue Jays (15-day DL, retroactive to April 6):
Hill was placed on the DL because of a strained right hamstring, but according to ESPN reports, Hill indicated that if it were a different point in the season he "could" play. While acknowledging that his hamstring was tender enough to keep him from going at full speed, Hill, who ran the bases Monday before game time, did not seem overly concerned about his injury. At this point, it appears Hill will come off the DL when eligible next week.
There's every reason for the team to err on the side of caution with this one. A mild hamstring strain can certainly benefit from a little extra rest. Aggravating it by pushing too fast can just as easily turn a mild ailment into a season-compromising injury. The good news for Hill owners is that the conservative approach taken by the team here may pay off down the road.
Mark Ellis, 2B, Oakland A's:
Another second baseman, another hamstring injury. Ellis was hurt Sunday trying to beat out a grounder in the eighth inning. Soreness in his left hamstring kept him out of Monday's game.
On the plus side, Ellis himself said he expected to be out for only "a couple of days." According to Susan Slusser of the San Francisco Chronicle, Ellis reports that the hamstring is feeling better and he could return to the lineup Thursday. On the minus side, Ellis had some hamstring issues during the spring as well, so fantasy owners should be mindful that this may not be the last of it.
Jayson Werth, OF, Philadelphia Phillies:
There were a couple of minor injuries this week that struck outfielders (more listed below). Werth injured his left hip running out of the batter's box in the fourth inning on Monday. According to the Philadelphia Inquirer, Werth said his removal from the game was precautionary. He added that he expected to miss only a few days, calling the injury "no big deal."
So far Werth's assessment appears accurate in that he is expected back in the regular lineup Thursday following a pinch hitting appearance Wednesday. The Phillies are hoping that one player to the DL this week is enough.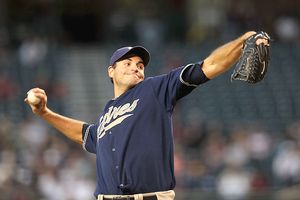 Christian Petersen/Getty ImagesChris Young is back on the disabled list, but don't be alarmed by the move.
Chris Young, SP, San Diego Padres (15-day DL, retroactive to 4/7):
Before fantasy owners start griping that this is the injury-prone Chris Young from years past, take a deep breath and remember that not all DL stints are created equal.
Remember, Young is coming off offseason surgery to debride the labrum in his throwing shoulder. He had an uneventful rehab and steady return to throwing, and had a successful first outing in the Padres' home opener. After that game, Young felt some discomfort and was sensible enough to recognize that he did not need to push it now. As he pointed out, these mini-setbacks typically happen during spring training but his just happened a little further into his throwing progression.
Caution in the early season could well be the difference in keeping Young on the mound more than off it this year. He expects to be ready to take his turn in the rotation when eligible.
Brian Fuentes, RP, Los Angeles Angels (15-day DL, retroactive to 4/6):
This is one of those situations where the date is important. Although the move was announced Wednesday, it has been made retroactive to eight days prior. Fuentes, who has been placed on the DL because of a back strain, is eligible to return next week. The Angels can't be especially concerned about Fuentes' injury given the retroactive date but likely feel he will benefit from a few more days off.
Fernando Rodney
is the closer in the interim but it sounds as if the team does not anticipate that lasting long.
Mike Gonzalez
, RP, Baltimore Orioles (15-day DL, retroactive to 4/10): Gonzalez has had a rough start to 2010; the Orioles decided Wednesday to place him on the DL. After an up-and-down spring training Gonzalez struggled early in the season, picking up a pair of blown saves. Now we learn that he has a shoulder strain. While the seriousness of his current injury is unclear, it's worth noting that Gonzalez dealt with issues in his back this spring that seemed to impact his velocity. The hope is that he has not suffered an injury as a result of some compensatory adjustments. His status is worth watching.
Extras
•
Boston Red Sox
outfielder
Jacoby Ellsbury
dodged a bullet -- but not teammate Adrian Beltre's knee -- Sunday. The collision was enough to take Ellsbury's breath away and he ended up with a rib contusion but fortunately no fractures. Lingering soreness has caused him to miss a few days but he should be able to avoid a trip to the DL.
•
Colorado Rockies
outfielder
Carlos Gonzalez
is another player dealing with "tightness" in his hamstring, leaving Sunday's game early after feeling the discomfort in his left hamstring. He has not played in the two games since. According to The Denver Post, Gonzalez was available only for emergency situations, as he could still not run the bases effectively. While so far it appears that he will avoid the DL, there are no guarantees as to when he may return to the starting lineup.
• The
Seattle Mariners
'
Cliff Lee
is hoping he will debut for his new team in early May. Lee has thrown a couple of bullpen sessions where he has looked strong and been pain-free. The next goal is a simulated game late this week. He will still need to build up his arm endurance, but so far, so good.
• Los Angeles Angels pitcher
Scott Kazmir
, who started the season on the DL with a mild hamstring strain, is expected to start Thursday against the
New York Yankees
. Nothing like jumping in feetfirst.
From my mailbag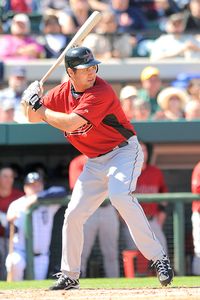 Mark Cunningham/Getty ImagesLance Berkman's return is still up in the air, as are his stats when he returns.
Luke (Monroe, Conn.):
Hi Stephania, I'm trying to decide if
Lance Berkman
is just dead weight, even on my DL. I am in a 10-team mixed league with 2 DL slots, and right now I am carrying Berkman and
Erik Bedard
on my DL with
Ted Lilly
occupying a bench spot even though he is on the DL. My staff is good enough that I can get by with Lilly on the bench for a few weeks, but the more I read about Berkman, the more it seems to me like he is not going to be nearly the player he has been for his career, and maybe not even the player he was last year. ... What kind of player to you project Berkman to be this year, assuming he comes back fully healthy and has no complications? In other words, best case scenario? If he's anything less than a 25-HR, 100-RBI guy, I doubt he's worth my bench spot since I don't have anywhere to play him full time.
Stephania Bell:
You are certainly right about there being a lot of questions about Berkman, given the start to his season. This week there were some encouraging signs in that he has made some progress with his activity. After having persistent issues with fluid in his left knee following March arthroscopic surgery (which required having his knee drained multiple times), Berkman was able to begin some light running Monday. The key to him returning next week will be whether the swelling stays down as he continues to increase his activity. And that's a big if ...
Your question is a tough one because I'm not convinced his return will be completely smooth. While there may not be any obvious outward signs of trouble once he is able to get back in the lineup, he could be in a situation where the team opts to rest him more frequently to protect the knee. He may also have less power at the plate initially if his leg strength is not 100 percent. He may be well enough to play but it still may take him time to perform like the Lance Berkman you drafted. I'm not convinced he'll reach the targets you've set for him, so you may want to re-evaluate your bench spots.
If you have any other injury questions you want answered in the blog, drop a note in
my mailbag
, or stop by my Tuesday chats.
April, 5, 2009
4/05/09
4:18
PM ET
By
Stephania Bell, ESPN.com
| ESPN.com
AL East
[+] Enlarge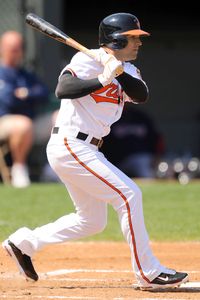 Rob Tringali/Getty ImagesBrian Roberts will be a key to many teams' fantasy hopes, especially in steals.
Baltimore Orioles: Brian Roberts
Roberts has missed a few games late this spring as a result of a respiratory infection and back spasms, which often go hand in hand for obvious reasons. Orioles fans may have become a little nervous when the Baltimore Sun reported that the pain on his left side was near the oblique muscles. Oblique abdominal injuries are notoriously slow-healing and can severely limit a hitter's swing, but it appears that Roberts may have dodged a bullet. He played in the team's final spring games, meaning he'll be ready to start the season. If this is indeed a minor muscular issue associated with his recent illness, there should not be lingering concern for Roberts' health.
Boston Red Sox: John Smoltz
Smoltz was my choice for injury comeback story of the year as of New Year's Day, and if anything, I'm even
more
encouraged now. Smoltz, who has shown his ability to come back from injury in the past (following multiple elbow surgeries) has been progressing even better than expected after significant shoulder surgery. The historical relationship between members of the Red Sox rehab staff and Smoltz's surgeon, Dr. James Andrews, inspires confidence that he will continue to be brought along at an appropriate pace, which is key to his successful return. Add in Smoltz's competitive fire, along with the fact that he has already thrown several bullpen sessions with a full mix of pitches, and he could be a dangerous addition by June.
New York Yankees: Alex Rodriguez
Rodriguez certainly gave everyone a lot to talk about this year, but the issues surrounding his hip are the ones of most immediate concern to the Yankees. Following surgery to repair a torn labrum, Rodriguez is on a focused, aggressive rehab plan in Vail, Colo., absent of distraction and closely supervised. He reportedly is on target to return to the team in mid-May, if not sooner. Keep in mind that Rodriguez awaits a more extensive follow-up procedure in the offseason, and he will have to quickly make up for valuable lost spring training time. To have success at his position offensively he needs to swing for power and slide without hesitation. On the defensive side, he has to rush bunts, dive for grounders and, perhaps most challenging, throw across his body on the run. That is a lot to expect just nine weeks after surgery, especially with the whole world watching. And make no mistake, everyone will be watching.
Toronto Blue Jays: Vernon Wells
Last year, Wells missed significant time due to a strained left hamstring and a broken wrist. This spring, Wells has already been bothered by the same hamstring and wrist. No need for a medical background to know that this is not good. Hamstring injuries are known to be annoyingly recurrent, but having the problem crop up so early for Wells is cause for concern when the first of 162 games has yet to be played. As far as the wrist issue, it is not unusual to have stiffness and soreness in the area of a prior fracture, but once again, the fact that this is rearing up so early is of concern. Manager Cito Gaston remains hopeful that these are minor issues, but this is unlikely to be the last we've seen of these injuries for Wells.
Tampa Bay Rays: B.J. Upton
Upton will start the season on the DL, but not to worry. He is recovering nicely from offseason surgery to repair a torn labrum in his left (non-throwing) shoulder. Upton's power decline last year can be definitively linked to the instability in his shoulder, which has now been addressed. The timetable all along seemed to suggest that Upton would open his season in the warm weather at Tropicana Field. That plan was confirmed after Upton took a pitch to the hand in a spring game, which fortunately resulted in only a bruise, but gave the team reason to rest him a few extra days. Expect good things from Upton once his shoulder -- and his bat -- heat up.
AL Central
Sign up today for the most customizable free Fantasy Baseball game out there. You set the rules, scoring, everything. Sign Up Today!
Chicago White Sox: Jose Contreras
Contreras' 2008 season came to an abrupt halt when he tore his Achilles tendon in August, necessitating surgery. Although he was originally projected to be out until perhaps the All-Star break, Contreras has exceeded expectations. Between shedding 30 excess pounds and rehabbing diligently, he has put himself into position to start the season on schedule. His pitch location still needs some work, but his velocity is up and, most importantly, Contreras feels fine physically. At 37, he's not the youngest guy in the rotation, but he's certainly working as if he has something to prove. Keep an eye on him.
Cleveland Indians: Jake Westbrook
It seems like every year there's someone who's expected to return midseason following Tommy John surgery (ulnar collateral ligament reconstruction) the previous year. Westbrook is one of those guys this year with a twist: he also had hip surgery during the same time frame. It actually makes sense since the rehab following Tommy John surgery is so extensive. Adding the hip procedure in order to recover from both simultaneously seems to have been a wise move, but as a result, Westbrook's return may take a bit longer. As of the start of the season, the Indians are hoping he rejoins the team in June and he is already throwing fastballs from a mound. Most pitchers require an additional nine to 12 months to truly regain their form following this type of elbow surgery, however, so Indians fans need to temper expectations accordingly.
Detroit Tigers: Jeremy Bonderman
Bonderman missed the last four months of the 2008 season when he underwent surgery to correct a circulatory issue in his throwing arm. The surgery involved clearance of a blood clot, along with resection of a rib to alleviate compression on the involved blood vessel which passes from the neck through the shoulder to the arm. It seemed as if his recovery was moving along well enough until Bonderman developed soreness in the shoulder. That soreness translated into a delayed progression and, most recently, velocity issues. Bonderman will begin the season on the DL and there is no timetable for his return. It is not uncommon for some of these post-surgical problems to linger following this type of ailment, but it certainly leaves a big question mark as to Bonderman's status for 2009.
Kansas City Royals: John Bale
Bale will be useful to the Royals in middle relief ... once he can join the team. Bale is recovering from thyroid surgery, not something you see every day on the injury list, and will start the season on the DL. Bale has had a long list of injuries in the past few years, including a self-inflicted hand injury last year that sidelined him for an extensive period of time. The positive note here is that Bale's recovery from the thyroid surgery should be fairly straightforward. Unlike soft tissue problems that continue to recur, this should no longer present an issue for him. Once he gets his strength and his spring work in, Bale should be ready to go.
Minnesota Twins: Joe Mauer
This ranks right up there with the most unusual of baseball injuries. Then again, Mauer has a history of complicated and unique injuries. Mauer underwent surgery last fall to address a kidney obstruction, with the hope that it would remove the back pain he had been experiencing late in the season. After some initial relief, the symptoms returned and prevented him from running
at all
this spring. Further testing revealed inflammation at Mauer's right sacroiliac joint (where the spine meets the pelvis). The finding in and of itself is highly unusual, especially in the absence of trauma, even more so following an offseason of rest and recuperation from surgery. The Twins insist that new medication should be enough to address the problem, but inflammation is generally a symptom, not a source, meaning the possibility of recurrence exists. Mauer will start on the DL and the team has not issued a timetable for his return.
Where should they go?

Check out a new tool from ESPN Insider: the Draft Analyzer. With it, you can figure out where a player should go in your fantasy MLB draft, relative to value. Draft Analyzer
AL WestLos Angeles Angels: John Lackey
Lackey made this column last year, not something an athlete strives to repeat. He started the season on the DL but went on to finish out the year strong. His reappearance here for essentially the same condition does not bode so well. Lackey has inflammation in his right (throwing) elbow and is resting the arm following a cortisone injection. An MRI reportedly showed no major structural damage and the Angels expect to have him back within a few weeks. So why the concern? Because with the exception of last season, Lackey has made at least 30 starts per year since his rookie season in 2002, which adds up to a lot of mileage on a thrower's arm. Although he has shown great durability to this point, one has to wonder whether this episode signals that cumulative trauma is beginning to take its toll.
Oakland Athletics: Joey Devine
He has one of the best names in professional sports ... and now he's paying a visit to one of the
biggest
names in professional sports. Devine will be examined by Dr. James Andrews next week for a consultation on his ailing right (throwing) elbow. The fact that Devine requires a trip to the well-known orthopedic surgeon is bad enough; what's worse is that this is a recurrence of a problem that caused him to miss two months last year. Devine was
divine
when he returned to action in 2008, but serious symptoms this early generally do not signal good times ahead. He will join teammate
Justin Duchscherer
on the DL to start the season. The A's have to hope that Devine's stay is just temporary.
Seattle Mariners: Erik Bedard
Bedard never really got it going in 2008 after experiencing a variety of ailments, but ultimately it was his shoulder that ended his season prematurely. He underwent arthroscopic surgery to address a cyst and shape the labrum, but did not require major reconstruction. So far the spring has been relatively uneventful for Bedard, minus a few missed days for a sore gluteus maximus (yep, buttock muscles). He claims all is well heading into the start of the season but a note of caution is in order. Bedard has suffered a number of soft tissue injuries across his career, including an ulnar collateral ligament injury that required Tommy John surgery before he joined the majors. With oblique, hip, back and shoulder problems all surfacing within the past two years, the Mariners may not be out of the woods.
Texas Rangers: Chris Davis
Davis is another player who brought a leftover condition from last season to this year's spring training. Davis has patellar tendinitis, or inflammation of the tendon that anchors the quadriceps muscle (on the front of the thigh) to the shinbone (tibia). The tendon is also attached to the kneecap, or patella, hence the name. The condition is common in basketball players and others involved in jumping sports, less so in baseball. Although the fact that Davis suffered from this late last year is of concern, it does not appear serious. Nonetheless, he is an up-and-comer, so managing his symptoms will be key to extending him throughout the season.