Stephania Bell:

Brian Urlacher
December, 4, 2012
12/04/12
4:54
PM ET
Week 13 is in the books! Unfortunately, so is the season of another promising young player who succumbed to injury. The
Detroit Lions
seemed to have unleashed another talented wide receiver in
Ryan Broyles
(who many a fantasy owner added to the roster when
Titus Young
was, ahem, demoted). After notching over 100 yards receiving in Week 12, Broyles didn't get through the first quarter of Sunday's game before suffering a knee injury. Sadly Broyles, who tore his left ACL in November 2011 while at Oklahoma, tore his right ACL and will now relive the surgery and lengthy rehab process. On the bright side, he knows what to expect and has proved he can return to an elite level of play. In the meantime,
Mike Thomas
becomes the next in line to fill in at wide receiver for the Lions.
Up in Boston, it appears the
New England Patriots
will have to do without the services of wide receiver
Julian Edelman
. Edelman injured his foot in Sunday's game and ESPN Boston cites a report from WBZ-TV saying Edelman's foot is broken, which will require surgery. This is unfortunate for the Patriots and unfortunate for fantasy owners who benefited from Edelman's production in recent weeks.
On the other side of the ball, the Chicago Tribune reports
Chicago Bears
linebacker
Brian Urlacher
will miss the next three games and potentially the remainder of the regular season after suffering a Grade 2 (moderate) right hamstring strain late in Sunday's game against the
Seattle Seahawks
. Urlacher entered the season with questions about his left knee after spraining his MCL and PCL late last season, but has managed to play every game until now.
As we head into Week 14:
[+] Enlarge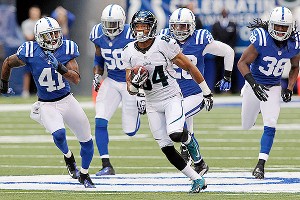 (AP Photo/AJ MastCecil Shorts has been one of this season's biggest surprises, but will he be able to go this week?
• The
Jacksonville Jaguars
had two wide receivers who suffered injuries in last Thursday's practice, but both
Justin Blackmon
and
Cecil Shorts
were healthy enough to play by Sunday. Unfortunately, only Blackmon emerged from the game unscathed. Shorts, along with teammate running back
Rashad Jennings
, suffered a concussion. Both Jennings and Shorts will follow the standard protocols of evaluation and required clearance for return to play. It is too early in the week to know what their status will be.
Montell Owens
stepped in the game when Jennings went down. With
Maurice Jones-Drew
still "very questionable" for Week 14 according to coach Mike Mularkey, Owens may be in line for a start. The Jaguars have seen Jones-Drew, Jennings and
Jalen Parmele
(now on injured reserve) all go down with injuries at various points this season. There are still four games to play, however, and the Jaguars do not seem inclined to automatically shut Jones-Drew down, nor should they be, assuming he progresses to the point of being able to return.
Despite Jones-Drew's projection in early November that he was about two weeks away from returning, it never really seemed plausible to count on him before December. Well, it's now December and while there's no urgency for the Jaguars in terms of needing victories to secure a playoff berth, there is still rationale from a rehab perspective to return a player to competition IF he is healthy enough to go. If Jones-Drew does not progress, the Jaguars certainly won't expose him to further injury by playing him unnecessarily. If he can return to practice in the next week or two, however, there is still a chance he returns for the final weeks of the season.
•
Green Bay Packers
receiver
Jordy Nelson
injured his hamstring again. During pregame warm-ups Sunday, Nelson reportedly aggravated the same hamstring that caused him to miss time earlier this season. According to news reports, Nelson attempted to play despite the injury but was unable to do so successfully and left in the first quarter (deja vu for fantasy owners who experienced similar pain in Week 9 when Nelson, already hampered by a recent hamstring injury, left early after injuring his ankle).
Nelson is a classic example of how hamstring injuries can resurface even after a player has had a successful post-injury outing (he had 71 yards and a touchdown in Week 12). With an eye on playing deep into the postseason, it's hard to imagine the Packers returning Nelson quickly, even if head coach Mike McCarthy says the injury does not appear serious. Of course McCarthy already tipped us off that Nelson will likely miss Week 14, saying he would be "pressed hard" to face the Detroit Lions on Sunday.
[+] Enlarge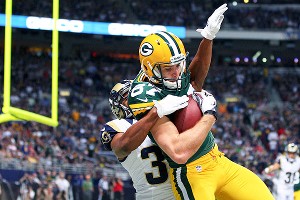 Scott Kane/US PresswireJordy Nelson has dealt with his share of injuries this season.
Maybe this is the week we see the return of the pre-injury
Greg Jennings
? While the numbers in his first game back from surgery to repair a torn abdominal muscle may not have been what fantasy owners were hoping for, he was targeted more than any other receiver Sunday and he emerged from the game feeling, well, "great." According to ESPNMilwaukee.com, Jennings said after the game, "I felt great, feel great now, felt great getting hit a couple times, hitting the ground, getting dirty, making some plays." Quarterback
Aaron Rodgers
offered this observation: "It's nice having him back. He's a big-time player. He can make big catches down the field. ... We've got to give him more opportunities." With Nelson expected to be out, maybe this is the week for Jennings to get those opportunities.
• Despite the positive reports on
Oakland Raiders
running backs
Darren McFadden
and
Mike Goodson
as they returned to practice last week, both were held out of Sunday's game. Perhaps they weren't quite ready for competition, perhaps there was concern about the weather, or perhaps there was thought given to the fact the Raiders would have two games very close together (they face the
Denver Broncos
on Thursday). Or maybe it's simply that
Marcel Reece
has provided enough security to allow for the extra cushion of recovery time.
No matter the reasons for last Sunday's absence, both backs are expected to be available for Thursday night. The question then becomes how the workload will be divided given McFadden and Goodson are coming off high ankle sprains while Reece and fellow back
Jeremy Stewart
have played well. According to the Contra Costa Times, offensive coordinator Greg Knapp said the Raiders will know more by Wednesday or Thursday as to how they will use them. Reece is also dealing with quadriceps and hamstring injuries that could compromise his effectiveness. Interestingly, Knapp also expects the return of tackle
Khalif Barnes
(he returned in Week 11 after a nine-week absence following groin surgery) to bode well for McFadden's productivity. It may be tough for fantasy owners to count on a huge boost from McFadden in his first game in five weeks, but a solid outing would be encouraging for a couple of upcoming favorable matchups.
• The
Philadelphia Eagles
have named
Nick Foles
the starter for the rest of the season according to head coach Andy Reid. That doesn't necessarily mean
Michael Vick
is out for the remainder of the season, just that if and when he does return, he will be the backup. Vick is still working his way back through an exercise progression post-concussion. The bottom line for fantasy owners who may have been holding out hope is that it's time to move on. It appears the Eagles have. As for running back
LeSean McCoy
, he is also in recovery mode post-concussion. According to Jeff McLane of the Philadelphia Inquirer, Reid says McCoy is in Phase 3 of the Eagles' five-phase concussion recovery program. He is not a lock to play this week and when he does return could very well find himself sharing time with
Bryce Brown
who, minus a fumble here and there, has been exceptional in McCoy's absence.
•
Carolina Panthers
wide receiver
Brandon LaFell
injured his foot in the third quarter of Sunday's game and is now in a walking boot. LaFell underwent an MRI on Monday but there is no word yet as to the specifics of his injury. Teammate
Jonathan Stewart
(high ankle sprain) is improving according to the Charlotte Observer, but the running back has no timetable for a return.
• Neither wide receiver
Percy Harvin
of the
Minnesota Vikings
nor
Danny Amendola
of the
St. Louis Rams
played last Sunday. Harvin has now missed three games due to an ankle sprain and is no lock to play this week. After one attempt at limited practice last Wednesday, Harvin could not repeat the effort and was still having trouble running. As for Amendola, he did not practice at all last week with his injured heel and the Rams opted to rest him Sunday. For both players, the next meaningful update is not expected before Wednesday practice.
Speaking of Wednesday practice, all eyes will be on
Pittsburgh Steelers
quarterback
Ben Roethlisberger
(SC joint and first rib injury) to see how he looks throwing the ball. According to ESPN's Ed Werder, the soreness in Roethlisberger's shoulder and chest has diminished. If he demonstrates he is healthy enough to function at the position, he could return to face the
San Diego Chargers
on Sunday.
September, 13, 2012
9/13/12
11:21
AM ET
Thursday night's matchup pits the
Green Bay Packers
against the
Chicago Bears
. There is one particularly key fantasy player in question and it looks as though he could be a game-time decision.
[+] Enlarge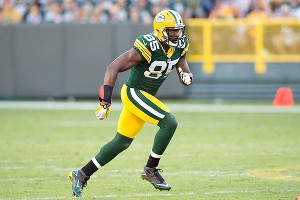 AP Photo/David StlukaGreg Jennings had five catches for 34 yards before leaving last Sunday's game early.
Greg Jennings, WR, Green Bay Packers (groin [D]):
Jennings left Sunday's game early with a groin injury and did not practice Tuesday or Wednesday. The doubtful tag would normally represent a highly unlikely chance of Jennings suiting up, as would his inability to practice at all this week, but Jennings has not counted himself out. According to ESPN's Adam Schefter, Jennings wants to play and one source says his chances of doing so are "50/50." As a talented veteran, Jennings may indeed be given more latitude to play if he makes significant improvements before kickoff. The rehab staff put Jennings through a variety of drills Wednesday and as coach Mike McCarthy told the Milwaukee Journal-Sentinel afterward, "I'll get the evaluation and then, frankly, [Thursday] will be the deciding factor."
It seems the odds are against Jennings suiting up. There has been little recovery time between games. Even if he demonstrated improvement in individual drills, the test of real game action is always more demanding [e] and riskier. The potential for aggravating a groin injury and having it turn into a multi-week problem always exists when the athlete is operating at less than full health. And if he does play, what will his contribution be? Will he see fewer snaps in an effort to limit his exposure? Will he be able to shake defenders as easily if his mobility is compromised? One of the biggest challenges with a groin injury is losing power with straight running and losing sharp lateral mobility with directional change. Veterans like Jennings will often push to play despite being at less than 100 percent, but the body does not always cooperate. Unfortunately for fantasy owners, if Jennings does end up active, there will be uncertainty as to just how well he is able to perform.
James Starks, RB, Green Bay Packers (toe [D]):
This doubtful tag leaves far less doubt in its interpretation. Starks has been dealing with a turf toe injury since the preseason and just returned to limited practice Wednesday. It appears too early for him to be game ready, but with the extra time between now and the Packers' Week 3 contest, it's possible he could be in the mix then.
Brian Urlacher, LB, Chicago Bears (knee [P]):
Before this season began, Urlacher, who sprained his left MCL and PCL late last season and underwent arthroscopic surgery in August, noted that he would likely have to "manage" his knee throughout the course of the year. The coaches are helping him to do just that as he was removed from Sunday's game early and was held out of practice through Tuesday. Urlacher returned to full practice Wednesday, however, and is expected to play tonight.
Charles Tillman, CB, Chicago Bears (shin [Q]):
Tillman left Sunday's game early after injuring his lower right leg and the team has not elaborated on the specifics. He did not practice early in the week but returned Wednesday for the team's pregame walk-through (officially listed as a limited participant). At questionable, his status for Thursday's game is up in the air. If he does not go,
Kelvin Hayden
is expected to assume his role.
September, 15, 2009
9/15/09
1:56
PM ET
With the first week of real games in the NFL season comes a whole new set of injuries to discuss. After all, this is football we're talking about here. The question for fantasy owners is how much shuffling needs to be done before Week 2. Here's what we know so far:
Donovan McNabb, QB, Philadelphia Eagles:
McNabb suffered a broken rib when he was fallen on in the end zone during the Eagles' rout of the
Carolina Panthers
, and McNabb's status for this week is now in doubt.
McNabb was clearly in pain as soon as he was hit, but it was not immediately apparent where the injury was. ESPN's Sal Paolantonio reported that coach Andy Reid said in a postgame news conference that the injury was to a rib in McNabb's lower left side. The location is significant because while any rib injury is painful, the lower ribs also serve as the attachment point for the large abdominal oblique muscles. It is no secret how challenging an oblique injury is to a thrower because of that muscle group's involvement in trunk rotation and throwing. As the left-sided obliques contract, they pull at their attachment site on the ribs. When one of those ribs is broken, each time the muscle contracts it places a movement force on the injured area, causing pain, which can potentially interfere with the healing process.
The primary issue for return to play following this type of injury is pain. While McNabb has proved over time that he is certainly tough when it comes to dealing with injuries, the fact is that the pain might simply override his ability to function. If he cannot be effective throwing the ball, and if playing simply exacerbates or prolongs his pain, then the Eagles might consider resting McNabb this week in hopes that he'll be more effective thereafter.
The primary treatment at this point will be rest. There are various rib belts that can help limit movement, which will in turn help with pain relief. When McNabb does return to play, he can wear padding to help protect the area and might be given a local injection for pain. Once the rib heals, it should not present any long-term concerns, but in the short term, fantasy owners should make alternate plans.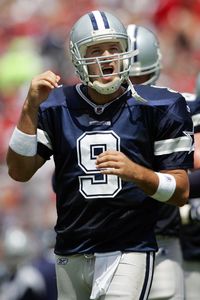 Cliff Welch/Icon SMI Tony Romo suffered an ankle injury Sunday versus the Bucs but was able to play through it.
Tony Romo, QB, Dallas Cowboys:
When Tony Romo was seen favoring his right ankle following Sunday's game, it was cause for concern with fantasy owners. The good news is that, according to The Dallas Morning News, an MRI did not show any major structural damage, and Romo is expected to play this week.
The injury is being termed a sprain, and it sounds as if it is a mild one. Romo, who was injured in the third quarter, was able to finish out the game, which is always a good sign when it comes to assessing the seriousness of an injury. It would not be surprising if he does a little less running this week in favor of alternate cardio work, and we can expect his ankle to be heavily taped for support. But it sounds as if Romo escaped a major injury and should be ready to go Sunday night.
Anthony Gonzalez, WR, Indianapolis Colts:
In what might turn out to be the Week 1 injury with the most long-term fantasy impact, Gonzalez crumpled to the ground with a noncontact knee injury in the first quarter of Sunday's game against the
Jacksonville Jaguars
. According to The Indianapolis Star, team president Bill Polian said Monday that Gonzalez sprained ligaments (note the plural) in his knee. While Polian did not offer a timetable for a return, he did say "we know that it isn't year-ending." Although the Star reports that sources close to Gonzalez say he could miss up to six weeks, it sounds as if this timetable is very open-ended, and likely will be updated based on Gonzalez's progress.
Many fantasy owners drafted Gonzalez in hopes that he would replace
Marvin Harrison
as the starting wide receiver, and run away with it. Now it sounds as if the Colts might seek another receiver to sign, depending on how much time they believe Gonzalez will miss. Without any additional details about the specific ligaments that were injured or the severity of the injury, it is impossible to speculate as to what constitutes a reasonable time frame. There is no question, however, about the need for Gonzalez fantasy owners to find a replacement that will suffice for at least a month.
Other quick hits: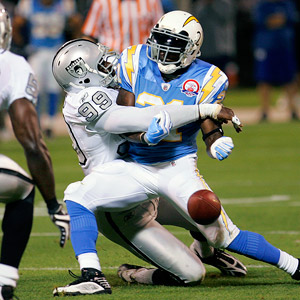 AP Photo/Paul SakumaLaDainian Tomlinson took some pretty big hits Monday night against the Raiders.
&#8226 According to The San Diego Union-Tribune, the reason
San Diego Chargers
running back
LaDainian Tomlinson
was in and out during the second half was because of a sprained ankle. Although he was seen limping after the game, the good news is that he did continue to play, albeit on a limited basis. It does not appear that this will affect his status for next week; in fact, it might just add to the chip on his shoulder regarding theories that he's on the decline. Nothing helps healing like motivation.
&#8226
Pittsburgh Steelers
' All-Pro, all-over-the-field safety
Troy Polamalu
sprained his left medial collateral ligament (MCL) last Thursday night. For more details on the injury,
click here
. The good news is that Polamalu will not require surgery; the not-so-good news is that the Steelers' defense will be without him anywhere from three to six weeks.
&#8226 Speaking of defensive losses, the
Chicago Bears
lost star linebacker
Brian Urlacher
for the season because of a dislocated right wrist. Urlacher underwent surgery to repair the injury and will now spend the rest of the season wondering what might have been. The Bears' defense also is dealing with the tenuous health of other players, including cornerback
Charles Tillman
, who missed the entire preseason while recovering from back surgery. Tillman was active Sunday but might take awhile to get to full strength. The Bears' defense also lost linebacker
Pisa Tinoisamoa
Sunday night when he sprained the posterior cruciate ligament (PCL) in his right knee. Depending on the severity of the injury, it could cause him to miss time, although his status is currently being termed day-to-day.
&#8226 The
New York Giants
suffered a couple of losses on offense Sunday, including wide receiver
Hakeem Nicks
, a first-round draft pick this spring. Nicks left the game with a sprained left foot, but the Giants can at least be thankful he didn't suffer the dreaded Lisfranc injury, which can require season-ending surgery to the midfoot if it's severe. According to the Newark Star-Ledger, he did not suffer that specific injury, and it sounds as if the initial projection of two to three weeks is reasonable. Meanwhile, Giants running back
Danny Ware
also left the game with an elbow injury. The always-unsightly elbow dislocation is likely to keep Ware away for a few weeks as well.
&#8226 In the good news department, Houston Texans coach Gary Kubiak has already indicated that wide receiver
Kevin Walter
, who sat out Week 1 because of a hamstring strain, will play this week.
Note: Stephania will update these injuries and others as the week progresses, including a Saturday update. Also, catch her injury chats Tuesdays and Fridays from 11 a.m. to noon ET, as well as Sundays from 10 a.m. to 10:30 a.m. ET.