Stephania Bell:

Brodie Croyle
October, 20, 2008
10/20/08
2:41
PM ET
Tony Romo
didn't play. Neither did
Willie Parker
nor
Joseph Addai
. Their sideline status at least ensures they did not emerge from the Sunday contests any worse for wear. So who did get banged up during another round of NFL matchups?
Here's what we know as of our first look following Week 7: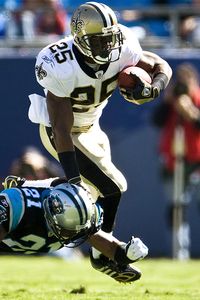 Paul Abell/US PresswireReggie Bush had finally been heating up before getting hurt Sunday and will miss at least next Sunday's game in London.
Reggie Bush, RB, New Orleans Saints:
Bush is trading in a trip to London for a trip to Birmingham, Ala., to pay a visit to Dr. James Andrews and to have his left knee examined. The Saints suspect the meniscus is the culprit, and if indeed Bush has a meniscus tear, it is reasonable to expect he will miss several weeks. According to ESPN news reports, Bush will undergo arthroscopic knee surgery Monday, after which more details will be known as to the extent of his injury.
The injury was to Bush's left knee, the same knee that was giving him trouble with swelling and soreness over the past week. It is also the same knee in which Bush injured his posterior cruciate ligament (PCL) last season. Bush spent the offseason getting healthy and appeared to be off to a great start in 2008, and it is not unusual for a knee with a history of ligament trauma to swell and be sore intermittently. This is especially the case in an athlete who puts continual stress and strain on that joint simply by virtue of doing his job. Is it possible Bush had some minor meniscus damage that was causing some of the swelling in his knee this week? Perhaps. But it is equally possible that this injury is completely new. Either way, Bush was clearly well enough to start Sunday and, up until this injury, was averaging nearly seven yards per carry on the day.
The latest setback occurred during a punt return late in the second quarter. After stepping out of bounds, Bush apparently pulled up a bit and appeared to be favoring his left leg. He did not return to the game after that play. We will await reports from the team to see what Bush's future holds, but expect him to be sidelined for approximately a month.
Jeremy Shockey, TE, New Orleans Saints:
More bad news for the Saints in the injury department. Shockey, just four weeks out from sports hernia surgery, returned to play this Sunday but had a setback. According to ESPN news reports, Shockey "did the splits" on the first play of the game against Carolina and felt pain in a spot in his leg "that wasn't there before." He expressed hope he had just affected scar tissue and that it was not more serious.
That setback, however, led Shockey to air some complaints related to his physical health. He expressed concerns that he had been misdiagnosed in camp, and that he may have returned too soon from surgery. "It's not a three-to-six-week recovery time," said Shockey. "It's really a five-to-seven-week." Shockey apparently was referring to
Philadelphia Eagles
wide receiver
Kevin Curtis
who underwent sports hernia surgery in August but who has not yet returned to the playing field.
Shockey is expected to undergo further examination to determine his status. It is worth noting that according to Pat Yasinskas of ESPN.com,
Shockey did make the trip with the team to London
. Yasinskas added that Shockey appeared to be in much better spirits and was moving well when spotted at the resort where the Saints are staying. Coach Sean Payton said he spoke with Shockey during the team's trip across the Atlantic and that he understood some of Shockey's frustration. He said Shockey is following the medical protocol laid out for him and they will just have to continue to monitor his activity and make sure there are no steps backwards. Payton sounds entirely reasonable in his description of the Shockey scenario, and it sounds as if Shockey may indeed be suiting up again this Sunday. Nonetheless, it will likely continue to be a controlled amount of time as he continues in his recovery process.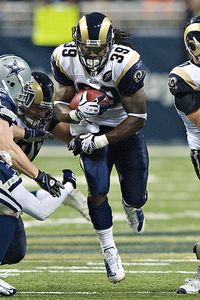 Scott Rovak/US PresswireSteven Jackson had a big game against the Cowboys, but will he be around to follow it up next week?
Steven Jackson, RB, St. Louis Rams:
Jackson had a phenomenal outing Sunday, racking up 160 yards and three touchdowns before leaving in the fourth quarter with a quadriceps injury. Jackson was expected to undergo an MRI on Monday. According to NFL.com, Jackson referred to the injury as "just a little bruise." Little bruises rarely warrant an MRI, though. Meanwhile, coach Jim Haslett was on ESPN's "First Take" on Monday and spoke as if he was making plans in the event Jackson might not be available this week. Stay tuned for updates.
Brodie Croyle, QB, Kansas City Chiefs:
Croyle returned after being sidelined for a month with a separated shoulder, only to leave with another injury that put a definitive end to his season. The Kansas City Star is reporting Croyle has a knee injury that will prevent him from returning to the field this year. Naturally,
Damon Huard
stepped in to replace him. By the fourth quarter,
Tyler Thigpen
had replaced Huard, who injured his throwing hand. No word yet on who will be starting under center for the Chiefs next week.
Other noteworthy injuries:
In Dallas, Romo remained on the sidelines with his broken pinkie, which was probably for the best. Unfortunately, the return of safety
Roy L. Williams
following forearm surgery was marred by a season-ending injury to the same area. Following the game, team owner Jerry Jones told reporters Williams broke his right forearm for the second time, ending his season. All is not well in Dallas.
Chicago Bears
star kick returner and wide receiver
Devin Hester
left the game in the third quarter with a strained quadriceps muscle. No word yet on the severity of the injury, but it can only help that the Bears have a bye next week.
Be sure to check back here throughout the week as we update these and other injuries. Also, stop by the injury chat (11 a.m. ET Tuesday and Friday) to discuss the status of your injured players. Hope to see you there!
October, 15, 2008
10/15/08
2:15
PM ET
Is there a healthy starting quarterback in the NFL? It sure doesn't appear that way. In a game where everyone starts to look banged up as the halfway mark of the season approaches, the list of injuries to quarterbacks seems to be the most significant. In some cases, such as
Eli Manning
's, it's primarily bumps and bruises. In others (
Tony Romo
,
Matt Hasselbeck
,
Carson Palmer
) the injuries threaten to linger. And in the case of the
Detroit Lions
, it has even ended their starting quarterback's season, as
Jon Kitna
was placed on injured reserve due to his back problems.
So who do you need to be concerned about insuring on your fantasy roster this week? We take a look at how things are shaping up in preparation for Week 7.
Tony Romo, QB, Cowboys:
By now everyone has heard about the importance of Romo's broken pinkie finger and the early projections that he could miss a month of playing time as a result. But according to the Dallas Morning News, coach Wade Phillips implied during a local radio appearance Wednesday that Romo would try testing his throwing in practice and his status could be re-evaluated.
Hmmmm. It would be a big surprise to see that much of a turnabout, from an initial four-week projected absence to no missed time. Certainly there is more at stake here than appearing tough. It is not just a matter of playing through pain, it is a matter of performance. It is also a matter of proper healing to ensure the longevity of a career, not just a starting streak. So let's hope that Romo comes to the best long-term decision for his throwing hand. Fantasy owners should plan on securing a backup quarterback no matter what that decision may be.
[+] Enlarge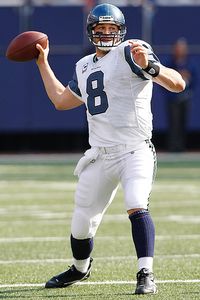 Scott Boehm/Getty ImagesSeahawk fans will have to hope Hasselbeck can return versus the Niners.
Matt Hasselbeck, QB, Seahawks:
Hasselbeck has already been ruled out of this Sunday's game against Tampa Bay, so fantasy owners should plan on a replacement, but for how long?
Hasselbeck went for further testing this week after the Seahawks reported that he was not responding as expected following the bone bruise he incurred after hyperextending his knee in Week 5. No wonder. Turns out that the specific symptoms Hasselbeck was experiencing were related to his preseason back problems. You may recall the report that Hasselbeck had a bulging disc in his back during the preseason and was experiencing back tightness and spasms that kept him off the field for the majority of that time. It is worth noting that the bulging disc was reportedly not new, and it is often the case that a bulging disc can exist and be asymptomatic, so there was no immediate cause for alarm. Hasselbeck seemed to recover from that episode and went on to start the season and play the first four games.
If there is an injury or event, however, that results in inflammation in the area, a spinal disc can then become symptomatic. The presence of inflammation or the deformity of the disc bulge itself can create pressure and irritation on nearby nerves. In the lower back, the most commonly affected nerve is the sciatic nerve, which is responsible for strength and feeling in the back of the thigh and leg.
In Hasselbeck's case, the Seattle Times reports that the sciatic nerve is being affected to the degree that it is now causing weakness in his knee. Coach Mike Holmgren said it is actually more an issue of weakness than pain, which is of concern since this suggests greater compromise of the nerve. The Tacoma News-Tribune reports that Hasselbeck is going to focus on rehabilitation this week that hopefully will allow him to return for the game against division rival San Francisco on Oct. 26. Knowing the time frame usually required for neurological symptoms to resolve, this seems optimistic. On the plus side, it appears that the appropriate source of the symptoms is being addressed. Nerve tissue can be very slow to recover, though, once it has been compromised. These problems rarely require surgery, however, and conservative treatment (epidural injections, mobilization, strengthening) can be very effective. But the time frame can be highly variable from one individual to another, so this will be a day-to-day situation for Hasselbeck and the Seahawks.
Backup quarterback
Seneca Wallace
is trying to recover from a recently aggravated calf strain, and it is uncertain whether he will be well enough to start Sunday. If he is unable, then the Seahawks will have
Charlie Frye
under center for another week.
[+] Enlarge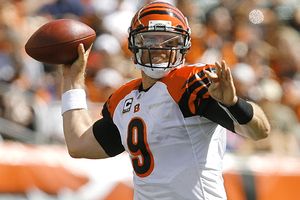 Matt Sullivan/Getty ImagesCould Palmer be on the same path as Jake Delhomme?
Carson Palmer, QB, Bengals:
One outcome of Palmer's visit with New York Mets team physician Dr. David Altchek is certain; Palmer will not start Sunday against the Steelers. Instead he will rest his inflamed throwing elbow. How long will he rest, though? Will he return in two weeks? After the Nov. 9 bye? Or have we seen the last of Palmer for the 2008 season? According to the Bengals' official Web site, these seem to be the options that the quarterback is considering after his second-opinion visit. As of late Monday, coach Marvin Lewis said, "I don't think anything has been ruled out."
Palmer indicated that he had been told his injury was the type that baseball pitchers have, which led him to consult with an orthopedist who frequently deals with these types of scenarios. The statement by Palmer lent further credence to speculation that his elbow ailment involved the ulnar collateral (Tommy John) ligament, the reconstruction of which has become almost commonplace amongst elite throwers in baseball. It is a far less frequent injury in football, partially due to the fact that the throwing mechanics in football are less stressful on the elbow than in baseball. A direct impact to the arm, however, similar to what Palmer reportedly suffered in the Week 3 contest against the Giants, could result in an injury to the ligament and nearby tissues that could then be further impacted by throwing. It should be noted that original reports suggested there was no evidence of structural damage to Palmer's elbow. It is also worth noting, however, that even microtrauma in the area, not visible on an MRI, can still result in inflammation, pain and difficulty throwing. In the presence of those symptoms, it is conceivable that a minor injury could turn into a more significant one if there is repeated strain placed on the tissue. It is for that reason that, in baseball, the typical response to an initial episode of elbow pain, even in the absence of definitive findings, is to shut down a thrower for a period of several weeks. The first goal is to eliminate all pain and soreness with rest and then gradually reintroduce throwing, progressing distance and velocity as tolerated.
For all the above reasons, it would not come as a surprise if Palmer's plan follows the path that has him returning after the November bye. This will be his second week of straight rest (after he returned to play in the Dallas game in Week 5) and it is conceivable that if he is pain-free, he could resume throwing next week and return. But if he has any swelling, any soreness or any weakness still lingering, or if his return to throwing requires a series of smaller steps, the middle time frame provides the best option. If he fails to respond to conservative treatment in the near future, the option remains for him to be shut down for the remainder of the season, which seems less likely, at least at this stage. The overriding concern would be that if Palmer tries to force it and returns too soon, he could end up with an injury that would require surgery, and the timetable on a return from reconstructive surgery is long. Just ask
Jake Delhomme
.
Some other players to keep an eye on as the week progresses
&#8226 The
Buffalo Bills
expect quarterback
Trent Edwards
to return to action against San Diego Sunday. Edwards returned to practice Monday after suffering a concussion October 5.
&#8226 Adding to the Cowboys' misery this week is the news that running back
Felix Jones
sustained a left hamstring injury that could cause him to miss several weeks. ESPN sources indicate that the injury is closer to the knee, which typically means longer healing time, so fantasy owners need to plan accordingly.
&#8226 A source close to the team reports that
Indianapolis Colts
' running back
Joseph Addai
, who left Sunday's game early with a strained right hamstring, will probably miss this week's game, but no formal decision has been made just yet. We do know that rookie running back
Mike Hart
suffered what the Colts are calling a "significant" knee injury and he has been placed on injured reserve.
Dominic Rhodes
becomes ever more valuable.
&#8226
Kansas City Chiefs
' quarterback
Brodie Croyle
is expected to resume his position as quarterback this Sunday when the Chiefs face the
Tennessee Titans
. Croyle suffered a separated shoulder in Week 1 but was able to practice during the bye week. No doubt that this is a tough team for him to face in his first week back, but from a healing perspective, his shoulder should be fine.
&#8226
San Diego Chargers
running back
Darren Sproles
has a sprained ankle which could certainly result in him seeing limited practice time. The Chargers will no doubt want to protect him to try to ensure his availability this week, especially with teammate
LaDainian Tomlinson
still at less than 100 percent. Meanwhile wide receiver
Chris Chambers
, also with a sprained ankle, is "making progress" and could be available Week 7 according to the San Diego North County Times. Much will depend on how he practices later in the week.
&#8226
New York Giants
quarterback Eli Manning suffered a bruised chest in the Monday night game this week, which may have contributed to his performance. According to Newsday, Manning's X-rays and MRI came back negative and he should be available this Sunday.
As usual, practice throughout the week will give us a better hint as to what the final status of these players will be heading into Week 7. Remember there are bye weeks for Arizona, Atlanta, Philadelphia and Jacksonville so we will not get much information on player injury updates for those teams until next week.
See you Friday at the injury chat and we'll have the latest injury updates affecting Week 7 in the Saturday morning blog!
September, 13, 2008
9/13/08
1:29
PM ET
Here's a fun fact: The
Miami Dolphins
have a
clean
injury report. That's right. Nobody, no one, not a single player is on their injury report this week. I'm not sure I've ever seen this before, but how happy must a team be when they can submit their injury report to the league office Friday afternoon and it's a blank sheet? Is there anyone out there in fantasy league-land who has every player on their roster healthy? I didn't think so. That's why we bring you the injury updates heading into Week 2. Set your injury-adjusted lineups and hope for a healthy week.
[+] Enlarge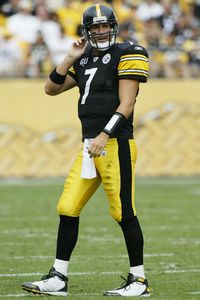 George Gojkovich/Getty ImagesRoethlisberger should be out on the field leading the Steelers, but if a blowout occurs, he could get pulled.
Ben Roethlisberger, QB, Steelers:
Although he didn't practice Wednesday due to the sore throwing shoulder, he did some work Thursday and managed a full practice Friday. Roethlisberger is listed as probable, meaning he is expected to play, but if the shoulder starts to give him trouble as the game goes on, or if he shows signs of fatigue in the arm, expect his playing time to be limited. Roethlisberger has a history of playing through various ailments, and this should be no different, but the team will make every effort to preserve him for the long haul.
Marion Barber, RB, Dallas Cowboys:
Barber was already looking like someone who expected to play Monday night despite a rib injury in that he fully practiced Wednesday and Thursday. Friday did nothing to dispel that as he practiced fully yet again. He is officially listed as probable, and with the extra day of rest, it appears he will see a regular workload. Perhaps even more significant is the idea that he has been doing so well already, he may not need to wear the protective gear that could make ballhandling a little more challenging. For someone who relies on speed and ball control, carrying no extra weight and minimizing interference is a bonus. Barber looks to be in good shape for Monday night.
LaDainian Tomlinson, RB, and Antonio Gates, TE, San Diego Chargers:
Who knew that big-toe problems could be contagious? The Chargers have another star plagued by a big-toe injury, as Tomlinson jammed it in last week's contest. The good news is that X-rays were negative, but the toe was painful enough that Tomlinson did not practice Wednesday or Thursday. Tomlinson was able to practice fully Friday, but he is only listed as questionable on the Chargers' injury report. According to ESPN reports, Tomlinson believes that based on what he was able to do in Friday's practice and how he felt afterward that he is closer to probable to play Sunday.
The role of the big toe in every aspect of running, pivoting, cutting and jumping cannot be overemphasized, as it has to bear the weight of the entire body with any pushing off. If the ligaments around the toe are injured, repeated stress not only causes pain but can make it difficult to heal. It appears that Tomlinson will play Sunday, but if the toe becomes a limiting factor, he may see decreased time on the field.
Meanwhile, teammate Antonio Gates put up a decent performance in Week 1 in his first outing since undergoing surgery on his big toe. He appeared to suffer no major setbacks, although he did come out of Week 1 with a sore hip to add to the toe discomfort, and as a result was limited in practice early in the week. Gates, however, was a full go in practice Friday and is listed as probable, which bodes well for his Sunday status. He acknowledges that his toe is not 100 percent, but told the San Diego Union-Tribune earlier in the week that the more he does, the better it becomes. Clearly his confidence in the foot is coming back.
Dallas Clark, TE, Indianapolis Colts:
Clark is listed as questionable and, although he was able to do some practice activity Friday, is far from certain to be on the field Sunday. Clark injured his knee last Sunday, and despite the negative MRI had enough discomfort to keep him from doing anything in practice until Friday. It does not sound like we should expect much, if anything, from him this week.
There is good news elsewhere on the Colts' offensive front, however. Center
Jeff Saturday
, who just a couple of weeks ago was considering surgery on his torn medial collateral ligament (MCL), chose to undergo conservative treatment and is well ahead of schedule. Saturday was able to participate fully in practice all week and has a shot to play this weekend. Even if he doesn't take the field this week, the progress he is making has to make the Colts, and
Peyton Manning
in particular, very happy. If not this week, expect to see Saturday back next week in tandem with his quarterback.
[+] Enlarge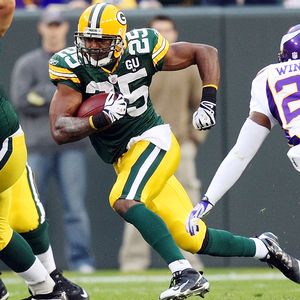 Jeff Hanisch/US PresswireGrant is clearly not 100 percent, but he'll make a go of it this weekend.
Ryan Grant and Brandon Jackson, RB, Green Bay Packers:
Grant had a nice first week, even while operating at less than top speed. But Grant was reportedly very sore at halftime of Monday night's contest, a sign that the hamstring was clearly not fully healed. The Packers have helped Grant manage this injury well, as they are no doubt acutely aware of the risk of this turning into a season-long problem. Consequently Grant was kept to limited practice reps early in the week to allow his leg some more rest.
Grant did practice fully Friday and expects to play, but he is listed as questionable, and the Packers will want to see how he feels Saturday morning before they make a final decision on his status. Coach Mike McCarthy told the Milwaukee Journal-Sentinel: "He looked good. Really the question for Ryan will be tomorrow, same thing we went through last week. How does the hamstring feel in the morning? They worked it. They pushed him as far as he probably could go today, and we'll see how he is tomorrow." If Grant feels good Saturday, his chances of playing go way up.
Teammate Brandon Jackson is listed as probable and is expected to play after suffering a concussion Monday night that kept him out of practice Wednesday and limited Thursday. In fact, Jackson will likely be used more to balance Grant's playing time, given that Grant is still not 100 percent.
Reggie Brown, WR, Philadelphia Eagles:
Brown did not play last week after aggravating his injured hamstring mid-week. This week did not exactly provide encouragement that he is ready to return. Brown is listed as questionable, but did not practice Wednesday and practiced only on a limited basis Thursday and Friday. Brown told the Philadelphia Daily News that he was "very limited" after Thursday's practice. I trust the words of the athlete, and this does not sound like he is confident in his recovery just yet. Of course there is the extra day, given that the Eagles play Monday night, but Brown will likely be a game-time decision, something fantasy owners should shy away from. Besides, given the fact that Brown spent most of the preseason and the first week of the season injured (first the Achilles', now the hamstring), it would be worth watching his first-game performance to see how he fares before expecting big things.
Willis McGahee, RB, Baltimore Ravens:
McGahee was active last week, but you wouldn't know it. He spent the entire game on the sidelines, pacing a bit, hoping to get into the game. But the Ravens' coaching staff decided it would be best to wait. McGahee is now listed as probable in Week 2 and is expected to take the field Monday night (the game was moved to Monday because of Hurricane Ike in Texas).
As far as how the knee feels, the Ravens' official Web site quoted McGahee as saying "It gets better every day, so I can't complain." In addition to having the extra week to rest his knee, McGahee had additional time to work with a new offensive system and get into game shape. Expect McGahee to see action Monday, although he may not appear as the "feature" back. The Baltimore Sun reports that a full workload may not be in the game plan for McGahee, as he will likely split carries with
Ray Rice
and
Le'Ron McClain
. McGahee will need to prove his commitment to working hard as a team player, while demonstrating that he can physically handle the workload before he is allowed to assume a major role. Fantasy owners should keep that in mind.
And a couple of IDP tidbits ...
OK, Carly. This section is introduced this week per your request.
Derrick Brooks, LB, Tampa Bay Buccaneers:
Brooks is still dealing with a lingering hamstring injury. He has not been able to practice all week and is listed as questionable. Unfortunately, his 193-consecutive-game streak is at risk of being broken this week, but ultimately the team needs to make the best decision for his long-term health. Expect Brooks to be a game-time decision.
Albert Haynesworth, DT, Tennessee Titans:
Haynesworth suffered a concussion during last week's contest, and as a result was held out of practice all week. Haynesworth says he expects to play, but the team will not likely make a final decision until Sunday morning before the game. He is officially listed as questionable. Concussions are not something teams take lightly, and Haynesworth will have a series of tests he will need to pass before he is cleared to play.
Antonio Cromartie, CB, San Diego Chargers:
Cromartie has a sore hip that kept him out of practice Wednesday and Thursday. He was able to practice on a limited basis Friday and is listed as questionable, so he has a chance of being on the field. He is also likely to be a game-time decision. The Chargers have to hope they will have him available to match up against Denver's double threats,
Brandon Marshall
(returning this week after a suspension) and impressive rookie
Eddie Royal
.
Out:
This is a list of key fantasy players, not including those who have been moved to injured-reserve status, who are officially listed as "Out" for Week 2.
It's not too late! Leagues are forming and drafting until Sep. 20, with scoring retroactive to Week 1.
Sign Up Today!
Aaron Stecker, RB, New Orleans Saints:
You knew Colston was out with a surgically repaired thumb. Stecker now joins him with a hamstring injury.
Reggie Bush
looked good last week, and
Pierre Thomas
showed he was a factor. Expect
Deuce McAllister
to get back into the game this week as well, although how much he will be utilized remains a question.
Drew Bennett, WR, St. Louis Rams:
He has a foot fracture. He will appear in this section for at least a month.
Brodie Croyle, QB, Kansas City Chiefs:
Croyle has a separated shoulder and will likely miss two weeks, minimum.
Bobby Engram, WR and Maurice Morris, RB, Seattle Seahawks:
Seattle's poor offense and their string of bad luck continue. Expect these two to be here for a few more weeks.
Vince Young, QB, Tennessee Titans:
The knee, the hamstring, and everything else. His timetable is very hard to predict right now.
Kevin Curtis, WR, Philadelphia Eagles:
Still recovering from sports-hernia surgery but coming along nicely. The Eagles hope to have him back in the first half of October.
Be sure to check out our site Sunday for pregame chats and Fantasy Football Now at 12 p.m. EST. Good luck in Week 2!
December, 7, 2007
12/07/07
6:59
PM ET
Thursday night football has not been kind to the starting quarterback. In Week 13, Packers quarterback
Brett Favre
was forced out of the game with a bruised forearm that affected his ulnar nerve. Thursday,
Rex Grossman
of the
Chicago Bears
and
Jason Campbell
of the
Washington Redskins
both went down with injury, both as a result of taking a hit to their plant leg as they delivered the ball. For more on these injuries as well as a look ahead to who will be affected by injuries, please, read on.
Out
Matt Schaub, QB, Texans:
Still recovering from a dislocated left shoulder, Schaub does not have a timetable for his return.
D.J. Hackett, WR, Seahawks:
Hackett is out again due to re-injury of his ankle, but the team expects he could return within a week or two. We'll update his status later.
Roy Williams, WR, Lions:
Williams injured his knee and will not return for your fantasy team this season.
Larry Johnson, RB, Chiefs:
Still out, yet the team still expresses hope. There is no information to suggest one way or the other whether Johnson will return this season, but as a fantasy owner, you just can't count on it.
Anthony Thomas, RB, Bills:
A torn popliteus muscle (small muscle behind the knee) will keep Thomas out the remainder of the season. Marshawn Lynch and Fred Jackson will take it from here.
Ahman Green, RB, Texans:
The Texans announced today that they are placing Green on injured reserve because of lingering problems with his knee. They tried to hold out hope, but to no avail. Green's football future may be in question.
Here's what we know so far about other players with injury concerns heading into Sunday.
Running Backs
Marshawn Lynch, Bills:
Lynch practiced all week on a limited basis, progressively improving as he returns from a high ankle sprain. The Bills will undoubtedly ease him back into the game, meaning he is likely to lose some action to
Fred Jackson
, but is expected to play. There is always a bit of a risk when an athlete returns from a high ankle sprain, but this is a good matchup for Lynch against the Dolphins.
LenDale White, Titans:
Despite some residual swelling and stiffness in his middle finger, White (probable) is expected to play Sunday. He should be able to go the distance, but may struggle some with ballhandling.
Brandon Jacobs, Giants:
Jacobs is expected to play, according to a report in Newsday, and there is no
Derrick Ward
to share carries with anymore. There is
Reuben Droughns
, however, and he will likely absorb some of Jacobs' work. Jacobs is returning from a hamstring strain, always a bit risky for the first game back, but he has been working out well and sounds ready to go.
Reggie Bush, Saints:
ESPN's Chris Mortensen reported Friday that Bush has a torn posterior cruciate ligament (PCL), which was confirmed by the Saints, although they have not indicated the degree of injury. Bush is getting a second opinion from Dr. James Andrews, but it appears doubtful that he will play Monday. Coach Sean Payton told the New Orleans Times-Picayune that he is still hopeful that Bush can play Monday given that he practiced some this week, but this really does not appear likely. All you have to do is look at how long it took
Travis Henry
and
Andre Johnson
to return from a PCL injury to appreciate the time frame Bush is dealing with, if it is a nonsurgical injury. The injury apparently occurred Nov. 4, and this may go a long way toward explaining why Bush really hasn't seemed like himself over the past month. There is some question as to whether Bush may now miss the remainder of the season. Stay tuned for updates regarding his status. In the meantime, find a replacement for your fantasy roster.
Quarterbacks
Jason Campbell, Redskins:
Campbell took a hit on his plant leg which forced it inward as he fell to the ground. This is often a mechanism for a medial collateral ligament (MCL) injury, but it appeared that Campbell took the hit just slightly lower on his leg, forcing it to rotate inward as his leg collapsed, more of a mechanism for a patellar (kneecap) dislocation. If you saw the game, perhaps you saw Campbell grab the outside of his leg with his hand. Had he torn his MCL, you would expect him to grab the inner knee, where it would be most painful. Campbell grabbed his outer knee because he was trying to put a hand around his kneecap, which he had just dislocated. The response of the medical staff also suggested a patellar dislocation. Campbell was immediately placed in a knee immobilizer, the best position to allow the kneecap to resume its proper alignment, and the least stressful for it. The bottom line for Campbell is that his season has essentially ended, as the tissue that was stretched on the outside of the knee during the dislocation has to heal. After immobilizing the knee for a few weeks, which allows the tissue to heal while preventing a repeat episode, Campbell will have to gradually regain his range of motion and strength. Coach Joe Gibbs said in his postgame news conference that it was fortunate that no ligaments were involved, which is true because the injury he did suffer is nonsurgical. Consequently his overall healing time should be reduced. The Redskins could conceivably have Campbell available the final week of the season or if they venture into the playoffs, but from a fantasy perspective, he is done.
Rex Grossman, Bears:
Poor Rex. He didn't make it through even a full quarter before the injury bug bit him. Grossman also suffered a blow to the outside of his leg that forced his knee inward, the mechanism described above that typically affects the MCL. And so it is. The Chicago Sun-Times is reporting that Grossman sprained his MCL and given the recovery time for this type of injury, it is fair to assume that we will not see Grossman again this season.
Brett Favre, Packers:
He's had a week now to let the forearm rest and has resumed practice. As of the end of the week, Favre was handling the majority of the reps with the first team and throwing quite a bit without limitation according to the Packers' official Web site. You can expect to see him Sunday and expect the streak to stay alive.
Brodie Croyle, Chiefs:
Croyle missed Week 13 with a deep back bruise, but the time off seems to have helped. Croyle was able to practice fully all week, is listed as probable and is expected to start Sunday. This news is as good for
Dwayne Bowe
fantasy owners as it is for Croyle fans.
Jeff Garcia, Buccaneers:
Garcia's status will be a game-time decision as coach Jon Gruden wants to see how Garcia's back feels once the team gets to Houston, according to a report in the Tampa Tribune. Garcia, who sat out Week 13 with a back injury, was able to gradually increase his activity tolerance over the past two weeks, but is not yet 100 percent. Garcia has looked good in practice, although he was given Friday off to rest, and the expectation is that he will play Sunday. He may be a little stiff, but if his offensive line is able to protect him so that he can avoid significant contact, he should be able to play well.
Donovan McNabb, Eagles:
McNabb (probable) is primed to make his return Sunday from a jammed thumb and sprained ankle that caused him to sit out two games. McNabb has been practicing and although his mobility may yet be limited somewhat by the ankle, he should be able to be effective. McNabb wanted to play this past Sunday but was held out by coach Andy Reid, who wanted him to be closer to 100 percent before returning to a game situation. Given Reid's criteria, I expect McNabb will be able to perform heading into Sunday's contest.
Marc Bulger, Rams:
Bulger is listed as questionable on the Friday injury report after suffering a setback during the week. Bulger, recovering from a concussion, had been cleared to practice Tuesday. But as the St. Louis Post-Dispatch reports, Bulger did not feel well after practice Thursday, causing the Rams to downgrade him. This is why athletes are gradually returned to activity after concussions; there is always the possibility that symptoms can return with increased intensity of exercise, which indicates the brain has not fully recovered. Coach Scott Linehan wisely says he will not return Bulger if he is not fully healthy, and he will use the next 12 to 24 hours to make that decision. Plan on another quarterback.
Wide Receivers/Tight Ends
Marvin Harrison, Colts:
Could it be? Could Harrison actually make a return Sunday? Harrison practiced some on Wednesday and was seen walking without a limp afterward, a good sign. He was held out of practice Thursday as a precaution. According to the Indianapolis Star, coach Tony Dungy has indicated that the Colts are being more cautious than if they were in a must-win situation to get into the playoffs. Harrison is clearly not 100 percent and the Colts do not want to risk losing him for the time when it really counts. There is a chance, albeit a slight one, that Harrison plays Sunday, but even if he steps on the field it will be on a limited basis. There is no fantasy value here.
Anquan Boldin and Larry Fitzgerald, Cardinals:
Boldin dislocated a toe Sunday and has been unable to practice all week. According to the Arizona Republic, the medical staff has been trying to find a supportive insert for his shoe that would allow him to run without pain, but so far that has not happened. There is still a chance that he could be outfitted with something before Sunday, but Boldin has said that he does not like to play without having practiced at least once during the week. Add to that the fact that his hip is still bothering him and it is unlikely he sees the field this week. Teammate Fitzgerald has been contending with a groin injury, but has been increasing his activity, and was running routes late in the week. Also listed as questionable, Fitzgerald is more likely to see playing time, but may not yet be fully recovered. The concern with the groin injury is lateral cutting and speed, so Fitzgerald may not be up to the monster performances that he has put up of late, but there is a reasonable chance that he is active and efficient on Sunday.
Brandon Stokley and Javon Walker, Broncos:
Stokley, who was reported to have injured his knee this past Sunday, had not practiced during the week and appeared unlikely to play. Friday, however, Stokley was able to put together a full practice and, although listed as questionable, he is expected to start, according to the Denver Post. Teammate Walker has been hampered by his knee and has not had a strong outing since returning, which is a bit surprising as he had looked good in practice. The expectation is that Walker will play, but he is not yet fully healthy and remains a risky start.
Santonio Holmes, Steelers:
Holmes is off the injury report, a good sign that his high ankle sprain has healed enough to allow him to play. Expect to see Holmes in action Sunday, but he is returning after a relatively short time frame. We have seen the high ankle sprain injury regress after a player returns (D.J. Hackett,
Michael Pittman
) and until Holmes has fully tested it, temper expectations for his return.
Laveranues Coles, Jets:
Coles remains a game-time decision as he recovers from his high ankle sprain. Coles is tough and can be expected to play through pain, as he has done many times before. With Cotchery out, the Jets need Coles even more, so expect him to be on the field. He is not likely to be 100 percent, but unless he suffers a serious setback during the game, don't expect that to limit his performance.
Don't see your player here? Be sure to check back Saturday when we check late Week 14 updates and add a few defensive players.
December, 5, 2007
12/05/07
9:44
AM ET
Well, it finally happened. My injury-laden fantasy team in our GMC Pro Grade League finally succumbed in a loss that pushed me out of playoff contention. But not without a fight! Despite the multiple injuries over the season, which forced me to nearly completely renew my roster, I lost by a hair (six points) to Matthew Berry, the Talented Mr. Roto, he of the high-scoring
Tom Brady
,
Wes Welker
,
T.J. Houshmandzadeh
and
Justin Fargas
crew. In fact, had
Brett Favre
, whom I just recently acquired via trade because of the recent injuries to
Donovan McNabb
, not left Thursday's game with an injury, I am confident that I would have won. I guess my point is two-fold: 1) Berry can mock my undying loyalty to my 49ers, but he cannot gloat in his barely eked-out victory, and 2) I believe that I have demonstrated, by virtue of my injury-laden team, that I understand and sympathize with fantasy owners everywhere whose teams have been decimated by those unpredictable injuries that can make all the difference between agony and ecstasy.
So for those of you fortunate enough to have made the playoffs, and for those of you just trying to spoil the playoff dreams of others, here are some of the injuries fantasy owners should be aware of early this week. Keep in mind that the Thursday matchup will feature Chicago at Washington.
Running Backs
Adrian Peterson, Vikings:
Well, it seems the questions about Peterson's readiness to return have been answered. He looked remarkably solid in his first outing since tearing his lateral collateral ligament, brace and all. The Vikings somewhat limited Peterson's activity as planned -- he had 15 carries and did not appear in the fourth quarter -- but he is so dangerous whenever he touches the ball that his numbers made it seem as if he played the entire game. According to the Minneapolis Star-Tribune, Peterson felt as good as he has all year after Sunday's outing, so we can expect to see him and
Chester Taylor
utilized in tandem the rest of the season.
Marshawn Lynch, Bills:
Coach Dick Jauron still is being cautious about Lynch's status for Sunday, saying Lynch has made a lot of progress but he doesn't want to "overstep it right now." Jauron's comments on the Bills' Web site are the most positive since Lynch's injury about four weeks ago, but they are necessarily guarded, given the nature of the injury (high ankle sprain). Lynch will be evaluated on a day-to-day basis as he practices throughout the week, and we should have a better idea of his status late in the week.
Brandon Jacobs and Derrick Ward, Giants:
The Giants have made it official. Ward has been placed on injured reserve after suffering a broken fibula in Sunday's contest. So will Jacobs make it back this week? It appears that way if you listen to coach Tom Coughlin. Coughlin told the New York Daily News that all along, the plan has been for Jacobs to return this week, and he is not being rushed back because of Ward's injury. That sounds reasonable. Now, let's hope Jacobs can not only make it back, but also stay to finish out the year healthy.
Selvin Young and Travis Henry, Broncos:
Young appeared to be the healthier back headed into Sunday's game and, in fact, was the starter. But he managed to sustain yet another injury, this one to his arm, according to the Denver Post, and his status is uncertain for this week. Meanwhile, Henry received word from the NFL that he won his suspension appeal, so now his game availability depends only on his health. Henry was able to get back in the lineup last week, so if Young cannot go, Henry likely will start. There always are more running backs to be found in Denver, though, so starting does not necessarily translate into more fantasy points. It is worth watching the practice reports throughout the week to see how the running back lineup is shaping up.
Larry Johnson, Chiefs:
Johnson already has been ruled out for Week 14, but the Chiefs continue to be guarded in their statements regarding Johnson's status for the season. In comments made on the Chiefs' Web site, coach Herm Edwards reinforced the idea that no decision has been made, saying only that Johnson is "getting better" and the team will continue to evaluate him. He did say that if the star back were to return too soon and re-injure his foot, it could result in Johnson requiring surgery, which always is the potential scenario for a mid-foot injury. It is not totally clear what is going on with Johnson and the Chiefs. Johnson being ruled out so early in the week suggests he is a long way from being able to return. Yet the Chiefs continue, at least outwardly, to indicate there is hope he will return this season. Perhaps there is some motivational incentive; the potential of getting back on the field might help Johnson maintain the intensity of his rehabilitation. And he might yet return, but it remains just a possibility, not one worth taking up a spot on your fantasy roster.
LenDale White, Titans:
According to the Tennessean, White (dislocated middle finger) is expected to play Sunday against the Chargers. On Monday, we mentioned fumble concerns as a possibility, especially if the finger remains sore and swollen. Given
Chris Brown
's effectiveness Sunday after White exited the game, there could be concern Brown will steal some action from White this week, especially if White shows any signs of struggling with the finger.
Quarterbacks
Jeff Garcia, Tampa Bay:
According to the St. Petersburg Times, Garcia said his back is feeling better by the day and he expects to return to practice Wednesday. Despite some residual soreness, Garcia plans to play Sunday against the Texans while his mobility and flexibility continue to improve. It still is wise to check back at the end of the week, but at this point, it sounds as if he is preparing to make his return.
Donovan McNabb, Eagles:
Philly.com has reported that McNabb is expected to return this week from the thumb and ankle injuries that have caused him to miss two straight games. Coach Andy Reid said McNabb can grip the football well now but might wear a brace on his hand to protect the thumb. The bigger concern is his mobility with the ankle, but Reid said McNabb moved around better in practice last week. Nonetheless, he held McNabb out of Sunday's contest because he did not feel he was ready to go from a health standpoint, and the extra rest no doubt has helped the quarterback. Barring a setback in practice this week, expect McNabb to get the green light Sunday.
Marc Bulger, Rams:
According to a report by ESPN's Len Pasquarelli, Bulger underwent another battery of tests Tuesday as a follow-up to his concussion a week ago and was cleared to return to practice Wednesday. The Rams are optimistic that Bulger will be available Sunday, but it should be noted that he will be monitored throughout the week to ensure his symptoms do not return as his practice activity increases. Bulger's replacement,
Gus Frerotte
, suffered a shoulder injury Sunday that might keep him out for at least one game. According to the St. Louis Post-Dispatch, Frerotte has a sprained shoulder and a partial tear of the labrum, the ring of cartilage that helps reinforce the shoulder joint. Frerotte injured the shoulder in the third quarter of Sunday's contest but was able to return to finish the game; however, the shoulder was much more sore the next day, prompting the additional tests. If neither Bulger or Frerotte is able to go, it could be
Brock Berlin
. Fantasy owners, keep your fingers crossed that practice agrees with Bulger.
Brodie Croyle, Chiefs:
Croyle sat out last week's contest with a sore bruised back but could make his return Sunday if, as coach Herm Edwards said on the Chiefs' Web site, he's "mobile enough to get out of the way." Edwards also said that although the Chiefs would like to see Croyle back in the lineup, the team will not risk putting him in there if he is not fully recovered. Croyle is expected to return to practice Wednesday, and his progress, particularly his mobility, will be evaluated throughout the week.
Alex D. Smith, 49ers:
Smith has sat out the 49ers' past two games because of lingering pain in his shoulder (a Grade III, or complete, separation) and his forearm (tendinitis, which developed after he injured the shoulder, possibly while trying to rehabilitate the arm). Smith might yet face shoulder surgery, but before that decision is made, Smith will try to throw this week, according to ESPN's Len Pasquarelli. Smith will see how the arm feels while throwing and then will consult with the medical staff to evaluate his status. Either way, he is not a factor for the remainder of the fantasy season (not that he was much of a factor beforehand). His progress will be relevant for next year, so we will monitor him with that in mind.
Wide Receivers/Tight Ends
Roy Williams, Lions:
Williams sprained his posterior cruciate ligament Sunday and, according to a report in the Detroit News, is expected to miss the last four games of the season. ESPN's John Clayton is reporting that the Lions do not plan to put Williams on season-ending injured reserve in the hope that he can heal quickly, but it is a slim hope. This is an injury similar to the one that kept Broncos running back Travis Henry out four weeks and Texans receiver
Andre Johnson
out eight weeks. Coach Rod Marinelli said the ligament is not torn, usually a reference to the ligament not being
completely
torn, since any sprain reflects some degree of injury to the tissue, even if microscopic. The timeframe will depend on how long it takes any swelling and pain to subside, and the amount of tissue healing that needs to take place. Williams then would need to regain his strength and mobility, as well as the confidence that his knee is stable enough to support him running, cutting and jumping. That is a lot to ask in less than four weeks. Nonetheless, if the injury is minor, there is a chance he could return, but it is a small one. If Williams is on your fantasy roster, you need to find a replacement that you can count on for the duration of the season.
Santonio Holmes, Steelers:
Holmes, who missed the past three games with a high ankle sprain, could return in Week 14, according to a report in the Pittsburgh Post-Gazette. Coach Mike Tomlin said "it depends on how [he] perform[s] in practice." Even mild high-ankle sprains often require about four weeks before a player can return, so Holmes is just now coming up on that mark. Practice will resume Wednesday, meaning we won't have a real indicator as to whether Holmes is likely to play until late in the week. Stay tuned.
Don't see your player here? Be sure to check back later in the week when we check further Week 14 updates. We also will quickly touch on any Thursday game injuries at that time.