Stephania Bell:

Bruce Gradkowski
October, 28, 2010
10/28/10
5:29
PM ET
Since most of
Tuesday's blog
was dedicated to two star players with significant injuries, quarterbacks
Brett Favre
and
Tony Romo
, today's blog will be a series of quick hits to get you caught up on your other fantasy players from around the league. Six teams are on bye this week --
Atlanta Falcons
,
Philadelphia Eagles
,
Chicago Bears
,
Cleveland Browns
,
Baltimore Ravens
and
New York Giants
-- so get those replacements early as the pickings may be slim by the weekend.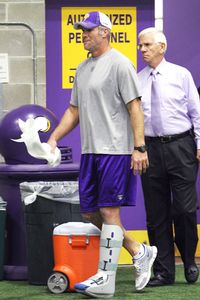 AP Photo/Andy KingBrett Favre was wearing a walking boot on Wednesday but it was gone by Thursday.
Before jumping into the variety of injuries across the league, here's the latest on Favre: He did not practice Wednesday and may not practice the rest of the week. Favre is resting his ankle and getting regular treatment in the hope that he will play Sunday against the
New England Patriots
. Head coach Brad Childress told reporters that Favre would not have to practice but would have to prove that he is mobile enough to play effectively. In the meantime, Favre has now been spotted without a walking boot, according to the Minneapolis Star-Tribune. The Star-Tribune reports that Favre, who may wear a shoe larger than his usual size to play, was not expected to practice Thursday but his Sunday status has yet to be determined. Favre, who certainly has not ruled himself out because of the injury, perhaps summed it up best saying, "I wouldn't put anything past me to be honest with you." Nor would his offensive coordinator apparently. Darrell Bevell, who was with Favre in Green Bay when he played through a broken thumb, told the Star-Tribune, "It would surprise me if he wasn't able to be out there." Friday should yield more clues but it's looking more and more like Favre will attempt to play.
Favre isn't the only injured quarterback in the spotlight this week. Many teams have seen rotations under center this season, more often as a result of injury than performance.
•
Detroit Lions
quarterback
Matthew Stafford
will rejoin his team on the field after missing six weeks with a separated throwing shoulder. Stafford has been working his way back gradually and the entire team is coming off a bye. While Stafford's shoulder has been rehabilitating, the rest of his body has enjoyed over a month free from contact, so he should be particularly fresh.
•
Jacksonville Jaguars
quarterback
David Garrard
is expected to return this week after sitting out Week 7 with a concussion. The Dallas Morning News reports that Garrard passed post-concussion tests Tuesday, then worked out at the team facility. The
Dallas Cowboys
will be hosting the Jaguars this week.
• The
Tennessee Titans
'
Vince Young
, who sprained his left knee and ankle in the Week 6 Monday night game, was back in full practice Wednesday and Thursday. According to the Tennessean, Young says he is getting better each day. Coach Jeff Fisher says, "If he is able to move around in the pocket and be effective under center, then he'll have a chance to play." Backup
Kerry Collins
, who started in Week 7 despite a torn flexor tendon in his right (throwing) middle finger, did not practice Wednesday or Thursday. He should be available this week, but it appears that Young is indeed on track to face the
San Diego Chargers
on Sunday.
•
Oakland Raiders
coach Tom Cable continues to state that
Bruce Gradkowski
will resume the starting role as his team's quarterback once he's healthy. It's not looking as though that will happen this week, however. Gradkowski, who suffered a right shoulder injury that caused him to miss the past two games, was still not in practice Wednesday.
Jason Campbell
, who took all the first-team reps in his absence, appears in line for another start.
•
Arizona Cardinals
quarterback
Max Hall
says he's feeling better after taking a blow to the head in Week 7 that forced him to exit the game. Hall passed his concussion tests Tuesday and was a full participant in Wednesday practice. He has been named the starter for this week's game against the
Tampa Bay Buccaneers
.
• And across the pond, where the
San Francisco 49ers
and
Denver Broncos
have traveled for their Week 8 contest at London's Wembley Stadium, it will be a different Smith taking the snaps for the 49ers.
Troy Smith
, who came to San Francisco from the Baltimore Ravens, has been chosen to start this week.
Alex Smith
suffered an AC (acromioclavicular) sprain to his left (nonthrowing) shoulder in Week 7 and is expected to miss two to three weeks. Backup quarterback
David Carr
, who stepped in to finish the game after Smith was hurt last Sunday, wasn't injured. He just wasn't good. The 49ers are hoping for some kind of spark from Troy Smith, who, incidentally, had never taken a snap with the first team until this week.
Beyond the injuries to those who throw the ball in the NFL, there are numerous ailments among those who run and catch the ball as well. Midseason is that difficult time of year when no one is expected to be fully healthy, simply by virtue of playing the sport of football, but the question is who is healthy enough. Just what is healthy enough? Fantasy owners have seen players who are healthy enough to take the field but have little impact (
Antonio Gates
in Week 7) and those not fully healthy yet but amazingly productive (
Steven Jackson
in Week 4). Here are the running backs, wide receivers and tight ends we're talking about this week:
• The San Diego Chargers continue to nurse a multitude of players back from injury. Wide receiver
Malcom Floyd
is expected out in Week 8 and is not an automatic for Week 9, either. Teammate
Legedu Naanee
appears to be improving from his hamstring injury and did take part in some practice Wednesday. His late-week activity will be telling.
•
New Orleans Saints
running backs
Pierre Thomas
and
Reggie Bush
are not likely to be available for your fantasy rosters this week. Bush, who indicated earlier this week that he was medically cleared to return to practice, has not done so. While he has increased his activity to include outdoor running, he is not yet doing the activities that would suggest he is ready to resume his role. Bush needs to clear some more hurdles before he is thrown to the wolves, also known as the
Pittsburgh Steelers
' defense. Meanwhile it's no secret that Thomas has been somewhat "stuck" in his progression and reports Thursday are not especially encouraging. Jeff Duncan of the New Orleans Times-Picayune reported via Twitter that coach Sean Payton announced that Thomas consulted with a foot and ankle specialist, who advised reducing his workload. That's enough for fantasy owners to know not to expect Thomas to return this week. It does raise more concern going forward. We will be following this closely to see if more details emerge.
• On Tuesday, we noted that
St. Louis Rams
running back Steven Jackson underwent
surgery on his finger
. Jackson did not practice Wednesday, which is not surprising given his surgery was just two days prior. So far there is no indication that he will be limited for this Sunday's contest against the
Carolina Panthers
.
• That might not be the case for his counterpart on the opposing team, however.
DeAngelo Williams
left Sunday's game against the San Francisco 49ers with a foot injury that was not considered serious. He sure looked uncomfortable when he left the field and he was not in practice Wednesday or Thursday. Williams owners need to be prepared with a replacement if Williams does not show he can run on that foot by Friday.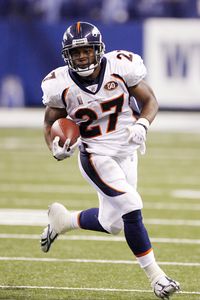 Brian Spurlock/US PresswireFormer Bulldog Knowshon Moreno would have to be considered the best running back of the Mark Richt era.
• Denver Broncos running back
Knowshon Moreno
gave folks a scare when he grabbed his right hamstring near the end of practice Wednesday and was then seen talking it over with the medical staff, according to the Denver Post. On Thursday, coach Josh McDaniels told the Post he believes that Moreno will be ready to go "for at least some duty in Sunday's game." Not exactly completely reassuring. This is the same hamstring that Moreno injured this season, causing him to miss three games. Moreno appeared strong in his performance the past two games, but there's always concern for reinjury with the hamstring. Let's see what Moreno does Friday. Teammate
Eddie Royal
seems to be in worse shape with his groin injury, although the Broncos have him on the trip to London. According to the Post, they want to see his progress before Sunday. Given his limitations last week, it's hard to imagine Royal being in top form by game time.
• Oakland Raiders wide receiver
Louis Murphy
looked to be in great pain after a big collision in Sunday's game and the immediate thought was that he aggravated a previously bruised collarbone. Murphy apparently has a chest contusion and according to the San Francisco Chronicle, coach Tom Cable says the deep bruise is "in the lung area," and Murphy is doubtful for Sunday. Depending on the severity of Murphy's injury, he could miss extended time. That means more targets for
Zach Miller
.
• Arizona Cardinals wide receiver
Steve Breaston
was kept out of last week's game partly due to wet field conditions, according to coach Ken Whisenhunt. Breaston was involved on a limited basis in Wednesday practice and appears to have a good shot at playing this week.
• San Francisco 49ers tight end
Vernon Davis
has not practiced for two days over in London because of an ankle injury. Although details about the injury itself have been limited, Matt Barrows of the Sacramento Bee reports that Davis is not limping and his status should be apparent by the end of Friday's practice.
• And then there's the banged-up
Indianapolis Colts
. First off, wide receiver
Anthony Gonzalez
insisted earlier this week that his ankle was fine and that he expected to play Monday night. It's a good thing, too, since fantasy rock star
Austin Collie
is expected to be sidelined for several weeks following thumb surgery.
Blair White
is in the receiver mix as well. Gonzalez missed the majority of last season and most of this season with injury, so fantasy owners have little confidence. But the Colts, while fairly secretive when it comes to injury information, seem skilled at decision-making when it comes to returning players to activity. Their solid depth helps, but typically when their players return, they return strong.
Pierre Garcon
is proof of that already this season. And Gonzalez has been a full participant in practice both days this week.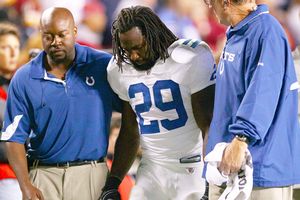 Win McNamee/Getty ImagesJoseph Addai's shoulder could keep him out this week, and with the Monday night game, fantasy owners may need to look elsewhere.
• Meanwhile, in the running game things appear even less certain for the Colts.
Joseph Addai
, who injured his left shoulder in Week 6 and described his arm as "dead," has been slow to recover. Since the Colts play Monday night, they did not issue a Wednesday injury report, but Addai did not practice Thursday. Coach Jim Caldwell told reporters that Addai's status is day-to-day and that he has an "unusual" pain tolerance. Meanwhile,
Donald Brown
has been nursing a hamstring injury for weeks and it's unclear whether he'll be ready to take the field by Monday night. In fact, according to Tom James of the Terre Haute Star-Tribune, Brown did not practice Thursday, raising questions as to how healthy he truly is. According to the Indianapolis Star, Caldwell showered praise recently on
Mike Hart
(who had a hip issue of his own a couple of weeks ago), suggesting he would have to "be the guy to step it up a little bit" if Addai is unable to go. Friday's practice is even more important for the Colts this week with the game coming on Monday night.
See you at Friday's 3 p.m. injury chat and we'll have the latest injury updates affecting Week 8 in the Saturday morning blog!
October, 14, 2010
10/14/10
4:22
PM ET
A number of fantasy stars went down in Week 5, and the news on at least one of them is not too encouraging.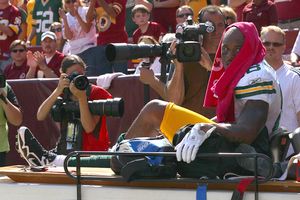 Win McNamee/Getty ImagesJermichael Finley could return by the end of the season, but it likely won't matter for fantasy owners if that happens.
Green Bay Packers
tight end
Jermichael Finley
underwent arthroscopic surgery Tuesday and it looks as if he could miss the remainder of the season. While it's possible he could return, his fantasy season is essentially done, much to the chagrin of fantasy owners (including, ahem, yours truly) who invested heavily in his talent. Finley did not disappoint but his knee failed to cooperate. The prognostic timetable in advance of Finley's surgery was that he would miss 3-6 weeks. After surgery, however, that timetable became a projected 8-10 weeks. According to Greg Bedard of the Milwaukee Journal-Sentinel, Finley had a lateral meniscus tear and repairing it (as opposed to removing the torn meniscus) became an option, hence the expanded timetable.
Following meniscus repair, rehabilitation is much more conservative in an effort to protect the repaired tissue and ensure better healing. Even 10 weeks is optimistic in the case of a repair. The repair option is chosen, when possible, to try to preserve the long-term health of the knee as complete removal of a meniscus is associated with degenerative (arthritic) changes in the knee. Considering long-term health is the goal, there is no reason to rush a player back during the recovery process and potentially jeopardize the outcome. The Packers may ultimately decide to place Finley on injured reserve, something that is being evaluated in the context of the entire team's needs. Fantasy football owners can make the move to replace Finley on their rosters right away.
Four more teams are on bye in Week 6: the
Buffalo Bills
,
Cincinnati Bengals
,
Arizona Cardinals
and
Carolina Panthers
.
Quarterbacks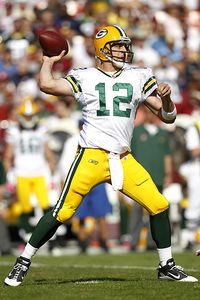 Joe Robbins/Getty ImagesAaron Rodgers looks like he's in position to start on Sunday despite suffering a concussion late in last week's game.
Aaron Rodgers, Green Bay Packers:
Rodgers did not practice Wednesday, which was not surprising given that he suffered a concussion just last Sunday. At that time coach Mike McCarthy told the Milwaukee Journal-Sentinel that Rodgers was going through the protocol the team has in place following such injuries, adding, "I probably won't know his situation until [Thursday] morning, as far as his availability for the game, let alone practice."
Apparently, Thursday brought some encouraging news as Rodgers returned to practice. It's worth monitoring how Rodgers responds to the increased activity before penciling him into the start position. If he tolerates the activity well and returns for more Friday, then a Week 6 start is looking good.
Jay Cutler, Chicago Bears:
Cutler has been given the go ahead to return to full practice and was on the field Wednesday doing just that. He is expected to start for the Bears in Week 6.
Michael Vick, Philadelphia Eagles:
Vick has indicated that he is feeling better this week following his Week 4 rib cartilage injury. According to the Philadelphia Inquirer, Vick says that he has "his throwing motion back." While Vick has certainly increased his activity in the last few days, he has not yet returned to practice. Vick maintains that he does not need to practice in order to play, but the risk remains that the injury could be easily aggravated by contact. He has not been ruled out for Sunday's game, but it would be surprising to see him back in Week 6.
Brett Favre, Minnesota Vikings:
Could the consecutive starts streak end at 289? It's at least a topic of discussion this week as Favre is reportedly battling tendinitis in his throwing elbow. Generally speaking, tendinitis in that area refers to inflammation of the common extensor tendon, a wide band that represents the "common" attachment of the wrist extensors just above the elbow. In addition to extending the wrist, the extensors are involved in grip. In the case of a quarterback, ball control and delivery is affected by the function of this group of muscles. Tendons are the tissue that anchor muscle to bone, so when muscles contract, the contractile energy is transferred through the tendon to the bony attachment, resulting in movement. The bottom line: If Favre throws, he's stressing the injured area. With rest being the best form of management, the question naturally arises as to just how much rest Favre will require. Coach Brad Childress told reporters that the team will limit Favre's practice reps in an effort to rest the elbow, and Favre told reporters he would consider sitting out a game or two if the condition worsens.
Really? Are we to believe the man who has played through an MCL sprain, ulnar nerve irritation, a partially torn biceps tendon, chronic ankle pain and various assorted other ailments might consider sitting for some tendinitis? It seems highly doubtful that Favre would sit because of pain alone but he might sit (emphasis on "might") if he feels that his condition would present a liability to the team. After Monday night's loss to the Jets, Favre lamented that some passes got away from him late in the game because of the elbow. Managing the elbow condition becomes the name of the game here because complete recovery is not likely to occur in-season and the Vikings' bye week has come and gone. It's certainly a situation worth watching for fantasy owners, but until a Sunday comes and goes without Favre on the field, it's hard to imagine him sitting out a game.
Jake Delhomme and Seneca Wallace, Cleveland Browns:
We noted the injuries to both quarterbacks in Tuesday's blog and the outlook is no better for either of them to return this week. In fact, coach Eric Mangini is indicating that the team is leaning toward
Colt McCoy
getting the start. According to the Cleveland Plain-Dealer, Mangini said Thursday that "the lean is more pronounced."
Running Backs
Peyton Hillis, Cleveland Browns:
As noted in Tuesday's blog, Hillis aggravated his quad strain Sunday, and he had not practiced through Thursday. That, however, will not keep him from Sunday's game, according to Mangini. The Cleveland Plain Dealer reports that Mangini expects Hillis to be available Sunday but also notes that newly acquired running back
Mike Bell
is "a fit for the plays we have for Peyton." Sounds like the Browns wanted Hillis-specific insurance. There's no doubting Hillis' toughness, but there might be some doubt as to whether he can be Hillis-like in the presence of this injury. And the Browns have the
Pittsburgh Steelers
on the docket this week. This could be a risky week for Hillis fantasy owners.
Ryan Mathews, San Diego Chargers:
It seemed as if Mathews was out of the woods with regards to his ankle injury, but that does not appear to be the case. Lingering soreness in the ankle has kept Mathews from practicing fully, and this week Mathews was not in practice at all Wednesday. Coach Norv Turner has hinted over the past two weeks that the goal is to have Mathews functioning like a feature back but not at the risk of setting him back. If Mathews is not able to fully practice during the week, he is not likely to be placed in that role. Mathews' ability to play Sunday does not appear to be in jeopardy, but he could very well be sharing the job with
Mike Tolbert
. Fantasy owners just love hearing that.
Wide Receivers: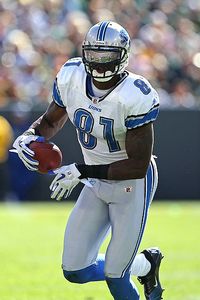 Jonathan Daniel/Getty ImagesCalvin Johnson's arm and shoulder issues could keep him out this week against the Giants.
Calvin Johnson, Detroit Lions:
Although we have not heard specifics about Johnson's injury, we have heard enough to be concerned about his status this week. Johnson was present at practice Wednesday and Thursday but he has not been able to make much use of his right arm. On Wednesday, he ran routes but caught no passes. Johnson told reporters that his range of motion was not quite all the way back. According to Dave Birkett of the Detroit Free Press, Johnson remained limited in Thursday's practice, still heavily favoring his right arm and catching passes primarily with his left. If Johnson is still struggling with overhead motion, it's unlikely that he is back to form by Sunday. We should learn more after practice Friday, but with the Lions heading for a bye next week, it would not be surprising if Johnson rests Sunday if there is no further progress.
Andre Johnson and Jacoby Jones, Houston Texans:
Johnson appeared to emerge from Week 5 relatively unscathed and will no doubt forge ahead into Week 6. Johnson's ankle is not perfect but that didn't stop him from being the top receiver for the Texans last week. Jones and his calf are another matter. Jones, who did not practice last week, was not back in practice Wednesday and is being called day-to-day at this point.
Austin Collie, Pierre Garcon and Anthony Gonzalez, Indianapolis Colts:
Collie, despite being in a protective boot most of last week, did end up playing Sunday and appeared to run well. Collie was back in the boot to start the week, however, and did not practice Wednesday, which reminds us that he is not fully recovered. Based on his routine last week, there is no reason to worry just yet about Collie's Sunday availability. Garcon did not practice Wednesday either, but there were no reports of a setback after his return to the field Sunday. Gonzalez, who has missed multiple weeks with a high ankle sprain, did limited work Wednesday and could be on track for a return this week.
The lineup for the Colts' receivers should also become clearer after Friday practices.
Quick Hits
In Indianapolis, there are questions at running back as well as receiver.
Joseph Addai
, who suffered an injury to his neck and shoulder area last week, participated in limited practice Wednesday and Thursday. It appears that he will be available this week. Teammate
Donald Brown
is back in practice after a hamstring injury also, but he is still limited.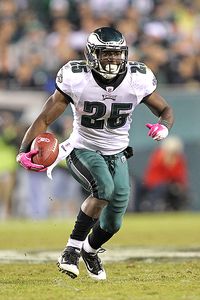 Hunter Martin/Getty ImagesLeSean McCoy rushed for 92 yards last Sunday despite dealing with a rib injury that nearly kept him out.
Eagles running back
LeSean McCoy
did not practice Wednesday, but expect him to be in the action this week. After all, if he could play as well as he did just one week after cracking a rib, there's no reason to think he'll be hampered this week. Keep in mind that former Browns running back
Jerome Harrison
, recently acquired by the team for Mike Bell, is around to back up McCoy as needed.
New Orleans Saints
running back
Pierre Thomas
has yet to return to practice, thus putting his status for this week in doubt again. While he has not been ruled out, it's worth noting that the Saints added former Seahawks running back
Julius Jones
to their roster. Coach Sean Payton assured reporters that the move was just for "depth" and not a reaction to the play of
Chris Ivory
or
Ladell Betts
. Meanwhile,
Reggie Bush
is still sidelined with a broken fibula and has yet to run outdoors. This weekend marks the four-week mark since Bush's injury (he originally projected himself to be back in four weeks), and he is hoping to return in the next week or two. We'll see how he advances in terms of activity, but the original six-week projection still appears likely.
Oakland Raiders
quarterback
Bruce Gradkowski
does not look like he will have recovered enough from his shoulder injury to take the field Sunday. He did not practice Wednesday, and
Jason Campbell
is taking the first-team reps. Running back
Darren McFadden
is still not fully recovered for this week's contest after sitting out Week 5. He did return to the practice field Wednesday, but Vittorio Tafur of the San Francisco Chronicle reports coach Tom Cable says
Michael Bush
will remain the starter this week with McFadden's hamstring not yet 100 percent.
Lions running back
Jahvid Best
did not practice Wednesday but was back Thursday. The day off may have been a proactive rest day, as there has been no word of any setback. While Best is likely still dealing with some level of discomfort, he certainly has been pressing forward and playing each week. His performance in Week 5, while not outstanding, was certainly improved from the prior week so the hope is that he will continue to trend upward.
Denver Broncos
running back
Knowshon Moreno
did not practice Wednesday but got back on the field Thursday. It's too early to determine his Sunday status, but moderate practice is quite different from a full game.
See you at Friday's 3 p.m. injury chat and we'll have the latest injury updates affecting Week 6 in the Saturday morning blog!
October, 12, 2010
10/12/10
4:27
PM ET
In Week 5, another star quarterback went down with a concussion, a wide receiver who signed a new lease on his playing life after switching teams saw his season end prematurely, and a top-10 tight end is out for some time due to knee surgery.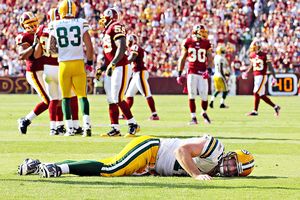 Win McNamee/Getty ImagesAaron Rodgers was struck in the head in the Packers' last offensive play Sunday.
The
Green Bay Packers
are faced with the prospect of potentially starting
Matt Flynn
this week after
Aaron Rodgers
suffered a concussion on his last offensive play during overtime Sunday. When speaking to reporters on Monday, head coach Mike McCarthy said that Rodgers "at a minimum will miss some practice time this week." His progress throughout the week will determine whether Rodgers can play in Week 6.
Meanwhile, the
St. Louis Rams
will have to make do without
Mark Clayton
, who had been their top receiver. Sadly, Clayton ruptured his right patellar tendon during Sunday's game and will need surgery to repair the tendon, followed by a lengthy rehab process. He is done for the season.
One of my favorite prospects for this fantasy season, Packers tight end
Jermichael Finley
, will be missing some time after injuring his right knee Sunday. Finley is scheduled to undergo arthroscopic surgery Tuesday to address a meniscus tear. According to the Milwaukee Journal-Sentinel, Finley is expected to be out anywhere from three to six weeks. The time frame is broad, because much depends on the extent of the damage inside the joint and what exactly surgery entails. That in turn will drive how quickly Finley is able to resume football activities, including running and cutting. At this point, fantasy owners should mentally prepare for a lengthier absence and choose a replacement wisely. Don't look to Finley's teammate
Donald Lee
for relief; he left the game with a shoulder injury and is expected to miss some time as well. (Matthew Berry has a
list of potential replacements on the waiver wire
.)
Here's who else we're talking about after a rough-and-tumble Week 5:
Joseph Addai, RB, Indianapolis Colts:
Addai made an early exit from Sunday's game after appearing to injure his shoulder. He did not participate in the team's light practice Monday. The Indianapolis Star reported Addai suffered a right-sided neck/shoulder injury after being slammed into the ground by
Kansas City Chiefs
defensive end
Glenn Dorsey
. According to the Star, Addai said Monday that "turning to the left is kind of sore," which would certainly be consistent with an injury to that region. While the first official injury reports will not come out until Wednesday, it is worth noting that Colts general manager Chris Polian appeared Monday night on the radio show of his father, Bill, and said that Addai was feeling better and hoped to play Sunday night against the
Washington Redskins
.
Meanwhile, as Tom James of the Terre Haute Tribune-Star noted, the Colts did have some good news on the running back front.
Donald Brown
, who has been out for two weeks with a hamstring injury, returned to the team's walkthrough practice Monday. He could be available this week. We should get a better picture of the running back situation as the week progresses.
Calvin Johnson, WR, Detroit Lions:
If you were among those wondering whether Johnson could have come back in the game Sunday after injuring his shoulder in the fourth quarter, he gave the Detroit News a definitive answer, "No." Johnson didn't have to say much to indicate that there's some cause for concern. Johnson left the game after landing hard on his right shoulder while making a big catch and was later seen on the sidelines with the shoulder wrapped in ice.
Johnson reportedly underwent tests Monday and, according to Dave Birkett of the Detroit Free Press, head coach Jim Schwartz said, "I'm very concerned about his shoulder but we'll see how it goes this week. It's probably too early to make any determinations." Schwartz often limits his comments when it comes to injuries, so this expression of concern is certainly enough to make fantasy owners pay attention. The Lions have a bye in Week 7 so if there is any reason to be cautious, Johnson might be resting in Week 6. Stay tuned.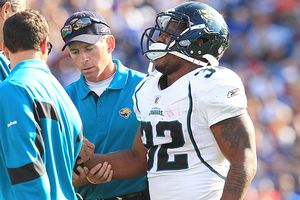 Kevin Hoffman/US PresswireMaurice Jones-Drew has not missed a game this season, but he has dealt with numerous injuries already, including suffering a wrist ailment against the Bills.
Maurice Jones-Drew, RB, Jacksonville Jaguars:
If you were watching this game, the sight of Jones-Drew in significant pain was very distressing. Just ask his teammates. According to Tania Ganguli of the Florida Times-Union, Jaguars quarterback
David Garrard
described the scare this way: "He [Jones-Drew] comes out and it looks like the season's over with his hand, the way he was screaming on the ground there," said Garrard, adding, "But he comes back in the game and is tough as all get out." Even coach Jack del Rio acknowledged that the usually quiet Jones-Drew "making a little noise" had him concerned. Del Rio went on to say that X-rays were negative and that there's "no issue" for Jones-Drew.
Ganguli reports that Jones-Drew had his hand on the ground to balance himself but was hurt when a group of defenders piled on top of him. With so many small bones in the wrist interconnected by numerous ligaments, this type of mechanism of injury is typical for a wrist sprain, but Jones-Drew is lucky that he did not suffer a fracture or dislocation, which could have resulted in missed time.
Fantasy owners have to be aging quickly as each week presents the threat of a new and serious injury for Jones-Drew, yet he keeps plugging along. So far this year MJD has dealt with a knee ailment that caused him to miss time in the preseason, a sore ankle that has limited him occasionally in practice and now the wrist. For the time being it appears that Jones-Drew remains safely on track to play this week.
Other quick hits
•
Philadelphia Eagles
running back
LeSean McCoy
did not appear to be hindered much by his rib fracture when he put up 92 rushing yards on the
San Francisco 49ers
. Given his performance and the fact that he came out of the game feeling good, expect McCoy to be in the lineup for Week 6. It's too soon to say much of anything about McCoy's teammate
Michael Vick
, who is dealing with a rib cartilage injury. Given that rest is the best medicine, it's hard to accelerate the healing process for Vick and it is an exceptionally painful injury. It would not be a surprise if he is out this week again.
• Detroit Lions running back
Jahvid Best
had a better performance in Week 5 than the week before. Is it safe to say the toe issue is behind him? It's too soon to say that he's in the clear, as these types of injuries are easy to aggravate even weeks later. And there were times where Best still looked less than Best-like, but his stock is definitely on the rise again after this last outing.
• While
New York Giants
running back
Ahmad Bradshaw
had some soreness in his ankle after Sunday's game, there were no major setbacks. Expect Bradshaw to be ready for Week 6.
•
Houston Texans
wide receiver
Andre Johnson
emerged from Sunday's matchup no worse for the wear. Johnson, though sore, managed to scrape together 95 yards and, most importantly, did not suffer any setbacks. His teammate, running back
Arian Foster
, was banged up a bit during the game and had a sore knee. Coach Gary Kubiak told reporters Monday that Foster was able to run with the team and called his prognosis for Week 6 "good."
•
Oakland Raiders
quarterback
Bruce Gradkowski
left Sunday's game near the end of the first quarter with an injury to his throwing (right) shoulder. He did attempt to re-enter the game but he clearly could not play through the problem. The Contra Costa Times reports Gradkowski underwent further tests on his sprained AC joint Monday but those results will not be released until Wednesday. It's worth mentioning that Gradkowski had already been limited to some degree in practice during the week because of his right shoulder. Although coach Tom Cable has indicated that Gradkowski will remain the starter if healthy, his status is very iffy at the moment.
• The
Cleveland Browns
may find themselves starting rookie quarterback
Colt McCoy
this weekend, by injury default.
Jake Delhomme
sustained further injury to his already injured ankle. Mary Kay Cabot of the Cleveland Plain-Dealer reports that Delhomme now has a low ankle sprain in addition to the high ankle sprain he was already nursing. Delhomme entered the Week 5 game when backup
Seneca Wallace
went down with a sprained ankle of his own. The most significant fantasy player in Cleveland has to be running back
Peyton Hillis
, who entered Sunday's game with a quad strain. He delivered a gutsy performance, but his intermittent limping showed he was not at full strength. Hillis further aggravated the injury during the third quarter. At this point, there is no word from the team as to his Week 6 status, which will warrant watching as the week goes on.
•
Denver Broncos
running back
Knowshon Moreno
was not among those players listed head coach by Josh McDaniels as out for this week's matchup against the
New York Jets
. We will need to see what he does in practice this week before having confidence that he will indeed play, but at least there is some room for hope.
We will continue to update these injuries and others as the week progresses.