Stephania Bell:

C.J. Spiller
November, 7, 2013
Nov 7
5:15
PM ET
With a matchup against the
Pittsburgh Steelers
looming this weekend, the
Buffalo Bills
will be looking for any edge they can get. Here is the latest on a couple of their fantasy-relevant offensive players:
C.J. Spiller, RB, (ankle):
It certainly looked as if Spiller's ankle was improved last week, given that he leapfrogged to over 100 yards rushing after putting up just 11 yards in his previous appearance two weeks earlier. Apparently that was no mirage, as Spiller has formally been removed from the Bills' injury report. The forced rest in Week 8 may have had dual benefits, allowing his ankle more extended physical rest as well as giving him a mental break from any feelings of frustration resulting from the injury and his inability to produce as a result. It's worth noting, however, that "improved," even "significantly improved," does not necessarily equate to a complete return to the prior level of function.
As ESPN.com's Mike Rodak reported Thursday, Spiller does not believe he is yet 100 percent. "[Sunday] it was still not where I wanted to be. We'll just continue to do the things we need to do," Spiller said. In other words, from a performance perspective, Spiller perhaps feels he is not quite himself, which is typical for athletes as they initially return from significant injury. That is not to say they have pain or are conscious of specific limitations, rather it's a general sense of not being as explosive or dynamic as their preinjury self, and it is largely a matter of getting additional reps for those elements to return. Given that coach Doug Marrone now views Spiller as "full go," those reps could come his way. At least his carries won't be limited by injury concerns; now it's a matter of whatever game plan the Bills unveil. Spiller is somewhat back in the good graces of our fantasy staff, as he was No. 12 in the
aggregate rankings this week
.
EJ Manuel, QB, (knee):
We also know the game plan this week includes the return of Manuel at quarterback, a decision made official on Thursday. Manuel has been out since spraining the LCL in his right knee in Week 5, an injury originally loosely projected to keep him out four to eight weeks. The key here was allowing enough healing time to ensure stability, and minimize risk of a more severe injury -- not only to the original injury site of the lateral or outer knee but to the knee joint as a whole -- upon return. Chronic instability on the outer portion of the knee can threaten the longevity of a player's career, so there was no reason for the Bills to rush their first-round draft pick back.
Manuel returned to full practice Wednesday and repeated the effort Thursday, showing enough to the coaching staff both in terms of how he performed and how his knee responded to the stress of practice to make the decision easier. Backup
Thad Lewis
missed Week 9 with bruised ribs after filling in for Manuel the previous three weeks, but is also back in practice. He is expected to be available Sunday as Manuel's insurance. Unlike Spiller, though, Manuel has yet to earn our fantasy staff's trust, as he is ranked
25th among QBs for Week 10
.
October, 29, 2013
Oct 29
4:11
PM ET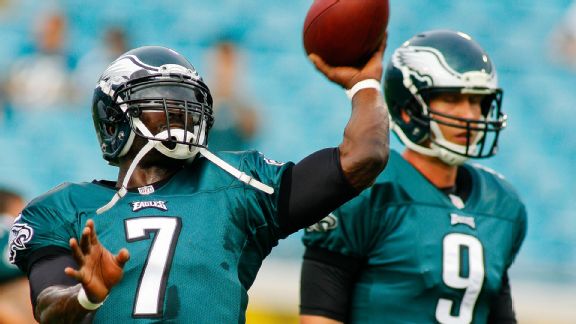 Phil Sears/USA TODAY SportsMichael Vick (No. 7) and Nick Foles are both recovering from injuries.
It's a quick-hit Tuesday.
Fortunately, this week was a little less dire than last in terms of the volume of serious injuries. There were still some of the season-ending variety, however, and more than enough scares for a Halloween week. The
Miami Dolphins
lost wide receiver
Brandon Gibson
to a torn patellar tendon, the
Tampa Bay Buccaneers
moved wide receiver
Mike Williams
to injured reserve after his hamstring injury worsened, and injury-plagued
Detroit Lions
wide receiver
Ryan Broyles
-- who has spent the last two years recovering from torn ACLs in each knee -- tore his Achilles tendon and once again is lost for the season. Some injuries really don't seem fair.
In the meantime, the majority of players are dealing with injury concerns of a lesser nature, but these maladies are still serious enough to threaten playing time. Here are some quick takes on who may be out, and who may be returning soon.
Michael Vick (hamstring) and Nick Foles (concussion), QBs, Philadelphia Eagles:
Vick returned to action after missing the Eagles' last two games, but made a quick exit when he re-injured his hamstring. Vick said he felt a "pop," and coach Chip Kelly has already said he is not expecting to have Vick in Week 9. Given that three weeks after the initial injury it only took Vick three series to suffer a setback, this is hardly looking like a fast track to recovery. According to ESPN's Ed Werder, this episode is not considered to be as severe as the initial injury and he will continue to be evaluated weekly. While it's impossible to say just how long Vick will miss, plan on more than a week, given the ease with which he suffered a setback.
Then there's the question of what happens once Vick is finally deemed healthy. That question might be answered based on the play of the one who fills in for him. Foles was out in Week 8 due to a concussion sustained the week before, leaving
Matt Barkley
to fill in, but Foles returned to practice Tuesday for the first time. If Foles continues to be well through the rest of the week, he is expected to start Sunday.
Robert Griffin III, QB, Washington Redskins, (knee):
Griffin left Sunday's game late with an apparent injury to his left knee, which is the one that is not surgically repaired. While the fanbase and fantasy owners may not have liked the sight of Griffin heading to the treatment table on the sideline -- escorted by Dr. James Andrews -- the good news is that everything checked out just fine. The decision was made to hold him out for the remainder of the game, despite Griffin lobbying to return. Coach Mike Shanahan later told reporters he expects Griffin to return to practice Wednesday, and it looks as if he will make his usual Sunday start.
Julius Thomas, TE, Denver Broncos, (ankle):
It's great when players help us out with their injury updates. Like Thomas, for instance, whom fantasy owners can thank for his tweet regarding the status of his ankle. On Monday, Thomas tweeted the following message: "Just left the facility MRI showed it wasn't a high ankle sprain so I won't be down long. Be back soon #CantWait"
The Broncos have a bye this week, so Thomas will have an opportunity to rest. No guarantees just yet that he will be ready to return in Week 10, but this can certainly be viewed as positive news. Perhaps he and his quarterback can work on their ankle rehab together.
Arian Foster (hamstring) and Ben Tate (ribs), RBs, Houston Texans:
The Texans had a bye last week, so their running backs should be healthy now, right? Not so fast. Foster suffered a hamstring strain which forced an early exit in Week 7, and Tate left that game with four cracked ribs. While both undoubtedly benefited from the rest, it's not reasonable to expect that they have healed completely.
Fractures can take multiple weeks to heal, and the challenge for Tate will be pain tolerance. Foster's history of soft tissue injuries makes his injury somewhat worrisome, but he has shown himself to be fairly resilient in the past. Whether either back has healed enough to suit up Sunday is the question, and it's not like there's an overabundance of confidence in Houston. Coach Gary Kubiak made his unease about the situation clear when asked if he was concerned.
"On a scale of what? One to ...?
The highest number
, whatever that is," Kubiak said, adding, "I don't think we're going to know anything until later in the week."
According to ESPN.com's Tania Ganguli, Tate says his pain has improved, and he expects to play Sunday, while Foster expects to "work toward" playing. We will see. Judging from the fact the Texans signed three running backs to their active roster Monday, there is reason for both Foster and Tate fantasy owners to be concerned.
Quick takes
•
St. Louis Rams
running back
Zac Stacy
was sidelined late in the fourth quarter of Monday night's game with what has been labeled an ankle sprain. The Rams have to be hoping this will not keep him from playing Sunday against Tennessee.
•
Buffalo Bills
running back
C.J. Spiller
sat out Week 8. Will he also miss Week 9? It sounds like the groundwork is being laid for that possibility. Coach Doug Marrone told reporters Monday that Spiller is dealing with a high ankle sprain, and that he will be re-evaluated this week. Meanwhile, teammate
Steve Johnson
has a hip flexor strain, and is expected to be limited in practice. Johnson has had various hip and back ailments so far this season, and this latest issue starts to prompt questions about whether he can get healthy enough to play four quarters before the team's Week 12 bye.
• Keep an eye on
New York Giants
running back
Andre Brown
(fibula fracture), who says he'll be ready to go in Week 10 when the Giants come off a bye.
Brandon Jacobs
thinks his hamstring will allow him to run again in Week 10 also, so the Giants may have some decisions to make at the position.
• Detroit Lions wide receiver
Nate Burleson
(forearm fracture) says he's eyeing a Nov. 10 return.
October, 24, 2013
Oct 24
1:42
PM ET
Fred Jackson
sprained his left MCL in Week 4 but managed to play in the
Buffalo Bills
' following contest against the
Cleveland Browns
just four days later. Last Sunday, Jackson looked to be in great discomfort at several points during the game after aggravating the injury, but he managed to get through it.
It really should come as no surprise that Jackson was given Wednesday off to rest his knee. He was back at practice Thursday and appears on track for the game against New Orleans this week. The expectation is that Jackson will play Sunday, just as he has every week this season.
The bigger question has to do with Jackson's counterpart,
C.J. Spiller
, the running back most projected to have the larger role in the Bills' running game this year. Instead, injury has limited Spiller's ability to be productive, and now his coach is wondering aloud whether Spiller should indeed take a breather. Spiller has said for some time that he expected to be dealing with soreness in his ankle up until the bye week (Week 12) but has maintained that his ankle continues to improve in the interim.
His performance would suggest otherwise, likely prompting coach Doug Marrone to consider whether the best thing might be to hold Spiller out for a week (or more). As it is, Spiller did not practice Wednesday and was limited to just individual drills Thursday.
This is always the challenge with in-season injuries. The broken legs are obvious, as are the torn ACLs; certain injuries force an absence. Virtually everything else becomes a matter of how well the player can function while not compromising his long-term health. Compromising health usually refers to the risk of exacerbating an injury to the point where it might cost a player multiple weeks. (Obviously if there were a risk of serious bodily harm by playing, the decision to sit the player is a no-brainer.) Some injuries are described as the type that "can't be made worse." Even if the particular structure involved is not likely to deteriorate further or the stability of the joint is not threatened, there is always a risk that an injured player trying to press through pain, weakness or restricted motion will compensate in some way that results in another injury.
But if every player with an ailment were forced to sit until that particular problem was 100 percent healed, there would not be enough players to field a team. Any team. If one were to survey all 32 teams and remove every player dealing with some sort of ailment from the equation, there would likely be fewer on the field than on the sideline, especially at this point of the season.
That brings the discussion around to performance. A player may be feeling better, noting improvement in his range of motion and strength or in more subtle areas like quickness and agility, but he still may not be playing to the level that allows him to be who he is when healthy. Spiller appears to be that guy right now. He can be believed when he says he's "10 times better" this week, because he no doubt can see -- and feel -- subtle improvements.
But those improvements may not be enough to translate to visible changes in game situations. Consequently, Marrone is also to be believed when he says he sees that Spiller's ankle is "probably not as well" this week as last. As ESPN.com's Mike Rodak notes, Spiller even seems to acknowledge that playing each week is likely
slowing the overall healing process
. That doesn't mean he agrees with his coach's assessment.
It is clear Spiller wants to continue to play. But when Marrone says, "We need to make a good decision this week," it certainly hints at the possibility that Spiller will not get his wish.
October, 3, 2013
Oct 3
12:01
PM ET
The
Buffalo Bills
travel to Cleveland to play the Browns in this week's Thursday night matchup. The biggest injury question heading into this game has to do with who will be running the football for the Bills. As it turns out, that question may not be answered until just before kickoff.
Running backs
C.J. Spiller, ankle (questionable), and Fred Jackson, knee (probable):
Both backs took hits that left a mark last Sunday; Spiller sprained his left ankle and Jackson sprained his medial collateral ligament (MCL).
Jackson, familiar with the nature of an MCL sprain after suffering a similar injury last season, indicated his ailment this time around was far less serious and that he fully expected to play Thursday night. He seemed to back that up by participating in practice this week, albeit on a limited basis and sporting a brace. While knee braces do not come with a guarantee of preventing injury, they can be particularly helpful with medial ligament sprains. Reinforcements along the inner aspect of the brace can help provide good resistance against medial (valgus) stress, which would bow the knee inward, stressing the MCL. Jackson, listed as "probable," is expected to play. There don't appear to be any major concerns about him being limited.
Spiller, however, might be a different story. He came into last Sunday's game with a quad injury, but after practicing in full every day, did not appear to be limited ... until the ankle injury. After spraining his ankle, Spiller carried the ball just two more times and expressed uncertainty as recently as Tuesday about his status for Thursday night. "If I can go, I'll go," Spiller said. "If I can't, I can't." According to ESPN.com's Mike Rodak, Spiller was still walking with a "heavy limp" after Tuesday's practice, where he was at least able to do some jogging.
Jogging or not, it's clear his ankle will not be at full health just four days after suffering the injury. Even if Spiller -- who practiced on a limited basis on Wednesday -- is active, he seems to be in line for less work than usual, particularly if he cannot run effectively. The biggest hint that the Bills are concerned came in the form of adding another running back, practice squad player Ronnie Wingo, to the travel list. Rodak, citing a league source, said Wingo will travel with the team, but the Bills have not yet decided whether to activate him. The Bills also have
Tashard Choice
, who stepped in last Sunday when both Spiller and Jackson were ailing and could be in line for more action on Thursday. Spiller's status may come down to pregame warm-up tests to see how his ankle tolerates planting and cutting.
Wide receivers
Steve Johnson, hamstring (probable):
Johnson's presence on the injury report because of his hamstring is nothing new, and he is expected to play Thursday night. Given the short week -- not to mention the tricky nature of hamstring injuries -- Johnson was held to limited practices throughout the week.
To put it mildly, Johnson did not have his best outing last Sunday (one reception for a 1-yard loss on six targets), perhaps due in part to not physically being at his best. He dealt with a hamstring injury in the preseason as well, pulling up while running a route just days into training camp. A sore hamstring can be a receiver's nemesis, making it difficult to get an edge on separation or limiting vertical range. This week, Johnson goes go toe-to-toe with Browns cornerback
Joe Haden
, which doesn't make things any easier.
October, 1, 2013
Oct 1
3:43
PM ET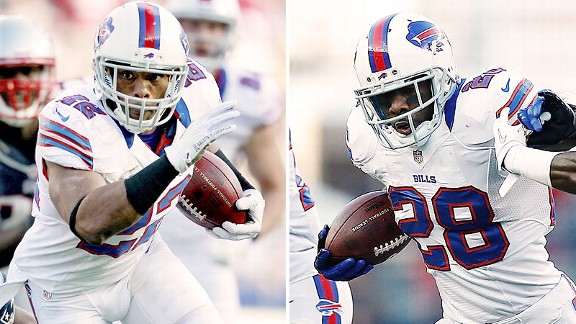 AP Photo, Getty ImagesBoth Fred Jackson and C.J. Spiller are dealing with injuries heading in the Bills' Thursday night game.
Here's a look at some key injuries in the fantasy football world that we'll be following ahead of Week 5 of the NFL season.
C.J. Spiller (ankle) and Fred Jackson (knee), RBs, Buffalo Bills:
Spiller came into the Week 4 contest fresh off a quad injury but practiced daily leading up to the game, hinting at a swift recovery. By the second half of Sunday's game, however, Spiller had another ailment. With the Bills' next contest slated for Thursday, just four days later, Spiller is now dealing with an ankle injury and sat out practice Monday.
Spiller has indicated that he hopes to play in Week 5, not an unreasonable possibility given that he returned to Sunday's game after the injury. However, the short turnaround doesn't allow much recovery time, and even Spiller said he'd like to get to 80-85 percent to be well enough to play. It begs the question as to just how much fantasy owners can expect from what will certainly be a less-than-fully-healthy Spiller, if he takes the field. "The last two games I haven't even completed a half," Spiller noted, according to the Bills' official website.
As for Jackson, he sustained a sprain of the medial collateral ligament (MCL) in his right knee. This is not a first for Jackson, who suffered a Grade 2 MCL sprain in the same knee last December and ended up missing the Bills' final three games. "I sprained my MCL again, but it's not as significant [as in the past]," Jackson said. He did practice on a limited basis Monday and expects to be ready to go by Thursday night. Both running backs will enter Thursday's game at less than 100 percent and on short rest, not an ideal scenario.
Darren McFadden (hamstring) and Marcel Reece (knee), RBs, Oakland Raiders:
Another team, another tandem of running backs impacted by injury. McFadden injured his hamstring in the first half of Sunday's game and the sight of him in street clothes in the second half made it clear he would not return. Reece injured his knee in the same game, but a subsequent MRI indicated his is a non-surgical situation. Coach Dennis Allen has not given any hints as to whether he expects either or both backs to be available this week, saying it's "too early to speculate." That won't stop fantasy owners from speculating about the possible scenarios they'll have to contend with if both RBs sit out, which includes the prospect of
Rashad Jennings
taking the lead.
Alfred Morris, RB, Washington Redskins (ribs):
Morris gingerly exited the field Sunday and looked to be in a fair amount of discomfort on the sideline. The injury was reported as a rib contusion and Morris did not return. X-rays were reportedly negative but even the absence of a fracture does not necessarily diminish the pain associated with a bruising shot to the ribs. Morris admitted to being "
a little tender
," and perhaps the greatest point in his favor is that the Redskins have a bye in Week 5. Given his level of discomfort, he very well could have been forced to sit this week out. Expect little in the way of updates on Morris over the next seven days, as the primary focus for him is likely to be rest. Look for news once pregame practices and injury reports resume for the Redskins in advance of Week 6.
Santonio Holmes, WR, New York Jets (hamstring):
Holmes has been a little slow to get started this season in his return from Lisfranc surgery, and it's going to get even slower. Holmes injured his hamstring in Sunday's game and it looks as if it's going to sideline him for an extended period. ESPN.com's Rich Cimini reports the Jets will sign veteran wide receiver
David Nelson
in anticipation of Holmes
missing extended time
.
September, 26, 2013
Sep 26
6:07
PM ET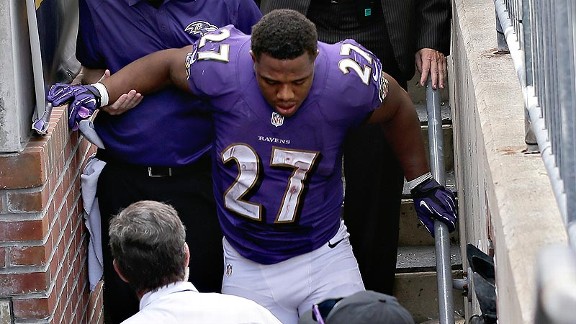 AP Photo/Patrick SemanskyAfter being knocked out of action in Week 2, Ray Rice appears on track to return.
With a few days of practices and other reports available, let's look at the NFL injury situations that are relevant in the fantasy football world.
Ray Rice, RB, Baltimore Ravens (hip):
Rice strained his left hip flexor two weeks ago, and the team held him out of the Week 3 game as a precaution, netting a start for
Bernard Pierce
. At the time, there was some discussion that Rice could miss multiple games with the injury, but coach John Harbaugh later said Rice had been very close to playing. It seems Harbaugh was being forthright, given that Rice has been in practice Wednesday and Thursday, albeit on a limited basis. It would make sense that the Ravens would control his work during the week with an eye toward ramping him up closer to Sunday. For his part, the Rutgers product said he expects to play against Buffalo.
As long as Rice does not suffer a setback before Sunday, it appears he has a good chance, although a decision may not be made before game time. Rice may be well enough to play yet not be at full strength, which could affect his power and endurance. There will be no way to tell just how well he can produce until he takes the field. This could translate to some shared work between Rice and Pierce. Given some of the Bills' vulnerability against the run, both players could benefit.
C.J. Spiller, RB, Buffalo Bills (quadriceps):
Speaking of the Bills, after an injury scare in Week 3, Spiller is doing his best to demonstrate through his practice efforts that he is ready to play Sunday. Spiller's injury -- originally labeled as affecting his knee then recategorized to his quad -- caused him to lose explosiveness and power in his leg, hence
the reason he could not finish Sunday's game
. A blow to the distal (furthest) portion of the quad could easily result in swelling, pain and inhibition of the muscle, making it difficult to generate strong muscle contraction, resulting in the feeling of a loss of power.
Spiller's leg must have responded well to early treatment for him to complete back-to-back days of full practice. He appears on track to play against Baltimore in Week 4, barring a setback. Teammate
Fred Jackson
has been seeing his share of work even with a healthy Spiller, and that pattern will likely continue this week.
Andre Johnson, WR, Houston Texans (shin):
Johnson returned from a concussion in Week 2 to start in Week 3 but left that game early with a shin bruise. On Tuesday, the Texans indicated
they hoped Johnson would progress enough
to return in Week 4. As of Thursday, whether he can remains uncertain. Johnson did not practice Wednesday and returned to the field Thursday only for individual drills. Coach Gary Kubiak told reporters after practice that Johnson remains a game-time decision for Sunday. That's not particularly encouraging for the Texans, who will face a tough Seattle defense in what is one of the week's most intriguing matchups.
Larry Fitzgerald, WR (hamstring), and Rashard Mendenhall, RB (toe), Arizona Cardinals:
Somebody is happy about Fitzgerald's recovering hamstring (besides his fantasy owners). ESPN.com's Josh Weinfuss reports that
Tampa Bay Buccaneers
cornerback
Darrelle Revis
is excited about matching up against Fitzgerald this weekend. Revis, coming off an ACL reconstruction and undoubtedly improving weekly, will have a chance to test that knee against what should be a full-speed, full-go Fitzgerald. Heading into last week, Fitzgerald was just coming off the injury and it was unknown how he would hold up. Apparently he held up just fine, since he has practiced in full each day despite the rainy weather the Cardinals are enduring in Florida. (The team stayed on the East Coast during the week in advance of the game in Tampa.) Look for Fitzgerald to start Sunday.
Fitz's teammate Mendenhall was upgraded to full practice Thursday after a limited workout Wednesday. He is still being protected, to some degree, because of a toe injury. After playing last week, but in a lesser capacity (nine carries, one reception), Mendenhall is expected to play Sunday in an increased role, given the ramping up of his work in practice this week.
Roddy White (ankle) and Julio Jones (knee), WR, Atlanta Falcons:
Both White and Jones continue to appear on the injury report, but there is no longer really any doubt as to whether they will play. The biggest question is when White will resume being a true wide receiver threat. Based on the practice reports, White appears to be following the same pattern as last week. He did not practice Wednesday, but returned for limited practice Thursday. The status quo pattern suggests there is little change from last week in terms of progress. Given that there is virtually no observation of White's practice time, it's difficult to assess whether he is making any meaningful strides.
Meanwhile, Jones was limited both days, but he continues to play and be productive on Sundays.
Reggie Bush, RB, Detroit Lions (knee):
Bush sat out Week 3 despite his indications during the week that he was optimistic about playing. This week, he has far more reason to be optimistic, as he has been on the practice field Wednesday and Thursday. He has been a full participant both days and described his knee as "feeling good." Bush reiterated to reporters that his game status is the result of a collective decision among himself, the medical staff and the coaches, adding that everyone has to feel "comfortable" with his readiness to play. If things continue to go well through Friday's practice, everyone should start to feel more comfortable about his availability Sunday.
September, 24, 2013
Sep 24
4:23
PM ET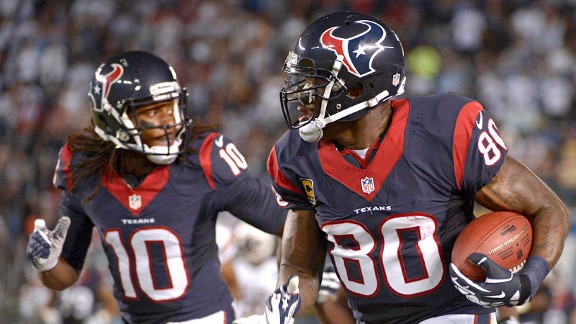 Donald Miralle/Getty ImagesHouston has a great pair of wideouts, as long as Andre Johnson (No. 80) can stay on the field.
Here's a look at some key injuries in the fantasy football world that we'll be following ahead of Week 4 of the NFL season.
C.J. Spiller, RB, Buffalo Bills (quad):
Originally, Spiller's injury was reported as a "knee" issue, but Bills coach Doug Marrone told reporters on Monday that Spiller was dealing with a "quad" injury. Marrone also said of Spiller, "I believe he'll be fine." For his part, Spiller told reporters he wasn't exactly sure how the injury happened, but he knew there was a problem when he was limping. He wanted to try to return in the second half but said he "couldn't get power, explosiveness" off that leg. As he acknowledged, he did not want to put the team in jeopardy if he couldn't perform, and he also needed to protect himself, hence the decision to remain out for the rest of the game. Spiller says he is taking it day by day, and hopes to return Sunday. However, the first true test will come in practice this week.
Andre Johnson, WR, Houston Texans, (shin):
After suffering a concussion in Week 2, Johnson progressed well enough through the week to play in Week 3. Unfortunately, he didn't last the entire game for the second week in a row after suffering a shin bruise in the second quarter. Initial X-rays taken at halftime were negative, and Johnson attempted a return in the second half. His inability to run normally was the deciding factor in his removal for the remainder of the contest. As ESPN.com's Tania Ganguli reported,
the coaches spotted it right away
, but even Johnson was forced to acknowledge he was not himself.
"I know when I went out there I couldn't play the way I am capable of playing," Johnson said, adding, "You see the film -- I'm limping around out there trying to play."
It's not surprising that Johnson's running was impaired. Any bruising or swelling in the leg area will inhibit the muscles that control the foot and ankle. On Monday, coach Gary Kubiak labeled Johnson as day-to-day, and the Texans are again hopeful that he will progress well through the week and be ready for Sunday.
Vincent Jackson, WR, Tampa Bay Buccaneers (ribs):
Jackson could be seen on the sideline during the third quarter of Sunday's game sitting on the bench with his jersey elevated, a member of the medical staff gently poking and prodding the rib cage and abdominal area. That was our first clue that Jackson was likely dealing with a rib injury, something
that was confirmed on Monday
. According to ESPN's Adam Schefter, a league source indicates the injury is not serious, but Buccaneers head coach Greg Schiano said Monday he is unsure of Jackson's availability for Week 4. In the absence of a major injury, this will likely come down to how well Jackson will be able to function in the presence of pain, especially reaching and twisting. Even breathing hard can be painful with a rib injury, potentially making even straight-line running difficult. Expect Jackson to get rest early in the week, with a decision potentially being postponed until closer to game day.
Miles Austin, WR, Dallas Cowboys (hamstring):
Austin has now hit the trifecta. This latest episode marks three consecutive seasons of dealing with some form of an injury to his hamstring, although this incident is not believed to be serious. It really is unfortunate, since both Austin and the Cowboys have tried various methods of training and practice regimens to help prevent this type of thing from happening. The fact it has happened anyway reminds us how difficult it is to completely prevent these injuries, especially in an individual who seems to be prone to them.
As far as this particular setback, Austin strained his left hamstring in the third quarter of Sunday's game, but as ESPN.com's Todd Archer reported, the Cowboys do not believe this injury is serious. Head coach Jason Garrett offered this assessment: "We don't think it's a severe hamstring injury, but we'll take his injury day to day and see how he progresses as the week goes on." Whether he returns this week or not, the confidence level in Austin's ability to avoid an exacerbation of a hamstring problem is perhaps at an all-time low.
Terrelle Pryor, QB, Oakland Raiders (concussion):
Pryor suffered a concussion late in Monday night's game. As is the case with all players, Pryor will need to progress through a structured protocol before he can be eligible to return. It is worth considering that he has one fewer day to do so, given that his injury occurred on a Monday night. Fantasy owners should consider the possibility that he may be sidelined.
November, 15, 2012
11/15/12
10:59
AM ET
After a week in which concussions were in the injury spotlight, one of the players affected has been ruled out for Thursday night's game.
Buffalo Bills
running back
Fred Jackson
will not play against the
Miami Dolphins
. Jackson was injured late in Sunday's game against the
New England Patriots
, and the Bills had already ruled him out for Week 11 by Monday. As is the case with these injuries, there is no ability to project when Jackson will return to play. One day at a time.
In the meantime, here are three other players who might be of interest on Thursday night.
C.J. Spiller, RB, Buffalo Bills, shoulder (P):
Spiller's shoulder injury dates back to Week 3. At the time, the injury appeared serious and Spiller was even carted to the locker room. It turned out to be less severe than originally thought (a sprained left AC joint) and Spiller was able to make it back to play the following week. Given the combination of injuries to Spiller and Jackson, the two have found themselves in a time-share situation. Until now. With Jackson out, head coach Chan Gailey has already indicated Spiller will get "lots of opportunities this week," according to the Bills' official website. Gailey noted they are not afraid to have Spiller carry the ball 25 to 30 times, if that's what it takes to win. Spiller's shoulder injury appears to be largely a thing of the past, but the Bills continue to list him on the injury report (as probable), perhaps as a result of their league-office fine earlier this season for failure to disclose defensive end
Mario Williams
' wrist injury. Expect Spiller to get plenty of action tonight.
Brian Hartline, WR, Miami Dolphins, knee (P):
Hartline has been on the injury report for the past couple of weeks, initially with a groin injury but now listed because of a knee ailment. He has not missed any time, however, and in the first game after appearing on the injury report, he racked up his third-highest yardage total of the season. The probable tag indicates his status is not in doubt for Thursday's game and there is no reason to think he'll be limited.
Jabar Gaffney, WR, Miami Dolphins, knee (Q):
Despite the questionable tag, Gaffney is expected to play, according to Armando Salguero of the Miami Herald. Gaffney has only been with the team since October and has had limited contributions thus far. Nonetheless, it appears he will be available Thursday night, although it would be wise to check the pregame inactive report.
September, 25, 2012
9/25/12
6:23
PM ET
Week 3 is in the books! What a week for injuries. Several players suffered season-ending injuries, including
New York Jets
cornerback
Darrelle Revis
, who tore his left ACL and is expected to
undergo season-ending surgery
within the next few weeks. The
Dallas Cowboys
lost defensive back
Barry Church
to a torn right Achilles tendon. And
Indianapolis Colts
wide receiver
Austin Collie
, who was making his season debut after a delayed start because of concussion, suffered a season-ending patellar tendon rupture. Given Collie's extensive and serious injury history, his future in the NFL appears uncertain. As for the slate of other injuries, here's what we're looking at to start the week.
Quarterbacks
Matthew Stafford, Detroit Lions (leg):
Stafford told the Detroit Free Press after Sunday's game that he felt a pull in his hamstring or glute area and he just couldn't run at full power, hence his fourth-quarter exit. He also indicated this was something he'd felt earlier in the week during practice and then it flared up during the game. He was scheduled for an MRI on Monday, but there has been little in the way of specifics since. As is his routine, head coach Jim Schwartz offered nothing substantial, but he did tell reporters he would make a decision about Stafford's status by Friday.
Matt Schaub, Houston Texans (ear):
This might be a first, listing "ear" as the injured body part. Schaub took a vicious hit that knocked his helmet off, and he immediately grabbed the side of his head. The reason, it turned out, was the helmet took a piece of his left ear with it when it sailed off his head. Schaub, remarkably, missed only one play. He also visited the locker room in the third quarter for X-rays on his left shoulder (which obviously came back negative). Bruised but not broken, Schaub was back in practice Monday, according to the Texans' official website. Looks like it will be business as usual come Sunday.
Running Backs
[+] Enlarge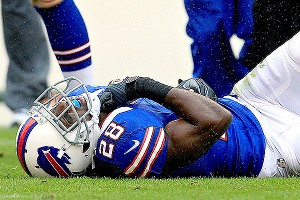 AP Photo/Tony DejakC.J. Spiller had been putting up big numbers all season long before injuring his shoulder on Sunday.
C.J. Spiller, Buffalo Bills (shoulder):
Spiller went down hard on his left shoulder under the weight of his tackler and was in immediate visible pain. The two most common results from having the point of the shoulder driven into the turf are a broken clavicle (collarbone) (see:
Ryan Mathews
) or a sprained acromioclavicular (AC) joint, the joint where the tip of the shoulder blade or acromion (A) and the clavicle (C) meet. The AC joint is bound together by several ligaments; any ligamentous injury is a sprain, but if the sprain is severe enough to allow the bones to move apart, the injury is often referred to as a separated shoulder. In Spiller's case, the mechanism of injury combined with his response suggested something serious. It appears, however, that that is not the case.
The Bills have not formally declared the nature of Spiller's injury, referring to it only as his shoulder. During an appearance on "The
Fred Jackson
Show" in Buffalo on Monday night, Spiller said when asked what the injury was being called, "I'm not sure yet." Spiller noted that he had undergone several tests but, most importantly, commented on how much improvement there had been in just over 24 hours. "Actually, I'm very surprised the movement that we have in it," Spiller said. "I got the full range of motion, which is really weird when you have an injury like I do."
Spiller remained guarded about his availability for Week 4. "I definitely want to get out there, but we also want to be smart about it." According to the Buffalo News, head coach Chan Gailey said Spiller was unlikely to play but added the Bills were "not going to completely rule him out."
Reggie Bush, Miami Dolphins (knee):
Bush left Sunday's game against the Jets in the first half with a left knee injury. He was seen limping slightly, then riding the stationary bike later. Bush, who has an injury history that includes a sprained PCL, a torn meniscus, a fractured fibula (the latter to his right leg) and several arthroscopic knee surgeries, underwent an MRI on Monday to assess the damage. The good news is that there was no major damage to report, and Bush has not yet been ruled out for Week 4. Until he gets through some practice reps, he is not a lock to play, but this is certainly more encouraging than initially thought. Unfortunately, there is a potential cumulative toll of these injuries on Bush's knee health over the long haul.
Willis McGahee, Denver Broncos (ribs):
McGahee left Sunday's game against the Texans because of a rib injury. On Monday, the Denver Post reported McGahee's status as day-to-day according to head coach John Fox. Fox also indicated McGahee's injury involved the rib cartilage (which connects the ribs to the sternum). From a pain perspective, there isn't much difference. The ribs themselves can fracture, but the cartilage can also crack if the damage is significant enough. There are also numerous small muscles in the rib cage that can cause pain if bruised or torn. The problem with all of these injuries is they are often slow to completely heal, but the decision to play typically comes down to whether a player can perform in the presence of pain or not.
Wide Receivers
Miles Austin, Dallas Cowboys (rib):
Austin left Sunday's game in the fourth quarter to get X-rays on his ribs. Clearly the results were negative since he returned to the game shortly thereafter and continued to add to his fantasy numbers. No one was talking about his hamstring or ribs after he posted more than 100 yards.
Darrius Heyward-Bey, Oakland Raiders (concussion/neck):
The sight of any player lying motionless on the ground, then being spine boarded and transported to a hospital for evaluation, is frightening. The best news possible came the next day when it was announced that Heyward-Bey had been released from the hospital after suffering a neck strain and a concussion and that he is expected to make a full recovery. No fracture, no spinal cord injury. And no talk of football right now. As is the case with all athletes who sustain head injuries, Heyward Bey's progress will be monitored closely and his activity will be increased on a gradual basis.
Dexter McCluster, Kansas City Chiefs (elbow):
McCluster landed awkwardly on an outstretched arm and his elbow appeared to buckle. He was in obvious pain and the medical staff tended to him briefly on the field before escorting him off. After the game, the Kansas City Star noted McCluster was in a sling, but the Chiefs have not offered a specific injury update since then. McCluster had been on the injury report the previous week with a shoulder injury. It would not be a surprise if he ends up missing at least this week.
Tight Ends
Jared Cook, Tennessee Titans (shoulder):
Cook injured his shoulder late in the first half and it was reported by The Tennessean to be an AC sprain (see: C.J. Spiller note). Cook was in a sling following the game, but the Titans sound as if they expect him to be available in Week 4. Still, he'll need to show in practice that he can get his arm sufficiently elevated and absorb some contact through that side in order to play.
We're keeping an eye on
Ahmad Bradshaw, RB, New York Giants (neck):
Bradshaw missed Week 3 with a neck injury and the team offered no details as to the specifics, including how much time he might miss. After visiting with team doctors Monday, however, Bradshaw, who had just received clearance to return to practice,
tweeted the following
: "Great news! Thanks everyone for ur thoughts and prayers. But u dnt understand, I'm Ready to rock #bigblue #health." Bradshaw's level of activity in practice this week should offer clues as to his readiness to return to play. Of course, teammate
Andre Brown
filled in admirably during Bradshaw's absence and he won't disappear completely when Bradshaw returns.
[+] Enlarge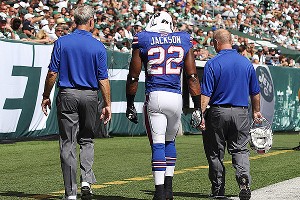 Ed Mulholland/US PresswireFred Jackson might be able to return just in time to replace injured backfield mate C.J. Spiller.
Fred Jackson, RB, Buffalo Bills (knee):
Jackson has made progress more quickly than anyone anticipated and looks as if he will return to practice this week. Shortly after suffering a sprained LCL, Jackson targeted the game against the Patriots in Week 4 as a return date. Now it's possible he may actually reach that goal. Jackson gave himself a "70-75 percent chance" of playing this Sunday, although even if he does return, the likelihood would be that he yields some of the work, perhaps to
Tashard Choice
if Spiller is out.
Matt Forte, RB, Chicago Bears (ankle):
According to the Chicago Tribune, coach Lovie Smith says "hopefully" Forte will return to practice this week. That's still quite a ways removed from returning to play. The Bears are also working out running back
Ryan Grant
on Tuesday, according to
ESPN Chicago
.
Jeremy Maclin, WR, Philadelphia Eagles (hip):
After sitting out Week 3 because of a hip injury, Maclin is expected to return to practice this week and be available Sunday.
Hakeem Nicks, WR, New York Giants (foot):
Nicks missed the Thursday night game in Week 3 because of soreness in his surgically repaired foot. After the extra rest, he is expected to return in Week 4.
October, 6, 2011
10/06/11
5:47
PM ET
The season has ended for two more players:
Miami Dolphins
quarterback
Chad Henne
will undergo surgery to repair a separated left (nonthrowing) shoulder suffered in Week 4, and
St. Louis Rams
wide receiver
Danny Amendola
will need surgery to repair a torn left triceps. Amendola has been out since the season opener after dislocating his elbow. As if the injuries alone weren't bad enough, ESPN sports business contributor Andrew Brandt points out that both players were in the final year of their respective contracts. Entering free agency with the uncertainty of coming off season-ending surgeries is less than desirable. At least Henne can point to
Matthew Stafford
as someone who had a similar surgery on his
throwing
shoulder, and we all (especially appreciative fantasy owners) know how well his recovery has turned out.
With that we turn to those players who could affect your fantasy roster this week.
[+] Enlarge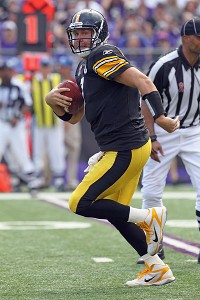 Mitch Stringer/US PresswireBen Roethlisberger expects to play Sunday, but don't expect him to be terribly mobile.
Ben Roethlisberger, QB, Pittsburgh Steelers:
Roethlisberger was wearing a protective boot at Wednesday's practice and is limiting stress on it early in the week. After he got back to practice Thursday, the expectation is that Roethlisberger will play Sunday. The team already is making preparations for that possibility, not unlike those taken last season to protect his then-ailing right foot. Roethlisberger indicates he will wear a modified shoe, one that is a size larger than normal with a metal reinforcement to limit bending in the injured region of his foot. While the shoe is intended to protect his foot, by design, it also limits mobility in the forefoot. Since it is the left foot that is affected, the one Roethlisberger steps into as he throws (i.e., not his plant foot), the injury is not likely to significantly affect his delivery. Unless pain prevents Roethlisberger from transferring his weight properly and forces him to throw from his back foot, passing should not be a huge issue.
Thursday practice undoubtedly went a long way in proving he could make necessary throws. General mobility, particularly movements such as pivoting to the right, which requires pushing off the left foot, will be more challenging. That said, Roethlisberger repeatedly has demonstrated that he can play through pain and perform effectively even when his mobility is compromised. Of concern has to be the fact that he already has been sacked 14 times this season. Naturally, the more protection Roethlisberger can secure Sunday when the Steelers face the
Tennessee Titans
, the less the chances of aggravating the injury in-game, so the offensive line is officially on notice.
Arian Foster, Ben Tate and Derrick Ward, RB, Houston Texans:
Foster had a strong Week 4, rushing for 155 yards on 30 carries, and, most importantly, he emerged from the game no worse for the wear. Foster's health is critical this week with the team's primary receiver,
Andre Johnson
, having suffered a significant injury and the team's depth at running back compromised somewhat by injury this week as well. Tate suffered a groin injury in Week 4 and left the game early. While the team says he is making progress, he has not practiced yet this week. Ward has been out since Week 1 because of a high ankle sprain. He received an injection last week, and although he has not yet practiced, he has done some light running and cutting, according to the Houston Chronicle. Ward hopes to return to practice Friday, at which point the Sunday game plan for running backs should start to take shape. The one thing that appears certain is that Foster is expected start and carry a heavy workload against the
Oakland Raiders
.
Rashard Mendenhall, RB, Pittsburgh Steelers:
Mendenhall strained his hamstring in Week 4 and was unable to practice Wednesday or Thursday. While Mendenhall still could make an appearance Friday, practice sessions are preparing
Isaac Redman
to be the starter. Redman showed some nice running ability when he stepped in for Mendenhall in Week 4, perhaps making the decision easier to allow Mendenhall's hamstring adequate recovery time. Fantasy owners in need of a running back for Week 5 should try to snap up Redman if he's still available.
Quick Hits
• Houston Texans wide receiver Andre Johnson will be
out for an extended period
, as we indicated Tuesday. While the Texans have acknowledged that Johnson underwent some type of procedure on his hamstring, the details have been notably absent. There have been multiple reports of a projected three-week timetable. However, coach Gary Kubiak, speaking to reporters after Wednesday practice, indicated the team would not put a timeline on Johnson's return, saying, "The doctor feels good about it. Andre feels good about it." There you have it. Everyone's feeling good.
Everyone, that is, except fantasy owners wondering what to do with Johnson. The short-term approach is wait and see. Johnson showed remarkable resiliency last season in mostly playing through an ankle injury that likely would have sidelined others longer, and clearly the Texans expect to have him back this season. Although Johnson is likely to miss several weeks, if his hamstring is indeed improving, his activity level should increase within the next week. Only once he starts pushing it will we get a sense of whether things are going according to plan. For now, it seems a little early to jump ship. Meanwhile,
Jacoby Jones
becomes the Texans' No. 1 wide receiver option.
[+] Enlarge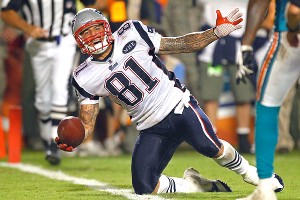 Mike Ehrmann/Getty ImagesAaron Hernandez has missed the past two games with injury but had TDs in his first two games of the season.
•
New England Patriots
tight end
Aaron Hernandez
might be the most asked about player in my chats, emails and Twitter. I wonder whether he knows just how popular he is. He hasn't appeared in this space since last week because once a player is ruled out of a game, there's nothing to report until he returns to practice ... or goes backward. So today, some good news. Hernandez was not only at practice Thursday, albeit on a limited basis, but it was a full pads workout. That is a pretty strong signal that he is at least testing the knee (and his sprained MCL) with a more rigorous workout to see how it responds. This is at least encouraging for the prospects of having Hernandez available Sunday; it will be even more so if he follows it up with another practice Friday. Caution is warranted, however. It might still be early for return to competition, but if Hernandez holds up well this week, it certainly suggests his return could be near.
•
New York Giants
running back
Brandon Jacobs
did not practice Wednesday or Thursday because of a swollen knee. According to the New York Daily News, Jacobs wanted to return to practice Thursday but was held out an extra day "to be safe." The concern is still only minor, unless Jacobs is "safely" held out again Friday.
•
Green Bay Packers
running back
Ryan Grant
returned to full practice this week after receiving medical clearance. Grant missed Week 4 with a bruised kidney but was actually feeling well early in the week. Consider it a week to get fresh legs. Grant should be a full go Sunday night in Atlanta.
•
Denver Broncos
running back
Knowshon Moreno
is participating fully in practice. After just two carries for 4 yards last week, the hope is he will increase his activity this week. Daily practice with no setbacks could go a long way in making that happen.
•
Buffalo Bills
wide receiver
Steve Johnson
does not appear on the injury report this week. The groin injury he aggravated earlier this season seems to be doing better. Teammate
C.J. Spiller
did not practice Wednesday due to a sore knee but was back to full practice Thursday.
•
San Diego Chargers
tight end
Antonio Gates
is again looking like he'll be out Sunday, as he has not practiced in order to rest his sore foot. Teammate
Vincent Jackson
has a hamstring strain to accompany the abdominal strain he's been nursing for a few weeks. Jackson is likely to have a week much like last week in which he spends most of it resting. The team hopes he will be able to go Sunday -- and he certainly has delivered despite being at less than full capacity -- but the dual injury combination might affect just how much playing time he'll see.
• And
San Francisco 49ers
running back
Frank Gore
tells reporters his ankle is feeling much better this week than last. It's amazing what a big late-game performance and a 3-1 record can do for one's spirits. So far Gore has been limited in practice, but if he played last week, it's a safe bet he'll be out there again Sunday when the 49ers host the
Tampa Bay Buccaneers
.
See you at the
injury chat Friday at 11 a.m. ET
, and we'll have the latest injury updates affecting Week 5 in the Saturday morning blog.