Stephania Bell:

Carlos Quentin
August, 22, 2011
8/22/11
2:39
PM ET
• It was nice to see
Philadelphia Phillies
righty
Roy Oswalt
have such a successful outing this weekend. Remember in June when Roy Oswalt expressed so much frustration with his ongoing back troubles that he thought his career might be over? That moment seemed like a distant memory Sunday when Oswalt looked like, well, vintage Oswalt tossing eight shutout innings and fanning nine in the process. Oswalt showing he indeed has quite a bit left in the tank.
• Another pitcher who is making strides is
Atlanta Braves
ace
Tommy Hanson
, currently on the DL with inflammation in his throwing shoulder. Hanson was able to play catch Saturday and is scheduled for a light bullpen Monday. The return to throwing off the mound is always a big test as it increases the stress on a pitcher's arm. If the session goes well, the Atlanta Journal-Constitution reports Hanson could make a rehab start Saturday. The key for Hanson, who currently stands at 130 innings pitched this season, will be taking it slowly to guard against setbacks.
[+] Enlarge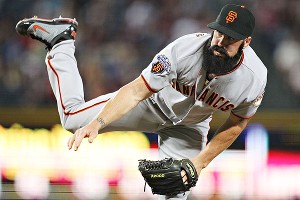 Daniel Shirey/US PresswireBrian Wilson has 35 saves this season, but his WHIP is a subpar 1.49.
• Meanwhile,
San Francisco Giants
closer
Brian Wilson
was placed on the 15-day DL with elbow inflammation. Wilson paid a visit to Dr. Andrews last week (the Giants were in Atlanta to play the Braves and Andrews was close by in Alabama) and was reassured that structurally the elbow was sound. Initially, it sounded as if Wilson would only miss a few days but the move to the DL should not have anyone panicking just yet. First, when Andrews has serious concern about a player's elbow health, he often recommends extended rest and rehab of at least four weeks (like the
Oakland Athletics
'
Brett Anderson
, who did just that but ultimately needed Tommy John surgery). Second, the DL remains a roster management tool and this case allows the Giants to shore up their bullpen. On Sunday, John Shea of the San Francisco Chronicle reported via Twitter that manager Bruce Bochy indicated Wilson could return at the end of the 15 days. Better to get some more rest now and not force Wilson into what could become a more serious issue.
• The
Chicago White Sox
's
Carlos Quentin
has a sprained left A-C (acromioclavicular) joint, the result of a diving catch Saturday against the
Texas Rangers
. The A-C joint, at the tip of the shoulder, is where the collarbone (clavicle) meets the acromion, or point of the shoulderblade, and is bound together by ligaments. When those ligaments are injured, it is termed a sprain. When the sprain is severe enough to cause major ligament disruption, the bones can move apart from one another or "separate," hence the term separated shoulder, which is often used to describe more significant A-C injuries. An interesting note on Quentin. X-rays were reportedly negative of his shoulder, yet the MRI revealed the sprain. This would suggest that the damage is not severe. If the ligament damage was severe enough to result in true separation, the deformity would be visible on X-ray, even though the ligaments themselves are not. The MRI, however, can visualize soft tissue as well as inflammation in the area, confirming the diagnosis of an A-C sprain.
Even a minor A-C injury can be painful, making it difficult to lift the arm. Even though the injury is to Quentin's non-throwing shoulder, the biggest challenge will be using his arm when swinging the bat. Quentin acknowledged as much when he told the Daily Herald, "as a hitter I think your front shoulder is more important." The key early is to control pain and inflammation so that Quentin can regain the necessary range of motion to use his arm properly. Maintaining strength around the shoulder to the best degree possible while the injury winds its course will also be a focus.
•
St. Louis Cardinals
veteran shortstop
Rafael Furcal
must seriously wonder who or what is out to get him now. After breaking his left thumb in early April on a headfirst slide and then straining an oblique in June (resulting in another month away from the game), Furcal suffered a freak injury while on the road with his new team, the St. Louis Cardinals, this weekend. It wasn't even an injury sustained during the course of
playing
baseball. According to the St. Louis Post-Dispatch, Furcal suffered a "severe thumb sprain" when he stumbled as a wooden step leading to the batting cages at Wrigley Field broke. In an effort to brace his fall, Furcal's thumb was twisted resulting in the injury. The bad news? This injury is to his right (throwing) hand. The good news? Well, it's not the same thumb he broke this spring. And maybe, if things really do happen in threes, his 2011 injury woes are now over. As to when he'll be able to return, there's no immediate answer as much will depend on how soon the pain and swelling subside and when Furcal can regain his grip.
[+] Enlarge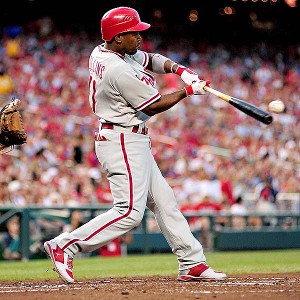 Evan Habeeb/US PresswireJimmy Rollins is fourth among shortstops on the Player Rater this season.
• Philadelphia Phillies shortstop
Jimmy Rollins
' calf has stayed healthy this season but he was forced to leave Sunday's game early with a groin injury. Manager Charlie Manuel indicated he did not know when or how Rollins sustained the injury, according to the Philadelphia Inquirer. However, Rollins underwent an MRI on Monday and tweeted afterward that he had a grade 2 strain and would be headed to the disabled list. As a shortstop, Rollins relies on quick lateral movement more than most, so a significant groin injury could be problematic.
• Teammate
Placido Polanco
is saying he expects to be activated from the DL on Monday. Polanco has been out most recently with a sports hernia and told the Philadelphia Inquirer he feels stronger after the rest. It will be interesting to see how Polanco fares once he returns to baseball. Many athletes try to play through this injury -- some are even successful for a while -- but often ultimately find themselves resorting to surgery. Exhibit A:
Mike Cameron
who fought valiantly through an early season injury last year while with the
Boston Red Sox
but increasingly struggled to run until the injury forced him out. Exhibit B:
Washington Nationals
third baseman
Ryan Zimmerman
, who tried to play after suffering the initial injury during spring training but was forced to undergo surgery when it worsened. It's understandable that Polanco wants to try to play through it, given the timetable for recovery almost matches what's left of the regular season. But it will be challenging, especially in light of his recent issues with a bulging disc in his lower back.
• There was some excitement within the
New York Mets
organization Saturday after
Jose Reyes
did some running in the home park. Manager Terry Collins told the New York Post that Reyes looked "terrific." After his successful outing, Reyes spent Sunday running soft turns, "hugging the outfield grass" according to ESPN New York's Adam Rubin, in preparation for turning corners. The next big test is expected to come Monday when Reyes will increase the output while running the bases. If all goes well, a rehab assignment could be in short order and according to Rubin, Collins says Reyes will head to Double-A or Triple-A for that assignment. Bear in mind that Reyes' latest DL stint came just two weeks after he returned from the prior one (for the same injury) and no one wants history to repeat itself again. While it's impossible to guarantee a successful return, it seems likely the Mets will want to have Reyes repeatedly test the leg at a fairly high level before he rejoins the team.
• Speaking of hamstrings and setbacks, Texas Rangers third baseman
Adrian Beltre
knows a thing or two about such matters. Beltre injured his left hamstring in July, suffering a Grade 1 strain which was expected to sideline him for two to three weeks. He was nearing a return right around the three week mark. Then he tried to run the bases (there's a reason it's one of the final tests). It went well the first time, but in his second effort Beltre felt the familiar grab in his hamstring and was sent back to square one. Now, it's time for him to test the hamstring again. According to the Fort Worth Star-Telegram, Beltre is expected to run the bases Monday if cleared by the Rangers' team physician. There has to be a little anxiety around this activity not only for him but for the team as well, given the previous result. Expect a gradual progression to continue even if this activity is successful.
• And finally, the jury is still out on
Florida Marlins
shortstop
Hanley Ramirez
, on the DL with a left shoulder sprain. Ramirez has been able to work out (throwing, running) but has not been swinging the bat. The injury is to his lead shoulder (see Carlos Quentin above), the same shoulder he previously had operated on following the 2007 season to address a torn labrum. It remains to be seen whether he will be able to overcome this latest injury to return to the Marlins this season.
July, 8, 2009
7/08/09
1:32
PM ET
A couple of players returned this week, one just in time for the All-Star Game.
Aramis Ramirez
rejoined the Cubs' lineup Monday but struggled at the plate in his first outing. Ramirez, who returned from a dislocated left shoulder suffered in May, still experiences some discomfort in that shoulder when he swings the bat. Although not surprising, it still raises a bit of a red flag.
This was not the first injury to Ramirez's shoulder, and it would not be shocking if he ultimately requires surgery to stabilize it. Given that possibility, Ramirez and the Cubs have to hope that he can hold off long enough to be able to deliver for the remainder of the season. The concern from a production standpoint is that the anticipation of pain, especially on a swing and miss, could cause Ramirez to become apprehensive or guarded at the plate. Persistent shoulder discomfort is what hitters like
Hanley Ramirez
and
B.J. Upton
experienced, ultimately leading them to undergo surgery.
Speaking of surgery, the Rangers'
Josh Hamilton
recently rejoined the lineup after a monthlong absence. Hamilton, who underwent surgery to repair a torn abdominal muscle, has looked solid in his return and seems certain that all his symptoms are behind him. The Rangers have every reason to be encouraged, as the prognosis after this type of surgery has been generally excellent. As a bonus, Hamilton returned to the lineup sooner than expected, and he likely will record his second straight All-Star appearance.
Naturally, a few players have gone on the disabled list, but this week, everyone benefits from the timing of the All-Star break, including fantasy owners. Assuming the latest additions to the injury ward can recover quickly, they should miss fewer total games. That decreased absence time is especially helpful when it comes to pitchers. So that's where we start. ...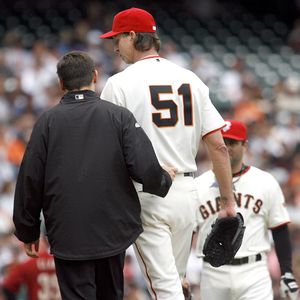 AP Photo/Dino VournasIt's not often you can say that it's a relief that Randy Johnson left the game with only a shoulder injury, like he did Sunday.
Randy Johnson, P, Giants:
At least it's not his back. Usually when a pitcher has a shoulder strain, it signals cause for concern. In this case, there's reason to be relieved that Johnson's shoulder, not his twice-operated-on spine, is sending him to the DL. The troubles Johnson has had with his back in the past were potentially career-threatening, but he worked diligently through intensive rehabilitation and found his way back to the mound. In 2009, he made a new home with the
San Francisco Giants
and earned his 300th win.
Given that back problems often recur (Johnson experienced just that with disc problems in back-to-back seasons) and given Johnson's treelike height of 6-foot-10, a third spine issue just might be enough to do him in. His back seemingly has held up very well through this season, however, and he has not appeared to suffer any shoulder issues while throwing.
In fact, it was the swing of a bat that initially strained Johnson's shoulder. In the third inning of Sunday's contest, Johnson grabbed his left (throwing) shoulder after swinging and missing on a third strike, according to the Giants' official Web site. Although Johnson returned to start the fourth inning, he promptly gave up two home runs, and catcher
Bengie Molina
noticed that Johnson's velocity had dropped sharply. In the face of the evidence that all was not right, Johnson summoned Giants athletic trainer Dave Groeschner to the mound and was promptly escorted off the field.
A subsequent MRI on Johnson's shoulder revealed a strain, suggesting a muscular or tendinous issue, but the team has released no details beyond that. If the strain is indeed minor, Johnson may be in good shape. The timing of the All-Star break helps to some degree, but Johnson is 45 years old, so it may be necessary to allow some additional healing time. Complete healing of the shoulder is critical to ensure that Johnson does not end up compensating and placing undue stress on his spine. At this point, there is no reason to believe that this injury will spell Johnson's demise, but the team will be sure not to rush him back unnecessarily. Translation for fantasy owners: Plan on a few weeks' worth of insurance.
Mark DeRosa, 2B, Cardinals:
A strained left wrist was the initial diagnosis for DeRosa, who injured himself, like the aforementioned Johnson, while swinging the bat and missing. How about a little bit more irony? Johnson was on the mound on June 30 and delivered the pitch that resulted in DeRosa's injury. (Johnson hurt his shoulder on a swing-and-miss in his subsequent outing.)
The Cardinals decided to place DeRosa on the DL on Tuesday when it became apparent that he would need some additional recovery time for the wrist. As it turns out, DeRosa has a partially torn tendon sheath (connective tissue surrounding the tendon), according to the St. Louis Post-Dispatch, so the injury takes on a more serious note than first suspected.
According to the Post-Dispatch, DeRosa was "kind of panicking a little bit" the night of his injury, no doubt feeling the pressure of wanting to perform for his new team but finding himself incapacitated. A cortisone shot to decrease inflammation had him feeling better quickly, but not well enough to swing the bat. Subsequent tests obviously bore out DeRosa's concern.
In the big picture, this is the type of injury that can heal on its own, although it doesn't eliminate surgery as an option if that fails. Wrist injuries, however, even minor ones, are often underestimated as far as their ability to sap the power from a hitter. Any lingering discomfort will result in an inability to grip the bat at full strength, automatically changing a hitter's stroke.
The Cardinals are wise to use the All-Star break to their advantage. DeRosa's DL stint is retroactive to July 1, so he will be eligible to return for the first game after the break if his wrist permits. That timeline is unlikely, however, and DeRosa will need to prove that he repeatedly can swing pain-free before rejoining the lineup. After all, the Cardinals made the deal with the Indians to acquire DeRosa so that they would benefit from his bat throughout the second half of the season; better to wait now and give his wrist the best opportunity to heal than to jeopardize his power going forward.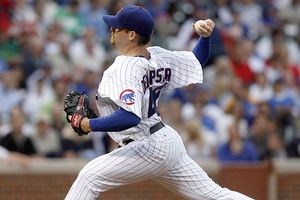 AP Photo/John SmierciakA so-so year for Ryan Dempster has gotten worse thanks to a broken toe suffered while celebrating a Cubs win.
Ryan Dempster, P, Cubs:
Dempster was placed on the DL on Tuesday with a broken right toe. For any of you out there who have experienced a toe injury, it is easy to appreciate just how disabling an injury to such a tiny body part can be. For a right-handed pitcher, a painful toe on the push leg makes it virtually impossible to bring one's body weight over the top during delivery.
To add insult to injury, Dempster didn't hurt himself in the heat of the game making a spectacular play. His injury came, innocently enough, as he hopped the dugout fence Sunday in celebration following the Cubs' victory over the Brewers. According to the Chicago Tribune, manager Lou Piniella said Cubs trainer Mark O'Neal indicated Dempster would miss "at least three weeks and probably four," which translates to six or seven starts. Dempster will be in a walking boot to minimize motion at the toe and allow the bone to heal, but he will be able to exercise his throwing arm. The good news for Dempster is that the fracture was nondisplaced, meaning the bony ends are in alignment and should heal well. The key will be how quickly he can regain his range of motion in the toe once he is cleared to remove the boot.
Brandon Webb, P, Diamondbacks:
For the time being at least, it appears that Webb will not undergo surgery on his throwing shoulder. That decision came after Webb sought input from multiple specialists. Webb has not been able to pitch since his abbreviated Opening Day start and has struggled in his rehabilitative efforts thus far. His original diagnosis of a teres major muscle strain (a muscle located on the back side of the shoulder, not part of the rotator cuff muscle group) is certainly a nonsurgical injury. According to the Diamondbacks' official Web site, Webb was told that the muscular weakness had led to compensations, which in turn created an impingement (pinching) of some of the structures within the shoulder joint.
Webb clearly seemed relieved that several top orthopedic surgeons had all come to a similar conclusion about his shoulder; he doesn't need surgery and should be able to return with continued rehabilitation. "I've had some of the best doctors in the world for this stuff look at me, and they all say pretty much the same thing," Webb said. "Hopefully I can get this shoulder stronger, then start throwing a little and be back to make a few starts in September. The doctors said that's a realistic goal."
Obviously for fantasy owners, a few starts by Webb in September are not likely to be all that helpful, if they even come to pass. But for those who have Webb in a keeper league, the fact that he won't have his shoulder opened up surgically is a huge plus for his future value.
Chipper Jones, 3B, Braves:
Consider this just another Chipper Jones minor injury alert. Jones apparently has a groin strain that caused him to miss Tuesday's game and may keep him down for a few more. Jones' fans and fantasy owners are by now familiar with his intermittent injuries. Jones told the Atlanta Journal-Constitution that his absence should not extend beyond a few days. He's usually pretty accurate when assessing his aches and pains, so no need to panic here.
On the mend
• Padres ace
Jake Peavy
had his injured posterior tibialis tendon on the inside of his right ankle re-examined this past week. The recommendation was, well, more of the same. Peavy, who has been sporting a walking boot for more than two weeks to protect his injured tendon, has been relegated to approximately two more weeks in the boot.
It's not just the healing of the tendon. Restoring normal ankle motion is a project after this much time in a boot. Although Peavy is able to participate in some rehabilitative activities to ensure that his ankle does not stiffen up completely, it is a different matter to be able to carry that range of motion over to weight-bearing and pushing-off activities (i.e., walking, jogging and, yes, pitching) once he is allowed to do so.
Late August or early September still looks like the earliest possible return date for Peavy, with emphasis on possible.
• Phillies outfielder
Raul Ibanez
had his return delayed ... again. Last week, we noted that although Ibanez's strained groin showed improvement, that improvement was not consistent. Consequently, his rehab assignment was pushed back from Wednesday to this past weekend. Then that date was delayed yet again. Ibanez finally started a rehab assignment Monday, and the encouraging news is that he told The Philadelphia Inquirer that for the first time since the injury, he "didn't feel anything." He acknowledged being a bit rusty and knows that he has a ways to go but said, "I'm one step closer to getting back on the field." It would not be surprising if the Phillies hold him out until after the All-Star break.
• Here's something that will not surprise regular readers: Mets shortstop
Jose Reyes
does not appear close to a return. The New York Daily News is reporting that he received another cortisone injection, although the exact location of the shot is unclear. First it was his calf, then his hamstring, and now his overall healing has been delayed. Very tough for a speed guy. Very painful for fantasy owners. But don't say you haven't been warned. Don't look for anything before August, and even that is wishful thinking.
• What about the status of Reyes' teammate, outfielder
Carlos Beltran
? It's simple. Just like Reyes, Beltran does not appear close to a return. He is still limited in the amount of weight he can put on his leg as the result of his bone bruise. His only activity is stationary bike riding and waiting out the healing process. That means the Mets hope the bruise will heal on its own. For those of you who were hoping for a July return, hope no more. August is likely a best-case scenario.
• Finally, although White Sox outfielder
Carlos Quentin
is participating in a rehab assignment, don't expect him back until after the All-Star break (which I've been saying all along, but now it's actually coming from the White Sox). Quentin is still having trouble with making cuts, not a surprise given that the problem is in the arch in his foot. He can swing the bat, but the foot problems definitely would hamper his outfield play and could hinder his baserunning. Manager Ozzie Guillen told the Chicago Tribune exactly why he doesn't want to rush Quentin's return to the team. "I'm worried about the artificial grass in Minnesota, and I worry about calling him up too quickly," Guillen said. Late July looks like a possibility.