Stephania Bell:

Carlos Zambrano
April, 4, 2011
4/04/11
3:38
PM ET
It's not supposed to be quite so busy in the injury department this early in the season. After getting ready for Opening Day, I figured I'd take in the first weekend of baseball and perhaps update the status of a few players who have yet to make their season debuts.
So much for that idea. The weekend news kicked off with
St. Louis Cardinals
outfielder
Matt Holliday
undergoing an appendectomy
Friday. On a positive note, the Cardinals have not moved Holliday to the DL, at least not yet. The team says it will wait until Monday or Tuesday and see how Holliday is progressing. For what it's worth, manager Tony La Russa told the St. Louis Post-Dispatch that Holliday felt "less discomfort" Sunday than he did Saturday. So far, so good.
Holliday might not be on the DL but there are several new additions from around the league.
[+] Enlarge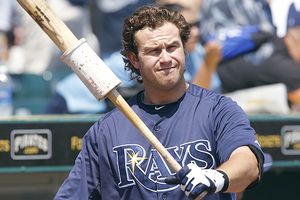 AP Photo/Gene J. PuskarEvan Longoria could be sidelined until next month with his oblique injury.
•
Tampa Bay Rays
third baseman
Evan Longoria
has joined the strained oblique club. Longoria left Saturday's game after the fifth inning with soreness in his side. Although he appeared to be downplaying the severity of the injury initially, his manager sounded more concerned. Apparently, Longoria first felt some discomfort during batting practice, and it increased as the game progressed. On Sunday, the decision was made to formally put Longoria on the disabled list to ensure full healing.
According to the St. Petersburg Times, manager Joe Maddon has projected that Longoria will miss at least three weeks, a reasonable estimate given the time required to first rest the healing tissue followed by gradually increasing the load. Amid a team lacking in offensive production out of the gate, Longoria was 0-for-5 with a walk through the first two games of the season. Depending how long he is sidelined, Longoria might not get his first hit until May. Not exactly what fantasy owners were anticipating. In the meantime,
Sean Rodriguez
is likely to get the majority of the playing time at third base.
• Several pitching staffs took a hit this weekend as well.
Baltimore Orioles
left-hander
Brian Matusz
was scratched from his Saturday start with what was originally described as soreness in his left mid-back. An MRI revealed an intercostal (small muscles between the ribs) strain severe enough for the team to suggest he could miss anywhere from three to six weeks.
There are three layers of intercostal muscles. The top layer (external intercostals) is analogous to the larger external oblique abdominal muscles, both in terms of being the most superficial and the orientation of the muscle fibers. The next layer (internal intercostals) is analogous in depth and fiber direction to the internal obliques. Although the intercostals are much smaller, both muscle groups are active during trunk rotation. It is no surprise then that these two muscle groups -- intercostals and obliques -- tend to be injured in similar fashion for ballplayers. The intercostals' direct attachment between ribs can make this a very painful injury when acute, as even deep breathing can be painful.
The Orioles called up another lefty, Zach Britton, who made his big league debut Sunday, and he certainly left an impression by pitching six shutout innings against the Rays. Britton is a hot fantasy pickup this week, even if his time might be limited.
•
Atlanta Braves
pitcher
Jair Jurrjens
, who struggled with health issues in 2010, found himself on the DL this week but the injury occurred prior to the start of the season. Jurrjens, who developed soreness in late March, will have his DL stint backdated to March 25, making him eligible to return April 9. Jurrjens has a strained right oblique, slightly unusual in that he is a right-handed thrower. Most pitchers strain an opposite oblique, which is generally attributed to the hard cross-body torque associated with throwing. Jurrjens' injury appears to be relatively minor, and he started throwing bullpens late last week. The bigger concern with Jurrjens might be staying healthy through the course of the season.
Situations to keep an eye on
•
Philadelphia Phillies
right fielder
Ben Francisco
(starting the season in place of
Domonic Brown
, who is still recovering from hand surgery following a hamate fracture) and center fielder
Shane Victorino
had a scary collision in the outfield Saturday. Francisco's neck appeared to get forcibly bent when it met Victorino's hip en route to playing a deep fly ball. Francisco remained in the game for the duration but it was Victorino who exited in the fifth inning with left calf soreness. The Philadelphia Inquirer reported that Victorino felt tightness in the calf when jogging off the field after that inning, although he didn't think it particularly serious at the time.
On Sunday, Victorino entered the game as a pinch hitter in the sixth inning but was able to stay in the game afterward. According to the Phillies' website, Victorino said he could still "feel it," suggesting it was possibly an irritated nerve. He reiterated that he was not concerned, but the Phillies will no doubt be keeping a close eye on how his calf responds over the next few days. The painful memory of a star player sidelined at the start of the season with a calf injury (
Jimmy Rollins
, 2010) is no doubt still fresh. As far as Francisco, he was in Sunday's game, crashing spectacularly into the right field wall to make a play. It appears his neck is doing fine.
•
Chicago Cubs
pitcher
Carlos Zambrano
left Saturday's game in the seventh inning because of cramps in his throwing (right) hand. Zambrano also reportedly experienced tightness in his hamstring. He is no stranger to cramps, and in the past he has commented on the need to maintain adequate fluids, which he did again after this episode, according to ESPN Chicago. "I'll be OK," Zambrano said. "I'll drink a lot of fluid and do whatever I have to do, not to feel bad anymore." According to manager Mike Quade, Zambrano is expected to make his next scheduled start Friday.
[+] Enlarge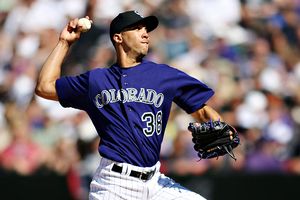 Chris Humphreys/US PresswireUbaldo Jimenez's cuticle issue on his thumb could be one reason why he struggled on Opening Day.
•
Colorado Rockies
ace
Ubaldo Jimenez
struggled through his first outing with a cut cuticle on his throwing thumb. The Denver Post reports that the thumb is affected on every pitch because of how Jimenez grips the ball. The primary issue is not one of immediate discomfort, but rather preventing this from turning into a more protracted issue because the cut fails to heal. Originally, manager Jim Tracy suggested Jimenez could miss his next start. As of now, that start has been pushed back one day to Friday but all depends on how the thumb healing progresses.
• Meanwhile, teammate Jorge de la Rosa developed a painful blister on his left middle finger that shortened his first outing, possibly a consequence of his grip on the ball. After exiting Saturday's game, de la Rosa had the blood blister well treated and bandaged by the athletic training staff, according to the Rockies' website. De la Rosa did not seem overly concerned by the blister, as he has dealt with similar issues in the past, and he expects to make his next start. As is the case with Jimenez, de la Rosa's finger will be monitored over the next few days to ensure there are no lingering issues.
Cuticles and blisters might sound like seemingly small injuries, but make no mistake, they're big enough to threaten the status of the first and second guns in the Rockies' rotation. Anyone who's had a bad manicure experience can relate ... come on, who's with me?
Encouraging news
It wasn't all doom and gloom; there was some good news to be found over the weekend.
•
San Diego Padres
ace
Mat Latos
, sidelined with bursitis in his throwing shoulder, threw a side session Saturday and looked, well, "fantastic," according to pitching coach Darren Balsley. Latos is expected to start in a minor league game Monday with the goal of increasing his pitch count.
•
San Francisco Giants
closer
Brian Wilson
, who also started the season on the DL with an oblique injury, threw a simulated game Sunday. His outing impressed pitching coach Dave Righetti, who suggested that Wilson could be back with the team this week. Wilson is eligible to come off the DL on Wednesday when the team is in San Diego, and while that move is not set in stone, Wilson's outing Sunday was a good step in that direction.
•
Chicago White Sox
pitcher
Jake Peavy
, who stayed behind in Arizona to continue recovery from offseason surgery to repair his latissimus dorsi tendon, threw a simulated game Sunday. He was just shy of 60 pitches. Peavy, whose overall recovery has been impressive, developed rotator cuff tendinitis after a spring outing, which came on the heels of a stomach ailment. The issue seems to have settled, and Peavy is on track again with building his arm strength. He is expected to start in a minor league game Friday (for Double-A Birmingham) and will try to bump up his pitch count. If there are no more bumps in the road, he could rejoin the team in late April.
May, 5, 2009
5/05/09
7:25
PM ET
By
Stephania Bell, ESPN.com
| ESPN.com
Spring is a time for fresh starts and the Angels have to hope that their time for starting anew has arrived. Instead of subtracting from their starting rotation, the Angels look to be adding a couple of aces back into the mix quite soon. The Los Angeles Times reports that
Ervin Santana
and
John Lackey
could both rejoin the team next week after starting the season on the DL with injuries to their throwing arms. Although no firm commitment to a date has been made, if both pitchers tolerate a couple of minor league starts well, and can work their pitch count up toward the 80s without fading, that would be a signal that they could handle a major league start. Both pitchers have some risk attached to them based on their injuries -- Santana with a sprained ulnar collateral ligament and Lackey with a forearm strain -- but both have also been progressing very smoothly through their rehab programs, which has to have the Angels (and fantasy owners everywhere) smiling.
On that note, here's who we're talking about this week in the world of baseball injuries ...
Rick Ankiel, OF, Cardinals:
It was a scary moment for the Cardinals when Ankiel hit the outfield wall Monday night, with the left side of his face and neck absorbing most of the impact. Ankiel had to be removed from the field with his neck immobilized and on a spine board. The St. Louis Post-Dispatch reported that Ankiel was taken to Missouri Baptist Hospital for X-rays and a CT scan to rule out any structural injury (spinal or skull fracture, in particular). Despite checking out "neurologically intact" at the hospital according to the Post-Dispatch, Ankiel was kept overnight for observation, which is never a bad move in the case of head injury to insure that the patient's status does not decline over time. This is one of those occasions when it is important to mention just how critical the on-field response of the medical staff is in terms of both managing the injury at hand in an efficient manner and ensuring that no further damage to the patient is incurred during transport. Well done Cardinals.
As of Tuesday morning the Cardinals received some good news when Ankiel was officially released from the hospital. Originally the injury was described as having all the signs of whiplash, which we usually associate with motor vehicle accidents, but which can occur with any rapid movement of the head and neck through space. The resultant trauma is primarily to the soft tissues (muscles, tendons and ligaments) and although not as dramatic as a fracture (broken bone) in the spine, can be equally debilitating in terms of pain, weakness and other associated symptoms. Early reports from the Cardinals Tuesday indicate that everything is "positive" for Ankiel, and he even returned to the ballpark for Tuesday night's game. Ankiel will not play Tuesday and it is unclear at this point just how soon he will return to the lineup. Fantasy owners should keep an eye on his status as it could vary greatly depending upon how much pain and swelling Ankiel is experiencing.
[+] Enlarge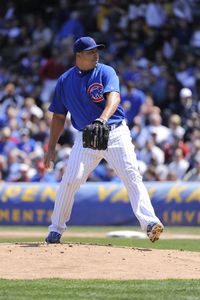 Ron Vesely/MLB Photos/Getty ImagesZambrano has already started to rehab his hamstring injury.
Carlos Zambrano, P, Cubs:
Zambrano has been placed on the DL due to a left hamstring strain suffered while trying to run out a bunt. He is certainly not the first pitcher to get hurt while running, but Zambrano's injury and the need to place him on the DL reflect the role of the hamstring in a pitcher's delivery. Since he is a right-handed pitcher, his injured hamstring is on his landing leg. That leg must support his body weight coming over the top while the knee is extended, placing significant load on the hamstring. During follow-through, this position is actually where many pitchers injure their hamstring.
The good news is that the Chicago Tribune is reporting that the Cubs believe Zambrano will be able to return from the DL when eligible. Although manager Lou Piniella revealed that Zambrano has a Grade 2 (moderate) strain which can require significant healing time, he also told the Tribune that his tear is "in the belly of the muscle." Because of the strong blood supply to the muscle belly, it tends to heal faster than a tear in the more fibrous, tendinous attachment of the muscle. As long as Zambrano does not force his activity too soon, there is reason to be encouraged here.
Jorge Posada, C, Yankees:
Posada has been placed on the DL as a result of a Grade 2 right-sided hamstring injury according to the New York Daily News. Posada missed a couple starts earlier this year due to a strained left hamstring sustained while stretching. On Monday night, after waiting around due to a lengthy rain delay (which is never kind to muscles, especially in cold weather), Posada felt his hamstring "grab" during a slide according to the Yankees' official Web site. After he underwent further tests Tuesday, the decision was made to place Posada on the DL in an effort to allow the muscle to heal properly. It is worth keeping in mind that these Grade 2 (moderate) injuries are highly variable in their healing time; Posada is 37, not 27, so healing is a little slower; and this is not his first hamstring injury. Expect Posada's return to take longer than the 15 days.
Cole Hamels, P, Phillies:
If it's not one thing, it's another. Literally. Hamels began the season with inflammation in his throwing elbow and although it did not keep him down long, he got off to a rocky start. Only four weeks into the season Hamels suffered another injury, this time to the lower extremity, spraining his left ankle as he tried to field a bunt Tuesday against the Nationals.
Although the injury does not appear too serious, Hamels' start for this week was pushed back and, as recently as Saturday, general manager Ruben Amaro left open the possibility of a trip to the DL. For those wondering why Hamels can't just tough it out, it probably has more to do with the functional impact of a sprain on a pitcher's ankle than a toughness issue. A pitcher has to be in a single-leg stance -- on each leg -- through the larger part of his windup, delivery and follow-through. Which joint has to bear a majority of the load through that lower limb? The ankle naturally. Since Hamels is a lefty, his left ankle has to control his balance through the windup while he is rotating his body position. Additionally, as he delivers the ball, the majority of his weight transfers to his right leg, but his left foot drags briefly on the ground behind him, which also serves to help with balance and control.
In fact, Amaro told the Philadelphia Inquirer that it was during this foot drag that Hamels continued to feel some soreness in his ankle while throwing a bullpen Saturday. Nonetheless, Hamels is making progress overall. Barring any setbacks, he is expected to throw another bullpen Tuesday and then rejoin the rotation Friday.
On the Mend
Rangers outfielder and inspirational story
Josh Hamilton
is improving from the bruised rib cage that forced him onto the DL last week. The Fort Worth Star-Telegram reported that Hamilton was able to play catch Monday, and while throwing was a nonissue, reaching to make a catch caused some soreness in the healing area. Hamilton described his status as about 85 percent recovered, but was clear that he did not want to return too soon if there was any risk of reinjury. He could swing a bat Wednesday, and if that goes well, his overall activity may be further increased. This is a soft tissue injury and as such, it really comes down to how the player feels during activity that dictates return to play. So far he appears on track to return when eligible next Monday, but fantasy owners should keep an eye out for updates on his activity as this will be a day-to-day assessment.
[+] Enlarge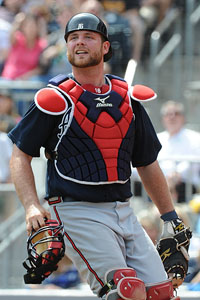 George Gojkovich/Getty ImagesNot being able to see might explain McCann's .195 batting average.
Braves catcher
Brian McCann
is expected to come off the DL and rejoin his team Friday in Philadelphia according to the Atlanta Journal-Constitution. He has been plagued by dryness and blurred vision in his left eye and has been searching for a solution. The good news is that there appears to be one. The Journal-Constitution reports that McCann will be wearing prescription sports glasses for the first time in his career. Whether this is a temporary fix or a permanent one remains to be seen, but McCann, who underwent Lasik surgery following the 2007 season, will use the glasses for now. He has been consulting with specialists since his symptoms began and when new contacts didn't solve the problem, prescription glasses were the next choice. Obviously clear vision is critical to performance behind the plate, not to mention at the plate when swinging the bat. It looks as if he will be able to avoid surgery, at least temporarily, and should be able to pick up where he left off. The plan is for him to get a couple of minor league games in, playing in one as catcher, before he rejoins his team Friday.
Phillies closer
Brad Lidge
had a good outing on Saturday in his first performance in a week. Lidge, who had been sidelined for a few days with inflammation in his right knee, was able to throw a scoreless ninth inning without pain. In fact, he told the Philadelphia Inquirer that he had "some real solid mechanics," a welcome relief after his knee-related struggles of just a few days ago. If he can maintain his mechanics and manage his knee well, he should be able to handle the brunt of the workload across the season.
Red Sox ace
Daisuke Matsuzaka
is expected to make his first of at least three minor league starts Tuesday according to general manager Theo Epstein, who gave the update while speaking to NESN. The good news here is that Matsuzaka really has had no pain in the shoulder and it is just a matter of building up his pitching endurance.
And finally ...
Some folks have had Orioles catcher Matt Wieters stashed away on their fantasy bench hoping for a call-up sometime this season. Those who have been following him know that he suffered a hamstring injury while running to first in mid-April. The good news is that his hamstring strain was considered mild and it did not keep him down long. He has already proved that he can run the bases and play behind the plate, so it is just a matter of when the Orioles decide that they need him in the mix. The injury will not be the decision-maker here as it appears to be behind him.
June, 23, 2008
6/23/08
3:32
PM ET
What a week it has been in the injury world! The Yankees lost ace
Chien-Ming Wang
to a Lisfranc sprain, an injury that rarely affects baseball players. Wang is their second pitcher to suffer such an injury this season. (
Brian Bruney
sustained a similar injury earlier in the year.) Apparently, lightning can strike twice. Then, the golf world was rocked by the news that Tiger Woods had played throughout the year with a torn ACL and, more recently, stress fractures. Golf is losing its biggest name for the remainder of the season, as Woods plans to undergo reconstructive surgery followed by a lengthy rehabilitation.
Also undergoing season-ending surgery is
Curt Schilling
, who announced Friday that because of persistent problems in his throwing shoulder, he will undergo season-ending, and perhaps even career-ending, surgery Monday. And in what might be the biggest injury news of the week, at least in my little world, I have seriously injured my knee to the point that walking has become a great effort. My sympathy for the walking wounded has increased dramatically. On that note, we take a look at who has been added to the wounded list of late.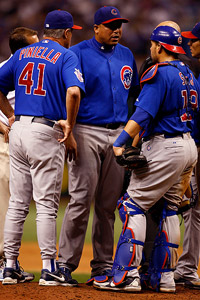 J. Meric/Getty ImagesCarlos Zambrano was hesitant to leave Wednesday's game and to go on the DL, but hopefully he dodged major injury.
Carlos Zambrano, P, Chicago Cubs:
Zambrano made a face after throwing a pitch Wednesday night that said it all. Pain in his throwing shoulder had forced him to drop his arm because he felt like he "couldn't go back to the top." The Cubs wisely removed him from the game and held their breaths while waiting for the test results that would determine his future. On Friday, Zambrano underwent an MRI arthrogram, a procedure in which dye is injected into the shoulder before the MRI to provide better detail of the joint during imaging. The conclusion? A minor right shoulder strain, which is about as good an outcome as the Cubs could have hoped for. Zambrano was placed on the 15-day DL, and although he was not pleased, he seemed to understand that the move was in both his and the team's long-term interest. Zambrano told the Chicago Tribune that he was worried about his shoulder because "this never happened to me." If indeed the strain is minor, a brief period of rest followed by a gradual return to throwing should allow Zambrano to return to action when he is eligible to come off the DL or shortly thereafter. If that's the case, he'll miss only two or three starts. Zambrano's improved physical shape this season may have helped him dodge a bullet and should continue to help his recovery. The Cubs have to be breathing a big sigh of relief now.
Chris Young, P, San Diego Padres:
Who could forget the scary sight of Chris Young taking a shot to the face off an Albert Pujols line drive back in May? Young, who bled profusely on the mound, seemed to have escaped with only a broken nose and some cuts. It was later discovered, though, that the damage was a bit more extensive. Young also suffered a small skull fracture and, as a result, had to refrain from any vigorous activity until that was fully healed. Young has begun to throw the ball again, but unfortunately, as the San Diego Union-Tribune reports, Young will not be able to postpone surgery on his deviated septum until the postseason because he is still experiencing some labored breathing. Knowing that he will face additional downtime after the nasal surgery (approximately two to three weeks), Young is now focusing on trying to increase his arm strength so that he does not have as much to overcome later. He even is hoping to get in a simulated game before surgery, which is scheduled for June 30. After surgery, rest and recovery, Young will need at least one or two rehab starts before he can rejoin the rotation. Young is hoping to return to his team by late July, but early August may be more realistic. And that presumes that he does not have any physical nor mental setbacks when he has to confront live hitters again. Young is smart to get back to throwing sooner rather than later (Of course, the Princeton Tiger that he is!) and if all continues well, the Padres can look forward to his contributions in the second half of the season.
Brian Giles, OF, San Diego Padres:
Giles strained his right hamstring while making a diving catch in Yankee Stadium on Thursday, then managed to aggravate the injury Friday. Giles remained out of the lineup Saturday, but according to the San Diego Union-Tribune, he is hopeful that he will be able to avoid a DL stint and return to the lineup Tuesday. Fantasy owners beware. We know how fragile these hamstring injuries can be. Consider that many athletes thought they could avoid the DL, but when push came to shove, the hamstring did not cooperate with the rapid timetable. Also consider that Giles had a microfracture procedure on his right knee in the offseason, making it all the more important that he have strong, healthy quadriceps and hamstring muscles to protect the joint. It is great that Giles is optimistic, but don't be surprised if his rest is extended this week.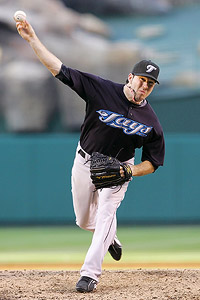 Lisa Blumenfeld/Getty ImagesShaun Marcum was leading the AL in ERA when he got injured.
Shaun Marcum, P, Toronto Blue Jays:
The words you never like to hear associated with your pitcher: He will visit to Dr. James Andrews. That's what the Toronto Globe and Mail is reporting about Marcum, who was placed on the 15 day-DL Saturday for what the team is calling a right elbow strain. Not that Dr. Andrews is a bad guy. In fact, he's anything but. He's a wonderful, talented orthopedic surgeon with a comfortable Southern demeanor and unparalleled experience when it comes to treating pitchers. It's just that you don't go to him for a social visit in the middle of the season. The likelihood is that the team is concerned about the health of Marcum's elbow and that he is now getting a second opinion from Andrews. Pitching coach Brad Arnsberg indicated that Marcum had been dealing with discomfort in his elbow for a couple of weeks now, but it had not yet affected his desire or his ability to pitch. Then Marcum had an atypical outing Wednesday, giving up four earned runs on six hits in a loss to the Brewers, a performance that's likely a sign that something is amiss. The specifics will not be known until after Marcum has seen Andrews, but we do know he is out at least the minimum 15 days. The Blue Jays just hope that the interruption is temporary and not season-long. Stay tuned.
Chipper Jones, 3B, Atlanta Braves:
The quad continues to be an intermittent source of aggravation for Jones, and the latest setback was the worst for him this season. Jones aggravated the muscle injury in the fourth inning Friday and told the Athens Banner-Herald later, "I missed a couple [games] last time and it's worse now." Jones was out of the lineup this past weekend, although he did pinch-hit Saturday, and he's expected to be out of the lineup again Monday. Jones has been impressive in his ability to slug through this injury, quite literally in fact, as he maintains a near-.400 batting average. But is he risking more severe injury while doing so? Perhaps, but so far he has been able to balance productivity with the occasional days off. Keep an eye on this one, though. If he has another setback, he may not be able to avoid a trip to the DL, even as stoic as he is.
And in the good news department ...
Kelvim Escobar, P, Los Angeles Angels:
It's about time the Angels got some good news in the injury department. Escobar, originally thought to be lost for the season, if not for good, is making significant progress with his shoulder. Escobar has a torn labrum in his right (throwing) shoulder, which caused him great pain in March. Knowing that painful labral problems are not often successfully overcome with conservative treatment in throwers, I did not have much hope for Escobar's return this year. But every athlete's experience is unique, which is why we never say never. It is also a good reminder as to why specialists such as Dr. James Andrews and others typically recommend a course of conservative action first. Sometimes it works. Although he still has a number of hurdles to cross before he makes an appearance with his team, and there is still potential for setbacks along the way, Escobar has begun throwing from the mound for the first time since October. A representative from the Angels told me that they would like Escobar to get in a couple more simulated games, and if all goes well, he could see a rehab assignment within a week to 10 days. Manager Mike Scioscia told the Orange County Register, "He's going to pitch again for us this year, there's no doubt about that." That kind of confidence, while no guarantee, is indeed inspiring, although Escobar's role if he is able to return is unclear at this point. Right now, that is not so important. The fact that Escobar is actually excited about the possibility of returning is.
April, 1, 2008
4/01/08
2:08
PM ET
By
Stephania Bell, ESPN.com
| ESPN.com
Play ball! These words were heard around the country as most teams officially opened their seasons this week. And so it is time for me to resume my regular season of injury blogging. We talked about key injury concerns during the offseason, and I shared some of my observations from training camps in Florida and Arizona, but now that the real deal is here, it is time to monitor how those preseason injuries are progressing (or not), and who is being added to the injury list each week.
We start this season off by welcoming a long absent player back from injury. Of course, because this is the injury blog, we also have to add to the injury list the players who have already gone down early in Week 1.
Welcome back!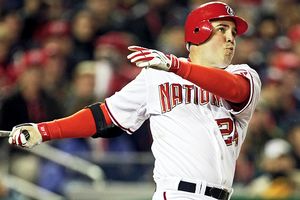 Drew Hallowell/Getty ImagesNick Johnson is looking good after missing all of 2007 with a broken leg.
Nick Johnson
has returned to the lineup in grand style. The
Washington Nationals
first baseman missed the entire 2007 season after suffering a broken right femur (thigh) in September 2006 as a result of a violent collision with right fielder
Austin Kearns
. It takes a lot of force to break a femur, and that's what happens when two adults moving at high speed in opposite directions crash into each other. Johnson had a titanium rod and screws placed into the femur to stabilize it, but persistent pain in his hip and knee resulted in subsequent surgery to remove the hardware. After first relearning how to walk, then run, Johnson had to reteach his leg some of the basics of baseball. One of the most challenging skills? Sliding. Imagine leading with that leg, knowing it will come into contact with something -- whether that something is a base or a body -- and overcoming the anxiety of that leg enduring the impact.
Well, Johnson came back with a vengeance, delivering an RBI double in the first inning Sunday and demonstrating confidence in his leg on a slide into second, which occurred without a second thought. It is wonderful to see someone who has been through so much and who has worked so hard to get back to the game be able to succeed. Forget the fact that Johnson's performance helped secure a Nationals victory on Sunday night to open their brand new park, as well as earn another victory Monday. His success was already evident by the fact that he earned the starting position, somewhat ironically, over
Dmitri Young
, the 2007 National League comeback player of the year. With two great outings to start the season, Johnson is making the Nationals very excited to see what is yet to come from him and his teammates in 2008.
New Injury Worries
Cleveland Indians
catcher
Victor Martinez
folded while trying to run to second when a pitch got away from
Chicago White Sox
catcher
A.J. Pierzynski
on Monday. An athlete's instinctive reaction to acute discomfort is to pull back immediately on the speed and grab the leg, a sure sign of a strained or pulled muscle. According to an ESPN report, Martinez, who has what the team is calling tightness in his left hamstring, will undergo an MRI to determine the extent of the injury. He is considered day-to-day for the time being. Last year, Martinez strained his left quadriceps on Opening Day and subsequently missed six games. The Indians have to hope this is not the beginning of a trend.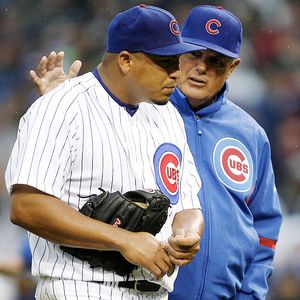 Tom Fluegge/US PresswireCarlos Zambrano, left, leads the Cubs with eight wins and is second on the team with a 3.01 ERA.
Chicago Cubs
pitcher
Carlos Zambrano
managed to pitch 6 2/3 innings in Monday's opener but complained of discomfort in his forearm. That was enough for the medical staff. Zambrano exited the mound, perhaps a proactive move to prevent it from becoming a significant problem. According to the Cubs' official Web site, Zambrano was experiencing forearm cramps and is not expected to miss his next start. For his part, Zambrano says he needs to "drink water." Can't hurt.
Kansas City Royals
outfielder
David DeJesus
left Monday's game with a sprained left ankle. Apparently, the ankle had been bothering him all week and was aggravated during the game when he chased down a ball. The Kansas City Star is reporting that X-rays on DeJesus' ankle were negative and that the pain he experienced Monday is not as severe as when he originally injured it March 24. The challenge with sprained ankles is avoiding re-injury while trying to recover, and this is an example of the type of minor aggravation that can set you back. Fortunately, this does not sound serious for DeJesus and should not result in an extended absence.
Washington Nationals pitcher
Chad Cordero
did not make his anticipated entrance at closing time on Sunday night, leading everyone to wonder what the problem might be. As it turns out, Cordero told The Washington Post that he felt a "sharp pain" that shot down his arm while playing catch before the game. Cordero received a cortisone shot, and the team is calling the injury tendinitis. He is not scheduled to throw before Wednesday at the earliest, and his next attempt at activity should give a better clue as to how serious the shoulder condition is. Sharp pain with throwing is always more of a concern than stiffness or tightness, but until Cordero tests the arm again, there is not much to go on.
Sticking with the Nationals, outfielder
Elijah Dukes
left Sunday's game with a strained right hamstring, the same hamstring he originally injured in mid-March, and was placed on the 15-day disabled list immediately after the contest. Hamstring injuries can easily become chronic and nagging, so this serves as a tiny red flag for Dukes that he will need to rest this ailment sufficiently and not return too soon. Otherwise, it has the potential to simmer just beneath the surface and crop up intermittently throughout the season.
That's it for the early week injury blog. Be sure to check back later in the week as we take a closer look at the players who started the season on the disabled list and what we can expect from them. As always, we will update any new injuries as well. Good luck to all of you playing fantasy baseball and remember, no matter what happens this week, it's a long season. I'll be with you the whole way.