Stephania Bell:

Carolina Panthers
July, 31, 2014
Jul 31
5:21
PM ET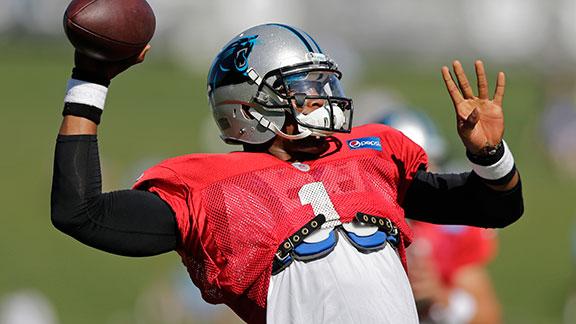 Stephania Bell joins ESPN Panthers reporter David Newton to discuss
Cam Newton
's recovery from ankle surgery and the latest on
Kelvin Benjamin
's and
Jonathan Stewart
's injuries.
March, 19, 2014
Mar 19
2:32
PM ET
The news that
Carolina Panthers
quarterback
Cam Newton
is having ankle surgery Wednesday that is expected to sideline him for approximately four months generated a wave of anxiety about the potential consequences. There has been concern expressed about how Newton's absence from spring activities will affect his ability to develop rapport with his new receivers. The question has also been raised, perhaps more importantly, about how this procedure will impact his signature style of play, and whether his mobility will be compromised.
In truth, one could make the case that not only will neither of these things suffer from Newton undergoing surgery at this juncture, but both may actually benefit.
Just to be clear, no one in medicine would suggest that surgery is preferred
if
rest and rehabilitation resolve the problem. However, when the problem persists and surgery offers a means of improvement, it becomes the best option.
[+] Enlarge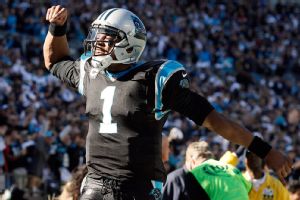 Jeremy Brevard/USA TODAY SportsCam Newton's recovery from ankle surgery will prevent high-stress activities in the spring, but he should be ready to roll by training camp.
Consider Newton's history with his left ankle. In 2012, he suffered a high ankle sprain late in the season. The rest of the ensuing offseason helped, but it didn't completely eliminate some of the effects that can linger after such an injury, even a mild one, especially when that ankle is stressed by the zigs and zags of a mobile quarterback. In 2013, Newton aggravated the ankle late in the season, sustaining lateral (low) ankle damage at some point -- or even multiple points -- along the way (as reflected by the Charlotte Observer report that ligaments were "stretched out" and
will be tightened
during surgery).
Everyone knows that NFL players often play through discomfort -- if not some degree of injury -- especially late in the season, and Newton was no different. The accumulated physical stress on his ankle of another season and additional injury undoubtedly left the joint stiff and swollen on a routine basis. The only way to find out if it would resolve with just rest and rehabilitation was to give it an opportunity to do just that.
However, multiple sprains -- especially combination high and low ankle injuries -- can lead to problems with the joint beyond the obvious pain and swelling. The injured ligaments surrounding the joint may heal with scar tissue, yet lose elasticity, leading to instability. The joint can develop spurring of the bones from resultant abnormal stresses, all of which leads to chronic irritation in the ankle. That irritation manifests locally as pain and swelling, but functionally translates into decreased mobility, agility and stability; in other words, it could affect all the qualities necessary to make a quarterback like Newton remain Newton-like. Rest and rehabilitation may provide some form of relief, but it may not be sufficient to overcome the injury.
Thus, surgery becomes an option. Barring the discovery of any major cartilage damage within the joint, the process is fairly straightforward. Clean the joint of any debris that may have accumulated as a result of the wear and tear, including removing any spurs that interfere with normal motion, restore stability to the ankle by, in essence, tightening up the lateral soft tissue support and reinforcing the ligaments, then initiate a rehab plan. The more the range of motion approximates normal, and the more proper the mechanics are within the joint, the better likelihood the ankle responds as it should. Presuming Newton commits to the rehab plan and returns full strength to the ankle, his stability and agility should both improve and his pain should be resolved, meaning he may have an easier time moving nimbly about the field. Look out, NFC foes.
Recovery from surgery such as this -- assuming no surprises are discovered in the process -- can vary, but typically takes 12 to 16 weeks. There is no reason to rush a return to high-impact activity, since the goal is to ensure the joint heals properly. In fact, regaining full motion and strength are far more important in the early phase than full-speed running. While this timeline suggests Newton will miss OTAs and minicamp, it's not as if he won't be present, and he may be able to do a fair amount of work on the side. He may even be cleared for some level of throwing. By the time training camp rolls around, Newton should be able to be a full participant, even if his workload is increased in a gradual manner.
As far as developing rapport with his receivers, there have certainly been other quarterbacks (ahem,
Peyton Manning
) who have found time outside of structured team activities to gather with receivers and work out independently. Some would argue an enhanced relationship could be constructed under those conditions. If Newton is moving well in four months, he would have plenty of opportunity to do something similar; whether that happens or not is a different matter.
Given that Newton's ankle remained problematic weeks after the season came to a close, the decision to move forward with surgery makes sense. And who knows? By the time the season rolls around, the Panthers may not be the ones who are concerned about Newton's health.
It may be everyone else who has to face him.
October, 24, 2013
10/24/13
11:25
AM ET
"Thursday Night Football" features an NFC South matchup as the
Carolina Panthers
pay a Week 8 visit to the
Tampa Bay Buccaneers
. Here's an injury update on key fantasy players on both teams.
Tampa Bay Buccaneers
Doug Martin, RB, shoulder (out):
Martin injured his shoulder in Sunday's game when he landed hard on his elbow while trying to make a catch. He
reportedly suffered a torn labrum
, and the amount of time he will miss is not clear. Other than ruling him out early for Thursday night's game, the team has given no indication as to how long Martin will be absent. For his part, Martin has expressed confidence that he will return this year. According to ESPN.com's Pat Yasinskas, Martin said during his weekly radio show that his pain has decreased and his range of motion has increased, two encouraging early signs. Although it may take some time for him to attempt a return, he has not given up on this season. In the meantime,
Mike James
will take his place.
Mike Williams, WR, hamstring (questionable):
The good news is that Williams played Sunday after being listed as questionable. The bad news is that his hamstring issue is still enough of a problem to keep him listed as "questionable" entering Thursday's game. Williams cropped up on the injury report in Week 4 (though he played), had a bye in Week 5, sat out Week 6, and then returned without much fanfare in Week 7 (four receptions for 32 yards). Williams was listed as a full practice participant Monday, was listed as a limited participant Tuesday, and then upgraded to full status on Wednesday. Barring a setback, it appears likely that Williams will take the field Thursday night. However, it also appears his hamstring is still limiting him. Having two games only four days apart isn't helping.
Carolina Panthers
Steve Smith, WR, ankle (probable) and Brandon LaFell, WR, knee (probable):
One of the least favorite sights in fantasy football is when a player's name is added to the injury report the day before a game. That is the case with Smith, who appeared on Wednesday's injured list after reportedly getting his foot stepped on in practice. However, the "probable" tag tells us not to be concerned, and Smith is expected to play. As for LaFell, he was limited in Monday's practice coming out of the Week 7 game but was back to full practice on Tuesday and Wednesday. He also is expected to play Thursday night.
Greg Olsen, TE, foot (probable):
Olsen has been a regular on the injury report for several weeks with a foot ailment, often starting the week in a boot but upping his activity late in the week and playing on game day. It appears he is doing the same thing this week. Olsen sat out Monday's practice but was a full participant Tuesday and Wednesday. Despite the short week, Olsen is expected to play against the Buccaneers.
Jonathan Stewart, RB, ankle (out):
Although Stewart has been ruled out for Thursday night's game, the important note is that this week he joined his teammates on the practice field for the first time this season. Stewart started the year on the physically unable to perform (PUP) list after lingering problems with his ankles, both of which had been operated on in the offseason. According to ESPN.com's David Newton, Stewart
expects to play Nov. 3
when the Panthers host the
Atlanta Falcons
.
September, 20, 2012
9/20/12
11:57
AM ET
This week's Thursday night game has the
New York Giants
visiting the
Carolina Panthers
. The Giants will be without two key fantasy players, running back
Ahmad Bradshaw
and wide receiver
Hakeem Nicks
. Although the news, especially the surprise downgrade of Nicks, had fantasy owners less than thrilled, the Giants thoughtfully informed everyone of this status change Wednesday, leaving ample time for roster adjustments. There is, however, at least one player in this contest whose status will come down to just before game time.
Running backs
[+] Enlarge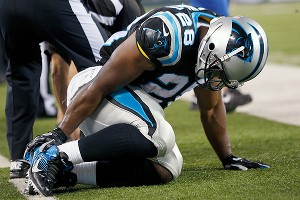 AP Photo/Julio CortezJonathan Stewart now has a toe issue in addition to his ankle injury that has bothered him the past few weeks and forced him to miss Week 1.
Jonathan Stewart, Carolina Panthers, ankle (Q):
Yes, it's Stewart who will be the game-time decision Thursday. After spraining his right ankle in the preseason, Stewart -- who has been on the injury report plenty but has rarely missed games in his career -- did not play in Week 1. Throughout the next week, coach Ron Rivera said Stewart was moving better in workouts, particularly with directional changes. Stewart made his season debut in Week 2, delivering 68 total yards and a score.
This week, however, Stewart remains on the injury report but with a notable addition, his toe. (Even though it is not listed on the official NFL injury report, Rivera talked about Stewart's toe limiting him in addition to his ankle.) The addition is of slightly more concern given Stewart's extensive history of foot injuries dating back to his University of Oregon days. He has not yet practiced, this is a short week (translation: less total rest for an ailing foot), and Rivera declared him a game-time decision. Because Stewart hasn't practiced this week, it's difficult to gauge how much the toe would impact him in a game, if at all. (The ankle did not appear to limit him last week.)
In Week 1, Stewart was showing some improvement by Friday, was listed as a game-time decision and then did not play. It doesn't mean he won't suit up this time, but Rivera told the Charlotte Observer, "It's one of those things where if we're playing on Sunday, he's got a much, much better chance than he does if we're playing on Thursday." Fantasy owners should be prepared to make a late lineup switch.
Ahmad Bradshaw, New York Giants, neck (out):
As noted above, Bradshaw has been ruled out for this game after suffering a neck sprain in Sunday's game. In
Tuesday's blog entry
, I mentioned the vague terminology used to describe Bradshaw's condition, and the Giants have left it at that. They have not shared the results from Bradshaw's MRI taken Monday, and he has not practiced. Given that a "sprain" typically refers to ligament or joint capsule damage and that there are double-digit numbers of tiny joints within the neck area, a literal interpretation of the diagnosis makes it impossible to localize the injury. In reality, it is often difficult to specifically localize spine injuries, as a big hit or awkward movement of the neck can affect many different structures simultaneously, even if only to a minor degree. In the absence of anything more definitive, the only measure of progress will be Bradshaw's function, as in when he is allowed to begin practicing and how his activity increases. Whether that will take several days or more than a week is unclear at this point, and the Giants likely won't provide any additional information until next week.
Wide receivers
[+] Enlarge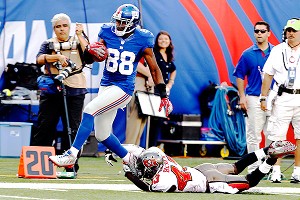 William Perlman/The Star-Ledger via US PresswireHakeem Nicks had 10 catches for 199 yards and a TD against the Bucs in Week 2 but won't be around to play Thursday night.
Hakeem Nicks, New York Giants, foot (out):
Since undergoing surgery to repair his fractured fifth metatarsal, Nicks has been very forthcoming about the status of his foot. After Week 1, when he saw limited action, Nicks acknowledged still experiencing soreness in the foot but told the Newark Star-Ledger, "It was maintainable. It wasn't excruciating pain or it wasn't extremely bad." He said, after talking to others who had been through similar surgeries, that he expected it would be sore for several weeks as he adapted to the repetitive loading.
In the days between the first and second game of the season, the Giants controlled Nicks' practice activity, clearly a wise move. Nicks broke loose in the second game to the tune of 199 yards and a score. He could be seen limping at one point but did return to the game. He later acknowledged being stepped on but downplayed the seriousness of the incident. Earlier in the week, although Nicks was listed as questionable, it appeared he would play, but lingering soreness Wednesday morning changed the minds of the decision-makers.
So how worried should fantasy owners be? Obviously, it would be preferable if Nicks felt fine and wasn't missing a game. Still, it's hardly time to panic. Nicks went from virtually two months of downtime during his recovery from surgery and missing virtually all of training camp and the preseason to playing in the season opener. His activity increased dramatically in the second week, likely contributing to some increased foot soreness. With the Week 3 game coming just five days later and Nicks experiencing pain, it would make sense to rest him now, giving his foot an additional 10 days to recover. The two-week downtime should help significantly. It would be a surprise to not see him in Week 4.
Domenik Hixon, New York Giants, concussion (out):
Hixon suffered a concussion in Week 2 and will miss Thursday night's game. The combination of Hixon and Nicks being out this week gives
Ramses Barden
a
chance to line up
opposite
Victor Cruz
.
Steve Smith, Carolina Panthers, knee (P):
Smith has had intermittent soreness in his right knee, and his status in Week 2 was less certain. This week, there is less doubt, but fewer numbers of practice reps will keep a player on the injury report (and given the short week, that comes as no surprise). Smith was held to limited practice Tuesday but was listed as a full participant Wednesday. With a probable designation, he is expected to play.