Stephania Bell:

Cecil Shorts
December, 5, 2013
12/05/13
12:07
PM ET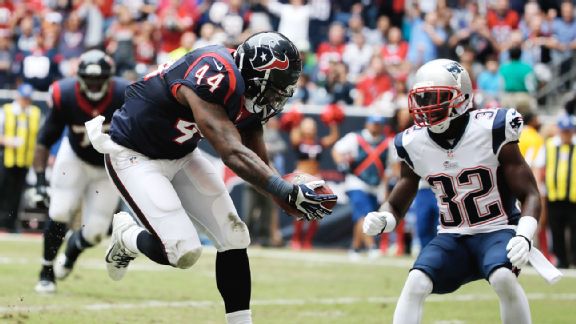 Scott Halleran/Getty ImagesBen Tate had 102 yards rushing and three touchdowns against New England in Week 13.
There are two notable things about the injury reports for Thursday night's game, the first game in the first week of fantasy playoffs. First (and of paramount importance to fantasy owners), none of the key fantasy players in the game is really in jeopardy of sitting out. Second, between the two teams there are 30 -- yes, 30! -- players listed on the injury report. In a year that feels particularly injury-laden, perhaps the presence of such a large number of players on the injury report shouldn't come as a huge surprise. It does serve as a reminder, however, that the success of any team -- be it real or fantasy -- may depend on how many key players are left standing at the end of the season.
Houston Texans
Ben Tate, RB, ribs/ankle, (probable):
Tate has essentially been a fixture on the injury report ever since he suffered rib fractures back in Week 7. Somewhat unbelievably, he has not missed a game since. Along the way, he has acquired some other ailments, including an ankle injury that is listed next to his name this week.
Although some fantasy owners were alarmed when he was listed as a non-participant Monday, it's worth noting that Monday was only a walk-through. Tate had a huge game in Week 13, putting up over 100 yards rushing and three scores against the Patriots. Given only four days until his next outing, it seems the rest was certainly warranted. Expect him on the field Thursday night against the Jaguars. While he may not match Sunday's performance, it's tough to imagine him not outperforming his stats of two weeks ago against the Jaguars, when he managed only 1 total yard rushing.
Jacksonville Jaguars
Cecil Shorts, groin, and Mike Brown, shoulder, WRs, (probable):
Shorts is another regular on the injury report. He has been listed with a groin injury for multiple weeks, but ever since he played through an extremely painful SC (sternoclavicular) joint injury earlier in the season, there has been little doubt he would take the field each week. He is expected to do so again Thursday night.
Brown suffered an AC (acromioclavicular) joint injury in Week 11 against the Cardinals and sat out the following game. The shoulder has kept him on the injury report, although he did return to action Sunday. Brown notched only one catch, while rookie
Ace Sanders
-- who has seemingly emerged as the second-favorite receiving target since
Justin Blackmon
's suspension -- had eight. Brown is expected to play again Thursday night, although fantasy owners may want to look elsewhere for help in advancing in the playoffs.
October, 24, 2013
10/24/13
7:21
PM ET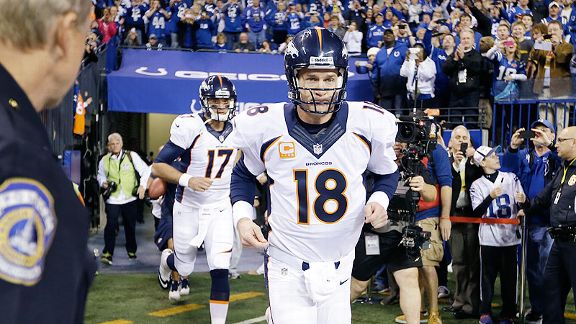 AP Photo/Michael ConroyPeyton Manning should be coming out of the tunnel to start Sunday's game against Washington.
After a brutal Week 7 on the injury front, there are some big names with concerns heading into Week 8, but none is bigger than the one that tops this week's injury notebook.
Peyton Manning, QB, Denver Broncos (ankle):
Manning missed practice Wednesday due to a sore ankle. As if Manning would let a little ankle issue get in the way of playing this week. By the way, he still threw during the walk-through on Wednesday because, as we might expect, Manning doesn't really rest. He was back in full practice on Thursday with business as usual. It's not as if anyone is counting on Manning to run, so there should be little concern about his readiness for Sunday.
James Jones, WR, Green Bay Packers (knee):
Jones sat out the Week 7 contest with a sprained PCL. Last week we discussed
the challenges
of this specific injury, but Tuesday coach Mike McCarthy sounded as if it could be this week or next when Jones might return. Jones did not practice Wednesday or Thursday, casting doubt on his availability for this week.
Cecil Shorts (shoulder) and Justin Blackmon (hamstring), WRs, Jacksonville Jaguars:
After a long trip to London for the Week 8 game, both players were given Wednesday off. If Shorts played last week, he will play this week. In fact, given the SC sprain he
sustained in Week 6
, an incredibly painful injury, his performance last Sunday was impressive. The best thing about this week's game is that it comes seven days later, giving Shorts some additional healing time. He returned to practice Thursday on a limited basis and has already indicated he plans to play.
Blackmon returned to practice Thursday on a limited basis. He continues to press on despite a hamstring ailment and is expected to do so again.
DeMarco Murray, RB (knee) and Dez Bryant, WR (hamstring/wrist), Dallas Cowboys:
Murray returned to limited practice Wednesday after sitting out the Week 7 contest with an MCL sprain. In fact, Murray was doing some running as early as Monday. The fact he has been able to increase the workload a bit each day is a very positive sign heading toward Sunday's game. His effort so far this week suggests he'll play. Murray was reluctant to sit out last week as he tries to shed the injury-prone label that has been attached to him. The week off may have helped his outlook going forward though, at least as far as his knee is concerned.
Bryant was limited in Wednesday's practice due to a sore hamstring and a wrist ailment, but he was out there in full on Thursday. There is no real concern about Bryant's availability.
Brandon Jacobs, RB, New York Giants, (hamstring):
Jacobs' dramatic comeback to the football field in Week 6 was followed by an absence due to a sore hamstring in Week 7. Surely he would like to get back out to the field. That did not happen Wednesday as Jacobs was held out of practice again because of the hamstring. He remained out on Thursday and it looks increasingly as if he could miss another week.
October, 17, 2013
10/17/13
4:26
PM ET
Despite being listed as having a shoulder ailment,
Jacksonville Jaguars
wide receiver
Cecil Shorts
is dealing with pain near his chest. Shorts sprained his sternoclavicular joint, the junction between the clavicle (collarbone) and the sternum (chest). This is an incredibly painful injury, but the key to how much -- and how long -- the athlete is compromised depends on stability. If there is excessive motion (instability), the sensitive structures in the region of the joint, and the proximity to the neck, make it potentially unsafe to engage in a contact sport.
It was an injury to this area that forced Patriots (then Rams) wide receiver
Danny Amendola
to miss multiple weeks last season. In Amendola's case, he suffered a posterior subluxation, an unusual and potentially very serious injury, which required a procedure to reposition the clavicle, followed by a period of soft-tissue healing for the surrounding ligaments.
In Shorts' case, the injury is stable, indicating there is less damage to the ligaments. However, it does not minimize the pain associated with the injury. The pain makes it difficult to raise the arm and reach forward or backward (hence the description of the injury as a "shoulder" injury, since the joint constitutes part of the shoulder girdle), much less absorb contact.
Despite not practicing this week and acknowledging the injury's high level of pain, Shorts is stoically holding out hope he will be able to play Sunday. It appears as if a decision won't officially be made until game time. However, fantasy owners should make other plans, given how limited Shorts is late in the week.
October, 10, 2013
10/10/13
7:57
PM ET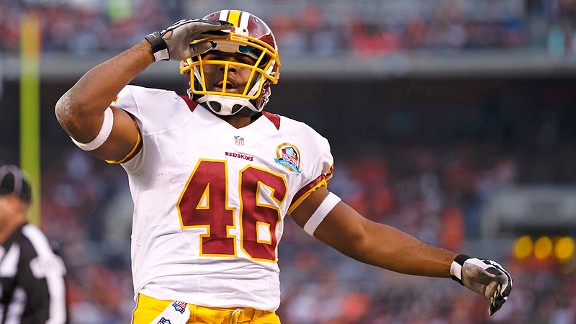 AP Photo/Rick OsentoskiThe future looks better for Alfred Morris and his injured ribs.
Here's a look at some of the key injuries that figure to impact fantasy owners as Week 6 approaches.
Alfred Morris, RB, Washington Redskins (ribs):
Our last glimpse of Morris on a game day saw him being escorted slowly off the field after a rib injury in Week 4. Fortunately for Morris and his team, the Week 5 bye allowed him more extensive down time to recover. X-rays were reportedly negative for any fracture and the healing involved was mostly to the soft tissue around the rib and chest area. Although Morris indicated from the outset that he did not believe the injury to be serious, the rib cage area is so sensitive to bruising that turning, twisting, raising one's arms overhead, even simply breathing can become painful. Morris must have used his off time wisely because he returned this week to full practice. Although he's moving well, it's an entirely different matter to absorb contact from an opponent, which explains why players returning from rib injuries often sport extra padding. Morris will likely do the same but the important thing is that he appears to be in line to play against the
Dallas Cowboys
. With this game taking place Sunday night, the fewer question marks for fantasy owners, the better.
Ryan Mathews, RB, San Diego Chargers (concussion):
So far this season Mathews has avoided the standard musculoskeletal injuries, other than a minor hamstring tweak, which showed up late in the week in practice (but didn't stop Mathews from playing). This time it's a concussion that has Mathews sidelined and if there is any injury a player is not going to push through -- nor should he -- it's a head injury. Mathews suffered the injury last Sunday night and his activity is undoubtedly being guided by the team's concussion protocol. He is not practicing as of yet and there is no indication as to whether he will be available by Monday night. Fantasy owners should make alternate plans.
Greg Olsen, TE, Carolina Panthers (foot):
Olsen put a little fear into fantasy owners when he was absent from practice with a foot injury and was spotted wearing a protective boot. Everyone can exhale now as Olsen returned to practice Thursday for a full session. Sometimes the placement of a boot is simply a means of offloading the foot and is not an indication of a severe injury. Obviously something was troubling his foot enough to get a day off from practice and be out of a normal shoe, but the fact he could do so much work Thursday is a good sign. If he's able to follow it up on Friday that will be even better.
Andre Johnson, WR, Houston Texans (shin):
Johnson has been dealing with a shin contusion since the Week 3 contest against the
Baltimore Ravens
. Each week his practice activity has been limited and each week he has managed to play, although his status has been uncertain until at least Friday afternoons. This week appears to be no different. As ESPN.com's Tania Ganguli reports, Johnson said that
plan has worked well
. He did not practice Wednesday or Thursday this week, leading to coach Gary Kubiak again calling him a gametime decision. If Johnson gets through at least some level of practice Friday, it would hint at him suiting up again on Sunday.
Cecil Shorts, WR, Jacksonville Jaguars (groin):
Shorts has been managing through a groin issue intermittently dating back to the preseason but he has played in every game. Will that change in Week 6? This week Shorts was downgraded from a limited practice Wednesday to not practicing at all Thursday. Coach Gus Bradley made it clear though that it was a collective decision between him and the medical staff to rest Shorts,
according to ESPN.com's Michael DiRocco
. "He's tough and he doesn't say much, but I know with that groin's tightness it was one of those things where I think it's lingering and I just felt like the best thing for him after talking with Mike [Ryan, trainer] and Mylo [strength and conditioning coordinator
Tom Myslinski
] was to completely hold him out of practice," Bradley said. "Let's let it settle down."
When players are dealing with chronic soft tissue injuries during the season, it's not so much a goal of trying to get them fully healthy; when games are separated by a handful of days, there's not enough time for that to happen. But the problem can improve and the objective is to enable the athlete to be functional enough to perform while minimizing the risk of the injury worsening. The Jaguars must know there will be a lot of passes thrown in this week's matchup against Denver and they will need all receivers on deck. This is a late game Sunday but it appears the Jaguars plan on having Shorts available.
December, 13, 2012
12/13/12
9:14
PM ET
The additions to injured reserve keep piling up.
This week, the Arizona Cardinals placed quarterback
Kevin Kolb
on injured reserve. Kolb has complex rib, chest and shoulder injuries, which have sidelined him since Week 6. After giving
John Skelton
a shot at the starting job last week, the Cardinals have reverted back to
Ryan Lindley
. (We feel for you
Larry Fitzgerald
fantasy owners.)
Also, the Indianapolis Colts placed running back
Donald Brown
on injured reserve. Brown has a severe high-ankle sprain, which would have taken longer to recover from than the season permitted.
Vick Ballard
will be the starter for the remainder of the season.
Players with the biggest question marks heading into Week 15:
Robert Griffin III, QB, Washington Redskins (knee):
RG III has impressed many by participating in limited practice both Wednesday and Thursday. His presence Wednesday was a bit of a surprise after the frightening blow he took in Sunday's game, which resulted in an
LCL sprain
. More encouraging was that he returned the following day, which indicated that he did not experience any setback from Wednesday's activity. "He looked more comfortable," coach Mike Shanahan said of RG III's effort on Thursday, according to the Washington Post.
RG III has been fit with a brace to protect his knee and offer some stability. The final decision regarding his game status sounds as though it will not be made until Sunday. This gives RG III the maximum possible time to recover and keeps the Redskins' opponent (the
Cleveland Browns
) guessing, both of which benefit the Redskins. Offensive coordinator Kyle Shanahan outlined the key questions to determine whether Griffin will be under center. "I think Robert's going to be able to show us that he can move well, [but] it's more," Shanahan said. "If his knee is stable enough, can he protect himself in there and is there a risk of further injury?" Griffin is trending in the right direction in terms of his health, but come Sunday, the team could still elect to hold him out to buy him some additional recovery time. Fantasy owners should plan for a game-time decision.
Dez Bryant, WR, Dallas Cowboys (finger):
On Tuesday,
we noted
what the concerns might be for Bryant and his finger if he postpones recommended surgery. However, it appears that Bryant plans to take on that risk. He returned to limited practice Thursday, telling reporters, "Only thing y'all need to know is I'm playing," according to ESPN Dallas.
[+] Enlarge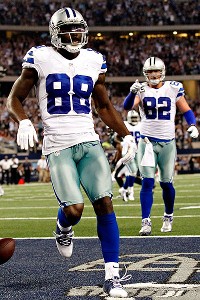 AP Photo/Tony GutierrezDespite his broken finger, Dez Bryant said he will play on Sunday.
What we all would like to know is just how well Bryant will be able to catch the ball. The two challenges will be trying to protect the injured finger and pain. When a bone is broken, vibration is perhaps the most pain-inducing sensation; a ball thrown from the quarterback with any measure of speed will certainly be painful when it hits the injured finger. Add to the mix the challenge for the medical staff to provide protection for the receiver's finger while not impeding his ability to catch the ball -- and pour on some swelling for good measure. It's difficult to function at a high level with this injury. The best sign so far was that Bryant was able to catch some passes Thursday; the next test will be to see how his finger is Friday and whether he can repeat the effort.
Ahmad Bradshaw, RB, New York Giants (knee):
When Bradshaw misses practice to rest his sore foot, it almost goes unnoticed because the expectation has become that he will play come Sunday. However, Bradshaw is contending with a new injury this week, and there seems to be a lot less confidence that it will be business as usual on game day. Bradshaw underwent an MRI and the team reports he has a sprained knee, although in the absence of any specifics, the diagnosis is essentially unhelpful as it could represent a multitude of scenarios.
The bottom line is that he has not practiced -- and may not this week. Coach Tom Coughlin referred to Bradshaw's toughness when addressing reporters Thursday after practice. As reported by ESPN New York, Coughlin offered this response to questions about Bradshaw's status: "I am not going to speculate -- because of the toughness of this young man -- on how long it would be," Coughlin said. "I am not going to rule him out of anything." Bradshaw is likely to appeal to play because he is, well, tough and competitive. However, the Giants' coaching and medical staffs may help make the decision for him. The Giants travel to Atlanta to play the Falcons, so if Bradshaw does not make the trip, the question will be answered. If he does travel, then add him to the game-time decision list.
Roddy White, WR, Atlanta Falcons (knee):
Knee. MRI. No details. Game-time decision. Sound familiar? The matchup between the Giants and the Falcons on Sunday has two stars whose injury situations are tenuous. Falcons coach Mike Smith told reporters Wednesday that White had a knee injury but he expected him back Thursday. After White did not practice Thursday, Smith called him a game-time decision, according to the Atlanta Journal Constitution. Smith did say that White felt "much better" Thursday compared to how he did Wednesday, but he also noted the team would exercise caution leading up to Sunday.
This is, after all, the time of the season when teams headed for the playoffs exercise careful judgment about returning players with even a minor ailment to action for fear it will develop into something more significant. White never misses games -- he hasn't missed one in eight years with the Falcons -- even when he's less than 100 percent healthy. However, this week it sounds as though he will have to be convincingly healthy come Sunday. For fantasy owners, it's another toss-up until Sunday morning.
Danny Amendola, WR, St. Louis Rams (foot):
Amendola has missed two games in a row (and most of a third game considering he had one catch in Week 12) because of his sore foot and heel. He has been a limited participant in practice this week, and could make a return Sunday, though it is likely to be another game-time call. Coach Jeff Fisher said Amendola needs the foot to heal sufficiently before returning, according to the St. Louis Post-Dispatch. "Danny needs to be close to 100 percent to be effective -- to be able to protect himself," Fisher said. Whether he will reach that mark by Sunday is the big question.
Quick Hits
[+] Enlarge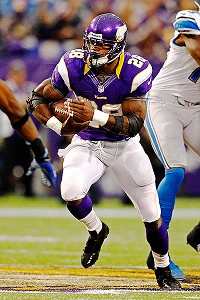 Bruce Kluckhohn/US PresswireAdrian Peterson should be good to go this weekend despite battling an abdominal injury.
Oh no, not
Adrian Peterson
on the injury report. After being limited Wednesday, Peterson did not practice Thursday because of an abdominal injury. According to Judd Zulgad of 1500ESPN.com, Minnesota Vikings coach Leslie Frazier said he expects Peterson back on Friday. It would appear that all of Peterson's fantasy owners can now exhale.
Detroit Lions tight end
Brandon Pettigrew
has missed two practices following his ankle injury in Week 14. The Lions have not hinted at his status, but they play in a late game on Sunday. It would be wise to have a backup plan.
Green Bay Packers coach Mike McCarthy described the chances of wide receiver
Jordy Nelson
suiting up on Sunday as a "long shot," which is all fantasy owners should need to hear. Nelson has not practiced this week, and with an eye on the postseason, expect the Packers to hold him out this week.
Concussions kept Jaguars running back
Rashad Jennings
and wide receiver
Cecil Shorts
out in Week 14. It looks as though Jennings will be sidelined again, as he has not yet returned to practice. Shorts has returned to limited practice this week and appears on track in his progression. Still, as the Florida Times-Union reports, Shorts has seen up close the difficulties some of his teammates have had after sustaining concussions, and he plans to take it one step at a time. "I'm definitely going to be smart about this," Shorts said. "As much as I want to play and would like to play, my health is more important." That sounds smart.
After getting a much-needed Wednesday off (along with the majority of his teammates), Chicago Bears quarterback
Jay Cutler
returned to practice Thursday on a limited basis. Expect him to play on Sunday.
Baltimore Ravens running back
Ray Rice
suffered a hip pointer on Sunday, but has been a limited participant in both Wednesday and Thursday practices. His injury did not sound serious, and his presence on the practice field supports that notion. Expect him on the field Sunday.
Seattle Seahawks wide receiver
Sidney Rice
suffered a foot injury, and ended up in a walking boot to start the week. He has not practiced, but the Seattle Times reports he was moving without the boot Thursday, which is encouraging. For what it's worth, quarterback
Russell Wilson
told the Seattle Times that he expects Rice to play. It would be a good sign to see Rice practice on Friday in order to feel better about his Sunday status.
Oakland Raiders running back
Darren McFadden
was reportedly moving well in practice early this week despite suffering a minor setback to his ankle in Week 14. He has been a full practice participant this week and is expected to play this weekend.
Don't expect to see
Carolina Panthers
wide receiver
Brandon LaFell
(turf toe) or running back
Jonathan Stewart
(ankle) this weekend as neither player has practiced this week.
December, 6, 2012
12/06/12
7:54
PM ET
Many a fantasy owner still playing for a title was dealt a big blow Wednesday afternoon when
Minnesota Vikings
wide receiver
Percy Harvin
was placed on injured reserve. The IR designation began to look like a real possibility after Harvin attempted one practice last week, struggled to run and was not seen again on the practice field the rest of the week. It was also recently revealed that he had sustained a more significant tear, not particularly surprising given Harvin's struggles to recover and his own description that he had sprained his ankle in three places.
Still, the recent description of the severity of his injury suggested he might not be able to return to form. As it turns out, Harvin wasn't able to return at all, but the assumption is that the IR decision was made with the interest of his long-term health in mind. Not only might Harvin have struggled to perform at anything close to the level he displayed early in the season, but he also may have risked compromising his ability to return to that level in the future.
[+] Enlarge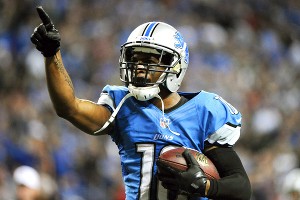 Tim Fuller/US PresswireTitus Young, hampered by a knee injury and behavior problems, is done for the season.
Other players moved to IR this week included
Detroit Lions
wide receiver
Titus Young
and
Miami Dolphins
offensive tackle
Jake Long
. Young was dealing with a knee injury for much of the season and was a frequent member of the Lions' injury report. His inability to consistently participate in practice was hinted at as a reason for his failure to perform to the level of expectation on game day. Recently, however, it became apparent that Young's behavior was at issue as well and the team suspended him in Week 12, sending him away from the facility for several days. He returned for some practice in Week 13 but remained off the playing field on Sunday.
This week, the decision was made to move him to IR, leading some to wonder what the primary reason was for the early termination of his season. According to the Detroit Free Press, the Lions placed Young on IR with a knee injury. However, when coach Jim Schwartz was asked whether the injury would require surgery, his response was telling: "Yeah, most likely," Schwartz said. "Yes, unless he doesn't show up for it." OK then. Until next year, perhaps.
As for Long, there is no doubt about what sent him to IR -- he tore his triceps and the recovery timetable exceeds the time remaining in the Dolphins' season. Long has dealt with significant injuries, including a torn biceps which ended his season late last year.
Already ruled out for Week 14
Running back
Donald Brown
of the
Indianapolis Colts
injured his ankle last Sunday and will not play this week.
Vick Ballard
will be the starter, which, given his use in recent weeks, should not come as a surprise. At least the Colts have done everyone a favor and given us this news well in advance of Sunday's game.
Quick Hits
Eagles running back
LeSean McCoy
remains out of practice as he recovers from a concussion. Don't expect to see him this weekend. However, do expect another hefty dose of
Bryce Brown
.
Nick Foles
is the Eagles' starting quarterback for the remainder of the season;
Michael Vick
has not yet returned to practice, but if and when he does, it will be in a backup role.
Concussions are also an issue for Jaguars running back
Rashad Jennings
and wide receiver
Cecil Shorts
. Both were injured in Week 13 and neither has returned to practice. It is not looking as if either will be available on Sunday.
[+] Enlarge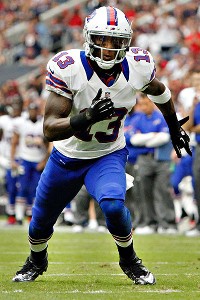 Brett Davis/US PresswireDespite his hamstring injury, Stevie Johnson should be ready to play for the Bills on Sunday.
Bills receiver
Stevie Johnson
strained his hamstring last Sunday, but the Bills did not seem concerned about his playing status for Week 14. After taking Wednesday off, Johnson returned to limited practice Thursday and unless things change, should be on course for Sunday. It's worth remembering that Johnson played through a groin injury last season which ultimately required surgery. This is not to say the hamstring issue is serious but rather that Johnson has shown he will play at less than full capacity.
Earlier this week, Packers coach Mike McCarthy hinted at a very low likelihood of seeing receiver
Jordy Nelson
in Week 14. Nelson aggravated his hamstring injury prior to last Sunday's game then was forced to exit early. He has not practiced this week and it's looking as if he will sit this game out. His teammate
Greg Jennings
said he felt "great" coming out of his return to action following abdominal surgery -- which makes sense, since Jennings is no longer mentioned on the injury report.
Giants running back
Ahmad Bradshaw
continues to operate on a modified practice schedule, as in no practice at all this week. His workload picked up last week with the absence of
Andre Brown
(now on IR with a broken fibula), but Bradshaw seemed to respond just fine. He is expected to play Sunday in a similar capacity. His teammate, receiver
Hakeem Nicks
, has been far less consistent this season. Swelling in his knee due to an injury sustained in Week 2 compounded his recovery from foot surgery. In Week 12, the ailments appeared to be in the rearview mirror but Monday's game proved that was not the case. This week, Nicks practiced Wednesday (and wasn't even listed on the injury report) but developed swelling in his knee again and was forced to sit out Thursday practice, limited to riding a stationary bike on the sideline. It's hard to have confidence in Nicks this week, particularly for those fantasy owners competing in playoffs. Meanwhile, fellow Giants receiver
Domenik Hixon
has been practicing in full after missing last week with an ankle injury. He should be available for this week's matchup against the Saints.
Rams wide receiver
Danny Amendola
was out of Sunday's game with an injured heel. He has spent the majority of the last two weeks in a walking boot. On Wednesday, Amendola did individual work on the side and was a limited participant Thursday, according to the St. Louis Post-Dispatch. This is an encouraging development but it's hardly reassuring heading into a fantasy playoff weekend. It's worth seeing what his activity is like on Friday. Meanwhile, teammate
Steven Jackson
has been playing through a foot ailment and will continue to do so. Jackson was back in full practice Thursday after taking Wednesday off.
Carolina Panthers
wide receiver
Brandon LaFell
suffered a turf toe injury and chipped a bone in the process, according to Joe Person of the Charlotte Observer. (This has the sounds of an avulsion injury, where a ligament injury pulls a small bone fragment with it.) The bottom line is that LaFell remains in a boot and not practicing, so he will not play this weekend. Teammate
Jonathan Stewart
(ankle) is not practicing and is not expected to play this weekend.
Bengals tight end
Jermaine Gresham
has been hot in the red zone lately, scoring touchdowns in three of Cincinnati's last four games. However, there may be no scoring of any kind for him this week if he can't take the field. He was a limited participant in practice Wednesday due to a hamstring injury, but it was his complete absence from practice Thursday that should have fantasy owners concerned. Late-week downgrades are never a good thing, and when the injury involves a hamstring, they are more worrisome. There is still a chance that Gresham recovers, but fantasy owners should be making alternate plans.
Jets tight end
Dustin Keller
does not look as if he'll make it back this Sunday after injuring his ankle in Week 13. He has not been ruled out for the game but he has not practiced yet this week. It's been a tough year health-wise for Keller, who missed four games early in the season due to a hamstring injury.
Patriots' tight end
Aaron Hernandez
continues to be held to limited practice but certainly was not held to limited playing time last Sunday when he was on the field for every offensive play. Expect him to be ready to go on Monday night. Teammate
Rob Gronkowski
is still on the mend from his broken forearm and is likely to sit out another week. No, the Patriots have given an update regarding the healing progression of the bone (but who expected that to happen?). When Gronk appears in practice, it will be the sign he is nearing a return. Until then, it is silence as usual.
And on a final note
Steelers coach Mike Tomlin announced Thursday that
Ben Roethlisberger
will resume his starting role as quarterback for the Steelers. While the unusual nature of his shoulder injury led to some speculation that he might be done for the season, the facts of his case combined with his history of quick healing and pain tolerance suggested he would be able to return.
It is still a credit to Roethlisberger that he is in a position to return just four weeks after getting injured. He has demonstrated that he can make the necessary throws to perform effectively, but how he responds to absorbing contact is unknown. He is expected to wear some padding for protection, but the sternoclavicular joint and the first rib are impossible to completely stabilize. His best bet is to ensure he unloads the ball quickly enough to avoid taking sacks that drive his shoulder into the ground (which is how he was hurt in the first place).