Stephania Bell:

Chad Cordero
April, 30, 2008
4/30/08
1:51
PM ET
By
Stephania Bell, ESPN.com
| ESPN.com
Well, well, well. It's spring, and all that's old is new again. The names that we've seen go on the disabled list in the past few days are not, for the most part, unfamiliar. Nor are the injuries unfamiliar.
John Smoltz
's shoulder is showing the effects of his years (and maybe causing him to consider transitioning to another role?);
Alex Rodriguez
's quad was not quite ready for prime time; and Nationals reliever
Chad Cordero
did not get enough relief from his first disabled-list stint.
Alex Rodriguez, 3B, New York Yankees:
Rodriguez initially strained his right quadriceps muscle, the large muscle on the front of the thigh, on April 20 in Baltimore. He missed three games afterward but the timing was coincident with the birth of his second child, so
the reason
he was out of the lineup was unclear. Rodriguez returned for the four-game weekend series against Cleveland, and somewhat surprisingly returned to his regular position at third base, instead of starting as a designated hitter as was originally projected. ESPN reported that, Monday night, Rodriguez felt a "pull" in his quad again while running the bases, resulting in his being sent for an MRI Tuesday. The MRI revealed a Grade 2 (moderate) strain and the Yankees immediately decided to place Rodriguez on the 15-day disabled list. The challenge with a Grade 2 muscle strain is that the time to heal is highly variable depending upon how much actual tissue damage there is. Grade 3 indicates a complete rupture, which would clearly be more serious, and Grade 1 is minor, usually micro-trauma only, leaving Grade 2 to represent everything in between. Grade 2 injuries can run the gamut from two weeks to three months to heal. Rodriguez told the New York Times that he had a similar injury in high school that lingered for two months, so this may not be a 15 days and done scenario. The key for these injuries is allowing the athlete enough time for the muscle to heal before returning him to the lineup. In hindsight this seems obvious given that Rodriguez is now exiting for the second time after aggravating his initial injury. Even teammate
Derek Jeter
sat out six games before attempting to return from his quadriceps strain. And although no two muscle strains are created equal, especially when comparing two different athletes, the message is still clear: Athletes should not be pressing to play when they are still having symptoms, and when they do, the risk of reinjury, or perhaps more correctly, the risk of exacerbating the injury increases.
[+] Enlarge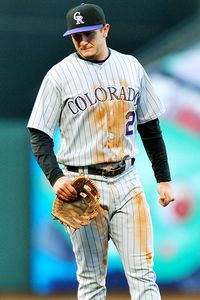 Daniel R. Harris/Icon SMIHow will the young Tulo bounce back from a major injury?
Troy Tulowitzki, SS, Colorado Rockies:
In keeping with the theme of infielders and quadriceps strains, Tulowitzki left Tuesday night's game in the first inning with what was initially called a strained left quadriceps muscle. Tulowitzki, who was replacing
Jeff Baker
in the lineup, is having an MRI Wednesday, and the Rocky Mountain News is reporting that Tulowitzki actually injured his groin. The Rockies' Web site reports that head athletic trainer Keith Dugger said Tulowitzki was in "a lot of pain and discomfort and a lot of spasm" after the injury. Tulowitzki is expected to be placed on the 15-day disabled list, but it is unclear at this point, given the uncertainty as to the true nature and severity of his injury, how much time he will miss. Meanwhile, Jeff Baker is being evaluated for what appears to be another circulation-related issue. Baker broke a blood vessel in the middle finger of his right hand during pregame warm-ups and will undergo further diagnostic tests back in Denver, according to the Rockies' Web site.
Jorge Posada, C, New York Yankees:
Posada, who has been challenged with shoulder problems since the start of the season, has now been placed on the 15-day disabled list for the first time in his career while the team tries to sort out exactly what is going on with him. Posada complained of dead-arm-type symptoms, meaning his arm felt like it was lacking the strength to throw effectively, but did not report feeling pain in the shoulder. An MRI revealed a tear in the subscapularis muscle, one of the four muscles of the rotator cuff, according to the New York Times. After resting the arm, Posada returned but did not last. He has had his shoulder examined by the one and only Dr. James Andrews, who operated on Posada's labrum in the past but did not recommend surgery at this juncture. Posada will be making the rounds to get opinions from several more specialists over the next few days. At this point it appears that rest may be the primary need for Posada in terms of getting his shoulder healthy, along with a gradual strengthening and rehab progression designed to bring him along slowly. As a thrower, and it is fair to label Posada a thrower given the frequency with which he throws 60 feet, six inches, Posada no doubt has some wear and tear in his shoulder. In the absence of a major finding, it is most likely that Posada continues to follow a conservative treatment approach, even if it is for an extended period, which gives him the best shot of returning this season. We will stay tuned to plans for one of the signature leaders in the Yankees' clubhouse as they develop.
John Smoltz, P, Atlanta Braves:
Smoltz, despite being off to an excellent start, cannot shake the symptoms in his throwing shoulder and has been placed on the 15-day disabled list effective Monday. Smoltz paid a visit to Dr. James Andrews and received an injection for a severely inflamed biceps tendon and rotator cuff inflammation per an ESPN report. Andrews has recommended that Smoltz continue a plan of rest and rehabilitation until his shoulder is pain-free, which means his timeline to return is uncertain. Smoltz has been dealing with some variant symptoms in his shoulder (tightness in the back of the shoulder as well as the upper trapezius) since spring training. Recent MRI and CT scans confirmed the latest findings, and after Smoltz's struggles in his most recent outing, it became clear that he needed to pull back. Smoltz even acknowledged in an interview with the Atlanta Journal-Constitution that he could make a return to the bullpen when he comes back from this injury. Smoltz is intelligent and experienced and seems to recognize that his age in baseball years, reflected in his current injury, combined with the injuries in the Braves' bullpen mean that Smoltz could return as a closer. Smoltz's shoulder will never be pristine again given the abuse it has taken after years and years of pitching, but that is not to say he will not be back and be effective. I believe he will return to be effective, and the likelihood of his lasting the remainder of the season may even increase if he switches roles.
[+] Enlarge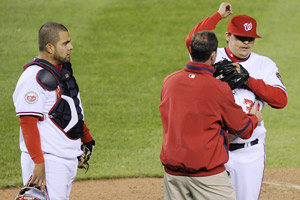 AP Photo/Nick WassYou have to wonder if Cordero will stay healthy this year.
Chad Cordero, P, Washington Nationals:
After failing to make an appearance in the season opener because of problems with his shoulder, Cordero was placed on the disabled list with tendinitis. When he returned, his velocity was not quite up to snuff, and Cordero was troubled by some clicking noises in his shoulder. The concerns led to his paying a visit to Dr. James Andrews, who encouraged Cordero to continue on his strengthening program while continuing to serve as a relief pitcher. In what is just the latest setback in a difficult start to the season, Cordero strained the shoulder Tuesday (it is being called a strained lat, according to an Associated Press report). Cordero said that it hurt "really, really bad," not encouraging words by any means. The Nationals have indicated that Cordero probably was compensating for some of the weakness around his shoulder and consequently strained one of the larger back muscles that supports the throwing arm. In any case, given Cordero's challenges so far this season, it is probably best for fantasy owners to watch from a distance until he shows that he is truly beyond his arm issues.
In brief
Chipper Jones, 3B, Atlanta Braves:
Despite the fact that he strained his quadriceps muscle in early April and subsequently aggravated it two more times, Jones most recently sat out two games because of his back, not his leg. Jones has been experiencing back spasms, not altogether surprising given how hard he's been swinging the bat lately, but he was able to get into the Tuesday lineup. This appears to have been nothing more than a minor setback, but it serves as a reminder that Jones may have his share of strains and sprains that can threaten his presence in the lineup at any point.
The Yankees and Braves dominated this edition of the injury blog; these two teams have been seeing more than their fair share of injuries. Check back later in the week for updates on other injuries and see if the Yankees and Braves can maintain without losing yet another player to the disabled list. Good luck to all your fantasy teams and stop by my injury chat on Friday!
April, 1, 2008
4/01/08
2:08
PM ET
By
Stephania Bell, ESPN.com
| ESPN.com
Play ball! These words were heard around the country as most teams officially opened their seasons this week. And so it is time for me to resume my regular season of injury blogging. We talked about key injury concerns during the offseason, and I shared some of my observations from training camps in Florida and Arizona, but now that the real deal is here, it is time to monitor how those preseason injuries are progressing (or not), and who is being added to the injury list each week.
We start this season off by welcoming a long absent player back from injury. Of course, because this is the injury blog, we also have to add to the injury list the players who have already gone down early in Week 1.
Welcome back!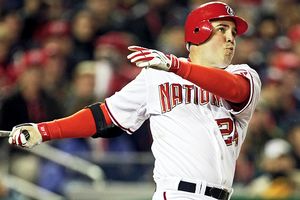 Drew Hallowell/Getty ImagesNick Johnson is looking good after missing all of 2007 with a broken leg.
Nick Johnson
has returned to the lineup in grand style. The
Washington Nationals
first baseman missed the entire 2007 season after suffering a broken right femur (thigh) in September 2006 as a result of a violent collision with right fielder
Austin Kearns
. It takes a lot of force to break a femur, and that's what happens when two adults moving at high speed in opposite directions crash into each other. Johnson had a titanium rod and screws placed into the femur to stabilize it, but persistent pain in his hip and knee resulted in subsequent surgery to remove the hardware. After first relearning how to walk, then run, Johnson had to reteach his leg some of the basics of baseball. One of the most challenging skills? Sliding. Imagine leading with that leg, knowing it will come into contact with something -- whether that something is a base or a body -- and overcoming the anxiety of that leg enduring the impact.
Well, Johnson came back with a vengeance, delivering an RBI double in the first inning Sunday and demonstrating confidence in his leg on a slide into second, which occurred without a second thought. It is wonderful to see someone who has been through so much and who has worked so hard to get back to the game be able to succeed. Forget the fact that Johnson's performance helped secure a Nationals victory on Sunday night to open their brand new park, as well as earn another victory Monday. His success was already evident by the fact that he earned the starting position, somewhat ironically, over
Dmitri Young
, the 2007 National League comeback player of the year. With two great outings to start the season, Johnson is making the Nationals very excited to see what is yet to come from him and his teammates in 2008.
New Injury Worries
Cleveland Indians
catcher
Victor Martinez
folded while trying to run to second when a pitch got away from
Chicago White Sox
catcher
A.J. Pierzynski
on Monday. An athlete's instinctive reaction to acute discomfort is to pull back immediately on the speed and grab the leg, a sure sign of a strained or pulled muscle. According to an ESPN report, Martinez, who has what the team is calling tightness in his left hamstring, will undergo an MRI to determine the extent of the injury. He is considered day-to-day for the time being. Last year, Martinez strained his left quadriceps on Opening Day and subsequently missed six games. The Indians have to hope this is not the beginning of a trend.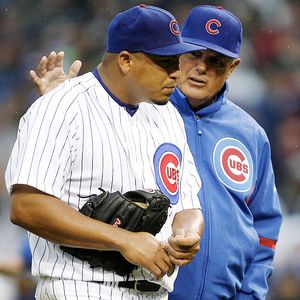 Tom Fluegge/US PresswireCarlos Zambrano, left, leads the Cubs with eight wins and is second on the team with a 3.01 ERA.
Chicago Cubs
pitcher
Carlos Zambrano
managed to pitch 6 2/3 innings in Monday's opener but complained of discomfort in his forearm. That was enough for the medical staff. Zambrano exited the mound, perhaps a proactive move to prevent it from becoming a significant problem. According to the Cubs' official Web site, Zambrano was experiencing forearm cramps and is not expected to miss his next start. For his part, Zambrano says he needs to "drink water." Can't hurt.
Kansas City Royals
outfielder
David DeJesus
left Monday's game with a sprained left ankle. Apparently, the ankle had been bothering him all week and was aggravated during the game when he chased down a ball. The Kansas City Star is reporting that X-rays on DeJesus' ankle were negative and that the pain he experienced Monday is not as severe as when he originally injured it March 24. The challenge with sprained ankles is avoiding re-injury while trying to recover, and this is an example of the type of minor aggravation that can set you back. Fortunately, this does not sound serious for DeJesus and should not result in an extended absence.
Washington Nationals pitcher
Chad Cordero
did not make his anticipated entrance at closing time on Sunday night, leading everyone to wonder what the problem might be. As it turns out, Cordero told The Washington Post that he felt a "sharp pain" that shot down his arm while playing catch before the game. Cordero received a cortisone shot, and the team is calling the injury tendinitis. He is not scheduled to throw before Wednesday at the earliest, and his next attempt at activity should give a better clue as to how serious the shoulder condition is. Sharp pain with throwing is always more of a concern than stiffness or tightness, but until Cordero tests the arm again, there is not much to go on.
Sticking with the Nationals, outfielder
Elijah Dukes
left Sunday's game with a strained right hamstring, the same hamstring he originally injured in mid-March, and was placed on the 15-day disabled list immediately after the contest. Hamstring injuries can easily become chronic and nagging, so this serves as a tiny red flag for Dukes that he will need to rest this ailment sufficiently and not return too soon. Otherwise, it has the potential to simmer just beneath the surface and crop up intermittently throughout the season.
That's it for the early week injury blog. Be sure to check back later in the week as we take a closer look at the players who started the season on the disabled list and what we can expect from them. As always, we will update any new injuries as well. Good luck to all of you playing fantasy baseball and remember, no matter what happens this week, it's a long season. I'll be with you the whole way.