Stephania Bell:

Chad Johnson
December, 24, 2008
12/24/08
6:30
PM ET
By
Stephania Bell, ESPN.com
| ESPN.com
If you're playing this week, you have two big challenges: You have to decide who might be healthy enough to play in this final week of the NFL regular season, then you have to gauge whether the coach will actually utilize that player enough to warrant a spot on your fantasy roster. This represents perhaps the biggest strategic second-guessing you are faced with all season. Hopefully we can help by giving you a few hints in the injury department.
Joseph Addai, RB; Dominic Rhodes, RB; Marvin Harrison, WR, Colts:
Addai has sat out the past two games to rest his sore shoulder. He has benefited from the rest and Tom James of the Terre Haute Star-Tribune reports that coach Tony Dungy says of Addai, "I think he'll be ready this week." The Colts will monitor how he does in practice, but it looks as if Addai will see playing time, but how much? With your fantasy championship at stake, is he worth a start? Probably not. Even if Addai gets on the field to get some reps, it is unlikely that he plays for an extended period of time. Don't get too excited if you think you've got it made with Dominic Rhodes as your handcuff. Rhodes has already been ruled out of this week's game with sore ribs. Dungy has already indicated that the Colts have some younger players they would like to see get some more game experience. For instance, rookie
Chad Simpson
, who managed to get in the game briefly a couple of weeks ago, may end up with more extended playing time this week. There's a good chance he's still available in your league.
Colts receiver Marvin Harrison has missed some time recently with a hamstring injury. Despite the fact that the strain was in the distal part of the hamstring, nearer the knee, which usually hints at a longer recovery time, Harrison is reportedly feeling much better and could be ready to play this weekend. That being said, with the Colts being cautious, don't expect Harrison to see much playing time, even if he is active.
[+] Enlarge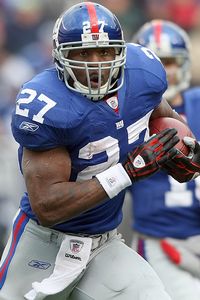 Nick Laham/Getty ImagesJacobs looked great last Sunday, but the Giants may rest him to make sure he's 100 percent healthy for the playoffs.
Brandon Jacobs, RB; Derrick Ward, RB, Giants:
Brandon Jacobs looked good last weekend, and proved that his strength helps him compensate for any residual knee instability. Jacobs was limited in practice Wednesday, however, and it would not be a surprise if he is limited to a very short amount of playing time, if any, this weekend. Ward, who has a sore ankle, has been running very well when called upon, and is not far from reaching 1,000 yards on the season himself. He was a full participant in practice and should play plenty on Sunday.
Marion Barber, RB, Cowboys:
If you watched either of the past two Cowboys games, you don't need me to tell you that Barber is still having trouble with his recently dislocated toe. Those problems continue into this week as Barber missed practice Tuesday and was limited on Wednesday. His persistent problems prompted coach Wade Phillips to tell the Dallas Morning News: "Maybe we shouldn't have played him at all. Maybe he would be well by now." Well, maybe. But it's clear that the Cowboys likely won't make the same mistake three times. It looks as if Barber will rest this week and
Tashard Choice
will once again see the bulk of the work.
Some other players to keep an eye on as the week progresses
&#8226 Although the 49ers' practice report was not yet in as of the writing of this column, it is still sounding as if running back
Frank Gore
will be able to see the field this Sunday. Although he is no lock to play the entire game, it would seem that Gore will be allowed to go as long as the ankle permits. We should have a better idea of what to expect once the week of practice is complete.
&#8226 Expect Cardinals wide receiver
Anquan Boldin
(sore shoulder) to be back on the field this weekend as Arizona tries to get in sync before the playoffs. Boldin was held out of practice Wednesday but should see some practice time late in the week.
&#8226 In Green Bay, both
Donald Driver
and
Greg Jennings
left Monday night's game with injuries. According to the Green Bay Press-Gazette, Driver sustained a knee contusion (bruise) and Jennings suffered a concussion. Driver was able to return to the game following his injury, always a good sign, but was held out of practice Wednesday. We will check back this weekend but he should be able to go by Sunday. Jennings was limited in practice Wednesday, and the fact that he is back out in practice already is a great sign. He should be able to play Sunday.
&#8226 Both
Calvin Johnson
(knee bruise) and
Kevin Smith
(ankle) were in practice on a limited basis Wednesday. Expect both to be available Sunday as the best hopes for a team trying to avoid a winless season.
&#8226 In Philadelphia,
Kevin Curtis
was kept out of last week's contest with a calf strain. The good news is that Curtis was a full participant in practice Wednesday and it sounds as if the Eagles expect to have him available this weekend, assuming there are no post-practice setbacks.
Hank Baskett
is still limited by his medial collateral ligament (MCL) sprain and it is too early to predict whether he will be available. Even if he is, you should look elsewhere for another fantasy option. And by now you should know not to worry too much when
Brian Westbrook
doesn't practice early in the week. Westbrook has overcome knee and ankle injuries early in the year to provide a much-needed spark for the Eagles' offense. That should continue this weekend as the Eagles need a win and will count on his contributions.
&#8226 In Dallas, it's not just the running backs who are hurting. Quarterback
Tony Romo
missed Wednesday's practice because of illness but is expected to return to practice late in the week and play this weekend. Tight end
Jason Witten
, who clearly aggravated his ankle injury in the Cowboys' game Saturday, was held out of Wednesday's practice as well. Make no mistake though, Witten will be in the lineup in this all-important game for the Cowboys. Even if his ankle is bothering him, Witten proved in Week 16 that he could still get open and make plays. Fantasy owners can count on him in Week 17 also.
&#8226
Marshawn Lynch
was not in practice Wednesday after aggravating his shoulder last weekend. According to the Bills' official Web site, coach Dick Jauron expressed optimism that Lynch would indeed play this weekend, but fantasy owners need to be aware that
Fred Jackson
may see a larger-than-usual workload.
Guys whom you should NOT expect to see this weekend
Chad Johnson, WR, Bengals:
The hamstring strain that kept him out during Week 16 will likely cause him to miss the final game of the season as well.
Matt Hasselbeck, QB, Seahawks:
His back has been an issue for him all season long and there is zero reason for him to return this week in a meaningless contest for the Seahawks.
Kellen Winslow, TE, Browns:
Winslow is still recovering from a high ankle sprain, and there is clearly no reason for the team to risk putting him back on the field this weekend.
Here's wishing everyone a very happy, restful and peaceful holiday. We'll update the latest player injury status on Saturday and be sure to stop by the injury chat on Sunday at 10 a.m. ET!
December, 22, 2008
12/22/08
2:55
PM ET
By
Stephania Bell, ESPN.com
| ESPN.com
Week 16 is nearly in the books. You are looking like a proud winner of a fantasy championship or a slightly bitter second-place finisher (like me), or perhaps you have just advanced to your championship round if your league finishes in Week 17. For those of you with big games in Week 17, even minor injuries may be major factors in whether a team decides to play one of its stars, especially if the team has already clinched a playoff spot.
Calvin Johnson, WR, Lions:
In an otherwise dismal season in Detroit, one of the bright spots has been this young receiver who manages to get into the end zone on a near weekly basis. On Sunday, Johnson missed the entire fourth quarter after suffering what the Detroit Free Press is reporting as a bruised (right) knee. Johnson has apparently already indicated he will play against Green Bay, hinting that the problem does not appear serious.
The Lions have to hope he will be back in the lineup as they try to avoid making history by going an entire season without a win. Johnson has proven he's a quality end zone target and consequently gives the team its best chance to score. Johnson is a physical player who can leap to make a catch, so if his knee is sore or swollen it could affect his playmaking ability. As always, watch the weekly practice reports to see how this plays out over the week.
Other noteworthy injuries
&#8226 49ers running back
Frank Gore
sat out for the second straight week with an ankle sprain and the 49ers' running game was less than spectacular without him. Gore did acknowledge this past week his ankle felt much better, but the fact he did not practice with the team all week made it less likely he would play against St. Louis. Gore should be able to test the ankle a bit more in practice now. With only 22 yards to go to reach 1,000 on the season, not to mention the 49ers' desire to finish out the season on a high note, Gore should have an opportunity to see the field this weekend (assuming the ankle cooperates, of course).
&#8226 Giants' running back
Brandon Jacobs
was back in action Sunday night and I liked the way he looked running and driving the ball. Any concerns about residual instability in his knee were alleviated when he proved how much pure strength can compensate for such a deficit. Jacobs remains a risk for aggravating the knee; that will not change as the season finishes out. The risk, however, is minimized by his size and strength, and it appears there is no reason to worry about his health at the moment.
&#8226 Cowboys' running back
Marion Barber
was also on the field this week but still looks compromised by his injuries. He just can't run as effectively as he normally does, and whether that's an issue with his toe, his calf, or some combination of the two is uncertain. In the end, here's an observation: Barber has not been able to fully practice since sustaining the initial injury on Thanksgiving. If he is not able to participate in an increased manner, then I would not have any confidence in his ability to contribute much Sunday, either. If, however, Barber is able to progressively increase his activity throughout the week, then that would at least give a clue his condition is improving. At this point, it appears the Cowboys are leaning on
Tashard Choice
until Barber has fully recovered.
&#8226 Bills' running back
Marshawn Lynch
was limited in practice with a sore shoulder but managed to play against the Broncos on Sunday, at least for a while. Lynch reportedly aggravated his shoulder in Sunday's contest and teammate
Fred Jackson
handled the bulk of the run duties late in the game. There is a decent chance Jackson has more opportunities this weekend.
&#8226 Bengals' receiver
Chad Johnson
was a surprise late inactive Sunday with a hamstring strain. Johnson was added to the injury report just Friday and was listed as probable, but apparently the hamstring injury was not something he could play through. In case Johnson is on your roster, you may want to start perusing your alternatives as the Cincinnati Enquirer is calling it "unlikely" he will play in the season finale.
&#8226 The Colts face Tennessee in Week 17 and the big question is whether their key starters will play, especially given the fact they have secured a playoff spot. Tony Dungy has already made it clear he will be cautious with certain guys (
Joseph Addai
and
Marvin Harrison
, for instance), but does that mean they sit the game out entirely? Do they play a half to keep some rhythm with the first team offense (or in Addai's case, since he has missed the past two games, to regain some rhythm)? At this point in the week, those are unknowns, but if you have either Addai or Harrison in your lineup, it would be a good idea to secure insurance. Addai has been nursing a sore shoulder, which should be improved after the rest period, but still may cause the Colts to consider limiting his playing time, even if he goes. Harrison strained a hamstring in the Detroit game and his pain is down close to the knee, usually a sign the tendon is involved. Knowing these injuries, even if minor, can be a bit slower to recover from, Harrison becomes no lock to play against Tennessee. Obviously we will watch what they do in practice throughout the week, and as the weekend approaches we should have a better clue as to which Colts are likely to get the bulk of the work.
Be sure to check back here throughout the week as we update these and other injuries. Stop by the injury chats (11 a.m. Tuesday and 10 a.m. Sunday) to discuss the status of your injured players. Hope to see you there and Happy Holidays!