Stephania Bell:

Chad Ochocinco
August, 4, 2011
8/04/11
1:57
PM ET
What a great night for football in Foxborough, Mass.! Temperatures in the low 70s, excited fans in attendance, practice taking place under the lights inside Gillette Stadium, complete with referees, stadium announcer and JumboTron. It just
felt
like there was an extra bounce in everyone's step -- the coaches, the staff, the players -- as if everyone was happy -- no, thrilled -- to be on the field. This is just not how training camp usually feels. Something is different this year and it makes the prospect of the season ahead that much more enticing ...
And yet there's the usual business of preseason football to tend to. Players added, players released and, my personal favorite, players on the mend from injury.
[+] Enlarge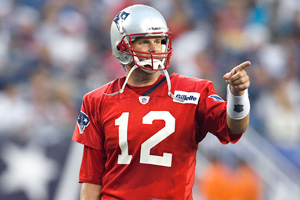 AP Photo/Charles KrupaTom Brady seems to be none the worse for wear after offseason foot surgery.
The
New England Patriots
are not dealing with the return-from-injury drama that has been their custom the past two years. In 2010, it was receiver
Wes Welker
returning from a torn ACL and MCL, surprising everyone with his rapid progress but keeping us guessing until the last minute as to whether he'd be ready to start the season. In 2009, quarterback and face-of-the-franchise
Tom Brady
was coming off a combined ACL/MCL surgery and many wondered whether he could return to form. Both players, it's safe to say, have indeed proven that these major injuries are behind them.
But there were a couple of health questions heading into the offseason. Brady had a right foot injury (stress fracture) last season which, although he managed to play through it, required surgery after the season. Tight end
Aaron Hernandez
had a right hip injury that cost him two games late in 2010. He, too, needed surgery to address the injury. With athletes rehabbing away from team facilities as a result of the lockout, it has really come down to seeing exactly how they are functioning in practice to appreciate their progress.
If there were any doubts about Brady's health, those can be put to rest immediately. Brady was heavily involved in Wednesday night's workout, sporting a lightweight knee brace on his left leg as is customary for him. He moved fluidly to both sides and his passes were on the mark. Brady made the work look effortless, another trademark of his, but it also sent a signal that his body was cooperating. He threw several nice passes to a recent Patriots acquisition, wide receiver
Chad Ochocinco
, who appeared to be working hard (even diving for a catch in the end zone!) and making himself at home.
One of the most interesting notes on the evening was the amount of work Hernandez did. Considering he started on the physically unable to perform (PUP) list and only began practicing within the past few days, he looked less rusty than expected. Most importantly, he ran both soft and hard routes, decelerating hard and cutting to either side without apparent limitation. At one point, he leaned in an attempt to make a catch (he did not succeed) and went to the ground, face down, only to pop up quickly and get back in line for the next round. That dive was perhaps the most confidence-inspiring move he made all night, showing he could hit the dirt and get right back up afterward. Hernandez was a frequent target, including in red zone drills, and while there's work to be done, his movement was encouraging. His counterpart,
Rob Gronkowski
, looked especially strong Wednesday night, as well, making impressive catches in the red zone.
A few other observations on the night:
• Veteran left tackle
Matt Light
spoke to the media before practice about being back in New England and having the lockout behind him. As a player rep he was very in tune with the happenings of the past few months. He noted that Patriots owner Robert Kraft brought "leadership and experience" to the negotiation process, something that benefited everyone involved. Light indicated that he felt many of his teammates had stayed in great shape working out on their own and added that given the shortened practices, increased "mental reps" are much more important this year.
• Rookie running back
Shane Vereen
looked speedy-fast. Quick bursts. Impressive. And then he left with an apparent injury. No word on the specifics or the severity, although he appeared to stop short during a drill as if he strained a hamstring. Certainly everyone is hoping it's nothing serious.
•
BenJarvus Green-Ellis
spoke to reporters before practice and quietly said how glad he is to be back with this team. He is not able to practice with the team until tomorrow after the CBA is ratified but he was present on the sidelines, saying he's "itching to get back on the field."
• Ochocinco got the loudest crowd cheers whenever he made a big catch (especially a 40-yard beauty down the sideline early in practice), with Welker coming in second on the applause-o-meter.
• Brady has cut his hair. No more Justin Bieber references for him.
•
Ryan Mallett
is long and tall and can sling the ball. Both he and
Brian Hoyer
landed a couple of balls in an empty garbage can from more than 25 yards out, showing they could snag the extra-large toy at the proverbial carnival. It didn't seem to threaten Brady's starter status even though he failed to get the hole-in-one.
• After the group sessions were over, Ochocinco did some extra work on pass routes with Brady and Welker, with a lot of three- way dialogue going on throughout. Practice. Teaching. Learning. This is a good sign if you're looking for fantasy points (or just Patriots points) from these three.
• And finally, as the workouts ended, members of the Patriots circled the stadium and, as it should be on Fan Night, signed autographs and shook hands with those who came to watch them practice. But somehow, on this night, it just
felt
different, as if everyone was happy -- no, thrilled -- to be back playing football.
December, 30, 2010
12/30/10
5:27
PM ET
It's the last week of the NFL regular season and for many fantasy players, this is the grand finale. Week 17 always presents unique challenges as many NFL teams with secure playoff bids opt to rest key players, leaving fantasy owners scrambling to set their final rosters. This year there are some NFL teams whose playoff hopes are still barely alive or who could (or should) be playing for pride, but injuries may still force their starters to rest. And in what could be the worst scenario for fantasy owners, some teams are considering starting their main players to keep them in the rhythm of game preparation and competition, but how much playing time they get is anyone's guess.
Philadelphia Eagles
have, rather unsurprisingly, ruled out quarterback
Michael Vick
. His thigh contusion had him limping throughout Tuesday night's game and there is no reason to further risk his health.
Kevin Kolb
is expected to get the start after working with the first team Thursday.
The Florida Times-Union reports
Jacksonville Jaguars
quarterback
David Garrard
has undergone surgery to repair a torn ligament in the middle finger of his right (throwing) hand and faces a two-month recovery.
Trent Edwards
is poised to start in his absence. ... The
Cincinnati Bengals
announced via Twitter that wide receiver
Chad Ochocinco
will not make the trip to Baltimore because of his ankle. And, as a reminder,
San Diego Chargers
tight end
Antonio Gates
should not be on anyone's fantasy roster (if you were hoping for a miracle) as the team has placed him on injured reserve. At least savvy fantasy owners can get a jump on picking up unclaimed backups or other more appealing free-agent alternates for these players.
While the Week 17 fates have already been decided for some, there are many others still on the fence. Here's who else you might be concerned about heading into Sunday's games:
Quarterbacks
Mark Sanchez, New York Jets:
Initially, it sounded as if Sanchez would be out for Week 17, but then coach Rex Ryan seemed to hint at his starting quarterback playing. Now it just sounds like a situation to avoid altogether. Sanchez's shoulder was sore heading into Week 16 and while it does not appear to be impacting him severely, the Jets might be concerned about him suffering a setback, which would be undesirable heading into the playoffs. That said, the New York Post reported Tuesday that Ryan was considering starting Sanchez "because he's hot right now." Ryan added, "We can't afford for him to take a dip. We need him to stay at this level." The Jets are trying to balance protecting Sanchez with keeping him in a rhythm, all of which points to a scenario where Sanchez starts but doesn't finish. The problem is there is no way of telling just how much playing time Sanchez will see. This is a situation for fantasy owners to avoid.
Matt Hasselbeck, Seattle Seahawks:
On Tuesday, we outlined the
injury concern for Hasselbeck
and the team's plans to proceed as if
Charlie Whitehurst
will be under center. Hasselbeck clearly wants to play in Sunday night's game, and although he was not able to practice Wednesday or Thursday, he is rehabbing diligently with Sunday's goal in mind. As Danny O'Neil of the Seattle Times reports, coach Pete Carroll thinks it's unlikely Hasselbeck will play but acknowledges the door is still open. "I'm totally convinced that he's waging a battle that's against the odds," said Carroll. "He's going to make a miracle comeback if he can." This could come down to a game-time decision.
Jon Kitna, Dallas Cowboys:
According to the Fort Worth Star-Telegram, Kitna, who is dealing with a left abdominal oblique injury, says that all movement feels "like you have a knife in your side." As he sat out practice Wednesday, Kitna still held out hope for a Sunday return, but the pain he is experiencing certainly casts doubt on whether he will be able to throw the ball effectively. If Kitna does not play,
Stephen McGee
will get his first career start.
Brett Favre, Minnesota Vikings:
Most fantasy owners would not rely on Favre to help them win their championship Sunday even if he does suit up. But they might consider
Joe Webb
, thus making Favre's injury status relevant. Favre has yet to pass required post-concussion tests, making it unlikely he'll play Sunday. Even beyond passing those tests, Favre would need to return to a graded exercise progression to be sure his symptoms did not recur with physical exertion. The window for Favre to be able to play is closing simply because of the narrow time factor. The Minneapolis Star-Tribune reports that Favre could repeat the tests Thursday or Friday and coach Leslie Frazier has not ruled him out for Sunday's game. Stay tuned, folks. By now everyone should know things can come down to the wire in Minnesota.
Ryan Fitzpatrick, Buffalo Bills:
The Bills quarterback has missed two days of practice because of his knee and it's starting to raise concern about his availability for Sunday. Fitzpatrick has been sore for quite some time but the back-to-back missed practices are more troublesome.
Brian Brohm
has been practicing with the first team in his absence. Friday should be telling in forecasting who will start for the Bills.
Running Backs
Maurice Jones-Drew, Jacksonville Jaguars:
Jones-Drew did not play in Week 16 because of persistent swelling in his knee, and it looks as if he may be sidelined again Sunday. Jones-Drew did not practice Wednesday or Thursday.
Rashad Jennings
would start in his place against the
Houston Texans
.
Peyton Hillis, Cleveland Browns:
Hillis did not practice Wednesday or Thursday, allowing his sore ribs some rest after taking a shot in the back Sunday. It sounds as if the Browns plan to have Hillis available to play against the
Pittsburgh Steelers
and their best chance for that is to rest him during the week.
Darren McFadden, Oakland Raiders:
Listed on the official NFL injury report with a "toe" ailment, McFadden's status for Sunday is unclear. He did not practice Wednesday and the Oakland Tribune listed "ankle" next to his name as the reason. (On Tuesday, we noted there were
conflicting reports
about the nature of McFadden's injury.) The Tribune notes that McFadden participated in the morning walkthrough Thursday, suggesting he would practice, but his activity level remains to be seen. According to Vittorio Tafur of the San Francisco Chronicle, coach Tom Cable says McFadden could be a game-time decision.
Knowshon Moreno, Denver Broncos:
Moreno managed to see some playing time in Week 16 but left the game early after aggravating his rib injury. Moreno did not practice Wednesday but was expected to practice Thursday in an effort to gear up for Week 17. After
Correll Buckhalter
's Week 16 effort, however, Sunday could turn into a time-share situation, especially if Moreno is less than 100 percent.
Chris Ivory and Reggie Bush, New Orleans Saints:
Ivory has been on the road to recovery from a hamstring injury for the past two weeks but has not been quite ready to play. Week 17 could be different as Ivory returned to full practice Thursday. Bush was listed on this week's injury report with a "chest" injury (SC joint per NFL Network) but practiced fully Thursday and does not appear in danger of missing Sunday's game.
Wide Receivers
Andre Johnson, Houston Texans:
Coach Gary Kubiak announced early in the week that Johnson would not practice (he has not) and that Johnson would indicate whether he is able to play (he has not ... yet). Fantasy owners will likely be waiting until the bitter end to find out whether Johnson can indeed play against the Jaguars. As of now, there is no real hint which way the cards will fall, but Johnson is a competitor who will not give up simply because the Texans are out of the playoff race. Expect him to play if he feels he can contribute, but have a backup plan in place.
Hakeem Nicks, New York Giants:
He has a broken toe, putting his Sunday status into question. The Newark Star-Ledger reports Nicks broke the big toe in his left foot in Sunday's game. When asked by reporters Wednesday if Nicks could play this weekend, coach Tom Coughlin's response was blunt and discouraging: "I doubt it." Fantasy owners who have benefited from Nicks' contributions week in and week out should attempt to find a replacement in a hurry.
Marques Colston, New Orleans Saints:
In what likely comes as a surprise to many, Jeff Duncan of the New Orleans Times-Picayune reports Colston underwent an arthroscopic surgical procedure on his knee Tuesday, according to coach Sean Payton. Duncan says the Saints are listing Colston as questionable, but fantasy owners should plan on him being absent for Sunday's game, just five days after surgery.
DeSean Jackson, Philadelphia Eagles:
Jackson did not practice Thursday because of his sore foot and it is looking as if he may not play this weekend. This could be another blow to those who might have been counting on some big points from this big playmaker. While the Eagles have not yet ruled Jackson out, fantasy owners would be wise to plan for a substitution.
Sidney Rice, Minnesota Vikings:
It's not a setback with the hip but a concussion he suffered in Tuesday night's game that has Rice on the injury report. He did not practice Thursday and with the short week has less recovery time than normal. Rice has not yet been ruled out for Week 17 but fantasy owners should prepare for that possibility.
Calvin Johnson, Detroit Lions:
Although Johnson has not practiced this week because of a sprained ankle, he is still holding out hope he can play Sunday. Johnson told the Detroit Free Press he is "just taking it day by day," undergoing treatment and trying to ready himself for the game against the Vikings. On Tuesday, we noted that Lions coach Jim Schwartz had said Johnson could miss practice and still play. It would be nice to see Johnson on the field by Friday, however, as reassurance.
Malcom Floyd, San Diego Chargers:
It looked to be all but certain that Floyd would miss Week 17 with his still ailing hamstring injury, now his second of the season. But Floyd showed up in practice Wednesday, albeit on a limited basis, enough to suggest he could be available for the Chargers' finale. Wait to see if Floyd can get through an entire week of practice without a setback before getting comfortable with him in your lineup.
Tight Ends
Todd Heap, Baltimore Ravens:
He returned to full practice Wednesday and Thursday, just in time to encourage fantasy owners for Week 17. It looks as if Heap is on track to play Sunday barring a setback.
Aaron Hernandez, New England Patriots:
Hernandez has been a limited participant in practice this week because of a hip injury. After missing Week 16, fantasy owners should be advised that despite returning to practice, Hernandez could still be held out of the game.
Jeremy Shockey, New Orleans Saints:
Shockey missed practice Thursday because of a groin injury.
Jimmy Graham
has clearly developed a rapport with quarterback
Drew Brees
and may be the better fantasy start, even if Shockey plays.
Have a Happy New Year and we'll have the latest injury updates affecting Week 17 in the Saturday morning blog!
November, 11, 2010
11/11/10
5:30
PM ET
Not getting enough football? Of course you aren't! To help remedy that situation, you get another night of NFL competition starting ... now. Tonight marks this season's first night of Thursday night football, as the
Baltimore Ravens
face the
Atlanta Falcons
at the Georgia Dome.
Naturally, there is a fantasy football injury concern heading into the game. Falcons wide receiver
Roddy White
is listed as questionable coming off a knee bruise from Sunday's contest. It's worth noting that White ultimately finished the game Sunday, and his status for Thursday night never really appeared to be in doubt, even as he was held out of practice early in the week. White returned to a light limited practice Wednesday, and all indications are that he will play against the Ravens. Whether the knee will affect his performance at all is hard to gauge, given that he has not truly tested it since Sunday. Still, there's not enough evidence to suggest White will be significantly impaired unless he suffers an in-game setback. It's pretty hard to bench
Matt Ryan
's top target on the basis of a what-if scenario. Fantasy owners should check pregame inactives, but it would be very surprising if White did not take the field.
In the rest of the NFL world, four teams are enjoying a respite from competition in Week 10. The
San Diego Chargers
,
New Orleans Saints
,
Oakland Raiders
and
Green Bay Packers
get a week off during this final bye week of the NFL season.
With so many teams dealing with multiple player injuries, it made sense to lump the biggest collections of injuries together as team units in this blog entry. With that said, here's who else we're talking about in the world of injuries heading into Week 10: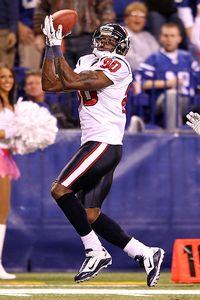 Andy Lyons/Getty ImagesAt this point, it shouldn't surprise anyone that Andre Johnson misses a midweek practice to nurse his ankle.
Houston Texans (Andre Johnson, WR; Owen Daniels, TE; Matt Schaub, QB):
Neither Johnson nor Daniels practiced with the team Wednesday or Thursday. Nick Scurfield of HoustonTexans.com reported that Johnson underwent another MRI on Monday as a follow-up measure for his right ankle. Johnson's high ankle sprain has continued to nag at him intermittently, and his explanation for that was perfectly reasonable. "I still have a little swelling in my joint, so that's what's causing the little pain I have at times," Johnson said. "The biggest thing now is just trying to just get that swelling out of there." This explains why the team is limiting his activity during the week. Less running and less pounding means a better chance of getting the swelling down. Less swelling translates to better joint mobility and less pain. Johnson said his ankle was "feeling pretty good" Wednesday. This cycle is likely to continue throughout the remainder of the season.
Although Johnson's nonpractice routine to protect his ankle is somewhat expected by now, Daniels has yet to get past a recent aggravation of a hamstring injury. Head coach Gary Kubiak says that Daniels is improving but will be a game-time decision, according to the
Texans' official Twitter page
. Daniels has had only one solid performance this season.
Schaub was limited Wednesday because of a rib injury but will play Sunday when the Texans take on the
Jacksonville Jaguars
.
Minnesota Vikings (Brett Favre, QB; Percy Harvin, WR; Sidney Rice, WR):
Favre did not practice Wednesday, and in what has become an ever-changing injury report for him, the notes following his name Wednesday said, "ankle, foot, calf." For those keeping score at home, "chin," which appeared last week after Favre's laceration requiring stitches in the Week 8 game, and "elbow," which made the list weeks ago, are now both absent. Which led me to wonder: What are the most body parts to appear for a player on a single injury report? Will Favre hold that record along with the consecutive-starts streak? But I digress ...
Favre was back in practice Thursday, and we all know he will start this week. Harvin might be a different story. Harvin, who limped into Week 9 with a left ankle sprain, has not practiced Wednesday or Thursday because of a migraine flare. He has developed a pattern where he typically shows up and plays well on Sunday even if he is unable to do much during the week. Although migraines are clearly far less predictable than a typical musculoskeletal injury, one has to believe that if he is functional Sunday, he will play. Still, fantasy owners should prepare for another possible game-time decision.
And everyone is wondering when we will see the return of Rice, who is back doing some work with the team following August hip surgery. Coach Brad Childress has not yet committed to a return date, stressing that he wants to be sure that Rice can handle the rigors of competition, both in terms of endurance and being able to absorb physical contact, before he participates in games. Rice has not yet been moved to the active roster, which has to happen for him to play. Although that is a possibility for Week 10, there has not been any definitive indication that it will take place. Even if it does, Childress already has indicated that Rice is likely to return to limited action initially.
Indianapolis Colts (Joseph Addai, RB; Mike Hart, RB; Jacob Tamme, TE; Austin Collie, WR):
Addai is still not practicing with the team and is not expected to play in Week 10. Hart has shown no signs of returning yet, either. Expect
Donald Brown
to get the start at running back again for the Colts this week.
And what's this we're hearing about Tamme? The Colts already lost their starting tight end,
Dallas Clark
, for the season to a wrist injury. Tamme, who has been outstanding filling in, was not in practice Wednesday because of a back injury. Even more ominous was coach Jim Caldwell's acknowledgment of a "level of concern" about Tamme's status, as reported by Phillip Wilson of The Indianapolis Star. It appears that fantasy owners can breathe a little easier, as Tamme was back in practice Thursday. Friday will be telling to see whether Tamme can go on two consecutive days. Fantasy owners need to keep an eye on this one.
Collie already has been ruled out as he recovers from a concussion.
New England Patriots (Tom Brady, QB; Fred Taylor, RB):
Could the face of the Patriots franchise be sidelined this week with an injury (and not the one to his throwing shoulder that appears on practice reports week in and week out)? No is the simple answer. Brady missed Wednesday's practice, an occurrence that raised eyebrows frankly because it is such a rare event. He is reportedly dealing with a foot sprain, but he was back in practice Thursday and by all accounts will be under center Sunday night.
Meanwhile, welcome back to practice (albeit limited), Fred Taylor! He has been hampered by toe injuries, but the Patriots had to believe he could contribute eventually, as they kept him on the active roster. Maybe that time is nearing. This will no doubt progress slowly and depend on how Taylor responds to any increased activity. But it's something fantasy players in very deep leagues should at least monitor.
And elsewhere ...
•
Tennessee Titans
quarterback
Vince Young
did not practice Wednesday because of his ankle, a bit of a concern coming out of a bye week. He returned to limited practice Thursday and is expected to play this weekend. Nonetheless, if Young's mobility is at issue, it certainly impacts his style of play.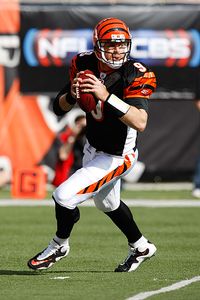 Scott Boehm/Getty ImagesCarson Palmer got an extra day to rest his shoulder, and it looks as though he'll be fine for Sunday's game.
•
Cincinnati Bengals
quarterback
Carson Palmer
has not practiced this week because of soreness in his throwing shoulder. However, Palmer said he plans to return to throwing Friday and, more importantly, plans to play Sunday. According to the Bengals' official website, Palmer says he's "not worried at all," indicating that the short week warranted an extra day of rest. Meanwhile, teammate
Chad Ochocinco
was back in Thursday's practice after sitting out Wednesday to rest his ankle. He got his leg rolled Monday night and looked uncomfortable afterward, but apparently the injury was not serious. His relative lack of targets may be the more serious issue both for him and his fantasy owners.
• The
Detroit Lions
expect to have
Shaun Hill
at quarterback this week as long as there are no setbacks. Hill is recovering from a fracture in his nonthrowing forearm, and the main concern will be protecting that forearm from reinjury.
Carolina Panthers
wide receiver
Steve Smith
had a custom-designed shell created to protect his forearm; perhaps Hill will wear something similar. In the meantime, there is no official word as to the long-term plan for
Matthew Stafford
. But clearly no one expects him back any time soon. Running back
Jahvid Best
continues to be listed on the injury report because of his toe but is expected to play.
•
Seattle Seahawks
quarterback
Matt Hasselbeck
has been back in practice this week after sitting Week 9 out with a concussion. ESPN's NFC West blogger Mike Sando reports that Hasselbeck is expected to play against the
Arizona Cardinals
this week. As is the case following all concussions, there must be no recurrence of symptoms between now and Sunday, but given Hasselbeck's strong early week, fantasy owners can feel positive.
• As for the Carolina Panthers, Darin Gantt of the Rock Hill Herald reported Wednesday that
Mike Goodson
will start at running back this week. So much for
DeAngelo Williams
aiming for a Week 10 return. He has not yet returned to practice, and neither has teammate
Jonathan Stewart
, who suffered a concussion in Week 9. It's worth noting that offensive tackle
Jeff Otah
, who had not played this season following August knee surgery (his absence is certainly believed to be a contributing factor to the struggles of Carolina's running game) has now been placed on injured reserve. Translation: No help on that front anytime soon. Quarterback
Matt Moore
joins Otah on the injured reserve list, and
Jimmy Clausen
will start in his place for the Panthers.
• Arizona Cardinals running back
Beanie Wells
was held out of practice Wednesday and Thursday, again because of swelling in his surgically repaired knee, according to Kent Somers of The Arizona Republic. According to Somers, Wells will try to practice Friday. Not exactly a resounding vote of confidence. Wells has been a question mark most weeks and has been limited even when he has played, primarily because of issues with his knee. It's not looking much more promising for him in Week 10.
•
New York Giants
wide receiver Steve Smith suffered a pectoral (chest) strain in practice Thursday and, according to the New York Daily News, could miss this week's game. Apparently Smith was injured when extending his arm to reach for a ball and was not able to complete practice as a result.
•
San Francisco 49ers
tight end
Vernon Davis
is back in practice this week following the bye. Davis was forced to leave the game early in Week 8 after aggravating an ankle injury, but it doesn't appear to be an issue at the moment.
See you at Friday's 3 p.m. injury chat, and we'll have the latest injury updates affecting Week 10 in the Saturday morning blog.
September, 23, 2010
9/23/10
3:39
PM ET
There are so many injuries cropping up this week that we won't waste any time. Let's jump right into the discussion.
Running Backs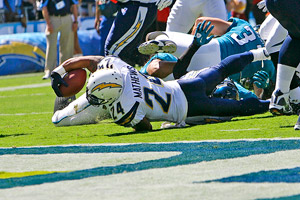 AP Photo/ Bill NicholsRyan Mathews was limited to five carries for 26 yards and two catches for 29 yards in Sunday's win over the Jaguars.
Ryan Mathews, San Diego Chargers:
Hmmm. All indications were that Mathews' ankle sprain was minor -- and it may still be -- but now Mathews is reporting that his injury is a high ankle sprain, according to Kevin Acee of the San Diego Union-Tribune. Even in the case of a lesser-degree sprain, a high ankle injury can be more challenging, especially for a running back. The fact that Mathews sat out practice Wednesday is also somewhat of a concern.
That said, it's possible that with rest early in the week, Mathews could be active, but the question will be how effectively he can perform. In fact, if he is active, it would not be surprising if it was in a planned backup role. After all, why risk the chance of turning a mild high ankle sprain into one that's more severe?
Fantasy owners should consider that
Mike Tolbert
, who clearly demonstrated his value last Sunday when he had to step in, would see the bulk of the workload Sunday if Mathews is limited.
Beanie Wells, Arizona Cardinals:
Wells is perhaps the most discussed fantasy player when it comes to injury as his status has been unclear heading into each of the past two Sundays. And it may remain that way this week.
Wells, who has missed time with a bruised knee, has been battling swelling when he tries to increase activity, a sign that the knee joint remains irritated. The key to his return will be his ability to practice at an increased intensity on consecutive days. Coach Ken Whisenhunt has been clear all along that he does not want to risk Wells' health late in the season by rushing him back before his knee is ready. While Wells' fantasy owners may be frustrated, imagine how much more frustrating it would be if he were to be active on game day, only to have to exit in the first quarter because of the knee.
The encouraging news out of Arizona this week was the report from Kent Somers of the Arizona Republic that Wells increased his activity in practice Wednesday. That's Part 1. Part 2 will be Wells' successful return to practice through the remainder of the week. If signs are positive, he faces a nice matchup against the
Oakland Raiders
on his home surface (grass). Nonetheless, fantasy owners should remain prepared to replace Wells in the event that he doesn't play or is projected to return on a limited basis.
Joseph Addai, Indianapolis Colts:
It didn't take long for the oft-nicked Addai to appear on the Colts' injury report. He is listed as having a knee injury although the team, as is its custom, has provided no details.
At this moment there does not appear to be great cause for concern for the following reasons: Addai had a big game Sunday and may be benefiting from some proactive rest
and
the Colts are known for their lengthy injury reports, where many players listed early in the week end up playing on Sunday.
Jerome Harrison, Cleveland Browns:
Harrison did not practice either Wednesday or Thursday and much like his teammate
Jake Delhomme
, Harrison appears headed for inactive duty on Sunday. Harrison is reportedly dealing with a thigh injury and he would also be dealing with the
Baltimore Ravens
' defense if he were to play. There is still the chance that Harrison returns to practice Friday, but between the injury and the matchup, there's not a lot of encouraging news here.
Wide Receivers
Andre Johnson, Houston Texans:
After spraining his ankle Sunday, Johnson was held out of Wednesday practice, but fantasy owners should not be alarmed. As
we pointed out Tuesday
, Johnson did return to the game following his injury.
According to the Texans' official website, Johnson says the ankle is feeling better daily and he expects to play Sunday, barring a setback. I believe him.
Steve Breaston, Arizona Cardinals:
Breaston appeared on the injury report as a limited participant Wednesday because of his knee. He had a limited impact in last Sunday's game, perhaps as a result of this. According to Kent Somers of the Arizona Republic, Breaston is expected to practice Thursday, suggesting that he will be available this week.
The better news here is that
Larry Fitzgerald
does not appear on this week's injury report, suggesting that his knee (MCL sprain) continues to improve.
Chad Ochocinco and Terrell Owens, Cincinnati Bengals:
Despite tweeting that he had a "cracked rib," Ochocinco was a full participant in Wednesday practice and is not listed on the team's injury report. Apparently the rib issue is not serious enough to cause concern.
His teammate Owens did appear on the injury report as limited, however, because of his back. According to The Associated Press, Owens expects to play this Sunday when the Bengals face the
Carolina Panthers
.
Fantasy owners should expect the Batman and Robin tandem to show up on Sunday.
Quarterbacks
Jake Delhomme, Cleveland Browns:
Delhomme's ankle injury took on a more grim outlook this week when it was reported that he actually suffered a right high ankle sprain in Week 1. Add to that the fact that Delhomme has not yet practiced, and it is looking more likely that he will be sitting out Week 3. While Delhomme as quarterback will not place the same demands on the ankle as a running back, meaning he could likely return to play more quickly, he still needs to be strong enough to push off his back leg, mobile enough to move around the pocket and pivot on the foot, and to be at a relatively low risk of reinjury.
As ESPN AFC North blogger James Walker
points out
, it is rare for a quarterback to miss the majority of practice and play Sunday.
Seneca Wallace
, who started in place of Delhomme last week, is expected to be the starter again in Week 3 after taking all practice reps with the first team.
Until Delhomme shows that his ankle is functional, fantasy owners should expect him to be sidelined.
Dennis Dixon, QB, Pittsburgh Steelers:
The Steelers apparently are giving everyone a turn at quarterback. This week it will be
Charlie Batch
who gets the nod since Dixon is recovering from knee surgery.
Dixon, who started last week's contest, tore the lateral meniscus in his left knee (the same knee in which he tore his ACL during his final year at Oregon) and underwent surgery Wednesday. Varying timetables have been issued, but most recently ESPN's Adam Schefter reports that his absence is expected to be on the order of six weeks. By that time,
Ben Roethlisberger
will be back in the mix and
Byron Leftwich
, out since the preseason because of a sprained MCL, should also be available. And then there's Batch.
Fantasy owners who picked up Dixon as a fill-in could better use that spot on someone else. As far as the Steelers' situation at quarterback, it is likely to remain fluid through Week 4, at least.
Quick Hits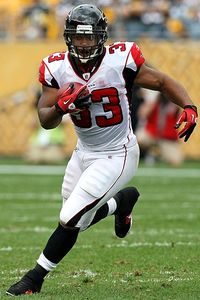 Jason Bridge/US PresswireIs Michael Turner going to tease fantasy owners again with his injury status?
•
Atlanta Falcons
running back
Michael Turner
was a limited participant in practice Wednesday because of the groin injury, but returned to full practice on Thursday. Despite the lack of concern in Atlanta around Turner's health, some may recall last season, when positive reports would only lead to disappointment on Sunday. At that time Turner was trying to return from a high ankle sprain which was more serious than initially projected. Turner's groin strain is reported to be mild and his return to practice is encouraging, but fantasy owners will want to see proof that he is truly 100 percent healthy before they can breathe easy.
• A lot of folks are asking whether
Maurice Jones-Drew
's knee has something to do with his apparent struggles on the field in Week 2. Interestingly Jones-Drew appears on this week's injury report because of an ankle, not the knee. He was limited in practice Wednesday, but there's certainly no hint that he won't be available Sunday. Are these small nicks taking a toll? Unfortunately, only time will tell but it's impossible not to put this guy in your lineup if he's on the field. For now, there is no evidence for a serious injury, but naturally, we'll be watching.
•
St. Louis Rams
running back
Steven Jackson
was limited in Wednesday practice because of his knee, but that might well be proactive planning. Jackson ran well last Sunday after rest early in the week, so the expectation is that he will do so again.
•
Washington Redskins
running back
Clinton Portis
appears on the injury report again this week because of his wrist. Portis played last Sunday after being listed as questionable (although he practiced fully all week) and should do the same again.
•
Minnesota Vikings
wide receiver
Percy Harvin
sat out Wednesday practice, but not because of the hip ailment that hampered him during Sunday's game. This time it's the migraine issue again. After a rough bout with migraines during the preseason, Harvin had expressed optimism that the issue would be behind him once he was diagnosed with (and being treated for) sleep apnea. While the sleep apnea may well be a major contributing factor, it was unlikely that the migraines could be eliminated, as Harvin is finding out. He did return to practice Thursday, according to 1500 ESPN's Tom Pelissero. It will be interesting to see what happens Friday since Harvin was downgraded late in the week last week after early practice. There is no question the Vikings want Harvin in their lineup; the question for fantasy owners will be what they can expect if he's there. Check back Saturday.
• The Baltimore Ravens had a trio of fantasy players on the early injury report. Wide receiver
Derrick Mason
did not practice because of his knee. No word yet of anything serious, but we'll keep an eye on what he does as the week progresses. Meanwhile tight end
Todd Heap
, who played last week despite a strained shoulder, was a full participant in practice, as was running back
Ray Rice
. Rice told the Baltimore Sun that the ankle he tweaked last Sunday felt "great" and that he expects to play Sunday.
• Carolina Panthers wide receiver
Steve Smith
showed up as a limited participant Wednesday and Thursday because of a thigh injury (note that it's not the wrist that was bothering him after the game). The Panthers may be controlling his activity so that he can run full speed Sunday, but there has to be some concern about how he will blend with new starting quarterback
Jimmy Clausen
.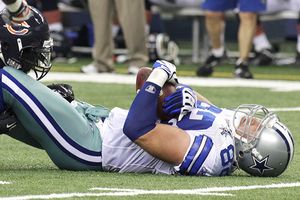 AP Photo/Sharon EllmanJason Witten tried to argue his way back into Sunday's loss to the Bears despite suffering a concussion earlier in the game.
•
Dallas Cowboys
tight end
Jason Witten
had improved enough from a concussion to participate on a limited basis in Wednesday practice. Assuming he doesn't have any post-workout symptoms, Witten is looking like a guy who will suit up on Sunday. Teammate wide receiver
Dez Bryant
also was limited Wednesday because of a rib injury. While the fact that he practiced at all suggests that this is not serious, the frequency with which Bryant appears with an injury could be. He remains a risky player who has yet to prove his fantasy reward.
• Well, the good news for
Philadelphia Eagles
quarterback
Kevin Kolb
is that he's getting healthier. As of Wednesday, he was a full participant in practice. The bad news is it doesn't matter as far as fantasy owners are concerned. Coach Andy Reid stated earlier this week that
Michael Vick
will be the starting quarterback and it appears it will remain that way until, well, we'll see.
See you at the injury chats (Tuesday and Friday 3-4 p.m.) and we'll have the latest injury updates affecting Week 3 in the Saturday morning blog!