Stephania Bell:

Chad Pennington
November, 16, 2010
11/16/10
6:11
PM ET
This seems like as good a time as any to remind everyone that medicine is not black and white. Sometimes, even when a player is improving in his recovery from an injury, there can be last-minute setbacks. Exhibit A:
Washington Redskins
running back
Ryan Torain
, who was active (yes, active!) Monday night but did not play due to his hamstring tightening up during warm-ups. It was just late enough to burn every fantasy owner who expected him to play. (Remember, he was listed as questionable, and until a questionable player is actually playing, he remains just that.)
Other times, a player does not return within the projected timetable originally issued by medical personnel. Exhibit B:
New Orleans Saints
running back
Reggie Bush
, initially projected to miss four to six weeks with a broken fibula (and you might recall Bush suggesting early on that he could beat that timeline). Bush, who is expected to return this Sunday, will be nine weeks post-injury if he plays in Week 11. While his fracture has healed, the issue has been his readiness to return to competition given the high physical demands of his position.
How do these things happen? Fantasy owners would prefer absolutes, definitive answers and zero risk. Let's tell the truth. The injured players and their teams would prefer that as well. But medicine is an imprecise science. And as much as it would be nice to provide guarantees and certainties when it comes to healing, that simply is not possible, whether it refers to a professional athlete or a weekend warrior. For one thing, individuals heal at different rates. Beyond that, timetables are
estimates
based on the average healing time associated with a particular injury. Timetables presume no setbacks and no complications, which, as we all know, are more likely to occur than not. And then there are the vagaries of injury classification. A "partial tear" can be 25 percent, 40 percent or 75 percent tissue damage, or anything else not considered a complete tear. The amount of damage likely will correlate to healing time, albeit in an imprecise way (refer to exhibits A and B above).
And so, as we continue in the gray zone of injuries, here's what we're hearing heading into Week 11 ...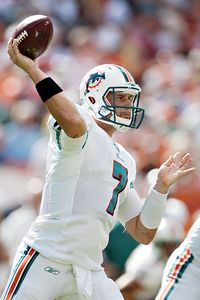 Jonathan Brownfield/US PresswireChad Henne had a busy week, as he was benched, returned to the Dolphins' lineup, then injured his knee.
• To date, the
Miami Dolphins
' injury reports have been among the leanest in the league. Not so any longer. The Dolphins lost two quarterbacks within the span of minutes this past Sunday, one of whom is done for the season.
Chad Pennington
injured his oft-operated-on shoulder and was done in the span of two plays.
Chad Henne
, who had been benched in favor of Pennington, stepped in only to suffer what appeared to be a serious injury to his left knee. Henne was on crutches after the game but has not been ruled out for any particular period of time. While the Dolphins have not offered details as to the nature of Henne's injury, coach Tony Sparano has left the door open for Henne. Needless to say, it does not appear likely he will be in any shape to play in this Thursday night's game. Expect
Tyler Thigpen
to get the start.
• The
Tennessee Titans
also have two banged up quarterbacks.
Vince Young
did not get the start Sunday, as his left ankle was still causing him some problems.
Kerry Collins
, who started in place of Young, was forced out early with a calf injury, and it now appears that will keep him out for several weeks. Young was thus forced into the game but was not at his best.
•
Detroit Lions
quarterback
Matthew Stafford
consulted with Dr. James Andrews and will not be having surgery, at least not yet. Stafford will resume the rehab process he initiated after his shoulder separation at the start of the season. There is still a possibility surgery will become an option, but the team will try more conservative treatment first, according to ESPN's Chris Mortensen. Undertaking surgery on a throwing athlete's shoulder is not a light consideration. Unless there is a clear-cut need for surgery, rehabilitation is often chosen as a first step. There's really no downside here. Any gains in range of motion and strength that Stafford makes will help him on the other side of surgery, if that becomes the plan. While it's not likely we will see him again this season, the Lions are not moving him to injured reserve, either.
•
San Diego Chargers
running back
Ryan Mathews
injured his right ankle in Week 2 and, despite his efforts to return, has struggled. After he aggravated the ankle injury in Week 10, there appears to be greater doubt about his availability for Week 11. At this point, it seems he would benefit from additional downtime to really allow his ankle to heal and avoid risking further problems.
Mike Tolbert
was back at Monday's practice and could be starting in Week 11. On the receiver front,
Malcom Floyd
returned to practice also and was running well. The Chargers expect to have him this Sunday. Not as encouraging news for
Legedu Naanee
, who did not practice Monday and remains limited by his hamstring. Tight end
Antonio Gates
did not practice Monday, either, not unexpected given the seriousness of his injury (torn plantar fascia). While Gates has indicated that he will do all he can to return for the Chargers' big Monday night contest, it bears repeating that this injury was exceptionally painful. Even Gates, who has played through significant pain in the past, told us this was unlike anything he'd ever experienced, to the point where he just couldn't function. It's too soon to count him out, but it's not too soon to seek insurance if he's on your team.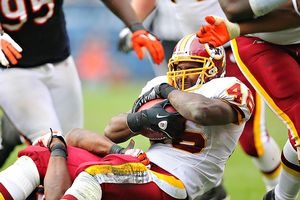 Dennis Wierzbicki/US PresswireRyan Torain was on the active roster Monday night, but hamstring injuries kept him from playing.
• Running back Ryan Torain of the Washington Redskins was expected to start Monday but didn't. Tightness in his ailing hamstring during pregame warm-ups kept him off the field Monday night. Clearly the injury is not altogether behind him, and fantasy owners should consider that
Keiland Williams
might get the next Redskins start.
Clinton Portis
was never really under serious consideration for Monday night after midweek swelling in his injured groin, and he might not be ready for Week 11, either. He will need to get through a week of practice without setbacks and show he is at full speed before being eligible to return.
•
Seattle Seahawks
quarterback
Matt Hasselbeck
came back from a concussion only to sustain a crack in a bone in his left wrist. The Seahawks have expressed optimism that Hasselbeck will be able to play through the injury to his non-throwing wrist, no doubt with some sort of protective wrap. It appears he will avoid missing more time.
• The
Indianapolis Colts
continue to deal with multiple injuries, many of which are to fantasy stars. Tight end
Jacob Tamme
had a back injury in Week 10 that caused him to miss Wednesday's practice. After full late-week practices, he was able to start. Despite a solid performance, Tamme struggled at times and, according to the Indianapolis Star, was having trouble walking after the game. Expect him to be limited in practice this week. Running back
Joseph Addai
sat out again in Week 10 but reportedly is making improvements. It is too early to know much about the status of Addai or teammate
Mike Hart
, who also missed Week 10 with an ankle injury.
•
Pittsburgh Steelers
wide receiver
Hines Ward
was determined to have a concussion after Sunday night's game. Ward appears to be doing well and has indicated that he expects to play this week. He still needs to be fully cleared to return, but this is encouraging news.
•
Carolina Panthers
quarterback
Jimmy Clausen
also suffered a concussion on a hit late in the game. As the week unfolds, we'll find out whether Clausen is able to go Sunday. We also should learn more about the running back situation. Both
DeAngelo Williams
(foot sprain) and
Jonathan Stewart
(concussion) were out in Week 10.
•
New York Jets
wide receiver
Jerricho Cotchery
pulled a groin muscle Sunday yet still made an amazing catch while hobbling on one leg. He limped off the field just afterward and underwent an MRI on Monday, revealing a slight tear. This will be a tough injury to recover from in a week.
•
Cleveland Browns
wide receiver
Josh Cribbs
dislocated four toes Sunday. How does that happen? There are some thing I just can't answer, but I do know this: It could not have felt good. Amazingly, the Browns do hope he will play in Week 11.
• The Milwaukee Journal Sentinel reports that wide receiver
Donald Driver
missed Monday practice for personal reasons. Coach Mike McCarthy will update Driver's status Wednesday. Tight end
Andrew Quarless
, meanwhile, says his shoulder feels better after the bye week. He could return this week if all continues well.
We will continue to update these injuries and others as the week progresses with much more to come Thursday.
September, 29, 2009
9/29/09
1:52
PM ET
Welcome to the post-Week 3 breakdown. It was nice to see a couple of players return from injury and show us that they are definitively on the mend (
Pierre Thomas
,
Kevin Walter
). Of course there are always new names to add to the injured list. Here's what we have so far ...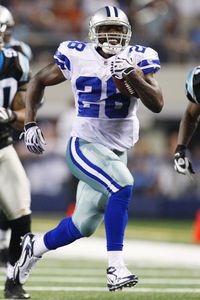 Ronald Martinez/Getty ImagesFelix Jones ran for 94 yards on just eight carries before getting hurt.
Felix Jones, RB, Dallas Cowboys:
Once it became official that
Marion Barber
would sit out Monday night's game with a strained quadriceps, fantasy owners had high expectations for the Felix Jones and
Tashard Choice
tandem. And they delivered ... but not necessarily as expected. Jones was off to a great start but was then forced to exit the game early with what the team is calling a knee strain. This vague terminology provides no specific clues as to the severity of Jones' injury, but ESPN's Ed Werder reported it may be something more serious. According to Werder, team owner Jerry Jones said that the running back was "unable to loosen his left knee," adding that he will undergo further evaluation Tuesday. Keep in mind that Jones suffered a partial tear of his left hamstring last season, followed by a left toe injury that required season-ending surgery. Now this. Although Barber has clearly made some progress, whether he is able to run full speed and play in Week 4 remains in question. While we await further test results on Jones and practice results on Barber, Choice, who had a fantastic second half functioning as the only healthy running back, is looking like a good fantasy option for Week 4.
Frank Gore, RB, San Francisco 49ers:
Despite the fact Gore suffered a minor ankle sprain in Week 2, reports indicated that he looked to be in good shape heading into Week 3. However, just one carry into the game, Gore's day was over. The 49ers' official Web site is reporting that an MRI on Gore's right ankle revealed the presence of a "strain" (implicating muscle or tendon, most likely tendon given the location near the joint) along with a "hindfoot sprain" and he is expected to be out for "approximately three weeks." A hindfoot (or rearfoot) sprain is less common and can present a bigger challenge in terms of recovery, especially since it usually requires more force to suffer the injury in the first place. Fantasy owners would be wise to make immediate preparations (like picking up
Glen Coffee
if he's available) for Gore's absence. The 49ers have a bye in Week 6, so his initial targeted return stands at Oct. 25, but stay tuned as that can certainly change.
Other quick hits:
•
Detroit Lions
running back
Kevin Smith
suffered a shoulder injury that has not been detailed by the team, although Smith told the Detroit News that he doesn't "have any bone damage or anything like that." Actually, it's the soft tissue injuries that are the most worrisome in the shoulder, so Smith's revelation isn't especially helpful. But Smith did add that he hopes to practice Wednesday. It may be ambitious, but if he's able to get back to some activity that quickly, it's a positive sign.
•
Marc Bulger
may not be available to call the signals for the
St. Louis Rams
this week after bruising the rotator cuff on his throwing (right) shoulder. While he has yet to be ruled out for this week's game, there has to be enough reduction of any pain and swelling for him to get his arm overhead and throw effectively. It will most likely require a week of rest to get there, so expect
Kyle Boller
to get the start for Week 4, barring some quick healing.
• ESPN's Adam Schefter is reporting that the right quadriceps injury suffered by
Indianapolis Colts
defensive end
Dwight Freeney
on Sunday night is expected to keep him out for two to three weeks. Just like a running back who needs his quad to be explosive in order to perform effectively at his position (see Marion Barber), a speed rushing defensive end depends on that same explosive power. He will not be able to return until he can run full speed, so it is simply a matter of how long it takes the tissue to heal.
• In the season-ending injury department,
Miami Dolphins
quarterback
Chad Pennington
and St. Louis Rams wide receiver
Laurent Robinson
were added to the list. Pennington suffered a torn capsule in his shoulder, according to ESPN's Chris Mortenson, while Robinson suffered a broken fibula (lower leg bone) in conjunction with a high ankle sprain. The St. Louis Post-Dispatch is reporting that Robinson will undergo surgery. Pennington's immediate plans are less certain, other than that he is expected to pay a visit to Dr. James Andrews, who has performed two operations on Pennington's rotator cuff. A third serious injury to the throwing arm of a quarterback is very discouraging, particularly when the stability and strength are threatened.
We will update these injuries and others as the week progresses.
See you at the injury chats (Tuesday 11:00 a.m.-noon, Friday 11 a.m.-noon and Sunday pregame 10:00-10:30 a.m.) and we'll have the latest injury updates in the Thursday and Saturday blogs.
September, 11, 2007
9/11/07
12:38
PM ET
Week 1 Updates
Running BacksChester Taylor, Vikings:
MRI results revealed a contusion of the oblique muscles for Taylor, while his hip appears fine, reports the Minnesota Star Tribune. When Taylor originally crumpled to the ground in pain on Sunday, it was after reaching up for the ball on a screen pass, which did not fit a typical pattern for a hip injury. It does, however, fit with an oblique injury. The obliques are a group of large abdominal muscles that are oriented in a diagonal pattern, hence the name oblique. Baseball fans are accustomed to seeing players on the injury report with oblique strains, especially power hitters and pitchers who use a lot of trunk rotation. In Taylor's case, perhaps he over-rotated and twisted just enough to injure the muscle, which let him know about it with a sharp, stabbing pain. The good news is that Taylor's game does not especially require powerful torsional movements. These injuries are painful, though, and it remains to be seen how mobile Taylor can be with the injury. It sounds as if the Vikings expect him to play Sunday, but we will monitor his practice activities throughout the week.
Carnell Williams, Buccaneers:
Williams' injury is officially being called "bruised ribs," reports the Tampa Tribune. His pain level will dictate how much he can do, but it's possible that he could return this week. It will be important to follow his activity over the next few days.
Brandon Jacobs, Giants:
The Giants have officially confirmed that Jacobs suffered a sprained medial collateral ligament, the stabilizing ligament on the inner aspect of the knee joint during Sunday night's game. Given that we do not know the severity (no grade was given), we have to rely on team updates to assess his progress. The Giants' official Web site indicates that Jacobs is currently week-to-week. At the minimum, it suggests that Jacobs will miss one to two weeks, but he could miss as many as six. Earlier I said to consider picking up
Derrick Ward
as insurance. No need to consider it as an option any longer ... just do it.
Receivers:D.J. Hackett, Seahawks:
Hackett sustained a right high ankle sprain early in Sunday's game and did not return. Unfortunately, he will not be returning anytime soon. Coach Mike Holmgren, while remaining understandably noncommittal about the length of time Hackett will be away since recovery from these injuries is highly variable, did acknowledge that it could be at least a month. Time to get another receiver for your roster.
Quarterbacks:Eli Manning, Giants:
There are conflicting reports coming out regarding Manning's shoulder injury. ESPN's Chris Mortensen is reporting that, according to sources, Manning has a separated shoulder and is expected to miss at least a month. Meanwhile, Giants spokesman Pat Hanlon is denying that report. As reported on Giants.com, Hanlon says Manning is instead dealing with an AC contusion, his status is day-to-day, and we should not be surprised if we see him playing on Sunday. So why all the confusion, and how do these two projections end up being so different? Let's take a look at what the two injury terms being tossed about imply as far as Manning's prognosis.
A "separated shoulder" describes a sprain of the acromioclavicular (AC) ligaments. These are the ligaments that connect the acromion (point of the shoulder) with the clavicle (collarbone). There are additional adjacent ligaments (coracoclavicular) that contribute stability to the AC joint. Damage to the ligaments (also called a sprain), just as with any joint, can render it less stable, consequently altering the mechanics. Sprains are graded just like muscle strains (Grade I, minor, Grade II, moderate, Grade III, severe, usually representing complete disruption) and reflect the degree of injury. If an AC sprain is severe enough, the clavicle and acromion can move apart, hence the term "separated shoulder."
These AC separations are rarely repaired surgically unless they are severe enough (meaning they affect the mechanics to such a degree) that they limit a person's function. Overhead athletes may have these injuries repaired more frequently than nonthrowers, but even then, the injury has to be fairly debilitating for that to occur. In the case in which it is treated nonsurgically, it is managed much like a sprain of any other joint. Rest, ice, compression (wrapping the shoulder) and a gradual return to activity are all part of the program. A minor AC sprain (Grade I) can resolve within a week to 10 days, whereas a more serious Grade II can range from two to six weeks. Keep in mind that these timelines are approximate and do not account for the event of a setback during practice or rehab. A Grade III or "complete" tear has even more recovery-time variability, depending on whether surgery is involved or not.
A contusion is just a fancy name for a bruise. When Hanlon refers to Manning's injury as an AC contusion, he is essentially calling it a bruised acromioclavicular joint, or, more simply, a bruised shoulder (which is what we heard immediately after the game). This implies that there is bruising in the area but no evidence of any separation of the joint. Since there is no major tissue damage with this diagnosis, it is easier to recover from, and a prognosis of day-to-day is fitting. Basically, the athlete might rest the arm for a few days, but then gradually reintroduce activity based on comfort. This diagnosis would suggest that Manning could be ready to play by the weekend.
In the final analysis, what are we to make of the conflicting reports? Obviously, these are two very different scenarios, but the terminology (AC separation versus AC contusion), while not identical, is very similar. This is where the confusion often lies when teams are reporting about injuries; a minor change in wording can imply a completely different outlook. We are also relying on teams to report injuries accurately and completely, a practice not consistently applied. One of the factors to consider in Manning's case is that he managed to throw a touchdown pass after he initially hurt the shoulder. If he sustained a serious injury, it would be highly unlikely that he would be able to do this. Manning's MRI reportedly showed no structural damage. Manning himself, on the Giants' Web site, has said that he is not in any pain, that it's just a matter of when "you have the strength and when you feel you can throw full strength and you will be out there playing." In the meantime, since that decision will likely come after your waiver-wire deadlines, it would be wise to secure a backup quarterback for your fantasy roster this week.
Chad Pennington, Jets:
Here's the helpful information received from coach Eric Mangini regarding his quarterback. "It is the ankle. We'll review it during the course of the week like we do every injury situation." There you go. Once again, there is not much to go by when it comes to a Jets player. Pennington's toughness is not a question, but his mobility might be. If Pennington is your starter, grab another quarterback, just in case.