Stephania Bell:

Charles Woodson
October, 4, 2008
10/04/08
3:06
PM ET
Here's what we know as we head into the Week 5 contests.
Brian Westbrook, RB, Philadelphia Eagles:
Westbrook is listed as questionable again this week, but there is more optimism he will indeed play. Westbrook practiced with the team on a limited basis throughout the week but was a full participant in Friday's practice, lending credence to the idea that he will be ready to go Sunday.
Westbrook injured his ankle in Week 3 as he tried to hurdle teammate
Tra Thomas
and ended up catching his right foot awkwardly in the turf. Although reportedly imaging tests came back negative, Westbrook described his injury as closer to a high ankle sprain than anything else. It is fortunate for Westbrook and the Eagles that it was a mild version, as high ankle sprains can be particularly difficult to recover from, especially for running backs.
Last week, Westbrook tested the ankle in pregame warm-ups but, after discussion with the medical staff, determined he was not ready to go. During his weekly radio show Monday evening, Westbrook explained that even though straight-ahead running felt OK, he could not cut or weave Sunday. Show me a running back who can be effective without cutting or weaving, and I'll show you one who isn't a top draft pick on fantasy football teams worldwide. The decision to rest Westbrook was a wise one, as it improved his chances of performing well in this outing and, more importantly, helped decrease the risk of re-injury. Bear in mind that Westbrook's ankle is not 100 percent and there always is the possibility he will tweak it during the game. It's not enough of a concern to worry fantasy owners; after all, anyone can get injured on any given Sunday. Check pregame inactive lists to be sure, but as of now, expect Westbrook to start.
[+] Enlarge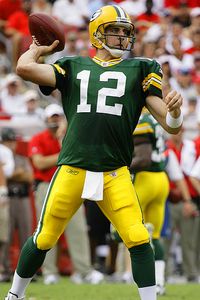 Ronald C. Modra/Sports Imagery/Getty ImagesRodgers will need to have full arm strength if he wants to be effective Sunday.
Aaron Rodgers, QB, Green Bay Packers:
Rodgers sprained his shoulder last Sunday. This much we know to be true. And that's about where it ends. Rodgers, who was held to very limited practice Wednesday and Friday (and no practice Thursday), will be a game-time decision for the Packers. His questionable status implies there is a 50-50 chance he will play. And that estimate seems to reflect exactly what Packers coach Mike McCarthy is saying.
McCarthy said in his Friday news conference that he is "preparing to go either way," meaning he will insert either Rodgers or rookie
Matt Flynn
into the lineup as quarterback once he sees how Rodgers looks during warm-ups. It really does come down to how Rodgers "looks," because Rodgers himself said the pain is "potentially tolerable." The big issue is arm strength, which, as of Friday, he still did not have. Rodgers, who is known for having a very strong arm, was able to throw only lightly Friday. McCarthy wants to give Rodgers every opportunity to start Sunday, hence the decision to allow his shoulder an additional 48 hours of rest and recovery. If Rodgers can go on the field and prove to himself and his coaching staff he can make the necessary throws, he will start.
The Packers have not been more specific in discussing Rodgers' ailment, calling it only a "shoulder sprain." Since there is more than one joint at the shoulder -- the glenohumeral joint (the ball and the socket of the shoulder) and the acromioclavicular (AC) joint (the point of the shoulder that, when injured, often is referred to as a separated shoulder) -- it is unclear where the problem lies. Either way, there is little chance playing could make Rodgers' injury worse. That is why it really comes down to function. Can he bring his arm over the top and put enough on the ball to deliver it as needed, not only with adequate distance, but also with accuracy?
Although Rodgers suggests pain will not keep him out of the game, pain does have a potential role in his ability to perform. Pain inhibits muscular contraction; it is part of the body's way of protecting you from yourself. When there is an injured part, forceful muscular contraction could result in increased damage to that injured part. Through complex neurological mechanisms, the body comes to a simple solution: Don't allow the muscles to contract at 100 percent strength, therefore prevent something worse from happening. As the tissue heals itself, the pain and the inflammation diminish, and this mechanism becomes less and less of a factor. For that reason, allowing Rodgers a couple of extra days of recovery and treatment might make the difference in allowing him to function well enough to play.
That said, even if Rodgers is well enough to play, he will not be at 100 percent. This could show up as fatigue in the arm as the game goes on or as ineffectiveness if he absorbs a lot of contact and finds himself hitting the ground with that sore shoulder. His offensive line will have to make an extra effort to protect him in order to keep him in the game, and his best chance of lasting will come if the Packers can balance their running and passing games.
Fantasy owners and Packers fans will just have to wait and see whether 48 hours are enough.
Carson Palmer, QB, Cincinnati Bengals:
Palmer is listed as questionable, but all signs after Friday's practice point to him starting in Dallas. Palmer is recovering from an inflamed right (throwing) elbow and was held to very limited activity and lots of treatment early in the week. Friday, however, was a different matter, as Palmer was a full participant in practice, making short, intermediate and long throws, according to the Bengals' Web site.
Coach Marvin Lewis said that if Palmer had no setbacks Saturday, "all systems are go." No news appears to be good news, and Palmer looks as if he will start Sunday. Even if he does start, Palmer's elbow likely is not 100 percent recovered. If he takes a lot of hits, as has been the case so far this year, or if he is forced to throw hard and throw often, he could start to feel the elbow acting up. If the pain returns or if his throwing becomes ineffective, Palmer will be forced to make an early exit. Palmer wants to play, but all along, the concern he's expressed after discussions with the medical staff is ensuring that this does not turn into a more serious, lingering problem. Palmer might start, but he might not finish.
Willis McGahee, RB, Baltimore Ravens:
McGahee is listed as questionable and will be a game-time decision Sunday. The consolation for fantasy owners is that the Ravens play a 1 p.m. ET game. The downside is that a running-back-by-committee situation might be only enhanced by McGahee's latest setback. He wants to play, but given that he still is recovering from a shot to the ribs on a short week, the bulk of the carries might shift to the
Le'Ron McClain
-
Ray Rice
tandem.
McGahee has demonstrated his toughness, suiting up for Monday night's game despite suffering a lacerated eyelid and a poke in the eye in Week 3. His eye was not completely healed, as was evident if you saw him standing on the sidelines late in the game, helmet off, blood still visible in his eye. He was on the sidelines because he was forced out early after taking a bruising hit to the chest. In the absence of a fracture, the primary limitation from bruised ribs is pain, hence the team's choice to wait to make a decision until Sunday, allowing for maximum recovery. For his part, McGahee told The Baltimore Sun he just wants to finish a game, something he has not been able to do yet this year with all the physical abuse he has endured. Let's see. The Ravens play the tough
Tennessee Titans
defense Sunday. Sorry, Willis, this might not be the week.
Ben Roethlisberger, QB, Pittsburgh Steelers:
Despite his questionable tag, various reports suggest Roethlisberger is likely to start Sunday night's game against the Jaguars. The Pittsburgh Tribune-Review is reporting that coach Mike Tomlin said Thursday, "I think he's going to be fine." Roethlisberger still is dealing with soreness in his throwing shoulder since spraining his AC joint in Week 1. The Pittsburgh Post-Gazette reports that Roethlisberger received an injection in his shoulder Thursday, which probably is what allowed him to practice for the first time all week on Friday.
Of course Big Ben is still sore! He keeps getting hit, knocked down and otherwise buried by opposing defenses. The more he lands on a joint in which the ligaments are trying to heal, the harder it is for them to do so. I know, I know, it does not take a medical degree to figure this out. But it's worth highlighting why it is so difficult for Roethlisberger to truly improve from week to week; he's lucky to just maintain. Something tells me it won't get much easier against the Jags, despite some of their own defensive injury woes. If Roethlisberger is struggling, don't be surprised if Tomlin trots out
Byron Leftwich
to face his former team. Tomlin has been expressing confidence in Leftwich and his ability to step up if needed all week. Makes you wonder whether he has a plan.
Other noteworthy items
&#8226 Philadelphia Eagles tight end
L.J. Smith
is listed as questionable but is expected to play. Smith sat out this past Sunday with a back injury but was able to fully participate in practice throughout the week. Teammate
Donovan McNabb
still is sore from the chest bruise he sustained in Week 3, which is why the team limited him in practice early in the week. McNabb practiced fully Thursday and Friday and is listed as probable, indicating the Eagles expect to see him on the field.
&#8226 Tennessee Titans running back
LenDale White
is listed as probable with a sore shoulder. This shoulder ailment is the one that caused him to exit practice early Sept. 25, but he proved this past Sunday that he could play through it. The team held him out of practice Wednesday and Thursday, no doubt raising some concerned eyebrows among fantasy owners, but White practiced fully Friday, confirming his readiness to play. Meanwhile, the news is not so good for one of his teammates, wide receiver
Justin Gage
. Gage missed a game earlier in the season due to a groin injury and apparently now will be sidelined with a right knee injury. He is listed as doubtful and did not practice all week, never a good combination heading into the weekend. The Nashville City paper reported that Gage was wearing a brace early in the week, suggesting a sprain of some sort. Although there have been no specifics as to the nature of Gage's injury, the Titans' bye in Week 6 will come at a good time, hopefully allowing him to return by Week 7.
&#8226 Cincinnati Bengals running back
Chris Perry
made some fantasy owners nervous when he showed up on the injury report with a hamstring ailment this week. The probable designation should put minds at ease, though, as Perry practiced fully Thursday and Friday with no reported setbacks. It appears the decision to rest him somewhat Wednesday was largely precautionary, especially with backup
Kenny Watson
recovering from a more significant hamstring strain of his own. Watson is listed as questionable, and his availability is far less certain.
&#8226 Good news for Seattle's receiving corps! Welcome back
Bobby Engram
and
Deion Branch
. Both receivers are listed as probable, and both are expected to play. Branch is about eight months post-ACL reconstruction and has been working on the confidence aspect of recovery. He has strength and stamina, but the biggest hurdle for many players following this type of injury is having confidence that the knee will hold up when they return to the playing field. As Branch told The Seattle Times earlier in the week, "My leg was healed a long time ago. It's the mental part I had to break through." Expect him to start Sunday but perhaps see less playing time, as the Seahawks might ease him back into the position. Engram returns from a shoulder fracture sustained during the preseason. He practiced fully all week and is expected to play. It is unclear how much time he will see on the field, but the fact that he did so well in practice, despite it being the first week he had practiced with the team since the injury, bodes well for him.
[+] Enlarge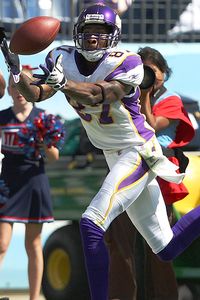 Joe Robbins/Getty ImagesGus Frerrote is really hoping Berrian can play given the state of Viking receivers.
&#8226 The
Minnesota Vikings
had a surprise addition to the injury report that will affect fantasy owners. Wide receiver
Bernard Berrian
, who has been hampered by a toe injury for much of the season, now has a knee injury that has downgraded him to questionable for Monday night. According to the Minneapolis Star Tribune, Berrian was "clearly hobbled" during the limited portion of practice available to the media Friday. The late addition to the injury report implies the injury is recent, and in the absence of any further details about the injury itself, it is unclear whether this is a short-term or long-term problem. Either way, Berrian does get an extra day to rest his knee, but it might not be enough to allow him to go Monday night. Meanwhile, teammate
Sidney Rice
still is struggling with his posterior cruciate ligament (PCL) sprain. Although he was active this past Sunday, he played only a limited amount and was held to one catch for 6 yards. After he was limited in practice every day this week, it does not appear he has made great strides. He is listed as questionable for Monday night. The knee instability associated with this injury makes it tough for a receiver to jump, land and pivot normally. Remember that last season, it took
Houston Texans
wide receiver
Andre Johnson
several weeks to return to the field after a similar injury.
&#8226 While the Vikings' receivers might be in trouble, at least their star running back feels like he is back to his old, er, young self.
Adrian Peterson
told the Minneapolis Star Tribune that he feels his hamstring now is 100 percent healthy. "I really feel like me being out there 90 percent, 95 percent, I can go out there and run full speed. As far as opening it up and really shifting to another gear, I haven't been there. But I've been able to go out and get away from guys still, so it hasn't affected my game. But me just being 100 percent, no tweaks, just feeling good, feeling fresh, like I felt when we started the season, it's a good feeling inside." Good news for Vikings fan and Peterson fantasy owners alike.
And a couple of IDP tidbitsCharles Woodson, CB, Green Bay Packers:
Despite his toe injury, he is performing and will continue to do so. He is listed as probable and is expected to play.
Derrick Brooks, LB, Tampa Bay Buccaneers:
Brooks is listed as questionable with the hamstring injury that bothered him throughout Week 4. Well, it bothered him in practice, but it certainly didn't affect his monster productivity. He again is expected to play Sunday, according to the St. Petersburg Times. Brooks practiced on a limited basis throughout the week, and his presence as a team leader on defense is incredibly valuable.
Out:
This is a list of key fantasy players, not including those who have been moved to injured reserve status, who are officially listed as additions to the "out" list for Week 5.
Anquan Boldin, WR, Arizona Cardinals:
Did anyone who saw the hit that leveled Boldin this past Sunday really think he would be back in uniform this week? Probably not, but the team did not officially rule him out until Friday. Boldin underwent a corrective procedure to address a fractured sinus and will continue to recuperate from that and his split lip. I would not be surprised to see Boldin out Week 6 as well, especially given the fact that the Cardinals have a bye in Week 7. Fantasy owners should make alternate plans.
Brandon Lloyd, WR, Chicago Bears:
Lloyd had a hip problem earlier in the year, and now he has added a knee injury to the list. Although the team has called it only a knee sprain, Lloyd was wearing a brace and did not practice all week. This appears to be more than a one-week injury.
Joey Galloway, WR, Tampa Bay Buccaneers:
Same story as the past two weeks. While no details have been given as to the nature of his foot injury, we know such injuries tend to take a while to improve. Galloway's continued absence from practice and presence on the "out" list only serve to confirm that.
Jeremy Shockey, TE, New Orleans Saints:
Shockey is doing some more activity but still is only two weeks removed from surgery. He's not yet ready to return to the field. The Saints have hinted his return could come soon. We'll know more next week.
Willie Parker, RB, Pittsburgh Steelers:
Parker apparently wanted to play Sunday, but the coaches are holding him out as a precaution, the Pittsburgh Tribune-Review reports. Parker's sprained left knee is nearing 100 percent, but with a bye next week, the team chose to give him the extra rest. Fantasy owners, mark your calendars for Oct. 19, when Parker should be back in the lineup.
Samari Rolle, CB, Baltimore Ravens:
Rolle is expected to be out at least a month following surgery to address a bulging disc in his neck. The Baltimore Sun reports that the injury, initially thought to be a shoulder problem, occurred Sept. 21 when Rolle intercepted a
Derek Anderson
pass, but further testing revealed the problem actually was coming from his neck (a common occurrence). Poor Rolle has had his share of challenging ailments during his NFL career. Last season, he was diagnosed with epilepsy and missed six games as a result. He later missed four others due to a shoulder injury that required surgery. Now this. He hopes to be back on the field this season, but some intensive rehab awaits him between now and then. We will keep an eye on his progress.
Sedrick Ellis, DT, New Orleans Saints:
Ellis will miss two to four weeks after undergoing surgery to address a meniscus tear in his right knee. The good news is that the injury is less serious than it could have been. The Saints have gotten great production out of their first-round pick and hope to again when he returns.
Be sure to check out our site Sunday for pregame chats and Fantasy Football Now at noon ET. Good luck in Week 5!
September, 20, 2008
9/20/08
4:44
PM ET
Talk about injury-themed trends. I'm not sure if it's a big-toe-injury trend. (
LaDainian Tomlinson
,
Antonio Gates
,
Darren McFadden
and
Bernard Berrian
are all dealing with these). Or maybe it's the I-drafted-him-as-my-top-running-back-but-he's-hurt trend. (Again LT makes the list, along with
Adrian Peterson
,
Willis McGahee
and
Laurence Maroney
.) Maybe it's the No. 1 and No. 2 guys-may-not-go trend if you own
Justin Fargas
and McFadden or Maroney and
LaMont Jordan
(or in the case of Seattle's wide receivers, the Nos. 1-5 and counting ... Can you believe that newly signed
Koren Robinson
is already on the injury report because of soreness in his knee?). Wherever you want to find a trend this year that links fantasy football and injuries, you can create one.
LaDainain Tomlinson, RB, San Diego Chargers:
Tomlinson remains a game-time decision. The question appears to be not so much whether he will, in fact, play but rather how much he will be able to contribute. Once again this week, Tomlinson did not practice Wednesday or Thursday and then returned on a limited basis Friday. He does get the extra day of rest with the game on Monday night, but even then he will not be 100 percent.
This is one of the toughest calls of the week for fantasy owners who watched LT get tended to on the sidelines during the second half after contributing very little in the first half. He has a very positive attitude and clearly wants to be out on the field as much as he can, but it takes more than an upbeat tone to heal an injured big toe. He will likely play, but not at full strength, and the degree to which he is utilized will ultimately come down to how he feels as the game progresses.
Adrian Peterson, RB, Minnesota Vikings:
This is the second-toughest call of the week for fantasy owners. Peterson is listed as questionable and will be a game-time decision. Working in the favor of fantasy owners is the fact that AP plays at 1 p.m. Heading into Sunday, Peterson's odds don't look so good. Peterson practiced on a limited basis Wednesday but then did not practice Thursday. He did some limited work Friday, but according to ESPN's John Clayton, was not able to do much and spent most of his time in the training room.
Peterson has an ailing hamstring, never good for running backs because they depend on their hamstrings not only for speed and explosiveness but for strength when trying to power through a line of would-be tacklers. Peterson's description of tightness and soreness that he has experienced throughout the week raises enough concern to consider resting him this weekend. The team will determine his status based upon how the leg feels during warm-ups, but bear in mind that he will not be at full tilt, even if he does start.
Chester Taylor
is likely to see some increased carries as a result.
Darren McFadden, RB, Oakland Raiders:
Run DMC, as he is called, is listed as probable and is expected to get the start with an ailing Fargas (doubtful with a groin injury that could sideline him for a few weeks) not likely to play. McFadden played well in Week 2 after Fargas' departure, but injured his big toe, the NFL ailment du jour, late in the game.
He sat out practice Wednesday, trading in his cleats for a walking boot to minimize motion at the great toe. McFadden returned to practice Thursday and, according to Jason Jones of the Sacramento Bee, was able to take about 70 percent of his normal reps. McFadden complained of feeling flat-footed when he was outfitted with a steel plate to reinforce the cleat. The plate helps decrease stress on the big toe by limiting the flexibility of the shoe, but by doing that very thing, does not allow the runner to push off normally, hence the flat-footed feeling. McFadden also indicated the toe was sore, but seemed to adapt as practice went on. On the encouraging side, he was a full participant in Friday's practice, and that, along with his probable status, makes him a likely start. A word of caution to fantasy owners: He will not be at 100 percent strength or speed, and may yield some opportunities to
Michael Bush
, especially as the game progresses if the soreness in the toe becomes limiting.
Devin Hester, WR, Chicago Bears:
No matter what you want to call Hester's injury -- torn cartilage, bruised ribs -- the bottom line is that it is a painful one that has kept him out of practice all week and will no doubt limit him greatly if he does play Sunday. In fact, I will be surprised if he is active given how uncomfortable and limited he has been thus far.
Vaughn McClure of the Chicago Tribune reported that Hester originally described his injury as torn cartilage, only to later refer to it as "bruised ribs." Originally Hester injured himself Sunday when maneuvering to get out of bounds. The injury was not a result of contact, but apparently the result of Hester trying to extend his body to avoid contact. McClure also reported that Hester heard a "pop," which is typical when the cartilage separates from the bone. In addition to cartilage, there are numerous small muscles that attach between, over and across the ribs that contribute to rib and trunk motion, all of which can bleed in the event of an injury, adding to pain and swelling in the area. Hester's difficulty breathing for the first few days post-injury is very typical of any rib problem, because anything that causes movement, including breathing, stresses the injured area while it is trying to heal. Fast running, something Hester is noted for, means harder breathing, which translates to increased pain. Reaching, twisting, and, oh yes, taking hits from large humans running at full speed in your direction, can all compound the problem. Another week of rest can go a long way toward full recuperation. Hester may very well be watching from the sidelines this week.
Ben Roethlisberger, QB, Steelers:
An AC sprain, a separated shoulder and a sore shoulder all mean the same thing when it comes to Roethlisberger: no big deal. He showed that he could play through the pain in Week 2. As long as he spends more time upright than landing on that shoulder, Roethlisberger, currently listed as probable, should start and perform without much problem.
Dallas Clark, TE, Indianapolis Colts:
What a difference a week makes. Clark, who sat out last week with a sprained knee, returned to full practice this week and was not even on Friday's injury report. He is expected to start and contribute this week. Complementing the offense will be the addition of
Jeff Saturday
, who returns several weeks early from an MCL sprain. Saturday has had more than a week of solid practice and is looking forward to his return. Guess what, Jeff? So is
Peyton Manning
.
Ryan Grant, RB, Green Bay Packers:
This is why teams worry about hamstring injuries: they linger. Grant has been well managed by the Packers and has been able to play, but his limited performance this past week reflects the challenges presented by trying to push through these injuries. Grant, listed as probable, is expected to play again this week, and he was able to fully practice Friday despite being limited earlier in the week. But he's not yet 100 percent, so be guardedly optimistic.
Reggie Brown, WR, Philadelphia Eagles:
Brown has been upgraded to probable this week and is likely to see his first action of the season. He may not start and may be used only in specific situations, according to Clayton. Might be best to watch him from a distance to see how he performs his first week back.
Justin Gage, WR, Tennessee Titans:
It's not looking so good for Gage. He suffered a groin injury Sunday and was not really able to practice all week. Friday he performed only straight-line running, and with the groin or adductor muscles being so critical for directional changes, this suggests that he is still hurting. He is listed as questionable and will be a game-time decision, but don't be surprised if Gage sits this one out.
Laurence Maroney, RB, New England Patriots:
Do you really think we have been given any hint as to what the problem is with Maroney's shoulder? Of course not, as per the Patriots' standard veil of secrecy. But we do know that he did not practice Wednesday or Thursday, although he was able to do some limited work Friday. With teammate Jordan listed as doubtful with a foot injury and Maroney's status questionable, expect
Sammy Morris
to see some more work, as might
Kevin Faulk
. Of note, tight end
Benjamin Watson
may also see his first action of the year Sunday.
Braylon Edwards, WR, Cleveland Browns:
This sort of snuck up on us. Edwards was limited all week in practice with a shoulder injury and is listed as questionable for Sunday. Clayton says there is a good chance he will still play, but it's unclear how much Edwards will look like himself this week. Teammate
Jamal Lewis
was limited all week with an ankle injury also, but his probable status is far more encouraging.
And a couple of IDP tidbits ...
Charles Woodson, CB, Green Bay Packers:
The toe that was bothering him last week appears to be improving. He is listed as probable and is expected to play.
Antonio Cromartie, CB, San Diego Chargers:
The hip is better and so is his attitude. There will be less pain and hopefully fewer penalties.
Out:
This is a list of key fantasy players, not including those who have been moved to Injured Reserve status, who are officially listed as "out" for Week 2.
Bob Sanders, CB, Indianapolis Colts:
The punishment he inflicts on others makes itself felt on his body. Sanders has a high ankle sprain that will keep him out for four to six weeks and he may take advantage of the time to get his knee scoped as well. Bummer.
Joey Galloway, WR, Tampa Bay Buccaneers:
A foot injury. He's 37 this year. Bad combination.
Be sure to check out our site Sunday for pregame chats and "Fantasy Football Now" at noon ET. Good luck in Week 3!