Stephania Bell:

Charlie Whitehurst
December, 30, 2010
12/30/10
5:27
PM ET
It's the last week of the NFL regular season and for many fantasy players, this is the grand finale. Week 17 always presents unique challenges as many NFL teams with secure playoff bids opt to rest key players, leaving fantasy owners scrambling to set their final rosters. This year there are some NFL teams whose playoff hopes are still barely alive or who could (or should) be playing for pride, but injuries may still force their starters to rest. And in what could be the worst scenario for fantasy owners, some teams are considering starting their main players to keep them in the rhythm of game preparation and competition, but how much playing time they get is anyone's guess.
Philadelphia Eagles
have, rather unsurprisingly, ruled out quarterback
Michael Vick
. His thigh contusion had him limping throughout Tuesday night's game and there is no reason to further risk his health.
Kevin Kolb
is expected to get the start after working with the first team Thursday.
The Florida Times-Union reports
Jacksonville Jaguars
quarterback
David Garrard
has undergone surgery to repair a torn ligament in the middle finger of his right (throwing) hand and faces a two-month recovery.
Trent Edwards
is poised to start in his absence. ... The
Cincinnati Bengals
announced via Twitter that wide receiver
Chad Ochocinco
will not make the trip to Baltimore because of his ankle. And, as a reminder,
San Diego Chargers
tight end
Antonio Gates
should not be on anyone's fantasy roster (if you were hoping for a miracle) as the team has placed him on injured reserve. At least savvy fantasy owners can get a jump on picking up unclaimed backups or other more appealing free-agent alternates for these players.
While the Week 17 fates have already been decided for some, there are many others still on the fence. Here's who else you might be concerned about heading into Sunday's games:
Quarterbacks
Mark Sanchez, New York Jets:
Initially, it sounded as if Sanchez would be out for Week 17, but then coach Rex Ryan seemed to hint at his starting quarterback playing. Now it just sounds like a situation to avoid altogether. Sanchez's shoulder was sore heading into Week 16 and while it does not appear to be impacting him severely, the Jets might be concerned about him suffering a setback, which would be undesirable heading into the playoffs. That said, the New York Post reported Tuesday that Ryan was considering starting Sanchez "because he's hot right now." Ryan added, "We can't afford for him to take a dip. We need him to stay at this level." The Jets are trying to balance protecting Sanchez with keeping him in a rhythm, all of which points to a scenario where Sanchez starts but doesn't finish. The problem is there is no way of telling just how much playing time Sanchez will see. This is a situation for fantasy owners to avoid.
Matt Hasselbeck, Seattle Seahawks:
On Tuesday, we outlined the
injury concern for Hasselbeck
and the team's plans to proceed as if
Charlie Whitehurst
will be under center. Hasselbeck clearly wants to play in Sunday night's game, and although he was not able to practice Wednesday or Thursday, he is rehabbing diligently with Sunday's goal in mind. As Danny O'Neil of the Seattle Times reports, coach Pete Carroll thinks it's unlikely Hasselbeck will play but acknowledges the door is still open. "I'm totally convinced that he's waging a battle that's against the odds," said Carroll. "He's going to make a miracle comeback if he can." This could come down to a game-time decision.
Jon Kitna, Dallas Cowboys:
According to the Fort Worth Star-Telegram, Kitna, who is dealing with a left abdominal oblique injury, says that all movement feels "like you have a knife in your side." As he sat out practice Wednesday, Kitna still held out hope for a Sunday return, but the pain he is experiencing certainly casts doubt on whether he will be able to throw the ball effectively. If Kitna does not play,
Stephen McGee
will get his first career start.
Brett Favre, Minnesota Vikings:
Most fantasy owners would not rely on Favre to help them win their championship Sunday even if he does suit up. But they might consider
Joe Webb
, thus making Favre's injury status relevant. Favre has yet to pass required post-concussion tests, making it unlikely he'll play Sunday. Even beyond passing those tests, Favre would need to return to a graded exercise progression to be sure his symptoms did not recur with physical exertion. The window for Favre to be able to play is closing simply because of the narrow time factor. The Minneapolis Star-Tribune reports that Favre could repeat the tests Thursday or Friday and coach Leslie Frazier has not ruled him out for Sunday's game. Stay tuned, folks. By now everyone should know things can come down to the wire in Minnesota.
Ryan Fitzpatrick, Buffalo Bills:
The Bills quarterback has missed two days of practice because of his knee and it's starting to raise concern about his availability for Sunday. Fitzpatrick has been sore for quite some time but the back-to-back missed practices are more troublesome.
Brian Brohm
has been practicing with the first team in his absence. Friday should be telling in forecasting who will start for the Bills.
Running Backs
Maurice Jones-Drew, Jacksonville Jaguars:
Jones-Drew did not play in Week 16 because of persistent swelling in his knee, and it looks as if he may be sidelined again Sunday. Jones-Drew did not practice Wednesday or Thursday.
Rashad Jennings
would start in his place against the
Houston Texans
.
Peyton Hillis, Cleveland Browns:
Hillis did not practice Wednesday or Thursday, allowing his sore ribs some rest after taking a shot in the back Sunday. It sounds as if the Browns plan to have Hillis available to play against the
Pittsburgh Steelers
and their best chance for that is to rest him during the week.
Darren McFadden, Oakland Raiders:
Listed on the official NFL injury report with a "toe" ailment, McFadden's status for Sunday is unclear. He did not practice Wednesday and the Oakland Tribune listed "ankle" next to his name as the reason. (On Tuesday, we noted there were
conflicting reports
about the nature of McFadden's injury.) The Tribune notes that McFadden participated in the morning walkthrough Thursday, suggesting he would practice, but his activity level remains to be seen. According to Vittorio Tafur of the San Francisco Chronicle, coach Tom Cable says McFadden could be a game-time decision.
Knowshon Moreno, Denver Broncos:
Moreno managed to see some playing time in Week 16 but left the game early after aggravating his rib injury. Moreno did not practice Wednesday but was expected to practice Thursday in an effort to gear up for Week 17. After
Correll Buckhalter
's Week 16 effort, however, Sunday could turn into a time-share situation, especially if Moreno is less than 100 percent.
Chris Ivory and Reggie Bush, New Orleans Saints:
Ivory has been on the road to recovery from a hamstring injury for the past two weeks but has not been quite ready to play. Week 17 could be different as Ivory returned to full practice Thursday. Bush was listed on this week's injury report with a "chest" injury (SC joint per NFL Network) but practiced fully Thursday and does not appear in danger of missing Sunday's game.
Wide Receivers
Andre Johnson, Houston Texans:
Coach Gary Kubiak announced early in the week that Johnson would not practice (he has not) and that Johnson would indicate whether he is able to play (he has not ... yet). Fantasy owners will likely be waiting until the bitter end to find out whether Johnson can indeed play against the Jaguars. As of now, there is no real hint which way the cards will fall, but Johnson is a competitor who will not give up simply because the Texans are out of the playoff race. Expect him to play if he feels he can contribute, but have a backup plan in place.
Hakeem Nicks, New York Giants:
He has a broken toe, putting his Sunday status into question. The Newark Star-Ledger reports Nicks broke the big toe in his left foot in Sunday's game. When asked by reporters Wednesday if Nicks could play this weekend, coach Tom Coughlin's response was blunt and discouraging: "I doubt it." Fantasy owners who have benefited from Nicks' contributions week in and week out should attempt to find a replacement in a hurry.
Marques Colston, New Orleans Saints:
In what likely comes as a surprise to many, Jeff Duncan of the New Orleans Times-Picayune reports Colston underwent an arthroscopic surgical procedure on his knee Tuesday, according to coach Sean Payton. Duncan says the Saints are listing Colston as questionable, but fantasy owners should plan on him being absent for Sunday's game, just five days after surgery.
DeSean Jackson, Philadelphia Eagles:
Jackson did not practice Thursday because of his sore foot and it is looking as if he may not play this weekend. This could be another blow to those who might have been counting on some big points from this big playmaker. While the Eagles have not yet ruled Jackson out, fantasy owners would be wise to plan for a substitution.
Sidney Rice, Minnesota Vikings:
It's not a setback with the hip but a concussion he suffered in Tuesday night's game that has Rice on the injury report. He did not practice Thursday and with the short week has less recovery time than normal. Rice has not yet been ruled out for Week 17 but fantasy owners should prepare for that possibility.
Calvin Johnson, Detroit Lions:
Although Johnson has not practiced this week because of a sprained ankle, he is still holding out hope he can play Sunday. Johnson told the Detroit Free Press he is "just taking it day by day," undergoing treatment and trying to ready himself for the game against the Vikings. On Tuesday, we noted that Lions coach Jim Schwartz had said Johnson could miss practice and still play. It would be nice to see Johnson on the field by Friday, however, as reassurance.
Malcom Floyd, San Diego Chargers:
It looked to be all but certain that Floyd would miss Week 17 with his still ailing hamstring injury, now his second of the season. But Floyd showed up in practice Wednesday, albeit on a limited basis, enough to suggest he could be available for the Chargers' finale. Wait to see if Floyd can get through an entire week of practice without a setback before getting comfortable with him in your lineup.
Tight Ends
Todd Heap, Baltimore Ravens:
He returned to full practice Wednesday and Thursday, just in time to encourage fantasy owners for Week 17. It looks as if Heap is on track to play Sunday barring a setback.
Aaron Hernandez, New England Patriots:
Hernandez has been a limited participant in practice this week because of a hip injury. After missing Week 16, fantasy owners should be advised that despite returning to practice, Hernandez could still be held out of the game.
Jeremy Shockey, New Orleans Saints:
Shockey missed practice Thursday because of a groin injury.
Jimmy Graham
has clearly developed a rapport with quarterback
Drew Brees
and may be the better fantasy start, even if Shockey plays.
Have a Happy New Year and we'll have the latest injury updates affecting Week 17 in the Saturday morning blog!
December, 28, 2010
12/28/10
2:58
PM ET
For those still playing for titles in their fantasy football leagues, this is the final countdown, the last hurrah, the one for all the marbles. This is also the only week of the season when all games will be played on Sunday. Of course, that doesn't count Tuesday night's game between the
Philadelphia Eagl
es
and the
Minnesota Vikings
, which really is a remnant of Week 16. It also presumes that no games will be postponed because of weather-related issues. Assuming all games tip off as scheduled, half those contests will be late games, making fantasy roster decisions that much more challenging. Between some teams potentially sitting their stars in advance of the playoffs and others not risking further player injury when there will be no postseason, havoc could be wreaked on many fantasy football lineups.
Although personnel decisions may not be made until late in the week, some injury situations are already on the radar. If one of the players below is on your fantasy team, there is reason to be at least a little concerned. Start plotting your insurance strategy and keep in mind that waivers will be processed one day later than usual because of the Tuesday night game.
[+] Enlarge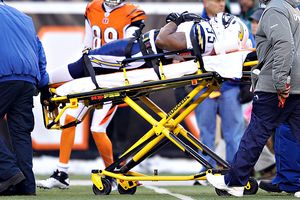 Andy Lyons/Getty ImagesMike Tolbert was carried off the field on a stretcher on Sunday, but his injury was not serious.
• The theme for the
San Diego Chargers
this season has been injuries. Although they did their best to plug the injury holes by rotating personnel, it simply was too much to overcome. Now eliminated from the playoffs and just looking to wrap up the season without further damage, the Chargers likely will be without several of their ailing players. Running back
Mike Tolbert
suffered a scary hit in Week 16 that left him facedown on the turf for a brief period. Tolbert was taken off on a stretcher but was fortunate to come away with an injury that was less serious than it initially appeared. According to the San Diego Union-Tribune, Tolbert has a neck sprain and a shoulder bruise and already has been ruled out of the Week 17 game.
Ryan Mathews
, who picked up the load when Tolbert went down, is expected to get the start.
As far as pass-catchers for the Chargers, tight end
Antonio Gates
and wide receivers
Malcom Floyd
and
Patrick Crayton
are expected to miss Week 17. Gates has been nursing a painful foot, the result of a torn plantar fascia, for weeks and can now truly focus on his recovery. Floyd, who has injured both hamstrings this season, is not likely to be completely healthy by Sunday, and there is no reason to risk a more serious setback. Crayton has been out since Week 11 after wrist surgery. There had been some thought he might return for the final week of the season, but it appears he will remain out. It looks as though
Vincent Jackson
and
Legedu Naanee
will be the starting wide receivers with
Randy McMichael
handling tight end duties.
• The
Seattle Seahawks
are preparing as though
Charlie Whitehurst
will start at quarterback. At least that's what head coach Pete Carroll told the team's website. With
Matt Hasselbeck
potentially sidelined because of a left hip injury, Carroll wants to eliminate any uncertainty. As Carroll pointed out, "We're going with Charlie because we know he's ready to go and he'll be able to have a great week, practice every snap and go full speed and all that."
As far as what's ailing Hasselbeck, it's a bit of a mystery. After Sunday's game Hasselbeck denied that his back was at fault, telling reporters, "It's embarrassing, but it's more my butt." It's worth noting that low-back and hip issues often go hand in hand. Even a history of disc problems in the low back can be associated with subtle hip muscle weakness and pain. There is also the very real possibility of a completely independent injury to the hip itself. Inflammation around the joint can severely affect the function of the muscles that support the hip, making mobility and power difficult to achieve.
According to the Seahawks' website, the onset of injury occurred when Hasselbeck took a helmet hit to his hip in Week 3. He then aggravated the injury in Week 10 when trying to move quickly on a play-action play to his left, and his hip has been somewhat problematic since. Carroll says the issue for his starting quarterback is with certain types of motions. "He's not in a lot of discomfort, but when he has to turn and move and stride and all that kind of stuff, that's where it enters in," Carroll said. Carroll also said that Hasselbeck believes he'll be ready to play Sunday night in what will decide the NFC West. Fantasy owners would be advised to see what progress Hasselbeck is able to make during the week before setting their lineups in stone.
• The
Dallas Cowboys
saw yet another quarterback leave a game with an injury. The Cowboys lost
Tony Romo
to a broken collarbone in Week 7, and he was ultimately placed on injured reserve.
Jon Kitna
, who has been filling in since Romo went down, left the Week 16 game with what appeared at the time to be an injury to his hip. As Calvin Watkins of ESPN Dallas reports, however, the team is calling it a left oblique muscle injury. Kitna pretty well summed up the problem with this type of injury for a thrower, saying, "I can't do any athletic movements and things you got to do at quarterback. Anything that requires any torque." Coach Jason Garrett told reporters the door is still open for Kitna to start if he improves enough through the week. If he is unable to go,
Stephen McGee
will start.
•
Denver Broncos
running back
Knowshon Moreno
played in Week 16 despite his sore ribs, but he didn't last, as he left the game early after aggravating the injury. Lindsay Jones of The Denver Post tweeted that coach Eric Studesville said Moreno could have returned to play, but "Buck [
Correll Buckhalter
] was rolling." It sounds as though the setback was not enough to keep Moreno out of this week's game.
[+] Enlarge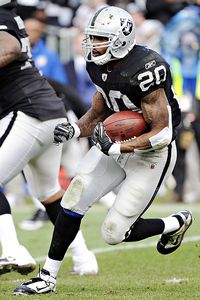 Thearon W. Henderson/Getty ImagesDarren McFadden was limited to just 45 rushing yards against the Colts on Sunday partly because of his injury.
•
Oakland Raiders
running back
Darren McFadden
injured himself during the third quarter of the Week 16 game. According to the Contra Costa Times, McFadden said he rolled his ankle, while coach Tom Cable called it a turf toe injury. Given McFadden's history of turf toe, that particular diagnosis might be more concerning. There was no hint in the report at McFadden's status for Week 17 being in jeopardy, but this will be a situation to monitor in practice.
•
Houston Texans
wide receiver
Andre Johnson
did not play in Week 16 because of the increased pain in his ankle. Coach Gary Kubiak already has indicated that Johnson will let him know if he is able to go this week. According to Nick Scurfield of HoustonTexans.com, Kubiak said Johnson will not practice this week, but if he says he can play this weekend, he will. This situation could be heading toward another game-time decision.
•
Detroit Lions
wide receiver
Calvin Johnson
has an ankle issue that was giving him trouble in Week 16, causing him to leave the game in the fourth quarter. However, it's unclear whether it will be enough to keep him out Sunday. Head coach Jim Schwartz told the Detroit News that Johnson could sit out practice this week and play Sunday. If Johnson does play, quarterback
Shaun Hill
likely will be the one to throw to him, but that has not been confirmed.
• The
New York Jets
have to decide whether to rest quarterback
Mark Sanchez
or play him in Week 17. Sanchez and his sore throwing shoulder were the subject of much discussion heading into last week's contest, but he did not appear hindered by the injury at all. The decision may be more about keeping Sanchez in a routine heading into the playoffs as anything else. Stay tuned.
•
Indianapolis Colts
running back
Joseph Addai
saw a decent amount of work in his first game back in more than two months. More importantly, he emerged apparently no worse for the wear and should appear again in Week 17, although his number of carries may not change drastically.
• As for two running backs who sat out Week 16 -- the Jacksonville Jaguars'
Maurice Jones-Drew
and the
New Orleans Saints
'
Chris Ivory
-- it is too soon to predict whether either will be available in Week 17. Jones-Drew had swelling in his knee, and Ivory was still working his way back from a hamstring injury. Practice reports this week should yield further clues as Sunday approaches.
We will continue to update these injuries and others as the week progresses. Check back on Thursday and Saturday for the latest injury updates affecting Week 17.