Stephania Bell:

Chris Ivory
September, 12, 2013
9/12/13
1:52
PM ET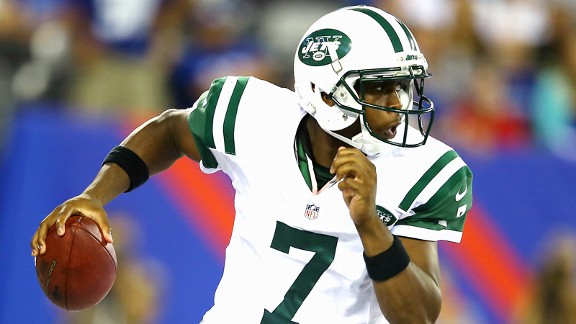 Al Bello/Getty ImagesDespite an ankle injury, Geno Smith is expected to start Thursday against the Patriots.
Thursday night's matchup between the
New York Jets
and
New England Patriots
has no shortage of storylines, including several injury question marks that will have major implications for both the game and fantasy.
Of particular note are injuries to several of the Jets' key offensive weapons. Here's an updated look at New York's offensive players from an injury perspective heading into Thursday's game:
Quarterbacks
Geno Smith, ankle (P):
It's widely known that
Mark Sanchez
won't be playing for quite a while as he sits out with a shoulder injury -- which may have him
going under the knife
in the near future. The Jets plan on having Smith under center, and his presence on the injury report does nothing to threaten his status.
However, it does remind us that Smith suffered an ankle injury in the preseason, an injury that is not completely behind him. Smith injured his ankle in the team's first preseason game and struggled in practice the following week. He sat out the team's second preseason game but was able to return shortly thereafter and ultimately start in the Jets' regular-season opener.
In the Jets' Week 1 victory, Smith moved well and managed to amass 47 rushing yards. However, his presence on the injury report tells us the ankle is not yet fully healthy. It should be noted that he practiced in full every day this week. While the ankle is not expected to limit him, it could be a factor if he were to aggravate it Thursday night.
Wide receivers
Santonio Holmes, foot (P):
Holmes was surprisingly active for Week 1. I say "surprisingly" after a preseason during which, no matter how much progress the Jets said Holmes was making following foot surgery, he never seemed to express confidence.
Holmes suffered a more severe form of a Lisfranc injury, and it is not surprising that his comfort with higher-level activities is slow to return. Running at full speed, decelerating quickly, cutting sharply and pivoting all put high demand on the foot -- and it can take time to return to form. In Week 1, Holmes was on the field for a hefty 44 snaps but was targeted just three times, netting one reception for 13 yards. He was listed as a limited participant in practice this week, but the probable designation indicates the team expects to have him available Thursday night.
What is unclear is how much Holmes will play just four days after his first outing following surgery and how significant his contributions will be in Week 2. In the meantime, teammate and fellow WR
Jeremy Kerley
is out for Thursday's game with a concussion.
Running backs
Chris Ivory, thumb (P):
Ivory was a full participant in practice throughout the week and is expected to play Thursday night.
Bilal Powell, shoulder (P):
Powell was also a full participant throughout the week, and he too will be available Thursday.
Tight ends
Kellen Winslow, knee (P):
Winslow did not participate in practice on Monday or Wednesday, and on Tuesday, he took part on a limited basis (note that Tuesday is considered the most significant practice day in prep for a Thursday night game). It's also worth keeping in mind that Winslow has an extensive history of multiple knee surgeries and, as a result, taking days off are well warranted -- especially during a short week. The probable tag tells us that the Jets plan on him playing.
December, 30, 2010
12/30/10
5:27
PM ET
It's the last week of the NFL regular season and for many fantasy players, this is the grand finale. Week 17 always presents unique challenges as many NFL teams with secure playoff bids opt to rest key players, leaving fantasy owners scrambling to set their final rosters. This year there are some NFL teams whose playoff hopes are still barely alive or who could (or should) be playing for pride, but injuries may still force their starters to rest. And in what could be the worst scenario for fantasy owners, some teams are considering starting their main players to keep them in the rhythm of game preparation and competition, but how much playing time they get is anyone's guess.
Philadelphia Eagles
have, rather unsurprisingly, ruled out quarterback
Michael Vick
. His thigh contusion had him limping throughout Tuesday night's game and there is no reason to further risk his health.
Kevin Kolb
is expected to get the start after working with the first team Thursday.
The Florida Times-Union reports
Jacksonville Jaguars
quarterback
David Garrard
has undergone surgery to repair a torn ligament in the middle finger of his right (throwing) hand and faces a two-month recovery.
Trent Edwards
is poised to start in his absence. ... The
Cincinnati Bengals
announced via Twitter that wide receiver
Chad Ochocinco
will not make the trip to Baltimore because of his ankle. And, as a reminder,
San Diego Chargers
tight end
Antonio Gates
should not be on anyone's fantasy roster (if you were hoping for a miracle) as the team has placed him on injured reserve. At least savvy fantasy owners can get a jump on picking up unclaimed backups or other more appealing free-agent alternates for these players.
While the Week 17 fates have already been decided for some, there are many others still on the fence. Here's who else you might be concerned about heading into Sunday's games:
Quarterbacks
Mark Sanchez, New York Jets:
Initially, it sounded as if Sanchez would be out for Week 17, but then coach Rex Ryan seemed to hint at his starting quarterback playing. Now it just sounds like a situation to avoid altogether. Sanchez's shoulder was sore heading into Week 16 and while it does not appear to be impacting him severely, the Jets might be concerned about him suffering a setback, which would be undesirable heading into the playoffs. That said, the New York Post reported Tuesday that Ryan was considering starting Sanchez "because he's hot right now." Ryan added, "We can't afford for him to take a dip. We need him to stay at this level." The Jets are trying to balance protecting Sanchez with keeping him in a rhythm, all of which points to a scenario where Sanchez starts but doesn't finish. The problem is there is no way of telling just how much playing time Sanchez will see. This is a situation for fantasy owners to avoid.
Matt Hasselbeck, Seattle Seahawks:
On Tuesday, we outlined the
injury concern for Hasselbeck
and the team's plans to proceed as if
Charlie Whitehurst
will be under center. Hasselbeck clearly wants to play in Sunday night's game, and although he was not able to practice Wednesday or Thursday, he is rehabbing diligently with Sunday's goal in mind. As Danny O'Neil of the Seattle Times reports, coach Pete Carroll thinks it's unlikely Hasselbeck will play but acknowledges the door is still open. "I'm totally convinced that he's waging a battle that's against the odds," said Carroll. "He's going to make a miracle comeback if he can." This could come down to a game-time decision.
Jon Kitna, Dallas Cowboys:
According to the Fort Worth Star-Telegram, Kitna, who is dealing with a left abdominal oblique injury, says that all movement feels "like you have a knife in your side." As he sat out practice Wednesday, Kitna still held out hope for a Sunday return, but the pain he is experiencing certainly casts doubt on whether he will be able to throw the ball effectively. If Kitna does not play,
Stephen McGee
will get his first career start.
Brett Favre, Minnesota Vikings:
Most fantasy owners would not rely on Favre to help them win their championship Sunday even if he does suit up. But they might consider
Joe Webb
, thus making Favre's injury status relevant. Favre has yet to pass required post-concussion tests, making it unlikely he'll play Sunday. Even beyond passing those tests, Favre would need to return to a graded exercise progression to be sure his symptoms did not recur with physical exertion. The window for Favre to be able to play is closing simply because of the narrow time factor. The Minneapolis Star-Tribune reports that Favre could repeat the tests Thursday or Friday and coach Leslie Frazier has not ruled him out for Sunday's game. Stay tuned, folks. By now everyone should know things can come down to the wire in Minnesota.
Ryan Fitzpatrick, Buffalo Bills:
The Bills quarterback has missed two days of practice because of his knee and it's starting to raise concern about his availability for Sunday. Fitzpatrick has been sore for quite some time but the back-to-back missed practices are more troublesome.
Brian Brohm
has been practicing with the first team in his absence. Friday should be telling in forecasting who will start for the Bills.
Running Backs
Maurice Jones-Drew, Jacksonville Jaguars:
Jones-Drew did not play in Week 16 because of persistent swelling in his knee, and it looks as if he may be sidelined again Sunday. Jones-Drew did not practice Wednesday or Thursday.
Rashad Jennings
would start in his place against the
Houston Texans
.
Peyton Hillis, Cleveland Browns:
Hillis did not practice Wednesday or Thursday, allowing his sore ribs some rest after taking a shot in the back Sunday. It sounds as if the Browns plan to have Hillis available to play against the
Pittsburgh Steelers
and their best chance for that is to rest him during the week.
Darren McFadden, Oakland Raiders:
Listed on the official NFL injury report with a "toe" ailment, McFadden's status for Sunday is unclear. He did not practice Wednesday and the Oakland Tribune listed "ankle" next to his name as the reason. (On Tuesday, we noted there were
conflicting reports
about the nature of McFadden's injury.) The Tribune notes that McFadden participated in the morning walkthrough Thursday, suggesting he would practice, but his activity level remains to be seen. According to Vittorio Tafur of the San Francisco Chronicle, coach Tom Cable says McFadden could be a game-time decision.
Knowshon Moreno, Denver Broncos:
Moreno managed to see some playing time in Week 16 but left the game early after aggravating his rib injury. Moreno did not practice Wednesday but was expected to practice Thursday in an effort to gear up for Week 17. After
Correll Buckhalter
's Week 16 effort, however, Sunday could turn into a time-share situation, especially if Moreno is less than 100 percent.
Chris Ivory and Reggie Bush, New Orleans Saints:
Ivory has been on the road to recovery from a hamstring injury for the past two weeks but has not been quite ready to play. Week 17 could be different as Ivory returned to full practice Thursday. Bush was listed on this week's injury report with a "chest" injury (SC joint per NFL Network) but practiced fully Thursday and does not appear in danger of missing Sunday's game.
Wide Receivers
Andre Johnson, Houston Texans:
Coach Gary Kubiak announced early in the week that Johnson would not practice (he has not) and that Johnson would indicate whether he is able to play (he has not ... yet). Fantasy owners will likely be waiting until the bitter end to find out whether Johnson can indeed play against the Jaguars. As of now, there is no real hint which way the cards will fall, but Johnson is a competitor who will not give up simply because the Texans are out of the playoff race. Expect him to play if he feels he can contribute, but have a backup plan in place.
Hakeem Nicks, New York Giants:
He has a broken toe, putting his Sunday status into question. The Newark Star-Ledger reports Nicks broke the big toe in his left foot in Sunday's game. When asked by reporters Wednesday if Nicks could play this weekend, coach Tom Coughlin's response was blunt and discouraging: "I doubt it." Fantasy owners who have benefited from Nicks' contributions week in and week out should attempt to find a replacement in a hurry.
Marques Colston, New Orleans Saints:
In what likely comes as a surprise to many, Jeff Duncan of the New Orleans Times-Picayune reports Colston underwent an arthroscopic surgical procedure on his knee Tuesday, according to coach Sean Payton. Duncan says the Saints are listing Colston as questionable, but fantasy owners should plan on him being absent for Sunday's game, just five days after surgery.
DeSean Jackson, Philadelphia Eagles:
Jackson did not practice Thursday because of his sore foot and it is looking as if he may not play this weekend. This could be another blow to those who might have been counting on some big points from this big playmaker. While the Eagles have not yet ruled Jackson out, fantasy owners would be wise to plan for a substitution.
Sidney Rice, Minnesota Vikings:
It's not a setback with the hip but a concussion he suffered in Tuesday night's game that has Rice on the injury report. He did not practice Thursday and with the short week has less recovery time than normal. Rice has not yet been ruled out for Week 17 but fantasy owners should prepare for that possibility.
Calvin Johnson, Detroit Lions:
Although Johnson has not practiced this week because of a sprained ankle, he is still holding out hope he can play Sunday. Johnson told the Detroit Free Press he is "just taking it day by day," undergoing treatment and trying to ready himself for the game against the Vikings. On Tuesday, we noted that Lions coach Jim Schwartz had said Johnson could miss practice and still play. It would be nice to see Johnson on the field by Friday, however, as reassurance.
Malcom Floyd, San Diego Chargers:
It looked to be all but certain that Floyd would miss Week 17 with his still ailing hamstring injury, now his second of the season. But Floyd showed up in practice Wednesday, albeit on a limited basis, enough to suggest he could be available for the Chargers' finale. Wait to see if Floyd can get through an entire week of practice without a setback before getting comfortable with him in your lineup.
Tight Ends
Todd Heap, Baltimore Ravens:
He returned to full practice Wednesday and Thursday, just in time to encourage fantasy owners for Week 17. It looks as if Heap is on track to play Sunday barring a setback.
Aaron Hernandez, New England Patriots:
Hernandez has been a limited participant in practice this week because of a hip injury. After missing Week 16, fantasy owners should be advised that despite returning to practice, Hernandez could still be held out of the game.
Jeremy Shockey, New Orleans Saints:
Shockey missed practice Thursday because of a groin injury.
Jimmy Graham
has clearly developed a rapport with quarterback
Drew Brees
and may be the better fantasy start, even if Shockey plays.
Have a Happy New Year and we'll have the latest injury updates affecting Week 17 in the Saturday morning blog!
December, 28, 2010
12/28/10
2:58
PM ET
For those still playing for titles in their fantasy football leagues, this is the final countdown, the last hurrah, the one for all the marbles. This is also the only week of the season when all games will be played on Sunday. Of course, that doesn't count Tuesday night's game between the
Philadelphia Eagl
es
and the
Minnesota Vikings
, which really is a remnant of Week 16. It also presumes that no games will be postponed because of weather-related issues. Assuming all games tip off as scheduled, half those contests will be late games, making fantasy roster decisions that much more challenging. Between some teams potentially sitting their stars in advance of the playoffs and others not risking further player injury when there will be no postseason, havoc could be wreaked on many fantasy football lineups.
Although personnel decisions may not be made until late in the week, some injury situations are already on the radar. If one of the players below is on your fantasy team, there is reason to be at least a little concerned. Start plotting your insurance strategy and keep in mind that waivers will be processed one day later than usual because of the Tuesday night game.
[+] Enlarge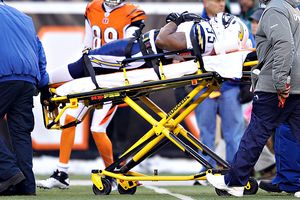 Andy Lyons/Getty ImagesMike Tolbert was carried off the field on a stretcher on Sunday, but his injury was not serious.
• The theme for the
San Diego Chargers
this season has been injuries. Although they did their best to plug the injury holes by rotating personnel, it simply was too much to overcome. Now eliminated from the playoffs and just looking to wrap up the season without further damage, the Chargers likely will be without several of their ailing players. Running back
Mike Tolbert
suffered a scary hit in Week 16 that left him facedown on the turf for a brief period. Tolbert was taken off on a stretcher but was fortunate to come away with an injury that was less serious than it initially appeared. According to the San Diego Union-Tribune, Tolbert has a neck sprain and a shoulder bruise and already has been ruled out of the Week 17 game.
Ryan Mathews
, who picked up the load when Tolbert went down, is expected to get the start.
As far as pass-catchers for the Chargers, tight end
Antonio Gates
and wide receivers
Malcom Floyd
and
Patrick Crayton
are expected to miss Week 17. Gates has been nursing a painful foot, the result of a torn plantar fascia, for weeks and can now truly focus on his recovery. Floyd, who has injured both hamstrings this season, is not likely to be completely healthy by Sunday, and there is no reason to risk a more serious setback. Crayton has been out since Week 11 after wrist surgery. There had been some thought he might return for the final week of the season, but it appears he will remain out. It looks as though
Vincent Jackson
and
Legedu Naanee
will be the starting wide receivers with
Randy McMichael
handling tight end duties.
• The
Seattle Seahawks
are preparing as though
Charlie Whitehurst
will start at quarterback. At least that's what head coach Pete Carroll told the team's website. With
Matt Hasselbeck
potentially sidelined because of a left hip injury, Carroll wants to eliminate any uncertainty. As Carroll pointed out, "We're going with Charlie because we know he's ready to go and he'll be able to have a great week, practice every snap and go full speed and all that."
As far as what's ailing Hasselbeck, it's a bit of a mystery. After Sunday's game Hasselbeck denied that his back was at fault, telling reporters, "It's embarrassing, but it's more my butt." It's worth noting that low-back and hip issues often go hand in hand. Even a history of disc problems in the low back can be associated with subtle hip muscle weakness and pain. There is also the very real possibility of a completely independent injury to the hip itself. Inflammation around the joint can severely affect the function of the muscles that support the hip, making mobility and power difficult to achieve.
According to the Seahawks' website, the onset of injury occurred when Hasselbeck took a helmet hit to his hip in Week 3. He then aggravated the injury in Week 10 when trying to move quickly on a play-action play to his left, and his hip has been somewhat problematic since. Carroll says the issue for his starting quarterback is with certain types of motions. "He's not in a lot of discomfort, but when he has to turn and move and stride and all that kind of stuff, that's where it enters in," Carroll said. Carroll also said that Hasselbeck believes he'll be ready to play Sunday night in what will decide the NFC West. Fantasy owners would be advised to see what progress Hasselbeck is able to make during the week before setting their lineups in stone.
• The
Dallas Cowboys
saw yet another quarterback leave a game with an injury. The Cowboys lost
Tony Romo
to a broken collarbone in Week 7, and he was ultimately placed on injured reserve.
Jon Kitna
, who has been filling in since Romo went down, left the Week 16 game with what appeared at the time to be an injury to his hip. As Calvin Watkins of ESPN Dallas reports, however, the team is calling it a left oblique muscle injury. Kitna pretty well summed up the problem with this type of injury for a thrower, saying, "I can't do any athletic movements and things you got to do at quarterback. Anything that requires any torque." Coach Jason Garrett told reporters the door is still open for Kitna to start if he improves enough through the week. If he is unable to go,
Stephen McGee
will start.
•
Denver Broncos
running back
Knowshon Moreno
played in Week 16 despite his sore ribs, but he didn't last, as he left the game early after aggravating the injury. Lindsay Jones of The Denver Post tweeted that coach Eric Studesville said Moreno could have returned to play, but "Buck [
Correll Buckhalter
] was rolling." It sounds as though the setback was not enough to keep Moreno out of this week's game.
[+] Enlarge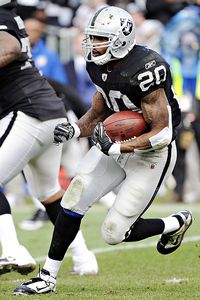 Thearon W. Henderson/Getty ImagesDarren McFadden was limited to just 45 rushing yards against the Colts on Sunday partly because of his injury.
•
Oakland Raiders
running back
Darren McFadden
injured himself during the third quarter of the Week 16 game. According to the Contra Costa Times, McFadden said he rolled his ankle, while coach Tom Cable called it a turf toe injury. Given McFadden's history of turf toe, that particular diagnosis might be more concerning. There was no hint in the report at McFadden's status for Week 17 being in jeopardy, but this will be a situation to monitor in practice.
•
Houston Texans
wide receiver
Andre Johnson
did not play in Week 16 because of the increased pain in his ankle. Coach Gary Kubiak already has indicated that Johnson will let him know if he is able to go this week. According to Nick Scurfield of HoustonTexans.com, Kubiak said Johnson will not practice this week, but if he says he can play this weekend, he will. This situation could be heading toward another game-time decision.
•
Detroit Lions
wide receiver
Calvin Johnson
has an ankle issue that was giving him trouble in Week 16, causing him to leave the game in the fourth quarter. However, it's unclear whether it will be enough to keep him out Sunday. Head coach Jim Schwartz told the Detroit News that Johnson could sit out practice this week and play Sunday. If Johnson does play, quarterback
Shaun Hill
likely will be the one to throw to him, but that has not been confirmed.
• The
New York Jets
have to decide whether to rest quarterback
Mark Sanchez
or play him in Week 17. Sanchez and his sore throwing shoulder were the subject of much discussion heading into last week's contest, but he did not appear hindered by the injury at all. The decision may be more about keeping Sanchez in a routine heading into the playoffs as anything else. Stay tuned.
•
Indianapolis Colts
running back
Joseph Addai
saw a decent amount of work in his first game back in more than two months. More importantly, he emerged apparently no worse for the wear and should appear again in Week 17, although his number of carries may not change drastically.
• As for two running backs who sat out Week 16 -- the Jacksonville Jaguars'
Maurice Jones-Drew
and the
New Orleans Saints
'
Chris Ivory
-- it is too soon to predict whether either will be available in Week 17. Jones-Drew had swelling in his knee, and Ivory was still working his way back from a hamstring injury. Practice reports this week should yield further clues as Sunday approaches.
We will continue to update these injuries and others as the week progresses. Check back on Thursday and Saturday for the latest injury updates affecting Week 17.
December, 23, 2010
12/23/10
6:34
PM ET
This week's Thursday night matchup has the
Pittsburgh Steelers
hosting the
Carolina Panthers
in the most anticipated matchup of the season (hint: sarcasm intended). There's not even a lot to get excited about from a fantasy perspective. Thankfully, most of the relevant fantasy players are not on the injury report this week, with the exception of one or two notables.
For the Panthers, running back
Mike Goodson
may have helped you a few weeks back but he has not been a fantasy factor recently. Nonetheless, for those who might have raised their eyebrows when they saw his name on the injury report, Goodson did not practice Tuesday because of illness, not injury. He returned to full practice Wednesday and listed at probable, is expected to play. Still,
Jonathan Stewart
remains the primary running back for the Panthers as he has been since
DeAngelo Williams
was placed on injured reserve.
On the Steelers' roster, defensive leader
Troy Polamalu
has already been ruled out for Thursday night. This does not come as a huge surprise as there were hints when Polamalu missed Week 15 that he could miss additional time. The All-Pro safety is listed on the report with an ankle injury, but the Pittsburgh Tribune-Review reports Polamalu is dealing with a strained right Achilles, an injury he originally sustained in mid-November. Polamalu continued to play with the injury, but it worsened after the Week 14 game against the
Cincinnati Bengals
when quarterback
Carson Palmer
fell on the back of his leg. The Tribune-Review cited sources saying Polamalu could miss the remainder of the regular season. Officially, he has been ruled out for only this week but fantasy owners should keep an eye on his practice activity early next week for further clues.
Meanwhile Steelers tight end
Heath Miller
, who has missed the past two weeks following a concussion, is off the injury report and is expected to play, barring any late setback.
Here's who else you might be concerned about heading into Week 16:
[+] Enlarge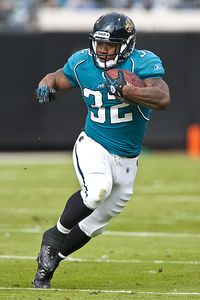 Michael DeHoog/Sports Imagery/Getty ImagesMaurice Jones-Drew's streak of six straight games with at least 100 yards rushing was snapped last week.
• Alarms are sounding in Jacksonville after
Maurice Jones-Drew
sat out Wednesday and Thursday's practices because of his sore knee. The Florida Times-Union asked coach Jaguars head coach Jack del Rio if there was any chance Jones-Drew might not play Sunday and his answer was not definitive. "I hope not," del Rio said. "We're just, the way I look at it, we're always optimistic. ... We get the information to go through the week, get the feedback from the player, from the trainer, from the doctors and all that, then make a determination." Even Jones-Drew acknowledged he did not "look too good" in last Sunday's contest. It's worth remembering that there was some question about a knee issue for Jones-Drew as far back as the preseason. Jones-Drew missed some preseason practice and game time and has quieted concerns, especially recently, with his strong output. With a significant drop in performance in Week 15, however, coupled with the news that his knee is bothering him, there is reason for fantasy owners to keep an eye on Jones-Drew's Friday activity and reason to pick up
Rashad Jennings
, just in case. Meanwhile, teammate
Mike Sims-Walker
also missed practice Wednesday and Thursday to rest his ailing ankle. According to the Jaguars' official Twitter account, the status of both players will be announced Friday.
•
Minnesota Vikings
running back
Adrian Peterson
was a surprise scratch Monday night and has not shown much improvement since. Peterson had something to say about his status Tuesday
on Twitter
writing, "I'm rehabbing. Fully expect to go on Sunday." It's worth noting that Peterson was optimistic in advance of Monday night's game as well, and fantasy owners saw how that turned out. Peterson did not practice Wednesday, and according to Tom Pelissero of 1500 ESPN Twin Cities, Vikings coach Leslie Frazier described his situation this way: "Very, very sore, lots of pain and makes it difficult to turn, twist and do the things Adrian Peterson does." Not the most encouraging words to start the week. Insurance is the best strategy here and if
Toby Gerhart
is available, he won't be for long. Although Peterson returned to limited practice, Pelissero noted that he seemed to be favoring his injured thigh. Both Frazier and Peterson indicate he is much improved over last week but also acknowledge he has a ways to go. This may come down to another game-time decision.
•
Houston Texans
running back
Arian Foster
gave fantasy owners a scare when he left last week's contest early with what he described as a muscle spasm in his "glute." Foster was a full participant in Wednesday's practice, though, and appears on track to start Sunday. Head coach Gary Kubiak, while reassuring in his assessment of Foster's status, sounded the alarm bells when he referred to wide receiver
Andre Johnson
as a game-time decision. According to the Texans' official website, Kubiak followed up by saying, "We'll do our normal deal this week and see where he is at." Johnson has had little to no practice most weeks since injuring his ankle, which typically has allowed him to play Sunday. So far he has missed Wednesday and Thursday. We'll see if Johnson tests the ankle at all Friday.
•
Green Bay Packers
quarterback
Aaron Rodgers
will be back running the offense this week, assuming all goes well between now and Sunday. Rodgers missed Week 15 after suffering his second concussion of the season but was back in full practice Wednesday. The Milwaukee Journal-Sentinel said Rodgers "threw the ball with authority" in the portion of practice open to the media. Rodgers will be wearing a different helmet going forward, but it should be noted that no helmet is concussion-proof. In fact, some helmets have demonstrated better resistance to impact (and controlled studies on helmets have only studied linear or straight-line impact, not rotational, which is often how players are concussed) but the brain is injured when it moves within the skull, something no helmet can control. Still, Rodgers has passed all necessary tests to resume physical activity and barring any return of symptoms, is expected to start against the
New York Giants
this weekend.
[+] Enlarge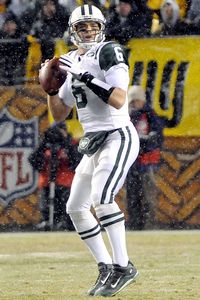 AP Photo/Tom E. PuskarMark Sanchez cracked double-digit fantasy points for the first time in four weeks on Sunday.
• The
New York Jets
announced Wednesday that quarterback
Mark Sanchez
suffered a "slight cartilage tear" in his throwing shoulder, something that was revealed on MRI. The New York Daily News reported that Sanchez injured his arm landing awkwardly in the first quarter of last Sunday's game, yet he was able to finish. Soreness in his shoulder led to this week's MRI, but no one seemed particularly concerned about Sanchez's potential availability for Sunday's game. Until Thursday that is, when coach Rex Ryan suggested Sanchez would be a game-time decision. USA Today reported that Sanchez was limited again in Thursday's practice. His throws lacked velocity and he could not have played if the game were today. The issue is not so much whether the injury will worsen, but rather effectiveness. If Sanchez cannot start it will be
Mark Brunell
at the helm.
• Jets wide receiver
Santonio Holmes
is also less than 100 percent healthy with a turf toe issue that kept him out of practice Wednesday. Holmes returned to limited practice Thursday, suggesting the injury is not of the most serious variety, but it still remains to be seen whether he can be fully effective pushing off and running routes.
•
Cleveland Browns
running back
Peyton Hillis
was not in practice Wednesday, getting a day of rest, according to the Browns. The Cleveland Plain-Dealer reported Hillis was seen limping in the locker room Wednesday, suggesting the body part noted on the report (knee) might be more injured than tired. Hillis seemed to dismiss the concern, telling the Plain-Dealer, "I feel great. ... It is a long season. It's tough on your body, but I think my body's holding up well." He returned to some form of practice Thursday, easing many a fantasy owner's concern. While he's not necessarily out of the woods, this is definitely an encouraging sign. Hillis will need his strength to face the
Baltimore Ravens
, who no doubt would like to erase the memory of his stellar performance against them earlier this season.
•
Denver Broncos
quarterback
Kyle Orton
knows he will be on the sideline this weekend as
Tim Tebow
continues to start. But what about running back
Knowshon Moreno
, who left last week's game early with a rib injury and was not on the practice field Wednesday. Bruised ribs are painful and even breathing hard when running can be excruciating. Moreno did return to limited practice Thursday. If he is able to do the same or more Friday, it would hint at him being available for Sunday.
•
Dallas Cowboys
running back
Marion Barber
was a full practice participant Wednesday, lending more support to the idea that he could be back on the playing field Sunday. Barber has been out since injuring his calf on Thanksgiving Day. Teammate
Felix Jones
has a shin contusion, which also kept him out of practice Wednesday. There seems to be less concern about Jones' availability; the challenge for fantasy owners will be trying to predict how the touches are distributed if all three backs (Barber, Jones and
Tashard Choice
) are active. Meanwhile, teammate wide receiver
Roy E. Williams
was in limited practice Wednesday, a week after suffering a groin injury which kept him out of the Week 15 game. Fantasy owners should wait to see how Williams fares as the week progresses.
• Baltimore Ravens tight end
Todd Heap
has been sidelined with a hamstring injury the past two weeks but returned to limited practice Wednesday. He is by no means a lock to play, but this is a good first step.
• New York Giants wide receiver
Mario Manningham
was questionable last week because of a hip flexor strain but delivered a solid performance (despite his team's stunning loss). Manningham appeared on this week's injury report because of his heel. He went from limited work Wednesday to full practice Thursday, however, hinting that he will be fine come Sunday.
[+] Enlarge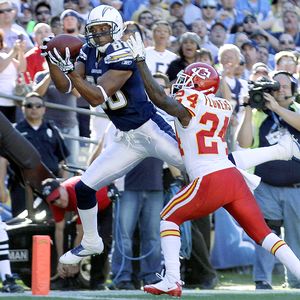 AP Photo/Gregory BullMalcom Floyd was a bit of a surprise scratch last week, but the extra days off may get him back in the lineup this week.
• The
San Diego Chargers
are trying to dry out from all the recent rainfall and trying to determine who will be available to play the Cincinnati Bengals. Running back
Ryan Mathews
missed Wednesday's practice due to illness but was back on Thursday. Tight end
Antonio Gates
has not practiced and is not expected to appear again in the regular season. Fantasy owners who have not yet made the move to replace him on the roster can do so with confidence now. And the biggest question heading into this week is the status of wide receiver
Malcom Floyd
, who has been beset by another hamstring injury that kept him out of last week's game. The North County Times reports that Floyd sustained an injury to the opposite hamstring in practice Dec. 14. Floyd summed it up by saying, "It isn't as bad as the other one, but it is a disappointment that I'm dealing with another injury just after getting healthy again." Floyd has yet to practice this week and his status is certainly murky heading into Sunday's contest.
• After sitting out last week's contest and undergoing a platelet-rich-plasma (PRP) injection,
New Orleans Saints
running back
Chris Ivory
thinks he is about 90-95 percent recovered, according to the New Orleans Times-Picayune. Ivory told the Times-Picayune he could still not run at top speed Thursday but hopes to be able to play Monday night. Given the fickle nature of recovering hamstring injuries and the late game, this may be a fantasy situation to avoid.
• And finally, the
Indianapolis Colts
continue to watch players end their seasons prematurely. Wide receiver
Austin Collie
has been placed on injured reserve following his Week 15 concussion. Despite losing a receiver, they may be gaining a running back.
Joseph Addai
was a full participant in Wednesday practice and according to Associated Press reports, if the game were Thursday he could play. Let's make sure he's not getting ahead of himself and that he feels as good or better at the end of a full week of practice. It sounds as if Addai could return, but how much work he would see versus recent starter
Donald Brown
is unknown.
Have a Merry Christmas and we'll have the latest injury updates affecting Week 16 in the Saturday morning blog!
December, 16, 2010
12/16/10
1:45
PM ET
This week's Thursday night matchup has the
San Diego Chargers
hosting the
San Francisco 49ers
.
Mike Tolbert
and
Ryan Mathews
) are finally healthy, but the status of their wide receivers is still in question.
Malcom Floyd
is listed as questionable heading into the game, although it sounds as if he could be available. Floyd did not practice Wednesday after a limited workout Tuesday, but Kevin Acee of the San Diego Union-Tribune suggests that this may be due, in part, to the Chargers' short week. Nonetheless, it suggests that Floyd is not completely past the hamstring injury, and with that in mind it is hard to know what to expect from him as far as productivity, even if he plays.
Vincent Jackson
, who injured his calf in his 2010 debut, is now off the injury report and is clearly expected to start.
Legedu Naanee
, who dealt with setbacks of his own the past two weeks following a hamstring injury, is probable after full practice Tuesday and Wednesday. The most notable fantasy star of the group, tight end
Antonio Gates
, is not expected to play this week. The team lists him as doubtful and he has not been able to practice because of pain in his foot. Keep in mind, if Gates rests this week, by the time of the Chargers' Week 16 contest he will have been out close to three weeks. The reprieve might be able to help him return and contribute at that point. But expect
Randy McMichael
to start at tight end for the Chargers this week.
For the visiting 49ers, there are not many question marks from a fantasy perspective. Running back
Brian Westbrook
is listed as probable for non-injury-related reasons and is fully expected to play. On the defensive side of the ball, linebackers
Patrick Willis
and
Takeo Spikes
have been practicing with casts on their right hands this week. Although both are listed as questionable, they are expected to play.
Here's who else you might be concerned about heading into Week 15:
Kansas City Chiefs
quarterback
Matt Cassel
returned to practice Wednesday on a limited basis. While no one is committing to Cassel being the starter Sunday, the fact he's back on the practice field has to at least be considered encouraging. This no doubt will be a situation in which he is progressed daily, as able. If all goes well, there is a good chance he could return to face the
St. Louis Rams
.
•
Green Bay Packers
signal-caller
Aaron Rodgers
is looking less likely to play Sunday against the
New England Patriots
. The Milwaukee Journal-Sentinel reports Rodgers has not even been allowed to return to the Packers' practice facility. Clearly, the medical staff wants his brain to rest, meaning no film study, no game plan preparation and no activity whatsoever that could interfere with healing. In the absence of any preparation, coupled with the likelihood that Rodgers will miss the entire week of practice (coach Mike McCarthy said Rodgers will not practice Wednesday or Thursday and his chances of working Friday are "slim to none"), it is hard to imagine he will be ready to absorb all of the mental and physical load required to start Sunday's game. Fantasy owners should prepare to start another quarterback this week.
• Fantasy owners should know at this point that they cannot count on
Minnesota Vikings
quarterback
Brett Favre
to play. While his status remains up in the air, there are so many question marks heading into Monday night -- including whether the game will indeed be played outdoors at the University of Minnesota's stadium -- that's it's best to avoid the situation.
Tarvaris Jackson
has a turf toe injury and has now been placed on injured reserve, making
Joe Webb
the likely starter, although he has a hamstring issue of his own. The Vikings signed
Patrick Ramsey
as insurance. Stand clear of these quarterbacks.
• As far as the other Vikings with injury concerns, running back
Adrian Peterson
, who did not help his fantasy owners last week, is dealing with a knee contusion that is not expected to limit him this week. Maybe if you're still in the playoffs, he can help make it up to you Monday night. Wide receiver
Percy Harvin
has missed the past two games because of migraines, but coach Leslie Frazier says he expects Harvin to return to practice this week. With the Vikings not playing until Monday night, there will be no official practice report until Thursday night, but at least early signs are positive for these two.
• The
Cleveland Browns
are making
Colt McCoy
the starting quarterback for the remainder of the season. It sounds as if the ankle issue is far enough behind him to no longer be a concern to the team.
•
Denver Broncos
quarterback
Kyle Orton
was held to limited practice Wednesday because of "soreness" in his throwing arm and his ribs. The Denver Post reports coach Eric Studesville referred to Orton's condition as "bumps and bruises" and does not seem overly concerned about his quarterback's availability this weekend. Teammate
Brandon Lloyd
showed up on Wednesday's injury report as a non-participant in practice because of his calf. Whether this was some helpful midweek rest or an injury to be concerned about should become apparent as the week progresses.
Seattle Seahawks
seem to be getting some good news on the wide receiver front.
Mike Williams
and
Ben Obomanu
returned to full practice Wednesday. Williams has been struggling with foot and ankle injuries and was not able to play in Week 14. Full practice early in the week is a strong indicator of his availability, barring a setback. Obomanu, who also missed Week 14 with a laceration on his right hand that interfered with his catching ability, has returned to practice, but the Seattle Times reports that he is still adjusting to playing with something on his hands. Says Obomanu: "I personally like no tape on my fingers, no tape on my wrists or anything, but I'm going to have to do a lot of tape, experiment devices and things to make sure; I have to protect my hand No. 1, but still give me comfort to be able to catch the ball, too." The good news is he's working on getting comfortable early in the week, meaning he too should be available Sunday.
• The
New York Giants
' wide receiver news was not so positive to start the week.
Steve Smith
, who returned in Week 14 from a pectoral strain, left the game after one catch when he injured his knee. The Giants released a statement Wednesday indicating that Smith suffered articular cartilage damage and would be placed on season-ending injured reserve. His teammate,
Hakeem Nicks
, fared much better in his return from injury, catching seven passes for 96 yards, and emerged no worse for the wear, not even appearing on Wednesday's injury report. He will likely be
Eli Manning
's big target with Smith out and
Mario Manningham
questionable this week. Manningham left Monday's game early with what was called a hip flexor strain and did not practice Wednesday. We will see what Manningham is able to do later in the week, but he tells ESPN New York that he plans to play in the team's big matchup against the
Philadelphia Eagles
.
• Some fantasy owners may have been concerned seeing Giants running back
Ahmad Bradshaw
with his wrist and forearm on ice Monday night. Bradshaw is not on the team's injury report this week, consistent with his assurances that the wrist is "fine."
• Philadelphia Eagles wide receiver and premature touchdown celebrator
DeSean Jackson
did not practice Wednesday because of a sprained foot. The team is calling him day-to-day according to the Philadelphia Inquirer, but it's hard to imagine him sitting this big game out. Stay tuned.
• The
Baltimore Ravens
won their Monday night game without the services of tight end
Todd Heap
, who was sidelined with a hamstring injury. Heap was listed as a non-participant Wednesday, although the team only held a walkthrough. Fantasy owners should prepare for the eventuality that Heap may not be available again this week, but his practice status going forward should give better clues.
Pierre Thomas
is not even listed on the
New Orleans Saints
' injury report. That's good news for Thomas, who saw his first game action in over two months on Sunday. Teammate
Chris Ivory
left last week's game early with a hamstring injury, which perhaps accounted for Thomas getting a few extra touches in his first game back. Ivory was listed as limited Wednesday, and his status near the end of the week likely will influence what we expect from Thomas on Sunday.
•
Oakland Raiders
tight end
Zach Miller
is back in full practice and his performance last Sunday was the best fantasy owners have seen in a while. If Miller can continue to practice daily without a setback, he might be worth a consideration for your fantasy team, with a matchup against the Denver Broncos on Sunday.
•
Dallas Cowboys
running back
Marion Barber
returned to limited practice Wednesday. Barber has been out since injuring his calf in the Thanksgiving Day game. As the San Antonio Express News reports, however, this may only add to the rotation at running back for the Cowboys. While Barber is far from a lock to play Sunday, when he does return he potentially adversely affects the fantasy running back scenario. Owners of
Tashard Choice
will want to keep an eye on Barber's status throughout the week. Meanwhile, ESPN Dallas reports wide receiver
Roy E. Williams
suffered a groin injury in Wednesday's practice. No word as to the seriousness of Williams' ailment, but it will be worth watching what he is able to do the remainder of the week.
• The
Indianapolis Colts
continue to watch players on the injury carousel. Running back
Joseph Addai
looks to be status quo with limited practice Wednesday. Wide receiver
Austin Collie
was a full participant Wednesday, though, and if he maintains that throughout the week it could signal his return Sunday. The big question then will be how
Peyton Manning
divides up the passes. After
Pierre Garcon
's big fantasy performance last Thursday, it's a little harder to anticipate who will be the lead scorer. Tight end
Jacob Tamme
remains on the injury report but was a full participant in practice. Expect him to play again this week.
See you at the injury chat on Friday at 3 p.m., and we'll have the latest injury updates affecting Week 15 in the Saturday morning blog!
December, 14, 2010
12/14/10
2:08
PM ET
If you survived the first round of fantasy playoffs, it probably was due to help from where you least expected it. It certainly wasn't thanks to
Aaron Rodgers
or
Adrian Peterson
. It wasn't thanks to either
Mike Williams
or
Antonio Gates
. They all may have helped you get to the playoffs but they weren't able to deliver for you in Week 14. No, your help may have come from the unexpected return of the 2009 version of
Pierre Garcon
; the big-time contribution of
Deion Branch
in weather no one is supposed to score in; or even the ridiculous point total of kicker
Jay Feely
, who outscored most skill-position players and got a game ball, to boot.
It all serves to remind us that despite our best efforts to strategize and maneuver our rosters, there are some things we just cannot foresee. Still, we can at least consider the injury woes facing our rosters and with that in mind, we look ahead to Week 15.
[+] Enlarge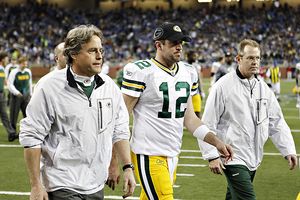 Leon Halip/Getty ImagesAaron Rodgers' second concussion could keep him out of this week's game. Many fantasy owners probably lost key games last week when he was hurt.
• A big part of the reason Aaron Rodgers could not deliver fantasy points for your team is that he was knocked out of Sunday's game with a concussion. As has become the standard, Rodgers will go through the battery of post-concussion tests and clearances before he is eligible to return to play. This is Rodgers' second concussion this season. His first, in Week 5, did not cause him to miss any playing time. While coach Mike McCarthy told the Milwaukee Journal-Sentinel, "We're not going to take any chances [with Rodgers]," we have to presume the standards to return to play are the same as they have been throughout the year. Bottom line: How Rodgers feels and progresses through his tests this week will determine his playing status for Sunday. Fantasy owners should have insurance in the event that Rodgers cannot go.
•
Kansas City Chiefs
quarterback
Matt Cassel
did not make the trip to San Diego this week after undergoing an appendectomy Wednesday. However, Cassel tells the Kansas City Star he is preparing to play this week. Said Cassel, "I'll do what I normally do. It will be a normal week of preparation." At least mentally. We won't get an idea of Cassel's physical readiness until the Chiefs resume practice later in the week, but the notion of a return Sunday is certainly within reason. He will be evaluated medically on a daily basis and progress accordingly.
• The
Minnesota Vikings
did not have
Percy Harvin
available for Week 14 after migraines kept him out of practice all week. The Vikings hope to have Harvin back in practice this week, which would increase the likelihood of his availability for the Monday night game against the
Chicago Bears
. Head coach Leslie Frazier told ESPN 1500 that the team expects Harvin back Thursday when practice resumes, "barring any unforeseen situation." Maybe by then we'll also know where that game will be played. Running back Adrian Peterson bumped knees with quarterback
Tarvaris Jackson
in the first quarter and exited Monday's game briefly but returned shortly afterward. Unfortunately for fantasy owners, he wasn't productive. We'll see if that changes against the Bears.
• As for Harvin's teammate
Brett Favre
, we knew his consecutive start streak would come to an end sooner or later and alas, Monday night, it was put to rest. He suffered a sprained sternoclavicular joint in Week 13 and even with a one day reprieve granted by Mother Nature in the form of a Minnesota blizzard, it wasn't enough to postpone the inevitable. But the SC sprain wasn't to blame in its entirety. It turns out that Favre suffered a pinched nerve in his neck during the game where the Vikings faced the
Washington Redskins
a week earlier and had been experiencing some tingling in his hand ever since. The hit that injured his SC joint in Week 13 also aggravated the tingling in his arm and hand, which ultimately may have been more responsible for Favre's inability to suit up than the pain at the front of his chest. As Favre told the Minneapolis Star-Tribune, "It's not so much the pain. There is a little pain, but that's subsided some. It's the tingling. I think it would be foolish to even consider playing if you don't have total feeling in five fingers." Favre said he was scheduled to undergo further tests Tuesday after which everyone should have a better idea of what his status will be going forward.
•
New Orleans Saints
running back
Pierre Thomas
returned to action for the first time in more than two months. Thomas caught a few passes and ran the ball 12 times, partly due the early departure of
Chris Ivory
with a right hamstring injury. There is no word of yet on the seriousness of Ivory's injury, but if he is sidelined, Thomas' value goes up.
[+] Enlarge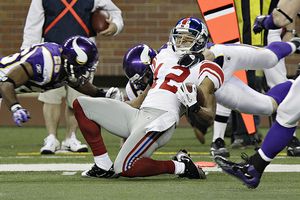 AP Photo/Carlos OsorioThe Giants' Steve Smith, already dealing with a pectoral injury, hurt his hamstring Monday and was limited to just one catch for 12 yards.
• The
New York Giants
saw the return of two injured wide receivers in Week 14. Both
Hakeem Nicks
and
Steve Smith
were back in the mix, but unfortunately Smith was forced out of the game with a different injury. Smith, who was playing with a shoulder harness to protect his still-healing pectoral muscle, suffered a hamstring injury in the third quarter. Nicks, coming back from a surgical procedure on his lower leg, looked strong, as expected, which should give fantasy owners confidence going forward. Wide receiver
Mario Manningham
entered the game healthy but left in the second quarter with what was termed a hip flexor injury. Later in the week we should get better clues about the status of the Giants' receivers.
• The
Seattle Seahawks
were without receivers
Mike Williams
and
Ben Obomanu
this week. Williams was nursing a foot and ankle injury on the same leg and Obomanu had a deep laceration on his right hand that made it impossible for him to catch the ball. Coach Pete Carroll sounded quite confident Monday when he said he expects both receivers to be in practice Wednesday. According to the Daily Herald in Everett, Wash., Carroll said, "Both those guys will practice this week, yeah," adding that he expects both to be available for Sunday's home game against the
Atlanta Falcons
. We'll see if that holds true. The Seahawks have had a tough road with their wide receiver health, also losing
Deon Butler
on Sunday to a broken leg that required surgery to implant a rod for stabilization.
•
San Diego Chargers
tight end Antonio Gates surprised many by not being able to play in Week 14 after gutting out the two previous weeks. His absence was a reflection of just how much pain he is still having, especially considering that earlier in the week Gates had announced he would play. On Sunday, Gates sounded uncertain about the rest of his season, but Monday he reiterated his commitment to trying to get back out to contribute, telling the San Diego Union-Tribune, "I do everything I can every day to get healthy." Getting healthy -- or at least healthier -- may mean sitting out Thursday's game against the
San Francisco 49ers
. If Gates rests until Week 16, he will have essentially given his foot a three-week hiatus, which could prove beneficial for pain relief. Fantasy owners should prepare for an alternate this week; at best, Gates' status will likely be a game-time decision.
•
Buffalo Bills
wide receiver
Lee Evans
injured his ankle in Sunday's contest and looks as if he could be done for the year. According to the team's official website, head coach Chan Gailey said of Evans, "I know it's going to be two [games], and it might even be a struggle for him to get back for the last one." Not exactly encouraging.
• Both
Indianapolis Colts
running back
Joseph Addai
and wide receiver
Austin Collie
were present at the team's light workout Monday. Both have been practicing on a limited basis for the past two weeks, however, and still have not been cleared to return to play, so fantasy owners should not be overly excited by this news.
We will continue to update these injuries and others as the week progresses. Check back for the latest injury updates affecting Week 15 on Thursday and Saturday!