Stephania Bell:

Chris Young
May, 13, 2013
5/13/13
4:42
PM ET
Every Monday in this space, we'll provide updates on a variety of players to help you make your weekly lineup decisions. We'll specifically try to hit the players who are day-to-day, have just gone on the DL or are ready to return, so that you can better decide whether you can count on them or not.
All projected return timelines should be considered fluid.
Hitters
Jason Heyward, OF, Atlanta Braves (placed on DL April 21, could return this week):
Heyward went on the disabled list following an emergency appendectomy, so at least there's comfort in knowing this is not going to be a recurrent problem. Now it's just a matter of when he will return … and when he'll be effective.
Heyward has been on a rehab assignment for several days at Triple-A Gwinnett, and other than some soreness that warranted a day off, his stint has been uneventful from a health perspective. It also has been uneventful at the plate, that is until Sunday, when he finally started hitting. The Braves don't have an exact date for his return, but he's expected to rejoin the team at some point this week.
[+] Enlarge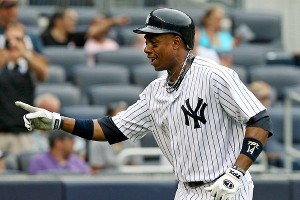 AP Photo/Seth WenigCurtis Granderson could return to the Yankees as early as Tuesday.
Curtis Granderson, OF, New York Yankees (opened season on DL, could return this week):
It's only fair that the Yankees actually get a player
back
from the DL after adding more and more players to it this season. Granderson's recovery and rehab have been totally uneventful, just the way the medical staff likes it. He has been crossing "to do" items off the list during his rehab assignment: He has faced both left- and right-handed pitching, played defense and played both day and night games. Perhaps most importantly, Granderson has not shown any lingering apprehension from getting hit by a pitch this spring. As he told the Yankees' official website regarding his rehab at-bats, "There was no recall of the injury. There's going to be pitches inside, I'm going to get hit again, but you got to stay in."
The Yankees would like it if he stays healthy and stays in. There's every indication he will come back and be productive immediately, and that return could happen any day now, potentially as early as Tuesday, when the Yankees open a series at home.
Coco Crisp, OF, Oakland Athletics (placed on DL April 30, could return this week):
Crisp strained his left hamstring trying to run out a ground ball in the A's seemingly never-ending Monday night game nearly two weeks ago. Fortunately, the strain appeared mild and Crisp could potentially attempt to run the bases soon, according to the San Francisco Chronicle. Obviously his tolerance of running will help determine his readiness to return -- manager Bob Melvin told reporters Crisp might not need a formal rehab assignment -- but as is always the case with hamstrings, until he runs in games without a setback, it will be impossible to tell just how healthy he is.
Chris Young, OF, A's (placed on DL April 30, could return Wednesday):
The A's hope to get another outfielder with a soft tissue injury back soon. Just as Coco Crisp recovers from his hamstring, Young is working to get past a left quad strain that has sidelined him the past couple of weeks. After passing the necessary rehab clearances, Young is expected to get some at-bats in extended spring training games during the early part of the week, according to the A's official website. If all goes well, he could return when eligible on Wednesday.
Neil Walker, 2B, Pittsburgh Pirates (placed on DL retroactive to April 27, expected to return Monday):
Two weeks ago in this space, I wrote about how the Pirates hoped to return Walker within days if he could swing the bat effectively. Clearly he could not, and the decision was made to place him on the DL. After beginning a rehab assignment last Thursday, it seems Walker has shown he has moved past the injury, and his return appears imminent.
Michael Cuddyer, OF, Colorado Rockies (placed on DL retroactive to May 9):
Cuddyer had already missed three games with what he referred to as inflammation in his neck, related to a disc problem. Now it's clear he will be missing a few more. This is not Cuddyer's first episode of neck pain, but it appears to be the first time it has forced him on the DL. The hope is that the symptoms are limited to his neck and that it won't progress into his shoulder or arm. Rest is the best option for him in the short term, but given the variability of these types of ailments, a definitive timetable is difficult to determine. The soonest he can return is May 24, if his neck cooperates.
Jayson Werth, OF, Washington Nationals (placed on DL retroactive to May 3):
This doesn't come as a huge surprise after Werth's hamstring continued to bother him despite missing the past eight games. If there is any good news, it's that it can be backdated to the last time Werth saw the field, making him eligible to return May 18. Whether he will be able to actually run at full speed by the end of this week remains to be seen. The Nationals have also indicated they believe dehydration was a factor in Werth's repeated muscle cramping.
The hope is that all will be under control and back to normal by the end of the week, although fantasy owners might want to wait until next week to insert him into their lineup.
Adrian Gonzalez, 1B, Los Angeles Dodgers (day-to-day):
Gonzalez has been dealing with a minor muscular strain in his neck, recently aggravated when he and an umpire crossed paths as he was attempting to field a ground ball. An MRI revealed little of significance and Gonzalez returned to play late last week. However, he promptly aggravated it again, then sat out Sunday's game.
This is what falls under the header of "annoying" injuries, frustrating to the athlete because of the come-and-go pattern and difficult to predict in terms of behavior and severity. It does not look as if Gonzalez is in danger of going on the DL, but fantasy owners will want to check daily lineups until he is playing consistently.
Austin Jackson, OF, Detroit Tigers (placed on DL retroactive to May 12):
Another outfielder, another hamstring injury. It seems to be quite the injury trend this week. Also a trend: Teams opting to send players to the disabled list for seemingly minor strains early in the season, not wanting to risk a more severe injury. That makes sense. Teams as a whole seem to be offering their players a couple of days to test the effects of rest, but if there are any lingering warning signs, they waste little time scaling the athlete back (in the form of a DL stint). The hope then is that the player will miss the minimal amount of time, and Jackson's case is no different.
[+] Enlarge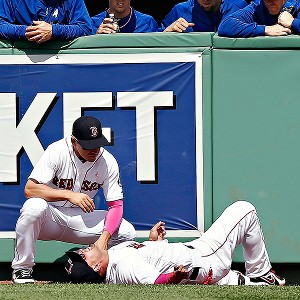 AP Photo/Winslow TownsonShane Victorino (lying down) collided with the outfield wall Sunday at Fenway Park.
Shane Victorino, OF, Boston Red Sox (day-to-day):
After missing a week due to spasms in his back, Victorino returned to action May 3. He seemed to be faring well ... until he ran into the outfield wall Sunday, ultimately requiring a trip to the hospital to be examined. As bad as it looked -- and perhaps felt -- Victorino appears to have escaped major injury. According to ESPN Boston, X-rays on his ribs came back negative, and manager John Farrell says Victorino should be ready to play Tuesday after the team's off day Monday. The hope is that this collision will not wake up the painful spasms in his low back again, and so far there has been no word of that. If Victorino does return Tuesday, that will be a good sign that he should be available going forward.
Desmond Jennings, OF, Tampa Bay Rays (day-to-day):
Jennings has missed a few games with a minor groin strain, but the Rays seem fairly confident they will have him back Tuesday. Jennings has downplayed the injury since it first cropped up last week, suggesting he could play if necessary. Given that it's May and not September, manager Joe Maddon opted to rest Jennings for several days. The proof that it is not anything to worry about will come when Jennings returns to action for consecutive days without incident.
Pitchers
Zack Greinke, SP, Los Angeles Dodgers (placed on DL April 12, could return Wednesday):
When Greinke was injured in the brawl with
Carlos Quentin
, no one knew what to expect since a clavicle fracture in the non-throwing arm of a pitcher is not exactly your everyday injury. As soon as the Dodgers announced he was undergoing surgery to stabilize the fracture, his prognosis for return actually improved, as it appeared he would not face as much down time from throwing.
Turns out that was an accurate assessment. Despite the Dodgers' (understandably) conservative eight-week projection, Greinke appears poised to possibly return this week, which would mark 4 1/2 weeks post-surgery. He has passed the point of having discomfort and pitched in high Class A ball last Friday. His velocity is up where he left off at the time of injury, and he appears from a functional standpoint to be ready to pitch in the majors. The final remaining hurdle is whether the bone has healed to the point where the team is comfortable with him absorbing contact. (The high Class A outing afforded him the opportunity to pitch with a DH in the lineup; when he returns to the Dodgers, he will need to hit, run and potentially absorb contact should there be a collision). Expect those clearing tests to be performed over the next 24 hours and a decision to be forthcoming shortly after. If the team opts to hold Greinke out of a return to the majors Wednesday, he would likely get another rehab start this week and rejoin the team next week.
Brett Anderson, SP, A's (placed on DL April 30, could return Friday):
After originally spraining his ankle in mid-April, it looked as if Anderson could avoid a DL stint with some rest. But he got called into service in the A's marathon game a couple of weeks ago and it set him back, forcing the DL stint. With a pitcher so recently removed from Tommy John surgery, it's probably for the best that he allow the ankle to recover sufficiently to not threaten his throwing mechanics and, consequently, the health of his arm. According to the San Francisco Chronicle, Anderson is likely to rejoin the rotation Friday.
Ryan Madson, RP, Los Angeles Angels (opened the season on DL, could return this week):
Madson's return following last April's Tommy John surgery has been delayed due to the soreness he experienced this spring. The delays aren't highly unusual, but it does bode for a gradual progression even as he returns to his major league team. Madson has been pitching in extended spring training and will begin a rehab assignment this week. He might not spend much time there, as the team could bring him up to the majors to build further endurance in that setting. As the Los Angeles Times has reported, he will not be the closer immediately upon return, and how the Angels opt to use him will likely depend on what they see from him as he resumes big league action.
[+] Enlarge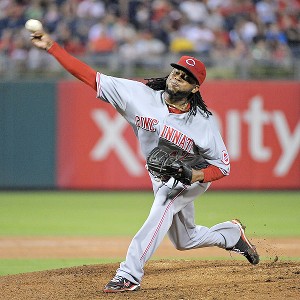 Eric Hartline/US PresswireHe's been out of sight, out of mind, but it shouldn't be forgotten that Johnny Cueto finished 13th among all pitchers on the ESPN Player Rater in 2012.
Johnny Cueto, SP, Cincinnati Reds (placed on DL April 15, could return within one to two weeks):
Cueto's original ailment was reported as a triceps injury, then was modified to a lat strain (more typical for a pitcher). But as he was recovering from that injury, he developed soreness in his oblique, a pitcher's nemesis, forcing a slowdown in his return schedule. Now Cueto seems to have cleared most of the major obstacles in his recovery and has initiated a rehab assignment. His next rehab outing is slated for Tuesday, and the Cincinnati Enquirer is reporting he could return to the Reds' rotation May 19.
It's entirely possible the team opts for another rehab start, depending on what they see during his outing this week and how Cueto feels after consecutive starts. Either way, it appears that, barring a setback, his return is not far off.
Andrew Bailey, RP, Boston Red Sox (placed on DL retroactive to April 29, could return within a week):
Bailey is eligible to return from the DL on Wednesday, but the club could still opt to send him out on a rehab assignment, pushing back that return. Bailey went on the disabled list with a biceps strain, a bit more worrisome than the one that sidelined teammate
John Lackey
because of the location of Bailey's symptoms (higher, closer to the shoulder). As noted in this space last week, Bailey has been plagued by a series of injuries, but he started the season strong for the Red Sox. With
Joel Hanrahan
now out for the remainder of the season, it would seem Bailey has the opportunity to recapture his closer role from
Junichi Tazawa
, if he can stay healthy. Considering his history, particularly in light of this current ailment, that's a big if. Even if Bailey returns without a rehab assignment, the bigger question will be how long he can go without a potential flare-up.
Chris Perez, RP, Cleveland Indians (day-to-day):
As he began to warm up Sunday before entering the game in relief, Perez experienced what the team is calling "stiffness" in his throwing shoulder. Manager Terry Francona opted not to press his luck and rested Perez instead. At this point, it doesn't appear to warrant major concern, but it does warrant you keeping an eye on the situation. Unless he's scratched again this week, consider this just a bump in the road.
Jake Westbrook, SP, St. Louis Cardinals (placed on DL May 12):
Westbrook becomes the latest pitcher to hit the disabled list with inflammation in his elbow. According to ESPN's Jim Bowden, Westbrook received a cortisone injection in his elbow. Expect several days of rest with a gradual increase in activity to see if he can resume throwing. Until he reaches that point, it will be difficult to project the length of his absence.
Wei-Yin Chen, SP, Baltimore Orioles (day-to-day):
After getting his team off to a good start Sunday, Chen was forced to leave the game early because of a strained oblique. He was scheduled to undergo an MRI Monday, and it would not be surprising if this results in a trip to the DL. The typical absence for a pitcher runs on the order of a month, so if it is serious enough to warrant the trip, plan on not having him available for approximately four weeks.
May, 18, 2012
5/18/12
12:21
PM ET
April, 18, 2012
4/18/12
4:19
PM ET
Arizona Diamondbacks
center fielder
Chris Young
took a flying leap while making a big play Tuesday, and his right shoulder crashed into the outfield wall. He made the catch but the wall made a mark, at least a 15-day mark, as Young was placed on the DL Wednesday. Clearly in discomfort as he lay on the ground for several moments following the impact, Young was able to eventually get up on his own. As he walked off the field, he raised his left hand up toward his right collarbone and shoulder, as if he were cautiously checking to make sure all was still intact. According to the Arizona Republic, Young later indicated that he was specifically concerned about his collarbone after the crash, but X-rays showed no fractures. Even in the absence of a break, the possibility of a variety of soft tissue injuries exist after such a collision and, as is sometimes the case, more detailed imaging can reveal more subtle bone injury. Young, who did not return to the game following the injury, is scheduled for an MRI on Wednesday to further evaluate the area. "I can't lift it right now," Young said, adding, "We'll see. ... All we can do tonight is ice it, do a little [electric-stimulation] machine on it and hope it feels better in the morning." Inability to lift the arm overhead is not uncommon acutely in the presence of pain and swelling, even when the injury itself is relatively minor. For now the team is calling Young's injury a shoulder contusion, or deep bruise, which the Diamondbacks hope is the extent of it. Stay tuned for details.
[+] Enlarge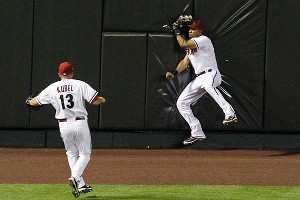 AP Photo/Ross D. Franklin Chris Young is on the DL after getting hurt making this catch on Tuesday.
Young isn't the only outfielder ailing right now. Teammate
Justin Upton
has a left thumb injury suffered in the first week of the season (those darned headfirst slides!) that has continued to nag at him ever since. Upton consulted Tuesday with Dr. Don Sheridan, a hand specialist (incidentally, Sheridan is the surgeon who operated on
Boston Red Sox
outfielder Carl Crawford's wrist), who confirmed the initial diagnosis of a bone bruise and drained the thumb of fluid, according to the Republic. While the team is still hoping Upton can avoid a trip to the DL, it does remain a possibility. Upton has essentially played through the injury but will likely rest a couple of days after having it drained (he did not play Tuesday and is not in the starting lineup Wednesday). The thumb is critical for bat grip and control and although Upton has managed to stay in the lineup thus far, we have seen how lingering thumb injuries can sap a hitter's power (the
Atlanta Braves
'
Jason Heyward
in 2010 comes to mind, also injured his thumb on a headfirst slide, played through for a while, then went on DL). The Diamondbacks will likely see how Upton responds over the next several days before making a decision.
No "immediate" surgery for Ellsbury
According to ESPNBoston.com, Boston Red Sox manager Bobby Valentine indicated that
Jacoby Ellsbury
will not require immediate surgery
on his injured right shoulder, a decision arrived at following consultation with Dr. Lewis Yocum. Yocum reviewed Ellsbury's MRI results after which "there was a consensus of opinion on both the damage and how to proceed," Valentine said. Now the focus is on rehabilitation for Ellsbury, working towards gradually restoring range of motion and strength before ultimately returning to baseball activities. As noted here on Monday, there will be
challenges for Ellsbury to overcome
both offensively and defensively in his recovery from this injury.
The key word here may be "immediate." While avoiding surgery, especially in the shoulder, is always preferable if not absolutely necessary, there are sometimes situations where surgery becomes an option down the road. Since we do not have any details as to what soft tissue damage was specifically present, it is impossible to know what exactly Ellsbury is dealing with other than pain, swelling and weakness which would accompany any subluxation. What can be assumed is that no one saw anything on imaging so severe that it would require immediate surgical attention. We have seen players successfully play through various soft tissue injuries, then undergo surgery once the season ends. (Successful in this context means showing up to play on a regular basis. It may or may not mean performing at the level typical of that athlete.) We have also seen players rehabilitate fully from similar injuries and return to play at a high level with no follow-up procedure required. The translation then is that there is hope for a positive outcome in Ellsbury's case but until we see him back and performing as he was pre-injury, nothing is certain. The Red Sox have not issued a timetable but given the injury, expect Ellsbury to be out for at least a month.
Baker ends up with Tommy John surgery
Many were surprised to learn that
Minnesota Twins
pitcher
Scott Baker
, who went into surgery anticipating a repair of his flexor tendon, emerged with a new ulnar collateral ligament (UCL). In other words, Baker underwent Tommy John surgery. The hardest part undoubtedly for Baker was learning when he woke up how long his rehab just became. On the other hand, he has to feel somewhat validated for the struggles he has been having with his elbow for some time. It's also worth noting that this scenario is not unheard of in the world of sports medicine. The UCL is a complex structure with multiple bands, and even a partial defect can render an athlete incapable of throwing. The athlete's elbow can still appear stable on clinical exam and imaging may be imperfect. To further complicate the issue, pitchers often have tissue changes visible on MRI which are the normal consequence of repeated throwing, hence the need to put the patient's history, clinical exam and imaging together to come up with the most likely diagnosis. And even then, as is evidenced by Baker's situation, there is no better way than actually visualizing the anatomy during surgery to be certain. Unfortunately, surgery is an extreme way to diagnose and comes with its own set of risks and potential complications, which is why it is generally viewed as a last resort. While the rehab Baker now faces is going to be lengthier than what he envisioned before he went under the knife, at least he can rest assured that structurally, there are no more questions.
May, 9, 2011
5/09/11
5:20
PM ET
Yet another ace was sidelined due to injury over the weekend.
Philadelphia Phillies
pitcher
Roy Oswalt
left the team April 28 to help his family in Mississippi in the aftermath of severe storms that hit the area. He returned to Philly last week and threw a bullpen Thursday, but felt soreness in his back, something he has been experiencing intermittently since April. The next day, Oswalt was added to the disabled list (retroactive to April 27) due to inflammation in his back, something the Philadelphia Daily News reports he referred to as causing "a little bit of concern." Given that Oswalt had not pitched since returning home, the retroactive DL designation gives him approximately a week's recovery time, and he would be eligible to return Friday.
[+] Enlarge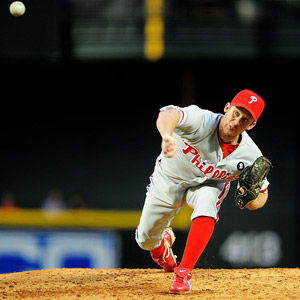 Mark J. Rebilas/US PresswireRoy Oswalt struggled in his last start before leaving the team, allowing five runs in three innings against the Diamondbacks on April 26.
Unfortunately for the Phillies, it does not appear he will be ready just yet. After all, back problems are nothing new for him and no one, especially Oswalt, wants this episode to turn into something more drawn out and more severe. While with the
Houston Astros
, Oswalt experienced back and leg pain associated with a bulging disc. That injury ended his 2009 season prematurely and reared its head again in spring of 2010. Since that time, he has not had any major episodes of pain or spasm, until now. But back problems are notorious for their recurrence over time. Phillies general manager Ruben Amaro told the Philadelphia Inquirer that while Oswalt is progressing this week, "He probably is not going to be ready for the weekend." Oswalt is scheduled to throw another bullpen Tuesday. If he continues to respond well, perhaps he will rejoin the rotation next week. The bigger hope is that this will not be an ongoing challenge for Oswalt throughout the season.
• The Phillies also placed catcher
Carlos Ruiz
on the DL this weekend. Ruiz has been having trouble with his back since late April. At the time it appeared Ruiz would miss a few days but not require a DL stint. While swinging off a tee a week later, however, Ruiz slightly aggravated the back, leaving his status as day-to-day. The Phillies placed Ruiz on the DL retroactive to April 28 and he hopes to rejoin the team when eligible Friday, if his back cooperates. He has been running and swinging the bat, and he even caught a bullpen session without incident in the past few days. He is now headed to extended spring training in Florida, according to the Philadelphia Inquirer. Beyond getting his back healthy, the rest for Ruiz may have been good for him, given the demands of his position combined with his workload.
• Meanwhile the Phillies are also getting a player back from the DL. Pitcher
Joe Blanton
(impingement in his throwing elbow) was activated Monday and will pitch Monday night against the
Florida Marlins
.
• Over in New York, the Mets made the decision to place pitcher
Chris Young
on the disabled list ... again. Young has been experiencing some tightness in his surgically repaired shoulder and was scratched from his scheduled Saturday start as a result, then placed on the DL on Sunday for the second time this season.
Young has not been able to pitch consistently since undergoing shoulder surgery in 2009. In 2010, he managed only 20 total innings for the
San Diego Padres
, most of which came in September. It seemed as if he might be off to a better start this year (two consecutive starts!) but then the biceps flared up and he was sent to the DL in mid-April. Young returned for two more starts, but his velocity was down, causing some concern. When Young reported stiffness in his posterior shoulder, the team went the conservative route and removed him from any chance of playing. Young was also sent for another MRI, which did not yield encouraging results. As ESPN New York's Adam Rubin reported, Mets general manager Sandy Alderson said of the imaging results, there is "swelling in the back of his shoulder in the area of an old injury. ... We're not sure the extent of this injury." While the team plans to proceed with caution, it's worth noting that Young says this injury does not feel as severe as the previous episode. "Last year I could barely even pick up a ball," he said. "This, I can go through the motion. It's just grabbing as I try to increase the intensity." Unfortunately, his body has failed to cooperate for any length of time in the past few years.
• Why not end on a positive note? Wednesday is the official projected return date for
Chicago White Sox
ace
Jake Peavy
, who is expected to start his first game since undergoing surgery to reattach his latissimus dorsi tendon. Peavy threw 100 pitches in his last rehab start, so it appears he is ready to take on a regular role. He will face the
Los Angeles Angels
in Anaheim and Peavy told reporters Sunday he wants to bring "some enthusiasm, some fire, some passion" to his club when he returns. After what he's been through, how can he not inspire his teammates to kick it up a notch?
April, 22, 2011
4/22/11
1:52
PM ET
• It appears the
Boston Red Sox
may have gotten away with a bit of a break, or not as the case may be. Third baseman
Kevin Youkilis
was in obvious pain after fouling a ball off his left shin during Thursday's game. He left the game in the second inning but X-rays of his leg were negative, making what could have been a broken leg just a badly bruised one. Or so it seems. According to the Boston Herald, Youkilis would be evaluated further Friday and we know from experience that things can appear in later images that were not visible initially. Expect Youkilis to be day-to-day (it would not be surprising if he is out Friday at the very least) unless a more serious issue crops up.
• In Detroit, the Tigers opted to place DH and sometime catcher
Victor Martinez
on the DL with a right groin strain. Martinez originally suffered the injury during an at-bat Saturday but felt he could play through it. After a day off Sunday, Martinez returned Monday only to aggravate the injury during another at-bat and now the Tigers aren't taking any chances. Groin injuries are problematic not only for explosive and directional movement but when trying to generate power through the trunk (like when swinging the bat). Rather than lose him for 4-6 weeks with a more severe injury, the Tigers' hope is Martinez will be able to return at the close of his DL stint. The expectation might be that
Magglio Ordonez
would see more time at DH as a result but he has been challenged intermittently by swelling and stiffness in his post-surgical ankle. According to the Tigers' official website, manager Jim Leyland acknowledges that Ordonez's ankle will not allow him to play every day yet and even when he does play, it's not clear whether it will be as the DH or in the field.
[+] Enlarge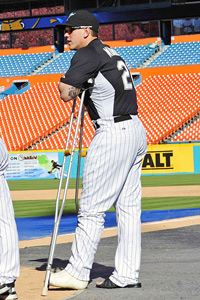 Steve Mitchell/US PresswireLogan Morrison could be out a month and possibly more with his foot injury.
•
Florida Marlins
outfielder
Logan Morrison
is such a prolific tweeter that he actually
tweeted the news of his diagnosis
and projected absence shortly after learning his fate (if you haven't read ESPN "Baseball Tonight" host Steve Berthiaume's
"Twitterview" with Morrison
, conducted before he knew the full extent of his injury, it's worth checking out). Morrison has a Lisfranc (midfoot) sprain and is projected to miss 2-4 weeks. Lisfranc sprains can range from relatively minor to severe, the worst of which involve fracture/dislocation and require stabilizing surgery. Thankfully that is not the case for Morrison, but the sensitivity of the area to the stresses of weightbearing means Morrison is in a cast and on crutches for now. According to Joe Frisaro of MLB.com, Morrison, who also has a muscle strain in the foot, is to be re-evaluated Monday to determine next steps. The midfoot region is so critical for weight transfer that the injury impacts all aspects of Morrison's game offensively and defensively. It is also critical that the area heals completely to prevent future complications, meaning Morrison will not be rushed. It would not be surprising if his absence leans towards the longer side of the projection.
•
Toronto Blue Jays
second baseman
Aaron Hill
is not on the DL for his strained right hamstring ... yet. An MRI on Wednesday was inconclusive according to the Blue Jays' website, and the team is going to consider him day to day for now. Given that Hill is no stranger to hamstring injuries, the team has to proceed with caution, something that general manager Alex Anthopoulos acknowledged. The challenge is knowing how long is long enough to heal. "The question that we debate is to what level does he re-injure it if he goes back out there? Can he play and continue to slowly heal? Is the best thing to go on the DL and just let it heal completely if it can?" Anthopoulos said. "Those are the things we weigh and it changes day to day." It was Hill's right hamstring that plagued him throughout last season and it was his right quadriceps that bothered him through much of this year's spring training. The writing would seem to be on the wall that a trip to the disabled list is more likely than not.
• Many are wondering what exactly is going on with
New York Yankees
pitcher
Phil Hughes
. Seems he might be wondering the same thing. After he displayed a lack of heat on the ball in his first two starts, the Yankees placed Hughes on the DL with a "dead arm," a short-term fatigue phenomenon that pitchers sometimes experience in the spring as they try to build endurance. As ESPN New York reported, however, Yankees pitching coach Larry Rothschild indicated this may not be a true dead-arm scenario because Hughes never demonstrated velocity on the ball since reporting to spring training.
On the one hand, the fact there is no overt structural issue is a positive. On the other hand, it can make trying to tackle an invisible enemy all the more frustrating. The goal, then, is to mix up the routine of throwing and strengthening to see if Hughes can flip the switch. Hughes threw a 30-pitch bullpen session Wednesday and, according to MLB.com, had no discomfort. The only way to know if he's truly turned a corner when it comes to his velocity will be when Hughes has to face live hitters, throwing more consecutive pitches. Until then it remains a wait and see.
• And keep an eye on
New York Mets
pitcher
Chris Young
, who could pitch Tuesday against the
Washington Nationals
, as Adam Rubin of ESPN New York reports. Young has been on the disabled list with biceps tendinitis since his second start. After his struggles with his throwing shoulder last year, effectively limiting him to 20 innings after offseason surgery, many have given up on the idea of a healthy Chris Young. Naturally, he needs to demonstrate that he can hold up to the rigors of a season, but he has a decent chance of returning to his 2007 form after a dedicated effort towards his rehab. He just might surprise.
June, 17, 2010
6/17/10
12:42
PM ET
Earlier this week, we talked about a young pitcher
expected to return soon from Tommy John surgery
: the
Washington Nationals
'
Jordan Zimmermann
, who is targeting sometime in August. Another young pitcher is making his way back from the same procedure ... and he might be rejoining his team in late July.
Edinson Volquez
, the
Cincinnati Reds
' ace in 2008, struggled with various ailments last year before his right elbow ultimately gave out.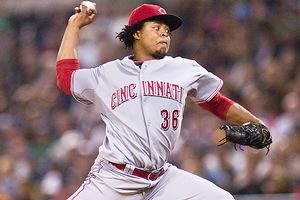 Derrick Tuskan/Icon SMIEdinson Volquez, an All-Star in 2008, was limited to just 49 2/3 innings in 2009 before undergoing Tommy John surgery.
Volquez underwent the procedure to reconstruct his ulnar collateral ligament and flexor mass in August and is looking ever-closer to a return just after the All-Star break. His rehab has proceeded fairly uneventfully (if you don't count the 50-game suspension he was handed in the middle of it for testing positive for performance-enhancing drugs) and he has recently begun a rehab assignment. That puts him on the clock for a return in the next few weeks barring a setback.
Even in limited innings during his rehab outings, Volquez has shown that his velocity is returning. He has also been striking players out left and right, a happy and familiar sight to Volquez fans. The suspension has ended (the penalty was applied while Volquez was on the DL, resulting in loss of pay but little else) so he's eligible to return to action whenever the team deems him ready.
Volquez still needs to build up his endurance and show that he can retain his command while doing so, a task that is not always easy following a Tommy John procedure. The same cautions always issued regarding expectations for a player returning from this type of injury still apply. Given how long it's been since Volquez pitched consistently, fantasy owners should anticipate some readjustment time. But the notion that he could contribute late in the season is not unreasonable. After an increased workload in 2008, the downtime Volquez's body has had over the last season and a half should be restorative.
Fantasy owners who have room to stash someone who could be helpful down the stretch may want to consider acquiring Volquez for their arsenal.
As for other players on the injury radar:
•
Chris Young, SP, San Diego Padres:
ESPN's Jerry Crasnick says it's the
pitching that has been a major reason
for the Padres' success this year. Unfortunately for him, Young has hardly been part of that good fortune so far. Young made it through a dedicated offseason of rehab to his first start without a hitch following last year's shoulder surgery (labral debridement) but soon afterward the problems began. And they haven't let up.
Young developed persistent stiffness in his shoulder and has not been able to resume regular throwing without the shoulder becoming sore. He was shut down completely in mid-May to focus on therapy alone and was transferred to the 60-day DL at that point. There are no outward signs of significant headway and Young's own confidence in his ability to get back this season appears in doubt. Young told MLB.com recently, "Hopefully I'll pitch again this year. Right now, I'm not sure."
Ouch. For a guy who has been through more than his share of injuries in the past two seasons and who has worked so hard to get off to a good start this year, this has to be exasperating. Fantasy owners should probably turn their attention elsewhere if they haven't already.
•
Huston Street, RP, Colorado Rockies:
The Rockies expect to activate Street this Sunday, but don't necessarily expect him to return to the closer role right away.
•
Brandon Webb, SP, Arizona Diamondbacks:
Hold on to your hats, folks. Webb is throwing from a mound again. He's only had a couple of sessions so there is still a long way to go, but this is the most encouraging news on Webb all year.
•
Carlos Beltran, OF, New York Mets:
He has yet to start a rehab assignment, although he continues simulated game work, including fielding. According to a Newsday report, Beltran has been spotted still running with a limp. The team is being wise not to push him back, even at DH, if he cannot run properly. Stay tuned.
May, 10, 2010
5/10/10
1:43
PM ET
The bad news: There are more injured players this week than there were a week ago. The good news: Not every one of them has required a trip to the disabled list.
Take
Joe Mauer
, for instance. What sounded potentially very serious at first turned out to be not so bad after all. That said, there are several more injured players who still might end up on the DL. It's important to take it all in context, though. It's May. Teams have learned over time that it's better to play it safe in May and have an athlete put the injury behind him. No one wants to lose a star in the middle of a late-season pennant race, especially if it's because of a recurring injury.
On that note, here are the players I'm looking at this week:
Troy Tulowitzki, SS, Colorado Rockies (status unknown):
Tulowitzki made an early exit from Sunday's game after making an awkward movement in the fifth inning while attempting to turn a double play. It was later reported that he had suffered a quadriceps (the large muscle on the front of the thigh) strain and that the injury was not considered serious.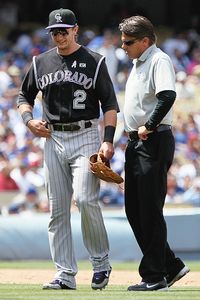 Jeff Gross/Getty ImagesTroy Tulowitzki left Sunday's gane because of a quad injury.
In 2008, Tulowitzki did suffer a serious quadriceps (or quad) injury that kept him out for months. But it was his left thigh that was hurt two years ago when he actually tore the tendon attachment away from the bone. According to the Rockies' official website, this injury is to his right quad. Tulowitzki described it as "the same spot, but a different leg." His status is currently being described as day-to-day, but he did undergo an MRI on his leg.
The hope here is that Tulowitzki will be able to avoid a trip to the DL, but muscle strains have repeatedly shown us that it's not always clear-cut at the outset. In fact, if the injury is near the tendinous attachment, it might be slower to heal. Given the fact that he has a history of a serious injury in the same area on the opposite leg, it would not be surprising if he is brought back slowly. Fantasy owners should make alternate plans for this week.
Joe Mauer, C, Minnesota Twins (back in lineup):
Mauer's deep heel bruise has progressed faster than manager Ron Gardenhire expected when he initially called it a "week-to-week" injury. From last week to now, Mauer has shown drastic improvements. He was able to pinch-hit Saturday (although he struck out and didn't have to run), then served as a DH on Sunday and showed no ill effects from the injury. According to the Twins' official website, Gardenhire said of Mauer, "He was fine, swinging, running the bases. ... He said his foot felt really good." It now appears Mauer will resume catching Tuesday.
Nelson Cruz, OF, Texas Rangers (15-day DL, April 27):
It took Cruz a while to be placed on the DL as he tried to play through what he described initially as a hamstring "cramp." A few ups and downs later, it was clear that he needed more time to rest the injury, or he risked making it much worse. The extra few days seem to have been a big help. Cruz has been running full-speed for several days and is now poised to begin a brief rehab assignment.
According to the Rangers' official website, Cruz will travel to Oklahoma City on Tuesday and play two games with the Triple-A club. He is then expected to rejoin the Rangers and be activated Thursday or Friday. There's never any certainty when it comes to hamstring strains, but Cruz has had no flare-ups for several days and appears on track to pick up where he left off.
Chris Young, SP, San Diego Padres (15-day DL, April 7):
Young is frustrated, and so are his fantasy owners. Young (shoulder) is not close to returning from his DL stint; in fact, he now has more questions than answers.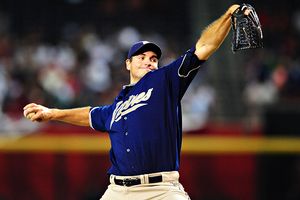 Mark J. Rebilas/US PresswireChris Young is still in a holding pattern.
The most puzzling aspect is the timeframe of this particular setback. Young had an unusually smooth recovery and rehab. He traveled the road from August shoulder surgery (for a labral debridement) to return to pitching in spring training without so much as a speed bump. But in April, he began experiencing discomfort. Since proactively going on the DL to make sure he did not exacerbate anything in the shoulder, Young has struggled in his most recent throwing sessions and has not been able to get through a rehab assignment game.
In an effort to get to the root of his persistent soreness, Young had a repeat MRI with contrast, according to the Padres' website, and those pictures were forwarded to Dr. James Andrews for a second opinion. (Contrast scans are often utilized in the shoulder to better visualize the joint.) Young also underwent a standard MRI later in the week, the results of which did not offer anything of note. This is simultaneously both good and bad news for Young. It's good in that there is no major structural issue that would compromise his season, but bad in that Young does not get the definitive answers he is looking for. It is unclear at this time whether Andrews' opinion on the contrast scan has come back.
Presuming there are no new findings, this represents an all-too-common scenario in a pitcher's shoulder. The athlete experiences discomfort and a failure to perform without a clear-cut reason. All a pitcher can do in that case is continue with the rehab process and forge ahead, one small step at a time, as his symptoms allow.
Young is too diligent with his rehab and too determined of an athlete for us to write off his season just yet. Sure, he has had some injury challenges, but one of those was a comebacker that broke his nose and caused small fractures in his skull, hardly something that could have been prevented. In the meantime, it might be time for his fantasy owners to replace him on their roster since it will be another few weeks before he is even re-evaluated and could be much longer still before he returns.
Etc.
Ryan Madson, RP, Philadelphia Phillies (60-day DL, April 30):
Here's another example for all you young ballplayers reading out there on why not to hit or kick things in frustration. Those "things" have a way of winning a confrontation. Madson recently broke his left toe when he kicked a metal chair after an outing. And he didn't just give himself a hairline crack. No, he managed to break his toe so badly that it required surgery to insert multiple pins to fix it. The healing process will take so long that the Phillies just transferred Madson to the 60-day DL. The hope is that the team has him back after the All-Star break, but keep in mind that it will be a challenge to keep his throwing arm strong while his toe recovers.
Miguel Montero, C, Arizona Diamondbacks (15-day DL, April 11):
All was quiet on the western front when it came to news of Montero's rehab -- until Friday. The Arizona Republic reported that Montero is starting to feel better now, three weeks after having meniscus surgery on his right knee. Although Montero says he'd like to return before the six-week timetable the team set initially, it doesn't sound likely. "The trainers don't want to take chances," Montero told the Republic. "And neither do I. I want to be 100 percent healthy so I don't go out there and hurt myself again." Given that he also indicated he has a ways to go with his rehab, six weeks is looking optimistic.
Mike Cameron, OF, Boston Red Sox (15-day DL, April 20):
Cameron (abdominal strain) continues to make solid progress. Apparently he looked good enough in batting practice and drills before Sunday night's game that he is heading out on a rehab assignment. The Boston Globe reports that he will DH on Monday for Triple-A Pawtucket and will progress to playing the field Tuesday. He will then be re-evaluated Wednesday.
Something to remember, though, is that there was some discussion initially as to whether Cameron might need surgery. So far he has been able to move forward with the rehab process, but he has yet to truly test the injury by running at full speed. These types of injuries can be deceiving because an athlete can have no signs or symptoms whatsoever ... until he tries to explode at full speed. While there is reason to be encouraged by how quickly he has come along, count me among the cautious until he crosses this final hurdle.
Jacoby Ellsbury, OF, Red Sox (15-day DL, retroactive to April 12):
After several days of taking batting practice, it appears Ellsbury is starting to improve. However, according to The Boston Globe, Ellsbury is not quite ready to join teammate Cameron on a rehab assignment. Since this is a pain issue, along with the fact that Ellsbury's four cracked ribs have had a month of healing, this is not necessarily about fear of reinjury. It really just comes down to performance. The Red Sox need assurance that Ellsbury is comfortable making plays when necessary, going full bore and without hesitation. Until he's ready to test the uncontrolled, unpredictable environment of playing in a game, he will continue with the current program.
Carlos Beltran, OF, New York Mets (15-day DL, retroactive to March 26):
Beltran claims he's feeling better since receiving a custom-fitted knee brace on his last visit to Colorado. The big issue at that time was that Beltran was not able to run without pain when tested and was therefore not cleared to return to running activities. Beltran told the New York Daily News that he thinks he will be able to start running soon and that the only limitation is, well, running. He says he is hitting the ball well and feeling stronger, but as he points out, "Running is the thing that will dictate everything." How true that is.
While the brace might help shift some stresses in Beltran's knee, the question is whether it will be enough for him to tolerate the high impact of running. Again, the procedure Beltran underwent in January did not fully restore his knee to pristine condition; the goal was to allow him to be functional. If he can't progress beyond his current status in the near future -- meaning if he can't get to a point soon where he can actually run -- one must wonder what the next step will be.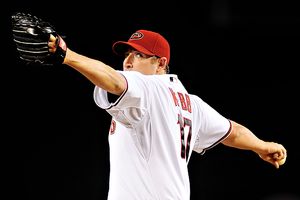 Mark J. Rebilas/US PresswireIt's an important week in Brandon Webb's recovery.
Brandon Webb, SP, Diamondbacks (60-day DL, April 4):
Speaking of moving targets on return dates, Webb's has been pushed back too many times to count. His last regular-season game was in April -- of 2009. A few weeks ago, Webb said he felt like he had made good strides in his rehab, according to the Diamondbacks' website. It's important for players who are going through lengthy, arduous rehab programs to find the glass-half-full moments since they must keep themselves motivated. Webb's activity this week will tell fantasy owners whether they should be motivated to keep Webb on their DL roster. He is expected to throw from the mound this week, something he has not yet been able to do consistently because of his shoulder. We will be watching closely to see if the results are different this time around.
Yunel Escobar, SS, Atlanta Braves (15-day DL, retroactive to April 30):
Escobar is looking to return from a left adductor (groin) strain this weekend when eligible to come off the DL. Escobar has had no setbacks since taking batting practice and running, according to the Braves' official website. Clearly the most challenging concerns with this type of injury at his position are the explosive, unexpected movements. Just like
Rafael Furcal
with his hamstring strain and
Jimmy Rollins
with his calf injury, Escobar as a shortstop needs to demonstrate that he can move quickly without pain or limitation. Assuming he continues well, look for him to return to the lineup Saturday.
Rafael Furcal, SS, Los Angeles Dodgers (15-day DL, retroactive to April 28):
Speaking of Furcal, don't forget he is eligible to come off the DL this week. He was operating at close to full recovery when he was actually placed on the DL. Fantasy translation: The team just wanted a little more insurance time and his roster spot, and Furcal should come back full-speed when able to return Friday.
If you have any injury questions you want answered in the blog, drop a note in
my mailbag
, or stop by my Tuesday chats.
April, 15, 2010
4/15/10
1:01
PM ET
The term "15-day DL" can be so misleading. Sure, we know once a player has been placed on this disabled list we won't see him in the lineup for
at least
15 days. But it really gives us no idea as to the true severity of the injury. Some injuries simply require time beyond the allotted 15 days for sufficient healing. For many athletes, returning to play requires restoration of strength, conditioning and timing in addition to recovery from the injury itself, so that can translate to extended time.
To further complicate matters, the date the decision is made to place an athlete on the DL may not be the day the countdown clock starts ticking. A team can make a DL designation retroactive to the day following the last game in which the player appeared. Sometimes this happens when an injury that initially seemed would limit a player for just a few days turns out to be a little more problematic. It may also be used when a team wants to give a player who is progressing well a little extra time before returning to competition. In other words, a move to the DL does not necessarily indicate that an athlete's injury is worrisome.
How to make sense of it all then? Except for obvious injuries (such as broken bones or knee ligament tears) that immediately force a player to the DL, there are often clues that emerge before a team decides to place an athlete on that list. There are also hints throughout the course of an athlete's rehab that signal whether he will require additional time beyond those 15 days before returning to the lineup. We look for those clues and share them with you right here, week in and week out. After all, your fantasy roster is only as good as the guys who are actually playing.
We start this week by looking at the injuries that have befallen middle infielders around the league and ask the question, "Just how concerned should you be?"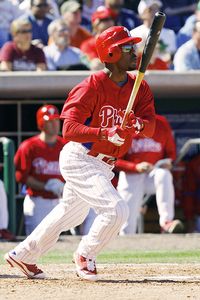 Kim Klement/US PresswireExpect Jimmy Rollins to miss about four weeks with a calf injury.
Jimmy Rollins, SS, Philadelphia Phillies (15-day DL, April 13):
When he pulled up with calf pain during pregame sprints in the outfield Monday, Rollins had to be thinking to himself, "I was out there warming up just so this type of thing WOULDN'T happen ..."
But, alas, it did. Rollins strained his right calf muscle and subsequently underwent an MRI on Tuesday which, according to the Philadelphia Inquirer, confirmed the severity of the injury. He has been placed on the 15-day DL, but the Phillies are acknowledging up front that they expect this injury may require more time, indicating that Rollins is likely to be sidelined for two to four weeks.
Rollins is sporting a protective boot that controls ankle movement and allows the calf to rest. Since rest is a critical element of recovery, it would not be surprising to see this injury keep Rollins out closer to the four-week end of the timetable.
The calf muscle is necessary for any hitter to push off when running, particularly when driving out of the batter's box or when getting a jump on a steal. The explosive defensive maneuvers Rollins has to make at his position also place high demand on the calf. Once the initial inflammatory phase has passed, many athletes feel as if they are ready to return to competition, only to discover that explosive movements still lack power or cause discomfort. The risk at that point is that it is easy to overdo those movements and suffer a setback, turning a few weeks of recovery into potentially months. Fantasy owners and Phillies fans will need to be patient with Rollins' return in the hopes that once he's back, the injury is truly behind him.
Brian Roberts, 2B, Baltimore Orioles (15-day DL, April 10):
There was concern this spring that Roberts' ailing back might prevent him from being able to start the season. That turned out to not be the case.
Less than a week into the season, Roberts suffered a different injury, an abdominal strain. He hurt himself while stealing second against the
Toronto Blue Jays
on Friday, and he also managed to aggravate his lower back in the process. As a result, Roberts received an epidural injection Monday, according to The Baltimore Sun, his second this year to help calm symptoms associated with the herniated disk in his back. Roberts has been advised to rest for several days to allow the symptoms to calm down. He will then gradually be reintroduced to exercise with an eventual progression toward baseball activities.
Manager Dave Trembley has already warned that Roberts is expected to be out longer than the 15 days, not surprising given the nature of his injuries. The bigger concern is just how reliable Roberts' health will be once he does return. Disk problems are notoriously chronic in nature and Roberts has really not been 100 percent healthy this year. He entered spring training with back pain and, despite making significant improvements as Opening Day neared, he clearly was not completely out of the woods. His will likely be a tenuous situation and even when he does return, fantasy owners should keep a backup stashed on their bench.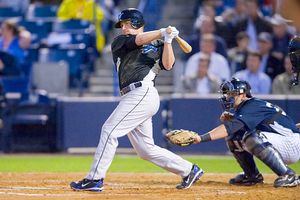 Jeff Griffith/US PresswireAaron Hill's attempt to match his 36 homers from 2009 has taken a short break.
Aaron Hill, 2B, Toronto Blue Jays (15-day DL, retroactive to April 6):
Hill was placed on the DL because of a strained right hamstring, but according to ESPN reports, Hill indicated that if it were a different point in the season he "could" play. While acknowledging that his hamstring was tender enough to keep him from going at full speed, Hill, who ran the bases Monday before game time, did not seem overly concerned about his injury. At this point, it appears Hill will come off the DL when eligible next week.
There's every reason for the team to err on the side of caution with this one. A mild hamstring strain can certainly benefit from a little extra rest. Aggravating it by pushing too fast can just as easily turn a mild ailment into a season-compromising injury. The good news for Hill owners is that the conservative approach taken by the team here may pay off down the road.
Mark Ellis, 2B, Oakland A's:
Another second baseman, another hamstring injury. Ellis was hurt Sunday trying to beat out a grounder in the eighth inning. Soreness in his left hamstring kept him out of Monday's game.
On the plus side, Ellis himself said he expected to be out for only "a couple of days." According to Susan Slusser of the San Francisco Chronicle, Ellis reports that the hamstring is feeling better and he could return to the lineup Thursday. On the minus side, Ellis had some hamstring issues during the spring as well, so fantasy owners should be mindful that this may not be the last of it.
Jayson Werth, OF, Philadelphia Phillies:
There were a couple of minor injuries this week that struck outfielders (more listed below). Werth injured his left hip running out of the batter's box in the fourth inning on Monday. According to the Philadelphia Inquirer, Werth said his removal from the game was precautionary. He added that he expected to miss only a few days, calling the injury "no big deal."
So far Werth's assessment appears accurate in that he is expected back in the regular lineup Thursday following a pinch hitting appearance Wednesday. The Phillies are hoping that one player to the DL this week is enough.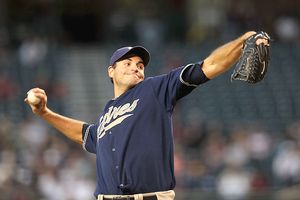 Christian Petersen/Getty ImagesChris Young is back on the disabled list, but don't be alarmed by the move.
Chris Young, SP, San Diego Padres (15-day DL, retroactive to 4/7):
Before fantasy owners start griping that this is the injury-prone Chris Young from years past, take a deep breath and remember that not all DL stints are created equal.
Remember, Young is coming off offseason surgery to debride the labrum in his throwing shoulder. He had an uneventful rehab and steady return to throwing, and had a successful first outing in the Padres' home opener. After that game, Young felt some discomfort and was sensible enough to recognize that he did not need to push it now. As he pointed out, these mini-setbacks typically happen during spring training but his just happened a little further into his throwing progression.
Caution in the early season could well be the difference in keeping Young on the mound more than off it this year. He expects to be ready to take his turn in the rotation when eligible.
Brian Fuentes, RP, Los Angeles Angels (15-day DL, retroactive to 4/6):
This is one of those situations where the date is important. Although the move was announced Wednesday, it has been made retroactive to eight days prior. Fuentes, who has been placed on the DL because of a back strain, is eligible to return next week. The Angels can't be especially concerned about Fuentes' injury given the retroactive date but likely feel he will benefit from a few more days off.
Fernando Rodney
is the closer in the interim but it sounds as if the team does not anticipate that lasting long.
Mike Gonzalez
, RP, Baltimore Orioles (15-day DL, retroactive to 4/10): Gonzalez has had a rough start to 2010; the Orioles decided Wednesday to place him on the DL. After an up-and-down spring training Gonzalez struggled early in the season, picking up a pair of blown saves. Now we learn that he has a shoulder strain. While the seriousness of his current injury is unclear, it's worth noting that Gonzalez dealt with issues in his back this spring that seemed to impact his velocity. The hope is that he has not suffered an injury as a result of some compensatory adjustments. His status is worth watching.
Extras
•
Boston Red Sox
outfielder
Jacoby Ellsbury
dodged a bullet -- but not teammate Adrian Beltre's knee -- Sunday. The collision was enough to take Ellsbury's breath away and he ended up with a rib contusion but fortunately no fractures. Lingering soreness has caused him to miss a few days but he should be able to avoid a trip to the DL.
•
Colorado Rockies
outfielder
Carlos Gonzalez
is another player dealing with "tightness" in his hamstring, leaving Sunday's game early after feeling the discomfort in his left hamstring. He has not played in the two games since. According to The Denver Post, Gonzalez was available only for emergency situations, as he could still not run the bases effectively. While so far it appears that he will avoid the DL, there are no guarantees as to when he may return to the starting lineup.
• The
Seattle Mariners
'
Cliff Lee
is hoping he will debut for his new team in early May. Lee has thrown a couple of bullpen sessions where he has looked strong and been pain-free. The next goal is a simulated game late this week. He will still need to build up his arm endurance, but so far, so good.
• Los Angeles Angels pitcher
Scott Kazmir
, who started the season on the DL with a mild hamstring strain, is expected to start Thursday against the
New York Yankees
. Nothing like jumping in feetfirst.
From my mailbag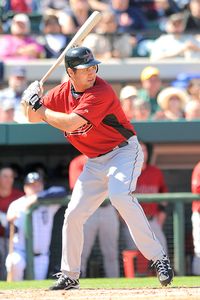 Mark Cunningham/Getty ImagesLance Berkman's return is still up in the air, as are his stats when he returns.
Luke (Monroe, Conn.):
Hi Stephania, I'm trying to decide if
Lance Berkman
is just dead weight, even on my DL. I am in a 10-team mixed league with 2 DL slots, and right now I am carrying Berkman and
Erik Bedard
on my DL with
Ted Lilly
occupying a bench spot even though he is on the DL. My staff is good enough that I can get by with Lilly on the bench for a few weeks, but the more I read about Berkman, the more it seems to me like he is not going to be nearly the player he has been for his career, and maybe not even the player he was last year. ... What kind of player to you project Berkman to be this year, assuming he comes back fully healthy and has no complications? In other words, best case scenario? If he's anything less than a 25-HR, 100-RBI guy, I doubt he's worth my bench spot since I don't have anywhere to play him full time.
Stephania Bell:
You are certainly right about there being a lot of questions about Berkman, given the start to his season. This week there were some encouraging signs in that he has made some progress with his activity. After having persistent issues with fluid in his left knee following March arthroscopic surgery (which required having his knee drained multiple times), Berkman was able to begin some light running Monday. The key to him returning next week will be whether the swelling stays down as he continues to increase his activity. And that's a big if ...
Your question is a tough one because I'm not convinced his return will be completely smooth. While there may not be any obvious outward signs of trouble once he is able to get back in the lineup, he could be in a situation where the team opts to rest him more frequently to protect the knee. He may also have less power at the plate initially if his leg strength is not 100 percent. He may be well enough to play but it still may take him time to perform like the Lance Berkman you drafted. I'm not convinced he'll reach the targets you've set for him, so you may want to re-evaluate your bench spots.
If you have any other injury questions you want answered in the blog, drop a note in
my mailbag
, or stop by my Tuesday chats.
April, 5, 2009
4/05/09
5:05
PM ET
By
Stephania Bell, ESPN.com
| ESPN.com
NL EastFlorida Marlins: Hanley Ramirez
Last year Ramirez made this list because there were concerns about his left (non-throwing) shoulder after offseason surgery to repair a torn labrum. Ramirez held up in 2008, although his productivity languished a bit compared to 2007. This year there are new concerns about his shoulder ... the other one. The Miami Herald reported that Ramirez came to camp much bigger this year after an offseason weight-training and swimming program. He then developed some right-side rotator cuff tendinitis which caused him to sit out a few games. Not to worry. By the close of spring training Ramirez was back playing shortstop and hitting homers, even stealing a base or two for good measure. He is 25, so his best years are still ahead of him.
Washington Nationals: Nick Johnson
After missing more than a full year with a slow-to-heal leg injury, Johnson made an emotional comeback in 2008, only to exit in June with a wrist injury. Johnson underwent surgery to address a ligament injury in his right (non-throwing) wrist and spent the remainder of the offseason rehabbing and retooling his swing under the watchful eye of Nationals hitting coach Rick Eckstein. Johnson has shown that his swing is healthy this spring; if his body can hold up its end of the bargain in 2009, the Nationals could be in for a treat.
[+] Enlarge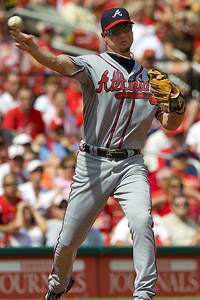 Scott Rovak/US PresswireJones' owners won't get 160 games, but the games they do get will be quite productive.
Atlanta Braves: Chipper Jones
Like that Energizer Bunny, Jones takes a lickin' and, well, minus a few days off here and there, just keeps on tickin' with remarkable consistency. Sure, he'll get banged up, but as a team leader, he's going to play through as much pain as he can. Last year's nagging quadriceps and hamstring strains finally forced him onto the DL in July, but he still finished the season batting .364. This spring an oblique strain squeezed him out of the World Baseball Classic, but fear not: Despite being 37 years old, he'll be back in the lineup come Opening Day. Yes, he remains an injury risk, but the Braves' willingness to extend his contract indicates their belief that the reward outweighs that risk.
New York Mets: Johan Santana
Some worried that Santana's offseason arthroscopic knee procedure might affect him, but it was a bout of elbow pain that set off alarm bells earlier this spring. A few weeks later, those alarms have all but subsided thanks to Santana's performance in recent outings, along with his declaration that he is symptom-free. The Mets certainly have to hope so. He is set to pitch on Opening Day in Cincinnati and will no doubt be a big draw to the new Citi Field, not to mention a key to the Mets' postseason aspirations. Whenever a pitcher has elbow pain there's reason to be cautious, but in Santana's case it's not time to be overly concerned -- yet.
Philadelphia Phillies: Chase Utley
Much was made of Utley's offseason hip surgery and how far into the 2009 season it would be before he could return. Well, surprise, surprise. Utley has been a model patient, working diligently to exceed his rehab targets while being mindful not to overdo it and create a potential setback. Utley has clearly demonstrated his readiness to return by not only offensively hitting for power this spring, but also defensively by sliding, throwing hard across his body and even diving for balls without hesitation. Manager Charlie Manuel has already proclaimed Utley a member of the Opening Day lineup, and he will continue to be a regular fixture thereafter.
NL Central
Sign up today for the most customizable free Fantasy Baseball game out there. You set the rules, scoring, everything. Sign Up Today!
Chicago Cubs: Rich Harden
He is awesome when he plays. But his health history leaves everyone on the edge of their seats wondering when the injury bug is going to strike again. Harden had his highest number of starts in four years in 2008, and his shoulder, which had limited him previously, appeared much improved. It's also worth noting that his outings were carefully managed, and he will continue to be monitored for pitch counts in 2009. So far this spring, the only thing to affect him was an unpleasant round of food poisoning. The Cubs have to be keeping their fingers crossed that this is the worst thing Harden has to deal with this year.
Milwaukee Brewers: Trevor Hoffman
Yes, Hoffman might be older than a couple of his teammates combined. Sure, he's starting the season on the DL with a strained oblique. But don't count this guy out. The all-time saves leader appears to have a relatively minor version of this injury and has already returned to playing catch. As a closer he needs fewer innings to prepare for the season, so he could join the club within the first two weeks. Baseball years do add wear and tear to the arm, however, and oblique injuries can recur. Hoffman will be consistent when present; the Brewers just hope he can be consistently present.
St. Louis Cardinals: Chris Carpenter
Carpenter's past two seasons can be summed up as follows: bone spur removal, Tommy John surgery, nerve problems in shoulder, nerve transposition surgery at the elbow. After more than two years, Carpenter can finally say that he feels good. And it shows. His performance this spring has been both impressive and inspiring. The Cardinals are optimistic, albeit cautiously so, but it does appear that Carpenter is headed for a stellar season.
Houston Astros: Lance Berkman
The Astros' first baseman began experiencing soreness in his left (throwing) shoulder in February. As recently as last week he was having trouble lifting his hand above his shoulder. The team is calling it biceps tendinitis, and Berkman is brushing it off as no big deal. They had better hope it is just a little spring training aggravation and not a sign of something that continues to flare up during the season. After all, those chronic, nagging injuries generally start out as small annoyances. Only time will tell, but there is reason to keep a close watch on Berkman's status; it may become more of an issue if he cannot get back to the field at the season's start.
Cincinnati Reds: Bronson Arroyo
When you hear the diagnosis of "carpal tunnel syndrome" it usually conjures up the image of an overworked software programmer whose hands are going numb from endless hours at the keyboard. But this injury is affecting the Reds in a different way. The electric-shock-like pain in Arroyo's thumb and index finger is keeping him from writing; playing guitar; and, most important for the Reds, pitching well. The plan, along with anti-inflammatories and intermittent rest, is for Arroyo to pitch through this, something he has done in the past. But the level of symptoms he is experiencing, on top of the fact that this is a chronic condition, makes it impossible to guarantee that Arroyo will be able to do so. Don't be surprised if he is forced to endure a stint on the DL early on.
Where should they go?

Check out a new tool from ESPN Insider: the Draft Analyzer. With it, you can figure out where a player should go in your fantasy MLB draft, relative to value. Draft Analyzer
Pittsburgh Pirates: Jack Wilson
Wilson was at an all-time low in 2008. He played in his fewest games, largely as a result of injury. After a torn calf muscle and broken right (throwing) index finger derailed most of his season, Wilson wasn't sure he would still be in Pittsburgh this year. But in Pittsburgh he remains, and although he's not going to be a rock star, the hope is that he'll be healthy enough to continue to provide primarily a solid defensive presence. Despite missing a few days with a bruised knee in spring training, he's hoping he'll have his best attendance record in years in 2009.
NL WestArizona Diamondbacks: Eric Byrnes
Byrnes, formerly known for his speed, had a terrible 2008 when both wheels came off, as in both hamstring muscles were injured. Byrnes opted for a conservative treatment approach (meaning no surgery) and has recently been showing that his legs are healthy this spring. Although Byrnes is not currently slated to be an everyday player for the Diamondbacks, the ability to slot him in anywhere in the outfield makes him valuable off the bench. He still has plenty left in the tank, and is already looking speedier than before he was injured last year. Don't overlook him.
Los Angeles Dodgers: Manny Ramirez
With all the concern apparent in Dodgerland when it initially seemed as if Manny might not be signed in 2009, there had to be similar concern when Manny was sidelined by a hamstring strain almost as soon as he joined the team. No doubt beads of collective sweat began to form in the Dodgers' front office. That concern has been for the most part alleviated as Manny has returned to both hitting and fielding duties. But, you may ask, don't hamstring problems tend to recur? Yes -- more beads of sweat -- but in this case, there are several things working in the Dodgers' favor. First, the injury was a minor strain. Second, because of the timing of the World Baseball Classic, Manny could actually be brought along more slowly, limiting his running early in his recovery, enhancing the healing process. Third, the Dodgers have an all-star medical staff. Relax. Manny can just be Manny.
Colorado Rockies: Troy Tulowitzki
Tulowitzki had a rough 2008 season. First, he was sidelined for weeks with a torn left quadriceps (not his fault). Shortly after his return from that injury, a laceration requiring 16 stitches to his right (throwing) hand kept him out for two additional weeks (his fault -- he slammed his bat, and it broke and bit him back). After an offseason to heal his leg fully and to settle down his frustration with last year's numbers, Tulowitzki should be in good shape for a strong 2009 season.
San Francisco Giants: Noah Lowry
Health issues have challenged Lowry in the last few years, most recently wiping out his entire 2008 season. This has to be disheartening for a young pitcher who showed so much promise when he first joined the bigs. Remembering that first season is perhaps why he continues to plod along through each rehab stint. Lowry, shut down last year with compartment syndrome in his left (throwing) forearm followed by elbow surgery, has already been bothered by shoulder pain this spring. A visit to Dr. James Andrews resulted in an injection into what was otherwise termed a structurally sound shoulder. Lowry is still optimistic that he can provide an option for the Giants later this season, but cumulative arm injuries do not historically bode well for pitchers.
San Diego Padres: Chris Young
Young has Ivy League smarts and toughness. No one could doubt the mental fortitude of this Princeton graduate after he came back to the mound just 10 weeks after taking a pitch to the face. The impact resulted in not only a broken nose, but also a skull fracture. Despite post-surgical sinus and ear infections, a strain in his throwing forearm forced him onto the DL again in August. Given his injuries last year, Young's spring tendinitis and poor outings have some concerned. For his part, Young says that both are typical of his spring performance and that he will warm up as the season approaches. Last year's injuries should have no carryover effect. Young has every reason to be optimistic in 2009.
June, 23, 2008
6/23/08
3:32
PM ET
What a week it has been in the injury world! The Yankees lost ace
Chien-Ming Wang
to a Lisfranc sprain, an injury that rarely affects baseball players. Wang is their second pitcher to suffer such an injury this season. (
Brian Bruney
sustained a similar injury earlier in the year.) Apparently, lightning can strike twice. Then, the golf world was rocked by the news that Tiger Woods had played throughout the year with a torn ACL and, more recently, stress fractures. Golf is losing its biggest name for the remainder of the season, as Woods plans to undergo reconstructive surgery followed by a lengthy rehabilitation.
Also undergoing season-ending surgery is
Curt Schilling
, who announced Friday that because of persistent problems in his throwing shoulder, he will undergo season-ending, and perhaps even career-ending, surgery Monday. And in what might be the biggest injury news of the week, at least in my little world, I have seriously injured my knee to the point that walking has become a great effort. My sympathy for the walking wounded has increased dramatically. On that note, we take a look at who has been added to the wounded list of late.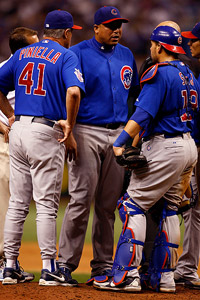 J. Meric/Getty ImagesCarlos Zambrano was hesitant to leave Wednesday's game and to go on the DL, but hopefully he dodged major injury.
Carlos Zambrano, P, Chicago Cubs:
Zambrano made a face after throwing a pitch Wednesday night that said it all. Pain in his throwing shoulder had forced him to drop his arm because he felt like he "couldn't go back to the top." The Cubs wisely removed him from the game and held their breaths while waiting for the test results that would determine his future. On Friday, Zambrano underwent an MRI arthrogram, a procedure in which dye is injected into the shoulder before the MRI to provide better detail of the joint during imaging. The conclusion? A minor right shoulder strain, which is about as good an outcome as the Cubs could have hoped for. Zambrano was placed on the 15-day DL, and although he was not pleased, he seemed to understand that the move was in both his and the team's long-term interest. Zambrano told the Chicago Tribune that he was worried about his shoulder because "this never happened to me." If indeed the strain is minor, a brief period of rest followed by a gradual return to throwing should allow Zambrano to return to action when he is eligible to come off the DL or shortly thereafter. If that's the case, he'll miss only two or three starts. Zambrano's improved physical shape this season may have helped him dodge a bullet and should continue to help his recovery. The Cubs have to be breathing a big sigh of relief now.
Chris Young, P, San Diego Padres:
Who could forget the scary sight of Chris Young taking a shot to the face off an Albert Pujols line drive back in May? Young, who bled profusely on the mound, seemed to have escaped with only a broken nose and some cuts. It was later discovered, though, that the damage was a bit more extensive. Young also suffered a small skull fracture and, as a result, had to refrain from any vigorous activity until that was fully healed. Young has begun to throw the ball again, but unfortunately, as the San Diego Union-Tribune reports, Young will not be able to postpone surgery on his deviated septum until the postseason because he is still experiencing some labored breathing. Knowing that he will face additional downtime after the nasal surgery (approximately two to three weeks), Young is now focusing on trying to increase his arm strength so that he does not have as much to overcome later. He even is hoping to get in a simulated game before surgery, which is scheduled for June 30. After surgery, rest and recovery, Young will need at least one or two rehab starts before he can rejoin the rotation. Young is hoping to return to his team by late July, but early August may be more realistic. And that presumes that he does not have any physical nor mental setbacks when he has to confront live hitters again. Young is smart to get back to throwing sooner rather than later (Of course, the Princeton Tiger that he is!) and if all continues well, the Padres can look forward to his contributions in the second half of the season.
Brian Giles, OF, San Diego Padres:
Giles strained his right hamstring while making a diving catch in Yankee Stadium on Thursday, then managed to aggravate the injury Friday. Giles remained out of the lineup Saturday, but according to the San Diego Union-Tribune, he is hopeful that he will be able to avoid a DL stint and return to the lineup Tuesday. Fantasy owners beware. We know how fragile these hamstring injuries can be. Consider that many athletes thought they could avoid the DL, but when push came to shove, the hamstring did not cooperate with the rapid timetable. Also consider that Giles had a microfracture procedure on his right knee in the offseason, making it all the more important that he have strong, healthy quadriceps and hamstring muscles to protect the joint. It is great that Giles is optimistic, but don't be surprised if his rest is extended this week.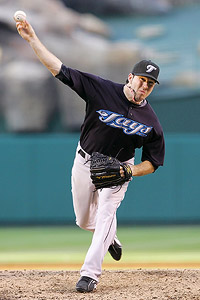 Lisa Blumenfeld/Getty ImagesShaun Marcum was leading the AL in ERA when he got injured.
Shaun Marcum, P, Toronto Blue Jays:
The words you never like to hear associated with your pitcher: He will visit to Dr. James Andrews. That's what the Toronto Globe and Mail is reporting about Marcum, who was placed on the 15 day-DL Saturday for what the team is calling a right elbow strain. Not that Dr. Andrews is a bad guy. In fact, he's anything but. He's a wonderful, talented orthopedic surgeon with a comfortable Southern demeanor and unparalleled experience when it comes to treating pitchers. It's just that you don't go to him for a social visit in the middle of the season. The likelihood is that the team is concerned about the health of Marcum's elbow and that he is now getting a second opinion from Andrews. Pitching coach Brad Arnsberg indicated that Marcum had been dealing with discomfort in his elbow for a couple of weeks now, but it had not yet affected his desire or his ability to pitch. Then Marcum had an atypical outing Wednesday, giving up four earned runs on six hits in a loss to the Brewers, a performance that's likely a sign that something is amiss. The specifics will not be known until after Marcum has seen Andrews, but we do know he is out at least the minimum 15 days. The Blue Jays just hope that the interruption is temporary and not season-long. Stay tuned.
Chipper Jones, 3B, Atlanta Braves:
The quad continues to be an intermittent source of aggravation for Jones, and the latest setback was the worst for him this season. Jones aggravated the muscle injury in the fourth inning Friday and told the Athens Banner-Herald later, "I missed a couple [games] last time and it's worse now." Jones was out of the lineup this past weekend, although he did pinch-hit Saturday, and he's expected to be out of the lineup again Monday. Jones has been impressive in his ability to slug through this injury, quite literally in fact, as he maintains a near-.400 batting average. But is he risking more severe injury while doing so? Perhaps, but so far he has been able to balance productivity with the occasional days off. Keep an eye on this one, though. If he has another setback, he may not be able to avoid a trip to the DL, even as stoic as he is.
And in the good news department ...
Kelvim Escobar, P, Los Angeles Angels:
It's about time the Angels got some good news in the injury department. Escobar, originally thought to be lost for the season, if not for good, is making significant progress with his shoulder. Escobar has a torn labrum in his right (throwing) shoulder, which caused him great pain in March. Knowing that painful labral problems are not often successfully overcome with conservative treatment in throwers, I did not have much hope for Escobar's return this year. But every athlete's experience is unique, which is why we never say never. It is also a good reminder as to why specialists such as Dr. James Andrews and others typically recommend a course of conservative action first. Sometimes it works. Although he still has a number of hurdles to cross before he makes an appearance with his team, and there is still potential for setbacks along the way, Escobar has begun throwing from the mound for the first time since October. A representative from the Angels told me that they would like Escobar to get in a couple more simulated games, and if all goes well, he could see a rehab assignment within a week to 10 days. Manager Mike Scioscia told the Orange County Register, "He's going to pitch again for us this year, there's no doubt about that." That kind of confidence, while no guarantee, is indeed inspiring, although Escobar's role if he is able to return is unclear at this point. Right now, that is not so important. The fact that Escobar is actually excited about the possibility of returning is.
May, 23, 2008
5/23/08
1:36
PM ET
I started off the most recent blog talking about the bad luck the San Diego Padres' pitching staff has had recently. Apparently that streak had not fully run its course just yet, and it has now extended beyond their pitching staff as catcher
Josh Bard
is among the wounded. Closers continue to struggle with their delivery and their health, and
Eric Gagne
is the latest to be put on mandatory rest. But how long will he be out? Hmm. The latest injuries remind us that there is often some overlap between injury and poor performance, and the trick is figuring out the ratio in order to make the fix.
[+] Enlarge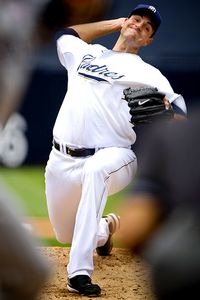 Andy Hayt/Getty ImagesThis is one instance in which Young didn't want to use his head.
Chris Young, P, and Josh Bard, C, San Diego Padres:
Albert Pujols
is single-handedly taking down the Padres, not only with his bat, but with his body as well. Wednesday night during the third inning of the St. Louis Cardinals' visit to Petco Park, Pujols lined a shot off the face of Padres pitcher Chris Young. The hit netted Pujols a single, but Young ended up with a broken nose, a facial laceration and a trip to the hospital according to the North County Times. Two batters later, Pujols headed home to score but arrived at the same time as the ball in Josh Bard's mitt. On the slide, Pujols' front (right) leg collided with Bard's extended left leg and Bard clearly lost that battle. Bard was assisted from the field, in a great deal of pain with his leg visibly impaired and, per the North County Times, the injury was called a high left ankle sprain. Bard has been placed on the DL, and we know from past experience that high ankle sprains often mean at least a month of missed time, generally more. Considering that catchers spend a good portion of time in the crouch, which places extra stress on the ankle, and then have to push through the ankles to jump into position, Bard's recovery may be on the slower side.
The good news here is that the bloody and battered Young, who was treated at the hospital and released, did not suffer any worse damage. The nose provides a barrier for the face that slows the impact of an object, such as a baseball traveling at warp speed, and hopefully that slowing prevents brain injury. A hard-hit line drive that hits a pitcher in the face runs the risk of shoving the nose back toward the brain and causing further damage. The ball could also hit another portion of the face or skull, resulting in a facial or skull fracture, which can result in surgery and significantly worse potential complications. The Padres have not yet indicated whether Young will be placed on the DL, but it would not be surprising for him to at least miss his next scheduled start. All this happened, of course, in the wake of the Padres' announcement Tuesday that their young ace
Jake Peavy
would be placed on the DL for inflammation in his throwing elbow. An MRI reportedly showed no structural damage to the ulnar collateral (Tommy John) ligament, but Peavy himself told the San Diego Union-Tribune that this ailment is much closer to the ligament than the injury that took him to the DL in 2004 (a flexor muscle strain that kept him out for six weeks). There is no set timetable for his return at this point, but given the nagging behavior of his condition, expect him to miss more than the automatic 15 days.
Eric Gagne, P, Milwaukee Brewers:
Gagne has been instructed to rest by team physician Dr. William Raasch after receiving a cortisone shot to address rotator cuff tendinitis. Gagne will not be permitted to throw for at least three days, at which point he will be re-evaluated. He will rejoin his team Friday and at this point does not appear to be headed to the DL, although the team has indicated that that could change. Gagne has struggled this season to close consistently, and was removed from the position briefly to get a mental break. According to ESPN reports, Gagne said that he originally developed some soreness in his shoulder a week ago when he threw daily in an effort to address problems in his delivery. Then Tuesday, while facing the Pirates, Gagne developed stiffness in his shoulder and was removed from the game. Gagne has a history of elbow problems in his throwing arm, including recurrent nerve-related pain which was causing him to have numbness in his fingers and ultimately resulted in surgery. Gagne did experience a bout of shoulder tendinitis last fall which caused him to miss a couple of weeks, but after he rested during the offseason there were no reported lingering issues. Three days is a short recovery time if indeed there is significant inflammation. Even if his symptoms have resolved with a few days' rest, the likelihood is that the team brings him back via a throwing progression that will unfold over at least a week. Don't be surprised if Gagne is out of the mix for at least a week, or even if he ultimately goes the route of the DL in an effort to address all that's been ailing him this season.
Austin Kearns, OF, Washington Nationals:
Kearns has been dealing with a sore right elbow and is going to have it addressed, surgically. Kearns is expected to undergo arthroscopic surgery Friday to remove some bone chips in the elbow. Initially it did not appear that Kearns would be going under the knife but with the swelling and soreness persisting, and after collecting several opinions, the decision was made to treat the elbow surgically. At this point Kearns is expected to miss three to four weeks, assuming that there are no additional findings during surgery, and assuming recovery goes as planned. He will need to regain his range of motion, his arm strength and, given his role as an outfielder, will have to progress his throwing program to long range. If Kearns' elbow is otherwise healthy, he should be able to recover from this episode and return to his role successfully.
[+] Enlarge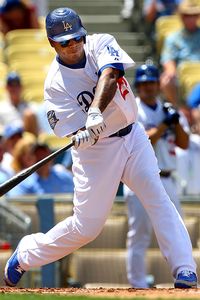 Paul Spinelli/MLB Photos/Getty ImagesAt least Jones has a reason now for his poor numbers.
Andruw Jones, OF, Los Angeles Dodgers:
Jones definitely has something going on with his knee; the question is whether he will have surgery to address it or whether he will be able to play through it. According to a report in the Los Angeles Times, one of the main factors in the decision is whether the swelling persists in the knee. Jones, who had been feeling increasing discomfort in the knee over a couple of games, underwent an MRI early in the week which revealed a small cartilage tear. The Dodgers' official Web site also describes the presence of a Baker's cyst in Jones' knee. Such cysts, which are really fluid-filled pouches, are problematic because the swelling occupies a great deal of space in the back side of the knee and, in addition to being painful, can severely limit the range of motion. Interestingly, these "cysts" often develop in association with meniscal or cartilage injury, and when those injuries are addressed, the cysts can spontaneously resolve. The Los Angeles Times reported that Jones felt better after a few days' rest and was hopeful that he might be able to play Friday if the swelling remained minimal. Jones, who has never made a trip to the DL, would like to do all in his power to continue to avoid it. There is a possibility that Jones is in the lineup Friday, but if he suffers any setbacks, the next step is sure to be surgical intervention that would likely keep him away from the game for at least four to six weeks.
Roy Oswalt, P, Houston Astros:
Oswalt made his scheduled start Thursday at Minute Maid Park to face the
Philadelphia Phillies
despite dealing with hip pain over the last week. Oswalt, who left Saturday's game with what the team referred to as a groin strain, skipped his bullpen sessions this week to allow the hip to rest. Oswalt, who has faced groin injuries in the past, had indicated that this pain felt deeper in the hip itself and did not feel muscular, always a flag raiser in a pitcher where labral tears and degenerative arthritis can become serious matters (for example,
Jason Isringhausen
had surgery on his hip prior to the 2007 season). For the time being it appears that Oswalt escaped something more serious as he managed to throw for six innings Thursday, but it was a rough outing nonetheless (five runs, 11 hits). We will keep an eye on Oswalt to see if this is something that crops up again.
And in the good news department
Rafael Furcal, SS, Dodgers:
Furcal has been testing his back in every possible way (fielding drills, running, batting practice) and has survived them all without incident. This has prompted optimism that he could return to the lineup for the Dodgers' series against the Cardinals this weekend. According to the Los Angeles Times, Furcal said he would resume his position straightaway if healthy enough, with no minor league stint as an interim measure. The suggestion has been all along that Furcal would return this week if everything went as planned, so expect to see him at some point during this series.
Doug Davis, P, Arizona Diamondbacks:
Welcome back Doug!! Now that Davis has tackled his thyroid cancer head-on and beaten that, he will face the Braves Friday as he returns to the Diamondbacks' rotation. After several rehab starts, Davis is looking and feeling well, and will no doubt provide inspiration to everyone around him.
Be sure to check back throughout the Memorial Day weekend as we update these and other injuries. In the meantime, enjoy good weather and good health, and may all your fantasy players stay active on your roster and avoid the DL!