Stephania Bell:

Coco Crisp
May, 13, 2013
5/13/13
4:42
PM ET
Every Monday in this space, we'll provide updates on a variety of players to help you make your weekly lineup decisions. We'll specifically try to hit the players who are day-to-day, have just gone on the DL or are ready to return, so that you can better decide whether you can count on them or not.
All projected return timelines should be considered fluid.
Hitters
Jason Heyward, OF, Atlanta Braves (placed on DL April 21, could return this week):
Heyward went on the disabled list following an emergency appendectomy, so at least there's comfort in knowing this is not going to be a recurrent problem. Now it's just a matter of when he will return … and when he'll be effective.
Heyward has been on a rehab assignment for several days at Triple-A Gwinnett, and other than some soreness that warranted a day off, his stint has been uneventful from a health perspective. It also has been uneventful at the plate, that is until Sunday, when he finally started hitting. The Braves don't have an exact date for his return, but he's expected to rejoin the team at some point this week.
[+] Enlarge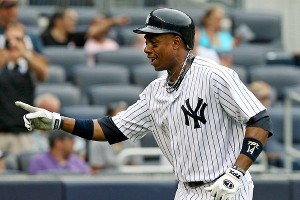 AP Photo/Seth WenigCurtis Granderson could return to the Yankees as early as Tuesday.
Curtis Granderson, OF, New York Yankees (opened season on DL, could return this week):
It's only fair that the Yankees actually get a player
back
from the DL after adding more and more players to it this season. Granderson's recovery and rehab have been totally uneventful, just the way the medical staff likes it. He has been crossing "to do" items off the list during his rehab assignment: He has faced both left- and right-handed pitching, played defense and played both day and night games. Perhaps most importantly, Granderson has not shown any lingering apprehension from getting hit by a pitch this spring. As he told the Yankees' official website regarding his rehab at-bats, "There was no recall of the injury. There's going to be pitches inside, I'm going to get hit again, but you got to stay in."
The Yankees would like it if he stays healthy and stays in. There's every indication he will come back and be productive immediately, and that return could happen any day now, potentially as early as Tuesday, when the Yankees open a series at home.
Coco Crisp, OF, Oakland Athletics (placed on DL April 30, could return this week):
Crisp strained his left hamstring trying to run out a ground ball in the A's seemingly never-ending Monday night game nearly two weeks ago. Fortunately, the strain appeared mild and Crisp could potentially attempt to run the bases soon, according to the San Francisco Chronicle. Obviously his tolerance of running will help determine his readiness to return -- manager Bob Melvin told reporters Crisp might not need a formal rehab assignment -- but as is always the case with hamstrings, until he runs in games without a setback, it will be impossible to tell just how healthy he is.
Chris Young, OF, A's (placed on DL April 30, could return Wednesday):
The A's hope to get another outfielder with a soft tissue injury back soon. Just as Coco Crisp recovers from his hamstring, Young is working to get past a left quad strain that has sidelined him the past couple of weeks. After passing the necessary rehab clearances, Young is expected to get some at-bats in extended spring training games during the early part of the week, according to the A's official website. If all goes well, he could return when eligible on Wednesday.
Neil Walker, 2B, Pittsburgh Pirates (placed on DL retroactive to April 27, expected to return Monday):
Two weeks ago in this space, I wrote about how the Pirates hoped to return Walker within days if he could swing the bat effectively. Clearly he could not, and the decision was made to place him on the DL. After beginning a rehab assignment last Thursday, it seems Walker has shown he has moved past the injury, and his return appears imminent.
Michael Cuddyer, OF, Colorado Rockies (placed on DL retroactive to May 9):
Cuddyer had already missed three games with what he referred to as inflammation in his neck, related to a disc problem. Now it's clear he will be missing a few more. This is not Cuddyer's first episode of neck pain, but it appears to be the first time it has forced him on the DL. The hope is that the symptoms are limited to his neck and that it won't progress into his shoulder or arm. Rest is the best option for him in the short term, but given the variability of these types of ailments, a definitive timetable is difficult to determine. The soonest he can return is May 24, if his neck cooperates.
Jayson Werth, OF, Washington Nationals (placed on DL retroactive to May 3):
This doesn't come as a huge surprise after Werth's hamstring continued to bother him despite missing the past eight games. If there is any good news, it's that it can be backdated to the last time Werth saw the field, making him eligible to return May 18. Whether he will be able to actually run at full speed by the end of this week remains to be seen. The Nationals have also indicated they believe dehydration was a factor in Werth's repeated muscle cramping.
The hope is that all will be under control and back to normal by the end of the week, although fantasy owners might want to wait until next week to insert him into their lineup.
Adrian Gonzalez, 1B, Los Angeles Dodgers (day-to-day):
Gonzalez has been dealing with a minor muscular strain in his neck, recently aggravated when he and an umpire crossed paths as he was attempting to field a ground ball. An MRI revealed little of significance and Gonzalez returned to play late last week. However, he promptly aggravated it again, then sat out Sunday's game.
This is what falls under the header of "annoying" injuries, frustrating to the athlete because of the come-and-go pattern and difficult to predict in terms of behavior and severity. It does not look as if Gonzalez is in danger of going on the DL, but fantasy owners will want to check daily lineups until he is playing consistently.
Austin Jackson, OF, Detroit Tigers (placed on DL retroactive to May 12):
Another outfielder, another hamstring injury. It seems to be quite the injury trend this week. Also a trend: Teams opting to send players to the disabled list for seemingly minor strains early in the season, not wanting to risk a more severe injury. That makes sense. Teams as a whole seem to be offering their players a couple of days to test the effects of rest, but if there are any lingering warning signs, they waste little time scaling the athlete back (in the form of a DL stint). The hope then is that the player will miss the minimal amount of time, and Jackson's case is no different.
[+] Enlarge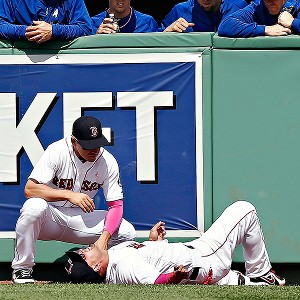 AP Photo/Winslow TownsonShane Victorino (lying down) collided with the outfield wall Sunday at Fenway Park.
Shane Victorino, OF, Boston Red Sox (day-to-day):
After missing a week due to spasms in his back, Victorino returned to action May 3. He seemed to be faring well ... until he ran into the outfield wall Sunday, ultimately requiring a trip to the hospital to be examined. As bad as it looked -- and perhaps felt -- Victorino appears to have escaped major injury. According to ESPN Boston, X-rays on his ribs came back negative, and manager John Farrell says Victorino should be ready to play Tuesday after the team's off day Monday. The hope is that this collision will not wake up the painful spasms in his low back again, and so far there has been no word of that. If Victorino does return Tuesday, that will be a good sign that he should be available going forward.
Desmond Jennings, OF, Tampa Bay Rays (day-to-day):
Jennings has missed a few games with a minor groin strain, but the Rays seem fairly confident they will have him back Tuesday. Jennings has downplayed the injury since it first cropped up last week, suggesting he could play if necessary. Given that it's May and not September, manager Joe Maddon opted to rest Jennings for several days. The proof that it is not anything to worry about will come when Jennings returns to action for consecutive days without incident.
Pitchers
Zack Greinke, SP, Los Angeles Dodgers (placed on DL April 12, could return Wednesday):
When Greinke was injured in the brawl with
Carlos Quentin
, no one knew what to expect since a clavicle fracture in the non-throwing arm of a pitcher is not exactly your everyday injury. As soon as the Dodgers announced he was undergoing surgery to stabilize the fracture, his prognosis for return actually improved, as it appeared he would not face as much down time from throwing.
Turns out that was an accurate assessment. Despite the Dodgers' (understandably) conservative eight-week projection, Greinke appears poised to possibly return this week, which would mark 4 1/2 weeks post-surgery. He has passed the point of having discomfort and pitched in high Class A ball last Friday. His velocity is up where he left off at the time of injury, and he appears from a functional standpoint to be ready to pitch in the majors. The final remaining hurdle is whether the bone has healed to the point where the team is comfortable with him absorbing contact. (The high Class A outing afforded him the opportunity to pitch with a DH in the lineup; when he returns to the Dodgers, he will need to hit, run and potentially absorb contact should there be a collision). Expect those clearing tests to be performed over the next 24 hours and a decision to be forthcoming shortly after. If the team opts to hold Greinke out of a return to the majors Wednesday, he would likely get another rehab start this week and rejoin the team next week.
Brett Anderson, SP, A's (placed on DL April 30, could return Friday):
After originally spraining his ankle in mid-April, it looked as if Anderson could avoid a DL stint with some rest. But he got called into service in the A's marathon game a couple of weeks ago and it set him back, forcing the DL stint. With a pitcher so recently removed from Tommy John surgery, it's probably for the best that he allow the ankle to recover sufficiently to not threaten his throwing mechanics and, consequently, the health of his arm. According to the San Francisco Chronicle, Anderson is likely to rejoin the rotation Friday.
Ryan Madson, RP, Los Angeles Angels (opened the season on DL, could return this week):
Madson's return following last April's Tommy John surgery has been delayed due to the soreness he experienced this spring. The delays aren't highly unusual, but it does bode for a gradual progression even as he returns to his major league team. Madson has been pitching in extended spring training and will begin a rehab assignment this week. He might not spend much time there, as the team could bring him up to the majors to build further endurance in that setting. As the Los Angeles Times has reported, he will not be the closer immediately upon return, and how the Angels opt to use him will likely depend on what they see from him as he resumes big league action.
[+] Enlarge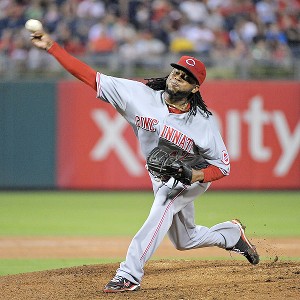 Eric Hartline/US PresswireHe's been out of sight, out of mind, but it shouldn't be forgotten that Johnny Cueto finished 13th among all pitchers on the ESPN Player Rater in 2012.
Johnny Cueto, SP, Cincinnati Reds (placed on DL April 15, could return within one to two weeks):
Cueto's original ailment was reported as a triceps injury, then was modified to a lat strain (more typical for a pitcher). But as he was recovering from that injury, he developed soreness in his oblique, a pitcher's nemesis, forcing a slowdown in his return schedule. Now Cueto seems to have cleared most of the major obstacles in his recovery and has initiated a rehab assignment. His next rehab outing is slated for Tuesday, and the Cincinnati Enquirer is reporting he could return to the Reds' rotation May 19.
It's entirely possible the team opts for another rehab start, depending on what they see during his outing this week and how Cueto feels after consecutive starts. Either way, it appears that, barring a setback, his return is not far off.
Andrew Bailey, RP, Boston Red Sox (placed on DL retroactive to April 29, could return within a week):
Bailey is eligible to return from the DL on Wednesday, but the club could still opt to send him out on a rehab assignment, pushing back that return. Bailey went on the disabled list with a biceps strain, a bit more worrisome than the one that sidelined teammate
John Lackey
because of the location of Bailey's symptoms (higher, closer to the shoulder). As noted in this space last week, Bailey has been plagued by a series of injuries, but he started the season strong for the Red Sox. With
Joel Hanrahan
now out for the remainder of the season, it would seem Bailey has the opportunity to recapture his closer role from
Junichi Tazawa
, if he can stay healthy. Considering his history, particularly in light of this current ailment, that's a big if. Even if Bailey returns without a rehab assignment, the bigger question will be how long he can go without a potential flare-up.
Chris Perez, RP, Cleveland Indians (day-to-day):
As he began to warm up Sunday before entering the game in relief, Perez experienced what the team is calling "stiffness" in his throwing shoulder. Manager Terry Francona opted not to press his luck and rested Perez instead. At this point, it doesn't appear to warrant major concern, but it does warrant you keeping an eye on the situation. Unless he's scratched again this week, consider this just a bump in the road.
Jake Westbrook, SP, St. Louis Cardinals (placed on DL May 12):
Westbrook becomes the latest pitcher to hit the disabled list with inflammation in his elbow. According to ESPN's Jim Bowden, Westbrook received a cortisone injection in his elbow. Expect several days of rest with a gradual increase in activity to see if he can resume throwing. Until he reaches that point, it will be difficult to project the length of his absence.
Wei-Yin Chen, SP, Baltimore Orioles (day-to-day):
After getting his team off to a good start Sunday, Chen was forced to leave the game early because of a strained oblique. He was scheduled to undergo an MRI Monday, and it would not be surprising if this results in a trip to the DL. The typical absence for a pitcher runs on the order of a month, so if it is serious enough to warrant the trip, plan on not having him available for approximately four weeks.
April, 15, 2013
4/15/13
3:25
PM ET
Every Monday in this space, we'll provide updates on a variety of players to help you make your lineup decisions. We'll specifically try to hit the players who are day-to-day, have just gone on the DL or are ready to return, so that you can better decide whether you can count on them or not.
All projected return timelines should be considered fluid.
Hitters
David Ortiz, DH, Red Sox
(opened season on DL, due back April): It's no secret that Ortiz has been battling inflammation in his heels this spring and chronic Achilles soreness since last year. Slowly and steadily, however, he has been increasing his activity and appears to be not far from rejoining his team. Ortiz began a rehab assignment Thursday with the Pawtucket Red Sox and managed to incorporate some baserunning -- including a slide -- over the weekend. He told ESPN Boston that he had "no hesitation" when running the bases -- a good sign, since that is what had triggered his Achilles issues last season. Red Sox manager John Farrell has indicated he will leave it to Ortiz to say when he's ready to return but estimated it would take approximately 25 to 30 at-bats. Ortiz did not play Sunday because of an illness, but presuming it is short-lived, he could get enough work to rejoin the team late this week. No guarantee this is behind him for the rest of the season but it sounds like Ortiz is reaching a point where he is able to play comfortably.
[+] Enlarge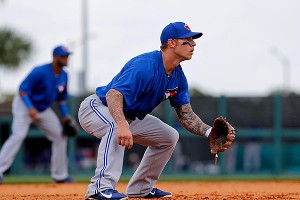 Derick E. Hingle/USA TODAY SportsBrett Lawrie will be playing second base for Dunedin as part of his rehab.
Brett Lawrie, 3B, Blue Jays
(injured March 6, opened season on DL, due back April): Lawrie has been steadily working his way back from a left-sided intercostal strain over the past few weeks. He began a rehab assignment with the Dunedin Blue Jays over the weekend suggesting he is nearing a return, perhaps late this week. With the loss of shortstop
Jose Reyes
for several months to a severe ankle sprain, the Blue Jays are experimenting with Lawrie at second base during his rehab assignment. It is not clear yet whether that experiment will carry over to his major league return. The priority for Lawrie, beyond regaining the rhythm of playing in games, is proving that he can play on back-to-back days without discomfort and can swing the bat without hesitation. Lawrie and his all-out style of play may always present some injury risk but the Jays at least want him to be fully recovered from the spring ailment before activating him.
Chase Headley, 3B, Padres
(injured March 17, opened season on DL, due back April): Headley looks as if he could return this week, although which day that would be is unclear. Headley fractured the tip of his left thumb in March and was originally projected to be out until late April. When X-rays taken last week indicated the fracture was healing well, however, Headley was given the green light to do as much as he was comfortable doing, according to the San Diego Union-Tribune. That activity has progressed from drills -- including taking batting practice from both sides of the plate -- to a rehab assignment which began Friday. So far Headley seems to be comfortable with everything he's tested. Once he demonstrates he can perform offensively and defensively consistently without limitation, Headley could be back in the mix and that could happen any day.
Erick Aybar, SS, Angels
(placed on DL April 13): Aybar bruised his left heel Tuesday when it hit the bag at first base hard as he ran out an infield single and it forced him to leave the game. Now it will force him to miss more extensive time. Although imaging tests appeared to have ruled out a significant injury, the pain associated with heel contusions makes it virtually impossible to put full weight through the foot for some time. According to Alden Gonzalez of MLB.com, Aybar, despite feeling improvement overall, was still having trouble hitting from the right side during batting practice Friday. The rest he will be able to give the heel during a DL stint should allow him to get past this. If all goes well, his absence should not exceed the two weeks.
Yoenis Cespedes, OF, A's
(placed on DL April 13): Cespedes injured his left hand during a slide into second base Friday and was placed on the DL the next day. Imaging tests showed no fracture and the team is calling this a muscle strain, but given that this the injury is to his bottom batting hand, the A's perhaps wanted to take no chances on having him try to press and end up compensating elsewhere. At this point it appears he could return after the minimum 15-day stay.
Coco Crisp, OF, A's
(DTD): Cespedes wasn't the only A's outfielder to injure himself Friday; Crisp exited the same game early after suffering a left groin strain. According to Susan Slusser of the San Francisco Chronicle, Crisp was removed from the game as a precautionary measure after the injury to Cespedes. At this point, Crisp's injury is considered minor and the team considers him day-to-day. Although he didn't play Sunday, he did take batting practice and did some running. It sounds as if he could return as soon as Monday, although the A's have not tipped their hand just yet.
Gordon Beckham, 2B, White Sox
(placed on DL April 10, due back late May/early June): Beckham fractured the hamate bone in his left wrist and will undergo surgery at the Cleveland Clinic on Tuesday. This is the same surgery Giants third baseman
Pablo Sandoval
has undergone on both hands and is not uncommon among hitters. While lingering soreness from scar tissue can make swinging the bat uncomfortable initially, most hitters recover their power within the first few weeks back.
Michael Saunders, OF, Mariners
(placed on DL April 11): Saunders suffered what the team is calling a sprain of his right shoulder when he crashed into the outfield wall last Wednesday. He managed to hang onto the fly ball that sent him to the wall, delivering an out for his team, but the wall took him out for an indefinite period of time. The team has not issued a timetable but fantasy owners should plan on at least a few weeks.
Mike Morse, OF, Mariners
(DTD): On Friday I explained why
Morse's broken finger isn't as serious an injury as it could have been
. In fact, the team expressed hope he could return within three to seven days. Although a Sunday return seemed a little optimistic (and did not end up happening), the Seattle Times reports that manager Eric Wedge hopes to have him available Tuesday (following a team off day on Monday). The key is having him comfortable enough to swing the bat normally, but given the location of the injury, it shouldn't take long.
Franklin Gutierrez, OF, Mariners
(DTD): Seriously, it appears to be hazardous to your health to be a Mariners outfielder. Add Gutierrez to the list of walking wounded with tightness in his groin, which caused him to sit out the weekend games. The Seattle Times reports manager Eric Wedge hopes to have Gutierrez back on Tuesday along with Morse. The concern in the case of Gutierrez is not exacerbating a minor ailment and turning it into a DL-worthy injury. Don't be surprised if Gutierrez sits a bit longer, especially if he is still experiencing discomfort Tuesday.
Jason Kubel, OF, Diamondbacks
(placed on DL April 13): Lingering soreness in his left quadriceps led Kubel to be placed on the DL on Saturday. He hasn't appeared to truly be at full health since the spring, and after undergoing an MRI Saturday for his latest ailment, the decision was made to move him to the DL. It is not clear just yet whether the team expects him to miss more than the minimum time.
Michael Bourn, OF, Indians
(DTD): Expect Bourn to miss several days after requiring five stitches in his right index finger. Bourn was stepped on by White Sox pitcher
Matt Thornton
while sliding headfirst Sunday. The main thing for Bourn is that the cut heals well so that this does not turn into something bigger which would force more time off.
Brian Roberts, 2B, Orioles
(placed on DL April 4): After battling to return following lengthy injury absences the last two seasons, Roberts again finds himself sidelined after getting hurt. Roberts reportedly tore a hamstring tendon when he felt something "pop" in the back of his knee while stealing a base. While the prospects for returning from this injury are good, it most certainly will extend beyond the minimum DL time. He has yet to begin any baseball activities. It would be a surprise if he were to return before early May.
Wilson Ramos, C, Nationals
(placed on DL April 14): The good news is that this injury is not to the same leg which recently underwent ACL reconstruction. The bad news is that the hamstring strain Ramos suffered was enough to send him to the DL. After such a difficult year in 2012, the hope was that Ramos could have a nicer start to the 2013 season. Unfortunately, getting into the groove of the season will be delayed by this setback, which will likely cost him more than the minimum two weeks.
Jason Kipnis, 2B, Indians
(DTD): Kipnis has been battling a sore left elbow for several days, and he was out of the lineup both Saturday and Sunday. This spring, Kipnis reportedly dealt with soreness in his right elbow, which he attributed to the increased throwing that accompanies that time of year. So far, there's been no explanation as to what may be the source of this episode making it hard to evaluate just how worrisome his latest elbow issue is. As of now the Indians are calling Kipnis day-to-day and sound hopeful that he will return after Monday's off day but the vagueness surrounding the injury raises a bit of a concern.
Pitchers
[+] Enlarge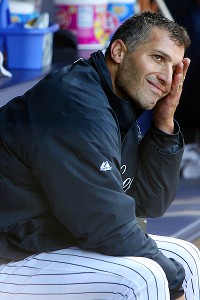 AP Photo/Seth WenigAndy Pettitte will turn 41 on June 15th of this season.
Andy Pettitte, SP, Yankees
(missed last start, expected to start Friday): Back spasms. They happen when you're 40 years old. There's no reason to panic about Pettitte, as he has already indicated that he's feeling better than he did last week. The Yankees still thought it wise to give him a little extra time. According to ESPN New York, Pettitte will throw a bullpen session Tuesday, then start against the Blue Jays on Friday.
Johnny Cueto, SP, Reds
(Placed on DL April 15): Cueto left his Saturday start in the fifth inning with what was initially described as a triceps injury. On Sunday, Ken Rosenthal of Fox Sports reported Cueto is going to be placed on the DL with a lat strain. "Lat" of course refers to the latissimus dorsi muscle, the same muscle Phillies ace
Roy Halladay
strained last year which sent him to the DL for over a month, and the same ailment which has prevented Cubs pitcher
Matt Garza
from pitching yet this year. As with any muscle strain there are varying degrees of injury and the team has not offered much more in the way of specifics. But the lat is integral to a pitcher's throwing motion, and it is likely Cueto will not be permitted to throw for a period of time while allowing the tissue to recover. The time it takes for the soreness to resolve (which will impact the length of time until Cueto is permitted to resume throwing) will determine how long the total recovery will be. It would not be surprising, even if the strain is minor, for Cueto's absence to exceed two weeks.
Matt Harrison, SP, Rangers
(placed on DL April 6): Harrison essentially left his Opening Day start with lower back soreness and has been out ever since. According to the Rangers' official website, Harrison experienced weakness in his left leg, a serious enough sign (suggesting nerve involvement) to send him to the DL. He has undergone epidural injections in his back to help with pain and inflammation but is still in recovery mode. He has yet to throw. Although Harrison is scheduled to be evaluated again this week, it does not appear he will be ready to come off the DL at the end of 15 days. Until he resumes throwing, there is really no timetable to project.
Wandy Rodriguez, SP, Pirates
(DTD): Rodriguez left in the third inning of his April 8 start with a strained left hamstring. He told reporters Saturday that the only thing he can't do is "push off of it" when he tries to pitch, and he is hopeful he will miss only one start. The fact he has not been moved to the DL thus far is a good sign as are his own reports of his progress. As a left-handed thrower, Rodriguez needs power from that left leg, and he is in the best position to know by feel whether it is fully cooperating or not. If all goes well, he could make a start later this week.
June, 24, 2009
6/24/09
2:18
PM ET
The feel-good tidbit of the week took place Tuesday when
Joey Votto
was activated from the DL just in time to play in his hometown of Toronto. Votto's Reds and the Blue Jays met Tuesday night and although Cincinnati took the loss, it was a big victory for Votto just to be out on the field.
Out since May 30 with what the team referred to as stress-related issues, which seemed to emerge following a difficult-to-diagnose inner ear infection, Votto had been working his way back through a rehab assignment in recent days. The Cincinnati Enquirer reported that Votto acknowledged he was battling depression since his father's death last fall. The depression really took a toll on him during the offseason, but Votto thought that once spring ball started he could manage. Those feelings were then exacerbated again after his recent illness, however, and Votto claimed that he felt overwhelmed at times while on the field. Although the first four innings were a little rough Tuesday, Votto told the Enquirer that after that he felt "like my old self again." Welcome back, Joey.
As nice as it is to see players rejoining the lineup, there are fewer returns than exits. The number of players being added to the DL keeps me busy each week as I detail the drama, and keeps fantasy owners busy making constant roster adjustments. Mets general manager Omar Minaya may have his hands full shuffling his roster around, but he's got nothing on some of you who have shared your team injury tragedies with me in our weekly chats.
Whom exactly do we have our eye on in the world of baseball injuries this week? Given their recent misfortunes, it only makes sense to start with the Mets.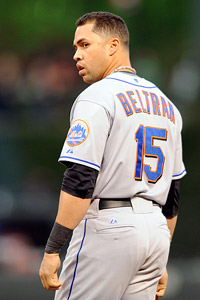 Mark Goldman/Icon SMIIt's very possible Carlos Beltran will miss the All-Star Game because of his knee issues.
Carlos Beltran, OF, Mets:
Beltran joins teammates
Carlos Delgado
and
Jose Reyes
on the dreaded DL. And that's not the worst of it. Beltran may, like his teammates, exceed the 15-day minimum stay on the DL depending how long it takes to get his leg healthy. In fact, given the worsening of Beltran's condition over time, fantasy owners should expect that his stay indeed will be extended, but by how much is anyone's guess at this stage.
Beltran's knee has been giving him trouble since May. Diagnosed at the time with a bone bruise on MRI, Beltran received a cortisone injection and responded favorably, or so it seemed. As the benefits of the cortisone disappeared, however, Beltran began to have increased pain in his knee at times, although the pattern of when it would act up seemed inconsistent. By last weekend, there was no denying that Beltran could not perform at his normal level and a subsequent MRI revealed that not only had the bruise not improved, but it had actually doubled in size.
What's the big deal with a bruise you ask? After all, it's just a
bruise
. To be truthful, not all bruises are created equal, and when it comes to bone, a bruise can have far more serious consequences.
A bruise, by definition, is bleeding. We all get bruises from time to time and don't think much of them, often wondering how exactly we acquired the colorful black, blue or purple blemish. These are soft-tissue bruises, typically superficial bleeding of tissue below the skin, although bruises can also occur in deeper tissue, like muscle. Such bruises can be caused by something as simple as the random encounter of one's thigh with the corner of a desk or, something more spectacular, like making the diving outfield catch that saves the game in your recreational softball league. In most cases, they are unsightly and uncomfortable, but not disabling. And they tend to go away on their own eventually without much intervention or alteration of one's daily routine.
A
bone
bruise however is a slightly different animal. An abnormal MRI finding usually results in the diagnosis, but there can be some variation in terms of what specifically is involved and how serious the problem is. The abnormality shows up in the subchondral bone (layer below the cartilage that lines the joint) or in the marrow and is generally thought to reflect fluid and swelling in the area, perhaps associated with micro-injury of the bone. The biggest concern would be that a progression of this injury could result in further bone damage, even a fracture, which is why it becomes critical that a bone bruise heal properly.
Bone bruises often occur in conjunction with traumatic knee injuries, such as ACL tears. The thought is that the forces that result in ligamentous or other soft-tissue injury may also result in abnormal bony contact, creating the bruise. In the absence of other soft tissue damage, it is not always easy to identify why or how a bone bruise occurs. In Beltran's case, at the time of the original injury in late May, Beltran could not recall a specific incident that led to the bruise.
The key for Beltran is adequate rest and allowing the bone sufficient time to heal. Given that this injury has already been protracted and that the bruise has grown in size, do not expect Beltran to return in 15 days. It would not be surprising if Beltran's DL stay extends beyond the All-Star break. Stay tuned.
Coco Crisp, OF, Royals:
No wonder prior episodes of rest didn't seem to help Crisp's shoulder. The Kansas City Star is reporting that Crisp has a labral tear and will undergo surgery Wednesday with Dr. James Andrews to repair it. Crisp, who has been out since May, might have been able to rehab the shoulder extensively and attempt to return before the end of the season, but his lack of progress thus far may have been an indicator that surgery was the best course of action. Also, the timetable following labral repair for a fielder is typically anywhere from four to six months before returning to play. Had Crisp elected to wait much longer, he could have risked encroaching on next season's return. For Crisp and the Royals, this appears to be the best option. Fantasy owners in keeper leagues should not have any particular concerns about Crisp going forward.
Grady Sizemore, OF, Indians:
Sizemore rejoined the team Tuesday night and managed a triple and two RBIs. Perhaps more importantly, he seemed to feel fine both during and after the game. So is he past the elbow problem that has troubled him throughout the season?
It's too soon to say for sure. Keep in mind that the Indians and Sizemore are very aware that every step in return to play is yet another test on the elbow. One only needs to look at how manager Eric Wedge plans to play Sizemore to see that the team is not confident that he is out of the woods. Wedge told the Akron Beacon Journal, "This week I think we need to be careful. Grady won't play every day the first week." Wedge even hinted that when the team wraps up interleague play, he may use Sizemore as a DH only for a while. Sizemore had an inflammatory condition in his elbow, and although it has clearly improved, the concern is that frequent use could reinitiate the inflammation. Surgery remains a possibility. Consequently, fantasy owners should check daily lineups and should keep some insurance handy for the next three to four weeks at least.
Alex Gonzalez, SS. Reds:
Gonzalez underwent surgery Monday to remove four bone chips in his right elbow. He initially went on the DL after a batting practice swing resulted in his elbow locking up on him. Subsequent tests revealed the presence of the chips. Reports on his timetable have varied from three to five weeks. All will depend on how long it takes Gonzalez to regain his full range of motion in his elbow, along with his strength. The surgery was to Gonzalez's throwing elbow, so it would not come as a surprise if this rehab process veers toward the longer side of the projection.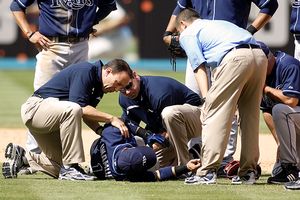 Joel Auerbach/US PresswireFeared to be lost for the season after injuring his knee last month, Akinori Iwamura may still have a shot at playing this year.
Akinori Iwamura, 2B, Rays:
Here's a surprise. An injury that initially appeared season-ending (and apparently felt that way too to Iwamura who called it "the most painful moment" in his career) has perhaps turned into something slightly less severe. It was originally feared that Iwamura had completely blown out his anterior cruciate ligament (ACL) while trying to turn a double play in late May, which would have required complete reconstruction and an absence of six months minimum. As it happens, Iwamura only partially tore the ACL, along with the medial meniscus, and a recent arthroscopic procedure to address the meniscal tear may be all that's required. Iwamura naturally will undergo physical therapy to regain range of motion and strength and the hope is that there will be adequate healing to allow him to return to baseball within approximately two months.
Clearly this is good news for Iwamura and the Rays in that the damage was not as extensive as originally suspected. That being said, it will be important to keep an eye on how Iwamura is progressing through his rehab before getting too excited about an early return. Even mild instability can result in a major change in an athlete's function. Iwamura's strength will be key in his ability to recover here.
Ervin Santana, P, Angels:
Santana was placed on the DL ... again. The good news from the Angels is that there is no evidence of injury on a recent MRI. The bad news is that he is still having discomfort in his throwing arm. The team is calling it inflammation in his triceps.
Since the Angels were able to make this DL stint retroactive to June 12, Santana will be eligible to be activated this weekend. So will he be ready? Santana said he felt good after his bullpen Sunday according to the Orange County Register but later acknowledged having some discomfort. Call me suspicious, but I need to see him perform more consistently before I am comfortable with his status. Still a risky prospect.
On the Mend ...
•
Scott Kazmir
has looked good in his rehab starts so far. In fact, he looked great Monday night in terms of both his velocity and command. His newfound confidence should accompany his healthier physique back into the majors. Expect him to rejoin the rotation either late this week or early next week. According to the St. Petersburg Times, that decision will be made after Kazmir throws a bullpen session Wednesday.
• Last week we knew
Asdrubal Cabrera
's left separated shoulder was feeling better. Now we have a better idea of his timetable to return. The Akron Beacon Journal reported that Cabrera began a rehab assignment Tuesday (in Akron). If all goes well, he could rejoin the team as early as Thursday night.
• Blue Jays ace
Roy Halladay
will come off the DL just one day after he's eligible to do so. Halladay, who had been out with a minor groin strain, threw from a mound Tuesday without incident. Throwing downhill was the only thing still causing him discomfort last week, which was why the Blue Jays opted for a DL stint in the first place. The extra days of rest apparently helped. According to the Blue Jays' official Web site, Halladay is expected to throw a side session later this week, and is in line to pitch Monday night.
• Cubs third baseman
Aramis Ramirez
continues to make progress following his shoulder dislocation in early May. The team's official site reports Ramirez, who has tolerated soft toss and light swings well, will begin to take live batting practice Friday. The live batting practice presents an increased challenge for the shoulder given the speed of the swings he will take. Equally important to how he contacts the ball will be how his shoulder tolerates a hard swing and a miss. The main concern for Ramirez, given his history of shoulder problems, will be whether he has any issues with lingering instability in the shoulder. If batting practice goes well, Ramirez could head out on a rehab assignment shortly afterward. He's still a few weeks away from a return, but it's worth paying close attention to how he tolerates the increased activity this week.
• The Mets have to be relieved to see that they have a couple of players who, despite being injured, are going in the positive direction toward healing. First baseman Carlos Delgado, out since May with a hip labral procedure, is progressing as expected. General manager Omar Minaya was quoted in the New York Post following his appearance on New York's WFAN radio as saying that Delgado is "coming along very well." Minaya reiterated that the team's timetable for Delgado's return remained "at least" 10 weeks from date of surgery (which would have him returning in early August), but at least Delgado seems to be continuing toward that target.
Meanwhile pitcher
John Maine
, out with fatigue in his throwing shoulder, pitched four innings Monday in a rehab start and had no residual symptoms. He is expected to throw a bullpen session Wednesday and then pitch in a game Saturday. That Saturday game may very well be at home against the Yankees, so fantasy owners should check the daily lineups.
• Phillies outfielder
Raul Ibanez
took some batting practice and did some running drills before Tuesday's game according to Philly.com. This is a good sign of early progress for an athlete who is out with a groin injury. Ibanez indicated that he was feeling better and that he hopes he will be able to return near July 3, when he's eligible. The big test will be when he has to run full speed and make quick lateral jumps on the ball, so it is too soon to make guarantees, but so far so good.
June, 17, 2009
6/17/09
11:50
AM ET
Any regular visitor to my blog knows I love to start with some good news. Given that new or recurring injuries are a weekly staple, it's a great feeling when I can counter with news that a guy is getting healthy and coming off the DL. Maybe it's because I feel like the Grim Reaper most of the time, bringing news of the injured to distraught fantasy owners week in and week out. And if we've learned anything this year, it's that no one is safe from the injury bug. Occasionally, though, the sun does manage to shine and athletes exceed expectations in their recovery from injury.
This week is particularly special because I've been looking forward to this announcement since
John Smoltz
signed with his new team. After enduring a lengthy but steady rehab following offseason shoulder surgery, the veteran righty has finally been assigned a date to debut as a member of the Red Sox. Circle June 25 on your calendar, boys and girls. Smoltz is set to rejoin the rotation when the Red Sox face the Nationals. It will be exciting just to see him back on the mound. While it's worth tempering expectations early on (after all, he is 42), I believe that the acquisition of Smoltz will prove to be a brilliant move by the Red Sox and that he will indeed be the comeback story of 2009. OK. I put it out there. Now we just have to watch and see what happens.
Oh yes, I know, there are new injuries to discuss. Here are the guys we're paying attention to in the injury world this week ...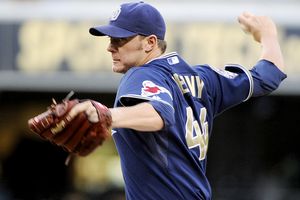 Scott Wachter/Icon SMIDon't expect Jake Peavy back by late August or early September at best.
Jake Peavy, P, Padres:
By now the bad news on Peavy's right ankle has spread far and wide. Peavy could miss 8-12 weeks with a partial tear in his posterior tibialis tendon, according to team athletic trainer Todd Hutcheson, quoted in the San Diego Union-Tribune. My colleague A.J. Mass and I
discussed Peavy at length
right after the announcement was made, both in terms of what the injury actually is and what it means for Peavy's trade prospects.
Here's the bottom line for fantasy owners: Move on for three months. In the very best-case scenario, Peavy returns after the All-Star break, although an August or even September return is more likely. Any delays or setbacks between now and then could lessen the chance of a return. In the worst-case scenario, if the tendon does not show signs of healing when Peavy is re-evaluated in a few weeks, the prospect exists that surgery could be warranted. That is clearly a less desirable, last-resort type of option, but until we hear that Peavy is making progress, it remains a possibility.
Given that Peavy's ankle has already been slow to heal, despite the fact that he reported feeling better since the initial injury, you can bet that the medical staff will proceed conservatively with his long-term health in mind. In other words, don't bank on Peavy beating the recovery timetable issued by Hutcheson, no matter how optimistic the team wants to be. The good news here is that if the tendon heals properly, whatever the time it takes to do so, Peavy should be able to return to form.
Grady Sizemore, OF, Indians:
After resting his elbow for the better part of a week, Sizemore had a repeat MRI on Monday to help assess his progress. Apparently the Indians liked what they saw, since Sizemore was allowed to resume baseball activities this week. Sizemore did some light throwing and took some light swings in his first such activity since going on the disabled list May 31.
Now you know I like good news, but there are reasons not to get over-excited just yet. According to the Cleveland Plain Dealer, Indians head athletic trainer Lonnie Soloff indicated that Sizemore was suffering from synovitis, which is inflammation of the synovium, the smooth tissue layer that lines the joint. This condition can certainly be the type of thing that can flare up repeatedly. According to the Akron Beacon Journal, Sizemore himself said, 'There's a chance it could get worse. It could linger all year."
General manager Eric Wedge summed up the situation best when he said, "As we continue to ramp up with him, we'll know more." In other words, there is not much surprise that Sizemore feels better after completely resting the arm. The bigger question is whether the inflammation will recur as he starts to use the arm or whether he can keep it at bay through the remainder of the season.
The next big test comes this weekend. According to MLB.com, Sizemore will take batting practice and throw from his position this weekend. If he passes the test (read: no pain), then he can begin working his way back toward being ready to play. If Sizemore does experience pain, an arthroscopic surgical procedure likely awaits him. Fantasy owners need to keep their insurance options available for a while as it is simply too early to gauge this one.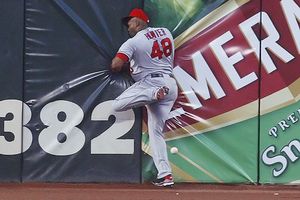 Cary Edmondson/US PresswireTorii Hunter suffered bruised ribs during this crash into the wall on Monday but could be back in action by the end of the week.
Torii Hunter, OF, Angels:
The outfield walls seem to be fighting back against the players who hit them hard this year.
Josh Hamilton
has been to the DL not once, but twice (including surgery!), after running into walls.
Rick Ankiel
's neck and shoulder were on the losing end of a battle with a wall. Hunter is the latest to be punished by a wall while attempting to make a play, suffering bruised ribs Monday night. Fortunately for Hunter, X-rays taken of his right rib cage (where he contacted the wall) were negative, indicating no fracture.
Not that that lessens Hunter's pain. Any rib injury is painful. Just ask Hamilton, who ended up on the DL despite early resistance to the idea. Hamilton, who also suffered a soft-tissue rib injury, pointed out that in addition to baseball activities, breathing hurt. Until the pain and inflammation settled, Hamilton was incapacitated. According to AP reports Hunter was in a rib brace Tuesday, which is designed to help limit his overall rib movement. Minimizing movement allows the soft tissue to heal by preventing muscle fibers from getting overstretched. It's virtually impossible to eliminate all rib motion, however, since sneezing, turning, even breathing all result in movement at the rib cage.
Hunter's targeted return of Friday suggests the injury is not serious, but it may very well require additional time in order for him to move as necessary to play his position.
Coco Crisp, OF, Royals:
Crisp was finally placed on the DL with what the team is calling a rotator cuff strain in his right (throwing) shoulder. Crisp has been bothered by a sore shoulder since late May, but several days of rest intermittently have failed to alleviate the problem, so the team decided to give him an extended break. According to the Royals' official Web site, manager Trey Hillman was hoping that a recent six-game break -- four absences because of the shoulder, plus an additional two to attend his great-grandmother's funeral -- would be enough to allow Crisp to return at full strength, but that has not been the case. Crisp has reportedly struggled most with batting from the left side of the plate and with throwing.
From the sound of things, Crisp may require some extended time away from baseball activities, focusing on rehab alone to clear his symptoms. Given that six days of rest was not sufficient, expect Crisp to rest longer before resuming hitting and throwing, meaning he may not be ready to return at the 15-day mark.
Ervin Santana, P, Angels:
Uh-oh. Santana, who missed time at the start of the season with a sprained ulnar collateral ligament in his throwing elbow, was scratched from his Tuesday start with tightness in the same elbow. After lasting just 4 2/3 innings in his last start, should fantasy owners be concerned?
There's definitely reason to be concerned, but this may not quite signal the demise of Santana's season. Santana told the Los Angeles Times that the pain he's experiencing, which actually has been described as forearm tightness, is not in the same area as his original symptoms. "That was on the inside of the elbow. This is on the outside. I know I'm going to be OK." It's good to know he's confident.
Apparently manager Mike Scioscia has confidence as well. "If I hadn't seen him throw as well as he did in Detroit and hadn't seen his stuff pick up like it has, I wouldn't be as comfortable with where he is," Scioscia said. Nonetheless, Santana is under the very watchful eye of the medical staff as they evaluate next steps. Even if the symptoms are different, the fact that he is feeling discomfort in his throwing elbow/forearm so soon after his return is somewhat worrisome. The Angels hope Santana will be able to start June 23, but if he is unable to go at that point, he could be facing a return to the DL.
On the mend
• Last week we said A's pitcher
Justin Duchscherer
's back had calmed, allowing him to resume his rehab activities. So much for that. Turns out Duchscherer's spine is behaving like many spines do and is flaring up again. Rehab has again been put on hold until the symptoms settle.
• The St. Petersburg Times reports that Rays lefty ace
Scott Kazmir
is expected to make a minor league start Wednesday. Kazmir has been feeling good and thinks his mechanics are under better control. In fact, he sought out advice from friend and former Mets pitching coach Rick Peterson as to which drills would help him maintain his improved mechanics. Several rehab starts should give him a chance to test out his improved quadriceps muscle and delivery. Although there has been no specific date given, if the rehab outings go well, Kazmir could rejoin the team by the end of next week.
•
Asdrubal Cabrera
's left separated shoulder is feeling better. He is now taking practice swings and doing some fielding activities. According to MLB.com, the Indians should have a better idea of when he'll be able to return by the end of this week.
• Royals third baseman
Alex Gordon
continues to make steady progress toward his return to the lineup after right hip labral surgery. He has taken some swings this week against live pitching, according to the Kansas City Star, and has returned to light jogging. Gordon is also fielding ground balls, which ultimately may be one of the more challenging activities for him to resume full force. The team still appears to be targeting a return near the All-Star break. I suspect it won't come until after that, but the good news is that Gordon's rehab is going according to plan.
• Finally ... Angels pitcher
Kelvim Escobar
has been placed on the DL ... again. Somehow this seems like a good move strategically. Escobar did experience some challenges when he rejoined the rotation in early June, and the Angels had indicated he was headed to the bullpen. With Escobar experiencing some fatigue in his surgically repaired shoulder and the Angels needing to add another starter in place of Santana this week, the DL move appears to be a good option. As the Los Angeles Times reports, manager Mike Scioscia said he would be "very surprised" if Escobar was not in the bullpen next Monday, the first day he is eligible to be activated.