Stephania Bell:

Colt McCoy
December, 13, 2011
12/13/11
6:18
PM ET
Week 14 wasted no time making its injury impact felt. Both quarterbacks suffered injuries Thursday yet both continued to play. The returns of
Ben Roethlisberger
and
Colt McCoy
have been the topic of much discussion in recent days, for different reasons.
[+] Enlarge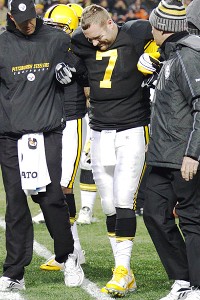 AP Photo/Gene J. PuskarBen Roethlisberger somehow toughed out a high ankle sprain to beat the Browns last week.
Roethlisberger suffered a high ankle sprain, an injury that typically sidelines players for multiple weeks, yet he managed to return to complete the game once it was determined no fracture was present. The adrenaline might have helped him get through Thursday night, but what about the
Pittsburgh Steelers
' next contest, a Monday night matchup against the
San Francisco 49ers
? Given Roethlisberger's history of beating the odds and managing to suit up even in the presence of significant injury, it's impossible to rule him out. Still, it's difficult to imagine him being able to perform effectively, given the nature of what's ailing him.
Sam Bradford
also suffered a left high ankle sprain, and was sidelined for two games because of his inability to step into throws and move out of the pocket. After Bradford returned, he suffered a setback that again resulted in missed time, and even though he played Monday night, it's clear he is not fully recovered.
Cleveland Browns
quarterback McCoy took a shot to the head from Steelers linebacker
James Harrison
, which left him momentarily flat on his back. Harrison has since been suspended for one game by the NFL, and the circumstances surrounding McCoy's return to the game (he missed just a few plays following the hit) have become the subject of an investigation. The Browns maintain McCoy was evaluated on the sideline before being allowed to return and that his concussion-like symptoms appeared later (McCoy has since been diagnosed with a concussion). Members of both the NFLPA and the NFL are expected to meet with members of the Browns' medical staff this week to clarify exactly what happened following the hit and how decisions about return to play were made. In an email response to The Associated Press, league spokesman Greg Aiello said the purpose of the meeting "is to examine procedures and identify areas for further discussion with other medical experts, Commissioner Goodell and the union."
Perhaps the most notable aspect of this incident so far is that we are seeing the first suspension of a player based on a hit to the head (a punishment directed in part by this particular player's history of similar hits) and an investigation into the circumstances surrounding an in-game medical decision. A couple of years ago, this incident likely would have been just another play in the game. While there still is a long way to go in terms of understanding how to best manage and protect against these injuries, the fact that they are gaining attention and being discussed is, in itself, a sign of progress.
After Thursday night ...
[+] Enlarge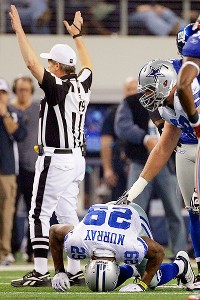 AP Photo/Tony GutierrezDeMarco Murray, who became the Cowboys' go-to back in midseason, is now done for the year after fracturing his ankle.
... The injuries continued to mount. Particularly brutal was the injury suffered by
Dallas Cowboys
running back
DeMarco Murray
, whose legs got trapped awkwardly underneath him as he was tackled. The right leg got the worst of it, as Murray suffered a fractured ankle and a high ankle sprain. As reported by ESPN Dallas, Murray will need surgery, confirming the obvious conclusion that his season is over. It's hard not to feel for Murray, who had provided a spark in the running game after
Felix Jones
was sidelined with his own high ankle sprain in October. Murray tweeted that he'll be back "a better football player," but we will have to wait until 2012 to see proof of that. With Murray out, Jones now resumes the starting role in Dallas. The Cowboys also signed
Sammy Morris
on Tuesday as insurance.
• The
Green Bay Packers
also lost one of their key offensive weapons for what it appears will be the remainder of the regular season.
Greg Jennings
sustained a sprained medial collateral ligament, and his obvious pain had everyone concerned. Following an MRI on Monday, the team projected his absence at two to three weeks (the standard timetable for MCL sprains ranges from two to six weeks), suggesting a mild to moderate sprain. Coach Mike McCarthy seemed to intimate at his news conference Monday that Jennings would not return for the regular season. "I would think it would be safe to say he'd be back for the playoffs," McCarthy said. Meanwhile, running back
James Starks
missed Week 14 because of his knee and ankle injuries, but he might return this week if he can return to practice. Rookie
Brandon Saine
saw some playing time in Starks' absence but left the game early with a concussion. Saine will have to receive medical clearance in order to return.
Quick Hits
• The
Minnesota Vikings
are sounding as if they expect to have
Adrian Peterson
on the field in Week 15, but we'd like to see him run without a limp before penciling him into the lineup. Peterson made further progress last week, doing some individual drills. Still, Peterson rated himself at only 80 percent, although he was willing to try to "gallop" if necessary. It was a good move to rest him this past week, and that rest might well be what allows him to go in Week 15. Stay tuned.
• The
Philadelphia Eagles
saw the returns of
Michael Vick
and
Jeremy Maclin
in Week 14. While Vick managed to get through the entire game (even though he could be seen lying on a treatment table getting worked on at one point while the defense was on the field), Maclin did not fare so well. His hamstring tightened up on him, according to coach Andy Reid, and
Riley Cooper
took Maclin's place for much of the second half. Until Maclin shows he has recovered enough to get through a full game without incident, it's going to be hard to have confidence.
•
Tennessee Titans
quarterback
Matt Hasselbeck
suffered a calf injury Sunday, and it was not known immediately how severe the injury was.
Jake Locker
took over for the remainder of the game (with the exception of a single play in the fourth quarter that Hasselbeck handled), and Hasselbeck is now being called day-to-day. Calf strains are typically slow to heal, even when minor, and will limit a quarterback's ability to push off as well as his all-around mobility. It will be no surprise if Locker gets the start this week.
•
New Orleans Saints
tight end
Jimmy Graham
showed some toughness playing through major back spasms Sunday. Fantasy owners knew something wasn't right when Graham left the pregame warmups early and headed into the locker room. He came out to join his team for the game and managed to garner 55 yards. Graham, during an appearance "Rome is Burning" on Tuesday, called the spasms "crippling" but said it would take more than spasms to keep him out of a game. He also noted he had undergone an MRI and everything was "fine." He sure sounds like someone who is planning on being out there again in Week 15.
[+] Enlarge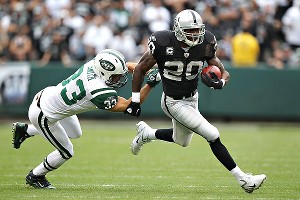 Jed Jacobsohn/Getty ImagesDarren McFadden has not played since Week 7.
• From last Tuesday:
Things are not looking good for running back Darren McFadden. Despite all the positive-speak initially from coach Hue Jackson, his latest remarks have a different tone suggesting progress is not being made as expected. McFadden has already missed more than a month because of a midfoot sprain and his absence is expected to continue. Steve Corkran of the Contra Costa Times reported via Twitter that Raiders coach Hue Jackson does not expect McFadden to miss the rest of the season. Well, neither did we. In fact, it had not been a real thought until Jackson introduced it as a possibility. Jackson also noted that there was no timetable for McFadden's return. Those two comments cause concern as to what the real status of McFadden and his foot is going forward. After the initial MRI, Jackson said there was no major structural damage and hinted at a speedy recovery. While the structure of the midfoot is complex and pain or inflammation in the area, even in the absence of major disruption to the anatomy, can be severely limiting, the slow progress of McFadden after such early optimism is frustrating. At this point it is difficult to have confidence in McFadden's status, especially as long as he is absent from the practice field.
This Tuesday: Things still don't look good. The poor outlook noted at the start of last week has become grimmer as another week has passed with no obvious signs of progress from McFadden. If anything, there is less clarity about McFadden's injury than ever. On Sunday, CBS analyst
Phil Simms
commented that McFadden was dealing with a Lisfranc injury. Steve Corkran of the Contra Costa Times best captures the semantics issue around the term "Lisfranc" and coach Hue Jackson's response as it relates to McFadden in his
Monday post on the topic
.
In an attempt to interpret the cause of the confusion, it should be noted that the term Lisfranc is an anatomical description of a region of the foot, specifically a complex joint comprising the bones and ligaments that connect the midfoot to the forefoot. An injury in this area could technically be called a midfoot sprain
or
a Lisfranc injury, and both would be correct. Injuries range from minor ligament tearing involving a single joint to multijoint severe injuries including fracture and dislocation. The latter type require surgery to fix; the former do not.
As Lisfranc injuries have become more common in the NFL and have led to season-ending surgeries for some (
Ronnie Brown
,
Dwight Freeney
and most recently
Matt Schaub
), when the term is used, the implication is that the athlete has suffered the most severe, season-ending variety. That degree of injury does not always result. Since the Raiders insist McFadden does not need surgery, it would appear that his injury is of the less severe type and that, perhaps, is why the term "Lisfranc" was avoided. For any injury to the midfoot, it is important that full healing occur in order to restore normal gait and prevent future problems, which can render the recovery process slow. In McFadden's case, his recovery appears to be taking longer than the Raiders initially projected it would, adding to the frustration of all looking from the outside in. At this point, despite Jackson's statement that he expects McFadden to return, it's hard to imagine a full-strength McFadden resurfacing within the next three weeks.
December, 16, 2010
12/16/10
1:45
PM ET
This week's Thursday night matchup has the
San Diego Chargers
hosting the
San Francisco 49ers
.
Mike Tolbert
and
Ryan Mathews
) are finally healthy, but the status of their wide receivers is still in question.
Malcom Floyd
is listed as questionable heading into the game, although it sounds as if he could be available. Floyd did not practice Wednesday after a limited workout Tuesday, but Kevin Acee of the San Diego Union-Tribune suggests that this may be due, in part, to the Chargers' short week. Nonetheless, it suggests that Floyd is not completely past the hamstring injury, and with that in mind it is hard to know what to expect from him as far as productivity, even if he plays.
Vincent Jackson
, who injured his calf in his 2010 debut, is now off the injury report and is clearly expected to start.
Legedu Naanee
, who dealt with setbacks of his own the past two weeks following a hamstring injury, is probable after full practice Tuesday and Wednesday. The most notable fantasy star of the group, tight end
Antonio Gates
, is not expected to play this week. The team lists him as doubtful and he has not been able to practice because of pain in his foot. Keep in mind, if Gates rests this week, by the time of the Chargers' Week 16 contest he will have been out close to three weeks. The reprieve might be able to help him return and contribute at that point. But expect
Randy McMichael
to start at tight end for the Chargers this week.
For the visiting 49ers, there are not many question marks from a fantasy perspective. Running back
Brian Westbrook
is listed as probable for non-injury-related reasons and is fully expected to play. On the defensive side of the ball, linebackers
Patrick Willis
and
Takeo Spikes
have been practicing with casts on their right hands this week. Although both are listed as questionable, they are expected to play.
Here's who else you might be concerned about heading into Week 15:
Kansas City Chiefs
quarterback
Matt Cassel
returned to practice Wednesday on a limited basis. While no one is committing to Cassel being the starter Sunday, the fact he's back on the practice field has to at least be considered encouraging. This no doubt will be a situation in which he is progressed daily, as able. If all goes well, there is a good chance he could return to face the
St. Louis Rams
.
•
Green Bay Packers
signal-caller
Aaron Rodgers
is looking less likely to play Sunday against the
New England Patriots
. The Milwaukee Journal-Sentinel reports Rodgers has not even been allowed to return to the Packers' practice facility. Clearly, the medical staff wants his brain to rest, meaning no film study, no game plan preparation and no activity whatsoever that could interfere with healing. In the absence of any preparation, coupled with the likelihood that Rodgers will miss the entire week of practice (coach Mike McCarthy said Rodgers will not practice Wednesday or Thursday and his chances of working Friday are "slim to none"), it is hard to imagine he will be ready to absorb all of the mental and physical load required to start Sunday's game. Fantasy owners should prepare to start another quarterback this week.
• Fantasy owners should know at this point that they cannot count on
Minnesota Vikings
quarterback
Brett Favre
to play. While his status remains up in the air, there are so many question marks heading into Monday night -- including whether the game will indeed be played outdoors at the University of Minnesota's stadium -- that's it's best to avoid the situation.
Tarvaris Jackson
has a turf toe injury and has now been placed on injured reserve, making
Joe Webb
the likely starter, although he has a hamstring issue of his own. The Vikings signed
Patrick Ramsey
as insurance. Stand clear of these quarterbacks.
• As far as the other Vikings with injury concerns, running back
Adrian Peterson
, who did not help his fantasy owners last week, is dealing with a knee contusion that is not expected to limit him this week. Maybe if you're still in the playoffs, he can help make it up to you Monday night. Wide receiver
Percy Harvin
has missed the past two games because of migraines, but coach Leslie Frazier says he expects Harvin to return to practice this week. With the Vikings not playing until Monday night, there will be no official practice report until Thursday night, but at least early signs are positive for these two.
• The
Cleveland Browns
are making
Colt McCoy
the starting quarterback for the remainder of the season. It sounds as if the ankle issue is far enough behind him to no longer be a concern to the team.
•
Denver Broncos
quarterback
Kyle Orton
was held to limited practice Wednesday because of "soreness" in his throwing arm and his ribs. The Denver Post reports coach Eric Studesville referred to Orton's condition as "bumps and bruises" and does not seem overly concerned about his quarterback's availability this weekend. Teammate
Brandon Lloyd
showed up on Wednesday's injury report as a non-participant in practice because of his calf. Whether this was some helpful midweek rest or an injury to be concerned about should become apparent as the week progresses.
Seattle Seahawks
seem to be getting some good news on the wide receiver front.
Mike Williams
and
Ben Obomanu
returned to full practice Wednesday. Williams has been struggling with foot and ankle injuries and was not able to play in Week 14. Full practice early in the week is a strong indicator of his availability, barring a setback. Obomanu, who also missed Week 14 with a laceration on his right hand that interfered with his catching ability, has returned to practice, but the Seattle Times reports that he is still adjusting to playing with something on his hands. Says Obomanu: "I personally like no tape on my fingers, no tape on my wrists or anything, but I'm going to have to do a lot of tape, experiment devices and things to make sure; I have to protect my hand No. 1, but still give me comfort to be able to catch the ball, too." The good news is he's working on getting comfortable early in the week, meaning he too should be available Sunday.
• The
New York Giants
' wide receiver news was not so positive to start the week.
Steve Smith
, who returned in Week 14 from a pectoral strain, left the game after one catch when he injured his knee. The Giants released a statement Wednesday indicating that Smith suffered articular cartilage damage and would be placed on season-ending injured reserve. His teammate,
Hakeem Nicks
, fared much better in his return from injury, catching seven passes for 96 yards, and emerged no worse for the wear, not even appearing on Wednesday's injury report. He will likely be
Eli Manning
's big target with Smith out and
Mario Manningham
questionable this week. Manningham left Monday's game early with what was called a hip flexor strain and did not practice Wednesday. We will see what Manningham is able to do later in the week, but he tells ESPN New York that he plans to play in the team's big matchup against the
Philadelphia Eagles
.
• Some fantasy owners may have been concerned seeing Giants running back
Ahmad Bradshaw
with his wrist and forearm on ice Monday night. Bradshaw is not on the team's injury report this week, consistent with his assurances that the wrist is "fine."
• Philadelphia Eagles wide receiver and premature touchdown celebrator
DeSean Jackson
did not practice Wednesday because of a sprained foot. The team is calling him day-to-day according to the Philadelphia Inquirer, but it's hard to imagine him sitting this big game out. Stay tuned.
• The
Baltimore Ravens
won their Monday night game without the services of tight end
Todd Heap
, who was sidelined with a hamstring injury. Heap was listed as a non-participant Wednesday, although the team only held a walkthrough. Fantasy owners should prepare for the eventuality that Heap may not be available again this week, but his practice status going forward should give better clues.
Pierre Thomas
is not even listed on the
New Orleans Saints
' injury report. That's good news for Thomas, who saw his first game action in over two months on Sunday. Teammate
Chris Ivory
left last week's game early with a hamstring injury, which perhaps accounted for Thomas getting a few extra touches in his first game back. Ivory was listed as limited Wednesday, and his status near the end of the week likely will influence what we expect from Thomas on Sunday.
•
Oakland Raiders
tight end
Zach Miller
is back in full practice and his performance last Sunday was the best fantasy owners have seen in a while. If Miller can continue to practice daily without a setback, he might be worth a consideration for your fantasy team, with a matchup against the Denver Broncos on Sunday.
•
Dallas Cowboys
running back
Marion Barber
returned to limited practice Wednesday. Barber has been out since injuring his calf in the Thanksgiving Day game. As the San Antonio Express News reports, however, this may only add to the rotation at running back for the Cowboys. While Barber is far from a lock to play Sunday, when he does return he potentially adversely affects the fantasy running back scenario. Owners of
Tashard Choice
will want to keep an eye on Barber's status throughout the week. Meanwhile, ESPN Dallas reports wide receiver
Roy E. Williams
suffered a groin injury in Wednesday's practice. No word as to the seriousness of Williams' ailment, but it will be worth watching what he is able to do the remainder of the week.
• The
Indianapolis Colts
continue to watch players on the injury carousel. Running back
Joseph Addai
looks to be status quo with limited practice Wednesday. Wide receiver
Austin Collie
was a full participant Wednesday, though, and if he maintains that throughout the week it could signal his return Sunday. The big question then will be how
Peyton Manning
divides up the passes. After
Pierre Garcon
's big fantasy performance last Thursday, it's a little harder to anticipate who will be the lead scorer. Tight end
Jacob Tamme
remains on the injury report but was a full participant in practice. Expect him to play again this week.
See you at the injury chat on Friday at 3 p.m., and we'll have the latest injury updates affecting Week 15 in the Saturday morning blog!