Stephania Bell:

Curtis Granderson
July, 15, 2013
7/15/13
5:03
PM ET
In honor of the 2013 MLB All-Star Game and accompanying festivities at Citi Field in New York City this week, it's time once again to compile a roster of All-Injured All-Stars. Members of this roster are selected from:
a. Players who were chosen for this year's All-Star game but could not participate due to injury
OR
b. Past All-Stars who might have had the potential to earn another trip in 2013 were it not for the injuries that beset them this year.
Just as was the case in 2012, this year's list offered multiple options at nearly every position in both the American and National Leagues. In other words, there is no denying the impact of injuries on the game. Not everyone who could possibly qualify is listed. Some are making a repeat appearance after making this list last season (a dubious distinction denoted with an asterisk). The selections here, just as with the actual All-Star roster, are debatable. But as the manager of the injury roster, the selections are at my discretion.
And now, I hereby present the 2013 All-Injured All-Stars.
National League
1B: *Ryan Howard, Philadelphia Phillies: Howard made the 2012 All-Injury roster as he was recovering from an Achilles tendon repair, a recovery slowed by setbacks in the spring. This year, the three-time All Star started the season on time but was placed on the DL on July 6 with a meniscus tear. Howard underwent surgery and is projected to be out for six to eight weeks (the Phillies hope to have him back and playing with the club in that time frame), a reasonable projection if all goes well with the rehab process. Still, the Achilles rupture and the meniscus injury have both been on Howard's left side, which raises the level of concern about how that leg will treat the 33-year-old going forward.
2B: Aaron Hill, Arizona Diamondbacks: Although Hill has technically returned from the DL, there is little doubt that his injury derailed the All-Star second baseman's season after a solid start. That too, the injury is not completely out of the picture. Hill sustained a nonunion fracture in his hand after being hit by a pitch. Ultimately, he was given clearance to try to play through it if the pain didn't limit him. He has been able to do so, although the team is taking precautions to have him avoid overusing it. The risk remains that it could be aggravated during the course of the season and force him out of the lineup again.
SS: Rafael Furcal, St. Louis Cardinals: Last year at this time, Furcal was making an appearance in the All-Star game; this year he has not made an appearance in a major league game. After spraining his ulnar collateral ligament, Furcal tried to go the conservative route, but during spring training this year, his elbow failed him. After undergoing Tommy John surgery and spending the rest of this year rehabbing the elbow, Furcal hopes to return next season.
3B: Aramis Ramirez, Milwaukee Brewers: Ramirez has been plagued by a problematic left knee since the spring. The Brewers have attempted to manage the problem by giving him intermittent days off. The challenge with the knee sprain, sustained back in March, is that if there is any residual instability (which there appears to be, based on how his knee has behaved), it can easily become aggravated by an awkward movement that causes the knee to give way, such as a diving defensive play, a quick directional change or a slide while running the bases. Despite his attempt to play regularly through the injury, the All-Star third baseman has been limited at times by the knee and recently aggravated it to the point of requiring a second DL stint. In fact, teammate Ryan Braun was brought off the DL a few days sooner than expected when it became clear Ramirez would be heading back. The symptoms from this latest episode will likely settle fairly soon, and Ramirez should be able to then increase his activity and return to the lineup. But what the two trips to the DL along with the controlled management of his playing time tell us is that we can expect the uncertainty around Ramirez and his knee to continue throughout the season.
C: Yadier Molina, St. Louis Cardinals: We're cheating a little bit by placing Molina here since it appears he will play in the All-Star game, despite the threat of injury. Molina's knee began to bother him about a month ago, suddenly worsening last week and making it difficult for him to run. An MRI revealed no structural damage and after a few days rest, Molina returned to the lineup this weekend, seemingly without issue. It's hard to imagine that an injury that has plagued him for the better part of a month would suddenly have disappeared, especially for a catcher whose job demands take a toll on the knees. It's terrific that the National League's leading vote-getter will be there for the fans. Let's hope it doesn't mean he won't be there for them later this season.
OF: *Carl Crawford and *Matt Kemp, Los Angeles Dodgers; Justin Upton, Atlanta Braves: Crawford seemed to bounce back this season after spending most of 2012 on the DL, first for lingering wrist pain and weakness following offseason surgery, then for a torn ulnar collateral ligament that ultimately required season-ending Tommy John surgery. The injury bug appeared to be in the rearview mirror in 2013. Unfortunately, that changed in June when Crawford suffered a hamstring injury that sidelined him for several weeks. Just a week removed from the DL stint for his hamstring, Crawford was out of the lineup with back stiffness. Although an MRI turned up "nothing really significant," according to manager Don Mattingly, Crawford has yet to return. At 31, it's more difficult for Crawford to bounce back from these nagging types of injuries, making it more of a worry that the hamstring or the back -- or both -- could be problematic for Crawford for the remainder of the season.
Kemp's performance in 2013 wouldn't have earned him a spot on the All-Star team this year, even if he were healthy, but his talent has made him a regular in years past. Last year, a hamstring injury that flared up as soon as he returned from his initial DL stint caused him to miss more time than he ever had in his major league career. Now he is set to challenge that statistic this season with consecutive DL appearances for different injuries (a hamstring strain on the opposite side of last year's injury followed by AC joint inflammation in his post-operative shoulder). The injuries only compounded the rough start Kemp was experiencing following his offseason labral repair. It always seemed likely that Kemp would improve in the second half of this year as he rediscovered his power swing. Now the hope is that he can simply be healthy enough to have the opportunity to do so. As of now, the end of the month appears to be the target for Kemp's return, and the Dodgers are hoping to see the pre-2013 version of their star outfielder.
The entire Braves outfield is hurting right now, but it is Upton who has the most All-Star appearances of the three, hence his name at this position. Upton strained his calf muscle, but by all accounts, it sounds minor and he could return within the week.
SP: *Roy Halladay, Philadelphia Phillies; *Chris Carpenter, St. Louis Cardinals: Is it a coincidence that these two are repeat honorees? Probably not, especially given that their situations last year portended greater concern for their health heading into this season.
In 2012, Halladay was sidelined with a strained lat, an injury he was able to return from in just under two months. This year, when his performance suffered in an eerily similar manner to last year, Halladay was quicker to acknowledge there was perhaps an underlying physical problem. Indeed, Halladay was dealing with damage to his rotator cuff which required surgery to repair. After undergoing surgery, Halladay has embarked on an intensive rehab program. He has made it clear that he hopes to return this year, although it is not likely to be before September.
Carpenter underwent thoracic outlet surgery in 2012 to alleviate nerve compression that was causing weakness and pain in his throwing shoulder and arm. Surprisingly, he recovered well enough to rejoin his team for the postseason, but he did not pitch like his usual self. After taking some time to re-evaluate whether he even wanted to return to baseball, Carpenter dedicated himself to a focused rehab process … again. Despite several setbacks along the way, he is nearing the point where he could contribute to the Cardinals' stable, as a starter. Carpenter is set to begin a rehab assignment Monday, according to the St. Louis Post-Dispatch, which could pave the way for a late-season return.
RP: J.J. Putz, Arizona Diamondbacks: Technically, Putz has returned to his major league team after missing extensive time due to injury. An exception was made to include him in the list because he isn't truly back yet, as evidenced by some of his lingering struggles. A sprain of his ulnar collateral ligament in his throwing arm had the former All-Star sidelined for virtually all of May and June. Shortly after returning, Putz blew a save, leaving us to wonder whether he had really fully recovered or whether he was just rusty. For now, he is operating in a support relief role, but the big question is whether he can pitch on a regular basis without any recurring elbow pain.
Honorable Mention: Freddie Freeman, 1B, Atlanta Braves (thumb); Ryan Braun, OF, Milwaukee Brewers (thumb); Jason Heyward, OF, Atlanta Braves (hamstring)
American League:
1B: *Kevin Youkilis, New York Yankees: Youkilis wasn't going to make this year's All-Star team, but he's certainly made enough of them in the past to warrant making this All-Star roster. Hip and back problems have limited Youkilis intermittently for years, and this time, his back would not let him get comfortable. He ultimately had to go the route of back surgery in June and is expected to be out for approximately three months. It's worth noting that the recovery timetable following this procedure is very fluid, so any setback could throw off that schedule. Despite his age (34), Youkilis is taking a chapter out of teammate Derek Jeter's book and expects to come back, although it remains to be seen whether he's able to do so this year.
2B: Omar Infante, Detroit Tigers: After getting taken out by a hard slide in a game in early July, Infante's injury was initially called a contusion. It was later announced that he had sprained his ankle, and Infante was placed on the DL but was expected back immediately following the All-Star break. Now it appears the ankle is recovering a little more slowly than expected, and manager Jim Leyland cautions that Infante may require a little more time. While this doesn't have the sounds of a particularly serious injury, Infante still needs to move well enough to make defensive plays in addition to running the bases. A few extra days now will translate to a smaller likelihood of lingering problems in the second half.
SS: Derek Jeter, New York Yankees: No matter how hard he tried to return to the lineup to start the season, it just wasn't meant to be for Jeter. After undergoing surgery to stabilize his fractured ankle last fall, Jeter appeared on track with his progression until pain during spring training interrupted his running program. Imaging studies revealed a second small crack, and Jeter's program was put on hold to allow the bone to heal. As the bone healed to the point where he could resume running, Jeter progressed rapidly through his rehab progression. In fact, he progressed so well that the team opted to have him return prior to the All-Star break. He lasted less than one complete game.
During his first game back, Jeter's 39-year-old quadriceps muscle tightened up on him, and he was forced out for the day. The Yankees are hopeful that this represents only a minor setback for the veteran given that it is a Grade 1 (mild) strain. After some rest and a few days to recover, it's possible he could be ready to go after the break, although the Yankees may ease him back with alternating days off and DH usage.
3B: Alex Rodriguez, New York Yankees: It's not surprising that the multiple-time All-Star is on the DL at this point. When he underwent January surgery to repair the labrum in his hip, Rodriguez was expected to be out until after the All-Star break. Still, it was uncertain whether his rehab would proceed smoothly and allow him to be on track for a July return. Minus the distractions associated with both the Biogenesis scandal and his recent rehab status updates on Twitter, Rodriguez has experienced a fairly smooth recovery. The last physical hurdle he needs to cross before rejoining the Yankees is a complete rehab assignment, and he is well on his way. On Monday, he graduated to Double-A Trenton as part of his progression towards major league competition. According to the New York Post, Rodriguez says his legs "feel good" and the plan, as he understands it, is to rejoin the team July 22. Although he hasn't shown much at the plate thus far -- after being out of baseball for the bulk of the last nine months -- the rust is not surprising. While his physical condition is improving, there may be other hurdles -- other than of his hip -- which prevent him from contributing for the remainder of this season.
C: Francisco Cervelli, New York Yankees: Admittedly, Cervelli is a reach here as he has never been an All-Star. But with no one else really competing for a slot, he gets the nod as the starting catcher. Cervelli has been on the DL since late April after suffering a fracture in his right hand, which required surgery. (Incidentally, the Yankees seem to be leading the league in hit-by-pitches resulting in fractures among starters.) After finally recovering enough to take batting practice, Cervelli was just shut down again due to a stress reaction in his right elbow. It now looks like he will be sidelined until August, and it's hard to imagine him being effective immediately after being limited from baseball activity for so long.
OF: Melky Cabrera, Toronto Blue Jays; Curtis Granderson, New York Yankees; Shane Victorino, Boston Red Sox Oh, what a difference a year makes. At this time in 2012, Cabrera was the All-Star Game MVP, and his performance helped secure home-field advantage for his team at the time, the San Francisco Giants, in their World Series appearance. It was a World Series that Cabrera would end up not participating in, due to the fallout from his suspension for testing positive for PEDs. Cabrera then switched leagues in the offseason when he signed with the Blue Jays. This year, he finds himself on the DL with what is being called left knee tendinitis. The good news is that he has begun a rehab assignment and should be able to rejoin his team shortly after the All-Star break, barring a setback. After going from the highest high to the lowest low last year, then following it with injury this year (which, so far, appears to be minor), Cabrera has to be ready to turn the page in the second half.
Granderson can't catch a break this year. Or, maybe he can actually do it a little too well. After starting the season on the DL with a wrist fracture sustained when he was hit by a pitch during spring training, Granderson made his season debut in May. It was short-lived, however, as Granderson lasted just days before sustaining another fracture, also the result of being hit by a pitch. This time, he sustained a break to a bone in his hand that required surgical stabilization. For a while, Granderson struggled to grip the bat, and his progress back to baseball activities was slow as a result. As of now, he has begun taking swings but still needs to return to batting practice before a rehab assignment is even in the picture. Granderson still appears to be a few weeks from rejoining the team, and even then, some apprehension about exactly what he can deliver at the plate -- at least initially -- is justified.
Victorino has been in and out of the Red Sox lineup for much of the season with some variant of low back, hip or hamstring pain, which all seem interrelated, per manager John Farrell. The problem with this complex injury is that, as it moves around, it becomes more difficult to treat and slower to resolve. It's just as well Victorino isn't part of the All-Star festivities as his body can certainly use the rest. Given that Victorino has already missed a month's worth of games this season combined with the fact that this problem has not gone away, there is definitely reason to be worried about how his body will hold up for the second half.
SP: Yu Darvish, Texas Rangers; Clay Buchholz, Boston Red Sox: Darvish would have been a fan favorite in this year's All-Star Game, and matchups between him and some of the NL's heavy hitters would have been eagerly anticipated. Unfortunately, those matchups won't be happening because of Darvish's recent placement on the DL with an upper back strain. He has struggled with giving up runs in recent outings, and the team is describing his ailment as fatigue in his upper trapezius. It's not your typical diagnosis, and it suggests he is experiencing associated neck or upper back stiffness. The question is how long the injury has been bothering Darvish and whether his performance of late can be attributed, at least in part, to his health. While the Rangers sound confident that he will return when eligible on July 22, consider that Red Sox ace Clay Buchholz is reportedly dealing with a similar problem and has been out for over a month. It may not be quite as benign as the team is making it out to be. We won't really know much until Darvish tries to resume throwing.
Speaking of Buchholz, he started off the season in spectacular fashion, but that came to a crashing halt after an odd injury sidelined him in late May. Buchholz claimed an awkward sleeping position resulted in soreness in his AC joint. Within a week, the problem evolved into a neck issue that was not initially considered serious, but Buchholz has yet to return. In fact, he has yet to make a rehab start; that has been delayed until after the All-Star break. The expectation is that Buchholz will be ready to return by late July, but his recovery process has not been smooth. Until he is able to return to competition and string together consecutive starts, there remains some concern.
RP: Jesse Crain, Chicago White Sox: Oh, the injustice. Crain was named to his first All-Star game only to be sidelined with an injury to his throwing shoulder. Crain was placed on the DL in early July after experiencing tightness in his right shoulder while warming up. The soreness continues to linger when Crain attempts to throw, but it's unclear just how serious the team thinks this particular episode is. Crain does have a history with his shoulder, having undergone surgery several years ago to address rotator cuff and labral damage. It's never encouraging to hear about problems resurfacing in a thrower's shoulder, but it's too soon to establish whether this is a minor incident that will resolve itself with rest or the beginning of a decline.
Honorable Mention: Justin Verlander, SP, Detroit Tigers (quad); Mark Teixeira, 1B, New York Yankees (wrist); Jake Peavy, SP, Chicago White Sox (rib)
May, 27, 2013
5/27/13
2:30
PM ET
Every Monday in this space, we'll provide updates on a variety of players to help you make your weekly lineup decisions. We'll specifically try to hit the players who are day-to-day, have just gone on the DL or are ready to return, so that you can better decide whether you can count on them or not.
All projected return timelines should be considered fluid.
Hitters
Curtis Granderson, OF, New York Yankees (placed on DL May 25; expected to miss at least a month):
When it comes to injuries this season, if the Yankees didn't have bad luck, they wouldn't have any luck at all. Granderson, whose season finally got under way just a few weeks ago, is now out for at least a month with another fracture.
Two hit-by-pitches have resulted in fractures for Granderson, the first a broken right radius (forearm bone) just above the wrist, and now a broken left fifth metacarpal (the long bone of the hand, at the base of the fifth (pinkie) finger). The latest incident occurred Friday night when Granderson absorbed the impact of a pitch to his left knuckle in the fifth inning. In an almost eerie forewarning of this event, Granderson spoke to the Yankees' website just weeks ago during his rehab assignment (from the first fracture) about not fearing the inside pitches. "There's going to be pitches inside, I'm going to get hit again, but you got to stay in," Granderson said. In this case, he stayed in until he was forced out, literally, because of injury.
If there's any good news here, it's that it appears this fracture, like the first, will not require surgery. Broken bones typically require four to six weeks to allow sufficient healing to permit return to play; if Granderson's finger shows good early callus formation (bone healing) and he can grip the bat effectively, his timetable should fit right in that timeframe. That said, he might have to encase his fingers, hands and forearms in bubble wrap when he steps to the plate to get through the rest of the season.
[+] Enlarge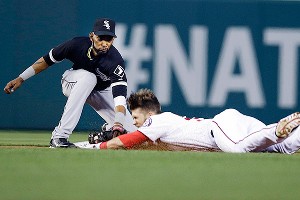 AP Photo/Alex BrandonBryce Harper is becoming known for his "all-out" style of play ... which could lead to missed games.
Bryce Harper, OF, Washington Nationals (day-to-day):
Add bursitis to the list of Harper's aches and pains resulting from crashing into walls, but don't expect it to land him on the disabled list if he can help it. Harper's knee bothered him enough to warrant an MRI, which came back clean, according to manager Davey Johnson. The Washington Post reports Harper will be sidelined for several days, although he may be utilized as a DH against Baltimore later in the week. One thing is certain, though: Harper has no intention of changing anything about the hard-nosed way he plays baseball. These intermittent minor injuries have threatened his status for a couple of games here and could be an ongoing challenge for Harper and his fantasy owners.
Shane Victorino, OF, Boston Red Sox (placed on DL retroactive to May 21):
Victorino had been battling back spasms in recent weeks yet managed to avoid a DL stint. Not now. This time it's his left hamstring that's giving him fits, and Victorino will be forced to rest until he can run without limitation. Interestingly, Victorino's hamstring started to bother him just days after returning to the lineup following missed time for his back. If these two issues are related, which would not be surprising, this could turn out to be intermittently problematic throughout the season.
Will Middlebrooks, 3B, Red Sox (placed on DL May 24):
Perhaps back spasms are contagious in Boston. Middlebrooks left Thursday's game early due to back spasms, something manager John Farrell told reporters might have begun Wednesday night as Middlebrooks came out of the batter's box. The good news is that Middlebrooks said, according to ESPN Boston, that as of Saturday he was already feeling improvement. "I do [think I'll come off the DL when eligible]," he said, adding, "I feel better than yesterday, so if I'm already making steps forward, that's where I want to be." This looks to be a minor episode.
Jayson Werth, OF, Nationals (placed on DL retroactive to May 3):
When Werth was first placed on the disabled list, the thought was that he would miss the minimum amount of time. After all, when the decision was made to formally move him, he had already missed eight games and seemed to be faring better. But if there's anything we know about hamstring injuries, it's that they are among the least predictable of all soft-tissue ailments. It is often not until the athlete tests the leg with full-speed sprinting activities that lingering issues make themselves known. In Werth's case, he experienced discomfort when breaking out of the batter's box, according to Amanda Comak of the Washington Times. The persistent discomfort led to an MRI, which manager Davey Johnson told reporters was "alarming." Consequently, Werth's timetable has been extended with a new target date of June 3, according to general manager Mike Rizzo (via the Washington Post). It's worth reiterating, however, that hamstrings remain unpredictable. Let's see what Werth does this week in his workouts before counting on a Monday return.
Chase Utley, 2B, Philadelphia Phillies (placed on DL May 23):
Utley's knees haven't really been a topic of discussion this season since they haven't seemed to limit him thus far. Now, however, Utley is dealing with a different type of injury issue: a strained right oblique. The Phillies report it as a Grade 1 or minor strain, and the move to the DL reflects their desire to not allow it to worsen. Phillies GM Ruben Amaro Jr. offered a timetable of 2-4 weeks, which is certainly reasonable, adding, "We do believe and hope that Chase will be ready to play in Philadelphia within 15 days." The average missed time for an oblique strain in a hitter runs right around a month, but the most mild forms have allowed an athlete return after the minimum stay (such as
Freddie Freeman
earlier this season). Although there is some optimism Utley will be back after the 15 days, there's no reason for the team to rush him, especially this early in the season.
Trevor Plouffe, 3B, Minnesota Twins (placed on 7-day concussion DL May 22; expected to return Wednesday):
Plouffe took a knee to the head while sliding last Tuesday and was subsequently placed on the concussion DL. Concussions are the least predictable of all injuries, but based on Plouffe's fairly swift recovery so far, it appears the Twins will get him back the first day he's eligible to return. According to the Minneapolis Star-Tribune, Plouffe passed his neurocognitive (ImPACT) tests Thursday and participated in cardio work Friday, which shows progression. If he is able to perform baseball-related activities early this week without any recurrence of symptoms, it appears he will be cleared to rejoin his team's lineup Wednesday.
Wilkin Ramirez, OF, Twins (placed on 7-day concussion DL May 26):
Another collision, another concussion for a Twins player. Unlike the knee to the head Plouffe sustained, Ramirez was concussed making a defensive play in the outfield Saturday when he crashed into teammate
Josh Willingham
. According to the Minneapolis Star-Tribune, Ramirez was not originally on board with the DL designation, that is until he experienced queasiness during the team's flight home Sunday. Good job by the Twins, who certainly have had experience with complex concussions (think former AL MVP
Justin Morneau
). Now it will be a matter of waiting to see how Ramirez progresses throughout the next week.
Pitchers
Chris Perez, RP, Cleveland Indians (placed on DL May 27):
Perez is sidelined with right shoulder soreness, and he was placed on the disabled list for the first time in his major league career early Monday. He was forced to leave Sunday's game against the Red Sox early because of the shoulder, according to ESPN.com. "It kind of pinched on me and sent a little pain down my arm," Perez said. While any shoulder issue is of concern for a pitcher, this doesn't yet have the sounds of something major. It appears Perez at least needs some down time to let the symptoms settle, and he can then hopefully return to throwing. Hopefully.
Clay Buchholz, SP, Red Sox (day-to-day, expected to start at some point this week):
Buchholz was scratched from his Monday start after irritating his right acromioclavicular (AC) joint (the point of the shoulder), something he attributes to falling asleep on his side with his arm wrapped around his young daughter. The impression is that this is just a simple matter of delaying his start to account for the soreness, preventing him from compensating and potentially creating another problem. According to ESPNBoston.com, the plan is for Buchhholz to play catch Monday, and he expects to pitch again later this week.
[+] Enlarge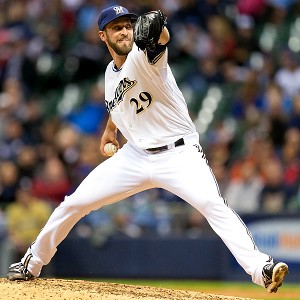 Jeff Hanisch/USA TODAY SportsJim Henderson is expected to get his closer job back once he returns from his hamstring injury.
Jim Henderson, RP, Milwaukee Brewers (placed on DL May 25):
Henderson left Friday night's game in the ninth inning after straining his right hamstring while trying to field a ground ball. After visiting with the team doctor Saturday, the decision was made to place Henderson on the disabled list, which would allow him some additional time off to recover. It sounds like it will be a closer-by-committee situation in Milwaukee until Henderson is ready to return, whether that's in two weeks or slightly longer.
Chris Sale, SP, Chicago White Sox (day-to-day):
Mild tendinitis in his posterior throwing shoulder was the diagnosis for Sale. While any inflammation in a thrower's shoulder is a cause for some concern, the Sox immediately indicated they expected Sale to return for his next start after being scratched last Wednesday. Those plans were confirmed after Sale played catch in the outfield prior to Saturday's game. Afterward, Sale said, "It felt a lot better than I actually thought it would be. Everything is on track, and I will be ready to go Tuesday." He was scheduled to follow up Saturday's session with a Sunday bullpen, and there has been no word of any setback.
If Sale returns without incident, there will be a big sigh of relief from his fantasy owners. But the specter of concern has been raised once again -- last year, there were some questions about whether he was dealing with an elbow injury in May, followed by a reported dead arm period in July -- which must remain in the back of our minds. The bigger question will be whether or not Sale can get through the remainder of the season without this turning into something more substantial.
David Price, SP, Tampa Bay Rays (placed on DL May 16):
Triceps tightness originally put Price on the DL, but nobody on the Rays seemed overly concerned. Manager Joe Maddon said he did not expect Price to miss more than two or three starts. Apparently there's now reason to be at least a little more concerned. Despite Price's assertions that his arm feels "great," he hasn't yet begun to throw. According to the Tampa Bay Times, playing catch hopefully will begin within the next few days, but Price will have to proceed through a throwing progression before returning the rotation, which could take an additional few weeks. So much for him missing only 2-3 starts; now there is no official timetable. Until Price actually starts throwing with effort, it's difficult to gauge whether the slow progress is as a result of the Rays taking a conservative approach with him or because of legitimate concern over the health of Price's arm.
[+] Enlarge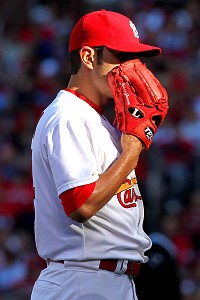 Dilip Vishwanat/Getty ImagesJaime Garcia finally succumbed to his shoulder injury.
Jaime Garcia, SP, St. Louis Cardinals (placed on DL May 18; done for the season):
Garcia tried to get through his shoulder injury without resorting to surgery, and he was successful in doing so for a few starts. His shoulder, like those of so many other pitchers before him, exhibited the wear and tear associated with overhead throwing in the form of labral damage. Eventually that damage made it impossible to throw. After consulting with Dr. James Andrews, Garcia is headed for surgery. It appears his operation will be performed by team physician Dr. George Paletta. The recovery typically requires about six months, meaning if all goes well, Garcia should be ready to return when the season gets under way in 2014.
Ryan Madson, RP, Los Angeles Angels (opened the season on DL; no timetable for return):
Every time it seems Madson is making progress in his recovery from Tommy John surgery, he seems to have some form of setback, which delays his return. The most recent incident occurred last week, when Madson developed soreness in his arm while throwing. Instead of beginning an anticipated rehab assignment with Triple-A Salt Lake, Madson has been shut down indefinitely. He is now 14 months post-surgery, and while the timetable for return following this procedure has a range of anywhere from nine to 16 months, the multiple setbacks Madson has experienced are discouraging.
Rarely is the road back to competition entirely uneventful, but Madson seems to have been pushed back with various episodes of discomfort a bit more than usual. At this point, the Angels seem to be getting solid production from
Ernesto Frieri
in the closer role, and it looks as if he will stay there for the foreseeable future. No doubt the Angels would like to see Madson return to the mound this year, but it has already proven to be slow going. For fantasy purposes, it's probably time to move along.
Jered Weaver, SP, Angels (placed on DL April 8; expected to return Wednesday):
It's always nicer to see someone
returning
from the disabled list as opposed to going on it, especially when it's your team's -- real or fantasy -- ace hurler. Weaver has been out for more than a month after sustaining a non-displaced fracture of his radial head
as a result of an awkward fall on the mound
. His road to recovery has been uneventful, with the latter part primarily focused on building up his arm strength to the point of being able to reclaim his spot in the rotation. The Angels have announced Weaver will return Wednesday to face the Angels' neighboring rival, the
Los Angeles Dodgers
, and fantasy owners should have no concerns about starting him right out of the gate.
Ryan Vogelsong, SP, Giants (placed on DL May 21; expected to miss eight weeks):
Vogelsong had not one break but two in his right (throwing) hand, an injury sustained while hitting last week. He underwent surgery last week which required five pins to stabilize the fractures, according to manager Bruce Bochy, and he will need time for the bone to show evidence of healing before he can resume throwing. He will then need additional time to regain throwing strength. Given the projected timeline, expect Vogelsong to be out until well after the All-Star break.
May, 13, 2013
5/13/13
4:42
PM ET
Every Monday in this space, we'll provide updates on a variety of players to help you make your weekly lineup decisions. We'll specifically try to hit the players who are day-to-day, have just gone on the DL or are ready to return, so that you can better decide whether you can count on them or not.
All projected return timelines should be considered fluid.
Hitters
Jason Heyward, OF, Atlanta Braves (placed on DL April 21, could return this week):
Heyward went on the disabled list following an emergency appendectomy, so at least there's comfort in knowing this is not going to be a recurrent problem. Now it's just a matter of when he will return … and when he'll be effective.
Heyward has been on a rehab assignment for several days at Triple-A Gwinnett, and other than some soreness that warranted a day off, his stint has been uneventful from a health perspective. It also has been uneventful at the plate, that is until Sunday, when he finally started hitting. The Braves don't have an exact date for his return, but he's expected to rejoin the team at some point this week.
[+] Enlarge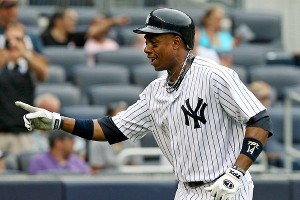 AP Photo/Seth WenigCurtis Granderson could return to the Yankees as early as Tuesday.
Curtis Granderson, OF, New York Yankees (opened season on DL, could return this week):
It's only fair that the Yankees actually get a player
back
from the DL after adding more and more players to it this season. Granderson's recovery and rehab have been totally uneventful, just the way the medical staff likes it. He has been crossing "to do" items off the list during his rehab assignment: He has faced both left- and right-handed pitching, played defense and played both day and night games. Perhaps most importantly, Granderson has not shown any lingering apprehension from getting hit by a pitch this spring. As he told the Yankees' official website regarding his rehab at-bats, "There was no recall of the injury. There's going to be pitches inside, I'm going to get hit again, but you got to stay in."
The Yankees would like it if he stays healthy and stays in. There's every indication he will come back and be productive immediately, and that return could happen any day now, potentially as early as Tuesday, when the Yankees open a series at home.
Coco Crisp, OF, Oakland Athletics (placed on DL April 30, could return this week):
Crisp strained his left hamstring trying to run out a ground ball in the A's seemingly never-ending Monday night game nearly two weeks ago. Fortunately, the strain appeared mild and Crisp could potentially attempt to run the bases soon, according to the San Francisco Chronicle. Obviously his tolerance of running will help determine his readiness to return -- manager Bob Melvin told reporters Crisp might not need a formal rehab assignment -- but as is always the case with hamstrings, until he runs in games without a setback, it will be impossible to tell just how healthy he is.
Chris Young, OF, A's (placed on DL April 30, could return Wednesday):
The A's hope to get another outfielder with a soft tissue injury back soon. Just as Coco Crisp recovers from his hamstring, Young is working to get past a left quad strain that has sidelined him the past couple of weeks. After passing the necessary rehab clearances, Young is expected to get some at-bats in extended spring training games during the early part of the week, according to the A's official website. If all goes well, he could return when eligible on Wednesday.
Neil Walker, 2B, Pittsburgh Pirates (placed on DL retroactive to April 27, expected to return Monday):
Two weeks ago in this space, I wrote about how the Pirates hoped to return Walker within days if he could swing the bat effectively. Clearly he could not, and the decision was made to place him on the DL. After beginning a rehab assignment last Thursday, it seems Walker has shown he has moved past the injury, and his return appears imminent.
Michael Cuddyer, OF, Colorado Rockies (placed on DL retroactive to May 9):
Cuddyer had already missed three games with what he referred to as inflammation in his neck, related to a disc problem. Now it's clear he will be missing a few more. This is not Cuddyer's first episode of neck pain, but it appears to be the first time it has forced him on the DL. The hope is that the symptoms are limited to his neck and that it won't progress into his shoulder or arm. Rest is the best option for him in the short term, but given the variability of these types of ailments, a definitive timetable is difficult to determine. The soonest he can return is May 24, if his neck cooperates.
Jayson Werth, OF, Washington Nationals (placed on DL retroactive to May 3):
This doesn't come as a huge surprise after Werth's hamstring continued to bother him despite missing the past eight games. If there is any good news, it's that it can be backdated to the last time Werth saw the field, making him eligible to return May 18. Whether he will be able to actually run at full speed by the end of this week remains to be seen. The Nationals have also indicated they believe dehydration was a factor in Werth's repeated muscle cramping.
The hope is that all will be under control and back to normal by the end of the week, although fantasy owners might want to wait until next week to insert him into their lineup.
Adrian Gonzalez, 1B, Los Angeles Dodgers (day-to-day):
Gonzalez has been dealing with a minor muscular strain in his neck, recently aggravated when he and an umpire crossed paths as he was attempting to field a ground ball. An MRI revealed little of significance and Gonzalez returned to play late last week. However, he promptly aggravated it again, then sat out Sunday's game.
This is what falls under the header of "annoying" injuries, frustrating to the athlete because of the come-and-go pattern and difficult to predict in terms of behavior and severity. It does not look as if Gonzalez is in danger of going on the DL, but fantasy owners will want to check daily lineups until he is playing consistently.
Austin Jackson, OF, Detroit Tigers (placed on DL retroactive to May 12):
Another outfielder, another hamstring injury. It seems to be quite the injury trend this week. Also a trend: Teams opting to send players to the disabled list for seemingly minor strains early in the season, not wanting to risk a more severe injury. That makes sense. Teams as a whole seem to be offering their players a couple of days to test the effects of rest, but if there are any lingering warning signs, they waste little time scaling the athlete back (in the form of a DL stint). The hope then is that the player will miss the minimal amount of time, and Jackson's case is no different.
[+] Enlarge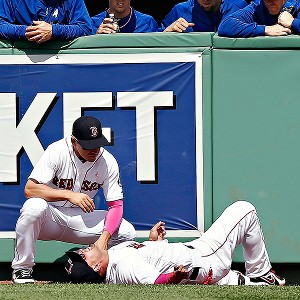 AP Photo/Winslow TownsonShane Victorino (lying down) collided with the outfield wall Sunday at Fenway Park.
Shane Victorino, OF, Boston Red Sox (day-to-day):
After missing a week due to spasms in his back, Victorino returned to action May 3. He seemed to be faring well ... until he ran into the outfield wall Sunday, ultimately requiring a trip to the hospital to be examined. As bad as it looked -- and perhaps felt -- Victorino appears to have escaped major injury. According to ESPN Boston, X-rays on his ribs came back negative, and manager John Farrell says Victorino should be ready to play Tuesday after the team's off day Monday. The hope is that this collision will not wake up the painful spasms in his low back again, and so far there has been no word of that. If Victorino does return Tuesday, that will be a good sign that he should be available going forward.
Desmond Jennings, OF, Tampa Bay Rays (day-to-day):
Jennings has missed a few games with a minor groin strain, but the Rays seem fairly confident they will have him back Tuesday. Jennings has downplayed the injury since it first cropped up last week, suggesting he could play if necessary. Given that it's May and not September, manager Joe Maddon opted to rest Jennings for several days. The proof that it is not anything to worry about will come when Jennings returns to action for consecutive days without incident.
Pitchers
Zack Greinke, SP, Los Angeles Dodgers (placed on DL April 12, could return Wednesday):
When Greinke was injured in the brawl with
Carlos Quentin
, no one knew what to expect since a clavicle fracture in the non-throwing arm of a pitcher is not exactly your everyday injury. As soon as the Dodgers announced he was undergoing surgery to stabilize the fracture, his prognosis for return actually improved, as it appeared he would not face as much down time from throwing.
Turns out that was an accurate assessment. Despite the Dodgers' (understandably) conservative eight-week projection, Greinke appears poised to possibly return this week, which would mark 4 1/2 weeks post-surgery. He has passed the point of having discomfort and pitched in high Class A ball last Friday. His velocity is up where he left off at the time of injury, and he appears from a functional standpoint to be ready to pitch in the majors. The final remaining hurdle is whether the bone has healed to the point where the team is comfortable with him absorbing contact. (The high Class A outing afforded him the opportunity to pitch with a DH in the lineup; when he returns to the Dodgers, he will need to hit, run and potentially absorb contact should there be a collision). Expect those clearing tests to be performed over the next 24 hours and a decision to be forthcoming shortly after. If the team opts to hold Greinke out of a return to the majors Wednesday, he would likely get another rehab start this week and rejoin the team next week.
Brett Anderson, SP, A's (placed on DL April 30, could return Friday):
After originally spraining his ankle in mid-April, it looked as if Anderson could avoid a DL stint with some rest. But he got called into service in the A's marathon game a couple of weeks ago and it set him back, forcing the DL stint. With a pitcher so recently removed from Tommy John surgery, it's probably for the best that he allow the ankle to recover sufficiently to not threaten his throwing mechanics and, consequently, the health of his arm. According to the San Francisco Chronicle, Anderson is likely to rejoin the rotation Friday.
Ryan Madson, RP, Los Angeles Angels (opened the season on DL, could return this week):
Madson's return following last April's Tommy John surgery has been delayed due to the soreness he experienced this spring. The delays aren't highly unusual, but it does bode for a gradual progression even as he returns to his major league team. Madson has been pitching in extended spring training and will begin a rehab assignment this week. He might not spend much time there, as the team could bring him up to the majors to build further endurance in that setting. As the Los Angeles Times has reported, he will not be the closer immediately upon return, and how the Angels opt to use him will likely depend on what they see from him as he resumes big league action.
[+] Enlarge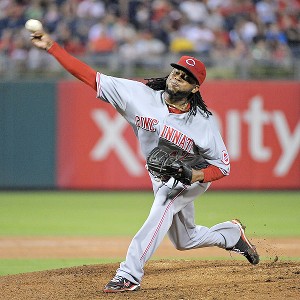 Eric Hartline/US PresswireHe's been out of sight, out of mind, but it shouldn't be forgotten that Johnny Cueto finished 13th among all pitchers on the ESPN Player Rater in 2012.
Johnny Cueto, SP, Cincinnati Reds (placed on DL April 15, could return within one to two weeks):
Cueto's original ailment was reported as a triceps injury, then was modified to a lat strain (more typical for a pitcher). But as he was recovering from that injury, he developed soreness in his oblique, a pitcher's nemesis, forcing a slowdown in his return schedule. Now Cueto seems to have cleared most of the major obstacles in his recovery and has initiated a rehab assignment. His next rehab outing is slated for Tuesday, and the Cincinnati Enquirer is reporting he could return to the Reds' rotation May 19.
It's entirely possible the team opts for another rehab start, depending on what they see during his outing this week and how Cueto feels after consecutive starts. Either way, it appears that, barring a setback, his return is not far off.
Andrew Bailey, RP, Boston Red Sox (placed on DL retroactive to April 29, could return within a week):
Bailey is eligible to return from the DL on Wednesday, but the club could still opt to send him out on a rehab assignment, pushing back that return. Bailey went on the disabled list with a biceps strain, a bit more worrisome than the one that sidelined teammate
John Lackey
because of the location of Bailey's symptoms (higher, closer to the shoulder). As noted in this space last week, Bailey has been plagued by a series of injuries, but he started the season strong for the Red Sox. With
Joel Hanrahan
now out for the remainder of the season, it would seem Bailey has the opportunity to recapture his closer role from
Junichi Tazawa
, if he can stay healthy. Considering his history, particularly in light of this current ailment, that's a big if. Even if Bailey returns without a rehab assignment, the bigger question will be how long he can go without a potential flare-up.
Chris Perez, RP, Cleveland Indians (day-to-day):
As he began to warm up Sunday before entering the game in relief, Perez experienced what the team is calling "stiffness" in his throwing shoulder. Manager Terry Francona opted not to press his luck and rested Perez instead. At this point, it doesn't appear to warrant major concern, but it does warrant you keeping an eye on the situation. Unless he's scratched again this week, consider this just a bump in the road.
Jake Westbrook, SP, St. Louis Cardinals (placed on DL May 12):
Westbrook becomes the latest pitcher to hit the disabled list with inflammation in his elbow. According to ESPN's Jim Bowden, Westbrook received a cortisone injection in his elbow. Expect several days of rest with a gradual increase in activity to see if he can resume throwing. Until he reaches that point, it will be difficult to project the length of his absence.
Wei-Yin Chen, SP, Baltimore Orioles (day-to-day):
After getting his team off to a good start Sunday, Chen was forced to leave the game early because of a strained oblique. He was scheduled to undergo an MRI Monday, and it would not be surprising if this results in a trip to the DL. The typical absence for a pitcher runs on the order of a month, so if it is serious enough to warrant the trip, plan on not having him available for approximately four weeks.
April, 10, 2013
4/10/13
12:20
PM ET
The normal focus heading into any game is who is in the starting lineup. But this year is anything but normal, especially for the Yankees, when it comes to starting lineups. Injuries have hit the Yankees so hard in the offseason, with a couple scares early in the season too, that their DL roster could be confused with a starting lineup. Since many Yankees stars will be out for Wednesday's game against the Indians (7 p.m. ET, ESPN2 and WatchESPN), it seemed appropriate to provide some quick updates on their collective road to recovery.
Hitters:Curtis Granderson, OF
(injured Feb. 24, due back mid-May): Even Granderson was surprised when the "bruise" from a
J.A. Happ
fastball in a spring exhibition game turned out to be a fracture. Granderson has remained focused on conditioning ever since so that once the healing in his arm permitted it, he would be able to get baseball-ready in short order. Manager Joe Girardi says Granderson could hit soft toss or off a tee as soon as this weekend, keeping him on track for a mid-May return.
[+] Enlarge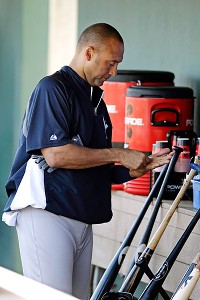 AP Photo/Kathy WillensDerek Jeter is still a ways off from being able to rejoin the Yankees starting lineup.
Derek Jeter, SS
(injured in October, no timetable for return): It almost feels as if once Jeter realized he could not make Opening Day, the reset button was hit on his return clock. Jeter was pushing to be back by the start of the season, but his still-healing 38-year-old ankle would not cooperate. It's hardly a failure -- except perhaps to the ultracompetitive, hardworking athlete that Jeter is -- that he could not get to game readiness by Opening Day; recovery from this type of surgery (plates and screws in the lower leg to restore ankle stability) takes months to heal and additional months to return to every-day playing form. Jeter is working out in Tampa, Fla., doing baseball drills and, most importantly, progressing his running from water to land. The team (wisely) will not hear of his return until he can play in minor league games on back-to-back days, something which is still a ways off. The Yankees are not being coy about a timetable; it is a stepwise process where the next level of activity is dictated by response to the previous level. Jeter is as day-to-day as they come, but based on what he is doing, it appears as if early May is in his sights.
Mark Teixeira, 1B
(injured March 5, due back in May): Teixeira hopes he will avoid the fate of Blue Jays outfielder
Jose Bautista
, who also suffered a partially torn tendon sheath, which ultimately required surgery. Teixeira's right wrist was immobilized after his injury in the hopes that the sheath would heal itself, and he says he did not experience any instability of the tendon itself -- something Bautista did feel, which led him to surgery. All reports of Teixeira's progress have been excellent so far. On April 1, he was permitted to remove the brace (other than for workouts), and he has been focusing on strengthening exercises for his wrist and forearm. He still has not been cleared to swing a bat, and doing so, especially from the left side -- the side he bats from primarily and also the way in which he was originally hurt -- will be the ultimate test. Even if the early swings are uneventful, the big challenge will be when he returns to hitting in a game situation, going all out on his swing repeatedly. Teixeira hopes he can return by the start of May, but there will be no rush. After all, if the sheath re-tears or he proves unable to function at the plate, he will find himself following in Bautista's footsteps into the operating room.
Alex Rodriguez, 3B
(estimated back around All-Star break): There hasn't been much to report on Rodriguez because, well, he has remained mostly hidden from view. When he did emerge to meet the media on Opening Day, Rodriguez merely confirmed that he was dedicating himself to the rehab of his surgically repaired left hip. He was guarded about his progress, saying he was in "Stage 1" of his recovery. Based on the surgical procedure to address hip impingement along with a labral repair, it is reasonable to expect Rodriguez to be ready around the second half of the season. But until he is participating in baseball activities and approaching minor league games, it's too early to make any definitive claims.
Pitchers:
Phil Hughes, SP
(returned April 6): After a bulging disc in his back derailed Hughes' spring, the Yankees were just glad to have him back the first week in April, even if the outing was unspectacular. Perhaps they are happier that he appeared to suffer no physical setback and is in line to take the mound again Thursday.
Hiroki Kuroda, SP
(no missed time): This is what you call dodging a bullet. Kuroda was hit by a line drive on the middle finger of his pitching hand, fortunately sustaining no break in the bone but a scare nonetheless. There was concern whether he would be able to make his subsequent start, but Kuroda pitched Monday, pain and all. At least the Yankees avoided sending yet another key player to the DL.
Michael Pineda, SP
(surgery May 2012, due back June/July): Pineda's debut season with the Yankees went exactly the opposite of how everyone envisioned it and ended abruptly with him undergoing surgery to repair a torn labrum. The rehab has been long and arduous, and Pineda has used the time to get in better physical shape, something he unquestionably needed to do. While there are never any guarantees as to how a pitcher will perform following shoulder surgery, recent signs of Pineda's recovery and his young age are encouraging. He has been throwing bullpen sessions, even incorporating breaking pitches in the past month. He still has a ways to go before he can definitively return to healthy status, but there is reason to be optimistic he will contribute in the second half.
Meanwhile, in the Indians training room ...
I certainly couldn't leave Cleveland completely out of the conversation. While the Indians can't compete with the Yankees when it comes to starters on the DL, they do have one injury concern.
Carlos Santana, C
(DTD): Santana bruised his left thumb Monday when he absorbed a fastball from
Chris Perez
. X-rays came back negative, but given that the impact was such that even Santana thought he broke it initially, don't be surprised if he's out for a few days.
March, 29, 2013
3/29/13
11:38
AM ET
With the regular season just about to start, here's a list of notable injury situations and their timetable for a return. Fantasy owners can and should adjust their lineups or draft strategies accordingly.
Notes:
1. All projections reflect expectations as of March 29 and should be considered fluid after that date.2. Opening Day ready = Expected to be "active" on Opening Day, not necessarily in lineup on Opening Day. For pitchers, first game depends on where slotted in rotation.
Hitters
[+] Enlarge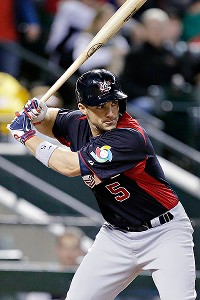 AP Photo/Charlie RiedelDavid Wright was playing well at the WBC before getting hurt, but he appears to be on track for Opening Day.
David Wright, 3B, New York Mets (Opening Day ready):
Wright strained an intercostal (rib cage) muscle during the World Baseball Classic, but rest and rehab seem to have done the trick. Potential for setback in the first few weeks exists, but this guy rarely misses time.
Brett Lawrie, 3B, Toronto Blue Jays (due back April):
Intercostal strain will sideline him into the first week or two of the season, but a cautious return should help prevent a setback. Bigger concern is tendency to play with reckless abandon. Fun to watch, but may increase risk.
Pablo Sandoval, 3B, San Francisco Giants (Opening Day ready):
An irritated ulnar nerve forced Panda to rest for several days in March, but he claims he's ready to return. I admire his enthusiasm but can't say definitively that this is behind him.
Chase Headley, 3B, San Diego Padres (due back late April):
Left thumb fracture will delay Headley's regular-season debut by about a month. The good news is that it shouldn't hinder him after he returns.
Curtis Granderson, OF, New York Yankees (due back mid-May):
No surgery needed for Granderson's small fracture. No reason to worry about his ability to produce once he returns to the lineup.
Hanley Ramirez, SS/3B, Los Angeles Dodgers (due back mid- to late-May):
Ramirez will miss a couple months of playing time following surgery to repair his torn thumb ligament. The concern is that his performance at the plate could suffer a bit longer.
David Freese, 3B, St. Louis Cardinals (due back April):
His back injury doesn't appear serious, but the Cardinals want Freese to see more at-bats before his regular-season debut. Recurrence is possible, but the minor nature of this episode keeps the worry factor low.
[+] Enlarge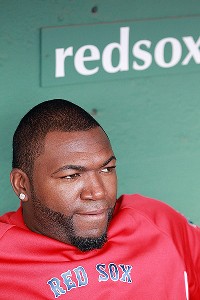 Jim Rogash/Getty ImagesIt's still uncertain when David Ortiz will be ready for this season.
David Ortiz, DH, Boston Red Sox (no timetable):
Ortiz continues to have trouble with his Achilles, despite trying to address it in the offseason. Although he's now swinging the bat, it's hard to imagine him being fully healthy for any long stretches.
Derek Jeter, SS, New York Yankees (due back April):
Jeter's post-surgery soreness is not unusual. In fact, it will likely take a few months for his ankle to feel normal again. He may return in April but he may not
really
return until June.
Mark Teixeira, 1B, New York Yankees (due back May/June):
A partially torn tendon sheath is what
Jose Bautista
had ... and then he had surgery. Teixeira's wrist may heal with rest, but if it doesn't, the power on the left side of the plate won't be there and he may not last long, either.
Corey Hart, 1B/OF, Milwaukee Brewers (due back May):
The key to Hart's post-surgical knee staying healthy is not returning too soon. The team has been good about controlling his activity thus far, so don't expect them to rush him now. Late May is the most likely scenario.
Brian McCann, C, Atlanta Braves (due back April/May):
He's recently returned to hitting, but restrictions on McCann's post-labral repaired throwing shoulder remain in place. Once he returns, it may take a bit to ramp up, but look for a strong second half.
Alex Rodriguez, 3B, New York Yankees (due back around All-Star Break):
If he's rehabbing as diligently as he says, Rodriguez should be poised for an uneventful return. The hip may be healthy, but he's still an aging player with mounting injury concerns.
Starting Pitchers
For a more thorough progress report of pitchers returning from injury or surgery,
see this blog entry
.
[+] Enlarge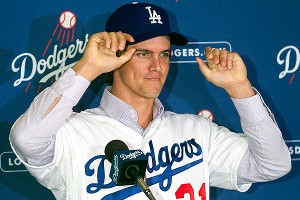 AP Photo/Damian DovarganesZack Greinke has caused much concern this spring with his elbow issues and overall poor numbers.
Zack Greinke, Los Angeles Dodgers (Opening Day ready):
Right elbow inflammation in the spring should scare a team that spent $147 million and fantasy owners alike. Greinke says the elbow feels OK, but his performance is shaky. It's not exactly confidence-inspiring.
Jaime Garcia, St. Louis Cardinals (Opening Day ready):
He opted for rehab instead of surgery for a small (left) rotator cuff tear and has been fine through a handful of spring outings. Starting season strong, but will he last?
Roy Halladay, Philadelphia Phillies (Opening Day ready):
Halladay insists there's no injury, but his performance this spring is a concern. Last year he said there was no injury, either. Then he went on the DL and missed nearly two months. This could be the start of the talented veteran's decline.
C.J. Wilson, Los Angeles Angels (Opening Day ready):
Underwent arthroscopic surgery in October to address a bone spur and has had no issues with the elbow this spring. Consider this: He's had only two DL stints in his big league career. Aging but durable. Low level of concern.
Phil Hughes, New York Yankees (due back early April):
A bulging disc in his back derailed Hughes' spring. He has bounced back quickly, but let's face it, injuries are always going to be a concern with Hughes.
Matt Garza, Chicago Cubs (due back May):
Ended last season with stress fracture in right elbow, started this spring with strained lat. Sum total of injuries raises concern.
Shaun Marcum, New York Mets (Opening Day uncertain):
Elbow issues last year, now shoulder and neck this spring. Don't like where this is headed. Even if he avoids the DL now, it may only be a matter of time.
Brandon Beachy, Atlanta Braves (due back June/July):
On track post-Tommy John surgery. No major concerns, just temper expectations to the typical ups and downs of the first year back.
Relief Pitchers
Jason Motte, St. Louis Cardinals (no timetable, expected to start season on DL):
Diagnosed with a "small" tear in his flexor tendon, Motte is reportedly feeling better. He will have to prove he can throw without pain before returning, then hope the injury doesn't worsen across the season.
Ryan Madson, Los Angeles Angels (due back April):
After Tommy John surgery last April, Madson is closing in on a return. But the normal inconsistencies that a pitcher first displays after this operation -- and a guy named
Ernesto Frieri
-- suggest Madson isn't a lock to close.
Casey Janssen, Toronto Blue Jays (Opening Day ready):
After November surgery on his AC joint, a slow spring initially threatened Janssen's Opening Day status. He's recently turned a corner but there's still a bit of concern about how an uptick in work (think:
frequency
) will affect him.
May, 5, 2010
5/05/10
12:52
PM ET
Another week, another slew of injuries. This week, though, in addition to adding names to the injury roster, we learned that several players are going to be spending some additional time on the disabled list. Never music to a fantasy owner's ears but it's always better to be prepared.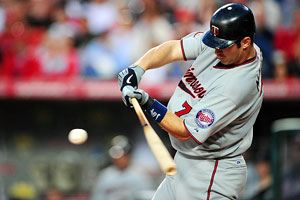 Gary A. Vasquez/US PresswireJoe Mauer may miss a few more games, but he probably isn't "week-to-week" as Twins manager Ron Gardenhire mentioned earlier.
Joe Mauer, C, Minnesota Twins (day-to-day):
Mauer has been dealing with a deep bruise in his left heel since Friday night when a sharp lunge to first base left him in pain. It sounded dire by Sunday when manager Ron Gardenhire described Mauer's condition as "week-to-week" instead of day-to-day. Gardenhire also made it clear the Twins would not be rushing Mauer back, telling the Minneapolis Star-Tribune, this injury is "something you don't screw around with."
It now sounds like it's not as bad as it could have been. According to the Twins' website, an MRI confirmed a soft tissue injury (as in, there is no fracture) and the healing will be assessed on a daily basis. Mauer is reportedly feeling better and is running in a pool to maintain conditioning while eliminating impact that could aggravate the situation. It appears that the Twins have avoided a move to the DL for Mauer ... at least so far.
Rafael Furcal, SS, Los Angeles Dodgers (15-day DL, retroactive to April 28):
Furcal has been pestered by a hamstring injury for the last week. On Tuesday, the Dodgers determined that more time was needed and the decision was made to place Furcal on the DL. The issue now is how concerned fantasy owners should be. Does the DL just buy Furcal another week of healing time or is this injury enough to keep him out significantly longer?
Before panic sets in, it appears that the answer is the former. Furcal has been progressing well with his hamstring injury but is not quite ready to resume full speed activity. As a shortstop, he needs to make explosive defensive movements. As a leadoff hitter, he is likely to be exposed to more sprinting situations. Consequently, Furcal is at far greater risk of a setback if he returns at less than full strength. Since it's May and not September, there is no reason for the Dodgers to take that chance. The move to the DL appears to have been largely precautionary. Expect Furcal to return when eligible, barring, of course, a setback.
Manny Ramirez, OF, Los Angeles Dodgers (15-day DL, April 23):
Speaking of Dodgers placed on the DL for precautionary reasons, Ramirez began a rehab assignment Tuesday and the news is so far, so good. Ramirez, who suffered a Grade I calf strain, has been running without incident for several days. He is eligible to return May 9 and appears on track to meet that target.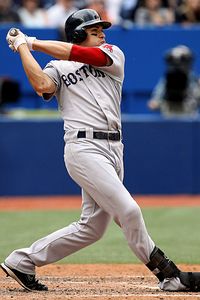 Tom Szczerbowski/US PresswireJacoby Ellsbury would like to be comfortable swinging the bat before he returns from four broken ribs.
Jacoby Ellsbury, OF, Boston Red Sox (15-day DL, retroactive to April 12):
Ellsbury continues to recover from the pain that comes with having four broken ribs.
From last week's injury blog:
Although it can take four to six weeks for a rib fracture to heal, from the standpoint of activity this is a symptom-based condition meaning whatever he can tolerate, he can do. The fact that four bones were broken, however, tells us that it will take longer to tolerate just about everything.
That statement still holds true. The Boston Globe reported that when pressed for a timetable earlier in the week, Ellsbury declined to provide one, reminding everyone that he does indeed have broken bones "and they need to heal." It may feel like forever to fantasy owners, but it's only been three weeks, very reasonable when you consider his injury.
Ellsbury did take a positive step Tuesday when, according to the Red Sox's website, he took batting practice before the team's game against the
Los Angeles Angels
. Let's see how Ellsbury feels the day after this new activity before we get too excited. And keep in mind, he likely will require a rehab assignment to get his body back in the groove of playing both offense and defense. He may very well be more than just a few days away from returning. The road back may continue to feel slow, but at least we are seeing some tangible progress.
Jimmy Rollins, SS, Philadelphia Phillies (15-day DL, April 13):
A week ago, we pointed out that Rollins had not done any explosive movement that would really test his calf; now we know why. According to the Phillies' website, Rollins still feels discomfort in his right calf when he has to move to his left while fielding ground balls. This makes perfect sense from an injury standpoint. As he makes that initial lateral movement to make a play on a ground ball traveling to his left, he is forced to push his full body weight through that calf muscle. While it might not be bothersome in straight-ahead running, making a quick directional movement from a stationary position requires significantly more power. The discomfort Rollins feels is his calf's way of telling him that it's not healed.
Consequently, the Phillies have expanded the time frame for his return from four weeks to six. This is hardly shocking; we have said from the outset that these injuries are unpredictable and easily aggravated. The Phillies don't want him to come back only to be forced out again. The idea is to have him back for the remainder of the season. Fantasy owners should set their sights on the latter part of May.
Kerry Wood, RP, Cleveland Indians (15-day DL, retroactive to March 26):
Last week we said that Wood was scheduled to begin a rehab assignment soon. He did. We also said that when pitchers face live hitters, the adrenaline goes up and the body can react. It's also a time for pitchers to work on their velocity and location. Wood had a chance to get some work in and found out what he still needed to work on before rejoining his team.
Wood may have given up six runs in less than an inning in a rehab outing, but on the positive side, he reported feeling good afterward. Wood told the Akron Beacon Journal, "that's the most important thing for me." Certainly given his injury history that couldn't be more true. Wood may require another couple rehab appearances before he retakes the closer role with the Indians but his return date appears close.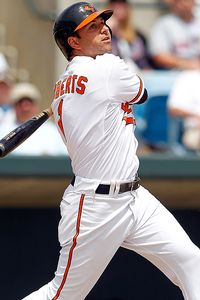 J. Meric/Getty ImagesBrian Roberts' seemingly uncertain return frustrates many owners.
Brian Roberts, 2B, Baltimore Orioles (15-day DL, April 10):
The quote heard 'round the fantasy world: "It could be three weeks, it could be three months" was Roberts' assessment of his situation, according to the Orioles' website. For fantasy owners wondering whether they should still hold out any hope, it's worth noting that Roberts was quick to add that he did not really think it would be three months.
Nonetheless, we have outlined here in past weeks that Roberts' back condition has the potential not only to linger, but to continue to be problematic across the season. Disc problems are notoriously difficult and this is behaving no differently. Roberts is still very limited in his activity as the team brings him along slowly. Because there are many hurdles to overcome, it is hard to establish a clear timeline. That brings frustration for players and fantasy owners. At this point, it's anyone's guess, including Roberts', as to when he'll be able to return.
Curtis Granderson, OF, New York Yankees (15-day DL, May 2):
When Granderson pulled up sharply while rounding the bases Saturday and hobbled toward third base. it was obvious he had pulled something, it just wasn't clear exactly what it was. We have learned that he suffered a Grade II groin strain, and according to ESPN's Buster Olney, Granderson is expected to miss a month.
This is not dissimilar to the Grade II muscle strain that the Phillies' Rollins is dealing with, other than the exact location of the injury. Grade II, also called a moderate strain, represents the widest range of injury somewhere between a minor strain with no visible tissue damage (Grade I) and a complete muscle tear (Grade III). As we have seen with Rollins, it takes time for the tissue to heal, and the most challenging aspect of recovery is regaining explosiveness and speed, a critical component of Granderson's game. Fantasy owners should hope for four weeks, be prepared for six and know that his timetable could still fall outside of those parameters depending how his rehab goes.
Jorge Posada, C, New York Yankees (day-to-day):
Posada's calf strain is being called mild following an MRI this week. According to the New York Daily News, Posada is not expected back before Friday. Let's face it, at age 38, these types of injuries are more apt to occur. The most fortunate thing for the Yankees is that the strain was not more serious, like Rollins' was. It looks like this will not land Posada on the DL, but if it doesn't progress as expected, he won't be an automatic start for the weekend series, even if it is the Red Sox. Fantasy owners need to be sure to check pregame lineups.
Etc.
Cliff Lee, SP, Seattle Mariners:
If there were any lingering doubts as to how Lee would fare coming off the DL following his abdominal strain, he seems to have put those to rest. Lee pitched seven scoreless innings in his first start of the season while dishing up eight strikeouts.
Mike Cameron, OF, Boston Red Sox:
Cameron seems to be progressing nicely with an abdominal strain that initially appeared as if it might require surgery. In fact, he could be headed for a rehab assignment within a week.
Erik Bedard, SP, Seattle Mariners:
Bedard continues to move forward in his throwing progression, slightly ahead of schedule as he recovers from shoulder surgery. After a bullpen session Friday, Bedard was projected to move up to a simulated game this week. According to manager Don Wakamatsu, Bedard has adjusted his mechanics to place less stress on his throwing shoulder. The key will be whether he can maintain these mechanics as he begins to face hitters. The best case has him returning the end of May, but don't be surprised if it stretches a bit longer.
Mariano Rivera, RP, New York Yankees:
Rivera shrugged off the stiffness in his left side as no big deal, much as one would expect. Pain on the opposite side of the trunk from the throwing arm always raises the specter of an oblique issue, but Rivera's confidence is convincing. So is the fact he threw a bullpen session before Tuesday's game. This does not appear to be something that will limit him beyond a few days.
Huston Street, RP, Colorado Rockies:
As a pitcher returns in his throwing progression, one big hurdle comes when he moves from throwing on flat ground to throwing off a mound. Street overcame that hurdle Tuesday when he threw a bullpen session and experienced no discomfort in his shoulder afterward, according to the Examiner. The plan is for Street to throw in an extended spring training game next followed by a rehab assignment. If all goes well, he should be back with the team within a few weeks.
Jeff Weaver, SP, Los Angeles Dodgers:
Weaver has been doing well in his simulated games and is expected to be activated Friday. Apparently the back issue he was dealing with was minor as these things go and he has recovered quickly, as expected.
From my mailbag
Cameron (Atlanta):
Are any injuries really freak injuries? I mean, I realize that if a player slips on water in his kitchen and falls on his wrist and breaks it, then that is a freak injury. But, you often hear that somebody pulled their hamstring in a "freak injury." I would have to argue that it is never really a freak injury. I think these types of injuries happen for various reasons, especially in a non-contact sport such as baseball. For example, someone is carrying around extra weight and didn't put in the work in the offseason, they didn't warm up and stretch properly, they have tight quads or hamstrings that cause one or the other to overcompensate that eventually leads to a pull or strain. Or one part of the body has been severely overworked and leads to another part of the body being vulnerable. If any of those situations happen, then technically the injury could have been prevented if the athlete worked harder and took better care of their body. What say you?
Stephania Bell:
What a great question! This is one of those philosophical questions where I'm not sure we really ever have a definitive answer. As you point out, the true "accident" such as slipping on the wet floor, or stepping in a lawn divot that is hidden from view, even a car accident in which there is no fault on the part of the injured party ... these could all be described as freak injuries.
At the same time, there are certainly "unusual" (as in uncommon) injuries that occur in sports that may be more likely to happen, as you point out, because of inadequate warm-up, less than ideal fitness or some other contributing factor. In medicine, we always feel that individuals with better fitness tend to recover better and faster from injury. In some cases, the more skilled individual may even be able to avoid an injury that would have felled the average person. To that end, we spend a lot of time encouraging proper fitness and, when possible, tailoring that fitness to the individual's activity. Someone who lifts repeatedly at work needs to be "fit" for that job, just as a baseball pitcher needs to tailor his exercise program to support his occupation.
Great food for thought, though. And if it encourages anyone to spend a little extra time on core strengthening or flexibility to help prevent injury, then we've accomplished something!
If you have any injury questions you want answered in the blog, drop a note in
my mailbag
, or stop by my Tuesday chats.
April, 22, 2008
4/22/08
10:58
AM ET
By
Stephania Bell, ESPN.com
| ESPN.com
It seems there have been plenty of viruses floating around baseball this spring.
First it was the "back spasm" virus that pitchers
Josh Beckett
and
Andy Pettitte
caught. Luckily, that virus was short-lived, and both pitchers have recovered nicely to return to their respective rotations. Then, along came the "hamstring strain" virus, which seems to have felled hurlers (
Pedro Martinez
,
Tom Glavine
) and hitters (
Carlos Pena
,
Howie Kendrick
) alike. Most recently, the "quadriceps strain" virus has infiltrated several teams, and apparently it is contagious. Yankees third baseman
Alex Rodriguez
went down with a quad strain over the weekend, only days after
Derek Jeter
returned from one. Atlanta's
Chipper Jones
is also fighting off this particular virus.
Of course these injuries are not viruses at all, but their rapid dispersal among so many clubs is reminiscent of viral behavior. It does make one wonder if there is something to be studied here to try to understand why baseball players seem to be more susceptible to certain types of ailments. Hmm. In the meantime, let's look at the recent injuries.
Jimmy Rollins, SS, Phillies:
In a move that took many by surprise, Rollins was placed on the DL Sunday because of the left ankle he sprained nearly two weeks ago. Unfortunately, the move could not be made retroactive to a prior date since Rollins pinch hit in Saturday's game, so it will be at least two more weeks before we see him return to the lineup.
Rollins told Peter Gammons during ESPN's "Sunday Night Baseball" that his ankle sprain did not seem severe, with only minimal swelling initially, but his improvement had reached a plateau that was short of game readiness. Rollins was still having trouble with lateral movement to his left, not an uncommon final hurdle for ankle sprains, and given the demands of his defensive position and his role as a base stealer, Rollins felt he couldn't perform close enough to his ability. The pinch-hitting episodes likely didn't help either since the rotation required to swing a bat no doubt stressed the ankle and might have been one of the true indications that Rollins was not quite ready to return. In fact, Rollins swung at the first pitch in his pinch-hit appearance Saturday, and he told MLB.com that he was a "one-legged hitter after that."
The challenge with any rehabilitation process is that sometimes it is only after testing the injured area with high-level activity that it becomes clear that the athlete is not fully ready. Might it have been better to place Rollins on the DL right away? Sure. In hindsight, he needed the time. But based on the reported initial findings and Rollins' relatively minor symptoms, it is difficult to argue with the course of events. The team has now decided to remove him from baseball activities completely and have him focus instead on rehabilitating the ankle to restore his functional ability. Despite the frustration for Phillies fans and Rollins' fantasy owners, in the end, if this course of action helps Rollins stay healthy for the remainder of the season, it will have been well worth the wait.
Alex Rodriguez, 3B, Yankees:
Rodriguez left Sunday's game against the Orioles with a strained right quadriceps. Watching him take off out of the batter's box in the sixth inning, you could see that the quad was bothering him, and apparently he tweaked it during the actual swing. An Associated Press report says that Rodriguez, who went back to New York on Monday to see a physical therapist, will join the Yankees in Chicago on Tuesday and be re-evaluated then. Coincidentally, according to a Newsday report, the Yankees were expecting Rodriguez to perhaps miss a few games this week to be with his wife for the birth of their child anyway. Combining a day off and some personal time might be just what A-Rod needs to allow the thigh to rest and fully heal. For those with daily-lineup settings, be sure to check Rodriguez's status before Tuesday's game. If he doesn't play Tuesday, it wouldn't surprise me if he misses at least the next couple games as well.
Chipper Jones, 3B, Braves:
Within minutes of Rodriguez's exit, Jones left Sunday's contest against the Dodgers with a strained right quadriceps muscle. Jones had been experiencing some problems with the quadriceps starting on April 9, when, according to the Braves' official Web site, he felt it while baserunning on a chilly night at Coors Field. Two days later, Jones admitted to feeling soreness in the quad while trying to run hard and was even removed early from the following day's game for the same reason. It seems that the muscle never really fully recovered and this episode appeared to be a bit more serious in nature.
Nonetheless, Jones played Monday night, stressing that his presence is "not worth taking a day off at this point." True, he is batting .458 with 18 RBIs, but is he really healthy enough to play? According to an ESPN report, Jones thinks he is because he can "go out there and temper it as much as possible." He added that he will just take it game by game but acknowledged that the injury does affect his defense as well, particularly if he must "extend for a ball to [his] left, toward the hole." The team is trusting that as a veteran, Chipper knows his 36-year-old body well enough to determine whether he can play.
The concern here is that the quad appears to have gotten worse overall, not better, since the initial injury. By continuing to press it into service, Jones potentially runs the risk of aggravating it to the extent that it becomes disabling. Not every situation can be anticipated, and if he suddenly changes direction, accelerates or even slides (which appears to have been the trigger Sunday) and forcefully contracts the muscle, it could become more serious. Also, Jones has a history of muscle strains, making him potentially more susceptible to experience another. In the meantime, Jones and the Braves continue to benefit from his hitting presence; he delivered an RBI in Monday's game. But it should be noted that he did commit an error on a throw to first base. Time will tell whether playing through this muscle strain was a wise decision, but for now it looks as if Jones will avoid the DL.
Wandy Rodriguez, SP, Astros:
Rodriguez left his Saturday start after four innings because of a strained left groin. It's easy to see how a left-handed pitcher could strain his left groin muscle; he lunges into his delivery with his right leg forward and left leg extended behind him, which stresses the left groin muscle.
What makes Rodriguez's situation potentially more complicated, however, is that he suffered a strained left oblique muscle in mid-March after throwing only two pitches in a spring game against the Tigers. He had a week off, followed by a few minor league starts, then returned to the team. His first outing was not great statistically, but he was able to get through it without pain. Just when it appeared that the oblique issue was behind him, Rodriguez suffered the groin strain and is now on the disabled list. The oblique and the groin muscles both have attachments to the pelvis, and stability of the trunk and pelvis is critical for effective delivery. A strained groin can linger for a period of time, so the Astros are wise to put Rodriguez on the DL so that he can hopefully sort these injuries out.
In briefCarlos Pena, 1B, Rays:
Pena was pulled early from Friday's game because of tightness in his hamstring. Pena said he might have "exceeded his speed limit," and the leg gave him a warning. He was not limping after the game, and it did not appear serious. Since Friday, Pena has served as a DH twice, allowing him to hit but still decrease his overall workload, in order to give the muscle some rest. His success so far suggests that the injury is minor, and he should return to full duty soon.
Curtis Granderson, OF, Tigers:
Granderson, out since spring training because of a fractured right third metacarpal (knuckle bone at the base of the third finger), has had hitting success in his rehab starts as he prepares to return to the Tigers' lineup. Now the team is just working on getting him game-conditioned so that he can play a full game without fatigue. Jason Beck of MLB.com says that the earliest Granderson would be called up is Wednesday, following a Tuesday night game in Triple-A Toledo.
Gary Sheffield, DH, Tigers:
Sheffield said last week that he has been having tightness in his surgically repaired shoulder and told the Detroit News that there have been "many days" in which the joint has not moved freely. Sheffield has asked to be evaluated by a physician to assure himself that there is nothing to be concerned about and to help him better understand what is going on with the shoulder. This is a bit surprising given how good Sheffield said the shoulder felt during spring training. Now that he has worked the shoulder harder than he did this spring, however, he might be feeling the effects of cumulative use. Perhaps, like many postsurgical shoulders, his has developed adhesions (thickening of scar tissue), which would limit his range and cause some discomfort. Sheffield told the Detroit News that he has tried to press through it, but swinging harder seems to slow it down further (a hint that there might be some inflammation present). Of course, he also suffered a finger tendon injury early in the season. It would not be a surprise if Sheffield does a tour on the DL to allow everything to settle down, but unless there is a new injury, this should be something Sheffield can recover from within a relatively short time frame.
That will do it for this edition of the injury blog. Keep an eye on those players who are questionable to miss time and watch for those returning from the disabled list. If you put the Brewers' young ace,
Yovani Gallardo
, in your lineup this week in his return from knee surgery, it paid off. If he still can be had in your league, get him. His knee, not to mention the pitching arm, looks healthy to me!
April, 8, 2008
4/08/08
6:58
PM ET
By
Stephania Bell, ESPN.com
| ESPN.com
Last week we talked about National League players who opened the 2008 season on the disabled list. Today we take a look at key American League players who were noticeably absent from their teams' rosters on Opening Day and evaluate the likelihood of them making an appearance in the near future.
American League
[+] Enlarge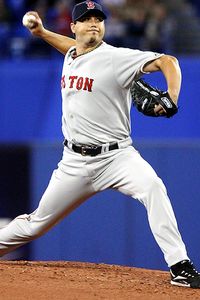 Dave Sandford/Getty ImagesBeckett is back and hoping that he can stay healthy.
Josh Beckett, Boston Red Sox:
Beckett, who had some soreness in his back throughout the prior week, began experiencing back spasms Saturday, March 8, after he lost his footing on the mound during warm-ups. An MRI of Beckett's back was negative and a disk injury was ruled out. The spasms themselves suggested a protective guarding or splinting by the muscles but the challenge in that situation is figuring out why they are in spasm and addressing the source. There are so many pain-generating structures within the spine that it is often difficult to localize a problem. Joints, ligaments, disks and even the muscles themselves can suffer direct insult that can trigger pain. This pain often results in protective muscle spasms which are the body's way of preventing unnecessary movement to avoid further injury to the area. In the end, rest and avoiding further aggravation is often the key to a speedy recovery. The Red Sox's decision to keep Beckett stateside while the team traveled to Japan was a wise one, as anyone who has experienced back pain can attest to the fact that a lengthy plane flight is more likely to hurt rather than help. Beckett was able to progress without incident through his rehabilitation program and rejoined the rotation Sunday. His outing was not his best, but from an injury perspective, he did not experience any pain. Now that Beckett is back in the mix, expect him to settle into his role in short order.
Andy Pettitte, New York Yankees:
See Josh Beckett above. Pettitte's situation was not very different from that of his Red Sox counterpart. Some have speculated that Pettitte's offseason distractions put him at more of a risk for injury. Perhaps, but that is hard to quantify and remains speculation at best. Pettitte did have some elbow discomfort early in the spring, which is not uncommon for pitchers as they work on increasing their endurance in the preseason, but that subsided within a few weeks. Then, Pettitte's back locked up on him while he was driving home from practice in March. After missing a single scheduled start and allowing his back to rest, Pettitte eased back into his throwing program, throwing bullpens and minor league games before returning to the rotation Saturday. Although Pettitte did not get the win, he didn't appear to have any setbacks, and as is the case with Beckett, there is no reason to expect at this point that there will be any long-term problems as a result.
Scott Kazmir, SP, Tampa Bay Rays:
Pain in his throwing elbow in early spring training led to a shutdown for Kazmir. While minor strains are not uncommon for pitchers in springtime as they rebuild their endurance, it is only when they return to action following a period of imposed rest that we get a feel for whether the episode was a minor occurrence or a sign of bigger things to come. Kazmir has been throwing and feeling no pain since mid-March, including a recent bullpen session incorporating changeups and sliders, according to the Tampa Tribune. Those things would seem to point to this incident as a minor spring training occurrence and fantasy owners can breathe a bit easier. Kazmir started the season on the disabled list to give him ample recovery time, as well as time to increase his overall strength and endurance, but it now appears that he could return to the lineup at the end of April.
Curtis Granderson, OF, Detroit Tigers:
Granderson began the season on the disabled list with a fractured third metacarpal in his right hand after being hit by a pitch. Granderson rested the hand for two weeks and then had X-rays to determine the healing progress of the bone. Team doctors felt it had healed enough for him to begin light baseball activities, so Tuesday Granderson began hitting a ball from a tee and some light throwing, according to the Detroit News. Bear in mind that it takes up to six weeks for a fracture to fully heal so this is by no means finished. In fact, Granderson admitted to still having some pain in the hand, a reminder that he is not completely out of the woods. The good news is that he has the mobility to actually grip the bat and that he is getting his body used to the skills he will need to get back onto the field. The unknown is exactly how long it will take him to be comfortable enough and confident enough to actually return to the lineup. At this point it would be a surprise if Granderson is back before another 10 days since, by his own acknowledgment to the Detroit Free Press, he will need to face live pitching before returning.
Joel Zumaya, SP, Detroit Tigers:
During the offseason, Zumaya was assisting his family in evacuating during the Southern California wildfires. While he was moving things out of the home, a box reportedly fell on Zumaya's right (throwing) shoulder, and the next thing we heard was that he had undergone acromioclavicular (AC) joint reconstruction to repair the damage. This procedure, although certainly not impossible to return from, is no walk in the park. Zumaya has to adjust to the altered mechanics, even if subtle, that result from such a procedure. His expected return date was originally targeted for sometime in July, presuming no delays or setbacks, but lately the Tigers have been less willing to set a concrete timeline. As of the start of the season, Zumaya was throwing from 120 feet and feeling good. He is said to be progressing well but since this is not a common injury for pitchers, it is difficult to draw comparisons. Yes, he should be able to eventually return and pitch effectively. Will he be able to deliver the 100 mph fastball? Perhaps, but it wouldn't surprise if he loses some steam off his delivery, at least initially. The first hurdle is him getting healthy enough to rejoin the rotation without a setback, or without some new injury cropping up. Then the Tigers can worry about triple-digit speed.
Fernando Rodney, RP, Detroit Tigers:
Rodney, who experienced shoulder pain that forced him to miss time in 2007, began having similar symptoms very early in spring training of this year. After ups and downs in his attempts to return via a throwing program, the Tigers have indicated this week that he will resume playing catch. According to a report on mlive.com, the Tigers would like to have Rodney get to the mound at least one more time before considering something much more dramatic, such as surgery. An MRI this spring revealed no specific structural damage, which is not unusual, and the shoulder pain will continue to be treated symptomatically, until the point at which it becomes evident that Rodney simply cannot return. That point, unfortunately, does not look too far off. If Rodney fails to make it back after this round of conservative treatment, don't be surprised if he heads to the surgeon's table, which would essentially spell the end of the season for him.
[+] Enlarge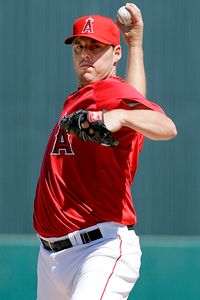 AP Photo/Jeff ChiuLackey has yet to take the mound in Anaheim in this season.
John Lackey, SP, Anaheim Angels:
Lackey was slowed early in spring training by a sore elbow and was ultimately diagnosed with a strained triceps (the large muscle on the back of the arm that attaches at the elbow). As of mid-March the Angels projected him to miss three to four weeks before he could resume baseball-related activities, but that timetable was shortened by a week given Lackey's progress in rehab. The Los Angeles Times is reporting that Lackey could begin throwing off a mound within the next week. Lackey still needs to get game ready, meaning potentially several minor league starts to increase his endurance. Keep in mind that he had only one spring training start before hitting the disabled list. His timetable still appears to be targeted toward a return in May, perhaps around the middle of the month. On a positive note, Lackey has avoided major injury for five seasons prior to this and the hopes are that this setback is more a side effect of spring training, and not an omen for the future.
Kelvim Escobar, SP, Anaheim Angels:
Shoulder inflammation reared its ugly head again this winter for Escobar, who suffered through a similar bout near the end of the 2007 season. Escobar, who returned to the Angels' spring complex in January to undergo rehab and strengthening for his shoulder, was shut down from throwing for two months in the hopes that he could return during spring training. But after only three throwing sessions in mid-March, Escobar's pain returned and he was shut down once again. The Angels have disclosed that Escobar has a torn right labrum (ring of cartilage in the shoulder that helps increase the congruity of the joint), never a good diagnosis for a pitcher in particular, and they have decided to put him back on the conservative treatment track once again. Escobar told the Los Angeles Times that he was concerned about his pitching future as a result of this injury, complicated by the fact that he was born without a supraspinatus (one of the four rotator cuff muscles), something he apparently learned during his first physical after he was drafted. In any event, if Escobar does not respond to this next round of conservative treatment, he is expected to pay a visit to Mets team physician Dr. David Altchek for consultation regarding surgical options. This is not a great scenario for Escobar, no matter which way you look at it, because painful labral problems rarely respond to conservative management, and when addressed via surgery, there is a significant recovery period, not to mention one with no guarantees about final outcome. For fantasy owners, this is a situation to observe from afar.
Scott Rolen, 3B, Toronto Blue Jays:
Rolen, so hopeful for a fresh injury-free start with his new team, succumbed to the disabled list bug after taking a bad shot to his right third finger from a hard-hit line drive. The ball hit his finger with such force that it resulted in a fracture at the very tip, and even worse, damage to the fingernail and soft tissue around the break. Rolen had to have a pin surgically implanted and, according to his own statements on the Blue Jays' official Web site, his surgeon gave him a four to six week estimate on returning to play. Although a broken bone is not something to take lightly, the more critical piece for Rolen in terms of healing is the flesh of the finger itself. He will likely be able to hit before he can throw, simply because managing the grip on the ball is so difficult when the soft tissue is injured. Fantasy owners know that Rolen is valued in reality largely because of his defensive skills, so the throwing limitations he faces are something to keep in mind when estimating his return time. As of this point in time, the Jays are hoping to have his services in early May. Assuming the tissue heals well, once Rolen regains his mobility and grip strength, he should not have ongoing issues with the finger.
New injury worries
It doesn't take long, does it? Another week of baseball and already there are enough sprains, scrapes and spasms to fill another column. Here are a few of the key injuries we are looking at this week with more details to come.
Derek Jeter, New York Yankees:
Jeter has a strained left quadriceps muscle (large muscle on the front of the thigh) and is expected to miss at least three games, although he will not go on the disabled list, according to a report from The Associated Press. Jeter apparently strained the muscle while running before Monday's game, but he says the problem is not serious and an MRI appears to have confirmed that. Nonetheless, he is going to have some imposed rest to allow the muscle to quiet down, and as manager
Joe Girardi
points out, the upcoming weather is cold and the team does not want to risk further injury. At this point, this does not appear to be a major strain, and barring Jeter returning too early and aggravating the condition, this should not bother him on an ongoing basis once the acute episode has resolved.
Rich Harden, Oakland Athletics:
Was it too good to be true? It seems that way for the moment, but it's not time to panic ... yet. Harden, who has started the season with a bang after injury issues plagued him for the past two seasons, is faced with another injury. The question at this point is whether this is a minor blip on the radar, or whether it echoes past problems that have resulted in lengthy absences. The San Francisco Chronicle is reporting that Harden has been scratched from Tuesday night's game due to back, specifically "lat," soreness. The "lat" refers to the latissimus dorsi muscle, the large muscle that, when well developed, makes the nice "V" shape on the back. Pitchers use their lats, which attach to the arm bone, to help provide stability and control rotation and extension of the arm. Optimistically the team has slated Harden for a Sunday start, suggesting that the soreness is minor and nothing that a few extra days of rest can't cure. Additionally, the A's are being more cautious than they would be otherwise because, after his spectacular return, the A's do not want to push Harden into a major injury by ignoring lesser symptoms. It is worth noting that Harden had oblique and lat strains that resulted in a two-month absence back in 2005. Harden has no doubt focused on strengthening his core muscles as part of his shoulder rehabilitation however, which would help him recover from this type of injury more quickly. If he is able to get back by Sunday, this injury goes in the "not a big deal" category and Harden can pick up where he left off. If however, it looks to turn into something more chronic, those shades of the term "injury prone" may return.
Michael Barrett, San Diego Padres:
Another player who heard a "pop" this week associated with injury is Barrett. Last week it was
Pedro Martinez
and his hamstring. This week it's Barrett and his forearm. The team is reporting that Barrett has a fair amount of pain in the region of his ulnar nerve, which lies on the inner side of the elbow. By now, everyone knows what else is near there. Yes, the ulnar collateral (Tommy John) ligament. According to a report on the Padres' official Web site, Barrett could not throw the ball back to pitcher
Greg Maddux
without a bounce. A pop (believed to have occurred on an earlier throw), weakness and some nerve-like symptoms all are ominous signs for Barrett as a potential ligament injury. He is scheduled for an MRI Tuesday after which his course of treatment will be determined. If Barrett is on your fantasy team, don't wait for the results. Go out and get someone else, even if you end up needing him only short term. We'll keep you posted.
There are many other new injuries to report on so check back throughout the week as we update those, as well as the status of your fantasy draftees who may have started on the disabled list and are looking to make a return. Is anyone a safe pickup? Perhaps, and even better, perhaps there's a great bargain to be found. Stay tuned.
April, 4, 2008
4/04/08
3:49
PM ET
By
Stephania Bell, ESPN.com
| ESPN.com
Starting on the DL
Every season there are a number of players who start out on the disabled list. Some are still recovering from early offseason procedures while others incurred some type of injury during spring training. But it seems as if the number of key players starting off this season on the disabled list has mushroomed, with the starting pitching rotations being particularly affected. Today we take a look at National League players who were noticeably absent from their team rosters on Opening Day and evaluate the likelihood of them making an appearance in the near future and what we should expect when they do show up.
[+] Enlarge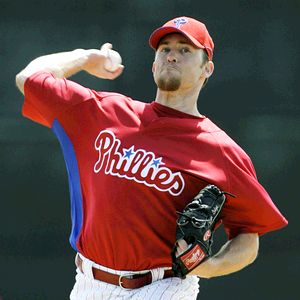 AP Photo/Paul SancyaLidge is hoping to resurrect his career in Philly.
Brad Lidge, Philadelphia Phillies:
Lidge underwent offseason surgery to address a cartilage injury in his right knee and was originally on track for an Opening Day appearance as the Phillies' new closer. Then in late February while throwing batting practice, Lidge caught a spike in the mound, resulting in a torn medial meniscus (fibrocartilage disc on the inner aspect of the knee joint). The good news from the Phillies' medical staff was that the tear was small, most of the meniscus was preserved (good for long-term knee health) and the previously operated-on portion of the knee (where the original cartilage injury was located) looked fine. Lidge has made a nice recovery from this second procedure, and has been gradually increasing his throwing program with the emphasis on restoring his velocity and increasing his endurance. He has been pitching in Clearwater, Fla., and it is uncertain exactly when he will rejoin the team according to a report in the Philadelphia Inquirer. His most recent outing in Clearwater was less than stellar, so it would not be a surprise to see him extend his minor league appearances through the weekend and then meet up with his teammates.
Scott Eyre, Chicago Cubs:
Eyre began the season on the disabled list because of inflammation in his left (throwing) elbow. According to the Chicago Cubs' official Web site, Eyre has a bone spur in his elbow that has been there for several years. Recently it has become more inflamed and painful, so Eyre took a cortisone shot to try to settle the symptoms down. The plan called for him to rest the elbow, then gradually resume a throwing program, with the goal being to rejoin the team's bullpen within a week or two. This still appears to be the plan, so expect Eyre to resurface soon. There is always the possibility that the symptoms recur, with the worst-case scenario being that the pain becomes disabling enough that the spur itself needs to be addressed, but there is no immediate cause for concern.
Randy Johnson, Arizona Diamondbacks:
Johnson is making yet another return from yet another back surgery, his third to be precise. Working in his favor this time around is the extra recovery time before the start of the season, the experience of having been through it all before and the patience he and the Diamondbacks are showing in bringing him back slowly. Johnson started the season on the DL, but has now been assigned a scheduled start date of April 14 in San Francisco, according to the Diamondbacks' official Web site. Johnson still has "the arm of a 25-year-old" according to GM Bob Melvin and he can still deliver strikeouts. This spring the Diamondbacks were particularly happy to see the return of Johnson's slider, a pitch he can use to decrease the reliance on his fastball. Although he has already shown that he can put the speed back on the ball, the ability to mix up his pitches so that he doesn't have to throw as hard as often may go a long way in preserving Johnson's health across the season.
[+] Enlarge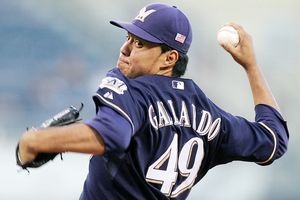 AP Photo/Keith SrakocicYovani Gallardo looks to excite Brewer fans and fantasy owners alike.
Yovani Gallardo, Milwaukee Brewers:
The Brewers' young ace injured the left lateral meniscus (fibrocartilage disc in the lateral or outermost compartment of the knee joint) in February, resulting in surgery for him and much anxiety for the Brewers organization and fantasy owners. All in all, the surgery was relatively minor and Gallardo, only 22 years old, has given every indication that he is on the road to full recovery. In fact, Gallardo has been impressive thus far in his return and in the past week has pitched five scoreless innings. The Brewers placed Gallardo on the 15-day DL to start the season to afford him more rehab starts as well as time to increase his pitch count. A few missed days here translates to less risk down the road, a worthwhile tradeoff for the Brewers.
Mark Prior, San Diego Padres:
Mark Prior has not pitched in the majors since 2006. He is expected to make his return, barring any setbacks, as soon as June of this year. Prior underwent surgery in April 2007 to address damage in his rotator cuff and labrum. Prior has been throwing bullpen sessions and, more recently, began facing live batters. His next stop will be the minor leagues, perhaps by the end of the month. The team placed him on the 60-day disabled list as a routine measure given his rehabilitation timeline. On the plus side, Prior is still relatively young (27), he has been through extensive, detailed rehab and is back in his hometown (which happens to be home to a pitcher-friendly park as well). He does, however, have a tendency to place his elbow high above his shoulder at lead foot contact (when his front foot hits the ground), placing the shoulder joint under additional stress, but if he modifies this, it could significantly enhance his overall durability. This may be Prior's best chance for a solid season in three years.
Nomar Garciaparra, Andy LaRoche and Tony Abreu, 3B, Los Angeles Dodgers:
It's no secret that third base for the Dodgers has a hex on it. At least not now. The Dodgers cannot seem to find someone to stay healthy enough to hang around at this position (except maybe Blake Dewitt, who got the Opening Day start after playing no higher than Double-A ball in his career thus far). Garciaparra was hit by a pitch, which ultimately resulted in a small fracture, on the same day LaRoche tore the ulnar collateral ligament in his thumb. LaRoche's injury required surgery and will cause him to miss two months at least. Garciaparra has to allow the swelling to go down and the pain to subside before he can effectively swing the bat and grip the ball. Keep in mind, Garciaparra has had prior problems with this wrist, which could tack some extra healing time onto this episode. Meanwhile, Abreu is coming off of sports hernia surgery in the offseason. Normally this is a fairly straightforward recovery process, but Abreu has been plagued by various muscle strains (gluteus and, most recently, groin) since the operation. These muscles are all tied into the region that was addressed surgically, so it appears that Abreu still has some healing and strengthening to do. He too began the season on the disabled list, but given his ups and downs across the spring, his return timetable is unclear. Stay tuned.
New injury worries
New York Mets
ace
Pedro Martinez
is on the disabled list with what the team is calling a "mild hamstring strain." His projected timetable is four to six weeks, although the combination of this latest setback with his age and injury history suggests that it will, in fact, be longer. For more details on Pedro's injury, click
here
.
Seattle Mariners closer
J.J. Putz
gave the team a scare Monday night when he complained of pain in his rib cage area after delivering a pitch in the ninth inning. Putz later underwent an MRI and was given a diagnosis of mild costochondritis, inflammation of the junction where the rib and the cartilage that anchors it to the sternum (breastbone) meet. Putz has been placed on the 15-day disabled list and barring any setbacks, this time frame appears reasonable for him to return. For more details on the injury to Putz, click
here
.
The
Detroit Tigers
have their hands full with injury woes and it's not yet one full week into the season.
Curtis Granderson
started the season on the disabled list with a broken third metacarpal bone and now two more of his teammates threaten to join him.
Third baseman
Miguel Cabrera
was scratched from Thursday's contest because of a pulled left quadriceps muscle (the large muscle on the front of the thigh). According to an ESPN report, manager Jim Leyland said Cabrera "could hit but he can't run," so he did not want to use him. Leyland went on to add that Cabrera had some trouble with the quad during the winter months and that it was still sore during the spring. Not only is Cabrera's absence from the lineup not good news for the Tigers, it is also troublesome that his quadriceps muscle issue is perhaps not entirely acute. Winter and spring are not nearly as taxing as the regular season, and if Cabrera could not fully improve during the more restful offseason, this could be a sign that the quadriceps will give him trouble intermittently throughout the rest of the year. As for Friday, Cabrera is back in the lineup as a designated hitter, but there is no immediate timetable as to when he might return to the field.
Designated hitter
Gary Sheffield
tore a tendon in his ring finger as he tried in vain to turn a single into a double on a slide in the eighth inning of Thursday's game against Kansas City. According to an ESPN report, Sheffield said he was unable to straighten the finger after the injury and also reported losing feeling in the finger for a period of time. Although Sheffield initially indicated that he would try to play through the pain, he is out for Friday's game, but it appears that he may not miss much more time. In fact, according to a report on mlive.com, Sheffield will not go on the disabled list and could return as soon as this weekend. As expected, he will have the finger splinted, but given that the injury is at the tip of the finger, he should be able to hit. It remains to be seen whether there will be an adjustment period for him as he returns to hitting, given that he will be likely outfitted with some protective padding, but I suspect that won't last long and he will be effective in short order.
Check back later in the week as we look at who are the key American League players that started out on the disabled list and anticipate their return. Let's hope for a healthy weekend of baseball and best of luck in all your fantasy leagues!!