Stephania Bell:

D.J. Hackett
September, 6, 2008
9/06/08
1:11
PM ET
With the exception of the Thursday night opening game between the Giants and the Redskins, no team has played a regular-season down yet. One look at the injury report would have you thinking otherwise, though, as it already appears to be in midseason form. What is a fantasy owner to do?
Injuries always play a major part in fantasy football. They can take a team that looked like a winner on draft day and turn it into a cellar dweller. But smart management of injured players can be the difference in taking a team to the league championship. To that end, I will be talking NFL injuries every week right here at ESPN Fantasy. Saturday's report will provide the latest updates on key players whose status might be in jeopardy for that week's game, Monday's report will have quick updates on the injuries sustained during the previous day's games and Wednesday's file will have more detailed injury information to help you make those valuable waiver-wire pickups.
The players in the Saturday blogs will be listed with the official NFL injury report status -- Probable (P), Questionable (Q) or Doubtful (D) -- next to their names.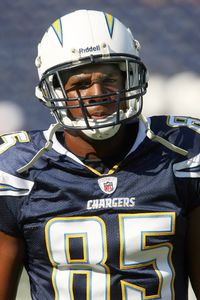 Stephen Dunn/Getty ImagesAntonio Gates should play, but he'll likely be limited by a toe injury.
Antonio Gates, TE, Chargers (P):
It appears Gates will indeed take the field Sunday when the Chargers face the Panthers. How much time he will see and how effective he can be are the big unknowns. Despite full participation in practice this week, Gates himself referred to his surgically repaired toe as "tricky," according to The San Diego Union-Tribune, and essentially said it will be a matter of seeing what the toe allows him to do Sunday.
Gates has been recovering from offseason toe surgery to repair a torn plantar plate (fibrous tissue underneath the ball of the foot) after dislocating his toe in a wild-card playoff game in January. He gamely toughed it out and played in the Chargers' subsequent playoff games, but the toe clearly was a problem. It's just a toe, right? Well, imagine how challenging it was for Gates to push off, pivot and jump. When healthy, the big toe has significant mobility to allow the foot to move up and forward when running and jumping. This movement stresses the soft tissue (ligaments in particular) that protects the joint at the ball of the foot.
Regaining that mobility and a tolerance for pushing his full body weight off such a small surface area have been the main challenges for Gates after this surgery. It is a long, slow recovery, and Gates' frustration with the up-and-down nature of how he feels has been apparent at times. The key for Gates to have a full recovery is not to overdo it too soon and to rest the toe when necessary. Consequently, his appearance on the field Sunday might be restricted to protect him for the long haul.
Willis McGahee, RB, Ravens (P):
McGahee is expected to play Sunday when the Ravens host the Bengals, but fantasy owners beware: He might not start. ESPN's John Clayton is reporting that the decision on whether to start McGahee will be made at game time and might depend on how McGahee is feeling that morning.
McGahee underwent an arthroscopic procedure in August on his left knee, the same knee in which he tore three of the four primary stabilizing ligaments (ACL, MCL, PCL) in the 2003 Fiesta Bowl. It is not uncommon to have a subsequent procedure on a previously reconstructed knee, and the scope itself is not a major injury concern. But amidst reports that McGahee did not show up to camp in the best physical condition and the challenges of learning a new Cam Cameron offense with only limited reps in practice, it is not surprising that McGahee's overall readiness is in question. Rookie
Ray Rice
has looked strong in camp, and the Ravens will not hesitate to use him. From an injury perspective, McGahee does not present a long-term concern, but his productivity this week might suffer a bit as a result of the combination of the above factors.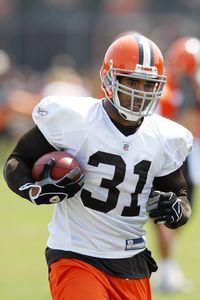 Diamond Images/Getty ImagesThe dreaded hamstring injury has hit Jamal Lewis this season.
Jamal Lewis, RB, Browns (Q):
Lewis has been hampered by a hamstring strain suffered just two and a half weeks ago, hence the "questionable" designation, but Clayton says Lewis expects to play. Watch for updates just before game time, as his status might also depend on how he feels warming up.
Lewis sat out practice for a week following the injury. He returned in the middle of this week but only on a limited basis. The worry with muscle strains, hamstrings in particular, is always the same: If the athlete comes back too soon, the injury can worsen and end up more debilitating than it otherwise would have been. There always is a delicate balance between getting back to full speed in a game and protecting the area long enough to prevent reinjury. Unfortunately, there is no magic way to ensure the injury is fully healed before a player returns, and much of the decision is based on how the athlete feels. If Lewis is able to perform Sunday without incident, he might be out of the woods. It would not be a surprise, however, if his power, and perhaps his playing time, were limited this time out.
Ryan Grant, RB, Packers (P):
Speaking of hamstring injuries, Grant has been sidelined with one for the majority of the preseason. The Packers have indicated they expect him to play and believe he can carry a full load if necessary.
The concern for Grant's injury is similar to the concern for Lewis'. Grant's problematic hamstring lingered throughout camp, limiting him to just one preseason snap. He was able to fully practice Thursday, which is a good sign, but he did not practice Friday, a decision the Packers are calling precautionary. With a less-than-healthy offensive line in Green Bay and a strong Minnesota run defense, Grant might have a tough time getting going Monday night.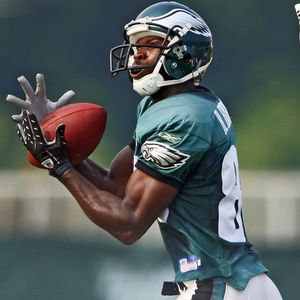 Drew Hallowell /Getty ImagesEven when he gets healthy, we're concerned Reggie Brown might not be able to stay healthy.
Reggie Brown, WR, Eagles (D):
The "doubtful" tag says it all. Brown is not expected to play in the Eagles' season opener as a result of, you guessed it, a problematic hamstring. Brown missed most of training camp and the preseason between this hamstring injury and a prior Achilles tendon strain. Is there a reason to be concerned about his overall durability? Perhaps. When an athlete suffers a series of soft tissue injuries, it raises the specter of potential physical endurance issues. The Eagles already are without the services of wide receiver
Kevin Curtis
, who underwent sports hernia surgery and likely won't return before October. Now Brown is out, at least for this week. Expect rookie
DeSean Jackson
to see more action than initially planned, but he will get help from Philly's many other receiving threats, including a now-healthy
L.J. Smith
.
Joey Galloway, WR, Buccaneers (Q):
He had offseason shoulder surgery, but his shoulder is fine. It's the groin injury Galloway suffered prior to camp that limited him throughout the preseason. Although his status is questionable, he is expected to play, according to Clayton. All signs on the Bucs' Web Site point to him playing, and Galloway himself has indicated he will be ready to go. Yes, he was limited in practice all week, but he is turning 37 in November, and the way to protect a "maturing" receiver is to limit his reps. Galloway might get nicked up intermittently, but he is a tough athlete who has shown the willingness to play through injuries. Plus, he has a stellar history against the Saints. Barring a surprise pregame setback, expect Galloway to be on the field and productive Sunday.
It's not too late! Leagues are forming and drafting until Sep. 20, with scoring retroactive to Week 1.
Sign Up Today!
D.J. Hackett, WR, Panthers (P):
A high-ankle sprain kept him off the field for 10 games last in 2007 while he was with the Seahawks, and a toe injury kept him out of practice most of the preseason with his new team. Consequently, Hackett might be under the proverbial fantasy radar. But he has been practicing fully since midweek, and his toe appears to be much improved. With
Steve Smith
out due to suspension, Hackett is expected to line up opposite
Muhsin Muhammad
as a starting receiver for the Panthers on Sunday. Yes, they are playing the Chargers, but Hackett is a playmaker, and quarterback
Jake Delhomme
, returning nicely from Tommy John surgery, might be looking for that deep threat to surprise the Chargers. Hackett is no doubt eager to overcome the reputation of being injury prone, which developed over his four years with the Seahawks. This will be his first chance to showcase his talent in Carolina, and I expect him to make the most of it.
Editor's note: The text below was added Saturday evening.
Benjamin Watson, TE, Patriots (D):
Watson's designation of doubtful is probably the most meaningful information we will get from the notoriously secretive Patriots. They are required to list the affected body part on the NFL injury report, so we know it is Watson's knee that is ailing him, but we don't know much else. Expect him to sit and
David Thomas
to start in his place.
Watson is a talented tight end, but injuries have forced him to miss games in the past. Last year he was troubled by an ankle problem and played only 12 games. Watson underwent ankle surgery in March and indicated that it felt good during training camp, and now this. He is productive when he plays, but fantasy owners will have to put up with intermittent missed time and limited information about his status.
<!--
Javon Walker, WR, Raiders (Q):
Despite the "questionable" designation, it appears Walker will play Monday night for his new team. Walker, who strained his left hamstring Monday and was limited in practice early in the week, was able to go full speed Saturday, according to the San Francisco Chronicle. Per the Chronicle, coach Lane Kiffin called Walker's practice performance "impressive."
Walker has had his share of challenges in the past year. He had knee surgery last October on his previously repaired right knee and was never quite able to get it going in 2007. Then, in June, Walker was assaulted in Las Vegas and suffered a concussion and facial injuries. His recent health history made him a big question mark coming into the season, and the recent hamstring strain didn't help. From the sounds of it, though, Walker has impressed his new coach recently, and barring any last-minute setbacks Monday, Walker will start against his former team. This is his chance to show that he is past the injuries, and he has the talent to warrant being a regular starter for the Raiders.
-->
OUT
This is a list of key fantasy players, not including those who have been moved to the Injured Reserve list, who are officially listed as "Out" for Week 1.
Jerry Porter, WR, Jaguars:
Porter is still recovering from surgery in July to repair a torn hamstring tendon. The good news is that he was a full participant in practice for the early part of this week. But as the Florida Times-Union reports, coach Jack Del Rio would like Porter to get two weeks of practice under his belt prior to game action. That said, no definitive timetable has been set for his return. We will definitely keep an eye on his practice activity next week.
Deion Branch, WR, Seahawks:
Branch tore his ACL at the very end of the 2007 season -- he had the surgery in late January -- placing his timetable to return a little past this point in the season. The Seattle Times reports that he is still not participating in 11-on-11 drills in practice. Given his limited practice status, it would be surprising for him to face contact anytime soon. We will update his status when it looks like he is nearing a return.
Bobby Engram, WR, Seahawks:
Engram fractured a bone in his shoulder in the preseason, opening the door for
Nate Burleson
to be a scoring machine. Engram is hopeful to return in late September or early October, depending on how he heals. Stay tuned.
Kevin Curtis, WR, Eagles:
Curtis had surgery August 21 to repair a sports hernia, which normally requires at least six to eight weeks to return to form. Phillyburbs.com is reporting that Eagles general manager Tom Heckert says Curtis feels "great" and is "ahead of schedule," already doing some light running. While that is encouraging news, Curtis still has a ways to go to be in game shape. Do not count on Curtis before October, but we will be monitoring his progress.
Ryan Torain, RB, Broncos:
If you haven't heard of him and he's still available in your league, make a note to yourself now to get him later when no one is looking. Coach Mike Shanahan sang his praises in Broncos camp, and he looked to be challenging
Selvin Young
and
Andre Hall
on the Broncos' depth chart. Unfortunately, Torain suffered a dislocated elbow and some ligament damage in August, and the injury required surgery that will cause him to be sidelined for approximately three months. But keep an eye on his status; he could sneak his way into the lineup when he returns.
Be sure to check our site Sunday morning for all kinds of pre-game information. I will be chatting from 10-11 am ET, and our fantasy experts will continue to chat with you up until kickoff. We also will post the inactives -- and injured players who are active, for that matter -- as they are reported. For the latest lineup advice, be sure to come to ESPN.com Sunday from noon-1 pm ET and tune in to Fantasy Football Now. We will discuss the latest player rankings, the weather, injury updates and answer your questions live up until kickoff. Good luck in Week 1 and may your roster stay healthy!
December, 7, 2007
12/07/07
6:59
PM ET
Thursday night football has not been kind to the starting quarterback. In Week 13, Packers quarterback
Brett Favre
was forced out of the game with a bruised forearm that affected his ulnar nerve. Thursday,
Rex Grossman
of the
Chicago Bears
and
Jason Campbell
of the
Washington Redskins
both went down with injury, both as a result of taking a hit to their plant leg as they delivered the ball. For more on these injuries as well as a look ahead to who will be affected by injuries, please, read on.
Out
Matt Schaub, QB, Texans:
Still recovering from a dislocated left shoulder, Schaub does not have a timetable for his return.
D.J. Hackett, WR, Seahawks:
Hackett is out again due to re-injury of his ankle, but the team expects he could return within a week or two. We'll update his status later.
Roy Williams, WR, Lions:
Williams injured his knee and will not return for your fantasy team this season.
Larry Johnson, RB, Chiefs:
Still out, yet the team still expresses hope. There is no information to suggest one way or the other whether Johnson will return this season, but as a fantasy owner, you just can't count on it.
Anthony Thomas, RB, Bills:
A torn popliteus muscle (small muscle behind the knee) will keep Thomas out the remainder of the season. Marshawn Lynch and Fred Jackson will take it from here.
Ahman Green, RB, Texans:
The Texans announced today that they are placing Green on injured reserve because of lingering problems with his knee. They tried to hold out hope, but to no avail. Green's football future may be in question.
Here's what we know so far about other players with injury concerns heading into Sunday.
Running Backs
Marshawn Lynch, Bills:
Lynch practiced all week on a limited basis, progressively improving as he returns from a high ankle sprain. The Bills will undoubtedly ease him back into the game, meaning he is likely to lose some action to
Fred Jackson
, but is expected to play. There is always a bit of a risk when an athlete returns from a high ankle sprain, but this is a good matchup for Lynch against the Dolphins.
LenDale White, Titans:
Despite some residual swelling and stiffness in his middle finger, White (probable) is expected to play Sunday. He should be able to go the distance, but may struggle some with ballhandling.
Brandon Jacobs, Giants:
Jacobs is expected to play, according to a report in Newsday, and there is no
Derrick Ward
to share carries with anymore. There is
Reuben Droughns
, however, and he will likely absorb some of Jacobs' work. Jacobs is returning from a hamstring strain, always a bit risky for the first game back, but he has been working out well and sounds ready to go.
Reggie Bush, Saints:
ESPN's Chris Mortensen reported Friday that Bush has a torn posterior cruciate ligament (PCL), which was confirmed by the Saints, although they have not indicated the degree of injury. Bush is getting a second opinion from Dr. James Andrews, but it appears doubtful that he will play Monday. Coach Sean Payton told the New Orleans Times-Picayune that he is still hopeful that Bush can play Monday given that he practiced some this week, but this really does not appear likely. All you have to do is look at how long it took
Travis Henry
and
Andre Johnson
to return from a PCL injury to appreciate the time frame Bush is dealing with, if it is a nonsurgical injury. The injury apparently occurred Nov. 4, and this may go a long way toward explaining why Bush really hasn't seemed like himself over the past month. There is some question as to whether Bush may now miss the remainder of the season. Stay tuned for updates regarding his status. In the meantime, find a replacement for your fantasy roster.
Quarterbacks
Jason Campbell, Redskins:
Campbell took a hit on his plant leg which forced it inward as he fell to the ground. This is often a mechanism for a medial collateral ligament (MCL) injury, but it appeared that Campbell took the hit just slightly lower on his leg, forcing it to rotate inward as his leg collapsed, more of a mechanism for a patellar (kneecap) dislocation. If you saw the game, perhaps you saw Campbell grab the outside of his leg with his hand. Had he torn his MCL, you would expect him to grab the inner knee, where it would be most painful. Campbell grabbed his outer knee because he was trying to put a hand around his kneecap, which he had just dislocated. The response of the medical staff also suggested a patellar dislocation. Campbell was immediately placed in a knee immobilizer, the best position to allow the kneecap to resume its proper alignment, and the least stressful for it. The bottom line for Campbell is that his season has essentially ended, as the tissue that was stretched on the outside of the knee during the dislocation has to heal. After immobilizing the knee for a few weeks, which allows the tissue to heal while preventing a repeat episode, Campbell will have to gradually regain his range of motion and strength. Coach Joe Gibbs said in his postgame news conference that it was fortunate that no ligaments were involved, which is true because the injury he did suffer is nonsurgical. Consequently his overall healing time should be reduced. The Redskins could conceivably have Campbell available the final week of the season or if they venture into the playoffs, but from a fantasy perspective, he is done.
Rex Grossman, Bears:
Poor Rex. He didn't make it through even a full quarter before the injury bug bit him. Grossman also suffered a blow to the outside of his leg that forced his knee inward, the mechanism described above that typically affects the MCL. And so it is. The Chicago Sun-Times is reporting that Grossman sprained his MCL and given the recovery time for this type of injury, it is fair to assume that we will not see Grossman again this season.
Brett Favre, Packers:
He's had a week now to let the forearm rest and has resumed practice. As of the end of the week, Favre was handling the majority of the reps with the first team and throwing quite a bit without limitation according to the Packers' official Web site. You can expect to see him Sunday and expect the streak to stay alive.
Brodie Croyle, Chiefs:
Croyle missed Week 13 with a deep back bruise, but the time off seems to have helped. Croyle was able to practice fully all week, is listed as probable and is expected to start Sunday. This news is as good for
Dwayne Bowe
fantasy owners as it is for Croyle fans.
Jeff Garcia, Buccaneers:
Garcia's status will be a game-time decision as coach Jon Gruden wants to see how Garcia's back feels once the team gets to Houston, according to a report in the Tampa Tribune. Garcia, who sat out Week 13 with a back injury, was able to gradually increase his activity tolerance over the past two weeks, but is not yet 100 percent. Garcia has looked good in practice, although he was given Friday off to rest, and the expectation is that he will play Sunday. He may be a little stiff, but if his offensive line is able to protect him so that he can avoid significant contact, he should be able to play well.
Donovan McNabb, Eagles:
McNabb (probable) is primed to make his return Sunday from a jammed thumb and sprained ankle that caused him to sit out two games. McNabb has been practicing and although his mobility may yet be limited somewhat by the ankle, he should be able to be effective. McNabb wanted to play this past Sunday but was held out by coach Andy Reid, who wanted him to be closer to 100 percent before returning to a game situation. Given Reid's criteria, I expect McNabb will be able to perform heading into Sunday's contest.
Marc Bulger, Rams:
Bulger is listed as questionable on the Friday injury report after suffering a setback during the week. Bulger, recovering from a concussion, had been cleared to practice Tuesday. But as the St. Louis Post-Dispatch reports, Bulger did not feel well after practice Thursday, causing the Rams to downgrade him. This is why athletes are gradually returned to activity after concussions; there is always the possibility that symptoms can return with increased intensity of exercise, which indicates the brain has not fully recovered. Coach Scott Linehan wisely says he will not return Bulger if he is not fully healthy, and he will use the next 12 to 24 hours to make that decision. Plan on another quarterback.
Wide Receivers/Tight Ends
Marvin Harrison, Colts:
Could it be? Could Harrison actually make a return Sunday? Harrison practiced some on Wednesday and was seen walking without a limp afterward, a good sign. He was held out of practice Thursday as a precaution. According to the Indianapolis Star, coach Tony Dungy has indicated that the Colts are being more cautious than if they were in a must-win situation to get into the playoffs. Harrison is clearly not 100 percent and the Colts do not want to risk losing him for the time when it really counts. There is a chance, albeit a slight one, that Harrison plays Sunday, but even if he steps on the field it will be on a limited basis. There is no fantasy value here.
Anquan Boldin and Larry Fitzgerald, Cardinals:
Boldin dislocated a toe Sunday and has been unable to practice all week. According to the Arizona Republic, the medical staff has been trying to find a supportive insert for his shoe that would allow him to run without pain, but so far that has not happened. There is still a chance that he could be outfitted with something before Sunday, but Boldin has said that he does not like to play without having practiced at least once during the week. Add to that the fact that his hip is still bothering him and it is unlikely he sees the field this week. Teammate Fitzgerald has been contending with a groin injury, but has been increasing his activity, and was running routes late in the week. Also listed as questionable, Fitzgerald is more likely to see playing time, but may not yet be fully recovered. The concern with the groin injury is lateral cutting and speed, so Fitzgerald may not be up to the monster performances that he has put up of late, but there is a reasonable chance that he is active and efficient on Sunday.
Brandon Stokley and Javon Walker, Broncos:
Stokley, who was reported to have injured his knee this past Sunday, had not practiced during the week and appeared unlikely to play. Friday, however, Stokley was able to put together a full practice and, although listed as questionable, he is expected to start, according to the Denver Post. Teammate Walker has been hampered by his knee and has not had a strong outing since returning, which is a bit surprising as he had looked good in practice. The expectation is that Walker will play, but he is not yet fully healthy and remains a risky start.
Santonio Holmes, Steelers:
Holmes is off the injury report, a good sign that his high ankle sprain has healed enough to allow him to play. Expect to see Holmes in action Sunday, but he is returning after a relatively short time frame. We have seen the high ankle sprain injury regress after a player returns (D.J. Hackett,
Michael Pittman
) and until Holmes has fully tested it, temper expectations for his return.
Laveranues Coles, Jets:
Coles remains a game-time decision as he recovers from his high ankle sprain. Coles is tough and can be expected to play through pain, as he has done many times before. With Cotchery out, the Jets need Coles even more, so expect him to be on the field. He is not likely to be 100 percent, but unless he suffers a serious setback during the game, don't expect that to limit his performance.
Don't see your player here? Be sure to check back Saturday when we check late Week 14 updates and add a few defensive players.
November, 26, 2007
11/26/07
12:56
PM ET
With three games on Thanksgiving Day, there were fewer games Sunday, and, on a positive note, seemingly fewer overall injuries. Last Friday, we took a look at
Thursday's injuries
, so today we look at the quick hits from Sunday's matchups. As usual, the information is preliminary at this point, as players are awaiting further tests to assess the overall severity of their injuries. While most of these guys just have bumps and bruises, there are a couple of players whose seasons appear to be in jeopardy.
Cedric Benson, RB, Bears:
Benson hurt his left ankle when he was tackled in the second quarter by Broncos safety
Hamza Abdullah
, and he had to leave the field on a cart. After the game, Benson was seen on crutches, wearing a walking boot. The Chicago Sun-Times is reporting that Benson is expected to miss the rest of the season, although his exact injury remains unknown at this point. It looks as though
Adrian Peterson
will get the call going forward.
D.J. Hackett, WR, Seahawks:
At first glance, this situation does not look good. Hackett, who looked fantastic in his return from a high ankle sprain earlier this season, was listed as questionable for Week 12 because of some knee swelling but decided to give it a go. Unfortunately, a Rams defender fell on his leg in the third quarter, and Hackett had to be helped off the field, unable to put any weight on his right foot. After the game, coach Mike Holmgren described Hackett's injury as "problematic," according to the Tacoma News-Tribune. This happens to be the same ankle that Hackett injured in September, which does not bode well for his prognosis. We should know more later this week, but if indeed the injury is a re-injury to the "high" ankle region, do not plan on his return this fantasy season.
Marc Bulger, QB, Rams:
Bulger was taken to the hospital after suffering a concussion in the first quarter Sunday. Bulger reportedly felt some nausea, a common side effect of concussions, and coach Scott Linehan told the Belleville News-Democrat that Bulger "didn't seem quite right on the sidelines." As is typical with these injuries, Bulger will be evaluated on an ongoing basis throughout the week to determine whether he will miss any time. For now, plan on having a backup ready for next week.
Isaac Bruce, WR, Rams:
Bruce had a nice game Sunday but appeared to suffer an injury to his right upper extremity late in the fourth quarter while diving for a low-thrown ball in the end zone. The Rams have not yet reported anything official related to this, so it might be minor. We will monitor the practice reports to see if this is anything to be concerned about for Bruce owners going forward.
Steven Jackson, RB, Rams:
Jackson left Sunday's game briefly with a head injury but returned to play in the fourth quarter, which suggests that the injury was minor. Despite missing a bit of playing time, Jackson had a very productive afternoon, and should not see this affect his status for Week 13. Incidentally, if you were wondering how healthy his groin is, that leap Jackson made up the wall to greet the fans following his touchdown tells me that it is doing quite fine.
Antwaan Randle El, WR, Redskins:
Randle El suffered a hamstring injury in the first half of Sunday's game and left without a single fantasy point. Randle El has dealt with various muscle strains this season and is a risky play going forward.
That's a quick hit for Monday. Be sure to check back throughout the week as further information becomes available and we update these and other injuries.
November, 24, 2007
11/24/07
2:29
PM ET
This has been an unusual week because of the Thursday games and the Thanksgiving holiday. I posted plenty of updates in my
late Friday blog
, so today I'll keep the conversation brief, looking only at those players who did
not
appear in Friday's report.
OUT
The following players have been added to the list as officially out for Week 12.
<a href="javascript:
newWin('http://insider.espn.go.com/nfl/players/fantasy?statsId=5048')">Shaun Alexander, RB, Seahawks: We already knew he wouldn't play; now it's official.
<a href="javascript:
newWin('http://insider.espn.go.com/nfl/players/fantasy?statsId=3569')">Zach Thomas, LB, Dolphins: The lingering migraines continue.
<a href="javascript:
newWin('http://insider.espn.go.com/nfl/players/fantasy?statsId=7774')">Santonio Holmes, WR, Steelers: It wasn't looking good anyway. Now you know that <a href="javascript:newWin('http://insider.espn.go.com/nfl/players/fantasy?statsId=7492')">Nate Washington is starting in his place. In fact, you might want to go and get him.
<a href="javascript:
newWin('http://insider.espn.go.com/nfl/players/fantasy?statsId=6352')">Troy Polamalu, S, Steelers: The Steelers' defense takes a hit because of Polamalu's knee injury.
<a href="javascript:
newWin('http://insider.espn.go.com/nfl/players/fantasy?statsId=4065')">James Thrash, WR, Redskins: He'll miss because of an ankle injury. Moss and Randle El will handle the load.
Whether the following players suit up for Week 12 is still unknown.
Running Backs
<a href="javascript:
newWin('http://insider.espn.go.com/nfl/players/fantasy?statsId=4259')">Fred Taylor, Jaguars: Taylor is listed as probable, meaning he is virtually certain to play. He is on the injury report because of a thigh injury that kept him limited in practice early in the week, but he was able to practice fully on Friday.
<a href="javascript:
newWin('http://insider.espn.go.com/nfl/players/fantasy?statsId=6994')">Derrick Ward, Giants: I
discussed his injuries Friday
, but that was when he appeared to be a game-time decision. Since then, Ward has been downgraded to doubtful, meaning he has less than a 25 percent chance of playing. Go Reuben, go.
<a href="javascript:
newWin('http://insider.espn.go.com/nfl/players/fantasy?statsId=5920')">DeShaun Foster, Panthers: Not a big source of worry here. Foster has been bothered by a toe injury for several weeks. He did not practice Wednesday to give the toe a rest but was back in practice Thursday and Friday to finish the week strong. He is listed as probable and is expected to start.
<a href="javascript:
newWin('http://insider.espn.go.com/nfl/players/fantasy?statsId=7241')">Frank Gore, 49ers: The biggest worry when it comes to Gore right now is the offense he plays in, not any injury. Sure, Gore's ankle has not been 100 percent since he sprained it several weeks ago, but that is not the main reason for his lack of production. Nonetheless, the ankle is the reason he appears in this report. He was limited in practice early in the week to avoid aggravating the ankle, but he did practice fully Friday and is listed as probable. He will start again for the 49ers on Sunday.
Quarterbacks
<a href="javascript:
newWin('http://insider.espn.go.com/nfl/players/fantasy?statsId=7247')">Alex Smith, 49ers: He is listed as questionable, but we shouldn't expect him to do much. Smith is still resting his shoulder and forearm and will be re-evaluated in the coming week.
<a href="javascript:
newWin('http://insider.espn.go.com/nfl/players/fantasy?statsId=4416')">Matt Hasselbeck, Seahawks: Hasselbeck has bruised ribs, reportedly from the Week 11 game. He was held out of practice Wednesday and Thursday but was able to participate fully on Friday, taking most of the first-team snaps. According to the Tacoma News Tribune, Hasselbeck said he feels "as close to 100 percent as [he has] felt in a long time." Although he is listed as questionable, he is expected to start against the Rams, and it does not appear that he will be limited.
Wide Receivers/Tight Ends
D.J. Hackett, Seahawks:
Hackett, who missed several weeks because of a high ankle sprain but managed to return looking fantastic, now has a new injury issue: He is listed as questionable because of swelling in his knee. After resting the knee Wednesday and Thursday, Hackett was able to participate fully on Friday and reportedly looked sharp while running, although he
was
wearing a wrap, according to the Tacoma News Tribune. All signs point to his playing against the Rams, but be sure to check the inactive reports Sunday.
<a href="javascript:
newWin('http://insider.espn.go.com/nfl/players/fantasy?statsId=6837')">Bernard Berrian, Bears: Berrian has a toe that is bothering him, but it does not appear that it will keep him from playing Sunday. Berrian is listed as probable after being able to practice fully on Friday, and he should start Sunday.
<a href="javascript:
newWin('http://insider.espn.go.com/nfl/players/fantasy?statsId=5037')">Plaxico Burress, Giants: Burress' ankle has bothered him more of late, and it is possible that it is affecting his overall productivity. The Giants continue to do their best to manage his condition by keeping him out of practice all week to save him for Sunday. His designation is questionable, so it is always important to check his status before game time. But he is expected to start. Although the past few weeks have been unremarkable for Burress, he remains one of Eli Manning's top receiving targets and always has the potential to have a big day. He also has the potential to aggravate the ankle and leave early. Risk, meet reward.
<a href="javascript:
newWin('http://insider.espn.go.com/nfl/players/fantasy?statsId=5463')">Santana Moss and <a href="javascript:newWin('http://insider.espn.go.com/nfl/players/fantasy?statsId=5948')">Antwaan Randle El, Redskins: Moss (probable) still has a bruised heel, but the modified shoe with a heel cup insert seemed to help Moss in Week 11. He was allowed to rest the foot early in the week but was a full participant in practice Friday and will be ready to go Sunday. Randle El (also probable) is on this week's report because of a chest injury (no specifics given), but he practiced fully on Thursday and Friday and is expected to play.
Defensive players
<a href="javascript:
newWin('http://insider.espn.go.com/nfl/players/fantasy?statsId=6773')">Tommie Harris, DT, and <a href="javascript:newWin('http://insider.espn.go.com/nfl/players/fantasy?statsId=6869')">Nathan Vasher, CB, Bears: Harris did not practice Wednesday or Friday (he did only limited work Thursday) because he continues to battle a sore knee, but according to the Bears' official Web site, coach Lovie Smith said Harris "should be able to go." The news is not so good for Vasher, who has been hampered by a groin injury for weeks now. Vasher, officially listed as doubtful, is likely to miss his eighth straight game. We saw with <a href="javascript:newWin('http://insider.espn.go.com/nfl/players/fantasy?statsId=6783')">Steven Jackson how nagging these groin injuries can be, and when your position requires significant speed and directional running, a groin injury can be particularly challenging. Vasher admits that the injury is frustrating and hopes he can return relatively soon.
<a href="javascript:
newWin('http://insider.espn.go.com/nfl/players/fantasy?statsId=4658')">Chris McAlister, and <a href="javascript:newWin('http://insider.espn.go.com/nfl/players/fantasy?statsId=4305')">Samari Rolle, CBs, Ravens: Rolle has been on the Ravens' injury report for weeks now with a previously undisclosed illness, but Rolle announced this week that he has epilepsy. Rolle decided to speak publicly about it now that he has the condition under control, according to a report in the Baltimore Sun. Rolle has had three significant seizures since the start of the season, and the medications he was prescribed took their toll in side effects. Now Rolle seems to have struck a balance with the proper medication and has been gradually resuming his practice activity. His teammates, meanwhile, are reportedly thrilled to have him healthy and back on the field with them. Rolle is listed as probable and could see action Sunday. His teammate, McAlister, is not faring as well for Week 12, though. After returning to action in Week 11, McAlister's knee has been sore, and he has not practiced all week. He is listed as questionable and could play, but it will come down to a game-time decision.
<a href="javascript:
newWin('http://insider.espn.go.com/nfl/players/fantasy?statsId=5897')">Dwight Freeney, Colts: I put Freeney last on the list so that those of you who are not interested in reading about a player who has already been placed on injured reserve can stop reading now. However, for those of you who are curious about these "Lisfranc" injuries, read on.
Freeney underwent surgery on his foot after suffering a Lisfranc injury during Week 10. The term has become familiar enough that many now call it the "dreaded" Lisfranc injury, as it can be quite serious, even career-ending, if not managed well.
So what is this thing they call a Lisfranc injury? There is a region in the middle of the foot where the long bones of the forefoot (metatarsals) articulate with the small tarsal bones in the middle of the foot. This joint, for obvious reasons, is thus called the tarsometatarsal joint. It is also referred to as the Lisfranc joint. Why? Frenchman Jacques Lisfranc, a field surgeon in Napoleon's army, described an amputation technique through this region to address forefoot gangrene following frostbite. There is also the story that soldiers wounded in battle would fall from their horses, but a foot would often remain caught in the stirrup, right at that tarsometatarsal joint. Such an injury often resulted in amputation of part of the foot, from the injured joint forward. In fact, amputation to that region still bears the same name (although NFL players don't need part of their foot amputated when they suffer Lisfranc injuries).
Since NFL players aren't riding horses, how does this injury happen to them? There are several mechanisms for this type of injury, but in sports, especially football, the primary scenario is that the player is running forward, with his weight on the ball of his foot, and he gets hit or stepped on from behind against his heel. The resultant force through the portion of the foot in between the ball and the heel (midfoot) causes it to buckle, and the midfoot is injured.
Are all Lisfranc injuries the same? No. In fact, the name Lisfranc refers to the region of the foot, not necessarily the severity of the injury. By virtue of its important location (the midfoot essentially forms the arch), any injury to this region needs to be taken seriously. That said, not all Lisfranc injuries are created equal. When the midfoot buckles, the ligaments that connect the various bones can become damaged. Ligament injury without any bony impact would be the mildest version of a Lisfranc injury. The problem is that damage to the ligaments can affect the relative position of the bones in the area, and they can shift or dislocate, which is often accompanied by a fracture. Now it's getting more serious. In the worst-case scenario, an artery passing over that area can also be damaged, affecting blood supply to the foot. A shift of the bony alignment typically requires surgery to realign the joint and provide stability. Failure to do so can result in chronic instability and pain, eventually leading to major arthritis in the area. Even with surgery, it appears that people who have suffered a significant Lisfranc injury are more at risk for arthritis down the road, simply because of the trauma to the joint. The bottom line is that players who suffer these injuries must have their treatment managed carefully, not only with surgery, but in the postsurgical rehabilitation process as well. We have seen evidence of this with Lions running back <a href="javascript:newWin('http://insider.espn.go.com/nfl/players/fantasy?statsId=6789')">Kevin Jones, whose activity has been carefully monitored across the season, based on how his foot is feeling.
Good luck to everyone this week! Be sure to check our inactive reports leading up to game time here at ESPN.com.