Stephania Bell:

Dan Uggla
April, 22, 2013
4/22/13
3:40
PM ET
Every Monday, in this space, we'll provide updates on a variety of players to help you make your weekly lineup decisions. We'll specifically try to hit the players who are day-to-day, have just gone on the DL or are ready to return, so that you can better decide whether you can count on them or not.
All projected return timelines should be considered fluid.
Hitters
[+] Enlarge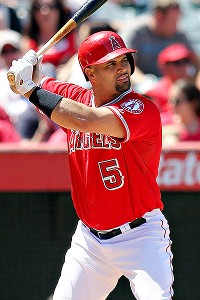 Victor Decolongon/Getty ImagesFantasy owners will have to keep a close eye on Albert Pujols' foot in the upcoming days.
Albert Pujols, 1B, Los Angeles Angels (DTD):
"I'm dying." Those were the words of Pujols himself Sunday when describing trying to play through plantar fasciitis in his left foot. Not particularly encouraging. Every athlete who contends with plantar fasciitis will describe extraordinary pain (like "stepping on a nail" or "walking on broken glass") and knows it is virtually impossible to get relief, unless he stops activity altogether. As for now, the plan is for Pujols to try to manage the condition, meaning he will receive treatment directed at pain relief, stretching, supportive footwear and anything else that might help all while continuing to play, albeit limited to DH duty. Unfortunately, every time the foot hits the ground stretching the inflamed fibrous tissue of the arch, Pujols is reminded of the pain. At some point it simply may be too much for him to bear and his foot could force him to take some extended down time.
Ryan Zimmerman, 3B, Washington Nationals (placed on DL April 20):
Zimmerman had been experiencing cramping in his left hamstring for several days before being forced out of last Wednesday's game early. He did not play Friday or Saturday, instead undergoing an MRI, which led to placement on the DL. While it sounds as if the strain is not serious, it was hampering him not only with his running but also while hitting. Manager Davey Johnson noted Zimmerman was not comfortable landing on his left leg when hitting. One has to wonder if some of his recent throwing inconsistencies can also be attributed, at least in part, to discomfort in his left leg. According to Amanda Comak of the Washington Times, the Nationals are hopeful that Zimmerman will only miss the minimum time, but hamstrings can be finicky. The key for the Nationals is preventing this from turning into a bigger injury, undoubtedly part of the rationale for a DL placement.
Dan Uggla, 2B, Atlanta Braves (DTD):
Sometimes being a veteran means understanding when to take yourself out of a game proactively. It appears Uggla did just that on Saturday when he felt something in his left calf while trying to run out a ground ball. According to the Atlanta Journal-Constitution, Uggla let manager Fredi Gonzalez know he was having discomfort in the calf and was concerned it could get worse if he stayed in the game. Uggla then sat out Sunday's game also but was hopeful he could return Monday. Calf strains tend to be increasingly prevalent as athletes move into their thirties (
Lance Berkman
,
Derek Jeter
, Albert Pujols) and early rest may be the best medicine in trying to minimize downtime.
Asdrubal Cabrera, SS, Cleveland Indians (DTD):
Slipping on the dugout steps is not how an athlete wants to incur an injury. Unfortunately that's precisely how Cabrera ended up with a contusion of his left wrist, and it's lucky it wasn't worse. X-rays taken of his wrist were negative, but as the Cleveland Plain-Dealer reported, it started to bother Cabrera during Saturday's game, so he came out early. Falls on an outstretched hand can often result in a fracture of the forearm or wrist bones but it appears Cabrera escaped both. He sat out Sunday's game and could sit longer if the wrist is still painful so fantasy owners should monitor his status daily.
Kevin Youkilis, 3B, New York Yankees (DTD):
When Youkilis left Saturday's game early because of tightness in his lower back, those familiar with his history may have been a little nervous. That concern would be justified because Youkilis has a fairly extensive history of low back problems including an episode, which required a trip to the DL in 2011. This flare-up appears to be of the minor variety with manager Joe Girardi telling reporters he thinks Youkilis will be available Monday night.
Shane Victorino, OF, Boston Red Sox (DTD):
Victorino also left Saturday's game early due to tightness in his lower back. He sat out Sunday's doubleheader but is expected to return to the lineup Monday. Early Sunday, manager John Farrell had considered using Victorino in the second game, suggesting he was making rapid improvements. Ultimately he was given all of Sunday off but it appears he will be back to face the
Oakland Athletics
.
Freddie Freeman, 1B, Atlanta Braves (placed on DL April 7, activated April 22):
It looks as if the decision to rest Freeman early -- despite his displeasure -- has paid off. ESPN's Jim Bowden reported Monday that manager Frank Wren indicated Freeman has been activated and is ready to play against the
Colorado Rockies
on Monday night. Freeman had been sidelined with a right oblique strain, but it was always considered minor; the Braves were trying to ensure that it remained that way. After a couple of uneventful rehab games, Freeman has been deemed ready to return.
Michael Saunders, OF, Seattle Mariners (placed on DL April 11, could return late in week):
A crash into the outfield wall resulted in a sprained right shoulder for Saunders. Although the team did not issue a timetable initially, it looked as if it could sideline him for an extended time. There are some encouraging signs that Saunders is progressing nicely however, most notably that he took batting practice last Friday. According to Geoff Baker of the Seattle Times, Saunders hopes to return when eligible (April 26) but will need to test throwing with his injured shoulder first. One of the most difficult things to do after an injury such as this is raise the arm completely overhead. Throwing with power will perhaps present more of a challenge than hitting so fantasy owners should monitor his activity closely throughout the week.
Pitchers
Jhoulys Chacin, SP, Colorado Rockies (placed on DL retroactive to April 20):
Chacin was off to a solid start but has been sidelined with a lower back strain that forced him out of Friday's game early. According to the Rockies' official website, Chacin is scheduled to undergo an MRI on Monday. As for now there is no timetable for his return in place. The Rockies have recalled right-hander
Rob Scahill
from Triple-A Colorado Springs to take his place.
[+] Enlarge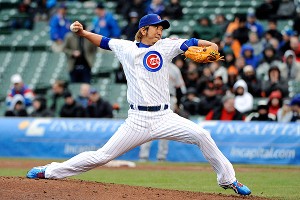 David Banks/USA TODAY SportsKyuji Fujikawa could be back this week to boost the Cubs' bullpen.
Kyuji Fujikawa, RP, Chicago Cubs (placed on DL April 13, could return when eligible, April 28):
Fujikawa suffered a right forearm strain, sending him to the DL, but according to Jesse Rogers of ESPN Chicago, Fujikawa has already begun testing the forearm throwing. If all continues well, Rogers reports Fujikawa will get a couple of rehab outings under his belt this week and could return this weekend.
Brett Myers, SP, Cleveland Indians (placed on DL April 21):
Myers has been fighting some tendinitis in his throwing elbow, but the picture has recently become more complex. The Indians announced via Twitter that Myers was placed on the DL Sunday with tendinitis and a mild UCL sprain. The report also indicated Myers would be shut down for two weeks and would not throw until symptom free. While the suggestion that the UCL sprain is minor is encouraging, it ultimately comes down to function. The fact that Myers experienced a drop in velocity is worrisome, but he also indicated he was not having any pain while pitching. At the very least, fantasy owners should expect him to miss four to six weeks (shutdown time followed by throwing progression), although the timeline ultimately will be dictated by how his elbow responds.
Ted Lilly, SP, Los Angeles Dodgers (opened season on DL, expected return April 24):
Lilly underwent a labral repair of his left (throwing) shoulder last September and was slowed in the spring by the flu. He felt he was ready to pitch in the majors when
Zack Greinke
went down with a clavicle fracture, but the Dodgers preferred to keep him on a rehab assignment, moving
Chris Capuano
to the starting rotation instead. As it turns out, Capuano was moved to the DL with a calf strain last week and Lilly was able to get some extra innings under his belt. According to Dylan Hernandez of the Los Angeles Times, Lilly has confirmed he will start Wednesday against the
New York Mets
. Given the Dodgers' starter woes, a healthy -- and effective -- Lilly is badly needed.
Chad Billingsley, SP, Los Angeles Dodgers (placed on DL retroactive to April 16, could be out for the season):
Did we mention the Dodgers are having some woes with their starting rotation? It looked initially as if Billingsley had survived the scare with his throwing elbow that cropped up last season. He underwent PRP injections in the fall, rested his right elbow, then resumed a progressive throwing program. The Dodgers waited during the offseason, expecting perhaps a bump in the road to recovery as often happens with partial UCL tears, but nothing went wrong with the elbow ... until now.
Billingsley managed well all through the spring but had a delayed start to the 2013 season due to a bruised index finger sustained while he was attempting a bunt. He eventually joined the rotation April 10 but it wouldn't last long. After two starts, Billingsley experienced some renewed elbow pain and now finds himself back on the DL. The bigger concern is that this may signal the beginning of the end of his season. If in fact the UCL tear has progressed to the point where Billingsley cannot function well enough to throw, he will be headed for Tommy John surgery. Given the recovery time from reconstructive elbow surgery, Billingsley stands a chance of losing time into next season if he does not address it quickly. No one wants to send an athlete to surgery when it isn't warranted and there will undoubtedly be careful evaluation of all sides of the equation, but the writing seems to be on the wall. Don't count on seeing Billingsley back in the lineup anytime soon, if at all.
Shaun Marcum, SP, New York Mets (placed on DL April 1, could return late this week):
Marcum has been sidelined since the start of the month with what the team called "nerve inflammation" in his neck. After receiving injections early to help with pain and inflammation, Marcum has been on a slow and steady rehab course. There have been no reports of any setbacks thus far, an encouraging sign. According to ESPN New York's Kieran Darcy, Marcum will throw 70-75 pitches in a rehab outing Monday and, if all goes well, could return to face the
Philadelphia Phillies
on Saturday. This is all positive news for Marcum and the Mets, but it is worth noting that these types of ailments lend themselves to recurrence.
Brett Anderson, SP, Oakland Athletics (DTD):
Anderson has been contending with a sprained right ankle, which resulted in a shortened appearance Friday and a complete day of rest Saturday. Susan Slusser of the San Francisco Chronicle reports that Anderson threw a bullpen Sunday, which went well, and he appears "likely" to make his Wednesday start. The biggest concern with an ankle sprain on the landing leg of a pitcher is that it not throw off his mechanics and risk injury to his throwing arm. The A's must like what they see if they're considering a prompt return.
June, 30, 2008
6/30/08
11:07
AM ET
It's official. I don't need surgery. After having my knee swell up like a balloon, and losing about 80 percent of my range of motion, it looked as if I was headed under the knife to repair a torn meniscus. But lo and behold, as is often the case in medicine, things were not quite as they seemed. An MRI revealed a partial tear of the popliteus tendon (a small but critical muscle on the back side of the knee that helps control rotation of the tibia and provides posterior lateral stability), a painful and unusual but nonsurgical condition. My lateral and my medial meniscus as well as my ACL are intact. Whew! Looks like my downtime is limited to avoiding running for a few weeks and being cautious with my knee. I have to be a good patient and wrap my leg, ice it and take my anti-inflammatories while I gradually work on regaining my strength and stability.
The good news? I will be able to make the All-Star festivities this year. Most importantly, I am reminded of the value of the outstanding health care professionals who spend countless years training just to "help people." I am reminded that the injuries that we regular folks suffer are often exactly the same as those that the athletes endure, which is perhaps why we identify so readily with them. And yes, I am reminded of how relieved all patients are when the news is less grim than originally thought. Now you want to know the status of the guys you really care about? Please, read on.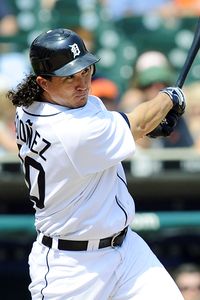 Icon SMIMagglio Ordonez was leading the Tigers with 50 RBIs at the time of his injury.
Magglio Ordonez, OF, Detroit Tigers:
Ordonez strained an abdominal oblique muscle on his right side in the third inning of Saturday night's contest against the Rockies. Originally the team reported Ordonez's ailment as spasms on his right side, but the severity of the injury quickly became apparent when Ordonez was placed on the disabled list Sunday. The Detroit Free Press reported that Ordonez had difficulty moving when he woke up Sunday. When asked how he felt, Ordonez said it all with three simple words: "Not so good." The plan is for Ordonez to stay behind and rehabilitate while the team embarks on a seven-day road trip. The hope is that the 15-day DL will be enough to allow Ordonez to recover fully.
The oblique strain has been working its way through the Tigers' clubhouse like a virus, with
Gary Sheffield
and
Brandon Inge
out recently with similar injuries. Sheffield, who was recently reactivated, has been playing some of his best baseball this season since his return. On the flip side, Inge, who injured himself in early June, has been in and out of the lineup since, but never really healed. This week the Tigers decided to make the move to place him on the disabled list. Perhaps Inge's struggles in getting past pain while swinging the bat helped speed up the decision to rest Ordonez, whose power at the plate is far more valuable. The Tigers cannot afford to have him at less than full strength for weeks only to ultimately place him on the DL. His rehab activities by the second week should give a better clue as to how he is progressing.
Dan Uggla, 2B, Florida Marlins:
Uggla sat out Sunday's game after spraining his left ankle Saturday. In the fourth inning Uggla was headed for second, trying to stretch a single into a double, but pulled up to go back to first and injured his ankle in the process. As Uggla limped along the baseline, he was tagged out and left the game. X-rays taken after the game were negative. Uggla later relayed that the dirt was wet, and when he stopped to turn back to first his plant foot just kept going forward and he couldn't catch himself in time. The Marlins' official Web site reported that Uggla was wearing a soft cast and sporting crutches after the game. For his part, Uggla says he didn't hear a pop and called this a mild sprain. He says he has injured this ankle before (at age 20) and described that episode as much worse.
The good news is that Uggla was able to put some weight on the ankle Sunday and managed to limp into the clubhouse on his own. He is officially listed as day-to-day but manager Fredi Gonzalez says the team will likely "stay away from him for a couple of days." The hope then is that he will be able to play during the upcoming road trip starting Thursday against the Rockies.
Hideki Matsui, DH, New York Yankees:
Inflammation in the left knee continues to give Matsui trouble. He has now had the knee drained twice and has been placed on the 15-day DL effective Friday. If the problem doesn't subside, Matsui could be looking at a scope. According to The Associated Press, the Yankees insist that surgery is a last resort, but the fact is that it remains a possibility. The persistent inflammation is a sign that something is indeed irritating the joint. Abnormalities within the joint (such as cartilage damage or meniscus injury) can create irritation that results in the joint increasing fluid production. The fluid then blocks normal range of joint motion and can inhibit muscular contraction, both of which will render an athlete ineffective. And that doesn't even account for any pain that occurs as a result.
It would not be a surprise to see Matsui go under the knife, given his age (34) and history of intermittent problems with both knees. After all, Matsui had arthroscopic surgery on his right knee in the offseason and that seems to be holding up well. If the rest he gets in the next week or so does not result in significant improvement, do not be surprised if Matsui extends his time off so that he can undergo surgery.
Michael Cuddyer, OF, Twins:
What's good for the goose is good for the gander, or so they say. Cuddyer, who suffered with an injury to his right (throwing) index finger earlier this year, now has an injury to his left index finger that is again forcing him onto the disabled list. In April, Cuddyer dislocated his right index finger and missed 20 days. This latest injury has been more gradual in nature. According to the Minneapolis Star-Tribune, Cuddyer has had pain in the left index finger for a couple of weeks, progressing to the point where he can hardly swing a bat. By Saturday, the pain was causing Cuddyer to lose his grip on the bat and he was even having pain at rest. The team is calling it a tendon strain and although they have not specified which tendon is involved, one would suspect a flexor tendon, on the palm side of the hand, because it is utilized when gripping, both while swinging the bat and fielding with the glove. The finger was clearly no better on Sunday since the team made the move to place Cuddyer on the DL. Depending on the degree of inflammation, Cuddyer may even need a little extra time beyond the two weeks. With the All-Star break approaching, consider him out until after that point, perhaps the following week.
Shaun Marcum, P, Toronto Blue Jays:
When we last talked about Marcum he was on his way to visit with Dr. James Andrews and the worst was feared. Alas, it was not all doom and gloom for Marcum. Andrews confirmed the team's initial diagnosis of an elbow strain and cleared Marcum to initiate a throwing program Saturday, according to the Blue Jays' official Web site. Keep in mind, however, that the emphasis in a return to throwing program is gradual progression, and the Jays are wisely planning to be cautious with Marcum. Although eligible to return Friday, the Jays figure his absence will extend to after the All-Star break. With smart management, and a little luck, Marcum will fare well in the second half of the season.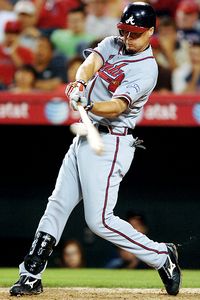 Icon SMIDespite the nagging quad injury, Chipper Jones is still hitting close to .400.
Chipper Jones, 3B, Atlanta Braves:
It seems Chipper Jones is a regular in the injury blog, but until now, despite the fact that he has had an injury for much of the season, Jones has not
yet
made a trip to the DL. Note the emphasis on "yet." The times may be a-changin' as Jones' quadriceps injury, despite his valiant efforts, may need the benefit of extended rest to really turn the corner. According to the Braves' official Web site, Jones can't run at greater than 50 percent effort because of pain. Although his bat has been hot, even as a pinch hitter he is at risk of further injury if he sprints. The last thing the Braves want is to lose him for the remainder of the season with a significant quadriceps tear. So far, Jones has managed to maintain a balance, contributing offensively and defensively on a regular basis while resting his leg a day or two at a time as needed. But the injury has progressively worsened each time Jones has aggravated it this year. For that reason, I believe Jones will ultimately end up on the disabled list and his quad will get some well-deserved rest, all of which should allow him to continue his amazing run in the second half of the season.
And in the good news department ...
Ryan Church, OF, New York Mets:
Church was activated from the disabled list Sunday and went 2-for-4, picking up right where he left off. Church had not played since June 6 due to lingering effects of his second concussion this year. He was originally injured in a spring training collision with
Marlon Anderson
. Church suffered his second concussion in late May in Atlanta when he collided with Braves shortstop
Yunel Escobar
's knee while trying to break up a double play. Although he managed to pinch hit just two days later, Church did not start for 10 more days. His poor performance was explained by lingering symptoms that persisted after the second concussion. According to an ESPN report, Church was still experiencing dizziness, light sensitivity and discomfort on team flights and the decision was made to place Church on the DL. It appears to have been the right decision because Church looks like a new man. Now if only he can avoid another collision this season, he should be in good shape.
Eric Gagne, P, Milwaukee Brewers:
Gagne was activated from the disabled list after missing time with rotator cuff tendinitis, but that doesn't mean he'll automatically be the closer.
Salomon Torres
has performed well in Gagne's absence and should continue in the role, leaving the set-up assignment for Gagne. The Brewers have to be happy, though, that they have options here. At least they have a chance to see if Gagne can regain his effectiveness before giving him the ball with the game on the line.