Stephania Bell:

Danny Amendola
October, 4, 2013
10/04/13
9:23
AM ET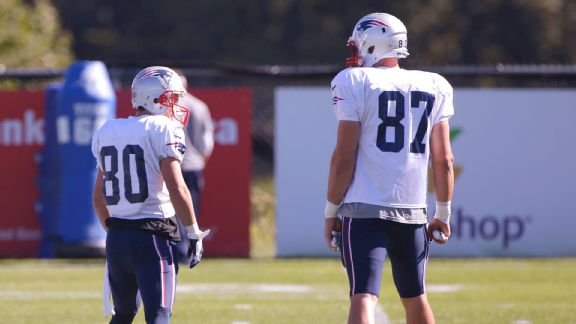 AP Photo/Stephan SavoiaDanny Amendola (No. 80) and Rob Gronkowski (87) are nearing their return to the field.
Here are updates on more of the fantasy-relevant injury situations that I've been following ahead of Week 5 of the NFL season.
New England Patriots
Rob Gronkowski, TE (back/forearm):
It feels like a broken record when discussing the injury status of Gronkowski and Danny Amendola; both are practicing on a limited basis, and both will likely be listed as questionable heading into Sunday's game in Cincinnati. Another week of practice means another week of confidence for Gronkowski, which seems to be one of the primary issues for him in stepping back onto the playing field. From a practice perspective, he may still be limited on reps, but Gronkowski is participating in all forms of drills. Other than facing a true opponent -- which is a legitimately different experience from practicing with teammates -- there is little left for Gronkowski to test. But after nearly a full year of recovery from various surgeries, and the setbacks associated with some of those surgeries, who can blame him for wanting to feel extra confident that he is prepared to take the field again?
After sitting out last week's game in Atlanta, it seems unlikely Gronkowski will opt to test his readiness in Cincinnati just one week later. But a Week 6 home game in New England against the
New Orleans Saints
just seems more likely. It has the makings of an exciting matchup, taking place in Foxborough, where Gronkowski will be surrounded by friends and family and undoubtedly welcomed with thunderous applause. More important, he will have just passed the 16-week mark since undergoing back surgery (the operation was June 18). Three months post-surgery is typically the soonest return for an athlete after this type of procedure; this is Gronkowski's second such operation (albeit at a different spinal level). Tacking on another month's worth of additional training and conditioning can have a profound impact on confidence level.
The extra time also allows the forearm more time to adapt to the workout stresses being placed on it, which in turn helps prepare it for the in-game loads it will encounter. Of course, no one can offer a foolproof guarantee that there is zero rate of reinjury, and the last time Gronkowski set foot on a playing field, he reinjured himself. Whatever hesitancy he may be experiencing is certainly justified. Look at it this way, fantasy owners: While he's out, readying himself for his NFL return, at least Gronkowski isn't adding any new injuries to the list.
Danny Amendola, WR (groin):
Meanwhile, Gronkowski's teammate Amendola continues to make progress, but is no sure bet to return in Week 5 either. He remains on a limited practice schedule as he increases the level of demand on what is certainly a still-healing adductor tear. The hardest part about gauging Amendola's return is trying to determine when the risk-reward changes so the reward of him playing outweighs the risk of reinjury. If Amendola is still lacking power or mobility (particularly with hard breaks on routes or any sharp directional changes), he runs the risk of further injury. These things are always hard to measure in practice, but even more so if the athlete is not consistently working at full speed. By Amendola's account, the progress has been substantial, but the Patriots tend to be conservative with these soft tissue injuries and Amendola's history has to make them a bit more cautious than usual. If Amendola does manage to play in Week 5, it's hard to envision him playing at full speed for a full game.
Stevan Ridley (knee) and Brandon Bolden (knee), RBs:
Also among the Patriots' MASH unit is running back Stevan Ridley. Ridley bruised the area above his knee in last week's game, and has not practiced. If he has been dealing with significant swelling, the rest will move him further toward the goal of being available Sunday than trying to practice. That said, Ridley should be on the field Friday to improve his chances of playing this week. Meanwhile, Brandon Bolden has been a regular on the injury report because of his knee and so far this week, he has been kept to limited practices. The fact that he has been a participant to some degree bodes well for his chances of suiting up this weekend, barring a setback.
Indianapolis Colts
Ahmad Bradshaw, RB (neck):
The news for Bradshaw is not good. He was held out of Sunday's game after suffering a neck injury in the Week 3 contest against the
San Francisco 49ers
, and the word from the Colts was that he was still being evaluated. The evaluative process continued into this week, as Bradshaw traveled to California for a consultation with noted spine surgeon Dr. Robert Watkins (who operated on both
Peyton Manning
and Rob Gronkowski). According to ESPN.com reports, Bradshaw is still undecided about surgery, but in the meantime, he has yet to practice since the injury. Last year, Bradshaw suffered a neck injury in Week 2 which caused tingling in his hands. He underwent a battery of tests and later revealed the injury to be a bulging disc.
"It's pretty much like an inflamed disc, and it's just sitting right on the spinal cord, I guess," Bradshaw told the Newark Star-Ledger at the time. After the symptoms subsided, Bradshaw was cleared to return to play but he knew then the symptoms could return at some point. The Colts have not indicated whether this current injury is related to the problem Bradshaw had last year, but it would certainly make sense, particularly given the chronic nature of disc injuries. These injuries can go through quiet phases, not provoking any symptoms, until there is an event which triggers a worsening of the injury and an inflammatory reaction. While Bradshaw considers his options, fantasy owners should consider whom they would choose to replace him for this week and, quite possibly, for the remainder of the season.
Oakland Raiders
Darren McFadden (hamstring) and Marcel Reece (knee), RBs:
McFadden left Sunday's game in the first half with a right hamstring injury, and only returned to the sideline as an observer for the second half. Although the Raiders did not specify the severity of the injury, McFadden's absence from practice is telling. He is no stranger to lower extremity injuries and has missed numerous games throughout his career as a result. Although McFadden entered the season healthy, it seemed only a matter of time before another soft tissue injury cropped up. One month into the season, McFadden is contending with a hamstring ailment and looks to be in danger of missing at least Week 5, if not longer. The Raiders will play in an unusually late Sunday night game (the result of sharing a stadium with the Oakland Athletics, who will host a playoff game hours before), so fantasy owners should make alternate plans in advance.
Reece also left Sunday's game early with a non-specific knee injury (sprain) that warranted an MRI, but he returned to practice on a limited basis Wednesday, then followed it up with another limited practice Thursday. Apparently the injury is not as serious as it first appeared, and with McFadden likely out, Reece's availability as a complement to
Rashad Jennings
becomes more important.
Green Bay Packers
Eddie Lacy, (concussion) and Johnathan Franklin (foot), RBs:
Lacy suffered a concussion on his first carry of Week 2, and was held out of the following game. The Packers had a bye in Week 4, giving Lacy some additional down time. Coach Mike McCarthy indicated prior to the Week 3 game that Lacy had made good progress, so it came as no surprise that he was back practicing with his teammates this week. In fact, Lacy has been a full participant and barring a setback, he'll play this Sunday.
With
James Starks
already ruled out, Franklin would figure to be next in line behind Lacy, but he is dealing with an injury of his own, a foot ailment suffered late in the Week 3 game where he replaced the injured Starks. Franklin was able to practice fully both Wednesday and Thursday and should be available for Sunday's contest against the Lions.
Jermichael Finley, TE (concussion):
Finley suffered a concussion in Week 3, then provided some insight into just how sobering an experience that can be when he posted a video describing the event on his personal website. As ESPN.com's Rob Demovsky pointed out, Finley's video was
the first time that the media had heard from him
following the injury. In his video, Finley talks about the play where the injury occurred, and the initial symptoms he experienced after regaining consciousness, which included visual disturbances and balance issues. Finley has made great improvements since the injury, as evidenced by his clearance to return to football activity after passing numerous tests. As Demovsky reports, Finley called the testing process a "long haul," but seems to appreciate the steps that are in place, perhaps as a result of his personal encounter with a head injury. "You have to do several things to get back, and you have to respect the league for doing it," Finley said. "It's much respect from me."
Kansas City Chiefs
Jamaal Charles, RB (toes):
Charles popped up on the injury report with the body part listed as "toes," presumably because of the "extensive blisters" coach Andy Reid described after the Week 4 game. ESPN.com's Adam Teicher reports that Charles participated in the team walk-through Wednesday despite not formally practicing, a good sign for his likelihood of playing Sunday against the Titans. Charles was upgraded to limited practice Thursday, and appears to be on track for Week 5.
September, 20, 2013
9/20/13
12:27
AM ET
Rob Gronkowski
and
Danny Amendola
of the
New England Patriots
are on the practice field, but how close are they to actually playing?
Danny Amendola, WR (groin):
The last time we saw Amendola in a game was Week 1, when he left the field in the first half after sustaining further injury to the groin, yet returned in the second half for a gutsy finish. Then, he was out for Week 2, and the questions as to how long he would be absent began circling. There were various reports offering a wide range of missed time and a report from Fox Sports of Amendola seeking multiple opinions about his condition.
In essence, all are relevant. The uncertainty about his timetable reflects the true unknown status about how quickly Amendola can be expected to progress after sustaining a tear of muscle tissue in the groin area. There can be questions about when an injury to the groin warrants surgery, and the answer lies in the location and extent of the tear, along with the philosophy of the medical provider. As is the case with most things in medicine, the answers are not black and white, and there can be varying opinions.
What is known at this point is that there is no immediate plan to pursue surgery (which is not to say that he will or won't require a procedure at some point in the future), and Amendola is undergoing conservative treatment and trying to work his way back on the field. His continued presence on the field for limited practices attests to this. During the early recovery phase, Amendola's body needs to lay down scar tissue where the injury occurred. The challenge of balancing treatment with activity level comes in allowing enough rest for the tissue to repair itself yet maintaining enough flexibility to prevent excessive stiffness. Preserving strength of all the other core muscles is critical and maintenance of cardiovascular conditioning is essential to keeping his fitness level up. As the healing advances, the prospect of Amendola returning to competition can begin to be targeted.
Obviously, this all requires time, something not in abundance once the season is underway. However, the Patriots are generally cautious about not rushing their players back to action, which hints at more time off for Amendola. For now, consider him unlikely to play this week.
Rob Gronkowski, TE (back/forearm):
Speaking of not rushing, the Patriots have been allowing Gronkowski to steadily increase his return to football readiness through limited practices. Approximately four months removed from surgery to replace the hardware in his forearm -- and just more than three months since back surgery -- he has more the look of a healthy player who is getting into football shape than one who is still ailing.
It should be noted, though, that all of the steps he is taking toward returning to football are part of the final phase of the rehab process. However, the Patriots are not going to let all that work go out the window in order to provide some immediate relief for
Tom Brady
. Gronkowski's return is near, but it would be surprising if it's this week in Tampa.
September, 12, 2013
9/12/13
12:38
PM ET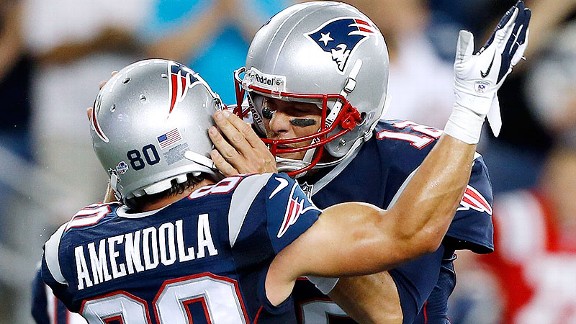 AP Photo/Michael DwyerDanny Amendola, who's battling a groin injury, is listed as doubtful heading into Thursday's game.
Thursday night's matchup between the
New York Jets
and
New England Patriots
has no shortage of storylines, including several injury question marks that will have major implications for both the game and fantasy.
Of particular note are injuries to several of the Patriots' key offensive weapons. Here's an updated look at New England's injured offensive players heading into Thursday's game:
Wide receivers
Danny Amendola, groin (D):
Last week, Amendola was listed as probable heading into Sunday, started the game, left the game for a while after aggravating his groin injury and unexpectedly returned and gutted it out to deliver a strong performance.
This week -- which, to be fair, is only four days later -- Amendola is designated as doubtful, is
not
expected to play and may just be living up to expectations, at least when it comes to injury.
Amendola sustained the groin injury in the middle of the preseason and spent the next couple of weeks focusing on a rehab program with the intent of playing in Week 1. However, he was not quite 100 percent, a fact that was exposed when he came up hobbling and immediately reached for the injured area. After that setback, it's clear that he can't be expected to be fully healthy just days later, despite the grittiness he showed by returning to Sunday's game.
If Amendola sits out Thursday, he then has at least two full weeks to recuperate, longer if necessary. The team may opt to proceed conservatively given that Amendola suffered a setback in his first game action following the initial injury. It seems logical the Patriots will choose that option, something they have already hinted at by designating him as doubtful -- which was
supported
by ESPN Boston's Mike Reiss.
The bigger question is not necessarily when Amendola will recover from this ailment but whether he can get past it and stay on the field for the remainder of the season.
Running backs
With
Shane Vereen
sidelined until at least Week 11 after undergoing surgery to repair a broken bone in his wrist, the Patriots need their other running backs to be healthy.
Stevan Ridley, shoulder (P):
Ridley may be on the injury report, but the expectation is that he will play. He was able to practice fully Tuesday and Wednesday, and the probable designation indicates the team plans on having him.
Brandon Bolden, knee (Q):
Bolden missed the first week's game with a knee ailment. He has been limited in practice throughout the week, and his lingering questionable status makes him iffy to play Thursday.
Leon Washington, thigh (Q):
Washington is listed with a thigh injury but participated on a limited basis all week and has a chance to suit up. He was inactive for last week's game but had just re-signed with the Patriots after they released him following the preseason.
Are there any running backs not on the injury report? Just one:
LeGarrette Blount
. The Patriots have to hope they get through Week 2 without losing any more depth at the position to injury.
Tight ends
Rob Gronkowski, back/forearm (D):
Gronkowski is not going to suit up for Thursday night's game, which does not come as a great shock after he didn't even travel with the team in Week 1. Gronkowski is certainly worth keeping an eye on as he continues to practice with the team on a limited basis, steadily increasing his workload toward a return to competition. The Patriots have not indicated when that return might happen, but his presence on the active roster hints at a return before Week 6 if all continues well.
Zach Sudfeld, hamstring (Q):
Sudfeld became such an exciting player to watch in the preseason that his collegiate injury history -- including shoulder, knee, wrist and leg ailments -- was generally overlooked. Sudfeld has been dealing with a hamstring ailment and has been limited in practice throughout the week. Given the injury, he is not a lock to start and could come down to a game-time decision.
September, 10, 2013
9/10/13
3:22
PM ET
Week 1 is in the books! As always, injuries old and new will impact fantasy lineups everywhere. Here's what we know so far.
Wide Receivers
[+] Enlarge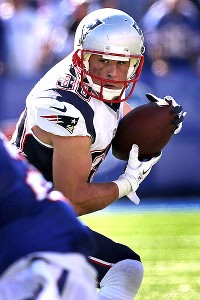 Barry Chin/The Boston Globe/Getty ImagesDanny Amendola's injury history is already catching up with him.
Danny Amendola, New England Patriots (groin): Don't say you weren't warned. Amendola has long been touted as a high-risk, high-reward option and both qualities were in plain view last Sunday. Amendola came into the season opener on the mend from a groin injury suffered in the second preseason game, and while he had improved, he resumed practicing on a limited basis just last week. He was not expected to be at full health, thus making him a risk for a setback in the game, and it didn't take long for that setback to occur. Late in the second quarter, Amendola could be seen reaching instinctively toward the injured area of his right upper thigh and pelvis as he limped off the field. Somewhat surprisingly, he returned to the game in the third quarter. More surprisingly, he delivered a solid performance in the aftermath of the setback, but it may have come at a price. The Patriots play Thursday night and Amendola was absent from the team's Tuesday walk-through, typically the most significant practice day in a Thursday game week. His status may come down to a game-time decision but fantasy owners should make plans to have a backup in place. If he does play -- which, according to ESPN and media reports, is unlikely -- he will not be at full health. The question if he does suit up will be whether he can muster another performance like last Sunday or whether he will potentially set himself significantly further back. If he sits Thursday against the Jets as it appears he will, it would give him a two-week recovery period before the Patriots' subsequent matchup against Tampa Bay.
Roddy White, Atlanta Falcons (ankle): White's status provided some last-minute pregame drama Sunday when reports emerged that his ankle injury was more serious than previously revealed by the team. It's not unusual for a team to downplay the severity of an athlete's injury. But even in the day and age of gamesmanship, it is still uncommon for a team to refute the nature of an injury outright. When White originally injured his ankle in the preseason, it was reported as a "minor ankle sprain". Reports from NFL.com indicated it was a lateral ankle sprain, not a high ankle sprain, which is an entirely different injury. The team denied that White's injury was a high ankle sprain. On Sunday, we learned from White himself (after the game) that he was indeed dealing with a high ankle sprain and that he had not been able to test it in various ways in the week leading up to the opener. White told reporters, "It's hard to cut. It's hard to do just about everything at the position." Although he was on the field, he was clearly not himself and the question facing fantasy owners now is when he will return to form.
Suffering a high ankle sprain does not automatically translate to a longer absence than a standard ankle sprain; the injuries are still measured in terms of severity and the extent of tissue damage. A severe lateral sprain can be worse than a mild high sprain. Some movements, however, particularly rotational, can be more difficult with a high ankle injury. It is also critical for the injury to heal properly to prevent longer-term problems down the line. White said doctors told him initially he would be sidelined for approximately a month. This week marks a month since the initial injury so, barring a setback, he should be rounding into form soon. It's not yet clear whether he will play this Sunday when the team hosts the Rams, although it seems likely, given he played in Week 1. Fantasy owners will want to see just how much he does in practice, however, before making a decision about Week 2.
Dez Bryant, Dallas Cowboys (foot): Bryant sprained his left foot late in Sunday night's game as he appeared to get it caught underneath him as he was rolled on by a defender. Although he walked off the field, Bryant's frustration with the injury on the sideline was immediately obvious. Then he returned to the game moments later, suggesting it was not perhaps as bad as originally feared. X-rays after the game were negative for any fractures. ESPN's Ed Werder reported that a subsequent MRI confirmed a mild foot sprain for Bryant, and the Cowboys -- as well as Bryant himself -- are optimistic about his chances for playing this week. Naturally, any foot injury is a concern for a running back or a receiver, but Bryant's ability to return to last week's game was a positive sign. Expect him to be perhaps limited in practice but, as of now, he appears to be in line to play against the Chiefs.
Running Backs
Shane Vereen, New England Patriots (wrist): Not that anyone would have known based on his performance Sunday, but Vereen fractured a bone in his left wrist on his first play of the game, a story originally reported by Fox Sports. (Vereen went on to finish out the day Sunday to the tune of 101 rushing yards and seven receptions.) While it was immediately apparent he would miss some time once the plan for surgery was announced, a definitive timetable remains hard to project. The Boston Herald cites a source as saying Vereen will miss at least a month. Beyond the healing parameters for a fracture (typically about six weeks, although surgical stabilization may allow sooner return to activity), there is the issue of regaining adequate motion and strength around the wrist and hand to provide ball security. Since Vereen was given extra work Sunday when teammate Steven Ridley was involuntarily sidelined after fumbling, the Patriots have made it clear that ball security is of the utmost importance. The Patriots placed Vereen on injured reserve-designated to return on Tuesday, meaning he can return to practice after six weeks and return to play after eight weeks. That means the earliest he could play is Week 11 because the Patriots have a bye in Week 10.
[+] Enlarge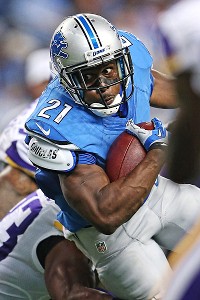 Leon Halip/Getty ImagesReggie Bush had a big debut for the Lions but also suffered a few injuries in the process.
Reggie Bush, Detroit Lions (thumb, groin): Bush appeared to have a new lease on his running back life Tuesday, amassing 90 rushing yards and, perhaps more impressively, 101 receiving yards Sunday with a touchdown thrown in for good measure. But the oft-injured running back -- most notably in the early part of his career, as he missed only one game in the past two seasons with Miami -- sustained not one but two injuries Sunday. Bush dislocated his thumb, later telling reporters, "it was pointing in the wrong direction, but they were able to pop it back in and tape it up." It would seem that this could have presented a big problem for a running back who needs to catch and carry the ball, but Bush's solution was simple. "After that, I just carried the ball with my right hand," Bush said. As if that weren't enough, Bush indicated that on the subsequent series he pulled a groin muscle. None of that was enough to keep him from being exceptionally productive last Sunday, which also bodes well for his chances of playing this week in Arizona. Naturally, there will be concerns about the potential aggravation of the groin injury, but at least Bush appears in line to start. According to the Detroit Free Press, coach Jim Schwartz has no plans to limit Bush's workload in an effort to protect his body (unsurprising if you look at track record of play for injured running backs in Detroit). "That's life in the big city," Schwartz said. "You're a running back in the NFL." Bush's fantasy owners should make every effort to acquire Joique Bell, who looked pretty darn good for the Lions on Sunday in that No. 2 role.
Jamaal Charles, Kansas City Chiefs (quad): Charles left Sunday's game early with what is being called a "quad contusion," otherwise known as a deep bruise of the large muscle on the front of the thigh. The biggest factor in determining how much this will affect Charles is how much bleeding or bruising there actually is in the muscle and how quickly it dissipates. Head coach Andy Reid told reporters Monday that Charles does have his range of motion (a positive, suggesting the thigh is not overly stiff or swollen), and the Kansas City Star reports Reid was hopeful about his availability for Sunday's home opener. The key will be how well Charles can move throughout the week and whether he can run without discomfort and at full speed by Sunday.
Quarterbacks
Tony Romo, Dallas Cowboys (ribs): We were told Sunday night on the television broadcast that Romo "got the wind knocked out of him" when he absorbed a double-crunch blow to the ribs just before halftime. It certainly looked like it had the potential to be more serious, but Romo's ability to return and finish out the game eased some concern. He clearly wasn't comfortable and did undergo further testing postgame. The good news is that there was no structural damage and the subsequent diagnosis was "bruised ribs." The Cowboys and Romo fantasy owners had to be relieved to hear "bruised" and not "broken." It was just two years ago when Romo played with broken ribs, leading us to believe he will continue to play now. He may get some additional rest this week in practice to allow the pain to settle and he may get some additional padding in the area for the game, but this is not expected to keep him from facing the Kansas City Chiefs on Sunday.
Blaine Gabbert, Jacksonville Jaguars (hand): Gabbert came into the opening week of the season as questionable with a nondisplaced fracture in his right (throwing) thumb, an injury suffered during the team's second preseason game. After doing enough in practice during the week to convince the team he was ready to play, Gabbert did indeed start. He did not finish. Gabbert left in the fourth quarter with a laceration on his right hand that required 15 stitches to close. He has already been declared out for Week 2. Chad Henne will get the start in Oakland.
Tight Ends
Zach Sudfeld, New England Patriots (hamstring): Sudfeld was apparently dealing with a hamstring issue, which may have been a factor in his lack of contribution last Sunday. With the Patriots on a short week, it's unclear whether Sudfeld will be available Thursday and whether he would even be fully healthy if active.
And we're keeping an eye on:


Rob Gronkowski, TE, New England Patriots (back/forearm): Gronkowski is working his way back to action, but don't expect it to come on a short week. At least, it doesn't appear that way as of Tuesday.
Le'Veon Bell, RB, Pittsburgh Steelers (foot): Bell proclaimed he would aim to return in Week 2 but followed that up with the caveat that he wasn't making any promises. That would indeed be a quick turnaround following a midfoot sprain, but no timetable -- especially when it comes to foot injuries -- is set in stone. With the report Tuesday from Bob Labriola of Steelers Digest that Bell has not yet begun individual drills in practice, it does not appear likely Bell's return is imminent. The Steelers also re-signed Jonathan Dwyer in the wake of LaRod Stephens-Howling's ACL tear.
December, 18, 2012
12/18/12
5:41
PM ET
Week 15 is in the books! Whether you're heading into your championship game or your semifinals, a win this week is no doubt critical. Naturally, injuries factor into the equation as to who will make your starting roster and, naturally, there are fewer options to choose from as yet another player says goodbye to the 2012 season.
San Diego Chargers
running back
Ryan Mathews
missed the first two weeks of the season due to a broken clavicle and now he will miss the last two weeks of the season due to a broken clavicle. In the preseason he fractured his right collarbone; now it is his left. At least he knows what rehab he has in store for him. This puts an end to the season in which Mathews scored just one touchdown. Backup
Ronnie Brown
was forced to sit out Week 15 with a hamstring injury. This week coach Norv Turner says Brown has "a chance" to play, reports Michael Gehlken of the San Diego Union-Tribune.
As we head into Week 16:
[+] Enlarge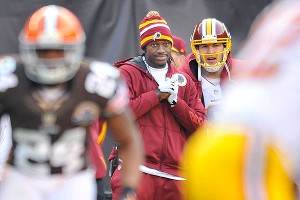 David Richard/USA TODAY SportsRobert Griffin III hopes to do more than just watch on the sidelines on Sunday.
•
Washington Redskins
quarterback
Robert Griffin
III cheered on teammate
Kirk Cousins
on Sunday as the backup led the team to victory. Griffin was held out due to the sprained LCL in his right knee amidst doctors' concern that he would be risking further injury. A return this week remains a possibility and, as The Washington Post reports, coach Mike Shanahan noted, "If the doctors give their OK, he's going to play." Griffin moved increasingly well as last week progressed, an encouraging sign given how painful the injury appeared at the time. If he can continue to make strides this week and if the swelling has resolved and doctors believe the knee is stable, look for Griffin to be pressing for a return. After all, he was doing that last week and made it clear it was not his decision to sit. Resting was a wise move by the team, which has to balance the weight of the lengthy career of a star player against any single-game benefit. Hopefully, the decision for Week 16 will come well before game time.
•
Dallas Cowboys
wide receiver
Dez Bryant
played last Sunday despite a fractured left index finger (which will ultimately require surgery to repair) and it certainly affected him at times. Bryant wore a customized splint created for him by the Cowboys' medical staff; however, his finger, too bulky to fit inside the glove, was exposed (the finger of his glove was cut out to accommodate the splint). Although Bryant performed better than might have been expected, there were some dropped passes or missed plays likely attributable to the finger. Bryant has already said he plans to play against the
New Orleans Saints
this weekend. He will continue to have the finger protected and he likely will face the same challenges from week to week. As long as it does not worsen, he should be able to perform as he did. His performance may even improve a bit as he adapts to the feeling of having the finger splinted. Of course, the unknown remains how any given hit or fall during the course of a game could affect his hand. Don't expect him to do much to jeopardize the relative health of his finger during the week. As Bryant told ESPN Dallas, "We're just going to be careful with it throughout the week and get ready for the game."
[+] Enlarge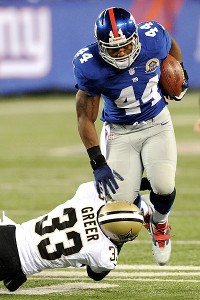 AP Photo/Bill KostrounAhmad Bradshaw was a surprise scratch in Week 15 but could be ready to go just in time for the fantasy championships.
•
New York Giants
running back
Ahmad Bradshaw
was held out of Week 15 because of a sprained knee. Despite his toughness and known willingness to play through pain, Bradshaw's knee concerned the team enough for the Giants to keep him at home as they traveled to Atlanta. The Giants are certainly ready to move on from that game, and Bradshaw is hopeful, expectant even, that he will play. Bradshaw paid a visit to the ESPN campus Tuesday and told me he has full range of motion in his knee again, a critical determinant of him being permitted to upgrade his activity. The knee is still sore (he had a bag of ice handy so that he could carry out his treatment, even while visiting) but Bradshaw says it feels significantly better than it did at the time of injury. Oh, yes, he's still battling pain in his foot, but as he indicated, the knee issue has essentially made him forget about anything with the foot. And as he pointed out, "I've played with broken feet. I know that's not going to stop me." I am under the impression Bradshaw will be returning this week, barring a setback.
• Another player who could return this week is
Philadelphia Eagles
running back
LeSean McCoy
. McCoy has missed four weeks since suffering a concussion and has been working his way back through the team's five-phase concussion recovery protocol. The Philadelphia Inquirer reports McCoy has been cleared by a neurologist to return, and head coach Andy Reid says there is "a chance" he plays. From a rehab perspective, there is no benefit to shutting him down if, in fact, he has made a complete recovery. Expect McCoy to participate in practice and, as the week progresses, there should be some insight from the team as to whether the Eagles plan on utilizing him in Sunday's game.
•
Jacksonville Jaguars
head coach Mike Mularkey continues to leave the door open for running back
Maurice Jones-Drew
(foot) to return. John Oehser of the Jaguars' official website reports that Mularkey indicated Jones-Drew's pain had improved. The plan was to work him out Tuesday to see how the foot would respond. Mularkey changed Jones-Drew's status from "very questionable" (which it has been for several weeks) to questionable. Still, it is clear the team is being cautious in returning him from a serious foot sprain. Right now, it seems unlikely Jones-Drew will make the necessary progress to play in a game, but as Mularkey noted, the Jaguars are not yet ruling him out. You probably don't want to invest your championship hopes in him.
•
St. Louis Rams
receiver
Danny Amendola
played his first game in three weeks last Sunday. He had a decent outing, considering Amendola isn't fully recovered from the plantar fascia injury he sustained in Week 11. He managed 58 yards and a touchdown along with a two-point conversion for good measure. Amendola told the St. Louis Post-Dispatch, "The foot felt pretty good for the most part." The best takeaway is that Amendola made it through the entire game and had no setbacks. The foot will not be 100 percent healthy until he has more time to rest it in the offseason, but if he can perform well enough to deliver fantasy points -- and it appears he can -- then he might just be worth inserting into your lineup.
• The
Chicago Bears
have placed running back
Michael Bush
on injured reserve. He suffered a rib injury in Week 13, managed just one carry the following week before pain forced him out, and then was sidelined completely for Week 15.
• The Tennessean reports
Tennessee Titans
wide receiver
Kendall Wright
says he suffered at least one cracked rib in Monday night's game. Wright exited the game in the fourth quarter after the injury. His status for this week is uncertain, but given the short time frame, it would not be a surprise if he is held out.
December, 13, 2012
12/13/12
9:14
PM ET
The additions to injured reserve keep piling up.
This week, the Arizona Cardinals placed quarterback
Kevin Kolb
on injured reserve. Kolb has complex rib, chest and shoulder injuries, which have sidelined him since Week 6. After giving
John Skelton
a shot at the starting job last week, the Cardinals have reverted back to
Ryan Lindley
. (We feel for you
Larry Fitzgerald
fantasy owners.)
Also, the Indianapolis Colts placed running back
Donald Brown
on injured reserve. Brown has a severe high-ankle sprain, which would have taken longer to recover from than the season permitted.
Vick Ballard
will be the starter for the remainder of the season.
Players with the biggest question marks heading into Week 15:
Robert Griffin III, QB, Washington Redskins (knee):
RG III has impressed many by participating in limited practice both Wednesday and Thursday. His presence Wednesday was a bit of a surprise after the frightening blow he took in Sunday's game, which resulted in an
LCL sprain
. More encouraging was that he returned the following day, which indicated that he did not experience any setback from Wednesday's activity. "He looked more comfortable," coach Mike Shanahan said of RG III's effort on Thursday, according to the Washington Post.
RG III has been fit with a brace to protect his knee and offer some stability. The final decision regarding his game status sounds as though it will not be made until Sunday. This gives RG III the maximum possible time to recover and keeps the Redskins' opponent (the
Cleveland Browns
) guessing, both of which benefit the Redskins. Offensive coordinator Kyle Shanahan outlined the key questions to determine whether Griffin will be under center. "I think Robert's going to be able to show us that he can move well, [but] it's more," Shanahan said. "If his knee is stable enough, can he protect himself in there and is there a risk of further injury?" Griffin is trending in the right direction in terms of his health, but come Sunday, the team could still elect to hold him out to buy him some additional recovery time. Fantasy owners should plan for a game-time decision.
Dez Bryant, WR, Dallas Cowboys (finger):
On Tuesday,
we noted
what the concerns might be for Bryant and his finger if he postpones recommended surgery. However, it appears that Bryant plans to take on that risk. He returned to limited practice Thursday, telling reporters, "Only thing y'all need to know is I'm playing," according to ESPN Dallas.
[+] Enlarge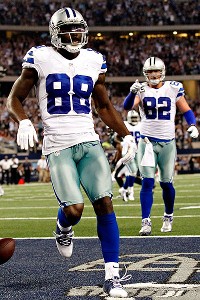 AP Photo/Tony GutierrezDespite his broken finger, Dez Bryant said he will play on Sunday.
What we all would like to know is just how well Bryant will be able to catch the ball. The two challenges will be trying to protect the injured finger and pain. When a bone is broken, vibration is perhaps the most pain-inducing sensation; a ball thrown from the quarterback with any measure of speed will certainly be painful when it hits the injured finger. Add to the mix the challenge for the medical staff to provide protection for the receiver's finger while not impeding his ability to catch the ball -- and pour on some swelling for good measure. It's difficult to function at a high level with this injury. The best sign so far was that Bryant was able to catch some passes Thursday; the next test will be to see how his finger is Friday and whether he can repeat the effort.
Ahmad Bradshaw, RB, New York Giants (knee):
When Bradshaw misses practice to rest his sore foot, it almost goes unnoticed because the expectation has become that he will play come Sunday. However, Bradshaw is contending with a new injury this week, and there seems to be a lot less confidence that it will be business as usual on game day. Bradshaw underwent an MRI and the team reports he has a sprained knee, although in the absence of any specifics, the diagnosis is essentially unhelpful as it could represent a multitude of scenarios.
The bottom line is that he has not practiced -- and may not this week. Coach Tom Coughlin referred to Bradshaw's toughness when addressing reporters Thursday after practice. As reported by ESPN New York, Coughlin offered this response to questions about Bradshaw's status: "I am not going to speculate -- because of the toughness of this young man -- on how long it would be," Coughlin said. "I am not going to rule him out of anything." Bradshaw is likely to appeal to play because he is, well, tough and competitive. However, the Giants' coaching and medical staffs may help make the decision for him. The Giants travel to Atlanta to play the Falcons, so if Bradshaw does not make the trip, the question will be answered. If he does travel, then add him to the game-time decision list.
Roddy White, WR, Atlanta Falcons (knee):
Knee. MRI. No details. Game-time decision. Sound familiar? The matchup between the Giants and the Falcons on Sunday has two stars whose injury situations are tenuous. Falcons coach Mike Smith told reporters Wednesday that White had a knee injury but he expected him back Thursday. After White did not practice Thursday, Smith called him a game-time decision, according to the Atlanta Journal Constitution. Smith did say that White felt "much better" Thursday compared to how he did Wednesday, but he also noted the team would exercise caution leading up to Sunday.
This is, after all, the time of the season when teams headed for the playoffs exercise careful judgment about returning players with even a minor ailment to action for fear it will develop into something more significant. White never misses games -- he hasn't missed one in eight years with the Falcons -- even when he's less than 100 percent healthy. However, this week it sounds as though he will have to be convincingly healthy come Sunday. For fantasy owners, it's another toss-up until Sunday morning.
Danny Amendola, WR, St. Louis Rams (foot):
Amendola has missed two games in a row (and most of a third game considering he had one catch in Week 12) because of his sore foot and heel. He has been a limited participant in practice this week, and could make a return Sunday, though it is likely to be another game-time call. Coach Jeff Fisher said Amendola needs the foot to heal sufficiently before returning, according to the St. Louis Post-Dispatch. "Danny needs to be close to 100 percent to be effective -- to be able to protect himself," Fisher said. Whether he will reach that mark by Sunday is the big question.
Quick Hits
[+] Enlarge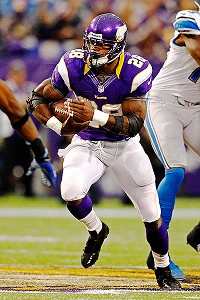 Bruce Kluckhohn/US PresswireAdrian Peterson should be good to go this weekend despite battling an abdominal injury.
Oh no, not
Adrian Peterson
on the injury report. After being limited Wednesday, Peterson did not practice Thursday because of an abdominal injury. According to Judd Zulgad of 1500ESPN.com, Minnesota Vikings coach Leslie Frazier said he expects Peterson back on Friday. It would appear that all of Peterson's fantasy owners can now exhale.
Detroit Lions tight end
Brandon Pettigrew
has missed two practices following his ankle injury in Week 14. The Lions have not hinted at his status, but they play in a late game on Sunday. It would be wise to have a backup plan.
Green Bay Packers coach Mike McCarthy described the chances of wide receiver
Jordy Nelson
suiting up on Sunday as a "long shot," which is all fantasy owners should need to hear. Nelson has not practiced this week, and with an eye on the postseason, expect the Packers to hold him out this week.
Concussions kept Jaguars running back
Rashad Jennings
and wide receiver
Cecil Shorts
out in Week 14. It looks as though Jennings will be sidelined again, as he has not yet returned to practice. Shorts has returned to limited practice this week and appears on track in his progression. Still, as the Florida Times-Union reports, Shorts has seen up close the difficulties some of his teammates have had after sustaining concussions, and he plans to take it one step at a time. "I'm definitely going to be smart about this," Shorts said. "As much as I want to play and would like to play, my health is more important." That sounds smart.
After getting a much-needed Wednesday off (along with the majority of his teammates), Chicago Bears quarterback
Jay Cutler
returned to practice Thursday on a limited basis. Expect him to play on Sunday.
Baltimore Ravens running back
Ray Rice
suffered a hip pointer on Sunday, but has been a limited participant in both Wednesday and Thursday practices. His injury did not sound serious, and his presence on the practice field supports that notion. Expect him on the field Sunday.
Seattle Seahawks wide receiver
Sidney Rice
suffered a foot injury, and ended up in a walking boot to start the week. He has not practiced, but the Seattle Times reports he was moving without the boot Thursday, which is encouraging. For what it's worth, quarterback
Russell Wilson
told the Seattle Times that he expects Rice to play. It would be a good sign to see Rice practice on Friday in order to feel better about his Sunday status.
Oakland Raiders running back
Darren McFadden
was reportedly moving well in practice early this week despite suffering a minor setback to his ankle in Week 14. He has been a full practice participant this week and is expected to play this weekend.
Don't expect to see
Carolina Panthers
wide receiver
Brandon LaFell
(turf toe) or running back
Jonathan Stewart
(ankle) this weekend as neither player has practiced this week.
December, 6, 2012
12/06/12
7:54
PM ET
Many a fantasy owner still playing for a title was dealt a big blow Wednesday afternoon when
Minnesota Vikings
wide receiver
Percy Harvin
was placed on injured reserve. The IR designation began to look like a real possibility after Harvin attempted one practice last week, struggled to run and was not seen again on the practice field the rest of the week. It was also recently revealed that he had sustained a more significant tear, not particularly surprising given Harvin's struggles to recover and his own description that he had sprained his ankle in three places.
Still, the recent description of the severity of his injury suggested he might not be able to return to form. As it turns out, Harvin wasn't able to return at all, but the assumption is that the IR decision was made with the interest of his long-term health in mind. Not only might Harvin have struggled to perform at anything close to the level he displayed early in the season, but he also may have risked compromising his ability to return to that level in the future.
[+] Enlarge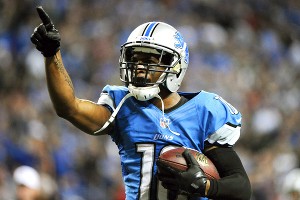 Tim Fuller/US PresswireTitus Young, hampered by a knee injury and behavior problems, is done for the season.
Other players moved to IR this week included
Detroit Lions
wide receiver
Titus Young
and
Miami Dolphins
offensive tackle
Jake Long
. Young was dealing with a knee injury for much of the season and was a frequent member of the Lions' injury report. His inability to consistently participate in practice was hinted at as a reason for his failure to perform to the level of expectation on game day. Recently, however, it became apparent that Young's behavior was at issue as well and the team suspended him in Week 12, sending him away from the facility for several days. He returned for some practice in Week 13 but remained off the playing field on Sunday.
This week, the decision was made to move him to IR, leading some to wonder what the primary reason was for the early termination of his season. According to the Detroit Free Press, the Lions placed Young on IR with a knee injury. However, when coach Jim Schwartz was asked whether the injury would require surgery, his response was telling: "Yeah, most likely," Schwartz said. "Yes, unless he doesn't show up for it." OK then. Until next year, perhaps.
As for Long, there is no doubt about what sent him to IR -- he tore his triceps and the recovery timetable exceeds the time remaining in the Dolphins' season. Long has dealt with significant injuries, including a torn biceps which ended his season late last year.
Already ruled out for Week 14
Running back
Donald Brown
of the
Indianapolis Colts
injured his ankle last Sunday and will not play this week.
Vick Ballard
will be the starter, which, given his use in recent weeks, should not come as a surprise. At least the Colts have done everyone a favor and given us this news well in advance of Sunday's game.
Quick Hits
Eagles running back
LeSean McCoy
remains out of practice as he recovers from a concussion. Don't expect to see him this weekend. However, do expect another hefty dose of
Bryce Brown
.
Nick Foles
is the Eagles' starting quarterback for the remainder of the season;
Michael Vick
has not yet returned to practice, but if and when he does, it will be in a backup role.
Concussions are also an issue for Jaguars running back
Rashad Jennings
and wide receiver
Cecil Shorts
. Both were injured in Week 13 and neither has returned to practice. It is not looking as if either will be available on Sunday.
[+] Enlarge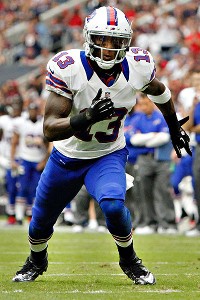 Brett Davis/US PresswireDespite his hamstring injury, Stevie Johnson should be ready to play for the Bills on Sunday.
Bills receiver
Stevie Johnson
strained his hamstring last Sunday, but the Bills did not seem concerned about his playing status for Week 14. After taking Wednesday off, Johnson returned to limited practice Thursday and unless things change, should be on course for Sunday. It's worth remembering that Johnson played through a groin injury last season which ultimately required surgery. This is not to say the hamstring issue is serious but rather that Johnson has shown he will play at less than full capacity.
Earlier this week, Packers coach Mike McCarthy hinted at a very low likelihood of seeing receiver
Jordy Nelson
in Week 14. Nelson aggravated his hamstring injury prior to last Sunday's game then was forced to exit early. He has not practiced this week and it's looking as if he will sit this game out. His teammate
Greg Jennings
said he felt "great" coming out of his return to action following abdominal surgery -- which makes sense, since Jennings is no longer mentioned on the injury report.
Giants running back
Ahmad Bradshaw
continues to operate on a modified practice schedule, as in no practice at all this week. His workload picked up last week with the absence of
Andre Brown
(now on IR with a broken fibula), but Bradshaw seemed to respond just fine. He is expected to play Sunday in a similar capacity. His teammate, receiver
Hakeem Nicks
, has been far less consistent this season. Swelling in his knee due to an injury sustained in Week 2 compounded his recovery from foot surgery. In Week 12, the ailments appeared to be in the rearview mirror but Monday's game proved that was not the case. This week, Nicks practiced Wednesday (and wasn't even listed on the injury report) but developed swelling in his knee again and was forced to sit out Thursday practice, limited to riding a stationary bike on the sideline. It's hard to have confidence in Nicks this week, particularly for those fantasy owners competing in playoffs. Meanwhile, fellow Giants receiver
Domenik Hixon
has been practicing in full after missing last week with an ankle injury. He should be available for this week's matchup against the Saints.
Rams wide receiver
Danny Amendola
was out of Sunday's game with an injured heel. He has spent the majority of the last two weeks in a walking boot. On Wednesday, Amendola did individual work on the side and was a limited participant Thursday, according to the St. Louis Post-Dispatch. This is an encouraging development but it's hardly reassuring heading into a fantasy playoff weekend. It's worth seeing what his activity is like on Friday. Meanwhile, teammate
Steven Jackson
has been playing through a foot ailment and will continue to do so. Jackson was back in full practice Thursday after taking Wednesday off.
Carolina Panthers
wide receiver
Brandon LaFell
suffered a turf toe injury and chipped a bone in the process, according to Joe Person of the Charlotte Observer. (This has the sounds of an avulsion injury, where a ligament injury pulls a small bone fragment with it.) The bottom line is that LaFell remains in a boot and not practicing, so he will not play this weekend. Teammate
Jonathan Stewart
(ankle) is not practicing and is not expected to play this weekend.
Bengals tight end
Jermaine Gresham
has been hot in the red zone lately, scoring touchdowns in three of Cincinnati's last four games. However, there may be no scoring of any kind for him this week if he can't take the field. He was a limited participant in practice Wednesday due to a hamstring injury, but it was his complete absence from practice Thursday that should have fantasy owners concerned. Late-week downgrades are never a good thing, and when the injury involves a hamstring, they are more worrisome. There is still a chance that Gresham recovers, but fantasy owners should be making alternate plans.
Jets tight end
Dustin Keller
does not look as if he'll make it back this Sunday after injuring his ankle in Week 13. He has not been ruled out for the game but he has not practiced yet this week. It's been a tough year health-wise for Keller, who missed four games early in the season due to a hamstring injury.
Patriots' tight end
Aaron Hernandez
continues to be held to limited practice but certainly was not held to limited playing time last Sunday when he was on the field for every offensive play. Expect him to be ready to go on Monday night. Teammate
Rob Gronkowski
is still on the mend from his broken forearm and is likely to sit out another week. No, the Patriots have given an update regarding the healing progression of the bone (but who expected that to happen?). When Gronk appears in practice, it will be the sign he is nearing a return. Until then, it is silence as usual.
And on a final note
Steelers coach Mike Tomlin announced Thursday that
Ben Roethlisberger
will resume his starting role as quarterback for the Steelers. While the unusual nature of his shoulder injury led to some speculation that he might be done for the season, the facts of his case combined with his history of quick healing and pain tolerance suggested he would be able to return.
It is still a credit to Roethlisberger that he is in a position to return just four weeks after getting injured. He has demonstrated that he can make the necessary throws to perform effectively, but how he responds to absorbing contact is unknown. He is expected to wear some padding for protection, but the sternoclavicular joint and the first rib are impossible to completely stabilize. His best bet is to ensure he unloads the ball quickly enough to avoid taking sacks that drive his shoulder into the ground (which is how he was hurt in the first place).
December, 4, 2012
12/04/12
4:54
PM ET
Week 13 is in the books! Unfortunately, so is the season of another promising young player who succumbed to injury. The
Detroit Lions
seemed to have unleashed another talented wide receiver in
Ryan Broyles
(who many a fantasy owner added to the roster when
Titus Young
was, ahem, demoted). After notching over 100 yards receiving in Week 12, Broyles didn't get through the first quarter of Sunday's game before suffering a knee injury. Sadly Broyles, who tore his left ACL in November 2011 while at Oklahoma, tore his right ACL and will now relive the surgery and lengthy rehab process. On the bright side, he knows what to expect and has proved he can return to an elite level of play. In the meantime,
Mike Thomas
becomes the next in line to fill in at wide receiver for the Lions.
Up in Boston, it appears the
New England Patriots
will have to do without the services of wide receiver
Julian Edelman
. Edelman injured his foot in Sunday's game and ESPN Boston cites a report from WBZ-TV saying Edelman's foot is broken, which will require surgery. This is unfortunate for the Patriots and unfortunate for fantasy owners who benefited from Edelman's production in recent weeks.
On the other side of the ball, the Chicago Tribune reports
Chicago Bears
linebacker
Brian Urlacher
will miss the next three games and potentially the remainder of the regular season after suffering a Grade 2 (moderate) right hamstring strain late in Sunday's game against the
Seattle Seahawks
. Urlacher entered the season with questions about his left knee after spraining his MCL and PCL late last season, but has managed to play every game until now.
As we head into Week 14:
[+] Enlarge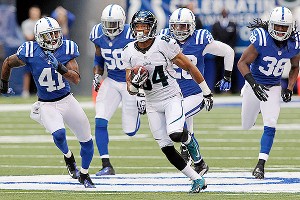 (AP Photo/AJ MastCecil Shorts has been one of this season's biggest surprises, but will he be able to go this week?
• The
Jacksonville Jaguars
had two wide receivers who suffered injuries in last Thursday's practice, but both
Justin Blackmon
and
Cecil Shorts
were healthy enough to play by Sunday. Unfortunately, only Blackmon emerged from the game unscathed. Shorts, along with teammate running back
Rashad Jennings
, suffered a concussion. Both Jennings and Shorts will follow the standard protocols of evaluation and required clearance for return to play. It is too early in the week to know what their status will be.
Montell Owens
stepped in the game when Jennings went down. With
Maurice Jones-Drew
still "very questionable" for Week 14 according to coach Mike Mularkey, Owens may be in line for a start. The Jaguars have seen Jones-Drew, Jennings and
Jalen Parmele
(now on injured reserve) all go down with injuries at various points this season. There are still four games to play, however, and the Jaguars do not seem inclined to automatically shut Jones-Drew down, nor should they be, assuming he progresses to the point of being able to return.
Despite Jones-Drew's projection in early November that he was about two weeks away from returning, it never really seemed plausible to count on him before December. Well, it's now December and while there's no urgency for the Jaguars in terms of needing victories to secure a playoff berth, there is still rationale from a rehab perspective to return a player to competition IF he is healthy enough to go. If Jones-Drew does not progress, the Jaguars certainly won't expose him to further injury by playing him unnecessarily. If he can return to practice in the next week or two, however, there is still a chance he returns for the final weeks of the season.
•
Green Bay Packers
receiver
Jordy Nelson
injured his hamstring again. During pregame warm-ups Sunday, Nelson reportedly aggravated the same hamstring that caused him to miss time earlier this season. According to news reports, Nelson attempted to play despite the injury but was unable to do so successfully and left in the first quarter (deja vu for fantasy owners who experienced similar pain in Week 9 when Nelson, already hampered by a recent hamstring injury, left early after injuring his ankle).
Nelson is a classic example of how hamstring injuries can resurface even after a player has had a successful post-injury outing (he had 71 yards and a touchdown in Week 12). With an eye on playing deep into the postseason, it's hard to imagine the Packers returning Nelson quickly, even if head coach Mike McCarthy says the injury does not appear serious. Of course McCarthy already tipped us off that Nelson will likely miss Week 14, saying he would be "pressed hard" to face the Detroit Lions on Sunday.
[+] Enlarge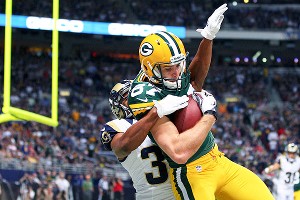 Scott Kane/US PresswireJordy Nelson has dealt with his share of injuries this season.
Maybe this is the week we see the return of the pre-injury
Greg Jennings
? While the numbers in his first game back from surgery to repair a torn abdominal muscle may not have been what fantasy owners were hoping for, he was targeted more than any other receiver Sunday and he emerged from the game feeling, well, "great." According to ESPNMilwaukee.com, Jennings said after the game, "I felt great, feel great now, felt great getting hit a couple times, hitting the ground, getting dirty, making some plays." Quarterback
Aaron Rodgers
offered this observation: "It's nice having him back. He's a big-time player. He can make big catches down the field. ... We've got to give him more opportunities." With Nelson expected to be out, maybe this is the week for Jennings to get those opportunities.
• Despite the positive reports on
Oakland Raiders
running backs
Darren McFadden
and
Mike Goodson
as they returned to practice last week, both were held out of Sunday's game. Perhaps they weren't quite ready for competition, perhaps there was concern about the weather, or perhaps there was thought given to the fact the Raiders would have two games very close together (they face the
Denver Broncos
on Thursday). Or maybe it's simply that
Marcel Reece
has provided enough security to allow for the extra cushion of recovery time.
No matter the reasons for last Sunday's absence, both backs are expected to be available for Thursday night. The question then becomes how the workload will be divided given McFadden and Goodson are coming off high ankle sprains while Reece and fellow back
Jeremy Stewart
have played well. According to the Contra Costa Times, offensive coordinator Greg Knapp said the Raiders will know more by Wednesday or Thursday as to how they will use them. Reece is also dealing with quadriceps and hamstring injuries that could compromise his effectiveness. Interestingly, Knapp also expects the return of tackle
Khalif Barnes
(he returned in Week 11 after a nine-week absence following groin surgery) to bode well for McFadden's productivity. It may be tough for fantasy owners to count on a huge boost from McFadden in his first game in five weeks, but a solid outing would be encouraging for a couple of upcoming favorable matchups.
• The
Philadelphia Eagles
have named
Nick Foles
the starter for the rest of the season according to head coach Andy Reid. That doesn't necessarily mean
Michael Vick
is out for the remainder of the season, just that if and when he does return, he will be the backup. Vick is still working his way back through an exercise progression post-concussion. The bottom line for fantasy owners who may have been holding out hope is that it's time to move on. It appears the Eagles have. As for running back
LeSean McCoy
, he is also in recovery mode post-concussion. According to Jeff McLane of the Philadelphia Inquirer, Reid says McCoy is in Phase 3 of the Eagles' five-phase concussion recovery program. He is not a lock to play this week and when he does return could very well find himself sharing time with
Bryce Brown
who, minus a fumble here and there, has been exceptional in McCoy's absence.
•
Carolina Panthers
wide receiver
Brandon LaFell
injured his foot in the third quarter of Sunday's game and is now in a walking boot. LaFell underwent an MRI on Monday but there is no word yet as to the specifics of his injury. Teammate
Jonathan Stewart
(high ankle sprain) is improving according to the Charlotte Observer, but the running back has no timetable for a return.
• Neither wide receiver
Percy Harvin
of the
Minnesota Vikings
nor
Danny Amendola
of the
St. Louis Rams
played last Sunday. Harvin has now missed three games due to an ankle sprain and is no lock to play this week. After one attempt at limited practice last Wednesday, Harvin could not repeat the effort and was still having trouble running. As for Amendola, he did not practice at all last week with his injured heel and the Rams opted to rest him Sunday. For both players, the next meaningful update is not expected before Wednesday practice.
Speaking of Wednesday practice, all eyes will be on
Pittsburgh Steelers
quarterback
Ben Roethlisberger
(SC joint and first rib injury) to see how he looks throwing the ball. According to ESPN's Ed Werder, the soreness in Roethlisberger's shoulder and chest has diminished. If he demonstrates he is healthy enough to function at the position, he could return to face the
San Diego Chargers
on Sunday.
November, 27, 2012
11/27/12
10:22
PM ET
With Week 12 in the books, it's almost playoff time -- fantasy football playoff time, that is -- so returning players who may be able to help spark a roster immediately are key. With that in mind, we begin this week by turning our attention to one such player, a wide receiver for the
Green Bay Packers
who is itching to get back on the playing field after a seven-game absence.
When
Greg Jennings
suffered a groin injury in the Packers' season opener against the 49ers, no one would have predicted he would be essentially sidelined until December, let alone that the injury would later require surgery. In fact, it seemed as if his absence in Week 2 was largely due to the game coming on a Thursday night, just four days after the original injury. Jennings did indeed return for Week 3 and saw a significant amount of playing time. A week later, however, he netted but one catch and was forced out early after aggravating the groin. That would be the last time he played.
Jennings and the team projected the same message from that point forward; he would not risk another setback by returning before he was 100 percent healthy. Jennings dedicated himself to rehab and conditioning, working out in the pool and on land under the watchful eye of the medical staff with the goal of being able to run full power. Unfortunately, running remained problematic. When asked in October how the injury limited him, Jennings told the Milwaukee Journal-Sentinel, "Creating separation. I just can't get that last gear right now."
[+] Enlarge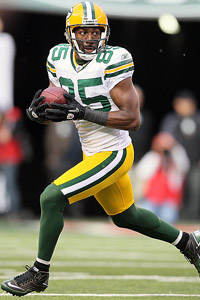 Jim McIsaac/Getty ImagesA "core muscle injury" robbed Greg Jennings of his ability to run away from defenders.
As it turns out, difficulty generating the power and explosiveness necessary for running is one of the hallmark signs of a core muscle injury (more specifically a muscle in the anterior hip, groin and abdominal region). Commonly referred to as a "sports hernia" in the past, the term has fallen out of favor with those who are the most expert in dealing with these injuries, primarily because the "hernia" portion of the term is a misnomer. There is no true hernia present; instead the injury represents a tear or a defect in one of the core muscles in the anterior pelvic region and the muscle(s) involved can vary. For this reason experts such as Dr. William Myers, who operated on Jennings and is considered one of the foremost authorities on this topic, are now referring to this collection of injuries as core muscle injuries. When pain and inability to perform athletic functions persists, surgery is often required. While it's naturally preferable to avoid any surgery when possible, the positive with this procedure is that the success rate is very high. Rarely do athletes suffer a setback that requires a repeat surgical procedure and they often return at or close to their pre-injury level. As the entity has become better recognized and understood, athletes in multiple sports such as football, baseball, soccer and hockey have been able to obtain proper treatment and return to an elite level of play.
The post-surgical rehab is fairly straightforward. There are no crutches or splints required. The athlete can walk immediately and exercise can be initiated quickly. Beyond cardiovascular conditioning, core exercises are gradually ramped up and running is ultimately restored, with a timetable of approximately three weeks to push full speed. As the athlete gains confidence he can test the boundaries of jumping and extending, both vertically and laterally, something athletes are initially hesitant about since those same movements were typically painful prior to surgery. Depending on the degree of complexity of the injury and the extent of surgery, most athletes are able to resume full activity within four to six weeks. For Jennings, who underwent surgery Nov. 1, this marks the four-week point. As important as his physical recovery is the confidence Jennings has regained since surgery. He was a limited practice participant last week -- including a day in pads -- and was pushing to play Sunday night. His eagerness to get back on the field of play shows he is comfortable with the repair, a different Jennings than the one who was hesitant earlier this season to commit to a timetable after repeated setbacks. "It's frustrating," Jennings told the Journal-Sentinel, "because your body, you feel like everything is OK, but the moment you go do something you're accustomed to doing, it's just not there."
As we head into Week 13 ...
Let us first acknowledge a few players whose seasons have come to an early close due to injuries suffered this past week. Eagles wide receiver
DeSean Jackson
suffered multiple rib fractures on Monday night, adding injury to insult in another Eagles loss. Jackson's timeframe for healing exceeds the time left in the regular season. The
San Francisco 49ers
lost two players to season-ending injuries
in a single play
. Even more strange is that the two injuries were sustained completely independent of one another yet both had devastating results. The team lost kick returner and wide receiver
Kyle Williams
to an ACL tear on a non-contact play. Frank Gore's primary backup
Kendall Hunter
was initially reported to have injured his ankle Sunday. The Sacramento Bee reports Hunter suffered an Achilles tear, citing a source with knowledge of the injury. Both Hunter and Williams have been placed on injured reserve.
Brandon Jacobs
saw his first action of the season when Hunter was injured and is now available to back up Gore along with
Anthony Dixon
and rookie
LaMichael James
. The
New York Giants
also lost depth at running back when
Andre Brown
suffered a broken fibula Sunday. Brown has been placed on IR/designated for return but would not be expected back before late in the playoffs, possibly the Super Bowl should the Giants make it that far. On Tuesday, the team announced the signing of
Kregg Lumpkin
to bolster their running back squad.
[+] Enlarge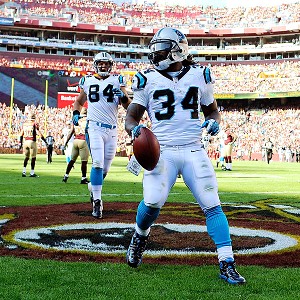 Patrick McDermott/Getty ImagesAn injury to Jonathan Stewart could be an opportunity for DeAngelo Williams to re-establish himself as a startable fantasy back.
In other news, two more running backs left games early this week with ankle injuries.
Matt Forte
of the
Chicago Bears
was injured in the third quarter and did not return. Coach Lovie Smith did not elaborate on his condition Monday. This could be one of those watch-to-see-what-happens-in-practice situations and may even come down to a game-time decision. Fantasy owners should prepare for the possible absence of Forte. In Carolina, the Panthers will likely be without
Jonathan Stewart
, who suffered a high ankle sprain Monday night, according to coach Ron Rivera. While Rivera would only call Stewart day-to-day, the nature of the injury combined with a short week for the Panthers make it unlikely Stewart will be available.
Raiders running back
Darren McFadden
could be in line for a return this week. At least his teammates think so. According to the San Francisco Chronicle, fellow Raiders believe McFadden will return to practice this week. McFadden has been doing some individual running so this doesn't seem unrealistic. More to come with Wednesday practice reports.
Eagles running back
LeSean McCoy
and quarterback
Michael Vick
remain on the recovery pathway from their respective concussions. The Eagles are now dealing with injuries to their starting quarterback, running back and wide receiver. While Jackson is done for the year, the Eagles plan on getting McCoy and Vick back. According to the Philadelphia Inquirer, both still have to clear testing requirements to be eligible to return and there's no guarantee it happens for either of them this week.
Minnesota Vikings
wide receiver
Percy Harvin
injured his left ankle in Week 9 and hasn't been able to practice, much less play. Harvin did not travel with the team to Chicago and his status for this week remains in question. Although his swelling has reportedly decreased, Harvin has yet to field test the ankle in a substantive manner, making it impossible to predict at this point whether we will see him in Week 13. Even coach Leslie Frazier, who has tried to sound optimistic about his star receiver the past two weeks, told 1500ESPN.com that there is no timetable for Harvin's practice schedule this week.
Cowboys wide receiver
Miles Austin
left in the first quarter of Thursday's game with what was initially referred to as a strained right hip. The Dallas Morning News reports Austin thinks he'll be able to practice Wednesday but head coach Jason Garrett, who described Austin's ailment as a "hip/low back thing," didn't sound as confident. In fact, Garrett described Austin as "fighting through" the hamstring issues this year suggesting he's really not been at 100 percent, despite the fact he has yet to miss a game. According to ESPN's Ed Werder, the expectation is that Austin will play against the Eagles Sunday night, despite the recent injury. Speaking of missing games, Cowboys running back
DeMarco Murray
has missed six games since spraining his left foot and may remain out again this week. Remember shortly after the injury when team owner and president Jerry Jones said on the Cowboys' official website, "I don't think it's long term. I think we'll have him back in the foreseeable future"? To be fair, he also said he wouldn't predict, but his updates over the next few weeks continued to convey optimism with regards to Murray's progress. It's an interesting sign that the tone of his outlook seems to have changed. According to ESPN.com NFC East blogger Dan Graziano, following Thursday's game Jones had this to say about Murray: "We can't get a prognosis that another week's rest will do anything." (Translation: No more projections.) Murray has been doing some individual work and is certainly further along than when he was sporting a walking boot and crutches. But the true test of pushing his foot through practice drills has yet to happen although Werder reports the first attempt to do so is scheduled to take place Wednesday. Until it does- and until the team can see how Murray responds to the activity, the uncertainty about his status will continue.
Pittsburgh Steelers
wide receiver
Antonio Brown
could be approaching a return from his high ankle sprain. Brown rejoined the team in practice last week but was not quite ready for game action. If he gets another uneventful week of practice under his belt, he should be in good shape to face the Ravens. As to who will be throwing the ball to Brown, head coach Mike Tomlin says the "door is open" for quarterback
Ben Roethlisberger
to return, according to the Pittsburgh Post-Gazette. Roethlisberger, who suffered a sternoclavicular and first rib injury in Week 10, is out of his sling and is beginning to test his arm. It really comes down to how effectively Roethlisberger can function and whether he can make the necessary throws to be on the field. After this particular injury, hard cross-body throws are likely to be the most challenging, along with deep vertical passes. The Post-Gazette notes that the team is preparing for
Charlie Batch
to be under center once again, but will monitor Roethlisberger's efforts in practice.
Danny Amendola
has been a regular on the injury report this season and this week is no different. The Rams' athletic wide receiver suffered a foot injury in Week 11 which had him in a walking boot early last week and kept him out of practice entirely. After being listed as doubtful (technically with less than a 25 percent chance of playing), Amendola was a surprise active but, not surprisingly, wasn't very active. He had one reception for 38 yards but was essentially removed from action for the bulk of the game because of persistent foot soreness. The St. Louis Post-Dispatch reports coach Jeff Fisher sounded more optimistic Monday about Amendola's chances for returning to practice this week. Still, while Fisher doesn't offer specifics about the injury, he does not suggest that Amendola is healthy by any stretch. "He's healing, but it's going to take time until he gets back to 100 percent." In other words, this has the sounds of Amendola being active again this week but there's no telling how much playing time he'll actually be able to deliver.
Maurice Jones-Drew
is not expected to return for the Jaguars this week, according to head coach Mike Mularkey. Jones-Drew continues to recover from a significant midfoot sprain and has not yet returned to team practice.
Jalen Parmele
injured his groin during the game and despite a valiant effort to play through it, the injury was too much to overcome. The Jaguars announced Tuesday that they have placed Parmele on injured reserve and thus it appears
Rashad Jennings
will be the starting running back against the
Buffalo Bills
this Sunday.
November, 6, 2012
11/06/12
5:50
PM ET
Week 9 is in the books! This feels like that time of year when the grueling toll of the season begins to make itself widely felt. A number of players left last week's games with new injuries, aggravations of prior injuries or some variation of a new injury superimposed on a not fully recovered injury. While a couple of those with new ailments look as if they might not miss any time (
Kansas City Chiefs
RB
Jamaal Charles
and
Dallas Cowboys
QB
Tony Romo
), others seem likely to miss a week if not more (
Pittsburgh Steelers
WR
Antonio Brown
,
Minnesota Vikings
WR
Percy Harvin
, and
Oakland Raiders
RBs
Darren McFadden
and
Mike Goodson
).
In the meantime, many of the key running backs who have suffered foot injuries in recent weeks (
DeMarco Murray
Maurice Jones-Drew
,
Cedric Benson
) continue their rehabilitation efforts but with no specific return date on the horizon. None of these backs is expected for this week (Benson and Jones-Drew are definitely out, and ESPN's Ed Werder reported Tuesday that the Dallas Cowboys do not expect to have Murray this Sunday).
There are still plenty of folks we're keeping an eye on as we head into Week 10.
[+] Enlarge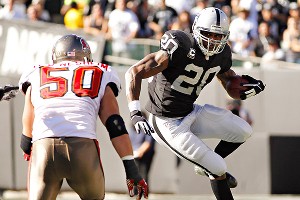 Cary Edmondson/US PresswireOnce again, Darren McFadden has gone down with an injury that could keep him out multiple weeks.
Darren McFadden and Mike Goodson, RBs, Oakland Raiders (high ankle sprains):
Both running backs left Sunday's game with similar injuries. McFadden was tackled during a run. On video, he appeared to rotate his foot outward relative to his lower leg, the hallmark mechanism for a high ankle sprain. Although there has been no word as to the severity of the injury, it may be to his benefit that his foot was not squarely planted in the ground when it happened. Still, with the known history of lower-extremity injuries McFadden has dealt with in his career, any additional incident raises concern. His teammate Goodson was also forced out of the game with a similar injury in the third quarter. (Goodson had been dealing with a turf toe injury throughout the week heading into Sunday's game.)
As of now, it would appear that
Marcel Reece
and
Taiwan Jones
will be responsible for the workload in the near future, but how much time McFadden and Goodson could miss -- if any -- is anyone's guess. The severity of their injuries will be as important as the injuries' location to determine how long they'll be out. As of yet, the Raiders have not revealed anything. Steve Corkran of the Contra Costa Times reports that McFadden has not yet been ruled out for Week 10. Of course, many a fantasy owner remembers when he was not ruled out in advance of multiple games last season, and thus might be suspicious. At this point, there's not enough information to suggest this injury is on the same order of severity as last year's, but it would make sense to plan on a backup nevertheless.
Percy Harvin, WR, Minnesota Vikings (ankle):
Harvin went into Week 9 with hamstring concerns -- and he appeared to be laboring during the game -- but he exited with a new, more significant injury. Harvin sprained his left ankle "in three different places," according to the Minneapolis Star-Tribune, and is experiencing swelling and pain. Harvin was on crutches Monday to protect him from bearing weight on the injured limb, and while he wouldn't declare himself out for this week's game, he admitted his chances of playing are slim. The report that he sprained the ankle in three different places suggests that he has multiple injured ligaments, which explains the substantial pain and swelling, but also hints at greater instability. No specific grading of the injury was offered, but Harvin's appearance and description indicate this is more than a mild injury. Even though the MRI showed no fracture, the extent of soft tissue damage and associated instability can still project a multiweek absence. The Vikings do have a bye upcoming in Week 11 and it would be a big surprise if Harvin plays beforehand.
Jamaal Charles, RB, Kansas City Chiefs (neck):
Charles was forced out of last Thursday night's game with what the Chiefs called a neck injury. Charles did tell the Kansas City Star he was tested for a possible concussion, so it will be worth monitoring how he responds to practice during the week. The Chiefs don't play until Monday night, which is good in that it gives Charles the benefit of an extra day, but it also means no official injury report is due from the team until Thursday. As of now, it does look favorable for Charles to suit up in Week 10.
Tony Romo, QB, Dallas Cowboys (back):
Romo injured his back late in the Sunday night game and there were multiple reports of him walking "gingerly" afterward. On Monday, head coach Jason Garrett told reporters Romo was feeling much better. On Tuesday, ESPN's Ed Werder reported the Cowboys expect Romo to play in Week 10.
Donald Brown, RB, Indianapolis Colts (knee):
Brown was downgraded Saturday after experiencing swelling in his surgically repaired knee. He recovered to the point of being activated for Sunday's game, but the pain and swelling recurred, forcing Brown to the sideline early. With only four days until the Colts' next game, it would not be a surprise if he is out. There is also a chance he could rest for four days and still be active (though he did not practice Tuesday, also considered the "big" practice day for Thursday night games), but the bulk of the workload would still likely shift to
Vick Ballard
.
Antonio Brown, WR, Pittsburgh Steelers (ankle):
Brown was the first to say he had suffered a high ankle sprain, and his assessment was later confirmed by coach Mike Tomlin, who called it "mild." Nonetheless, Brown is doubtful for Monday night's game against the Chiefs and was kind enough to share that tidbit early (Tomlin also said running back
Jonathan Dwyer
should return Monday) so that fantasy owners could make the proper adjustments. Well, perhaps that wasn't his reasoning, but it's still nice to get an early jump on fill-ins. In Pittsburgh, they know all about filling in at the running back position and now will get a taste of it at wide receiver. More
Emmanuel Sanders
, perhaps. As for how long the Steelers will be without Brown, that is not yet clear, but given that even Brown initially thought he might be able to play this week, it sounds like they anticipate a short absence.
Jordy Nelson, WR, Green Bay Packers (hamstring/ankle):
Nelson missed Week 8 because of a hamstring strain but was deemed healthy enough to go in Week 9 after testing the leg in a Friday workout. He never had a chance to make an impact as he went down with an ankle injury in the first quarter of Sunday's game while trying to make a catch. The Packers fortunately have a bye this week and coach Mike McCarthy sounds confident Nelson will be ready by Week 11.
[+] Enlarge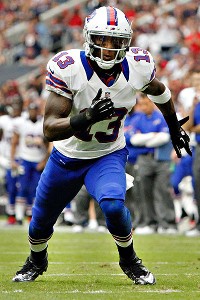 Brett Davis/US PresswireA thigh injury slowed down Steve Johnson in an already tough matchup against the Texans.
Steve Johnson, WR, Buffalo Bills (thigh):
Johnson suffered a bruised thigh early in Sunday's game and tried to play through it but struggled. For those who might wonder why something as seemingly benign as a bruise should limit a high-level athlete, it's important to remember that a bruise involves bleeding. If there is bleeding into a contained area of soft tissue, like the thigh, it makes the tissue very tight and the athlete is unable to fully extend (lengthen) the involved muscle or fully contract it. And it hurts. The result is a shorter stride length, sometimes an apparent dragging of the leg, a loss of burst and power, and early fatigue. Johnson essentially said as much after the game, telling the Bills' official website, "I couldn't run down the passes or elevate when I needed to. It just wasn't working so I had to come out." The good news is that this should respond well to treatment and hopefully resolve quickly. Bills head coach Chan Gailey said he expects to have Johnson on the field in Week 10, even if he is not able to practice early in the week.
Calvin Johnson, WR, Detroit Lions (knee):
Johnson played despite not practicing all week with a sore knee and racked up his third-highest yardage total of the season. Given the team's success at managing his knee during the week and still garnering a favorable Sunday outcome, expect the pattern to continue. There has been no word as to what's ailing him but Johnson confirmed that it's likely to bother him throughout the season, telling MLive.com, "It's something that I expect to linger."
Danny Amendola, WR, St. Louis Rams (shoulder):
Amendola teased fantasy owners when he traveled to London with the team two weeks ago and was seen catching some balls in practice. Only three weeks removed from his sternoclavicular joint injury, however, he seemed an extremely long shot to play. Now his chances are looking up. With another two weeks under his belt, Amendola is confident he will be on the field to face the
San Francisco 49ers
on Sunday.
During last week's practice, Amendola told the St. Louis Post-Dispatch his range of motion and strength were back to normal. The other aspect that is harder to measure is the healing of the tissue around the joint itself. The hope is that it will be strong enough to withstand another hard fall on the shoulder or direct contact from a hard hit without displacing again. Sitting at the junction of the collarbone (clavicle) and the sternum (chest), it's not an area that lends itself to effective bracing or taping. While there are ways to offer some additional protection, the goal is to have it be healed to the point where the risk is low to negligible. Unfortunately, there is only so much that visual and manual testing can do and at some point the athlete has to test it by playing in a game. It looks as if that test could come this weekend and, if Amendola is able to pass it, things should be looking up for him for the remainder of the season.
Aaron Hernandez, TE, New England Patriots (ankle):
Hernandez, who did not travel with the team to London, is coming off of two weeks' rest after the bye. On Tuesday he was absent from practice, as he was attending the birth of his child, but there should be updates later in the week.
October, 4, 2012
10/04/12
11:15
AM ET
This week's Thursday night game features the
Arizona Cardinals
visiting the
St. Louis Rams
. The Cardinals remain without running back
Beanie Wells
who was placed on injured reserve (designated for return) because of turf toe and is out until at least Nov. 25.
Ryan Williams
is expected to start, as he did in Week 4.
The Cardinals' defense has been impressive early this season, but they are dealing with a number of injuries, including to two key players. Defensive end
Darnell Dockett
did not play last Sunday because of a right hamstring strain suffered late in Week 3 against the Eagles. He is listed as questionable for Thursday after being limited in practice early in the week, but there is hope that the extra days of rest will allow him to play. Safety
Adrian Wilson
is listed as probable and is expected to play, despite the presence of two injuries. Wilson missed Week 3 because of a sore ankle and groin but returned with a strong outing last Sunday. Wilson is certainly tough, having played all of last season with a biceps tear, and it appears he'll be out there again Thursday.
Steven Jackson, RB, St. Louis Rams (groin, Q):
Although Jackson is listed as questionable, it appears he is on track to play. Jackson, who has been playing through a groin injury, had a better outing in Week 4 than he did the previous week, where he appeared to be laboring. After Week 3, Jackson acknowledged the groin was limiting him -- he totaled fewer than 30 yards rushing -- but reported no setbacks. Last week, Jackson carried the ball for 55 yards, his second-best rushing total this season. He looked to be moving better, despite facing a tough
Seattle Seahawks
run defense. Still, Jackson has yet to score a touchdown in 2012.
Maybe that will change Thursday, but first Jackson has to take the field. Despite the short week, Jackson did put in a limited practice Tuesday, the most significant work day in advance of a Thursday night game. The expectation is that he will play, barring a setback.
Danny Amendola, WR St. Louis Rams (ankle P):
Amendola was added to the Rams' injury report this week because of his ankle, but there is no indication this is anything major. Amendola practiced in full both Tuesday and Wednesday and is expected to play.
John Skelton, Arizona Cardinals (ankle, Q):
Skelton continues to work his way back from an ankle sprain suffered in the season opener. He put in a full practice Tuesday, the first time he has done so since the injury. He is listed as questionable, but
Kevin Kolb
will remain the starter for now. However, it looks as if Skelton could be available soon, should that become necessary.
September, 13, 2011
9/13/11
3:50
PM ET
Here we are, at last, with Week 1 of a new NFL season behind us. There were amazing individual performances (here's looking at you,
Tom Brady
) and outstanding team performances (the
Houston Texans
delivered). And yes, there were injuries. Some teams (ahem, the
St. Louis Rams
) seemed to amass more than their fair share. Now comes the time when fantasy owners start scouting the waiver wire or considering trades to fill the roster gaps created by injury. Every Tuesday we will have a blog entry in which we'll share with you the latest updates involving notable fantasy-relevant players and how their status is shaping up early in the week. The emphasis is on the word "early," since no official NFL injury reports are due until Wednesday, and much can happen between now and the next slate of games.
To revisit some of the oft-asked questions surrounding injuries and fantasy football, I revive an excerpt from a piece I posted a couple of years ago.
Following is a compilation of injury guidelines to help fantasy owners navigate the maze of injury-related information that emerges each week. Although injury information may emerge in bits and pieces, swathed in insinuation and innuendo, there are some hints fantasy owners can use to help them stay on course when assessing injury impact on their fantasy teams.
1. No two injuries are identical.
• Injuries often can be graded according to severity. Even then, subtle differences often dictate different healing times.
• Players heal at different rates, so just because one guy recovers from an ankle sprain in two weeks doesn't mean the next guy will recover at the same rate, even when the injury involves the same structures.
2. Player position must be considered when evaluating the impact of an injury.
• Any given injury will affect different position players differently depending on the demands of that position. A classic example is the MCL sprain, which can be more debilitating for a running back, who has to cut frequently, than for a quarterback. It often translates to different amounts of time missed.
3. A player's overall injury history is worth considering, especially if it is a repeat injury.
• A player who has been healthy for years and has his first injury often will return faster than a player who has sustained multiple injuries. This is especially the case when it comes to repetitive muscle strains in the same region. In other words, a guy who is on his fourth right-side hamstring strain should not be expected to heal as quickly or as fully as the guy with his first episode. There are of course exceptions to this (which always should be listed as the first rule of medicine).
4. The severity of an injury cannot always be determined by how it looks on the field.
• Appearances can be deceiving. Just because a guy gets up and walks off the field doesn't mean he's not injured. Sometimes the full nature of the injury is not appreciated until a day or two later. The reverse is also true. An injury can appear devastating because it is initially very painful but then turns out to be not so bad.
5. Beware of the following overused phrases:
• He's "100 percent healthy." No one is 100 percent healthy once the season starts. Usually it means that an athlete has been fully cleared and returned to play, but it doesn't mean there are no underlying long-term changes (such as cartilage damage for instance) that won't crop up again.
• It was a "mild concussion." A concussion is a brain injury. Brain injuries are always serious, so we should acknowledge them as such. We can't determine the true severity until we see how long it took for an athlete to fully recover. Period.
• That guy is "injury-prone." There is bad luck, and then there is bad tissue. Although there is never likely to be consensus on what constitutes injury-prone, it seems that if a player misses time with more than one injury in his career, he gets the label. Football is a contact sport. Injuries happen, and most often they are due to a series of random events. The average career playing time is just a few years for a reason. The term is unfairly overused, and in fantasy, people may be steering clear of a player who is highly valuable but labeled. That player could be a great waiver-wire pickup.
And now, on to the key Week 1 injuries:
[+] Enlarge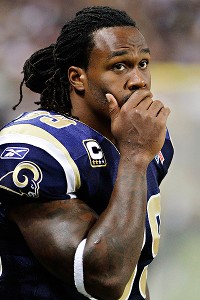 AP Photo/Seth PerlmanSteven Jackson did score a touchdown in Week 1 before going down with a quad injury.
Steven Jackson, RB, St. Louis Rams:
Fantasy owners were no doubt excited to see Jackson scramble for a 47-yard touchdown play right out of the gate. As I watched the play, however, Jackson's last few strides looked suddenly labored, as though something was holding him back. Turns out, a strained right quadriceps was the culprit. Jackson remained in the game for one more carry but then was done for the day. Rams coach Steve Spagnuolo has not offered any specifics as to the degree of Jackson's thigh injury but has called him week-to-week and indicated he is likely to miss the Rams' Monday night contest in Week 2. Unfortunately, Jackson is no stranger to soft-tissue injuries, as he has missed time with quad, hamstring and groin injuries in the past. Although there is no way to predict at this moment just how much time he could miss, fantasy owners should plan on his absence for Monday and potentially a couple of weeks beyond.
Cadillac Williams
came into the game when Jackson left with the injury and finished with 140 total yards of offense.
Sam Bradford, QB, St. Louis Rams:
Bradford hurt his index finger in the fourth quarter Sunday, and the report of numbness had many worried. A fracture was ruled out when Bradford had his finger X-rayed. The team is referring to his injury as a bruised finger, and he expects to play Monday. The key will be for any swelling to subside and any nerve irritation to quiet down so that Bradford can grip the ball as needed to be effective. Naturally, how he progresses during the week is worth watching, but this could have been far worse.
Danny Amendola, WR, St. Louis Rams:
The Rams are really being forced to follow the mantra of "next guy up," as they watched so many starters get injured Sunday. Amendola had perhaps the most visually disturbing injury of the day when he landed awkwardly and dislocated his left elbow. Although some said his season would end almost immediately, it's worth noting that the spectrum of damage resulting from an elbow dislocation has a wide range. As the St. Louis Post-Dispatch noted, Amendola did not suffer a fracture (which can happen during the process of the dislocation), and head athletic trainer Reggie Scott did not believe Amendola would require surgery (suggesting there was not major ligamentous disruption, either). Nonetheless, this is a painful injury (look at the
still photo of the injury
if you're not sure), and there is bound to be a fair amount of swelling around the joint. The elbow will need to be protected in a splint for comfort, and treatment will focus on controlling inflammation while the soft tissues heal. Then there's the matter of getting range of motion back in the elbow and normal strength in the arm. It likely will be several weeks before Amendola could be ready to play, but the team is issuing no timetable. The positive news is that it does appear he will be able to avoid IR.
Hakeem Nicks, WR, New York Giants:
Nicks did not speak of a knee injury after Sunday's game, but his coach, Tom Coughlin, did on Monday. According to ESPN New York, Coughlin did not elaborate on the injury, explaining it was being checked out, but he did indicate Nicks had swelling in his knee. Citing a source, ESPN New York indicated the MRI on Hicks was negative, but the swelling alone may be enough to limit him. If his knee is significantly swollen, the muscles around the knee will be limited in their capacity to contract, so he cannot be at full strength. It would not be a surprise if Nicks is out for a good portion of this week's practice, as the team will not play until Monday night. I sense a tough fantasy decision approaching for Week 2 when it comes to Nicks' status.
Marques Colston, WR, New Orleans Saints:
Colston suffered a broken collarbone in Thursday night's game and will be out at least a month. Clavicle fractures can be highly variable depending on the location and size of the break. Saints coach Sean Payton has indicated he will not update player status until he needs to on Wednesday. Plan on Colston being out at least four weeks but perhaps longer.
Quick hits
• The
San Diego Chargers
did not emerge from Sunday's contest unscathed in the injury department. Kicker
Nate Kaeding
was lost for the season to a torn ACL on the first play of the game as he tried to make a tackle during a kickoff return. The team is currently trying out kickers, but Kaeding will be tough to replace. Meanwhile, the Chargers got better news on running back
Mike Tolbert
, who appeared to injure his right knee late in the game after delivering one rushing and two receiving touchdowns. As reported by the San Diego Union-Tribune, Tolbert was cleared by doctors Monday to return to practice and is expected to play in Week 2. Fantasy owners can exhale.
[+] Enlarge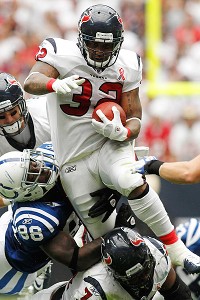 Brett Davis/US PresswireDerrick Ward started in place of the injured Arian Foster and scored a TD before getting hurt himself.
• Another team with several players of interest to fantasy owners is the Houston Texans. Running back
Arian Foster
and his much-discussed hamstring sat out Week 1, a wise move given that the team proved it could manage without him. Foster had increased his running workouts throughout the past week but had not formally practiced with the team. He reportedly worked out hard again on Monday, but it remains to be seen whether he will return to practice. His progress last week was encouraging, but so was the performance of his teammates in Sunday's game, so the team can afford to be patient.
Those teammates include
Derrick Ward
, who started in place of Foster on Sunday. Ward was faring well but exited early with a right ankle sprain, opening the fantasy door for
Ben Tate
. Ward said his removal from the game was precautionary, and coach Gary Kubiak seemed to downplay the injury as well, calling Ward "day-to-day." Wide receiver
Kevin Walter
has a bruised collarbone (not broken, as was widely reported Sunday) and according to the Houston Chronicle, Walter has not been officially ruled out of anything yet. Kubiak said of Walter's injury, "It's being treated as a bad bruise. He's probably going to miss a few days, and we'll see where he is [Wednesday] and at the end of the week." It would come as no surprise if Walter missed at least this week. A severe bruise can make it difficult to raise the arm overhead, and landing on the area can easily aggravate it.
• On Monday night, the
Denver Broncos
added a couple of fantasy players to the injury mix in running back
Knowshon Moreno
and wide receiver
Brandon Lloyd
. The Denver Post reports that MRIs are scheduled for both Lloyd (groin) and Moreno (hamstring), and it's worth mentioning that both have a history of these injuries in their past. Although neither seemed to be in extreme pain, all fantasy owners know how these minor-appearing things sometimes can turn into bigger ones.
We will continue to update these injuries and others as the week progresses.
See you at the injury chats (Tuesday, 3 p.m., and Friday, 11 a.m.), and we'll have further updates with blog entries on Thursday and Saturday (and as news warrants).