Stephania Bell:

Daryl Richardson
October, 3, 2013
10/03/13
8:03
PM ET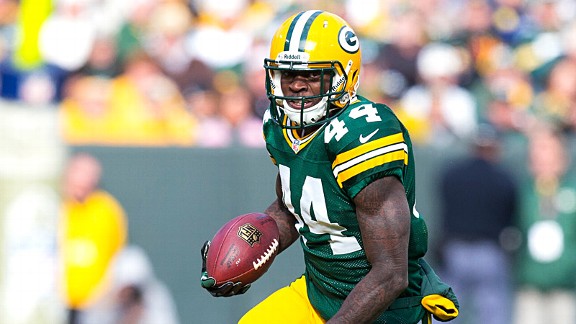 Jeff Hanisch/US PresswireJames Starks will miss more time in Week 5.
Four teams -- the
Minnesota Vikings
,
Pittsburgh Steelers
,
Tampa Bay Buccaneers
and
Washington Redskins
-- have a bye this week and are hopefully using the time to get healthy, or at least healthier. Meanwhile, the
Carolina Panthers
and
Green Bay Packers
are returning from their bye week with a healthier
Eddie Lacy
for the Pack. One other injured RB hasn't quite healed up, however.
Already ruled out for Week 5
Packers running back
James Starks
needed more than the bye week to nurse his knee injury back to health. He has already been ruled out for this Sunday's game against the Lions. Detroit will be without wide receiver
Nate Burleson
again this week and for several more to come. The Titans lost quarterback
Jake Locker
to a hip injury for several weeks, but fortunately for them it was not as severe as it could have been. Even within the last day the news has improved. Locker was initially projected to miss six to eight weeks, but ESPN's Ed Werder reported Thursday that he is now expected to miss four to six weeks.
In the case of Chargers' receiver
Malcom Floyd
, he has not only been ruled out for Week 5 but he is now done for the 2013 season. Floyd suffered a frightening neck injury in Week 2 and was carried off the field on a spine board. Although Floyd was released from the hospital after the game, traveled home with his teammates and has reportedly been making progress, the decision for his long-term health was made to spend the
rest of this season
recovering.
Big names off the injury report
Ravens running back
Ray Rice
was a question mark leading up to last Sunday's game because of a strained hip flexor, which kept him out of action in Week 3. Rice played but only saw five carries for 17 yards, perhaps a function of how the Ravens simply didn't run the ball more. At least he came out no worse for wear, despite being on the field for over 40 snaps. Rice does not appear on this week's injury report and should be in good shape heading into Week 5. His teammate,
Bernard Pierce
, didn't run much last week either and was reportedly dealing with a calf issue, per the Baltimore Sun. He does not however appear on the team's injury report.
Lions running back
Reggie Bush
ran last Sunday like there were no issues with his knee whatsoever, rushing for 139 yards and a touchdown with a few receptions to boot. Now the Lions can only hope it stays that way. The week is starting off well with Bush not appearing anywhere on the team's injury report. A healthy Bush will face the off-the-bye-week Packers this Sunday.
Cardinals wide receiver
Larry Fitzgerald
has a healthy hamstring once again and is free of the injury report designation. It would appear that his teammate, running back
Rashard Mendenhall
, is also off the report (at least as of Wednesday; Thursday's report is not yet complete). Mendenhall has been plagued by various ailments, including a knee injury from the preseason and a toe injury in recent weeks. A healthy Mendenhall would be a nice change of pace.
Rams running back
Daryl Richardson
does not appear on this week's injury report after spending several weeks there with a foot injury. Just how much his foot ailment was to blame for his lackluster running is unclear (he is averaging only 2.7 yards per carry), but the question is whether a healthier Richardson will even be the starter. There seems to be some mystery as to how this situation will play out, but ESPN.com's Nick Wagoner indicates
Zac Stacy
could
now be in the mix
.
Atlanta Falcons
Steven Jackson, RB, (hamstring):
ESPN.com's Vaughn McClure reported last week that Jackson likely would be out through the Falcons' Week 6 bye, and there has been nothing about this week's practice that would suggest anything different. Jackson was present but without a helmet during the portion of practice open to the media Thursday and was officially listed as a nonparticipant. The Falcons play Monday night, so fantasy owners who haven't already accounted for his absence should plan on doing so now.
Roddy White (ankle) and Julio Jones (knee), WR:
Both receivers have been on the injury report since the first week of the season (White started the season on the injury report) yet both have played every game. Not surprisingly, both are expected to play again on Monday night when the Falcons host the
New York Jets
, but will things look any different than they have the last few weeks, particularly when it comes to White's struggles with his ankle? Going back to Week 4, White actually played more and looked a little sharper than he had in the three previous outings. Perhaps time is, in fact, helping. White admitted last week to being limited offensively due to an inability to cut hard on his injured ankle, but he insisted he would continue to play until the bye in Week 6. Judging from the look of things, he should be in a better position to represent the other half of the Falcons' dual wide receiver threat by Week 7, a threat which becomes all the more dangerous if opponents also need to account for Jackson in the backfield.
Jones has been on the injury report with a knee ailment but added a new injury to his left thigh in Week 4. While Jones doesn't make it out to be serious, he told McClure it was "
just like a little stinger
." It might not have been anything "drastic" according to Jones, but he acknowledged the medical staff tried to prevent him from returning to the game late in the fourth quarter after absorbing the blow. He returned anyway, producing more catches for the Falcons and more points for fantasy owners. Jones is a physical receiver who has shown multiple times he will routinely shrug off bumps and bruises. The hope is that White's improving health will help ease the load on Jones before he encounters an injury he can't force his way through on the field. Both receivers were listed as limited participants in Thursday's practice, as expected.
Chicago Bears
Brandon Marshall, WR (foot) and Martellus Bennett, TE (shoulder):
Marshall was a nonparticipant in practice both Wednesday and Thursday due to a foot injury. On Wednesday, coach Marc Trestman expressed confidence that those who weren't practicing, including Marshall, would be on the field Sunday, according to ESPN.com's Jeff Dickerson. Despite appearing with some regularity on the injury reports and a slate of surgical procedures in his past, Marshall rarely misses games (only five absences in his career) and has played in all 16 games the last two seasons. Still, with little in the way of detail and nothing in the way of visible activity, it warrants paying close attention to what Marshall does on Friday.
Meanwhile, Bennett let everyone know when he injured his shoulder in Week 2. He managed to score the game winner that week -- after the injury -- suggesting it would not threaten his playing time. So far, it hasn't. Bennett has been given a lighter workload during the week but has consistently played on game day. This week appears no different, as he was limited Wednesday yet returned to full practice Thursday. Expect him to be ready when the Bears host the Saints.
New Orleans Saints
Mark Ingram, RB, (toe) and Lance Moore, WR, (hand):
No news is not good news here. Neither player has participated in practice this week after missing the team's Monday night game. Toe injuries can be slow to heal and problematic for a player at any position, but especially so for a running back. If Ingram isn't working by now, it's hard to imagine him doing anything at a game level in three days. Moore won't reveal any specifics about his hand injury, but by telling ESPN.com's Mike Triplett that he needed to wait for the "hand to heal properly" or he would "be in trouble," he hinted at a minimum of
another week off
. Hands are fairly integral to the job demands of a receiver so it makes sense, but at this point it's hard to predict when he might return.
September, 26, 2013
9/26/13
1:23
PM ET
It's an NFC West matchup Thursday night between the
San Francisco 49ers
and
St. Louis Rams
. Three weeks into the season, both teams stand at 1-2 (as do the
Arizona Cardinals
) while the
Seattle Seahawks
are perfect atop the division (3-0).
Injuries certainly can play a part in how this matchup will unfold, not to mention how fantasy owners will view their rosters heading into Week 4.
Here's a look at where key fantasy players for the 49ers and Rams stand in terms of injuries.
San Francisco 49ers
Frank Gore, RB, knee (probable):
Gore has some soreness in his knee, which isn't unusual. It wouldn't have been a surprise if the team had lightened his workload early in the week -- especially on a short week --but Gore turned in full practices, according to the team's injury practice report. He is going to play and is not expected to be limited.
Vernon Davis, TE, hamstring (questionable):
Like last week, Davis again will be a game-time decision, but the general consensus is that he has a
better chance to play this week
, as ESPN.com's Bill Williamson notes. After injuring his left hamstring in San Francisco's brutal loss in Seattle, Davis -- who attempted only light running the week before -- was held out of the Week 3 contest. Not only is the risk of re-injury high with any hamstring strain, but it seemed particularly wise to keep Davis on the sideline, given that the 49ers were set to play the Rams just four days later.
So far this week, Davis has participated in practice on a limited basis, but it's unclear just how much he has pushed the hamstring in those efforts. Regardless, no practice can simulate a game, so it won't be known until he plays -- and gets through a game without a setback -- whether he has indeed recovered. As usual, Davis will go through pregame warm-ups to test the hamstring and ultimately determine his game status.
Kyle Williams, WR, rib/knee (questionable):
Williams practiced on a limited basis this week due to rib and knee injuries. The 49ers are generally vague about injuries, making it difficult to assess whether he is truly in jeopardy of missing the game or getting proactive rest. The rumblings are that Williams is likely to play, but there could be another wrinkle at the receiver position. Earlier in the week, the San Francisco Chronicle reported that coach Jim Harbaugh hinted at the possible debut of
Jon Baldwin
, acquired in August from the Chiefs in a trade for
A.J. Jenkins
.
Defensive players:
The 49ers will be without the pass-rushing skills of
Aldon Smith
, who is on indefinite leave while seeking treatment for substance abuse. Their defense could be further compromised by the potential absence of linebacker
Patrick Willis
, who suffered a groin injury in the second half of Sunday's game against the Colts. Willis did not practice this week, and while the team lists him as questionable, there is a decent chance he will not be able to play.
St. Louis Rams
Daryl Richardson, RB, foot (probable):
Richardson's foot has had him on the injury report since Week 2, and last week it kept him out of virtually the entire game (he exited in the first quarter). However, Richardson put in full practices Tuesday and Wednesday, and made it clear that he expects to play Thursday. Given his "probable" tag, Richardson's game status does not appear to be in doubt.
The question then becomes what the workload split will be like among Richardson and the Rams' other backs, most notably
Isaiah Pead
. Last week, Pead saw more work when Richardson exited the game, but a healthier Richardson
doesn't necessarily clarify the RB picture
, as ESPN.com's Nick Wagoner notes. "We're a running back committee right now," Pead said. "Daryl is the starter, but whoever gets in there has to answer the call." The St. Louis Post-Dispatch notes he "had more spring to his step" this week in practice. Expect Richardson to be on the field as the starter Thursday night.
Chris Givens, WR, knee (probable):
The knee issue Givens is dealing with kept him off the practice field Monday but is reported to be not serious. Givens returned to full practice Tuesday (typically the heaviest day before a Thursday game) and did the same Wednesday. With his "probable" tag, he is expected to play.
Defensive players:
St. Louis will be without defensive end
William Hayes
, who injured his knee in last week's contest (a sprained MCL, according to a Fox Sports report) and has been ruled out of Thursday night's game.
September, 13, 2013
9/13/13
8:04
AM ET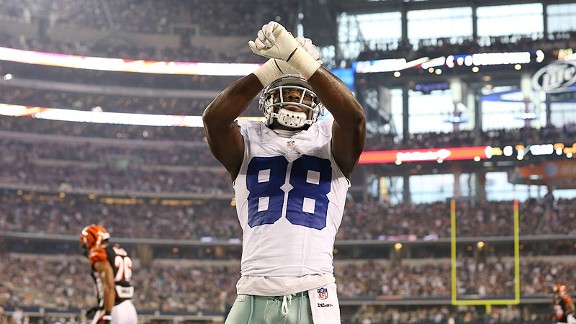 Matthew Emmons/USA TODAY SportsWill Dez Bryant's fantasy owners see him celebrating any TDs on Sunday?
Here are some of the key fantasy-relevant injury situations that I'm following heading into Week 2 of the NFL season.
Dez Bryant, Dallas Cowboys, (foot)
: On Tuesday, we learned that Bryant had suffered a foot sprain in Sunday night's game, but that both he and the team were
optimistic about his chances of playing this week
. Their optimism is supported by the fact that Bryant was a full participant in both Wednesday and Thursday practices. According to the Dallas Morning News, Bryant says his foot "feels great." He appears to be on track for Sunday.
Reggie Bush, RB, Detroit Lions, (finger, groin)
: In a post earlier this week, we outlined just what
Bush had to endure
as he racked up points for his fantasy owners in Week 1. We also noted that coach Jim Schwartz made it clear that they weren't going to lighten his workload in games. Heck, they didn't even lighten it in practice this week. Bush was a full participant on both Wednesday and Thursday, making it appear he will also be a full participant Sunday.
Jermichael Finley, TE, Green Bay Packers, (toe)
: Finley suffered a toe injury in the first game of the season. He did not practice Wednesday, but was able to return on a limited basis the next day. This was a bit of a surprise, since coach Mike McCarthy had expressed doubt Finley would practice Thursday. According to ESPN.com, McCarthy noted Finley was making progress and hoped he would be able to go again on Friday. While it's a good sign that Finley was out on the field a day earlier than that, it's still not clear whether he'll be able to push off hard enough or cut sharply enough to be game ready come Sunday. First things first: let's see what he's able to do on Friday.
Daryl Richardson, RB, St. Louis Rams, (foot)
: Richardson was given a day off on Wednesday to rest a sore foot, but he did return to limited work on Thursday. The team has not offered any specifics as to the nature of Richardson's foot ailment, but according to ESPN.com, Richardson says the foot feels "great," adding, "It ain't nothing a cold tub can't take care of." We'll see. Teammate
Isaiah Pead
was suspended for Week 1, but rejoined his team at practice this week and could be available Sunday.