Stephania Bell:

David Garrard
December, 30, 2010
12/30/10
5:27
PM ET
It's the last week of the NFL regular season and for many fantasy players, this is the grand finale. Week 17 always presents unique challenges as many NFL teams with secure playoff bids opt to rest key players, leaving fantasy owners scrambling to set their final rosters. This year there are some NFL teams whose playoff hopes are still barely alive or who could (or should) be playing for pride, but injuries may still force their starters to rest. And in what could be the worst scenario for fantasy owners, some teams are considering starting their main players to keep them in the rhythm of game preparation and competition, but how much playing time they get is anyone's guess.
Philadelphia Eagles
have, rather unsurprisingly, ruled out quarterback
Michael Vick
. His thigh contusion had him limping throughout Tuesday night's game and there is no reason to further risk his health.
Kevin Kolb
is expected to get the start after working with the first team Thursday.
The Florida Times-Union reports
Jacksonville Jaguars
quarterback
David Garrard
has undergone surgery to repair a torn ligament in the middle finger of his right (throwing) hand and faces a two-month recovery.
Trent Edwards
is poised to start in his absence. ... The
Cincinnati Bengals
announced via Twitter that wide receiver
Chad Ochocinco
will not make the trip to Baltimore because of his ankle. And, as a reminder,
San Diego Chargers
tight end
Antonio Gates
should not be on anyone's fantasy roster (if you were hoping for a miracle) as the team has placed him on injured reserve. At least savvy fantasy owners can get a jump on picking up unclaimed backups or other more appealing free-agent alternates for these players.
While the Week 17 fates have already been decided for some, there are many others still on the fence. Here's who else you might be concerned about heading into Sunday's games:
Quarterbacks
Mark Sanchez, New York Jets:
Initially, it sounded as if Sanchez would be out for Week 17, but then coach Rex Ryan seemed to hint at his starting quarterback playing. Now it just sounds like a situation to avoid altogether. Sanchez's shoulder was sore heading into Week 16 and while it does not appear to be impacting him severely, the Jets might be concerned about him suffering a setback, which would be undesirable heading into the playoffs. That said, the New York Post reported Tuesday that Ryan was considering starting Sanchez "because he's hot right now." Ryan added, "We can't afford for him to take a dip. We need him to stay at this level." The Jets are trying to balance protecting Sanchez with keeping him in a rhythm, all of which points to a scenario where Sanchez starts but doesn't finish. The problem is there is no way of telling just how much playing time Sanchez will see. This is a situation for fantasy owners to avoid.
Matt Hasselbeck, Seattle Seahawks:
On Tuesday, we outlined the
injury concern for Hasselbeck
and the team's plans to proceed as if
Charlie Whitehurst
will be under center. Hasselbeck clearly wants to play in Sunday night's game, and although he was not able to practice Wednesday or Thursday, he is rehabbing diligently with Sunday's goal in mind. As Danny O'Neil of the Seattle Times reports, coach Pete Carroll thinks it's unlikely Hasselbeck will play but acknowledges the door is still open. "I'm totally convinced that he's waging a battle that's against the odds," said Carroll. "He's going to make a miracle comeback if he can." This could come down to a game-time decision.
Jon Kitna, Dallas Cowboys:
According to the Fort Worth Star-Telegram, Kitna, who is dealing with a left abdominal oblique injury, says that all movement feels "like you have a knife in your side." As he sat out practice Wednesday, Kitna still held out hope for a Sunday return, but the pain he is experiencing certainly casts doubt on whether he will be able to throw the ball effectively. If Kitna does not play,
Stephen McGee
will get his first career start.
Brett Favre, Minnesota Vikings:
Most fantasy owners would not rely on Favre to help them win their championship Sunday even if he does suit up. But they might consider
Joe Webb
, thus making Favre's injury status relevant. Favre has yet to pass required post-concussion tests, making it unlikely he'll play Sunday. Even beyond passing those tests, Favre would need to return to a graded exercise progression to be sure his symptoms did not recur with physical exertion. The window for Favre to be able to play is closing simply because of the narrow time factor. The Minneapolis Star-Tribune reports that Favre could repeat the tests Thursday or Friday and coach Leslie Frazier has not ruled him out for Sunday's game. Stay tuned, folks. By now everyone should know things can come down to the wire in Minnesota.
Ryan Fitzpatrick, Buffalo Bills:
The Bills quarterback has missed two days of practice because of his knee and it's starting to raise concern about his availability for Sunday. Fitzpatrick has been sore for quite some time but the back-to-back missed practices are more troublesome.
Brian Brohm
has been practicing with the first team in his absence. Friday should be telling in forecasting who will start for the Bills.
Running Backs
Maurice Jones-Drew, Jacksonville Jaguars:
Jones-Drew did not play in Week 16 because of persistent swelling in his knee, and it looks as if he may be sidelined again Sunday. Jones-Drew did not practice Wednesday or Thursday.
Rashad Jennings
would start in his place against the
Houston Texans
.
Peyton Hillis, Cleveland Browns:
Hillis did not practice Wednesday or Thursday, allowing his sore ribs some rest after taking a shot in the back Sunday. It sounds as if the Browns plan to have Hillis available to play against the
Pittsburgh Steelers
and their best chance for that is to rest him during the week.
Darren McFadden, Oakland Raiders:
Listed on the official NFL injury report with a "toe" ailment, McFadden's status for Sunday is unclear. He did not practice Wednesday and the Oakland Tribune listed "ankle" next to his name as the reason. (On Tuesday, we noted there were
conflicting reports
about the nature of McFadden's injury.) The Tribune notes that McFadden participated in the morning walkthrough Thursday, suggesting he would practice, but his activity level remains to be seen. According to Vittorio Tafur of the San Francisco Chronicle, coach Tom Cable says McFadden could be a game-time decision.
Knowshon Moreno, Denver Broncos:
Moreno managed to see some playing time in Week 16 but left the game early after aggravating his rib injury. Moreno did not practice Wednesday but was expected to practice Thursday in an effort to gear up for Week 17. After
Correll Buckhalter
's Week 16 effort, however, Sunday could turn into a time-share situation, especially if Moreno is less than 100 percent.
Chris Ivory and Reggie Bush, New Orleans Saints:
Ivory has been on the road to recovery from a hamstring injury for the past two weeks but has not been quite ready to play. Week 17 could be different as Ivory returned to full practice Thursday. Bush was listed on this week's injury report with a "chest" injury (SC joint per NFL Network) but practiced fully Thursday and does not appear in danger of missing Sunday's game.
Wide Receivers
Andre Johnson, Houston Texans:
Coach Gary Kubiak announced early in the week that Johnson would not practice (he has not) and that Johnson would indicate whether he is able to play (he has not ... yet). Fantasy owners will likely be waiting until the bitter end to find out whether Johnson can indeed play against the Jaguars. As of now, there is no real hint which way the cards will fall, but Johnson is a competitor who will not give up simply because the Texans are out of the playoff race. Expect him to play if he feels he can contribute, but have a backup plan in place.
Hakeem Nicks, New York Giants:
He has a broken toe, putting his Sunday status into question. The Newark Star-Ledger reports Nicks broke the big toe in his left foot in Sunday's game. When asked by reporters Wednesday if Nicks could play this weekend, coach Tom Coughlin's response was blunt and discouraging: "I doubt it." Fantasy owners who have benefited from Nicks' contributions week in and week out should attempt to find a replacement in a hurry.
Marques Colston, New Orleans Saints:
In what likely comes as a surprise to many, Jeff Duncan of the New Orleans Times-Picayune reports Colston underwent an arthroscopic surgical procedure on his knee Tuesday, according to coach Sean Payton. Duncan says the Saints are listing Colston as questionable, but fantasy owners should plan on him being absent for Sunday's game, just five days after surgery.
DeSean Jackson, Philadelphia Eagles:
Jackson did not practice Thursday because of his sore foot and it is looking as if he may not play this weekend. This could be another blow to those who might have been counting on some big points from this big playmaker. While the Eagles have not yet ruled Jackson out, fantasy owners would be wise to plan for a substitution.
Sidney Rice, Minnesota Vikings:
It's not a setback with the hip but a concussion he suffered in Tuesday night's game that has Rice on the injury report. He did not practice Thursday and with the short week has less recovery time than normal. Rice has not yet been ruled out for Week 17 but fantasy owners should prepare for that possibility.
Calvin Johnson, Detroit Lions:
Although Johnson has not practiced this week because of a sprained ankle, he is still holding out hope he can play Sunday. Johnson told the Detroit Free Press he is "just taking it day by day," undergoing treatment and trying to ready himself for the game against the Vikings. On Tuesday, we noted that Lions coach Jim Schwartz had said Johnson could miss practice and still play. It would be nice to see Johnson on the field by Friday, however, as reassurance.
Malcom Floyd, San Diego Chargers:
It looked to be all but certain that Floyd would miss Week 17 with his still ailing hamstring injury, now his second of the season. But Floyd showed up in practice Wednesday, albeit on a limited basis, enough to suggest he could be available for the Chargers' finale. Wait to see if Floyd can get through an entire week of practice without a setback before getting comfortable with him in your lineup.
Tight Ends
Todd Heap, Baltimore Ravens:
He returned to full practice Wednesday and Thursday, just in time to encourage fantasy owners for Week 17. It looks as if Heap is on track to play Sunday barring a setback.
Aaron Hernandez, New England Patriots:
Hernandez has been a limited participant in practice this week because of a hip injury. After missing Week 16, fantasy owners should be advised that despite returning to practice, Hernandez could still be held out of the game.
Jeremy Shockey, New Orleans Saints:
Shockey missed practice Thursday because of a groin injury.
Jimmy Graham
has clearly developed a rapport with quarterback
Drew Brees
and may be the better fantasy start, even if Shockey plays.
Have a Happy New Year and we'll have the latest injury updates affecting Week 17 in the Saturday morning blog!
October, 28, 2010
10/28/10
5:29
PM ET
Since most of
Tuesday's blog
was dedicated to two star players with significant injuries, quarterbacks
Brett Favre
and
Tony Romo
, today's blog will be a series of quick hits to get you caught up on your other fantasy players from around the league. Six teams are on bye this week --
Atlanta Falcons
,
Philadelphia Eagles
,
Chicago Bears
,
Cleveland Browns
,
Baltimore Ravens
and
New York Giants
-- so get those replacements early as the pickings may be slim by the weekend.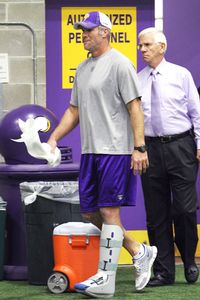 AP Photo/Andy KingBrett Favre was wearing a walking boot on Wednesday but it was gone by Thursday.
Before jumping into the variety of injuries across the league, here's the latest on Favre: He did not practice Wednesday and may not practice the rest of the week. Favre is resting his ankle and getting regular treatment in the hope that he will play Sunday against the
New England Patriots
. Head coach Brad Childress told reporters that Favre would not have to practice but would have to prove that he is mobile enough to play effectively. In the meantime, Favre has now been spotted without a walking boot, according to the Minneapolis Star-Tribune. The Star-Tribune reports that Favre, who may wear a shoe larger than his usual size to play, was not expected to practice Thursday but his Sunday status has yet to be determined. Favre, who certainly has not ruled himself out because of the injury, perhaps summed it up best saying, "I wouldn't put anything past me to be honest with you." Nor would his offensive coordinator apparently. Darrell Bevell, who was with Favre in Green Bay when he played through a broken thumb, told the Star-Tribune, "It would surprise me if he wasn't able to be out there." Friday should yield more clues but it's looking more and more like Favre will attempt to play.
Favre isn't the only injured quarterback in the spotlight this week. Many teams have seen rotations under center this season, more often as a result of injury than performance.
•
Detroit Lions
quarterback
Matthew Stafford
will rejoin his team on the field after missing six weeks with a separated throwing shoulder. Stafford has been working his way back gradually and the entire team is coming off a bye. While Stafford's shoulder has been rehabilitating, the rest of his body has enjoyed over a month free from contact, so he should be particularly fresh.
•
Jacksonville Jaguars
quarterback
David Garrard
is expected to return this week after sitting out Week 7 with a concussion. The Dallas Morning News reports that Garrard passed post-concussion tests Tuesday, then worked out at the team facility. The
Dallas Cowboys
will be hosting the Jaguars this week.
• The
Tennessee Titans
'
Vince Young
, who sprained his left knee and ankle in the Week 6 Monday night game, was back in full practice Wednesday and Thursday. According to the Tennessean, Young says he is getting better each day. Coach Jeff Fisher says, "If he is able to move around in the pocket and be effective under center, then he'll have a chance to play." Backup
Kerry Collins
, who started in Week 7 despite a torn flexor tendon in his right (throwing) middle finger, did not practice Wednesday or Thursday. He should be available this week, but it appears that Young is indeed on track to face the
San Diego Chargers
on Sunday.
•
Oakland Raiders
coach Tom Cable continues to state that
Bruce Gradkowski
will resume the starting role as his team's quarterback once he's healthy. It's not looking as though that will happen this week, however. Gradkowski, who suffered a right shoulder injury that caused him to miss the past two games, was still not in practice Wednesday.
Jason Campbell
, who took all the first-team reps in his absence, appears in line for another start.
•
Arizona Cardinals
quarterback
Max Hall
says he's feeling better after taking a blow to the head in Week 7 that forced him to exit the game. Hall passed his concussion tests Tuesday and was a full participant in Wednesday practice. He has been named the starter for this week's game against the
Tampa Bay Buccaneers
.
• And across the pond, where the
San Francisco 49ers
and
Denver Broncos
have traveled for their Week 8 contest at London's Wembley Stadium, it will be a different Smith taking the snaps for the 49ers.
Troy Smith
, who came to San Francisco from the Baltimore Ravens, has been chosen to start this week.
Alex Smith
suffered an AC (acromioclavicular) sprain to his left (nonthrowing) shoulder in Week 7 and is expected to miss two to three weeks. Backup quarterback
David Carr
, who stepped in to finish the game after Smith was hurt last Sunday, wasn't injured. He just wasn't good. The 49ers are hoping for some kind of spark from Troy Smith, who, incidentally, had never taken a snap with the first team until this week.
Beyond the injuries to those who throw the ball in the NFL, there are numerous ailments among those who run and catch the ball as well. Midseason is that difficult time of year when no one is expected to be fully healthy, simply by virtue of playing the sport of football, but the question is who is healthy enough. Just what is healthy enough? Fantasy owners have seen players who are healthy enough to take the field but have little impact (
Antonio Gates
in Week 7) and those not fully healthy yet but amazingly productive (
Steven Jackson
in Week 4). Here are the running backs, wide receivers and tight ends we're talking about this week:
• The San Diego Chargers continue to nurse a multitude of players back from injury. Wide receiver
Malcom Floyd
is expected out in Week 8 and is not an automatic for Week 9, either. Teammate
Legedu Naanee
appears to be improving from his hamstring injury and did take part in some practice Wednesday. His late-week activity will be telling.
•
New Orleans Saints
running backs
Pierre Thomas
and
Reggie Bush
are not likely to be available for your fantasy rosters this week. Bush, who indicated earlier this week that he was medically cleared to return to practice, has not done so. While he has increased his activity to include outdoor running, he is not yet doing the activities that would suggest he is ready to resume his role. Bush needs to clear some more hurdles before he is thrown to the wolves, also known as the
Pittsburgh Steelers
' defense. Meanwhile it's no secret that Thomas has been somewhat "stuck" in his progression and reports Thursday are not especially encouraging. Jeff Duncan of the New Orleans Times-Picayune reported via Twitter that coach Sean Payton announced that Thomas consulted with a foot and ankle specialist, who advised reducing his workload. That's enough for fantasy owners to know not to expect Thomas to return this week. It does raise more concern going forward. We will be following this closely to see if more details emerge.
• On Tuesday, we noted that
St. Louis Rams
running back Steven Jackson underwent
surgery on his finger
. Jackson did not practice Wednesday, which is not surprising given his surgery was just two days prior. So far there is no indication that he will be limited for this Sunday's contest against the
Carolina Panthers
.
• That might not be the case for his counterpart on the opposing team, however.
DeAngelo Williams
left Sunday's game against the San Francisco 49ers with a foot injury that was not considered serious. He sure looked uncomfortable when he left the field and he was not in practice Wednesday or Thursday. Williams owners need to be prepared with a replacement if Williams does not show he can run on that foot by Friday.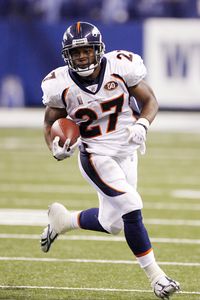 Brian Spurlock/US PresswireFormer Bulldog Knowshon Moreno would have to be considered the best running back of the Mark Richt era.
• Denver Broncos running back
Knowshon Moreno
gave folks a scare when he grabbed his right hamstring near the end of practice Wednesday and was then seen talking it over with the medical staff, according to the Denver Post. On Thursday, coach Josh McDaniels told the Post he believes that Moreno will be ready to go "for at least some duty in Sunday's game." Not exactly completely reassuring. This is the same hamstring that Moreno injured this season, causing him to miss three games. Moreno appeared strong in his performance the past two games, but there's always concern for reinjury with the hamstring. Let's see what Moreno does Friday. Teammate
Eddie Royal
seems to be in worse shape with his groin injury, although the Broncos have him on the trip to London. According to the Post, they want to see his progress before Sunday. Given his limitations last week, it's hard to imagine Royal being in top form by game time.
• Oakland Raiders wide receiver
Louis Murphy
looked to be in great pain after a big collision in Sunday's game and the immediate thought was that he aggravated a previously bruised collarbone. Murphy apparently has a chest contusion and according to the San Francisco Chronicle, coach Tom Cable says the deep bruise is "in the lung area," and Murphy is doubtful for Sunday. Depending on the severity of Murphy's injury, he could miss extended time. That means more targets for
Zach Miller
.
• Arizona Cardinals wide receiver
Steve Breaston
was kept out of last week's game partly due to wet field conditions, according to coach Ken Whisenhunt. Breaston was involved on a limited basis in Wednesday practice and appears to have a good shot at playing this week.
• San Francisco 49ers tight end
Vernon Davis
has not practiced for two days over in London because of an ankle injury. Although details about the injury itself have been limited, Matt Barrows of the Sacramento Bee reports that Davis is not limping and his status should be apparent by the end of Friday's practice.
• And then there's the banged-up
Indianapolis Colts
. First off, wide receiver
Anthony Gonzalez
insisted earlier this week that his ankle was fine and that he expected to play Monday night. It's a good thing, too, since fantasy rock star
Austin Collie
is expected to be sidelined for several weeks following thumb surgery.
Blair White
is in the receiver mix as well. Gonzalez missed the majority of last season and most of this season with injury, so fantasy owners have little confidence. But the Colts, while fairly secretive when it comes to injury information, seem skilled at decision-making when it comes to returning players to activity. Their solid depth helps, but typically when their players return, they return strong.
Pierre Garcon
is proof of that already this season. And Gonzalez has been a full participant in practice both days this week.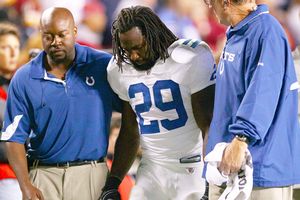 Win McNamee/Getty ImagesJoseph Addai's shoulder could keep him out this week, and with the Monday night game, fantasy owners may need to look elsewhere.
• Meanwhile, in the running game things appear even less certain for the Colts.
Joseph Addai
, who injured his left shoulder in Week 6 and described his arm as "dead," has been slow to recover. Since the Colts play Monday night, they did not issue a Wednesday injury report, but Addai did not practice Thursday. Coach Jim Caldwell told reporters that Addai's status is day-to-day and that he has an "unusual" pain tolerance. Meanwhile,
Donald Brown
has been nursing a hamstring injury for weeks and it's unclear whether he'll be ready to take the field by Monday night. In fact, according to Tom James of the Terre Haute Star-Tribune, Brown did not practice Thursday, raising questions as to how healthy he truly is. According to the Indianapolis Star, Caldwell showered praise recently on
Mike Hart
(who had a hip issue of his own a couple of weeks ago), suggesting he would have to "be the guy to step it up a little bit" if Addai is unable to go. Friday's practice is even more important for the Colts this week with the game coming on Monday night.
See you at Friday's 3 p.m. injury chat and we'll have the latest injury updates affecting Week 8 in the Saturday morning blog!
October, 21, 2010
10/21/10
4:18
PM ET
It is at this midweek point that we fantasy owners typically agonize over whether the injured players on our rosters will be available this week. With only one day of formal injury reports under our belt (at least that's the case for most teams at the time this blog is written), there is a big question as to whether many of the players appearing on these reports will be well enough to play in their games. Occasionally we find out early in the week that a player's injury is significant enough to sideline him. Disappointing as that news is, at least we can start searching for ways to make roster adjustments. Unfortunately, that early news is rare. However, this week, for better or for worse, we already know of several players who are projected to be out Sunday so we might as well get to those names straight away.
Philadelphia Eagles
wide receiver
DeSean Jackson
is still dealing with the effects of the concussion he sustained Sunday following a collision with
Atlanta Falcons
cornerback
Dunta Robinson
. Jackson did not practice Wednesday and head coach Andy Reid has already indicated that he does not expect the wide receiver to play this week. It also appears quarterback
Michael Vick
will be out another week, despite putting in limited practice Wednesday. Vick, still healing from his rib cartilage injury, has already spoken about targeting Week 9 (the Eagles have a bye in Week 8), so expect
Kevin Kolb
to get another start.
The
San Diego Chargers
have already indicated that two of their players will be out this weekend. According to Kevin Acee of the San Diego Union-Tribune, kicker
Nate Kaeding
will be out for Week 7 because of a groin injury. Meanwhile, wide receiver
Malcom Floyd
injured his hamstring in the Week 6 contest, which was severe enough that the Chargers are already preparing for his absence. The question will be whether he can return in time for the following week and whether
Legedu Naanee
can step back into the lineup this week. Naanee missed last week with a hamstring strain of his own and didn't practice Wednesday, but did do some side running and hopes to return to practice Thursday.
This is an off week for the
Detroit Lions
,
New York Jets
,
Houston Texans
and
Indianapolis Colts
, so that extra time off is most welcome. However, even with the bye week, there's already a lot of bad news with the Colts.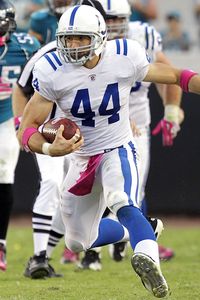 AP Photo/John RaouxFantasy owners were already going to have to do without Dallas Clark this week, but the absence may be much longer.
First off, there's tight end
Dallas Clark
, as he's facing an "indefinite" absence as a result of a wrist/hand injury. ESPN's Adam Schefter reported that in the wake of the injury, Clark would be seeking multiple opinions as to the optimum course of treatment. On Thursday, Colts general manager Bill Polian confirmed Clark's indefinite absence. According to the Indianapolis Star, Clark is seeing a specialist in Cleveland on Thursday for what is a "relatively rare" injury and the team is awaiting word on the course of treatment before providing any more details, including a timetable. Said Polian, "This is not the kind of injury that is very common where our doctors can say, 'Hey, look, this is a four-week injury or this is a six-week injury.' So we'll know more later tonight."
Clark was apparently injured late in Sunday night's game when he put his left hand down to break his fall. He was then seen sporting a cast on his forearm and hand while at a fundraiser earlier in the week, hinting at the seriousness of the injury. Fantasy owners obviously need to make lineup adjustments in preparation for the possibility that Clark's absence is extensive.
And if you thought it couldn't get any worse for the Colts, Polian also revealed Thursday that wide receiver
Austin Collie
has an undisclosed injury that is being further evaluated. Adam Schefter reports that Collie has already undergone hand surgery and is expected to be sidelined for several weeks. No word as to the specifics of the injury and subsequent surgery, but suffice it to say fantasy owners will need a fill-in if he is out a few weeks.
Fantasy owners who own both Clark and Collie in their leagues (including this writer) may need to be restrained from acting out in frustration, but fortunately they were already going to be out this week anyway. More details as they emerge.
Meanwhile, there are also questions at the running back position.
Joseph Addai
, who suffered an injury to his neck and shoulder area in Week 5 but played in Week 6, was forced out of last Sunday's game after injuring his left shoulder. The Indianapolis Star reports that Addai says he is dealing with a "nerve" injury that could take up to five weeks to heal. Without knowing more about his diagnosis, it's hard to tell how accurate Addai's own prognosis about his condition is. NFL.com reports he is currently seeking a second opinion. The good news is that the Colts are on a bye this week and
Donald Brown
is getting healthier. Fantasy owners will want to be sure they target Brown in the event Addai misses some extended time.
As for the rest of the Week 7 injury concerns, read on ...
Quarterbacks
Brett Favre, Minnesota Vikings:
Favre's elbow is reportedly feeling better than it did a week ago and he should be fine to take the reins for Sunday. Although he was listed as a limited participant in practice, he did do some throwing Wednesday. This is likely to be a condition that will have its ups and downs as the season continues, but with careful management, Favre could manage to play through it.
David Garrard, Jacksonville Jaguars:
Garrard rested at home Wednesday and Thursday rather than participate in activity at the team's facility as he recovers from a concussion sustained Monday night. As is often the case with these injuries, Garrard is resting from cognitively demanding activities, such as meetings and film review, while also laying off physical activity. The evidence would suggest that Garrard will not be ready to play in Week 7.
The question then becomes who will be under center for the Jaguars?
Trent Edwards
injured his thumb Monday night and was not at Wednesday practice either. At issue will be how much pain and swelling interfere with Edwards' ability to grip and control the ball. The Jaguars may rely on
Todd Bouman
to face the
Kansas City Chiefs
.
Vince Young, Tennessee Titans:
Young, who sprained his left knee and ankle Monday night, did not practice Wednesday and was seen "limping on the sideline," according to the Tennessean. Backup
Kerry Collins
did not practice Wednesday either as he rested a sore right middle finger, but it appears he was set to return to practice Thursday. Young relies on his mobility so if he cannot maneuver well by Friday, expect Collins to get the start.
Running Backs
Darren McFadden, Oakland Raiders:
He split reps Wednesday with
Michael Bush
. The Oakland Tribune specifically noted that the plays did not seem to be testing the "burst" of McFadden, something he suggested he would do earlier in the week to evaluate the progress of his injured hamstring. Whether McFadden can practice on successive days and work up to full speed by the end of the week will give a better clue as to his status for Sunday. There's a possibility that the team could head into the game against the
Denver Broncos
with a load-share situation.
Wide Receivers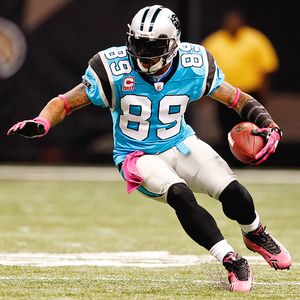 Derick E. Hingle/US PresswireThe return of Steve Smith would be most welcome for his fantasy owners and the Panthers' struggling offense.
Steve Smith, Carolina Panthers:
When possible, we like to bring good news to fantasy owners in this column and the sight of Smith putting in back-to-back full practices this week is indeed good news. Last week at this time, it seemed as though Smith might be headed for a more prolonged absence, but the prognosis has since improved.
The Gaston Gazette reported Wednesday that Smith said he felt "healthy," adding "I'm out of the boot and I don't have much pain so I'm able to move around. So I feel good." Smith reportedly has been recovering from a high-ankle sprain and it has only been three weeks since the injury. While his practice activity is certainly encouraging and indicates his likely availability against the
San Francisco 49ers
, it will be more encouraging long-term if he gets through that game without a setback.
Quick Hits
• Chargers tight end
Antonio Gates
did not practice Wednesday, as expected, to rest his sore toe. Coach Norv Turner has indicated that this injury does not appear serious and the team hopes to have him back in practice Thursday. At this point, it does not appear that his Sunday status is in doubt, although fantasy owners will want to see what Gates is able to do as the week progresses.
•
Green Bay Packers
wide receiver
Donald Driver
strained his quadriceps late last week but still managed to play in Sunday's game. Nonetheless, the quad did seem to hamper him and he was held out of practice Wednesday and Thursday. Friday's practice should give a better clue as to his availability but it is possible, even if he plays, that he will not be at full health.
• Kent Somers of the Arizona Republic expects both
Steve Breaston
(knee surgery) and
Early Doucet
(sports hernia surgery) to be back in the mix this week for the
Arizona Cardinals
. Both players participated in limited practice Wednesday.
• Jacksonville Jaguars receiver
Mike Sims-Walker
was limited in Wednesday's practice because of a shoulder ailment. There is no word of a major injury, but it is worth keeping an eye on his activity the remainder of the week.
• Philadelphia Eagles running back
LeSean McCoy
did not practice Wednesday, but expect him to be in the action again this week. Every week that goes by is another week of the rib fracture healing itself, so there appears to be no cause for concern here.
•
Cleveland Browns
running back
Peyton Hillis
continues to slog it out through his thigh injury. He was kept to a limited practice Wednesday but based on his prior performance, expect him to suit up this week.
•
New Orleans Saints
running backs
Pierre Thomas
and
Reggie Bush
were not in practice Wednesday. According to Jeff Duncan of the New Orleans Times-Picayune, Bush is targeting next week for a return to practice, hoping to return to play in Week 8 or 9. Thomas was hoping to resume running this week, suggesting that he is more than a few days away from returning. As of Thursday, expect
Chris Ivory
and
Ladell Betts
to be in at running back.
•
Baltimore Ravens
tight end
Todd Heap
did not practice Wednesday because of a sore neck. Heap, who was on the receiving end of a big -- and much discussed -- hit from the New England Patriots' Brandon Merriweather, remained in Sunday's game after the hit but apparently the soreness lingered. The good news is that Heap returned to practice Thursday and appears to be on track to play in Week 7.
• At this point, Cleveland Browns coach Eric Mangini is suggesting that
Colt McCoy
could get his second start of the season, barring dramatic improvement in the ankle health of
Jake Delhomme
or
Seneca Wallace
. Given their injuries, McCoy is likely to be running the offense this week.
• Oakland Raiders quarterback
Bruce Gradkowski
only watched practice while
Jason Campbell
and
Kyle Boller
split reps, according to the Oakland Tribune. When asked by Denver reporters during a conference call who would start for the Raiders this weekend coach Tom Cable responded, "We have no idea at this point."
See you at the injury chats (Tuesday, Friday 3-4 p.m.), when we'll have the latest injury updates affecting Week 7 in the Saturday morning blog!
October, 19, 2010
10/19/10
3:36
PM ET
The standout topic from Week 6 was the incidence of head injuries. There certainly has been much discussion around the injuries, the hits that led to those injuries and the position the league is taking as far as
enforcing penalties on flagrant hits
.
Fantasy owners saw a number of their players leave the game Sunday (and Monday!) with head injuries. It is important to remember that concussions are like snowflakes; no two are alike and they are therefore unpredictable in terms of recovery. What we can say is that each player will be carefully evaluated and will be subject to the league guidelines before he is permitted to return to play.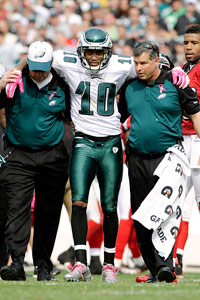 Barbara Johnston/US PresswireDeSean Jackson had scored two touchdowns Sunday before suffering that huge hit from Dunta Robinson.
The following key players suffered a head injury in Week 6:
DeSean Jackson, WR, Philadelphia Eagles:
In what may have been one of the biggest hits of the weekend, Jackson's head snapped back upon impact with the
Atlanta Falcons
'
Dunta Robinson
before he hit the ground in a heap. Robinson suffered a head injury of his own from the hit he delivered. A clearly dazed Jackson was ultimately escorted off the field by medical personnel. NFL.com reports that Jackson suffered memory loss, and head coach Andy Reid told reporters Monday that Jackson also has a sore shoulder. Expect him to be out for Week 7.
Mohamed Massaquoi, WR, Cleveland Browns:
Massaquoi left Sunday's game in the second quarter with a concussion following a hit by
Pittsburgh Steelers
linebacker
James Harrison
.
Josh Cribbs, WR, Cleveland Browns:
Cribbs took a hit on the side of his helmet Sunday (also from Harrison) and crumpled to the ground. Cribbs was eventually able to walk off the field and even seemed to be making a case for a return to the game, but the medical staff stood firm.
Chris Cooley, TE, Washington Redskins:
Cooley apparently suffered his concussive hit in the second quarter but did not develop symptoms until later, which is not altogether unusual. According to The Associated Press, Cooley began to develop a headache and felt that he was "a little bit slow." He then came out of the game. Cooley, who has had several concussions in the past, was scheduled to undergo a CT scan Tuesday.
David Garrard, QB, Jacksonville Jaguars:
The Monday night game yielded another concussion, this time from the Jaguars' signal-caller, who left the contest early and was replaced by former
Buffalo Bills
quarterback
Trent Edwards
.
In the non-concussion injury department, here's what we're talking about after Week 6.
• In what many have agreed was the most egregious hit of the weekend,
Baltimore Ravens
tight end
Todd Heap
was the recipient of a helmet-to-helmet hit by the
New England Patriots
'
Brandon Meriweather
. The safety clearly led with his head on the hit to Heap, prompting an angry reaction from his own coach, Bill Belichick. Heap returned to the game after sitting out briefly, but don't be surprised if he shows up on the injury report this week.
•
Indianapolis Colts
running back
Joseph Addai
made another early exit after taking a hard hit to his shoulder in the fourth quarter of Sunday's game against the Redskins. According to Tom James of the Terre Haute Star-Tribune, Addai was seen in the locker room Monday with his left arm in a sling. The extent of Addai's shoulder injury has not been diagnosed. "It did not appear to be a separated shoulder or anything like that," team president Bill Polian said during his weekly radio show. "That's kind of the good news. We'll know more later in the week." The Colts are on a bye this week, but there is no indication yet as to whether Addai will be available for his next game, which isn't until Nov. 1.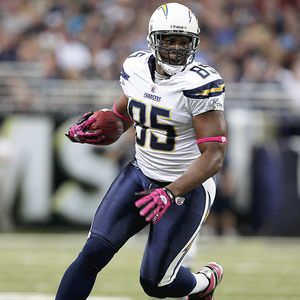 Icon SMIAntonio Gates' streak of scoring a TD in every game this season was stopped because of his toe injury.
• The
San Diego Chargers
' reliable tight end
Antonio Gates
has been having an amazing start to his season. In Week 6, his numbers dropped as he was forced out of the game in the first half due to injury. Initially, it appeared as if Gates had injured his ankle and he was spotted in a walking boot after the game. But the news got better by Monday. The San Diego Union-Tribune reports that coach Norv Turner said Gates had sprained his left toe but remained optimistic he could play this week. Despite the fact this injury is to the same foot on which Gates underwent surgery two years ago, Turner told the Union-Tribune that the two injuries are unrelated (no word on whether the injury specifically is to the same toe or not). Gates' teammate, wide receiver
Malcom Floyd
, may not fare as well this week. He strained his hamstring in the third quarter of Sunday's game and early indications are that he will be out this week.
•
Oakland Raiders
quarterback
Jason Campbell
started in Week 6 in place of the injured
Bruce Gradkowski
but injured his own knee in the process. Campbell underwent an MRI on Monday on his sore left knee. According to the San Jose Mercury News, the diagnosis is a "sprained knee" and it remains to be seen who will be under center for the Raiders this week. ESPN's
Bill Williamson
thinks it could be
Kyle Boller
. Meanwhile, teammate
Darren McFadden
yielded the running back duties to
Michael Bush
in Week 6 while he rested his injured hamstring. McFadden plans to test the hamstring in practice this week. He told the Mercury News, "That's my goal for Wednesday, to go out there and try to see what I can do, see if I can burst." As the weekend approaches, fantasy owners will find out whether they will need to agonize over whether McFadden or Bush is in line to get the work.
•
Denver Broncos
wide receiver
Eddie Royal
suffered a groin injury in Sunday's game against the
New York Jets
, but the extent of the injury is unclear. The Denver Post reports that coach Josh McDaniels is uncertain whether Royal will be able to practice this week.
• Washington Redskins running back
Ryan Torain
made fantasy owners happy Sunday night. And then he disappeared early in the fourth quarter, leading many to wonder if he was hurt. The Washington Post reported that Torain was spotted in the locker room after the game with his knee heavily wrapped but responded to questions about it by smiling and saying, "I'm great." We will have to wait and see what he does in practice this week, but don't be surprised if he appears on the Wednesday injury report, even if only for taking limited reps to rest his knee. Tight end Chris Cooley, who suffered a concussion, will undoubtedly land on the injury report. Concussions always require ongoing evaluation, so it is too soon to tell what his status for Week 7 will be.
•
Detroit Lions
quarterback
Shaun Hill
fractured his left (nonthrowing) forearm Sunday and underwent surgery Monday to repair it. Hill will be unavailable for at least several weeks. The good news for the Lions is that
Matthew Stafford
was already on track to return after the Week 7 bye. If all continues well, Stafford will be ready to return from his AC sprain when the Lions resume play in Week 8.
•
San Francisco 49ers
tight end
Vernon Davis
contributed to his team's first win with a score on Sunday but injured his knee in the process. Davis underwent an MRI on Monday, but according to Matt Maiocco of CSNBayArea.com, the 49ers do not expect him to miss any significant time. He is being called day-to-day.
•
Dallas Cowboys
quarterback
Tony Romo
suffered a bruised left (nonthrowing) thumb. The Dallas Morning News reports that Romo did not undergo X-rays and is not expected to miss any practice time.
• Monday night saw both quarterbacks exit early due to injury. The Jacksonville Jaguars saw David Garrard added to the concussion roster from Week 6. The
Tennessee Titans
lost
Vince Young
after his leg got bent awkwardly during a pileup. Young was seen in a brace on the sideline with what was later called a sprained knee. After the game Young told reporters he will take it "day by day."
• Philadelphia Eagles quarterback
Michael Vick
is not expected to play in Week 7. Although he is making some progress, Vick acknowledged on his weekly radio appearance on ESPN 94.1 FM in Virginia Beach, Va., that it made no sense to rush back. He hopes to be ready by Week 9 (the Eagles have a bye in Week 8).
We will continue to update these injuries and others as the week progresses.
See you at the injury chats (Tuesday and Friday 3-4 p.m.) and we'll have the latest injury updates in the blogs on Thursday and Saturday.
October, 24, 2007
10/24/07
9:52
AM ET
Was there any positive news on Tuesday? Maybe. Despite the fact that yet another starting quarterback went down to injury on Monday night, there might be a previously-injured quarterback returning this week. Fantasy owners can only hope for some positive news, right?
Running Backs
Steven Jackson, Rams:
The long-awaited return of the Rams' star running back, who suffered a partial tear of his groin in Week 3, appears to be around the corner. The St. Louis Post-Dispatch is reporting that Jackson will play in Week 8 against the Browns. I have to admit that this is a bit surprising, given Jackson's limited activity thus far, and the fact that the Rams have a bye in Week 9. Jackson began working out with the team last week. He wore the red non-contact jersey indicating he had not yet been medically cleared for contact, but coach Scott Linehan seemed pleased with what he saw. Nonetheless, a word of caution is in order here. According to the Belleville News-Democrat, Linehan acknowledged that Jackson is not 100 percent. Jackson has only just begun running in practice, which is far removed from full contact, and the higher level drills that would test his power. Also, in the course of a game, Jackson will be asked to drive his body weight against defenders, something that places a lot of load on the groin musculature. Unless Jackson has been able to show that he can do all of these things in practice, I would remain a bit skeptical about how he would be utilized, even if he were to return this week. Linehan commented that Jackson brings a lot to the team in terms of his leadership and the excitement his play generates, and the Rams, don't we know, are looking for something, anything perhaps, to provide a spark that can ignite the team. But is Jackson's entrance at this point the guaranteed spark? What if he struggles in his first outing? Or suffers a setback? That might be the final straw for the hapless Rams. Despite the reports, it is still too early in the week to be certain that Jackson will play. Have your backup ready for another outing until we have the benefit of the full week of practice reports.
Frank Gore, RB, 49ers:
Oh, ye of little faith (Negative Nate Ravitz, that means you). What's a minor ankle sprain to a guy like Gore? Gore hurt the ankle Sunday but played through it, suggesting that the injury was not terribly serious to start (not that it was not painful, but in terms of injury severity, Gore could still continue to run, suggesting less tissue damage). According to the San Francisco Chronicle, Gore said on Monday that he will have "no problem" playing against the Saints come Sunday. Believe him.
Travis Henry, RB, Broncos:
Henry has a bit of good news. According to the Denver Post, Henry has no fractures in the ribs, they are just bruised and sore. Again, the primary limiting factor is pain, and the ribs will be painful when moved (deep breathing, twisting, reaching). It is likely that the Broncos will limit him in practice in the early part of the week to allow the ribs to rest. Although he is officially listed as day-to-day, Henry is highly motivated to play and I would expect to see him on the field Sunday, barring a setback.
Maurice Jones-Drew and Fred Taylor, Jaguars:
Jones-Drew left Monday night's game against the Colts late in the fourth quarter with what is being called a sprained left knee according to the Orlando Sentinel. The injury does not appear to be too serious and there were no Tuesday updates from the team as to Jones-Drew's status. He and teammate Taylor, who has been nursing a groin injury amassed approximately the same amount of rushing yardage, with Jones-Drew receiving more carries. Two take away messages: Taylor's groin looked fine as he pulled off some nice moves Monday night and Jones-Drew, if healthy, will continue to get the ball more than Taylor. With
David Garrard
injured, the running back tandem could factor more into the offensive scheme, so we will monitor their practice reports to assess their status throughout the week.
Rudi Johnson, Bengals:
According to a report in the Cincinnati Enquirer, Johnson might be ready to play this week. The key in assessing Johnson's readiness is observing what he is able to do (or not do) in practice this week. We will update his status after practice reports come out.
Ronnie Brown, RB, Dolphins:
By now, you know that Brown suffered a season-ending ACL injury. Sadly, this surgery has become so routine, that you are no doubt familiar with the procedure (insert graft to replace original ligament inside the knee joint), the length of the rehab (approximately 9 months, give or take), and the stats, especially for running backs, on the time to return to form (usually better performance in the second year post-surgery). So I will spare you the details here. Suffice it to say that the Dolphins, already struggling, will struggle more. Fantasy owners who enjoyed Brown's success over the past few weeks will also struggle to find a worthy replacement.
Quarterbacks
David Garrard, Jaguars:
Garrard injured his left ankle when he was sacked during the second quarter by the Colts' Ed Johnson. Watching the video replay of the sack, it appeared at first glance that Garrard's knee would be the victim, but his foot yielded enough motion to actually protect his knee. In the end, something had to give, and he sustained the ligament injury (sprain) to his ankle. According to AP reports, Garrard underwent an MRI on Tuesday to determine the extent of damage to the ankle. Coach
Jack Del Rio
indicated that he expected to update Garrard's return timetable on Wednesday. In the meantime, expect Garrard to miss one game at a minimum while the pain and inflammation settle. Garrard is not a running quarterback per se, but he certainly moves well when he needs to make plays. He needs enough mobility in the ankle to allow him to escape the rush and enough stability to step confidently onto the ankle as he delivers the ball. The MRI results combined with his practice activity during the next few days will give us more information.
Byron Leftwich, QB, Falcons:
Although Leftwich had an MRI on Monday, coach Bobby Petrino is keeping the details quiet. According to the Atlanta Journal-Constitution, Petrino remarked that he hopes Leftwich is "back at some point." No kidding. When that point will be, though, is a big question mark. The initial diagnosis was a severe high ankle sprain. At this point, if Leftwich is on your fantasy roster you should be making other plans. Non-surgical sprains of this nature typically take 4-6 weeks of recovery time with some variability either direction.
On Wednesday morning, ESPN's Chris Mortensen reported that Leftwich underwent surgery on his right ankle, a procedure which may, in fact, decrease the total amount of time that Leftwich is absent from the team. Why surgery when there are no broken bones? In the case of a high ankle sprain, damage to the ligaments at the top of the ankle joint, when severe enough, results in a gapping of the two bones (tibia and fibula) that shape the top of the ankle. There is an option of immobilizing the ankle in a boot and decreasing weight-bearing in the hopes that the ligaments will scar and heal. Another option, the one which Leftwich and his medical staff elected to choose, is a surgical fixation of the joint where screws are inserted to close the gap. The addition of the hardware helps to reinforce joint stability. The reason this gapping is problematic if it persists is that it can lead to severe ankle arthritis down the line. Every time the athlete puts weight on the foot, the joint can gap further, leading to instability and uneven wear and tear, with ultimate pain and disability. Although the early reports are that Leftwich could return within two weeks, it would not be unreasonable for that to extend to three or four. Leftwich, although oft-injured, is tough and has been known to push through pain. We will monitor his progress as he rehabilitates the ankle.
Matt Schaub, QB, Texans:
According to ESPN's John Clayton, Schaub is seriously banged up and is dealing with a lot of soreness in his hip. Coach Gary Kubiak reinforced that with his comments on the Texans' official site adding that Schaub was "moving around very, very slowly." Kubiak reported that all of Schaub's tests were negative, which means that Schaub's ability to play will depend on his ability to move. Although the team is hopeful that, after a few days of rest, Schaub will be able to move around well enough to practice some, he could still play Sunday without practicing during the week. One thing working in Schaub's favor is that he does not have to be loose enough to make shifty halfback moves or leaping receiver plays. He does, however, need to be able to move well in the pocket without being tentative on either leg. He also needs to be able to withstand the impact of another (presumably legal) hit that could bring him down on the right side. At this point he appears to be a risky play for Sunday, so plan accordingly, but as the weekend approaches, we will re-evaluate his status.
Vince Young, Titans:
Sitting out Sunday's game appears to have been a wise move for Young, as it no doubt allowed him some additional healing time for his quadriceps strain and, most importantly, prevented him from suffering a potential setback. Remember, he was already doing some light running and throwing, and was available as a backup, suggesting that he was well on his way to recovery. The Titans, however, mindful of how easy it is for a strained muscle to worsen, especially at that pivotal point in time where it is feeling better but has not yet been tested, kept Young resting in the wings. Coach Jeff Fisher told the Tennessean on Monday that the team expects Young to take all the practice reps on Wednesday, in anticipation of a Sunday start. If indeed Young is able to complete full practice Wednesday with no post-practice side effects, then he looks good to resume his position come Sunday.
Tarvaris Jackson, Vikings:
Jackson suffered a new and different injury on Sunday to go with his poor performance. According to the Minneapolis Star-Tribune, Jackson sustained an avulsion fracture to his index finger. An avulsion fracture is a small chip fracture that occurs when a tendon or ligament tears away from the bone to which it attaches, taking a small piece of bone with it. It is understandably painful initially, and can be bruised and swollen, but rarely requires surgery to address it. Avulsion fractures often occur in the hand, foot and ankle and are generally treated with immobilization and rest until the swelling subsides and the pain diminishes. Jackson will wear a splint and then attempt throwing early this week. He may have plenty of time to rest his finger, though, as the Vikings could opt for
Kelly Holcomb
in his place, regardless of how his finger is feeling.
Receivers and Tight Ends
Andre Johnson, Texans:
I'm not spending a lot of time here as the story remains virtually the same. Johnson (PCL sprain) is dealing with an injury that is more serious than most knee sprains, because one of the cruciate ligaments (internal stabilizer of the knee) is involved. This weekend would mark six weeks since the original injury, putting Johnson well within the normal time frame for recovery from this type of ailment. Given the upcoming bye in Week 9 and the challenges he is still facing, do not expect Johnson back until Week 10. If he is still struggling at that point, then I would begin to be a little more concerned.
Marcus Pollard, Seahawks:
According to the Seattle Times, Pollard is scheduled to undergo surgery as his knee is still giving him trouble since injuring it two weeks ago. It sounds as if the team expects it to be a minor clean-up procedure but will, of course, know more once the scope is complete. Meanwhile, the team does hope to have
D.J. Hackett
and
Deion Branch
back after the Week 8 bye. The team has this week completely off so we will update the status on these players after practice reports come out next week.
Thanks for stopping by. If you don't see your player listed here, check back on Friday as there will be more information available after a week's worth of practice. On Saturday, we add any pregame updates that might affect your lineups. Until then, good luck on the waiver wires.