Stephania Bell:

David Price
July, 1, 2013
7/01/13
6:57
PM ET
Every Monday, in this space, we'll provide updates on a variety of players to help you make your weekly lineup decisions. We'll specifically try to hit the players who are day-to-day, have just gone on the DL or are ready to return, so that you can better decide whether you can count on them or not.
All projected return timelines should be considered fluid.
Hitters
Bryce Harper, OF, Washington Nationals (placed on DL retroactive to May 27, expected to return Monday): Last week there was some disagreement between Harper and manager Davey Johnson about the right time for Harper to return to the lineup. It now appears they are on the same page. According to the Washington Times, Harper is expected to return Monday night after completing a rehab assignment with Double-A Harrisburg. He originally injured his knee in May crashing into the outfield wall at Dodger Stadium but tried stoically to play through it. Less than two weeks later, it became apparent the knee was not improving and Harper went on the DL. Persistent swelling in the form of bursitis nagged at him until June, when he received two separate injections in the area: cortisone and PRP. Once the pain and inflammation settled, Harper was able to resume baseball activities and now, after increasing that activity to the level of playing in games, he is in line to rejoin his team.
The knee is not perfect and the chance remains that it could become aggravated with a crash, a dive or another move often associated with Harper and his style of play. For now, however, he is just anxious to get back in the lineup, posting the following on his Twitter account Monday: "I'm so blessed and thankful to be back playing the game that I love! Felt like forever." Fantasy owners no doubt feel the same way.
Evan Longoria, 3B, Tampa Bay Rays (day-to-day): Longoria aggravated plantar fasciitis in his right foot Friday night and sat for the remainder of the weekend. The question for fantasy owners is how long the rest will continue. Manager Joe Maddon said Longoria had improved substantially by Sunday to the point where a DL stint might not be necessary, according to the Tampa Bay Times. In fact, Maddon suggested Longoria might be available to pinch hit Monday if he continued to feel better.
The problem with plantar fasciitis (pain in the fibrous tissue which reinforces the arch of the foot) is that the pain is typically provoked by load-bearing activity, including running. If Longoria does test the foot and the pain escalates, the team may have to re-evaluate the possibility of more extended rest.
Carl Crawford, OF, Los Angeles Dodgers (placed on DL June 2, could return this week): After not hearing much about Crawford's progress in rehab during the month of June, there's suddenly a rather dramatic update. Crawford began a rehab assignment over the weekend and is scheduled to add playing time in the field early this week, according to the Los Angeles Times. If all goes well, he could return to the lineup this weekend when the Dodgers face the San Francisco Giants.
The risks remain the same as they are for any player coming off the DL with a significant hamstring strain, something with which the Dodgers are all too familiar. The hope is that Crawford will situationally test the hamstring as much as possible while on his rehab assignment, but that will never match the intensity of a major league contest. It wouldn't be the worst thing for the health of their outfielders if the Dodgers choose to rotate among them all (Crawford, Matt Kemp, Andre Ethier and Yasiel Puig). With Kemp coming off a recent hamstring injury (which appears to be fully recovered) and still trying to regain his form following shoulder surgery, Ethier's recently sore knee and Puig playing every game as if it might be his last, the addition of Crawford -- who has yet to stay healthy for more than eight weeks over the past two years -- could provide the sort of insurance the Dodgers' outfield needs. For fantasy owners, however, it will be worth monitoring how the workload is divided up once Crawford is back in the mix.
Mike Trout, OF, Los Angeles Angels (day-to-day): Right now there seems to be little concern on the part of the Angels about the "minor" hamstring issue that kept Trout out of the lineup Sunday. At nearly the halfway point of the season, Trout had yet to miss a game, so perhaps a day of rest was in order, especially if that day keeps him healthy going forward. Trout is expected to play Tuesday after the team's day off on Monday but, as we have seen with other hamstring ailments around the league, sometimes even a seemingly minor issue can resurface if provoked. Everyone is hoping this will not be the case for Trout.
Everth Cabrera, SS, San Diego Padres (placed on DL June 17, could return this week): When Cabrera was first injured, he sounded like someone who knew it would take more than a few days off to recover. The good news is that he likely he will not miss much beyond the minimum DL time with his strained left hamstring. Cabrera has been making progress with his conventional rehab and, according to the Padres' official website, could head out on a rehab assignment early this week with their Class A affiliate in Fort Wayne, Ind. If he plays without incident there, the Padres could see him back in their lineup as soon as Thursday in Boston or for the weekend series in Washington against the Nationals. Given Cabrera's value in base stealing and the fact he was injured while attempting a stolen base, he probably would want to test that skill in a game situation before returning to the majors. Not every scenario can be forced, so his return may not hinge on it, but a successful minor league steal would help instill confidence -- both for Cabrera and fantasy owners -- that he will not be hesitant to do so upon return.
Peter Bourjos, OF, Los Angeles Angels (day-to-day, likely to be placed on DL): Bourjos broke a bone "just below his right wrist" and is now expected to miss two to three weeks minimum, according to the Los Angeles Times. The fracture occurred Saturday when he was hit by a pitch in the fourth inning of a game against the Astros. Fortunately for Bourjos, this is a nondisplaced fracture (bony ends remain in alignment), which doesn't require surgery. Assuming the bone shows good early healing and he is able to grip and swing a bat effectively, his timetable for return is projected at under a month. Bourjos has already spent as much time on the DL this season as he has on the playing field, so the news of another significant injury is particularly discouraging. At least he knows the drill.
Ryan Sweeney, OF, Cubs (placed on DL June 30): Sweeney had been seeing regular playing time since mid-June, filling in for the injured David DeJesus, who is out with a shoulder sprain. Sweeney will now be joining DeJesus on the DL after a crash into the outfield wall Saturday resulted in a left-sided rib fracture. (DeJesus also injured himself when he collided with the outfield wall.) Originally labeled a contusion (deep bruise), the injury turned out to be more severe upon further examination. The broken bone will require four to six weeks to heal and Sweeney's activity will be determined both by that healing process and his discomfort. It now looks as if recently called up Brian Bogusevic will see regular playing time until DeJesus returns (not expected until late July). Note to Bogusevic: Avoid the outfield walls.
Melky Cabrera, OF, Blue Jays (placed on DL June 28): It was a bit surprising to see Cabrera placed on the DL Thursday when there hadn't been much chatter about a problem. Apparently a midweek tweak of his knee during a game against the Rays had Cabrera laboring a bit with his movement, according to manager John Gibbons, prompting the DL designation. The injury was originally reported to have been tendinitis in his left knee, and the diagnosis was supported by a subsequent MRI, according to Sportsnet. The diagnosis remains unspecific given it is not clear which tendon is aggravated, but it sounds as if the Jays expect he could return when eligible.
Jedd Gyorko, 2B, San Diego Padres (placed on DL June 10, could return this week): Gyorko was expected back last week assuming his two scheduled rehab games went as planned. They did not. He felt his right groin tighten up while running hard during a rehab game Wednesday and exited early as a precaution. As of Saturday, Gyorko reported feeling improvement, according to the Padres' official website, but he remains without a definitive timetable for return. If anything, the experience of the setback, however minor it was deemed to be, reinforced the need to test Gyorko's response to baserunning. Before he returns, it would seem likely the team would send him on a rehab assignment to test the area not only in-game, but to see how he responds the following day. A specific plan has not been outlined as of yet, but fantasy owners should not expect him before late in the week.
Troy Tulowitzki, SS, Rockies (placed on DL June 13): Tulowitzki has just recently passed the 15-day mark of his DL placement but he will be staying put for a while longer. Still, his progress thus far has been encouraging. Tulowitzki has resumed some light baseball activities, including fielding, playing catch and, as the Denver Post reported, hitting off a tee as of Saturday. He's still on the projected four-to-six week time frame and he's not entirely pain-free, but his ramped-up work is a good sign. Assuming the healing of the rib itself cooperates, Tulowitzki could get clearance to further advance his activity in the coming days.
Corey Hart, 1B, Milwaukee Brewers (opened season on DL, now done for the season): Just when it seemed the news for Hart couldn't get any worse, somehow it did. Hart, who has struggled to return from offseason surgery on his right knee, will now undergo surgery on his left knee, ensuring his absence for the remainder of the 2013 season. It was only last week that Hart revealed his frustration to the Milwaukee Journal-Sentinel at a constantly changing return date and his continued lack of strength. Return following any procedure involving cartilage resurfacing can vary widely depending on the individual's healing response and whether any setbacks are encountered along the way. Hart had several setbacks with his right knee, but his biggest comes in the form of an entirely different blow. On the other hand, the forced scaling back of the rehab for his right knee while he undergoes surgery on the left may end up having a beneficial effect. He will have to ramp up his activity gradually to accommodate the left knee and the adjusted program may be just what his right knee needs to fully recover. Another surgery is not the news any athlete wants to hear, but it was beginning to look worrisome as to whether Hart would be able to make it back this year anyway. At least this way he has the opportunity for a fresh start in 2014.
Pitchers
Johnny Cueto, SP, Cincinnati Reds (placed on DL June 29): This is now the third time that Cueto has been bothered enough by a lat strain to be forced out of the rotation. Cueto went on the DL in mid-April, then returned a month later and looked sharp. But shortly thereafter he aggravated the area behind his shoulder and was sidelined for another 15 days. Now, after less than two weeks of being back in the mix, Cueto has again suffered a setback. The repeat nature of this has to raise concerns for his ability to truly get past the injury in-season. After a diagnostic ultrasound confirmed the injury is to the same spot within the same (latissimus dorsi) muscle, the team's plan is to completely shut down his throwing for several weeks and slow down his rehab process, according to the Cincinnati Enquirer. It's hard to argue with the plan when the problem has been as recurrent in nature as it has for Cueto. The Reds have to be hoping that the third time's the charm in terms of keeping Cueto off the DL, but as Reds athletic trainer Paul Lessard told the Enquirer, "It's probably going to be an issue the rest of the season."
David Price, SP, Tampa Bay Rays (placed on DL May 16, expected to return Tuesday): From start to finish, this injury episode has been a bit unusual. It started with the vague diagnosis of "triceps tightness" for Price which manager Joe Maddon initially projected would cost him merely two to three starts. A month later, Price is just approaching a return from the DL. His rehab has progressed fairly cautiously, but Price has not been beset by setbacks. Still, the team was careful not to place any expectations on his return date and offered very little in the way of specifics about Price's injury. Muscular tightness is generally not the cause of a 45-day absence. The concern is that this incidence reflects a greater underlying issue with Price's throwing shoulder. But his fairly linear recovery and strong performance in rehab outings provides some reassurance that he is indeed returning healthy. Only if Price lasts the remainder of the season without any recurrence of symptoms, however, will we be able to breathe a sigh of relief about his health. Until then this is an exercise in cautious optimism.
Anibal Sanchez, SP, Detroit Tigers (placed on DL June 16, could return this week): The plan was for Sanchez to make a rehab start Monday to assess his readiness to return. If all went well, it was conceivable he could be activated by the weekend. Unfortunately, Sanchez took a line drive to his left leg during this rehab outing and had to exit the game. According to James R. Chipman of Scout.com, Sanchez appeared to be in a fair amount of pain. There is no word yet as to the seriousness of this injury. The issue here with regards to Sanchez's shoulder is not necessarily the severity of this episode per se, but rather the lengthy history of shoulder problems that Sanchez has dealt with across his career. His near return is encouraging but it remains to be seen whether this was a minor bump in the road or a signal that his shoulder is fatiguing.
A.J. Burnett, SP, Pittsburgh Pirates (placed on DL June 9): Burnett has been working his way back from a Grade 1 calf strain and has resumed throwing downhill. After a successful couple of bullpen sessions, Burnett is expected to throw a simulated game Tuesday according to the Pittsburgh Tribune-Review. Burnett's challenges following this injury have as much (if not more) to do with running to cover first base and fielding as anything with his push leg. Even if his throwing sessions are uneventful, until he tests those activities, it will be difficult to gauge his readiness to return. A rehab assignment could be in his near future which will provide the situational play necessary to test the calf. If all goes well, Burnett could be eyeing a return within the next couple weeks, although the Pirates have not specified a timetable.
Clay Buchholz, SP, Boston Red Sox (placed on DL retroactive to June 9): An MRI on Buchholz's shoulder reportedly revealed inflammation in the bursa sac of his right shoulder, or simply, bursitis. While the diagnosis is relatively benign, it doesn't fully explain the neck pain Buchholz has been experiencing recently. Buchholz's issues began in the shoulder in late May, but recently his complaints have been closer to the neck and he was reported to be dealing with a trapezius strain (large muscle between the neck and the shoulder). Whether that area was symptomatic as a result of origination of a problem elsewhere is the ultimate question the Red Sox need to answer. Perhaps Buchholz's response to the next round of treatment will do just that. The bottom line in terms of activity is that the plan for Buchholz is to gradually resume his throwing program. Again. This latest effort started with a session of catch before last Saturday's game and will likely progress, as previously, based on what his level of comfort allows. In other words, it's a matter of wait and see. Again.
Josh Beckett, SP, Los Angeles Dodgers (placed on DL May 14, now expected to miss remainder of season): Beckett has barely been present for the Dodgers this season and the appearances he did make were forgettable. His season has been marred by injury -- predominantly connected to numbness in his throwing hand -- and he is now heading to surgery for thoracic outlet syndrome (compression of nerve and/or blood vessels between the neck and shoulder, generally by a rib which is then resected in surgery). This is similar to the surgery St. Louis Cardinals ace Chris Carpenter underwent, and we have witnessed his ups and downs in trying to return to pitching. It is no easy rehab process and Beckett has expressed concern at various points about what his future holds. For now the only certainty is that he is not expected back on the mound for the Dodgers this year.
Brandon Beachy, SP, Atlanta Braves (opened season on DL): Just as Beachy appeared to be on the verge of making his season debut following Tommy John surgery, he suffered a setback in mid-June which threw him off his timeline. Fortunately, an MRI revealed only inflammation but no significant structural damage in the area of his recently reconstructed ligament. After a week of rest, Beachy gradually resumed throwing and has again worked his way back to throwing off a mound. His recent bullpen sessions have gone smoothly and the next step appears to be re-engaging in a rehab assignment. Given that his setback happened after what was to be his final rehab outing, it's likely the team will want him to make several rehab starts before bringing him to the big league setting. So far, so good given how things looked just two weeks ago, but fantasy owners should not expect him to join the Braves for a while yet. Even then it may take him awhile to accumulate substantial innings.
Joakim Soria, RP, Texas Rangers (opened season on DL): It is really nice to see Soria doing so well in his road back from Tommy John surgery, especially since this is his second time undergoing the procedure. He has yet to appear in back-to-back games, likely the final step before re-emerging in the majors. Bear in mind that Soria has been out for over a year and he may be gradually integrated into relief work once he joins the team. Still, it's nice to have a feel-good story on the injury front, especially after a player has been down such a long recovery road twice.
May, 27, 2013
5/27/13
2:30
PM ET
Every Monday in this space, we'll provide updates on a variety of players to help you make your weekly lineup decisions. We'll specifically try to hit the players who are day-to-day, have just gone on the DL or are ready to return, so that you can better decide whether you can count on them or not.
All projected return timelines should be considered fluid.
Hitters
Curtis Granderson, OF, New York Yankees (placed on DL May 25; expected to miss at least a month):
When it comes to injuries this season, if the Yankees didn't have bad luck, they wouldn't have any luck at all. Granderson, whose season finally got under way just a few weeks ago, is now out for at least a month with another fracture.
Two hit-by-pitches have resulted in fractures for Granderson, the first a broken right radius (forearm bone) just above the wrist, and now a broken left fifth metacarpal (the long bone of the hand, at the base of the fifth (pinkie) finger). The latest incident occurred Friday night when Granderson absorbed the impact of a pitch to his left knuckle in the fifth inning. In an almost eerie forewarning of this event, Granderson spoke to the Yankees' website just weeks ago during his rehab assignment (from the first fracture) about not fearing the inside pitches. "There's going to be pitches inside, I'm going to get hit again, but you got to stay in," Granderson said. In this case, he stayed in until he was forced out, literally, because of injury.
If there's any good news here, it's that it appears this fracture, like the first, will not require surgery. Broken bones typically require four to six weeks to allow sufficient healing to permit return to play; if Granderson's finger shows good early callus formation (bone healing) and he can grip the bat effectively, his timetable should fit right in that timeframe. That said, he might have to encase his fingers, hands and forearms in bubble wrap when he steps to the plate to get through the rest of the season.
[+] Enlarge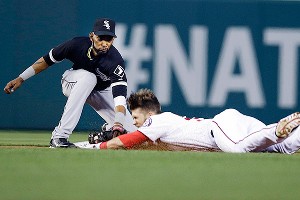 AP Photo/Alex BrandonBryce Harper is becoming known for his "all-out" style of play ... which could lead to missed games.
Bryce Harper, OF, Washington Nationals (day-to-day):
Add bursitis to the list of Harper's aches and pains resulting from crashing into walls, but don't expect it to land him on the disabled list if he can help it. Harper's knee bothered him enough to warrant an MRI, which came back clean, according to manager Davey Johnson. The Washington Post reports Harper will be sidelined for several days, although he may be utilized as a DH against Baltimore later in the week. One thing is certain, though: Harper has no intention of changing anything about the hard-nosed way he plays baseball. These intermittent minor injuries have threatened his status for a couple of games here and could be an ongoing challenge for Harper and his fantasy owners.
Shane Victorino, OF, Boston Red Sox (placed on DL retroactive to May 21):
Victorino had been battling back spasms in recent weeks yet managed to avoid a DL stint. Not now. This time it's his left hamstring that's giving him fits, and Victorino will be forced to rest until he can run without limitation. Interestingly, Victorino's hamstring started to bother him just days after returning to the lineup following missed time for his back. If these two issues are related, which would not be surprising, this could turn out to be intermittently problematic throughout the season.
Will Middlebrooks, 3B, Red Sox (placed on DL May 24):
Perhaps back spasms are contagious in Boston. Middlebrooks left Thursday's game early due to back spasms, something manager John Farrell told reporters might have begun Wednesday night as Middlebrooks came out of the batter's box. The good news is that Middlebrooks said, according to ESPN Boston, that as of Saturday he was already feeling improvement. "I do [think I'll come off the DL when eligible]," he said, adding, "I feel better than yesterday, so if I'm already making steps forward, that's where I want to be." This looks to be a minor episode.
Jayson Werth, OF, Nationals (placed on DL retroactive to May 3):
When Werth was first placed on the disabled list, the thought was that he would miss the minimum amount of time. After all, when the decision was made to formally move him, he had already missed eight games and seemed to be faring better. But if there's anything we know about hamstring injuries, it's that they are among the least predictable of all soft-tissue ailments. It is often not until the athlete tests the leg with full-speed sprinting activities that lingering issues make themselves known. In Werth's case, he experienced discomfort when breaking out of the batter's box, according to Amanda Comak of the Washington Times. The persistent discomfort led to an MRI, which manager Davey Johnson told reporters was "alarming." Consequently, Werth's timetable has been extended with a new target date of June 3, according to general manager Mike Rizzo (via the Washington Post). It's worth reiterating, however, that hamstrings remain unpredictable. Let's see what Werth does this week in his workouts before counting on a Monday return.
Chase Utley, 2B, Philadelphia Phillies (placed on DL May 23):
Utley's knees haven't really been a topic of discussion this season since they haven't seemed to limit him thus far. Now, however, Utley is dealing with a different type of injury issue: a strained right oblique. The Phillies report it as a Grade 1 or minor strain, and the move to the DL reflects their desire to not allow it to worsen. Phillies GM Ruben Amaro Jr. offered a timetable of 2-4 weeks, which is certainly reasonable, adding, "We do believe and hope that Chase will be ready to play in Philadelphia within 15 days." The average missed time for an oblique strain in a hitter runs right around a month, but the most mild forms have allowed an athlete return after the minimum stay (such as
Freddie Freeman
earlier this season). Although there is some optimism Utley will be back after the 15 days, there's no reason for the team to rush him, especially this early in the season.
Trevor Plouffe, 3B, Minnesota Twins (placed on 7-day concussion DL May 22; expected to return Wednesday):
Plouffe took a knee to the head while sliding last Tuesday and was subsequently placed on the concussion DL. Concussions are the least predictable of all injuries, but based on Plouffe's fairly swift recovery so far, it appears the Twins will get him back the first day he's eligible to return. According to the Minneapolis Star-Tribune, Plouffe passed his neurocognitive (ImPACT) tests Thursday and participated in cardio work Friday, which shows progression. If he is able to perform baseball-related activities early this week without any recurrence of symptoms, it appears he will be cleared to rejoin his team's lineup Wednesday.
Wilkin Ramirez, OF, Twins (placed on 7-day concussion DL May 26):
Another collision, another concussion for a Twins player. Unlike the knee to the head Plouffe sustained, Ramirez was concussed making a defensive play in the outfield Saturday when he crashed into teammate
Josh Willingham
. According to the Minneapolis Star-Tribune, Ramirez was not originally on board with the DL designation, that is until he experienced queasiness during the team's flight home Sunday. Good job by the Twins, who certainly have had experience with complex concussions (think former AL MVP
Justin Morneau
). Now it will be a matter of waiting to see how Ramirez progresses throughout the next week.
Pitchers
Chris Perez, RP, Cleveland Indians (placed on DL May 27):
Perez is sidelined with right shoulder soreness, and he was placed on the disabled list for the first time in his major league career early Monday. He was forced to leave Sunday's game against the Red Sox early because of the shoulder, according to ESPN.com. "It kind of pinched on me and sent a little pain down my arm," Perez said. While any shoulder issue is of concern for a pitcher, this doesn't yet have the sounds of something major. It appears Perez at least needs some down time to let the symptoms settle, and he can then hopefully return to throwing. Hopefully.
Clay Buchholz, SP, Red Sox (day-to-day, expected to start at some point this week):
Buchholz was scratched from his Monday start after irritating his right acromioclavicular (AC) joint (the point of the shoulder), something he attributes to falling asleep on his side with his arm wrapped around his young daughter. The impression is that this is just a simple matter of delaying his start to account for the soreness, preventing him from compensating and potentially creating another problem. According to ESPNBoston.com, the plan is for Buchhholz to play catch Monday, and he expects to pitch again later this week.
[+] Enlarge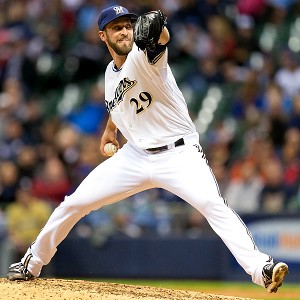 Jeff Hanisch/USA TODAY SportsJim Henderson is expected to get his closer job back once he returns from his hamstring injury.
Jim Henderson, RP, Milwaukee Brewers (placed on DL May 25):
Henderson left Friday night's game in the ninth inning after straining his right hamstring while trying to field a ground ball. After visiting with the team doctor Saturday, the decision was made to place Henderson on the disabled list, which would allow him some additional time off to recover. It sounds like it will be a closer-by-committee situation in Milwaukee until Henderson is ready to return, whether that's in two weeks or slightly longer.
Chris Sale, SP, Chicago White Sox (day-to-day):
Mild tendinitis in his posterior throwing shoulder was the diagnosis for Sale. While any inflammation in a thrower's shoulder is a cause for some concern, the Sox immediately indicated they expected Sale to return for his next start after being scratched last Wednesday. Those plans were confirmed after Sale played catch in the outfield prior to Saturday's game. Afterward, Sale said, "It felt a lot better than I actually thought it would be. Everything is on track, and I will be ready to go Tuesday." He was scheduled to follow up Saturday's session with a Sunday bullpen, and there has been no word of any setback.
If Sale returns without incident, there will be a big sigh of relief from his fantasy owners. But the specter of concern has been raised once again -- last year, there were some questions about whether he was dealing with an elbow injury in May, followed by a reported dead arm period in July -- which must remain in the back of our minds. The bigger question will be whether or not Sale can get through the remainder of the season without this turning into something more substantial.
David Price, SP, Tampa Bay Rays (placed on DL May 16):
Triceps tightness originally put Price on the DL, but nobody on the Rays seemed overly concerned. Manager Joe Maddon said he did not expect Price to miss more than two or three starts. Apparently there's now reason to be at least a little more concerned. Despite Price's assertions that his arm feels "great," he hasn't yet begun to throw. According to the Tampa Bay Times, playing catch hopefully will begin within the next few days, but Price will have to proceed through a throwing progression before returning the rotation, which could take an additional few weeks. So much for him missing only 2-3 starts; now there is no official timetable. Until Price actually starts throwing with effort, it's difficult to gauge whether the slow progress is as a result of the Rays taking a conservative approach with him or because of legitimate concern over the health of Price's arm.
[+] Enlarge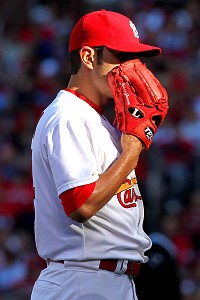 Dilip Vishwanat/Getty ImagesJaime Garcia finally succumbed to his shoulder injury.
Jaime Garcia, SP, St. Louis Cardinals (placed on DL May 18; done for the season):
Garcia tried to get through his shoulder injury without resorting to surgery, and he was successful in doing so for a few starts. His shoulder, like those of so many other pitchers before him, exhibited the wear and tear associated with overhead throwing in the form of labral damage. Eventually that damage made it impossible to throw. After consulting with Dr. James Andrews, Garcia is headed for surgery. It appears his operation will be performed by team physician Dr. George Paletta. The recovery typically requires about six months, meaning if all goes well, Garcia should be ready to return when the season gets under way in 2014.
Ryan Madson, RP, Los Angeles Angels (opened the season on DL; no timetable for return):
Every time it seems Madson is making progress in his recovery from Tommy John surgery, he seems to have some form of setback, which delays his return. The most recent incident occurred last week, when Madson developed soreness in his arm while throwing. Instead of beginning an anticipated rehab assignment with Triple-A Salt Lake, Madson has been shut down indefinitely. He is now 14 months post-surgery, and while the timetable for return following this procedure has a range of anywhere from nine to 16 months, the multiple setbacks Madson has experienced are discouraging.
Rarely is the road back to competition entirely uneventful, but Madson seems to have been pushed back with various episodes of discomfort a bit more than usual. At this point, the Angels seem to be getting solid production from
Ernesto Frieri
in the closer role, and it looks as if he will stay there for the foreseeable future. No doubt the Angels would like to see Madson return to the mound this year, but it has already proven to be slow going. For fantasy purposes, it's probably time to move along.
Jered Weaver, SP, Angels (placed on DL April 8; expected to return Wednesday):
It's always nicer to see someone
returning
from the disabled list as opposed to going on it, especially when it's your team's -- real or fantasy -- ace hurler. Weaver has been out for more than a month after sustaining a non-displaced fracture of his radial head
as a result of an awkward fall on the mound
. His road to recovery has been uneventful, with the latter part primarily focused on building up his arm strength to the point of being able to reclaim his spot in the rotation. The Angels have announced Weaver will return Wednesday to face the Angels' neighboring rival, the
Los Angeles Dodgers
, and fantasy owners should have no concerns about starting him right out of the gate.
Ryan Vogelsong, SP, Giants (placed on DL May 21; expected to miss eight weeks):
Vogelsong had not one break but two in his right (throwing) hand, an injury sustained while hitting last week. He underwent surgery last week which required five pins to stabilize the fractures, according to manager Bruce Bochy, and he will need time for the bone to show evidence of healing before he can resume throwing. He will then need additional time to regain throwing strength. Given the projected timeline, expect Vogelsong to be out until well after the All-Star break.