Stephania Bell:

David Wilson
November, 7, 2013
11/07/13
8:05
PM ET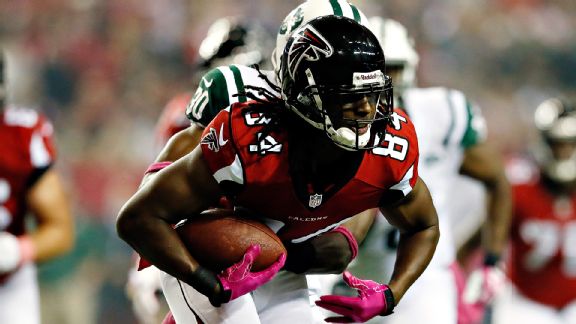 Kevin C. Cox/Getty ImagesRoddy White looks like he could be back for the Falcons this week.
It appears to be a "Welcome Back!" week for several key fantasy players who may be able to help owners bail out of some tough roster situations, given other injuries around the league and a four-team bye week.
At least one of the returning names comes as quite a surprise (we're talking about you,
Jay Cutler
), given the original projection of at least a month's absence. With perhaps the highest-profile signal caller in the league,
Aaron Rodgers
, going down with a broken left collarbone on Monday night, the value of a capable fantasy backup quarterback was highlighted. The return of both Cutler and
EJ Manuel
this week suddenly becomes even more important. They're not the only players returning from injury, but the expectation (or at least the plan) is that the quarterbacks will play the entire game. Can the same be said of the others? Don't count on it.
Here are a few of the names returning to game action:
Roddy White, WR, Atlanta Falcons (hamstring):
It was White himself who told ESPN.com's Vaughn McClure he expects to return to action Sunday, the most definitive declaration he's made about game status in a while. White has been out since injuring his left hamstring in Week 5. The Falcons had a bye the following week but it wasn't nearly enough time for White's hamstring, superimposed atop a high ankle sprain he suffered in the preseason, to heal. In fact, White did not even return to practice until late last week and that was only on a limited basis.
This week he has practiced on back-to-back days, increasing his workload, an encouraging sign not only for the coaching staff but also for the player.
"You know, I wanted to get out there and have a full week of practice before I actually played in a game," White said.
Does this ensure he won't have any issues whatsoever when the Falcons take on the Seahawks? Of course not, but he finally appears to have gotten the rest his body needed to allow him to function as more than a decoy. This may be the healthiest White has been since the season officially got underway.
RBs Andre Brown (not on injury report), Brandon Jacobs (hamstring), David Wilson (neck) and Victor Cruz, WR (neck), New York Giants:
Brown was assigned IR/Designated for Return status after fracturing his left fibula in the preseason. The Giants' Week 9 bye forced an extra week of rest on him but it appears he is ready to make his season debut after being activated Thursday. Although Brown may have physically been able to beat the timetable required by IR designation, it's hard to argue with the team's decision to place him on the shorter-term IR given that he had fractured the same bone in the same leg just last year. That sent him to surgery and season-ending Injured Reserve. Brown has had some extra time to increase his conditioning and build up strength in his leg muscles and seems to be full of excitement as he approaches his return to the field.
"I haven't been able to sleep, because it's like Christmas," Brown said. As ESPN.com's
Dan Graziano notes
, Brown may be limited to certain packages in his first outing but those are likely to come on third downs and at the goal line.
[+] Enlarge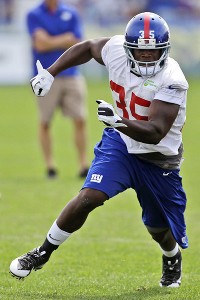 AP Photo/Seth WenigAndre Brown is eligible to return for the Giants.
In the meantime, Jacobs is still recovering from a hamstring injury sustained in his standout appearance for the Giants in Week 6, when he rushed for over 100 yards with two scores. He has not played since however and this week only returned to limited practices. It is not clear whether he will be available Sunday but with Brown back and
Peyton Hillis
functioning in the place of the injured Jacobs the last few weeks (and with Hillis perhaps in line for more work than Brown to start), it appears they may not be pressed to utilize Jacobs.
The Giants also placed fellow back Wilson on season-ending Injured Reserve this week. He injured his neck in Week 5, and it was later reported to be a herniated disc. The good news for Wilson is that after consultations with various specialists it does not appear he will need surgery, at least not at this time. Unfortunately, the time frame envisioned for his recovery extends beyond the time left in the season, hence the decision to shut him down.
Cruz suffered a neck injury in the Giants' Week 8 game, so the bye could not have come at a better time. Cruz was held out of practice Wednesday but did return Thursday on a limited basis, although the Giants required him to don a red non-contact jersey. It makes sense. Just as players coming back from certain other injuries are re-introduced to practice without contact as a starting point, it allowed Cruz to participate and get a feel for doing football activity without the extra risk of absorbing hits. Coach Tom Coughlin told reporters afterward that they would evaluate his response to the day's activity and if all went well, there would likely be no red jersey Friday. Assuming Cruz is able to ramp it up a notch Friday without incident, it appears he will be available come Sunday.
Mario Manningham, WR, San Francisco 49ers, (knee):
Manningham is not actually on the injury report but he's been considered an injured player since last season after undergoing multi-ligament reconstructive surgery in his knee. The 49ers removed Manningham from the PUP list, indicating there is a possibility he could play as soon as this week, although the team has not fully committed to that yet. Offensive coordinator Greg Roman referred to Manningham as "day-to-day,"
per ESPN.com's Bill Williamson
. Still, Manningham has been a full participant in practice and quarterback
Colin Kaepernick
sounded like he was excited about the prospect of his availability.
"Mario, he's a receiver that's easy to throw to," Kaepernick said. "So it's not going to take much time for him to get back up to speed."
This may be true but, as we've seen with other players coming back from major knee surgeries, it often does take some adjustment to ramp up to the speed of the game. Fantasy owners should temper expectations for Manningham's early outings, but it will be interesting to see how he factors in as a receiving option as he regains his form.
Problems for premier RBs
On a less encouraging note, it appears Texans running back
Arian Foster
could be in danger of missing Sunday's game. Foster left with a back injury in the first series of the Week 9 game and has not yet practiced. Instead he has been spending time with the medical staff as they sort through the nature of his injury. Foster's teammate and fellow back
Ben Tate
continues to work on a limited basis with his rib injury and is expected to play.
Meanwhile, it appears the window of opportunity for a return for Buccaneers' running back
Doug Martin
is closing. Although Martin has made progress in both the pain level and range of motion of his injured shoulder, it appears the team is re-evaluating the risks versus the benefits of his trying to return this season. The risks appear to be winning.
It was never a question of whether Martin would need surgery but whether he would be able to resume play and contribute this year and undergo surgery in the offseason. The team is expected to make a decision before Monday night's game against the Dolphins according to the Tampa Bay Times and is reportedly leaning toward a move to injured reserve. Even if his season does come to a close, Martin's time has not been wasted. Improved range of motion and less pain heading into surgery can help him on the other side and he should have plenty of opportunity to recover prior to next year's camp activities.
And quickly ...
Bengals' running back
Giovani Bernard
(ribs) practiced on a limited basis Wednesday and Thursday. It appears he will be ready to play come Sunday ... Cowboys wide receiver
Dez Bryant
has had some recurring issues with tightness in his back but the condition does not appear worrisome for the Cowboys. While it has the potential to act up at any time, the plan is clearly for Bryant to play Sunday night in New Orleans ... When the Saints host the Cowboys, it's possible they could be without receiver
Marques Colston
for a second week. Colston sat out Week 9 because of his knee and has only practiced on a limited basis so far. It's worth noting he has done more this week than last but clearly is not past the issue which sidelined him ... Colston's teammate, tight end
Jimmy Graham
, returned to practice Thursday after a Wednesday off and running back
Darren Sproles
, who left last week's game with a concussion, was a full participant as of Wednesday. Both are expected to play.
October, 10, 2013
10/10/13
12:11
PM ET
The
New York Giants
travel to the Windy City to play the
Chicago Bears
in this week's Thursday night matchup. Here's a look at some of the injuries to key fantasy players heading into the game.
New York Giants
The winless Giants hope to turn things around Thursday. However, it will be a tough task for the Giants given the injuries on their roster. A few players already ruled out for the game include center
David Baas
(keeping them thin on the offensive line), cornerback
Corey Webster
(missing his fourth consecutive game, one of many injuries in the secondary) and starting running back
David Wilson
, who could miss more than Thursday night's game.
David Wilson, RB, neck (out):
Wilson is reportedly dealing with a disk-related problem in his neck, a source tells the New York Daily News. That's not surprising since
we said in this space Tuesday
that the "tingling" Wilson was experiencing reflected nerve involvement, which could be secondary to a disk injury.
ESPN's Adam Schefter reports that Wilson is expected to consult with renowned spine surgeon Dr. Robert Watkins on Monday to determine the next steps. The most obvious decision is whether Wilson will require surgery. Multiple factors go into making that choice, including the location and severity of current symptoms and whether there is significant risk involved with returning to play. Surgery would be season-ending, but if a conservative treatment course is the option, it could still be several weeks before Wilson is able to play.
This has a familiar ring to it. Last year around this time, former Giants (now Colts) running back
Ahmad Bradshaw
experienced tingling in his upper extremities after injuring his neck. He was found to have a bulging disk. He missed one week then returned to play. This year, Bradshaw experienced a recurrence of symptoms after Week 3 and is planning to undergo season-ending surgery. That is not to say this should be the expected course for Wilson, as there is extensive variability with these types of conditions. It is more a reflection of the overall bad luck the Giants have in terms of the health of their running backs.
It's worth pointing out that following Thursday's tilt, the Giants' next game is 11 days away (hosting the
Minnesota Vikings
for "Monday Night Football" in Week 7) followed by a Week 8 contest against the
Philadelphia Eagles
and a bye in Week 9. In Week 10,
Andre Brown
, on IR/designated for return with a fractured left fibula, could make his first appearance since the injury. Brown has begun running this week, a positive sign that the bone healing is satisfactory. Now it's just a matter of progressing his activity toward a return to football.
As for the immediate concern regarding who will be carrying the ball for the Giants on Thursday night, as ESPN.com's Dan Graziano
notes
, the Giants re-signed
Da'Rel Scott
to play alongside
Brandon Jacobs
, but they could also use rookie
Michael Cox
.
Brandon Myers, TE, ankle (questionable):
Myers has been physically banged up this season but has not missed any playing time. Still, he comes into Thursday night's game with a new ailment on the injury report (ankle), and his questionable status suggests he could be a game-time call. He was listed as a nonparticipant Monday when the Giants conducted a walkthrough, but he did progress to limited practice Tuesday and Wednesday.
Chicago Bears
The Bears are on a two-game losing streak, and perhaps in light of trying to ensure it is rested on a short week, the team did not practice Monday and conducted only walkthroughs in advance of the Thursday game. Since teams are still required to file injury reports, the listing of Bears players on this week's report represents
an estimation
of how much they would have done in a regular practice.
Alshon Jeffery, WR, ankle (probable):
Jeffery had a huge performance in Week 5 to the tune of more than 200 yards receiving and a score. No wonder his ankle needed a little rest. Given that the Bears kept it light for everyone on this short week -- and Jeffery was listed daily as a limited participant -- the probable tag tells us he's virtually certain to play.
Martellus Bennett, TE, knee (questionable):
Bennett has been on injury reports this season primarily because of the shoulder he injured in Week 2, but he has yet to miss a game. This week, it's a different ailment, his knee, although his shoulder is probably benefiting from the light walkthroughs on a short week as well. On Wednesday, coach Marc Trestman indicated that Bennett's status would be decided a few hours before game time, although he said he was
optimistic
regarding his availability. Fantasy owners will want to check before kickoff, but it's looking as if Bennett will take the field against his former team.
October, 8, 2013
10/08/13
2:39
PM ET
New York Giants
coach Tom Coughlin has removed any mystery as to running back
David Wilson
's status for Thursday night's game against the Bears: He will not play.
When Wilson left Sunday's game early with a neck injury, he did not seem overly worried. In fact, Wilson took to Twitter to say he passed all tests and the doctor was "just taking extra precaution." Still, it's hard not to consider any neck injury serious, given the structures in the area including discs, nerves and the vertebrae. Coughlin stated that Wilson experienced "some type of tingling" leading to his removal from the game, which suggests nerve involvement of some kind, even if temporary.
As ESPN New York's Dan Graziano
reported
earlier Tuesday, Wilson was out of practice Monday and Coughlin said the running back would need medical evaluation before being cleared to return. With the Giants playing on a short week, it seemed optimistic to think Wilson would be back. Graziano's report of the anticipated re-signing of
Da'Rel Scott
and Wilson's non-participation in practice Tuesday further hinted at his likely absence. As to how long the Giants can be expected to be without him, it is too soon to project given the lack of specificity regarding his injury.