Stephania Bell:

DeMarco Murray
October, 24, 2013
10/24/13
7:21
PM ET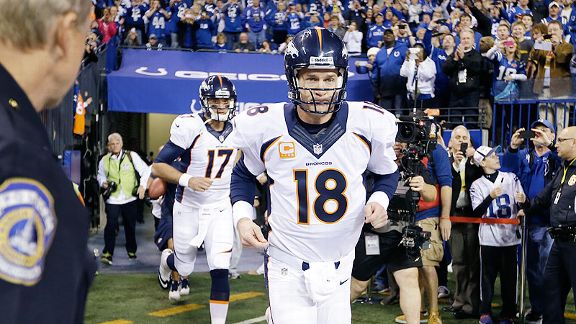 AP Photo/Michael ConroyPeyton Manning should be coming out of the tunnel to start Sunday's game against Washington.
After a brutal Week 7 on the injury front, there are some big names with concerns heading into Week 8, but none is bigger than the one that tops this week's injury notebook.
Peyton Manning, QB, Denver Broncos (ankle):
Manning missed practice Wednesday due to a sore ankle. As if Manning would let a little ankle issue get in the way of playing this week. By the way, he still threw during the walk-through on Wednesday because, as we might expect, Manning doesn't really rest. He was back in full practice on Thursday with business as usual. It's not as if anyone is counting on Manning to run, so there should be little concern about his readiness for Sunday.
James Jones, WR, Green Bay Packers (knee):
Jones sat out the Week 7 contest with a sprained PCL. Last week we discussed
the challenges
of this specific injury, but Tuesday coach Mike McCarthy sounded as if it could be this week or next when Jones might return. Jones did not practice Wednesday or Thursday, casting doubt on his availability for this week.
Cecil Shorts (shoulder) and Justin Blackmon (hamstring), WRs, Jacksonville Jaguars:
After a long trip to London for the Week 8 game, both players were given Wednesday off. If Shorts played last week, he will play this week. In fact, given the SC sprain he
sustained in Week 6
, an incredibly painful injury, his performance last Sunday was impressive. The best thing about this week's game is that it comes seven days later, giving Shorts some additional healing time. He returned to practice Thursday on a limited basis and has already indicated he plans to play.
Blackmon returned to practice Thursday on a limited basis. He continues to press on despite a hamstring ailment and is expected to do so again.
DeMarco Murray, RB (knee) and Dez Bryant, WR (hamstring/wrist), Dallas Cowboys:
Murray returned to limited practice Wednesday after sitting out the Week 7 contest with an MCL sprain. In fact, Murray was doing some running as early as Monday. The fact he has been able to increase the workload a bit each day is a very positive sign heading toward Sunday's game. His effort so far this week suggests he'll play. Murray was reluctant to sit out last week as he tries to shed the injury-prone label that has been attached to him. The week off may have helped his outlook going forward though, at least as far as his knee is concerned.
Bryant was limited in Wednesday's practice due to a sore hamstring and a wrist ailment, but he was out there in full on Thursday. There is no real concern about Bryant's availability.
Brandon Jacobs, RB, New York Giants, (hamstring):
Jacobs' dramatic comeback to the football field in Week 6 was followed by an absence due to a sore hamstring in Week 7. Surely he would like to get back out to the field. That did not happen Wednesday as Jacobs was held out of practice again because of the hamstring. He remained out on Thursday and it looks increasingly as if he could miss another week.
October, 17, 2013
10/17/13
2:46
PM ET
The
Dallas Cowboys
are among NFL teams suffering the most in terms of injuries. Here's an injury update surrounding three of the team's key players heading into Week 7.
DeMarco Murray, RB (knee):
On Tuesday, we talked about the
variability in MCL injuries
(which is what Murray suffered in Week 6), but noted that Murray was unlikely to play this weekend against the Eagles. That still appears to be the case. Murray has not practiced this week and it seems the team is inclined to give him a week of rest. Murray may not be done pleading his case for playing, but at this point it seems likely the team will err on the side of caution, perhaps mindful of his injury history. With
Lance Dunbar
also out with a hamstring injury,
Joseph Randle
is expected to start at RB for the Cowboys.
Miles Austin, WR (hamstring):
After returning to the field last Sunday in unspectacular fashion, perhaps the best thing one could say about Austin is that he did not suffer any setbacks. Or did he? Austin practiced Wednesday but was not present at practice on Thursday. According to ESPN.com's Todd Archer, the move was more of a proactive measure than a response to a setback. Per Archer, Austin rested Thursday to help ensure his readiness for Sunday. The Cowboys have tried everything to help prevent his hamstrings from acting up; mixing up the practice schedule is another part of that equation.
Austin is expected to play this weekend, but we have yet to see the explosive, unrestrained version of him this season. It's hard to imagine that it isn't a concern for him at some level, as well, wondering whether his legs will hold up if and when he does play. There's no getting around the fact this will be an ongoing challenge for Austin -- as well as for the Cowboys' medical and coaching staffs -- throughout the season.
DeMarcus Ware, DE (quadriceps):
Perhaps the biggest injury blow for the Cowboys in Week 7 -- at least in terms of what his presence means to the team -- would be the potential sidelining of DeMarcus Ware. He suffered a strained right quadriceps in last Sunday's game and has not practiced so far this week. While Ware has not ruled himself out of anything yet (why would he when he has never missed a game in his professional career?), his body may not cooperate.
Ware is smart enough to know whether he can be effective and whether the injury will compromise him too much to play on Sunday. After all, he came out of last week's game when he realized he couldn't power off his leg the way he should have been able to. And with a soft tissue injury, there's always the risk of a setback if he pushes too hard too soon. Given the injuries he's managed to play through during his career, Ware remains hopeful. However, the reality is that this may be the one that forces him to sit out a game for the first time.
October, 15, 2013
10/15/13
2:48
PM ET
Dallas Cowboys
running back
DeMarco Murray
sprained the medial collateral ligament (MCL) in his left knee in Week 6, and it appears that he will be out this week. ESPN Dallas.com cites a source as saying Murray is unlikely to play in Week 7, but did not offer a formal timetable.
MCL sprains vary in how much time they cost a player, depending on the severity of the injury.
Buffalo Bills
running back
Fred Jackson
sprained his MCL in Week 4 and played the following week. Actually, Jackson suited up just four days later for the Bills' Thursday night game, and maintained the lead back role as teammate
C.J. Spiller
was compromised with an ankle injury. On the other hand, Ravens wide receiver
Jacoby Jones
just played in his second game of the season Sunday, five weeks after injuring his MCL in Week 1.
Clearly, Jackson suffered a mild or Grade 1 injury (where there is no visible structural damage, but there is inflammation and pain in the area), while Jones most likely suffered a Grade 2 (moderate) sprain, where there are damaged fibers within the ligament but not a complete tear. The more substantial the damage is to the tissue, the longer the recovery.
Murray could wear a brace with medial and lateral struts to protect against stresses to the side of the knee, presuming he is healthy enough to perform. Ultimately as a running back, he needs to be able to plant and cut to the inside on that knee without hesitation. Murray desperately wants to show he can get through a season without being limited by injury after missing multiple weeks each of his first two years in the league. Regardless of his past history, Murray needs to be able to run effectively to be on the field, while not placing himself at undue risk of further injury and that will be the determining factor as to when he makes his return. At this point, he should not be counted on for Sunday's matchup against the Eagles.
November, 29, 2012
11/29/12
8:04
PM ET
Many teams are fighting and clawing -- no, make that limping -- toward a spot in the fantasy playoffs. As such, all hands are needed on deck to make the final push to qualify. The byes are over, so every team is available, but will key fantasy scorers be able to contribute?
That, of course, is the question we would all like answered in advance. Since no team is actually going to fork over that information, we'll turn to the injury and practice reports to see how things are shaping up heading into Week 13.
Here's who we're keeping an eye on:
Running Backs
[+] Enlarge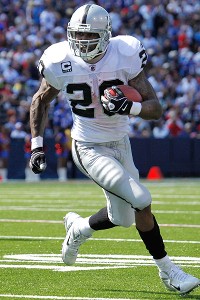 AP Photo/Derek GeeDarren McFadden, who has been out since Week 9, will likely suit up this weekend. But how effective will he be?
Matt Forte
(ankle),
Chicago Bears
: Forte said that he expects to play Sunday against the
Seattle Seahawks
, according to Sean Jensen of the Chicago Sun-Times. Forte has been practicing on a limited basis this week and said he is "feeling good." Whether Forte's confidence translates into a full workload remains to be seen. When Forte injured his ankle earlier this season, he sat out one week but returned for the subsequent game and managed 13 carries. (For what it's worth,
Michael Bush
carried the ball 10 times the week Forte returned from injury.) If Forte can practice again Friday, his outlook for Sunday remains positive.
Darren McFadden
(ankle),
Oakland Raiders
: McFadden is looking as if he will make his return to the playing field this weekend after missing three games with a high ankle sprain. He participated in practice on a limited basis Wednesday and Thursday, reportedly running well without hesitation. The larger question is what type of workload McFadden will be granted in his first game back. Steve Corkran of the Contra Costa Times reported that the Raiders plan to continue using fullback
Marcel Reece
at the halfback position to ease the workload for McFadden. Reece has been a pleasant surprise for fantasy owners during McFadden's absence, averaging 4.7 yards per carry while also notching a handful of receptions each week. Fantasy owners will face the dilemma of not knowing whether there will be a feature back or a timeshare in Week 13.
Wide Receivers
Percy Harvin
(ankle),
Minnesota Vikings
: Harvin remains an example of just how difficult it can be for a skill-position player to return to full activity after a serious ankle sprain. Ankle sprains happen so routinely that they often automatically get lumped in the category of minor injuries. While many are mild enough that players (depending on the demands of their position) can avoid missing time, a more severe sprain can incapacitate a player for a longer period of time, especially if his position relies heavily on quick directional changes and rapid acceleration/deceleration. Harvin's initial comment that his ankle was sprained in three places hinted at a more severe injury -- as did the extensive swelling he experienced. He only began doing light work in practice Wednesday, and as Tom Pelissero of 1500ESPN.com noted, Harvin seemed to tolerate straight-line movement but appeared to struggle with route running, limping visibly. Apparently Pelissero wasn't the only one to notice, since Harvin did not participate in practice Thursday. Coach Leslie Frazier told reporters the team will see what Harvin can do Friday, "if he can do anything." As of now, fantasy owners should plan for the possibility that Harvin will be absent another week.
Antonio Brown
(ankle),
Pittsburgh Steelers
: In Week 9, Brown suffered what head coach Mike Tomlin referred to as a mild high ankle sprain. Four weeks later, it appears Brown has recovered to the point of being able to play. He returned to limited practice last week but the Steelers have certainly had their share of injuries this season -- including players who returned from one injury only to suffer another -- and there was no need to take a chance on Brown. This week, he has again been practicing -- full practice both Wednesday and Thursday -- so we should expect to see him suit up for the game.
Quick Hits
Despite improvement in his overall condition, it
doesn't appear
that Steelers quarterback
Ben Roethlisberger
will be ready to face the
Baltimore Ravens
this weekend. Roethlisberger has been out of his sling and began light throwing this week. However, he acknowledged that he has a ways to go to be game-ready, and the ultimate determination is functionality. In other words, can he throw the ball effectively enough to start? For most players, one would have to assume another week's absence. But since it's Roethlisberger, there's reason to wait to see how he does with one more day of practice. He's not going to be able to hide an inability to make certain throws, so the team should have a pretty good idea of what his status will be by tomorrow.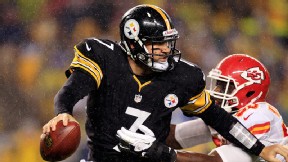 AP Photo/Gene J. PuskarIt's shaping up to be another long Sunday for Steelers fans and Roethlisberger owners, as Big Ben is still banged up and unlikely to play.
Is this the week we finally see
DeMarco Murray
? It's starting to look that way. Murray has been practicing on a limited basis this week, but his sprained left foot passed one big test by putting in back-to-back practices on Wednesday and Thursday. There has been a repeated mantra out of Dallas that Murray would not return to action until there was complete confidence that he was fully healthy, but it appears that confidence is building. According to the Dallas Morning News, offensive coordinator Bill Callahan said of Murray, "I got great confidence in him and I'm hopeful that we'll see him Sunday." It would be nice to see Murray do a bit more on Friday to test his foot, but even then it's hard to know what mix of Murray and
Felix Jones
the Cowboys will employ on Sunday. Meanwhile, wide receiver
Miles Austin
was a limited practice participant on Wednesday and Thursday. If he can do the same Friday, his chances of being active Sunday night are favorable.
Here's something we never like to see: Two wide receivers were added to the injury report Thursday for the Jaguars.
Cecil Shorts
is listed with a hamstring injury and
Justin Blackmon
is listed with a groin ailment. No word yet as to the severity of their respective lower extremity issues, but the Friday practice watch begins in earnest.
Beanie Wells
sure had a nice return to the field for the Cardinals last week; however, he once again appears on the injury report. Wells had been on the injured reserve/designated for return list because of turf toe. He declared himself healthy, though, and feeling the best he had in a year prior to returning in Week 12. This week, the Cardinals' lead running back is again on the report -- but because of his knee, something he's had issues with in the past. Whether he's just experiencing soreness as a result of returning to game action for the first time in months -- or if there is any real cause for concern -- is unclear. If Wells practices again Friday, take that as a sign he is in line to start again this week.
Patriots wide receiver
Julian Edelman
practiced on a limited basis both Wednesday and Thursday after being listed on the injury report with a concussion. No word as to the likelihood he plays Sunday but his activity early in the week is encouraging. However, we still have to assume final clearance protocols are in place.
The St. Louis Post-Dispatch noted that Rams wide receiver
Danny Amendola
was back in a walking boot to start the week. He hasn't practiced and remains in question for Sunday. On Tuesday,
we noted
that Amendola was active last week despite being listed as doubtful, though he contributed very little. As a result, it wouldn't be surprising to see a similar situation unfold Sunday for the Rams' divisional matchup against the 49ers. Coach Jeff Fisher already said it would take Amendola some time to get healthy, so it's not as if he'll be completely recovered from the heel injury by then. It's just a question of whether he can effectively contribute. While rest may be the best thing to advance his chances by Sunday, it makes it tough for fantasy owners to evaluate just how much -- or how little -- progress he has made.
Lions running back
Mikel Leshoure
missed Wednesday's practice with an ankle injury, making his fantasy owners understandably nervous. He returned to limited practice Thursday and as is their custom, the Lions have offered no detail as to the nature or severity of LeShoure's injury. Just take it as a good sign that he returned Thursday and expect to see him back Friday in advance of Sunday's game. If for some reason LeShoure does not practice Friday, then fantasy owners can be legitimately nervous.
Chargers wide receiver
Danario Alexander
was in full practice Wednesday and wasn't even listed on Thursday's injury report after suffering what the team called a thigh injury on Sunday. It didn't seem severe, but given Alexander's history, particularly as relates to his knee, any injury is cause for concern. Alexander was also limited by a hamstring issue in the preseason. Fortunately, this looks to be just a minor issue and not threatening to Alexander's status for Week 13.
Not as encouraging is the status of Eagles quarterback
Michael Vick
, who continues to be sidelined as a result of his concussion. Jeff McLane of the Philadelphia Inquirer reported that the Eagles said Vick has not yet returned to baseline on his neurocognitive (ImPACT) testing. Running back
LeSean McCoy
also remains sidelined. Expect
Nick Foles
at quarterback and
Bryce Brown
at running back this week.
Expect the Packers to have wide receiver
Greg Jennings
in the mix Sunday. Jennings continues to put in full practices and, as
noted Tuesday
, the team expects to have him on the field. The biggest question will be how Jennings will adapt to four quarters of football after being sidelined for the better part of two months.
November, 27, 2012
11/27/12
10:22
PM ET
With Week 12 in the books, it's almost playoff time -- fantasy football playoff time, that is -- so returning players who may be able to help spark a roster immediately are key. With that in mind, we begin this week by turning our attention to one such player, a wide receiver for the
Green Bay Packers
who is itching to get back on the playing field after a seven-game absence.
When
Greg Jennings
suffered a groin injury in the Packers' season opener against the 49ers, no one would have predicted he would be essentially sidelined until December, let alone that the injury would later require surgery. In fact, it seemed as if his absence in Week 2 was largely due to the game coming on a Thursday night, just four days after the original injury. Jennings did indeed return for Week 3 and saw a significant amount of playing time. A week later, however, he netted but one catch and was forced out early after aggravating the groin. That would be the last time he played.
Jennings and the team projected the same message from that point forward; he would not risk another setback by returning before he was 100 percent healthy. Jennings dedicated himself to rehab and conditioning, working out in the pool and on land under the watchful eye of the medical staff with the goal of being able to run full power. Unfortunately, running remained problematic. When asked in October how the injury limited him, Jennings told the Milwaukee Journal-Sentinel, "Creating separation. I just can't get that last gear right now."
[+] Enlarge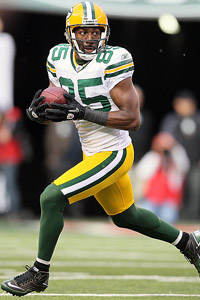 Jim McIsaac/Getty ImagesA "core muscle injury" robbed Greg Jennings of his ability to run away from defenders.
As it turns out, difficulty generating the power and explosiveness necessary for running is one of the hallmark signs of a core muscle injury (more specifically a muscle in the anterior hip, groin and abdominal region). Commonly referred to as a "sports hernia" in the past, the term has fallen out of favor with those who are the most expert in dealing with these injuries, primarily because the "hernia" portion of the term is a misnomer. There is no true hernia present; instead the injury represents a tear or a defect in one of the core muscles in the anterior pelvic region and the muscle(s) involved can vary. For this reason experts such as Dr. William Myers, who operated on Jennings and is considered one of the foremost authorities on this topic, are now referring to this collection of injuries as core muscle injuries. When pain and inability to perform athletic functions persists, surgery is often required. While it's naturally preferable to avoid any surgery when possible, the positive with this procedure is that the success rate is very high. Rarely do athletes suffer a setback that requires a repeat surgical procedure and they often return at or close to their pre-injury level. As the entity has become better recognized and understood, athletes in multiple sports such as football, baseball, soccer and hockey have been able to obtain proper treatment and return to an elite level of play.
The post-surgical rehab is fairly straightforward. There are no crutches or splints required. The athlete can walk immediately and exercise can be initiated quickly. Beyond cardiovascular conditioning, core exercises are gradually ramped up and running is ultimately restored, with a timetable of approximately three weeks to push full speed. As the athlete gains confidence he can test the boundaries of jumping and extending, both vertically and laterally, something athletes are initially hesitant about since those same movements were typically painful prior to surgery. Depending on the degree of complexity of the injury and the extent of surgery, most athletes are able to resume full activity within four to six weeks. For Jennings, who underwent surgery Nov. 1, this marks the four-week point. As important as his physical recovery is the confidence Jennings has regained since surgery. He was a limited practice participant last week -- including a day in pads -- and was pushing to play Sunday night. His eagerness to get back on the field of play shows he is comfortable with the repair, a different Jennings than the one who was hesitant earlier this season to commit to a timetable after repeated setbacks. "It's frustrating," Jennings told the Journal-Sentinel, "because your body, you feel like everything is OK, but the moment you go do something you're accustomed to doing, it's just not there."
As we head into Week 13 ...
Let us first acknowledge a few players whose seasons have come to an early close due to injuries suffered this past week. Eagles wide receiver
DeSean Jackson
suffered multiple rib fractures on Monday night, adding injury to insult in another Eagles loss. Jackson's timeframe for healing exceeds the time left in the regular season. The
San Francisco 49ers
lost two players to season-ending injuries
in a single play
. Even more strange is that the two injuries were sustained completely independent of one another yet both had devastating results. The team lost kick returner and wide receiver
Kyle Williams
to an ACL tear on a non-contact play. Frank Gore's primary backup
Kendall Hunter
was initially reported to have injured his ankle Sunday. The Sacramento Bee reports Hunter suffered an Achilles tear, citing a source with knowledge of the injury. Both Hunter and Williams have been placed on injured reserve.
Brandon Jacobs
saw his first action of the season when Hunter was injured and is now available to back up Gore along with
Anthony Dixon
and rookie
LaMichael James
. The
New York Giants
also lost depth at running back when
Andre Brown
suffered a broken fibula Sunday. Brown has been placed on IR/designated for return but would not be expected back before late in the playoffs, possibly the Super Bowl should the Giants make it that far. On Tuesday, the team announced the signing of
Kregg Lumpkin
to bolster their running back squad.
[+] Enlarge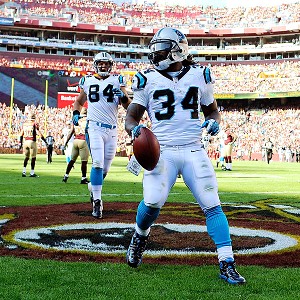 Patrick McDermott/Getty ImagesAn injury to Jonathan Stewart could be an opportunity for DeAngelo Williams to re-establish himself as a startable fantasy back.
In other news, two more running backs left games early this week with ankle injuries.
Matt Forte
of the
Chicago Bears
was injured in the third quarter and did not return. Coach Lovie Smith did not elaborate on his condition Monday. This could be one of those watch-to-see-what-happens-in-practice situations and may even come down to a game-time decision. Fantasy owners should prepare for the possible absence of Forte. In Carolina, the Panthers will likely be without
Jonathan Stewart
, who suffered a high ankle sprain Monday night, according to coach Ron Rivera. While Rivera would only call Stewart day-to-day, the nature of the injury combined with a short week for the Panthers make it unlikely Stewart will be available.
Raiders running back
Darren McFadden
could be in line for a return this week. At least his teammates think so. According to the San Francisco Chronicle, fellow Raiders believe McFadden will return to practice this week. McFadden has been doing some individual running so this doesn't seem unrealistic. More to come with Wednesday practice reports.
Eagles running back
LeSean McCoy
and quarterback
Michael Vick
remain on the recovery pathway from their respective concussions. The Eagles are now dealing with injuries to their starting quarterback, running back and wide receiver. While Jackson is done for the year, the Eagles plan on getting McCoy and Vick back. According to the Philadelphia Inquirer, both still have to clear testing requirements to be eligible to return and there's no guarantee it happens for either of them this week.
Minnesota Vikings
wide receiver
Percy Harvin
injured his left ankle in Week 9 and hasn't been able to practice, much less play. Harvin did not travel with the team to Chicago and his status for this week remains in question. Although his swelling has reportedly decreased, Harvin has yet to field test the ankle in a substantive manner, making it impossible to predict at this point whether we will see him in Week 13. Even coach Leslie Frazier, who has tried to sound optimistic about his star receiver the past two weeks, told 1500ESPN.com that there is no timetable for Harvin's practice schedule this week.
Cowboys wide receiver
Miles Austin
left in the first quarter of Thursday's game with what was initially referred to as a strained right hip. The Dallas Morning News reports Austin thinks he'll be able to practice Wednesday but head coach Jason Garrett, who described Austin's ailment as a "hip/low back thing," didn't sound as confident. In fact, Garrett described Austin as "fighting through" the hamstring issues this year suggesting he's really not been at 100 percent, despite the fact he has yet to miss a game. According to ESPN's Ed Werder, the expectation is that Austin will play against the Eagles Sunday night, despite the recent injury. Speaking of missing games, Cowboys running back
DeMarco Murray
has missed six games since spraining his left foot and may remain out again this week. Remember shortly after the injury when team owner and president Jerry Jones said on the Cowboys' official website, "I don't think it's long term. I think we'll have him back in the foreseeable future"? To be fair, he also said he wouldn't predict, but his updates over the next few weeks continued to convey optimism with regards to Murray's progress. It's an interesting sign that the tone of his outlook seems to have changed. According to ESPN.com NFC East blogger Dan Graziano, following Thursday's game Jones had this to say about Murray: "We can't get a prognosis that another week's rest will do anything." (Translation: No more projections.) Murray has been doing some individual work and is certainly further along than when he was sporting a walking boot and crutches. But the true test of pushing his foot through practice drills has yet to happen although Werder reports the first attempt to do so is scheduled to take place Wednesday. Until it does- and until the team can see how Murray responds to the activity, the uncertainty about his status will continue.
Pittsburgh Steelers
wide receiver
Antonio Brown
could be approaching a return from his high ankle sprain. Brown rejoined the team in practice last week but was not quite ready for game action. If he gets another uneventful week of practice under his belt, he should be in good shape to face the Ravens. As to who will be throwing the ball to Brown, head coach Mike Tomlin says the "door is open" for quarterback
Ben Roethlisberger
to return, according to the Pittsburgh Post-Gazette. Roethlisberger, who suffered a sternoclavicular and first rib injury in Week 10, is out of his sling and is beginning to test his arm. It really comes down to how effectively Roethlisberger can function and whether he can make the necessary throws to be on the field. After this particular injury, hard cross-body throws are likely to be the most challenging, along with deep vertical passes. The Post-Gazette notes that the team is preparing for
Charlie Batch
to be under center once again, but will monitor Roethlisberger's efforts in practice.
Danny Amendola
has been a regular on the injury report this season and this week is no different. The Rams' athletic wide receiver suffered a foot injury in Week 11 which had him in a walking boot early last week and kept him out of practice entirely. After being listed as doubtful (technically with less than a 25 percent chance of playing), Amendola was a surprise active but, not surprisingly, wasn't very active. He had one reception for 38 yards but was essentially removed from action for the bulk of the game because of persistent foot soreness. The St. Louis Post-Dispatch reports coach Jeff Fisher sounded more optimistic Monday about Amendola's chances for returning to practice this week. Still, while Fisher doesn't offer specifics about the injury, he does not suggest that Amendola is healthy by any stretch. "He's healing, but it's going to take time until he gets back to 100 percent." In other words, this has the sounds of Amendola being active again this week but there's no telling how much playing time he'll actually be able to deliver.
Maurice Jones-Drew
is not expected to return for the Jaguars this week, according to head coach Mike Mularkey. Jones-Drew continues to recover from a significant midfoot sprain and has not yet returned to team practice.
Jalen Parmele
injured his groin during the game and despite a valiant effort to play through it, the injury was too much to overcome. The Jaguars announced Tuesday that they have placed Parmele on injured reserve and thus it appears
Rashad Jennings
will be the starting running back against the
Buffalo Bills
this Sunday.
October, 30, 2012
10/30/12
6:29
PM ET
Week 8 is in the books! The season is approaching the halfway mark, the point where some fantasy teams attempting to reach the playoffs must decide whether to fish or cut bait when it comes to players with injury concerns. Unfortunately, there are still a number of question marks out there with players whose return status is unclear.
[+] Enlarge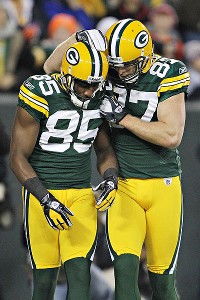 Jonathan Daniel/Getty ImagesGreg Jennings may not be back for a while, but Jordy Nelson could return this week.
Green Bay Packers
wide receiver
Greg Jennings
was impacted by Hurricane Sandy in an unusual way. Jennings was scheduled to undergo abdominal surgery in Philadelphia on Tuesday, but due to travel difficulties associated with the storm, surgery has been postponed. No word as of yet as to how long until Jennings' operation is rescheduled. While a delay of a few days is not likely to significantly impact his overall recovery, every week counts. It would not be a surprise if he doesn't return until December.
Jacksonville Jaguars
running back
Maurice Jones-Drew
(foot) has already been ruled out for Week 9, according to coach Mike Mularkey, but there is no definitive word on when to expect him back. (I still expect him to return this season, but whether it's in the next two or three weeks or more than a month away is unclear.).
San Diego Chargers
wide receiver
Vincent Brown
was an exciting prospect in the preseason, then a fractured ankle sent him to IR/designated for return. The question now is when he will return, as he has yet to practice and hasn't even begun running. Head coach Norv Turner acknowledged Monday, "I don't expect him back real soon." Brown was always projected to miss at least eight weeks and the Chargers indicated he was on track throughout his recovery process. Once he became eligible to join the team in practice, though, his absence became more noteworthy. It's not a huge surprise given the challenges of regaining functional strength and mobility in an ankle after a fracture, even if the bone has healed. Still, given the notion that Brown is still multiple weeks away from a return, fantasy owners should consider looking elsewhere for midseason help.
There are some other players whose status is worth tracking. Here's who we're keeping an eye on heading into Week 9:
Peyton Manning, QB Denver Broncos, (thumb):
The Broncos have to be breathing a sigh of relief that Manning did not suffer a more serious injury when he hit his thumb on a helmet. Manning said afterward he was "lucky" that the impact was on the nail (as opposed to further down on the bone itself) and coach John Fox told reporters Monday that Manning's thumb was fine. Whew.
[+] Enlarge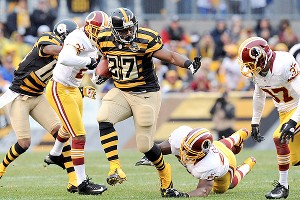 AP Photo/Don WrightJonathan Dwyer has two straight 100-yard rushing games, but now he's dealing with the injury bug.
Rashard Mendenhall (Achilles), Jonathan Dwyer (quad) and Isaac Redman (ankle), RBs, Pittsburgh Steelers:
The three lead running backs for the Steelers are all on the injury report and there is some uncertainty around the status of each. Mendenhall strained his Achilles in Week 6 and has not practiced since. Although the indications are that the injury was not serious, the Steelers would prefer it not become serious, and Mendenhall is still early in his return from ACL surgery. Last week, head coach Mike Tomlin indicated Mendenhall was making progress and he will begin individual drills Wednesday. It would not be surprising if he is able to return this week, although much depends on how he responds to increased work.
Redman is still recovering from an ankle injury also sustained in Week 6. He did make it back to limited practice late last week and, if he gets through a week of practice, he should be available by Sunday. Dwyer got the start last Sunday with both Mendenhall and Redman sidelined, but he was reported to have a strained right quad after the game, leaving the question as to who will be available (and starting) this week. On Monday, Tomlin announced that Dwyer would not practice Wednesday but could be back in the mix Thursday. In other words, this situation will not likely shake out until late in the week.
DeMarco Murray (foot) and Felix Jones (knee), RBs, Dallas Cowboys:
Murray has been out since suffering a foot sprain in Week 6 but it sounds as if he is making some progress. According to the Dallas Morning News, head coach Jason Garrett said, "It seems like he's moving around a little bit better." Garrett also cautioned that it is the type of injury that warrants caution and that Murray is day-to-day. Foot injuries are very tricky, even those that don't require surgery, as we have seen in the past (Exhibit A: Raiders running back
Darren McFadden
, who was unable to return after his midseason injury last year). Murray moving better is a far cry from hard running and making sharp cuts in practice. Consider me skeptical until we see evidence that he can do these things without limitation before declaring him ready to return. In the meantime, Jones entered the Week 8 game with a bone bruise in his knee and managed to escape without further injury. Jones would likely get the start again if Murray remains out.
Dez Bryant, WR, Dallas Cowboys (hip):
Anyone watching the Cowboys this weekend probably saw the spectacular catch that Bryant made in the end zone late in the game, the one that was just fingertips shy of a touchdown. While many were watching the multiple replays of the catch, some may have noticed that Bryant seemed a bit shaken up on the play and even appeared to be limping as he left the field. He did return to finish the game but there were still questions about his hip. On Monday, coach Jason Garrett told reporters the Cowboys did not think the injury was "that severe." It appears Bryant should be fine to play in Week 9.
Jordy Nelson, WR, Green Bay Packers (hamstring):
Nelson was out in Week 8 because of a hamstring strain suffered in last Wednesday's practice. Nelson should get back to practice this week. How he responds should offer further clues about his availability for Sunday.
Calvin Johnson, WR, Detroit Lions (knee):
Johnson is on the playing field weekly despite being a regular on the injury report, so it hardly merits a mention. Most of the time. This week, however, Johnson made some postgame comments suggesting his knee is more of a problem than he has let on. When referencing a dropped pass, Johnson told reporters, "It's tough to stick my foot in the ground with my knee hurting, but that's not [an] excuse." Johnson is not typically one to make excuses, nor is he one to complain about physical ailments, but his words suggest that the pain is literally impacting his performance. Will that alter his status heading into Week 9? Don't count on it. Coach Jim Schwartz said of Johnson Monday that he is "plowing through," suggesting that he will continue to do so until or unless it becomes physically impossible. Expect Johnson to get a big break in practice this week to help preserve him for Sunday.
Ben Tate, RB, Houston Texans (hamstring):
Tate was dealing with a toe injury recently, and now he's got a strained hamstring. As Texans head coach Gary Kubiak told reporters Monday, "It seems like it's been one thing after another." The Houston Chronicle reports that Tate maintained a regular rehab schedule during the Texans' bye week in the hopes of being ready for Monday practice, yet he still could not participate. The cumulative injuries have prompted Kubiak to suggest that Tate will miss some time to try to get his health right. No indication whether that time is the span of a few days or more than a week, but it hints at an absence for Week 9.
Justin Forsett
suddenly becomes more interesting.
[+] Enlarge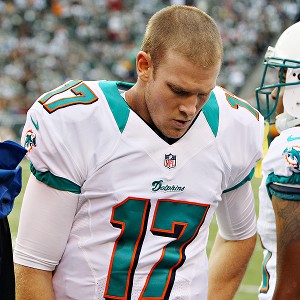 AP Photo/Seth WenigThe Dolphins cruised to a win in Week 8, even with Ryan Tannehill leaving with an injury.
Ryan Tannehill, QB, Miami Dolphins (knee):
Tannehill suffered a bone bruise in his left knee along with a quadriceps contusion (deep bruise) early in Week 8 and
Matt Moore
came in to finish the game. According to ESPN news reports, an MRI did not reveal any more specific structural damage, but Tannehill's status for Sunday remains uncertain.
Wes Welker, WR, New England Patriots, (ankle):
Welker sprained his left ankle in the fourth quarter of the Patriots' London game against the
St. Louis Rams
and did not return. As reported by ESPN Boston, Welker said his foot got "stuck in the turf" and he remained walking the sidelines following the injury. There doesn't seem to be much concern about Welker's chances for Week 10, as he will have the benefit of a bye week to recover.
Aaron Hernandez, TE, New England Patriots (ankle):
Hernandez, who did not travel with the team to London, should also benefit from the bye week. Although Hernandez has returned to play since injuring his ankle in Week 2, he was still experiencing some limitations with mobility and agility. Eliminating a long road trip combined with two weeks of relative rest and focused treatment should have Hernandez in better shape by Week 10.
October, 23, 2012
10/23/12
11:43
AM ET
Week 7 is in the books! Another week, another player out for the season. On Monday night, the
Detroit Lions
lost wide receiver
Nate Burleson
to a broken leg. Burleson landed awkwardly, then went to the ground and immediately clutched his right leg.
Washington Redskins
tight end
Fred Davis
tore his left Achilles early in Sunday's game, and the team wasted no time reaching out to
Chris Cooley
to replace him. Cooley was a star tight end for the Redskins not so long ago, before his recent injury issues prompted the team to let him go this summer.
Naturally there are other injury situations worth tracking. Here's who we're keeping an eye on heading into Week 8.
Running Backs
[+] Enlarge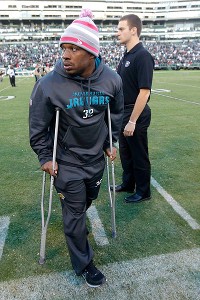 AP Photo/Marcio Jose SanchezMaurice Jones-Drew will be out at least for Week 8, and maybe more, with a foot injury.
Maurice Jones-Drew, Jacksonville Jaguars (foot):
Jones-Drew, the perennial picture of health at a position where players are virtually guaranteed to get injured, finally appeared to succumb to the inevitable. After playing in every game last season, Jones-Drew was forced to leave in Week 7 because of injury and may be out for an extended period. Jones-Drew injured his foot almost immediately in Sunday's game, and although he has not been definitively diagnosed with a Lisfranc injury, coach Mike Mularkey would not rule out the possibility. Jones-Drew was seen on the sideline with crutches for the remainder of the game -- not necessarily unusual immediately following a foot injury. Still, the fact they did not want him putting weight on the foot does suggest a somewhat elevated level of concern.
Jones-Drew already has been ruled out for Sunday's game, and Mularkey noted when he spoke with reporters Monday that he could miss extended time. More information should emerge in the coming days, but fantasy owners should plan on a multiweek absence.
Rashad Jennings
stepped in to replace Jones-Drew and probably will be one of the most popular guys on the waiver wire this week.
Trent Richardson, Cleveland Browns (rib):
Richardson entered Sunday's game with a right-side rib cartilage injury. Although he was able to practice on a limited basis during the week, the injury made itself known early on and Richardson was essentially benched for the second half. According to The (Cleveland) Plain Dealer, coach Pat Shurmur removed Richardson because he "wasn't quite effective," acknowledging the injury likely played a role. Richardson maintains he does not want to sit out and hopes to play this week. The challenge with damage to the rib cartilage is that the tissue is notoriously slow to heal. Many players who suffer this type of injury are dealing with pain that lingers for weeks, although it gradually subsides with rest. Repeated contact can make it more difficult for the pain to resolve. Typically it comes down to how well a player can function in the presence of pain. Richardson saw that firsthand when he tried to go from limited practice to full speed -- his body was not yet ready to cooperate. We'll see how he responds over the course of the week.
Quarterbacks
Blaine Gabbert, Jacksonville Jaguars (shoulder):
Gabbert looked to be in significant pain after hurting his left (non-throwing) shoulder and now we might know why. According to ESPN's Ed Werder, Gabbert reportedly suffered a torn labrum and will get a second opinion Tuesday from Dr. James Andrews. There is no word yet as to whether Gabbert will play Sunday.
And we're keeping an eye on
Jimmy Graham, TE, New Orleans Saints (ankle):
Graham did not play Sunday after sustaining an ankle injury in Week 5. The fact that Graham did make it onto the practice field last week is certainly an encouraging sign, and it sounds as if the Saints are optimistic about his progress. According to Mike Triplett of the New Orleans Times-Picayune, interim coach Joe Vitt said they would test Graham on Wednesday and that right now they "feel good" about him.
[+] Enlarge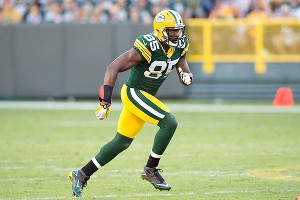 AP Photo/David StlukaGreg Jennings has just 12 fantasy points in standard leagues this year because of his injuries.
Greg Jennings, WR, Green Bay Packers (groin):
Jennings could return to practice at the end of this week, according to the Milwaukee Journal Sentinel. First, he will need to test the groin by running, which is slated for Thursday. If all goes well, he could be allowed to progress his activity in practice. These are the logical next steps in what has been a very steady, graded rehab approach for Jennings since aggravating the groin injury earlier this month. Both Jennings and the Packers have said he will not return until he is fully healthy, and it is in both their interests to ensure that to the degree possible. Ultimately, in-game testing is unique in the type of demands it puts on a player, but it certainly appears that Jennings has been guarded against overdoing it thus far. It's too soon to say whether he would be able to return to play this week but a return to practice would signal he is not far off.
Pierre Garcon, WR, Washington Redskins (foot):
Last week, we learned the source of Garcon's pain was a sprained capsule (the thicker tissue that covers a joint). This week, there are reports that the damage is more involved. USA Today Sports reports that Garcon is also dealing with a torn tendon, citing a source briefed on the specifics of the injury. The report suggested that Garcon could be held out through the team's bye (Nov. 11). While the news hints at further damage than initially conveyed, it doesn't change the team's approach, which is to have Garcon let the foot rest. The question becomes how much the extended rest will help the condition. Certainly the pain and inflammation should settle down, but one wonders whether it will return when Garcon resumes running and practice activities. Only time will tell. The bottom line for fantasy owners is that it appears it will be several more weeks before Garcon potentially returns.
DeMarco Murray (foot) and Felix Jones (knee), RBs, Dallas Cowboys:
Murray missed Week 7 with a foot injury and Jones got the start in his place. Unfortunately, it didn't take long for Jones to exit the field with an injury of his own. On the second play of the game, he injured his neck, but it was deemed to be mild and he later returned. A knee bruise forced Jones to leave the game a second time, and it's not clear whether that will be something that limits him this week. Meanwhile, ESPNDallas.com reports the Cowboys are hopeful Murray can return this week from his sprained left foot. It seems like a quick recovery for a guy who was on crutches and in a boot just last week, but the real test will be at practice, when Murray tests the foot. No word yet as to when that might happen.
Donald Brown, RB, Indianapolis Colts (knee):
Brown underwent arthroscopic surgery two weeks ago, and the return timetable indicated two to three weeks. Philip B. Wilson of the Indianapolis Star reported Monday that Colts offensive coordinator Bruce Arians said Brown is close to returning but may not be quite ready for Week 8. Two weeks sounded a bit quick, given that following surgery, even if relatively minor, a key to a successful return is having regained enough muscular strength to protect the joint. It will be interesting to see how much work Brown gets in practice this week.
Frank Gore, RB, San Francisco 49ers (ribs):
Gore suffered bruised ribs in the team's Thursday night game and was held out for the final minutes. Their next game is Oct. 29, a Monday night game, and the extra time between games undoubtedly will help. The question then is will Gore's soreness have decreased enough to allow him to play. So far it sounds positive. According to the Sacramento Bee, Gore put in a full practice Monday and expects he will be ready to play in Week 8.
Vincent Brown WR, San Diego Chargers (ankle):
Brown suffered a fracture in the preseason and was placed on the new designation of injured reserve/designated to return. He has been largely invisible to the media during his rehab, but the team has insisted that his recovery is on track. However, Wednesday was the first day Brown was eligible to rejoin the team in practice, and he did not. Given Brown's absence and given coach Norv Turner's comments about Brown going "one step at a time" on the team's official website, the earlier hope that Brown could return by Nov. 1 seems to be fading. "He has not been on the field yet. It will be a while before we give you specific timing on when he'll be able to play," Turner said. It's not clear whether Brown has even tried running yet. As of now, it appears he has a ways to go before there is any talk of game action.
October, 16, 2012
10/16/12
6:31
PM ET
Another week in the books! There were a slew of injuries on the defensive side of the ball in Week 6, with the highest percentage of big names belonging to one particular organization.
The Ravens lost their inspirational leader and team captain, veteran linebacker
Ray Lewis
, for the season because of a torn triceps. They also lost star cornerback
Lardarius Webb
to a torn left ACL. Webb tore his right ACL three years ago but successfully returned the following year and had developed into a premier player at his position. The combined loss of Webb and Lewis is difficult enough, but the Ravens also are dealing with a defensive injury up front. Defensive tackle
Haloti Ngata
suffered a sprained MCL on Sunday, but the good news is the Ravens expect to have him available in Week 7. He might be limited in terms of mobility, but his presence on the field will be key, considering the other absences the team is facing.
[+] Enlarge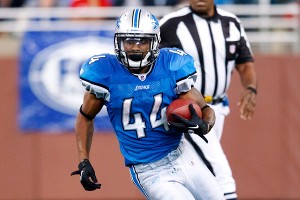 AP Photo/Rick OsentoskiJahvid Best (concussion) is still not ready to return, but he hasn't given up on doing so.
The
Detroit Lions
also received some disappointing, although not altogether surprising, news. Running back
Jahvid Best
, who one year ago suffered a concussion that has kept him out since, has not been cleared to return to play. Best's condition has been monitored by a team of experts in conjunction with the Lions' medical staff, and after he underwent a recent spate of tests, the group consensus was that Best is not ready to return. A statement from Lions general manager
Martin Mayhew
said, "After today's consultation with medical experts, including representatives from our medical and training staffs, it has been determined that Jahvid will not be permitted to return to play at this time."
According to the Detroit Free Press, Best will not consider retirement yet and maintains a desire to return. The Lions are continuing to support Best, which was reflected later on in Mayhew's statement: "Jahvid will continue to work with our medical and training staffs with the hope that he ultimately will be cleared to return to the playing field." Given the length of time that has passed, however, since Best's most recent injury and his failure to progress beyond his current level of activity, it would appear his chances of returning to football are slim.
Naturally, there are other injury situations worth tracking. Here's who we're keeping an eye on heading into Week 7:
Quarterbacks
Kevin Kolb, Arizona Cardinals (ribs): According to ESPN's Adam Schefter, Kolb will be out this week and beyond because of a significant multiple-rib injury, along with a sprained sternoclavicular joint (the same joint Rams receiver Danny Amendola injured). There's no doubt about how painful this injury is. Just breathing is bound to be uncomfortable, and any additional movement makes matters worse. Fortunately for the Cardinals, John Skelton's (ankle) health was improving anyway. He stepped in Sunday after Kolb's injury and looked, well, as if he'd been absent for five weeks. This week Skelton will have the opportunity to get all the practice reps as the team prepares him for a Week 7 start.


Running backs
DeMarco Murray, Dallas Cowboys (foot):
According to ESPN's Ed Werder, an MRI confirmed a left foot sprain for Murray, who was injured in the first half of Sunday's game. Murray is currently in a walking boot and on crutches, but Werder reports the Cowboys are saying he did not suffer a Lisfranc injury and will not need surgery. On Tuesday, Cowboys owner Jerry Jones confirmed Murray will miss the team's Week 7 game, as expected, but noted the team was relieved the injury was not more serious.
The team has not specified where in the foot the sprain is or the severity of the injury, other than saying it appears to be nonoperative; that makes it difficult to project with any accuracy just how compromised Murray is. While the news of no immediate need for a procedure is encouraging, it's worth pointing out that last year around this time, fellow running back
Darren McFadden
suffered what was thought to be a mild foot sprain and ended up missing the remainder of the season. He initially was expected to miss only a week or two, but he never could get to the point of running well on the foot. That's not to say Murray is destined for the same fate, but the point is, foot injuries can be tricky and unpredictable. This is not the same leg Murray injured last season (he suffered a right ankle fracture and high ankle sprain late in 2011, which required surgery and ended his season prematurely).
For now, the team is calling Murray's status week to week, and fantasy owners should plan on a multiple-week absence. Murray, however, is telling teammates he plans to play in Week 8, according to Werder. Let's see him get back on the practice field first before we count on him returning so quickly.
Trent Richardson, Cleveland Browns (rib):
Richardson left Sunday's game with what was later determined to be a right-side rib cartilage injury. The running back's status is day to day, according to Mary Kay Cabot of the Cleveland Plain Dealer. This is the type of injury that usually comes down to whether pain inhibits functionality or not. Richardson has a few days to rest it and see how it responds. While he seemed to express little doubt he'd be available, the team likely will take the wait-and-see approach. Fantasy owners might want to add
Montario Hardesty
to their rosters as insurance.
Wide receivers
[+] Enlarge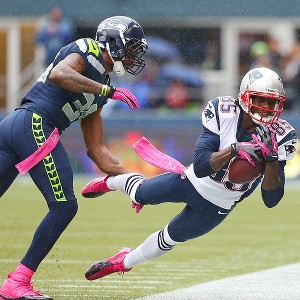 Otto Greule Jr/Getty ImagesBrandon Lloyd ranks 34th among WRs in fantasy scoring this season.
Brandon Lloyd, New England Patriots (shoulder):
The Patriots haven't said anything specific about Lloyd yet. He appeared to injure his left shoulder while making a diving play late in Sunday's game, but he did return to play. As ESPN Boston's Mike Reiss observed upon completion of the game, "[Lloyd] goes for tests afterward and walks out of the stadium stone-faced." This will be something to keep an eye on throughout the week.
Mario Manningham, San Francisco 49ers (shoulder):
Manningham was listed as a limited participant for the team's Monday practice -- which is an estimation since it was only a walk-through -- because of a shoulder issue. No details were offered by the team. The 49ers play Thursday night, so everything on the injury report becomes relevant, but there is no hint as of now that Manningham's game status is in jeopardy.
And a few more players we're keeping an eye on:
Jimmy Graham, TE, New Orleans Saints (ankle):
Graham was seen wearing a walking boot after the Week 5 game, then the team headed into a bye. Mike Triplett of the New Orleans Times-Picayune reported Monday that Saints coach Aaron Kromer would have no player updates until Wednesday practice. It's probably a good idea to secure a backup tight end, just in case.
Pierre Garcon, WR, Washington Redskins (foot):
The Washington Times reported Garcon is dealing with a sprained capsule (the tissue that surrounds a joint) under his second toe, which is still painful for him when pushing off or trying to run full speed. After watching Garcon try to push through the pain only to have that pain increase, the team has encouraged him to take some time to let it heal. Just how much time that will be is unclear, but it sounds as if it will be at least a couple of weeks.
Hakeem Nicks, WR, New York Giants (knee/foot):
Nicks managed to get through Sunday's game without a setback, although he wasn't quite himself.
According to ESPN New York
, Nicks says he knows the injury will continue to improve. If there are no immediate setbacks, it looks as if he will be available again this week.
September, 5, 2012
9/05/12
12:00
PM ET
It's here! It's here! The excitement generated by the arrival of the first official NFL game of the season puts it on par with many a national holiday. Tonight's matchup between the Super Bowl champion
New York Giants
and one of their fiercest division rivals in the
Dallas Cowboys
is certainly buzz-worthy.
Nothing, of course, can compare to the launch of fantasy football rivalries worldwide. All the preparation, all the intense study, all the chatter, banter and braggadocio now comes down to the actual playing of games and the strategic setting of lineups. And what could be more threatening to an ideal lineup than injury concerns?
With those concerns in mind, here are the official injury report designations for Wednesday night's game, along with a few thoughts as to what it means for your fantasy teams.
Witten
Jason Witten, TE, Dallas Cowboys, (abdomen [D]):
Witten might have the most talked about spleen in the history of sports. After suffering a laceration to his abdominal organ in his first preseason game, Witten was put on strict rest to allow the spleen to heal. After escaping the original threat of surgery, the biggest risk for Witten is possible reinjury. Returning too soon before the spleen has returned to normal would make it vulnerable to retearing, which could lead to serious internal bleeding. In the worst-case scenario, it could present a life-threatening situation. It is with those concerns in mind that the decision about Witten's return to football have been made.
The good news is that Witten appears to have suffered the least serious form of injury (Jerry Jones referred to Witten's laceration as a Grade 1) and that he seems to be healing well (Witten returned to practice Saturday, although he was limited to noncontact). Still, the doubtful tag strongly suggests Witten will sit out the opener. With an additional 11 days until the Cowboys' second game, it seems likely that his season debut will be postponed for at least a week.
Nicks
Hakeem Nicks, WR, New York Giants (foot [Q]):
Nicks suffered a fifth metatarsal fracture in minicamp and immediately
underwent surgery to repair it
, giving him the best chance of being ready for the season opener. Despite being listed as questionable, Nicks is
expected to play Wednesday night
, according to ESPNNewYork.com's Ohm Youngmisuk.
Nicks has been working his way back from the surgery throughout the preseason, gradually increasing his activity and only joining the team in practice in mid-August. He did see game action, albeit very limited, in the team's preseason finale. Some soreness in the foot kept him out of practice for several days afterward, raising some eyebrows as to his game status. Nicks did return to a limited practice Tuesday, and for his part, he has insisted he will play.
Soreness post-surgery, especially as workload is ramping up, is not unusual. The bigger challenge for Nicks initially will be performing at game speed for an entire game after seeing only limited reps throughout the preseason. Nicks has certainly played and performed well through
significant discomfort in the past
. It may take a bit to get his football conditioning back to where he expects it to be, but the foot will not keep Nicks from seeing the field tonight.
Bryant
Austin
Miles Austin (hamstring) and Dez Bryant (knee), WR, Dallas Cowboys, (P):
Austin has been sidelined for much of the preseason, just as he was last year, by a balky hamstring. In 2011, Austin started the season on time but was injured again by Week 2. Ultimately, injuries to both hamstrings resulted in six missed games.
The big question headed into this season was how well his hamstrings would hold up, a question that got an unfavorable response when Austin felt the hamstring act up during practice in early August. That was enough for the Cowboys to decide to hold him out the rest of the preseason. Instead, Austin worked out on his own and under the watchful eye of the rehab staff until he returned to full practice late last week. He is expected to start Wednesday night and there will no doubt be fingers crossed that he makes it through the game unscathed. There is no doubt that Austin is productive when he's on the field; the concern is whether his legs will support him for a full season.
There is equal concern about whether Austin's teammate Dez Bryant can stay healthy. Bryant has dealt with ankle and thigh injuries over the past two seasons and this preseason did little to quiet the concerns. Bryant was limited by a sore hamstring early in camp. Midway through August, he suffered a separate injury during practice involving his right knee. Tests showed no apparent significant structural damage and the team termed Bryant's condition as patellar tendinitis, something not typically associated with an acute injury. In any event, he remained limited in practice until just last week. Bryant is expected to play Wednesday night, but the concern going forward is whether the knee will flare up again sooner rather than later.
Bradshaw
Ahmad Bradshaw, RB, New York Giants (hand [P]):
Bradshaw underwent another procedure on his ailing foot in the offseason, which he believes helped him turn the corner in what had become a chronic pain situation. After suffering a stress fracture in his foot near his surgically implanted screw during the season, Bradshaw underwent a procedure this spring that involved injection of a stem cell paste (utilizing his own cells drawn from bone marrow in his hip) into the foot. During my visit to Giants camp, Bradshaw told me he felt like he was running "free and easy," adding that it was the best he had felt in a long time. In fact, it was the first camp in which he had been able to run and practice every day without hesitation.
Then came the Giants' second preseason game and Bradshaw exited early, not because of a problem with his foot but because of an injury to his right hand, the result of a hit to another player's helmet. According to The (Newark) Star-Ledger, Bradshaw said afterward that he popped a cyst on the top of his hand, near his index finger. Nothing was broken and the injury was minor. Still, the Giants held Bradshaw out of the final two preseason games as a precaution.
Bradshaw is listed on the injury report because of his hand, not his foot, which is a good thing. He was a full participant in practice in the days leading up to this first game of the season. At probable, he is expected to play and there are no real concerns that this will impact his performance.
Murray
DeMarco Murray, RB, Dallas Cowboys (wrist [P]):
Murray's 2011 season ended early when he fractured his right ankle, but he bounced back after surgery to deliver a
strong training camp and preseason performance
. In the Cowboys' preseason finale, Murray banged his hand and thus is listed on the injury report. Murray did re-enter the game briefly and has practiced fully all week, so this is not a major concern. Expect Murray to be a full go for the season opener.
December, 13, 2011
12/13/11
6:18
PM ET
Week 14 wasted no time making its injury impact felt. Both quarterbacks suffered injuries Thursday yet both continued to play. The returns of
Ben Roethlisberger
and
Colt McCoy
have been the topic of much discussion in recent days, for different reasons.
[+] Enlarge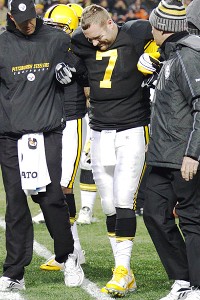 AP Photo/Gene J. PuskarBen Roethlisberger somehow toughed out a high ankle sprain to beat the Browns last week.
Roethlisberger suffered a high ankle sprain, an injury that typically sidelines players for multiple weeks, yet he managed to return to complete the game once it was determined no fracture was present. The adrenaline might have helped him get through Thursday night, but what about the
Pittsburgh Steelers
' next contest, a Monday night matchup against the
San Francisco 49ers
? Given Roethlisberger's history of beating the odds and managing to suit up even in the presence of significant injury, it's impossible to rule him out. Still, it's difficult to imagine him being able to perform effectively, given the nature of what's ailing him.
Sam Bradford
also suffered a left high ankle sprain, and was sidelined for two games because of his inability to step into throws and move out of the pocket. After Bradford returned, he suffered a setback that again resulted in missed time, and even though he played Monday night, it's clear he is not fully recovered.
Cleveland Browns
quarterback McCoy took a shot to the head from Steelers linebacker
James Harrison
, which left him momentarily flat on his back. Harrison has since been suspended for one game by the NFL, and the circumstances surrounding McCoy's return to the game (he missed just a few plays following the hit) have become the subject of an investigation. The Browns maintain McCoy was evaluated on the sideline before being allowed to return and that his concussion-like symptoms appeared later (McCoy has since been diagnosed with a concussion). Members of both the NFLPA and the NFL are expected to meet with members of the Browns' medical staff this week to clarify exactly what happened following the hit and how decisions about return to play were made. In an email response to The Associated Press, league spokesman Greg Aiello said the purpose of the meeting "is to examine procedures and identify areas for further discussion with other medical experts, Commissioner Goodell and the union."
Perhaps the most notable aspect of this incident so far is that we are seeing the first suspension of a player based on a hit to the head (a punishment directed in part by this particular player's history of similar hits) and an investigation into the circumstances surrounding an in-game medical decision. A couple of years ago, this incident likely would have been just another play in the game. While there still is a long way to go in terms of understanding how to best manage and protect against these injuries, the fact that they are gaining attention and being discussed is, in itself, a sign of progress.
After Thursday night ...
[+] Enlarge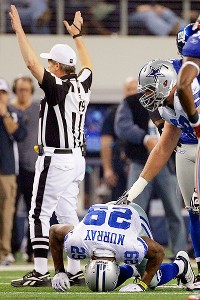 AP Photo/Tony GutierrezDeMarco Murray, who became the Cowboys' go-to back in midseason, is now done for the year after fracturing his ankle.
... The injuries continued to mount. Particularly brutal was the injury suffered by
Dallas Cowboys
running back
DeMarco Murray
, whose legs got trapped awkwardly underneath him as he was tackled. The right leg got the worst of it, as Murray suffered a fractured ankle and a high ankle sprain. As reported by ESPN Dallas, Murray will need surgery, confirming the obvious conclusion that his season is over. It's hard not to feel for Murray, who had provided a spark in the running game after
Felix Jones
was sidelined with his own high ankle sprain in October. Murray tweeted that he'll be back "a better football player," but we will have to wait until 2012 to see proof of that. With Murray out, Jones now resumes the starting role in Dallas. The Cowboys also signed
Sammy Morris
on Tuesday as insurance.
• The
Green Bay Packers
also lost one of their key offensive weapons for what it appears will be the remainder of the regular season.
Greg Jennings
sustained a sprained medial collateral ligament, and his obvious pain had everyone concerned. Following an MRI on Monday, the team projected his absence at two to three weeks (the standard timetable for MCL sprains ranges from two to six weeks), suggesting a mild to moderate sprain. Coach Mike McCarthy seemed to intimate at his news conference Monday that Jennings would not return for the regular season. "I would think it would be safe to say he'd be back for the playoffs," McCarthy said. Meanwhile, running back
James Starks
missed Week 14 because of his knee and ankle injuries, but he might return this week if he can return to practice. Rookie
Brandon Saine
saw some playing time in Starks' absence but left the game early with a concussion. Saine will have to receive medical clearance in order to return.
Quick Hits
• The
Minnesota Vikings
are sounding as if they expect to have
Adrian Peterson
on the field in Week 15, but we'd like to see him run without a limp before penciling him into the lineup. Peterson made further progress last week, doing some individual drills. Still, Peterson rated himself at only 80 percent, although he was willing to try to "gallop" if necessary. It was a good move to rest him this past week, and that rest might well be what allows him to go in Week 15. Stay tuned.
• The
Philadelphia Eagles
saw the returns of
Michael Vick
and
Jeremy Maclin
in Week 14. While Vick managed to get through the entire game (even though he could be seen lying on a treatment table getting worked on at one point while the defense was on the field), Maclin did not fare so well. His hamstring tightened up on him, according to coach Andy Reid, and
Riley Cooper
took Maclin's place for much of the second half. Until Maclin shows he has recovered enough to get through a full game without incident, it's going to be hard to have confidence.
•
Tennessee Titans
quarterback
Matt Hasselbeck
suffered a calf injury Sunday, and it was not known immediately how severe the injury was.
Jake Locker
took over for the remainder of the game (with the exception of a single play in the fourth quarter that Hasselbeck handled), and Hasselbeck is now being called day-to-day. Calf strains are typically slow to heal, even when minor, and will limit a quarterback's ability to push off as well as his all-around mobility. It will be no surprise if Locker gets the start this week.
•
New Orleans Saints
tight end
Jimmy Graham
showed some toughness playing through major back spasms Sunday. Fantasy owners knew something wasn't right when Graham left the pregame warmups early and headed into the locker room. He came out to join his team for the game and managed to garner 55 yards. Graham, during an appearance "Rome is Burning" on Tuesday, called the spasms "crippling" but said it would take more than spasms to keep him out of a game. He also noted he had undergone an MRI and everything was "fine." He sure sounds like someone who is planning on being out there again in Week 15.
[+] Enlarge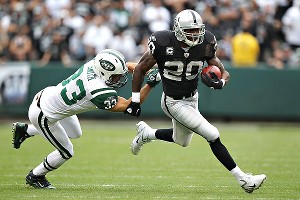 Jed Jacobsohn/Getty ImagesDarren McFadden has not played since Week 7.
• From last Tuesday:
Things are not looking good for running back Darren McFadden. Despite all the positive-speak initially from coach Hue Jackson, his latest remarks have a different tone suggesting progress is not being made as expected. McFadden has already missed more than a month because of a midfoot sprain and his absence is expected to continue. Steve Corkran of the Contra Costa Times reported via Twitter that Raiders coach Hue Jackson does not expect McFadden to miss the rest of the season. Well, neither did we. In fact, it had not been a real thought until Jackson introduced it as a possibility. Jackson also noted that there was no timetable for McFadden's return. Those two comments cause concern as to what the real status of McFadden and his foot is going forward. After the initial MRI, Jackson said there was no major structural damage and hinted at a speedy recovery. While the structure of the midfoot is complex and pain or inflammation in the area, even in the absence of major disruption to the anatomy, can be severely limiting, the slow progress of McFadden after such early optimism is frustrating. At this point it is difficult to have confidence in McFadden's status, especially as long as he is absent from the practice field.
This Tuesday: Things still don't look good. The poor outlook noted at the start of last week has become grimmer as another week has passed with no obvious signs of progress from McFadden. If anything, there is less clarity about McFadden's injury than ever. On Sunday, CBS analyst
Phil Simms
commented that McFadden was dealing with a Lisfranc injury. Steve Corkran of the Contra Costa Times best captures the semantics issue around the term "Lisfranc" and coach Hue Jackson's response as it relates to McFadden in his
Monday post on the topic
.
In an attempt to interpret the cause of the confusion, it should be noted that the term Lisfranc is an anatomical description of a region of the foot, specifically a complex joint comprising the bones and ligaments that connect the midfoot to the forefoot. An injury in this area could technically be called a midfoot sprain
or
a Lisfranc injury, and both would be correct. Injuries range from minor ligament tearing involving a single joint to multijoint severe injuries including fracture and dislocation. The latter type require surgery to fix; the former do not.
As Lisfranc injuries have become more common in the NFL and have led to season-ending surgeries for some (
Ronnie Brown
,
Dwight Freeney
and most recently
Matt Schaub
), when the term is used, the implication is that the athlete has suffered the most severe, season-ending variety. That degree of injury does not always result. Since the Raiders insist McFadden does not need surgery, it would appear that his injury is of the less severe type and that, perhaps, is why the term "Lisfranc" was avoided. For any injury to the midfoot, it is important that full healing occur in order to restore normal gait and prevent future problems, which can render the recovery process slow. In McFadden's case, his recovery appears to be taking longer than the Raiders initially projected it would, adding to the frustration of all looking from the outside in. At this point, despite Jackson's statement that he expects McFadden to return, it's hard to imagine a full-strength McFadden resurfacing within the next three weeks.