Stephania Bell:

Derrek Lee
June, 6, 2011
6/06/11
5:57
PM ET
As is usually the case following a series of weekend games, there are some comings and goings in the world of baseball. Some players are coming back from injury while others are exiting, or appear on the brink of exiting, due to injury. If only the return list was greater than the departure list, fantasy owners would be looking forward to adjusting their Monday rosters. While sadly this does not appear to be the case, there are still some nuggets of good news to be found in the injury reports. You just may have to scroll down a ways to find them.
Going
[+] Enlarge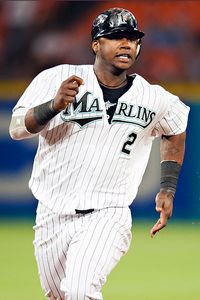 Steve Mitchell/US PresswireHanley Ramirez has not played since May 30 but could be activated as soon as next week.
Hanley Ramirez, SS, Florida Marlins:
It's official. The Marlins have placed Ramirez on the DL, retroactive to May 30. Ramirez led the Friday blog amidst hints the Marlins would make the decision to place him on the DL at some point that day. Friday came and went without any movement for Ramirez, but it wasn't because he was making a sudden return to the lineup. In fact, Ramirez continued to sit out because of a
lower back injury
, which had been causing him problems for well over a week. It seems the delayed announcement was linked to the Marlins' decision as to which pitcher would be called up to fill his roster spot. According to the Marlins' official website, with
Josh Johnson
still out with shoulder inflammation (and no set timetable for his return), it was unclear who would take his Tuesday spot in the rotation. That question now appears to have been answered. According to Joe Capozzi of The Palm Beach Post, the Marlins called up lefty Brad Hand from Double-A Jacksonville. As far as Ramirez goes, it was clear he was hoping to avoid going to the DL for the first time in his career, but the pain was such that he couldn't pinch hit or run. Better for him to step away completely and try to resolve this episode than to press through it. After all, he had not been producing well at the plate. Turns out his back had been bothering him for a month but he kept it quiet until the pain got bad enough he simply couldn't function.
Jake Peavy, SP, Chicago White Sox:
The good news is Peavy's surgical repair to his lat tendon has held up brilliantly and his throwing arm is fine. The bad news is a right groin injury sustained during only his fifth start of the season likely will land him on the disabled list. According to the Chicago Sun-Times, Peavy said of his injury, "I'll probably miss more time now. ... the way I feel when I walk, [the disabled list] is a pretty safe bet." At this point Peavy is acutely aware of how an injury in his lower half can affect his upper half. When I talked with him during spring training, he acknowledged that the ankle injury he sustained while with the
San Diego Padres
had not fully resolved when he went to the White Sox. He said he suspects compensations he made for the leg contributed to abnormal mechanics and ultimately the failure of his latissimus dorsi tendon.
After that experience and the lengthy rehabilitation process he has just undergone, it is highly unlikely he would run the risk of returning to play while compromised. A groin strain is no small issue for a pitcher, no matter which leg is involved. In this case, it's Peavy's right leg, or his stance leg, and he needs strength in the musculature for balance during the wind-up. He needs power and flexibility as he moves further into his delivery and transfers his body weight forward to his left (landing) leg. He also needs to be able to move off the mound quickly for defensive plays. In the fourth inning of Sunday's game it was during a defensive move to cover first that Peavy first felt a "grabbing" pain, according to the Sun-Times. Peavy expected to undergo further evaluation Monday, but it appears fantasy owners should plan on a two-week absence, minimum.
Rafael Furcal, SS and Jon Garland, P, Los Angeles Dodgers:
Furcal has to be asking himself what he did exactly to deserve yet another injury to yet another body part. On the DL for the second time this season, Furcal is now dealing with a left-sided oblique strain suffered during Friday's game. Oblique injuries typically require a few weeks of recovery, depending on severity, and given Furcal's history of low back problems, it is critical that he not return too soon. In other words, it's hard to imagine him returning before the end of the month, perhaps even the All-Star break. Sigh. The Dodgers also lost Garland to his second DL stint of the season (he started the season on the DL with, yes, you guessed it, an oblique injury). This time it's his throwing shoulder that's the culprit, and no one ever likes to see that in a veteran pitcher. Garland has been remarkably durable, but now that he is 31 years old, this could be a sign of things to come.
Brandon Belt, 1B, San Francisco Giants:
Belt was placed on the DL when it was discovered he had a hairline fracture in his left wrist after being hit by a pitch last week. Consider this another blow to the Giants, who had brought Belt back into the lineup following the season-ending injury to
Buster Posey
. Although Belt's fracture likely will take another month to heal, he could resume baseball activities before then if he's progressing well.
Coming
Matt Garza, P, Chicago Cubs:
Garza has been activated and will start Monday against the
Cincinnati Reds
. He has been sidelined with an elbow contusion but has felt no pain when throwing recently, including a solid bullpen outing late last week. Pitching in a game situation is always a little more strenuous, though, so it remains to be seen how he will fare.
Derrek Lee, 1B, Baltimore Orioles:
The Orioles got Lee back this weekend after he spent time on the DL with an oblique injury. Lee sustained the injury in mid-May and has returned fairly swiftly. It's worth pointing out that although Lee started the season on time, he missed a good portion of spring training because of his thumb, forearm and foot. The missed time may explain, in part, his unspectacular start to the season. If he is fully healthy now, it will be interesting to see what he has in the tank.
Adam Lind, 1B, Toronto Blue Jays:
In case you missed it, Lind snuck back into the starting first-base role for the Blue Jays on Sunday, and all he did was go 4-for-4 with two home runs. It appears his back is much better. Lind had been out for nearly a month with intermittent back spasms. Early on, the team hoped Lind could avoid the DL altogether, but after several setbacks the extended time off became the wise choice. In retrospect it certainly seems as if Lind benefited from that decision, and while back pain is always at risk for recurrence, the hope is that the longer reprieve will help him avoid just that.
Somewhere in between
[+] Enlarge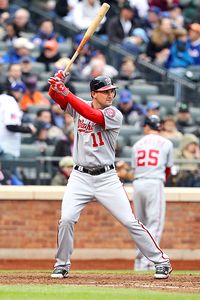 Al Bello/Getty ImagesRyan Zimmerman has not played in the majors since April 9 but is making progress in the minors.
Washington Nationals
third baseman
Ryan Zimmerman
is working his way up the ladder following abdominal surgery in early May. On Sunday, Zimmerman appeared in a rehab game with Class A Hagerstown. After delivering a double, a triple and an RBI, Zimmerman is being moved to Class A Potomac. According to the Washington Post, Zimmerman referred to himself as winded and "sore" after the outing, noting he "was out of breath for a while after that triple." These are all normal responses to returning to game action following the type of surgery Zimmerman underwent, and he will continue to build his endurance and his strength by increasing the level of play. While there is no definitive date for his return, Zimmerman is certainly within the standard timeframe of recovery of six to eight weeks.
Philadelphia Phillies
shortstop
Jimmy Rollins
was seen limping in the clubhouse Sunday after fouling a ball off his right kneecap Saturday. On Sunday, Rollins told the Philadelphia Inquirer, "It'll be a couple of days, but I don't think a DL thing, not at this moment," explaining that the response of the swelling would determine what he was able to do. On Monday, Rollins was not in the lineup and is considered day-to-day.
The
New York Mets
won't be getting third baseman
David Wright
back in the lineup this month. After a re-evaluation, Wright says he will have to wait at least another three weeks before resuming baseball activities. Teammate
Ike Davis
, who incidentally was injured in a collision with Wright in early May, also remains out with a bone bruise in his left ankle. When Davis tried to progress to running, it became so painful that he was forced back into a walking boot. As Davis told ESPN New York, if he does any running right now it's on an underwater treadmill. The good news is that he is hitting and working on other conditioning activities. But the impact of running is something the joint cannot tolerate yet.
Tampa Bay Rays
third baseman
Evan Longoria
gave everyone a scare when he left Saturday's game early with "tightness" in his left side. Yes, it's the same side in which he suffered the oblique injury earlier this year. But Longoria was able to pinch hit Sunday and is expected back in the lineup Monday. Maybe he just wanted to see if anyone would notice. Judging from the collective anxiety of fantasy owners everywhere, the answer is yes, we noticed.
Resume normal breathing everyone, at least until tomorrow.
May, 17, 2011
5/17/11
3:49
PM ET
Much to the dismay of fantasy owners everywhere, Monday may have been one of the busiest baseball injury days on record. Here's the spillover into Tuesday.
Adam Lind, 1B, Toronto Blue Jays:
So much for hoping Lind could avoid the DL because of back issues. The team opted to place him there but it's
retroactive to May 8
, meaning he could return next week. He was making improvements as of the weekend so the hope is he will be ready to return when eligible.
[+] Enlarge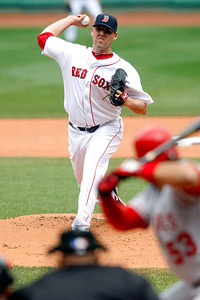 David Butler II/US PresswireJohn Lackey is 2-5 with an 8.01 ERA so far this season.
John Lackey, P, Boston Red Sox:
Lackey was placed on the DL Monday with a right elbow strain. He has been inconsistent on the mound this season, with things getting worse lately. After giving up nine runs in his last outing, an exasperated Lackey summed up his feelings by telling the Boston Herald, "It's got to turn some time. Everything in my life sucks right now, to be honest with you." Manager Terry Francona confirmed Lackey's physical ailment was responsible for the DL move, telling reporters, "He's been having some tugging in his elbow." Just how long the elbow has been bothering him this season is unclear, but he has a history of minor trouble with it. His 2009 season started late because of elbow pain, and in 2008, he missed time with a strained triceps in his throwing arm. Maybe the years are throwing are taking a toll on the 32-year-old pitcher. While there is no report of anything serious with Lackey, the caution flags are certainly flying.
Josh Johnson, P, Florida Marlins:
Johnson looks to have escaped serious injury after absorbing the brunt of a
Carlos Beltran
line drive on his right (throwing) forearm Monday. Johnson stayed in to finish the inning but did not return to the game as the forearm got tight. The team referred to the injury as a bruised right forearm. X-rays taken Monday night were negative. According to the team's website, manager Edwin Rodriguez is optimistic Johnson will be able to make his next start against the
Tampa Bay Rays
on Saturday.
Derrek Lee, 1B, Baltimore Orioles:
Lee exited Monday's game after just two innings with what the Baltimore Sun reported to be a left oblique strain. The team has called Lee's status day-to-day and he was expected to be evaluated further Tuesday. The severity of the injury will dictate whether Lee is likely to be absent for days or weeks. Lee has a history of low back problems (disc-related) and cannot afford to play with any compromised core strength.
Good news! The
Philadelphia Phillies
have to be relieved to be getting a player back from the DL instead of adding another to the list, as pitcher
Roy Oswalt
has been activated for his Tuesday start. He had been on the DL with inflammation in his lower back, but fortunately turned the corner fairly quickly. Still, he is likely to be limited in the number of pitches he throws as he works his way back to form. His last start was April 26 against the
Arizona Diamondbacks
. Since then he left the team to be with his family in the aftermath of the severe storms in the south, then returned only to be forced onto the DL because of his back.
March, 10, 2011
3/10/11
10:07
AM ET
I didn't get to see first baseman
Derrek Lee
and second baseman
Brian Roberts
on the field Wednesday, the two players I was hoping would play in the
Baltimore Orioles
' contest versus the
Minnesota Twins
when I planned my journey. But I did get to see O's manager and former ESPN analyst Buck Showalter (who says he prefers his work attire these days to the suit and tie he donned in the studio), and he provided status updates on his two infielders before the game.
Showalter did not seem particularly concerned about either Lee or Roberts. Lee, whom the Orioles acquired this offseason, has not yet played a spring game with his new team. He underwent right thumb surgery last fall and has progressed to the point of taking batting practice, but soreness in his wrist and forearm has delayed his spring training debut. Showalter indicated Wednesday that an X-Ray on Lee's wrist was negative, and although the veteran first baseman was scheduled for an MRI, there was no real cause for concern. Showalter pointed to an area on the top of the forearm, just above the wrist, where Lee was sore, and then reminded us that Lee didn't use some of those muscles regularly for 2-3 months while in a splint following surgery.
[+] Enlarge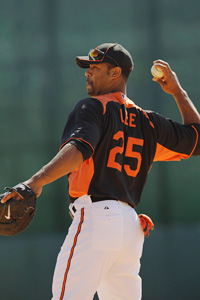 AP Photo/Eric GayDerrek Lee has been working out with the O's, but he hasn't gotten into any spring games.
It's worth pointing out that Lee is 35 years old and also has a history of low back issues. Taking it slowly and cautiously is not the worst thing and the fact that Lee is a veteran gives Showalter reassurance in his ability to get up to speed quickly. That said, if it gets to be another week into March and there's still no sign of Lee, everyone will start to be more concerned. It's not out of the question that he could start the season on the disabled list if he is not 100 percent ready to return. The Orioles want Lee to be pain-free to start the season.
As for Roberts, his ongoing back issues essentially derailed his 2010 season, so hearing that he was scratched from Tuesday's game because of back spasms was disconcerting. According to Showalter, this latest setback is a minor one and not related to the low back problems Roberts faced last year. Apparently Roberts had some upper back spasms ("a knot in there," per Showalter) and even after resting Tuesday, he was still a little stiff Wednesday, so they opted to rest him another day. Showalter was also quick to point out that Roberts has already played in far more spring training games this year than he did last season. True. While there's still reason to be cautious about Roberts' ability to stay healthy throughout the season, there is no major cause for alarm either. At least not yet.
Finally, pitcher
Justin Duchscherer
was reportedly feeling well a day after pitching two scoreless innings against the
Philadelphia Phillies
in his spring debut. Duchscherer, most recently with the
Oakland A's
, is coming off left hip surgery to repair the labrum and resurface the joint, a procedure he underwent previously on his right hip. The increased mobility in both hips might actually alleviate some strain on his low back, which has been intermittently problematic for years. It's too early to say whether Duke will be able to stay healthy, but the outlook is promising. Next up for him is to throw three innings in an intrasquad scrimmage this weekend.
May, 12, 2009
5/12/09
6:54
PM ET
By
Stephania Bell, ESPN.com
| ESPN.com
It's about time we started with some good news for a change. We have some key players close to returning.
Josh Hamilton
is expected to return to the Rangers' lineup Tuesday night, completing a stint on the disabled list caused by a strained rib-cage muscle. Hamilton played in two rehab games for Triple-A Oklahoma City and sounds confident that he's completely healed, telling the Fort Worth Star-Telegram that he tested his ribs in a multitude of ways: "I swung the bat. I had to run from first to third. In the outfield, I had to throw. Getting out of breath and breathing heavy, that was good. So we're all good." Also, the Star-Telegram pointed out that Hamilton slipped in the outfield Sunday, landing directly on his ribs, but was able to continue without hesitation. Fantasy owners should feel confident that this injury episode is behind him.
Meanwhile, the Angels have to be excited that both
John Lackey
and
Ervin Santana
could rejoin the rotation within the next week. Both aces began the season on the DL because of arm injuries -- Lackey had a forearm strain and Santana had a sprained elbow -- and both have had quiet, uneventful rehab progressions. When we don't hear much about players while they're undergoing rehab, it's usually a good sign. That means they're moving quietly from one rehab phase to the next without calling much attention to themselves. Both Lackey and Santana have made rehab starts, working on increasing their pitch counts.
The Los Angeles Times reports that the Angels will study tapes from Lackey's and Santana's most recent rehab starts to assess their readiness to return, but all evidence points to those return dates' coming sooner rather than later. And their uneventful rehab progressions make a good case for their ability to be successful upon their returns. The bigger question is whether Lackey and Santana will be able to last the remainder of the season. So far, there is good reason for their owners to be cautiously optimistic.
On that note, here are a handful of players I'm tracking this week in the world of baseball injuries: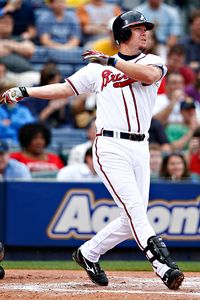 Joe Robbins/Getty ImagesSeems like we have heard this one before: Chipper Jones is injured.
Chipper Jones, 3B, Braves:
Jones sat out Monday night's game as a result of a hyperextended elbow, but he expects to return to the lineup Tuesday. Jones told the Atlanta Journal Constitution that he has been dealing with a "pretty serious case of tendinitis" in the elbow all year, and after hyperextending it during a strikeout swing Sunday, his elbow was "jacked up." Although the latter is not exactly a medical diagnosis, it pretty well conveys how Jones was feeling. Jones' injury history shows that he will press and play on through injuries whenever possible until he feels he can't perform as he should. In this case, Jones couldn't make the throw from third base to first because of the elbow, and therefore removed himself from the game. His assessment was that a little rest and anti-inflammatory medication should get him back fairly quickly, which is not an unreasonable prediction.
Jones' owners most likely knew (or should have known) when they drafted him that he is a physical player who is going to be dinged off and on throughout the season. Translation: He will miss games from time to time, but he has been fairly adept at avoiding the DL for the majority of his injuries. This incident appears to fall in the category of the one-to-three-game absences, but it's worth noting that the tendinitis has been bothering him all year. If he continues to aggravate it, this could crop up again. And next time, it could last longer.
Aramis Ramirez, 3B, Cubs:
The Cubs have definitely been DL-challenged this year, with a new name seemingly added every week. Just when it looked as if Ramirez was recovering from a stiff back that had bothered him in spring training and, more recently, a calf strain that caused him to sit out a couple of games, he dislocated his left shoulder Friday night while diving to try to make a play at third. Ramirez summed it up perfectly to the Chicago Tribune: "Seems like I can't be out there right now this year. I've been hurt all the time."
Well, he's certainly right about not being able to be out there right now. A dislocated shoulder means at least a month of rehabilitation, and seeing as this was not a stable shoulder to begin with (Ramirez hyperextended the same shoulder during his rookie season in 1998 and aggravated it again in 2000), it likely will take even longer to restore enough strength around the shoulder to allow him to play with confidence. Fantasy owners need to plan on utilizing a replacement at least through the All-Star break.
Derrek Lee, 1B, Cubs:
The good news is that despite his neck issues, Lee likely won't require a trip to the DL. At least not right now.
An MRI this week confirmed what was already known about Lee's neck: He has a bulging disc, which is likely responsible for the pain and spasms he has been experiencing of late. But the Cubs' decision not to place Lee on the DL can be interpreted as an encouraging sign, and the Chicago Tribune reported that Lee would return to the lineup either Tuesday night or Wednesday. The Chicago Sun-Tines reported that an anti-inflammatory injection was not deemed necessary and that the most recent MRI results "revealed no additional damage and nothing to suggest long-term injury."
While it's some relief to know that there appears to be no progression of Lee's neck problem on MRI, it is arguable that this injury is indeed long-term. Consider that Lee originally injured his neck two years ago and has dealt with this type of pain intermittently ever since. A disc problem is not the type of thing that typically goes away completely; it is more likely to be the type of condition that flares up from time to time. The treatment goal is to do as much as possible in terms of strengthening and stabilization to prevent the recurrence of symptoms, and when those symptoms do crop up, to manage them as efficiently as possible. Working in Lee's favor is the fact that the symptoms have remained localized to the neck area. In the case of a severe disc bulge, there can be accompanying nerve involvement that can manifest itself as numbness, tingling and/or weakness in the arm. The further down the symptoms progress, the more problematic and the more disabling they can be.
The fact that Lee is likely to return soon is definitely a good sign, and it is possible that this will be his only episode of neck pain this season. It is also possible, however, that these symptoms will return, if not this year then in the future, as has already been the pattern for him over the past two years. Fantasy owners need not panic, but it is worth being aware that this issue can linger beneath the surface.
Dustin Pedroia, 2B, Red Sox:
Pedroia was forced to leave Sunday night's game early after straining the right side of his groin while swinging. According to the Boston Herald, Pedroia originally injured the groin earlier in the month, perhaps during cold and wet conditions at Yankee Stadium, and had been playing through it. But clearly Pedroia aggravated the injury Sunday night when, according to Pedroia's account in the Herald, his cleat "kind of got caught, and it was an inside fastball, so I tried to turn on it, and obviously it hurt." Manager Terry Francona planned to hold him out Tuesday but maintained that his return to the lineup Wednesday would be "very realistic."
Pedroia already has had one muscle strain this season, an abdominal injury that forced him to exit early from the WBC. Nonetheless, he was back in full swing within a few days and has shown himself to be not only tough, but also a quick healer. He spent much of the offseason doing intensive physical conditioning and that too might play a role in why his injuries are not as debilitating as they otherwise could be. Although there is always the concern of exacerbating a strain once it exists, Pedroia appears to have avoided serious injury thus far.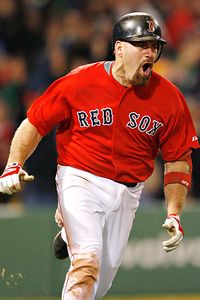 Jim Rogash/Getty Images"Yuuuuuuke" (Kevin Youkilis) should return to the lineup soon.
Kevin Youkilis, 1B, Red Sox:
Will he or won't he? That is the question Youkilis fantasy owners have been asking over the last week in reference to whether Youk would be headed for the DL because of his "sore side." Here's the answer: Yes. This was a bit of a surprise. The Boston Herald reported Monday that Youkilis could potentially be available to play Tuesday evening. By Tuesday evening, the Boston Globe was reporting that Youkilis had just been placed on the DL. Apparently he aggravated his condition during batting practice, and the team decided he needed some extra time off. The move is retroactive to May 5 since Youkilis has been out of commission for a week already, leaving the door open for him to return in another week if he is truly healthy.
The exact nature of Youkilis' condition has been a little puzzling, but manager Terry Francona described it as a deep bruise that turned into spasms after Youkilis was hit twice in the back by pitches. Youkilis however told the Boston Globe that being hit by pitches was not the cause, and that the injury had actually occurred a couple of weeks prior, although he did not specify when. He also pointed out that the tightness he was experiencing was more in his side as opposed to his lower back. It now appears that the team is classifying it as an oblique injury.
Jose Molina, C, Yankees:
Last week, Yankees catcher
Jorge Posada
was addressed in this column after being placed on the DL because of a Grade 2 hamstring strain. This week it was Molina who was placed on the DL because of a thigh muscle strain; in this case, it was a quadriceps injury. The quadriceps muscle, or quad as it is often called, is the large muscle group that constitutes the bulk of the front of the thigh. It is made up of four separate muscles that come together in a common tendon to attach at the shin. The quad provides the bulk of the power necessary for running, but in the case of a catcher, the quad is critical for maintaining the crouch position and being able to explode out of it when necessary.
The good news is that the team does not expect Molina to miss much beyond the 15 days. Muscle strains can be hard to predict, though, so we will check on Molina's rehab status again next week.
Joakim Soria, RP, Royals:
The closer was placed on the DL because of a rotator cuff strain to his right (throwing) arm. Soria has been dealing with stiffness and soreness in his throwing arm for a few weeks, and attempts to give him a few days' rest here and there were not enough. At this point, the team has not indicated exactly how long it thinks Soria will be out, but fantasy owners should plan on some insurance at the closer position for the next month or so.
The good news is that an MRI has not indicated any specific damage. The not-so-good news is that the pain is in the back of his shoulder where the rotator cuff musculature is located. Soria last pitched Thursday, and although his shoulder reportedly did not bother him during the inning, the Royals' official Web site reported that he did feel it the next day. In the scheme of things, next-day soreness is less worrisome than soreness during activity and far less worrisome than constant soreness, even at rest. The Royals are taking a proactive approach in trying to provide Soria enough downtime to hopefully resolve the issue. Although Soria believes he can be back in 15 days, the team might opt to bring him back a little slower and place him on a graduated (read: rehab) assignment. Either way, the hope is to have him for the long haul, and that looks to be a realistic goal.
On the mend
Cardinals ace
Chris Carpenter
is inching closer to a return. He is scheduled to throw from a mound Tuesday, and if that goes well he will throw simulated innings, according to the St. Louis Post-Dispatch. Given that he has maintained his conditioning, the team does not anticipate a rehab assignment, and he could return as early as sometime next week.
Yankees pitcher
Chien-Ming Wang
is scheduled to make a rehab start Tuesday. Wang, who clearly struggled at the start of the season, was found to have lingering weakness in his hip muscles following foot surgery, but it appears this latest rehab period has really helped him. Depending on the results of his outing, Wang might be able to rejoin the Yankees' rotation within the next week.
Daisuke Matsuzaka
has had two rehab starts already and is expected to have another this week. Expect him to be back in the mix when the Red Sox return from the West Coast for a homestand next week.
Angels outfielder
Vladimir Guerrero
can hit off a tee now. This is good progress, but he still is not throwing. The Angels have made it official that when he returns he will serve as the DH initially. That could happen within the next few weeks. Stay tuned.
And finally ...
Diamondbacks shortstop
Stephen Drew
could return either Tuesday or Wednesday from a hamstring strain. He played in rehab games the past two days and came out feeling OK. The slow progression appears to have worked, at least so far, and fantasy owners should plan on his being available very soon.