Stephania Bell:

Devin Hester
October, 15, 2009
10/15/09
2:20
PM ET
In my
Tuesday morning chat
, one happy participant eagerly wrote in to tell me he had no injury questions because his team was completely healthy. I felt the need to post his comment during our chat because I could not imagine there was such a fortunate fantasy owner to be found, and judging by the responses to his post, it seemed the guy was utterly and completely alone on an island when it came to his injury fortunes. Actually, make that a tropical fantasy football paradise. I regret to inform you, though, Haden in Memphis, that the injury storms are a-comin' and everyone, even you, is bound to feel the effects at some point.
This week's column then is for all the
other
fantasy owners out there who, like me, have been challenged by injuries somewhere on their roster(s), those of you wondering about your players' collective health and whether you need to find replacements. As has been the case the past two weeks, there are four teams on bye -- Indianapolis, San Francisco, Miami and Dallas -- so be sure to plan accordingly.
Here are some status updates as we look ahead to Week 6:
Quarterbacks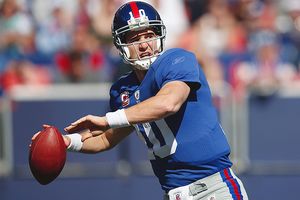 Jared Wickerham/Getty ImagesDon't be alarmed if Eli Manning is limited in practice.
Eli Manning, New York Giants:
The treatment Manning received heading into Week 5 paid off, as he was able to quell his plantar fasciitis pain and start for the Giants against the
Oakland Raiders
. His team helped him out by netting such a large lead over the Raiders that he was able to sit out the entire second half and avoid aggravating his heel. Manning said after the game that he felt good, and he hoped to practice each day this week.
Manning
has
shown up for practice this week, but the Giants are limiting his reps, no doubt in an effort to keep the symptoms at bay. Plantar fasciitis is not a condition that disappears quickly, and Manning might well continue a routine of limited activity during the week in order to prevent flare-ups and allow him to play Sundays. There will be a lingering concern that the pain could become exacerbated during a game, as it did in Week 4, when Manning suffered an acute setback and was forced to exit early. There is also the possibility that Manning will continue to proceed week to week without a similar episode. In fact, the longer Manning goes without a setback, the more optimistic the outlook is for an uneventful remainder of the season.
Since there are no guarantees when it comes to managing chronic conditions in an in-season athlete, fantasy owners will have to decide on a weekly basis whether the potential reward with Manning is worth some risk.
Matthew Stafford, Detroit Lions:
Although the Lions have not ventured into any specifics with regard to the injury Stafford suffered in Week 4, it was widely reported that he experienced a patellar subluxation, and a week ago I
outlined the nature of such an injury
.
Stafford was unable to practice all of last week and, as expected, did not suit up for Sunday's game. On Wednesday, Stafford participated in practice on a limited basis, according to the practice injury report, but there might be some warranted concern as to how his knee responded to even limited work, since Stafford did not practice Thursday. Coach Jim Schwartz has indicated that if Stafford is capable of playing (as in, capable of moving adequately enough to function effectively and avoid a pass rush), he will play. He will not be automatically rested in anticipation of the Week 7 bye. Nonetheless, a downward trend during the week, especially following a significant injury, is not a good sign.
Marc Bulger, St. Louis Rams:
Bulger did come off the bench Sunday and showed that his arm is recovering. He reported feeling no ill effects after the game and is back in practice and off the injury report. Bulger intends to start this Sunday when the Rams travel to Jacksonville. His backup,
Kyle Boller
, is on the injury practice report because of a concussion but did participate on a limited basis in practice Wednesday.
Matt Hasselbeck, Seattle Seahawks:
Hasselbeck had himself quite a day Sunday when he returned to the field with still-healing rib fractures. The good news is that Hasselbeck emerged relatively unscathed and was a full participant in Wednesday's practice. But the biggest health concern in Seattle (which also has the most potential for directly impacting Hasselbeck) is that of the offensive line. Due to a wave of injuries that has decimated the team up front, the Seahawks will be starting their fourth different line of the young season. They're hoping to get a few of their starters back in November following a bye week.
Running backs
Willie Parker, Pittsburgh Steelers:
The good news is Parker was back on the practice field this week for the first time since injuring his toe in Week 3. Parker was able to practice fully Wednesday, but the key here will be how his toe responds to the work. Parker indicated to the Pittsburgh Post-Gazette that he is wearing a custom shoe from Nike to accommodate his injured toe. In fact, Parker said that he has a custom pair of shoes so that they match and help him maintain even balance. It is important for an athlete to wear adaptive shoes in practice to adjust to them in advance of a game. The plates in the shoes help restrict motion at the forefoot; unfortunately, it is this very motion (particularly in the area of the painful toe) that allows an athlete to propel himself forward. A stiffer shoe requires that the player adapt to this new feeling as he pushes off. As they say, practice makes perfect. Parker expects to play this weekend, but how the workload will be divided between him and teammate
Rashard Mendenhall
is not yet clear.
Correll Buckhalter, Denver Broncos:
Buckhalter suffered a sprained left ankle in Week 4 and did not play in Week 5. He was back in practice Wednesday for the Broncos, and the Denver Post reports that he took handoffs and caught screen passes in the portion of practice open to the media. However,
Knowshon Moreno
, who started in place of the injured Buckhalter in Week 4, was taking the first-team reps. The team is not required to file a formal practice injury report on Wednesday since they do not play until Monday night, but it would appear the team is preparing to have both backs available. That said, it is likely that Buckhalter's ankle is still on the mend; remember, he was on crutches just more than a week ago after the injury originally occurred. We will update Buckhalter's status as the week progresses.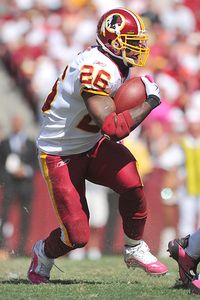 Larry French/Getty ImagesClinton Portis is being bothered by a calf injury, but he has proven durable in the past.
Clinton Portis, Washington Redskins:
Uh oh. Portis is again appearing on the practice injury report because of a calf ailment. Portis was limited Wednesday, and it's unclear whether this is related to his prior calf contusion. Portis hasn't missed a game yet, however, and it seems unlikely that that would happen this week, especially if he's able to participate in practice to some degree.
Mike Bell and Pierre Thomas, New Orleans Saints:
Bell, who has missed two games because of a sprained MCL, was a full participant in practice Wednesday and appears to be on track to play this week. He would be expected to handle short-yardage and goal-line situations, but really there is no way to project exactly how the Saints will divide up the workload.
Or is there? Bell's teammate Pierre Thomas, who was spectacular after Bell went out with his knee injury, has reappeared on the injury report, this time with a hamstring ailment that limited his activity Wednesday. Apparently this is an ongoing injury for Thomas, but we certainly haven't seen any evidence that it has affected his performance thus far.
As usual, we'll wait to see what happens in the latter part of the week to assess just how healthy these players are. This only adds to the torment of fantasy owners who are wondering how the running backs' workload will break down Sunday. Stay tuned.
Wide receivers
Calvin Johnson, Detroit Lions:
The right knee injury that forced Johnson out of the game early in Week 5 was deemed not significant by coach Jim Schwartz. But apparently it's significant enough for Johnson to have missed both Wednesday and Thursday practices. The Lions are unwilling to provide much in the way of specifics, but it's not too difficult to interpret lack of practice activity as a bad sign. Of note, the Detroit Free Press reported that the Lions signed wide receiver
John Standeford
earlier this week. Standeford was cut right before the start of the season but now has been brought back. You take your cues where you can get them. Fantasy owners should anticipate that Johnson might not be available Sunday.
Percy Harvin, Minnesota Vikings:
Here's a little surprise. Harvin apparently suffered a shoulder injury when he landed on it awkwardly during Sunday's win against the St. Louis Rams. Although no one is saying exactly what that injury is, Harvin did not practice Wednesday, and it is unclear whether his status for this Sunday against the hard-hitting
Baltimore Ravens
is in doubt. Fantasy owners know the drill. Check back later in the week for more updates.
Jerricho Cotchery, New York Jets:
Although Cotchery played Monday night, he was not his usual self. Cotchery, who strained a hamstring in practice last Thursday and did not practice again before Monday, felt better after going through pregame warm-ups. Once in the game, however, his hamstring reportedly began to get less comfortable. Cotchery ended up playing longer than anticipated because fellow wide receiver
Brad Smith
was forced out because of a foot injury. In fact, Cotchery told Newsday that he thought he "probably" suffered a setback with the hamstring. He did not practice Wednesday, and with a short week between contests, the outlook for Cotchery's availability in Week 6 is not great at this point.
Devin Hester, Chicago Bears:
Hester took advantage of Chicago's bye week to get some extra rest and treatment on his neck, and he says he's feeling good. Hester suffered a neck strain, according to the Chicago Sun-Times, although it was initially reported as a shoulder injury. A neck injury can certainly result in shoulder pain, so any confusion would be understandable. The important thing at this point is that Hester does not even appear on the injury practice report this week and should be ready to go when the Bears face Atlanta.
Be sure to check back on Saturday for post-Friday NFL injury report updates on all your fantasy players heading into the weekend.
See you at the injury chats (Tuesday 11:00 a.m.-noon, Friday 11 a.m.-noon and Sunday pregame 10:00-10:30 a.m.). And check out Fantasy Football Now on Sundays at ESPN.com from 11:30 a.m. to kickoff for last-minute inactives, rankings and more!
October, 20, 2008
10/20/08
2:41
PM ET
Tony Romo
didn't play. Neither did
Willie Parker
nor
Joseph Addai
. Their sideline status at least ensures they did not emerge from the Sunday contests any worse for wear. So who did get banged up during another round of NFL matchups?
Here's what we know as of our first look following Week 7: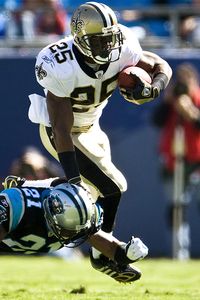 Paul Abell/US PresswireReggie Bush had finally been heating up before getting hurt Sunday and will miss at least next Sunday's game in London.
Reggie Bush, RB, New Orleans Saints:
Bush is trading in a trip to London for a trip to Birmingham, Ala., to pay a visit to Dr. James Andrews and to have his left knee examined. The Saints suspect the meniscus is the culprit, and if indeed Bush has a meniscus tear, it is reasonable to expect he will miss several weeks. According to ESPN news reports, Bush will undergo arthroscopic knee surgery Monday, after which more details will be known as to the extent of his injury.
The injury was to Bush's left knee, the same knee that was giving him trouble with swelling and soreness over the past week. It is also the same knee in which Bush injured his posterior cruciate ligament (PCL) last season. Bush spent the offseason getting healthy and appeared to be off to a great start in 2008, and it is not unusual for a knee with a history of ligament trauma to swell and be sore intermittently. This is especially the case in an athlete who puts continual stress and strain on that joint simply by virtue of doing his job. Is it possible Bush had some minor meniscus damage that was causing some of the swelling in his knee this week? Perhaps. But it is equally possible that this injury is completely new. Either way, Bush was clearly well enough to start Sunday and, up until this injury, was averaging nearly seven yards per carry on the day.
The latest setback occurred during a punt return late in the second quarter. After stepping out of bounds, Bush apparently pulled up a bit and appeared to be favoring his left leg. He did not return to the game after that play. We will await reports from the team to see what Bush's future holds, but expect him to be sidelined for approximately a month.
Jeremy Shockey, TE, New Orleans Saints:
More bad news for the Saints in the injury department. Shockey, just four weeks out from sports hernia surgery, returned to play this Sunday but had a setback. According to ESPN news reports, Shockey "did the splits" on the first play of the game against Carolina and felt pain in a spot in his leg "that wasn't there before." He expressed hope he had just affected scar tissue and that it was not more serious.
That setback, however, led Shockey to air some complaints related to his physical health. He expressed concerns that he had been misdiagnosed in camp, and that he may have returned too soon from surgery. "It's not a three-to-six-week recovery time," said Shockey. "It's really a five-to-seven-week." Shockey apparently was referring to
Philadelphia Eagles
wide receiver
Kevin Curtis
who underwent sports hernia surgery in August but who has not yet returned to the playing field.
Shockey is expected to undergo further examination to determine his status. It is worth noting that according to Pat Yasinskas of ESPN.com,
Shockey did make the trip with the team to London
. Yasinskas added that Shockey appeared to be in much better spirits and was moving well when spotted at the resort where the Saints are staying. Coach Sean Payton said he spoke with Shockey during the team's trip across the Atlantic and that he understood some of Shockey's frustration. He said Shockey is following the medical protocol laid out for him and they will just have to continue to monitor his activity and make sure there are no steps backwards. Payton sounds entirely reasonable in his description of the Shockey scenario, and it sounds as if Shockey may indeed be suiting up again this Sunday. Nonetheless, it will likely continue to be a controlled amount of time as he continues in his recovery process.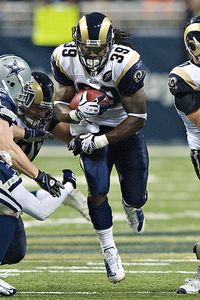 Scott Rovak/US PresswireSteven Jackson had a big game against the Cowboys, but will he be around to follow it up next week?
Steven Jackson, RB, St. Louis Rams:
Jackson had a phenomenal outing Sunday, racking up 160 yards and three touchdowns before leaving in the fourth quarter with a quadriceps injury. Jackson was expected to undergo an MRI on Monday. According to NFL.com, Jackson referred to the injury as "just a little bruise." Little bruises rarely warrant an MRI, though. Meanwhile, coach Jim Haslett was on ESPN's "First Take" on Monday and spoke as if he was making plans in the event Jackson might not be available this week. Stay tuned for updates.
Brodie Croyle, QB, Kansas City Chiefs:
Croyle returned after being sidelined for a month with a separated shoulder, only to leave with another injury that put a definitive end to his season. The Kansas City Star is reporting Croyle has a knee injury that will prevent him from returning to the field this year. Naturally,
Damon Huard
stepped in to replace him. By the fourth quarter,
Tyler Thigpen
had replaced Huard, who injured his throwing hand. No word yet on who will be starting under center for the Chiefs next week.
Other noteworthy injuries:
In Dallas, Romo remained on the sidelines with his broken pinkie, which was probably for the best. Unfortunately, the return of safety
Roy L. Williams
following forearm surgery was marred by a season-ending injury to the same area. Following the game, team owner Jerry Jones told reporters Williams broke his right forearm for the second time, ending his season. All is not well in Dallas.
Chicago Bears
star kick returner and wide receiver
Devin Hester
left the game in the third quarter with a strained quadriceps muscle. No word yet on the severity of the injury, but it can only help that the Bears have a bye next week.
Be sure to check back here throughout the week as we update these and other injuries. Also, stop by the injury chat (11 a.m. ET Tuesday and Friday) to discuss the status of your injured players. Hope to see you there!
September, 27, 2008
9/27/08
1:27
PM ET
First bye week, first major substitutions for fantasy owners whose top draft picks are resting. And then there are those pesky injuries that complicate matters. This week, the injury picture actually looks much clearer in terms of who will sit and who will start, with a couple of notable exceptions. But even when they start, the big question for fantasy owners is, will those semi-healthy players be productive?
Here's what we know as we head into the Week 4 contests:
Brian Westbrook, RB, Eagles:
The answer to the question, "Will he or won't he suit up Sunday night?" remains the same as it was Wednesday when we last discussed Westbrook's injury status. We don't know. What we
do
know is that through a complete week, Westbrook has not practiced because of his sore ankle. We also know that the game is Sunday night. And if past performance is an indication of projection, we know that Westbrook is entirely capable of showing up big in a game without practicing at all during the week. He's done it before.
That being said, his latest injury appears to be consistent with a high ankle sprain. Even in the mildest of cases, this is a tough injury to recover from and move effectively as a running back in just one week. Westbrook seems to know his body well and knows when he can and cannot push through something. I believe that when he is a game-time decision, as he will be this week, it truly will be a matter of him warming up pregame to assess how effective he can be before a decision is made. The problem for fantasy owners is the timing of the game. Unless
Correll Buckhalter
, who will start in Westbrook's place if he cannot go, is on your bench, you may not have the luxury of waiting. At this point, his questionable designation, which literally is intended to translate to an athlete having a 50-50 chance of playing, appears right on point.
Brett Favre, QB, Jets:
Although Favre appeared noticeably hobbled by his ankle early in the week, per ESPN reports he seemed to move better in practice each day. Most importantly, he did, in fact, practice every day, albeit on a limited basis. He is listed as questionable, but there seems to be no danger of his consecutive start streak being broken. Favre has played with injuries far more serious than this. Nonetheless, he is a quarterback who makes plays with his feet. Stiffness and pain in the ankle could hamper his mobility and render him less effective in that area of his game. Expect him to play, but know that he may have to unload the ball more quickly if he can't escape the rush as easily.
Carson Palmer, QB, Bengals:
Palmer was a late addition to the injury reports this week, showing up Friday as limited in practice with soreness in his right (throwing) elbow. Coach Marvin Lewis pointed out that Palmer had been hit "quite a bit" in last week's matchup against the
New York Giants
, but in reality he has been getting hit quite a bit all season. The evidence? A broken nose in the preseason, a sprained ankle in Week 2, and now an elbow ailment.
But Palmer, according to the Bengals' official Web site, seemed to attribute his elbow issues to overuse. It is worth noting that soreness that typically occurs at the elbow associated with overuse is related to the muscles that control grip. Wide grip, such as is necessary to grip a football, is particularly taxing. If indeed this is an overuse issue, it could potentially hang around for a while, as in weeks. A mild case may not be of much concern, but if it continues to become aggravated as Palmer plays, it could be a bigger concern down the line.
Both Lewis and Palmer have suggested that the rest Friday means he will be ready to go Sunday, despite the questionable tag next to his name. If the elbow is still sore, it could affect his grip on the ball and his ability to throw hard. It will be interesting to see how he fares during the game and how his elbow responds afterward. At the moment, it does not appear that it will limit him terribly this Sunday, but it wouldn't hurt for him to get some better protection. I'm sure he wouldn't disagree.
LaDainian Tomlinson, RB, Chargers:
Tomlinson's performance Monday night was a welcome sight for Chargers fans and his fantasy owners. Although he is not 100 percent recovered from the injury to his big toe, LT certainly showed familiar sparks, especially when driving straight ahead. Cutting is still somewhat problematic, which is to be expected with this type of injury.
Tomlinson was able to practice more this week, also a good sign that his toe is improving. He is listed as probable and is expected to play. Tomlinson has enjoyed great success against the Raiders in the past and no doubt intends to try to maintain that trend.
Willis McGahee, RB, Ravens:
Finally, McGahee gets into the game to contribute, and we can breathe easier that he is past the recovery mode for his recent knee scope. Except then he gets poked in the eye. In fact, McGahee suffered enough of a cut on his eyelid that it caused a fair amount of swelling around his eye. He was limited in practice Wednesday and Thursday because he was literally having difficulty seeing becuase of the swelling. Coach John Harbaugh told the Baltimore Sun that he would play Monday night "as long as he could see." Things seem to be going in the right direction, since McGahee was a full participant in Friday's practice. With a couple more days to further treat the eyelid, McGahee, listed as probable, should be good to go. Keep in mind that the running back committee of McGahee, Le'Ron McClain (also listed as probable on the injury report because of his ankle and back) and
Ray Rice
will likely be in play.
Adrian Peterson and Chester Taylor, RB, Vikings:
Peterson was limited in Week 3 by a hamstring strain sustained in Week 2. The best news coming out of last week's game was that Peterson said his hamstring felt good. Peterson was restricted in practice throughout the week, which makes good sense with a still-recovering muscle strain. Another week removed from injury means another week closer to healing, especially given that there appear to have been no setbacks. Although he is listed as questionable, expect Peterson to play.
Peterson's teammate Taylor has been added to the injury report because of his foot. Although specifics have been hard to come by, Taylor, too, was limited in practice. With his injury being more recent and Peterson on the upswing, expect Taylor, also listed as questionable, to play but Peterson is likely to resume the primary role.
Sidney Rice, WR, Vikings:
Rice sprained his knee (posterior cruciate ligament or PCL) in Week 2 and sat out Week 3 as a result. He remained limited in practice this week and is listed as questionable. Rice hopes to get in the game, but with a PCL injury, he has some instability in the knee. The key for him is whether he has adequate muscular strength to compensate for the stability deficit so that he can run, jump and land effectively enough to play the position and not risk further injury. He is also likely to be a game-time decision but could see some action.
Darren McFadden, RB, Raiders:
McFadden played in Week 3 despite suffering a turf toe injury the week before. He was not at his best, and appeared to have trouble with his footing on the turf. Whether that was attributable to his toe at all is uncertain, but he did wear a stiffer shoe to help support the toe, which does alter the ability to push off.
This week, McFadden was rested on Wednesday, then returned to practice on a limited basis Thursday; he is still not fully healed. But
Justin Fargas
is out with his still-healing groin injury (look for him to potentially return following the Raiders' Week 5 bye) and McFadden is again expected to start, despite the questionable designation.
Michael Bush
will no doubt get some work to spell McFadden, and given that he is not at full health, there is risk that McFadden exits early. Nonetheless, he is lined up to get the bulk of the work as of now.
Devin Hester, WR, Bears:
Hester is still experiencing enough pain to significantly restrict his practice activity. Hester, who sat out last week's game with torn cartilage in his ribs, does not appear ready to go just yet. He is listed as questionable for this week's game against the Eagles, but the relevance of his position cannot be underestimated. Yes, he is seeing time at wide receiver. But his most important role is as a kick returner and, as such, he is the target of an entire squad whose sole goal is to hit him and bring him down. He knows he will have to absorb impact and potentially a lot of it. His chances for playing do not appear great at this point, but he will be a game-time decision.
Ben Roethlisberger, QB, Steelers:
Despite an injured hand at the end of last week's contest and a shoulder sprain the week before that, Roethlisberger has practiced all week and is off the injury report. Ah, the allure of Monday Night Football at home when you're a Steeler.
Braylon Edwards, WR, Browns:
Edwards was limited early in the week in practice with a shoulder injury, but was able to practice fully on Friday and is listed as probable for Sunday. Edwards played last week despite a listing as questionable, so his status has only improved. He did not do much last week, but he did catch the balls thrown his way, which was an improvement over the first two weeks. The Browns are likely to throw more his way this week, so expect his performance to go up again Sunday.
LenDale White, RB, Titans:
White made an early exit from practice Thursday with what the Titans called a shoulder problem, but it did not appear serious at the time. That appeared to be confirmed by the fact that White was a full participant in Friday's practice. He is listed as probable and is expected to play Sunday. White's physical style of running is likely to make him susceptible to bumps and bruises along the way. He showed last year that he could play through some discomfort, so this episode is not of great concern.
Ryan Grant, RB, Packers:
Grant's hamstring has been the source of much concern for Packer fans and Grant's fantasy owners. His condition has steadily improved and this week he is off the injury report. Expect Grant to start Sunday. His hamstring should not hold him back, but the Tampa Bay defense might.
And a couple of IDP updates
Charles Woodson, CB, Packers:
Despite the toe injury, he is performing and will continue to do so. He is listed as probable and is expected to play.
Tommie Harris, DT, Bears:
Ongoing problems with his knee are the challenge for Harris. He is listed as questionable after not practicing at all this week. Very questionable indeed.
Out
This is a list of key fantasy players, not including those who have been moved to injured reserve status, who are officially listed as additions to the "Out" listing for Week 4.
Joey Galloway, WR, Buccaneers:
Same story as last week: foot injury and 37 years old now. Bad combination. Galloway did not practice at all this week, so this is looking as if it could last a while.
Roscoe Parrish, WR, Bills:
Parrish is expected to miss 4-6 weeks with a thumb injury, a la
Marques Colston
. Better replace him on your roster.
Justin Fargas, RB, Raiders:
The groin injury that caused him to miss last week forces him to sit again. Look for him to possibly return in Week 6 after the Raiders' bye week. Meanwhile, McFadden and Bush pick up the load in Oakland.
Jeremy Shockey, TE, Saints:
Shockey had surgery this week to repair a sports hernia. Reports of his timetable vary widely, but based on the average recovery time for this procedure, plan on at least a four-week absence.
Jason Taylor, DE, Redskins:
Taylor took a blow to the leg and had to undergo a procedure to drain the resulting blood and relieve the pressure on the nerves and blood vessels to his foot. Sounds bad, but the procedure is not complicated. The important thing is getting to it in time. Thankfully, that was the case for Taylor, but it will take him some time to recover. If he's on your IDP list, seek out a replacement.
Willie Parker, RB, Steelers:
We have not been given the specifics of the injury that is forcing Parker to the sidelines, but when a coach says a player is "week-to-week" as Mike Tomlin did in his news conference this week, it does not sound good. Best to ensure that you have a 2-4 week replacement.
Be sure to check out our site Sunday for pregame chats and Fantasy Football Now at 12 p.m. ET. Good luck in Week 4!
September, 20, 2008
9/20/08
4:44
PM ET
Talk about injury-themed trends. I'm not sure if it's a big-toe-injury trend. (
LaDainian Tomlinson
,
Antonio Gates
,
Darren McFadden
and
Bernard Berrian
are all dealing with these). Or maybe it's the I-drafted-him-as-my-top-running-back-but-he's-hurt trend. (Again LT makes the list, along with
Adrian Peterson
,
Willis McGahee
and
Laurence Maroney
.) Maybe it's the No. 1 and No. 2 guys-may-not-go trend if you own
Justin Fargas
and McFadden or Maroney and
LaMont Jordan
(or in the case of Seattle's wide receivers, the Nos. 1-5 and counting ... Can you believe that newly signed
Koren Robinson
is already on the injury report because of soreness in his knee?). Wherever you want to find a trend this year that links fantasy football and injuries, you can create one.
LaDainain Tomlinson, RB, San Diego Chargers:
Tomlinson remains a game-time decision. The question appears to be not so much whether he will, in fact, play but rather how much he will be able to contribute. Once again this week, Tomlinson did not practice Wednesday or Thursday and then returned on a limited basis Friday. He does get the extra day of rest with the game on Monday night, but even then he will not be 100 percent.
This is one of the toughest calls of the week for fantasy owners who watched LT get tended to on the sidelines during the second half after contributing very little in the first half. He has a very positive attitude and clearly wants to be out on the field as much as he can, but it takes more than an upbeat tone to heal an injured big toe. He will likely play, but not at full strength, and the degree to which he is utilized will ultimately come down to how he feels as the game progresses.
Adrian Peterson, RB, Minnesota Vikings:
This is the second-toughest call of the week for fantasy owners. Peterson is listed as questionable and will be a game-time decision. Working in the favor of fantasy owners is the fact that AP plays at 1 p.m. Heading into Sunday, Peterson's odds don't look so good. Peterson practiced on a limited basis Wednesday but then did not practice Thursday. He did some limited work Friday, but according to ESPN's John Clayton, was not able to do much and spent most of his time in the training room.
Peterson has an ailing hamstring, never good for running backs because they depend on their hamstrings not only for speed and explosiveness but for strength when trying to power through a line of would-be tacklers. Peterson's description of tightness and soreness that he has experienced throughout the week raises enough concern to consider resting him this weekend. The team will determine his status based upon how the leg feels during warm-ups, but bear in mind that he will not be at full tilt, even if he does start.
Chester Taylor
is likely to see some increased carries as a result.
Darren McFadden, RB, Oakland Raiders:
Run DMC, as he is called, is listed as probable and is expected to get the start with an ailing Fargas (doubtful with a groin injury that could sideline him for a few weeks) not likely to play. McFadden played well in Week 2 after Fargas' departure, but injured his big toe, the NFL ailment du jour, late in the game.
He sat out practice Wednesday, trading in his cleats for a walking boot to minimize motion at the great toe. McFadden returned to practice Thursday and, according to Jason Jones of the Sacramento Bee, was able to take about 70 percent of his normal reps. McFadden complained of feeling flat-footed when he was outfitted with a steel plate to reinforce the cleat. The plate helps decrease stress on the big toe by limiting the flexibility of the shoe, but by doing that very thing, does not allow the runner to push off normally, hence the flat-footed feeling. McFadden also indicated the toe was sore, but seemed to adapt as practice went on. On the encouraging side, he was a full participant in Friday's practice, and that, along with his probable status, makes him a likely start. A word of caution to fantasy owners: He will not be at 100 percent strength or speed, and may yield some opportunities to
Michael Bush
, especially as the game progresses if the soreness in the toe becomes limiting.
Devin Hester, WR, Chicago Bears:
No matter what you want to call Hester's injury -- torn cartilage, bruised ribs -- the bottom line is that it is a painful one that has kept him out of practice all week and will no doubt limit him greatly if he does play Sunday. In fact, I will be surprised if he is active given how uncomfortable and limited he has been thus far.
Vaughn McClure of the Chicago Tribune reported that Hester originally described his injury as torn cartilage, only to later refer to it as "bruised ribs." Originally Hester injured himself Sunday when maneuvering to get out of bounds. The injury was not a result of contact, but apparently the result of Hester trying to extend his body to avoid contact. McClure also reported that Hester heard a "pop," which is typical when the cartilage separates from the bone. In addition to cartilage, there are numerous small muscles that attach between, over and across the ribs that contribute to rib and trunk motion, all of which can bleed in the event of an injury, adding to pain and swelling in the area. Hester's difficulty breathing for the first few days post-injury is very typical of any rib problem, because anything that causes movement, including breathing, stresses the injured area while it is trying to heal. Fast running, something Hester is noted for, means harder breathing, which translates to increased pain. Reaching, twisting, and, oh yes, taking hits from large humans running at full speed in your direction, can all compound the problem. Another week of rest can go a long way toward full recuperation. Hester may very well be watching from the sidelines this week.
Ben Roethlisberger, QB, Steelers:
An AC sprain, a separated shoulder and a sore shoulder all mean the same thing when it comes to Roethlisberger: no big deal. He showed that he could play through the pain in Week 2. As long as he spends more time upright than landing on that shoulder, Roethlisberger, currently listed as probable, should start and perform without much problem.
Dallas Clark, TE, Indianapolis Colts:
What a difference a week makes. Clark, who sat out last week with a sprained knee, returned to full practice this week and was not even on Friday's injury report. He is expected to start and contribute this week. Complementing the offense will be the addition of
Jeff Saturday
, who returns several weeks early from an MCL sprain. Saturday has had more than a week of solid practice and is looking forward to his return. Guess what, Jeff? So is
Peyton Manning
.
Ryan Grant, RB, Green Bay Packers:
This is why teams worry about hamstring injuries: they linger. Grant has been well managed by the Packers and has been able to play, but his limited performance this past week reflects the challenges presented by trying to push through these injuries. Grant, listed as probable, is expected to play again this week, and he was able to fully practice Friday despite being limited earlier in the week. But he's not yet 100 percent, so be guardedly optimistic.
Reggie Brown, WR, Philadelphia Eagles:
Brown has been upgraded to probable this week and is likely to see his first action of the season. He may not start and may be used only in specific situations, according to Clayton. Might be best to watch him from a distance to see how he performs his first week back.
Justin Gage, WR, Tennessee Titans:
It's not looking so good for Gage. He suffered a groin injury Sunday and was not really able to practice all week. Friday he performed only straight-line running, and with the groin or adductor muscles being so critical for directional changes, this suggests that he is still hurting. He is listed as questionable and will be a game-time decision, but don't be surprised if Gage sits this one out.
Laurence Maroney, RB, New England Patriots:
Do you really think we have been given any hint as to what the problem is with Maroney's shoulder? Of course not, as per the Patriots' standard veil of secrecy. But we do know that he did not practice Wednesday or Thursday, although he was able to do some limited work Friday. With teammate Jordan listed as doubtful with a foot injury and Maroney's status questionable, expect
Sammy Morris
to see some more work, as might
Kevin Faulk
. Of note, tight end
Benjamin Watson
may also see his first action of the year Sunday.
Braylon Edwards, WR, Cleveland Browns:
This sort of snuck up on us. Edwards was limited all week in practice with a shoulder injury and is listed as questionable for Sunday. Clayton says there is a good chance he will still play, but it's unclear how much Edwards will look like himself this week. Teammate
Jamal Lewis
was limited all week with an ankle injury also, but his probable status is far more encouraging.
And a couple of IDP tidbits ...
Charles Woodson, CB, Green Bay Packers:
The toe that was bothering him last week appears to be improving. He is listed as probable and is expected to play.
Antonio Cromartie, CB, San Diego Chargers:
The hip is better and so is his attitude. There will be less pain and hopefully fewer penalties.
Out:
This is a list of key fantasy players, not including those who have been moved to Injured Reserve status, who are officially listed as "out" for Week 2.
Bob Sanders, CB, Indianapolis Colts:
The punishment he inflicts on others makes itself felt on his body. Sanders has a high ankle sprain that will keep him out for four to six weeks and he may take advantage of the time to get his knee scoped as well. Bummer.
Joey Galloway, WR, Tampa Bay Buccaneers:
A foot injury. He's 37 this year. Bad combination.
Be sure to check out our site Sunday for pregame chats and "Fantasy Football Now" at noon ET. Good luck in Week 3!
September, 17, 2008
9/17/08
12:48
PM ET
Ahhhhhhh, the semantics of medicine. Sometimes just the slightest difference in terminology represents two entirely different medical conditions and can spark all sorts of intrigue when it comes to player injury reports. For instance, a shoulder can separate or dislocate, and those injuries are not interchangeable. They are injuries to different joints. A separation refers to an injury at the acromioclavicular (AC) joint (where the point of the shoulder, the acromion, meets the collarbone, or clavicle). A dislocation refers to an episode in which the humerus (arm bone) becomes displaced from the glenoid (the hollow spot on the shoulder blade where the humerus normally sits), meaning the injury happens at the glenohumeral joint. Both joints are in the shoulder region, so it is easy to see where the confusion lies. Nonetheless, if accuracy counts, the terms should be properly applied. To make matters worse, the humerus can slip partially off the glenoid without completely dislocating, which is termed a subluxation. This is the injury
Chad Johnson
recently suffered. A subluxation can result in tissue trauma (Johnson has a torn labrum) and pain, but an athlete often can return to play relatively quickly. A true dislocation, especially a first time incident, usually is more painful and often requires a longer recovery.
But wait, it gets even
more
complicated. In the case of an injury to the AC joint, when is it a shoulder separation versus a sprain? A sprain refers to any injury to a ligament. The AC joint is bound together by various ligaments. Damage, even if minor, to any of those ligaments therefore is a sprain, just as damage to any ankle, knee or elbow ligament is a sprain.
Any injury to the AC joint also can be called a separation. However, there are varying degrees of ligament injury in any joint, and in the case of the AC joint, there can be as many as six. Usually, the term separation comes into play when the ligaments are damaged enough that the clavicle and the acromion move apart, hence the term "separate." The most minor of shoulder separations, or AC sprains, is an injury an athlete can play through, although it is painful. Just ask
Ben Roethlisberger
, who proved that Sunday night. The more significant separations can require surgery. Just ask
Alex Smith
.
At the end of the day, terminology can be used to either downplay or dramatize the seriousness of an athlete's injury. It's just one more reason injury reports have to be examined in the context of how the athlete is able to perform in practice and on the field. And with that, we take a look at what we know headed into Week 3.
[+] Enlarge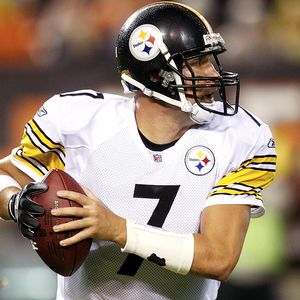 Gregory Shamus/Getty ImagesRoethlisberger played in a lot of pain, but he did play in Week 2.
Ben Roethlisberger, QB, Pittsburgh Steelers:
Well, the introduction here was written just for Roethlisberger. All week leading up to Sunday's contest, Roethlisberger's injury had been described by the team as a "sore shoulder." I have no doubt his shoulder was sore. He did not practice Wednesday and did just a little work Thursday but was able to fully practice Friday and was predicted to play, despite the soreness, Sunday. That is exactly what we saw. Whether his injury was called a sore shoulder, an AC sprain or a mild separation, the results were the same. We knew he would be uncomfortable (and it was apparent every time he hit the ground), but based on past performance, we expected him to fight through it. And he did. In the end, the Pittsburgh Post-Gazette reports coach Mike Tomlin told reporters this week that Roethlisberger has "an AC sprain," adding, "It's a sore shoulder." That should clear it up.
Expect more of the same for Roethlisberger this week. Limitations in practice, game Sunday. And as Tomlin told the Post-Gazette, "Thankfully with Ben, he's a pretty quick study and a sharp guy. ... It doesn't take him a great number of reps to be ready to play." Fantasy owners should feel fairly confident heading into Sunday's contest.
LaDainian Tomlinson, RB, San Diego Chargers:
Tomlinson continues to feel confident that his toe is improving and he will see more action this week, according to reports in The San Diego Union-Tribune. He will benefit from an extra day of rest since the team plays Monday night, hosting the Jets. Tomlinson says he will get extra treatment, which, along with the extra rest, will allow him to "have some more carries and do pretty much what I have always been able to do."
Cautious optimism is advised for fantasy owners, but patience, too. Tomlinson has been so outstanding in the past that when he starts off this limited, there is a sense of panic. There is reason to be concerned about the status of his toe, but it might well be that another week of rest and treatment will allow him to move forward enough to be productive. Secure a backup just in case, but plan on Tomlinson starting for you this week.
Devin Hester, WR/Return Specialist, Chicago Bears:
Hester's exact rib condition remains a mystery, as no information has been released by the team following Hester's MRI. His status for Sunday against Tampa Bay is uncertain, but there are some details around the injury that are slowly emerging.
Vaughn McClure of the Chicago Tribune reports Hester's MRI was delayed due to bleeding in the injured area. Any inflammation or bleeding has the potential to cloud the picture, so waiting makes sense. It also suggests the injury is to soft tissue, such as muscle, which has a good blood supply and consequently bleeds when injured. Furthermore, McClure adds that the injury was apparently non-contact related, that in fact, Hester "took a hard, extended step to avoid contact [with
Carolina Panthers
linebacker
Dan Connor
], then grabbed his left side." This also suggests the injury is likely muscular in nature. It is hard to fracture a rib in the absence of hard contact.
The fact that Hester was so uncomfortable he had to be carted from the field suggested the injury was more serious. Any injury to the rib cage or abdominal wall is notoriously uncomfortable for an athlete. Forget stretching for a catch, twisting or even leaping; it hurts just to breathe. And those are all non-contact events. Imagine how much the pain is magnified when a player absorbs a hit.
Keep an eye on Hester's practice activity, but he might very well be limited all week. Even if he is cleared to play, he might require some additional protection and likely will not be at 100 percent. Stay tuned, as more information should emerge throughout the week.
[+] Enlarge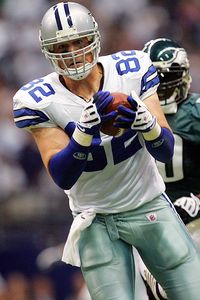 Ronald Martinez/Getty ImagesThe wonder that is meds and adrenaline helped Witten Monday night, but this week is a little less clear.
Jason Witten, TE, Dallas Cowboys:
Here we go again. Separated? Sprained? Reports of both have emerged with regard to the injury Witten suffered in the first half of Monday night's game against Philadelphia. The Fort Worth Star-Telegram reports Witten suffered a separated shoulder when he landed shoulder first on turf during his first catch. He then ran into the locker room, received a pain-killing injection and returned to produce some fine catches that help set the Cowboys up for a score. Coach Wade Phillips referred to Witten's injury as a shoulder sprain Tuesday. As we pointed out above, both can be correct.
As The Dallas Morning News points out, perhaps even more impressive than Witten's return to the field to catch the ball was his persistent blocking effort, despite the painful shoulder. However, keep in mind that Witten had a healthy dose of adrenaline and pain medicine to allow him to persevere Monday night. He no doubt will be more aware of his shoulder over the next few days, and the team likely will protect him in practice. The Cowboys have indicated Witten will play against the Packers this week. Given that he was able to return to the game in which he was injured, this seems very reasonable. Barring a setback, Witten should continue to be a productive fantasy tight end.
Darren McFadden, RB, Oakland Raiders:
McFadden was such a presence Sunday that his slightly early exit due to a toe problem might have gone unnoticed. But we already have seen how much toe problems can limit a running back, so worry is not unwarranted.
The San Francisco Chronicle referred to McFadden's injury as a case of turf toe, and the Sacramento Bee is reporting McFadden might be held out of practice Wednesday as a result. Although any case of turf toe is something to watch, there is no reason to panic yet. With
Justin Fargas
expected out with a groin injury (no MRI results yet), McFadden will carry a bigger load, and the team likely would opt to rest him midweek if there was any reason for concern. Nonetheless,
Michael Bush
might get into the mix, definitely more so if McFadden has to be limited. Fantasy owners might want to go and get him.
It's not too late! Leagues are forming and drafting until Sep. 20, with scoring retroactive to Week 1.
Sign Up Today!
Ryan Grant, RB, Green Bay Packers:
Grant's recovering hamstring is not a surprise, but it does have fantasy owners wondering what to expect from week to week. Coach Mike McCarthy's comments have not exactly inspired confidence that Grant is fully ready to perform just yet. He attributed Grant's limitations Sunday to a lack of looks in practice as opposed to discomfort in the hamstring itself at game time, but they certainly are tied. If the hamstring is still bothersome, Grant cannot practice at full speed. Given that, McCarthy suggested the team would set a practice plan for this week based on feedback from the medical staff, adding, "If we need to sit him down, we'll sit him down." Watch for Friday updates, but Grant still could be a bit removed from performing at full strength.
Michael Turner, RB, Atlanta Falcons:
Turner raised some eyebrows with news of a right ankle injury, but according to the Atlanta Journal Constitution, Turner indicates it's not serious. "Just a little sore. Nothing major." Garden-variety ankle sprains are not uncommon and, if mild, do not present a big threat to running backs. It will be worth watching how much action Turner sees in practice this week to see whether he is limited, but all indications are that the team expects him on the field Sunday.
Joey Galloway, WR, Tampa Bay Buccaneers:
It was so exciting to know Galloway was active for Week 1 following a long summer with a groin injury. Unfortunately, he is back on the injury report, this time with a foot problem, and his status for Sunday is far less clear. Galloway left Sunday's game in the fourth quarter, and according to the St. Petersburg Times, the team is referring to his injury as a foot sprain. Galloway was on crutches Monday, and coach Jon Gruden's quote said it all: "At this point, there is some concern."
Galloway is expected to be evaluated further this week, but fantasy owners should be planning on a replacement at this point. Foot injuries, even mild ones, tend to be a bit slower to heal. For a position that requires jumping and landing, which translates to increased stress across the arches of the foot, it is hard to perform at full tilt in the event of such an injury. Stay tuned.
Go hit the waiver wires if your team needs some injury support. If you check out our fantasy pages, you'll find our experts' player rankings and all sorts of good tips on solid acquisitions flying under the radar. I'll see you Friday at chat time (11 a.m. ET), and I'll update the blog after the practice week and injury reports (Saturday morning). Thanks for reading!
September, 15, 2008
9/15/08
2:39
PM ET
LaDainian Tomlinson, RB, San Diego Chargers:
Tomlinson's injury is not new, but the fact that he was so limited Sunday puts him at the top of the injury watch list for fantasy owners worldwide. We knew going into Sunday's game that Tomlinson had jammed his big toe the week prior, and that he did not practice at all Wednesday or Thursday. Tomlinson did practice fully on Friday however and proclaimed himself ready to go, acknowledging that the toe was sore.
The importance of the big toe should never be underestimated. Every single push-off, pivot, cut and jump requires full weight advancement over the big toe and when you add in contact, the forces on the toe increase. Tomlinson was sitting on the sidelines for most of the second half, returning for just a few plays. After the game, he admitted that the toe swelled a bit according to The San Diego Union-Tribune, and that he is having more trouble with directional running than straight-ahead movement. Tomlinson added that he did not feel any worse than he did following Week 1, when he originally sustained the injury. He claims that this shows the toe is healing. I'm not so sure I would take the same position. Perhaps the toe did not get any worse, but Tomlinson didn't play a full game, so the toe wasn't subjected to a full workload, and, in fact, he was forced to sit.
Expect another week like this one. Tomlinson will no doubt be limited in practice, if he practices at all, but will likely play on Monday, to his tolerance. Clearly it is more challenging to heal while continuing to play, but as long as Tomlinson can contribute at some level without the overall condition worsening, that will be the plan. We will keep an eye on his activity this week to see if there are any further clues, but it may come down to a game-time roster decision for fantasy owners again.
Devin Hester, WR/Return Specialist, Chicago Bears:
Hester exited Sunday's game against the Panthers in the third quarter holding his side, a telltale sign that his ribs were the problem area. Hester was forced out of bounds during a kick return by Panthers linebacker
Dan Connor
and came up obviously uncomfortable. The injury appeared more serious when Hester was carted from the field to the locker room, suggesting that he was too impaired to walk the distance.
No information was made immediately available after the game regarding Hester's status, but the Chicago Tribune is reporting Hester's condition as bruised ribs. Hester is scheduled for an MRI Monday.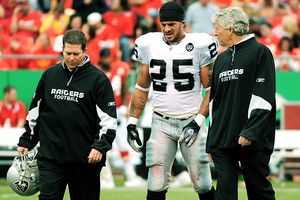 Kenny Felt/Icon SMIJustin Fargas had to leave Sunday's game with an apparent groin injury.
Justin Fargas, RB, Oakland Raiders:
Fargas was injured halfway through the second quarter with what is being called a groin injury. According to Associated Press reports, Fargas initially pulled up while running a pass route, then went to the ground holding his inner thigh and appeared to be in a great deal of pain. He was able to limp off the field but did not return.
Obviously groin injuries can be problematic for running backs. Last season both
Steven Jackson
and
Laurence Maroney
missed multiple weeks as a result of similar issues. In the meantime,
Darren McFadden
certainly had an opportunity to showcase his talent. Fargas fantasy owners can't get McFadden at this stage, but should definitely be on the lookout for a running back replacement for next week, and possibly beyond if McFadden shows he can carry the load.
Laurence Maroney, RB, New England Patriots:
Speaking of Maroney, he went out in the first half with an apparent shoulder injury. Naturally, there is nothing definitive to report from the Patriots, but we can't be too concerned since Maroney returned to the field near the end of the fourth quarter.
LaMont Jordan
, formerly of the aforementioned Oakland Raiders, resurfaced in New England when Maroney exited. Jordan and Morris shared the bulk of the remaining work (with Jordan getting more yards and Morris getting a score), something worth keeping in mind if Maroney is going to be limited in any way going forward.
Damon Huard, QB, Kansas City Chiefs:
Last week,
Brodie Croyle
occupied this spot. Now he has passed the injury baton to Damon Huard. Hello
Tyler Thigpen
.
Huard was forced out of the game following a sack with what the team has referred to as mild head trauma. The Kansas City Star reports that Huard indicated it was his neck that was affected, while coach Herm Edwards said Huard was dizzy. In reality, an injury to the head and/or neck could result in any or all of those symptoms. How long it takes for Huard's symptoms to clear is anyone's guess, and he will likely be evaluated on a day-to-day basis. Croyle meanwhile is recovering from a separated shoulder which typically requires several weeks before an athlete can throw effectively. It may be Thigpen under center next week.
Sidney Rice, WR, Minnesota Vikings:
As everyone knows by now, when an athlete is referencing his recently injured knee and says he heard a "pop," it is not a good combination. Unfortunately for Rice and his fantasy owners, that is exactly what happened. Rice injured his right knee when he landed awkwardly, according to the Minneapolis Star-Tribune. "I came back in the third quarter and tried to make a move," Rice said. "My whole knee was just popping."
The fact that he could attempt to make a play, as opposed to being carted off the field, is of some consolation. But the possibilities are too numerous to speculate about, and so we wait along with the Vikings for the results of Rice's MRI, scheduled for Monday. If he's on your roster, don't wait for the results to start looking for replacement possibilities as it does not sound promising for Week 3.
It's not too late! Leagues are forming and drafting until Sep. 20, with scoring retroactive to Week 1.
Sign Up Today!
Logan Payne, WR, Seattle Seahawks:
At this point, you have to be nervous about even trying out for a position as a receiver with the Seahawks. Payne had his chance, and now he will spend the remainder of the season wondering if his last name could have been any more foreboding. The Tacoma News-Tribune reports that Payne ended up tearing a ligament in his knee, although the team has not specified which one. Does it even matter? He is done for the season.
Even
Seneca Wallace
, who is on the roster as a quarterback but planned to fill in as a wide receiver Sunday, ended up on the injury report. Wallace reportedly strained his calf during pregame warm-ups and the News-Tribune indicated that this impacted the Seahawks as Wallace had been slated to be a significant part of the game plan against the 49ers. Oops. That makes more injured receivers for the Seahawks this year than you can count on one hand. Anyone want to go to Seattle for tryouts this week? Anyone?