Stephania Bell:

Dominic Rhodes
December, 27, 2008
12/27/08
1:32
PM ET
By
Stephania Bell, ESPN.com
| ESPN.com
If you're still in the hunt, there's no doubt that this is THE week for you. Make or break. Do or die. Sink or swim. Fortunately for those of you still playing, most NFL teams have more at stake than the
Indianapolis Colts
, so at least some starters are worth starting. But not everyone will see a full four quarters of action. Teams are still exercising caution when it comes to injured players, and so should you. Here's how things are shaping up for the week to end all fantasy weeks, Week 17.
Marion Barber, RB, Cowboys:
If Barber is one of your fantasy players, you know the drill by now. Yes, this is a must-win game for the Cowboys. But no, Barber did not do anything exceptional in practice this week to give any more confidence that he is approaching full strength. Barber was still a limited participant throughout the week and is listed as questionable. The Dallas Morning News reports that Barber actually split some reps with
Tashard Choice
when practicing with the first team. This is a sign of progress. Don't let that fool you, though. Coach Wade Phillips has been hinting throughout the week that Barber is clearly not at full speed and has been wondering aloud whether resting him earlier would have had him healthier sooner. The effect of Barber's still-ailing foot is undeniable; he simply has not been able to push off and cut in his normal fashion. He will be a game-time decision again this week, and will likely be in uniform, just as he has been the past couple of weeks. Choice, however, will continue to carry the bulk of the running game, whereas Barber, if he plays, likely will provide only a limited contribution.
Brandon Jacobs, RB, Giants:
Sure, coach Tom Coughlin wants his starters to stay in the rhythm of the game. He certainly does not favor rhythm over long-term availability, though, and in the interest of ensuring that Jacobs does not take a step backward with his knee, he will protect him. Jacobs is listed as questionable, but he did not participate in Friday's practice and looks as if he will see extremely limited time, if any, on Sunday.
Derrick Ward
will probably see the majority of the action in the run game for the Giants this weekend.
Kevin Boss, TE, Giants:
Boss has shaped up to be a decent fantasy tight end option, but don't count on him this week. He is nursing not one but two injuries -- an ankle sprain and a concussion -- and he is listed as doubtful after missing practice all week. Expect the Giants to allow him to sit this one out, as you should on your fantasy team.
Frank Gore, RB, 49ers:
Gore has missed the past two weeks of your fantasy playoffs with his sprained ankle. This week he is listed as probable, which, as everyone knows by now, means "virtually certain to play." So you're excited if you're a Gore fantasy owner, right? Well, not so fast. Despite the encouraging status upgrade, Gore has been able to practice only on a limited basis, and according to Matt Maiocco of the Santa Rosa Press Democrat, Gore's status remains a game-time decision. Maiocco reports that 49ers coach Mike Singletary says he does not want Gore to play if he is not fully healthy, because he does not want Gore to risk reinjury. In fact, Singletary suggests that the fact Gore is near the 1,000-yard mark for the season will not be a factor. Singletary has already proved himself to be a great motivator, and while I do believe he doesn't want a gimpy Gore on the field Sunday, he also knows how much playing in this season finale means to Gore. Singletary no doubt wants to see more evidence before Sunday that Gore is ready to be on the field. I think he will see that in the pregame warm-ups, and there are already some encouraging signs. Maiocco reported that Gore looked good (not great) running Friday but was able to do some cuts in practice (cuts are one of the more challenging skills for an unstable ankle). I expect Gore will earn his opportunity to play Sunday, but there has to be some concern about how much playing time he will see. Singletary has set the stage for some time-sharing with
DeShaun Foster
, and assuming Gore does play, it will probably be a limited role.
Anquan Boldin, WR, Cardinals:
For all the positive projections coach Ken Whisenhunt made earlier in the week about Boldin's Week 17 status, the latter part of the week has taken a different turn. Boldin is again listed as questionable with a sore shoulder, and of most concern, has not participated in practice all week. The Arizona Republic reports that Whisenhunt has said he would like Boldin to see some playing time and that he could play despite not practicing. After last week, the Cardinals need to see some positive play out of their starters heading into the playoffs. But they also need their starters to be available when the playoffs begin. The Cardinals have not issued a specific diagnosis related to Boldin's shoulder, but they have to be concerned enough about his health that he is not taking any reps in practice. Risking Boldin does not make a lot of sense, so even if he does suit up (and he is a game-time decision), he will likely be restricted to limited playing time.
Marshawn Lynch, RB, Bills:
Lynch is listed as questionable again this week with his sore shoulder and practiced only on a very limited basis. Sure, the Bills are out of playoff contention, but wouldn't it be fun for them to spoil the Patriots' chances? All things considered, it seems as if Lynch, another dreaded game-time decision, will suit up in the team's final effort of the year. Teammate
Fred Jackson
is likely to get significant opportunities, though, especially after his performance last week. In fact, Jackson may get the heavier workload of the two.
Pierre Thomas, RB, Saints:
Thomas has been an amazing find for fantasy owners this year. But the year may end a bit prematurely, as Thomas' status for this week is very much in question. Thomas, officially questionable and a game-time decision, was not able to practice all week. With the Saints out of playoff contention and Thomas nursing two injuries (back and wrist), why would the Saints place at risk the player they may view as their new feature back? According to the New Orleans Times-Picayune, the Saints will give Thomas a chance Sunday morning to see whether he is able to go, but at this point, the odds are not in his favor. Expect
Deuce McAllister
and
Mike Bell
to get the touches if Thomas is out.
Bernard Berrian, WR, Vikings:
Berrian sprained his ankle in last week's contest against the Falcons, and it has limited his practice all week. He is listed as questionable to face the Giants in a game the Vikings need to win. So what should fantasy owners expect? Well, going back to last week, Berrian was able to continue to play despite the injury, which suggests it is not terribly serious. If past performance is any indicator, remember that while Berrian was recovering from a knee sprain earlier this year, he managed to put up some of his best numbers on the year. It is not surprising that the Vikings gave him some rest during the week, and it will not be surprising if he shows up ready to go Sunday.
Derrick Mason, WR, Ravens:
Few performances have been gutsier than the ones Mason has put up in recent weeks. Playing with an unstable left shoulder that gets jostled every time he makes contact with another player or hits the ground, Mason has managed to make more big-time one-handed grabs than other big-name receivers with two healthy arms. The Baltimore Sun reported this week that in addition to the instability in the joint itself, Mason has been dealing with intense muscle spasms around the shoulder. This is not an uncommon side effect; the body does anything it can to try to protect an injured joint, usually in the form of muscle spasm or protective guarding. The spasm, or guarding, serves to compensate for the increased laxity or instability of the joint itself by securing the position of the arm. The problem is that not only are spasms painful, but they also don't allow for normal motion, so use of the injured limb (in this case Mason's arm) is awkward and restricted. This problem is not going to resolve itself before the Ravens' season is over. But it does not appear that it will be a problem that keeps Mason off the field, either. Mason, listed as questionable, has indicated that he expects to play against the Jaguars, and based on what he has done so far this season, he seems to be a man of his word. There is another variable to consider, though. If the Patriots lose to Buffalo in their 1 p.m. game, the Ravens, who play at 4:15, will have secured a playoff spot. Although Mason could still suit up for the game, the Ravens might be inclined to limit his playing time in order to protect him from further injury. Just a thought for fantasy owners out there who may want the insurance of a late-game alternative.
OUT: The following players have already been ruled out for Week 17.Dominic Rhodes, RB, Colts:
It's a matter of making sure he's healthy when it counts. This game doesn't count, so he'll watch from the sidelines. Expect
Joseph Addai
to play, but not for long.
Chad Simpson
and
Najeh Davenport
will likely divvy up the remaining running back duties.
Jeremy Shockey, TE, Saints:
Yet another ankle problem sidelines Shockey. His season is over, and
Billy Miller
will see more playing time as a result.
Good luck in Week 17! Be sure to check out our site Sunday for the pregame chats and Fantasy Football Now at noon ET.
December, 24, 2008
12/24/08
6:30
PM ET
By
Stephania Bell, ESPN.com
| ESPN.com
If you're playing this week, you have two big challenges: You have to decide who might be healthy enough to play in this final week of the NFL regular season, then you have to gauge whether the coach will actually utilize that player enough to warrant a spot on your fantasy roster. This represents perhaps the biggest strategic second-guessing you are faced with all season. Hopefully we can help by giving you a few hints in the injury department.
Joseph Addai, RB; Dominic Rhodes, RB; Marvin Harrison, WR, Colts:
Addai has sat out the past two games to rest his sore shoulder. He has benefited from the rest and Tom James of the Terre Haute Star-Tribune reports that coach Tony Dungy says of Addai, "I think he'll be ready this week." The Colts will monitor how he does in practice, but it looks as if Addai will see playing time, but how much? With your fantasy championship at stake, is he worth a start? Probably not. Even if Addai gets on the field to get some reps, it is unlikely that he plays for an extended period of time. Don't get too excited if you think you've got it made with Dominic Rhodes as your handcuff. Rhodes has already been ruled out of this week's game with sore ribs. Dungy has already indicated that the Colts have some younger players they would like to see get some more game experience. For instance, rookie
Chad Simpson
, who managed to get in the game briefly a couple of weeks ago, may end up with more extended playing time this week. There's a good chance he's still available in your league.
Colts receiver Marvin Harrison has missed some time recently with a hamstring injury. Despite the fact that the strain was in the distal part of the hamstring, nearer the knee, which usually hints at a longer recovery time, Harrison is reportedly feeling much better and could be ready to play this weekend. That being said, with the Colts being cautious, don't expect Harrison to see much playing time, even if he is active.
[+] Enlarge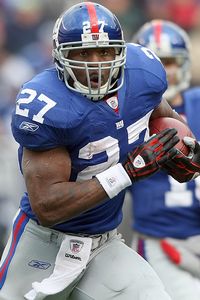 Nick Laham/Getty ImagesJacobs looked great last Sunday, but the Giants may rest him to make sure he's 100 percent healthy for the playoffs.
Brandon Jacobs, RB; Derrick Ward, RB, Giants:
Brandon Jacobs looked good last weekend, and proved that his strength helps him compensate for any residual knee instability. Jacobs was limited in practice Wednesday, however, and it would not be a surprise if he is limited to a very short amount of playing time, if any, this weekend. Ward, who has a sore ankle, has been running very well when called upon, and is not far from reaching 1,000 yards on the season himself. He was a full participant in practice and should play plenty on Sunday.
Marion Barber, RB, Cowboys:
If you watched either of the past two Cowboys games, you don't need me to tell you that Barber is still having trouble with his recently dislocated toe. Those problems continue into this week as Barber missed practice Tuesday and was limited on Wednesday. His persistent problems prompted coach Wade Phillips to tell the Dallas Morning News: "Maybe we shouldn't have played him at all. Maybe he would be well by now." Well, maybe. But it's clear that the Cowboys likely won't make the same mistake three times. It looks as if Barber will rest this week and
Tashard Choice
will once again see the bulk of the work.
Some other players to keep an eye on as the week progresses
&#8226 Although the 49ers' practice report was not yet in as of the writing of this column, it is still sounding as if running back
Frank Gore
will be able to see the field this Sunday. Although he is no lock to play the entire game, it would seem that Gore will be allowed to go as long as the ankle permits. We should have a better idea of what to expect once the week of practice is complete.
&#8226 Expect Cardinals wide receiver
Anquan Boldin
(sore shoulder) to be back on the field this weekend as Arizona tries to get in sync before the playoffs. Boldin was held out of practice Wednesday but should see some practice time late in the week.
&#8226 In Green Bay, both
Donald Driver
and
Greg Jennings
left Monday night's game with injuries. According to the Green Bay Press-Gazette, Driver sustained a knee contusion (bruise) and Jennings suffered a concussion. Driver was able to return to the game following his injury, always a good sign, but was held out of practice Wednesday. We will check back this weekend but he should be able to go by Sunday. Jennings was limited in practice Wednesday, and the fact that he is back out in practice already is a great sign. He should be able to play Sunday.
&#8226 Both
Calvin Johnson
(knee bruise) and
Kevin Smith
(ankle) were in practice on a limited basis Wednesday. Expect both to be available Sunday as the best hopes for a team trying to avoid a winless season.
&#8226 In Philadelphia,
Kevin Curtis
was kept out of last week's contest with a calf strain. The good news is that Curtis was a full participant in practice Wednesday and it sounds as if the Eagles expect to have him available this weekend, assuming there are no post-practice setbacks.
Hank Baskett
is still limited by his medial collateral ligament (MCL) sprain and it is too early to predict whether he will be available. Even if he is, you should look elsewhere for another fantasy option. And by now you should know not to worry too much when
Brian Westbrook
doesn't practice early in the week. Westbrook has overcome knee and ankle injuries early in the year to provide a much-needed spark for the Eagles' offense. That should continue this weekend as the Eagles need a win and will count on his contributions.
&#8226 In Dallas, it's not just the running backs who are hurting. Quarterback
Tony Romo
missed Wednesday's practice because of illness but is expected to return to practice late in the week and play this weekend. Tight end
Jason Witten
, who clearly aggravated his ankle injury in the Cowboys' game Saturday, was held out of Wednesday's practice as well. Make no mistake though, Witten will be in the lineup in this all-important game for the Cowboys. Even if his ankle is bothering him, Witten proved in Week 16 that he could still get open and make plays. Fantasy owners can count on him in Week 17 also.
&#8226
Marshawn Lynch
was not in practice Wednesday after aggravating his shoulder last weekend. According to the Bills' official Web site, coach Dick Jauron expressed optimism that Lynch would indeed play this weekend, but fantasy owners need to be aware that
Fred Jackson
may see a larger-than-usual workload.
Guys whom you should NOT expect to see this weekend
Chad Johnson, WR, Bengals:
The hamstring strain that kept him out during Week 16 will likely cause him to miss the final game of the season as well.
Matt Hasselbeck, QB, Seahawks:
His back has been an issue for him all season long and there is zero reason for him to return this week in a meaningless contest for the Seahawks.
Kellen Winslow, TE, Browns:
Winslow is still recovering from a high ankle sprain, and there is clearly no reason for the team to risk putting him back on the field this weekend.
Here's wishing everyone a very happy, restful and peaceful holiday. We'll update the latest player injury status on Saturday and be sure to stop by the injury chat on Sunday at 10 a.m. ET!
November, 1, 2008
11/01/08
10:10
PM ET
Bad weather and airport delays during my West Coast travels have me hustling to get the news out to you. So without further ado, here's what we know as we head into the Week 9 contests.
Willie Parker, RB, Steelers:
After a successful week of practice, including Saturday, it appears (fingers crossed) that Parker, labeled as probable, will play Monday. Parker has been working his way back from a sprained medial collateral ligament (MCL) in his left knee which he originally injured in Week 3. Then, just when it looked as if he was ready to return, a misstep set him back and he has missed two additional weeks.
Parker and his fantasy owners have been eagerly anticipating his return, but don't get too excited just yet. Given the fact that he has already suffered one setback, no one wants to set him up for another, so the team plans to bring him back gradually. In other words, expect
Mewelde Moore
to continue to see a fair amount of action this week.
Steven Jackson, RB, Rams:
The quad strain that kept Jackson out of last week's game continued to limit him in practice throughout the week, although he was able to do a bit more Friday. Nonetheless, his official designation remains questionable and again this week coach Jim Haslett stated that Jackson would be a game-time decision. Last week it was tightness in the muscle that Jackson felt during warm-ups that kept him from going, so it did literally come down to how he felt minutes before the game.
But wait! Perhaps you won't have to wait until just before kickoff to find out about Jackson's status. In a late post on his official Web site Saturday, SJ39.com, Jackson announced to all his fans that the leg is feeling good enough for him to play against the Cardinals on Sunday. He notes that it is a big game and he is going to "give everything [he's] got" to get the Rams a win. In case you still don't believe? Jackson's words: "So to be clear. I am playing. Be ready." Don't know if that's directed at fantasy owners or the Cardinals, but it sounds convincing. Although he was limited this week, and perhaps a little more so than expected given that he was considering suiting up last week, he may have been protecting his leg to save up for the weekend. It's looking promising.
Joseph Addai, RB, Dominic Rhodes, RB, and Reggie Wayne, WR, Colts:
Addai has been absent for a few weeks because of a hamstring strain but there is reason to get (a little) excited. Addai, although listed as questionable, is expected to play, and possibly start when the Colts face the Patriots on Sunday night. Addai has been practicing all week without a setback, a positive sign of his progress.
The reason we can get only a little excited is because the Colts plan to have Addai share time with Rhodes, who has been filling in ably during his absence. According to Tom James of the Terre Haute Tribune-Star, Tony Dungy was very clear on that point even as Addai improved in practice throughout the week. "Joseph will start if he's ready to go and 100 percent. But Dom is going to get a lot of carries and continue to do a good job for us either way. If Joe's not 100 percent, then we'll start Dom," the Colts coach said. There's a twist, though. Rhodes himself was added to the injury report this week with an ankle ailment and is listed as questionable. Despite that, he was fully practicing Thursday and Friday, so he should be on the field. Addai and Rhodes are likely to split the work to ensure that neither is overburdened.
Meanwhile, Wayne has been limited by a sore knee all week. The Colts have not issued any specifics related to his injury, indicating only that he tweaked the knee against the Titans. Early in the week, Dungy sounded optimistic that this apparently minor ailment wouldn't hold Wayne back. But as the week went on, and Wayne did not practice Thursday as originally expected, it appeared the situation was a bit more serious. On Friday, Wayne did only limited work and has been tagged as questionable. Here's why we're concerned. This is a guy who, until this week, has not missed practice since his rookie year in 2001. The knee is bothering him. That being said, Wayne did tell the Indianapolis Star that he is "ready to go." Look for Wayne to be a game-time decision, but consider that he may not be in tip-top form.
Other noteworthy items
&#8226
Clinton Portis
ended the week with a probable designation, so you can feel safe that he will play Monday. His hip is still sore and he sprained an ankle last week, so the team kept his practice to a minimum, but he is good to go. Teammate
Santana Moss
is less of a sure thing, however; his hamstring strain kept him out of practice the entire week. He is listed as questionable and even coach Jim Zorn made it clear in comments to the Washington Post that he did not want Moss to start, only to find out minutes into the game that he couldn't continue: "I want him to go out and, if he's going to play, participate fully in the game." Given Moss' extensive hamstring injury history (2004, 2006 and 2007) and his reliance on speed and explosiveness, I would be leery of counting on his availability.
&#8226
Jason Witten
remains a game-time decision with his fractured rib. Witten, known for his pain tolerance, is feeling enough pain that his daily activities are limited, and he has not practiced all week. He is very
Brian Westbrook
-esque in his ability to show up Sunday and play well, even if he does not practice during the week, but even Westbrook sat out a week with a rib fracture. Witten may very well follow suit.
&#8226 Speaking of Westbrook, the Eagles now have him and
Kevin Curtis
back in the mix. It also appears that they will add
Reggie Brown
to the list of players returning to the lineup from injury. Brown has missed multiple games this year because of various muscle strains, the latest being a groin injury. Brown did practice all week, is listed as probable and is expected to play. Teammate
DeSean Jackson
also showed up on the injury report with a shoulder ailment but it appears minor because he did not miss any practice time. He too is listed as probable and is expected to play.
&#8226 Buccaneers coach Jon Gruden acknowledged earlier in the week that Dunn should not have played last week. Although Dunn seemed to downplay the symptoms of his pinched nerve last week, it clearly was more problematic than he expected. Dunn did not practice all week and is unlikely to play Sunday. More work for
Earnest Graham
.
&#8226 The Bears have to be happy that
Devin Hester
was completely off the injury report this week. Teammate
Brandon Lloyd
, however, was not. Lloyd is still listed as questionable with a sprained knee and has not been a full participant in practice all week. Do not be surprised if he is held out again Sunday.
&#8226 What to make of the Broncos' injury report? It looks as if the entire running back corps is questionable, along with a receiver and a tight end. Running backs
Selvin Young
(groin) and
Ryan Torain
(elbow) are the
more
questionable of the backs on the list. Young is still limited in practice. Torain, although he is doing well in practice, has never played a down of professional ball and coach Mike Shanahan has hinted that he wants to give him just a little more healing time before subjecting him to the big boy hits. Pittman (bruised ribs) was able to practice all week, suggesting that he will indeed be ready to play. Meanwhile, tight end
Tony Scheffler
continues to be limited by his groin injury and receiver
Brandon Stokley
is still recovering from his concussion. They both practiced on a limited basis and could play, but their status is not exactly confidence inspiring.
&#8226
Willis McGahee
has been listed as questionable because of an ankle injury. There has been nothing out of Baltimore to suggest that this is serious, and the fact that he was limited in practice this week can probably be interpreted as a protective maneuver. Check game day inactives, but expect him to play.
&#8226 Raiders rookie
Darren McFadden
is nursing two bad toes. When you have two ailing feet, your designation is doubtful, as McFadden's is, and when you haven't practiced all week, you can expect that you'll be watching from the sidelines in your street clothes. And maybe a boot. More work for
Justin Fargas
.
Out:
This is a list of key fantasy players, not including those who have been moved to Injured Reserve status, who are officially listed as additions to the "Out" listing for Week 9.
Carson Palmer, QB, Bengals:
Palmer's elbow problems are not news, but his status is worth repeating. The Bengals have a bye next week, and after that we should learn whether Palmer will attempt to return at all this season.
Matt Hasselbeck, QB, Seahawks:
Hasselbeck continues to have weakness in his leg related to sciatic nerve compromise. This is a waiting game and is not likely to be over quickly.
Tony Romo, QB, Cowboys:
Out again this week with the broken pinkie, as expected. Bye next week. Likely return to start in Week 11.
LaMont Jordan, RB, and Sammy Morris, RB, Patriots:
Well, Morris' downgrade posted in the Boston Globe Saturday was no surprise. Why the Patriots didn't list him as out on Friday is a mystery since it seemed as if everyone knew his knee would keep him out again this week. But Jordan was downgraded to out (from questionable) on Saturday along with Morris, apparently as a result of the nagging calf problem.
BenJarvus Green-Ellis
and
Kevin Faulk
are the Sunday tandem.
Champ Bailey, CB, Broncos:
If you were watching Denver's last game two Mondays ago, you saw Bailey reach down to his inner thigh in the middle of a play, a sure sign of a groin injury. Unfortunately for Denver, it sounds as if it was a significant strain. Bailey is out this week and is expected to miss several more.
Josh Reed, WR, Bills:
Reed has an Achilles injury that will sideline him this week.
L.J. Smith, TE, Eagles:
Smith suffered a concussion last week and it was not pretty. He was unable to practice all week and will watch from the sidelines while he continues to recover.
Deion Branch, WR, Seahawks:
Branch continues to be plagued by the heel injury he sustained a few weeks ago. The Seahawks recognized that he would not go early in the week and made the announcement that he would sit out alongside his quarterback.
Ladell Betts, RB, Redskins:
Betts' knee injury from Week 7 will keep him out for the big Monday night contest against the Steelers. The Redskins have a bye in Week 10, so look for Betts to increase his activity in Week 11.
Shawn Springs, CB, Redskins:
Springs has a calf injury that has been problematic and will sideline him Monday night. All the more important that teammate
Carlos Rogers
' calf injury does not appear quite so serious, and his return to practice late in the week suggests that he will be available against the Steelers.
Be sure to check out our site Sunday for pregame chats and Fantasy Football Now at noon ET. Good luck in Week 9!