Stephania Bell:

Donald Driver
November, 16, 2010
11/16/10
6:11
PM ET
This seems like as good a time as any to remind everyone that medicine is not black and white. Sometimes, even when a player is improving in his recovery from an injury, there can be last-minute setbacks. Exhibit A:
Washington Redskins
running back
Ryan Torain
, who was active (yes, active!) Monday night but did not play due to his hamstring tightening up during warm-ups. It was just late enough to burn every fantasy owner who expected him to play. (Remember, he was listed as questionable, and until a questionable player is actually playing, he remains just that.)
Other times, a player does not return within the projected timetable originally issued by medical personnel. Exhibit B:
New Orleans Saints
running back
Reggie Bush
, initially projected to miss four to six weeks with a broken fibula (and you might recall Bush suggesting early on that he could beat that timeline). Bush, who is expected to return this Sunday, will be nine weeks post-injury if he plays in Week 11. While his fracture has healed, the issue has been his readiness to return to competition given the high physical demands of his position.
How do these things happen? Fantasy owners would prefer absolutes, definitive answers and zero risk. Let's tell the truth. The injured players and their teams would prefer that as well. But medicine is an imprecise science. And as much as it would be nice to provide guarantees and certainties when it comes to healing, that simply is not possible, whether it refers to a professional athlete or a weekend warrior. For one thing, individuals heal at different rates. Beyond that, timetables are
estimates
based on the average healing time associated with a particular injury. Timetables presume no setbacks and no complications, which, as we all know, are more likely to occur than not. And then there are the vagaries of injury classification. A "partial tear" can be 25 percent, 40 percent or 75 percent tissue damage, or anything else not considered a complete tear. The amount of damage likely will correlate to healing time, albeit in an imprecise way (refer to exhibits A and B above).
And so, as we continue in the gray zone of injuries, here's what we're hearing heading into Week 11 ...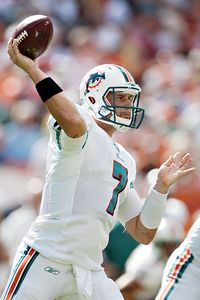 Jonathan Brownfield/US PresswireChad Henne had a busy week, as he was benched, returned to the Dolphins' lineup, then injured his knee.
• To date, the
Miami Dolphins
' injury reports have been among the leanest in the league. Not so any longer. The Dolphins lost two quarterbacks within the span of minutes this past Sunday, one of whom is done for the season.
Chad Pennington
injured his oft-operated-on shoulder and was done in the span of two plays.
Chad Henne
, who had been benched in favor of Pennington, stepped in only to suffer what appeared to be a serious injury to his left knee. Henne was on crutches after the game but has not been ruled out for any particular period of time. While the Dolphins have not offered details as to the nature of Henne's injury, coach Tony Sparano has left the door open for Henne. Needless to say, it does not appear likely he will be in any shape to play in this Thursday night's game. Expect
Tyler Thigpen
to get the start.
• The
Tennessee Titans
also have two banged up quarterbacks.
Vince Young
did not get the start Sunday, as his left ankle was still causing him some problems.
Kerry Collins
, who started in place of Young, was forced out early with a calf injury, and it now appears that will keep him out for several weeks. Young was thus forced into the game but was not at his best.
•
Detroit Lions
quarterback
Matthew Stafford
consulted with Dr. James Andrews and will not be having surgery, at least not yet. Stafford will resume the rehab process he initiated after his shoulder separation at the start of the season. There is still a possibility surgery will become an option, but the team will try more conservative treatment first, according to ESPN's Chris Mortensen. Undertaking surgery on a throwing athlete's shoulder is not a light consideration. Unless there is a clear-cut need for surgery, rehabilitation is often chosen as a first step. There's really no downside here. Any gains in range of motion and strength that Stafford makes will help him on the other side of surgery, if that becomes the plan. While it's not likely we will see him again this season, the Lions are not moving him to injured reserve, either.
•
San Diego Chargers
running back
Ryan Mathews
injured his right ankle in Week 2 and, despite his efforts to return, has struggled. After he aggravated the ankle injury in Week 10, there appears to be greater doubt about his availability for Week 11. At this point, it seems he would benefit from additional downtime to really allow his ankle to heal and avoid risking further problems.
Mike Tolbert
was back at Monday's practice and could be starting in Week 11. On the receiver front,
Malcom Floyd
returned to practice also and was running well. The Chargers expect to have him this Sunday. Not as encouraging news for
Legedu Naanee
, who did not practice Monday and remains limited by his hamstring. Tight end
Antonio Gates
did not practice Monday, either, not unexpected given the seriousness of his injury (torn plantar fascia). While Gates has indicated that he will do all he can to return for the Chargers' big Monday night contest, it bears repeating that this injury was exceptionally painful. Even Gates, who has played through significant pain in the past, told us this was unlike anything he'd ever experienced, to the point where he just couldn't function. It's too soon to count him out, but it's not too soon to seek insurance if he's on your team.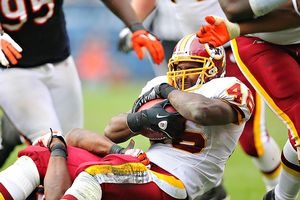 Dennis Wierzbicki/US PresswireRyan Torain was on the active roster Monday night, but hamstring injuries kept him from playing.
• Running back Ryan Torain of the Washington Redskins was expected to start Monday but didn't. Tightness in his ailing hamstring during pregame warm-ups kept him off the field Monday night. Clearly the injury is not altogether behind him, and fantasy owners should consider that
Keiland Williams
might get the next Redskins start.
Clinton Portis
was never really under serious consideration for Monday night after midweek swelling in his injured groin, and he might not be ready for Week 11, either. He will need to get through a week of practice without setbacks and show he is at full speed before being eligible to return.
•
Seattle Seahawks
quarterback
Matt Hasselbeck
came back from a concussion only to sustain a crack in a bone in his left wrist. The Seahawks have expressed optimism that Hasselbeck will be able to play through the injury to his non-throwing wrist, no doubt with some sort of protective wrap. It appears he will avoid missing more time.
• The
Indianapolis Colts
continue to deal with multiple injuries, many of which are to fantasy stars. Tight end
Jacob Tamme
had a back injury in Week 10 that caused him to miss Wednesday's practice. After full late-week practices, he was able to start. Despite a solid performance, Tamme struggled at times and, according to the Indianapolis Star, was having trouble walking after the game. Expect him to be limited in practice this week. Running back
Joseph Addai
sat out again in Week 10 but reportedly is making improvements. It is too early to know much about the status of Addai or teammate
Mike Hart
, who also missed Week 10 with an ankle injury.
•
Pittsburgh Steelers
wide receiver
Hines Ward
was determined to have a concussion after Sunday night's game. Ward appears to be doing well and has indicated that he expects to play this week. He still needs to be fully cleared to return, but this is encouraging news.
•
Carolina Panthers
quarterback
Jimmy Clausen
also suffered a concussion on a hit late in the game. As the week unfolds, we'll find out whether Clausen is able to go Sunday. We also should learn more about the running back situation. Both
DeAngelo Williams
(foot sprain) and
Jonathan Stewart
(concussion) were out in Week 10.
•
New York Jets
wide receiver
Jerricho Cotchery
pulled a groin muscle Sunday yet still made an amazing catch while hobbling on one leg. He limped off the field just afterward and underwent an MRI on Monday, revealing a slight tear. This will be a tough injury to recover from in a week.
•
Cleveland Browns
wide receiver
Josh Cribbs
dislocated four toes Sunday. How does that happen? There are some thing I just can't answer, but I do know this: It could not have felt good. Amazingly, the Browns do hope he will play in Week 11.
• The Milwaukee Journal Sentinel reports that wide receiver
Donald Driver
missed Monday practice for personal reasons. Coach Mike McCarthy will update Driver's status Wednesday. Tight end
Andrew Quarless
, meanwhile, says his shoulder feels better after the bye week. He could return this week if all continues well.
We will continue to update these injuries and others as the week progresses with much more to come Thursday.
November, 2, 2010
11/02/10
5:21
PM ET
As many had predicted,
Brett Favre
started for the
Minnesota Vikings
on Sunday. He didn't finish, but it wasn't his ankle that took him out of the game. Meanwhile, the
Tennessee Titans
announced last week that wide receiver
Kenny Britt
would not miss any more playing time for disciplinary reasons. Unfortunately, he likely will miss significant playing time as a result of injury. And the
Indianapolis Colts
, well, they still found a way to win despite the overwhelming number of injuries to their skill position players that continued Monday night.
With six teams on bye again Sunday, fantasy owners need to get a jump on their waiver-wire competition. Here are some names to keep an eye on after Week 8.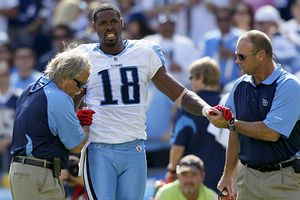 AP Photo/Gregory BullAfter going off for 225 yards and three scores in Week 7, Kenny Britt had no catches in Week 8 before leaving with a hamstring injury.
Kenny Britt, WR, Tennessee Titans:
Britt did not start the Week 7 contest after his alleged involvement in a bar fight but was electrifying for two-and-a-half quarters nonetheless. Fantasy owners were happy to hear that Britt would not miss any more playing time for disciplinary reasons and looked forward to an even more productive Week 8. But it didn't happen. Britt was forced out of the game in the first quarter by a right hamstring injury that looked to be serious when it happened. Jim Wyatt of The Tennessean reported that Britt was seen "grabbing his hamstring" during practice throughout the week. Perhaps it was a sign of something bigger lurking under the surface, but it was not enough to keep Britt from practicing full speed all week leading up to Sunday's game.
Although Titans coach Jeff Fisher has indicated that Britt is expected to miss some time with the injury, he does anticipate his return. According to The Tennessean, Fisher said, If it was a season-ending injury, I would tell you right now it is season-ending. No, it is not." Fisher went on to say that there would be more information after the Titans' Week 9 bye and that until then, the plan would be to treat Britt's injury "very aggressively."
Fantasy owners know from experience that serious hamstring injuries require time, above all else, to heal and should seek a replacement now.
Zach Miller, TE, Oakland Raiders:
Miller has been such a fantasy star at the tight end position that his numbers from Sunday -- or lack thereof -- came as a bit of a shock. Miller was limited last week by a foot injury that obviously compromised him during the game. The day after the game, Miller was seen on crutches, clearly a measure to take pressure off his painful arch.
Vittorio Tafur of the San Francisco Chronicle reports that coach Tom Cable expects Miller to play against the
Kansas City Chiefs
this weekend. So what are fantasy owners to expect? It's hard to imagine that a painful arch will be significantly improved within a week, although the early unloading (not putting weight on the arch in order to alleviate stress on the area) may help. It would not be surprising to see Miller held out of practice early in the week. Late-week practices would go a long way toward inspiring confidence that the pain will not severely restrict Miller again in Week 9. Stay tuned.
Ryan Torain, RB, Washington Redskins:
Despite his early success while filling in for the injured
Clinton Portis
, one of the concerns about Torain has been whether he could stay on the field. Not that his talent was ever in question, just his durability, given his history of serious injury. Fantasy owners can now be legitimately nervous, as Torain was forced to exit Sunday's game early with a left hamstring strain.
According to The Washington Post, Torain felt the hamstring pull on the final running play of the second quarter. After the game when Torain was asked whether the injury was serious, he responded with "hard to say." The Post reported that an MRI revealed no structural damage, and head coach Mike Shanahan is hopeful that Torain will be ready for the team's next game after the bye week. In the event he is not able to go, it likely would be
Keiland Williams
, who stepped in when Torain went out Sunday, to get the Monday night start.
Portis, who suffered a Grade III groin tear in Week 4, "took a couple plays in practice" Tuesday, according to Rich Campbell of the Fredericksburg (Va.) Free Lance-Star. Although his new activity is encouraging, there is still a lot of work to be done before Portis is ready to return. Increased speed and agility work as well as tolerance of full practice will all have to come before he returns to play. The Post notes that Shanahan does not expect Portis in the lineup the week after the bye, although a definitive timetable has not been laid out.
Other injury notes heading into Week 9:
• In addition to losing Britt in Week 8, the Titans saw quarterback
Vince Young
leave the field early with an aggravation of his previous ankle injury. The Tennessean reports that Young is likely to rest most of this week while the team is on bye but could return to practice next week. It's much too soon to write Young out of the mix for Week 10, but fantasy owners will want to keep an eye on whether he's back in practice to start the week.
• Minnesota Vikings wide receiver
Percy Harvin
caught his left foot in the turf and had to be assisted off the field in the first quarter. He ended up returning to the game shortly afterward but was clearly limping in pain following the game. According to the St. Paul Pioneer Press, Harvin said of his ability to last the entire game, "It probably was adrenaline that got me through." Now that the adrenaline has worn off, it will be a matter of seeing just what Harvin can do on that ankle as the week goes on to determine whether he can play.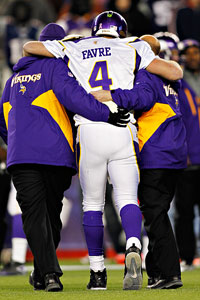 Greg M. Cooper/US PresswireEven though Brett Favre did not finish Sunday's game after a chin laceration, it appears he will keep his consecutive-games streak alive this week.
• Favre was able to move well enough to start Sunday but ended up leaving the game after suffering a chin laceration that required eight stitches to close. Initially it looked as though the injury could have been much worse, but there were reportedly no broken bones. As for his ability to go in Week 9, Favre offered this: I'm ready to play next week," Favre said. "Nobody knows my body like me. I think I'll be all right, ready to play next week." He was right last time. Whom Favre will throw to with
Randy Moss
gone and Harvin ailing might be the bigger question this week.
• The Colts saw yet another running back leave a game due to injury.
Mike Hart
, who got the start Monday night in place of the injured
Joseph Addai
, left the game with an ankle injury. Hart was expected to undergo an MRI on Tuesday. Meanwhile,
Donald Brown
saw his first game action in a month, but his playing time was limited. It will probably come close to game time again before we know who will run the ball for the Colts in Week 9.
•
Houston Texans
wide receiver
Andre Johnson
showed his toughness Monday night as he continued to play despite aggravating his right ankle late in the game. As we've been saying all along, this ankle injury is a perpetual source of pain for Johnson based on the demands of his position and the physical way he plays the game. In the absence of taking multiple weeks off to let it fully heal -- which Johnson is not going to do -- the ankle has the potential to flare up during a game. As long as he can play and fight through it, he will. So expect Johnson to continue to tough it out unless or until it becomes physically impossible for him to run.
•
Seattle Seahawks
quarterback
Matt Hasselbeck
was harassed all day Sunday, and it finally caught up to him. He suffered a concussion in Week 8, but although coach Pete Carroll sounds very optimistic about his return, Hasselbeck will have to meet all postconcussion medical criteria to be cleared to play. It doesn't help matters that tackle
Russell Okung
suffered another high ankle sprain, this time to his left side. The Seahawks have indicated that this injury appears less serious than the right ankle injury that sidelined Okung earlier in the season, and they hope to have him back in practice this week. We shall see.
• In other Raiders news, Vittorio Tafur of the San Francisco Chronicle reports that coach Tom Cable expects wide receiver
Louis Murphy
to miss another game to continue healing from his chest contusion. Although Murphy told the San Jose Mercury News he felt fine Sunday, he understood why the team held him out of contact. Said Murphy, "... with me coughing up blood and having internal bleeding, they didn't want to take any chances with that." Understood. Meanwhile, quarterback
Bruce Gradkowski
says his injured throwing shoulder (AC sprain) is now feeling better. Cable has maintained all along that Gradkowski is the starter when healthy.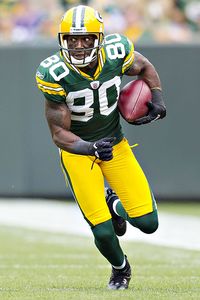 Jeff Hanisch/US PresswireAfter 133 consecutive games with at least one catch, Donald Driver has now been held without a reception in two straight games.
•
Green Bay Packers
wide receiver
Donald Driver
aggravated the quadriceps injury that has been nagging him the past few weeks. Driver limped off the field Sunday, and after two consecutive weeks with no receptions, it is no surprise to hear that he will not play in Week 9, according to Bill Michaels of WTMJ radio in Milwaukee.
• The
San Francisco 49ers
managed to eke out a victory in London but lost tight end
Vernon Davis
in the process, as he aggravated the ankle injury that had deemed him questionable entering the week. No official word on how serious this setback is, but according to the San Francisco Chronicle, Davis doesn't seem to think it's serious. The team is on bye in Week 9, so he could get some extra rest, but the Chronicle reports Davis plans to "run some routes" this week. Let's see what he actually does first, but the early news sounds encouraging for Davis' availability in Week 10.
•
Michael Vick
is expected to start at quarterback for the
Philadelphia Eagles
on Sunday. Vick has returned to practice and, according to The Philadelphia Inquirer, said he experienced "no soreness at all" with throwing. That's good news, but it's a far cry from taking contact. Vick's rib cartilage injury has the potential to cause him discomfort at the very least and severe pain at the worst, depending on the amount and type of contact he absorbs in any given game. So although the plan is for Vick to start, fantasy owners should keep insurance handy in the event there is a setback. Meanwhile, teammate
DeSean Jackson
has returned to limited practice after his concussion. His response to activity will be taken into account daily, and his status could come down to the wire.
•
New Orleans Saints
running back
Reggie Bush
was not able to return to the amount of activity he predicted last week, placing his status for this week in that much more jeopardy. Bush still has many hurdles to cross before returning to game play. Teammate
Pierre Thomas
appears to be even further from returning, as he was placed back on crutches last week and is doing no football activity. Thomas' situation appears murkier than it did a few weeks ago. It is worth keeping a close eye on their activity as the week progresses.
We will continue to update these injuries and others as the week progresses with much more to come on Thursday.
October, 21, 2010
10/21/10
4:18
PM ET
It is at this midweek point that we fantasy owners typically agonize over whether the injured players on our rosters will be available this week. With only one day of formal injury reports under our belt (at least that's the case for most teams at the time this blog is written), there is a big question as to whether many of the players appearing on these reports will be well enough to play in their games. Occasionally we find out early in the week that a player's injury is significant enough to sideline him. Disappointing as that news is, at least we can start searching for ways to make roster adjustments. Unfortunately, that early news is rare. However, this week, for better or for worse, we already know of several players who are projected to be out Sunday so we might as well get to those names straight away.
Philadelphia Eagles
wide receiver
DeSean Jackson
is still dealing with the effects of the concussion he sustained Sunday following a collision with
Atlanta Falcons
cornerback
Dunta Robinson
. Jackson did not practice Wednesday and head coach Andy Reid has already indicated that he does not expect the wide receiver to play this week. It also appears quarterback
Michael Vick
will be out another week, despite putting in limited practice Wednesday. Vick, still healing from his rib cartilage injury, has already spoken about targeting Week 9 (the Eagles have a bye in Week 8), so expect
Kevin Kolb
to get another start.
The
San Diego Chargers
have already indicated that two of their players will be out this weekend. According to Kevin Acee of the San Diego Union-Tribune, kicker
Nate Kaeding
will be out for Week 7 because of a groin injury. Meanwhile, wide receiver
Malcom Floyd
injured his hamstring in the Week 6 contest, which was severe enough that the Chargers are already preparing for his absence. The question will be whether he can return in time for the following week and whether
Legedu Naanee
can step back into the lineup this week. Naanee missed last week with a hamstring strain of his own and didn't practice Wednesday, but did do some side running and hopes to return to practice Thursday.
This is an off week for the
Detroit Lions
,
New York Jets
,
Houston Texans
and
Indianapolis Colts
, so that extra time off is most welcome. However, even with the bye week, there's already a lot of bad news with the Colts.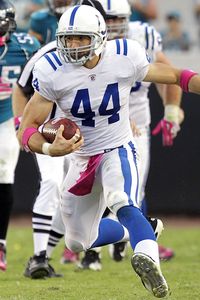 AP Photo/John RaouxFantasy owners were already going to have to do without Dallas Clark this week, but the absence may be much longer.
First off, there's tight end
Dallas Clark
, as he's facing an "indefinite" absence as a result of a wrist/hand injury. ESPN's Adam Schefter reported that in the wake of the injury, Clark would be seeking multiple opinions as to the optimum course of treatment. On Thursday, Colts general manager Bill Polian confirmed Clark's indefinite absence. According to the Indianapolis Star, Clark is seeing a specialist in Cleveland on Thursday for what is a "relatively rare" injury and the team is awaiting word on the course of treatment before providing any more details, including a timetable. Said Polian, "This is not the kind of injury that is very common where our doctors can say, 'Hey, look, this is a four-week injury or this is a six-week injury.' So we'll know more later tonight."
Clark was apparently injured late in Sunday night's game when he put his left hand down to break his fall. He was then seen sporting a cast on his forearm and hand while at a fundraiser earlier in the week, hinting at the seriousness of the injury. Fantasy owners obviously need to make lineup adjustments in preparation for the possibility that Clark's absence is extensive.
And if you thought it couldn't get any worse for the Colts, Polian also revealed Thursday that wide receiver
Austin Collie
has an undisclosed injury that is being further evaluated. Adam Schefter reports that Collie has already undergone hand surgery and is expected to be sidelined for several weeks. No word as to the specifics of the injury and subsequent surgery, but suffice it to say fantasy owners will need a fill-in if he is out a few weeks.
Fantasy owners who own both Clark and Collie in their leagues (including this writer) may need to be restrained from acting out in frustration, but fortunately they were already going to be out this week anyway. More details as they emerge.
Meanwhile, there are also questions at the running back position.
Joseph Addai
, who suffered an injury to his neck and shoulder area in Week 5 but played in Week 6, was forced out of last Sunday's game after injuring his left shoulder. The Indianapolis Star reports that Addai says he is dealing with a "nerve" injury that could take up to five weeks to heal. Without knowing more about his diagnosis, it's hard to tell how accurate Addai's own prognosis about his condition is. NFL.com reports he is currently seeking a second opinion. The good news is that the Colts are on a bye this week and
Donald Brown
is getting healthier. Fantasy owners will want to be sure they target Brown in the event Addai misses some extended time.
As for the rest of the Week 7 injury concerns, read on ...
Quarterbacks
Brett Favre, Minnesota Vikings:
Favre's elbow is reportedly feeling better than it did a week ago and he should be fine to take the reins for Sunday. Although he was listed as a limited participant in practice, he did do some throwing Wednesday. This is likely to be a condition that will have its ups and downs as the season continues, but with careful management, Favre could manage to play through it.
David Garrard, Jacksonville Jaguars:
Garrard rested at home Wednesday and Thursday rather than participate in activity at the team's facility as he recovers from a concussion sustained Monday night. As is often the case with these injuries, Garrard is resting from cognitively demanding activities, such as meetings and film review, while also laying off physical activity. The evidence would suggest that Garrard will not be ready to play in Week 7.
The question then becomes who will be under center for the Jaguars?
Trent Edwards
injured his thumb Monday night and was not at Wednesday practice either. At issue will be how much pain and swelling interfere with Edwards' ability to grip and control the ball. The Jaguars may rely on
Todd Bouman
to face the
Kansas City Chiefs
.
Vince Young, Tennessee Titans:
Young, who sprained his left knee and ankle Monday night, did not practice Wednesday and was seen "limping on the sideline," according to the Tennessean. Backup
Kerry Collins
did not practice Wednesday either as he rested a sore right middle finger, but it appears he was set to return to practice Thursday. Young relies on his mobility so if he cannot maneuver well by Friday, expect Collins to get the start.
Running Backs
Darren McFadden, Oakland Raiders:
He split reps Wednesday with
Michael Bush
. The Oakland Tribune specifically noted that the plays did not seem to be testing the "burst" of McFadden, something he suggested he would do earlier in the week to evaluate the progress of his injured hamstring. Whether McFadden can practice on successive days and work up to full speed by the end of the week will give a better clue as to his status for Sunday. There's a possibility that the team could head into the game against the
Denver Broncos
with a load-share situation.
Wide Receivers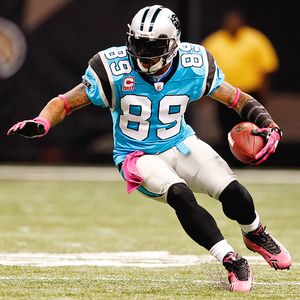 Derick E. Hingle/US PresswireThe return of Steve Smith would be most welcome for his fantasy owners and the Panthers' struggling offense.
Steve Smith, Carolina Panthers:
When possible, we like to bring good news to fantasy owners in this column and the sight of Smith putting in back-to-back full practices this week is indeed good news. Last week at this time, it seemed as though Smith might be headed for a more prolonged absence, but the prognosis has since improved.
The Gaston Gazette reported Wednesday that Smith said he felt "healthy," adding "I'm out of the boot and I don't have much pain so I'm able to move around. So I feel good." Smith reportedly has been recovering from a high-ankle sprain and it has only been three weeks since the injury. While his practice activity is certainly encouraging and indicates his likely availability against the
San Francisco 49ers
, it will be more encouraging long-term if he gets through that game without a setback.
Quick Hits
• Chargers tight end
Antonio Gates
did not practice Wednesday, as expected, to rest his sore toe. Coach Norv Turner has indicated that this injury does not appear serious and the team hopes to have him back in practice Thursday. At this point, it does not appear that his Sunday status is in doubt, although fantasy owners will want to see what Gates is able to do as the week progresses.
•
Green Bay Packers
wide receiver
Donald Driver
strained his quadriceps late last week but still managed to play in Sunday's game. Nonetheless, the quad did seem to hamper him and he was held out of practice Wednesday and Thursday. Friday's practice should give a better clue as to his availability but it is possible, even if he plays, that he will not be at full health.
• Kent Somers of the Arizona Republic expects both
Steve Breaston
(knee surgery) and
Early Doucet
(sports hernia surgery) to be back in the mix this week for the
Arizona Cardinals
. Both players participated in limited practice Wednesday.
• Jacksonville Jaguars receiver
Mike Sims-Walker
was limited in Wednesday's practice because of a shoulder ailment. There is no word of a major injury, but it is worth keeping an eye on his activity the remainder of the week.
• Philadelphia Eagles running back
LeSean McCoy
did not practice Wednesday, but expect him to be in the action again this week. Every week that goes by is another week of the rib fracture healing itself, so there appears to be no cause for concern here.
•
Cleveland Browns
running back
Peyton Hillis
continues to slog it out through his thigh injury. He was kept to a limited practice Wednesday but based on his prior performance, expect him to suit up this week.
•
New Orleans Saints
running backs
Pierre Thomas
and
Reggie Bush
were not in practice Wednesday. According to Jeff Duncan of the New Orleans Times-Picayune, Bush is targeting next week for a return to practice, hoping to return to play in Week 8 or 9. Thomas was hoping to resume running this week, suggesting that he is more than a few days away from returning. As of Thursday, expect
Chris Ivory
and
Ladell Betts
to be in at running back.
•
Baltimore Ravens
tight end
Todd Heap
did not practice Wednesday because of a sore neck. Heap, who was on the receiving end of a big -- and much discussed -- hit from the New England Patriots' Brandon Merriweather, remained in Sunday's game after the hit but apparently the soreness lingered. The good news is that Heap returned to practice Thursday and appears to be on track to play in Week 7.
• At this point, Cleveland Browns coach Eric Mangini is suggesting that
Colt McCoy
could get his second start of the season, barring dramatic improvement in the ankle health of
Jake Delhomme
or
Seneca Wallace
. Given their injuries, McCoy is likely to be running the offense this week.
• Oakland Raiders quarterback
Bruce Gradkowski
only watched practice while
Jason Campbell
and
Kyle Boller
split reps, according to the Oakland Tribune. When asked by Denver reporters during a conference call who would start for the Raiders this weekend coach Tom Cable responded, "We have no idea at this point."
See you at the injury chats (Tuesday, Friday 3-4 p.m.), when we'll have the latest injury updates affecting Week 7 in the Saturday morning blog!
November, 5, 2009
11/05/09
3:37
PM ET
Usually we don't get much information from the teams that are on bye weeks as they quietly rest their injured players and give everyone some much-needed downtime. That said, there are a few interesting tidbits from a couple of teams who are not playing in Week 9.
While there is other news swirling among the
Oakland Raiders
, fantasy owners might want to note that running back
Darren McFadden
has returned to practice for the first time since undergoing arthroscopic knee surgery in October to address a torn meniscus. The Oakland Tribune reports that McFadden practiced without experiencing any setbacks. Of course, the all-important test is how the knee responds in subsequent days. If McFadden continues to practice, this is a good sign that he will be available in Week 10. The Tribune indicates that the Raiders expect McFadden to play next Sunday, but that the status of wide receiver
Chaz Schilens
, who is still slowly recovering from foot surgery, remains questionable.
On the opposite coast,
Buffalo Bills
quarterback
Trent Edwards
has returned to light practice following a concussion. The Buffalo News quotes a team source as saying that Edwards will return to his starting role in Week 10, assuming no setbacks as he continues to increase his practice activity.
The
New York Jets
are literally taking the week off as coach Rex Ryan gave everyone six days of vacation. Most players indicated that they had never had this kind of time off midseason. It will be interesting to see whether it proves to be the beginning of a fresh start for the slumping Jets. It could certainly help all the recovering muscle strains on that team.
Thankfully this is the last of the six-team bye weeks so fantasy owners have to contend with only one more frantic search to find substitutions. The Bills, Raiders, Jets,
Cleveland Browns
,
St. Louis Rams
and
Minnesota Vikings
all have this week off.
Here are some status updates to help you shape your roster as we look ahead to Week 9.
Quarterbacks
Aaron Rodgers, Green Bay Packers:
Rodgers is nursing two sore feet and did not practice Wednesday as expected. According to the Green Bay Press-Gazette, Rodgers has a sprained big toe on his left foot (sustained during last week's game) as well as a right foot sprain which he has been dealing with for two weeks. Rodgers broke the fifth metatarsal (long forefoot bone that connects to the fifth or pinkie toe) in 2006, so this new left toe injury is in a completely different location. The big toe is critical for push-off, so Rodgers' mobility may be compromised a bit more than usual, making his pocket protection that much more important.
Veteran tackle
Mark Tauscher
, who suffered a season-ending knee injury last December and has not played since, may make his season debut at right tackle this Sunday. It appears that Rodgers will also have his veteran left tackle
Chad Clifton
back in the lineup this week. Clifton, who has had recurring problems with an ankle sprain, was active last week but did not see playing time. That could very well change this week when the Packers face the
Tampa Bay Buccaneers
.
Look for Rodgers to do very little physical activity until Friday, as a measure for ensuring his availability for Sunday.
Jake Delhomme, Carolina Panthers:
Delhomme was a full participant in practice Wednesday despite suffering a chest contusion in Week 8. As of now, it appears he is ready to take the field Sunday against the
New Orleans Saints
.
Running Backs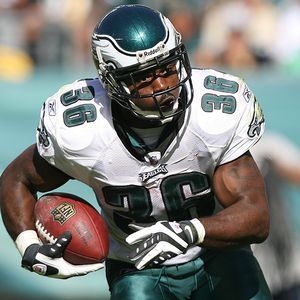 Hunter Martin/Getty ImagesBrian Westbrook missed last week with a concussion but appears that he'll give it a go this week against the Cowboys.
Brian Westbrook, Philadelphia Eagles:
On Tuesday, I
outlined what would have to happen
in order for Westbrook to be eligible to play in Week 9. So far, so good. Westbrook practiced fully on Wednesday and Thursday and coach Andy Reid says "he's good to go," according to the Eagles' official Web site. The expectation is that he will practice every day this week and barring any setback, will be prepared to play Sunday. Expect the typical Westbrook and
LeSean McCoy
rotation as the team looks to balance his workload, which has been a constant throughout the season. Westbrook continues to run well when called upon; he is just called upon less frequently as the Eagles utilize all their options.
Ahmad Bradshaw, New York Giants:
As expected, Bradshaw did not practice Wednesday to rest his foot and ankle. Bradshaw likely will do limited work before the game and then play Sunday when the Giants host the
San Diego Chargers
. Bradshaw did not have his best statistics Sunday and it is no secret that he is playing in pain. Nonetheless he has performed well overall despite playing with the injury and there is no reason to think that he won't continue to do so.
Donald Brown, Indianapolis Colts:
Brown did not play in Week 8 because of his shoulder injury but was back in practice Wednesday trying to make his case for this Sunday. In fact, fantasy owners may think he's in the clear since Brown did not even appear on the Colts' official practice injury report for Wednesday. Not so fast. The Colts are holding off on making a decision as to whether or not Brown will be available until late in the week. No doubt they will want to see that he can practice on consecutive days without limitation. This could result in a game-time decision, but for what it's worth, the Colts face the
Houston Texans
in an early matchup.
Kevin Smith, Detroit Lions:
Smith injured his left shoulder in Sunday's game, taking him out of the game early. Apparently it was not so serious that Smith could not have returned, but since
Maurice Morris
was running well, the Lions went with him. This is not the same shoulder Smith injured earlier in the season (which did not result in any missed time). Smith did not practice Wednesday but was back in practice Thursday. Jim Schwartz went to the trouble of explaining that the workload split in Sunday's game between Smith and Morris was a result of that shoulder injury, but that Smith is the Lions' "workhorse running back, getting most of the carries." So it appears that if Smith is able to go, he certainly will. The Lions have tended to earmark their injured players as game-time decisions, so expect Smith to fall into that category as well. If he practices again Friday, it would certainly support the notion that he will start.
Wide Receivers
Calvin Johnson, Detroit Lions:
After a few weeks of doing little or nothing in practice, Johnson has returned to increased practice activity this week. Johnson reportedly moved well in practice, but the Lions remain noncommittal about his availability in Week 9. The fact that Johnson is appearing in back-to-back practices on Wednesday and Thursday is already more encouraging than anything he has done since the injury. The Lions clearly need him on the field not only to provide the obvious target for quarterback
Matthew Stafford
, but also to force opposing defenses to respond to him. That said, they do not want him to be at risk for something more significant in terms of injury. The Detroit Free Press is reporting that coach Jim Schwartz says Johnson's availability will likely be a game-time decision (not surprising as this has been the case before) but this is an early game so fantasy owners can take some consolation there.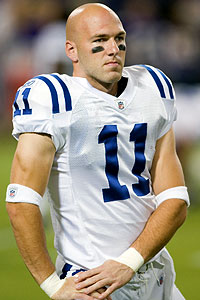 David Stluka/Getty ImagesAnthony Gonzalez has spent way too much time on the sidelines for most fantasy owners to have faith in him.
Reggie Wayne and Anthony Gonzalez, Indianapolis Colts:
Wayne had a good game in Week 8 despite a recently strained groin and was back in practice Wednesday (and off the injury report). Wayne has a good history against the Houston Texans and it certainly looks as if he will be starting against them this week.
Meanwhile, Anthony Gonzalez is not any closer to returning to the field. Gonzalez sprained his knee (PCL) early in the season and was originally projected back after the team's bye but has not yet been able to even participate in practice. Gonzalez did not take part in team drills Wednesday and is seeking outside consultation for his injured knee.
According to Tom James of the Terre Haute Tribune-Star, Colts head coach Jim Caldwell is not sure as to exactly where Gonzalez stands in his recovery. Says Caldwell, "I know he's trying to get to the point where he feels like he can function at his normal level. He is not there yet. How long that takes him just depends. I know he's taken a look at it and getting some more opinions and things of that nature and moving forward."
At this point, fantasy owners who were still holding out hope for Gonzalez need to relinquish the space on their bench and find an alternate player who can contribute now. While Gonzalez may yet return this season, there are still too many question marks as to if and when that will be, not to mention how he will perform.
Anquan Boldin, Arizona Cardinals:
His status is becoming "iffier" by the day. Boldin, who has acknowledged that he does not expect his ankle to be 100 percent healthy, did not practice Wednesday and there seems to be some momentum building toward resting Boldin for a week to afford the ankle some opportunity to heal. While it's unlikely that one week will allow the ankle to recover completely, it certainly could go a long way toward improving his chances of making it through a full game.
Boldin has played the past two weeks despite the injury but has struggled after the first half. According to the Cardinals' official Web site, coach Ken Whisenhunt is evaluating the situation and insists, "We always try to make the decision that's in the best interest of the team." Fantasy owners think it would be in their best interest to find out before game time, especially since the past two weeks have resulted in frustration. At least the Cardinals play early this week, but it's fair to say that unless Boldin makes a miraculous recovery, it certainly seems as if the team is leaning toward sidelining him for Week 9.
Mario Manningham, New York Giants:
Manningham sat out Week 8 after injuring his shoulder in practice late last week. The good news is that he's been back in practice this week and looks as if he will be available Sunday.
Donald Driver, Green Bay Packers:
Driver suffered a stinger in Sunday's game but early indications were that it was not serious and that he would play in Week 9. It is a bit concerning that Driver did not practice Wednesday or, apparently, Thursday. The Green Bay Press-Gazette reports that Driver was on the field but not in pads during the portion of practice open to the media. It certainly could be the case that the team is being cautious with Driver and avoiding any contact during the week. So far there is no indication that his status for Sunday is in doubt, but Friday's practice should yield more clues.
Be sure to check back on Saturday for post-Friday NFL injury report updates on all your fantasy players heading into the weekend.
See you at the injury chats (Tuesday 11:00 a.m.-noon, Friday 11 a.m.-noon and Sunday pre-game (10-10:30 a.m.). And check out Fantasy Football Now on Sundays at ESPN.com from 11:30 a.m. ET to kickoff for last minute inactives, rankings and more!
December, 24, 2008
12/24/08
6:30
PM ET
By
Stephania Bell, ESPN.com
| ESPN.com
If you're playing this week, you have two big challenges: You have to decide who might be healthy enough to play in this final week of the NFL regular season, then you have to gauge whether the coach will actually utilize that player enough to warrant a spot on your fantasy roster. This represents perhaps the biggest strategic second-guessing you are faced with all season. Hopefully we can help by giving you a few hints in the injury department.
Joseph Addai, RB; Dominic Rhodes, RB; Marvin Harrison, WR, Colts:
Addai has sat out the past two games to rest his sore shoulder. He has benefited from the rest and Tom James of the Terre Haute Star-Tribune reports that coach Tony Dungy says of Addai, "I think he'll be ready this week." The Colts will monitor how he does in practice, but it looks as if Addai will see playing time, but how much? With your fantasy championship at stake, is he worth a start? Probably not. Even if Addai gets on the field to get some reps, it is unlikely that he plays for an extended period of time. Don't get too excited if you think you've got it made with Dominic Rhodes as your handcuff. Rhodes has already been ruled out of this week's game with sore ribs. Dungy has already indicated that the Colts have some younger players they would like to see get some more game experience. For instance, rookie
Chad Simpson
, who managed to get in the game briefly a couple of weeks ago, may end up with more extended playing time this week. There's a good chance he's still available in your league.
Colts receiver Marvin Harrison has missed some time recently with a hamstring injury. Despite the fact that the strain was in the distal part of the hamstring, nearer the knee, which usually hints at a longer recovery time, Harrison is reportedly feeling much better and could be ready to play this weekend. That being said, with the Colts being cautious, don't expect Harrison to see much playing time, even if he is active.
[+] Enlarge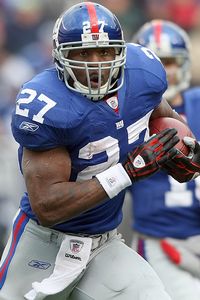 Nick Laham/Getty ImagesJacobs looked great last Sunday, but the Giants may rest him to make sure he's 100 percent healthy for the playoffs.
Brandon Jacobs, RB; Derrick Ward, RB, Giants:
Brandon Jacobs looked good last weekend, and proved that his strength helps him compensate for any residual knee instability. Jacobs was limited in practice Wednesday, however, and it would not be a surprise if he is limited to a very short amount of playing time, if any, this weekend. Ward, who has a sore ankle, has been running very well when called upon, and is not far from reaching 1,000 yards on the season himself. He was a full participant in practice and should play plenty on Sunday.
Marion Barber, RB, Cowboys:
If you watched either of the past two Cowboys games, you don't need me to tell you that Barber is still having trouble with his recently dislocated toe. Those problems continue into this week as Barber missed practice Tuesday and was limited on Wednesday. His persistent problems prompted coach Wade Phillips to tell the Dallas Morning News: "Maybe we shouldn't have played him at all. Maybe he would be well by now." Well, maybe. But it's clear that the Cowboys likely won't make the same mistake three times. It looks as if Barber will rest this week and
Tashard Choice
will once again see the bulk of the work.
Some other players to keep an eye on as the week progresses
&#8226 Although the 49ers' practice report was not yet in as of the writing of this column, it is still sounding as if running back
Frank Gore
will be able to see the field this Sunday. Although he is no lock to play the entire game, it would seem that Gore will be allowed to go as long as the ankle permits. We should have a better idea of what to expect once the week of practice is complete.
&#8226 Expect Cardinals wide receiver
Anquan Boldin
(sore shoulder) to be back on the field this weekend as Arizona tries to get in sync before the playoffs. Boldin was held out of practice Wednesday but should see some practice time late in the week.
&#8226 In Green Bay, both
Donald Driver
and
Greg Jennings
left Monday night's game with injuries. According to the Green Bay Press-Gazette, Driver sustained a knee contusion (bruise) and Jennings suffered a concussion. Driver was able to return to the game following his injury, always a good sign, but was held out of practice Wednesday. We will check back this weekend but he should be able to go by Sunday. Jennings was limited in practice Wednesday, and the fact that he is back out in practice already is a great sign. He should be able to play Sunday.
&#8226 Both
Calvin Johnson
(knee bruise) and
Kevin Smith
(ankle) were in practice on a limited basis Wednesday. Expect both to be available Sunday as the best hopes for a team trying to avoid a winless season.
&#8226 In Philadelphia,
Kevin Curtis
was kept out of last week's contest with a calf strain. The good news is that Curtis was a full participant in practice Wednesday and it sounds as if the Eagles expect to have him available this weekend, assuming there are no post-practice setbacks.
Hank Baskett
is still limited by his medial collateral ligament (MCL) sprain and it is too early to predict whether he will be available. Even if he is, you should look elsewhere for another fantasy option. And by now you should know not to worry too much when
Brian Westbrook
doesn't practice early in the week. Westbrook has overcome knee and ankle injuries early in the year to provide a much-needed spark for the Eagles' offense. That should continue this weekend as the Eagles need a win and will count on his contributions.
&#8226 In Dallas, it's not just the running backs who are hurting. Quarterback
Tony Romo
missed Wednesday's practice because of illness but is expected to return to practice late in the week and play this weekend. Tight end
Jason Witten
, who clearly aggravated his ankle injury in the Cowboys' game Saturday, was held out of Wednesday's practice as well. Make no mistake though, Witten will be in the lineup in this all-important game for the Cowboys. Even if his ankle is bothering him, Witten proved in Week 16 that he could still get open and make plays. Fantasy owners can count on him in Week 17 also.
&#8226
Marshawn Lynch
was not in practice Wednesday after aggravating his shoulder last weekend. According to the Bills' official Web site, coach Dick Jauron expressed optimism that Lynch would indeed play this weekend, but fantasy owners need to be aware that
Fred Jackson
may see a larger-than-usual workload.
Guys whom you should NOT expect to see this weekend
Chad Johnson, WR, Bengals:
The hamstring strain that kept him out during Week 16 will likely cause him to miss the final game of the season as well.
Matt Hasselbeck, QB, Seahawks:
His back has been an issue for him all season long and there is zero reason for him to return this week in a meaningless contest for the Seahawks.
Kellen Winslow, TE, Browns:
Winslow is still recovering from a high ankle sprain, and there is clearly no reason for the team to risk putting him back on the field this weekend.
Here's wishing everyone a very happy, restful and peaceful holiday. We'll update the latest player injury status on Saturday and be sure to stop by the injury chat on Sunday at 10 a.m. ET!