Stephania Bell:

Donnie Avery
November, 8, 2012
11/08/12
2:22
PM ET
There aren't many surprises heading into Thursday night's game between the
Jacksonville Jaguars
and the
Indianapolis Colts
, although there are a couple of question marks. The biggest name on fantasy rosters in tonight's matchup, running back
Maurice Jones-Drew
, remains out with a foot injury suffered in Week 7. While there has been no official timetable for his return, it appeared from the outset when Jones-Drew was on crutches and in a boot that it would be a multiple-week injury. Considering Associated Press reports that Jones-Drew is still in a boot and using a push cart to get around the Jaguars' training facility, the likelihood of him being ready for game action in the next 10 days seems highly unlikely. Like the saying goes, you need to be able to walk before you can run. It also stands to reason that you need to run before you can play football. Especially when you are a
running back
. On the flip side, there is no reason to think at this point that Jones-Drew's season is in jeopardy. The healing process for these injuries is slow and deliberate -- and has to be in the interest of returning to full health -- but even if he is not in practice, he is presumably progressing in his rehab effort. Until he begins field activities, though, it's hard to project any sort of timeline.
Here are a couple of other players who might be of interest on Thursday night.
Donald Brown, RB, Indianapolis Colts, knee (Q):
Brown underwent arthroscopic surgery on his knee shortly after the Week 5 game and missed the next two contests as a result. He returned in Week 8 and came out of the game reportedly unscathed, even returning to practice early in the week. Late in the week, however, he experienced swelling in the knee and was downgraded the day before the Week 9 game from probable to questionable. Brown was active for last Sunday's game nonetheless, although teammate
Vick Ballard
got the starting nod. Brown had one reception for 7 yards, garnered no carries and was out of the game early. It was later reported that he experienced some in-game swelling and soreness, hence the decision to use caution. Brown has not practiced all week but remains questionable for Thursday. His lack of practice doesn't necessarily translate to an automatic absence Thursday night. The rest for a short week may be what he needed most. That said, there likely won't be an announcement as to his status until just before game time, and if he is active, there's no telling how much he will play.
Donnie Avery, WR, Indianapolis Colts, hip (Q):
Avery left last week's contest in the second half with a hip injury but it doesn't appear to have been anything serious. Avery was considered day-to-day early in the week but was able to get in two full practices Tuesday and Wednesday. It would appear, barring a setback, he will play Thursday night.
Blaine Gabbert, Jacksonville Jaguars, shoulder (P):
Gabbert tore the labrum in his left (non-throwing) shoulder in Week 7 but has managed to play without any obvious limitations in the last two games. He practiced fully again this week and is expected to start Thursday night.
October, 22, 2009
10/22/09
2:10
PM ET
Lots of teams are getting some rest this week, and they have to be looking forward to it. The
Detroit Lions
have ailing quarterbacks and receivers, the
Seattle Seahawks
have hurt offensive and defensive linemen, and the
Tennessee Titans
... well, they just need a break.
This week six teams are on bye -- the Lions, Seahawks, Titans,
Denver Broncos
,
Jacksonville Jaguars
and
Baltimore Ravens
-- so fantasy owners need to hustle to fill those empty roster spots.
Here are some status updates as we look ahead to Week 7.
Quarterbacks
Trent Edwards, Buffalo Bills:
I know that not many fantasy owners were looking at Edwards as a bye-week replacement anyway, given the season he's had so far. But just in case you were contemplating it, don't. Edwards suffered a concussion in Week 6 and was not at practice Wednesday. This is his second concussion in just more than a year and he will be monitored for his recovery in terms of both symptoms and cognition (brain processing). It sounds as if the Bills are preparing
Ryan Fitzpatrick
for a likely Sunday start against the
Carolina Panthers
.
Running backs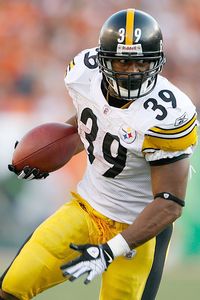 Andy Lyons/Getty ImagesWillie Parker's toe is getting better, but now he's lost his starting job.
Rashard Mendenhall and Willie Parker, Pittsburgh Steelers:
This week, coach Mike Tomlin indicated that Mendenhall has passed Parker on the running back depth chart. Parker has been dealing with a case of turf toe, and although he sported some supportive new shoes when he played last week, he has not done enough to maintain the starting position. As far as his toe goes, Parker did not appear to emerge from Sunday's contest any worse for wear, and he is back in practice to start the week. Meanwhile, newly anointed starter Mendenhall sustained a knee bruise in Sunday's game that relegated him to limited work Wednesday. The good news for Mendenhall fantasy owners is that this is not expected to keep him out of this week's matchup.
Marion Barber and Felix Jones, Dallas Cowboys:
Barber has no doubt benefited from the bye week to further the healing of his strained quadriceps muscle. He did not, however, benefit from the hit he took against the
Kansas City Chiefs
in Week 6. Barber thought he had just jammed his left thumb, but upon further review, it turns out he suffered a fracture. He has been outfitted with a cast, according to the Cowboys' official Web site. However, the injury has not affected his ability to practice, nor will it affect his availability for Sunday. Barber carries the ball predominantly with his right hand, so it should not affect his ball control on the run. It may be more challenging to catch a pass out of the backfield, however, so that option may be diminished.
Jones has been on the mend from a PCL (posterior cruciate ligament) sprain and until this week has not practiced. He was back in limited work Monday and in full practice Wednesday, wearing a knee brace for support. According to the Cowboys' official Web site, Jones credited the team's athletic training staff with helping him get back to practice and reported only soreness after his return. PCL injuries can often be challenging to recover from, but the difficulty varies depending on the degree of damage to the ligament. The athlete is often left with some residual instability, which often shows up for a running back during sharp deceleration or change in direction. The brace provides additional support behind the knee to help control motion of the lower leg (tibia) relative to the thigh (femur). Jones has indicated that he likely will wear the brace if he plays Sunday (which he currently expects to do). It will be important to see how Jones' knee holds up after a full week of practice to gauge just how much action he's likely to see. After all, team owner Jerry Jones already announced on his weekly radio show that
Tashard Choice
is "going to get a big part of the load."
The good news for Dallas is bad news for fantasy owners. They have three backs who are likely to see playing time, but the division of labor is unclear at this point. At this point it seems to be shaping up as predominantly Barber and Choice with a sprinkling of Jones. Stay tuned for Saturday's update.
Wide receivers
Roy E. Williams, Dallas Cowboys:
Williams has been back in practice this week after missing Week 5 (and resting during the bye week) because of bruised ribs. Williams also reportedly suffered cartilage damage in the area, which can be slow to heal. The good news is that it appears that Williams is responding well to practice and plans to play Sunday. The unknown factor is how he will feel absorbing contact, especially if he takes a shot to the previously injured area.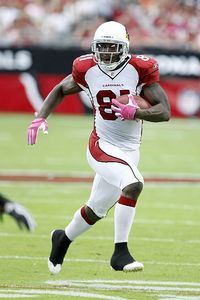 Rick Scuteri/US PresswireAnquan Boldin has already called himself a gametime decision for Sunday, not a great sign.
Anquan Boldin, Arizona Cardinals:
Boldin is already referring to himself as a game-time decision, which is not great news for fantasy owners. Boldin, who suffered an ankle sprain in Week 6, did not practice Wednesday and told the Arizona Republic that his status is "up in the air." Boldin has been limited by soft-tissue injuries in the past, and teammate
Steve Breaston
has shown that he is capable of stepping up. Arizona does not play until Sunday night, so barring any major turnaround by Friday, fantasy owners should make plans to have a substitute for Boldin.
Percy Harvin, Minnesota Vikings:
Harvin was limited in practice Wednesday as a result of his sore shoulder, which he aggravated during Sunday's game. Last week Harvin was limited throughout the week, played, but then suffered a setback which clearly caused him a great deal of pain. His availability for this week is unclear.
Jerricho Cotchery, New York Jets:
Cotchery's strained hamstring kept him out of Week 6 action and may keep him sidelined again. On Wednesday, Cotchery did not participate in practice (only individual drills) and was non-committal about his potential availability for Sunday. If he is not running full speed by the end of the week, fantasy owners should be concerned.
Donnie Avery, St. Louis Rams:
Avery has a bruised hip that kept him out of Wednesday practice. According to the Belleville News-Democrat, the hip tightened up on him, so the team limited him to conditioning work on the side. The hope is that he will be able to return to practice late in the week and be available for Sunday. At this point, his status is day-to-day.
Be sure to check back on Saturday for post-Friday NFL injury-report updates on all your fantasy players heading into the weekend.
See you at the injury chats (Tuesday 11 a.m.-noon, Friday 11 a.m.-noon and Sunday pregame 10:00-10:30 a.m.). And check out "Fantasy Football Now" on Sundays at ESPN.com from 11:30 a.m. EST to kickoff for last-minute inactives, rankings and more!
October, 20, 2009
10/20/09
2:27
PM ET
This past weekend was tough for linemen. Several teams suffered big losses up front on defense, perhaps most notably those in Cincinnati and New York. The
Cincinnati Bengals
lost defensive end
Antwan Odom
to a ruptured right Achilles tendon. Odom had had some problems with the Achilles during the preseason, and it appears those symptoms were a precursor to the tendon's ultimate failure. He had surgery Monday to repair the Achilles and faces a long rehabilitation process but should be ready for next season. The
New York Jets
' vaunted defense may have gone down several notches when its star defensive tackle,
Kris Jenkins
, went down with a left ACL tear. Jenkins also faces surgery and a lengthy rehab, but he, too, should be ready for next season. Jenkins has been through this process before with his right knee, so he knows exactly what to expect.
But what are fantasy owners to expect from their injured players? Here's what we're looking at so far after Week 6: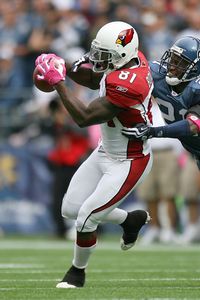 Otto Greule Jr/Getty ImagesAnquan Boldin was held to just 54 yards receiving on Sunday, partly due to his ankle injury.
Anquan Boldin, WR, Arizona Cardinals:
Boldin suffered a right ankle sprain Sunday that forced him out of the game early. The Cardinals' official Web site reports that Boldin left the game early only to help his chances of being available for Week 7, not because he couldn't continue, according to coach Ken Whisenhunt.
That's an interesting slant, especially when it's unclear whether Boldin will indeed be ready to play Sunday. In any case, Boldin had X-rays taken of the ankle, which showed no fracture, so it will come down to just how well he can perform throughout the week. Boldin certainly has dealt with his share of soft tissue injuries. At least so far, this latest ailment does not appear particularly serious.
Percy Harvin, WR, Minnesota Vikings:
Harvin already was dealing with a sore shoulder heading into Week 6, and let's just say it's not feeling any better. Harvin, who suffered a shoulder injury in Week 5, did not practice Wednesday but was able to increase his activity Thursday and Friday. His questionable designation heading into Sunday's contest reflected the fact that he was not yet fully recovered.
The Minneapolis Star Tribune reports Harvin then suffered a setback during a fourth-quarter kickoff return on Sunday. Although Vikings coach Brad Childress later told reporters that X-rays revealed "nothing extra in there," the sight of Harvin sporting a sling on his left arm after the game was not a positive. The Vikings have not offered any specifics as to the nature of Harvin's injury, but there is some early concern about his potential availability for this week's matchup against Pittsburgh.
Donnie Avery, WR, St. Louis Rams:
Injuries have not been kind to Avery. He suffered a stress fracture in his foot in August, causing him to miss a couple of weeks of preseason action. Avery was able to recover more quickly than expected and managed to play in the Rams' season opener. A series of minor ailments (bruised ribs, hamstring strain) nagged at him, although nothing kept him off the field on Sundays. In Week 5, Avery was at his best for the season and looked to have put the injuries behind him. Then came Week 6.
Avery left Sunday's game with a left hip injury and had to be concerned based on past experience. Last season, Avery had a stress fracture in the same hip that forced him to miss most of training camp. The good news is that an MRI on Avery's hip reportedly turned out normal, and he is dealing with a bruise. According to the St. Louis Post-Dispatch, Rams coach Steve Spagnuolo is calling Avery's status day-to-day and adds that Avery is eager to get back out on the practice field. We will see what he's able to do as the week goes on.
Sammy Morris, RB, New England Patriots:
There has not been much in the way of specifics out of New England about Morris' health. We do know he left Sunday's snowy contest in the first quarter with a leg injury. The Boston Globe reports that Patriots coach Bill Belichick says the team will do "like we normally do, and assess his availability for practice and ultimately at the end of the week for the following game." That translates into a daily practice situation, meaning fantasy owners likely will not have anything definitive until late in the week.
Trent Edwards, QB, Buffalo Bills:
Edwards suffered his second concussion in two years on Sunday and was forced out of the game against the Jets in the second quarter. According to the Bills' official Web site, coach Dick Jauron did not offer a prognosis on Edwards, but based on what we know about concussions, that is a virtually impossible task. Concussion recovery is assessed on a daily basis, and until Edwards improves enough to return to physical activity, the team cannot even begin to consider his availability for Week 7. Fantasy owners should make alternate plans.
Other quick hits:
Minnesota Vikings running back
Adrian Peterson
feels good after tweaking his ankle. Coach Brad Childress told the Minneapolis Star Tribune that Peterson is dealing with "overall body soreness," so it doesn't appear that anyone in the Vikings' organization is terribly concerned.
New York Giants
wide receiver
Mario Manningham
hurt his back during Sunday's game, and that led to
Hakeem Nicks
seeing more playing time. Manningham told the Newark Star-Ledger that the injury is not serious.
Tennessee Titans
running back
LenDale White
was carted off with a knee injury but was seen leaving the facility without crutches, according to the Nashville Tennessean.
Dallas Cowboys
running back
Felix Jones
and wide receiver
Roy E. Williams
were back in practice Monday after sitting out during the team's bye week. Both expect to play this week, but it is worth keeping an eye on them in practice to see just how much they can do.
See you at the injury chats (Tuesday 11 a.m.-noon, Friday 11 a.m.-noon and Sunday pregame 10-10:30 a.m.), and we'll have the latest injury updates affecting Week 7 in the Saturday morning blog.