Stephania Bell:

Doug Fister
May, 31, 2012
5/31/12
11:17
AM ET
April, 10, 2012
4/10/12
3:45
PM ET
Stephania checks in today with the latest on Doug Fister and Drew Storen:
What's in a name?
The
Detroit Tigers
have indicated that pitcher
Doug Fister
suffered a "left costochondral strain" in his outing Sunday, which resulted in him landing on the 15-day disabled list. So what exactly is this injury, and how long till Fister can return to the Tigers' rotation? Here's my best attempt at answering both of those questions.
[+] Enlarge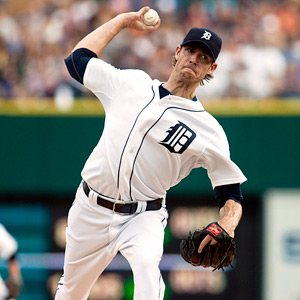 Icon SMIThe Tigers likely will be cautious with Doug Fister's costochondral strain.
The word "left" is pretty straightforward. We know that Fister suffered an injury to his left side, the side opposite his throwing arm (also referred to as the contralateral side). The bones that form the front of the chest wall (the manubrium and the sternum) connect to the ribs via cartilage segments. The word "costochondral" refers to the junction between a rib (costo) and its respective cartilage (chondral) segment. While little to no movement happens at these particular joints, the cartilage allows for some flexibility within the rib cage.
Perhaps more importantly, there are a number of muscles which attach to the ribs in the vicinity of these joints, and these names start to sound more familiar when it comes to pitcher injuries. The intercostal muscles run, as their name implies, from rib to rib, including along the costochondral region. (We have heard of pitchers suffering "intercostal" strains, including the
Baltimore Orioles
'
Brian Matusz
in 2011). To complicate matters, the intercostals have connections to the oblique muscles in the lower part of the rib cage. (Ah, now that brings up a term we have all become familiar with when it comes to pitching injuries: the oblique strain.) Appreciating the close anatomical relationship of these different structures is important because it reminds us just how difficult it can be to differentiate which specific part (or parts) might be responsible for an athlete's pain. In some cases, imaging (such as MRI) can localize the injury, but imaging might not always be required.
So does it really matter which anatomical structure is injured when it comes to determining how long a player will be sidelined? According to a study published in March 2012 in the American Journal of Sports Medicine, aptly titled "Abdominal Muscle Strains in Professional Baseball," the answer would appear to be no. The authors reviewed the incidence of abdominal muscle strains in Major League Baseball between 1991 and 2010 by retrospectively examining the DL. They noted that different terminology was sometimes used to describe the same injury, and therefore the terms intercostal strain, rib-cage/muscle strain, oblique strain, rectus abdominis strain and abdominal muscle strain were all included within the category of abdominal muscle strains. While the authors acknowledged the confusion that could arise out of different names being used to represent the same injury, they found that no matter what the injury was named, the time missed remained essentially the same.
On average, pitchers spent 35.4 days on the DL due to abdominal muscle strains, and more than 75 percent of those injuries were to their contralateral side. Also of interest was the observation that the overall number of these injuries is on the rise in the last decade, particularly early in the season, although there is not a clear explanation as to why that is the case. There is also a high rate of re-injury (12.1 percent), which supports the theory that teams are perhaps more cautious with these injuries now and take good care not to rush players into service too soon.
It seems Fister's injury, despite its somewhat unique descriptor, would likely get lumped in with the above grouping. (Note: When contacted, lead author Stan Conte, Sr. Director of Medical Services for the
Los Angeles Dodgers
, said he could not recall an injury listed by this name among the cases he reviewed.) Barring some more-severe development in Fister's case (such as an injury to the rib itself or a crack of the rib cartilage), and based on the past players who had similar injuries, the expectation should be that Fister will miss approximately 35.4 days. It should be noted that the Tigers have not placed a timetable on his return, and as Fister told MLive.com, "It's just a matter of seeing how I feel each day and going from there."
The dreaded phrase ...
Why does the phrase "(insert name here) is scheduled to visit Dr. James Andrews" result in such anguish within the sports world? After all, Andrews is quite congenial and has established an excellent reputation in the realm of sports medicine. Well, I suppose it's because most athletes are not stopping by Andrews' office on a social call as they happen to be traveling through the neighborhood. As many have come to know by now, when an injured athlete is scheduling a visit with Andrews, it's typically for a second (or third) opinion of a pending surgical procedure.
Of course, many athletes leave their consultation with the reassurance that surgery is not imminently required. Those stories rarely get headlines, though, as players quietly return to the business of rehabilitating their injury and eventually (ideally) return to play. When surgery is already being considered by a team as an option, however, a confirmation from Dr. Andrews often seals the deal.
It is with all that in mind that Nationals fans and
Drew Storen
's fantasy owners saw a spike in their anxiety levels when the team announced that the closer is headed for a consultation with Andrews. Storen started the season on the DL after experiencing soreness in his elbow this spring. He last appeared in a game March 7 but had progressed to throwing from a mound. Nationals manager Davey Johnson told reporters Monday that Storen had soreness in his elbow after throwing in a simulated game Sunday in Florida. "Hopefully it's nothing serious, but it doesn't sound good to me," said Johnson. Unfortunately, it doesn't sound good to anyone. It's too soon to panic about a potential sudden ending to Storen's season. It is worth considering, however, that even if there is no surgery in Storen's future, a more extended downtime (read: multiple weeks) is likely to result, given his recent reaction to throwing and his overall struggles this spring.