Stephania Bell:

Doug Martin
September, 18, 2014
9/18/14
9:59
AM ET
AP Photo/Brian BlancoDoug Martin has nine yards on nine rushing attempts thus far in 2014.
The 0-2
Tampa Bay Buccaneers
travel to the Peach State to take on the 1-1
Atlanta Falcons
on Thursday night. Each team has some injuries to fantasy-relevant players that I've been monitoring all week, and here's the latest:
Buccaneers
•
Doug Martin, RB, knee (Q):
Martin injured his knee in the first game of the season and sat out last Sunday's contest. With the team's third game coming only four days later, it's not clear whether he is quite ready to return to action. There have been no details released as to the nature of Martin's injury, but he was able to participate in practice on a limited basis this week. It should be noted Martin was able to practice, albeit in limited fashion, last Thursday and Friday, but he still ended up on the sideline.
According to ESPN.com's Pat Yasinskas, coach Lovie Smith did little to clarify Martin's status. If anything, he indicated his preference would be to share the workload in any given week, if everyone is healthy. Everyone includes most notably,
Bobby Rainey
, who got the Week 2 start in Martin's absence, rushing for 144 yards on 22 carries and catching three passes.
"We want to play more than one running back, two, maybe three," Smith said, per Yasinskas. They may get their wish if Martin is able to go. It appears he has a decent chance of doing so, although how much work he would get is unclear.
Falcons
•
Julio Jones, WR, ankle, (P):
Jones appeared on the Falcons' injury report this week because of an ankle issue. This ailment appears to be relatively minor and never seemed to threaten Jones' status for the week. More importantly, his recently surgically repaired foot appears to be doing just fine. Jones was able to fully participate each day in practice during the shortened week and, listed probable, is expected to play.
•
Roddy White, WR, knee, (Q):
White may not have practiced this week because of a hamstring ailment, but his teammates don't seem too concerned about his availability for Thursday night. According to ESPN.com's Vaughn McClure, White said
he was "good"
after injuring his hamstring in last Sunday's matchup against the
Cincinnati Bengals
. After all, the injury wasn't serious enough for him to miss any offensive snaps.
Given the shortened week leading up to Thursday's game, the nonparticipation in practice may be more about managing a veteran in order to ensure his availability while hopefully guarding against a setback. Entering Week 2, White was on the injury report because of his left knee. He had the knee drained during the offseason, and coach Mike Smith indicated White's in-season practice preparation would be tempered at times
to preserve him for game day
.
So far, White hasn't been restricted in games, and it is presumed he will take the field tonight. But there is at least a little concern when it comes to even minor hamstring injuries, given their propensity for being easily aggravated. The hope is White will survive the night without a setback, then take advantage of the 10-day break before the Falcons face the
Minnesota Vikings
. Given the questionable tag, fantasy owners should verify White's status before kickoff.
September, 9, 2014
9/09/14
5:56
PM ET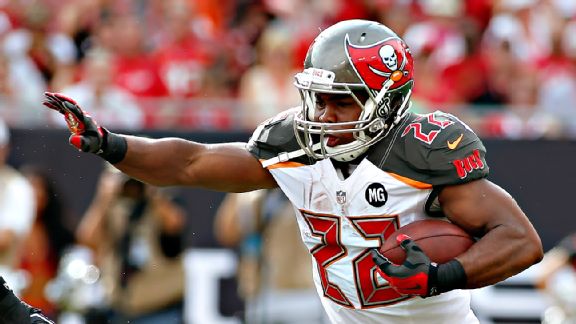 AP Photo/Brian BlancoDoug Martin had just nine carries for nine yards while being hampered by a leg injury in Week 1.
Coming out of Week 1, here are some of the most notable injury situations for which we have some pertinent information.
Cam Newton, QB, Carolina Panthers (rib): He missed Week 1 with a rib injury. For more information on his Week 2 status, check out my video report.
Doug Martin, RB, Tampa Bay Buccaneers (leg): Martin entered the season healthy, fully recovered from the shoulder injury he sustained in Week 7 of the 2013 season that ultimately led to surgery to repair a torn labrum. The clean bill of health didn't last long, however, as Martin suffered a left-leg injury in Week 1 that kept him out of the game late. Martin told the Tampa Bay Times that someone rolled on his leg, and he was sporting a wrap after the game. Coach Lovie Smith did not deliver an update on Martin's status Monday.
Toby Gerhart, RB, Jacksonville Jaguars (ankle): Gerhart sprained his ankle in the second quarter of Sunday's game and it looked as if it might be the end of the day for him if not longer. To his credit, Gerhart was able to return although he acknowledged being "really sore" after the game. According to ESPN's Michael DiRocco, Gerhart is expected to play Sunday against Washington. Expect Gerhart's practice activity to be limited leading up to the game but, as of now, it appears he will try to press through it. The question will be how effective of a runner he can be and there is the risk of an in-game setback. The bigger question may be just how Gerhart will hold up across a season. He has never held a feature role and he missed time last year with the Vikings as a result of a hamstring injury sustained after he replaced an injured Adrian Peterson. He already dealt with a hip flexor injury during training camp; now there's the ankle injury. Time will tell.
Alshon Jeffery (hamstring) and Brandon Marshall (ankle), WR, Chicago Bears: The Bears' two top wide receivers each dealt with injury in the season opener; the next question is whether those will factor into games beyond that first outing. Marshall appeared to injure an ankle and left the game twice to get taping reinforcement but was able to return and finish out the game. There seems to be little concern about his availability for Week 2. His teammate Jeffery was not able to finish the game however after straining a hamstring, although coach Marc Trestman suggested he could have returned if necessary. As of Monday, Trestman had no additional updates leaving Jeffery's practice status in question.
Shaun Hill, QB, St. Louis Rams (quadriceps): A strained left quadriceps, not a poor performance, sidelined Hill for the second half of Sunday's game. Head coach Jeff Fisher said Hill was experiencing discomfort late in the first half and the decision was made at halftime to hold him out for the remainder of the game. His status will be day-to-day throughout the week, but if Hill is healthy enough to play, Fisher says he will indeed start. If Hill represented a significant running threat, the quad strain might be more of a concern, but that is not the case. Although pain associated with tightness in the thigh resulting from any bleeding or edema was enough to sideline Hill last Sunday, with treatment over the next few days, there's a decent chance he'll be ready to go this week.
Jordan Reed, TE, Washington Redskins (hamstring): Reed came into Week 1 with concerns about a sprained thumb suffered in the preseason. He exited the game early with concerns about a hamstring strain and how long it might linger. Reed, projected to be a top-10 fantasy tight end this season, had just one reception for 4 yards before departing due to injury. In fact, following the tackle after he made that reception, when Reed tried to get up and walk, the injury made itself apparent. Reed hopped on his right leg, unwilling to initially put his weight on the left leg. As he limped toward the bench, Reed instinctively reached around to the back of his upper left thigh, one of the universal hallmarks of a hamstring injury.
On Monday coach Jay Gruden labeled Reed's hamstring strain as mild yet noted he "could miss some time." According to ESPN's John Keim, the team is still awaiting Reed's MRI results. The greatest concern with even mild hamstring injuries is that they will turn into something more significant if a player attempts to do too much too soon. It certainly appears that backup plans are warranted for Reed, whether that ends up being for one week or longer.
Tyler Eifert, TE, Cincinnati Bengals (elbow): The Bengals have yet to confirm the nature of the injury to Eifert's right elbow or indicate how much time he might miss. Eifert was seen wearing a sling while standing on the sidelines Sunday after the injury occurred, and the NFL Network's Albert Breer reported it was a dislocated elbow. A dislocated elbow with no complications could result in approximately a four- to six-week absence; an associated fracture or extensive soft tissue trauma could require a longer recovery. Fantasy owners should seek other options.
Addendum: On Thursday, ESPN's Adam Schefter reported the Bengals have placed Eifert on IR/designated to return. Under this designation, Eifert will be eligible to return to practice after six weeks and eligible to return to the active list after eight weeks. This means Eifert could potentially return to play in the Bengals' Thursday night game against the Browns on Nov. 6.
November, 7, 2013
11/07/13
8:05
PM ET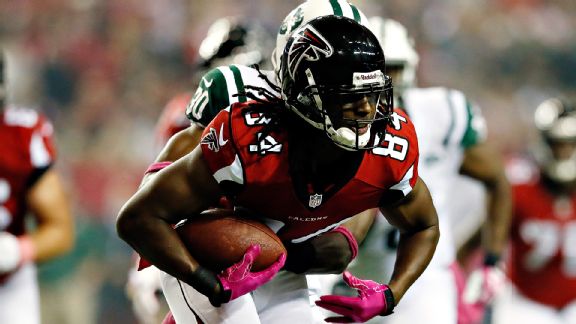 Kevin C. Cox/Getty ImagesRoddy White looks like he could be back for the Falcons this week.
It appears to be a "Welcome Back!" week for several key fantasy players who may be able to help owners bail out of some tough roster situations, given other injuries around the league and a four-team bye week.
At least one of the returning names comes as quite a surprise (we're talking about you,
Jay Cutler
), given the original projection of at least a month's absence. With perhaps the highest-profile signal caller in the league,
Aaron Rodgers
, going down with a broken left collarbone on Monday night, the value of a capable fantasy backup quarterback was highlighted. The return of both Cutler and
EJ Manuel
this week suddenly becomes even more important. They're not the only players returning from injury, but the expectation (or at least the plan) is that the quarterbacks will play the entire game. Can the same be said of the others? Don't count on it.
Here are a few of the names returning to game action:
Roddy White, WR, Atlanta Falcons (hamstring):
It was White himself who told ESPN.com's Vaughn McClure he expects to return to action Sunday, the most definitive declaration he's made about game status in a while. White has been out since injuring his left hamstring in Week 5. The Falcons had a bye the following week but it wasn't nearly enough time for White's hamstring, superimposed atop a high ankle sprain he suffered in the preseason, to heal. In fact, White did not even return to practice until late last week and that was only on a limited basis.
This week he has practiced on back-to-back days, increasing his workload, an encouraging sign not only for the coaching staff but also for the player.
"You know, I wanted to get out there and have a full week of practice before I actually played in a game," White said.
Does this ensure he won't have any issues whatsoever when the Falcons take on the Seahawks? Of course not, but he finally appears to have gotten the rest his body needed to allow him to function as more than a decoy. This may be the healthiest White has been since the season officially got underway.
RBs Andre Brown (not on injury report), Brandon Jacobs (hamstring), David Wilson (neck) and Victor Cruz, WR (neck), New York Giants:
Brown was assigned IR/Designated for Return status after fracturing his left fibula in the preseason. The Giants' Week 9 bye forced an extra week of rest on him but it appears he is ready to make his season debut after being activated Thursday. Although Brown may have physically been able to beat the timetable required by IR designation, it's hard to argue with the team's decision to place him on the shorter-term IR given that he had fractured the same bone in the same leg just last year. That sent him to surgery and season-ending Injured Reserve. Brown has had some extra time to increase his conditioning and build up strength in his leg muscles and seems to be full of excitement as he approaches his return to the field.
"I haven't been able to sleep, because it's like Christmas," Brown said. As ESPN.com's
Dan Graziano notes
, Brown may be limited to certain packages in his first outing but those are likely to come on third downs and at the goal line.
[+] Enlarge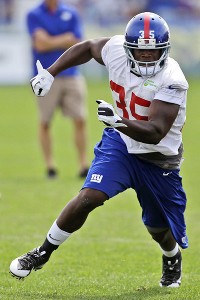 AP Photo/Seth WenigAndre Brown is eligible to return for the Giants.
In the meantime, Jacobs is still recovering from a hamstring injury sustained in his standout appearance for the Giants in Week 6, when he rushed for over 100 yards with two scores. He has not played since however and this week only returned to limited practices. It is not clear whether he will be available Sunday but with Brown back and
Peyton Hillis
functioning in the place of the injured Jacobs the last few weeks (and with Hillis perhaps in line for more work than Brown to start), it appears they may not be pressed to utilize Jacobs.
The Giants also placed fellow back Wilson on season-ending Injured Reserve this week. He injured his neck in Week 5, and it was later reported to be a herniated disc. The good news for Wilson is that after consultations with various specialists it does not appear he will need surgery, at least not at this time. Unfortunately, the time frame envisioned for his recovery extends beyond the time left in the season, hence the decision to shut him down.
Cruz suffered a neck injury in the Giants' Week 8 game, so the bye could not have come at a better time. Cruz was held out of practice Wednesday but did return Thursday on a limited basis, although the Giants required him to don a red non-contact jersey. It makes sense. Just as players coming back from certain other injuries are re-introduced to practice without contact as a starting point, it allowed Cruz to participate and get a feel for doing football activity without the extra risk of absorbing hits. Coach Tom Coughlin told reporters afterward that they would evaluate his response to the day's activity and if all went well, there would likely be no red jersey Friday. Assuming Cruz is able to ramp it up a notch Friday without incident, it appears he will be available come Sunday.
Mario Manningham, WR, San Francisco 49ers, (knee):
Manningham is not actually on the injury report but he's been considered an injured player since last season after undergoing multi-ligament reconstructive surgery in his knee. The 49ers removed Manningham from the PUP list, indicating there is a possibility he could play as soon as this week, although the team has not fully committed to that yet. Offensive coordinator Greg Roman referred to Manningham as "day-to-day,"
per ESPN.com's Bill Williamson
. Still, Manningham has been a full participant in practice and quarterback
Colin Kaepernick
sounded like he was excited about the prospect of his availability.
"Mario, he's a receiver that's easy to throw to," Kaepernick said. "So it's not going to take much time for him to get back up to speed."
This may be true but, as we've seen with other players coming back from major knee surgeries, it often does take some adjustment to ramp up to the speed of the game. Fantasy owners should temper expectations for Manningham's early outings, but it will be interesting to see how he factors in as a receiving option as he regains his form.
Problems for premier RBs
On a less encouraging note, it appears Texans running back
Arian Foster
could be in danger of missing Sunday's game. Foster left with a back injury in the first series of the Week 9 game and has not yet practiced. Instead he has been spending time with the medical staff as they sort through the nature of his injury. Foster's teammate and fellow back
Ben Tate
continues to work on a limited basis with his rib injury and is expected to play.
Meanwhile, it appears the window of opportunity for a return for Buccaneers' running back
Doug Martin
is closing. Although Martin has made progress in both the pain level and range of motion of his injured shoulder, it appears the team is re-evaluating the risks versus the benefits of his trying to return this season. The risks appear to be winning.
It was never a question of whether Martin would need surgery but whether he would be able to resume play and contribute this year and undergo surgery in the offseason. The team is expected to make a decision before Monday night's game against the Dolphins according to the Tampa Bay Times and is reportedly leaning toward a move to injured reserve. Even if his season does come to a close, Martin's time has not been wasted. Improved range of motion and less pain heading into surgery can help him on the other side and he should have plenty of opportunity to recover prior to next year's camp activities.
And quickly ...
Bengals' running back
Giovani Bernard
(ribs) practiced on a limited basis Wednesday and Thursday. It appears he will be ready to play come Sunday ... Cowboys wide receiver
Dez Bryant
has had some recurring issues with tightness in his back but the condition does not appear worrisome for the Cowboys. While it has the potential to act up at any time, the plan is clearly for Bryant to play Sunday night in New Orleans ... When the Saints host the Cowboys, it's possible they could be without receiver
Marques Colston
for a second week. Colston sat out Week 9 because of his knee and has only practiced on a limited basis so far. It's worth noting he has done more this week than last but clearly is not past the issue which sidelined him ... Colston's teammate, tight end
Jimmy Graham
, returned to practice Thursday after a Wednesday off and running back
Darren Sproles
, who left last week's game with a concussion, was a full participant as of Wednesday. Both are expected to play.
October, 24, 2013
10/24/13
11:25
AM ET
"Thursday Night Football" features an NFC South matchup as the
Carolina Panthers
pay a Week 8 visit to the
Tampa Bay Buccaneers
. Here's an injury update on key fantasy players on both teams.
Tampa Bay Buccaneers
Doug Martin, RB, shoulder (out):
Martin injured his shoulder in Sunday's game when he landed hard on his elbow while trying to make a catch. He
reportedly suffered a torn labrum
, and the amount of time he will miss is not clear. Other than ruling him out early for Thursday night's game, the team has given no indication as to how long Martin will be absent. For his part, Martin has expressed confidence that he will return this year. According to ESPN.com's Pat Yasinskas, Martin said during his weekly radio show that his pain has decreased and his range of motion has increased, two encouraging early signs. Although it may take some time for him to attempt a return, he has not given up on this season. In the meantime,
Mike James
will take his place.
Mike Williams, WR, hamstring (questionable):
The good news is that Williams played Sunday after being listed as questionable. The bad news is that his hamstring issue is still enough of a problem to keep him listed as "questionable" entering Thursday's game. Williams cropped up on the injury report in Week 4 (though he played), had a bye in Week 5, sat out Week 6, and then returned without much fanfare in Week 7 (four receptions for 32 yards). Williams was listed as a full practice participant Monday, was listed as a limited participant Tuesday, and then upgraded to full status on Wednesday. Barring a setback, it appears likely that Williams will take the field Thursday night. However, it also appears his hamstring is still limiting him. Having two games only four days apart isn't helping.
Carolina Panthers
Steve Smith, WR, ankle (probable) and Brandon LaFell, WR, knee (probable):
One of the least favorite sights in fantasy football is when a player's name is added to the injury report the day before a game. That is the case with Smith, who appeared on Wednesday's injured list after reportedly getting his foot stepped on in practice. However, the "probable" tag tells us not to be concerned, and Smith is expected to play. As for LaFell, he was limited in Monday's practice coming out of the Week 7 game but was back to full practice on Tuesday and Wednesday. He also is expected to play Thursday night.
Greg Olsen, TE, foot (probable):
Olsen has been a regular on the injury report for several weeks with a foot ailment, often starting the week in a boot but upping his activity late in the week and playing on game day. It appears he is doing the same thing this week. Olsen sat out Monday's practice but was a full participant Tuesday and Wednesday. Despite the short week, Olsen is expected to play against the Buccaneers.
Jonathan Stewart, RB, ankle (out):
Although Stewart has been ruled out for Thursday night's game, the important note is that this week he joined his teammates on the practice field for the first time this season. Stewart started the year on the physically unable to perform (PUP) list after lingering problems with his ankles, both of which had been operated on in the offseason. According to ESPN.com's David Newton, Stewart
expects to play Nov. 3
when the Panthers host the
Atlanta Falcons
.
October, 22, 2013
10/22/13
5:24
PM ET
Tampa Bay Buccaneers
running back
Doug Martin
left Sunday's game in the third quarter with a shoulder injury, and early reports sounded encouraging. It was Martin who indicated X-rays on his left shoulder were fine, and that his shoulder was not separated.
But X-rays only tell the bony part of the story. Later media reports indicated Martin suffered a torn labrum, damage to the fibrocartilaginous ring that adds depth and stability to an otherwise shallow and inherently unstable shoulder joint. Depending on the location and extent of the damage to the labrum, the injury can range from something an athlete can play through with intermittent discomfort to something that requires surgery and cuts a season short.
Labral tears are most often associated with throwing athletes, as the repetitive motion of bringing the arm overhead wears down the tissue with time. Acute labral tears like the one Martin apparently suffered are more often the result of episodes where the shoulder is jammed during a hard fall or when contact forces the shoulder to either sublux (slip quickly out of place but pop back in) or completely dislocate, resulting in damage to the surrounding tissue.
Ultimately, the degree of damage and loss of function will determine whether the player can continue to play. At this point, it sounds as if that has not been determined. Presuming Martin undergoes a trial of conservative rehab to see how his shoulder progresses, it could be a matter of weeks before the team arrives at a final decision.