Stephania Bell:

Drew Bennett
September, 13, 2008
9/13/08
1:29
PM ET
Here's a fun fact: The
Miami Dolphins
have a
clean
injury report. That's right. Nobody, no one, not a single player is on their injury report this week. I'm not sure I've ever seen this before, but how happy must a team be when they can submit their injury report to the league office Friday afternoon and it's a blank sheet? Is there anyone out there in fantasy league-land who has every player on their roster healthy? I didn't think so. That's why we bring you the injury updates heading into Week 2. Set your injury-adjusted lineups and hope for a healthy week.
[+] Enlarge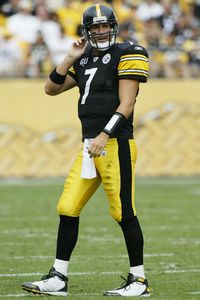 George Gojkovich/Getty ImagesRoethlisberger should be out on the field leading the Steelers, but if a blowout occurs, he could get pulled.
Ben Roethlisberger, QB, Steelers:
Although he didn't practice Wednesday due to the sore throwing shoulder, he did some work Thursday and managed a full practice Friday. Roethlisberger is listed as probable, meaning he is expected to play, but if the shoulder starts to give him trouble as the game goes on, or if he shows signs of fatigue in the arm, expect his playing time to be limited. Roethlisberger has a history of playing through various ailments, and this should be no different, but the team will make every effort to preserve him for the long haul.
Marion Barber, RB, Dallas Cowboys:
Barber was already looking like someone who expected to play Monday night despite a rib injury in that he fully practiced Wednesday and Thursday. Friday did nothing to dispel that as he practiced fully yet again. He is officially listed as probable, and with the extra day of rest, it appears he will see a regular workload. Perhaps even more significant is the idea that he has been doing so well already, he may not need to wear the protective gear that could make ballhandling a little more challenging. For someone who relies on speed and ball control, carrying no extra weight and minimizing interference is a bonus. Barber looks to be in good shape for Monday night.
LaDainian Tomlinson, RB, and Antonio Gates, TE, San Diego Chargers:
Who knew that big-toe problems could be contagious? The Chargers have another star plagued by a big-toe injury, as Tomlinson jammed it in last week's contest. The good news is that X-rays were negative, but the toe was painful enough that Tomlinson did not practice Wednesday or Thursday. Tomlinson was able to practice fully Friday, but he is only listed as questionable on the Chargers' injury report. According to ESPN reports, Tomlinson believes that based on what he was able to do in Friday's practice and how he felt afterward that he is closer to probable to play Sunday.
The role of the big toe in every aspect of running, pivoting, cutting and jumping cannot be overemphasized, as it has to bear the weight of the entire body with any pushing off. If the ligaments around the toe are injured, repeated stress not only causes pain but can make it difficult to heal. It appears that Tomlinson will play Sunday, but if the toe becomes a limiting factor, he may see decreased time on the field.
Meanwhile, teammate Antonio Gates put up a decent performance in Week 1 in his first outing since undergoing surgery on his big toe. He appeared to suffer no major setbacks, although he did come out of Week 1 with a sore hip to add to the toe discomfort, and as a result was limited in practice early in the week. Gates, however, was a full go in practice Friday and is listed as probable, which bodes well for his Sunday status. He acknowledges that his toe is not 100 percent, but told the San Diego Union-Tribune earlier in the week that the more he does, the better it becomes. Clearly his confidence in the foot is coming back.
Dallas Clark, TE, Indianapolis Colts:
Clark is listed as questionable and, although he was able to do some practice activity Friday, is far from certain to be on the field Sunday. Clark injured his knee last Sunday, and despite the negative MRI had enough discomfort to keep him from doing anything in practice until Friday. It does not sound like we should expect much, if anything, from him this week.
There is good news elsewhere on the Colts' offensive front, however. Center
Jeff Saturday
, who just a couple of weeks ago was considering surgery on his torn medial collateral ligament (MCL), chose to undergo conservative treatment and is well ahead of schedule. Saturday was able to participate fully in practice all week and has a shot to play this weekend. Even if he doesn't take the field this week, the progress he is making has to make the Colts, and
Peyton Manning
in particular, very happy. If not this week, expect to see Saturday back next week in tandem with his quarterback.
[+] Enlarge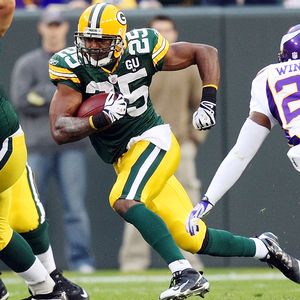 Jeff Hanisch/US PresswireGrant is clearly not 100 percent, but he'll make a go of it this weekend.
Ryan Grant and Brandon Jackson, RB, Green Bay Packers:
Grant had a nice first week, even while operating at less than top speed. But Grant was reportedly very sore at halftime of Monday night's contest, a sign that the hamstring was clearly not fully healed. The Packers have helped Grant manage this injury well, as they are no doubt acutely aware of the risk of this turning into a season-long problem. Consequently Grant was kept to limited practice reps early in the week to allow his leg some more rest.
Grant did practice fully Friday and expects to play, but he is listed as questionable, and the Packers will want to see how he feels Saturday morning before they make a final decision on his status. Coach Mike McCarthy told the Milwaukee Journal-Sentinel: "He looked good. Really the question for Ryan will be tomorrow, same thing we went through last week. How does the hamstring feel in the morning? They worked it. They pushed him as far as he probably could go today, and we'll see how he is tomorrow." If Grant feels good Saturday, his chances of playing go way up.
Teammate Brandon Jackson is listed as probable and is expected to play after suffering a concussion Monday night that kept him out of practice Wednesday and limited Thursday. In fact, Jackson will likely be used more to balance Grant's playing time, given that Grant is still not 100 percent.
Reggie Brown, WR, Philadelphia Eagles:
Brown did not play last week after aggravating his injured hamstring mid-week. This week did not exactly provide encouragement that he is ready to return. Brown is listed as questionable, but did not practice Wednesday and practiced only on a limited basis Thursday and Friday. Brown told the Philadelphia Daily News that he was "very limited" after Thursday's practice. I trust the words of the athlete, and this does not sound like he is confident in his recovery just yet. Of course there is the extra day, given that the Eagles play Monday night, but Brown will likely be a game-time decision, something fantasy owners should shy away from. Besides, given the fact that Brown spent most of the preseason and the first week of the season injured (first the Achilles', now the hamstring), it would be worth watching his first-game performance to see how he fares before expecting big things.
Willis McGahee, RB, Baltimore Ravens:
McGahee was active last week, but you wouldn't know it. He spent the entire game on the sidelines, pacing a bit, hoping to get into the game. But the Ravens' coaching staff decided it would be best to wait. McGahee is now listed as probable in Week 2 and is expected to take the field Monday night (the game was moved to Monday because of Hurricane Ike in Texas).
As far as how the knee feels, the Ravens' official Web site quoted McGahee as saying "It gets better every day, so I can't complain." In addition to having the extra week to rest his knee, McGahee had additional time to work with a new offensive system and get into game shape. Expect McGahee to see action Monday, although he may not appear as the "feature" back. The Baltimore Sun reports that a full workload may not be in the game plan for McGahee, as he will likely split carries with
Ray Rice
and
Le'Ron McClain
. McGahee will need to prove his commitment to working hard as a team player, while demonstrating that he can physically handle the workload before he is allowed to assume a major role. Fantasy owners should keep that in mind.
And a couple of IDP tidbits ...
OK, Carly. This section is introduced this week per your request.
Derrick Brooks, LB, Tampa Bay Buccaneers:
Brooks is still dealing with a lingering hamstring injury. He has not been able to practice all week and is listed as questionable. Unfortunately, his 193-consecutive-game streak is at risk of being broken this week, but ultimately the team needs to make the best decision for his long-term health. Expect Brooks to be a game-time decision.
Albert Haynesworth, DT, Tennessee Titans:
Haynesworth suffered a concussion during last week's contest, and as a result was held out of practice all week. Haynesworth says he expects to play, but the team will not likely make a final decision until Sunday morning before the game. He is officially listed as questionable. Concussions are not something teams take lightly, and Haynesworth will have a series of tests he will need to pass before he is cleared to play.
Antonio Cromartie, CB, San Diego Chargers:
Cromartie has a sore hip that kept him out of practice Wednesday and Thursday. He was able to practice on a limited basis Friday and is listed as questionable, so he has a chance of being on the field. He is also likely to be a game-time decision. The Chargers have to hope they will have him available to match up against Denver's double threats,
Brandon Marshall
(returning this week after a suspension) and impressive rookie
Eddie Royal
.
Out:
This is a list of key fantasy players, not including those who have been moved to injured-reserve status, who are officially listed as "Out" for Week 2.
It's not too late! Leagues are forming and drafting until Sep. 20, with scoring retroactive to Week 1.
Sign Up Today!
Aaron Stecker, RB, New Orleans Saints:
You knew Colston was out with a surgically repaired thumb. Stecker now joins him with a hamstring injury.
Reggie Bush
looked good last week, and
Pierre Thomas
showed he was a factor. Expect
Deuce McAllister
to get back into the game this week as well, although how much he will be utilized remains a question.
Drew Bennett, WR, St. Louis Rams:
He has a foot fracture. He will appear in this section for at least a month.
Brodie Croyle, QB, Kansas City Chiefs:
Croyle has a separated shoulder and will likely miss two weeks, minimum.
Bobby Engram, WR and Maurice Morris, RB, Seattle Seahawks:
Seattle's poor offense and their string of bad luck continue. Expect these two to be here for a few more weeks.
Vince Young, QB, Tennessee Titans:
The knee, the hamstring, and everything else. His timetable is very hard to predict right now.
Kevin Curtis, WR, Philadelphia Eagles:
Still recovering from sports-hernia surgery but coming along nicely. The Eagles hope to have him back in the first half of October.
Be sure to check out our site Sunday for pregame chats and Fantasy Football Now at 12 p.m. EST. Good luck in Week 2!
September, 10, 2008
9/10/08
12:38
PM ET
In the course of 48 hours, we have learned of three key players whose 2008 season ended almost as quickly as it began.
New England Patriots
quarterback
Tom Brady
is going to have season-ending surgery on his left knee. The Patriots have yet to specify the exact nature of his injury, but it likely involves at least one major ligament if surgery is involved. The
Seattle Seahawks
, who were thin at wide receiver to begin with, lost
Nate Burleson
to a torn ACL, and he too will undergo reconstructive surgery. Lastly,
San Diego Chargers
All-Pro linebacker
Shawne Merriman
had a significant knee injury that was well-documented before his start of the season. Merriman played substantially in Week 1, but apparently the knee issues proved too daunting to overcome. Merriman has now been placed on injured reserve as he too prepares to undergo reconstructive knee surgery.
For all the fantasy owners in mourning over this latest turn of events, don't despair; that's why there's the waiver wire. At least you
know
these players are done. On the other hand, there are plenty of players who got nicked up this weekend whose status is a little less than certain. Here's what we know so far.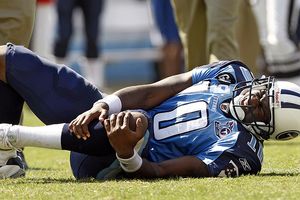 AP Photo/John RussellVince Young likely will miss at least a couple of games with a knee injury.
Vince Young, QB, Tennessee Titans:
Tests have confirmed the initial diagnosis of a medial collateral ligament (MCL) sprain, according to The Tennessean. Early reports suggested that Young could miss two to four weeks, which, for a mild sprain, represents a feasible time frame for a quarterback. Since the lateral mobility demands for a quarterback are less than that for a running back, a quarterback can often return to action a little sooner, wearing a brace for reinforcement. Young plays a physical game, though, and it would be surprising to see him back early, especially considering how much pain he looked to be in at the time of the injury. He was also nursing a sore hamstring heading into Week 1, so he may benefit from extra time to ensure that he is truly healthy before he attempts to return.
The other issues surrounding Young's overall well-being cannot be ignored. Nashville police were searching for Young on Monday night when his family did not know where he was and he did not have his cell phone with him. All ended well, and it turned out that Young was with a friend, but the incident raised the specter of how adversity might be affecting the young quarterback. Young's mother, Felicia Young, told The Tennessean, "It is hard, all he is going through right now. He's hurting inside and out."
If Young is your quarterback, be sure to get a replacement this week. It looks as if the reins have been turned over to
Kerry Collins
for the immediate future, and there is no guarantee, particularly if Collins does well, that Young automatically assumes his role when he returns.
Ben Roethlisberger, QB, Pittsburgh Steelers:
There does not appear to be any major cause for concern here. After all, what sort of football season would it be in Pittsburgh if Big Ben were not getting a bit banged up? Roethlisberger appeared to suffer a leg injury (later called a knee bruise) in the first half and looked to be limping, but returned in the second half, proving it was not serious. According to the Pittsburgh Post-Gazette, Roethlisberger said his knee was hyperextended on a tackle by
Amobi Okoye
.
Turns out Roethlisberger also suffered a bruised shoulder in the season opener, thanks to a
Mario Williams
sack. That injury seemed to be a bigger concern to coach Mike Tomlin, who told the Post-Gazette that he expects Roethlisberger to be limited in practice with the sore shoulder. Other than calling it sore, there has been no particular diagnosis on Roethlisberger's shoulder, which is a good sign. A hard fall on the turf, when it doesn't result in a separated shoulder, can impact the rotator cuff tendons. Any swelling or bruising in the area could affect a thrower's ability to deliver the ball accurately. Rest, ice and some treatment in the training room are no doubt a big part of Roethlisberger's schedule over the next few days. Stay tuned.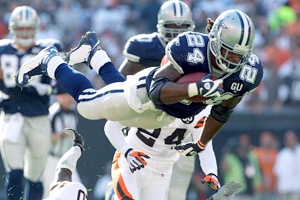 Matthew Emmons/US PresswireMarion Barber had two scores in Week 1, but his hard rushing style has already resulted in an injury.
Marion Barber, RB, Dallas Cowboys:
Team owner Jerry Jones told the (Fort Worth) Star-Telegram that Barber likely will have to play in some pain for a while. I wonder if he's ever had a rib cartilage injury. Hmmm. It hurts just to take a deep breath, much less take a hit from a large human moving at breakneck speed.
That aside, it does sound as if the Cowboys expect Barber to return to practice Wednesday and be ready for Monday night. Despite the optimism, keep an eye on practice reports throughout the week, as this is the type of injury that can linger. It's also possible that Barber may wear added protection for his ribs. The bulkiness of the extra gear can make ballhandling a bit more difficult, so players often prefer not to use it. After Barber practices this week, we should have a better picture of his Monday status.
Marques Colston, WR, New Orleans Saints:
Wow, this one was a surprise! Colston apparently suffered a ligament injury to his left thumb during Sunday's game, which ultimately required surgery. The surgery was performed Tuesday, according to The (New Orleans) Times-Picayune, and Colston is projected to be out at least a month. Depending on the healing process, the time frame could extend upwards to six to eight weeks. No specifics have been given as to which ligament was damaged, but in all cases, the role of the thumb for a receiver is critical in terms of ballhandling. This is not exactly a position where it would be easy to return wearing a splint or a cast, so expect him to be out closer to six to eight weeks. More catches could be in line for
David Patten
,
Devery Henderson
and tight end
Jeremy Shockey
as a result.
Dallas Clark, TE, Indianapolis Colts:
Clark underwent an MRI on his injured right knee, but the specifics have not been made public. According to The Indianapolis Star, general manager Bill Polian said team physicians were "fairly optimistic" about Clark's knee. This is another situation where Clark's practice activity this week should give a better hint as to whether he will be available this weekend. Coach Tony Dungy told the Star that he hopes Clark will be OK, but "if it is going to be a couple of weeks, we'll adjust." It sounds like contingency plans should be made if you're a Clark owner.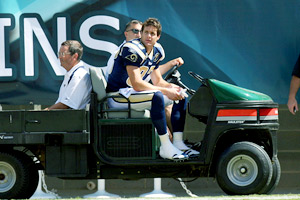 Photo by G. Newman Lowrance/Getty ImagesAs if the Rams offense needed any more bad news, Drew Bennett has a fractured foot.
Drew Bennett, WR, St. Louis Rams:
Bennett suffered a foot fracture in Sunday's opener and is expected to miss at least a month and probably longer. Fractures take four to six weeks to heal, and then there's the issue of actually being able to run, turn, jump and land on the foot effectively enough to play the receiver position. If Bennett is on your fantasy team, it's probably worth going in a new direction as it will be quite some time before he could potentially contribute. Not to mention the Rams' offense didn't exactly light it up in Week 1. Bennett is likely to be replaced by rookie
Keenan Burton
, and the Rams just signed veteran
Eddie Kennison
.
Maurice Morris, RB, Seattle Seahawks:
It wasn't enough for the Seahawks to lose a receiver to injury. They also saw one of their running backs exit the game with a knee sprain. Fortunately, Morris' injury was not as serious as Burleson's, but nonetheless he is expected to miss at least two weeks. According to the Seattle Post-Intelligencer, the Seahawks are hopeful that Morris,
Deion Branch
(still recovering from a reconstructed left ACL) and
Bobby Engram
(healing from a fractured shoulder) will all return after Seattle's Week 4 bye. Former Cowboy
Julius Jones
will get the starting nod at running back in Seattle, at least for the time being.
Jeff Garcia, QB, Tampa Bay Buccaneers:
Garcia sprained his ankle Sunday but managed to finish the game, tough guy that he is. It does appear that the ankle injury could be problematic, though, since coach Jon Gruden told The Tampa Tribune that Garcia had swelling, and he has been labeled as questionable this week. Garcia was already nursing a calf injury during camp as well as a jammed pinkie finger on his throwing hand. Garcia is known to play through pain, but wasn't altogether effective last Sunday, which may factor into the overall decision on whether to start him.
Fantasy owners beware. We've been down a similar road before. Late last season, Garcia took a shot to the back and was stiff, sat out part of practice, but by the end of the week was assuring everyone that he could play. At the last minute, Gruden scratched him from his start, much to the dismay of Garcia fantasy owners. For his part, Gruden told The Tampa Tribune that he wants to decide who will be under center by Wednesday. (
Brian Griese
is the backup in Tampa Bay).
Let's see what Garcia actually does in practice this week, but if you own him in your league, secure a replacement just in case.
It's not too late! Leagues are forming and drafting until Sep. 20, with scoring retroactive to Week 1.
Sign Up Today!
Ahman Green, RB, Houston Texans:
Did you really think Green would stay healthy the entire season? He has had a tough time of it over the past year or so. Last year, he was continually challenged with inflammation in his knee that effectively ended his season prematurely. This year he was limited in camp with a groin injury but had recovered enough to suit up for Week 1. The clean bill of health did not last long, however, as Green was forced to the sideline early with an ankle injury. Other than listing him as day-to-day on their official Web site, the Texans have not released the specifics as to the nature of Green's ankle problem.
Rookie
Steve Slaton
saw increased action as a result and likely will continue along that path. However, according to the Texans' official Web site, they plan to bring in some other running backs for workouts and may also consider bringing up
Darius Walker
from the practice squad. Could
Shaun Alexander
show up here? He's certainly made it known that he's available. This could get interesting.
That should get your waiver wires going for the week. Be sure to tune in to my chat Friday at 11 a.m. ET here on ESPN.com as we discuss all things injury-related. Also, my injury blog will update Saturday with the latest injury-report information headed into the Sunday games.