Stephania Bell:

Drew Brees
October, 7, 2010
10/07/10
5:11
PM ET
We head into Week 5 with more questions than answers.
After a slew of injuries were added to the mix Sunday, the injury reports are starting to get more and more lengthy. This is the time of year where the list of truly healthy players is shorter than the list of guys who are hurt. But as we've seen time and time again in the NFL, many players will end up playing with some sort of ailment at some point in the season. The challenge for fantasy owners is twofold: The first hurdle is trying to figure out which injuries will keep a player from taking the field, the second is determining how effective a player can be if he does end up playing in the presence of an injury.
At the risk of stating the obvious, there is no way to know these things with any certainty. Many times a player has an injury that looks as if it will keep him out, plays anyway, and then even when not at his best, still has a productive outing. Case in point:
St. Louis Rams
running back
Steven Jackson
in Week 4. Jackson, who has dealt with groin injuries, expressed concern throughout the week not only about his ability to play but about the risk of encountering a setback. Rams coach Steve Spagnuolo echoed the sentiment and reiterated the greater need to have Jackson available for the majority of the season (as opposed to any one game). But Jackson did end up playing and, as expected, was visibly limited in situations where a healthy Jackson might have been able to deliver an extra burst. After the game, Jackson even referenced his awareness that he was limited and could not run full stride. (Check out ESPN NFC West blogger
Mike Sando's report
on the support Jackson wore and how it impacted his performance.)
That said, Jackson was still able to deliver a decent fantasy performance. Ahhhh, such are the great unknowns when it comes to fantasy football. Every week, fantasy owners are challenged with making the tough decisions as to whether to sit 'em or start 'em. And every week, we try to gain a little bit of insight as to which way a player might be leaning based on what he's doing in practice. This week is no different ... so let's get to it.
Don't forget to make plans for your players who are out on bye in Week 5. The
Miami Dolphins
,
New England Patriots
,
Pittsburgh Steelers
and
Seattle Seahawks
are all off this week.
Quarterbacks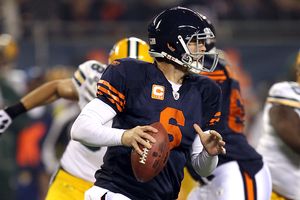 Jonathan Daniel/Getty ImagesJay Cutler had been playing well before getting sacked nine times and suffering a concussion Sunday night against the Giants.
Jay Cutler, Chicago Bears:
Fantasy alert: Cutler will not be starting for the Bears in Week 5. On Tuesday, we noted that Cutler, who suffered a concussion in Week 4, was at the team practice facility the next day. We also noted that Cutler would have to progress through the necessary steps in order to return. He was participating in limited practice Wednesday, which initially appeared to be an encouraging sign. But part of evaluating a player's recovery is seeing how he responds to activity. According to the Bears' website, Cutler met with team doctors and an independent consultant after practice, at which point both parties recommended that he continue with limited work and sit out the Week 5 game.
The name of the game when it comes to concussion these days is player safety first. If there is any question as to his health, the athlete will be held out of competition. Cutler is expected to be re-evaluated in the early part of next week.
Todd Collins
will start for the Bears at Carolina. Collins incidentally was forced out of the Week 4 contest with what was later called a stinger. After the game, ESPNChicago.com reported that Collins stated he felt OK, other than some neck stiffness. Collins was a full participant in practice Wednesday and the team has clearly determined he's capable of playing Sunday.
Running Backs
Clinton Portis, RB, Washington Redskins:
The news on Portis' groin injury is not good as he is expected to miss 4-6 weeks with a Grade III tear. Grade III means there is a complete tear, and coach Mike Shanahan told the Washington Post that Portis' injury was "off the bone," also known as an avulsion injury. While Shanahan indicated that Portis would not need surgery, recovery involves both the necessary healing time for the tissue and the subsequent time it takes to regain the mobility, strength and power required to function at running back without the fear of re-injury. While this injury is unfortunate for Portis and the Redskins, the fact that there is some certainty with regards to the running back situation, at least for the next few weeks, is helpful for fantasy owners.
Portis will be out at least a month, probably longer, and the possibility remains that he could see an early end to his season if his recovery is prolonged. In other words, he needs to be replaced in all fantasy lineups, and the obvious choice is
Ryan Torain
. Last week, there were hints that Torain would see an increase in action even in the presence of Portis. After Torain's strong performance Sunday, there is every indication that he will be the starter. While Torain has an injury history of his own, perhaps this is the year he excels. He's certainly off to a solid start in that direction.
Fantasy owners should keep an eye on whether the Redskins maneuver to bring in another experienced running back or whether they keep
Chad Simpson
and
Keiland Williams
as Torain's insurance. For now, however, Torain is projected to see the majority of the carries in Washington.
Wide Receivers
Andre Johnson and Jacoby Jones, Houston Texans:
Neither Johnson nor Jones practiced Wednesday, which leaves many fantasy owners feeling uneasy. Johnson continues to nurse the ankle injury that kept him out of Week 4. While he was not in practice Wednesday, he did do some running, and coach Gary Kubiak told reporters he was hopeful that Johnson would be able to do some route running Thursday. It turns out Johnson did do some work Thursday and apparently Kubiak was encouraged by what he saw. Nick Scurfield at the Texans' website reports that Johnson will remain a game-time decision. Jones did not do any work Wednesday and Kubiak indicated that he would likely rest his strained calf until Friday. The Texans' receiving prospects for Sunday may not be clear until just before game time.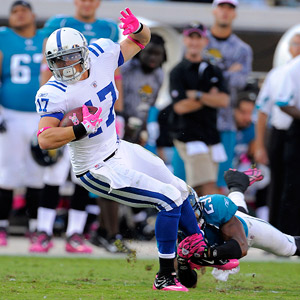 Scott A. Miller-US PRESSWIREAustin Collie has scored a touchdown in every game this season.
Pierre Garcon and Austin Collie, Indianapolis Colts:
Here's another receiving duo with injury questions. This pair resides in Indianapolis and it's possible things might look a little different for the Colts this week. Garcon, who has missed the past two weeks with a strained hamstring, was a full participant in practice Wednesday. It looks as if Garcon might be heading for a return this week, but there has to be at least some lingering concern, regardless of his status, because he spent much of the preseason nursing an undisclosed injury only to exit in Week 2 with a strained hamstring. The bottom line is that until Garcon is able to string together several strong appearances, it will be difficult to know whether the injury is truly behind him. Even if he does play, it's not clear how the Colts will use him.
Meanwhile, Collie, who has filled in superbly in Garcon's absence, did not practice Wednesday because of a foot injury and was in a protective boot. Collie missed a day of practice last week with a reported heel injury but practiced fully Friday and played well again Sunday. It's unclear whether this week's ailment is a continuation of last week's, although it stands to reason that is the case. It's also unclear whether resting Collie early in the week is proactive to ensure his Sunday availability or whether his playing status is truly in jeopardy.
Reggie Wayne
also missed Wednesday practice to rest his knee, but there has been no outward concern voiced in Indianapolis.
The lineup for the Colts' receivers should also become clearer after Friday's practice.
Quick Hits
•
Philadelphia Eagles
running back
LeSean McCoy
has not practiced since suffering a broken rib Sunday. While not yet officially ruled out, it would not be a surprise if McCoy doesn't play Sunday night.
•
New Orleans Saints
running back
Pierre Thomas
, who sat out Week 4 because of an ankle injury sustained in the Week 3 contest, did not practice Wednesday. Nonetheless, coach Sean Payton said that Thomas is improving, according to the New Orleans Times-Picayune, and he is optimistic about his availability for Sunday's matchup against the
Arizona Cardinals
. It would be more comforting for fantasy owners to see Thomas return to some form of practice during the week as evidence that he will be able to play. It's worth remembering, however, that last week Payton noted Thomas' football intelligence, citing it as a reason Thomas could play Sunday even if he only sees limited practice.
• As noted above, the Rams' Jackson was able to run despite not being at his best. Jackson was limited in Wednesday's practice but based on last week's performance, expect him to go Sunday, barring a setback.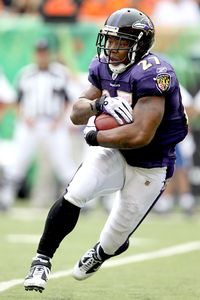 Matthew Stockman/Getty ImagesRay Rice was limited to just nine touches for 29 yards last Sunday to help rest his bruised knee.
• The
Baltimore Ravens
expressed confidence in
Ray Rice
and his recovery from his knee contusion, yet proceeded to limit his action in Week 4. At least Rice emerged from last Sunday unscathed and has returned to full practice this week. It sounds as if he will start when the Ravens face the
Denver Broncos
this week.
•
Oakland Raiders
running back
Darren McFadden
is looking iffy for this week's contest against the
San Diego Chargers
. The hamstring he injured Sunday has kept him from practice. While McFadden has not been ruled out, it remains to be seen whether he will be able to run by this weekend. Fantasy owners should expect
Michael Bush
to step up as the primary running back this week.
• New Orleans quarterback
Drew Brees
is listed on this week's injury report because of his knee. While that might initially have seemed like a cause for concern to fantasy owners, it shouldn't be. The Times-Picayune reports that Payton was making an attempt to be "more thorough" by listing everyone with an ailment on the report. Some may recall that Brees did not appear on the list last week despite the brace on his knee and a mild MCL sprain. Brees, of course, started and played the entire game and is expected to do the same this week.
• Running back
Ahmad Bradshaw
gave the
New York Giants
a scare when he came up limping after injuring his ankle Sunday night. Bradshaw did not practice Wednesday but was able to do some drills. For his part, Bradshaw says his ankle feels "100 percent" and he expects to play this weekend, according to the New York Daily News. Let's see if he's able to get back into practice this week before getting totally comfortable with his assessment. The Daily News noted Thursday that he was in full pads walking toward the field just as the session was closing to the media. Stay tuned.
• The
Cleveland Browns
could have
Jake Delhomme
running the offense in Week 5, as he returned to practice this week after suffering a high ankle sprain in the season opener. Although Delhomme is still limited in his work, signs would certainly point toward coach Eric Mangini starting him this week if he continues to progress. Mangini officially remains non-committal but that is consistent with his approach when talking (or not talking) about injury issues at all positions.
•
Detroit Lions
running back
Jahvid Best
was a limited participant in practice Wednesday. He played last week, so there's no reason to think he won't be available this week. But it is worth noting that Lions coach told the Detroit News that he plans to use
Kevin Smith
(back in action last week following ACL surgery) more to keep Best fresh. It's hard to imagine if Best is playing well that he won't continue to dominate the starting role. That said, it's also hard to believe he is past the turf toe issue, even if he is feeling better. The Lions play at home on turf this week, so it will be interesting to see how he responds.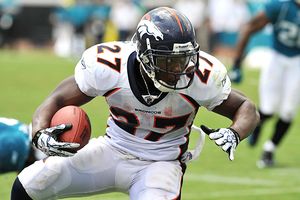 Al Messerschmidt/Getty ImagesKnowshon Moreno's status is still up in the air for this week because of his hamstring.
• Broncos running back
Knowshon Moreno
did not practice Thursday after doing limited work Wednesday. According to coach Josh McDaniels, this was not due to a setback but rather a means of trying to manage a player returning from this type of injury As McDaniels told reporters Thursday, "Unfortunately, we can't have him out there every day until he's totally healthy." Fantasy owners need to see more from Moreno before counting on him in their lineups, too. McDaniels rates Moreno's Sunday status as "questionable," but given his back-to-back hamstring injuries and still tentative health, it would be risky to count on him for Week 5.
• Colts running back
Joseph Addai
remains on the injury report because of his knee but has been able to play so far. It appears that this will be an ongoing situation for Addai. Teammate
Donald Brown
remains out of practice with a hamstring ailment.
See you at the injury chats (Tuesday and Friday 3-4 p.m.) and we'll have the latest injury updates affecting Week 5 in the Saturday morning blog!
September, 30, 2010
9/30/10
3:04
PM ET
Welcome to Week 4, also known as the first bye week of the season. Traditionally teams have not favored early bye weeks as the rest seems to be more welcome deeper into the season. But as it happens, some teams are truly benefiting from the timing of their byes.
The
Minnesota Vikings
,
Kansas City Chiefs
,
Tampa Bay Buccaneers
and
Dallas Cowboys
are all off this week.
For the Vikings, it means tight end
Visanthe Shiancoe
and the hamstring he injured in Week 3 get some extra rest. Wide receiver
Percy Harvin
and quarterback
Brett Favre
, both of whom have been dealing with various ailments, should also appreciate a less physical week.
In Dallas, Cowboys tight end
Jason Witten
suffered a concussion in Week 2 but played in Week 3, only to add a sprained MCL to his list of injuries. Witten's sprain was reportedly mild and he likely would have pressed to play this week if necessary, but that decision won't have to be made now. Witten can rest his knee and wide receiver
Dez Bryant
can rest his fractured rib.
Kansas City Chiefs offensive coordinator Charlie Weis was in the hospital Monday undergoing gall bladder surgery and will have an easier recovery week given the bye. Not that it sounds like he would have missed any time. After all, Weis put up with the intense pain from the infection in his gall bladder through last weekend so that he could help orchestrate the Chiefs' demolition of the
San Francisco 49ers
in Arrowhead Stadium. It will be tough for any of the Chiefs' players to complain about their own aches and pains during the off week.
Down in Tampa, Buccaneers tight end
Kellen Winslow
has been playing despite experiencing pain in his surgically repaired knee. While Winslow has been able to play through the pain, the well-timed rest could help boost his productivity going forward.
Teams do not have to provide the same injury reports during their bye weeks, so fantasy owners will have to wait until next week for updates on any of their players who are taking a week off. In the meantime, here are some updates on other players of interest which may affect bye-week pickups:
Quarterbacks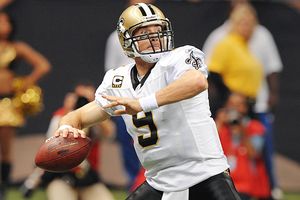 Chuck Cook /US PresswireDrew Brees isn't on the injury report, but the fact that he was wearing a knee brace in practice was a cause for concern.
Drew Brees, New Orleans Saints:
Reports of Brees in a knee brace perhaps has fantasy owners worried, but it sounds like this is not something that will keep him off the field. Brees took a shot to his knee late in Sunday's game and was limping afterward. An MRI came back negative, much to the relief of Saints fans and Brees fantasy owners everywhere. He told reporters his knee was sore but added, "It's gotten a lot better since Monday." Whew.
Brees has been wearing a brace, however, which provides some compression and support and makes it easier for him to move around. Apparently, he was moving well enough for the Saints since he was not on the injury report Wednesday. Brees should be expected to start as usual this weekend.
Jake Delhomme, Cleveland Browns:
Delhomme was out of practice again Wednesday because of his injured ankle but put in some limited work Thursday. Coach Eric Mangini has maintained all along that even if Delhomme were limited in practice, it would not prevent him from starting Sunday. If Delhomme is able to get back into the mix enough this week, it's quite possible he could take the reins this weekend.
Matthew Stafford, Detroit Lions:
Despite the pronouncement that Stafford would begin throwing this week, he did not throw in the portion of practice open to the media Wednesday and was listed on the injury report as not participating in practice. He will have to move through a throwing progression before he can even return to practice. Do not expect him back this week.
Running Backs
Ray Rice, Baltimore Ravens:
Rice did not practice Wednesday, which comes as no surprise. Diagnosed with a knee contusion after Sunday's game, Rice's activity will be limited at best early on. The Baltimore Sun quoted a source close to Rice as saying the injury "is not that bad." Sure, it's not a ligament sprain or a fracture, but one shouldn't underestimate how limiting swelling around the knee can be for a running back. The big unknown is how much time it will take for the swelling to subside so that Rice has complete, easy motion of the knee and the ability to perform at full strength. Rice is eager to play; it's just a question of how the knee and the clock cooperate. Fantasy owners should prepare a backup plan but keep an eye on Rice's activity for the next two days.
Steven Jackson, St. Louis Rams:
On Tuesday, we described how Jackson strained his groin in a
rather atypical fashion
. It's no shock then that he did not participate in practice Wednesday. Jackson continues to undergo rehabilitation for the injury but may not actually do much throughout the week. This is looking like it will be headed for a game-time decision, but savvy Jackson fantasy owners know to have a backup plan. He will want to go, he will try his best to get there, but the team may decide it's too risky to play him if he is anything at less than full speed.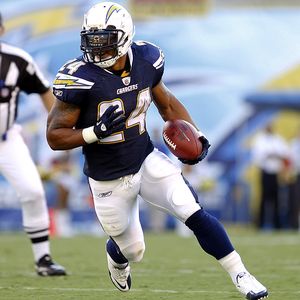 Jody Gomez/US PresswireRyan Mathews missed last week's game with an ankle injury but he looks ready to go this week.
Ryan Mathews, San Diego Chargers:
Good news for Mathews' fantasy owners: He appears on track to return Sunday. Mathews, who showed signs of improvement in the ankle late last week when he did some treadmill work, returned to practice Wednesday. In response to an inquiry Wednesday regarding Mathews' chances of playing this week, Kevin Acee of the San Diego Union-Tribune tweeted "very good." Very good news indeed.
Beanie Wells, Arizona Cardinals:
Wells was impressive in his return to the field Sunday after missing time for what we now know was an arthroscopic surgical procedure. The fact that he performed well on the field, along with no reports of unusual postgame swelling or soreness, suggests that his workload will only go up.
Tim Hightower
is expected to continue to start, but fantasy owners should feel comfortable that Wells will see significant action.
Pierre Thomas, New Orleans Saints:
Thomas got his ankle twisted Sunday and the sight of it made it look like he might not return. But he did return and finished the game. Apparently his ankle didn't forget how it felt, though, as Thomas was out of Wednesday's practice. It's too soon to speculate as to his Sunday availability, but it is worth noting that rookie teammate
Chris Ivory
made his season debut last week. Ivory, who missed the first two games of the season with an MCL sprain, did not appear on Wednesday's injury report.
Jerome Harrison, Cleveland Browns:
Harrison sat out last Sunday's game after missing practice all week with a thigh injury. He returned to limited work Wednesday but how he feels as the week goes on will ultimately determine his availability. If you happen to be one of those
Peyton Hillis
fantasy owners who celebrated last week, there's a chance you might do the same thing this Sunday. Stay tuned.
Wide Receivers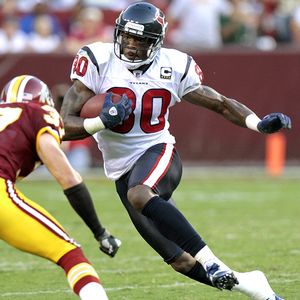 AP Photo/Bill BaptistAndre Johnson has dealt with ankle injuries the past two games, and this week he likely draws Nnamdi Asomugha as he faces the Raiders.
Andre Johnson, Houston Texans:
Johnson's ankle, aggravated during Sunday's game, kept him out of practice Wednesday, just like last week. Johnson reminded people that it was Thursday of last week when he tested the ankle with some running and he plans to do so again this week. While Johnson remains upbeat about his chances for Sunday, coach Gary Kubiak continues to take the more conservative approach. The matchup at the
Oakland Raiders
is less than favorable for Johnson and would be less so if he is not firing on all cylinders. Kubiak has already expressed that the team would be cautious with Johnson, keeping the bigger picture of the season in mind. This may come down to a game-time decision but fantasy owners may want to have insurance at the ready.
Mario Manningham, New York Giants:
Manningham was out of practice Wednesday with a concussion, initially casting doubt as to whether he will be available for this week's contest. It's no secret that managing players who suffer concussions is being taken seriously in the NFL, but Manningham was apparently well enough to return to some form of practice Thursday. Let's see how he responds as the week progresses.
Quick Hits
• Detroit Lions running back
Jahvid Best
did not practice Wednesday or Thursday, which does not exactly support the notion of his return Sunday. Tuesday we outlined the problems with
this type of injury
and the difficulty it presents for a running back in particular. Fantasy owners need to make alternate plans.
•
Denver Broncos
running back
Knowshon Moreno
was a late scratch last week after injuring his hamstring in practice. He was projected to miss more than one week initially, so it comes as no surprise that he was not practicing Wednesday. While he has not yet officially been ruled out, Moreno's fantasy owners should plan as if that's going to be the case.
•
Indianapolis Colts
running back
Joseph Addai
remains on the injury report because of his knee but was able to play last week and should again Sunday. Teammate
Pierre Garcon
remained out of practice because of his injured hamstring. It looks as if
Austin Collie
might be reprising his role this weekend.
•
New England Patriots
running back
Fred Taylor
has not practiced this week. It certainly looks as if his availability for Week 4 is in doubt.
•
Cincinnati Bengals
running back
Cedric Benson
showed up on Wednesday's injury report as a non-participant because of his knee. There is not much in the way of detail but unless Benson ends up out of practice for an extended period, this could just be a means of giving him additional rest.
•
Washington Redskins
running back
Clinton Portis
appears on the injury report again this week because of his wrist. Portis has played the last two weeks despite the wrist ailment. He fully participated in practice Wednesday so he appears to be in line to play again.
• Oakland Raiders tight end
Zach Miller
did not practice Wednesday because of an undisclosed injury.
I won't have an injury chat Friday but I will have the latest injury updates affecting Week 4 in the Saturday morning blog!