Stephania Bell:

Dustin Keller
September, 27, 2012
9/27/12
10:41
PM ET
Welcome back, NFL referees! Tonight will mark their season debut in Baltimore as the Ravens host the
Cleveland Browns
. I have no doubt that they, like players who do not start the season on time because of contract disputes, have been maintaining their workout programs in order to be ready at the drop of a hat. But I wonder if they, like the players, will take some time to adapt to the speed of the game and will we potentially see an increased injury rate in the referees in-season this year? Something to keep an eye on.
Here's who else we're keeping an eye on in Week 4.
Quarterbacks
Matthew Stafford, Detroit Lions (hamstring):
On Tuesday we discussed
Stafford's hamstring/glute injury
, which was labeled "hamstring" on the NFL official injury report Wednesday. Later that day, Dave Birkett of the Detroit Free Press tweeted that the team had revised it to a "hip" ailment. To add less clarity to the situation, consider the remarks of offensive coordinator Scott Linehan, who told reporters, "I don't really consider him injured. He's just dealing with something that's been uncomfortable ..." Based on Stafford's original remarks, this does not have the sounds of a true muscle pull but rather of an issue in the back or hip that is causing some referred pain into the gluteal or hamstring area. That leaves open a range of possibilities, but in the end the actual diagnosis may not be particularly significant, at least not yet. It will come down to functionality. Does he have enough mobility and power in the leg to function effectively, even if there is some lingering soreness? As long as that soreness does not progress into more disabling pain or weakness, then Stafford should be able to press through it. For what it's worth, he indicated he was feeling better Thursday than Wednesday.
However they decide to label it, here's what we know: Stafford did not practice Wednesday but did return Thursday, a good sign that he is preparing to be available Sunday.
Tom Brady, New England Patriots (right shoulder):
If you've missed seeing Brady's name on the injury report this year, well, he's back. And it's the same body part he was listed with when he went on that record streak of injury report appearances a few years running. He was limited at practice Wednesday but expect him to play, as always.
John Skelton, Arizona Cardinals (ankle):
Skelton began limited practices last Thursday and that's how he started off this week. Still recovering from a sprained ankle, he returned to limited practice again this week. Right now it looks as if
Kevin Kolb
will stay under center.
Running Backs
Ahmad Bradshaw, New York Giants (neck):
The Giants weren't saying much about Bradshaw's neck injury last week but he offered up some insight Thursday. The culprit, it appears, is a bulging disc. According to Ohm Youngmisuk of
ESPN New York
, Bradshaw experienced tingling in his hands during the Week 2 game but didn't attribute it to a specific hit. It happened a second time in the game, which is when Bradshaw decided he should get it checked out.
Tingling is a hallmark nerve symptom; when the tingling happens in both hands at the same time, it's a signal that the spinal cord is involved. The medical staff was understandably cautious when Bradshaw reported the symptoms and, after evaluating him, determined he could remain at the game, but could not return to play in the game. Bradshaw underwent a subsequent MRI, where the disc issue was detected. While disc injuries can be serious, they can also be fairly benign. It's not uncommon for bulging discs to be present and be completely asymptomatic. If there is an event that results in inflammation, it can become painful or provoke nerve tissue in the area (this is perhaps what Bradshaw was trying to explain when he referenced an "inflamed disc"). Often once the inflammation resolves, the symptoms do as well. It appears this was the case with Bradshaw.
Bradshaw has practiced fully both Wednesday and Thursday and is on track to resume his starting role Sunday against the Eagles. The Giants would not return him to play if he was at any significant risk, and his clearance to return indicates his neurological symptoms have resolved. The unknown aspect is whether these symptoms will return. There is no true predictability one way or another, however, it is not uncommon to have more than one episode once a disc injury is present. Those episodes can be weeks, months or even years apart. And in some cases, there is no recurrence.
Those who make their living at a computer are at as much, if not more, risk than professional football players for developing disc problems in their neck and back. So if everyone on a laptop is going to continue to work, Bradshaw can too. If Bradshaw's neck does turn into a recurring problem then his status may change, but until that time, he can be expected to play.
Fred Jackson (knee) and C.J. Spiller (shoulder), Buffalo Bills:
Flash back to Sunday, Spiller clearly in pain on the ground, carted off the field with medical personnel holding his shoulders. Now it's four days later and Spiller is back in practice, albeit on a very limited basis. Quite surprising. Perhaps the reassurance he received after going through further tests was enough to encourage his rapid recovery. He is still has a ways to go before playing in a game and it would not be surprising if he is out this Sunday, but that has not yet been decided.
Jackson has made an impressive recovery of his own from a right lateral knee sprain. He returned to limited practice Wednesday but emerged seeming less than thrilled with the result. Jackson told the Buffalo News on Thursday, "I was a little sore ... a little swollen." It's not terribly surprising that Jackson's knee would respond that way to the increased activity; the question was whether he would have to scale it back further on the second day. Apparently not. There were no lingering effects into Thursday afternoon's practice and Jackson participated in most of it, according to the News. After practice, coach Chan Gailey told reporters, "I think if we make it through the next couple days and continue to improve I think [Jackson] will have the opportunity to play."
There is still plenty of time for things to change but it appears to be shaping up for Jackson to be available along with a healthy
Tashard Choice
, while Spiller likely rests another week.
Steven Jackson, St. Louis Rams (groin):
Jackson did not practice Wednesday or Thursday, but this week isn't so much about whether he'll play or not, it's about what can be expected. Last Sunday, Jackson gained only 29 yards rushing on 11 carries, most of which were very short gains with the exception of one run for 13 yards. Jackson acknowledged the injury affected him but also said he didn't suffer any setbacks. Until we see him running full speed, there will be some question as to whether the injury is truly behind him.
Arian Foster, Houston Texans (knee):
Foster took in a light practice Wednesday but was back at it in full on Thursday. So far, so good.
Darren McFadden, Oakland Raiders (shoulder):
McFadden's presence here is a reminder that sometimes players appear on injury reports with very minor ailments -- bumps and bruise from a game -- because they take fewer reps in practice to preserve their bodies. Of course we all understand why there is a slight panic for fantasy owners when it's McFadden's name that appears here. While Oakland's official Thursday injury report is not in at the time of this writing, a source tells me he is participating and is "fine."
Matt Forte, Chicago Bears (ankle):
If only the Bears didn't have a Monday night game. Forte's status could very well come down to the wire, which will make this a tough decision for fantasy owners. In general, things are looking up. Forte returned to practice Wednesday and repeated the effort Thursday. His chances of returning are looking better, but hopefully there will be a better indication by Friday afternoon.
Reggie Bush, Miami Dolphins (knee):
On Tuesday we highlighted
Bush's knee concerns
, but the real question was whether we would see him in practice. After being held out Wednesday, Bush returned to limited practice Thursday and was running well. If he can put in another good effort Friday, it appears he will play Sunday.
Willis McGahee, Denver Broncos (rib):
On Tuesday, we discussed what would determine whether McGahee could play this week, and his limited participation in practice Wednesday with a bump up to full participation Thursday shows he is on track.
LeSean McCoy, Philadelphia Eagles (rib):
Another running back, another rib injury. There isn't much concern here because McCoy practiced fully both Wednesday and Thursday.
Mikel Leshoure, Detroit Lions (groin):
Leshoure was limited in practice because of a groin injury but keep in mind, he is coming into this season off major surgery (Achilles repair). There is no indication that his Sunday status is in jeopardy, but Friday's practice should yield better clues.
Ryan Williams, Arizona Cardinals (knee):
With teammate
Beanie Wells
going on IR (designated for return, meaning he can return in Week 12), Williams has an opportunity to shine. He is listed on the report but put in full practice. His value is on the rise.
Evan Royster, Washington Redskins (knee):
Royster strained his patellar tendon and has been held to limited practice so far this week.
Roy Helu
(turf toe) is now on IR, but
Ryan Grant
was just added to the mix so the Redskins can continue with a running back carousel.
Peyton Hillis, Kansas City Chiefs (ankle):
Hillis has been in a walking boot since the game ended and has not practiced. It's not looking great for his chances to suit up this week. Teammate
Jamaal Charles
is not on the injury report this week, however. Kudos to Charles, who had an outstanding performance Sunday (233 rushing yards!) and showed some of the pre-injury speed on a 91-yard breakaway run. With Hillis possibly out and Charles showing improvement, he could be poised for a big week.
Wide Receivers
Calvin Johnson, Detroit Lions (ankle):
Johnson has now been on the injury report each week but has never been at risk of not playing. Limited Wednesday, full practice Thursday, play Sunday.
Jeremy Maclin, Philadelphia Eagles (hip):
Maclin's hip benefited from the rest in Week 3 and he claims he's much improved. Full practice both Wednesday and Thursday, and he is expected to play in the big matchup against the New York Giants on Sunday night.
Pierre Garcon, Washington Redskins (foot):
Judging from all the questions coming my way regarding Garcon, people are very suspicious about his injury. It's important to remember that a foot injury, even a relatively mild one (no fracture or dislocation) can be extremely incapacitating because of the load that goes through the foot with running and the shear forces it experiences when changing direction.
The Redskins have maintained that Garcon can proceed based on how the foot feels, which tells us they're not overly concerned about the injury worsening. Still, pain exists to help prevent us from doing things that would lead to further injury, and depending on the location and quality of it, it is not necessarily something that can or should be overridden. With coach Mike Shanahan telling reporters Thursday that Garcon's foot is still sore and with Garcon continuing to be limited in practice (although he is making progress according to Shanahan), it appears he could miss another week.
Hakeem Nicks, New York Giants (foot):
I said it here Tuesday and I'll say it again: Expect Nicks to play in Week 4. He got the benefit of some extra rest for his sore foot last week, but returned to limited practice Thursday. He will be ready for Sunday night in Philadelphia.
Andre Johnson, Houston Texans (groin):
Johnson practiced on a limited basis both days. There is reason to keep an eye on this, as Johnson suffered a groin injury in the preseason. But this has more the appearance of preserving a veteran star than anything else.
Julio Jones, Atlanta Falcons (hand):
The Falcons announced that Jones suffered a laceration (cut) to his hand, which is why he left the game briefly Sunday. He has been limited in practice, likely to protect the hand and help it to heal. He is expected to play.
Kenny Britt, Tennessee Titans (ankle):
According to the Tennessean, Britt described his cascade of injury after injury as "very frustrating." Britt went on to say, "It's like something I can't get right, injury after injury. The last healthy season I had was my rookie year." This has been an overarching concern with Britt for the last few years. A very serious hamstring injury derailed his season two years ago. He headed into 2011 with his quad and hamstring nagging at him, then tore his ACL later that year. During his recovery following reconstructive knee surgery, he needed a follow-up scope and an additional scope on the opposite knee. The Titans articulated their concern when he made his debut in Week 2, saying they planned to limit his touches. A week later he has yet another injury. And, although it is considered relatively minor, he has yet to practice this week. He still hopes to play, but the injury concerns will not disappear when he returns.
Greg Jennings, Green Bay Packers (groin):
Jennings played in the Monday night game but we all know his performance is hardly the thing we'll remember. He did appear to be at less than full speed at times but managed to play in the game and emerge no worse for the wear. He's been limited in practice since but looks to be in line to play this weekend when the Packers host the Saints.
Dexter McCluster, Kansas City Chiefs (elbow):
On Tuesday we commented on how painful McCluster's injury looked so no one would have been surprised if he was not in practice this week. But there he was on Wednesday, wearing a brace and participating only in non-contact drills but he was out there nonetheless. On Thursday, he put in another limited practice. He's surprised so far, maybe he will again on Sunday.
Julian Edelman, New England Patriots (hand):
Edelman has not practiced since injuring his hand in Sunday night's game. There's not much to go on here, but two missed practices aren't encouraging for Sunday.
Tight Ends
Dustin Keller, New York Jets (hamstring):
Keller has not played since Week 1 because of his injured hamstring but it looks as if things will change this Sunday. He has been practicing on a limited basis and according to ESPNewYork's Rich Cimini, coach Rex Ryan says he expects Keller to play.
Jared Cook, Tennessee Titans (shoulder):
On Tuesday we said Cook would need to show he could perform
well enough to play
and he appears to be on his way. Cook got Wednesday off but returned to limited practice Thursday. If he can do so again Friday, there is a good chance he will return this week.
Jacob Tamme, Denver Broncos (groin):
The groin can't be bothering him too much since he was able to practice fully both Wednesday and Thursday. It looks as if he'll be available in Week 4.
Other notes
New Orleans Saints
WR
Marques Colston
does not appear on the injury report this week. He has been bothered by a case of plantar fasciitis that seemed to have limited him over the last two weeks. He played in Week 3 but had only three receptions for 40 yards. Perhaps his move off the injury report is a sign things are improving.
Don't forget to adjust your lineups! This is the first week of team byes. Both the
Pittsburgh Steelers
and the
Indianapolis Colts
are off this week so they do not appear on the NFL official injury report.
September, 20, 2012
9/20/12
10:05
PM ET
Here is what we're looking at so far for Week 3:
Quarterbacks
Blaine Gabbert, Jacksonville Jaguars (glute):
Gabbert was a full participant in practice Wednesday and Thursday. He appears on track to play Sunday.
John Skelton, Arizona Cardinals (ankle):
Skelton missed Week 2 because of his ankle sprain, and
Kevin Kolb
started in his place. Will Kolb start again in Week 3? Early signs point to that being the case. While Skelton was "walking around," according to the Cardinals' official website, he did not practice Wednesday. Skelton did manage a limited practice Thursday, but it seems hardly enough to suggest he'll take over the reins again this weekend.
Running backs
[+] Enlarge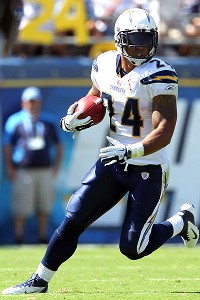 Jeff Gross/Getty ImagesAll signs point to Ryan Mathews returning to the Chargers' backfield this week.
Ryan Mathews, San Diego Chargers (shoulder):
Well, well, well. It looks like we are about to see the highly anticipated season debut of a certain Chargers running back. The timing does not come as a complete surprise, as it's consistent with the typical healing timeframe for this type of injury (fractured clavicle).
This is from my entry on Mathews in the 2012 Fantasy Football Draft Kit: "... Before a player is cleared to resume contact, there must be sufficient evidence of bony repair to alleviate concerns of reinjury. Every fall onto the shoulder, direct hit to the shoulder (especially if the player is hit from both sides simultaneously), even a stiff-arm move, will translate force through the collarbone area. For an athlete such as Mathews, who will incur contact through his clavicle (directly or indirectly) on virtually every play in which he carries the ball, the confidence that the bone will remain intact must be high before allowing him to compete. Normal bone healing takes approximately six weeks, which, given Mathews' injury date, would suggest he could be ready by Week 3."
Mathews was cleared for contact late last week but had very limited practice reps and was held out of competition for another week. That was smart. Now Mathews has had a chance to turn it up a notch in practice, and his collarbone has had another week of bone remodeling. According to the San Diego Union-Tribune, Mathews said, "I feel great; I feel healthy and strong." That's what fantasy owners like to hear.
Steven Jackson, St. Louis Rams, (groin):
On Tuesday,
we noted that Jackson missed time
in Sunday's game because of a groin injury and nothing else. While coach Jeff Fisher and Jackson made it seem as though the injury was not serious -- and an MRI seemed to confirm as much -- it remains to be seen whether Jackson will be ready to go this weekend. He did not practice Wednesday or Thursday, but according to the Rams' official website, he "remains hopeful" he'll be ready by Sunday. This may well come down to a game-time decision.
Matt Forte, Chicago Bears (ankle):
As we noted Tuesday, we said
it would be a surprise to see Forte this week
, and his non-participation in practice Wednesday or Thursday supports that idea. While it does seem that the injury was not as serious as initially expected, it's still looking like, barring a Friday surprise,
Michael Bush
will start for the Bears in Week 3.
Marshawn Lynch, Seattle Seahawks (back):
Lynch has been on the injury report since prior to Week 1 because of his back. So far he has managed to play in the first two games of the season. Since the Seahawks play Monday night, there is only one day of practice (Thursday) to report so far, and Lynch again appeared as a limited participant. No reason for major concern as of now.
Jamaal Charles, Kansas City Chiefs (knee):
Charles fell on his surgically reconstructed knee in Week 2 and sustained a knee bruise, according to the Kansas City Star. He was able to return to full practice Wednesday and followed it up again Thursday, boding well for him playing Sunday.
Rashard Mendenhall (knee) and Jonathan Dwyer (toe), Pittsburgh Steelers:
Mendenhall has again been listed as a full participant in practice both Wednesday and Thursday this week. Here's what I said last week after he practiced both days: "Pittsburgh does have an early bye week (Week 4), and it's possible we do not see Mendenhall before then." I still feel the same way. Each week, Mendenhall has been exposed to increasingly more work and increasingly more contact. Like others coming off ACL surgery, there is a process for evaluating how the player -- and his knee -- responds to each upgrade in activity. There is nothing official from the team to indicate he will wait another week, so it remains possible that he could be activated. If that does happen, he would not likely get a heavy workload in his first outing.
Meanwhile, Dwyer is dealing with a case of turf toe, which may have hindered his productivity somewhat in Week 2. He rested Wednesday but was back in full practice Thursday, hinting at him being active for Week 3.
Rashad Jennings, Jaguars, (knee):
Again this week, Jennings has not practiced due to a knee injury. It will be the
Maurice Jones-Drew
show on the ground in Indianapolis when the Jaguars visit the Colts regardless.
Daniel Thomas, Miami Dolphins (concussion):
Thomas missed last week's game due to a concussion but returned to full practice Wednesday. Barring a setback, he should be available this weekend, although he will serve as a backup to
Reggie Bush
.
Wide receivers
[+] Enlarge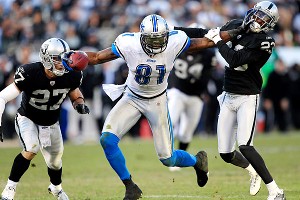 AP Photo/Marcio Jose SanchezNo worries, Megatron owners. Calvin Johnson is expected to play Sunday.
Calvin Johnson, Detroit Lions (ankle):
Last week it was his foot, this week it's his ankle. Johnson will probably appear on the injury report fairly regularly; hopefully, he will continue the pattern of resting early in the week and playing later. He did not practice Wednesday but was back in limited practice Thursday. If he continues the trend, expect him to play Sunday.
Greg Jennings, Green Bay Packers (groin):
Jennings sat out last week's game because of a groin injury. It wasn't much of a surprise considering he had suffered the injury just four days prior, The expectation was that the extra time off would have him in good shape for Week 3. In fact, coach Mike McCarthy told the Milwaukee Journal-Sentinel late last week he would be surprised if Jennings did not play in Monday night's contest.
Then came Tuesday's practice. Jennings was on the field in full pads, and all seemed to be progressing well. It turns out Jennings didn't do much Tuesday other than run, and on Thursday he was unable to practice at all. According to the Milwaukee Journal-Sentinel, McCarthy said Jennings was limited to rehab Thursday and was not progressing "as well as hoped." While there are still a few more days before game time, if Jennings is still this limited 11 days post-injury, how much improvement can realistically be expected by Monday? His status could come down to a game-time decision, but if he isn't able to practice at all Friday, fantasy owners should be concerned.
Jeremy Maclin (hip) and DeSean Jackson (hamstring), Philadelphia Eagles:
These two were both on the Thursday injury report last week, and both ended up playing Sunday. The difference is that this week Maclin was forced out of the game because of his hip. Jackson finished the game -- and played well -- despite a hamstring strain late in the week. While Maclin was unable to practice Wednesday, he did return on a limited basis Thursday. Jackson practiced on a limited basis Wednesday and returned to full practice Thursday.
At this point, Jackson appears to be in better shape heading toward Sunday, presuming there are no setbacks beforehand. As far as Maclin's status is concerned, he does appear to be making progress and as long as he shows he can perform sufficiently before kickoff, there is still a reasonable chance he plays. Friday's practice should yield better clues for both receivers.
Pierre Garcon, Washington Redskins (foot):
Even though he did not play Sunday, the rest might not have been enough for Garcon's foot. He participated in limited practice Wednesday and Thursday, but according to the Fredericksburg Free Lance-Star, coach Mike Shanahan says Garcon's injury is "nagging him a little bit more than I was hoping it would." That's certainly not the most optimistic sounding assessment. If Garcon continues to experience this level of discomfort, it's hard to imagine him suiting up in Week 3.
Marques Colston, New Orleans Saints (foot)
: Colston was listed on the injury report last week because of his foot, but still managed to play Sunday. According to the New Orleans Times-Picayune, Saints interim coach Aaron Kromer says the foot injury is affecting Colston's speed. Perhaps the limited reps in practice this week will help him get back up to speed. He is expected to play Sunday.
Julio Jones (thigh) and Roddy White (knee), Atlanta Falcons:
Jones and White both on the injury report? Not to worry. The Atlanta Journal-Constitution reports that coach
Mike Smith
offered this explanation: "The reason a lot of those guys are limited in their participation is [because] we are on a short week." They did play Monday night, and it was, after all, a very long game. Both were restricted to limited work in practice Wednesday and Thursday, but from the sounds of things, both are expected to play Sunday.
Brandon Lloyd, New England Patriots (thigh):
Lloyd was limited both Wednesday and Thursday with what is being listed as a thigh injury. There has been nothing to suggest the injury is serious, though, including the fact that Lloyd did not completely miss a practice. The Patriots do not play until Sunday night, so hopefully there will be a better indication after Friday's session.
Tight ends
Antonio Gates, Chargers (ribs):
Despite missing Sunday's game due to sore ribs, Gates did get right into practice this week, an encouraging sign for this week's status. Although he was limited Wednesday, his response to practice was positive enough to bump him up to a full workload Thursday. Thankfully, it does not appear he will be a game-time decision this week.
Heath Miller, Pittsburgh Steelers (abdomen):
Miller has not practiced yet this week because of a rib cartilage injury. Any injury in the rib area can be exceptionally painful;
Antonio Gates
missed last week's game with a similar ailment. This could come down to a game-time decision.
Dustin Keller, New York Jets (hamstring):
Keller missed last week's game because of his hamstring injury but appears to be making progress. He wasn't in practice Wednesday but did return to limited work Thursday. Now the test will be to see how the leg responds and whether he can repeat the effort Friday.