Stephania Bell:

Dwayne Bowe
December, 11, 2012
12/11/12
4:39
PM ET
Week 14 is in the books. Unfortunately for those of you still playing meaningful games this fantasy football season, your player options may have decreased yet again as more players were lost to injury.
The biggest injury news of the weekend centers on one
Robert Griffin III
, the exciting rookie quarterback for the
Washington Redskins
. He suffered a knee injury in Sunday's game while making one of his signature scrambles. The video of Griffin's leg whipping through the air looked frighteningly violent, causing many to fear he had suffered a significant injury. Fortunately, that was not the case. On Monday, Griffin underwent an MRI, which revealed his injury to be a Grade 1 lateral collateral ligament (LCL) sprain. Coach Mike Shanahan informed reporters of the injury, noting that Griffin's ACL, which he had surgically reconstructed in 2009, looked "great." Shanahan said Griffin will be evaluated "day by day," and the team is hopeful his knee will improve quickly with rehab.
As for the nature of Griffin's injury, given the mechanism of the hit, it's not surprising that he sustained an injury to the LCL, the outer-most primary stabilizing ligament of the knee. He took a hit to the body and thigh from Ravens defensive tackle
Haloti Ngata
as he was in the process of falling, with his right leg whipping forward. The blow resulted in an abrupt stop to the forward momentum of his thigh, but the lower leg continued on its trajectory, snapping to a hard stop when the soft tissue restraints that guard the movement became taut. Perhaps Griffin is most fortunate that his leg was in the air when this happened. Had he absorbed a similar blow with his foot planted, the consequences would likely have been far worse.
[+] Enlarge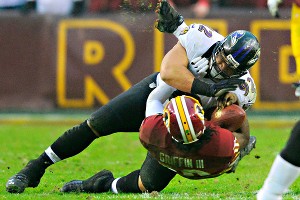 Doug Kapustin/MCT/Getty ImagesRobert Griffin III's knee wrapped around the back of Ravens DT Haloti Ngata during the hit.
The LCL can be injured when an athlete takes a blow to the inside of the knee; it also can be injured during a hyperextension or rotational injury. Griffin's knee was extending and slightly rotating at the same time he encountered the blow to his thigh. The biggest concern with these injuries is damage to any surrounding structures on the lateral and particularly the posterolateral aspect (the back outside corner) of the knee. Structures in this area that lie close to the LCL help control stability in that quadrant of the knee, an area that is subject to high biomechanical forces during normal movement. Any lingering instability can be threatening to the overall health of the knee. The best news in Griffin's case is that this sprain is of the most minor (Grade 1) variety.
An isolated minor sprain has a good chance of healing with restricted motion (via bracing) and rest to protect the ligament. Griffin also will engage in rehab to help with pain and swelling while restoring normal joint mobility. The criteria for his return will include his ability to demonstrate that he can perform at his position without significant compromise and without increasing the risk of more substantial injury. As a running quarterback, he will not be encouraged to return if he cannot run, change direction or decelerate normally. Beyond this aspect of his game being part of his DNA as a quarterback, a player who is thinking about accommodating his style of play to avoid injury suddenly becomes more of an injury risk, not to mention he's often less effective.
Shanahan says they will see how Griffin looks Wednesday but indicated that as of now, no decision has been made as to who will be the starting quarterback Sunday. It would not be surprising if Griffin is forced to sit out, given the rationale noted above. It's also worth remembering that everyone heals at different rates, and no two injuries are identical. And as the Redskins are no doubt appreciating this week, Griffin's case also serves as a reminder that no matter how nasty an injury looks at first glance on video, it may not always be indicative of how severe the injury actually is.
•
Buffalo Bills
head coach Chan Gailey announced Monday that running back
Fred Jackson
is done for the season and has been placed on IR. Jackson suffered a Grade 2 sprain of the medial collateral ligament (MCL) in his right knee Sunday. Gailey noted that the recovery timetable for Jackson's injury is likely closer to 4-5 weeks, longer than the time left in the regular season. This is the same knee he injured in Week 1 when he sustained an LCL sprain and missed two weeks -- hmm, maybe RG III should chat with Jackson about what he did to return from that injury -- and this is also the same leg in which Jackson suffered a fractured fibula which prematurely ended his 2011 campaign.
With regard to his latest injury, Jackson shared the following thoughts with ESPN's Josina Anderson: "Technically it's a tear off the bone, because you tear the ligament away from the bone. So that's why some people say it's a tear, but the ligament itself is intact. It's just pulled away from the bone a little." We're sorry to see his second season in a row ended by an injury after playing all 16 games in each of the three previous seasons. In the meantime,
C.J. Spiller
will undoubtedly get a bump in his workload.
• Tight end
Jared Cook
of the
Tennessee Titans
also has played his last game of the 2012 season. Cook left Sunday's game with a right shoulder injury. Jim Wyatt of The Tennessean later reported that Cook had torn his rotator cuff and is done for the year. Cook had a left shoulder injury early in the season, an AC sprain which had him in a sling briefly, but he did not miss a game. Unfortunately, he will now miss the rest of the season, and coach Mike Munchak indicated that Cook will be placed on IR.
• Chiefs wide receiver
Dwayne Bowe
suffered broken ribs in Sunday's game and already has been ruled out for Sunday's game, according to the Kansas City Star. He may, in fact, be done for the season. The Star suggests that it also could signal the end of his time with the Chiefs.
As we head into Week 15 ...
[+] Enlarge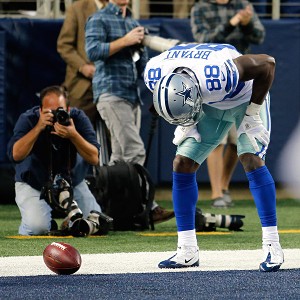 AP Photo/Sharon EllmanDez Bryant's status for Sunday is not yet known.
• Cowboys wide receiver
Dez Bryant
suffered a fractured index finger in his left hand Sunday, an injury that could end his season. According to ESPN's Ed Werder, Bryant has met with a hand specialist. The decision comes down to whether Bryant requires surgery now, or whether this is an issue he can play through, allowing him to postpone the surgery. While a broken finger might not sound like the worst injury in the world, the reality is that a resultant deformity or lack of normal motion could impact a receiver permanently. This is not insignificant, which probably is the reason there has been no official decision made as of this writing.
• Bears quarterback
Jay Cutler
was again forced to leave a game early, this time because of a neck injury. Speaking on his weekly radio show on ESPN1000 Monday, Cutler described his neck as "stiff" and said he was "getting spasms" during the game. He is currently receiving treatment and said he expects to be able to play this week, "unless something drastic happens."
•
New York Giants
running back
Ahmad Bradshaw
was in and out of Sunday's game because of a left knee injury. Coach Tom Coughlin said Bradshaw underwent an MRI and other tests Monday, but there has been no word yet as to the results. When Bradshaw injured his neck early in the season, the results of his tests were not immediately shared either. It was Bradshaw who later indicated he had an "inflamed disc" in his neck. Perhaps he will share an update on his knee later this week. In any event, don't expect Bradshaw to practice Wednesday since he usually sits out. Barring the emergence of definitive information to rule him out, Bradshaw's status could once again come down to a late-week decision.
• Concussions have forced the absence of several key players for the
Philadelphia Eagles
for a few weeks, and now they can add tight end
Brent Celek
to the list. Celek suffered a concussion during Sunday's game and will not play Thursday night. As for the health of quarterback
Michael Vick
and running back
LeSean McCoy
, it appears both are making progress. Both are engaging to a limited degree in practice, and according to Eagles head athletic trainer Rick Burkholder, Vick is now in the final phase (Phase 5) of the Eagles' concussion recovery protocol. Jeff McLane of the Philadelphia Inquirer reports neither is likely to play Thursday despite not officially being listed as "out" yet by the Eagles. Both players still need to be cleared by an independent neurologist and both need to re-introduce contact. Burkholder has implemented a mandatory 24-hour waiting period to monitor whether symptoms recur after advancing within the protocol. Given the short week, it's likely that both will miss another game, though if all progresses well, both could be available in Week 16 (although in Vick's case it will be in a backup role, as
Nick Foles
has been named the starter going forward).
• Despite re-aggravating his ankle injury in last week's game, Raiders running back
Darren McFadden
was in practice Monday and moving well, according to Steve Corkran of the Contra Costa Times. He appears on track to play this weekend.
• Coach Mike McCarthy has hope that
Green Bay Packers
receiver
Jordy Nelson
will return from his injured hamstring this week. Tyler Dunne of the Milwaukee Journal-Sentinel reports McCarthy says Nelson is improving. That may be, but we know the true test comes with full-speed running. Keep an eye on practice reports this week to gauge Nelson's progress, but right now it's too early to realistically project his return. Remember this is the recurrence of a prior hamstring injury for Nelson, so it would not be surprising if the team is cautious.
• As the Florida Times-Union reported, coach Mike Mularkey was not available for his usual Monday news conference due to illness, so there was no update on the status of running back
Maurice Jones-Drew
(foot) or wide receiver
Cecil Shorts
(concussion).
November, 21, 2012
11/21/12
1:20
PM ET
This is an unusual week with three games taking place on Thursday because of Thanksgiving. Six teams are dealing with the challenge of recovery in a four-day window as we move into Week 12.
OutTitus Young, WR, Detroit Lions (not injury related, knee):
Young was sent home from the Lions' facility at the start of the week by coach Jim Schwartz for "repeated selfish behavior," according to the Detroit Free Press. He has been on the injury report because of his knee for several weeks now but that seems to have improved. Now he needs to work on his attitude.
Other injuriesBen Tate, RB, Houston Texans (hamstring):
Tate has missed several games because of injuries to his toe and his hamstring. In late October coach Gary Kubiak indicated it would be a while before Tate would be ready to return to game action. Three weeks later and he has yet to return. Initially, Kubiak said Tate had "a good chance" for that return to happen Thursday, but after not participating Tuesday, his status remains unclear. The Texans' official website indicates he will be a game-time decision, but given he's been out for nearly a month, it's hard to count on Tate even if he does go.
Owen Daniels, TE, Houston Texans (back):
Daniels was active last Sunday even though his back was not 100 percent recovered. The hope is that a light practice week helps move him along further. Daniels is expected to play again Thursday.
Calvin Johnson, WR, Detroit Lions (knee/thumb):
Johnson has been on a limited practice regimen for weeks, and the pattern continues. His productivity has increased over the past couple of weeks as well with Johnson seeing the end zone in each of the past two games. Fantasy owners hope that pattern continues.
OutBrandon Meriweather, S, Washington Redskins (knee):
It's a very tough break for Meriweather, who in his first game of the season (he had missed time because of problems with his left knee) tore his right ACL. He has been placed on injured reserve.
Other injuriesPierre Garcon, WR, Washington Redskins (foot):
Garcon returned to action last week and was able to emerge from that game no worse for the wear. His contribution from a fantasy perspective was invisible, but head coach Mike Shanahan insists Garcon's presence on the field represents a big-play threat. Right now, that threat may be limited as Garcon tries to play through an injury that is not truly healed. The combination of extended rest, treatment and a shoe insert to support his damaged toe did allow him to get through his first game in weeks without incident. Shanahan notes that the turf in Cowboys Stadium may present an additional challenge for Garcon's sensitive foot, however, making his status questionable for Thursday. He is expected to test his toe pregame before a final decision is made.
DeMarco Murray (foot) and Felix Jones (knee), RB, Dallas Cowboys:
Murray is still limited to working on the side and has not resumed practicing with the team. Last week we said a return Thursday would be unlikely and that remains the case. The week to watch will be Week 13 as Murray will have had an additional 10 days to increase his workload. Meanwhile, Jones was out of practice Tuesday after injuring his knee last Sunday. This is not the same knee that has been bothering him for weeks. As coach Jason Garrett told the Dallas Morning News, "He was dealing with a knee going into last week and hurt his other knee in the ballgame." The Cowboys are taking it day by day -- as if there is any other choice -- and will have to wait to see if Jones will be well enough to take the field Thursday. Otherwise,
Lance Dunbar
could be in line to start for the Cowboys on Thanksgiving.
Kevin Ogletree, WR, Dallas Cowboys (concussion):
Ogletree suffered a concussion in Week 11 and has not practiced so far this week. His status for Thursday appears to be in doubt.
Rob Gronkowski (forearm/hip) and Aaron Hernandez (ankle), TE, New England Patriots:
Gronkowski is not listed yet as "out," but after undergoing surgery Monday to repair a fractured left forearm, it is safe to say we won't be seeing him. The team has not confirmed which bone was broken (there are two in the forearm, the radius and the ulna, and either one or both can be fractured, depending on the mechanism), although the ulna -- which runs from the elbow towards the fifth (pinkie) finger -- is most vulnerable and most commonly broken on blocking plays in football. Assuming the fracture was not comminuted (multiple pieces) and did not involve the joint but was limited to the shaft of the bone itself, repair is fairly straightforward. Surgical stabilization with a plate is typically done to help facilitate the healing process and then the bone does the rest. It bears repeating that bone tends to heal well in an otherwise healthy individual and the timetable is generally consistent (approximately six weeks). Clearance for contact requires evidence of callus formation on imaging (a sign the bone is repairing itself, which is usually evident around four weeks, give or take) and players can return with a protective shell around the forearm as long as it is wrapped and padded. Gronkowski will be able to maintain his aerobic conditioning and, if the wrist is not involved, he can begin to work with the wrist and hand shortly. Contact is the last element permitted and it all depends on the healing status of the bone. If all goes well (and if Gronkowski's injury is of the least complicated variety as described above), a return within four weeks is not out of the question. Additional time could be required depending on the healing process.
Meanwhile, Hernandez appears on track to return Thursday after continuing his limited participation in practice. Hernandez has not taken the field since the last time the Patriots faced the Jets in Week 7, and with Gronkowski sidelined, his return will be welcomed. As to how much the team looks to him in his first game back since exiting for the second time because of his ankle, it remains to be seen.
Wes Welker (ankle) and Brandon Lloyd (knee), WR, New England Patriots:
Both receivers are expected to play Thursday just as they did Sunday despite their presence on the injury report. Their limitation in practice early this week is to be expected given the short turnaround between games.
Jeremy Kerley, WR, New York Jets (hamstring/heel):
Kerley was on the injury report last week with these ailments and despite his very questionable status, he was active. His productivity was limited and his practice so far this week has been limited as well. According to the Newark Star-Ledger, Kerley has soreness as a result of his game play Sunday and he will be a game-time decision for Thursday night.
Beyond Thursday
Concussions
This is also a week where a large number of players are on the injury report because of concussions. As is the case with all concussions, there is no ability to predict the exact timetable for recovery. Even players who make progress during the week may not meet all the necessary criteria to be cleared to play in a game. Just ask
San Francisco 49ers
quarterback
Alex Smith
, who suffered a concussion in Week 10, returned to limited practice during the week but was not cleared to play for a Monday night game. Two other starting quarterbacks,
Jay Cutler
and
Michael Vick
, also were sidelined this past week because of concussion. Not one is a lock to play in Week 12; the teams maintain, properly, that their status is day-to-day. In addition to the quarterbacks, several other key fantasy players have recently suffered concussions. Their status is also in question for Week 12. While it is not possible to guarantee when any of the concussed players will return, they are listed below as a means of reminding fantasy owners who they need to keep an eye on as game day approaches.
LeSean McCoy, RB, Philadelphia Eagles:
McCoy suffered a concussion late in Sunday's game. While the Eagles' Monday night appearance will grant him an extra day to recover, he still must complete all of the necessary requirements before he can return to game play. Fantasy owners may want to secure
Bryce Brown
.
Donnie Avery, WR, Indianapolis Colts:
Avery was among those suffering concussion injuries Sunday. He'll be one more to monitor throughout the week.
Fred Jackson, RB, Buffalo Bills:
Jackson is reportedly feeling better this week and so far is on track to return to play. Coach Chan Gailey told the Bills' official website that Jackson was going through the final phases of the concussion protocol. He practiced Wednesday and is cleared to play Sunday. After C.J. Spiller's impressive performance last Thursday night while Jackson was out with the injury, it's not clear how the load would be divided this week.
Isaac Redman, RB, Pittsburgh Steelers:
The Steelers' running back corps cannot seem to get through a week without being dealt an injury blow. This week it was Redman who was the victim, suffering a concussion against the Ravens. According to Ed Bouchette of the Pittsburgh Post-Gazette, coach Mike Tomlin is optimistic about Redman's chances for this week. We will see.
Dennis Pitta, TE, Baltimore Ravens:
Pitta suffered a concussion early in Sunday's game against the Steelers but on an encouraging note, his symptoms reportedly subsided quickly. Count him among the many who will be going through a battery of tests this week.
More injuries to watchRunning Backs:Darren Sproles, New Orleans Saints (hand):
Sproles didn't play last week but he was very close. Close enough in fact, to have traveled with the team to Oakland and been a game-time decision. The Saints held him out because of persistent swelling in his left hand on which he had surgery three weeks earlier to repair a fracture. He did practice fully leading up to the game and assuming he does so again this week and that the swelling is down, you have to like his chances of participating Sunday.
Willis McGahee, Denver Broncos (knee):
McGahee knows a thing or two about knee injuries, but his instincts were a little off last weekend. McGahee thought the injury he suffered in Sunday's game wasn't serious but as it turns out, it was serious enough to end his regular season. McGahee suffered a torn MCL and a compression fracture in his right knee, according to the Denver Post. He is non-weightbearing on crutches and will have to patiently wait for his body to heal. The Broncos placed on injured reserve/designated to return, meaning he would be able for the postseason.
Wide Receivers:Julio Jones, Atlanta Falcons (ankle):
Jones lobbied to play Sunday despite not being able to practice all week with his injured ankle. He managed three receptions before aggravating the ankle and exiting early. The question is just how much of a setback Jones suffered and will he be able to overcome it to play again this Sunday? Until the Falcons issue practice reports this week, there won't be any indication as to how much activity he can do, but there might be more resistance to playing Jones this week if he cannot participate.
Dwayne Bowe, Kansas City Chiefs (neck):
Bowe injured his neck in Sunday's game and his status for this week is uncertain. Coach Romeo Crennel would not rule him out just yet according to the Kansas City Star, but he also offered no details on the injury or any assurances Bowe would play. As of now that gives fantasy owners very little to go on other than making sure to have a plug-in for Bowe this week.
Alshon Jeffery, Chicago Bears (knee):
After missing more than a month with a fractured bone in his right hand, Jeffrey returned to action this week only to injure his knee. He is scheduled to undergo arthroscopic surgery Wednesday and Sean Jensen of the Chicago Sun-Times reports he is projected to miss anywhere from two to four weeks. Players often have to combat the return of swelling as they are reintroduced to football activity following even a minor scope (see:
Donald Brown
) so consider four weeks a more realistic timeframe.
Quick Hits
•
Minnesota Vikings
receiver
Percy Harvin
had the bye week to rest his sprained ankle after sitting out Week 10 but is still dealing with soreness. Only two weeks removed from a sprain that Harvin described as being "in three places," residual soreness is not unusual. According to 1500ESPN.com, coach Leslie Frazier said the swelling is mostly resolved and he hopes to get Harvin back in practice Wednesday. Harvin's activity level by the end of the week will go a long way in determining the confidence level for him to not only play but stay in the game this Sunday against the Bears. There's no doubting Harvin's toughness (he has played through ankle injuries and performed well in the past) but it's a matter of functionality (can he run, stop sharply, cut, pivot) and risk of re-injury. After all, Falcons receiver Julio Jones was convincing enough to get in the game last week despite his ankle injury but was forced out early after aggravating it while playing.
Addendum:
Harvin was not able to practice Wednesday generating a little more cause for concern related to his status for Sunday.
•
New York Giants
running back
Ahmad Bradshaw
was a participant in practice Monday. There was no extensive explanation of Bradshaw's test results performed during the bye week after his neck was a problem for him again in Week 10 (Bradshaw experienced neck-related symptoms in Week 2 and was later diagnosed with a bulging disc in his neck). According to Jenny Vrentas of the Newark Star-Ledger, he confirmed that he had repeat X-rays of his neck that came back "clean." It's not necessarily surprising that X-rays would be unremarkable; there is likely more to his clinical scenario than is being shared. In any case, his presence in practice has to be taken as an encouraging sign because he was obviously cleared to be there. Don't be surprised if Bradshaw is granted some of his usual down time during the week but as of yet, there is nothing to suggest he is in danger of sitting in Week 12.
Arizona Cardinals
running back
Beanie Wells
will be activated this week, according to the team's official website. Wells was placed on the injured reserve/designated for return list when he suffered a turf toe injury earlier this year. Wells is expected to play Sunday when the Cardinals host the
St. Louis Rams
. As
noted last week
, Wells has been practicing with the team and is eager to return to play. The Cardinals have to be hoping he can proceed without issue through the remainder of the season. While his toe may not be perfect, his legs should be fresh given that he has not seen game action (and therefore contact) since Week 3.
• Pittsburgh Steelers quarterbacks
Ben Roethlisberger
(sternoclavicular joint/first rib) and
Byron Leftwich
(multiple rib fractures) are incapacitated this week. Roethlisberger was injured a week ago Monday and while his injury was serious (and undoubtedly excruciatingly painful), it was not necessarily a season-ender. In fact, if his healing progresses well, it's conceivable that Roethlisberger could rejoin the team in December. Leftwich, filling in for Roethlisberger in Week 11, sustained multiple broken ribs and will not be under center this Sunday. The starting quarterback for the Steelers in Week 12 will be
Charlie Batch
.
• Rams wide receiver
Danny Amendola
left Sunday's game briefly after appearing to injure his foot. He did return to finish the game but was reportedly seen limping afterward. According to the St. Louis Post-Dispatch, coach Jeff Fisher expressed some concern about Amendola, given his soreness in what is being called a foot/heel injury. His practice status will be something to monitor throughout the week. Amendola has proven to be so talented when on the field but the injuries seem to keep piling up.
• Steelers wide receiver
Antonio Brown
is making progress from the high ankle sprain he suffered in Week 9. He has not yet been ruled out for Sunday's game and it remains to be seen whether he can ramp up to full practice this week. A big test will be whether Brown can pivot and break to the inside, a movement that stresses the injured region of the ankle. With
Jerricho Cotchery
out with rib fractures, the Steelers have signed receiver
Plaxico Burress
. This team started the season off with a running back carousel as a result of injuries; it now seems like the quarterbacks and receivers are following suit.
•
Oakland Raiders
running backs
Darren McFadden
and
Mike Goodson
were both absent in Week 11 because of their respective high ankle sprains. Goodson has not done much outside of his regular rehab work. McFadden did test the ankle running last week so it will be interesting to see if he can increase his activity level and return to practice. Even if McFadden isn't quite ready to return Sunday against the Bengals it sounds as if he may not be too far off.
•
Jacksonville Jaguars
running back
Maurice Jones-Drew
suggested he was a couple of weeks from returning last week. In other words don't expect him this Sunday, something coach Mike Mularkey echoed on the Jaguars' official website.