Stephania Bell:

Dylan Bundy
June, 26, 2013
6/26/13
11:51
PM ET
A hitter and a pitcher each found himself in the same predicament on this June Wednesday when they learned they are both headed for season-ending surgery. Veteran
New York Yankees
first baseman
Mark Teixeira
and up-and-coming
Baltimore Orioles
pitcher
Dylan Bundy
will both be going under the knife; Teixeira will have surgery to repair a torn tendon sheath in his right wrist and Bundy will undergo ulnar collateral ligament reconstruction -- Tommy John surgery -- on his right (throwing) elbow. Neither story is entirely surprising, as both were struggling with their injuries since the spring, and while Teixeira managed to play in a few games, he was never himself. Each player can at least take comfort in knowing a full recovery should be expected including, of course, an eventual return to play.
[+] Enlarge

Jason Szenes/Getty Images Mark Teixeira finishes the season hitting just .151 with three homers and 12 RBIs in 15 games.
Mark Teixeira, 1B, New York Yankees:
From the time Teixeira suffered a partial tear of a tendon sheath in his right wrist this spring, the concern was not only whether he could recover enough to return to play, but whether that recovery would prove temporary. He did eventually return to play, but lasted only 15 games before the discomfort in his right wrist proved too much to overcome. Beyond any pain associated with the inflammation in his wrist, Teixeira was not able to swing at full strength when hitting from the left side of the plate, not surprising given the torsion the right wrist is subject to during that motion.
The tendon sheath serves as a layer of protection for the tendon it surrounds, shielding it from friction against the adjacent bony surface. The tendon, the extensor carpi ulnaris, contracts to move the wrist in the desired direction and helps provide stability during a swing. While the sheath does not contribute to wrist function directly, it is critical to safeguarding the tendon. Damage to the sheath, depending on the location and extent of it, can result in pain, inflammation and, in some cases, instability of the tendon as it can move out of position with extremes of wrist motion. All of these issues can result in a sensation of weakness or loss of power, something Teixeira indicated he was experiencing.
The good news for Teixeira is that he has to look no further than within his AL East division to see a fellow player who has
successfully returned following similar surgery
.
Toronto Blue Jays
outfielder
Jose Bautista
underwent surgery in September and by January was hitting in a cage. Bautista started the season on time and has had no issues with his wrist thus far. While no two surgeries are identical and a projection will be better formulated following Teixeira's operation, he can be optimistic about his chances of full health for the 2014 season.
[+] Enlarge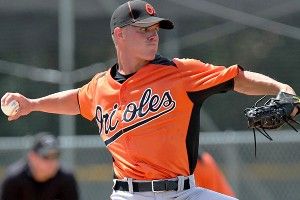 Mike Janes/Four Seam Images/AP Images Dylan Bundy probably won't be ready to pitch until later in the 2014 season.
Dylan Bundy, P, Baltimore Orioles:
In May, Bundy experienced a setback while on a limited throwing program following his
initial
incidence of elbow discomfort in April. At that time, Bundy was seen by Dr. James Andrews and received a PRP (platelet-rich plasma) injection. The hope was that it would allow him to return to function but the
outlook was uncertain at best
. Despite an MRI that showed "no significant structural damage," the detection of function-limiting ligament wear is limited at best. In actuality, it is the player's own signs and symptoms that best dictate just how serious an ulnar collateral ligament injury is. Whether it manifests as pain, stiffness, a drop in velocity, a loss of command or some combination therein, the pitcher's inability to throw effectively is what ultimately removes him from the mound, regardless of how muted an MRI finding might be.
This appears to have been the case with Bundy, who went through the normal course of treatment -- mostly rest and rehabilitation, along with an injection in the second phase -- in an effort to retain his season. Unfortunately, Bundy's arm dictated when his season would end, which, it turns out, was before it ever really got started. Now he faces a long road back following reconstructive surgery, but he will do so with the confidence of a healthy elbow. Bundy may not pitch in games before the second half of next year, but given the high level of success following surgery, his outlook now is more promising and more predictable than it was in April.
May, 4, 2013
5/04/13
1:12
AM ET
As I
noted April 5
, Dylan Bundy was shut down from throwing for precautionary reasons after experiencing stiffness in his right (throwing) elbow. Now Bundy has been shut down for six more weeks, and the undertone of concern is evident within the organization.
Bundy tried to resume a throwing program after the forced rest in early April, but even throwing from a short distance on flat ground was enough to resurrect his symptoms. He was seen earlier this week for a second opinion by Dr. James Andrews, who administered a platelet-rich-plasma injection and recommended the six-week hiatus.
So what are we to make of this latest setback?
[+] Enlarge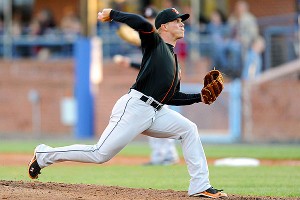 AP Photos/Tony Farlow/Four Seam ImagesDylan Bundy checked in at No. 3 in Keith Law's Top 100 prospect rankings prior to the 2013 season.
It's hard to draw any definitive conclusions other than the obvious one: Pain, stiffness or tightness in a thrower's elbow combined with a lack of velocity is enough to provoke legitimate concern. It's worth remembering that the initial MRI on Bundy's elbow revealed no significant structural damage. That said, the MRI isn't always perfect; some issues do not manifest themselves on imaging. Many pitchers will experience intermittent episodes of something abnormal in the throwing elbow or forearm area yet will go on to recover and return to throwing without incident.
It's also worth noting when evaluating the phrase "no significant structural damage" that the presence of tissue changes is more common than not in pitchers as a result of the wear and tear they subject their arm to by performing their craft. Recent studies have shown up to two-thirds of professional pitchers may have demonstrable changes in the ulnar collateral ligament on imaging yet have no symptoms whatsoever. Translation: Many throwers are out there on a daily basis, doing their job, with elbows that are not altogether "healthy." It is only when the picture and the symptoms combine to tell a common story that medicine has something definitive to address.
Furthermore, while the PRP injection may be of help to Bundy, it is also possible that his symptoms will persist. The jury is still out on the sum total of the effects of PRP, but it is seen by many as a treatment option with virtually no downside since it involves using the patient's own blood components -- and nothing synthetic -- as a means of trying to facilitate healing. There is much more to be learned about what the optimal treatment parameters and ultimate benefits of PRP injections are.
In the meantime, the Orioles have to hope that the combination of PRP and extended rest will allow Bundy's elbow to hit the reset button on the start of the season. After the rest period, the team will attempt to move him through a throwing progression, which will continue until he either returns to the mound or the symptoms recur. If Bundy's elbow continues to be problematic, the next course of action will be determined at that time. Until then, a concerned Orioles organization will hold out hope that this episode will be in the rearview mirror soon enough.
April, 5, 2013
4/05/13
3:47
PM ET
When a pitcher exhibits a decrease in fastball velocity, one of the first things that comes to mind as a possible cause is injury. While not all drops in velocity are a consequence of injury, it certainly raises a yellow flag that something may be on the horizon. In the case of
Baltimore Orioles
pitching prospect
Dylan Bundy
, after an outing in which his velocity was down in early March, the suspicion may have arisen. Interestingly, within a few weeks, Bundy was being shut down due to what was termed "stiffness" in his right (throwing) elbow, according to the Baltimore Sun.
Bundy
Fortunately for Bundy and the Orioles, an MRI turned up nothing significant. He was placed on the minor league DL and shut down from throwing for several days. In the larger scheme of things, it appears that there is currently no serious injury to Bundy's elbow and the Orioles are taking precautions to help ensure one does not develop.
The team also underwent a complete biomechanical analysis of all their pitchers this spring -- as they did in 2012 -- with the assistance of the American Sports Medicine Institute (ASMI). Orioles director of pitching development Rick Peterson brought the process to the organization as part of his oversight of the health and development of his pitchers. According to MASNsports.com, Peterson described the analysis as, "an MRI of the pitching delivery to make sure that the measurements in that delivery are falling into normative range to optimize performance and reduce the risk of injury." While no one would suggest that all pitching injuries can be prevented, at the very least it indicates the Orioles are watching their young arms closely and that they have some baseline measures to use for comparison.
Expect Bundy to return to throwing gradually and under close monitoring, a process that could begin within days. It appears that this is just a minor setback on Bundy's path this season, but the Orioles clearly do not plan to rush him back.