Stephania Bell:

Eddie Royal
November, 1, 2012
11/01/12
10:35
AM ET
Perhaps the biggest news heading into Thursday night's game between the
San Diego Chargers
and the
Kansas City Chiefs
is who is NOT on the injury report. The usual suspects appear to be largely healthy halfway through the season. Chargers running back
Ryan Mathews
? Healthy. Tight end
Antonio Gates
? Not ailing. Chiefs running back
Peyton Hillis
? He returned to action in Week 8 after missing time with an ankle injury. The key fantasy players from these two teams are expected to play. Still, with bye weeks and injuries compromising many a roster, we thought it worth mentioning a couple of players who might be being considered for substitute action.
Eddie Royal, hamstring (D) and Robert Meachem, hamstring (Q), WRs, San Diego Chargers:
Royal injured his hamstring days prior to the Chargers' Monday night game against the
Denver Broncos
in Week 6 yet he still managed to play. With a bye week following, it seemed as though he might be able to escape missed playing time. But the hamstring has proven to be a bit more problematic, and Royal sat out Week 8 and on a short week looks doubtful for Week 9. Meachem also is dealing with a hamstring ailment this week. His injury was added to the insult of a big drop in Week 8, something he would like to undo as soon as possible. He may not get a chance this week. Meachem was limited in practice Tuesday but was downgraded to a non-participant Wednesday. He is listed as questionable and it may come down to a game-time decision.
The Chargers signed two wide receivers in the past week, both of whom could be active if Meachem and Royal are out.
Danario Alexander
came to the Chargers via the
St. Louis Rams
, who waived him in August after numerous injuries limited his ability to contribute. The last injury he was dealing with before the team let him go in August? A strained hamstring. Who knows? Maybe a change in venue will do the trick.
Seyi Ajirotutu
is familiar to the Chargers as he was signed off their practice squad in 2010. In 2011, he moved to the
Carolina Panthers
but was released prior to the start of the 2012 season. The Chargers now have a need for wide receiver depth, and Ajirotutu was available to help fill it, but depth is the key word. Ajirotutu is not likely to offer much to fantasy owners, at least not yet.
Brady Quinn, Kansas City Chiefs, head (out):
Quinn was forced out of the Week 8 game with a head injury and has not been medically cleared to return.
Matt Cassel
, who suffered a head injury of his own in Week 5, replaced Quinn last week and will get the start Thursday night.
October, 19, 2010
10/19/10
3:36
PM ET
The standout topic from Week 6 was the incidence of head injuries. There certainly has been much discussion around the injuries, the hits that led to those injuries and the position the league is taking as far as
enforcing penalties on flagrant hits
.
Fantasy owners saw a number of their players leave the game Sunday (and Monday!) with head injuries. It is important to remember that concussions are like snowflakes; no two are alike and they are therefore unpredictable in terms of recovery. What we can say is that each player will be carefully evaluated and will be subject to the league guidelines before he is permitted to return to play.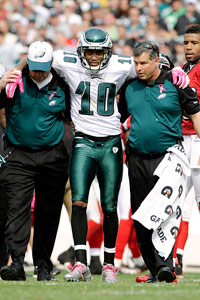 Barbara Johnston/US PresswireDeSean Jackson had scored two touchdowns Sunday before suffering that huge hit from Dunta Robinson.
The following key players suffered a head injury in Week 6:
DeSean Jackson, WR, Philadelphia Eagles:
In what may have been one of the biggest hits of the weekend, Jackson's head snapped back upon impact with the
Atlanta Falcons
'
Dunta Robinson
before he hit the ground in a heap. Robinson suffered a head injury of his own from the hit he delivered. A clearly dazed Jackson was ultimately escorted off the field by medical personnel. NFL.com reports that Jackson suffered memory loss, and head coach Andy Reid told reporters Monday that Jackson also has a sore shoulder. Expect him to be out for Week 7.
Mohamed Massaquoi, WR, Cleveland Browns:
Massaquoi left Sunday's game in the second quarter with a concussion following a hit by
Pittsburgh Steelers
linebacker
James Harrison
.
Josh Cribbs, WR, Cleveland Browns:
Cribbs took a hit on the side of his helmet Sunday (also from Harrison) and crumpled to the ground. Cribbs was eventually able to walk off the field and even seemed to be making a case for a return to the game, but the medical staff stood firm.
Chris Cooley, TE, Washington Redskins:
Cooley apparently suffered his concussive hit in the second quarter but did not develop symptoms until later, which is not altogether unusual. According to The Associated Press, Cooley began to develop a headache and felt that he was "a little bit slow." He then came out of the game. Cooley, who has had several concussions in the past, was scheduled to undergo a CT scan Tuesday.
David Garrard, QB, Jacksonville Jaguars:
The Monday night game yielded another concussion, this time from the Jaguars' signal-caller, who left the contest early and was replaced by former
Buffalo Bills
quarterback
Trent Edwards
.
In the non-concussion injury department, here's what we're talking about after Week 6.
• In what many have agreed was the most egregious hit of the weekend,
Baltimore Ravens
tight end
Todd Heap
was the recipient of a helmet-to-helmet hit by the
New England Patriots
'
Brandon Meriweather
. The safety clearly led with his head on the hit to Heap, prompting an angry reaction from his own coach, Bill Belichick. Heap returned to the game after sitting out briefly, but don't be surprised if he shows up on the injury report this week.
•
Indianapolis Colts
running back
Joseph Addai
made another early exit after taking a hard hit to his shoulder in the fourth quarter of Sunday's game against the Redskins. According to Tom James of the Terre Haute Star-Tribune, Addai was seen in the locker room Monday with his left arm in a sling. The extent of Addai's shoulder injury has not been diagnosed. "It did not appear to be a separated shoulder or anything like that," team president Bill Polian said during his weekly radio show. "That's kind of the good news. We'll know more later in the week." The Colts are on a bye this week, but there is no indication yet as to whether Addai will be available for his next game, which isn't until Nov. 1.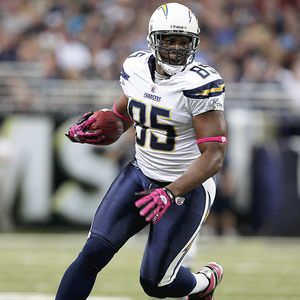 Icon SMIAntonio Gates' streak of scoring a TD in every game this season was stopped because of his toe injury.
• The
San Diego Chargers
' reliable tight end
Antonio Gates
has been having an amazing start to his season. In Week 6, his numbers dropped as he was forced out of the game in the first half due to injury. Initially, it appeared as if Gates had injured his ankle and he was spotted in a walking boot after the game. But the news got better by Monday. The San Diego Union-Tribune reports that coach Norv Turner said Gates had sprained his left toe but remained optimistic he could play this week. Despite the fact this injury is to the same foot on which Gates underwent surgery two years ago, Turner told the Union-Tribune that the two injuries are unrelated (no word on whether the injury specifically is to the same toe or not). Gates' teammate, wide receiver
Malcom Floyd
, may not fare as well this week. He strained his hamstring in the third quarter of Sunday's game and early indications are that he will be out this week.
•
Oakland Raiders
quarterback
Jason Campbell
started in Week 6 in place of the injured
Bruce Gradkowski
but injured his own knee in the process. Campbell underwent an MRI on Monday on his sore left knee. According to the San Jose Mercury News, the diagnosis is a "sprained knee" and it remains to be seen who will be under center for the Raiders this week. ESPN's
Bill Williamson
thinks it could be
Kyle Boller
. Meanwhile, teammate
Darren McFadden
yielded the running back duties to
Michael Bush
in Week 6 while he rested his injured hamstring. McFadden plans to test the hamstring in practice this week. He told the Mercury News, "That's my goal for Wednesday, to go out there and try to see what I can do, see if I can burst." As the weekend approaches, fantasy owners will find out whether they will need to agonize over whether McFadden or Bush is in line to get the work.
•
Denver Broncos
wide receiver
Eddie Royal
suffered a groin injury in Sunday's game against the
New York Jets
, but the extent of the injury is unclear. The Denver Post reports that coach Josh McDaniels is uncertain whether Royal will be able to practice this week.
• Washington Redskins running back
Ryan Torain
made fantasy owners happy Sunday night. And then he disappeared early in the fourth quarter, leading many to wonder if he was hurt. The Washington Post reported that Torain was spotted in the locker room after the game with his knee heavily wrapped but responded to questions about it by smiling and saying, "I'm great." We will have to wait and see what he does in practice this week, but don't be surprised if he appears on the Wednesday injury report, even if only for taking limited reps to rest his knee. Tight end Chris Cooley, who suffered a concussion, will undoubtedly land on the injury report. Concussions always require ongoing evaluation, so it is too soon to tell what his status for Week 7 will be.
•
Detroit Lions
quarterback
Shaun Hill
fractured his left (nonthrowing) forearm Sunday and underwent surgery Monday to repair it. Hill will be unavailable for at least several weeks. The good news for the Lions is that
Matthew Stafford
was already on track to return after the Week 7 bye. If all continues well, Stafford will be ready to return from his AC sprain when the Lions resume play in Week 8.
•
San Francisco 49ers
tight end
Vernon Davis
contributed to his team's first win with a score on Sunday but injured his knee in the process. Davis underwent an MRI on Monday, but according to Matt Maiocco of CSNBayArea.com, the 49ers do not expect him to miss any significant time. He is being called day-to-day.
•
Dallas Cowboys
quarterback
Tony Romo
suffered a bruised left (nonthrowing) thumb. The Dallas Morning News reports that Romo did not undergo X-rays and is not expected to miss any practice time.
• Monday night saw both quarterbacks exit early due to injury. The Jacksonville Jaguars saw David Garrard added to the concussion roster from Week 6. The
Tennessee Titans
lost
Vince Young
after his leg got bent awkwardly during a pileup. Young was seen in a brace on the sideline with what was later called a sprained knee. After the game Young told reporters he will take it "day by day."
• Philadelphia Eagles quarterback
Michael Vick
is not expected to play in Week 7. Although he is making some progress, Vick acknowledged on his weekly radio appearance on ESPN 94.1 FM in Virginia Beach, Va., that it made no sense to rush back. He hopes to be ready by Week 9 (the Eagles have a bye in Week 8).
We will continue to update these injuries and others as the week progresses.
See you at the injury chats (Tuesday and Friday 3-4 p.m.) and we'll have the latest injury updates in the blogs on Thursday and Saturday.
November, 29, 2008
11/29/08
6:33
PM ET
By
Stephania Bell, ESPN.com
| ESPN.com
Plaxico Burress, WR, Giants:
It wasn't enough to be sidelined with a hamstring strain. Burress, who attempted to play last week despite the injury but had to exit the game after only one series, had already been ruled out for this week. Apparently his right hamstring would need a little more time before he would be able to return to action. It is not unusual for muscle strains to sideline a player for more than a week, especially when the risk of taking the field is that the injury could worsen and thus forcibly extend the player's time off. Just ask
Steven Jackson
.
Now it seems Burress has some additional issues, after ESPN's Sal Paolantonio reported that a league official confirmed Burress accidentally shot himself in his right thigh Friday night. The official indicated that the bullet went through skin and muscle in Burress' thigh (no word on whether that muscle was the ailing hamstring or not), but it did not hit any major arteries and no bones were broken. As of Saturday afternoon, he had been released from the hospital, but there has been no official word as to his roster status or expected recovery time. It doesn't take a medical background to appreciate that this does not
help
his healing time for his hamstring. We just don't know yet if it has been significantly set back. It sounds as if there will be several issues for the Giants to sort out here, along with the adjusted rehab plan, and we will certainly keep you posted. Best bet for your fantasy playoffs: Find another receiver, and fast.
Other noteworthy items
&#8226 Steven Jackson just might see his first action in six weeks. Actually, he did suit up once during the past five games, but played minimally, so we won't really count that one. Jackson is listed as questionable and will be a game-time decision. The rest apparently did him some good and he told the St. Louis Post-Dispatch that he was "light years" ahead of where he was in early November. Nonetheless, he remained limited in practice throughout the week and never really ran at full speed, something coach Jim Haslett said he wanted to see before he would activate Jackson again. That aside, Haslett did acknowledge that Jackson appeared to improve as the week went on and even sounded as if a good pregame warm-up by Jackson could influence his decision. Fantasy owners take a gamble, even if he does play, as to how much the Rams will actually use him his first time out of the gate.
&#8226
Reggie Bush
really thinks this is the week. There's no doubting his desire to come back from knee surgery, but everyone involved with the Saints wants to play this one cautiously to make sure he does not suffer a setback his first time on the field. An extra week allowed Bush to practice and eliminate some of the post-practice soreness and swelling that kept him out of action Monday. Plan to see the Saints spread their weapons around, but this week, Bush will be in the arsenal.
&#8226
Brandon Jacobs
is listed as questionable this week. Jacobs participated in full practices Thursday and Friday, however, and seems likely to play. The tag no doubt reflects caution by the Giants, who listed Jacobs as probable last week and then felt the ire of some when Jacobs was declared inactive before the game. Apparently after the long flight west, Jacobs did not feel he could play up to the level of expectation, and after sharing that with his coaches, the team opted to rest him another week. The idea that they might rest him was not a surprise, given the importance of having a healthy Jacobs down the stretch. It's just that after practicing most of the week and declaring himself ready to go, along with the team listing him as probable, it came as a surprise (or shock, if he was on your fantasy team). This week, his designation suggests that he is less likely to play, but I think he is more likely to play. Not only did the additional week help, teammate
Ahmad Bradshaw
has been out of practice all week with a sore neck. He too is listed as questionable, although he looks far less likely to see the field. Hmmm. It could be a big day for
Derrick Ward
.
&#8226
Willie Parker
is again listed as questionable because of his problematic knee. Parker continues to deal with inflammation in the knee, and it seems to get aggravated every time he takes the field. This is not unusual with knee ligament injuries, but it is enough to set Parker back in practice each week and put his status in doubt and it's not likely to resolve before the season ends. Parker was able to fully practice for two consecutive days, always a good sign that he'll be able to play, but expect the Steelers to continue to make use of
Mewelde Moore
.
&#8226 Add "oblique strain" to
Clinton Portis
' list of ailments. He remains questionable, and did not practice all week, but he hasn't missed a game yet. Assuming he gets up and runs for coach Jim Zorn on Sunday morning to his satisfaction, he will be in the lineup once again this weekend.
&#8226
Kellen Winslow
is listed as questionable for the Browns again this weekend because of his shoulder sprain. Knowing that Winslow played last week, and knowing how tough he is, this might not seem like such a big deal. But the concern here is that Winslow put in a full practice Thursday and then was limited Friday, calling into question whether he suffered a bit of a setback or whether the team was just giving him less work heading into the game. He will likely play. He generally does, but it's worth checking the inactive lists just in case.
&#8226 Broncos' receiver
Eddie Royal
is questionable with a toe injury. He could perform only limited practice late in the week. Teammate
Brandon Marshall
is listed on the injury report because of his nagging hip, but he went through full practices, is listed as probable and is expected to play. Meanwhile, running back
Selvin Young
, who the Broncos thought might be able to return this week, is listed as questionable but does not look like he'll take the field. The groin injury is still problematic and he has been very limited all week in practice.
Peyton Hillis
will continue to dominate the workload for the Broncos' backs.
Out:
This is a list of key fantasy players, not including those who have been moved to Injured Reserve status, who are officially listed as additions to the "Out" listing for Week 13.
Greg Camarillo, WR, Dolphins:
Camarillo suffered a knee injury that will keep him out the remainder of the season.
Brady Quinn, QB, Browns:
Quinn's fractured finger appeared to worsen and there was concern about tendon damage as well. He is currently evaluating whether or not to have corrective surgery. Either way, he won't be back for the Browns this season.
Derek Anderson
, barring injury, will finish out 2008.
Jeff Saturday, C, Colts:
Saturday has a calf strain that could sideline him even beyond this week. Uh-oh. We saw what happened to the Colts' offense when Saturday was out earlier this season. They have to hope this will not be a long absence.
Good luck in Week 13! Be sure to check out our site Sunday for pregame chats and Fantasy Football Now at noon ET.
October, 18, 2008
10/18/08
2:04
PM ET
There has been a lot of quarterback drama this week. We know that
Carson Palmer
is sitting this one out for the Bengals. We also know that
Seneca Wallace
will start in place of
Matt Hasselbeck
for the Seahawks. And finally we are getting the strong impression out of Dallas that
Brad Johnson
will indeed start, although
Tony Romo
and his broken pinkie finger are listed as questionable and he could serve as a backup.
There are a few other injuries to report that will certainly impact fantasy owners everywhere. Here's what we know as we head into the Week 7 contests.
Willie Parker, RB, Steelers:
What happened? We were so sure we would see "Fast" Willie Parker back on the field after the bye. He wanted to come back in Week 5 because he felt so good, remember? Well, that was then, this is now. Parker is now listed as doubtful and the Pittsburgh Post-Gazette has reported that Parker did not practice Friday and will not play. Teammate
Mewelde Moore
continues to start in Parker's place.
Parker had been recovering from a sprained knee; specifically he had a sprain of his left medial collateral ligament (MCL) which supports the inner aspect of the knee joint and provides critical stability for lateral motion and cutting. Parker had resumed all activities and reportedly felt good with his cutting maneuvers, one of the final "tests" for readiness to return to play following this type of injury. But then he suffered a setback earlier in the week after reportedly stepping in a hole at the Steelers' practice facility, aggravating the still-healing ligament. The big question becomes whether Parker will be ready to go by next week. It is far from a sure thing at this point.
Clinton Portis, RB, Redskins:
Portis has a strained hip flexor which kept him out of practice Wednesday and Thursday. The good news for the Redskins is that Portis was able to practice on Friday and although listed as questionable, is expected to play Sunday.
The hip flexor muscles are very strong in runners and are responsible, just as the name implies, for flexing the hip. The hip flexor generates a good deal of power in helping drive the runner forward, so with Portis likely at less than 100 percent, his explosiveness may be diminished this week. Portis has had an amazingly solid start to his season, so this has to be a great disappointment. Coach Jim Zorn said all week that he expected Portis to be available Sunday but after practice Friday, Zorn acknowledged there were deficits. "Nothing for him was absolute burst full-speed, but I saw him make some cuts both left and right."
Newly signed running back
Shaun Alexander
will be waiting in the wings to help out if needed. With Portis less than fully healthy and
Ladell Betts
out with a knee injury, Alexander could very well see some time on the field.
Other noteworthy items
&#8226
Cleveland Browns
tight end
Kellen Winslow
returned to team practice Friday after missing last week with an undisclosed illness and says he is hopeful to play. Although Winslow kept quiet as to the exact nature of the illness, the Cleveland Plain-Dealer reports that he answered "no" when asked if he could confirm that it was an infection, and added that he did not lose any weight. Both of those answers would support the idea that he is strong enough to play, but he remains listed as questionable and looks to be a game-time decision.
&#8226 After sitting out practice Wednesday following a concussion last week,
Detroit Lions
wide receiver
Calvin Johnson
returned to full practice Thursday and is off the injury report now. Teammate
Kevin Smith
still has a sore shoulder but is listed as probable and is expected to play.
&#8226 Hard as it is to believe, the Patriots' injury report actually adds more clarity to their running back situation this week. Both
Laurence Maroney
and
LaMont Jordan
are listed as doubtful and neither is expected to play Monday night. Neither Jordan (calf) nor Maroney (shoulder) practiced all week so there is really nothing encouraging about their chances of making an appearance.
Sammy Morris
and
Kevin Faulk
will continue to handle the bulk of the work.
&#8226
San Diego Chargers
receiver
Chris Chambers
remains doubtful and is not expected to play. Earlier reports out of San Diego were optimistic about Chambers' prospects this week, but ankle sprains can be tricky, and Chambers himself has been vocal about making sure he does not return too soon and risk further injury. Running backs
Darren Sproles
(ankle) and
LaDainian Tomlinson
(toe) are both probable and will play.
&#8226
Denver Broncos
receiver
Eddie Royal
is the lone bright spot on a very full Denver injury report. He is listed as probable and after fully practicing all week, his ankle appears to be much improved and he is expected to play. Meanwhile, tight end
Tony Scheffler
and running back
Selvin Young
, both of whom sat out last week, are still limited in terms of what they can do since suffering left-sided groin injuries. They are both listed as questionable, and with the extra day afforded them given that the team plays Monday night, there is some hope that they will be able to go. If they do play however, they will not be at 100 percent. Then there is wide receiver
Brandon Stokley
who sustained yet another concussion last Sunday. He too is questionable -- very questionable -- since he did not practice at all this week. It would not be surprising if he sits this one out. That means
Brandon Marshall
will remain a hot target for Cutler along with Royal. Don't worry about Marshall's surprise presence on the injury report. He had a mild groin strain but was able to fully practice Friday, is listed as probable and is expected to play Monday night.
&#8226 New Orleans finally gets some good news in the injury department. Wide receiver
David Patten
is no longer on the injury report and therefore should be expected in the Sunday lineup. Wide receiver
Marques Colston
and tight end
Jeremy Shockey
, whose joint progress from surgery we have been tracking for some time, are both listed as probable and expected to take the field Sunday. Colston and Shockey both saw limited reps in practice throughout the week. It appears Colston will get the green light while Shockey may very well be limited in his first action back Sunday as he is still on a relatively early timeframe following his sports hernia repair. The surprise name added to the Saints' list this week was
Reggie Bush
, who had soreness and swelling in his left knee according to the New Orleans Times-Picayune. This is the same knee in which Bush partially tore the posterior cruciate ligament (PCL) last year, and it is not unusual to have some intermittent swelling in a knee with an injury history. The Saints allowed him to rest the knee during the week with the idea that he would be ready to go Sunday, and coach Sean Payton told the Times-Picayune that he expects Bush, listed as probable, to "play his normal role." Bush said earlier in the week that he has been dealing with intermittent swelling since training camp. Clearly he has managed to perform just fine so far this year, so at this point there does not appear to be any major cause for concern.
&#8226 The Buccaneers are hoping that wide receiver
Joey Galloway
will be able to take the field this Sunday after missing several weeks with a foot sprain. This is the first week that Galloway has really been able to practice with the team and he appears eager to return. He is officially listed as questionable and it will come down to a game-time decision for him, based on how his foot feels during warmups.
&#8226 The
Seattle Seahawks
will likely be without the services of wide receiver Deion Brnach who continues to be unable to practice because of a bruised heel (to go along with his recently reconstructed ACL in the opposite leg). He is listed as questionable, but is really not expected to play.
&#8226 In Indianapolis, running back
Joseph Addai
will probably be watching from the sidelines this week. He is listed as doubtful, and in fact was initially rumored to have a hamstring injury that could sideline him for a couple weeks, but the team still did not officially rule him out. It appears that the team is approaching his progress day-to-day, but given that Addai could not run all week, don't expect any miracles before Sunday.
&#8226 Good news in Tennessee as wide receiver
Justin Gage
appeared to be able to run more this week. He remains listed as questionable though as he has not practiced with the team and his status will come down to pregame warmups.
&#8226 In Minnesota the news on wide receivers
Bernard Berrian
and
Sidney Rice
is better this week. Berrian has been managing to play and play well the past two weeks despite a mild knee injury so it would be no surprise if he shows up in uniform ready to go. But Rice, who has struggled with a sprained posterior cruciate ligament, told the Minneapolis Star-Tribune that he is better now and "definitely" plans to play. Both players are listed as questionable, but it appears that both will be active. Keep in mind that if Rice does play, he may be limited in his first action in nearly a month.
&#8226 We saved a spot for a kicker mention. Bengals kicker
Shayne Graham
has a groin strain, very disabling for a kicker since the position requires both extreme flexibility and power from the groin area. Graham is questionable but will likely be on the sidelines with tight end
Ben Utecht
, who is doubtful with a chest injury. Wide receiver
T.J. Houshmandzadeh
was also listed as questionable after being restricted in practice this week because of his ankle, but he did fully practice Friday and should play.
Out:
This is a list of key fantasy players, not including those who have been moved to Injured Reserve status, who are officially listed as additions to the "Out" listing for Week 7.
Carson Palmer, QB, Bengals:
We have been talking about the inflammation in his throwing elbow for a while now and after he sought a second opinion, it came as no surprise that he was encouraged to rest. Now we are hearing that he may be resting for at least another week. At least.
Matt Hasselbeck, QB, Seahawks:
The problem in his back turned out to be responsible for much of what Hasselbeck was feeling in his leg. He is undergoing aggressive rehab and the team hopes to have him back for Week 8. That may be optimistic.
Ladell Betts, RB, Redskins:
Betts has a knee injury that will sideline him this week. With teammate Clinton Portis banged up, will we see the 2008 debut of new team member Shaun Alexander?
Felix Jones, RB, Cowboys:
His status was never in question like that of his quarterback teammate. Jones has a hamstring injury, reportedly located close to where the tendon attaches at the knee, that is projected to keep him out anywhere from two to four weeks.
Brandon Lloyd, WR, Bears:
This should not be a surprise. We've been warning you for a while now that this injury looked as if it would cost Lloyd a few weeks of playing time. So far that's the case.
B.J. Askew, RB, Buccaneers:
Askew hurt his hamstring last week and
Earnest Graham
shifted to the fullback position to help out his team and watched
Warrick Dunn
get all the glory. Great for his team, bad for his fantasy owners. Well, Askew sits out this one as well, but not to worry fantasy owners, Graham resumes his normal role this week.
Samari Rolle, CB, Ravens:
Rolle is recovering nicely from his neck surgery and is reportedly out of his protective cervical collar, moving freely. He's still too soon out from surgery to be back on the field though. Plan on at least a couple more weeks.
Be sure to check out our site Sunday for pregame chats and Fantasy Football Now at 12 p.m. EST. Good luck in Week 7!
October, 11, 2008
10/11/08
2:43
PM ET
Here's what we know as we head into Week 6 contests.
[+] Enlarge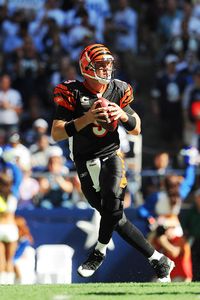 G. Newman Lowrance/Getty ImagesCarson Palmer gets another week off this week. Ryan Fitzpatrick should be just as good, right?
Carson Palmer, QB, Cincinnati Bengals:
Palmer is listed as doubtful this week but the Bengals have already indicated that backup
Ryan Fitzpatrick
will start. Palmer still has soreness in his throwing elbow, and after not practicing all week, was relegated to non-starter this week. Whether Palmer is completely sidelined or whether he suits up as the No. 2 quarterback remains to be seen. It appears that the team is being protective of Palmer's elbow in the interest of his long-term health. With Fitzpatrick having an extra week of snaps with the first team, and Palmer being so critical to the franchise, it is not surprising that the team would opt to rest him. What is a bit surprising is they have not completely ruled him out of the game. It seems that if the Bengals wanted him to rest his elbow, the safest play would be to make him unavailable. After all, the No. 2 quarterback would then be Carson's younger brother, Jordan. Surely he's picked up a tip or two from his older sibling. In any event, fantasy owners want to find a replacement for Week 6 and it wouldn't be a bad idea to keep a second quarterback on your reserve list. This could be a week-to-week situation.
Matt Hasselbeck, QB and Deion Branch WR, Seattle Seahawks:
What is in the drinking water in Seattle? There has to be a big reward waiting for whoever can discover the antidote to the injury plague attacking the Seattle quarterback and receiving crew.
Seattle will be starting its No. 3 quarterback Sunday if
Charlie Frye
takes the field at 4:15 p.m. EST. I say "if" because although Hasselbeck has not yet been cleared for contact, there is an outside chance that could happen by Sunday -- a very teeny, tiny outside chance. Hasselbeck hyperextended his knee last week and although a subsequent MRI revealed no ligament or meniscal damage, he did sustain a painful bone bruise and has been unable to practice all week. Early in the week, coach Mike Holmgren indicated that he expected Hasselbeck to be ready by game time, a point that was reiterated as late as Thursday by offensive coordinator Gil Haskell. But Hasselbeck was still not practicing Friday and, according to ESPN reports, Holmgren offered this explanation: "The thing just has not responded. He can't do much with his leg. It's not ligaments, it's not anything like that. It's just sore." Holmgren does not want to put a potentially vulnerable Hasselbeck on the field when his inability to move well could result in more hits and further injury. So, enter backup quarterback
Seneca Wallace
. Oops! He's not available because of a calf strain that has had him sidelined since he was prepping for filling in as the fifth or sixth wide receiver. Fortunately for Frye, he has been taking the first team snaps all week, and he did some filling in for Hasselbeck in preseason games while Hasselbeck nursed a sore lower back.
But the injuries don't stop there. Branch, who was so excited about making his regular-season NFL return last week from anterior cruciate ligament (ACL) surgery, was forced out early Sunday with a new injury. Branch is listed as questionable but is not expected to play.
Branch suffered a heel bruise on his left side. Sure, a bruise doesn't sound major, but if you were to take a hammer and slam it against your heel, then walk around on it, you might be able to appreciate just how limiting this type of thing can be. Now attempt to run, where your heel has to hit the ground harder. Even better, try jumping and landing on that foot alone. That's right. You really can't. (Hopefully no one actually tried this, but you get the picture.) Now complicate that picture by having a newly reconstructed knee on the other side. Although Branch was doing well from a healing perspective on his surgically reconstructed right knee, he was just getting his confidence back in that leg. Part of that help is having another "sound" leg. With his left leg now compromised, it potentially alters the way he moves on his right leg, and that is not something you want to see from a rehab perspective, as you're just getting an athlete back to competition.
If you want to take the glass-half-full approach, there is a bit of good news in Seattle. Last week the Seahawks saw receiver
Bobby Engram
enter the lineup for the first time in 2008 after being out with a fractured shoulder. He played well and is expected to see increased activity this week. Recently re-signed receiver
Koren Robinson
appears to be on the mend from the knee soreness that kept him out of the lineup thus far. After practicing all week, he is expected to start Sunday also.
Justin Fargas, RB and Darren McFadden, RB, Oakland Raiders:
The bye week helped both Oakland running backs, but one is clearly healthier than the other at this point. Fargas, who suffered a groin injury in Week 3 that caused him to miss Week 4, took advantage of the bye to get healthy. He practiced fully all week, is listed as probable and is expected to start.
McFadden has been dealing with a turf toe injury for several weeks that clearly limited him in Week 4. The bye week also afforded him some much-needed rest, but the fact that McFadden was still wearing a protective boot early this week let on that the toe was not 100 percent. Jason Jones of the Sacramento Bee reports that McFadden feels much better but is still stiff and still requires protection in his shoe. McFadden is listed as questionable but is expected to play Sunday. Given their relative health, expect Fargas to get the bulk of the work this week.
Brian Griese, QB, Tampa Bay Buccaneers:
In a move that surprises no one,
Jeff Garcia
has been announced as this week's starting quarterback in Tampa Bay. Griese took a hit last week that left him with a bruised elbow and a shoulder strain in his throwing arm, and although he is listed as questionable, it is more likely that
Luke McCown
will serve as Garcia's backup. Rick Stroud of the St. Petersburg Times reported that inflammation in Griese's elbow has essentially kept him from being able to throw at all this week, and unless that changes Sunday morning, which appears unlikely at this point, he will be in street clothes. Griese's timeline for return really depends on how the inflammation resolves and how functional his arm is, something that will be evaluated on a day-to-day basis next week.
[+] Enlarge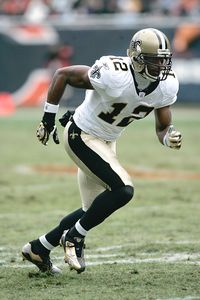 Scott Boehm/Getty ImagesDrew Brees is probably counting down the days until Marques Colston is available to throw to.
Marques Colston, WR and Jeremy Shockey, TE, New Orleans Saints:
The injury-plagued Saints appear to have been sharing tainted drinking water with the Seahawks. It now appears the Saints will be without the services of defensive tackle
Antwan Lake
as a result of a groin injury. Lake was filling in for the injured
Sedrick Ellis
, who is still recovering from knee surgery to address a torn meniscus. Wide receiver
David Patten
(doubtful) will likely miss another week because of his groin injury.
Everyone is looking for some good news on the injury front in New Orleans and Colston may be just the spark. But don't get too excited yet. Colston, coming off ligament-repair surgery in his thumb, is listed as questionable and may not see the field just yet. Colston came out of his cast last week and was able to participate in practice to some degree this week, wearing only limited padding on his thumb. In fact, Colston told the New Orleans Times-Picayune how surprisingly good his thumb felt when catching the ball: "I really don't feel it out there and I'm catching the ball well. It really doesn't feel like I'm trying to catch the ball any different."
Nevertheless, he is still on the early side of recovery and the medical staff needs to feel confident that no matter what Colston might encounter on the field, he will not be at risk for a setback. It's not just catching the ball and holding onto it, which certainly requires a great deal of thumb control and an ability to absorb impact. He has to be able to hit that thumb against a helmet or the ground and have that repair hold up. As much as they would like to see him active, the Saints may just have him sit tight another week. In fact, if he does suit up, expect him to see limited action.
Meanwhile, much was made of Shockey's return to practice Wednesday following sports hernia surgery a few weeks ago. Shockey did not practice Thursday or Friday, however, suggesting, as does his doubtful tag, that he will not see action for at least another week.
Other noteworthy items
&#8226
Cleveland Browns
star tight end
Kellen Winslow
has spent the past two nights in a local hospital after not feeling well earlier in the week. There has been no word thus far as to the nature of the injury, but certainly hospitalization affords Winslow the chance to be observed and to ensure that he is receiving appropriate fluids and any necessary medications. The Browns have him listed as questionable for Monday night, but in addition to recovering from the illness itself, one concern has to be weakness after being in this state for a few days. Stay tuned.
&#8226
Chicago Bears
receiver
Brandon Lloyd
is listed as doubtful with his sprained knee. Lloyd has yet to practice and the doubtful tag makes it virtually certain that he will not play. Expect his status to be shaky at best for the next couple of weeks.
&#8226
Atlanta Falcons
receiver
Roddy White
dismissed his collision with
Lawyer Milloy
on Wednesday as minor, and it appears the team held him out of practice Thursday as a precautionary measure. But White did not practice Friday either and is now listed as a game-time decision. Head injuries are nothing to sneeze at, but White's injury was not seen as serious enough to require any formal testing. The rest may have been a means of ensuring he would be available for Sunday and it sounds as if he will play. The game is early, so fantasy owners should check inactive lists before game time, but there is reason to be optimistic.
&#8226 It looks as if there will be another backup quarterback starting Sunday, this time in Detroit.
Jon Kitna
has been dealing with lower back spasms that began during last week's game, and he is listed as doubtful. Backup
Dan Orlovsky
reportedly injured his ankle last week, yet he is listed as probable and it sounds as if he will get the start ahead of
Drew Stanton
. Receivers
Roy Williams
and
Calvin Johnson
were both listed as questionable this week; Johnson has a minor knee ailment, the result of banging it in practice earlier in the week, and Williams has been bothered by his hip. Both were held out of practice Friday but are expected to play Sunday.
&#8226 New England has listed running back
LaMont Jordan
as doubtful with a calf injury and running back
Laurence Maroney
as questionable with his shoulder injury. While Jordan did not practice all week and is almost certain to sit, Maroney practiced fully Wednesday but then saw limited action Thursday and Friday. He has not divulged even the slightest bit of information relative to his shoulder but acknowledges that he has "issues" he is trying to address, and sounds less than 100 percent.
Sammy Morris
and
Kevin Faulk
may be your guys this week.
&#8226
San Diego Chargers
receiver
Chris Chambers
managed to injure his ankle on the last play of the team's loss to Miami on Sunday. He was unable to practice all week, is listed as doubtful and is unlikely to play. Teammate
Vincent Jackson
is listed as probable after missing a day of practice Thursday with a sore knee. Jackson was back full-bore Friday and is expected to start, especially in light of Chambers' situation.
&#8226
Denver Broncos
receiver
Eddie Royal
is listed as questionable because of an ankle bruise that kept him out of practice Wednesday and limited him the remainder of the week. ESPN's John Clayton said Royal will be a game-time decision. With
Tony Scheffler
and
Selvin Young
out this week, Denver's offense could be in a bit of trouble.
Out:
This is a list of key fantasy players, not including those who have been moved to Injured Reserve status, who are officially added to the "out" listing for Week 6.
Brian Westbrook, RB and Reggie Brown, WR, Philadelphia Eagles:
Westbrook's absence this week is not a huge surprise although it is a huge disappointment for fantasy owners. Westbrook has two broken ribs along with a still-recovering right ankle and, with a bye in Week 7, the Eagles have to be hoping that this will get him to a healthy place for the remainder of the season. Brown is dealing with his third soft tissue injury of the season (Achilles, hamstring, now groin) and will sit this one out.
Anquan Boldin, WR, Arizona Cardinals:
Despite the fact Boldin was not officially ruled out until Friday, his absence does not come as a major surprise. Boldin is still recuperating from a procedure to address a sinus fracture. The Cardinals have a week off in Week 7, but you can expect him back in action in Week 8.
Joey Galloway, WR, Tampa Bay Buccaneers:
Galloway is out again. The difference this week is that Galloway did some limited practice. Very limited in fact, as in just one day of light work. Apparently his foot is still healing. But at least that is some progress to report and with any hope, he'll be steadily increasing his activity from here.
Terence Newman, CB, Dallas Cowboys:
Officially listed as out because of an abdominal injury, there have been murmurings that Newman has a sports hernia that could require surgery and cause him to miss more than a month. Whenever an athlete has a groin injury followed by an abdominal injury, it begins to sound like a sports hernia. This is not good news for the Cowboys' secondary, because they have their fair share of challenges all around.
Tony Scheffler, TE and Selvin Young, RB, Denver Broncos:
Groin injuries for everyone. Scheffler was on crutches after injuring himself in Week 5, so his absence from the lineup this week is not much of a surprise. Early on, it sounded as if this could be a more serious injury, but coach Mike Shanahan told the Denver Post he expects Scheffler to return for next week's Monday night game in New England. Shanahan offered essentially the same prognosis for Young, who has the same injury and did not practice all week either.
Be sure to check out our site Sunday for pregame chats and Fantasy Football Now at noon ET. Good luck in Week 6!
October, 6, 2008
10/06/08
2:40
PM ET
Now that we're a month into the season, we have begun to see the effects of guys playing when they are less than 100 percent healthy. Most football players will tell you that after a week or two of the regular season,
nobody
on the roster is 100 percent, simply because of the physical nature of the game. Bumps, bruises, sprains and strains are all part of the job, and many times players are practicing and playing through these minor ailments, with no formal mention on the team injury report.
Sometimes, however, as evidenced by the injury reports, players will experience injuries that are serious enough to keep them out for a week or longer but are not enough to sideline them for the remainder of the season. Nonetheless, these are often the types of injuries that might require an offseason of rest to fully heal. Although an athlete might be cleared to play, the possibility remains that the still-recovering tissue might be more easily re-injured. For example, a mild ankle sprain might heal enough to allow a player to play, even at a high level, but one wrong move or one awkward landing can send the athlete back to the training room for the week, and perhaps cost him even more recovery time.
This week we saw several instances of players aggravating prior injuries, now rendering their status uncertain. And, of course, there are always a few new injuries to add to the list. Unfortunately, as you'll see, the list of disabled quarterbacks continues to grow.
Here's a first look at Week 5 injuries as we begin to focus on Week 6: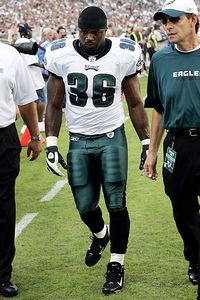 AP Photo/Tom MihalekBrian Westbrook missed time in Week 5 because of an injury not related to his Week 3 injury.
Brian Westbrook, RB, Eagles:
Westbrook's fantasy owners have reason to be concerned -- and not because of his ankle. Westbrook, who played Sunday despite being listed as questionable, left the game early and went to the locker room, prompting speculation that he had aggravated the ankle injury he sustained in Week 3. It turns out Westbrook had taken a shot to the ribs, although he was cleared to return later in the game.
In his Monday news conference, coach Andy Reid indicated Westbrook suffered fractured ribs, although he did not include any more details (how many ribs, which ones, projected time out, etc). There are a number of variables that will factor into whether Westbrook can play and whether he will require protection, such as rib padding, if he does play. Although Westbrook shows up on the injury report regularly, he also manages to play through a great deal of ailments, so it's important not to count him out just yet. After all, he did finish the game and even made some nice plays after sustaining the injury. That definitely gets him my vote in the toughness category. That said, a wise Westbrook owner will secure a backup for Week 6.
LaDainian Tomlinson, RB, Chargers:
Unfortunately for Tomlinson, he is the case study this week for aggravating a previous injury. Tomlinson, who injured his big toe in the season opener, has not been himself in the early going, which is no surprise given the nature of his injury and the relevance of the big toe for pivoting, cutting and pushing off. Each week, though, Tomlinson had maintained that he was improving, that the toe was finally feeling better, particularly while running straight ahead. As such, he rushed for more than 100 yards against Oakland in Week 4 and looked to be on the upswing.
That all changed in Week 5, when Tomlinson exacerbated his toe injury against the Dolphins. According to the San Diego Union-Tribune, Tomlinson had his toe "twisted into the ground" when he was stepped on by a member of the Dolphins' defense. These big toe problems occur primarily where the big toe meets the ball of the foot, and any excessive force across that joint -- either from hyperextension, torsion (twisting) or impact -- will potentially injure the ligaments and the capsule around the joint. The risk is that if the tissue does not completely heal, the joint can become arthritic down the line -- a very painful scenario.
It would not be surprising to see Tomlinson limited this week in practice, and his return to top form might now require an extended timeline as well.
Antonio Gates, TE and Chris Chambers, WR, Chargers:
Gates is another Charger who has been playing while recovering from injury. Gates' offseason toe surgery has been well-documented, and he was very upfront about the toe limiting him throughout the preseason and early into the regular season. But even as his toe has improved, Gates also has been dealing with a hip injury that he sustained early in the season. Although it has not kept him out of any games, the hip injury has limited him in practice, and this week it also limited him on the field. Gates was held to only one reception and seemed to have limited mobility Sunday. Gates' comment to the San Diego Union-Tribune reflects the mentality of tough athletes trying to play through pain, knowing their bodies are not fully cooperating but not letting that be the rationale for subpar performance: "Obviously there are some things I need to do physically ... But once you decide to get on the field, you have to put everything else behind you." It's an admirable stance, but it does not hide that being at less than full health impacts his performance. It will be interesting to see if Gates has a lighter work week in advance of Game 6.
Meanwhile, Gates' teammate, Chris Chambers, injured his leg on the last play of the fourth quarter Sunday. The Union-Tribune is calling Chambers' injury an ankle sprain, and there is no word yet as to the severity of the injury. The Chargers have to be hoping this injury is not a long-term concern.
Trent Edwards, QB, Bills:
Edwards took a shot from
Arizona Cardinals
safety
Adrian Wilson
, who flew in untouched and sent Edwards reeling. Edwards was on the ground for several minutes after the hit and was eventually helped off the field. Later seen on the sidelines, and even later as he was carted into the locker room, Edwards still appeared dazed. According to Associated Press reports, after visiting with his injured quarterback after the game, coach Dick Jauron said Edwards was "responding, but he was still a little groggy." Jauron added, "It's a good time to have a bye." That might be the ultimate understatement. Edwards will have an extra week to recover from his concussion, but as is typical of head injuries, it is impossible to predict a recovery time frame -- it will simply be measured by how Edwards feels from day to day.
Brian Griese, QB, Buccaneers:
Griese took a big hit from
Champ Bailey
on Sunday, and it was anyone's guess as to which body part was injured. It looked as if it could have been his head, his neck or a shoulder. But the St. Petersburg Times is reporting Griese said he sustained an "elbow bruise" as a result of the hit. He also reported immediate swelling, which is not surprising but perhaps very limiting as far as the function of the elbow. The elbow might just have been the body part that got the worst of it. At this point there are no further specifics, but we will keep an eye on Griese's status this week.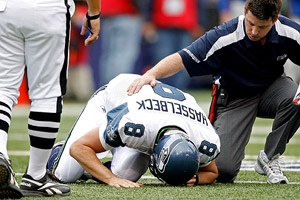 Jarrett Baker/Getty ImagesThe Seahawks' injury woes continue. … This week Matt Hasselbeck got hurt.
Matt Hasselbeck, QB, and Deion Branch, WR, Seahawks:
Hasselbeck was hit on the first drive of Sunday's game and sustained what the Tacoma News-Tribune is reporting as a hyperextended knee. Hasselbeck said he was initially in a great deal of pain, which subsided to some degree over the next few minutes. He is scheduled for an MRI on Monday.
After the near depletion of their receiving corps, the Seahawks were very excited about the return of their two injured stars,
Bobby Engram
and Deion Branch. Engram's season debut was quite successful; Branch's was not. Branch, approximately eight months removed from left ACL reconstruction, suffered an injury to his right heel, according to the Seattle Times. Coach Mike Holmgren implied that Branch's injury could cause him to miss time, but there are no further specifics as of yet. Nonetheless, Branch's fantasy owners may want to make other plans.
Eddie Royal, WR and Tony Scheffler, TE, Broncos:
Rookie Eddie Royal, who was initially projected to be primarily a special teams player, had quite a welcome to the NFL as a wide receiver in Week 1 when he put up 146 receiving yards and a touchdown versus the Raiders. That was also the week Royal initially injured his ankle. Royal has been listed on the injury report since that time, because of the ankle, but has been able to practice and play with the injury, which appeared to be minor.
That minor injury might have become more significant in Week 5 -- Royal aggravated the ankle on a punt return in the third quarter. The Denver Post reports that although X-rays were negative, Royal left the locker room on crutches and limping well after the game was over.
Teammate Tony Scheffler left the locker room in the same condition as Royal -- on crutches and limping -- but for a different reason. The Post is reporting that Scheffler suffered a left groin injury. After initially experiencing some discomfort in the first half, Scheffler continued to play, but the problem seemed to worsen on his final catch of the game. As Scheffler put it, "You go through the game, and there's some soreness and tightness in there, and then something happens at the end that kind of puts it over the edge."
You never like to see athletes on crutches, since it implies a degree of seriousness to the injury, but crutches also permit unloading (non-weight bearing) of the injured part, which can go a long way in the early stages to improve tissue healing. It certainly helps prevent worsening of the injury, and it also helps keep an athlete from compensating by limping, which can lead to problems in another area. As a result, it is important not to read too much into these injuries just yet. We will hear more from the teams as the week progresses, and we will see what Scheffler and Royal are able to do in practice (if they are able to practice). Meanwhile, receiver
Darrell Jackson
, sidelined since Week 1 because of a calf strain, can help fill a potential void if he is ready to go in Week 6. As Mike Shanahan told the Denver Post, "That's why you have to have depth." Yes, Mike, fantasy owners know all about that.
Other noteworthy injuries: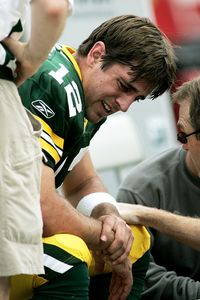 Chris Livingston/Icon SMIAaron Rodgers admitted to having pain Sunday, but he was able to play well despite it.
On a positive note for Week 5,
Aaron Rodgers
was able to throw for his first 300-yard game at Lambeau Field, despite his sprained shoulder. Rodgers was a game-time decision to start because he had not been able to throw much during the week and had to prove to the coaches Sunday morning that he had the strength in his arm to get the job done. Rodgers was able to deliver some nice sharp passes in the Packers' loss, although he acknowledged to the Milwaukee Journal-Sentinel that his shoulder was painful throughout the game. Don't be surprised if he is allowed to rest his shoulder in practice this week in preparation for Week 6.
Jon Kitna
was removed as the Lions' quarterback because of back spasms. Although some speculated his removal was due to poor performance, coach Rod Marinelli said in his postgame news conference that the switch was made as a result of Kitna's back problems. Kitna has dealt with back spasms before, so this is nothing new. How limiting this episode will be remains to be seen. Backup
Dan Orlovsky
sustained a high ankle sprain late in the game, so it is unclear who will get the start for the ailing Lions this week.
New York Giants
receiver
Domenik Hixon
, taking advantage of the absence of
Plaxico Burress
(suspension), suffered a concussion that kept him out of the second half, or his numbers might have been even better. The Newark Star-Ledger is reporting that Hixon wanted to return, suggesting his injury might not be too serious, but the team declined his request, choosing to err on the side of caution. Never a questionable call when it comes to head injuries.
Patriots running back
LaMont Jordan
left Sunday's game with an undisclosed injury on a non-contact play in the first half. He did not return to the game, and his status for Week 6 is uncertain. We may not hear much more as to the nature of his injury from the Patriots, but as always, we will stay tuned to the practice and injury reports.
Be sure to check back here throughout the week as we update these and other injuries. Also, stop by my injury chat (11 a.m. ET on Tuesdays and Fridays) to discuss the status of your injured players. Hope to see you there!