Stephania Bell:

Eli Manning
December, 3, 2009
12/03/09
3:48
PM ET
Last week we had the pleasure of three games on Thanksgiving, so having only one Thursday game in Week 13 feels like a bit of withdrawal. The upside? A few more days for some ailing players to get themselves a little healthier.
New York Giants
quarterback
Eli Manning
played last Thursday and we later discovered that he is dealing with yet another issue in his right foot, a stress reaction in one of his midfoot bones to be exact. Since the best treatment is indeed rest, 10 days off could be viewed only as a good thing. Running back
Ahmad Bradshaw
got a few extra days to rest his newly sprained left ankle, not to mention the fracture in his right foot, which at least gives him a better shot of playing this Sunday.
Detroit Lions
quarterback
Matthew Stafford
was visibly uncomfortable while trying to play through his separated (nonthrowing) shoulder last Thursday, so some additional downtime benefited him. It also helped his primary target, wide receiver
Calvin Johnson
, who told The Detroit News that it was "big for me just being able to get home and get my feet up," allowing his sore knee to rest. Over in Dallas, quarterback
Tony Romo
had a few more days to quiet his sore back and tight end Jason Witten's foot was given some additional recovery time as well.
So how concerned should fantasy owners be about the health of their roster heading into Week 13? Here's what we know so far ...
Quarterbacks
Matt Ryan, Atlanta Falcons:
On Tuesday, I outlined the information we have so far on the
status of Ryan's big toe injury
. The fact that he did not have surgery and is receiving treatment suggests that the team is hopeful that he could return. The Falcons indicate that they will provide a status update next week. In the meantime, Ryan is definitely out for Week 13, so adjust your roster accordingly.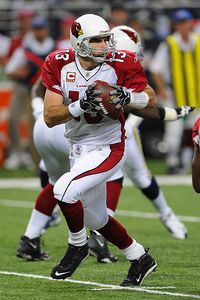 G. Newman Lowrance/Getty ImagesKurt Warner could be playing it really safe again with his most recent head injury.
Kurt Warner, Arizona Cardinals:
Warner was inactive Sunday after lingering visual disturbances caused him enough uneasiness to report the symptoms and elect not to play. First, Warner should be applauded for making a difficult but correct decision. The more players are forthcoming about these types of symptoms following head injury, the more acceptance there will eventually be about respecting the significance of these injuries and the potential consequences of returning too soon.
Warner also paid a visit to an ophthalmologist, a physician who specializes in eye care, for further evaluation. According to the Cardinals' official Web site, everything was "fine" with Warner's eyes. He reported feeling better and returned to practice but split first-team reps with teammate
Matt Leinart
. Consider Warner's status day-to-day and recognize that the decision to play might be a game-time one, and with the game not being played until Sunday night, it'll be tough to use him in your lineup.
Eli Manning, New York Giants:
On Tuesday I outlined the
new challenge for Manning and his injured right foot
. As expected, Manning continues to be a full participant in practice and is preparing to face the
Dallas Cowboys
Sunday.
Ben Roethlisberger, Pittsburgh Steelers:
Roethlisberger is expected to be under center for the Steelers this week when they face the
Oakland Raiders
. He returned to a full practice Wednesday and unless he experiences a setback, such as another bout of exercise-induced headache, he will be the starter.
Jake Delhomme, Carolina Panthers:
In what seemed a foregone conclusion at the start of the week, ESPN reports that
Matt Moore
is
expected to start for the Panthers on Sunday
in place of Delhomme. Delhomme suffered a broken finger on his throwing hand in last week's contest, which made the decision to replace him easier for coach John Fox. The Rock Hill Herald reports that Delhomme was on the sidelines at practice with his index and middle fingers taped together, a common form of splinting to immobilize the injured finger. It suggests that the break is small and nondisplaced, and that surgery was not required. Nonetheless, the bone has to heal and then he will need to regain adequate range of motion and strength in the finger to throw the ball effectively. Since effectively throwing the ball was a bit challenging for Delhomme before the break, it's not clear just how long this will sideline him.
Running Backs:
Brian Westbrook, Philadelphia Eagles:
Westbrook has already been ruled out for Week 13. He continues to be evaluated following his second concussion of the season and to that end, traveled to Pittsburgh this week to visit again with experts in the field. According to the Philadelphia Inquirer, coach Andy Reid said that the specialists in Pittsburgh would like to "check him again in a week or two." Reid also said that Westbrook experienced "a slight headache" after a workout last Friday. It sounds as if he will not return before Week 15, and in the meantime, his response to exercise will continue to be monitored closely.
LeSean McCoy
will continue to be the primary back for the time being.
Clinton Portis, Washington Redskins:
Portis has already been ruled out for Week 13 and is scheduled to return to Pittsburgh next Monday for follow-up evaluation related to the concussion he suffered in Week 9.
Portis appeared on John Thompson's radio show on ESPN 980 in Washington, D.C., and provided some insightful commentary as to how he's evaluating his post-concussion situation. Portis said, "I would love to be on the field trying to get out there and finish out the season. At the same time, I have to do what's safe and what's best. If I'm cleared and can get back out there for the last few games, I'm definitely going to try and get back out there. If I can't, I'll go into the offseason healthy and starting off fresh next year." It's refreshing to hear players candidly discuss their consideration of the big picture when it comes to such injuries.
It's worth remembering that Portis struggled with other injuries earlier in the season, specifically bone spurs in both ankles and a strained calf muscle. The rest he has had so far has no doubt allowed his muscles and joints some measure of recovery, but if his season was to end early, his almost-30-year-old body would not likely complain. While it is too soon to say whether Portis will or won't return this season, fantasy owners should prepare for the possibility that he may not. With
Ladell Betts
on injured reserve,
Rock Cartwright
continues to get the start in Washington.
Michael Turner, Atlanta Falcons:
Turner did not practice Wednesday or Thursday as he continues to rehabilitate his injured right ankle, which suffered a setback in Week 12. While the Falcons have not yet ruled him out, it seems as if the prudent choice would be to rest him in Week 13. He may be a game-time decision again this week, but unless we see more from him in practice by the end of the week, fantasy owners should be very wary. Meanwhile,
Jerious Norwood
is off the injury report this week.
Cedric Benson and Bernard Scott, Cincinnati Bengals:
Just a reminder, folks. Coach Marvin Lewis has already announced that Benson, who missed the past two games with a hip injury, will start in Week 13. Based on Lewis' comments heading into Week 12, fantasy owners should feel confident about Benson's health. Scott, who suffered a turf toe injury Sunday and has not practiced, appears unlikely to play. That would make Benson the primary back to face the Detroit Lions with
Larry Johnson
as the likely No. 2.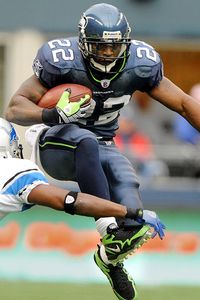 Kirby Lee/Image of Sport/US PresswireJulius Jones may regain his starting job, even though Justin Forsett has played well in his absence.
Julius Jones, Seattle Seahawks:
Jones returned to full practice Wednesday, making it appear more likely that he will be able to play this weekend. Jones suffered a bruised lung and rib in Week 10 and sat out the past two games due to lingering chest pain. Coach Jim Mora has maintained that Jones remains the starter when healthy but has also acknowledged the excellent performance of
Justin Forsett
in Jones' absence. Jones is not yet a sure thing by any means. He will need to show no ill effects through a week of practice and will have to convince the Seahawks that he not only has sufficient cardiovascular endurance to play in a game, but also that he can withstand contact. We should have a better clue by Saturday.
Ahmad Bradshaw and Danny Ware, New York Giants:
Ware is already ruled out for Week 13 following a concussion sustained in last week's game. Ware was providing some backup for
Brandon Jacobs
as Bradshaw sat out with a sprained left ankle (to go with his fractured right foot). Although Bradshaw did not practice Wednesday, he did do some running on Thursday. Apparently, it was enough to at least provide some encouragement that Bradshaw could be available Sunday, according to The Star-Ledger. Bradshaw has proved that he can play through discomfort as he has been functioning much of the season with a chronic right ankle injury and a fractured fifth metatarsal (forefoot bone) on his right foot. Having a still-healing sprain on his other ankle may make it tougher however for him to be effective, especially since his style of running involves sharp cuts and directional movements. It seems likely that Jacobs would handle the majority of the work with a sprinkling of Bradshaw if he can go.
Reggie Bush, New Orleans Saints:
Bush did not play Monday night, his second straight missed game with an ailing knee. He did tell The Times-Picayune on Wednesday that he thought he could have played but that it was a decision made between the medical staff and the coaches. According to Bush, their feeling was "let's rest him for one more game and allow him to be 100 percent for next week." So will he be 100 percent in Week 13? That remains to be seen, but the extended rest certainly bodes well for his availability. Bush was listed as a limited participant in a projected Wednesday injury report, so we will need to see what he actually does in the latter part of the week.
Wide Receivers
DeSean Jackson, Philadelphia Eagles:
Jackson suffered a concussion in Week 12 and has indicated that he thinks it unlikely that he will be able to play this Sunday. According to ESPN's Sal Paolantonio, Jackson simply said, "I don't think I can go. I blacked out." Regardless of whether there was a loss of consciousness or not, Jackson's symptoms and performance on neurological tests will dictate whether playing this week is even an option. Trust Jackson's intuition and expect
Jeremy Maclin
to see some extra targets.
Be sure to check back on Saturday for post-Friday NFL injury report updates on all your fantasy players heading into the weekend.
See you at the injury chats (Tuesday and Friday, 11:00 a.m.-noon, and Sunday pregame 10:00-10:30 a.m.). And check out Fantasy Football Now on Sundays at ESPN.com from 11:30 a.m. ET to kickoff for last-minute inactives, rankings and more!
December, 1, 2009
12/01/09
4:14
PM ET
The fact that the games were spread out across several days last week did nothing to minimize the injury toll across the league. For fantasy owners it might have spread the pain of losing multiple players on your team across more days, but does that really make anyone feel better? Isn't it more torturous to see your team slowly decimated than to take it all in one fell swoop? Trust me, I feel your pain. I lost five players this week and am still reeling from the blows.
But go on we must. For those of us who need to make multiple roster moves this week as a result of injuries, we take a look at what we know so far heading into Week 13.
Matt Ryan, QB, Atlanta Falcons:
Ryan is out for Week 13, and maybe longer, as a result of a turf toe injury he sustained Sunday. Ryan hyperextended his right big toe, a common mechanism for this type of injury, and was clearly in immediate pain. Ryan was examined on the sideline and had the toe taped, but after testing it with some side throwing it became apparent that he could not return to play.
According to the Atlanta Journal-Constitution, Ryan traveled to Charlotte, North Carolina to be evaluated by Dr. Robert Anderson, the foot and ankle specialist who recently performed surgery on
Miami Dolphins
running back
Ronnie Brown
. The obvious good news is that Ryan did not stick around in Charlotte for surgery and is back in Atlanta where coach
Mike Smith
told the Journal-Constitution that "during the week [Ryan] is going to work with our medical staff diligently to get back as quick as he can." Turf toe injuries, which are essentially sprains of the ligaments that join the big toe to the ball of the foot, vary greatly in terms of severity and recovery time depending on the extent of tissue damage. The encouraging sign here is that the Falcons are talking as if they expect Ryan to return. Ryan also benefits from the fact that he is a quarterback and not a running back or wide receiver whose position demands would place greater stress on the toe. Nonetheless, he needs to be able to set his back foot and push off with the toe and he also needs to be mobile enough to move out of the pocket.
Fantasy owners should expect that this will likely sideline Ryan for a couple of weeks, but we will keep you posted on updates as they emerge.
Michael Turner, RB, Atlanta Falcons:
While Matt Ryan suffered a new injury, Turner aggravated an already ailing ankle. It came as somewhat of a surprise that Turner was active Sunday as he was still recovering from a high ankle sprain. Turner, who was injured in Week 10, sat out Week 11 and had been limited in practice leading up to Week 12. Although Turner had clearly made progress with his ankle, he entered the game in all likelihood at less than 100 percent. After a messy pileup in the third quarter, Turner limped off the field and his status for this week remains uncertain.
Cedric Benson, RB, Cincinnati Bengals:
Two weeks ago, Benson insisted that if he didn't play in Week 11 because of his strained hip muscle, he would certainly be ready to go by Week 12. Even coach Marvin Lewis said after Friday practice that he had no doubt that Benson was healthy enough to play. That didn't keep the Bengals from sidelining Benson however. In what appears to have been a precautionary move, Benson was not active for Week 12 but Lewis has already indicated that Benson will be the starter in Week 13. After all,
Bernard Scott
injured himself (turf toe) while filling in for Benson. Who knows? Maybe Lewis was on to something in the air for Week 12. At least he's been kind enough to inform fantasy owners early in the week that Benson can be inserted into lineups with confidence.
Eli Manning, QB, New York Giants:
Manning says that his plantar fasciitis symptoms are a thing of the past. While this may be the case, we learned this week that Manning's foot injury has taken a different turn. Manning is now dealing with a stress reaction in his midfoot which may have resulted from compensations related to the plantar fasciitis. A stress reaction is an indicator that the bone is under stress as a result of overloading. The damage can be microscopic at first but if the loading persists and the bone does not have the opportunity to heal itself, a stress fracture can develop.
At this point, Manning is receiving treatment for his foot which primarily involves resting it as much as possible when not specifically practicing or playing. Manning tells the Newark Star-Ledger that his biggest challenge is not discomfort in the foot itself, but dealing with the additional scheduling of regular treatment. Said Manning, "I'm a guy that doesn't like to be in the training room and I try to avoid it as much as possible. I only go in there when I truly need it."
There is certainly a good possibility that Manning will continue to function just fine as far as his foot goes for the remainder of the season. He says that he does not have pain in the foot nor does he believe that he limps and he certainly does not attribute any of his poor play to the foot. It's hard to imagine that the condition does not impact him to some degree; even subtle changes in how he puts pressure through that back foot likely already contributed to this secondary injury. Nonetheless, as long as it does not appear to be a major factor and his symptoms remain under control, it seems that Manning will be able to continue to play.
DeSean Jackson, WR, Philadelphia Eagles:
Another game for the Eagles, another concussion. Jackson left Sunday's contest early as a result of the injury and you can be sure that he will be carefully evaluated on a daily basis. Jackson will not be treated any differently as a result of the concussion concerns surrounding his teammate
Brian Westbrook
; each concussion is treated on its own merit with each individual player. He will be subject to the same criteria for return to play: Jackson will need to be symptom-free at rest, symptom-free following activity and his neurocognitive tests will need to return to baseline. For fantasy owners, the takeaway message is that this remains a day-to-day assessment. Plan early in case you need to replace him in your lineup.
Julius Jones, RB, Seattle Seahawks:
Jones did not play in Week 12 due to lingering pain following a lung injury. According to the Seattle Times, coach Jim Mora remains hopeful that Jones will be available this week, but he had more definitive criteria that Jones would need to meet in order to be the Sunday starter. "If he's fully healthy," Mora said, "and he's had a full week of practice and everybody feels comfortable that he can bear the brunt of the workload that he would need to handle to be effective then he would start." Mora added that Justin Forsett's performance had earned him the right to continue to carry the ball, meaning that even if Jones were to return, Forsett would still see some action. Fantasy owners just love hearing about timeshares. Considering Jones still had pain to the touch last week, it would not be surprising if he were to sit out again in Week 13. Stay tuned.
Other quick hits
Ben Roethlisberger
did not play and it was the right decision. He experienced a delayed recurrence of headache symptoms and the team, in consultation with their expert neurologist, decided Roethlisberger should sit. So far, all indications are that Roethlisberger will start in Week 13. Coach Mike Tomlin told reporters that Roethlisberger had not experienced any headaches since Friday, but naturally it will be important for those symptoms to remain absent when practice resumes this week.
Arizona Cardinals' quarterback
Kurt Warner
was also inactive on Sunday following a head injury the prior week. Warner was having continued visual disturbances, not an uncommon concussion symptom, but is visiting with an ophthalmologist to completely check out his eyes. To be continued.
Continuing on the concussion theme, Philadelphia Eagles' running back Brian Westbrook is being re-evaluated this week in Pittsburgh. His status going forward remains uncertain while he is in this recovery phase.
New York Jets' quarterback
Mark Sanchez
aggravated his knee in Sunday's game but it wasn't enough to sideline him. Sanchez originally hurt his left knee in college when he suffered a patellar dislocation (kneecap slips out of place) and wears a protective brace as a result. His knee appeared to twist awkwardly Sunday however and Sanchez went to the ground holding his knee. While the Jets have not offered any specifics as to the nature of the injury, it does not appear that it will keep him from starting when the Jets play Thursday night. It may however hinder his mobility and make him a step slower. Fantasy risk.
Reggie Bush
did not play Monday night despite some early optimism that he would be available. We will keep tabs on his activity this week when the Saints resume practice.
Washington Redskins' running back
Clinton Portis
is ruled out again in Week 13. His teammate tight end
Chris Cooley
has been placed on injured reserve as a result of his ankle injury.
Jake Delhomme
has a broken finger and is unlikely to play in Week 13 according to ESPN's Adam Schefter. Enter
Matt Moore
.
The injury blog returns this Thursday and we will have some better clues about player status as everyone returns to practice. Be sure to check back Saturday as well for all the latest injury news heading into the Sunday games.
October, 29, 2009
10/29/09
5:16
PM ET
We're just about halfway through the season and it's a key time for fantasy football teams to rally. Almost every team, no matter how poor the performance has been so far, has a shot to make the playoffs. So for those of you struggling out there, don't give up! Go make some trades, hit the waiver wire, dodge the injured players (and right now this may be the biggest challenge) and get your team back in it!
Once again there are six teams on bye this week --
Cincinnati Bengals
,
Kansas City Chiefs
,
New England Patriots
,
Pittsburgh Steelers
,
Tampa Bay Buccaneers
and
Washington Redskins
-- so fantasy owners continue to scramble to find worthy replacements.
Here are some status updates to help you shape your roster as we look ahead to Week 8.
Quarterbacks
Matthew Stafford, QB, Detroit Lions:
Last time we were discussing Stafford, there was some question as to whether he was getting a second opinion on his ailing right knee. No matter what happened in the background, Stafford has continued with a conservative treatment approach and returned to practice on a limited basis with his team this week. The good news here is that he has been able to practice three days in a row. When Stafford tested his knee in light practice two weeks ago, his knee did not respond favorably and he could not practice the following day. If Stafford continues to practice daily and is able to increase his activity through the remainder of the week, there is a good chance that he will return as the starter when the Lions host the
St. Louis Rams
this weekend.
The biggest challenge following a patellar subluxation (Stafford's reported injury) is regaining adequate quadriceps strength to allow normal mobility while minimizing swelling. The two go hand in hand as swelling around the kneecap will effectively shut down the function of the quadriceps muscle. Stafford, even if he plays, may not yet be at full strength, which may be reflected in his overall mobility. As long as he is mobile
enough
to protect himself and make plays and as long as he is not regressing in response to activity, it seems likely that he will be back under center.
Trent Edwards, Buffalo Bills:
Edwards is still on the mend from his concussion, although he did make a return to some limited practice Wednesday. The Bills are planning to have
Ryan Fitzpatrick
start and have indicated that Edwards will not even dress as the emergency quarterback. The Bills have a bye in Week 9, so this will extend Edwards' opportunity to recover. Whether he returns as the starter after that point remains uncertain.
Aaron Rodgers, Green Bay Packers:
Rodgers again appears on the injury practice report this week because of a sprained foot that continues to cause him some discomfort with certain movements. Obviously the foot did not limit him in last week's contest and the expectation is that he will start against the
Minnesota Vikings
this week. The team is no doubt limiting his practice time to ensure that the condition does not worsen in advance of the game. Fantasy owners can count on him playing on Sunday, as if there were really ever any doubt.
Eli Manning, New York Giants:
Manning is worth including here simply for the fact he has been removed from the Giants' injury report and he has returned to full practice with the team. Manning, despite some offensive struggles, has maintained that his foot has been improving over the past few weeks, which is a credit to how the team's medical staff has helped him manage his plantar fasciitis. While it is perhaps too optimistic to say the condition is entirely behind him (there is always the possibility that it can flare up again at some point), this is certainly encouraging news. It also removes any questions about his status as a starter for this week.
Running backs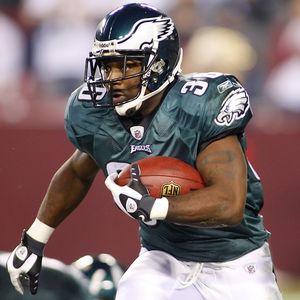 Geoff Burke/US PresswireThe Eagles will take great caution with Brian Westbrook's concussion.
Brian Westbrook, Philadelphia Eagles:
Westbrook has not practiced this week since suffering a concussion Monday night and is looking doubtful to rejoin the team for Sunday's big divisional matchup against the New York Giants. While Westbrook's status is being evaluated daily and the team has not yet ruled him out, they are certainly going to use every precaution when determining his availability. According to the Philadelphia Daily News, Westbrook still reported headache symptoms Wednesday, and as is protocol, will not be cleared to exercise until all of his symptoms resolve. Once he resumes aerobic exercise, he will continue to be monitored for any return of symptoms. If all goes well, his activity will be progressed accordingly.
Philadelphia head athletic trainer Rick Burkholder serves on the NFL concussion committee and provided some excellent insight as to how players are managed following a concussion. Burkholder told the Daily News that once Westbrook's symptoms clear, his response to exercise will be monitored and his cognitive testing scores will need to return to baseline levels. Perhaps most importantly, Burkholder reiterated a couple of very important points. First, the loss of consciousness that Westbrook suffered is not the determinant of whether or not he will play this week, but, as Burkholder points out, his status is "really based on the symptoms." Concussions can occur without loss of consciousness and that factor alone does not provide an estimate as to how significant the injury actually is. It is truly in retrospect, based on how the athlete recovers from such an incident, that a level of seriousness can be established.
This serves as an important reminder that all concussions are brain injuries and, as such, warrant serious treatment. There is no "toughness" meter on an athlete when it comes to return to play following such an injury; it is a medical decision based on a collective measure of the aforementioned factors. While Westbrook has shown time and again that he can perform well despite the presence of various joint ailments, this injury simply does not fall into the same category. At this point fantasy owners should prepare for
LeSean McCoy
to see the majority of the action against the Giants.
Ahmad Bradshaw, New York Giants:
By now fantasy owners have noticed a pattern with Bradshaw, limited practice early in the week followed by showing up and playing well on Sunday. In this column, we have talked about Bradshaw's ongoing management of an ankle injury that he has dealt with since his college days, but that ankle injury has been compounded by a foot injury he sustained earlier this year.
This week that foot injury resulted in a visit to North Carolina to consult with Dr. Robert Anderson, one of the country's leading foot and ankle specialists and a team physician for the
Carolina Panthers
. The Newark Star-Ledger reports that Bradshaw announced that he has a crack in the fifth metatarsal (the long bone of the forefoot that connects to the base of the pinkie toe) of his right foot. The crack was not a new discovery (Bradshaw indicates that X-rays about a month ago revealed the crack, which he reportedly injured in March); the important result of the consultation was support of Bradshaw's current treatment plan. Bradshaw has been in a walking boot during much of the week, then sheds the boot for Friday practice and game time.
There is always the risk that the crack becomes a complete fracture (where the bone breaks all the way through), but that risk is no greater now than it has been since the injury occurred. That no doubt was a consideration in determining that Bradshaw could continue to play. If it takes a turn for the worse, then Bradshaw will require immediate surgery. If it continues as is, then Bradshaw can continue with the current routine and will likely face the prospect of surgery at the end of the season. Fifth metatarsal fractures are not uncommon in athletes, given all the stress placed on the outside of the foot with running, pivoting and cutting. Many athletes have surgery and go on to a complete and uneventful recovery, so ultimately this should not be a huge issue for Bradshaw. Based on how he has managed so far, fantasy owners should continue to expect the same production out of Bradshaw and hope that he is able to proceed without a setback.
Donald Brown, Indianapolis Colts:
At this point, Brown's shoulder appears as if it will keep him sidelined this weekend when the Colts host the
San Francisco 49ers
. Team president Bill Polian has already said that he does not expect Brown to play this week. Brown suffered what the team called a very painful left shoulder contusion and has since been referred to as a sprain. Brown told the Indianapolis Star earlier in the week that he had dealt with this injury previously in college. Despite Brown's optimism that he would return to practice Wednesday, that clearly did not happen and it does not seem that he will be ready to take the field. Early in the week, Polian hinted at this when he spoke on his radio show about running back
Mike Hart
"playing a big role" if Brown were to be out. As of now, fantasy owners should expect the Colts' running back one-two punch to be
Joseph Addai
and Hart.
Wide receivers
Calvin Johnson, Detroit Lions:
Johnson's right knee has benefited from an additional week of rest and the early murmurings are that he will return this weekend. Johnson did not practice early in the week, which suggests that he is not fully healed from his injury (the specifics of which have not been disclosed by the team). He did, however, do some side work on those days and was then able to return to at least some level of practice Thursday. Tom Kowalski of Mlive.com reported that Johnson was participating in some drills during the portion of practice open to the media Thursday and did not appear "hobbled" by his knee while running routes and catching passes. As always, the next step is assessing his response to activity. If Johnson is back in practice Friday, it is a good sign that the Lions plan to have him on the field Sunday against the struggling St. Louis Rams' pass defense.
Reggie Wayne and Anthony Gonzalez, Indianapolis Colts:
Despite suffering a strained groin in Week 7, Wayne hopes to be able to play this week against the San Francisco 49ers. He did not practice Wednesday, but that was expected. If he does practice this week, it may be on a limited basis so as not to risk exacerbating the strain, in the hopes that he can run full speed when Sunday comes. There is a good chance that his availability will not be determined until Saturday.
As far as Gonzalez goes, he has yet to return to team practice and is not expected to play this weekend. It is worth watching to see if Gonzalez can get some light practice in before the week is through and if he responds well, it may signal that a return is possible in Week 9. It is too early to count on that by any means, so fantasy owners should continue to plan accordingly.
Andre Johnson, Houston Texans:
Johnson is not lacking confidence in his ability to return this week, telling the Houston Chronicle, "I feel like I'll be out there unless they cut my leg off." Johnson was held out of practice Wednesday but was able to do some running, telling reporters that his breathing felt normal. Johnson then returned to practice Thursday, and coach Gary Kubiak told the Texans' official Web site that he took "probably pretty close to almost all the reps he normally takes and didn't seem to have any problems." Johnson will have some follow-up tests to ensure that his bruised lung is healing and potentially he may have to wear some extra padding if he does suit up Sunday. Johnson summed up the primary concern when he told the Chronicle, "I think they're scared of me taking another hit in that spot." The fact Johnson is not having pain and is already practicing at a high level is certainly encouraging and if all continues well, it looks as if he could be available Sunday.
DeSean Jackson, Philadelphia Eagles:
After an outstanding first-half performance Monday night, Jackson was limited in the second half with a foot sprain. He did not practice Wednesday but did return to some level of practice Thursday. The fact Jackson was able to continue to play Monday night after the injury, even on a limited basis, was a good sign. Returning to practice Thursday is an even better one. Fantasy owners should expect that he will be in the lineup to face the New York Giants this weekend.
Jerricho Cotchery, Brad Smith and David Clowney, New York Jets:
Wow. Three of four primary receivers for the Jets are on the practice injury report this week. So who will be out there Sunday when the Jets host the
Miami Dolphins
? For starters, Cotchery's strained hamstring that caused him to miss Weeks 6 and 7 looks as if it will not keep him out in Week 8. Cotchery returned to practice Wednesday on a limited basis and looked "sharp" in the portion of practice open to the media, according to the Newark Star-Ledger. We know from past experience that return to full speed is a gradual progression following a significant muscle strain, but there are good early signs that Cotchery will be available this weekend.
Teammate Brad Smith, who has been nursing a strained quad, was also back in practice on a limited basis this week. The team has not given many hints as to Smith's status, but we should have a better idea after Friday's practice. Meanwhile Clowney, who has had the opportunity to start opposite
Braylon Edwards
while Cotchery and Smith have been hurt, came out of Week 7 with his own ankle injury. Clowney did not practice Wednesday but did return Thursday, making it appear as if he will be available Sunday.
Bernard Berrian and Percy Harvin, Minnesota Vikings:
Berrian strained his left hamstring in Week 7 and did not practice Wednesday. Berrian missed some preseason time with a right hamstring injury and it seemed to hamper his development as a target for
Brett Favre
.
Sidney Rice
was the beneficiary and has been clearly the more productive deep receiver for the Vikings. Even if Berrian proves well enough to play this weekend, it's hard to imagine those roles changing much.
Harvin has been challenged by a shoulder injury but it hasn't seemed to affect his ability to have an impact on the field. The good news for the Vikings is that Harvin is off the injury report this week meaning there is no doubt he will be on the field when the Vikings visit the Green Bay Packers.
Anquan Boldin, Arizona Cardinals:
Boldin was limping by the second half of last week's game as his right ankle sprain clearly became problematic. Boldin was limited in practice Wednesday but if he played last week there's no reason to think he'll be out this week, unless his ankle takes a turn for the worse.
Be sure to check back on Saturday for post-Friday NFL injury report updates on all your fantasy players heading into the weekend.
See you at the injury chats (Tuesday 11:00 a.m.-noon, Friday 11 a.m.-noon and Sunday pre-game (10:00-10:30 a.m.). And check out Fantasy Football Now on Sundays at ESPN.com from 11:30 a.m. ET to kickoff for last minute inactives, rankings and more!
October, 15, 2009
10/15/09
2:20
PM ET
In my
Tuesday morning chat
, one happy participant eagerly wrote in to tell me he had no injury questions because his team was completely healthy. I felt the need to post his comment during our chat because I could not imagine there was such a fortunate fantasy owner to be found, and judging by the responses to his post, it seemed the guy was utterly and completely alone on an island when it came to his injury fortunes. Actually, make that a tropical fantasy football paradise. I regret to inform you, though, Haden in Memphis, that the injury storms are a-comin' and everyone, even you, is bound to feel the effects at some point.
This week's column then is for all the
other
fantasy owners out there who, like me, have been challenged by injuries somewhere on their roster(s), those of you wondering about your players' collective health and whether you need to find replacements. As has been the case the past two weeks, there are four teams on bye -- Indianapolis, San Francisco, Miami and Dallas -- so be sure to plan accordingly.
Here are some status updates as we look ahead to Week 6:
Quarterbacks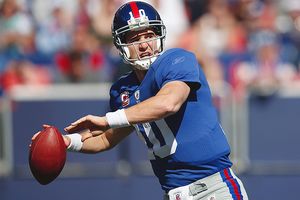 Jared Wickerham/Getty ImagesDon't be alarmed if Eli Manning is limited in practice.
Eli Manning, New York Giants:
The treatment Manning received heading into Week 5 paid off, as he was able to quell his plantar fasciitis pain and start for the Giants against the
Oakland Raiders
. His team helped him out by netting such a large lead over the Raiders that he was able to sit out the entire second half and avoid aggravating his heel. Manning said after the game that he felt good, and he hoped to practice each day this week.
Manning
has
shown up for practice this week, but the Giants are limiting his reps, no doubt in an effort to keep the symptoms at bay. Plantar fasciitis is not a condition that disappears quickly, and Manning might well continue a routine of limited activity during the week in order to prevent flare-ups and allow him to play Sundays. There will be a lingering concern that the pain could become exacerbated during a game, as it did in Week 4, when Manning suffered an acute setback and was forced to exit early. There is also the possibility that Manning will continue to proceed week to week without a similar episode. In fact, the longer Manning goes without a setback, the more optimistic the outlook is for an uneventful remainder of the season.
Since there are no guarantees when it comes to managing chronic conditions in an in-season athlete, fantasy owners will have to decide on a weekly basis whether the potential reward with Manning is worth some risk.
Matthew Stafford, Detroit Lions:
Although the Lions have not ventured into any specifics with regard to the injury Stafford suffered in Week 4, it was widely reported that he experienced a patellar subluxation, and a week ago I
outlined the nature of such an injury
.
Stafford was unable to practice all of last week and, as expected, did not suit up for Sunday's game. On Wednesday, Stafford participated in practice on a limited basis, according to the practice injury report, but there might be some warranted concern as to how his knee responded to even limited work, since Stafford did not practice Thursday. Coach Jim Schwartz has indicated that if Stafford is capable of playing (as in, capable of moving adequately enough to function effectively and avoid a pass rush), he will play. He will not be automatically rested in anticipation of the Week 7 bye. Nonetheless, a downward trend during the week, especially following a significant injury, is not a good sign.
Marc Bulger, St. Louis Rams:
Bulger did come off the bench Sunday and showed that his arm is recovering. He reported feeling no ill effects after the game and is back in practice and off the injury report. Bulger intends to start this Sunday when the Rams travel to Jacksonville. His backup,
Kyle Boller
, is on the injury practice report because of a concussion but did participate on a limited basis in practice Wednesday.
Matt Hasselbeck, Seattle Seahawks:
Hasselbeck had himself quite a day Sunday when he returned to the field with still-healing rib fractures. The good news is that Hasselbeck emerged relatively unscathed and was a full participant in Wednesday's practice. But the biggest health concern in Seattle (which also has the most potential for directly impacting Hasselbeck) is that of the offensive line. Due to a wave of injuries that has decimated the team up front, the Seahawks will be starting their fourth different line of the young season. They're hoping to get a few of their starters back in November following a bye week.
Running backs
Willie Parker, Pittsburgh Steelers:
The good news is Parker was back on the practice field this week for the first time since injuring his toe in Week 3. Parker was able to practice fully Wednesday, but the key here will be how his toe responds to the work. Parker indicated to the Pittsburgh Post-Gazette that he is wearing a custom shoe from Nike to accommodate his injured toe. In fact, Parker said that he has a custom pair of shoes so that they match and help him maintain even balance. It is important for an athlete to wear adaptive shoes in practice to adjust to them in advance of a game. The plates in the shoes help restrict motion at the forefoot; unfortunately, it is this very motion (particularly in the area of the painful toe) that allows an athlete to propel himself forward. A stiffer shoe requires that the player adapt to this new feeling as he pushes off. As they say, practice makes perfect. Parker expects to play this weekend, but how the workload will be divided between him and teammate
Rashard Mendenhall
is not yet clear.
Correll Buckhalter, Denver Broncos:
Buckhalter suffered a sprained left ankle in Week 4 and did not play in Week 5. He was back in practice Wednesday for the Broncos, and the Denver Post reports that he took handoffs and caught screen passes in the portion of practice open to the media. However,
Knowshon Moreno
, who started in place of the injured Buckhalter in Week 4, was taking the first-team reps. The team is not required to file a formal practice injury report on Wednesday since they do not play until Monday night, but it would appear the team is preparing to have both backs available. That said, it is likely that Buckhalter's ankle is still on the mend; remember, he was on crutches just more than a week ago after the injury originally occurred. We will update Buckhalter's status as the week progresses.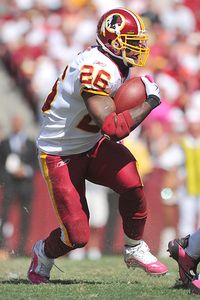 Larry French/Getty ImagesClinton Portis is being bothered by a calf injury, but he has proven durable in the past.
Clinton Portis, Washington Redskins:
Uh oh. Portis is again appearing on the practice injury report because of a calf ailment. Portis was limited Wednesday, and it's unclear whether this is related to his prior calf contusion. Portis hasn't missed a game yet, however, and it seems unlikely that that would happen this week, especially if he's able to participate in practice to some degree.
Mike Bell and Pierre Thomas, New Orleans Saints:
Bell, who has missed two games because of a sprained MCL, was a full participant in practice Wednesday and appears to be on track to play this week. He would be expected to handle short-yardage and goal-line situations, but really there is no way to project exactly how the Saints will divide up the workload.
Or is there? Bell's teammate Pierre Thomas, who was spectacular after Bell went out with his knee injury, has reappeared on the injury report, this time with a hamstring ailment that limited his activity Wednesday. Apparently this is an ongoing injury for Thomas, but we certainly haven't seen any evidence that it has affected his performance thus far.
As usual, we'll wait to see what happens in the latter part of the week to assess just how healthy these players are. This only adds to the torment of fantasy owners who are wondering how the running backs' workload will break down Sunday. Stay tuned.
Wide receivers
Calvin Johnson, Detroit Lions:
The right knee injury that forced Johnson out of the game early in Week 5 was deemed not significant by coach Jim Schwartz. But apparently it's significant enough for Johnson to have missed both Wednesday and Thursday practices. The Lions are unwilling to provide much in the way of specifics, but it's not too difficult to interpret lack of practice activity as a bad sign. Of note, the Detroit Free Press reported that the Lions signed wide receiver
John Standeford
earlier this week. Standeford was cut right before the start of the season but now has been brought back. You take your cues where you can get them. Fantasy owners should anticipate that Johnson might not be available Sunday.
Percy Harvin, Minnesota Vikings:
Here's a little surprise. Harvin apparently suffered a shoulder injury when he landed on it awkwardly during Sunday's win against the St. Louis Rams. Although no one is saying exactly what that injury is, Harvin did not practice Wednesday, and it is unclear whether his status for this Sunday against the hard-hitting
Baltimore Ravens
is in doubt. Fantasy owners know the drill. Check back later in the week for more updates.
Jerricho Cotchery, New York Jets:
Although Cotchery played Monday night, he was not his usual self. Cotchery, who strained a hamstring in practice last Thursday and did not practice again before Monday, felt better after going through pregame warm-ups. Once in the game, however, his hamstring reportedly began to get less comfortable. Cotchery ended up playing longer than anticipated because fellow wide receiver
Brad Smith
was forced out because of a foot injury. In fact, Cotchery told Newsday that he thought he "probably" suffered a setback with the hamstring. He did not practice Wednesday, and with a short week between contests, the outlook for Cotchery's availability in Week 6 is not great at this point.
Devin Hester, Chicago Bears:
Hester took advantage of Chicago's bye week to get some extra rest and treatment on his neck, and he says he's feeling good. Hester suffered a neck strain, according to the Chicago Sun-Times, although it was initially reported as a shoulder injury. A neck injury can certainly result in shoulder pain, so any confusion would be understandable. The important thing at this point is that Hester does not even appear on the injury practice report this week and should be ready to go when the Bears face Atlanta.
Be sure to check back on Saturday for post-Friday NFL injury report updates on all your fantasy players heading into the weekend.
See you at the injury chats (Tuesday 11:00 a.m.-noon, Friday 11 a.m.-noon and Sunday pregame 10:00-10:30 a.m.). And check out Fantasy Football Now on Sundays at ESPN.com from 11:30 a.m. to kickoff for last-minute inactives, rankings and more!
October, 13, 2009
10/13/09
12:43
PM ET
Week 5 saw the return of several injured players and some of them made quite a splash.
Seattle Seahawks
quarterback
Matt Hasselbeck
overcame the pain of still healing rib fractures to throw for four touchdowns and lead all signal-callers in fantasy points this week.
Philadelphia Eagles
quarterback
Donovan McNabb
also returned from a rib injury to the tune of three touchdown passes. Teammate
Brian Westbrook
rejoined the team as well after resting his sprained ankle during the bye. Westbrook played a limited role but emerged from Sunday's contest feeling fine, which may have been his most important stat.
Dallas Cowboys
wide receiver
Roy E. Williams
did not make the trip to Kansas City with the team, being forced to rest his injured rib cartilage that kept him out of practice all week. It never really appeared that he would be able to play, but Williams will have the benefit of a Week 6 bye.
New York Jets
wide receiver
Jerricho Cotchery
was active Monday night ... barely. He had one reception for four yards and was not at full strength with his recently strained hamstring. In fact, according to a Newsday report, he may have aggravated it further, potentially calling into question his status for Week 6.
Fortunately it was not a huge weekend for new injuries to key fantasy players but here's what we're looking at so far after Week 5's action ...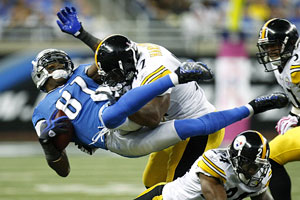 Gregory Shamus/Getty ImagesCalvin Johnson got banged up against the Steelers, and his status for Sunday is uncertain.
Calvin Johnson, WR, Detroit Lions:
Johnson headed into Sunday's game probable with a thigh bruise sustained in Week 4. He didn't last long, however, as an injury to his right knee forced him out in the first quarter. Coach Jim Schwartz does not offer injury details but did indicate that Johnson's injury does not appear serious.
Carson Palmer, QB, Cincinnati Bengals:
The bad news: Palmer suffered an injury to his thumb when he landed awkwardly on the ground. The good news: It's his left (non-throwing) hand. It's hard to imagine that this will threaten Palmer's status for Week 6.
Peyton Manning, QB, Indianapolis Colts:
The last time something happened to Manning's knee, he didn't miss any regular season playing time but many claimed that it affected his performance for several weeks. After Sunday night's game, Manning mentioned in his news conference that his left knee was bothering him after a couple
Tennessee Titans
hits that resulted in roughing-the-passer calls. On Monday, coach Jim Caldwell indicated that Manning's knee was sore but not injured, according to the Associated Press. As a point of reference, this is the same knee that Manning had surgery on last preseason to address an infection. Fortunately for the Colts, this is a bye week, so it appears Manning will have plenty of recovery time.
Other quick hits:
San Francisco 49ers
running back Glenn Coffee left the game with a leg contusion. The 49ers have a bye this week and hope to have Coffee and
Frank Gore
available for Week 7. There is plenty of time between now and then to see how things really shape up in practice.
The Detroit Lions will see what quarterback
Matthew Stafford
can do in practice this week and he remains day-to-day with his knee. Coach Jim Schwarrtz told the Detroit Free Press that the decision on whether to play Stafford will come down to his mobility, and the upcoming bye in Week 7 will not be a factor.
New York Giants
quarterback
Eli Manning
reportedly felt fine after his Sunday half-game performance. According to the Newark Star-Ledger, Manning believes he will be able to put in a full practice this week. The foot condition is something that Manning will likely have to contend with throughout the season, but the fact that he is feeling so good after a recent setback bodes well for him.
See you at the injury chats (Tuesday 11 a.m.-noon, Friday 11 a.m.-noon and Sunday pregame 10-10:30 a.m.), and we'll have the latest injury updates affecting Week 5 in the Saturday morning blog!
October, 8, 2009
10/08/09
11:09
AM ET
It's time for fantasy owners to make midweek moves to boost their fantasy rosters. Injury concerns naturally factor into those decisions as we try to gauge who is going to miss time and just how long that absence will be. This week there are four teams on bye:
Chicago Bears
,
Green Bay Packers
,
New Orleans Saints
and
San Diego Chargers
, so be sure to secure your replacements. Here are some status updates as we look ahead to Week 5.
Quarterbacks
Eli Manning, New York Giants:
On Tuesday, I detailed plantar fasciitis, the
condition afflicting Manning
. On Wednesday, Manning sat out practice and coach Tom Coughlin indicated Manning would be considered day-to-day. For his part, Manning appears intent on playing and Coughlin has said that his star quarterback could play even if he's unable to practice during the week. The bottom line at this point is that this is shaping up to be a potential game-time decision, one which will depend on whether Manning can maintain his normal throwing mechanics despite the pain.
Steve Dykes/US PresswireMatt Hasselbeck wants to play this week, but will injuries elsewhere hurt his chances to get a start?
Matt Hasselbeck, Seattle Seahawks:
Hasselbeck sat out Weeks 3 and 4 while recovering from a broken rib and was still having pain with deep breathing last week. Coach Jim Mora told reporters his quarterback is "without question doing everything possible to get out on the football field." Offensive coordinator Greg Knapp remarked that Hasselbeck's throwing motion looked fine but that he was not quite in football shape. However, he shared practice time with
Seneca Wallace
on Wednesday, according to The Seattle Times. Hasselbeck indicated that he wanted to come back, but would go with what was in the best interest of the team. A main concern for the Seahawks will be providing him enough protection up front should he be able to play Sunday. Despite the team's recent struggles, the goal is clearly to avoid any setbacks and to have him available for the long haul. On the other hand, the Seahawks have been plagued with offensive line injuries, which may also factor into the decision as to whether he gets the start in Week 5.
Donovan McNabb, Philadelphia Eagles:
McNabb will start Sunday. Coach Andy Reid said it himself Wednesday and made it clear that McNabb is resuming control at the helm in Week 5. McNabb is reportedly feeling much better, but knows he is not yet 100 percent recovered. He acknowledged on the Eagles' official Web site that things like laughing and coughing still cause discomfort, but he does not expect to be restricted at all playing football. McNabb will no doubt be wearing some extra protection over his ribs this weekend, but now that he's back in practice, fantasy owners can expect to have him back in their lineups as well.
Matthew Stafford, Detroit Lions:
Stafford reportedly suffered a patellar subluxation in Week 4 (although the Lions are staying mum on the topic), and on Tuesday I
outlined the nature of such an injury
. He did not practice Wednesday, which is not especially surprising given the nature of the injury. Although coach Jim Schwartz is not speculating as to whether Stafford is going to be available for Sunday's contest against the
Pittsburgh Steelers
, if the rookie misses another day, it would be hard to imagine him playing. From the physical perspective, Stafford would need to have enough resolution of pain and swelling to allow his quadriceps muscle to function normally. He needs to be able to play the position without apprehension that his patella (kneecap) will go out on him again, so quadriceps strength plays a large role. Although Stafford could (and most likely will) eventually play with some sort of support around the kneecap, it seems unlikely that he would be turned loose against the Steelers' defense if he is not fully mobile. If Stafford is on your fantasy team, it is probably best to secure another option at this point.
Marc Bulger, St. Louis Rams:
Kyle Boller
filled in for Bulger last week as Bulger nursed a bruised throwing shoulder. Bulger did perform some throwing in pregame warm-ups, however, and continued with light throwing Monday. On Wednesday, Bulger continued to progress with his throws, but ESPN's NFC West blogger
Mike Sando reports
that it is almost certain the Rams will hold Bulger out another week. With his shoulder still on the mend, some issues with the offensive line and a tough
Minnesota Vikings
pass rush, the decision might be to simply allow him another week of healing and avoiding hits.
Running Backs
Felix Jones and Marion Barber, Dallas Cowboys:
Barber was a full participant in Wednesday's practice and Felix Jones was absent. While nothing definitive has been said regarding Jones' status, at the time of his injury (PCL sprain), there were rumblings that he would miss a couple of weeks and fantasy owners should plan on his not being available. Meanwhile, Barber, whose quad tightened up in the second half of last week's game, should fare better this week. If he continues to practice fully throughout the week, he can be expected to start Sunday against the
Kansas City Chiefs
. By the end of the week, we should have a better idea as to how much work we can expect from Barber in the game.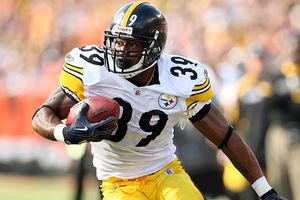 Rich Gabrielson/Icon SMIWillie Parker hoped he'd play last week but didn't. Now, he's far less optimistic that he'll play this week.
Willie Parker, Pittsburgh Steelers:
Parker sat out Week 4 with a case of turf toe sustained during the Week 3 contest in Cincinnati. Although Parker appeared to be holding out hope during the week that he would play, as the Sunday deadline approached and he was still unable to run, it became apparent that he would need to rest the painful toe. As is often the case with turf toe, this is not a problem with a quick fix. Parker seems to be resigned to that and is not nearly as optimistic heading into Week 5. After not practicing Wednesday, Parker told reporters that although he wants to go out and compete, he is not where he needs to be right now to perform. Given
Rashard Mendenhall
's solid performance in Week 4 and knowing the Steelers are headed to the turf of Detroit's Ford Field, it is sounding as if Mendenhall will again take the place of Parker in Week 5.
Brian Westbrook, Philadelphia Eagles:
Westbrook will join his teammate Donovan McNabb back in the lineup in Week 5. Westbrook missed Week 3 as he recovered from a sprain to the right ankle he had surgically addressed in June. It appeared that Westbrook's intended return would follow the bye week, and so far things are going according to plan. Coach Andy Reid has already indicated on the Eagles' official Web site that he expects to rotate Westbrook with
LeSean McCoy
. We have been saying for some time now that this was the likely evolution at the running back position so that the Eagles could make use of Westbrook's talents while not overloading his joints. Barring a setback late in the week, Westbrook should at least be in line for a portion of the action Sunday, but how much time he sees is unknown.
Frank Gore, San Francisco 49ers:
Regular readers won't be surprised to learn that Frank Gore has been ruled out for this Sunday's contest with his ankle injuries, according to Matt Maiocco of the Santa Rosa Press Democrat. Gore was initially projected to miss a few weeks and was not expected to return until after the 49ers' bye week (which is in Week 6) at the earliest.
Correll Buckhalter, Denver Broncos:
Buckhalter suffered a sprained left ankle in Week 4 and it looks as if the door has been opened for rookie
Knowshon Moreno
to get his first career start. Buckhalter missed practice Wednesday and reports suggest that the Broncos may be without his services when they face the
New England Patriots
in Week 5. Moreno appeared to be progressing toward a starting role for the Broncos as his workload has expanded over the first few weeks of the season. Buckhalter's injury may have just moved the timetable along. Moreno's fantasy owners have to be excited about the prospects here.
Clinton Portis, Washington Redskins:
The Washington Times reports that Portis will be ready to face the Panthers in Week 5 despite aggravating an ankle injury. Earlier this year coach Jim Zorn indicated that Portis was dealing with bone spurs in both ankles and had been trying to play through pain. Just last week, Portis remarked how much better his ankles were feeling with his current treatment regimen. Despite that optimism, this situation is likely to be ongoing throughout the season. Nonetheless, Portis was not on Wednesday's injury report, which is a good sign heading into the weekend.
Fred Taylor, New England Patriots:
Taylor did not practice Wednesday and was listed on the practice (injury) report as "ankle." Given the Patriots' notorious secrecy when it comes to injuries, there are no indications as to whether this is a serious injury that could result in missed time or whether they are resting Taylor's ankle in advance of this week's contest. Stay tuned for practice reports as the week progresses.
Wide Receivers
Roy E. Williams, Dallas Cowboys:
Williams says he expects to play in Week 5 despite injured rib cartilage, according to The Dallas Morning News. That said, Williams did not practice Wednesday. His status could evolve heading up to game time, so stay tuned for updates.
Calvin Johnson, Detroit Lions:
Johnson rested his bruised thigh Wednesday and did not practice. Although the Lions have not indicated whether or not they expect Johnson to be available, his status will remain day to day until proven otherwise.
Wes Welker, New England Patriots:
Welker was finally able to get back on the field in Week 4 after being limited with a mysterious knee ailment that had kept him out since Week 2. Welker had a modest fantasy performance Sunday but showed that he was able to run at full speed and make some plays. Welker was held to a limited practice Wednesday, suggesting that the Patriots are still being cautious when it comes to his knee. However, if he continues to practice daily it's likely he will see the field again this week.
Antonio Bryant, Tampa Bay Buccaneers:
Bryant was able to get in the end zone Sunday and appeared to be more Antonio Bryant-like in Week 4. He has been working his way back from post-surgical knee soreness that appeared after his Week 1 debut. Although Bryant was limited in practice Wednesday, this may well be a precautionary measure to ensure his availability for Sunday.
Be sure to check back on Saturday for post-Friday NFL injury report updates on all your fantasy players heading into the weekend.
See you at the injury chats (Tuesday 11:00 a.m.-noon, Friday 11 a.m.-noon and Sunday pregame 10:00-10:30 a.m.). And check out Fantasy Football Now on Sundays at ESPN.com from 11:30 a.m. to kickoff for last-minute inactives, rankings and more!
October, 6, 2009
10/06/09
3:20
PM ET
Week 4 gave us our first bye week, allowing some injured players to get additional rest. Looking to return this week are
Philadelphia Eagles
quarterback
Donovan McNabb
(rib) and running back
Brian Westbrook
(ankle).
Arizona Cardinals
quarterback
Kurt Warner
has been nursing a sore shoulder since suffering a stinger early in the season. He was practicing with the team during the bye week, but the additional rest (read: lack of hits from the opponent) also should have helped his shoulder.
Atlanta Falcons
running back
Jerious Norwood
, recovering from his second concussion in the past few months (the first concussion actually happened during the preseason), was medically cleared and returned to practice last Wednesday. As for the
Carolina Panthers
, well, the whole team had a chance to put the start of the season behind it and look ahead. Running back
Jonathan Stewart
was able to rest his troublesome Achilles and there is hope that the Panthers' running game improves overall as the season goes forward.
Naturally, there are new names to add to the list from the teams who did suit up in Week 4. Here's what we have so far ...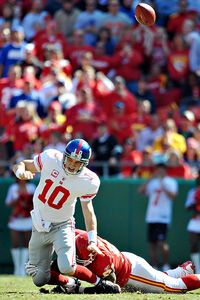 John Rieger/US PresswireEli Manning got sacked here, but wasn't actually touched when he suffered his heel injury on Sunday.
Eli Manning, QB, New York Giants:
It was a scary moment when Manning went to his knees shortly after releasing a pass in the direction of wide receiver
Steve Smith
. Upon closer look at the video replay, Manning was coming off a play fake to the left, then spun back around and set himself to throw, placing his right leg behind him in a lunge position. In that pre-weight transfer position, Manning's right leg was extended with the heel off the ground and the ball of the foot firmly planted, a position which places a strong stretch on the arch. Manning clearly felt a jolt of pain at that instant as he instinctively pulled his right foot up off the ground and hopped forward. He managed to release the ball, albeit a bit awkwardly (and Manning admits the ball was slightly underthrown to Smith as a result), then almost immediately went to his knees. Manning came up limping and exited the game shortly afterward.
The Giants are indicating that Manning has a plantar fascia injury and as is often the case, he has soreness and swelling in the heel and arch area of his right foot. His official status is day-to-day. In an interview with ESPN 1050 in New York, Manning said that Giants team physician Dr. Russell Warren has told him, "There is no time frame; it's just how fast you can heal and see how you feel these next couple of days." According to The Newark Star-Ledger, Manning had been suffering from plantar fasciitis (inflammation of the plantar fascia) but then suffered a subsequent injury to the same region on Sunday.
The plantar fascia is a thick fibrous tissue on the undersurface of the foot that provides stability through the foot during propulsion, or when the body transfers weight forward. It runs from the heel to the base of the toes and is placed under tension when the toes are extended (as happens during walking when the heel lifts off the ground). This tension in the plantar fascia essentially directs force through the arch that then stabilizes the midfoot. This stability is critical in order for the foot to function effectively as a rigid lever for pushing off. When the plantar fascia is injured or inflamed, tension on it can result in significant heel pain, often described by athletes as stepping on broken glass. In more severe cases, the pain can spread into the arch and progressively toward the base of the toes. The pain is usually the worst in the morning when the individual takes the first few steps of the day, or during long standing. Naturally as the symptoms worsen, they tend to be brought on more easily and linger longer.
There is no magic cure for plantar fasciitis; typically resting, icing and stretching make up a significant portion of the rehab program. Occasionally taping or shoe inserts will be used to decrease the stress through the arch. In Manning's case, this is not likely to be a condition that disappears anytime soon and may, in fact, linger to some degree until the season is over and he can truly rest for an extended period. In the meantime, as is the case with so many injuries, it becomes a matter of managing symptoms in an effort to allow him to function effectively. It would not be surprising to see his practice time get cut back in an effort to allow him to play on Sundays. After this latest setback, it is unclear whether Manning will be able to go this week, but he has certainly demonstrated a willingness to play through pain before. The question will be whether the pain is so severe that it impairs his ability to plant and throw effectively. Fantasy owners should know that this may well come down to a game-time decision.
Matthew Stafford, QB, Detroit Lions:
Multiple reports indicate that Stafford suffered a patellar subluxation during Sunday's game but the team is not confirming this diagnosis. During a patellar subluxation, the patella (kneecap) slips briefly out of the groove in the femur (thighbone) where it normally rests, but pops quickly back into place. The primary factor in determining how quickly an athlete can return from such an episode is how much tissue damage is associated with the injury.
When the kneecap slips, there is often associated tearing of the soft tissue in the area, which results in some potential bleeding, swelling and pain. The less damage to the soft tissue, the more quickly the athlete can recover and return to play. As the kneecap gets knocked out of the groove, there is also the potential for cartilage damage on the undersurface of the patella as it bumps against the edge of the groove on the femur. Those cases are more complicated and if problems persist, may require surgery to address the cartilage damage. When an athlete has a history of multiple subluxation episodes, it may be reflective of general instability around the kneecap, which can result from a variety of factors. Repeat episodes are problematic in that they may signal the potential for increased frequency of subluxations, but they may also be associated with less damage per episode to the surrounding tissue.
As of now, the Detroit Free Press is reporting that the Lions are indicating that Stafford is day-to-day and he has not been ruled out for Sunday's game. His ability to function, particularly his mobility out of the pocket, will be assessed as the week goes on to help determine his status.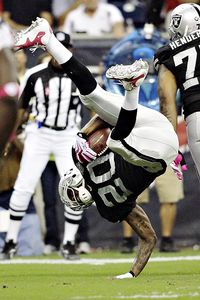 Brett Davis/US PresswireFor the second straight season, Darren McFadden is going to miss a few games with an injury.
Darren McFadden, RB, Oakland Raiders:
McFadden suffered a torn meniscus in his right knee and is expected to undergo surgery Tuesday. The Raiders said he'll return in two to four weeks. It's worth noting that rarely does an athlete return following this surgery in two weeks. The timetable to reduce post-surgical pain and swelling as well as regain adequate strength to play typically falls closer to four weeks, presuming no setbacks along the way. Running backs put exceptional stress on their knees with their frequent deceleration and directional moves so fantasy owners should plan on four weeks, maybe even a little longer, for McFadden to return to form.
Roy E. Williams, WR, Dallas Cowboys:
Williams took a big hit to the ribs on Sunday and apparently it left him with some cartilage damage. The Cowboys indicate that Williams bruised three ribs and injured cartilage in the area. Cartilage injuries in the rib area can be as painful as broken ribs and sometimes take longer to heal. The Fort Worth Star-Telegram is reporting that Williams' status is currently listed as questionable. I would not be surprised if Williams is unable to go this week.
Other quick hits:
• Also in Detroit, wide receiver
Calvin Johnson
(quadriceps strain) and running back
Kevin Smith
(shoulder) are day-to-day.
•
Denver Broncos
running back
Correll Buckhalter
injured his ankle and was on crutches after Sunday's game. His status for this week is not yet known, reports The Denver Post.
•
Seattle Seahawks
quarterback
Matt Hasselbeck
hopes to return to practice Wednesday after missing the past two weeks with a broken rib.
• Dallas Cowboys running back
Marion Barber
was back in action this week, but played sparingly in the second half after his strained quad tightened up on him. He is trying to balance playing and healing. Seven more days without a setback should have him in better shape leading up to Week 5.
See you at the injury chats (Tuesday 11:00 a.m.-noon, Friday 11 a.m.-noon and Sunday pregame 10-10:30 a.m.) and we'll have the latest injury updates affecting Week 5 in the Saturday morning blog!
October, 15, 2008
10/15/08
2:15
PM ET
Is there a healthy starting quarterback in the NFL? It sure doesn't appear that way. In a game where everyone starts to look banged up as the halfway mark of the season approaches, the list of injuries to quarterbacks seems to be the most significant. In some cases, such as
Eli Manning
's, it's primarily bumps and bruises. In others (
Tony Romo
,
Matt Hasselbeck
,
Carson Palmer
) the injuries threaten to linger. And in the case of the
Detroit Lions
, it has even ended their starting quarterback's season, as
Jon Kitna
was placed on injured reserve due to his back problems.
So who do you need to be concerned about insuring on your fantasy roster this week? We take a look at how things are shaping up in preparation for Week 7.
Tony Romo, QB, Cowboys:
By now everyone has heard about the importance of Romo's broken pinkie finger and the early projections that he could miss a month of playing time as a result. But according to the Dallas Morning News, coach Wade Phillips implied during a local radio appearance Wednesday that Romo would try testing his throwing in practice and his status could be re-evaluated.
Hmmmm. It would be a big surprise to see that much of a turnabout, from an initial four-week projected absence to no missed time. Certainly there is more at stake here than appearing tough. It is not just a matter of playing through pain, it is a matter of performance. It is also a matter of proper healing to ensure the longevity of a career, not just a starting streak. So let's hope that Romo comes to the best long-term decision for his throwing hand. Fantasy owners should plan on securing a backup quarterback no matter what that decision may be.
[+] Enlarge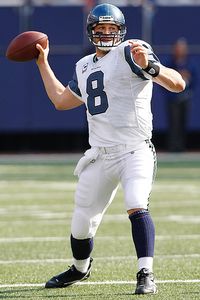 Scott Boehm/Getty ImagesSeahawk fans will have to hope Hasselbeck can return versus the Niners.
Matt Hasselbeck, QB, Seahawks:
Hasselbeck has already been ruled out of this Sunday's game against Tampa Bay, so fantasy owners should plan on a replacement, but for how long?
Hasselbeck went for further testing this week after the Seahawks reported that he was not responding as expected following the bone bruise he incurred after hyperextending his knee in Week 5. No wonder. Turns out that the specific symptoms Hasselbeck was experiencing were related to his preseason back problems. You may recall the report that Hasselbeck had a bulging disc in his back during the preseason and was experiencing back tightness and spasms that kept him off the field for the majority of that time. It is worth noting that the bulging disc was reportedly not new, and it is often the case that a bulging disc can exist and be asymptomatic, so there was no immediate cause for alarm. Hasselbeck seemed to recover from that episode and went on to start the season and play the first four games.
If there is an injury or event, however, that results in inflammation in the area, a spinal disc can then become symptomatic. The presence of inflammation or the deformity of the disc bulge itself can create pressure and irritation on nearby nerves. In the lower back, the most commonly affected nerve is the sciatic nerve, which is responsible for strength and feeling in the back of the thigh and leg.
In Hasselbeck's case, the Seattle Times reports that the sciatic nerve is being affected to the degree that it is now causing weakness in his knee. Coach Mike Holmgren said it is actually more an issue of weakness than pain, which is of concern since this suggests greater compromise of the nerve. The Tacoma News-Tribune reports that Hasselbeck is going to focus on rehabilitation this week that hopefully will allow him to return for the game against division rival San Francisco on Oct. 26. Knowing the time frame usually required for neurological symptoms to resolve, this seems optimistic. On the plus side, it appears that the appropriate source of the symptoms is being addressed. Nerve tissue can be very slow to recover, though, once it has been compromised. These problems rarely require surgery, however, and conservative treatment (epidural injections, mobilization, strengthening) can be very effective. But the time frame can be highly variable from one individual to another, so this will be a day-to-day situation for Hasselbeck and the Seahawks.
Backup quarterback
Seneca Wallace
is trying to recover from a recently aggravated calf strain, and it is uncertain whether he will be well enough to start Sunday. If he is unable, then the Seahawks will have
Charlie Frye
under center for another week.
[+] Enlarge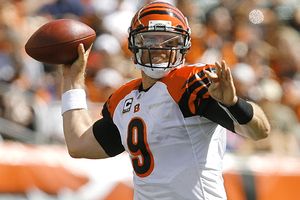 Matt Sullivan/Getty ImagesCould Palmer be on the same path as Jake Delhomme?
Carson Palmer, QB, Bengals:
One outcome of Palmer's visit with New York Mets team physician Dr. David Altchek is certain; Palmer will not start Sunday against the Steelers. Instead he will rest his inflamed throwing elbow. How long will he rest, though? Will he return in two weeks? After the Nov. 9 bye? Or have we seen the last of Palmer for the 2008 season? According to the Bengals' official Web site, these seem to be the options that the quarterback is considering after his second-opinion visit. As of late Monday, coach Marvin Lewis said, "I don't think anything has been ruled out."
Palmer indicated that he had been told his injury was the type that baseball pitchers have, which led him to consult with an orthopedist who frequently deals with these types of scenarios. The statement by Palmer lent further credence to speculation that his elbow ailment involved the ulnar collateral (Tommy John) ligament, the reconstruction of which has become almost commonplace amongst elite throwers in baseball. It is a far less frequent injury in football, partially due to the fact that the throwing mechanics in football are less stressful on the elbow than in baseball. A direct impact to the arm, however, similar to what Palmer reportedly suffered in the Week 3 contest against the Giants, could result in an injury to the ligament and nearby tissues that could then be further impacted by throwing. It should be noted that original reports suggested there was no evidence of structural damage to Palmer's elbow. It is also worth noting, however, that even microtrauma in the area, not visible on an MRI, can still result in inflammation, pain and difficulty throwing. In the presence of those symptoms, it is conceivable that a minor injury could turn into a more significant one if there is repeated strain placed on the tissue. It is for that reason that, in baseball, the typical response to an initial episode of elbow pain, even in the absence of definitive findings, is to shut down a thrower for a period of several weeks. The first goal is to eliminate all pain and soreness with rest and then gradually reintroduce throwing, progressing distance and velocity as tolerated.
For all the above reasons, it would not come as a surprise if Palmer's plan follows the path that has him returning after the November bye. This will be his second week of straight rest (after he returned to play in the Dallas game in Week 5) and it is conceivable that if he is pain-free, he could resume throwing next week and return. But if he has any swelling, any soreness or any weakness still lingering, or if his return to throwing requires a series of smaller steps, the middle time frame provides the best option. If he fails to respond to conservative treatment in the near future, the option remains for him to be shut down for the remainder of the season, which seems less likely, at least at this stage. The overriding concern would be that if Palmer tries to force it and returns too soon, he could end up with an injury that would require surgery, and the timetable on a return from reconstructive surgery is long. Just ask
Jake Delhomme
.
Some other players to keep an eye on as the week progresses
&#8226 The
Buffalo Bills
expect quarterback
Trent Edwards
to return to action against San Diego Sunday. Edwards returned to practice Monday after suffering a concussion October 5.
&#8226 Adding to the Cowboys' misery this week is the news that running back
Felix Jones
sustained a left hamstring injury that could cause him to miss several weeks. ESPN sources indicate that the injury is closer to the knee, which typically means longer healing time, so fantasy owners need to plan accordingly.
&#8226 A source close to the team reports that
Indianapolis Colts
' running back
Joseph Addai
, who left Sunday's game early with a strained right hamstring, will probably miss this week's game, but no formal decision has been made just yet. We do know that rookie running back
Mike Hart
suffered what the Colts are calling a "significant" knee injury and he has been placed on injured reserve.
Dominic Rhodes
becomes ever more valuable.
&#8226
Kansas City Chiefs
' quarterback
Brodie Croyle
is expected to resume his position as quarterback this Sunday when the Chiefs face the
Tennessee Titans
. Croyle suffered a separated shoulder in Week 1 but was able to practice during the bye week. No doubt that this is a tough team for him to face in his first week back, but from a healing perspective, his shoulder should be fine.
&#8226
San Diego Chargers
running back
Darren Sproles
has a sprained ankle which could certainly result in him seeing limited practice time. The Chargers will no doubt want to protect him to try to ensure his availability this week, especially with teammate
LaDainian Tomlinson
still at less than 100 percent. Meanwhile wide receiver
Chris Chambers
, also with a sprained ankle, is "making progress" and could be available Week 7 according to the San Diego North County Times. Much will depend on how he practices later in the week.
&#8226
New York Giants
quarterback Eli Manning suffered a bruised chest in the Monday night game this week, which may have contributed to his performance. According to Newsday, Manning's X-rays and MRI came back negative and he should be available this Sunday.
As usual, practice throughout the week will give us a better hint as to what the final status of these players will be heading into Week 7. Remember there are bye weeks for Arizona, Atlanta, Philadelphia and Jacksonville so we will not get much information on player injury updates for those teams until next week.
See you Friday at the injury chat and we'll have the latest injury updates affecting Week 7 in the Saturday morning blog!
September, 11, 2007
9/11/07
12:38
PM ET
Week 1 Updates
Running BacksChester Taylor, Vikings:
MRI results revealed a contusion of the oblique muscles for Taylor, while his hip appears fine, reports the Minnesota Star Tribune. When Taylor originally crumpled to the ground in pain on Sunday, it was after reaching up for the ball on a screen pass, which did not fit a typical pattern for a hip injury. It does, however, fit with an oblique injury. The obliques are a group of large abdominal muscles that are oriented in a diagonal pattern, hence the name oblique. Baseball fans are accustomed to seeing players on the injury report with oblique strains, especially power hitters and pitchers who use a lot of trunk rotation. In Taylor's case, perhaps he over-rotated and twisted just enough to injure the muscle, which let him know about it with a sharp, stabbing pain. The good news is that Taylor's game does not especially require powerful torsional movements. These injuries are painful, though, and it remains to be seen how mobile Taylor can be with the injury. It sounds as if the Vikings expect him to play Sunday, but we will monitor his practice activities throughout the week.
Carnell Williams, Buccaneers:
Williams' injury is officially being called "bruised ribs," reports the Tampa Tribune. His pain level will dictate how much he can do, but it's possible that he could return this week. It will be important to follow his activity over the next few days.
Brandon Jacobs, Giants:
The Giants have officially confirmed that Jacobs suffered a sprained medial collateral ligament, the stabilizing ligament on the inner aspect of the knee joint during Sunday night's game. Given that we do not know the severity (no grade was given), we have to rely on team updates to assess his progress. The Giants' official Web site indicates that Jacobs is currently week-to-week. At the minimum, it suggests that Jacobs will miss one to two weeks, but he could miss as many as six. Earlier I said to consider picking up
Derrick Ward
as insurance. No need to consider it as an option any longer ... just do it.
Receivers:D.J. Hackett, Seahawks:
Hackett sustained a right high ankle sprain early in Sunday's game and did not return. Unfortunately, he will not be returning anytime soon. Coach Mike Holmgren, while remaining understandably noncommittal about the length of time Hackett will be away since recovery from these injuries is highly variable, did acknowledge that it could be at least a month. Time to get another receiver for your roster.
Quarterbacks:Eli Manning, Giants:
There are conflicting reports coming out regarding Manning's shoulder injury. ESPN's Chris Mortensen is reporting that, according to sources, Manning has a separated shoulder and is expected to miss at least a month. Meanwhile, Giants spokesman Pat Hanlon is denying that report. As reported on Giants.com, Hanlon says Manning is instead dealing with an AC contusion, his status is day-to-day, and we should not be surprised if we see him playing on Sunday. So why all the confusion, and how do these two projections end up being so different? Let's take a look at what the two injury terms being tossed about imply as far as Manning's prognosis.
A "separated shoulder" describes a sprain of the acromioclavicular (AC) ligaments. These are the ligaments that connect the acromion (point of the shoulder) with the clavicle (collarbone). There are additional adjacent ligaments (coracoclavicular) that contribute stability to the AC joint. Damage to the ligaments (also called a sprain), just as with any joint, can render it less stable, consequently altering the mechanics. Sprains are graded just like muscle strains (Grade I, minor, Grade II, moderate, Grade III, severe, usually representing complete disruption) and reflect the degree of injury. If an AC sprain is severe enough, the clavicle and acromion can move apart, hence the term "separated shoulder."
These AC separations are rarely repaired surgically unless they are severe enough (meaning they affect the mechanics to such a degree) that they limit a person's function. Overhead athletes may have these injuries repaired more frequently than nonthrowers, but even then, the injury has to be fairly debilitating for that to occur. In the case in which it is treated nonsurgically, it is managed much like a sprain of any other joint. Rest, ice, compression (wrapping the shoulder) and a gradual return to activity are all part of the program. A minor AC sprain (Grade I) can resolve within a week to 10 days, whereas a more serious Grade II can range from two to six weeks. Keep in mind that these timelines are approximate and do not account for the event of a setback during practice or rehab. A Grade III or "complete" tear has even more recovery-time variability, depending on whether surgery is involved or not.
A contusion is just a fancy name for a bruise. When Hanlon refers to Manning's injury as an AC contusion, he is essentially calling it a bruised acromioclavicular joint, or, more simply, a bruised shoulder (which is what we heard immediately after the game). This implies that there is bruising in the area but no evidence of any separation of the joint. Since there is no major tissue damage with this diagnosis, it is easier to recover from, and a prognosis of day-to-day is fitting. Basically, the athlete might rest the arm for a few days, but then gradually reintroduce activity based on comfort. This diagnosis would suggest that Manning could be ready to play by the weekend.
In the final analysis, what are we to make of the conflicting reports? Obviously, these are two very different scenarios, but the terminology (AC separation versus AC contusion), while not identical, is very similar. This is where the confusion often lies when teams are reporting about injuries; a minor change in wording can imply a completely different outlook. We are also relying on teams to report injuries accurately and completely, a practice not consistently applied. One of the factors to consider in Manning's case is that he managed to throw a touchdown pass after he initially hurt the shoulder. If he sustained a serious injury, it would be highly unlikely that he would be able to do this. Manning's MRI reportedly showed no structural damage. Manning himself, on the Giants' Web site, has said that he is not in any pain, that it's just a matter of when "you have the strength and when you feel you can throw full strength and you will be out there playing." In the meantime, since that decision will likely come after your waiver-wire deadlines, it would be wise to secure a backup quarterback for your fantasy roster this week.
Chad Pennington, Jets:
Here's the helpful information received from coach Eric Mangini regarding his quarterback. "It is the ankle. We'll review it during the course of the week like we do every injury situation." There you go. Once again, there is not much to go by when it comes to a Jets player. Pennington's toughness is not a question, but his mobility might be. If Pennington is your starter, grab another quarterback, just in case.