Stephania Bell:

Elijah Dukes
July, 8, 2008
7/08/08
1:44
PM ET
Seriously. I think Major League Baseball just set the record for the highest number of players being placed on the disabled list in a given week.
Of course, I don't have any official statistics to back that up. In fact, I'm fairly confident that such a statistic has not been tracked to date. But when your job is to track who is moving onto and off the DL, and the movement is happening so fast and with such a high volume that your head spins, you kinda get a hunch that a record might be broken. Sheesh.
Of course, when you're playing fantasy baseball and you lose a key guy to injury, that feeling is less of a gut feeling and more like a punch in the gut. And when you have so many players at different stages of their injuries, it's hard to know sometimes who's coming and who's going. Let's try to make sense of a few recent injuries: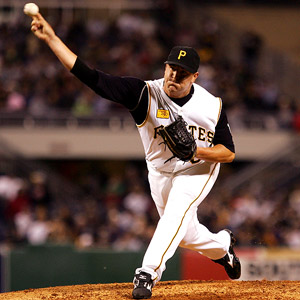 Jim McIsaac/Getty ImagesMatt Capps' shoulder injury sounds bad, but at least he'll avoid surgery for now.
Matt Capps, RP, Pittsburgh Pirates:
Right shoulder problems reportedly will sideline Capps for the better part of two months. The first part of the diagnosis issued by the team is bursitis, or inflammation of the bursa, a small fluid-filled sac that serves to decrease friction between adjacent tissues. There are many bursae throughout the body, but those in the shoulder are commonly associated with throwers' injuries. Bursitis is also an everyman's injury, in that you certainly don't have to be a ballplayer to suffer from it.
But what about the second part of Capps' diagnosis? According to the Pittsburgh Post-Gazette, general manager Neal Huntington indicated that Capps also has internal rotation deficit, a less familiar term that describes a condition primarily associated with baseball pitchers. External rotation describes the position of the shoulder joint where the head (top) of the humerus (arm bone) is rotated to face outward. Internal rotation is just the opposite, where the head of the humerus rotates inward. Normal range of motion for the average person is a roughly equivalent distribution of external and internal rotation. In order to pitch a baseball effectively, however, an athlete requires external rotation above and beyond that of a nonpitcher in order to get his arm in a position to achieve maximum windup. There is only so much total rotation within the shoulder joint. When an athlete achieves excess external rotation, he typically sacrifices internal rotation.
Why does this matter? Well, because the body requires balance to stay healthy. A thrower will almost always have more external rotation than internal rotation. It is important for the health of the throwing shoulder, though, that the total motion in the throwing shoulder joint (external rotation plus internal rotation) is relatively equal to that of the nonthrowing joint. In other words, 120 degrees of external rotation and 60 degrees of internal rotation in the joint of an athlete's throwing arm, and 100 degrees of external rotation and 80 degrees of internal rotation in the same athlete's non-throwing arm are considered equal. If the total motion on the throwing side is less than that on the nonthrowing side, with the deficit being primarily on the internal side, it is considered internal rotation deficit. In the example above, an athlete with internal rotation deficit might have the same range of motion in his nonthrowing arm, but his throwing arm might have 100 degrees of external rotation and 40 degrees of internal rotation, resulting in a 40-degree differential from one arm to the other.
What causes it and what can be done about it? There is some debate within the medical community as to what, in fact, causes internal rotation deficit. Some believe that tightness in the rotator cuff muscles, which sit on the back of the shoulder and therefore are stretched when the shoulder internally rotates, is responsible. Others believe that the joint capsule, the fibrous tissue that encases the joint, is tight and does not allow the humerus to move freely within the joint. And of course it could be a combination of these two variables. The primary treatment consists of stretching, either stretching muscle tissue or joint tissue, and then following that stretching with a set of exercises designed to enhance strength in the new range of motion and to maintain the motion. Either way, Capps is looking at a significant period of time away from the game (the team expects him to be out until at least September). The good news, however, is that this is a nonsurgical approach, and he should be able to manage the condition after he returns.
Alfonso Soriano, OF, Chicago Cubs:
Soriano (fractured fourth metacarpal in his left hand) took his first batting practice Saturday and has been making a case for returning in time to play in the All-Star Game. The good news: According to the Cubs' official Web site, Soriano reported having no pain at all in his hand. The bad news: He did acknowledge that his hand still felt weak, making it unlikely that he would be able to appear in the All-Star Game next Tuesday. Originally projected to be out six weeks, Soriano may yet be able to beat that timetable, but there is no incentive to bring him back early. The Cubs would prefer to have him healthy and at full strength down the stretch.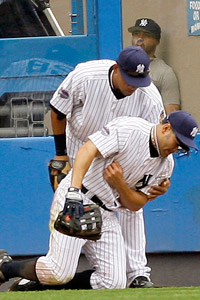 AP Photo/Julie JacobsonJohnny Damon has been placed on the DL for the first time in his career.
Johnny Damon, OF, New York Yankees:
Every now and then, this space will detail the injuries caused by an outfielder sacrificing his body and running into a wall or fence. Well, you can add Damon to that list after a weekend crash into the Yankee Stadium fence Friday forced him to the DL for the first time in his career. Damon has what the Yankees are calling a sprained and contused (bruised) left shoulder, and the 34-year-old is adjusting to the idea of being out of the starting lineup for a while. The New York Times reported Damon's injury as a sprained AC (acromioclavicular) joint, which is the joint formed where the clavicle (collarbone) meets the point of the shoulder (acromion). A sprain (ligament injury) in this area, when severe enough, is often called a separated shoulder because if there is enough ligament damage, the two bones can move apart, or separate. It really is a question of degree, and we likely won't get that answer officially. In the end, the treatment is essentially the same. Rest, get rid of the inflammation, and gradually work on increasing the range of motion so Damon can do what he needs to do. Damon indicated he could not raise his arm above his shoulder after the injury because of the pain, which is typical for this type of injury. Two weeks to return to full activity is optimistic for this type of injury, and I would not be surprised if Damon cannot play the field for an additional two to three weeks beyond that. He might be able to hit sooner if his arm recovers well, though, so you might see the Yankees bring him back initially as a designated hitter. We should know more about his status after the All-Star break.
Elijah Dukes, OF, Washington Nationals:
Speaking of an outfielder sacrificing his body while running into the outfield wall, Dukes did just that Saturday and came away with a torn meniscus (fibrocartilage disk in the knee) and a partially torn patellar tendon (the thick tendon that anchors the quadriceps muscle to the lower leg) in his right knee. According to the Washington Post, Dukes had arthroscopic surgery Monday and is expected to miss at least the next four to six weeks. This might be a conservative estimate, depending how his rehabilitation goes. The tendon must be at full strength to handle the forceful contractions of the quadriceps muscle, particularly when decelerating or jumping and landing, such as one does when leaping into an outfield wall. How disappointed the Nationals must have been to see yet another youngster go out with a significant injury.
Mike Napoli, C, Los Angeles Angels:
Napoli was placed on the disabled list Sunday with what the Angels are calling right shoulder inflammation. According to the Angels' official Web site, Napoli was scheduled to undergo an MRI on Monday to help determine the nature of the problem. For his part, Napoli said he has been having good days and bad days for a while now, but that on the bad days it hurt just throwing the ball back to the pitcher. The nonspecific nature of his injury makes it difficult to project how much time he will need to recover. Once his MRI results are known, there might be better clues as to what the club plans for him. Stay tuned.

Always looking for that extra piece of fantasy insight? We've got you covered. ESPN Fantasy experts Matthew Berry and Nate Ravitz provide you with all the fantasy strategy you'll need:
Listen to the Fantasy Focus Podcast
Jeff Suppan, SP, Milwaukee Brewers:
Looks as though the arrival of C.C. Sabathia is coming just in the nick of time for the Brewers, who just placed Suppan on the DL with irritation in his right elbow. Sabathia will take Suppan's place in the rotation and is expected to make his first start for the Brewers on Tuesday. Suppan told the Los Angeles Times he initially injured his elbow during an at-bat on May 23 and that it just wasn't getting better. For his part, Suppan says he wasn't sure whether the injury was affecting his pitching or not; he just knew the problem was not improving. It makes one wonder, though, how much Suppan's elbow has been bothering him, given his poor performances recently. Control issues for a pitcher are often a sign that something is amiss, and Suppan's situation appears no different. The timing is good for Suppan to give the elbow a rest, with the arrival of Sabathia and the All-Star break. In fact, he could return just after the All-Star break, with little harm done to the rotation. A pitcher's elbow can be a little tricky, but at this point there is no evidence that this is something more serious.
And in the good news department ...
Felix Hernandez, SP, Seattle Mariners:
It looks as if the return of the King is imminent. After an uneventful bullpen session Monday, he is expected to start Friday. This will be his first start since he sprained his left ankle on June 23.
David Ortiz, DH, Boston Red Sox:
Before you get too excited about him returning, note that he still has some time before he's back in the Red Sox lineup. But the news is encouraging here. Big Papi took live batting practice Monday for the first time since injuring his wrist in late May. He still has some hurdles to cross but is feeling good swinging the bat. Despite his election to the All-Star roster for the American League, Ortiz will not be able to play, since the wrist is still healing.
Let's hope the All-Star break will come just in time to give the injuries a chance to heal, not to mention slow down the pace of new injuries the league seems to be on now! Stay healthy everyone.
April, 1, 2008
4/01/08
2:08
PM ET
By
Stephania Bell, ESPN.com
| ESPN.com
Play ball! These words were heard around the country as most teams officially opened their seasons this week. And so it is time for me to resume my regular season of injury blogging. We talked about key injury concerns during the offseason, and I shared some of my observations from training camps in Florida and Arizona, but now that the real deal is here, it is time to monitor how those preseason injuries are progressing (or not), and who is being added to the injury list each week.
We start this season off by welcoming a long absent player back from injury. Of course, because this is the injury blog, we also have to add to the injury list the players who have already gone down early in Week 1.
Welcome back!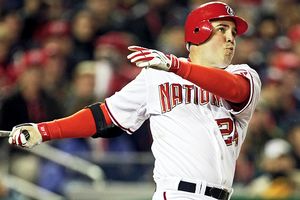 Drew Hallowell/Getty ImagesNick Johnson is looking good after missing all of 2007 with a broken leg.
Nick Johnson
has returned to the lineup in grand style. The
Washington Nationals
first baseman missed the entire 2007 season after suffering a broken right femur (thigh) in September 2006 as a result of a violent collision with right fielder
Austin Kearns
. It takes a lot of force to break a femur, and that's what happens when two adults moving at high speed in opposite directions crash into each other. Johnson had a titanium rod and screws placed into the femur to stabilize it, but persistent pain in his hip and knee resulted in subsequent surgery to remove the hardware. After first relearning how to walk, then run, Johnson had to reteach his leg some of the basics of baseball. One of the most challenging skills? Sliding. Imagine leading with that leg, knowing it will come into contact with something -- whether that something is a base or a body -- and overcoming the anxiety of that leg enduring the impact.
Well, Johnson came back with a vengeance, delivering an RBI double in the first inning Sunday and demonstrating confidence in his leg on a slide into second, which occurred without a second thought. It is wonderful to see someone who has been through so much and who has worked so hard to get back to the game be able to succeed. Forget the fact that Johnson's performance helped secure a Nationals victory on Sunday night to open their brand new park, as well as earn another victory Monday. His success was already evident by the fact that he earned the starting position, somewhat ironically, over
Dmitri Young
, the 2007 National League comeback player of the year. With two great outings to start the season, Johnson is making the Nationals very excited to see what is yet to come from him and his teammates in 2008.
New Injury Worries
Cleveland Indians
catcher
Victor Martinez
folded while trying to run to second when a pitch got away from
Chicago White Sox
catcher
A.J. Pierzynski
on Monday. An athlete's instinctive reaction to acute discomfort is to pull back immediately on the speed and grab the leg, a sure sign of a strained or pulled muscle. According to an ESPN report, Martinez, who has what the team is calling tightness in his left hamstring, will undergo an MRI to determine the extent of the injury. He is considered day-to-day for the time being. Last year, Martinez strained his left quadriceps on Opening Day and subsequently missed six games. The Indians have to hope this is not the beginning of a trend.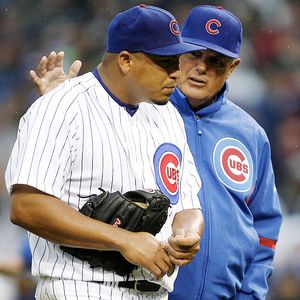 Tom Fluegge/US PresswireCarlos Zambrano, left, leads the Cubs with eight wins and is second on the team with a 3.01 ERA.
Chicago Cubs
pitcher
Carlos Zambrano
managed to pitch 6 2/3 innings in Monday's opener but complained of discomfort in his forearm. That was enough for the medical staff. Zambrano exited the mound, perhaps a proactive move to prevent it from becoming a significant problem. According to the Cubs' official Web site, Zambrano was experiencing forearm cramps and is not expected to miss his next start. For his part, Zambrano says he needs to "drink water." Can't hurt.
Kansas City Royals
outfielder
David DeJesus
left Monday's game with a sprained left ankle. Apparently, the ankle had been bothering him all week and was aggravated during the game when he chased down a ball. The Kansas City Star is reporting that X-rays on DeJesus' ankle were negative and that the pain he experienced Monday is not as severe as when he originally injured it March 24. The challenge with sprained ankles is avoiding re-injury while trying to recover, and this is an example of the type of minor aggravation that can set you back. Fortunately, this does not sound serious for DeJesus and should not result in an extended absence.
Washington Nationals pitcher
Chad Cordero
did not make his anticipated entrance at closing time on Sunday night, leading everyone to wonder what the problem might be. As it turns out, Cordero told The Washington Post that he felt a "sharp pain" that shot down his arm while playing catch before the game. Cordero received a cortisone shot, and the team is calling the injury tendinitis. He is not scheduled to throw before Wednesday at the earliest, and his next attempt at activity should give a better clue as to how serious the shoulder condition is. Sharp pain with throwing is always more of a concern than stiffness or tightness, but until Cordero tests the arm again, there is not much to go on.
Sticking with the Nationals, outfielder
Elijah Dukes
left Sunday's game with a strained right hamstring, the same hamstring he originally injured in mid-March, and was placed on the 15-day disabled list immediately after the contest. Hamstring injuries can easily become chronic and nagging, so this serves as a tiny red flag for Dukes that he will need to rest this ailment sufficiently and not return too soon. Otherwise, it has the potential to simmer just beneath the surface and crop up intermittently throughout the season.
That's it for the early week injury blog. Be sure to check back later in the week as we take a closer look at the players who started the season on the disabled list and what we can expect from them. As always, we will update any new injuries as well. Good luck to all of you playing fantasy baseball and remember, no matter what happens this week, it's a long season. I'll be with you the whole way.