Stephania Bell:

Eric Chavez
July, 26, 2011
7/26/11
5:32
PM ET
Despite the fact that this is a big week in the world of potential baseball moves with regards to trades, we will stick to moves addressing those who are coming off and headed to the disabled list. For a pleasant change this week, there are more players rejoining their teams than leaving them, or at least that's how the week is starting out.
Coming back
[+] Enlarge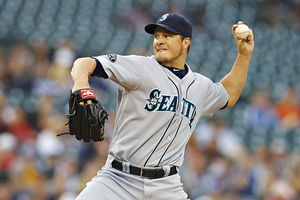 Rick Osentoski/US PresswireCould Erik Bedard be getting back in time for one last audition before the trade deadline?
• The
Seattle Mariners
will have pitcher
Erik Bedard
on the mound Friday to face the
Tampa Bay Rays
, according to the team's website. Bedard has missed four starts while serving time on the DL with a left knee sprain. Perhaps most importantly, the injury was not to Bedard's (left) throwing shoulder, which cost him extensive missed time the past two seasons. The Mariners wisely brought him back slowly from what was reportedly a minor injury, always good insurance for a thrower's arm to ensure no compensations or altered mechanics. Manager Eric Wedge hints at Bedard being on a pitch count in his first appearance but, if all goes well, expect him to go all out from there, either in Seattle or wherever he might land should another team take interest.
• It appears the
Baltimore Orioles
are about to get DH
Vladimir Guerrero
back. The Baltimore Sun reports he is with the team in Toronto and is expected to be activated Tuesday. Guerrero has been on the DL since early July, when a small crack was discovered in his right hand after it was hit by a pitch from the
Boston Red Sox
's
Kyle Weiland
. He made one rehab game appearance (going 1-for-4) and apparently tolerated it just fine, given that he was quickly moved up. Now we'll see how he adjusts to hitting on a regular basis after some quiet time.
• The
New York Yankees
will have another veteran back in the mix when
Eric Chavez
returns. Chavez initially was sidelined in early May with a fractured fifth metatarsal in his left foot (long bone below the fifth toe) but was delayed in his return by kidney stones and a flare-up of back pain. He could provide an option at third or first base, according to The New York Times. Chavez has been no stranger to injuries but appeared to be on track for his healthiest season in several years until the foot seemingly triggered a cascade of unfortunate setbacks. Now is the time for him to step in, especially as
Alex Rodriguez
continues his rehabilitation after knee surgery.
• Although his return is not set in stone,
Philadelphia Phillies
third baseman
Placido Polanco
is hoping to rejoin the team this weekend, according to The Philadelphia Inquirer. Similar to his teammate pitcher
Roy Oswalt
, Polanco was trying to play through disk-related back pain. Also similar to Oswalt, Polanco struggled while hurting, although his issues manifested themselves primarily at the plate. And, like Oswalt, Polanco seems to have benefited from spinal injections to address inflammation. The injections, combined with rest and subsequent rehabilitation, have allowed Polanco to return to the point that he has recently been taking swings of the bat and doing fielding drills. As the Inquirer notes, Polanco says he expects to test his back in minor league play in the next few days, but the Phillies have not yet confirmed a rehab assignment. The challenge will be for Polanco to stay relatively symptom-free once he gets back in regular playing mode.
Going on the DL
• Red Sox outfielder
J.D. Drew
is expected to head to the disabled list Tuesday because of ongoing issues with his left shoulder. According to MLB.com, manager Terry Francona hopes the rest will help Drew turn the corner. "Hopefully a couple weeks down will do him some good. He can get some strength back in that shoulder", Francona said. Drew is just the latest in Boston's rotating injury carousel.
Odds and ends
• Speaking of Red Sox injuries,
Kevin Youkilis
is dealing with what the team is calling "tightness" in his right hamstring after an awkward step Monday. He was trying to run out a ground ball in the sixth inning and, in stretching his right leg to get to first, he clearly strained himself. Youkilis limped away immediately into the dugout but did return to play defense in the seventh. He was removed shortly thereafter and is not in the Tuesday lineup. The Red Sox are calling him day-to-day and do not appear to be concerned that he will miss any additional time. Beware the tricky hamstring, though. Fantasy owners should be sure to check before Wednesday games.
•
San Diego Padres
outfielder
Cameron Maybin
is hoping to avoid the DL after straining his left hip flexor Sunday while running the bases. Manager Bud Black indicated he thought Maybin could avoid the DL, but Maybin was still sore Monday, according to the Padres' website. It sounds as if the team hopes he will not miss more than a few days, but it will be interesting to see just how much even a minor strain affects Maybin's steals. Getting an early jump (and being able to tag up quickly), so critical for effective base stealing, can be slowed if a player can't generate power, something an ailing hip flexor could inhibit. If Maybin indeed returns shortly, it will be worth keeping an eye on whether he's able to get immediately back to what he was doing so effectively before the injury.
May, 6, 2011
5/06/11
4:53
PM ET
Three Up, Three Down. That's what I've decided to call today's blog. It just seemed to capture the injury pattern in baseball in a neat, baseball-lingo sort of way. Just when you think it's time to get excited about players nearing a return from injury, the enthusiasm is tempered by others being forced out with new ailments. It's a never-ending battle for teams to maintain a healthy roster and this week is no different from any we've seen so far this season.
We start with the good news, which is as it should be on a Friday. Here are three players whose status appear to be on the upswing:
[+] Enlarge
Joy R. Absalon/US PresswireThe team opted to be cautious with Neftali Feliz, and now the Rangers' closer is back after just the minimum 15 days.
Neftali Feliz, P, Texas Rangers:
When the Rangers put their closer on the DL in April, they did so fairly quickly. After Feliz initially complained of tightness in his shoulder, he struggled in his subsequent outing and that was enough for the Rangers to
make the call
. That decision may prove to be very beneficial in the long-term. Feliz looked so good in his Double-A Frisco rehab appearance on Wednesday that the Rangers decided to activate him before Friday's game (the first day he was eligible to return). Feliz will be back in the closer's role this weekend as the Rangers host the
New York Yankees
.
Jake Peavy, P, Chicago White Sox:
Peavy's return from surgery to repair his ruptured latissimus dorsi tendon has been well documented, as have his minor speed bumps along the way. Peavy initially experienced some rotator cuff tendinitis during spring training, which forced him to back off his progression. After working his way back into rehab starts, Peavy had a recurrence of discomfort in his shoulder in mid-April, which again slowed his progress. His past two rehab starts, however, have signaled his readiness to return to the majors. Not only has he been throwing some good pitches, he has also been able to get his total pitch count up to 100, indicating his endurance has improved. The Chicago Sun-Times reports Peavy could make his season debut for the White Sox on Wednesday against the
Los Angeles Angels
.
Josh Hamilton, OF, Texas Rangers:
There was a collective sad sigh among Rangers fans and fantasy owners on April 12 when Hamilton suffered a humerus fracture sliding into home plate. At the time, his projected absence was estimated at six to eight weeks. Hamilton is making strides, however, which suggest that he could return on the short end of that timetable. As of Wednesday, he was swinging off a tee, just over three weeks post-injury. For him to be cleared for this activity, the Rangers' medical staff must like what they're seeing in terms of the arm healing. As general manager Jon Daniels told the Dallas Morning News, "It's too early to narrow down a date for his return, but we're definitely heading in a good direction and it's reasonable to assume he'll be back within the original time frame." Hamilton's ability to increase his activity with his arm is as important for preserving muscular strength and coordination as anything else, which may help improve how he fares at the plate when he does return.
And then there are the less fortunate. Here are three players whose recent injuries will keep them down for at least the 15-day minimum.
[+] Enlarge
Scott Cunningham/Getty ImagesNyjer Morgan had a bad day in Atlanta on Thursday, getting caught stealing and then breaking his finger on a bunt attempt.
Nyjer Morgan, OF, Milwaukee Brewers:
Morgan gave new meaning to the term "sacrifice bunt" when he absorbed the impact of the baseball on his left middle finger on a bunt during Thursday's game, ending up on the DL as a result. Morgan had just been activated from the DL two days earlier for a thigh contusion. The team estimates he could be away for two to four weeks, but the usual concerns about grip strength following a finger injury will follow.
Eric Chavez, 3B, New York Yankees:
Even Chavez would probably acknowledge that the injury-prone label is justified but that says nothing about his work ethic. Chavez has battled his way back from numerous injuries, most recently a career-threatening neck issue, but earned himself a spot with the New York Yankees after an impressive spring. Unfortunately, he finds himself back on the disabled list after fracturing the fifth metatarsal (long bone of the outer forefoot) in his left foot while running out a triple on Thursday. The amount of time he'll miss is unclear but expect it to exceed 15 days.
Brandon Lyon, P, Houston Astros:
The announcement that Lyon was being evaluated for shoulder weakness suggested the presence of a muscular injury. Sure enough, an MRI revealed a partial rotator cuff tear and biceps tendinitis in Lyon's right shoulder, not encouraging, but also not particularly surprising in a veteran pitcher. In other words, the wear and tear aspect of the injury is not likely new and has possibly been evolving for some time. Clearly it has become more problematic of late, as Lyon had not been effective in recent outings. He will be treated conservatively, meaning no surgery (at least not yet) but rather a period of rest and recovery followed by strengthening and a gradual throwing progression. Lyon should not be expected to return anytime soon.