Stephania Bell:

Erik Bedard
July, 26, 2011
7/26/11
5:32
PM ET
Despite the fact that this is a big week in the world of potential baseball moves with regards to trades, we will stick to moves addressing those who are coming off and headed to the disabled list. For a pleasant change this week, there are more players rejoining their teams than leaving them, or at least that's how the week is starting out.
Coming back
[+] Enlarge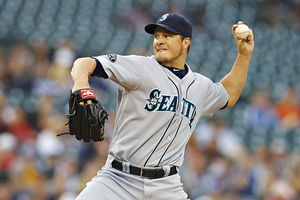 Rick Osentoski/US PresswireCould Erik Bedard be getting back in time for one last audition before the trade deadline?
• The
Seattle Mariners
will have pitcher
Erik Bedard
on the mound Friday to face the
Tampa Bay Rays
, according to the team's website. Bedard has missed four starts while serving time on the DL with a left knee sprain. Perhaps most importantly, the injury was not to Bedard's (left) throwing shoulder, which cost him extensive missed time the past two seasons. The Mariners wisely brought him back slowly from what was reportedly a minor injury, always good insurance for a thrower's arm to ensure no compensations or altered mechanics. Manager Eric Wedge hints at Bedard being on a pitch count in his first appearance but, if all goes well, expect him to go all out from there, either in Seattle or wherever he might land should another team take interest.
• It appears the
Baltimore Orioles
are about to get DH
Vladimir Guerrero
back. The Baltimore Sun reports he is with the team in Toronto and is expected to be activated Tuesday. Guerrero has been on the DL since early July, when a small crack was discovered in his right hand after it was hit by a pitch from the
Boston Red Sox
's
Kyle Weiland
. He made one rehab game appearance (going 1-for-4) and apparently tolerated it just fine, given that he was quickly moved up. Now we'll see how he adjusts to hitting on a regular basis after some quiet time.
• The
New York Yankees
will have another veteran back in the mix when
Eric Chavez
returns. Chavez initially was sidelined in early May with a fractured fifth metatarsal in his left foot (long bone below the fifth toe) but was delayed in his return by kidney stones and a flare-up of back pain. He could provide an option at third or first base, according to The New York Times. Chavez has been no stranger to injuries but appeared to be on track for his healthiest season in several years until the foot seemingly triggered a cascade of unfortunate setbacks. Now is the time for him to step in, especially as
Alex Rodriguez
continues his rehabilitation after knee surgery.
• Although his return is not set in stone,
Philadelphia Phillies
third baseman
Placido Polanco
is hoping to rejoin the team this weekend, according to The Philadelphia Inquirer. Similar to his teammate pitcher
Roy Oswalt
, Polanco was trying to play through disk-related back pain. Also similar to Oswalt, Polanco struggled while hurting, although his issues manifested themselves primarily at the plate. And, like Oswalt, Polanco seems to have benefited from spinal injections to address inflammation. The injections, combined with rest and subsequent rehabilitation, have allowed Polanco to return to the point that he has recently been taking swings of the bat and doing fielding drills. As the Inquirer notes, Polanco says he expects to test his back in minor league play in the next few days, but the Phillies have not yet confirmed a rehab assignment. The challenge will be for Polanco to stay relatively symptom-free once he gets back in regular playing mode.
Going on the DL
• Red Sox outfielder
J.D. Drew
is expected to head to the disabled list Tuesday because of ongoing issues with his left shoulder. According to MLB.com, manager Terry Francona hopes the rest will help Drew turn the corner. "Hopefully a couple weeks down will do him some good. He can get some strength back in that shoulder", Francona said. Drew is just the latest in Boston's rotating injury carousel.
Odds and ends
• Speaking of Red Sox injuries,
Kevin Youkilis
is dealing with what the team is calling "tightness" in his right hamstring after an awkward step Monday. He was trying to run out a ground ball in the sixth inning and, in stretching his right leg to get to first, he clearly strained himself. Youkilis limped away immediately into the dugout but did return to play defense in the seventh. He was removed shortly thereafter and is not in the Tuesday lineup. The Red Sox are calling him day-to-day and do not appear to be concerned that he will miss any additional time. Beware the tricky hamstring, though. Fantasy owners should be sure to check before Wednesday games.
•
San Diego Padres
outfielder
Cameron Maybin
is hoping to avoid the DL after straining his left hip flexor Sunday while running the bases. Manager Bud Black indicated he thought Maybin could avoid the DL, but Maybin was still sore Monday, according to the Padres' website. It sounds as if the team hopes he will not miss more than a few days, but it will be interesting to see just how much even a minor strain affects Maybin's steals. Getting an early jump (and being able to tag up quickly), so critical for effective base stealing, can be slowed if a player can't generate power, something an ailing hip flexor could inhibit. If Maybin indeed returns shortly, it will be worth keeping an eye on whether he's able to get immediately back to what he was doing so effectively before the injury.
July, 7, 2010
7/07/10
3:22
PM ET
This week brought more thumb-wringing for fantasy owners, and not just because of the headfirst slides that sent two potential NL All-Stars --
Jason Heyward
and
Chase Utley
-- to the DL recently. The head-first dive (in an attempt to catch a fly ball) made by
Cleveland Indians
outfielder
Shin-Soo Choo
stung quite a few teams as well.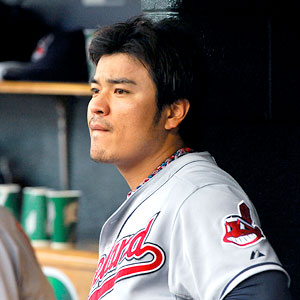 Steven King/Icon SMIShin-Soo Choo is going to be watching baseball, not playing it, over the next few weeks.
The good news: It appears Choo will not need surgery on his injured thumb. The bad news: He has a sprain, and the Indians could be without him for several weeks. Any sprain of the thumb requires a period of immobilization to allow the involved ligament(s) to heal. The no-surgery decision suggests that the bone was intact and that there was little to no instability, but in order to prevent the injury from worsening, it must be rested adequately. Choo owners can breathe a sigh of relief but still should prepare to be without him for a while.
It seems as if the run-up to the All-Star Gamehas been filled with as much injury news as at any other point this season, and the timing of the three-day break in the midst of DL assignments makes interpreting these injuries a bit more difficult. Teams benefit from the three-day break since the days do count toward the 15-day minimum of a disabled list stint. In other words, a player is able to sit out three days but not miss any games during that time. Without that break, the DL might be less attractive, especially if a team could return a player after 10-12 days for an important series.
Put a different way, if there is any question right now as to the severity of an injury and whether there would be a risk in returning the player too soon, the team is likely to move that player to the DL and benefit from a roster replacement. Additionally, if that player is an All-Star candidate, the move to the DL immediately removes him as an option (which also removes the temptation for him to participate in the event and risk a setback) and allows another player the opportunity to take part.
Take these two examples:
Manny Ramirez
suffered what the team referred to as a minor hamstring strain last week. By the time he had an MRI two days later, he was showing signs of improvement. While the MRI confirmed the injury, the real question became whether to place Ramirez on the DL or not. If he improved enough within the week, he could be useful in the important pre-All-Star series between Manny's Dodgers and the Cubs. But if he aggravated the hamstring by returning too soon, the Dodgers could be dealing with a longer-term problem. The Dodgers ultimately decided to place him on the DL, and while Ramirez will miss the Cubs series, if he indeed returns when eligible, he won't miss any games beyond that.
Meanwhile, Brewers ace
Yovani Gallardo
hit the DL this week because of an oblique strain, giving the All-Star Gameyet another injured player. While it already appeared Gallardo would not be able to pitch next week, the official transfer to the DL confirmed it. The Brewers have indicated that Gallardo's strain is minor, but if that is the case, they surely do not want to risk exacerbation by having him throw in the All-Star Game, even if he's feeling better. Opposite-side oblique strains in pitchers (which is the case with Gallardo, a righty with a left oblique injury) average four to six weeks, depending on the degree of injury. If the Brewers believe he can return in a somewhat shorter time frame, then caution is definitely warranted, which explains the DL move.
In addition to the injury scenarios involving these key players, there have been a string of setbacks for a few players who were seemingly on the road to recovery. In turn, there has also been some encouraging news. Let's get to the injury updates:
Erik Bedard, SP, Seattle Mariners (60-day DL, 3/26):
It was just too good to be true. All signs pointed to Bedard returning on July 6 from his long absence following shoulder surgery, and right up until the witching hour it appeared he would. But Bedard was scratched from that start because of inflammation in his throwing (left) shoulder. Manager Don Wakamatsu told the Seattle Post-Intelligencer that Bedard is scheduled to throw a bullpen this weekend, and even went on to suggest that if the bullpen goes well, Bedard could potentially be penciled in for a start right after the All-Star break.
Hmm. Color me skeptical. I still
maintain my concern about Bedard
, and it'll take more than a few bullpen sessions and probably even more than one or two healthy starts for me to believe in him again.
Brad Penny, SP, St. Louis Cardinals (15-day DL, 5/22):
Penny has been on the DL so long that fantasy owners might not remember that he ended up there because of a batting episode. Penny hit a grand slam back in May and felt the consequences in the form of a strained latissimus muscle in his upper back. At the time, the diagnosis was positive -- many thought it was an injury to his rotator cuff -- and the early projection was him missing just a few weeks. Obviously that was optimistic. In fact, when it became clear in mid-June that Penny's absence would be protracted, Cardinals general manager John Mozeliak told the St. Louis Post-Dispatch, "The injury was probably underestimated."
But Penny appeared to be making progress recently, and he threw off a mound Monday. As I've often said, though, throwing from a mound is a distinct progression that results in a ramped-up delivery. It is a key testing phase, as setbacks are likely to happen around this transition. And this seems to be what happened with Penny, who could not complete the outing because of soreness in his throwing shoulder. The St. Louis Post-Dispatch reports that partway through the session, Penny complained of stiffness in his triceps, near the location of his original injury. Penny is scheduled for additional evaluation Wednesday, including an MRI, but the team remains hopeful that this is not a significant setback. Given that Penny had just begun throwing from a mound, fantasy owners should presume at least a few weeks (rest, return to throw, throw from mound, rehab starts) before he returns.
Etc.
Meanwhile, yet another member of the Red Sox left a game (Tuesday) because of an extremity injury.
Kevin Youkilis
left Tuesday's game in the fourth inning because of a right ankle injury, but before anyone gets too upset, please note that Youkilis has already hinted that he could play Wednesday. According to Associated Press reports, Youkilis' ankle acted up in a bizarre fashion. Youkilis described it as feeling "like I had a cramp in my ankle." Assuming this turns out to be nothing significant, Youkilis might still make the All-Star roster. If so, he'd be one of the few Red Sox candidates healthy enough to play. For instance, teammate and starting pitcher
Clay Buchholz
was not so fortunate; even though his left hamstring strain is considered minor, he could not avoid the DL, and his placement on the list forfeited his spot on the All-Star roster.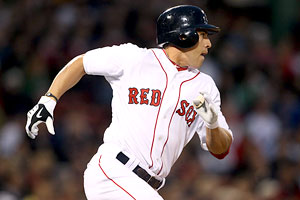 Elsa/Getty ImagesJacoby Ellsbury (ribs) is finally making progress.
On the good-news front, Red Sox outfielder
Jacoby Ellsbury
might be back with his team this weekend. Last we heard, Ellsbury was still recuperating in Arizona while working out at Athletes' Performance. The Boston Globe is reporting Wednesday that Ellsbury could rejoin the team in Toronto if he is ready to resume baseball activities. Fantasy owners need to bear in mind that this would not mean he is ready to return to play, just that he is making progress. A return to actual major league play is still likely weeks away.
Braves outfielder Jason Heyward just might pop up in Anaheim after all. According to the Braves' official website, Heyward's thumb has responded well to the forced rest it received while splinted, and if he continues to progress well, he might take batting practice Friday. Naturally, the primary goal is for Heyward to be ready for competition after the All-Star break, but if he is able to swing freely without pain, it's possible that in addition to making the trip to Anaheim, he might actually participate in Tuesday's game.
The
Cincinnati Reds
will have pitcher
Edinson Volquez
back in the rotation soon; it just won't be on July 7, as was originally projected. Volquez, who is coming off Tommy John surgery, had been throwing well in rehab outings, but in his latest appearance he exhibited one of the classic hallmarks of a pitcher returning from this procedure: lack of command. It's no secret that pitchers coming back from Tommy John surgeries often have ups and downs in their first few months back, most markedly in the area of control. According to the Cincinnati Enquirer, that almost assuredly means another rehab outing, which translates to a delayed return. Volquez is not far off and this is certainly not alarming news, but it does serve as a reminder to fantasy owners that this is what you can expect in the near future.
June, 24, 2010
6/24/10
12:33
AM ET
Carlos Beltran
and
Erik Bedard
. Two names once synonymous with fantasy success, and yet two players who haven't played in a single major league game this season. But both guys have been in the news of late. It's time for an update.
Carlos Beltran, OF, New York Mets:
It's the moment we've all been waiting for. Beltran is officially set to begin a rehab assignment Thursday. With this progression, Beltran moves one step closer to rejoining the Mets, more than a full year after his original injury. In that span, Beltran has undergone extensive rehab, rest, surgery and then some more rehab in an effort to get back to his role in the Mets' outfield.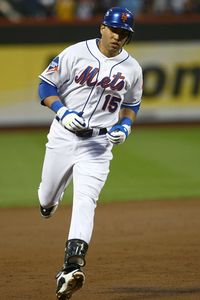 Chris McGrath/Getty ImagesRunning has been the biggest challenge for Carlos Beltran.
The primary limiting factor thus far for Beltran has been running. He had surgery in January to address a cartilage defect. Not the more extensive microfracture type, but a lesser procedure designed to smooth the surface, alleviate his discomfort and still allow him -- hopefully -- to return this year. But the knee, while improved, is not perfect, and returning to running has presented some challenges.
When Beltran first attempted to run in April, he couldn't without pain. While visiting his surgeon, he was outfitted with a brace, which then allowed him to transition to running. After a gradual increase in activity (running bases, fielding, simulated games), Beltran has shown enough to persuade the medical staff and management that he is ready to begin a rehab assignment. The hope is that Beltran will be able to increase his endurance, perform all the necessary offensive and defensive skills and play consecutive days without issue.
Recent reports have suggested that Beltran shows signs of a limp while running. Beltran has said that the brace he is wearing has forced him to alter his running stride somewhat, although he insists that it is not a problem. According to the Mets' official website, Beltran indicated that it might "look a bit different, the way I stride. But that doesn't mean it's bothering me." Maybe not, but one potential concern would be that if his running pattern is significantly altered by the brace, it could start to increase stress on other areas, especially as his overall playing time increases.
Right now it appears that if all goes well, Beltran will be on track to return sometime after the All-Star break. While fantasy owners might hope for some late-season power contribution, don't count on him to be your speed guy. It's also unlikely that he would resume a full-time role at the outset. But first things first. Beltran must get through the rehab assignment and show that he is indeed ready to play in the big leagues again.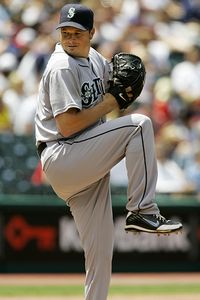 AP Photo/Mark DuncanAfter a setback in May, Erik Bedard has been progressing well.
Erik Bedard, SP, Seattle Mariners:
Don't say it out loud just yet, but Bedard looks to be heading for a rehab assignment soon. Bedard made his first competitive appearance this season in a rookie league game Monday in Arizona. Two important things happened: He didn't feel worse afterward, and he was able to throw his fastball at 90-plus mph. Manager Don Wakamatsu summed it up this way for the Everett Daily Herald: "He felt great. His fastball velocity was up to 93 [mph], and we're pleased with that."
Bedard, on the mend following surgery to repair the labrum in his throwing (left) shoulder, had been progressing faster than expected until he experienced a setback in May. Following a simulated game, he began to feel discomfort in the shoulder and had to scale back his throwing for a brief period. That seems to have disappeared now, and Bedard is moving toward the final hurdles he will need to clear before rejoining the team. He is scheduled to make another rookie league start Saturday and will be allowed to work up to 70 pitches. What happens next will depend on how Bedard responds to this outing, but if all goes well, a rehab assignment appears imminent.
Given his long-standing injury history, it is hard to know what to expect from Bedard once he rejoins the rotation, which is still not likely to occur before late July. He has endured numerous soft-tissue problems in the past, including hip and back issues along with the shoulder, but the extended time off could have given his body a much-needed window for recuperation. The words "cautiously optimistic" come to mind, which is what fantasy owners should be at this point.
June, 1, 2010
6/01/10
2:28
PM ET
With the season approaching 60 days old, it seemed like a good time to take a look at a few key players relegated to the 60-day DL, either before or since Opening Day. Many fantasy owners are re-evaluating their rosters, wondering whether it's time to fish or cut bait. Naturally there's still uncertainty involved, but there has also been some activity to report, although it tends to be in such small increments that it goes unnoticed.
In many cases, it will depend on just how deep a roster you have, or how badly that roster has been bitten by the injury bug. If your team has been lucky enough to avoid serious injury, you may want to hang on to one of these guys in the hopes that he can give you a spark late in the season. If you need help NOW, then it's time to consider purging your DL sheet to make room for an up-and-comer.
Either way, here are the rumblings floating around regarding four noteworthy fantasy players along with my two cents as to how optimistic teams should be about their returns.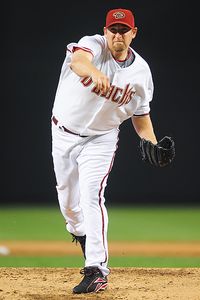 Mark J. Rebilas/US PresswireAfter pitching just four innings last season, Brandon Webb is no lock to appear for the Diamondbacks this year.
Brandon Webb, SP, Arizona Diamondbacks (60-day DL, April 4):
Ever since Webb suffered a setback post-operatively, there has been little reason for optimism. He has not been able to progress successfully to throwing off a mound, the key hurdle for Webb, since his original injury in April 2009.
In the latest effort to get Webb on a trajectory that would return him to the playing field, he recently spent time in Birmingham, Ala., with physical therapist Kevin Wilk, according to the Diamondbacks' website. Wilk, who works closely with Dr. James Andrews, is known for working with high-level athletes, and throwers in particular. Webb also has a history with Wilk, having spent some time with him last year. Plus, the Diamondbacks' head athletic trainer, Ken Crenshaw, is highly regarded among many medical personnel who treat baseball players. This type of collaboration between practitioners is not unusual -- and is, in fact, praiseworthy -- especially when a team is faced with a challenging case.
During the biomechanical evaluative process in Birmingham, Webb reportedly received confirmation of what he had suspected regarding his arm angle; he has been throwing with a much higher arm angle than he had pre-surgery. Sometimes after an injury or surgery, the involved limb loses some of its proprioceptive ability or understanding of where it is in space. No matter how complete the range of motion or how strong the body part, regaining this sense of body awareness is critical to peak performance. The question ultimately is how significant of a factor this is in Webb's overall progression, but given the impact on how the body delivers the ball, Webb has to make the adjustment. So Webb will return to Arizona no doubt with a few tweaks to his rehab program and some attention to his mechanics in the hope that he will be able to regain his form.
It's still impossible to predict just what sort of timetable this sets up for Webb at this point in the season but fantasy owners can assume that the word "soon" is not in the picture.
Erik Bedard, SP, Seattle Mariners (60-day DL, retroactive to March 26):
In news that's not necessarily news to longtime Bedard followers, Bedard suffered a setback during his rehab from shoulder surgery. To be fair, Bedard had been making terrific progress and was, in fact, ahead of schedule following his labral repair up until mid-May when he began feeling discomfort in his shoulder. That said, in the
inaugural blog of the season
, Bedard's long-standing history of soft tissue injuries was noted, making getting excited in April about a possible June return seem a little premature.
Bedard did travel with the team to Anaheim this weekend and threw a side session Friday. It went well enough that he was throwing again Monday (long toss, according to the Tacoma News-Tribune). If all continues uneventfully, Bedard will next progress to throwing bullpens. Prior to his setback, Bedard had thrown several bullpens and a simulated game. It was after his April simulated game that he began feeling discomfort and was transferred to the 60-day DL. Given the marks he still has to meet and the endurance he needs to build in his pitching arm, it's tough to imagine a pre-All-Star break return for Bedard.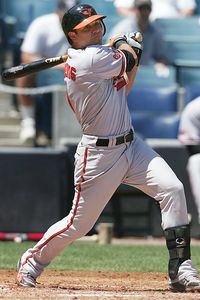 Cliff Welch/Icon SMI A variety of ailments has limited Brian Roberts to just 14 at-bats this season.
Brian Roberts, 2B, Baltimore Orioles (60-day DL, April 10):
Roberts must have walked under a ladder, stepped on cracks or double-crossed a black cat. Something has to explain the horrible string of bad luck he has dealt with since, truth be told, before the season started.
Roberts' back was problematic during spring training, but then it appeared he was out of the woods ... for a few days. Then on an awkward slide he suffered an abdominal strain and
aggravated the back injury
. Since then we have detailed his slow progress and setbacks (stomach pain that led to an endoscopy, and most recently a bout of pneumonia) on multiple occasions.
This week I am thrilled to report some positive news for Roberts! After just being cleared last week to resume baseball activities post-pneumonia, Roberts, working out at the team's complex in Florida, was able to take live batting practice and field ground balls from second according to the Orioles' website. Manager Dave Trembley went so far as to say "It's a good sign." Wow. That's going out on a limb.
Given the time Roberts has had, it's not surprising that no one -- from Roberts to Trembley -- wants to read too much into a good workout. Roberts is eligible to come off the DL on June 9, but as the Orioles' site indicates, the team anticipates that he will need some more time. After all, he has been away from the game for two months already, has been hospitalized, received spinal epidural injections and without a doubt has lost significant conditioning. If there's anything that's going to help protect his back from another major episode, it's strong core muscles and physical endurance. In fact, it would not be surprising if his return does not come until closer to the All-Star break. Every day will be a test so there are no guarantees at this stage. But at least we're talking about what Roberts is
doing
, instead of what he's not.
Carlos Beltran, OF, New York Mets: (60-day DL, retroactive to March 26):
Beltran has been ever so slowly working his way back from
January knee surgery
to address cartilage damage in his knee.
We have maintained all along that the big tests for Beltran would come when he began running, and so far he has passed the preliminaries. He recently acknowledged that he has been able to run without pain, something he had not been able to do for months. But he is moving slowly, perhaps more slowly than even Beltran anticipated, although it is not without good reason. David Lennon of Newsday recently reported that Beltran acknowledged that he was given the choice of undergoing microfracture surgery in January -- which would certainly have pre-empted any chance at playing in 2010 -- or undergoing a less complex procedure to smooth the cartilage surface and give him an opportunity to return. He chose the latter but it underscores the point we've been making since before the season started; his knee is not pristine and thus must be treated carefully.
So far, Beltran has done light running but as of late last week, as the Newark Star-Ledger reported, he had not yet been cleared for baseball activities. General manager Omar Minaya reiterated what he had said a month ago: Beltran will need approximately four to six weeks
after
he is cleared for such activities before he will be able to return to the team.
Fantasy owners should automatically assume that this will take him beyond the All-Star break, but we will look for hints that he is actually increasing his activity and making progress toward a return.
In brief:
Grady Sizemore, OF, Cleveland Indians:
He will undergo arthroscopic surgery on his knee. After
consulting with several specialists
, the plan is for Sizemore to undergo a scope, at which point it will be determined how extensive a procedure is ultimately required. The minimum time he is expected to miss is six weeks, but as we have seen before (like Carlos Beltran above), these situations can be tough to predict. If Sizemore does end up having microfracture surgery, his season will be over.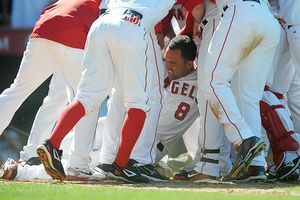 Kirby Lee/Image of Sport/US PresswireIt's possible that Kendry Morales won't play another game this season after his freak injury Saturday.
Kendry Morales, 1B, Los Angeles Angels:
Morales, who went from ecstasy to agony in the blink of an eye when he broke his ankle during celebration for a walk-off grand slam Saturday, still has not been able to undergo surgery. According to the Associated Press, Morales' injured ankle remains too swollen for doctors to operate. The Los Angeles Times reported that the Angels' medical staff has suggested the possibility of a return for Morales this season, but the rehab clock has yet to begin ticking because of the delay.
Once the fracture has healed, Morales will need to regain his range of motion and strength, which is often more difficult than the healing of the bone itself when it comes to the ankle. Progressive weight bearing and increasingly demanding drills precede a return to baseball activities and then rehab games will follow. Depending on the precise location of the break, whether it is a clean fracture or whether there are multiple fragments, and the associated surgical procedure, the timetable can be quite variable, but this is more than a 15-day DL stint, with the descriptor more likely to be "months" than "weeks." Stay tuned.
Jorge Posada, C, New York Yankees:
He may yet prove all of us medical folks wrong. (We actually don't mind when that happens in the positive direction because it means someone is doing better than expected!) Posada appears to indeed be ahead of schedule in a return from a
hairline fracture he suffered in his right foot
as a result of a foul tip. The Newark Star-Ledger reports that he ran on the field Monday, and manager Joe Girardi says there's not much more he needs to do, other than prove that he still feels fine the day afterward. Posada may avoid a rehab assignment so he could return to the team within days, not weeks. While running is certainly impressive, there are different stresses on the foot associated with playing the position of catcher so the team may want to see him catch a few innings behind the plate before clearing him. Nonetheless, Posada owners want to keep an eye on him as he is eligible to come off the DL late this week.
Andre Ethier, OF, Los Angeles Dodgers:
And why not end on a high note? Ethier was back in the lineup Monday, coming off the DL as soon as eligible despite a still-healing finger fracture. As noted in
last week's blog
, it's a credit to some creative thinking on the part of the Dodgers' medical staff (and their collaboration with the Lakers' medical staff) that the timetable for Ethier's absence was shortened by as much as a month. Don't be too concerned by his lack of productivity the first night back. The fact he has barely missed a beat swinging the bat since his injury occurred will undoubtedly help him return to form sooner rather than later. He will wear the splint for the foreseeable future as the finger continues to heal.
May, 5, 2010
5/05/10
12:52
PM ET
Another week, another slew of injuries. This week, though, in addition to adding names to the injury roster, we learned that several players are going to be spending some additional time on the disabled list. Never music to a fantasy owner's ears but it's always better to be prepared.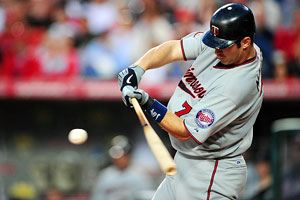 Gary A. Vasquez/US PresswireJoe Mauer may miss a few more games, but he probably isn't "week-to-week" as Twins manager Ron Gardenhire mentioned earlier.
Joe Mauer, C, Minnesota Twins (day-to-day):
Mauer has been dealing with a deep bruise in his left heel since Friday night when a sharp lunge to first base left him in pain. It sounded dire by Sunday when manager Ron Gardenhire described Mauer's condition as "week-to-week" instead of day-to-day. Gardenhire also made it clear the Twins would not be rushing Mauer back, telling the Minneapolis Star-Tribune, this injury is "something you don't screw around with."
It now sounds like it's not as bad as it could have been. According to the Twins' website, an MRI confirmed a soft tissue injury (as in, there is no fracture) and the healing will be assessed on a daily basis. Mauer is reportedly feeling better and is running in a pool to maintain conditioning while eliminating impact that could aggravate the situation. It appears that the Twins have avoided a move to the DL for Mauer ... at least so far.
Rafael Furcal, SS, Los Angeles Dodgers (15-day DL, retroactive to April 28):
Furcal has been pestered by a hamstring injury for the last week. On Tuesday, the Dodgers determined that more time was needed and the decision was made to place Furcal on the DL. The issue now is how concerned fantasy owners should be. Does the DL just buy Furcal another week of healing time or is this injury enough to keep him out significantly longer?
Before panic sets in, it appears that the answer is the former. Furcal has been progressing well with his hamstring injury but is not quite ready to resume full speed activity. As a shortstop, he needs to make explosive defensive movements. As a leadoff hitter, he is likely to be exposed to more sprinting situations. Consequently, Furcal is at far greater risk of a setback if he returns at less than full strength. Since it's May and not September, there is no reason for the Dodgers to take that chance. The move to the DL appears to have been largely precautionary. Expect Furcal to return when eligible, barring, of course, a setback.
Manny Ramirez, OF, Los Angeles Dodgers (15-day DL, April 23):
Speaking of Dodgers placed on the DL for precautionary reasons, Ramirez began a rehab assignment Tuesday and the news is so far, so good. Ramirez, who suffered a Grade I calf strain, has been running without incident for several days. He is eligible to return May 9 and appears on track to meet that target.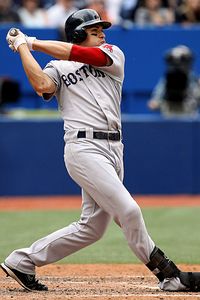 Tom Szczerbowski/US PresswireJacoby Ellsbury would like to be comfortable swinging the bat before he returns from four broken ribs.
Jacoby Ellsbury, OF, Boston Red Sox (15-day DL, retroactive to April 12):
Ellsbury continues to recover from the pain that comes with having four broken ribs.
From last week's injury blog:
Although it can take four to six weeks for a rib fracture to heal, from the standpoint of activity this is a symptom-based condition meaning whatever he can tolerate, he can do. The fact that four bones were broken, however, tells us that it will take longer to tolerate just about everything.
That statement still holds true. The Boston Globe reported that when pressed for a timetable earlier in the week, Ellsbury declined to provide one, reminding everyone that he does indeed have broken bones "and they need to heal." It may feel like forever to fantasy owners, but it's only been three weeks, very reasonable when you consider his injury.
Ellsbury did take a positive step Tuesday when, according to the Red Sox's website, he took batting practice before the team's game against the
Los Angeles Angels
. Let's see how Ellsbury feels the day after this new activity before we get too excited. And keep in mind, he likely will require a rehab assignment to get his body back in the groove of playing both offense and defense. He may very well be more than just a few days away from returning. The road back may continue to feel slow, but at least we are seeing some tangible progress.
Jimmy Rollins, SS, Philadelphia Phillies (15-day DL, April 13):
A week ago, we pointed out that Rollins had not done any explosive movement that would really test his calf; now we know why. According to the Phillies' website, Rollins still feels discomfort in his right calf when he has to move to his left while fielding ground balls. This makes perfect sense from an injury standpoint. As he makes that initial lateral movement to make a play on a ground ball traveling to his left, he is forced to push his full body weight through that calf muscle. While it might not be bothersome in straight-ahead running, making a quick directional movement from a stationary position requires significantly more power. The discomfort Rollins feels is his calf's way of telling him that it's not healed.
Consequently, the Phillies have expanded the time frame for his return from four weeks to six. This is hardly shocking; we have said from the outset that these injuries are unpredictable and easily aggravated. The Phillies don't want him to come back only to be forced out again. The idea is to have him back for the remainder of the season. Fantasy owners should set their sights on the latter part of May.
Kerry Wood, RP, Cleveland Indians (15-day DL, retroactive to March 26):
Last week we said that Wood was scheduled to begin a rehab assignment soon. He did. We also said that when pitchers face live hitters, the adrenaline goes up and the body can react. It's also a time for pitchers to work on their velocity and location. Wood had a chance to get some work in and found out what he still needed to work on before rejoining his team.
Wood may have given up six runs in less than an inning in a rehab outing, but on the positive side, he reported feeling good afterward. Wood told the Akron Beacon Journal, "that's the most important thing for me." Certainly given his injury history that couldn't be more true. Wood may require another couple rehab appearances before he retakes the closer role with the Indians but his return date appears close.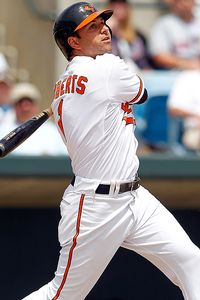 J. Meric/Getty ImagesBrian Roberts' seemingly uncertain return frustrates many owners.
Brian Roberts, 2B, Baltimore Orioles (15-day DL, April 10):
The quote heard 'round the fantasy world: "It could be three weeks, it could be three months" was Roberts' assessment of his situation, according to the Orioles' website. For fantasy owners wondering whether they should still hold out any hope, it's worth noting that Roberts was quick to add that he did not really think it would be three months.
Nonetheless, we have outlined here in past weeks that Roberts' back condition has the potential not only to linger, but to continue to be problematic across the season. Disc problems are notoriously difficult and this is behaving no differently. Roberts is still very limited in his activity as the team brings him along slowly. Because there are many hurdles to overcome, it is hard to establish a clear timeline. That brings frustration for players and fantasy owners. At this point, it's anyone's guess, including Roberts', as to when he'll be able to return.
Curtis Granderson, OF, New York Yankees (15-day DL, May 2):
When Granderson pulled up sharply while rounding the bases Saturday and hobbled toward third base. it was obvious he had pulled something, it just wasn't clear exactly what it was. We have learned that he suffered a Grade II groin strain, and according to ESPN's Buster Olney, Granderson is expected to miss a month.
This is not dissimilar to the Grade II muscle strain that the Phillies' Rollins is dealing with, other than the exact location of the injury. Grade II, also called a moderate strain, represents the widest range of injury somewhere between a minor strain with no visible tissue damage (Grade I) and a complete muscle tear (Grade III). As we have seen with Rollins, it takes time for the tissue to heal, and the most challenging aspect of recovery is regaining explosiveness and speed, a critical component of Granderson's game. Fantasy owners should hope for four weeks, be prepared for six and know that his timetable could still fall outside of those parameters depending how his rehab goes.
Jorge Posada, C, New York Yankees (day-to-day):
Posada's calf strain is being called mild following an MRI this week. According to the New York Daily News, Posada is not expected back before Friday. Let's face it, at age 38, these types of injuries are more apt to occur. The most fortunate thing for the Yankees is that the strain was not more serious, like Rollins' was. It looks like this will not land Posada on the DL, but if it doesn't progress as expected, he won't be an automatic start for the weekend series, even if it is the Red Sox. Fantasy owners need to be sure to check pregame lineups.
Etc.
Cliff Lee, SP, Seattle Mariners:
If there were any lingering doubts as to how Lee would fare coming off the DL following his abdominal strain, he seems to have put those to rest. Lee pitched seven scoreless innings in his first start of the season while dishing up eight strikeouts.
Mike Cameron, OF, Boston Red Sox:
Cameron seems to be progressing nicely with an abdominal strain that initially appeared as if it might require surgery. In fact, he could be headed for a rehab assignment within a week.
Erik Bedard, SP, Seattle Mariners:
Bedard continues to move forward in his throwing progression, slightly ahead of schedule as he recovers from shoulder surgery. After a bullpen session Friday, Bedard was projected to move up to a simulated game this week. According to manager Don Wakamatsu, Bedard has adjusted his mechanics to place less stress on his throwing shoulder. The key will be whether he can maintain these mechanics as he begins to face hitters. The best case has him returning the end of May, but don't be surprised if it stretches a bit longer.
Mariano Rivera, RP, New York Yankees:
Rivera shrugged off the stiffness in his left side as no big deal, much as one would expect. Pain on the opposite side of the trunk from the throwing arm always raises the specter of an oblique issue, but Rivera's confidence is convincing. So is the fact he threw a bullpen session before Tuesday's game. This does not appear to be something that will limit him beyond a few days.
Huston Street, RP, Colorado Rockies:
As a pitcher returns in his throwing progression, one big hurdle comes when he moves from throwing on flat ground to throwing off a mound. Street overcame that hurdle Tuesday when he threw a bullpen session and experienced no discomfort in his shoulder afterward, according to the Examiner. The plan is for Street to throw in an extended spring training game next followed by a rehab assignment. If all goes well, he should be back with the team within a few weeks.
Jeff Weaver, SP, Los Angeles Dodgers:
Weaver has been doing well in his simulated games and is expected to be activated Friday. Apparently the back issue he was dealing with was minor as these things go and he has recovered quickly, as expected.
From my mailbag
Cameron (Atlanta):
Are any injuries really freak injuries? I mean, I realize that if a player slips on water in his kitchen and falls on his wrist and breaks it, then that is a freak injury. But, you often hear that somebody pulled their hamstring in a "freak injury." I would have to argue that it is never really a freak injury. I think these types of injuries happen for various reasons, especially in a non-contact sport such as baseball. For example, someone is carrying around extra weight and didn't put in the work in the offseason, they didn't warm up and stretch properly, they have tight quads or hamstrings that cause one or the other to overcompensate that eventually leads to a pull or strain. Or one part of the body has been severely overworked and leads to another part of the body being vulnerable. If any of those situations happen, then technically the injury could have been prevented if the athlete worked harder and took better care of their body. What say you?
Stephania Bell:
What a great question! This is one of those philosophical questions where I'm not sure we really ever have a definitive answer. As you point out, the true "accident" such as slipping on the wet floor, or stepping in a lawn divot that is hidden from view, even a car accident in which there is no fault on the part of the injured party ... these could all be described as freak injuries.
At the same time, there are certainly "unusual" (as in uncommon) injuries that occur in sports that may be more likely to happen, as you point out, because of inadequate warm-up, less than ideal fitness or some other contributing factor. In medicine, we always feel that individuals with better fitness tend to recover better and faster from injury. In some cases, the more skilled individual may even be able to avoid an injury that would have felled the average person. To that end, we spend a lot of time encouraging proper fitness and, when possible, tailoring that fitness to the individual's activity. Someone who lifts repeatedly at work needs to be "fit" for that job, just as a baseball pitcher needs to tailor his exercise program to support his occupation.
Great food for thought, though. And if it encourages anyone to spend a little extra time on core strengthening or flexibility to help prevent injury, then we've accomplished something!
If you have any injury questions you want answered in the blog, drop a note in
my mailbag
, or stop by my Tuesday chats.
April, 7, 2010
4/07/10
3:49
PM ET
It may have seemed as if all the stars were on the field on Opening Day, but many marquee players were relegated to the disabled list entering the 2010 season. Some may be just a few days from making their season debuts. Others, well, we're just hoping that we get to see them play this year.
Because fantasy owners always want to know when their injured star is expected to return, we've decided to highlight some of the key members of the group of 80-plus players starting their season at less than full health. In some cases there's reason to be very optimistic, but, as always, there are many more cases where there's cause for some level of concern.
Starting pitchers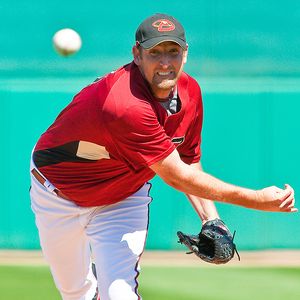 Chirs Morrison/US PresswireBrandon Webb continues to have setbacks in his return from a shoulder injury.
Brandon Webb, SP, Arizona Diamondbacks (15-day DL, April 4):
Webb has been a topic of injury conversation since last season. The hope coming into 2010 was that surgery, despite no significant findings, would help Webb move past his previous right shoulder problems. So far, that has not been the case. Although things initially
looked promising
, Webb has run into repeated setbacks that have
postponed his return indefinitely
.
The latest bit of discouraging news is that Webb received a cortisone shot in his surgical shoulder one week ago and was ordered to rest for a few days before resuming throwing. Webb's description of the shoulder is one not so much of pain, but rather a general sense of not feeling right. According to ESPN news reports, Webb said, "It doesn't feel great, but it doesn't hurt bad. I still feel like I can't let it go. I still feel like I'm not ready to get on the mound yet."
Hmmmm. A year plus one surgery later, and Webb is experiencing similar symptoms. It's impossible to thoroughly evaluate the situation from a distance, but it almost sounds as if there's more to this puzzle than the shoulder itself. Webb has made no progress in more than a month, and it is hard to be optimistic about his return, no matter when it occurs, at this point in time.
Cliff Lee, SP, Seattle Mariners (15-day DL, April 4):
Lee is making some headway as he recovers from the abdominal strain that forced him to start the season on the DL. He is expected to throw a bullpen session Friday.
Lee also has made headlines in that he has been undergoing PRP (platelet-rich plasma) injections, along with all the other typical elements of rehabilitation, in an effort to
aid his recovery from this injury
.
It should be noted that the average missed time for these types of abdominal injuries hovers around 30 days for a thrower, and Lee is on pace for that time frame. He still needs to increase his pitch counts once he gets on the mound and appear in some rehab outings (at least two, perhaps more). The ultimate test of whether true healing has occurred doesn't happen until a pitcher throws at competitive velocity, so until he has been in that setting, the team -- and Lee's fantasy owners -- will not really be able to exhale.
Keep in mind that this is Lee's third significant abdominal injury. The hope, particularly with the addition of PRP, is that not only will the injury heal a little more quickly, but (and more importantly) it will heal more completely. To that end, one can assume the team will not rush him back. Reinjury could result in another four to six weeks of downtime. If all goes well, look for him to return in the latter half of April.
Ted Lilly, SP, Chicago Cubs (15-day DL, March 26):
After undergoing a "cleanup" procedure on his left shoulder in early November, Lilly is expected to make his season debut in the third week of April. So far, his rehab course has been uneventful, which is a good sign. At 34 years old, you have to expect the presence of some wear and tear in a pitcher's shoulder. Although the goal is to avoid surgery whenever possible, in some instances it can add years to a pitcher's career. The fact that Lilly is doing so well provides much encouragement heading into the season. The disabled-list stint allows him to continue to build his throwing endurance in minor league games until everyone, including Lilly, is confident that he is indeed ready to return.
Joe Blanton, SP, Philadelphia Phillies (15-day DL, April 1):
Blanton had never been on the disabled list in six major league seasons heading into this campaign. But all good things must come to an end. Blanton is being forced to start the 2010 season on the DL with a left oblique strain. The Phillies have maintained that Blanton's strain is on the mild side, but the initial projections have him missing anywhere from three to six weeks, standard for an oblique injury. According to ESPN news reports, team physician Michael Ciccotti said that if all goes well for Blanton, "we're looking at the earliest at the third week of April."
Again, the goal is to have the athlete avoid a second trip to the DL for the same injury, so it makes sense to keep Blanton out a little longer this time if it means better insurance for the long haul. The average DL stint for a pitcher with a true oblique strain is approximately 30 days, so an uneventful rehab could mean Blanton will return in late April.
Daisuke Matsuzaka, SP, Boston Red Sox (15-day DL, April 3):
Matsuzaka started the season on the disabled list as a result of neck and back problems that have bothered him this spring. Currently, he is making progress with a pitching program in which he's expected to make at least three rehab starts, with his first one scheduled for Saturday. The biggest question is whether these issues are really behind Matsuzaka. He did work more closely with the team on his offseason conditioning and reportedly showed up to spring training in better shape, but there were still setbacks. The Red Sox are not sounding particularly worried at this point, and the injuries themselves do not seem serious. Last year, however, Matsuzaka was nagged by various ailments that kept him from being fully effective. The hope is that this will not be a repeat performance.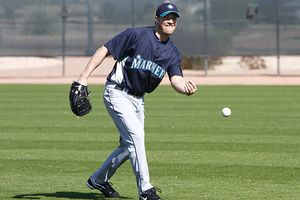 AP Photo/Charlie NeibergallErik Bedard has lots of talent, but this year, his DL time is already built in.
Erik Bedard, SP, Seattle Mariners (15-day DL, retroactive to March 26):
In our
preseason draft kit
, we indicated that Bedard's offseason surgery to repair the labrum in his throwing shoulder would mean a delayed start to the season. Bedard, who has been playing long toss, is expected to throw a bullpen session of roughly 30 pitches Wednesday, according to Geoff Baker of The Seattle Times. Bullpen sessions evolve into rehab assignments, and Bedard will have to build up his endurance and velocity in his throwing arm. Assuming no setbacks, Bedard still appears on track to return around June.
Baker makes an interesting point regarding some of the mechanical adjustments the Mariners are working on with Bedard. Specifically, they are trying to adjust the turn in his delivery to minimize stress on his throwing shoulder without revamping his throw and making his pitches easier to read. It will be interesting to see whether the downtime has allowed Bedard's body some additional recovery. He has been plagued by soft tissue injuries in recent years and has not been the model of physical endurance. A shortened season after a lengthy time off may serve him well. He's not out of the woods yet, though; he has many hurdles to cross before he becomes a consideration in the Mariners' rotation.
Edinson Volquez, Cincinnati Reds (15-day DL, April 4):
Volquez is another pitching ace who underwent Tommy John surgery last year on his throwing (right) elbow, but he did not go under the knife until August, making his return this season a question mark at this point in time. Although we've heard that the Reds hope to have him after the All-Star break, there's still no indication whether that means July or September, and there's no way to predict with any certainty. Typical recovery takes about a year, give or take a month or two (or longer) depending on whether any setbacks arise during the rehab process. Beyond that, it often takes a pitcher time in games to truly return to form, and he often doesn't put up typical numbers until the following year.
Currently, Volquez is throwing limited pitches at controlled speed off a mound and is doing all the right things so far. The biggest hurdles are yet to come, however, so it remains to be seen just what he can accomplish as far as returning this year.
Scott Kazmir, SP, Los Angeles Angels: (15-day DL, retroactive to March 31)
Just when it seemed as if Kazmir might blow by a couple of minor spring training injuries to start the season on time ... he didn't. Not that there appears to be much to worry about. ESPNLosAngeles reports that, according to manager Mike Scioscia, "There's no setback with Kaz. It's just a matter of time and him getting stretched out to pitch a little deeper into a game."
Kazmir came into spring training with a hamstring strain which slowed him a bit. Later in the spring he developed some shoulder fatigue. Neither was believed to be serious, but it did delay the build-up of his throwing. As of now Kazmir is expected to make a rehab start Friday and is then expected to rejoin his team when they face the
New York Yankees
on the road April 13. Kazmir, with the help of pitching coach Mike Butcher (with whom he worked when both were with the
Tampa Bay Rays
), has made some adjustments that he believes will make him a bigger threat on the mound this year. He also focused on extensive offseason strengthening. Once Kazmir's season gets underway, he might restore his fantasy value if he can just stay healthy.
Relief pitchers
Brad Lidge, RP, Philadelphia Phillies (15-day DL, retroactive to March 26):
Lidge is coming off not one but two surgeries this offseason. First, he underwent elbow surgery in November to repair a torn flexor tendon and remove a loose body in his throwing (right) elbow. In January, he had surgery on the medial meniscus in his right knee. Lidge indicated that pain in the knee throughout the 2009 season led to changes in his throwing mechanics, which ultimately contributed to his elbow injury. The good news this spring is that Lidge has made steady progress with his rehab and had not experienced any pain ... until recently.
Lidge has had some elbow soreness, which is not unusual for him as he builds up his arm strength, but there were concerns that it might have been related to his recent procedure. Not so, said team physician Michael Ciccotti. According to The Philadelphia Inquirer, Ciccotti emphasized that the recent cortisone shot to help calm inflammation in Lidge's elbow was delivered to the lateral or outer portion of his elbow. Lidge has no discomfort on the medial side (where the repaired flexor tendon is located along with the ulnar collateral or Tommy John ligament), and his elbow is stable.
Lidge threw 25 pitches in a Sunday bullpen session and had "no pain, no issues," according to Phillies general manager Ruben Amaro. If all goes according to plan, Lidge should return in April. Whether it's in the next week when he's eligible to come off the DL or, more likely, a little later in the month, Lidge should be in good health and figures to have a strong season. Remember, the last time he entered the season on the disabled list (2008 after right knee surgery), Lidge managed to put together 41 saves and a 1.95 ERA before the year was through.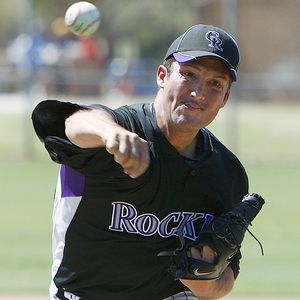 AP Photo/Ed AndrieskiA sore shoulder will keep Huston Street out of action until sometime next month.
Huston Street, RP, Colorado Rockies (15-day DL, retroactive to March 26):
Street began experiencing shoulder stiffness in the middle of March. Although any sign of a shoulder issue is a worry when it comes to a pitcher, the good news is that Street had no significant findings on an MRI. Despite a few setbacks in his throwing progression thus far, Street was reassured by none other than Dr. James Andrews this week that his shoulder indeed looked just fine. The plan is for Street to resume throwing in the next week, but beyond that there is no firm timetable in place. It would figure to be about a month or so before Street could be ready for competition, as he will have to return to throwing from a mound and ultimately log some innings in the minors first.
At this point there is plenty of reason to be optimistic, but bear in mind that occasionally lingering problems evolve from trivial beginnings. Diamondbacks ace Brandon Webb is just the most recent example of a similar pattern ... and he's still not back. The Rockies have to have their fingers crossed that Street's issue is indeed of the simple variety, and if that's the case, look for him to be available for competition in mid-to-late May.
Kerry Wood, RP, Cleveland Indians (15-day DL, retroactive to March 26):
Wood suffered a moderate strain to a muscle in his back (latissimus dorsi) in spring training, and the team's medical staff indicated that he would be out a minimum of six weeks. Although Wood said he hoped to be back sooner, there is really no reason to expect that. Even if the injury is not terribly serious, the message from the Indians appears to be that they will not rush him back.
Nor should they. Wood's injury history is well documented, and although everyone is thankful that the injury is not to one of the rotator cuff muscles or within the shoulder joint itself, the latissimus plays a significant role in controlling the throwing arm. A strain or weakness in one area can lead to compensations in another, something Wood cannot afford. Allowing him to recover fully before resuming the work of throwing makes perfect sense. Given what the team has projected, do not expect to see him in the closer role before mid-May. In the meantime,
Chris Perez
will handle the job.
Joey Devine, RP, Oakland Athletics (15-day DL, retroactive to March 26):
Devine had a less-than-divine 2009 when a bout of elbow pain in the spring later deteriorated into a need for Tommy John surgery. The silver lining in his dark cloud was that surgery was early enough (April) to allow him to be available for most of the 2010 season. Devine has had a very strong rehab progression back from surgery. Other than some minor tendinitis, which is not unexpected with this particular recovery, Devine's road to return has been smooth.
Now come the big tests. Devine's first bullpen session is scheduled for Wednesday, and this is a big transition, as it involves throwing from a mound. After the bullpen sessions come the simulated batting practices and eventually real innings. If all continues well, Devine could rejoin the roster in late April. It's worth bearing in mind that pitchers generally require some time before they truly return to competitive form, but so far things are lining up in Devine's favor this year.
Hitters
Ian Kinsler, 2B, Texas Rangers (15-day DL, retroactive to March 26):
Kinsler is battling a right high-ankle sprain, an injury that can be notoriously tricky when it comes to return to full activity. Whether he comes off the DL when eligible on April 10 is still very iffy. Kinsler was able to take some swings with the bat early this week but still has not been cleared to run or perform any lateral movements.
Athletes often begin to feel better in their recovery from this injury and think they are closer to return than they really are. When they are subjected to increasingly difficult movement challenges, they often find that the ankle is still a little weak and uncomfortable. The worst-case scenario would be to return too soon only to have a second, more protracted visit to the DL. So while Kinsler told the Fort Worth Star-Telegram on Monday that he hopes to begin a rehab assignment this weekend, his body may not be quite up to that task.
Lance Berkman, 1B, Houston Astros (15-day DL, retroactive to March 26):
Persistent swelling in Berkman's left knee after a contusion suffered during spring training led to an arthroscopic procedure in mid-March. Unfortunately, he has had some lingering issues with swelling in the knee, resulting in multiple drainages to extract the fluid. On Monday, Berkman had it drained for the fifth time and also received a cortisone injection to help control the inflammation. The next day, Berkman told the Houston Chronicle that the swelling seemed to be staying down a bit, an improvement from the earlier drainages. Although he's taken batting practice, he is still a ways removed from returning to play. He will have to demonstrate that he can increase his activity without causing another flare-up. At this point, he appears to be at least a week or two from rejoining the team.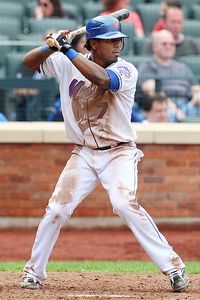 Jim McIsaac/Getty ImagesAfter a lost 2009 season, Jose Reyes could be back as early as this weekend.
Jose Reyes, SS, New York Mets (15-day DL, retroactive to March 26):
It looks as if the speedy shortstop will rejoin the team Saturday, the first day he is eligible to do so. Reyes, whose
hamstring surgery
and
thyroid issues
have been well documented here, has been looking strong since returning from New York. And for those questioning whether he had his speed back, he did net two stolen bases in an extended spring training game Monday.
The bigger concern going forward will be whether Reyes can maintain his health across the season. There is no doubt that he is in great physical shape and is eager to prove that he is back in full capacity. There is some doubt, however, that his hamstrings will cooperate with the demanding grind of baseball. For fantasy owners, this is a risk-reward relationship here. Let's hope the reward wins in the end.
Carlos Beltran, OF, New York Mets (15-day DL, retroactive to March 26):
Beltran has been working his way back from January surgery to address cartilage damage in his right knee, the same one that
caused him to miss the majority of the 2009 season
. Beltran has said that his knee is finally pain-free and he is making big improvements in strength and control.
The big tests will come with the pounding, something he has not tried until now. Beltran is scheduled to begin running Saturday, and according to reports in the New York Post, Mets general manager Omar Minaya says Beltran will need another four to eight weeks beyond that before he could rejoin the team.
It seems that the earliest Beltran could return would be mid-May; however, it would not be surprising if he does not return before early June. The hope is that a careful, steady rehab will help ensure that once he does come back, he can stay healthy for the remainder of the season. That's still a question mark, given that his knees are not quite what they once were, although likely much improved over last year. As he increases his baseball-related activities, we should get better insight as to how healthy Beltran truly looks. This is definitely a situation to watch.
Alex Gordon, 3B, Kansas City Royals (15-day DL, retroactive to March 26):
For a youngster with huge potential, Gordon has not been able to reach his targets yet because of injury. Last year he dealt with a torn labrum in his hip that required surgery and missed a big chunk of the season. After an offseason of intense work with the Royals' strength and conditioning team, Gordon seemed poised to jump start 2010.
And then there was the headfirst slide on March 6 while stealing second base that resulted in a broken thumb. There's a reason managers cringe at the headfirst slide; while they seem to be a little faster, there is an increased risk of broken fingers and thumbs or cleated hands. Luckily Gordon's thumb, is nearly healed. The DL move for Opening Day was to allow Gordon some more playing time in the minors to ensure that he is fully ready to return to competition. If all goes well expect to see him back with the team by late April, probably sliding feet-first.
Freddy Sanchez, 2B, San Francisco Giants (15-day DL, retroactive to March 26):
Sanchez's season with the Giants ended early last year when he was shut down in September thanks to a meniscus tear in his left knee. He ended up undergoing surgery for his knee shortly thereafter but somewhat surprisingly later underwent surgery on his left shoulder. In December, Sanchez had a procedure to address the labrum and the AC joint in his nonthrowing shoulder, but the lengthy rehab meant that he would miss Opening Day. Giants manager Bruce Bochy said that Sanchez, who remains at the team's spring training camp in Arizona, is still three to four weeks away from a minor league assignment, according to the San Jose Mercury News. For fantasy owners, this translates to a projected return of somewhere in mid-to-late May. Hopefully the wait will have been worth it, as Sanchez should exceed his performance from late last year now that his injury issues have been addressed.
If you have any other injury questions, feel to drop a note in
my mailbox
and I may answer it in my next blog entry.
April, 5, 2009
4/05/09
4:18
PM ET
By
Stephania Bell, ESPN.com
| ESPN.com
AL East
[+] Enlarge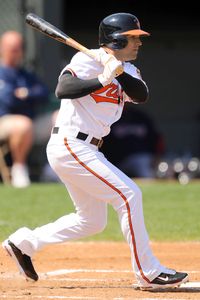 Rob Tringali/Getty ImagesBrian Roberts will be a key to many teams' fantasy hopes, especially in steals.
Baltimore Orioles: Brian Roberts
Roberts has missed a few games late this spring as a result of a respiratory infection and back spasms, which often go hand in hand for obvious reasons. Orioles fans may have become a little nervous when the Baltimore Sun reported that the pain on his left side was near the oblique muscles. Oblique abdominal injuries are notoriously slow-healing and can severely limit a hitter's swing, but it appears that Roberts may have dodged a bullet. He played in the team's final spring games, meaning he'll be ready to start the season. If this is indeed a minor muscular issue associated with his recent illness, there should not be lingering concern for Roberts' health.
Boston Red Sox: John Smoltz
Smoltz was my choice for injury comeback story of the year as of New Year's Day, and if anything, I'm even
more
encouraged now. Smoltz, who has shown his ability to come back from injury in the past (following multiple elbow surgeries) has been progressing even better than expected after significant shoulder surgery. The historical relationship between members of the Red Sox rehab staff and Smoltz's surgeon, Dr. James Andrews, inspires confidence that he will continue to be brought along at an appropriate pace, which is key to his successful return. Add in Smoltz's competitive fire, along with the fact that he has already thrown several bullpen sessions with a full mix of pitches, and he could be a dangerous addition by June.
New York Yankees: Alex Rodriguez
Rodriguez certainly gave everyone a lot to talk about this year, but the issues surrounding his hip are the ones of most immediate concern to the Yankees. Following surgery to repair a torn labrum, Rodriguez is on a focused, aggressive rehab plan in Vail, Colo., absent of distraction and closely supervised. He reportedly is on target to return to the team in mid-May, if not sooner. Keep in mind that Rodriguez awaits a more extensive follow-up procedure in the offseason, and he will have to quickly make up for valuable lost spring training time. To have success at his position offensively he needs to swing for power and slide without hesitation. On the defensive side, he has to rush bunts, dive for grounders and, perhaps most challenging, throw across his body on the run. That is a lot to expect just nine weeks after surgery, especially with the whole world watching. And make no mistake, everyone will be watching.
Toronto Blue Jays: Vernon Wells
Last year, Wells missed significant time due to a strained left hamstring and a broken wrist. This spring, Wells has already been bothered by the same hamstring and wrist. No need for a medical background to know that this is not good. Hamstring injuries are known to be annoyingly recurrent, but having the problem crop up so early for Wells is cause for concern when the first of 162 games has yet to be played. As far as the wrist issue, it is not unusual to have stiffness and soreness in the area of a prior fracture, but once again, the fact that this is rearing up so early is of concern. Manager Cito Gaston remains hopeful that these are minor issues, but this is unlikely to be the last we've seen of these injuries for Wells.
Tampa Bay Rays: B.J. Upton
Upton will start the season on the DL, but not to worry. He is recovering nicely from offseason surgery to repair a torn labrum in his left (non-throwing) shoulder. Upton's power decline last year can be definitively linked to the instability in his shoulder, which has now been addressed. The timetable all along seemed to suggest that Upton would open his season in the warm weather at Tropicana Field. That plan was confirmed after Upton took a pitch to the hand in a spring game, which fortunately resulted in only a bruise, but gave the team reason to rest him a few extra days. Expect good things from Upton once his shoulder -- and his bat -- heat up.
AL Central
Sign up today for the most customizable free Fantasy Baseball game out there. You set the rules, scoring, everything. Sign Up Today!
Chicago White Sox: Jose Contreras
Contreras' 2008 season came to an abrupt halt when he tore his Achilles tendon in August, necessitating surgery. Although he was originally projected to be out until perhaps the All-Star break, Contreras has exceeded expectations. Between shedding 30 excess pounds and rehabbing diligently, he has put himself into position to start the season on schedule. His pitch location still needs some work, but his velocity is up and, most importantly, Contreras feels fine physically. At 37, he's not the youngest guy in the rotation, but he's certainly working as if he has something to prove. Keep an eye on him.
Cleveland Indians: Jake Westbrook
It seems like every year there's someone who's expected to return midseason following Tommy John surgery (ulnar collateral ligament reconstruction) the previous year. Westbrook is one of those guys this year with a twist: he also had hip surgery during the same time frame. It actually makes sense since the rehab following Tommy John surgery is so extensive. Adding the hip procedure in order to recover from both simultaneously seems to have been a wise move, but as a result, Westbrook's return may take a bit longer. As of the start of the season, the Indians are hoping he rejoins the team in June and he is already throwing fastballs from a mound. Most pitchers require an additional nine to 12 months to truly regain their form following this type of elbow surgery, however, so Indians fans need to temper expectations accordingly.
Detroit Tigers: Jeremy Bonderman
Bonderman missed the last four months of the 2008 season when he underwent surgery to correct a circulatory issue in his throwing arm. The surgery involved clearance of a blood clot, along with resection of a rib to alleviate compression on the involved blood vessel which passes from the neck through the shoulder to the arm. It seemed as if his recovery was moving along well enough until Bonderman developed soreness in the shoulder. That soreness translated into a delayed progression and, most recently, velocity issues. Bonderman will begin the season on the DL and there is no timetable for his return. It is not uncommon for some of these post-surgical problems to linger following this type of ailment, but it certainly leaves a big question mark as to Bonderman's status for 2009.
Kansas City Royals: John Bale
Bale will be useful to the Royals in middle relief ... once he can join the team. Bale is recovering from thyroid surgery, not something you see every day on the injury list, and will start the season on the DL. Bale has had a long list of injuries in the past few years, including a self-inflicted hand injury last year that sidelined him for an extensive period of time. The positive note here is that Bale's recovery from the thyroid surgery should be fairly straightforward. Unlike soft tissue problems that continue to recur, this should no longer present an issue for him. Once he gets his strength and his spring work in, Bale should be ready to go.
Minnesota Twins: Joe Mauer
This ranks right up there with the most unusual of baseball injuries. Then again, Mauer has a history of complicated and unique injuries. Mauer underwent surgery last fall to address a kidney obstruction, with the hope that it would remove the back pain he had been experiencing late in the season. After some initial relief, the symptoms returned and prevented him from running
at all
this spring. Further testing revealed inflammation at Mauer's right sacroiliac joint (where the spine meets the pelvis). The finding in and of itself is highly unusual, especially in the absence of trauma, even more so following an offseason of rest and recuperation from surgery. The Twins insist that new medication should be enough to address the problem, but inflammation is generally a symptom, not a source, meaning the possibility of recurrence exists. Mauer will start on the DL and the team has not issued a timetable for his return.
Where should they go?

Check out a new tool from ESPN Insider: the Draft Analyzer. With it, you can figure out where a player should go in your fantasy MLB draft, relative to value. Draft Analyzer
AL WestLos Angeles Angels: John Lackey
Lackey made this column last year, not something an athlete strives to repeat. He started the season on the DL but went on to finish out the year strong. His reappearance here for essentially the same condition does not bode so well. Lackey has inflammation in his right (throwing) elbow and is resting the arm following a cortisone injection. An MRI reportedly showed no major structural damage and the Angels expect to have him back within a few weeks. So why the concern? Because with the exception of last season, Lackey has made at least 30 starts per year since his rookie season in 2002, which adds up to a lot of mileage on a thrower's arm. Although he has shown great durability to this point, one has to wonder whether this episode signals that cumulative trauma is beginning to take its toll.
Oakland Athletics: Joey Devine
He has one of the best names in professional sports ... and now he's paying a visit to one of the
biggest
names in professional sports. Devine will be examined by Dr. James Andrews next week for a consultation on his ailing right (throwing) elbow. The fact that Devine requires a trip to the well-known orthopedic surgeon is bad enough; what's worse is that this is a recurrence of a problem that caused him to miss two months last year. Devine was
divine
when he returned to action in 2008, but serious symptoms this early generally do not signal good times ahead. He will join teammate
Justin Duchscherer
on the DL to start the season. The A's have to hope that Devine's stay is just temporary.
Seattle Mariners: Erik Bedard
Bedard never really got it going in 2008 after experiencing a variety of ailments, but ultimately it was his shoulder that ended his season prematurely. He underwent arthroscopic surgery to address a cyst and shape the labrum, but did not require major reconstruction. So far the spring has been relatively uneventful for Bedard, minus a few missed days for a sore gluteus maximus (yep, buttock muscles). He claims all is well heading into the start of the season but a note of caution is in order. Bedard has suffered a number of soft tissue injuries across his career, including an ulnar collateral ligament injury that required Tommy John surgery before he joined the majors. With oblique, hip, back and shoulder problems all surfacing within the past two years, the Mariners may not be out of the woods.
Texas Rangers: Chris Davis
Davis is another player who brought a leftover condition from last season to this year's spring training. Davis has patellar tendinitis, or inflammation of the tendon that anchors the quadriceps muscle (on the front of the thigh) to the shinbone (tibia). The tendon is also attached to the kneecap, or patella, hence the name. The condition is common in basketball players and others involved in jumping sports, less so in baseball. Although the fact that Davis suffered from this late last year is of concern, it does not appear serious. Nonetheless, he is an up-and-comer, so managing his symptoms will be key to extending him throughout the season.
July, 15, 2008
7/15/08
1:03
PM ET
Hurray! It's time for the All-Star break! Besides all the fanfare and enjoyment that accompanies this spectacular three-day event, I am most excited for the brief period of rest that all baseball players will enjoy. Yes, even those who are participating in the Home Run Derby and the All-Star Game itself are included, since their appearances will be less demanding than a regular game. And yes, a few more players managed to get added to the disabled list in the first half of the season, coming in just under the wire, too. Here's my injury blog to wrap the first half of the season:
[+] Enlarge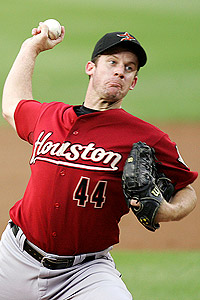 AP Photo/Haraz N. GhanbariThe DL or not the DL is the Astros question with Roy Oswalt.
Roy Oswalt, P, Houston Astros:
Oswalt has been struggling for a bit with what the team has called a left hip abductor strain. Most recently, Oswalt had to leave Friday's game after just one inning because of the pain in his hip and was still sore the next day. According to the Astros' official Web site, no decision is likely expected until Friday as to whether Oswalt will head to the disabled list or remain in the rotation. Interestingly, Oswalt told the Houston Chronicle on July 7 that he had received an injection in his back the prior weekend and that he then felt "great." He said he had been experiencing sciatic pain associated with a disc problem in his back. He also indicated this was not the first episode of this type of pain. Disc problems in the lower back often result in pain and weakness of hip muscles, so Oswalt's abductor strain (a muscle that helps control the stability of the pelvis over the leg, in his case his landing leg) may well be a consequence of his issues with his back. So the concern is that this problem could linger, and it may be more complicated than a straightforward muscle strain. One thing is certain; rest is good. Given the fact that this has been troublesome for a while, I would not be surprised to see Oswalt end up on the disabled list to try to get it under control. Stay tuned.
Erik Bedard, P, Seattle Mariners:
Deja vu, non? His last outing was a five-inning appearance on Independence Day. When manager Jim Riggleman reported the next day that Bedard didn't feel right, it sounded as if the hip and back that have ailed him since early in the season were still giving him trouble. But lo and behold, Bedard has a new troublesome spot, his throwing shoulder. Bedard was placed on the disabled list with what the team is calling "stiffness" in his throwing shoulder. The variety of nonspecific musculoskeletal ailments that Bedard has suffered so far this season is unsettling, but perhaps some comfort can be taken in the fact that none of them appear serious in their own right. Of greater concern is Bedard's overall durability across the demands of a season. Remember, he ended the 2007 season on the disabled list with an oblique injury, and since then he has struggled to maintain his health. The move to the disabled list for this shoulder episode sounds precautionary on the part of the Mariners, and the timing of the All-Star break may have made the decision to place him there easier.
Vernon Wells, OF, Toronto Blue Jays:
Oh, things are blue in Toronto, all right. A less than steamrolling offense just lost the guy who managed to lead that offense in home runs and runs batted in, despite missing three weeks earlier in the season with a broken wrist. Wells is out with a Grade II left hamstring strain, apparently suffered when he hyperextended his knee while trying to steal third base Wednesday night. The location of the injury is near the knee itself where the hamstring tendons attach, which typically requires some extra healing time. A Grade II or moderate strain represents a wide range of injury, so it is hard to say exactly what percent of the hamstring is damaged. The best hint comes from the team's own indication on their official Web site that Wells will be out
at least
4-6 weeks. Unlike with his wrist, Wells will not be able to push this return time up much because of the risk not only of reinjury but also of more severe injury. Somehow the Blue Jays will try to muster up some offense from elsewhere.
[+] Enlarge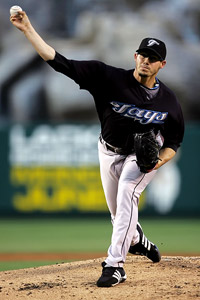 Jeff Gross/Getty ImagesMcgowan is just another name to add to the bad injury luck for the Jays.
Dustin McGowan, P, Toronto Blue Jays:
The aforementioned Jays will be hurting a little more on the defensive side also, now that McGowan is sidelined with a small rotator cuff tear in his pitching shoulder. The good news is that this tear has been present since at least last year, and on MRI the images from this year compared to last year appear no different, according to the Blue Jays' official Web site. In other words, the tear has not increased in size. Why the symptoms? It is a fascinating concept, but one that reminds us that the picture does not always tell the whole story. Many pitchers have evidence on imaging such as this (small cuff tears, biceps tendon damage) of the wear and tear their job places on their shoulders, yet they can still perform. But all of a sudden, some trigger -- and it may be an unknown one -- comes along to aggravate that weak area, and pain and inflammation result. The solution is a familiar refrain: Rest and rehab. So this is exactly what McGowan will do for the next month or so to allow his shoulder to recuperate from this apparently minor setback. McGowan is scheduled to seek a second opinion this week, so there is a small possibility that the program changes, but it appears for now that he will avoid surgery.
Aaron Harang, P, Cincinnati Reds:
Harang has been placed on the disabled list with a forearm strain, but the good news for the Reds is that all of his imaging tests came back negative, indicating no serious structural damage. The team's statements suggest that the problem is musculature in nature and that there are no concerns about elbow ligament damage, always a reassuring bit of news for a pitcher. He has been instructed not to pick up a baseball for at least one week, according to the Cincinnati Enquirer, while he undergoes treatment (plus that all-important antidote, rest). He will be eligible to pitch again July 24, and it sounds at this point as if he will make that target.
Bobby Jenks, P, Chicago White Sox:
It might seem a bit unusual for a pitcher to have an upper back injury on the opposite side of his throwing arm, but that is exactly what is sidelining the White Sox closer right now. Jenks was placed on the disabled list last week, but he had not pitched since June 29, so the move was retroactive to the end of June. Jenks had been feeling tightness in the upper back since late June but tried to persevere. The exact location of his pain seems to have moved around somewhat, which is certainly not unusual in this area. Pain under the shoulder blade on the left upper back could range from a muscular problem to a minor joint sprain in the neck, upper back or even the rib area. All scans (CT and MRI) came back negative, according to the Chicago Sun-Times, but Jenks acknowledged the value in resting now in order to be ready to make a second-half push.
And in the good news department...
Right now, the good news is that there's a little break! Here's to hoping for a healthy and happy All-Star event, and to all those nursing sore shoulders and hampered hamstrings, sit back, relax, rehab and we look forward to your productive second half of the season.
April, 15, 2008
4/15/08
1:58
PM ET
By
Stephania Bell, ESPN.com
| ESPN.com
Is it just me or did anyone else notice that
David Ortiz
suddenly got a hit once his jersey was extricated from the bowels of the new Yankee Stadium? I have been keeping a close eye on him, not only because I have him on two of my fantasy teams, but also because some have been wondering whether his offseason knee surgery is to blame for his slow start. All along, I have maintained that based on Ortiz's comments and his performance in the spring, his knee is not to blame. Now that Ortiz has a hit, just hours after his buried jersey was removed, and one day after he
sat out
the final game of the series between the Yankees and the Red Sox, it appears that Ortiz has taken steps to right his ship. Coincidence? Hmmm. I'm not so sure.
On that note, we move on to the actual injuries of the week.
[+] Enlarge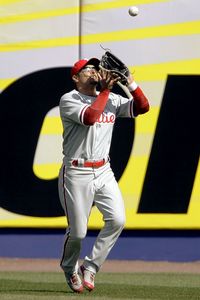 Rich Kane/US PresswireShane Victorino is one guy you definitely want to have good and healthy wheels.
Shane Victorino, CF, Philadelphia Phillies:
Victorino was removed from Saturday's game with a strained right calf muscle, injured during the fifth inning when he ran home from third to score on a wild pitch. Victorino was immediately placed on the disabled list, raising the level of concern over his injury. The Phillies did not waste any time because Victorino actually missed about one month after the All-Star break with a similar strain last year. The team reported Monday, according to the Philadelphia Inquirer, that an MRI revealed the strain to be in a different area of Victorino's calf than last year, giving them some hope that he could make an earlier return. Despite the fact that the injury is in a different location, it is troublesome that he has had another strain in the same muscle, especially so early in the season. The calf muscle is necessary for explosive push-off, especially during acceleration, something an outfielder has to do constantly to get a jump on a fly ball. It is also necessary for baserunning, particularly in steal (sprint) situations, as evidenced by the way Victorino most recently injured his calf. On the positive side, addressing this latest setback seriously by resting Victorino may be just the thing that keeps it from being a lingering problem this season. Look for him to return to action as soon as the disabled list stint is up, but keep in mind that this could crop up again in the future.
Tom Glavine, SP, Atlanta Braves:
At 42 years young, with no prior experience on the disabled list, Glavine is a marvel. On Sunday, however, Glavine had the shortest outing of his 22-year career when he felt his hamstring on his landing leg "grab," according to the Atlanta Journal-Constitution. Glavine later said that he knew right away it didn't feel right. All pitchers rely on the hamstring in their landing leg to help stabilize their trunk during deceleration and follow-through, so Glavine will need to be pain-free before he returns to the mound. For his part, Glavine expects to play catch today and maybe throw a bullpen session Wednesday. If all goes well, he may make his next start (scheduled Friday), or delay it by only a day. Glavine made it clear to the Atlanta Journal-Constitution however that he will not push to start simply to maintain his streak of avoiding the disabled list. He may be stubborn, but you don't succeed in this league as long as he has without being smart. He will do what is best for the long-term interest of both him and the team. Of note, the Braves'
Mike Hampton
, currently on the disabled list with a pectoral strain that kept him from making his first major start since 2005, may throw a bullpen session this week. The Braves would love to get him back into the rotation soon.
[+] Enlarge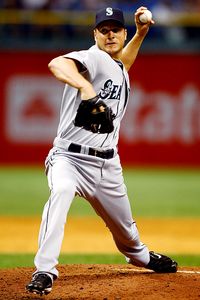 J. Meric/Getty ImagesMore hip problems have sidelined Bedard.
Erik Bedard, SP, Seattle Mariners:
Bedard continues to be bothered by what the Mariners are calling "inflammation" in his left hip, according to the Seattle Times. Bedard was scratched from a scheduled start two Sundays ago, then managed to pitch two days later, but had a somewhat shaky outing and threw 107 pitches. Bedard was again scratched this past Sunday as a result of his hip acting up. As a left-handed pitcher, not only must Bedard put full weight through his left hip during the windup, he must also rotate his body on his hip as he moves through his delivery. Any soreness or irritation in the joint will prevent him from throwing with his normal mechanics and would likely render him far less effective. The concern here has to be defining what the source of this hip inflammation truly is. There have been conflicting reports out of Seattle. According to the Seattle Post-Intelligencer, the team says that Bedard initially aggravated the hip during some pregame workouts, but according to the
Seattle Mariners
' official Web site, Bedard said that he woke up with pain in his hip Saturday. Clearly it stuck around until Sunday, preventing his start. Additionally, Bedard reported having some similar pain in 2001, but indicated that the pain then was far worse than it is this time around.
Bedard is not scheduled to head to the disabled list, at least not yet, but he did not play catch Monday as originally planned. There is a chance that he will do so Tuesday, but any return to light throwing will determine the subsequent timetable. We will keep an eye on this situation.
In brief
Jose Reyes, SS, New York Mets:
Reyes sat out several games at the end of the week with a strained left hamstring. These hamstring strains seem to be making their way around the league, but they are of particular concern when they affect the players who make their living based on speed. Reyes has said he expects to play Tuesday so this does not appear to be a serious strain. Let's hope there are no setbacks.
Dontrelle Willis, SP, Detroit Tigers:
Willis hyperextended his right (landing) knee Friday when he slipped on a wet mound. Frankly, he was lucky to walk off the mound. The way Willis' weight came down hard over a hyperextended knee could have resulted in a major ligament injury, but luckily, that was not the case. Hyperextension stresses the posterior structures of the knee in that it places an unnatural stretch on them and there can be some pain and inflammation as a result, even in the absence of major structural damage. Willis was placed on the 15-day disabled list to allow the knee some rest, but the rest may be beneficial for Willis in more ways than one. Clearly he has been struggling with his delivery, as he was Friday night before the injury, and the downtime may help him to reset and come back stronger.
Jorge Posada, C, New York Yankees:
Posada is still recovering from a strained shoulder, something Posada referred to himself as "dead arm," and although he has been available as a designated hitter, he is still not able to make the throws necessary to resume his position. If you watched the game Sunday night, Posada had to move behind the plate when backup catcher
Jose Molina
strained his hamstring. He was instructed not to try to throw out runners for fear of aggravating his recovering arm, and the Red Sox caught on. There is still no official date for his return so plan on another week of him in the DH role.
Adrian Beltre, 3B; Mike Morse, RF; J.J. Putz, RP, Seattle Mariners:
Beltre developed a sore hamstring after baserunning Saturday. He was able to return Monday, indicating that this is not a serious injury, but nonetheless, it is worth being aware of as this is the type of thing that can easily recur. Morse injured his left shoulder while diving for a ball in the outfield (actually, when landing from the dive) and is now on the disabled list. It is being called a shoulder dislocation but Morse's quote in the Tacoma News-Tribune ("It popped out and popped back in.") makes it sound more like a subluxation, where the shoulder slips slightly out of joint, but does not remain out. The important distinction is that a subluxation episode often results in less trauma to the soft tissues around the joint, making a return after a 15-day disabled list stint more reasonable. Putz is still on the disabled list with costochondritis, but he did throw for six minutes before Sunday's game. It looks as if he is on track to return in late April.
Matt Garza, SP, Tampa Bay Rays:
Garza, currently out with radial nerve inflammation which affects the muscles in his forearm and in turn affects his grip, has been able to play catch for a couple of days now. The next step could be a side session, followed by a rehab start. The St. Petersburg Times reports that the Rays are now optimistic that Garza could return on the early end of his projected timetable, meaning in approximately two weeks. With ace
Scott Kazmir
looking at a late-April or early-May return from elbow inflammation that cropped up during spring training, the Rays have to be feeling sunny about the outlook for their starting rotation.
Placido Polanco, 2B; Carlos Guillen, 1B, Detroit Tigers:
Polanco sat out Sunday's game because of back stiffness. This was the second time this season that he has missed a game because of his back. It sounds as if it is a minor issue -- minor that is, unless he misses much more time. Polanco owners should keep an eye on this. Guillen strained his right hamstring in the ninth inning of Friday's game and did not play Saturday as a result, saying that the hamstring felt "tight and sore." Guillen was able to return Monday night, however, and drove in some runs. So far this looks to be a minor incident, but keep doing your stretching, Carlos.
Nomar Garciaparra and Andy LaRoche, 3B, Los Angeles Dodgers:
Garciaparra, who was hit by a pitch during spring training that resulted in a small fracture, has been out of commission since mid-March as a result. Garciaparra has been playing some Triple-A ball, and according to manager Joe Torre on the Dodgers' official Web site, he could return as early as the end of this week. The most important thing for the Dodgers is that he return healthy since they do not exactly have backups in place if he reinjures himself. LaRoche, injured in the same game as Garciaparra with a torn ulnar collateral ligament in his thumb, underwent surgery and has been gradually rehabbing the hand ever since. LaRoche actually made some throws across the infield this week and the Dodgers' official Web site reports that LaRoche felt "better than expected." It is normal for him to still be experiencing some soreness in the thumb, but LaRoche is hopeful that he will be able to begin some minor league play this weekend. His original timetable had him missing approximately eight weeks, which would mean a return date near the end of the first week in May. So far, his progress is consistent with that timeline, assuming he does not have any setbacks as he increases the use of his thumb.
That's it for today's update. There are plenty of players we're keeping our eye on for a targeted return in the not too distant future. For more on those players, and of course, for any new developments, check back throughout the week as we will update them right here. And be sure to stop by my chat on Friday mornings at 11 a.m. ET as we talk about all things injury. Never a shortage of topics there! Good luck with your fantasy week, and may all your players stay healthy.