Stephania Bell:

Evan Longoria
July, 1, 2013
7/01/13
6:57
PM ET
Every Monday, in this space, we'll provide updates on a variety of players to help you make your weekly lineup decisions. We'll specifically try to hit the players who are day-to-day, have just gone on the DL or are ready to return, so that you can better decide whether you can count on them or not.
All projected return timelines should be considered fluid.
Hitters
Bryce Harper, OF, Washington Nationals (placed on DL retroactive to May 27, expected to return Monday): Last week there was some disagreement between Harper and manager Davey Johnson about the right time for Harper to return to the lineup. It now appears they are on the same page. According to the Washington Times, Harper is expected to return Monday night after completing a rehab assignment with Double-A Harrisburg. He originally injured his knee in May crashing into the outfield wall at Dodger Stadium but tried stoically to play through it. Less than two weeks later, it became apparent the knee was not improving and Harper went on the DL. Persistent swelling in the form of bursitis nagged at him until June, when he received two separate injections in the area: cortisone and PRP. Once the pain and inflammation settled, Harper was able to resume baseball activities and now, after increasing that activity to the level of playing in games, he is in line to rejoin his team.
The knee is not perfect and the chance remains that it could become aggravated with a crash, a dive or another move often associated with Harper and his style of play. For now, however, he is just anxious to get back in the lineup, posting the following on his Twitter account Monday: "I'm so blessed and thankful to be back playing the game that I love! Felt like forever." Fantasy owners no doubt feel the same way.
Evan Longoria, 3B, Tampa Bay Rays (day-to-day): Longoria aggravated plantar fasciitis in his right foot Friday night and sat for the remainder of the weekend. The question for fantasy owners is how long the rest will continue. Manager Joe Maddon said Longoria had improved substantially by Sunday to the point where a DL stint might not be necessary, according to the Tampa Bay Times. In fact, Maddon suggested Longoria might be available to pinch hit Monday if he continued to feel better.
The problem with plantar fasciitis (pain in the fibrous tissue which reinforces the arch of the foot) is that the pain is typically provoked by load-bearing activity, including running. If Longoria does test the foot and the pain escalates, the team may have to re-evaluate the possibility of more extended rest.
Carl Crawford, OF, Los Angeles Dodgers (placed on DL June 2, could return this week): After not hearing much about Crawford's progress in rehab during the month of June, there's suddenly a rather dramatic update. Crawford began a rehab assignment over the weekend and is scheduled to add playing time in the field early this week, according to the Los Angeles Times. If all goes well, he could return to the lineup this weekend when the Dodgers face the San Francisco Giants.
The risks remain the same as they are for any player coming off the DL with a significant hamstring strain, something with which the Dodgers are all too familiar. The hope is that Crawford will situationally test the hamstring as much as possible while on his rehab assignment, but that will never match the intensity of a major league contest. It wouldn't be the worst thing for the health of their outfielders if the Dodgers choose to rotate among them all (Crawford, Matt Kemp, Andre Ethier and Yasiel Puig). With Kemp coming off a recent hamstring injury (which appears to be fully recovered) and still trying to regain his form following shoulder surgery, Ethier's recently sore knee and Puig playing every game as if it might be his last, the addition of Crawford -- who has yet to stay healthy for more than eight weeks over the past two years -- could provide the sort of insurance the Dodgers' outfield needs. For fantasy owners, however, it will be worth monitoring how the workload is divided up once Crawford is back in the mix.
Mike Trout, OF, Los Angeles Angels (day-to-day): Right now there seems to be little concern on the part of the Angels about the "minor" hamstring issue that kept Trout out of the lineup Sunday. At nearly the halfway point of the season, Trout had yet to miss a game, so perhaps a day of rest was in order, especially if that day keeps him healthy going forward. Trout is expected to play Tuesday after the team's day off on Monday but, as we have seen with other hamstring ailments around the league, sometimes even a seemingly minor issue can resurface if provoked. Everyone is hoping this will not be the case for Trout.
Everth Cabrera, SS, San Diego Padres (placed on DL June 17, could return this week): When Cabrera was first injured, he sounded like someone who knew it would take more than a few days off to recover. The good news is that he likely he will not miss much beyond the minimum DL time with his strained left hamstring. Cabrera has been making progress with his conventional rehab and, according to the Padres' official website, could head out on a rehab assignment early this week with their Class A affiliate in Fort Wayne, Ind. If he plays without incident there, the Padres could see him back in their lineup as soon as Thursday in Boston or for the weekend series in Washington against the Nationals. Given Cabrera's value in base stealing and the fact he was injured while attempting a stolen base, he probably would want to test that skill in a game situation before returning to the majors. Not every scenario can be forced, so his return may not hinge on it, but a successful minor league steal would help instill confidence -- both for Cabrera and fantasy owners -- that he will not be hesitant to do so upon return.
Peter Bourjos, OF, Los Angeles Angels (day-to-day, likely to be placed on DL): Bourjos broke a bone "just below his right wrist" and is now expected to miss two to three weeks minimum, according to the Los Angeles Times. The fracture occurred Saturday when he was hit by a pitch in the fourth inning of a game against the Astros. Fortunately for Bourjos, this is a nondisplaced fracture (bony ends remain in alignment), which doesn't require surgery. Assuming the bone shows good early healing and he is able to grip and swing a bat effectively, his timetable for return is projected at under a month. Bourjos has already spent as much time on the DL this season as he has on the playing field, so the news of another significant injury is particularly discouraging. At least he knows the drill.
Ryan Sweeney, OF, Cubs (placed on DL June 30): Sweeney had been seeing regular playing time since mid-June, filling in for the injured David DeJesus, who is out with a shoulder sprain. Sweeney will now be joining DeJesus on the DL after a crash into the outfield wall Saturday resulted in a left-sided rib fracture. (DeJesus also injured himself when he collided with the outfield wall.) Originally labeled a contusion (deep bruise), the injury turned out to be more severe upon further examination. The broken bone will require four to six weeks to heal and Sweeney's activity will be determined both by that healing process and his discomfort. It now looks as if recently called up Brian Bogusevic will see regular playing time until DeJesus returns (not expected until late July). Note to Bogusevic: Avoid the outfield walls.
Melky Cabrera, OF, Blue Jays (placed on DL June 28): It was a bit surprising to see Cabrera placed on the DL Thursday when there hadn't been much chatter about a problem. Apparently a midweek tweak of his knee during a game against the Rays had Cabrera laboring a bit with his movement, according to manager John Gibbons, prompting the DL designation. The injury was originally reported to have been tendinitis in his left knee, and the diagnosis was supported by a subsequent MRI, according to Sportsnet. The diagnosis remains unspecific given it is not clear which tendon is aggravated, but it sounds as if the Jays expect he could return when eligible.
Jedd Gyorko, 2B, San Diego Padres (placed on DL June 10, could return this week): Gyorko was expected back last week assuming his two scheduled rehab games went as planned. They did not. He felt his right groin tighten up while running hard during a rehab game Wednesday and exited early as a precaution. As of Saturday, Gyorko reported feeling improvement, according to the Padres' official website, but he remains without a definitive timetable for return. If anything, the experience of the setback, however minor it was deemed to be, reinforced the need to test Gyorko's response to baserunning. Before he returns, it would seem likely the team would send him on a rehab assignment to test the area not only in-game, but to see how he responds the following day. A specific plan has not been outlined as of yet, but fantasy owners should not expect him before late in the week.
Troy Tulowitzki, SS, Rockies (placed on DL June 13): Tulowitzki has just recently passed the 15-day mark of his DL placement but he will be staying put for a while longer. Still, his progress thus far has been encouraging. Tulowitzki has resumed some light baseball activities, including fielding, playing catch and, as the Denver Post reported, hitting off a tee as of Saturday. He's still on the projected four-to-six week time frame and he's not entirely pain-free, but his ramped-up work is a good sign. Assuming the healing of the rib itself cooperates, Tulowitzki could get clearance to further advance his activity in the coming days.
Corey Hart, 1B, Milwaukee Brewers (opened season on DL, now done for the season): Just when it seemed the news for Hart couldn't get any worse, somehow it did. Hart, who has struggled to return from offseason surgery on his right knee, will now undergo surgery on his left knee, ensuring his absence for the remainder of the 2013 season. It was only last week that Hart revealed his frustration to the Milwaukee Journal-Sentinel at a constantly changing return date and his continued lack of strength. Return following any procedure involving cartilage resurfacing can vary widely depending on the individual's healing response and whether any setbacks are encountered along the way. Hart had several setbacks with his right knee, but his biggest comes in the form of an entirely different blow. On the other hand, the forced scaling back of the rehab for his right knee while he undergoes surgery on the left may end up having a beneficial effect. He will have to ramp up his activity gradually to accommodate the left knee and the adjusted program may be just what his right knee needs to fully recover. Another surgery is not the news any athlete wants to hear, but it was beginning to look worrisome as to whether Hart would be able to make it back this year anyway. At least this way he has the opportunity for a fresh start in 2014.
Pitchers
Johnny Cueto, SP, Cincinnati Reds (placed on DL June 29): This is now the third time that Cueto has been bothered enough by a lat strain to be forced out of the rotation. Cueto went on the DL in mid-April, then returned a month later and looked sharp. But shortly thereafter he aggravated the area behind his shoulder and was sidelined for another 15 days. Now, after less than two weeks of being back in the mix, Cueto has again suffered a setback. The repeat nature of this has to raise concerns for his ability to truly get past the injury in-season. After a diagnostic ultrasound confirmed the injury is to the same spot within the same (latissimus dorsi) muscle, the team's plan is to completely shut down his throwing for several weeks and slow down his rehab process, according to the Cincinnati Enquirer. It's hard to argue with the plan when the problem has been as recurrent in nature as it has for Cueto. The Reds have to be hoping that the third time's the charm in terms of keeping Cueto off the DL, but as Reds athletic trainer Paul Lessard told the Enquirer, "It's probably going to be an issue the rest of the season."
David Price, SP, Tampa Bay Rays (placed on DL May 16, expected to return Tuesday): From start to finish, this injury episode has been a bit unusual. It started with the vague diagnosis of "triceps tightness" for Price which manager Joe Maddon initially projected would cost him merely two to three starts. A month later, Price is just approaching a return from the DL. His rehab has progressed fairly cautiously, but Price has not been beset by setbacks. Still, the team was careful not to place any expectations on his return date and offered very little in the way of specifics about Price's injury. Muscular tightness is generally not the cause of a 45-day absence. The concern is that this incidence reflects a greater underlying issue with Price's throwing shoulder. But his fairly linear recovery and strong performance in rehab outings provides some reassurance that he is indeed returning healthy. Only if Price lasts the remainder of the season without any recurrence of symptoms, however, will we be able to breathe a sigh of relief about his health. Until then this is an exercise in cautious optimism.
Anibal Sanchez, SP, Detroit Tigers (placed on DL June 16, could return this week): The plan was for Sanchez to make a rehab start Monday to assess his readiness to return. If all went well, it was conceivable he could be activated by the weekend. Unfortunately, Sanchez took a line drive to his left leg during this rehab outing and had to exit the game. According to James R. Chipman of Scout.com, Sanchez appeared to be in a fair amount of pain. There is no word yet as to the seriousness of this injury. The issue here with regards to Sanchez's shoulder is not necessarily the severity of this episode per se, but rather the lengthy history of shoulder problems that Sanchez has dealt with across his career. His near return is encouraging but it remains to be seen whether this was a minor bump in the road or a signal that his shoulder is fatiguing.
A.J. Burnett, SP, Pittsburgh Pirates (placed on DL June 9): Burnett has been working his way back from a Grade 1 calf strain and has resumed throwing downhill. After a successful couple of bullpen sessions, Burnett is expected to throw a simulated game Tuesday according to the Pittsburgh Tribune-Review. Burnett's challenges following this injury have as much (if not more) to do with running to cover first base and fielding as anything with his push leg. Even if his throwing sessions are uneventful, until he tests those activities, it will be difficult to gauge his readiness to return. A rehab assignment could be in his near future which will provide the situational play necessary to test the calf. If all goes well, Burnett could be eyeing a return within the next couple weeks, although the Pirates have not specified a timetable.
Clay Buchholz, SP, Boston Red Sox (placed on DL retroactive to June 9): An MRI on Buchholz's shoulder reportedly revealed inflammation in the bursa sac of his right shoulder, or simply, bursitis. While the diagnosis is relatively benign, it doesn't fully explain the neck pain Buchholz has been experiencing recently. Buchholz's issues began in the shoulder in late May, but recently his complaints have been closer to the neck and he was reported to be dealing with a trapezius strain (large muscle between the neck and the shoulder). Whether that area was symptomatic as a result of origination of a problem elsewhere is the ultimate question the Red Sox need to answer. Perhaps Buchholz's response to the next round of treatment will do just that. The bottom line in terms of activity is that the plan for Buchholz is to gradually resume his throwing program. Again. This latest effort started with a session of catch before last Saturday's game and will likely progress, as previously, based on what his level of comfort allows. In other words, it's a matter of wait and see. Again.
Josh Beckett, SP, Los Angeles Dodgers (placed on DL May 14, now expected to miss remainder of season): Beckett has barely been present for the Dodgers this season and the appearances he did make were forgettable. His season has been marred by injury -- predominantly connected to numbness in his throwing hand -- and he is now heading to surgery for thoracic outlet syndrome (compression of nerve and/or blood vessels between the neck and shoulder, generally by a rib which is then resected in surgery). This is similar to the surgery St. Louis Cardinals ace Chris Carpenter underwent, and we have witnessed his ups and downs in trying to return to pitching. It is no easy rehab process and Beckett has expressed concern at various points about what his future holds. For now the only certainty is that he is not expected back on the mound for the Dodgers this year.
Brandon Beachy, SP, Atlanta Braves (opened season on DL): Just as Beachy appeared to be on the verge of making his season debut following Tommy John surgery, he suffered a setback in mid-June which threw him off his timeline. Fortunately, an MRI revealed only inflammation but no significant structural damage in the area of his recently reconstructed ligament. After a week of rest, Beachy gradually resumed throwing and has again worked his way back to throwing off a mound. His recent bullpen sessions have gone smoothly and the next step appears to be re-engaging in a rehab assignment. Given that his setback happened after what was to be his final rehab outing, it's likely the team will want him to make several rehab starts before bringing him to the big league setting. So far, so good given how things looked just two weeks ago, but fantasy owners should not expect him to join the Braves for a while yet. Even then it may take him awhile to accumulate substantial innings.
Joakim Soria, RP, Texas Rangers (opened season on DL): It is really nice to see Soria doing so well in his road back from Tommy John surgery, especially since this is his second time undergoing the procedure. He has yet to appear in back-to-back games, likely the final step before re-emerging in the majors. Bear in mind that Soria has been out for over a year and he may be gradually integrated into relief work once he joins the team. Still, it's nice to have a feel-good story on the injury front, especially after a player has been down such a long recovery road twice.
July, 31, 2012
7/31/12
6:04
PM ET
Will they or won't they? Whenever the due date approaches for a player to potentially return from the DL, the natural ensuing question is "Will Player X return on time?" The follow-up, if the answer is yes, is, "What can be expected in terms of performance?" The follow-up if the answer is no is, "So when WILL Player X return?"
There are no guarantees in life but that won't keep us from taking a stab at answering the above questions for a few players of note.
Jayson Werth, OF, Washington Nationals:
Werth has been sidelined since May 6, when he fractured his left wrist while attempting a sliding catch. Originally projected to be out for three months, it appears Werth will hit the target almost exactly on the money. Late last week, manager Davey Johnson hinted that Werth could return Tuesday night when the Nationals begin a homestand against the
Philadelphia Phillies
, Werth's former club. Johnson also told the Washington Times that Werth would not be activated until he felt ready. "I'm concerned that he feels mentally that he can go out there and not get hurt running around the outfield and having four at-bats," Johnson said.
It appears Werth does not yet feel ready, but he is close. Werth is back at Nationals Park on Tuesday and taking batting practice, as Adam Kilgore of The Washington Post reported, which indicates he could be activated at any time. While Werth's performance at the plate during his rehab at-bats has been less than spectacular, it is likely more an issue of regaining his timing than anything. Werth was hitting balls out of the park during batting practice before going out on assignment, an indication he could hit the ball hard without any discomfort. His play on back-to-back days suggests no unexpected pain, although he will encounter soreness as his activity increases, which may require intermittent rest. Adjusting to live pitching after being away from the game, especially due to injury, also takes some time. Regaining confidence is as important an element as any for a hitter and Johnson is understandably allowing his player to make a determination as to when that has occurred.
Expect Werth to rejoin his team in the lineup later this week.
David Ortiz, DH, Boston Red Sox:
Initially when Ortiz pulled up lame while running the bases in mid-July, the Red Sox hinted at a short absence. That absence is going to extend beyond the 15-day minimum, as Ortiz continues to experience soreness in his right heel. Ortiz is eligible to return Wednesday, but persistent symptoms mean that activation will not happen imminently. So when will he return? According to ESPN Boston, Ortiz summed it up this way: "I can't say right now exactly when I'll be ready to play, let's see how the process goes."
To be fair, that's about as honest as it gets. Clearly in a player of his age and size, with this not being his first episode of pain in the Achilles or heel area, there is concern about pushing too aggressively and ending up with a more significant injury. Symptoms sound the alarm, which drives the activity level when it comes to Achilles injuries, so as long as there is pain, the activity will be limited. The fact that he was having pain when swinging the bat as recently as Saturday and that his primary exercise is currently in the pool hints at a delay of more than a few days.
Evan Longoria, 3B, Tampa Bay Rays:
He has been on a rehab assignment with Triple-A Durham since last Thursday but only as a DH. And that's the role he will retain, even when he returns to the majors, at least initially.
While manager Joe Maddon sounds encouraged by Longoria's ability to get through a handful of games without incident, it is worth pointing out that he is functioning in a limited capacity. Before beginning his rehab assignment, Longoria told reporters his left hamstring was not 100 percent, that he still felt it doing defensive drills and that he was about as "ready as [he's] going to be" offensively. According to the Tampa Bay Times, the hope is that he will get enough at-bats to be comfortable potentially rejoining the Rays' lineup and then over time, work his way back defensively.
The bottom line is that what is not being said is no one seems to be targeting a full recovery, at least not right now. In fact, Longoria noted he was told he couldn't make the injury worse by playing. While that statement is puzzling, since there is always potential to strain the muscle belly of the hamstring itself, if indeed Longoria tore a portion of the tendinous attachment, that tissue often does not heal on its own and sometimes warrants a minor procedure to remove the frayed piece. While the team has not offered any specifics on the exact location of Longoria's injury, this concept would fit with the program that is in place. Longoria's ability to return would be dictated by his ability to function in the presence of discomfort, something he seems to be able to largely avoid at present by staying away from defensive drills.
If the Rays get his bat back into the lineup, they may be willing to work with whatever they can get from Longoria given the limitations of his recovery. This is one case where a return to play does not look like the same thing as a return to full health.
Joey Votto, 1B, Cincinnati Reds:
When Votto underwent surgery to address a torn left meniscus in mid-July, he was projected to miss three to four weeks. Halfway through that timetable, it's not yet clear whether he will meet that projection or not. The good news early was that he was quickly able to walk normally, without pain. But as is typical following even a relatively minor arthroscopic procedure, when it comes to resuming more aggressive activities, the process slows down.
Votto recently told the Cincinnati Enquirer that while he was running and doing agility drills, it was "not at 100 percent." He hasn't yet resumed hitting. He'll need to progress through all the straight-line activities, add corners and turns, and show he can react with quick, lateral movements and slides into base which, it's worth noting, is how he hurt his knee in the first place. That's a tall order for one week, perhaps even for two, which is why Votto is no doubt reluctant to offer up a return date. The unknown is how his knee will respond to each new rehab challenge. If any swelling or soreness occurs, the program is adjusted accordingly.
It's in Votto's -- and, of course, the Reds' -- best interest to wait until he is clearly ready to return before placing him back in the lineup. If he were to come back early, he would run the risk not only of stirring up inflammation in the joint but potentially straining one of the muscles around the knee. A forced second round on the DL could ultimately cost more time than postponing his return to play on the front end.
July, 10, 2012
7/10/12
6:28
PM ET
In honor of the festivities taking place in Kansas City today around the 2012 MLB All-Star Game, it seemed appropriate to compile a roster of All-Injured All-Stars. The qualifiers for this roster were selected from:
• Players who were chosen for this year's All-Star game but could not participate due to injury
OR
• Past All-Stars who might have had the potential to earn another trip in 2012 were it not for the injuries that beset them this year.
The sad fact is that this was a relatively easy list to compile. Outside of one or two spots that required a stretch to meet the inclusion criteria, it was not difficult to find candidates for each position in both the American and National Leagues. Does that make this year any better or worse than previous years? I'm not sure, but it does remind us how much injuries can impact the game. Not everyone who could possibly qualify is listed. Naturally, as with the actual All-Star roster, there will be debate. But like the managers in the All-Star get to select their lineups, these are my picks, undoubtedly influenced by the number of times their names make an appearance in questions fielded during chats, podcasts, blog entries and Twitter posts.
May I present to you the 2012 All-Injured All-Stars?
National League
Howard
1B: Ryan Howard, Philadelphia Phillies:
Howard finally made his 2012 debut just before the All-Star break after he ruptured his Achilles tendon in his last at-bat of last year's playoffs. Complications following an infection slowed his recovery. The Phillies are hoping for offensive contributions from Howard -- and he has delivered a couple of hits -- but since his return, the team has yet to earn a victory. Howard is still not a daily player as he is easing back into the lineup, and even he acknowledges his leg is not likely to return to 100 percent until next year.
Utley
2B: Chase Utley, Philadelphia Phillies:
Like his fellow infielder on this roster, Utley started the season on the DL and only recently returned to action. Working through chronic patellofemoral pain (pain under the kneecap), Utley underwent an intensive, focused rehabilitation program to be able to get back to baseball. It was slow and deliberate, but how long he will be able to hold up once he is playing on a regular basis is unknown. The Phillies like what they see so far; a couple of home runs, a few RBIs and, most importantly, no setbacks. If only that can last.
Tulowitzki
SS: Troy Tulowitzki, Colorado Rockies:
Tulowitzki was bothered intermittently by groin pain this season, but a setback during a rehab assignment led to eventual surgery to debride scar tissue from around a nerve. Tulowitzki was projected to be out approximately 6-8 weeks following the procedure, which translates to an August return. Until he resumes baseball activities, it will be difficult to assess how close he is to seeing any game action.
Zimmerman
3B: Ryan Zimmerman, Washington Nationals:
Zimmerman has certainly been playing like an All-Star ever since receiving his latest cortisone injection in his right shoulder. The big question on everyone's mind is whether it will last. Zimmerman initially had trouble with the shoulder in April, which ultimately landed him on the DL. Even after the time off, Zimmerman continued to have discomfort and it showed at the plate. In June, there was discussion about a cortisone shot or even another DL stint. The shot seems to have done the trick, though, and hopefully when post-All-Star play resumes, Zimmerman's shoulder will still be feeling good.
Lucroy
C: Jonathan Lucroy, Milwaukee Brewers:
Admittedly, this is a bit of a reach, but Lucroy was batting .345 when he went out with a broken hand in May and there was abundant chatter about his potential selection to the 2012 All-Star roster. Exhibit A from the Milwaukee Journal-Sentinel in May: "He has five homers and 29 RBIs in addition to his gaudy batting average, putting him in the conversation for an All-Star Game appearance." Who knows what might have been? Instead, Lucroy is working his way back toward a return. He has been throwing and running, and was recently cleared to start swinging a bat, putting him on pace to return in late July.
Kemp
Stanton
Werth
OF: Jayson Werth, Washington Nationals; Giancarlo Stanton, Miami Marlins; Matt Kemp, Los Angeles Dodgers:
Werth qualifies for the most dramatic injury after he broke his left wrist when his glove caught in the grass as he was attempting to make a sliding catch. To complicate matters, this was the same wrist on which Werth had undergone a prior surgical procedure in 2006. The initial timetable for Werth was projected at three months, but the good news is that he is expected to start swinging a bat sometime after the All-Star break. Let's see how his wrist tolerates those swings before thinking about upping his return date.
Stanton was a late scratch from both the All-Star Game and the Home Run Derby when he was removed from Saturday's game with soreness in his right knee. After undergoing surgery Sunday morning to remove loose bodies, it will be a few weeks before he is ready to return.
Kemp has missed more time this year than he has at any point thus far in his career because of a finicky hamstring strain. Known for his ability to play virtually every day over the past few years, Kemp was reluctantly forced onto the DL in the hope of preventing a more serious injury. He then had to return to the DL when the hamstring acted up in only his second game back. Kemp's timetable has been slower this time around and he was deliberately kept on a lengthier rehab assignment to force more situational running. Everything seems to be pointing to his return to the lineup this Friday when the Dodgers are back in action.
Carpenter
Halladay
SP: Roy Halladay, Philadelphia Phillies; Chris Carpenter, Cardinals:
The Phillies tie the Nationals with the most members on this NL roster, but the Phillies win in terms of the importance of the players lost to their team (no hard feelings, injured Nationals). To go along with starting infielders Utley and Howard, the Phillies lost one of their most durable and consistent starters in Halladay, who was forced onto the DL with a strained lat. Despite his denials, it seemed as though the injury was affecting him, even if in a subtle manner, since the spring and ultimately the discomfort caught up to him. Halladay has been sidelined since late May but has been steadily progressing in his throwing program. He is expected to make a rehab start Thursday, and the Philadelphia Inquirer reports that if all goes well, he could then rejoin the Phillies for a Tuesday start against the Dodgers.
Carpenter has been either very good or very injured. This year, unfortunately, it was the latter and he was plagued by weakness in his throwing shoulder since the spring. Tests confirmed thoracic outlet syndrome (which he has actually been dealing with for several years but has progressed to the point where he can no longer pitch) and Carpenter is scheduled for surgery later this month. The rehab is long and there are no guarantees, but Carpenter hopes to be able to pitch again next season.
Wilson
RP: Brian Wilson, San Francisco Giants:
What a difference a year makes. Last year, Wilson was participating in the All-Star Game. This year he is recovering from Tommy John surgery No. 2. Wilson struggled late last season and even had his elbow examined after it was causing him discomfort. The hope was that the offseason rest had helped sufficiently, but it didn't take long to find out that was not the case. Just two weeks into the season, Wilson was done and headed for Dr. James Andrews' office. Whether he will be available to pitch at the start of next season remains uncertain.
American League
Youkilis
1B: Kevin Youkilis, Chicago White Sox:
Whether it was his back injury that landed him on the DL this spring or his general malaise while in the murky
Boston Red Sox
situation, Youkilis was not performing up to par. The three-time All Star -- who also spent the offseason recovering from surgery to address a core muscle injury -- was not going to be making this year's Midseason Classic. It's worth noting, though, that his performance thus far with his new club has certainly been reminiscent of the Youkilis of old.
Pedroia
2B: Dustin Pedroia, Boston Red Sox:
A partial tear of a thumb muscle is likely to blame, at least in part, for Pedroia's struggles at the plate in June. Pedroia was not voted into the 2012 All-Star Game, which may be just as well, because he suffered yet another thumb injury just last week. A diving play resulted in an injury to the volar plate of Pedroia's thumb, the fibrocartilaginous tissue deep in the joint that helps block hyperextension. He is expected to miss several weeks.
SS: None:
There were no real candidates for this position based on the inclusion criteria. Something tells me this should make AL shortstops a bit nervous about the second half of the season.
Longoria
3B: Evan Longoria, Tampa Bay Rays:
Longoria partially tore his left hamstring at the end of April, and his return at this point is anything but certain. In June, he appeared on course, but a rehab outing was cut short when Longoria again felt discomfort in the hamstring. Since that time, there have been wavering suggestions as to when Longoria might resume baseball activities, something which has yet to occur. According to the Tampa Bay Times, manager Joe Maddon said he has no idea when Longoria can return. He then offered perhaps the most precise summation of the challenge of dealing with a partially torn hamstring: "It's a tough injury to overcome and a tough injury to battle back from."
Martinez
C: Victor Martinez, Detroit Tigers:
The former All-Star underwent surgery in January to repair both the lateral and medial menisci along with a microfracture procedure. His progress has been understandably slow in order to protect the delicate spots on the knee where the microfracture was performed. Based on a recent MRI and clinical evaluation to assess his progress, the Tigers have indicated the soonest (note: soonest) Martinez would return is middle to late September.
Sizemore
Ellsbury
Crawford
OF: Carl Crawford and Jacoby Ellsbury, Boston Red Sox; Grady Sizemore, Cleveland Indians:
Just imagine what this outfield could look like when healthy. It's actually difficult to do, as these three players have dealt with extended absences over the past few seasons.
To be fair, Crawford's absence in 2011 was a virtual one; he was healthy but merely a shadow of himself. Then in the offseason, he injured his left wrist and had to undergo surgery to debride a fibrocartilage tear in the joint. A slow recovery was followed by a setback, and just when he seemed on the verge of beginning a rehab assignment, he had elbow pain. It turned out to be a partial tear of his ulnar collateral ligament. No surgery was immediately required (there is some discussion about Crawford having surgery eventually) and he recently embarked on a rehab assignment. That assignment was interrupted by a mild groin strain, and again Crawford's return date has been pushed back. The Red Sox are hoping they will have him in the second half of July.
Ellsbury was hurt early in the season on a collision, which resulted in a shoulder subluxation. He too has started a rehab assignment, and while there is no firm commitment to a date, it sounds as if he could rejoin his team by the weekend.
As for the three time All-Star Sizemore, his healthy days seem to be far fewer than his unhealthy ones in recent years. This year, he is recovering from back surgery, and there is always some question about the true health of his knees. He has actually started a running program and a rehab assignment could be in the not too distant future. No one is counting on a specific date but the Indians would love to see him back on the field at some point in the second half.
Haren
Sabathia
SP: C.C. Sabathia, New York Yankees; Dan Haren, Los Angeles Angels:
Sabathia did not want to go on the DL for his mild left groin strain, but the Yankees did not want him to be hurt in September. And so he went. After all, better to rest a minor groin issue now than have compensations turn into a shoulder or elbow injury later. The good news is that he is doing well and is expected to return shortly after the All-Star break.
Haren has never even been on the DL until now. Considering he's pitched in the majors for 10 years, there should be a special All-Star category for that alone. Haren did admit that the stiff back that sent him to the DL has been bothering him since the spring, and he felt his performance was hindering the team. The Angels are hoping for a brief stay.
Rivera
RP: Mariano Rivera, New York Yankees:
Rivera, a medical marvel when it comes to pitching and baseball, suffered the unlikeliest of injuries when he tore his ACL while shagging fly balls during pregame batting practice. The 42-year-old closer quickly made it known that this would not be his exit from baseball. While no one has ruled him out from a late-season return, even Yankees general manager Brian Cashman has said he does not expect him back in 2012. No matter what the return date, the fact that he is making such good progress is encouraging.
July, 3, 2012
7/03/12
2:43
PM ET
A handful of top players could be back in action right after the All-Star break. Let's take a look at some players lingering on your DL who could be back in your lineup sooner rather than later.
• Now that
Lance Berkman
is back with the
St. Louis Cardinals
, the hope is that he'll be back on the playing field in the not-too-distant future. Berkman is recovering from meniscus surgery (remember when the worry was that he might have retorn his ACL?) and was originally projected to return in 8-10 weeks.
He recently told the St. Louis Post-Dispatch that his knee was "over the surgery," suggesting he merely needed to get in baseball shape. Getting the conditioning back is truly part of getting past the surgery, but to be fair, Berkman has undergone multiple procedures on his knees over the years and has a pretty good idea of what it takes. He sounds optimistic about a return shortly after the All-Star break. It may turn out to be a little slower going for his knee once he gets back into action, but it certainly appears the Cardinals will have him available in mid-July.
[+] Enlarge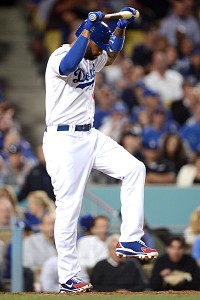 Harry How/Getty ImagesMatt Kemp will compete in the Home Run Derby before returning to big league play.
•
Matt Kemp
has been giving glimpses into just how good his hamstring is feeling -- running on the field to celebrate with his teammates, or just plain running during speed work -- but now the real test begins.
Kemp, who will not participate in the All-Star Game despite being voted in by the fans, has been cleared to begin a rehab assignment Tuesday. According to the Los Angeles Times, Kemp will travel to Kansas City to participate in the Home Run Derby. If all goes well in rehab games, he could return to major league play on July 13, when the Dodgers begin a home series against the
San Diego Padres
. One thing is certain: the Dodgers will have Kemp participate in more rehab games this time around. When Kemp suffered his initial hamstring injury, he passed every test with flying colors and played in two rehab games without incident. His first major league game after that initial injury also went without incident. In his second game, however, Kemp experienced the dreaded tightening in the back of his left thigh; his frustration was apparent as he broke a bat over his leg before exiting the dugout.
Even Kemp acknowledged at the time of reinjury that he would likely be headed back to the DL (he was) and that it would perhaps take longer to get healthy (it has). An MRI showed another strain higher up in the hamstring and swelling in the previously injured area, according to Dodgers head athletic trainer and physical therapist Sue Falsone. Despite passing all field tests, nothing reproduces the unanticipated demands on the hamstring quite like playing in a game. Situational running, whether trying to leg out a ground ball or making a defensive play, is impossible to reproduce in drills or practice. The hope is that with a few extra days of game play, Kemp will have an opportunity to increasingly challenge his hamstring, preferably without a setback. This would then help increase Kemp's confidence in his leg, something that can become problematic once there is a second injury. Athletes can become reluctant to press or challenge their leg for fear of suffering yet another setback.
• Meanwhile one of Kemp's teammates, second baseman
Mark Ellis
, could also be on the verge of return. Ellis underwent an emergency fasciotomy in the middle of May to release pressure and swelling inside the left leg after taking a blow just below the knee. After a fasciotomy, the initial priority is allowing the wound to heal, then increasing range of motion, particularly through the ankle. A gradual return to activity is permitted as the healing allows. Ellis has been on a rehab assignment and is expected to play seven innings in his final rehab game Tuesday, alongside Kemp, according to the Dodgers' website. Ellis could then be activated and join the Dodgers on Thursday.
• Baby steps are still steps.
Boston Red Sox
outfielders
Carl Crawford
and
Jacoby Ellsbury
seemed to be in a state of suspended animation for the last two months when it came to the question of when they might return. The only real news was that they were progressing through rehab. Now however, they are making significant strides toward returning.
Crawford, who started the season on the DL following wrist surgery, then sustained a partial tear of the ulnar collateral ligament in his throwing elbow, has been on a rehab assignment in Florida. He appeared in five games, initially as DH, then progressing to the field, a key test for his elbow. So far, so good. Apparently the medical staff feels the same way Crawford does, moving his rehab assignment to Double-A Portland, according to ESPNBoston.
Ellsbury may not be too far behind. Out since April after suffering a shoulder subluxation, he began his rehab assignment in Florida on Saturday. Ellsbury also began his stint serving as the DH, but has now progressed to seeing some outfield play. Given that his injury is to his glove side, playing defense is an important measure of his recovery. There's no guarantee that all situations can be accounted for during a rehab assignment, but the idea is to account for as many of those possibilities and see how the shoulder responds. One good sign is that his bat seems to be responding; Ellsbury hit a home run Monday. He remains in Florida for now.
Given the time clock of 20 days for position players on a rehab assignment, both Ellsbury and Crawford should be able to join their team shortly after the All-Star break, barring any late setbacks.
[+] Enlarge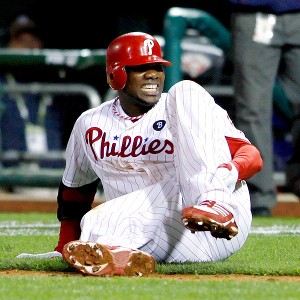 AP Photo/Alex BrandonRyan Howard hasn't played since injuring his Achilles on the final play of the Phillies' season last fall.
• The
Philadelphia Phillies
'
Ryan Howard
initiated a rehab assignment in Florida on Thursday, meaning the rehab "clock" has begun ticking. So far, he has been alternating between a DH role and first base. According to The Philadelphia Inquirer, Howard is expected to see an increase in innings in the field Tuesday. The healing of Howard's surgically repaired Achilles is not so much the issue at this point. Instead, it is getting back the feel of playing baseball while not focusing on his leg. Even Howard acknowledges that his leg will not likely be at full strength this year. Most who have undergone this procedure say it takes a full year before the leg really feels back to normal. Still, if he can contribute, even at less than full power, the Phillies will welcome his presence. But how much he'll be able to deliver out of the gate is uncertain.
•
Drew Storen
's timetable has remained fairly consistent since he came out of surgery to remove bone chips from his right elbow. His progress has been steady and he has not experienced any pain in the elbow. Storen's challenge has been taking it one day at a time and not overdoing it during his recovery. His bullpen sessions have gone well; next up is a short rehab assignment. According to The Washington Post, Storen expects to return to the
Washington Nationals
for the first game following the All-Star break. Given his smooth progression thus far, and the increased extension Storen has in his elbow post-surgery, there is reason to be optimistic about how the second half of the season will shape up for him.
Players whose timetables are unknown
Evan Longoria:
The
Tampa Bay Rays
third baseman has been out since April with a partial tear in his hamstring. After making it to a rehab assignment in June, Longoria experienced discomfort in the thigh in only his second outing, causing him to exit the game before the injury worsened. Understandably, it has been a cautious road back. Longoria has only just been cleared to resume baseball activities. Depending how he tolerates resuming hitting, ensuing running and field drills will determine when he will make his next attempt at a rehab assignment. Longoria still looks to be several weeks from a return.
Chris Carpenter:
Despite taking some positive steps in his return to throwing, the
St. Louis Cardinals
' ace continued to experience episodes of weakness in his throwing shoulder. That led to consultation with a vascular surgeon in Dallas, and a diagnosis of thoracic outlet syndrome, a condition not uncommon in pitchers, in which nerves and/or arteries between the neck and shoulder can be compromised, resulting in symptoms into the arm.
In Carpenter's case, there is no immediate surgery planned, suggesting the source of the symptoms is more neurogenic (nerve-related) than vascular (circulatory). "If I can pitch, that's what I'm going to do," Carpenter told the St. Louis Post-Dispatch. "If I can't, then we come up with another plan." The outcome is still tenuous at best and will continue to be a day-to-day assessment based on how Carpenter feels. Surgery may still be an option, just not one Carpenter is intending to pursue right now.
Update (5:38 p.m.):
Carpenter is now scheduled to
undergo surgery
later this month, and will miss the rest of the season. According to Cardinals general manager John Mozeliak, recovery time is three to six months, so the team hopes to have him ready for spring training next year.
June, 19, 2012
6/19/12
5:46
PM ET
They say things happen in threes. If that's the case, then the Toronto Blue Jays should at least be granted a reprieve in the injury department after losing three members of their pitching staff in succession. The latest unfortunate news: Right-hander
Kyle Drabek
will undergo what will be his second Tommy John surgery in five years. Drabek, who had his first surgery while still a teenager (an unfortunate trend), recently experienced pain and a popping sensation in his elbow while throwing. Ultimately, the determination was that he was in need of a second surgery, and he will be operated on by Dr. James Andrews.
[+] Enlarge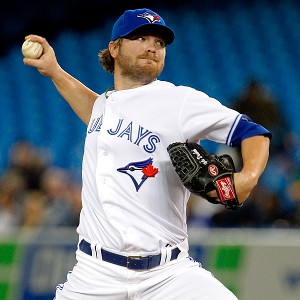 Getty ImagesYoung Blue Jays starter Kyle Drabek is headed for Tommy John surgery No. 2.
It's not hard to sympathize with Drabek as he received the bad news for the second time in his young career. "I was down, because they said they saw a little tear, and right when they said that, I flashed back to when I had it previously," Drabek told the National Post. "[I] hated going through it. You miss a year of baseball, you miss a year of hanging out with the guys."
As hard as it is to go through the process of Tommy John surgery and the subsequent lengthy recovery, imagine going through it twice. This year there have been a few notable pitchers who have undergone a second such procedure, including closers
Joakim Soria
and
Brian Wilson
. The outcome on second procedures is not nearly as encouraging as the outcome following an initial surgery, and
starters seem to not fare as well as closers
. On the bright side, Drabek is still just 24 years old, and youth is always a bonus when it comes to a long, intensive rehab. He also has a teammate,
Jason Frasor
, who has undergone Tommy John surgery twice and successfully returned to pitching. Frasor's second surgery was 10 years ago and he has done well since then, but -- and it's a significant "but," given the recent statistics -- Frasor has the advantage of being a relief pitcher. Maybe Drabek should chat with Dodgers pitcher
Chris Capuano
, one of the few starting pitchers who has successfully returned to the same workload following a second Tommy John surgery.
Meanwhile,
Brandon Morrow
, who we
discussed last week
when he went on the DL for an oblique strain, is still in the early phase of his rehabilitation efforts (typically about a month for pitchers).
Drew Hutchison
is out with an elbow strain, but it does not appear to be on par with Drabek's. Still, Hutchison is scheduled to consult with Dr. Tim Kremchek in Cincinnati for further evaluation.
The Jays have to be holding out hope that this sudden injury streak has truly come to an end.
Beachy's bad elbow
Atlanta Braves pitcher Brandon Beachy has a partial tear of his ulnar collateral ligament; this much we know. What is not yet known is what the next step is as far as treatment. Beachy, who currently leads the league with a 2.00 ERA, is scheduled to consult with both the Braves' team physician and Dr. James Andrews, after which those steps should be outlined.

The choices would seem to be either an attempted rehab course to see if Beachy can return to throwing, or reconstructive surgery. A partial tear does not automatically dictate surgery; the location and the degree of the tear can influence the ability of the tissue to heal. If a pitcher is anything less than convinced that he absolutely requires surgery, a course of rehab may be in order. If that rehab course is unsuccessful, the timetable for recovery has been pushed back only 6-8 weeks, not necessarily significant in the context of an approximate one-year recovery from surgery. That said, the timing within the season can play a role. A year from June allows for a likely return the following year. A year from August makes a return in the subsequent season a little less certain. These variables will undoubtedly be considered as Beachy proceeds through the evaluation process. Beachy is already on the DL, but an update to his status should be forthcoming this week.


Weaver returns
Last Tuesday, I noted
the big step
Jered Weaver
had taken in his recovery as he began throwing from a mound. Only a week later, Weaver is set to return to competition. After progressing from throwing halfway up the mound to throwing from the rubber, Weaver had no complications, and he went on to throw a simulated game and a follow-up bullpen session.
Considering how serious his injury appeared to be when it happened less than a month ago, Weaver's return has been impressive. There are no guarantees that the issue is completely behind him, though, and Weaver appears wise to that fact. According to the Orange County Register, Weaver said, "I'm 6-foot-7 and lanky, and I have a lot of torque going on. I'm sure it's not the last time there's going to be some back issues going on." Apparently Weaver has now made some of his rehab exercises part of his regular routine. Both his recognition of the potential for symptom recurrence and his efforts to protect his back with a maintenance exercise program work in Weaver's favor from a prevention standpoint going forward.
Quick hits
[+] Enlarge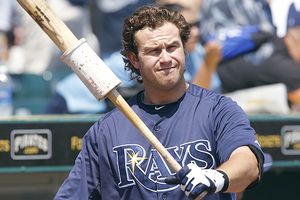 AP Photo/Gene J. PuskarEvan Longoria is not quite ready to return from his hamstring injury.
• Just last week, Tampa Bay Rays third baseman
Evan Longoria
was expressing confidence about being able to rejoin his teammates this week. He is indeed rejoining them, but not in the capacity he had hoped. Longoria has been pulled from his rehab assignment after feeling soreness in his hamstring while running Monday and remains out indefinitely.
Before Longoria began his assignment, Rays manager Joe Maddon had hinted at a lengthier rehab stint to allow him to get his legs in game shape (and undoubtedly to provide multiple opportunities for him to really test the health of his hamstring). It took only two days for Longoria's hamstring to let him know it wasn't ready. According to the Tampa Bay Times, Longoria felt soreness running to first base and did not want to push the issue. He was removed from the game in the third inning, a wise move that might have protected him from truly aggravating the injury. He is set to rejoin the team Tuesday in Washington, D.C., where he will resume a rehabilitation program. As of now, there is no renewed timetable for his return. It has been said many times in this blog space, but it's worth saying again: Until an athlete returns to competition, there is no way to truly test the readiness of a healing hamstring. Consider this episode a gentle warning for Longoria issued by his hamstring, one that told him not to rush back. It might not be so kind to him the next time.
•
Colorado Rockies
shortstop
Troy Tulowitzki
paid a visit to Dr. William Meyers in Philadelphia for further evaluation of his left-sided groin injury. Like Longoria, Tulowitzki had initiated a rehab assignment when he felt pain in the injured area, which prevented him from continuing. Meyers is considered a leading expert in the area of athletic pubalgia, or athletic injuries in the groin and abdominal region which result in pain and loss of function. These injuries are often grouped in the category of sports hernias, which are not true hernias, but rather defects in the abdominal wall that typically require surgery to repair. There are multiple potential causes of chronic groin pain (Tulowitzki's injury dates back to the start of the season), and a full evaluation by Meyers is aimed at getting to the root of the problem. Unfortunately, it sounds as though there are no definitive answers just yet. According to the Denver Post, Tulowitzki summed it up this way: "We're not sure what's wrong." For now, Tulowitzki remains sidelined, and there is no timeline to discuss until more information emerges.
• Minnesota Twins catcher
Joe Mauer
is day-to-day with a bruised quadriceps, the result of a
Rickie Weeks
knee to Mauer's thigh in a collision at home plate. Mauer was already dealing with soreness in the hamstring of the same leg, which he was playing through despite not being able to run at full speed. After injuries limited Mauer to just 82 games last year, his 2012 campaign was off to an impressive start. Before injuring his thumb in an at-bat, Mauer had played in 52 of 53 games. The thumb did not require a DL stint, but it did force him to sit four games. Then the sore hamstring came along. He didn't miss a game but served only as a pinch hitter this past Saturday. On Sunday, Mauer returned to his normal spot behind the plate, where he sustained the bruised quad. Mauer looks as though he will again avoid the DL, despite some lingering stiffness and soreness in the thigh. So far, so good.
• The
Chicago Cubs
have placed pitcher
Ryan Dempster
on the DL with tightness in the latissimus dorsi muscle on his right (throwing) side. He had been throwing well despite the presence of soreness in his past couple starts. "It's just gotten harder and harder to get loose and maintain," Dempster told reporters. This doesn't sound like a serious strain, such as the one sidelining Phillies ace
Roy Halladay
, but anything affecting a pitcher's throwing arm raises eyebrows. In Dempster's case, given the potential trade interest surrounding him, the topic becomes even more relevant. The best way to avoid a significant injury is to proactively address a minor ailment, and that seems to be what the Cubs are doing with Dempster. If a brief break from throwing allows the issue to resolve itself, there should not be any significant concern going forward.
[+] Enlarge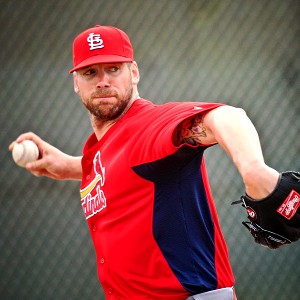 Ronald C. Modra/Sports Imagery/Getty ImagesChris Carpenter is still a ways from returning, but at least he's making progress.
• The
St. Louis Cardinals
continue to have mixed news when it comes to injuries. Pitching ace
Chris Carpenter
is quietly making progress and could face live hitters as soon as this weekend, according to the St. Louis Post-Dispatch. Carpenter, who has been working his way back from a pinched nerve that was affecting his throwing arm, was able to throw some breaking pitches in his most recent side session. If he has another successful outing Wednesday, he could be cleared to throw batting practice a few days later. He still has a ways to go before he returns to competition -- multiple weeks, it would seem -- but even Carpenter acknowledged that progress is indeed being made. Nerve tissue has its own slow timetable for recovery, which makes it difficult for players and management to issue any sort of recovery projections. Functional progress is the best indicator that the tide is turning, and Carpenter's return to the mound certainly provides encouragement.
Meanwhile, teammate
Matt Holliday
has a sore hip flexor, per Joe Strauss of the St. Louis Post-Dispatch. Holliday left Sunday's game because of the injury, but this reportedly has been bothering him intermittently for several months, with this being the latest flare-up. While it doesn't appear as though he's headed to the DL just yet, this could affect his availability at least this week. Hip flexor strains can be difficult to completely resolve in-season so this is something that could continue to impact him on an intermittent basis. On a positive note, second baseman/centerfielder
Skip Schumaker
has been activated from the DL after missing time since late May because of a hamstring injury. The Cardinals' official Twitter site has announced that Schumaker is "uniformed" for Tuesday night's game in Detroit.
• One player who won't be active Tuesday night is Milwaukee Brewers ace
Shaun Marcum
. He has been scratched from his scheduled Tuesday start due to tightness in his throwing elbow. The Milwaukee Journal-Sentinel reports Marcum is going to be evaluated by Brewers team physician William Raasch, after which next steps will be determined. It is worth noting that Marcum underwent Tommy John surgery on this elbow in 2008.
• And finally, keep an eye on Arizona Diamondbacks shortstop
Stephen Drew
, who crossed a huge hurdle this past weekend in playing three consecutive rehab games. Drew, who suffered a severe ankle fracture last season, has been battling lingering soreness and stiffness in his surgically repaired ankle, which has prevented him, until now, from playing in back-to-back games. Diamondbacks manager Kirk Gibson has indicated Drew is gradually nearing a return, but as the Diamondbacks' official website reports, it might be in a part-time role. Although he is showing improvement functionally, he has not completely overcome some of the challenges associated with this type of injury, specifically the joint-related soreness that follows activity. "I don't think [when Drew returns] it will be as an everyday guy," Gibson said. "He'll have to be worked in and out of the lineup. We'll watch the whole thing with his recovery. There are going to be limitations if he comes back in the near future." Those limitations may well be the ingredient to getting -- and keeping -- Drew back with the team.
June, 14, 2012
6/14/12
1:58
PM ET
May, 2, 2012
5/02/12
8:13
PM ET
Tampa Bay Rays
third baseman
Evan Longoria
missed a month last spring with an oblique injury and was hoping for a better start to 2012. He even underwent a procedure in the offseason to address a Morton's neuroma (a condition affecting a nerve between the toes), which nagged him late in 2011, to ensure it would not be a factor this year. It seemed all was on the right track for Longoria, who was batting better than .300 so far this season. On track, that is, until Monday night, when Longoria exited the game with a left leg injury following an awkward pop-up slide into second base.
Originally, Longoria's injury was described as soreness behind the knee, but on Tuesday, the team revealed he had partially torn his left hamstring. Longoria, who said he felt a "tweak" while running from first to second, told MLB.com the slide itself had nothing to do with the injury. Regardless of exactly when or how it happened, the Rays have indicated they expect Longoria to
miss between four to eight weeks
.
Why the lengthy timetable straight out of the gate? We don't have the benefit of the player being in front of us, nor do we know the specifics of his MRI, but there are a couple of clues. When Longoria reached instinctively to the back of his leg after the injury, he grabbed toward the inside aspect of his knee. If indeed the injury is down low, close to where the hamstring attaches behind the knee, it would suggest the tendon (which anchors the hamstring muscle to the bone) is involved. The tendon does not have the same rich blood supply as the muscle, which results in slower healing. There is also the grade of injury to consider. While all strains are technically tears -- ranging from microscopic to structural tears visible on imaging -- when a team reports an injury as a "partial tear," it usually hints at a Grade 2 or moderate strain, not quite Grade 3 (a complete tear) but more than a Grade 1 (usually inflammation-producing without significant structural damage). The timetable issued appears consistent with a moderate strain.
The primary focus is adequate healing time before returning a player to activity, and that healing time is highly variable. As Rays executive vice president of baseball operations Andrew Friedman told the Tampa Bay Times, "He's always been a pretty good healer," adding, "He's had some hamstring issues in the past and has come back from them pretty quickly, relatively speaking."
The "quick" version would have Longoria back in the lineup by the middle of June but, as everyone knows, hamstring injuries can be very finicky, and it could be into July before Longoria is ready.
June, 6, 2011
6/06/11
5:57
PM ET
As is usually the case following a series of weekend games, there are some comings and goings in the world of baseball. Some players are coming back from injury while others are exiting, or appear on the brink of exiting, due to injury. If only the return list was greater than the departure list, fantasy owners would be looking forward to adjusting their Monday rosters. While sadly this does not appear to be the case, there are still some nuggets of good news to be found in the injury reports. You just may have to scroll down a ways to find them.
Going
[+] Enlarge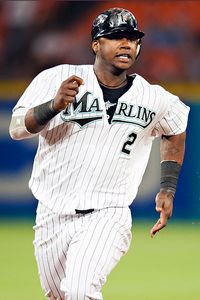 Steve Mitchell/US PresswireHanley Ramirez has not played since May 30 but could be activated as soon as next week.
Hanley Ramirez, SS, Florida Marlins:
It's official. The Marlins have placed Ramirez on the DL, retroactive to May 30. Ramirez led the Friday blog amidst hints the Marlins would make the decision to place him on the DL at some point that day. Friday came and went without any movement for Ramirez, but it wasn't because he was making a sudden return to the lineup. In fact, Ramirez continued to sit out because of a
lower back injury
, which had been causing him problems for well over a week. It seems the delayed announcement was linked to the Marlins' decision as to which pitcher would be called up to fill his roster spot. According to the Marlins' official website, with
Josh Johnson
still out with shoulder inflammation (and no set timetable for his return), it was unclear who would take his Tuesday spot in the rotation. That question now appears to have been answered. According to Joe Capozzi of The Palm Beach Post, the Marlins called up lefty Brad Hand from Double-A Jacksonville. As far as Ramirez goes, it was clear he was hoping to avoid going to the DL for the first time in his career, but the pain was such that he couldn't pinch hit or run. Better for him to step away completely and try to resolve this episode than to press through it. After all, he had not been producing well at the plate. Turns out his back had been bothering him for a month but he kept it quiet until the pain got bad enough he simply couldn't function.
Jake Peavy, SP, Chicago White Sox:
The good news is Peavy's surgical repair to his lat tendon has held up brilliantly and his throwing arm is fine. The bad news is a right groin injury sustained during only his fifth start of the season likely will land him on the disabled list. According to the Chicago Sun-Times, Peavy said of his injury, "I'll probably miss more time now. ... the way I feel when I walk, [the disabled list] is a pretty safe bet." At this point Peavy is acutely aware of how an injury in his lower half can affect his upper half. When I talked with him during spring training, he acknowledged that the ankle injury he sustained while with the
San Diego Padres
had not fully resolved when he went to the White Sox. He said he suspects compensations he made for the leg contributed to abnormal mechanics and ultimately the failure of his latissimus dorsi tendon.
After that experience and the lengthy rehabilitation process he has just undergone, it is highly unlikely he would run the risk of returning to play while compromised. A groin strain is no small issue for a pitcher, no matter which leg is involved. In this case, it's Peavy's right leg, or his stance leg, and he needs strength in the musculature for balance during the wind-up. He needs power and flexibility as he moves further into his delivery and transfers his body weight forward to his left (landing) leg. He also needs to be able to move off the mound quickly for defensive plays. In the fourth inning of Sunday's game it was during a defensive move to cover first that Peavy first felt a "grabbing" pain, according to the Sun-Times. Peavy expected to undergo further evaluation Monday, but it appears fantasy owners should plan on a two-week absence, minimum.
Rafael Furcal, SS and Jon Garland, P, Los Angeles Dodgers:
Furcal has to be asking himself what he did exactly to deserve yet another injury to yet another body part. On the DL for the second time this season, Furcal is now dealing with a left-sided oblique strain suffered during Friday's game. Oblique injuries typically require a few weeks of recovery, depending on severity, and given Furcal's history of low back problems, it is critical that he not return too soon. In other words, it's hard to imagine him returning before the end of the month, perhaps even the All-Star break. Sigh. The Dodgers also lost Garland to his second DL stint of the season (he started the season on the DL with, yes, you guessed it, an oblique injury). This time it's his throwing shoulder that's the culprit, and no one ever likes to see that in a veteran pitcher. Garland has been remarkably durable, but now that he is 31 years old, this could be a sign of things to come.
Brandon Belt, 1B, San Francisco Giants:
Belt was placed on the DL when it was discovered he had a hairline fracture in his left wrist after being hit by a pitch last week. Consider this another blow to the Giants, who had brought Belt back into the lineup following the season-ending injury to
Buster Posey
. Although Belt's fracture likely will take another month to heal, he could resume baseball activities before then if he's progressing well.
Coming
Matt Garza, P, Chicago Cubs:
Garza has been activated and will start Monday against the
Cincinnati Reds
. He has been sidelined with an elbow contusion but has felt no pain when throwing recently, including a solid bullpen outing late last week. Pitching in a game situation is always a little more strenuous, though, so it remains to be seen how he will fare.
Derrek Lee, 1B, Baltimore Orioles:
The Orioles got Lee back this weekend after he spent time on the DL with an oblique injury. Lee sustained the injury in mid-May and has returned fairly swiftly. It's worth pointing out that although Lee started the season on time, he missed a good portion of spring training because of his thumb, forearm and foot. The missed time may explain, in part, his unspectacular start to the season. If he is fully healthy now, it will be interesting to see what he has in the tank.
Adam Lind, 1B, Toronto Blue Jays:
In case you missed it, Lind snuck back into the starting first-base role for the Blue Jays on Sunday, and all he did was go 4-for-4 with two home runs. It appears his back is much better. Lind had been out for nearly a month with intermittent back spasms. Early on, the team hoped Lind could avoid the DL altogether, but after several setbacks the extended time off became the wise choice. In retrospect it certainly seems as if Lind benefited from that decision, and while back pain is always at risk for recurrence, the hope is that the longer reprieve will help him avoid just that.
Somewhere in between
[+] Enlarge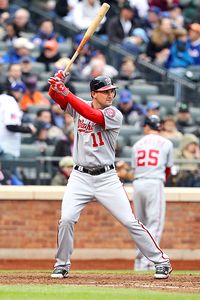 Al Bello/Getty ImagesRyan Zimmerman has not played in the majors since April 9 but is making progress in the minors.
Washington Nationals
third baseman
Ryan Zimmerman
is working his way up the ladder following abdominal surgery in early May. On Sunday, Zimmerman appeared in a rehab game with Class A Hagerstown. After delivering a double, a triple and an RBI, Zimmerman is being moved to Class A Potomac. According to the Washington Post, Zimmerman referred to himself as winded and "sore" after the outing, noting he "was out of breath for a while after that triple." These are all normal responses to returning to game action following the type of surgery Zimmerman underwent, and he will continue to build his endurance and his strength by increasing the level of play. While there is no definitive date for his return, Zimmerman is certainly within the standard timeframe of recovery of six to eight weeks.
Philadelphia Phillies
shortstop
Jimmy Rollins
was seen limping in the clubhouse Sunday after fouling a ball off his right kneecap Saturday. On Sunday, Rollins told the Philadelphia Inquirer, "It'll be a couple of days, but I don't think a DL thing, not at this moment," explaining that the response of the swelling would determine what he was able to do. On Monday, Rollins was not in the lineup and is considered day-to-day.
The
New York Mets
won't be getting third baseman
David Wright
back in the lineup this month. After a re-evaluation, Wright says he will have to wait at least another three weeks before resuming baseball activities. Teammate
Ike Davis
, who incidentally was injured in a collision with Wright in early May, also remains out with a bone bruise in his left ankle. When Davis tried to progress to running, it became so painful that he was forced back into a walking boot. As Davis told ESPN New York, if he does any running right now it's on an underwater treadmill. The good news is that he is hitting and working on other conditioning activities. But the impact of running is something the joint cannot tolerate yet.
Tampa Bay Rays
third baseman
Evan Longoria
gave everyone a scare when he left Saturday's game early with "tightness" in his left side. Yes, it's the same side in which he suffered the oblique injury earlier this year. But Longoria was able to pinch hit Sunday and is expected back in the lineup Monday. Maybe he just wanted to see if anyone would notice. Judging from the collective anxiety of fantasy owners everywhere, the answer is yes, we noticed.
Resume normal breathing everyone, at least until tomorrow.
April, 29, 2011
4/29/11
3:33
PM ET
As we head into the weekend, it's a good time to take a look at who might be rejoining their team within the week. It turns out fantasy owners with a hole to fill could have some more options at the ready as May rolls around.
[+] Enlarge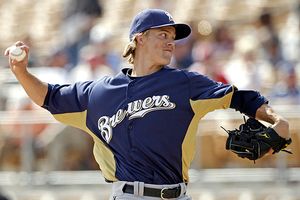 AP Photo/Morry GashZack Greinke is close to the end of his delayed spring training preparations to get his arm ready for the regular season.
• On Monday, we talked about
Milwaukee Brewers
ace
Zack Greinke
nearing his season debut with his new team
. According to the Brewers' website, Greinke is expected to make another rehab start for Triple-A Nashville on Friday, and if all goes well, will join the team afterward. He would then likely make his first major league start of the year Wednesday against the
Atlanta Braves
. It is worth monitoring how Greinke's Friday outing goes, as that could determine his ultimate return date. While his rib fracture has healed, he has been working on restoring strength in his throwing arm after missing all of spring training.
• The
Tampa Bay Rays
and fantasy owners everywhere are salivating at the prospect of having slugger
Evan Longoria
back in the lineup. The star third baseman is expected to return Tuesday after missing nearly a month with a strained left oblique. Longoria began a rehab assignment with the Double-A Montgomery Biscuits on Thursday, going 1-for-4, with that one hit being a home run in the third inning. The pace at which Longoria has been brought along from his injury was designed with the goal of him coming back at full strength with minimal re-injury risk. Equally important to his successful return is Longoria's confidence in his body's recovery, so that he doesn't hold back or guard himself at the plate. Apparently that process is already working itself out. Longoria told the St. Petersburg Times after Thursday's game, "The more swings I took in that [third-inning] at-bat, the more confident I was it wouldn't bother me." If he keeps this up over the next few days, Longoria should be in good shape to face big league pitchers next week.
• Keep an eye on
Cincinnati Reds
pitcher
Homer Bailey
. Bailey, who has been out since spring training with impingement (which literally translates to "pinching") in his throwing shoulder, had a nice rehab outing last Sunday at Triple-A Louisville. Bailey delivered 5 1/3 scoreless innings, but the Reds chose not to activate him just yet. According to the Reds' website, the team would like him to get to 85-90 pitches before activating him. Pitching coach Bryan Price noted that it's not just the total number of pitches, but also the total innings that matter. "Even if he gets his pitch count, the concern is how many times you get the arm hot, let it cool down and regenerate it the next inning," Price said. "We'd definitely like him to have six up and downs before we consider activation."
If all goes well during Bailey's next rehab outing, which is planned for Saturday, it's possible he could be activated in the coming week. While any pitcher with an impingement issue carries some risk going forward, especially since Bailey has a documented tear in his supraspinatus muscle (one of the four rotator cuff muscles) that was discovered when he missed time last season, Bailey has said all along that this episode felt different. He certainly has demonstrated improvement since the symptoms developed this spring, but only time will tell how well Bailey's shoulder will hold up.
• If it's speed you're looking for, you might be able to find it with
Toronto Blue Jays
outfielder
Rajai Davis
, who was slated to rejoin the lineup Friday when the team visits the
New York Yankees
. Davis injured his right ankle in the Blue Jays' home opener, then aggravated the injury days later, leading to the DL stint. Although he didn't steal any bases during his rehab games, it sounds as if his ankle hasn't limited him in any way. Maybe he's just saving up for his fantasy owners.
April, 21, 2011
4/21/11
5:16
PM ET
April, 4, 2011
4/04/11
3:38
PM ET
It's not supposed to be quite so busy in the injury department this early in the season. After getting ready for Opening Day, I figured I'd take in the first weekend of baseball and perhaps update the status of a few players who have yet to make their season debuts.
So much for that idea. The weekend news kicked off with
St. Louis Cardinals
outfielder
Matt Holliday
undergoing an appendectomy
Friday. On a positive note, the Cardinals have not moved Holliday to the DL, at least not yet. The team says it will wait until Monday or Tuesday and see how Holliday is progressing. For what it's worth, manager Tony La Russa told the St. Louis Post-Dispatch that Holliday felt "less discomfort" Sunday than he did Saturday. So far, so good.
Holliday might not be on the DL but there are several new additions from around the league.
[+] Enlarge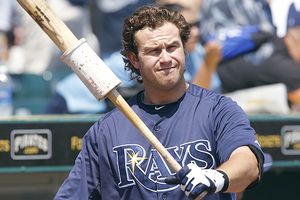 AP Photo/Gene J. PuskarEvan Longoria could be sidelined until next month with his oblique injury.
•
Tampa Bay Rays
third baseman
Evan Longoria
has joined the strained oblique club. Longoria left Saturday's game after the fifth inning with soreness in his side. Although he appeared to be downplaying the severity of the injury initially, his manager sounded more concerned. Apparently, Longoria first felt some discomfort during batting practice, and it increased as the game progressed. On Sunday, the decision was made to formally put Longoria on the disabled list to ensure full healing.
According to the St. Petersburg Times, manager Joe Maddon has projected that Longoria will miss at least three weeks, a reasonable estimate given the time required to first rest the healing tissue followed by gradually increasing the load. Amid a team lacking in offensive production out of the gate, Longoria was 0-for-5 with a walk through the first two games of the season. Depending how long he is sidelined, Longoria might not get his first hit until May. Not exactly what fantasy owners were anticipating. In the meantime,
Sean Rodriguez
is likely to get the majority of the playing time at third base.
• Several pitching staffs took a hit this weekend as well.
Baltimore Orioles
left-hander
Brian Matusz
was scratched from his Saturday start with what was originally described as soreness in his left mid-back. An MRI revealed an intercostal (small muscles between the ribs) strain severe enough for the team to suggest he could miss anywhere from three to six weeks.
There are three layers of intercostal muscles. The top layer (external intercostals) is analogous to the larger external oblique abdominal muscles, both in terms of being the most superficial and the orientation of the muscle fibers. The next layer (internal intercostals) is analogous in depth and fiber direction to the internal obliques. Although the intercostals are much smaller, both muscle groups are active during trunk rotation. It is no surprise then that these two muscle groups -- intercostals and obliques -- tend to be injured in similar fashion for ballplayers. The intercostals' direct attachment between ribs can make this a very painful injury when acute, as even deep breathing can be painful.
The Orioles called up another lefty, Zach Britton, who made his big league debut Sunday, and he certainly left an impression by pitching six shutout innings against the Rays. Britton is a hot fantasy pickup this week, even if his time might be limited.
•
Atlanta Braves
pitcher
Jair Jurrjens
, who struggled with health issues in 2010, found himself on the DL this week but the injury occurred prior to the start of the season. Jurrjens, who developed soreness in late March, will have his DL stint backdated to March 25, making him eligible to return April 9. Jurrjens has a strained right oblique, slightly unusual in that he is a right-handed thrower. Most pitchers strain an opposite oblique, which is generally attributed to the hard cross-body torque associated with throwing. Jurrjens' injury appears to be relatively minor, and he started throwing bullpens late last week. The bigger concern with Jurrjens might be staying healthy through the course of the season.
Situations to keep an eye on
•
Philadelphia Phillies
right fielder
Ben Francisco
(starting the season in place of
Domonic Brown
, who is still recovering from hand surgery following a hamate fracture) and center fielder
Shane Victorino
had a scary collision in the outfield Saturday. Francisco's neck appeared to get forcibly bent when it met Victorino's hip en route to playing a deep fly ball. Francisco remained in the game for the duration but it was Victorino who exited in the fifth inning with left calf soreness. The Philadelphia Inquirer reported that Victorino felt tightness in the calf when jogging off the field after that inning, although he didn't think it particularly serious at the time.
On Sunday, Victorino entered the game as a pinch hitter in the sixth inning but was able to stay in the game afterward. According to the Phillies' website, Victorino said he could still "feel it," suggesting it was possibly an irritated nerve. He reiterated that he was not concerned, but the Phillies will no doubt be keeping a close eye on how his calf responds over the next few days. The painful memory of a star player sidelined at the start of the season with a calf injury (
Jimmy Rollins
, 2010) is no doubt still fresh. As far as Francisco, he was in Sunday's game, crashing spectacularly into the right field wall to make a play. It appears his neck is doing fine.
•
Chicago Cubs
pitcher
Carlos Zambrano
left Saturday's game in the seventh inning because of cramps in his throwing (right) hand. Zambrano also reportedly experienced tightness in his hamstring. He is no stranger to cramps, and in the past he has commented on the need to maintain adequate fluids, which he did again after this episode, according to ESPN Chicago. "I'll be OK," Zambrano said. "I'll drink a lot of fluid and do whatever I have to do, not to feel bad anymore." According to manager Mike Quade, Zambrano is expected to make his next scheduled start Friday.
[+] Enlarge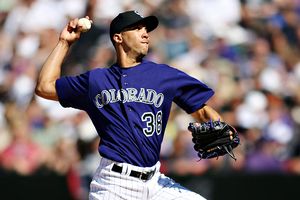 Chris Humphreys/US PresswireUbaldo Jimenez's cuticle issue on his thumb could be one reason why he struggled on Opening Day.
•
Colorado Rockies
ace
Ubaldo Jimenez
struggled through his first outing with a cut cuticle on his throwing thumb. The Denver Post reports that the thumb is affected on every pitch because of how Jimenez grips the ball. The primary issue is not one of immediate discomfort, but rather preventing this from turning into a more protracted issue because the cut fails to heal. Originally, manager Jim Tracy suggested Jimenez could miss his next start. As of now, that start has been pushed back one day to Friday but all depends on how the thumb healing progresses.
• Meanwhile, teammate Jorge de la Rosa developed a painful blister on his left middle finger that shortened his first outing, possibly a consequence of his grip on the ball. After exiting Saturday's game, de la Rosa had the blood blister well treated and bandaged by the athletic training staff, according to the Rockies' website. De la Rosa did not seem overly concerned by the blister, as he has dealt with similar issues in the past, and he expects to make his next start. As is the case with Jimenez, de la Rosa's finger will be monitored over the next few days to ensure there are no lingering issues.
Cuticles and blisters might sound like seemingly small injuries, but make no mistake, they're big enough to threaten the status of the first and second guns in the Rockies' rotation. Anyone who's had a bad manicure experience can relate ... come on, who's with me?
Encouraging news
It wasn't all doom and gloom; there was some good news to be found over the weekend.
•
San Diego Padres
ace
Mat Latos
, sidelined with bursitis in his throwing shoulder, threw a side session Saturday and looked, well, "fantastic," according to pitching coach Darren Balsley. Latos is expected to start in a minor league game Monday with the goal of increasing his pitch count.
•
San Francisco Giants
closer
Brian Wilson
, who also started the season on the DL with an oblique injury, threw a simulated game Sunday. His outing impressed pitching coach Dave Righetti, who suggested that Wilson could be back with the team this week. Wilson is eligible to come off the DL on Wednesday when the team is in San Diego, and while that move is not set in stone, Wilson's outing Sunday was a good step in that direction.
•
Chicago White Sox
pitcher
Jake Peavy
, who stayed behind in Arizona to continue recovery from offseason surgery to repair his latissimus dorsi tendon, threw a simulated game Sunday. He was just shy of 60 pitches. Peavy, whose overall recovery has been impressive, developed rotator cuff tendinitis after a spring outing, which came on the heels of a stomach ailment. The issue seems to have settled, and Peavy is on track again with building his arm strength. He is expected to start in a minor league game Friday (for Double-A Birmingham) and will try to bump up his pitch count. If there are no more bumps in the road, he could rejoin the team in late April.
June, 3, 2009
6/03/09
2:26
PM ET
I just like to start with some good news. Any good news. Trust me, some weeks -- like this one -- it's slim pickings. Nonetheless, I feel responsible to fantasy owners to keep the glass half-full, and so I scoured amidst all the downers of guys headed to the DL (including a record number of repeat customers!) and I managed to find a bit of encouraging news this week.
Jose Reyes
could
make his return from the DL on Friday. I always recommend the cautiously optimistic approach when it comes to returning from a muscle strain or an "-itis" (as in something inflammatory). In fact, Reyes hasn't had the opportunity to test the leg in a game situation because Tuesday's planned extended spring training game was rained out. So much for the glass being half-full. There is another game scheduled for Wednesday when the Mets hopefully will be able to put Reyes to the test. Until he proves he can run without difficulty, Friday's target remains in the category of wishful thinking.
But let's face it, we want to get to the information about who's hurt. Here's who we're talking about this week in the world of baseball injuries. ...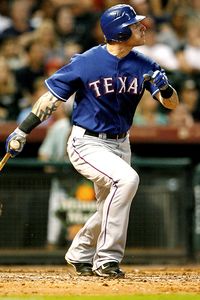 Aaron M. Sprecher/Icon SMIJosh Hamilton is making his second trip to the disabled list this year, and this could be a lot longer.
Josh Hamilton, OF, Rangers:
Hamilton underwent an MRI on Monday in an attempt to clarify the cause of his persistent groin pain, which has been with him since his most recent collision with an outfield wall at Rangers Ballpark. On Tuesday, he met with Dr. John Preskitt, who performed a sports hernia repair on
Ian Kinsler
last season. According to the Fort Worth Star-Telegram, Rangers general manager Jon Daniels indicated that Hamilton's visit with Preskitt was to help rule out a hernia.
If this all sounds confusing, it is. Arriving at a diagnosis of a sports hernia is really a process of ruling out other diagnoses. Here's what we know so far.
1. First and foremost for fantasy owners, Hamilton is on the DL for the second time this season. That means you have to make alternate plans for at least another two weeks. I would recommend that you make plans for another couple of months. Continue reading.
2. Hamilton's injury started out as a groin strain and was later called an abdominal strain, according to the team's official Web site. This is the case with many of the injuries that are eventually diagnosed as sports hernias. Pain begins near the groin, then moves closer to the lower abdominal wall. With all of these muscles converging to attach at the pelvis, the pain patterns can be similar.
3. It is not a hernia. A true (abdominal) hernia represents a protrusion (herniation) of abdominal contents through a weak spot in the soft tissue around it. The hernia can often be palpable (the examining physician can feel it) and can generally be seen on imaging (via ultrasound or MRI). Since many of the symptoms can be similar, it is important to rule out a true hernia. Many sports hernias do not show any visible findings on MRI. If Hamilton had a hernia, he would be having surgery while I'm writing this column.
4. Hamilton has indicated that he faces the most difficulty when trying to run. The hallmark of a sports hernia is an athlete's inability to run. It can be a frustrating diagnosis in this regard because, depending on the degree of injury, the athlete can actually feel quite good ... until he tries to run. Because of the muscles involved and their attachment near the pelvis, the power required to run places a demand on the area that cannot be met. The athlete typically complains of pain and weakness when attempting to run. According to the Dallas Morning News, Hamilton said "I'm hurt and sore and can't run," estimating his running since the groin injury at 50 percent of normal.
The evidence here would suggest that Hamilton is, indeed, dealing with a sports hernia, which is, in essence, what the team is saying. According to the Ranger's official Web site, assistant general manager Thad Levine "likened the injury to a sports hernia" and hopes Hamilton can avoid surgery after a period of rest and anti-inflammatory medication. Hamilton will be re-evaluated at that point and, if he has not improved, likely will face sports hernia surgery that would require six to eight weeks of recovery. Although Hamilton's mechanism of injury is somewhat atypical (these injuries often seem to come on out of nowhere, with no particular incident as the cause), his symptom pattern has many features that fit the bill.
For those wondering why surgery isn't done right away, this rest period is a step in ultimately arriving at the conclusion that surgery is necessary. Since sports hernia diagnosis is often one of exclusion -- figuring out everything that the injury "isn't" -- the decision to proceed with surgery is easier if conservative measures have failed. Fantasy owners can hope for the best, but should prepare for the worst, in the event that Hamilton is headed under the knife.
Evan Longoria, 3B, Rays:
Longoria was serving as the DH for the past couple days as a result of elbow soreness; now there's something of potentially bigger concern. Longoria left Tuesday's game with a left hamstring strain after running out a ground ball, and we know how these injuries can go (read: linger).
He is expected to undergo an MRI on Wednesday to determine the extent of damage, but there are a few notes of encouragement. Longoria's description of what he did NOT experience suggests that the strain is on the minor end. Longoria told the team's official Web site Tuesday after the game, "I didn't feel a pop, I didn't feel a pull, I was able to walk and ride the bike and everything." Longoria added that he considers himself day-to-day. Rays manager Joe Maddon indicated that he will act with caution, so don't be surprised if Longoria is given a couple days to rest, even if the MRI turns up nothing significant.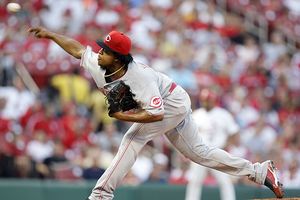 AP Photo/Jeff RobersonEdinson Volquez lasted just one inning in Monday's start before returning to the disabled list.
Edinson Volquez, P, Reds:
Volquez may hold the record for shortest return from a DL stint before exiting a game only to be returned to the DL. Not a record he or his fantasy owners really want. And it's not as though he wasn't recovered from the first problem (back spasms) and aggravated the injury. Sadly, this is something altogether different.
Volquez lasted all of a single inning in his return Monday night before being forced out with what he described as "tingling from my elbow down to my fingers," according to the Dayton Daily News. Volquez went on to say that he had "never had this happen ... never had pain in my arm." Specifically, Volquez experienced the sensation in his ring and pinky (fourth and fifth) fingers in his right (throwing) hand. The location tells us that his ulnar nerve was talking to him, and clearly it was not happy.
According to the Cincinnati Enquirer, Volquez has been placed on the DL with tendinitis in his elbow. In that scenario, inflammation in the soft tissue around his pitching elbow could result in increased pressure on the ulnar nerve (which passes just behind the bony part of the inside of the elbow, coming very near to the surface, making it an easy target for injury). The pressure would then result in irritation of the nerve, which shows up as numbness and tingling in the fourth and fifth fingers in the hand. The ulnar nerve is often problematic for pitchers because of its location and its vulnerability when there are problems at the elbow. If the joint is hypermobile, if spurs are present, if there is any ligamentous injury (yes, ulnar collateral or Tommy John ligament) or even in the presence of swelling alone, the ulnar nerve can be affected.
The hope for Volquez is that this truly is a minor condition and not the beginnings of a major problem with his throwing elbow. The plan is for him to rest for at least a week (no throwing at all) and then be re-evaluated. Stay tuned.
Joey Votto, 1B, Reds:
A week ago it appeared promising that the team had been able to identify the source of Votto's frustrating intermittent dizziness. He was reportedly dealing with an ear infection and had been placed on anti-inflammatory medication. The problem, however, was that every time Votto got on a plane, the symptoms were exacerbated the next day.
On Saturday, Votto was placed on the DL with what the team is calling "stress-related issues." It's fairly safe to assume that the stress Votto is experiencing is from the on-again, off-again nature of this dizziness. I can tell you that patients who experience chronic dizziness describe it as an extremely debilitating and frustrating condition. We've all experienced feeling dizzy or light-headed at some point, and I have yet to find anyone who thinks it pleasant. Now imagine trying to do your job and performing at the same level to which you and your co-workers are accustomed, with the world spinning around you. It's just not possible.
This trip to the DL is a good move for Votto until he can truly get his symptoms under control. Let's hope that the 15-day period is all he needs.
Asdrubal Cabrera, 2B, Indians:
Cabrera left Tuesday's game against the Twins in the first inning with a shoulder injury. He was clearly in pain when he left the field after taking the brunt of Twins shortstop Brendan Harris' weight on his left shoulder as he slid into second base.
The Cleveland Plain-Dealer is reporting that Cabrera suffered a dislocated left shoulder that was "put back into place." X-rays taken at Hennepin County Medical Center were reportedly inconclusive and Cabrera is scheduled to undergo an MRI Wednesday. The description makes it sound as if Cabrera actually subluxed his shoulder (in which it slips slightly off the joint but quickly pops back in) because a true dislocation is often difficult to reduce (put back), unless the athlete has a very unstable shoulder with a history of repeat dislocations. As far as I can tell, this is not the case with Cabrera.
Cabrera also told the Plain-Dealer that he did not think he would need to go on the DL, another sign that he may not have suffered that severe of an injury. It's worth noting though that players often feel far worse the next day once there is post-injury pain and inflammation. There's still a chance, either with or without a complete dislocation, that Cabrera could have suffered enough soft tissue damage to require a minimum two-week absence. Let's see how Cabrera feels over the next few days. That will probably go a lot further in determining just how long it will be before he's back in the lineup.
On the Mend
•
Alex Gordon
has to be pleased with the results of his latest visit with his surgeon. According to the Royals' official Web site, Gordon, who is recovering from surgery to address a torn labrum, got "glowing reports" on his trip to Colorado. His latest activity includes limited tee swings and very light, easy ground balls, so he is still a ways from truly testing his hip (hard swings, fielding bunts, throwing across his body and, ultimately, sliding). Although Gordon was originally given a timetable of 10 weeks (which would mean a return in late June), I have suspected all along that a return after the All-Star break would make the most sense. It seems that Gordon's progress has him on track for that so far.
• Rays ace
Scott Kazmir
is recovering from his quad strain while simultaneously addressing mechanical faults he attributes to last year's elbow injury. There is no official timetable for his return, but according to the St. Petersburg Times, Kazmir is throwing in the bullpen and hoping to avoid a minor league assignment. It's possible he could be back within another two weeks. Between the quadriceps recovery and the adjustments Kazmir is making, the hope is that his performance will improve when he rejoins the rotation.
•
Brandon Webb
continues to work his way back gradually from the shoulder problem that has kept him out since Opening Day. According to the Arizona Republic, he's throwing on flat ground (with another session planned for Wednesday) and will hopefully progress to a bullpen session Saturday. Don't get too excited; the Diamondbacks haven't brought him along this slowly only to speed him up now. Due to all the missed time, Webb likely will be brought along through every step in the standard return to throwing progression, including several minor league starts to build up endurance. The most encouraging words are from Webb himself, "It took a while to get there, but I feel like we're moving forward." I would not expect much before the All-Star break, but assuming he continues well, it would be a good time to think about picking him up.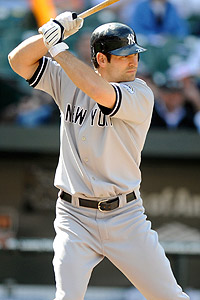 G Fiume/Getty ImagesXavier Nady likely isn't done for the year, but he isn't coming back in the near future, either.
• In the not so smooth recovery department, Yankees players have endured a couple of setbacks. Outfielder
Xavier Nady
, who suffered an injury to his previously reconstructed ulnar collateral ligament in April, threw for the first time on Monday and it apparently did not go so well. According to the Newark Star-Ledger, Nady experienced discomfort in his elbow when attempting throws from 50 to 60 feet. Although manager
Joe Girardi
indicated he would play Nady even if he wasn't at full strength, it's a recipe for disaster if the player and the manager are uncertain whether every throw will result in pain. Nady did throw Tuesday and, according to Newsday.com, only felt minor discomfort this time. When he's throwing consistently without any discomfort, then we can really be encouraged. Until then, everyone should temper expectations.
• Meanwhile, Nady's teammate
Jose Molina
is having a repeat MRI on his injured left quadriceps after being pulled from an extended spring training game Monday. Those results are expected to guide the next steps. Even without the results, just the fact that he had to be pulled because the muscle became painful tells you what you need to know. He will not be ready to return anytime soon.
• On the other coast, Angels pitcher
Kelvim Escobar
faced challenges of his own as he recovers from surgery last year to repair a torn labrum. After being ahead of schedule throughout his rehab, he had a setback near the start of the season that has delayed his return. Escobar's shoulder is recovering and he is throwing without pain, but his latest rehab start Monday revealed that he does not have full control of his delivery. The Los Angeles Times reports that, as a result, Escobar has stopped throwing the slider for now. From a rehab perspective, how his shoulder feels is the most important thing. The fact that he is not experiencing pain is critical. A slider is one of the more physically demanding pitches, so it makes sense that it would take longer to get it back. Look for Escobar to rejoin the rotation within the week, perhaps Saturday, but without his slider.
• And finally ... expect
John Smoltz
back in mid-June. No one will commit to it, but he looks good. Get ready, he's going to be great.
August, 19, 2008
8/19/08
12:17
PM ET
As the end of the season approaches, the injuries in baseball seem to be on the rise. Or maybe it just seems that way because significant players on hot teams seem to be dropping like flies.
Especially in Tampa Bay. I'm not sure what the Rays did to deserve their recent stretch of bad injury luck, but at least their fortunes have nowhere to go but up. They are not alone, though; injuries to key players have struck multiple teams. Here are the most significant ones:
Ian Kinsler, 2B, Rangers:
Kinsler knew there was a problem in his left groin area during his first at-bat Sunday. According to the Fort Worth Star-Telegram, the injury was manageable until his at-bat in the seventh inning, when the discomfort forced him to leave the game. The team's orthopedist, Dr. Keith Meister, believes Kinsler has a sports hernia, according to the Dallas Morning News. The second baseman is scheduled for further evaluation Tuesday with a specialist, who will no doubt try to determine whether Kinsler in fact has a hernia, either the traditional type or a sports hernia. The critical issue centers on whether Kinsler will require surgery, which would effectively end his season.
Eric Karabell
For more on the fantasy implications of Ian Kinsler's injury, check out Tuesday's Out of the Box



A sports hernia is present when there is a weakening of muscles in the lower abdominal wall. There also can be involvement of the adductor, or groin, muscles, and pain is typically felt in the lower abdominal area, the groin, or both. A sports hernia differs from a traditional hernia in that there is typically no visual or palpable mass. In fact, it is the absence of these findings that usually confirms this diagnosis. For all the lack of specific findings, sports hernias can be extremely debilitating. The weakening of this area makes it difficult for the body to stabilize the trunk relative to the pelvis. Running is virtually impossible, and power movements, such as kicking or lunging, can be even trickier. This type of injury is fairly common among soccer and hockey players, but it is making itself known of late in football and baseball. The good news is that sports hernia surgery is extremely effective, and many athletes return without incident within two or three months of the procedure. That said, even if he does have a sports hernia, the Rangers might take a simpler approach for now, advising Kinsler to rest the injury a few weeks to see how it responds. If he is able to do the things he needs to be able to do after that time, he could return. Even if surgery is required, it could be delayed until the offseason. We'll just have to wait and see what the Rangers decide to do with him, but there's a chance he could be done for the season.

Troy Percival, RP, Rays: Last week Percival was placed on the disabled list for the third time this season. But this time his hamstring was not the culprit. Percival has what the St. Petersburg Times is calling a cartilage injury in his right knee, an injury he suffered while trying to tag runner Mark Ellis following a sacrifice bunt. Apparently it was Percival's extra effort to reach Ellis that resulted in the injury, and Percival explained that as he walked back toward the mound, he felt "sharp pain ... and couldn't put weight on it." He said he never felt a pop, but he knew it was his knee, not his hamstring.

Percival ought to know. After all, his first two visits to the disabled list this season were as a result of an injury to his left hamstring. It seemed he was finally over that injury, but now he is dealing with yet another setback. Percival has decided not to have surgery to address the as-of-yet-unspecified cartilage injury, and he hopes to throw again in four to five days with the goal of returning in early September. The injury is to his plant leg, which not only must support his full weight during windup but also must undergo significant rotational force as he moves through his pitching motion. Percival will not be able to pitch effectively if the joint is irritated, so our hope would be that rest will resolve any pain and swelling Percival has. Since surgery, which would sideline Percival until October, was at least discussed as an option, according to ESPN reports, it remains a possibility that he could require something in the offseason. For now, Percival and the Rays are hoping the closer will be available for the stretch run.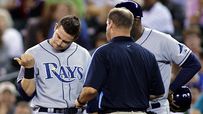 AP Photo/Ted S. WarrenThe news could have been a lot worse on Evan Longoria.
Evan Longoria, 3B, Rays:
It wasn't enough for the Ray's lineup to lose left fielder
Carl Crawford
for at least six weeks because of a hand injury that required surgery; Longoria joined him on the disabled list because of an injury to his wrist. However, unlike in Crawford's case, Longoria's injury news is not as bad as it could have been.
Longoria was hit by a pitch on his right wrist, and initially it was thought to be just a bruise. But as the St. Petersburg Times reported, follow-up imaging revealed a fracture of the ulna (one of the two bones in the forearm), and Longoria was forced to the DL. However, he is expected to miss only two to three weeks -- in some cases, a fracture will sideline a player much longer -- because the crack is likely small and non-displaced, which no doubt made it difficult to spot. But the Rays did spot the fracture, which is good news because the injury could have gotten worse if Longoria had continued to play. The torsional forces placed on the wrist with each swing of the bat could conceivably have stressed the bone where it was already weak, potentially increasing the defect. So all things considered, the Rays should be thankful for this (even though they might not realize it after losing three key players in the span of a week). At least fantasy owners should recognize that all is not lost with Longoria; he should return around September 1, without incident.
Maicer Izturis, IF, Angels:
The Angels might be running a close second to the Rays in terms of losing key players to injury. Last week they added Izturis to their long list of wounded players. The versatile infielder is done for the season as a result of a thumb injury, an injury he re-aggravated while diving for a ground ball Wednesday night. He is expected to undergo surgery on his left thumb to repair a torn ulnar collateral ligament. Yes, folks, there is a ligament in the thumb that has the same name as the one in the elbow that is commonly associated with Tommy John surgery. Anyway, the injury to that particular ligament in the thumb results in great pain and instability, so surgery is generally a foregone conclusion. Izturis should be on track to rejoin the team in spring training next year.
Todd Jones, RP, Tigers:
Jones, who had been struggling on the mound for the better part of two months, came off the disabled list last week, only to go right back on it just two days and five unearned runs later. Jones is dealing with soreness in his right shoulder, and head athletic trainer Kevin Rand told the Detroit Free Press that Jones has rotator cuff tendinitis. At 40 years young, Jones is forced to be patient with a shoulder that has seen a lot of use and is screaming out in pain. He already has gotten a cortisone shot, and at this point he plans to just continue his shoulder rehab program. But it remains to be seen how much he can help the Tigers the remainder of this season. First, he will have to be able to throw without pain, and right now Jones says that his arm "bites when it gets extended." It is not looking particularly promising for Jones at this point, and the Tigers might have to look elsewhere for relief.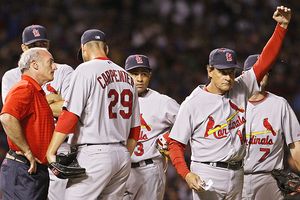 AP Photo/M. Spencer GreenChris Carpenter's return was going well ... until he felt shoulder pain August 10.
Chris Carpenter, SP, Cardinals:
Well, it was fun while it lasted. Poor Chris Carpenter. He worked so diligently to return from the Tommy John surgery he underwent last year on his right elbow. And he looked pretty good, too! Sure, there was some rust. But when you consider how long Carpenter was out of baseball during his elbow rehab, many things about his pitching were encouraging. Not so encouraging is the fact that in just his third start since surgery, Carpenter was forced out because of a strained shoulder.
Carpenter's discomfort was in the upper arm, in the area of the triceps, but as the St. Louis Post-Dispatch reported, the news release from the team following an MRI was non-specific in confirming a shoulder strain. The team did indicate that the damage was not to the rotator cuff, nor was it to Carpenter's surgically repaired elbow. There are a number of muscles along the posterior aspect of the shoulder that could refer pain into the arm, and according to Carpenter, team physician Dr. George Paletta called it a "best-case scenario" and labeled it a Grade 1, or mild, strain. Although he has been placed on the disabled list, the team is still hopeful Carpenter will respond well to throwing from flat ground Tuesday, and he might be available to start one of the games of a key series against the Brewers next week. Of course, if he does not respond well to throwing, his return this season might be called into question. Thus, as of right now, Carpenter is a risky fantasy play for the remainder of the season.
And in the good news department ...
He's baaaaack. Yes,
Kerry Wood
is back from the nagging blister injury that kept him out of the All-Star Game. And he was back to saving games Friday night. It looks like he's safely back in his closing role, which is good news for the Cubs and fantasy owners in need of late-season saves.
In other promising news,
Matt Capps
appears to be doing well enough that he could be activated Friday. Capps, who was diagnosed with bursitis and internal rotation deficit, has been hard at work in rehab, and he reportedly has been throwing well in his rehab stints. According to the Pittsburgh Tribune-Review, Capps says he's "still trying to find [his] delivery and things like that, which is to be expected after taking so much time off. But physically I feel real good." If all continues well, the Pirates will have him back against the Brewers this weekend.